Unlike edamame, I love the fact that the entire pod of this vegetable is edible.
Simply wash and you're ready to rock and roll; I mean cook. Don't get me wrong, pulling the peas out of salted edamame is kind of fun, but sometimes you don't have time for finger food.
Either raw of boiled, cooking these wonderful crispy, crunchy pieces of nature's goodness is as easy as it gets. In this case, we choose to cook our sugar peas over the skillet until slightly tender. The key is to retain that natural juicy crunch, while keeping the pods nice and crunchy after being cooked. Easy enough to be honest.
To give these vegetables added tongue appeal we've included flavors such as garlic, ginger, soy, sesame, and balsamic vinegar.
But we didn't stop there quite yet, we also threw in things like cayenne pepper, basil and crushed red peppers. We want a very tiny kick, but not something that would even remotely capture your attention while eating. The end result is a mouth-watering vegetable with a punch of subtle flavor. You'll want to eat them like potato chips, one after another.
In terms of pairing, our best simple stir fry sesame seed sugar snap peas recipe can be cooked alongside numerous meat entrees; seasoned charred steak is one example. We actually like the end result so much that we've considered these more than a side. In reality, these are awesome healthy everyday snacks that our family can pull out of the fridge and munch on through the day.
With that said, don't let the "stir fry" phrase fool you too much. We're not investing a whole lot of time here when it comes to cooking this sugar snap pea dish. Whenever I see that phrase, I think, ugh lots of work is going to be involved for some odd reason, but that's not the case. Perhaps I'm the only one? Who knows!
Regardless, I think you and you're family are really going to enjoy this how to recipe below.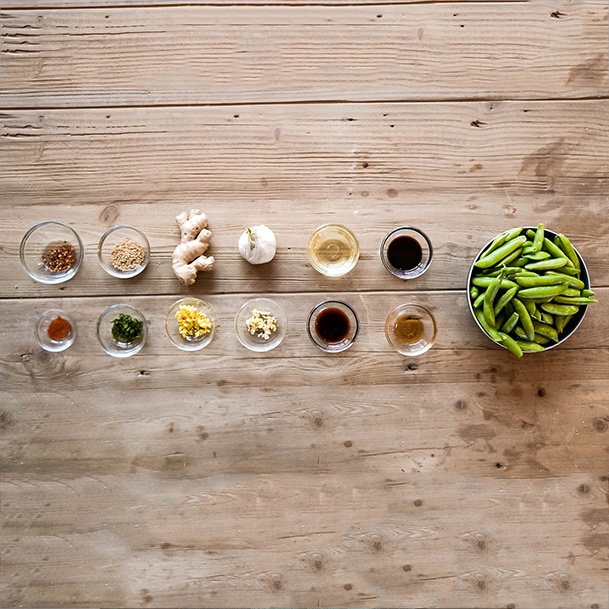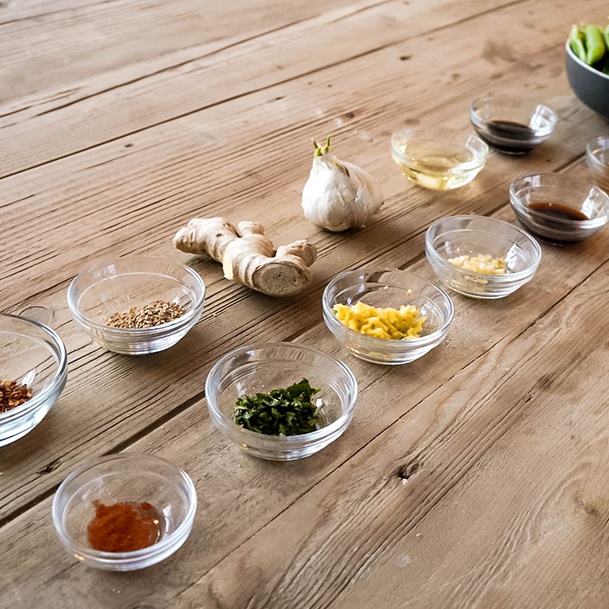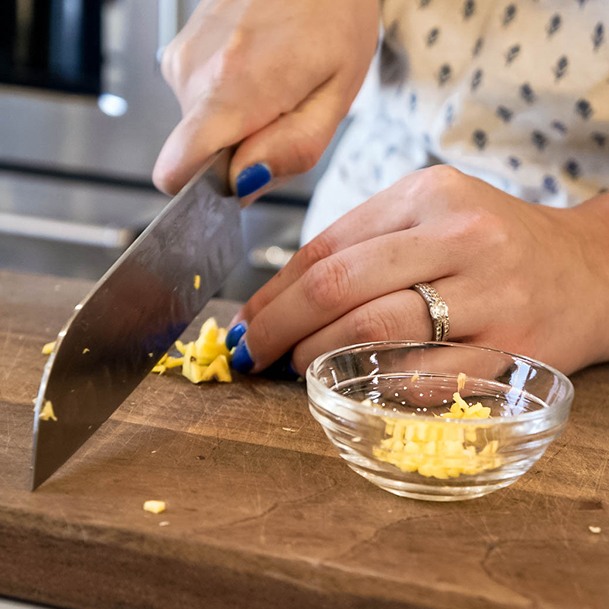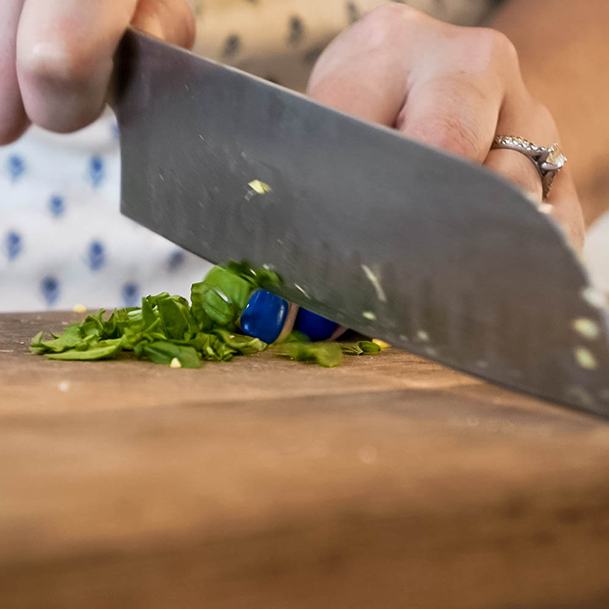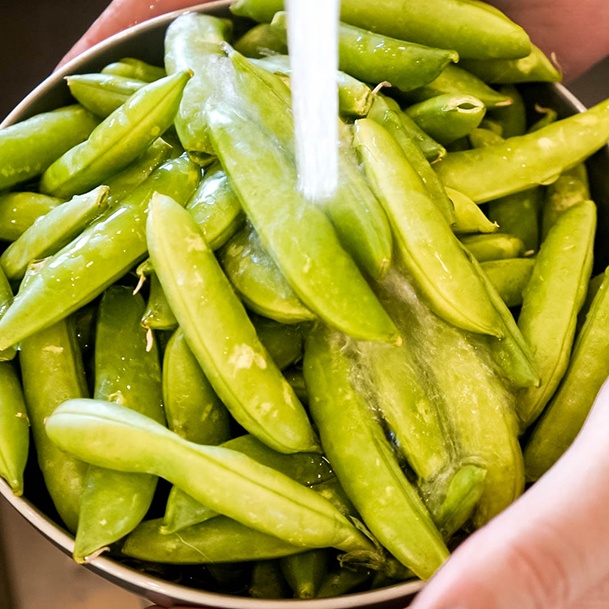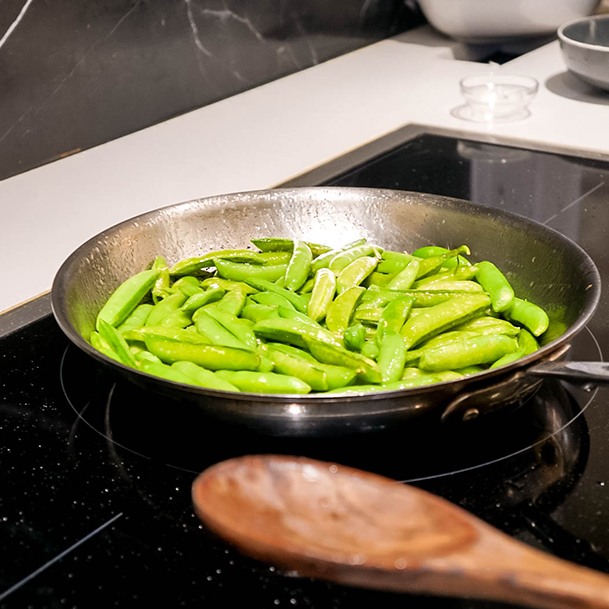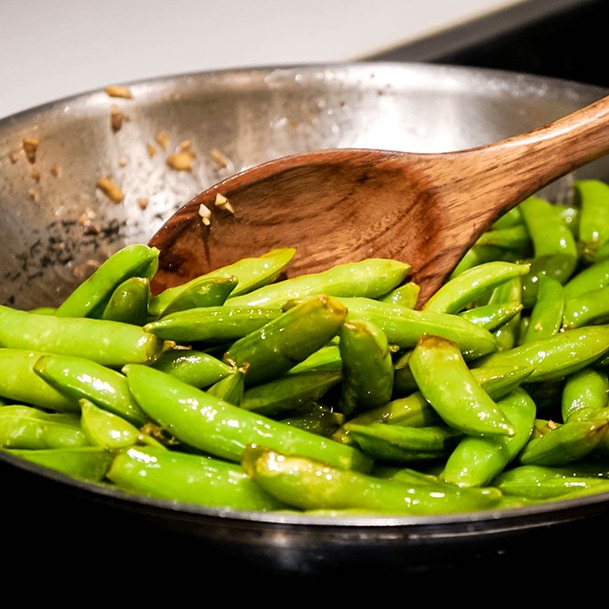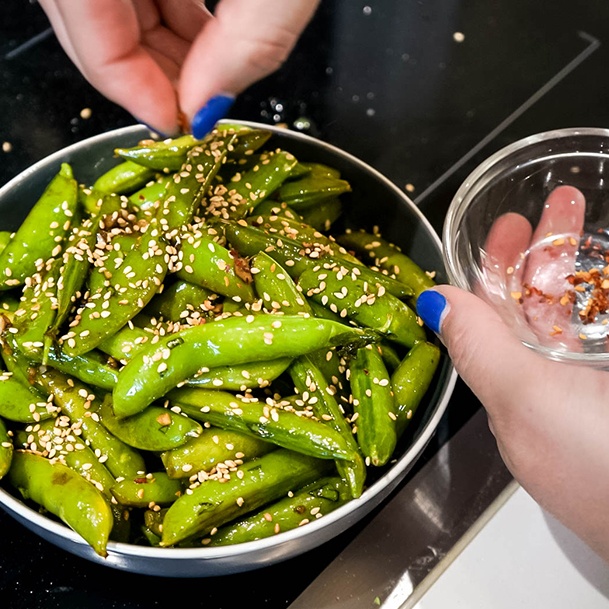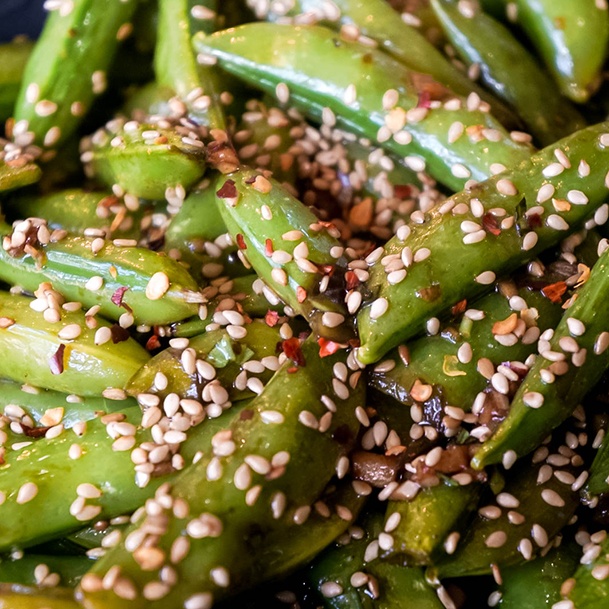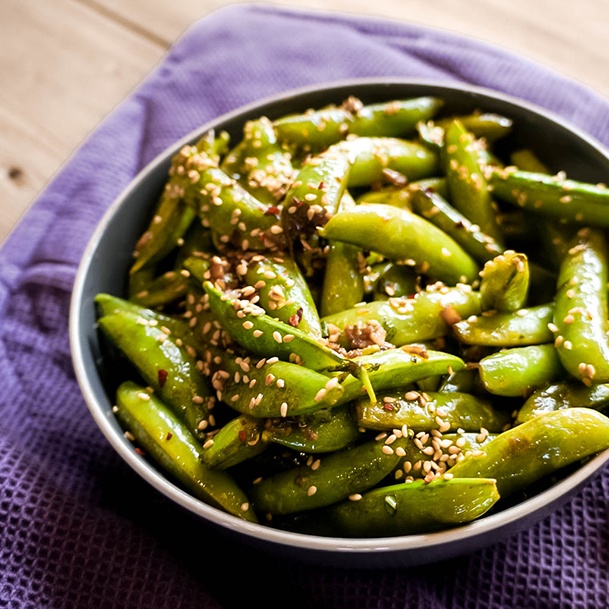 Best Simple Stir Fry Sesame Seed Sugar Snap Peas Recipe

Fresh garlic delights the taste buds while gingerroot makes them dance with pure joy. Fresh, with a hint of soy sauce and sesame oil, this beautiful blend of ingredients easily accompanies a variety of entrees.

Cherilyn | Prep Time: 10 minutes | Cook time: 10 min
Yield: 6 Servings | Cuisine: Asian | Category: Chinese

Nutrition facts:

Calories: 120 cal | Fat: 6 grams fat | Sodium: 118 milligrams | Carbohydrates: 12 grams | Sugar: 6 grams

Ingredients:

1 lb. sugar snap peas (fresh)
2 tsp. canola oil
1 garlic clove (minced)
2 tsp. sesame seeds (toasted)
1 1/2 tsp. balsamic vinegar)
1 tsp. sodium soy sauce (reduce sodium)
1 tsp sesame oil
1 pinch cayenne pepper
1 tbsp. basil (fresh, minced or dried)
1 tsp sesame oil
2 tbsp gingerroot (fresh, minced)
1 tsp crushed red pepper

Instructions:

1. Wash snap peas and place in skillet or wok.
2. Saute peas in canola oil
3. Cook until tender and crisp.
4. Add all other ingredients (minus sesame seeds to peas)
5. Stir until uniform with even coating is achieved.
6. Saute for an additional one minute.
7. Remove from heat and serve with sprinkled sesame seeds.