For those who are in search of both, it is possible to create a space Martha Stewart would be proud to call her own.
Any plans for a kitchen should consider the kind of work done there. Some women just want a place where they can sit down, grab a cup of coffee and head off to work.
Other women love places that let them have fun time with family and friends. If you're in the later, consider a larger kitchen that has space for everything you need.
All kitchens should be spaces that let people work with great efficiency. This means that each appliance and every single thing in the kitchen should ideally be easy to access.
The fridge should be at a height that makes sense for the occupant. The same is true of the stove and other items that people need to cook.
Consider as well who uses the kitchen. A good family kitchen has lots of space for storage. This means that each person can access what they want without a problem. Little kids can grab a snack while adults make dinner. Older children can polish their cooking skills and learn to make their own meals.
The ideal kitchen is one that makes cooking easy and a joy. Think closely about the kind of overall effect you want when you're making that right space. It should be one that makes it as easy as possible to create a space for food and fabulous family fun time.
Let the kitchen shine with a design that says you're someone who cares about this vitally important home space.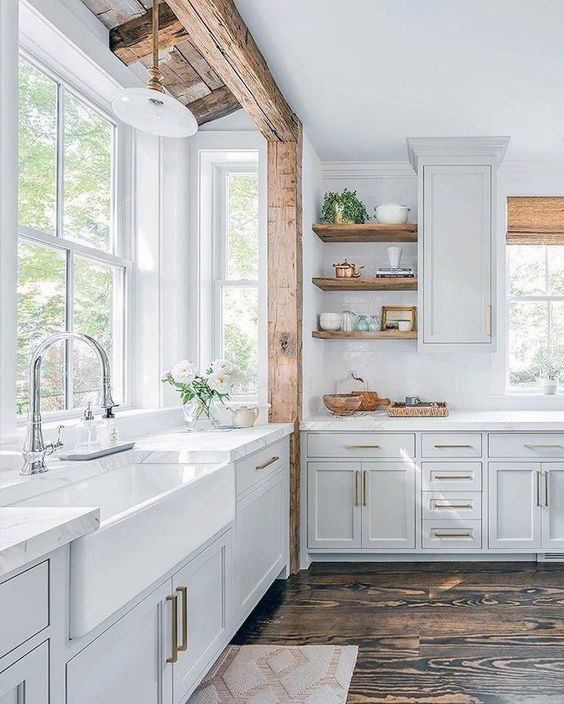 It's hard to go wrong with the traditional white look kitchen design. I love the exposed hand hewn reclaimed beams which are purely for decoration and not structural purposes. The matching wood live edge shelves in a nice touch for additional storage and the dark hardwood floors offer plenty of beautiful contrast. Note the brass kitchen hardware which takes this kitchen from slightly rustic to contemporary.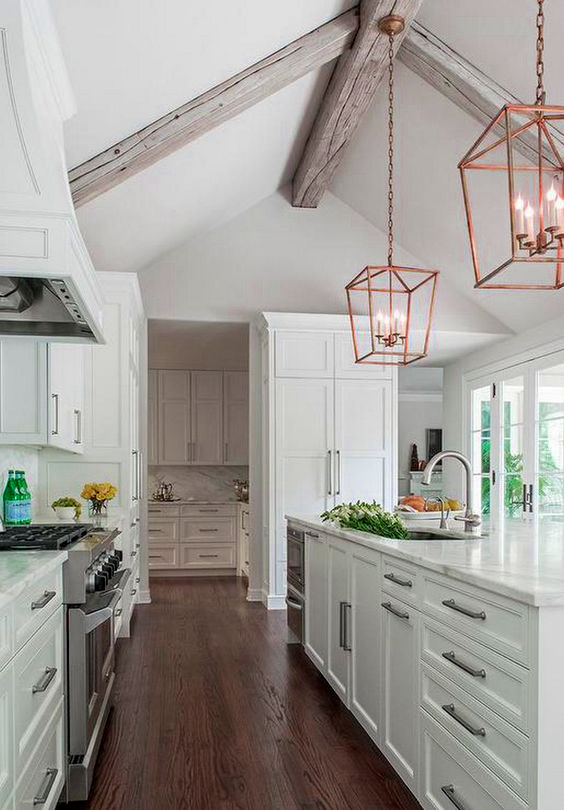 Vaulted ceilings, reclaimed timber beams, and large kitchen island pendent lighting, yes please! This classic white kitchen is stunning when paired with hardwood floors, satin hardware and white marble countertops.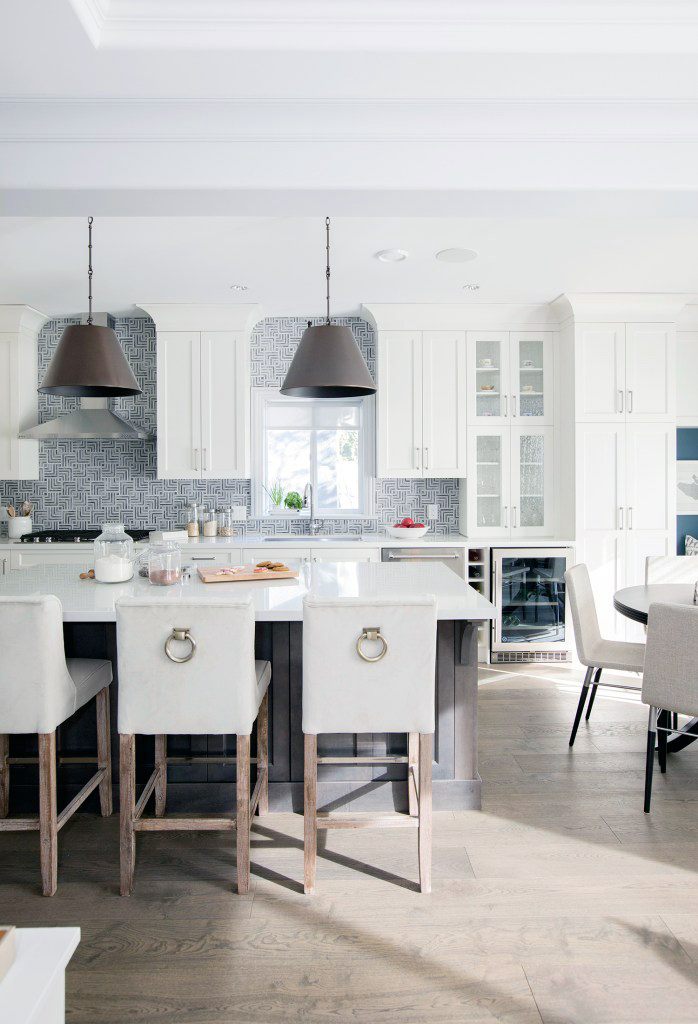 White base cabinets contrast a dark maple wood-clad kitchen island and bronze pendant lighting. A fun backsplash tile adds some visual interest to the room, while light hardwood floors give this contemporary kitchen some rustic appeal. I love the open cabinet shelving with glass door fronts to expose treasured dinnerware.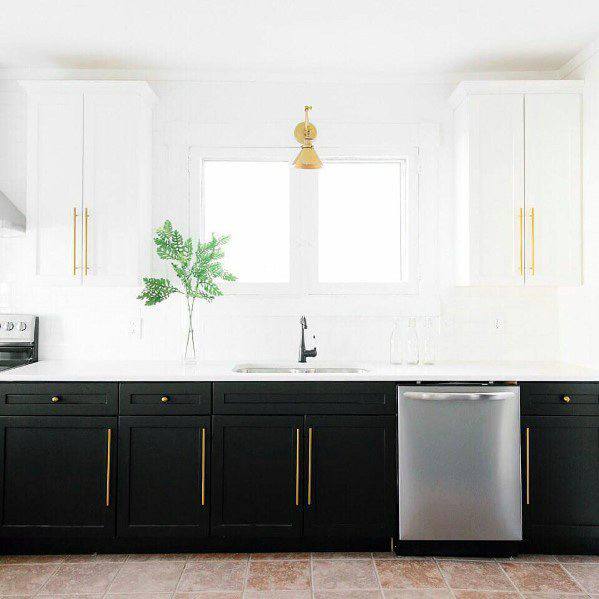 Here's how to take a kitchen from the past and give it a new lease on life without breaking the bank. Contrasting white upper cabinets and black lower cabinets lend a hand at giving this kitchen a more modern look. Stainless steel appliances are a must in any kitchen, but gold hardware can be an optional luxury. A subway tile backsplash completes the look. While I'm not a fan of the rustic southwestern flooring tile, it does give this kitchen more character.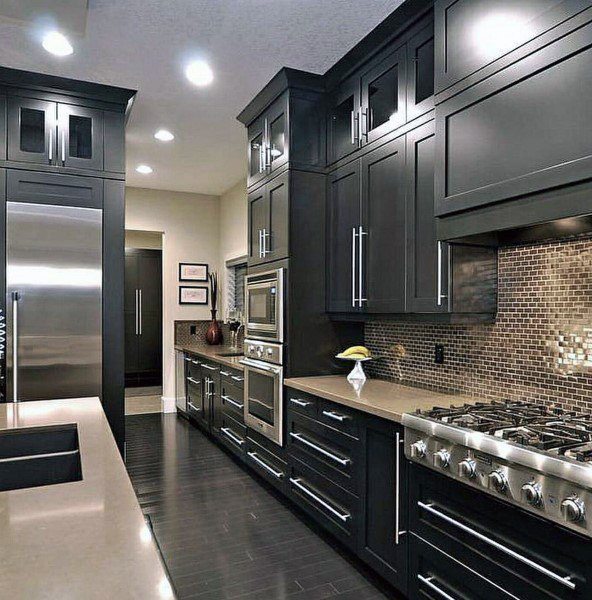 Personally, I love dark kitchens with black cabinets. Long pull bar drawer hardware adds plenty of usability to this kitchen while a massive gas cooktop is a treat for any professional home chef. No longer are we seeing microwaves over the range these days, instead the latest look is microwave and oven combos. That's what we went with in our own kitchen and it works great.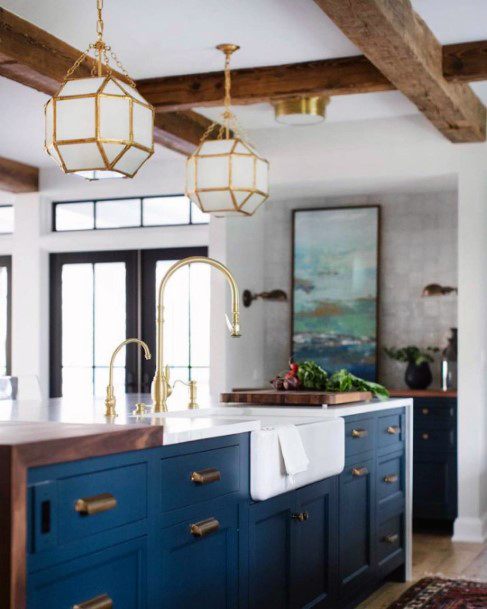 Going for that farmhouse and rustic look? A farmhouse sink is a great first piece that sets the tone. Navy blue kitchen cabinets offer a touch for personality while a white quartz countertop brings this kitchen into the modern era. When it comes to light fixtures, I love the distinctive geometric pendants, which add some stylish uniqueness. Wood beams on the ceiling are a must for anyone who loves interior design.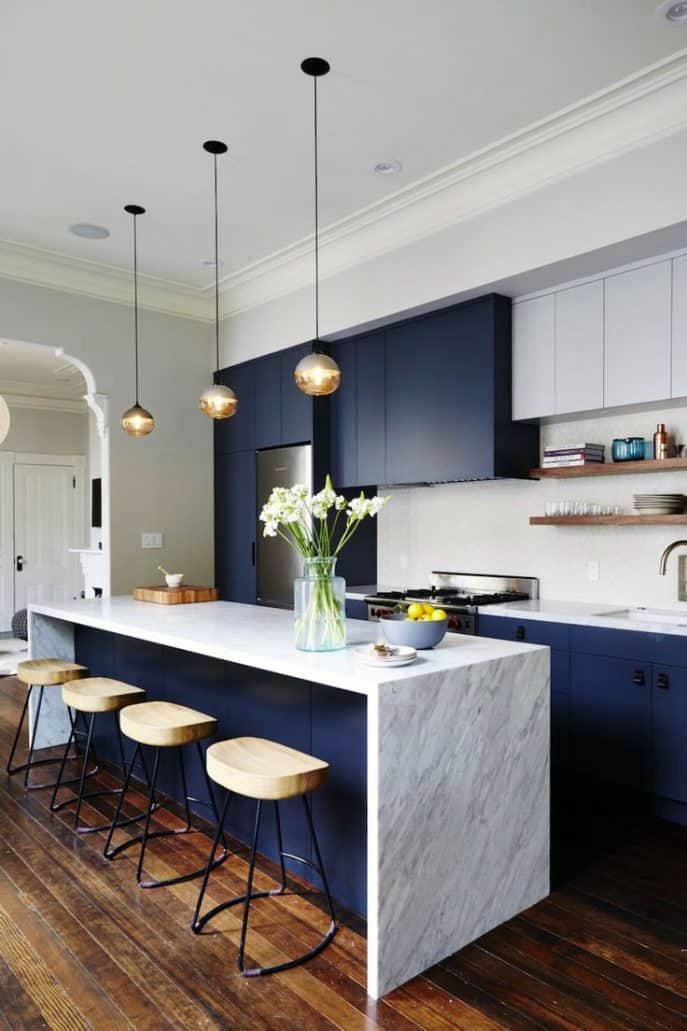 If you liked the previous kitchen design, but want a little more modern or contemporary, here's your answer. Waterfall marble countertops, ample bar seating, and round glass ball pendant lighting add a touch of class to this kitchen. Yet, you still get the cozy vibe thanks to wood shelving against a smooth white tile backsplash. Personally, I love seeing cookbooks, copperware, and other prize kitchen pieces out on display. Large crown molding and reclaimed wood flooring add historical character.