Ever dream of leaving the apartment life behind, or perhaps just moving out of mom and dad's spare bedroom?
The privacy, peaceful silence, the extra space, the acreage elbow room, and so on; all sound so dreamy.
Speaking of dreams, building a custom home was my biggest one ever; it was deeply embedded in my heart.
Everyone gets that urge to splurge, and a new home is one of the most significant ways you can do that, but to build a custom home? Well, now that's a different story.
Unlike buying a builder-grade spec home, the custom home route is an entirely different story. Everyone thinks it's all about the material selection, such as tile color, carpet, etc. But that couldn't be further from the truth. When building a custom home, there are a million plus decisions you ultimately are in charge of.
Some folks hire a builder because they don't want to know or care about the building science, structural aspects, or other less attractive homebuilding details. There's nothing wrong with that, granted you've found a rock-solid builder with a decent amount of experience. But if you genuinely want custom, you're either going to pay for it or become like me and spend a ton of time learning how to be a pro.
All said and done; I invested around three years into learning everything I know. But if you want to understand how to build a custom home, you could quickly figure it out within a few months or less. Luckily for you, I will share everything I've learned in one mega-guide—all my failures, successes, material selections, timelines, and so on.
You might wonder why you should read this guide vs. the countless others already out there. Well, there's a lot of conventional wisdom out there that is just wrong—plenty of folks do the talking but not the walking.
Not to mention outdated homebuilding knowledge that no longer applies to today's more modern homes. I'm not even talking about modern architecture, but rather the fact that today's houses are far more airtight and insulated than homes of the past.
With that said, let's get to it! Here's how to build a custom home, my owner-builder story, and everything I've encountered in the process of construction.
1. How to find land to build a custom home.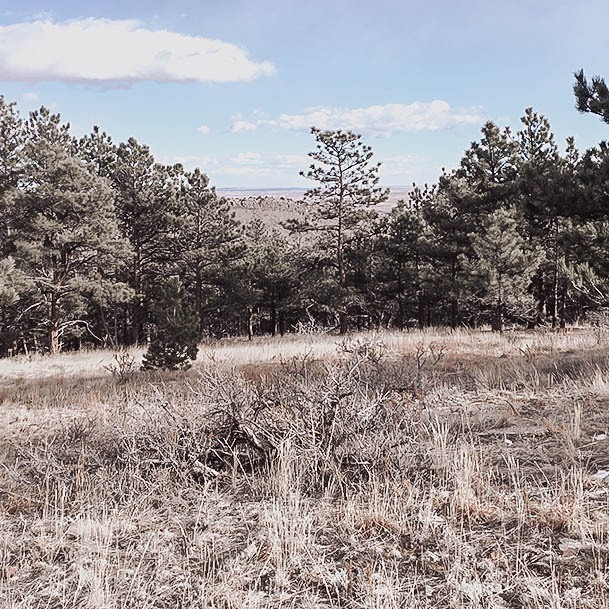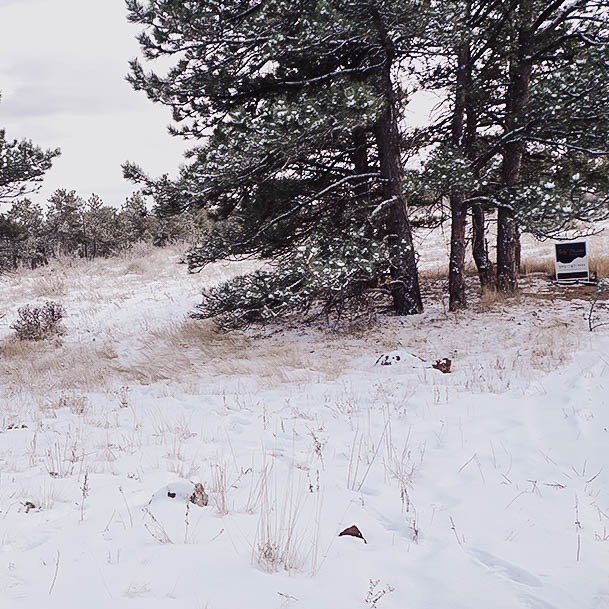 Easier said than done. We looked at hundreds of lots on Zillow and toured ten or so for sale. We would have examined more, but access to most of these vacant land parcels is difficult due to having no road, being too remote, or lacking vague directions.
Sloped, rocky, and with trees blocking the views, we didn't let that discourage us when we found our dream lot. Any lot with a gradual slope can be made flat. Everyone wants a flat lot out the gate, but that's not the case with vacant land.
Our 5-acre lot had electric passing through, so we checked another big ticket item off our list. Granted, no well, but cisterns or a future well construction would efficiently remediate that problem.
I could spend all day talking to you about how to and how not to buy land, but I've already put together a guide. Read up on our 100 Things To Know Before Buying Land To Build A House Or Farm guide. You'll find a wealth of knowledge, considerations, and a fantastic checklist to cross your t's and dot your i's. It's truly the most comprehensive list you'll ever find online or anywhere.
2. It all starts with the survey, software, and permits.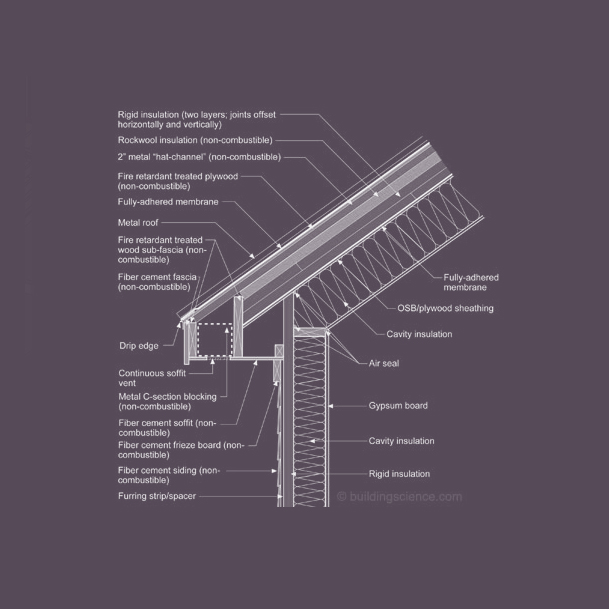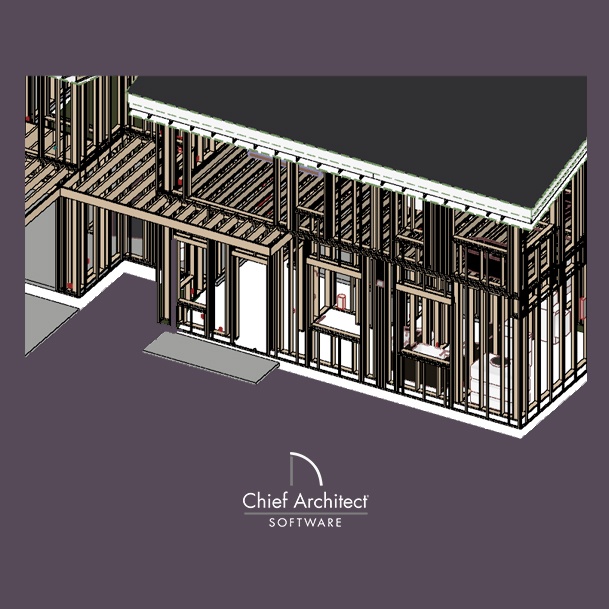 Before any work can begin, a survey from a licensed professional is critical. You've got to know your property boundary lines.
You can use this survey data and import it into tools like Chief Architect to develop a site plan. You can later take that site plan to get a building permit.
For our custom home, we used Chief Architect to plan out the layout and all of the architectural details. I learned how to operate most of this homebuilding software on my own but did take a few days' worths of private online classes. This was mainly due to the complexity of our roof lines and the sloped grading of the lot. If you're building a less complex custom home, you should have no problem figuring out how to use this software.
Chief Architect is expensive, like a thousand dollars expensive, but it was worth it for us. We didn't hire an architect; we were the architects, builders, and in most cases, our trades too. If you don't want to go this route to build a custom home, you can always buy a pre-made plan from the endless number of vendors online. A draftsman or a local architect can customize most to fit your needs.
In our case, hiring an architect would have an additional thirty to fifty thousand dollars.
You ultimately know if you want one or two stories, the architectural style, etc. I won't bother trying to explain all of that to you.
3. How much does it cost to build a custom home?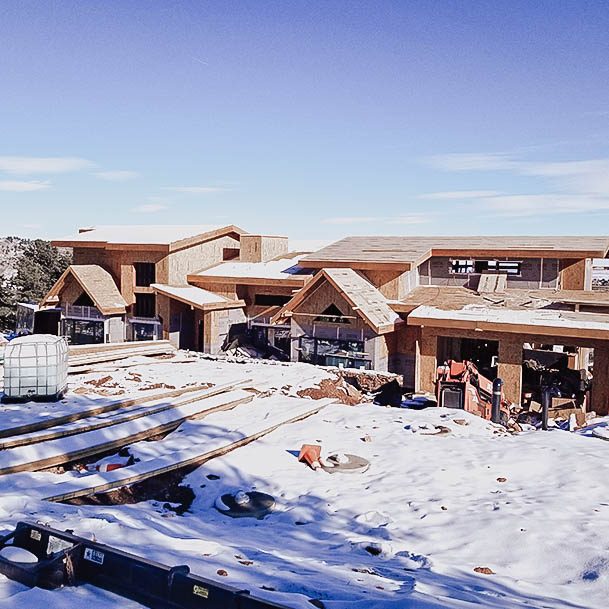 Without answering this early in the game, you'll set yourself up for a lack of funds to finish in the end or middle of the project.
Is your custom home too large? Are your finish selections going to be too expensive? Can you afford to upgrade from carpet to hardwood? There are a lot of factors that affect the final price of a home building project.
Everyone wants to know the cost per square foot, but there's no general number. Assume at least $150-200 per square foot and up for most locations, building a builder-grade home. For a custom home by a highly regarded luxury homebuilder, $500, $1000, and up per square foot isn't uncommon. If you're going the owner-builder route and building high-end luxury, estimate $250 per square foot.
Can you build for under $100 square foot, as some claim? Yes and no. It all depends on your local trades. Some locations have super cheap trades (siding, concrete, electrical), and the trades charge as much as they want in other areas.
Here in Colorado, an electrical install can cost over $50K for a large custom home, but if you get the same work done in Ohio, you're paying $15K. Now consider that you've got HVAC, electrical, plumbing, concrete, roofing, siding, insulation, landscaping, drywall, etc.; with ten trades, you've got a $350,000 difference just based on location. Again, location matters. You can't look this stuff up online; it just doesn't work. You have to get local bids from trades to figure out the costs.
Then you've got the stuff everyone thinks affects the end price, and they do, just not as much as you'd think. Do you want marble floors or carpet? The difference is enormous per square foot. How many bathrooms does your custom home have? These are the most expensive parts of a home.
Do you want a simple granite countertop on your island or a waterfall style that covers all the sides? The price changes again. Spray foam or batt insulation? Exterior insulation? If so, how thick? Double pane or triple pane windows? Andersen or Marvin brand? Even a brand alone can have a significant price difference.
4. Do you save money being an owner builder?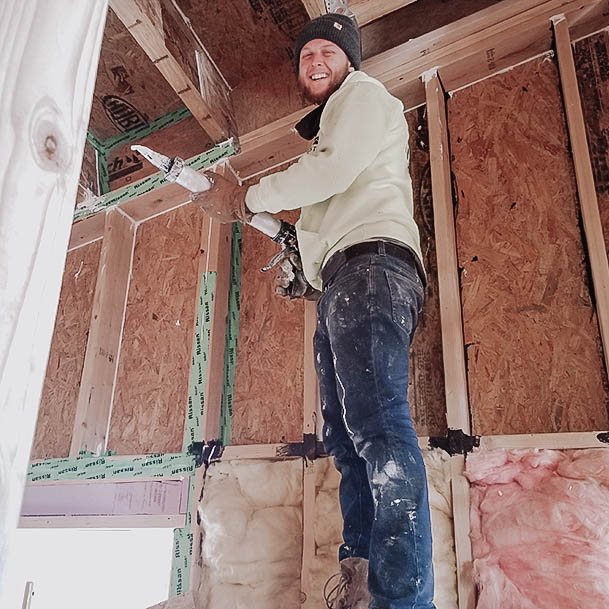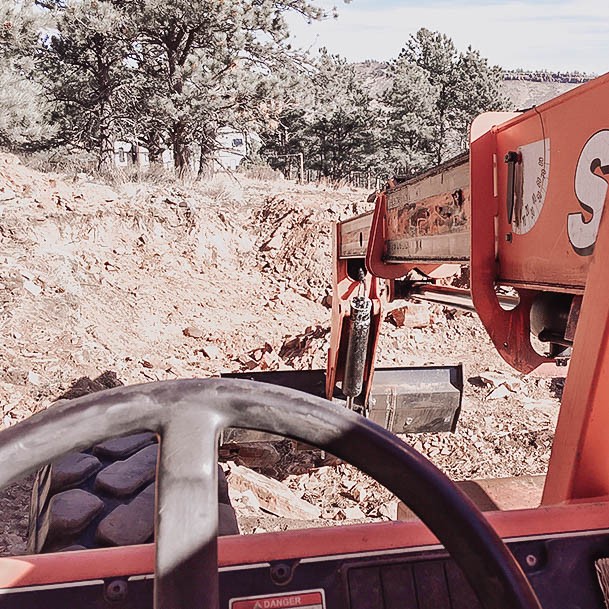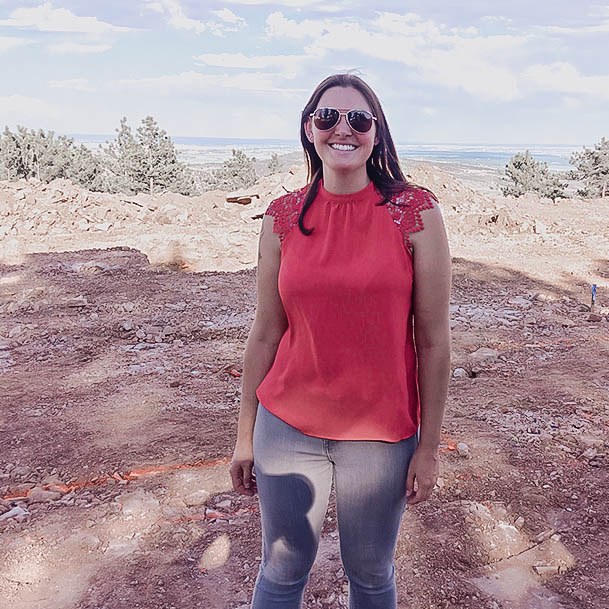 Sort of.
If you don't upgrade anything and are okay cutting corners here and there like some builders, then yes, 10-25% savings is possible. In our case, we wanted things like Advantech sheathing on our walls instead of regular OSB, which added thousands of dollars. Your run-of-the-mill custom home builder isn't going to include that type of thing in their bid. They are using the most common, average materials out there.
Speaking of materials, professional builders do not get significant discounts on materials. Everyone, except for mega-mega builders, pays the same for lumber. Most builders over-pay on materials like hardware, construction adhesives, lumber, etc. All of it because they don't shop around and price quote it out at various vendors.
Most builders use one or two local supply houses. These supply houses way overcharge in most cases. Home Depot was often way cheaper for us. Best of all, if you are an owner builder, then you can take the time to look for deals on Craigslist or FB marketplace. We saved over a hundred grand doing this.
You'd be amazed at the quotes you get from various supply houses, including places like Home Depot. We had bids on lumber/misc—material packages varied by as much as $200K. No joke!
5. Crazy people get things done.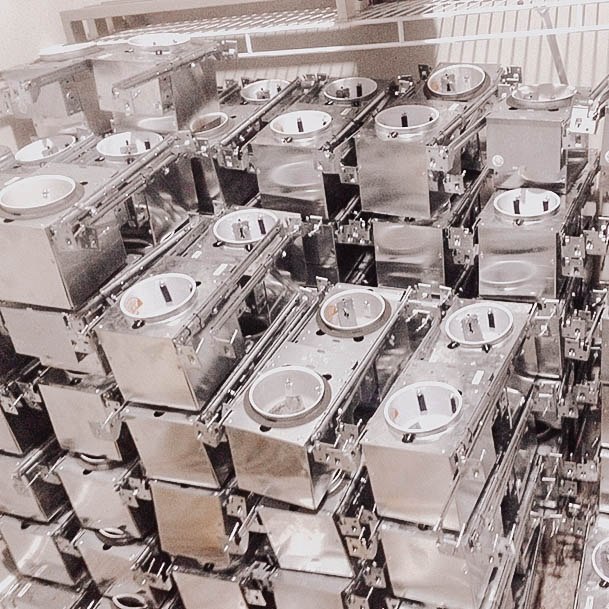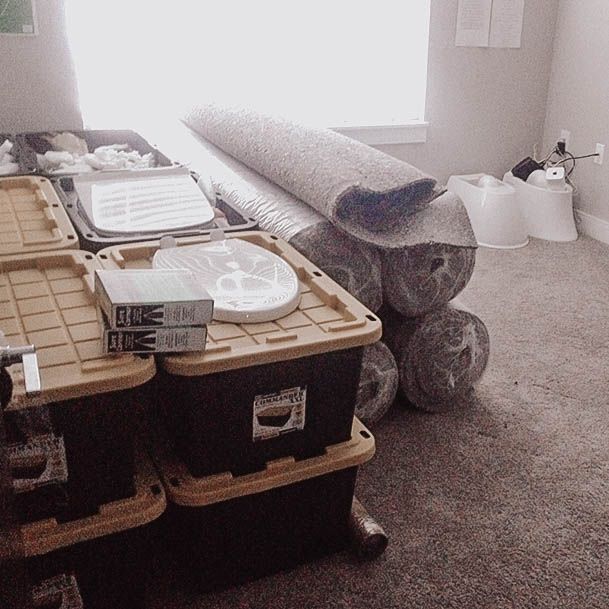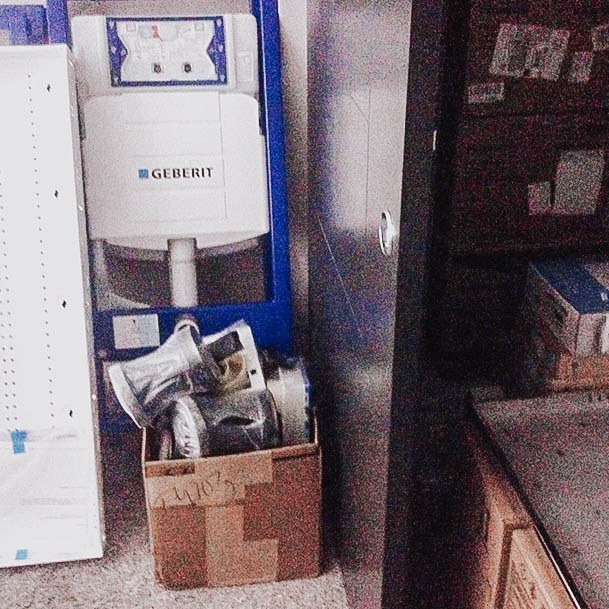 I started buying materials and storing them in the spare bedroom of my two-bedroom apartment. Light cans, faucets, toilets, carpet pad; anything I could get a deal on and haul home.
People called me crazy. I saved roughly 60% off everything I purchased for the house. That is just unheard of. We kept a spreadsheet, and the total savings off retail came out to over $544,000 on materials alone.
I sourced eBay for new things like kitchen faucets that were open boxes or simply unwanted and snagged them at significant discounts. I even bought small things like our ball-bearing interior door hinges off eBay. You'd be amazed at how much you can find on there, new and at a discount way lower than the big box stores or supply houses.
After moving out of the apartment and into the RV on our land, I got even crazier. We set up colossal party tents and filled them with all sorts of construction materials we found every week. I felt bad for our neighbors seeing them, but they would disappear at some point.
We bought semi-truckloads of reclaimed foam insulation for our roofing and walls early on. We got this before we even broke ground. It saved us thousands. We went to Habitat for Humanity Restore and bought donated building materials at huge discounts. Best of all, while we benefited with excellent materials, so did the local community organization with cash; win-win.
At one point, we found someone on Craigslist who was renovating a senior retirement home to turn it into low-income apartments. The entire interior of the building was being gutted, and rather than pay for a dumpster to trash insulation, they gave it away for free.
We rented the largest U-Haul trailer and stuffed it with like-new R38 batt fiberglass insulation. We must have taken over a thousand batts or more for free. Itchy, but free.
FB marketplace was another treasure for finding excess discounted lumber, drywall, and so on.
Builders don't have time to look for these days, but you do. You can seriously build a house for half like we did if you're willing to look!
6. Builders risk insurance.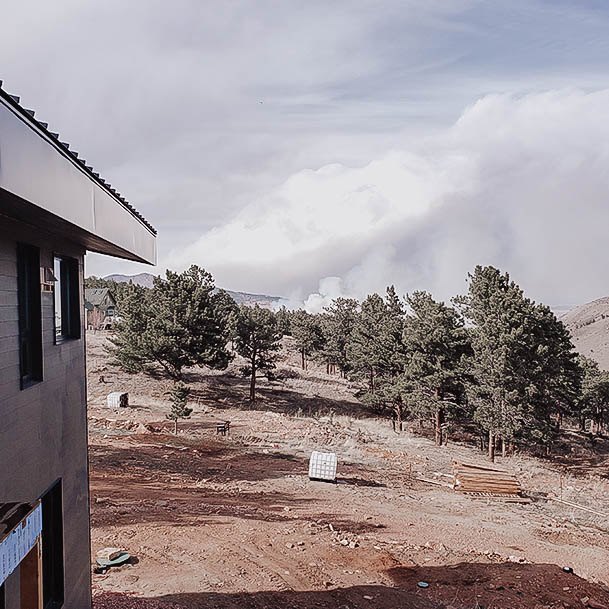 7. Port a potty, trash cans and dumpster rental.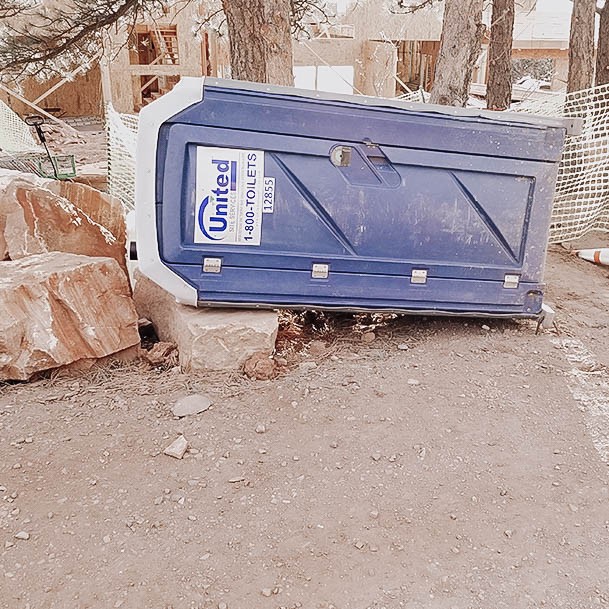 8. Let's dig! Earthwork and clearing.
First up was the chainsaw to clear any vegetation and trees. We borrowed our neighbor's wood chipper to turn these branches into mulch. You could rent one if you wanted to.
We used a Bosch laser level, the tripod-looking one, to figure out how high and low our foundation pad needed to be. We set pins around the corners of the house and then put another set 20′ outside of those. By doing so, we could excavate without bumping into any pins.
To get our lot flat, we rented a mini-excavator for a week, a Takeuchi TB260. You can learn to operate these in about a day by watching videos; they aren't hard to run. While powerful, this machine wasn't enough for the hard sandstone rock on our property. We then rented a Hyundai HX220L, a beast of a machine and massive. This worked far better, but we were hitting solid rock in some places.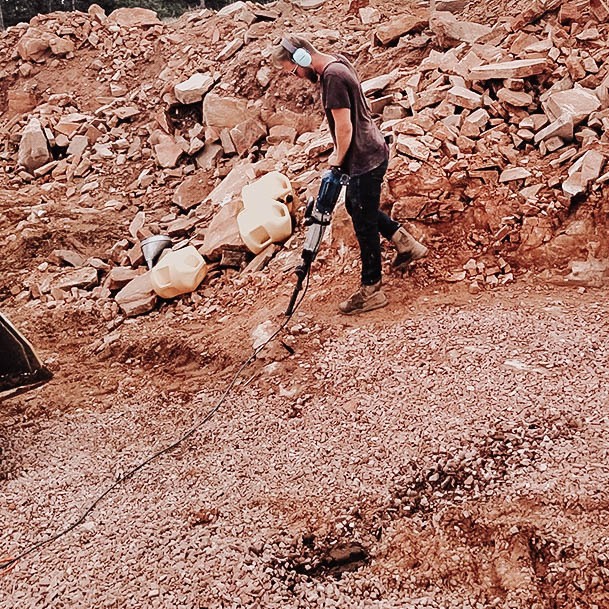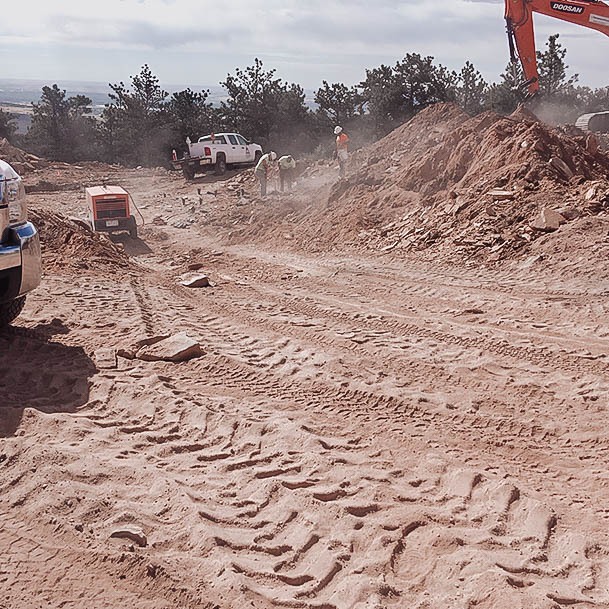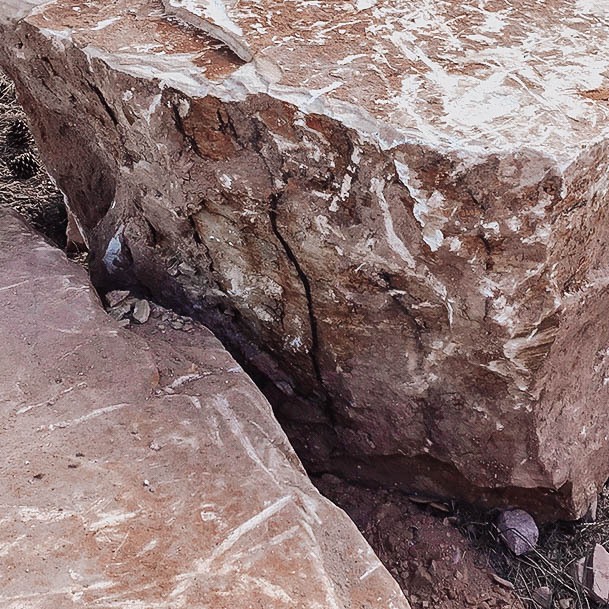 To problem solve, we hired blasting professionals. In less than a few hours, all of our rock was gone. Best of all, it was under a few thousand dollars, way less than you'd think it costs. Compared to machine time, it's far cheaper and wiser to blast first.
It may be tempting to buy a mini excavator for all the men there. I hear this all the time, and boy, did I want one myself. But don't. Get a skid steer, or better yet, the Swiss army knife of all heavy machinery, a backhoe. Nothing beats a backhoe, I've found.
After blasting, we got a Doosan excavator to finish the rest of the foundation earthwork, including footings. We used the backhoe for the rest of the project. The total cost for earthwork was around $15,000 plus rental charges of $5K, so $20K total. Keep in mind that we were building a 4,500-square-foot house on the side of a mountain with super rocky soil.
Once the foundation pad is flat, digging foundation footings is next. In most cases, these are 3′ deep, below the frost line, to prevent the concrete from freezing and heaving. So that new flat pad goes from perfect to a mess. If you're building a basement, you're just digging deeper footings, so the entire area gets excavated from the get-go.
9. More Earthwork. Trenching in electric and getting temporary power.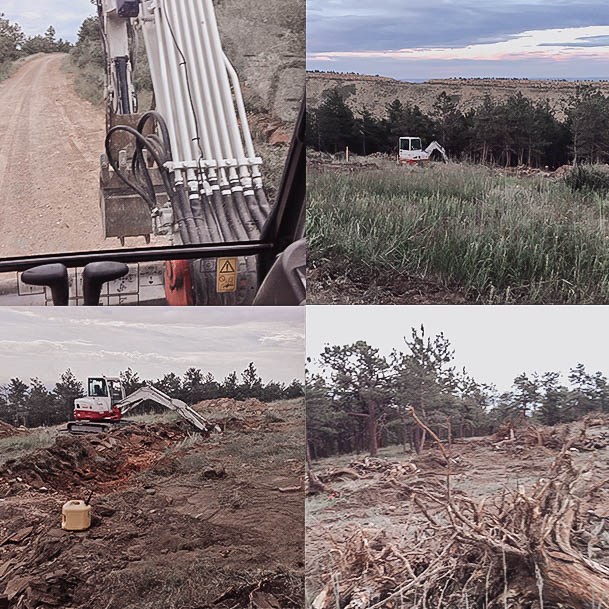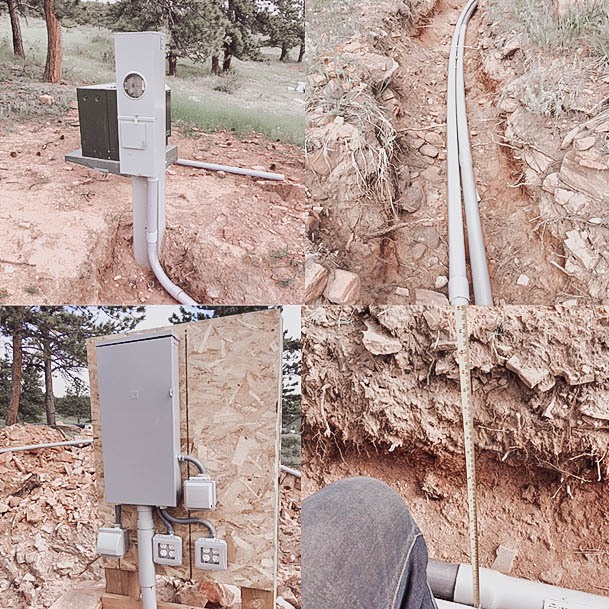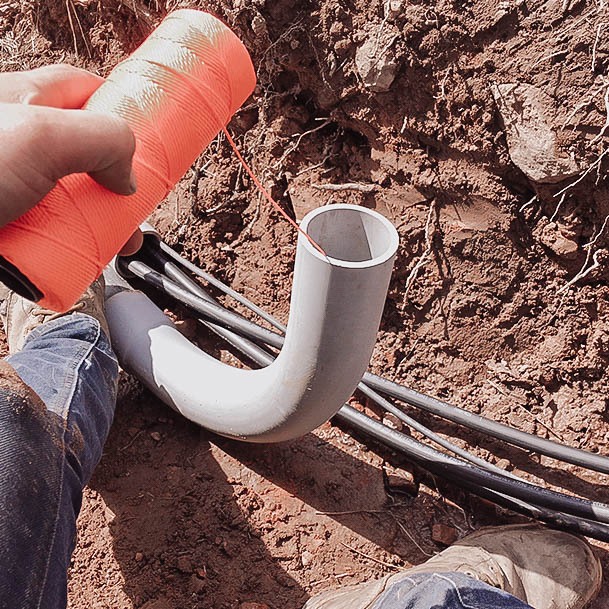 We used a backhoe to trench our electric conduit/lines from the box/meter to the house. If you want to keep life simple or have rock, do yourself a favor and just rent a carbide-tipped trencher.
It will dig to the correct depth and give you enough space to install conduit without tearing up your land. An excavator or backhoe bucket is usually 16-24″ or larger, while a trencher can be 6-8″ or so.
We ran schedule 40 conduits underground and transitioned to schedule 80 above ground. We used aluminum wire for the main service line as copper would have been expensive. For the main line, this is fine, but don't do this once you get inside the house.
One cost we didn't expect was the cost of the meter to the tune of two-thousand dollars. Even though the green box was there and the line was pre-ran, the meter was still an electric company connection upcharge. Our service is 400 amps, and our house has two 200 amp panels inside, which is why the meter was a bit more expensive.
For temporary power, we set up a simple 100 amp panel with lots of 20 amp plugs and one 50 amp plug to power our RV. It was mounted on two 8×8 beams sandwiched between two sheets of OSB. Cheap, strong and could probably last forever.
When running the main electrical line through the conduit, expect to struggle. We used our telehandler to tug the cable through, but with turns and curves, it can be challenging. Lube that cable up before pulling!
10. Even More Earthwork. Water supply.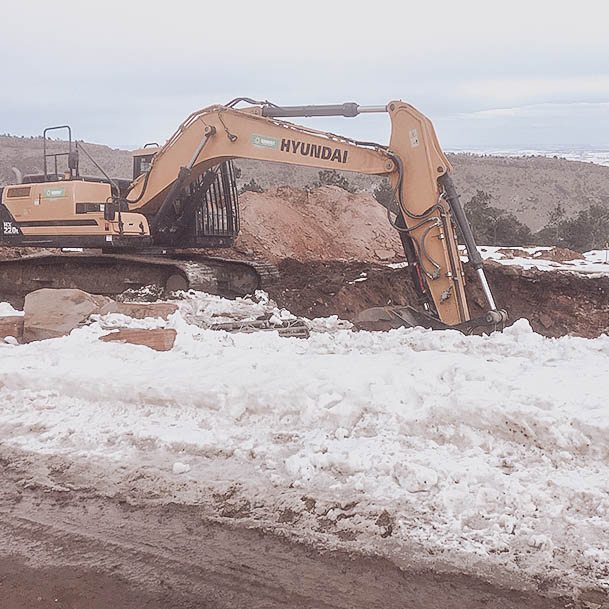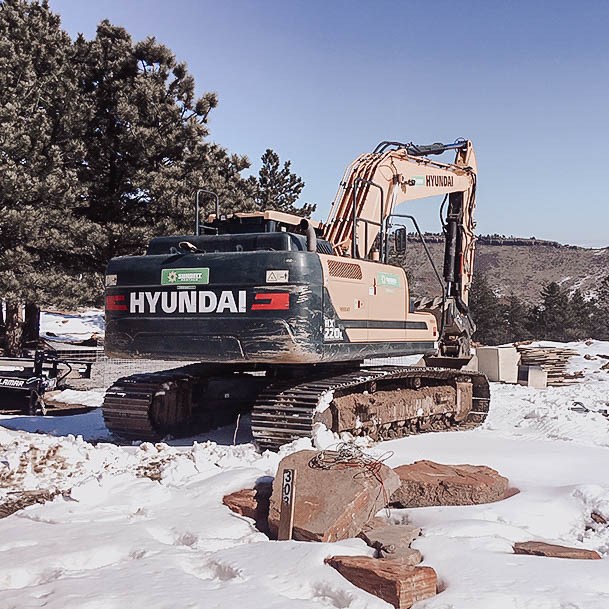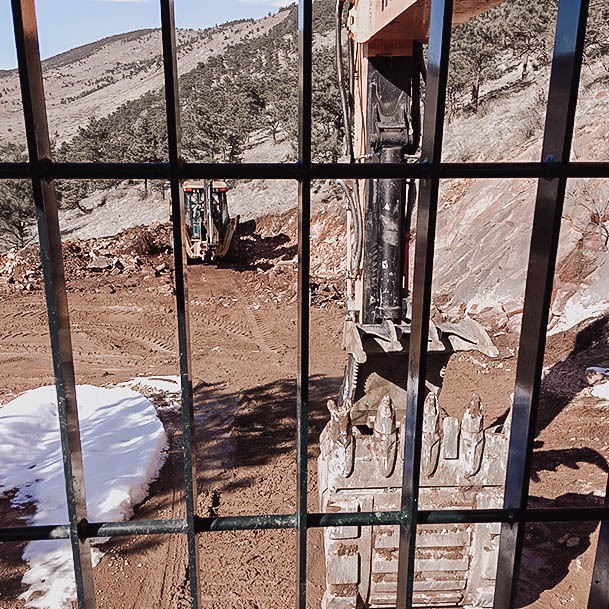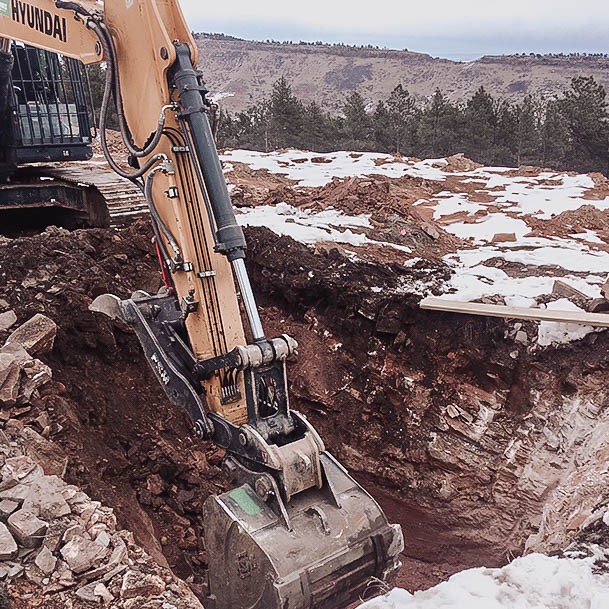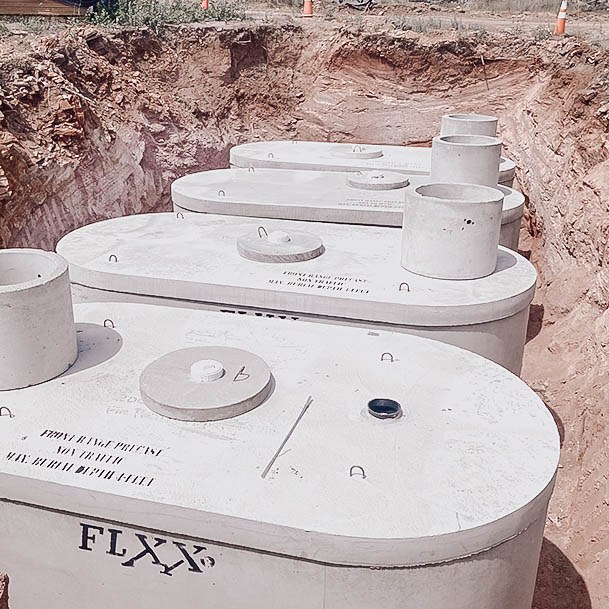 We got a well permit, and our area produces water, but it's so riddled with heavy minerals that it's nearly undrinkable. So we opted to install three mated 8,000-gallon water cisterns. In addition to those, we added a 2,500-gallon fire cistern per the fire department's request.
There are many options for cistern choices, but we choose concrete. It was cheaper than plastic, believe it or not. Our lot is up a steep mountain gravel road, and yet our delivery guys were able to bring these concrete tanks, weighing tens of thousands of pounds, up with absolute ease.
You can skip the above and hook up to city water if you're in town. These water tap connection fees are crazy in some places, like Colorado. Like twenty-grand and up crazy.
11. Way More Earthwork. Septic install.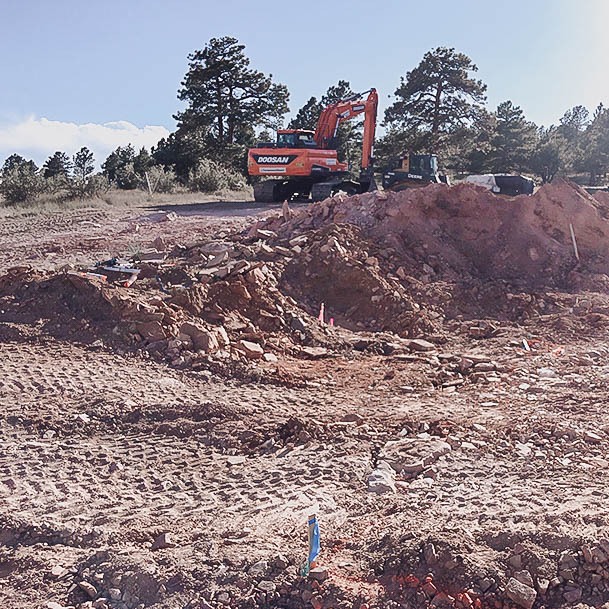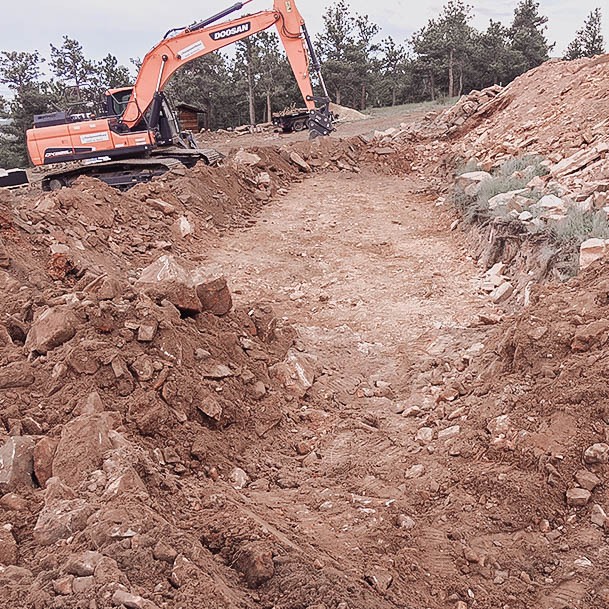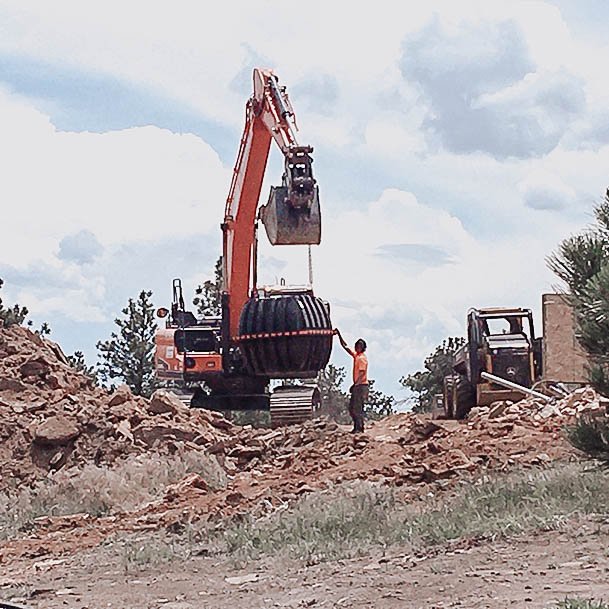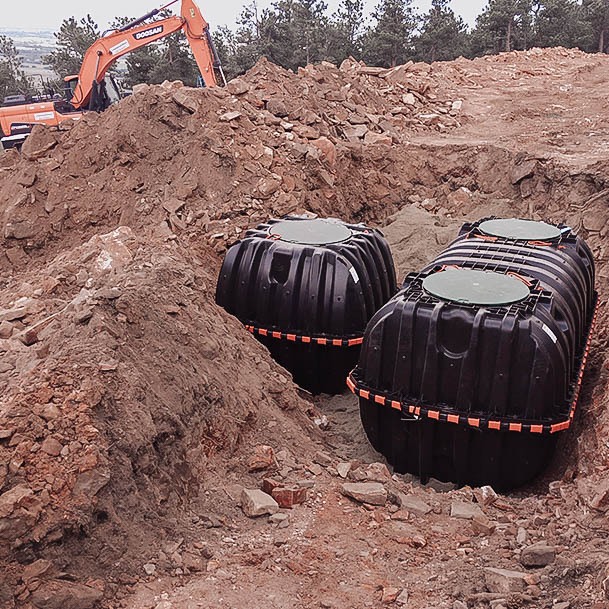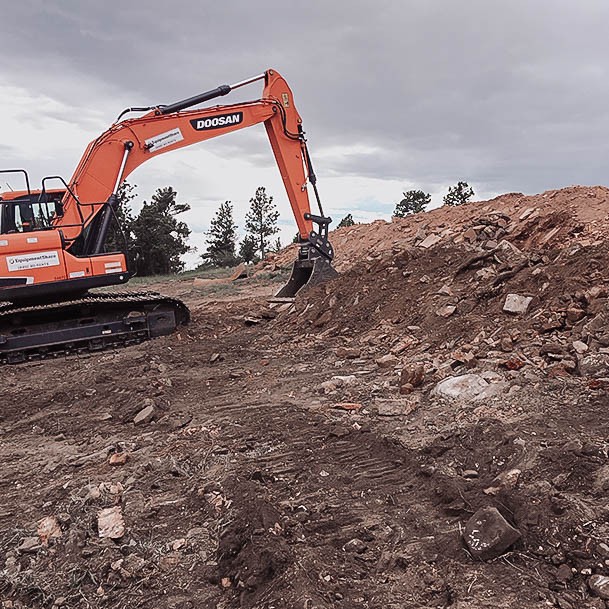 With no city sewer connection, we had to install a septic system. Due to our rocky mountain soils, we opted for a sand bed septic system. It's a simple system, but just be prepared to haul tons and tons of sand for a few thousand bucks.
For septic containment, we opted to go with plastic tanks as it was all we could find at the time. The plastic septic tanks are doing just fine compared to the concrete cisterns.
Our leech field is approx. 75′ or so long with 48 chambers covered in 6′ or so of dirt. You can't smell or see anything, for that matter. Our tank is 1500 gallons and comfortably serves a 3-4 bedroom house. We spent $7,000 on all the septic supplies, $3,000 on ten loads of sand, and around $13,000 on our entire septic system, including earthwork.
12. Footing forms and concrete.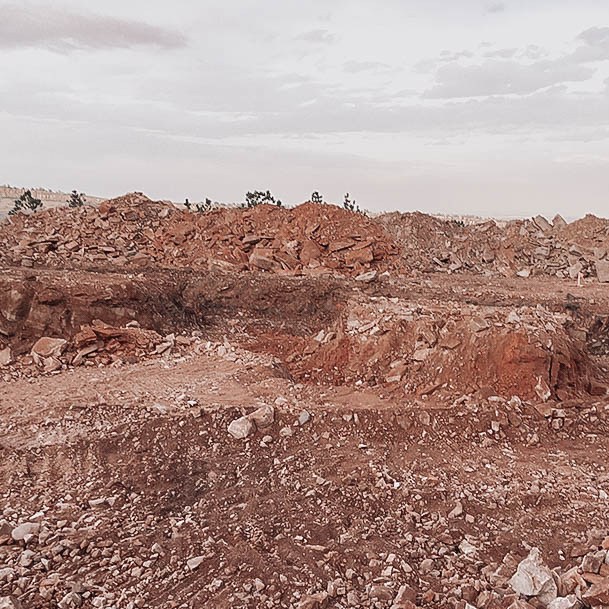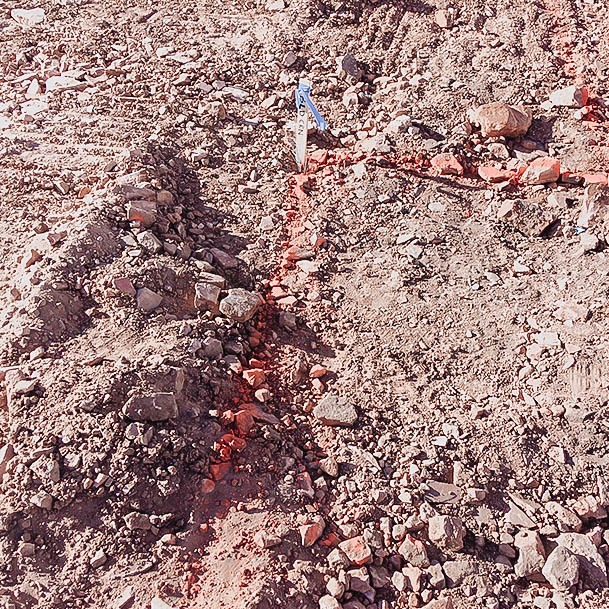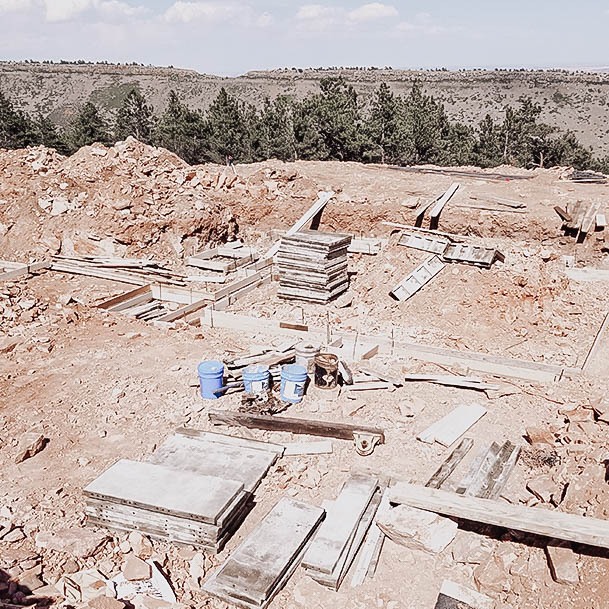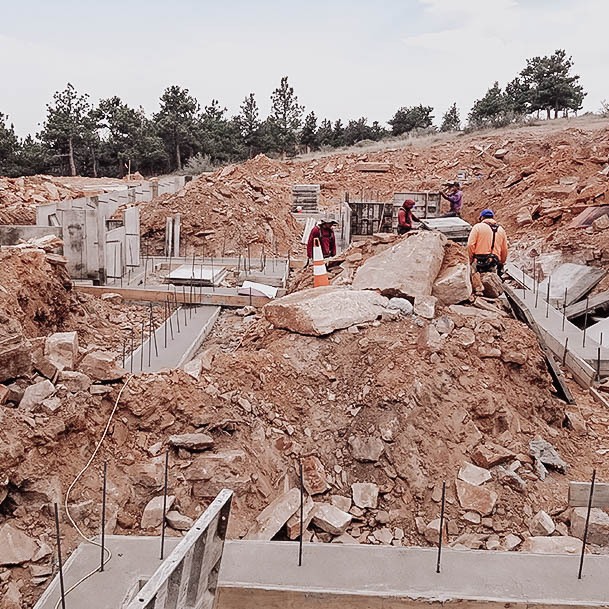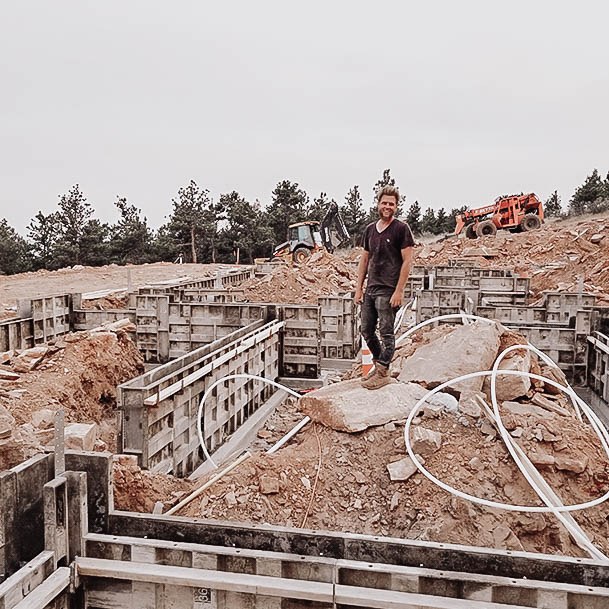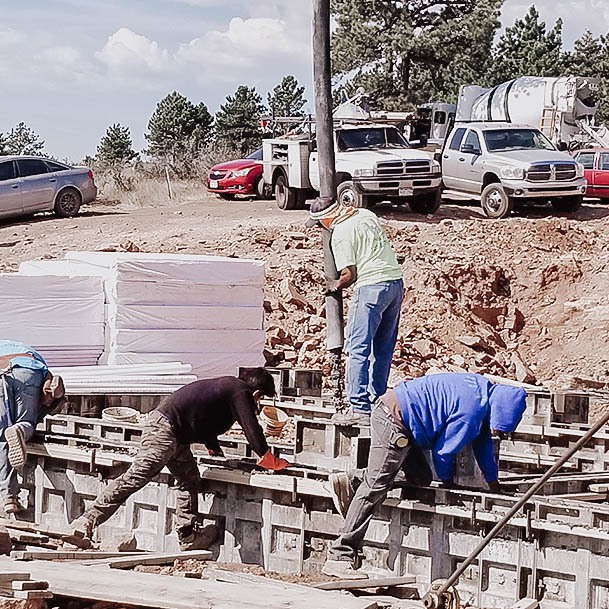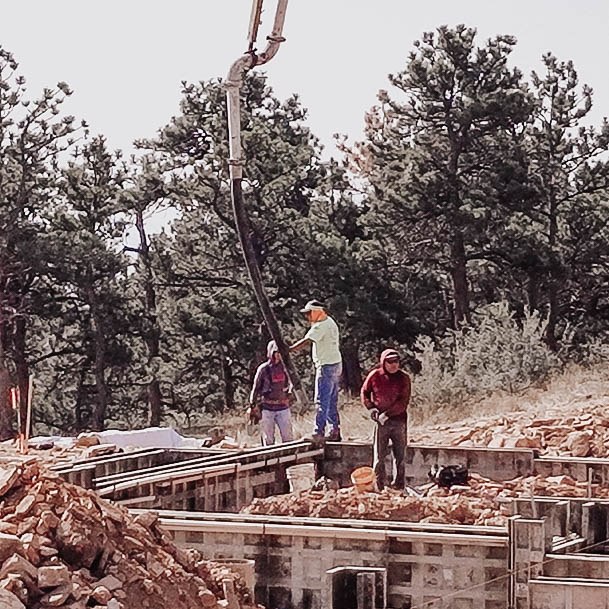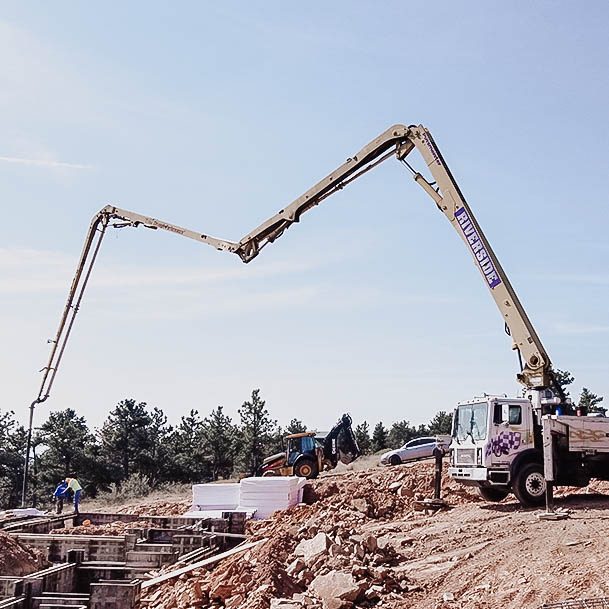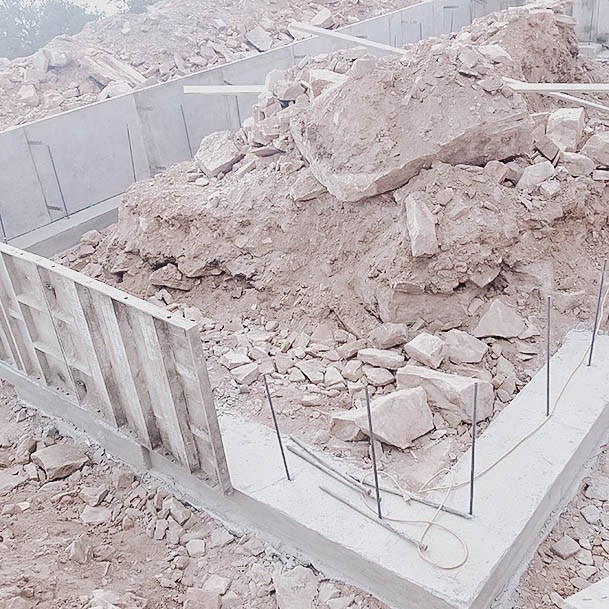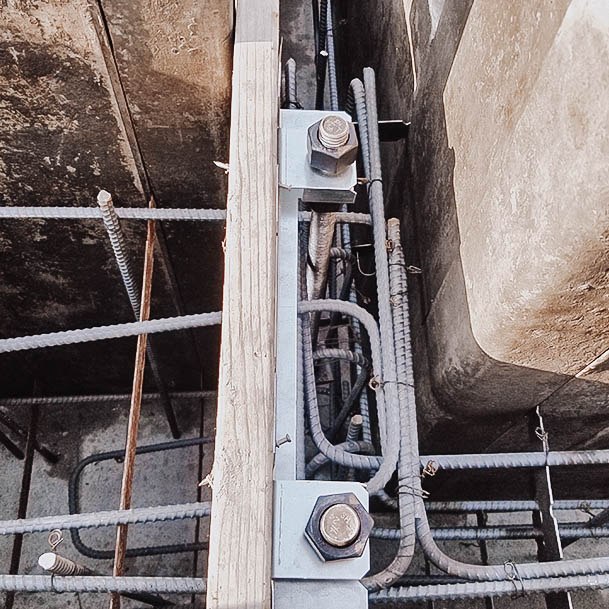 Next up were building the forms for our concrete footings. Our concrete trades bent and tied rebar together nonstop until they were ready to cover both sides with aluminum forms. During this process, they install our concrete embedded Simpson hold-down straps and other structural bolt connections.
Note, if you're going to walk around the job site while there's rebar, be careful and don't skewer yourself. Rebar can easily pierce through the skin if you fall on it.
The process is relatively simple; they form the footing pad and pour concrete. Next, they form up the stem wall and pour concrete. Once this is done, the forms are removed, and the entire hollow area is backfilled with either gravel or dirt from the site. Essential to this process is compacting the ground so that the slab above, once poured, doesn't crack or move. Rent a plate compactor or hire out the process.
13. Under-slab utilities.
While the concrete guys were busy doing their thing, I ran our water line from the cisterns to under the house. I did the same for the electrical conduit. If you forget to do either of these after the concrete is poured, don't worry. You can get some concrete core guys to come out and drill a hole in the footing for two hundred bucks. Not a big deal.
We also installed our plumbing drains and vents, plus our electrical conduit for the Kitchen Island and living room floor outlets. You'll easily hide the utilities in the floor joists if you have a basement. But we only had one go to get this right under the slab.
14. Under-slab radon and insulation. Slab concrete.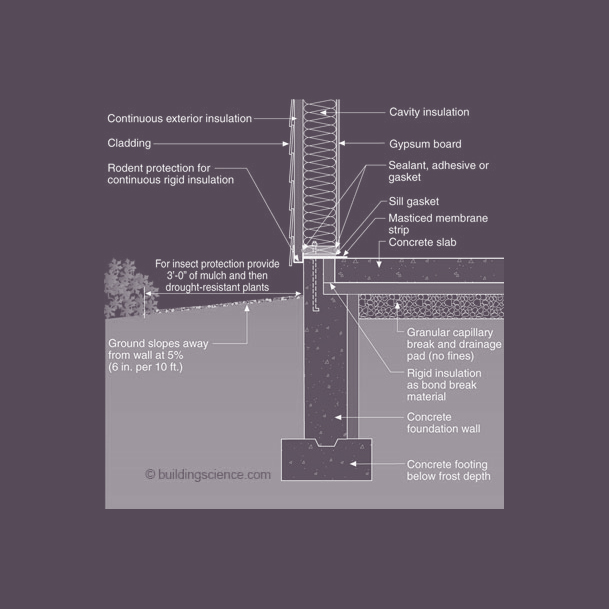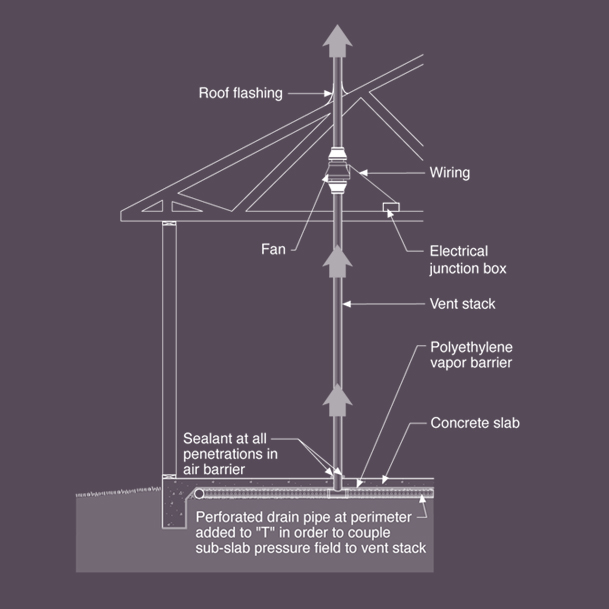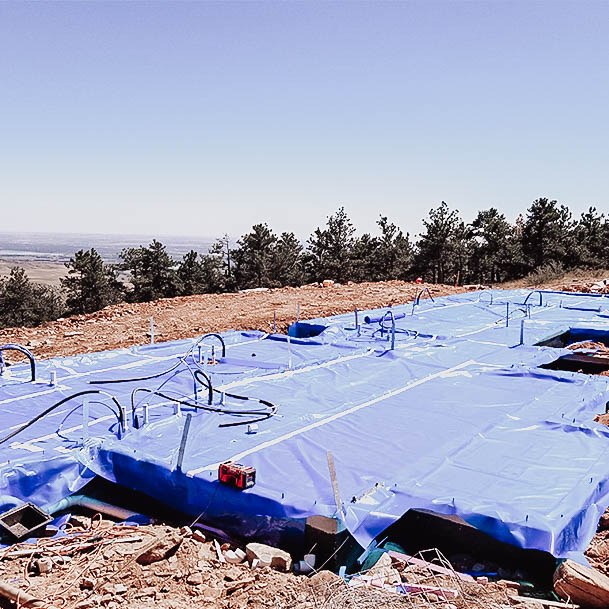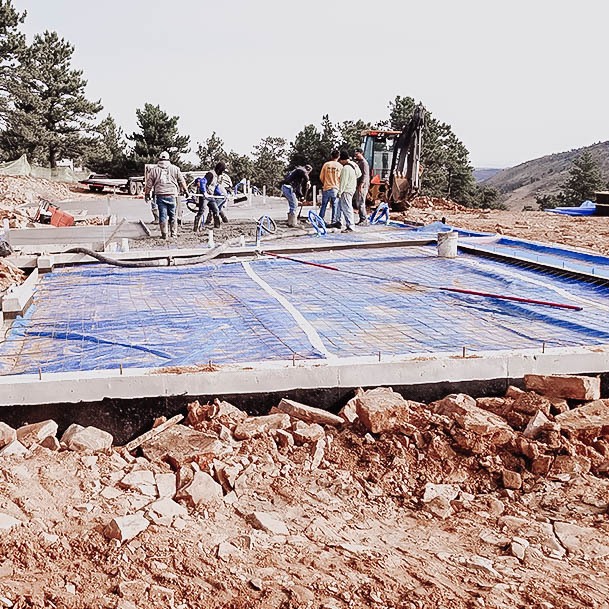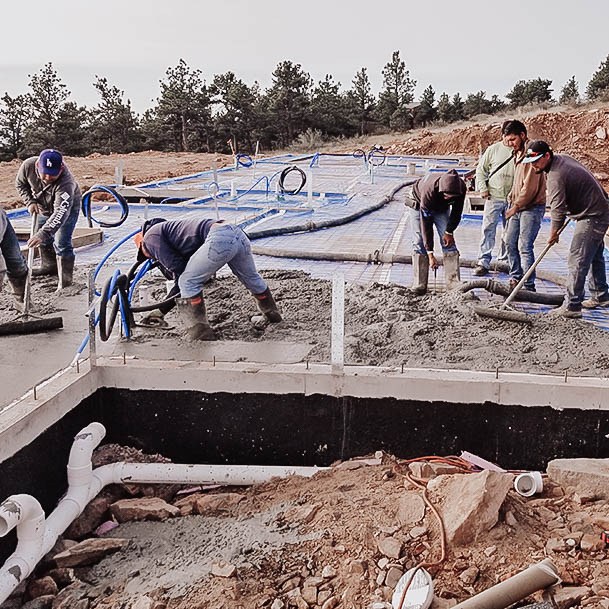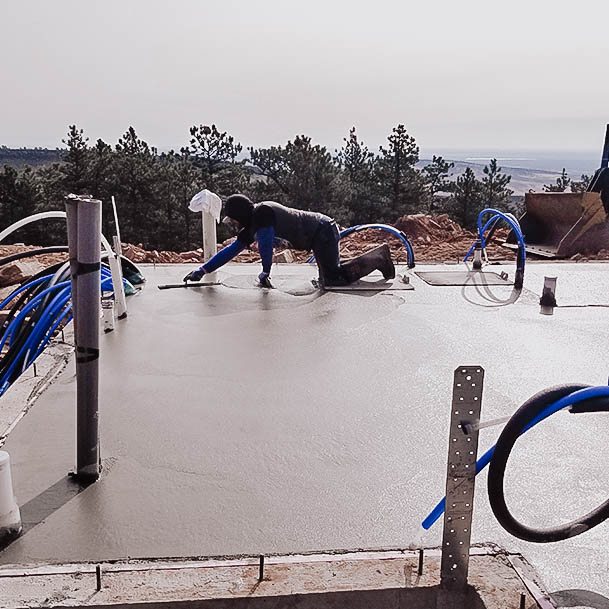 Before the slab could be poured, we installed a PVC pipe collection system for radon gases.
We got a perforated PVC pipe and ran it around the perimeter of our footing walls. We connected it and ran a single solid PVC pipe into the utility room. The pipes were backfilled with gravel so the gas could escape into the lines and be vented out. The gravel also acts as a capillary break to prevent water from moving upwards.
These wonderful machines will place gravel on a conveyer belt and drop it anywhere inside the slab for you. This makes backfilling so much easier and less backbreaking with the rake. We used a telehandler with a bucket but could have built a ramp to get heavy machinery carrying gravel inside.
Next, we installed rigid XPS insulation on all footing stem walls. We did this so we wouldn't have to put this insulation on the exterior of the footings. When you do this, insects eat at it, and it gets nicked by things like weed-whackers, etc. Not to mention, it's combustible, so it has to be covered with something else. In addition to insulating the stem walls, we went with full under slab insulation. 2″ of ridged XPS.
For a slab-on-grade, this is a luxury, not needed. For a basement, you need this insulation. Period. Unless you want cold feet and higher energy bills.
Once the insulation was done, we overlaid a plastic poly barrier over the entire slab. This was our vapor barrier. We sliced it open to allow plumbing drains and electrical conduit to poke through. We used mastic and tape to seal up these joints. When doing a slab vapor barrier, even if you don't get it 100% airtight, it will still do 99% of the work if you miss 1% of the details. In other words, if you forget to tape a pipe, the rest of the vapor barrier will still do its job just fine.
Next came the wire mesh above the vapor barrier. And finally, the big day, concrete! We added fiber to our slab concrete at the cost of a hundred bucks or less. It adds so much more strength for a meager price. If you add a metal reinforcement fiber, remember the difficulty of hiding these fibers when having polished concrete floors.
15. Curing the slab.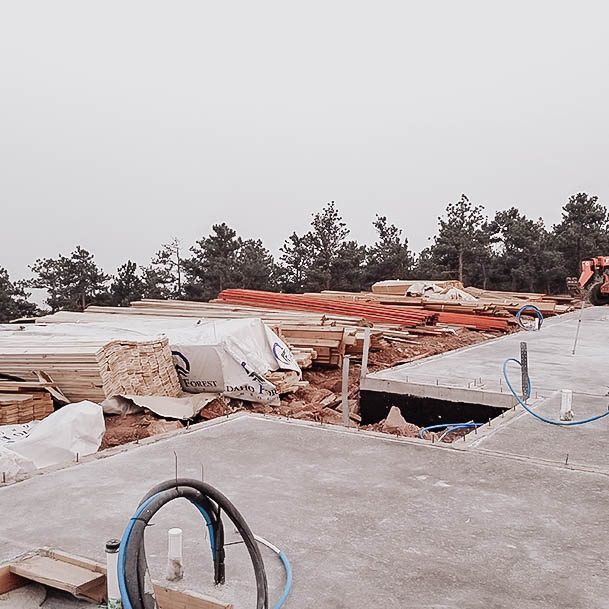 Proper curing of the concrete slab is critical. You want to keep it wet, cover it with burlap, and slow water evaporation. Water is what cures the concrete and gives the concrete its ultimate strength.
We spent a little extra coin and used Curecrete's Ashford Formula. It's a concrete densifier typically used in warehouses, not homes. But we bought a few five-gallon pales to cure our concrete and all the other benefits.
Regarding backfill and framing, it's critical not to start too soon. Concrete needs time to cure to develop strength. We waited two weeks before doing anything further.
Note, after the concrete cures, you'll want to get relief cuts done if your installers didn't already add these. However, your concrete slab will still crack even with these relief cuts. All concrete cracks. It's not a question of if but when.
Small cracks in your slab are normal and nothing to worry about. It sucks, but it happens even with fiber, proper curing, correct slump ratio, etc. Don't put too much thought into it unless you're going for polished concrete floors.
16. Damp proofing the cured footings or basement walls plus drainage pipes.
Before we backfilled the now cured concrete walls, we applied a thick, nasty coat of damp-proofing. This sticky, heavy tar-like paint keeps the concrete from wicking water from the backfilled dirt.
We used paint rollers and brushes to apply it. The cost of the product itself is cheap, and applying it is so easy, but it's an arm-burner. We probably would have hired this out if we could have found someone to spray this for us.
For basement walls, opt for a better system like Delta-MS below-grade drainage or Polyguard's coatings.
With the walls taken care of, we added perimeter drains around the foundation to collect below-grade water. The last thing you want is water to get into your basement. Even if you're building a custom slab on grade house, consider something called capillary action, which you can't see, and of course, flooding, which you can see.
We used a 4″ perforated PVC pipe and ran it to daylight away from the house. We also installed underground solid PVC pipe for collecting and displacing rainwater from the roof gutters away from the home's immediate exterior.
Instead of backfilling with dirt, we wrapped these pipes in a burrito fashion with washed gravel and filter/landscaping fabric. Then once we had 20″ or so of gravel on top, we finished backfilling with dirt.
Note, when backfilling basement or footing stem walls, be careful not to do it all at once. Backfill in small lifts on both sides. Too much dirt on one side of a wall can force it to tilt over.
17. Framing layout and bottom plates to start.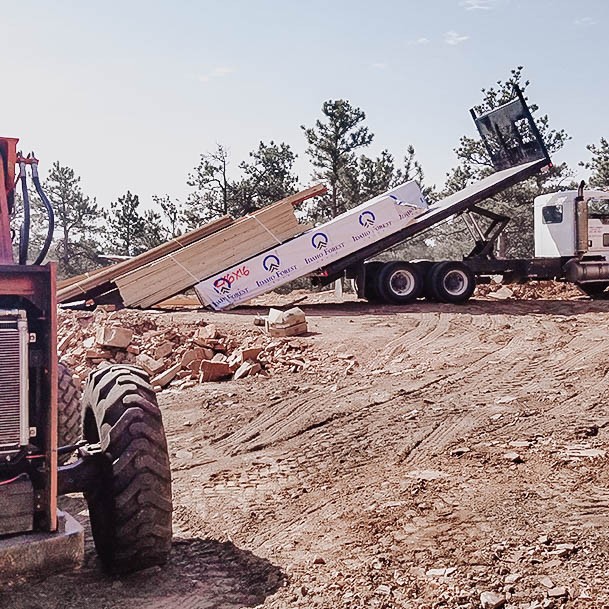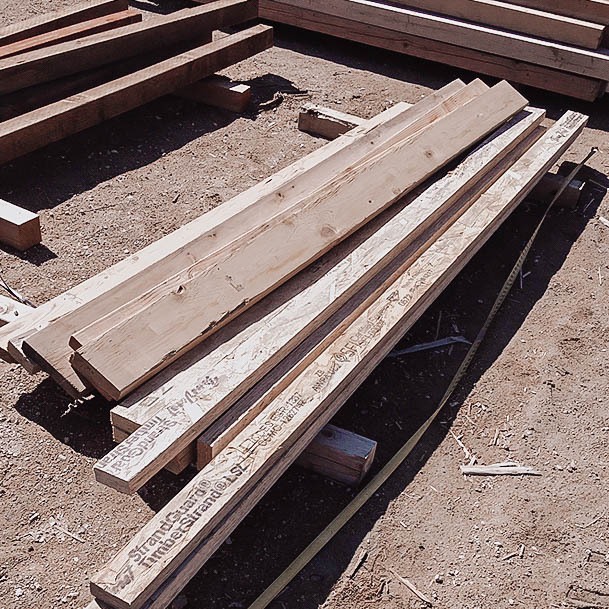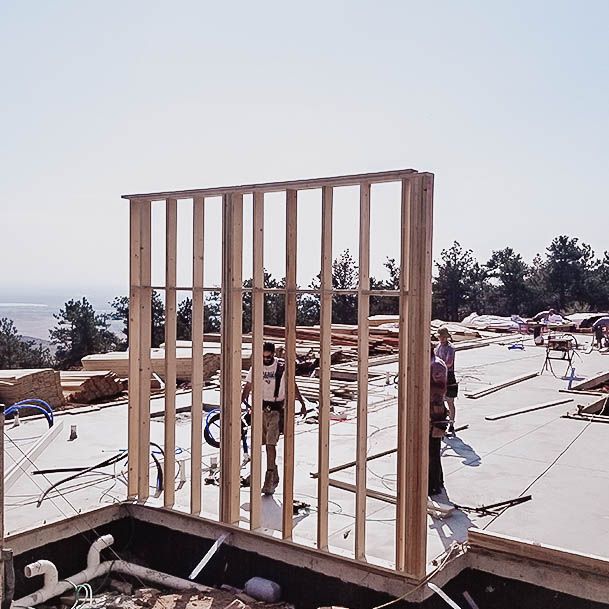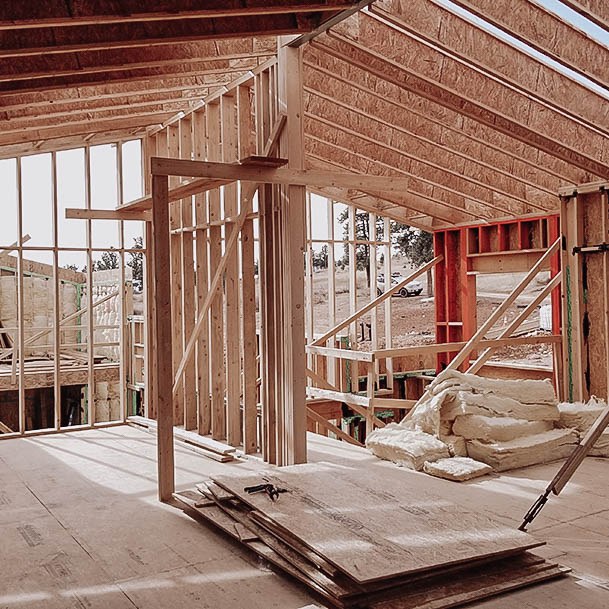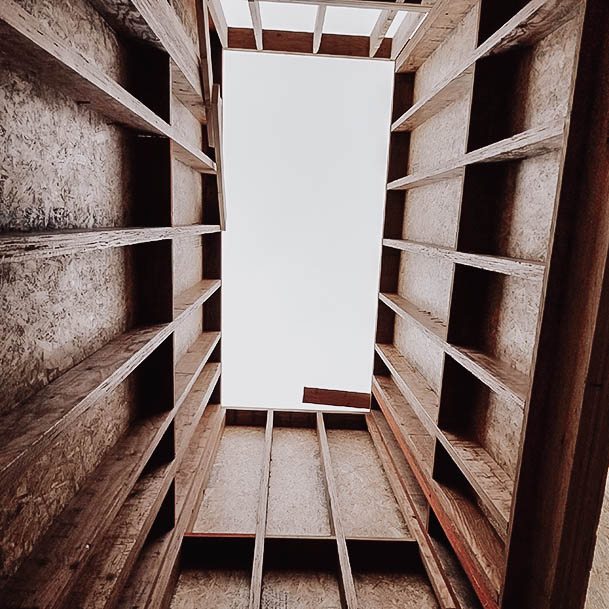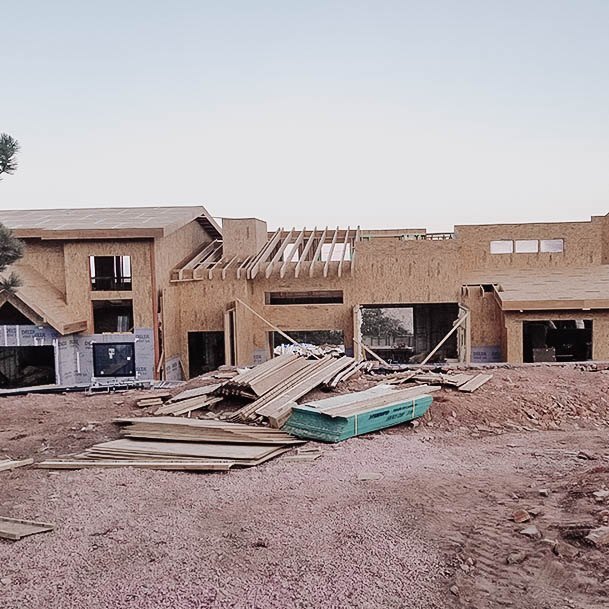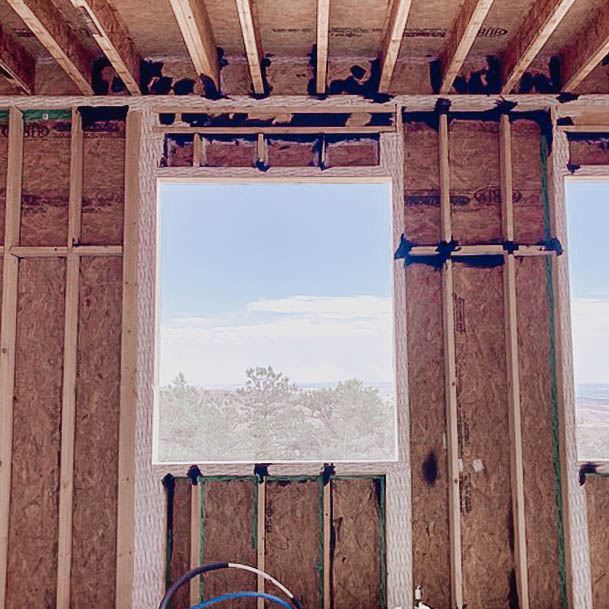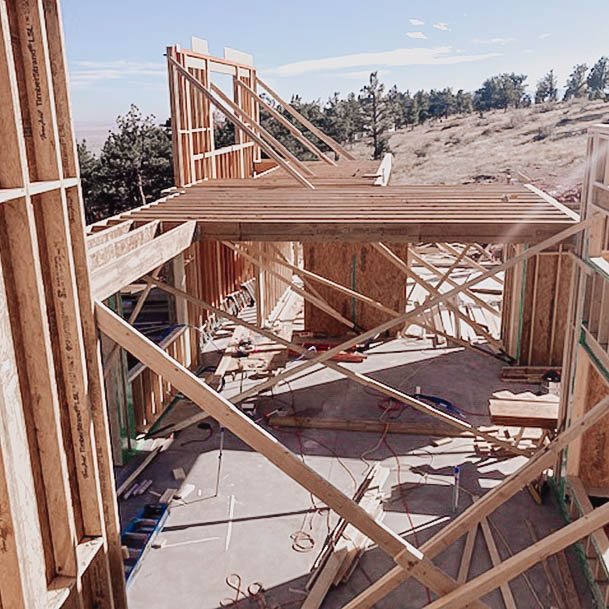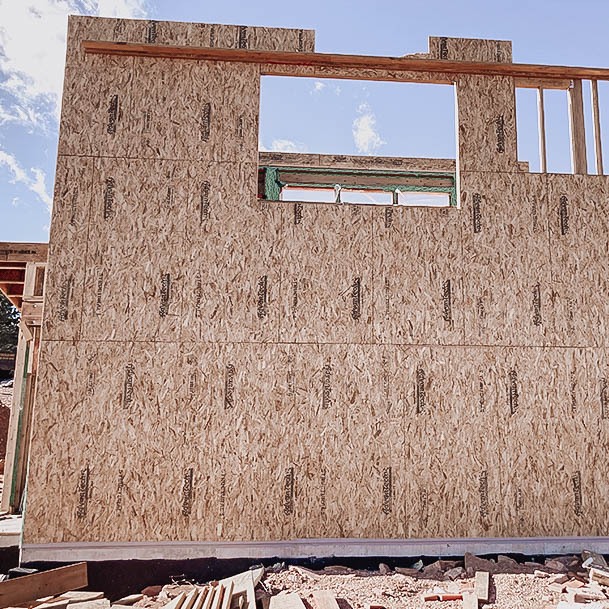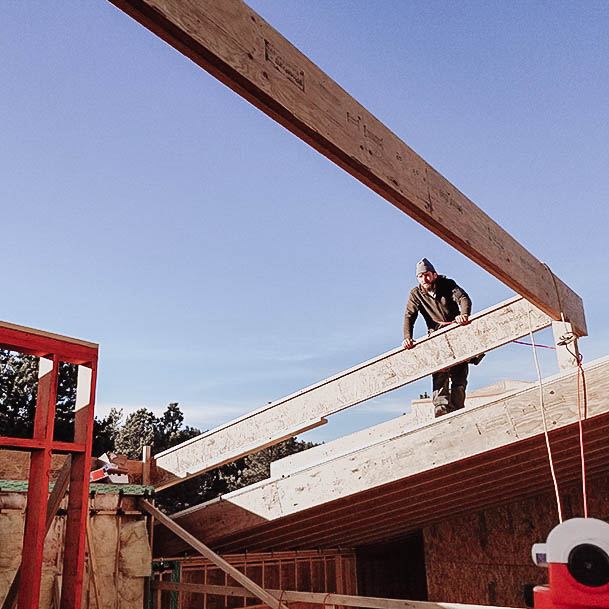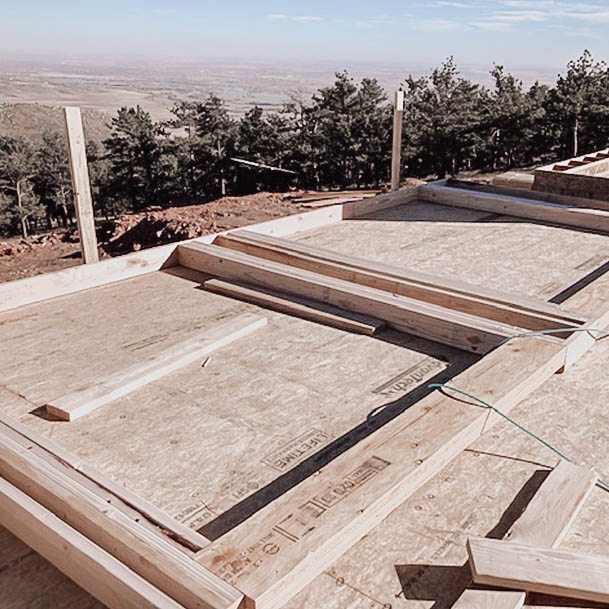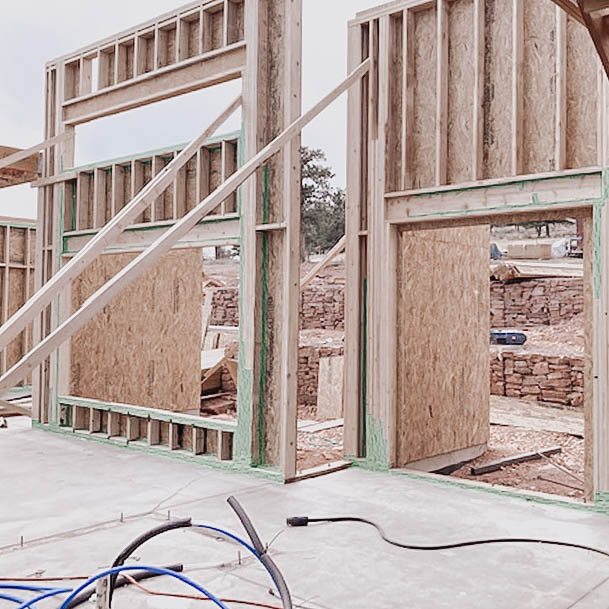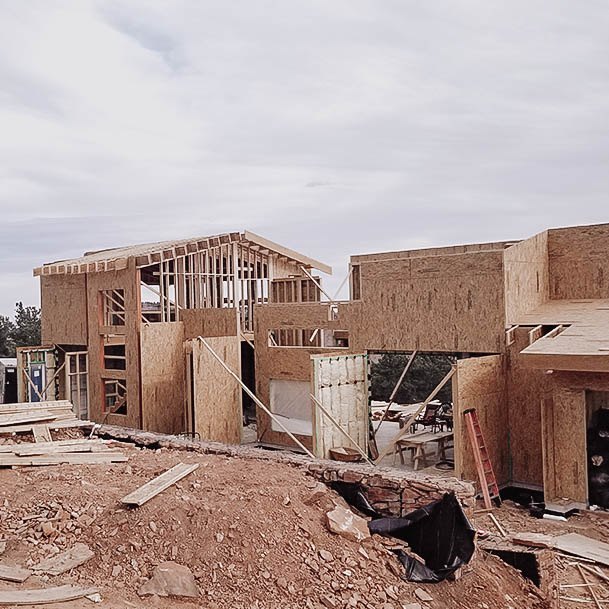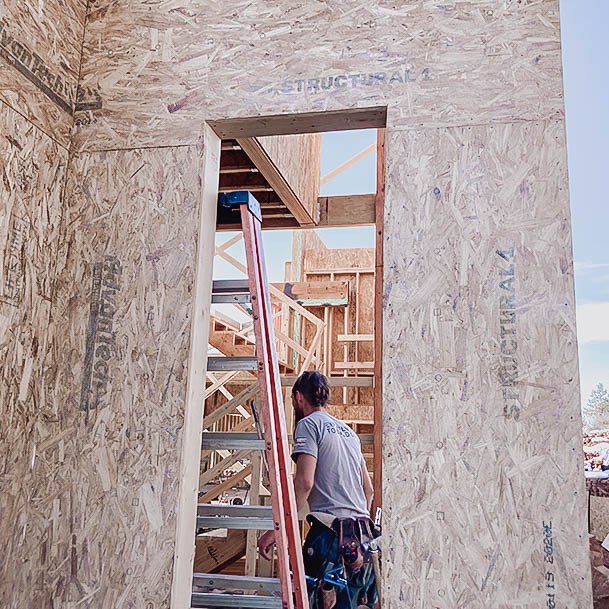 When ordering your lumber and window package, do it early.
Before you even break ground early, prices change, supplies run out of stock, and delays can happen if you don't. To put things in perspective, I bought our lumber before the lumber price spiked. I simply threw tarps over it to keep it dry from the rain and covered from the snow.
Some of my builder friends thought I was crazy. After the price spike, we compared the costs of our lumber packages. We would have spent another $125,000 in lumber had I waited another two months. Fast forward to today with the insane lumber prices, and that number would have been closer to $225,000. Extra. We went with many LSL and LVL, engineered lumber, Advantech, 1 1/8″ subfloor, etc., so our price difference is more dramatic. On a typical builder-grade home, that could be more like $30-50K. Still, a lot of money was wasted.
One of my best secrets is to look for "second chance" lumber places. These places get lumber from leftover building sites and re-sell it. Some of it is perfectly fine, and some are just trash. But we often found brand new lumber at 50% off retail.
But back to the framing stage, first up is the bottom plate. Framers will use a chalk line, often spray paint it clear, and start lining up the base plates. Once this is done, they'll be framing out the walls, bolting down the anchors, and so on.
Exterior walls are typically done first; your framers will move on to the interior last. Some framers work differently, so you may find some installing sheathing before the wall rises and others after the wall is upright. Either way works. If you want a lesson in framing, learn what king studs and all the other lingos mean. Most walls are the same, some have headers for windows and doors, and some don't. Structural walls get sheathing, extra nails, and lesser stud spacing.
For sheathing, we went with 5/8″ Advantech. Not the ZIP, but real Advantech with the resin throughout. Overkill, but wow, is our house beefy! I highly don't suggest using OSB for the bottom 4′ of any exterior wall; opt for plywood if you can or ZIP. While plywood sounds better for all exterior walls, it's not. OSB has a much higher nail holding strength, even if it is more brittle against the weather.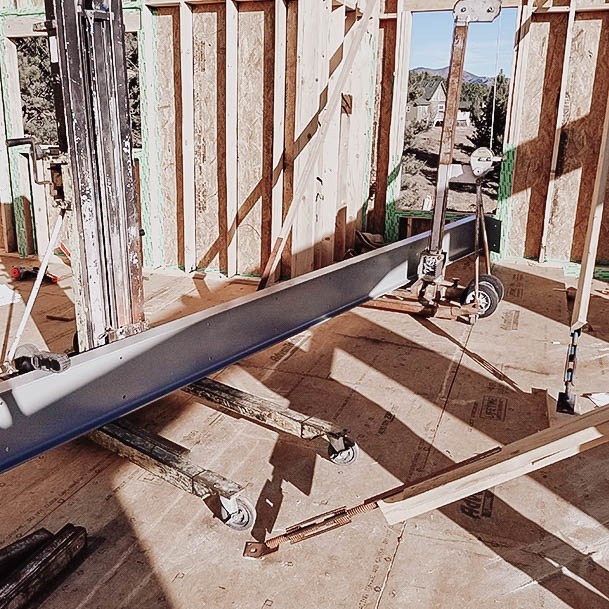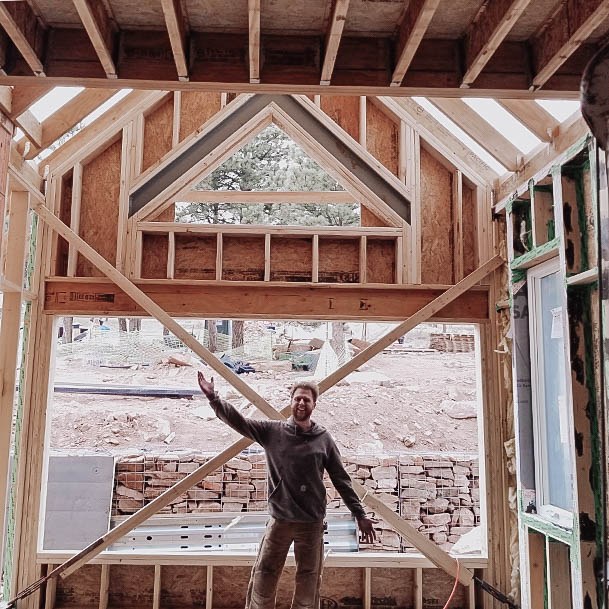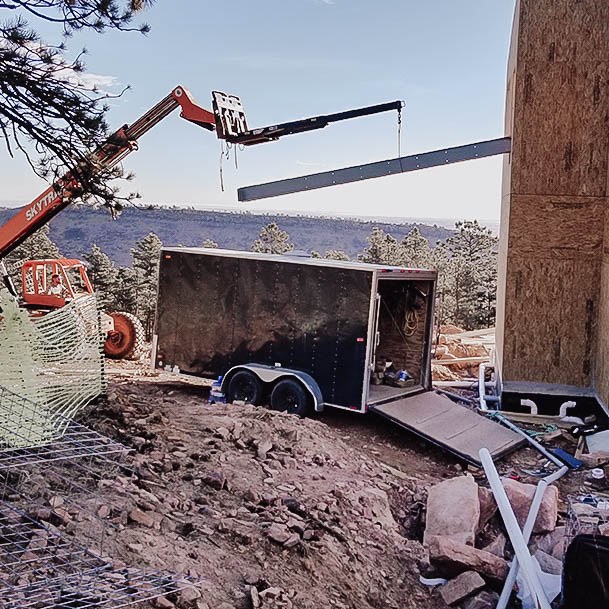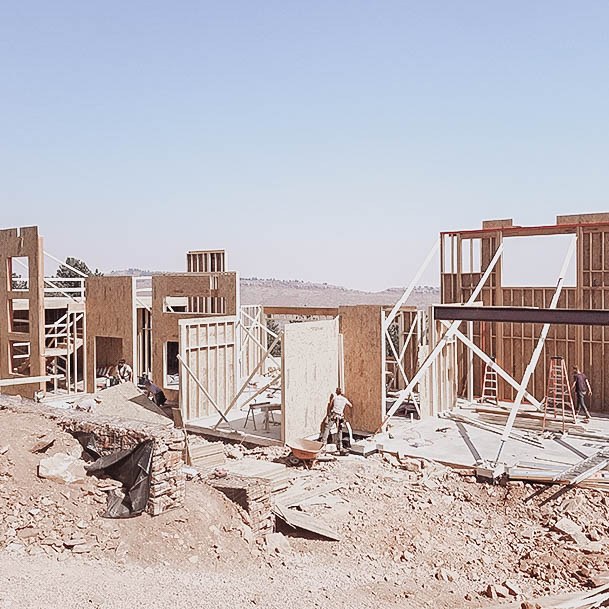 While working withe the structural engineer I was overly concerned with using steel on this new custom house. Don't get me wrong, I love steel and would build our entire house out of it. However, I was expecting the installation of steel beams to be more complex and the costs to jump significantly. Our framing crew however, knew exactly what to do and the cost was marginal.
18. Subfloor install.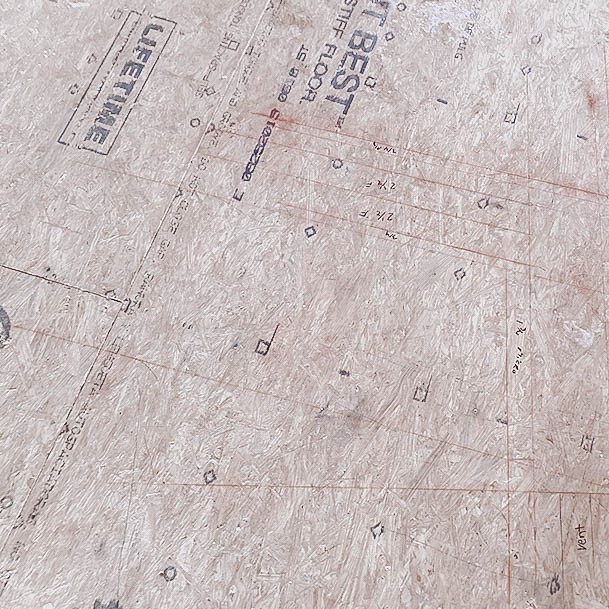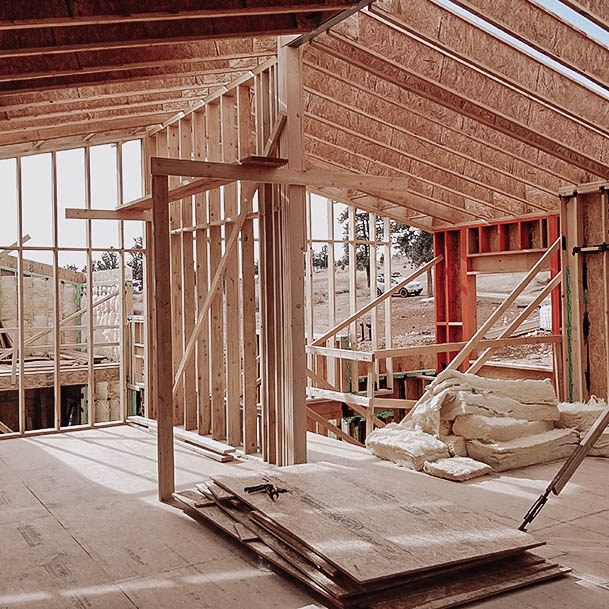 Second to pouring the concrete slab, nothing is better than seeing the subfloor go on after the walls are framed, and floor joists hung. To walk around the 2nd story floor, ah, what a treat! We went with Advantech 1 1/8″ subfloor and had it glued and screwed to prevent squeaks from occurring down the road.
Pro-tip, if you're using joist hangers, add a dab of construction adhesive to keep the joists from squeaking.
19. Wrap it up with house wrap or WRB.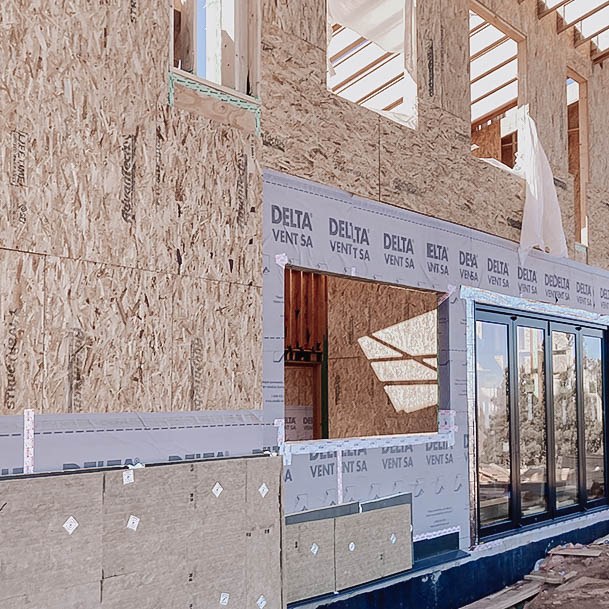 Every home needs a WRB or weather resistive barrier. This could be house wrap, ZIP system, specialized paint coatings, etc.
We choose to use Delta Vent SA, a peel-and-stick WRB membrane for our project. Unlike Tyvek or similar, you don't have to put a zillion holes with cap stales into the sheathing. It's incredibly durable, tougher than your jeans with a fleece-like feel, and still breathable to protect the wood from rotting.
While I love self-adhered house wraps, I don't like the fact that you have to put on primer first. We painted our house with glue, then stuck this giant sticker to the outside. I'm happy with the result for sure, but there are easier ways out there.
ZIP is simple; just tape the seams, not to mention liquid-applied WRBs, which you can roll, brush or spray on like paint.
We also pre-flashed all of the window sills/pans during this stage. We essentially used Delta Flashing, another water, and an airtight sticker. You can also go with liquid applied and paint around the window frame to waterproof it.
This detail area is critical as all windows, no matter how expensive, will, at some point, leak. It doesn't have to happen on day one; they could leak a year later. This is why we flash these areas and make sure they are waterproof.
When your roof is sheathed, have the roofers come out and add the roofing membrane so you can dry in the house as soon as possible. They can come back later to install the shingles, metal, etc.
20. Window and exterior door installation.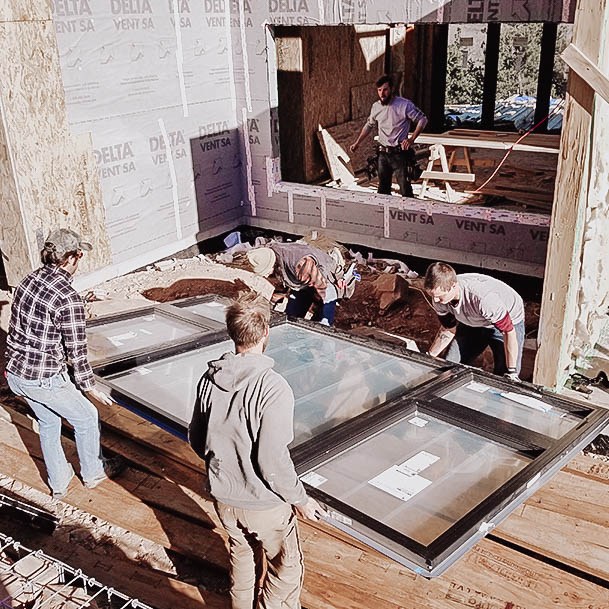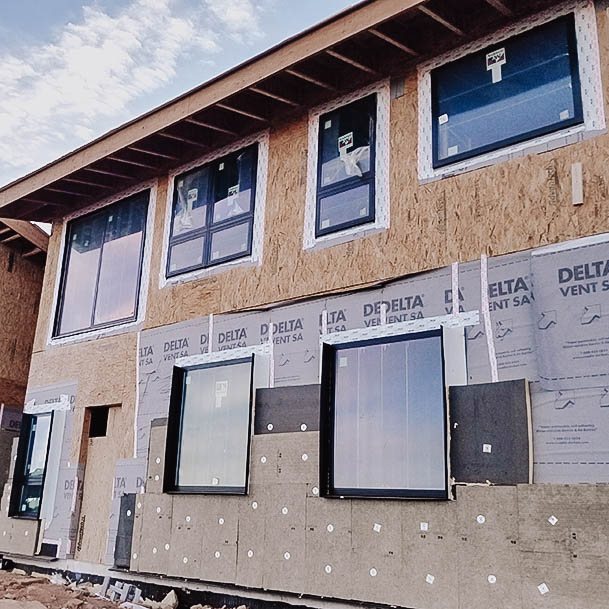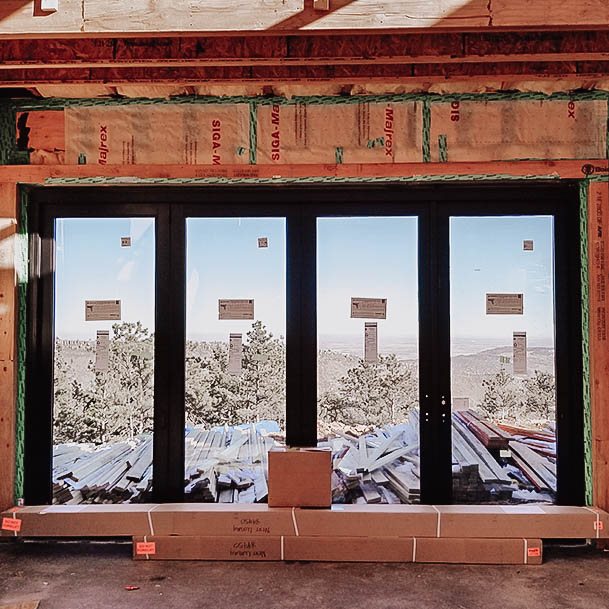 Double pane, triple pane, hmm, what to go with?
For 99% of homes, a double pane window at the time of writing is excellent. Our house is net zero (passive haus, etc.), and we've got double pane windows. If you want triple pane windows, which are super energy efficient, prepare to pay some significant cash.
Remember, replacing windows isn't easy, so spend more on windows if your budget allows now rather than later.
Look for "second chance" windows when building a custom home too. When you go custom, you can build your house around the window sizes you find.
All of the windows in our house, except for 3, were bought second-hand. They were new but otherwise destined for the landfill. These windows often come from incorrect orders or returns. We found one apartment under construction with 50+ brand spanking new Andersen windows that were wrongly ordered/sent. We bought them for 80% off retail from the contractor. You can find windows at Restore, surplus building material stores, etc.
When it comes to window brands/types, almost all of the glass in windows today is Cardinal Glass and Pinkington. But there's a critical thing to know: I used to think that I liked Andersen and Marvin, but wow, are there WAY better window and door options out there. My only regret after learning more about windows is that I didn't go with Alpen Windows. Alpen Windows seriously makes the BEST passive house windows, and the quality is unmatched. The performance is tried and true. If I could do it all over again, I would have spent the coin getting Alpen windows. Honestly, the only reason I didn't was a lack of awareness plus our Andersen windows were essentially free, considering they were arch/builder error windows that we reclaimed from going to the dump at a steep discount. With that said, I've been really disappointing with Marvin doors and their build quality. The Andersen windows will ultimately fare okay, but the build quality is not great.
If you are building a high performance house, Alpen really is the only answer. I come back to update this article from time to time, and after spending countless hours doing my homework and talking to building science friends, that brand in particular just rocks!
When installing windows, use 1/8 shims on the bottom of the window sill to allow for drainage. Oversee your installers. Try to get your windows installed in warmer temperatures, as some flashing tapes for the flanges don't work well in colder temperatures. We had a $23,000 bifold installed by professionals using a self-adhered flashing tape during winter. Even with a heat gun and pressure, this waterproof tape peeled off within a week. I re-installed the flashing tape a month later when it was much warmer outside, and the difference was night and day; it stuck.
All said and done; the window installer matters the most. Did you know some installers were putting in vinyl windows with butyl tape, and the butyl would eat the window flange. It would dissolve over time! Not good. Find a knowledgeable crew.
21. A race to install the mechanicals.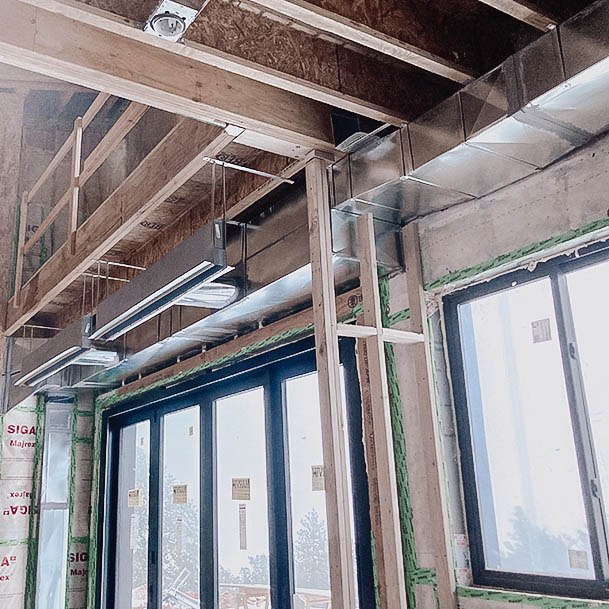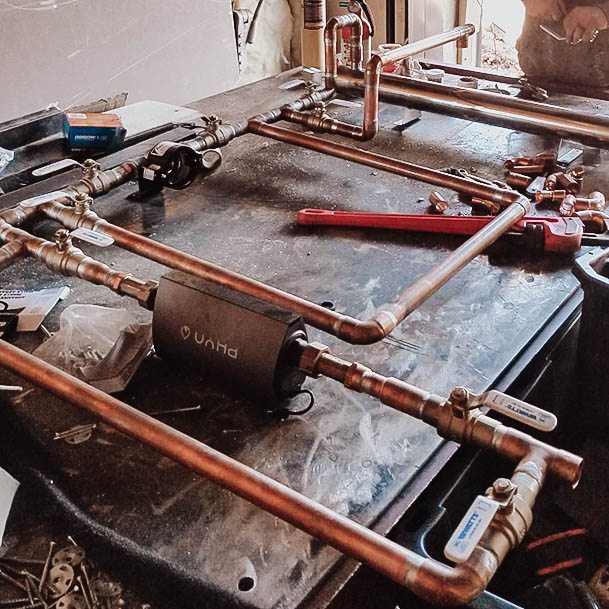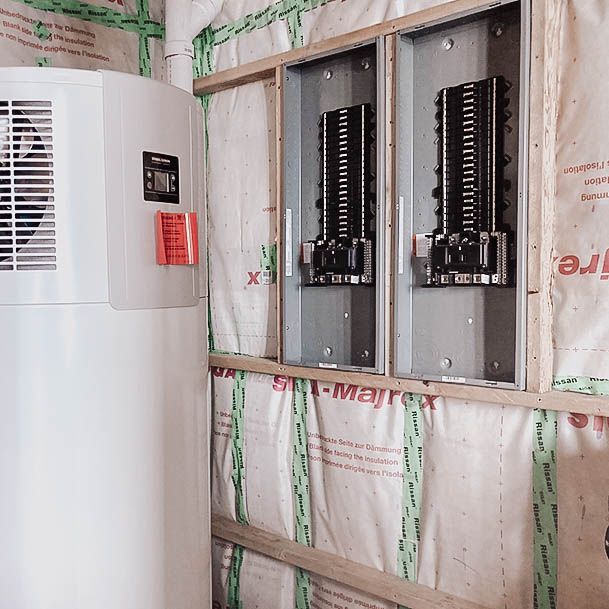 HVAC, plumbing, and electric were all ready to go in at this point. We had already created plans for where all the outlets should go, plumbing drains, etc., so coordinating with trades was pretty easy.
Unfortunately, we learned a lesson in the process. Most of it, not all trades, will try to hustle you out of more money than agreed to. This was such a bummer. We'd provide lunches to our trades, be on site to help/answer questions, knew our stuff, and were kind, but most people still tried to take advantage of us. Don't let this happen to you! Agree on a price and be done with it!
If the material cost goes up, it's not your problem. If the trade miscalculated the square footage, it's not your problem. If it's taking longer than expected, it's not your problem. Suppose they had to bring in extra people, again not your concern. There are just so many excuses to pry more money from your wallet.
It sucks because you often feel stuck when trades put you on the spot. Who wants to come to finish a half-completed mechanical job? Not many trades do. Or finding another trade? The time and hassle just aren't worth it sometimes. We had to pay a little more here and there but were careful not to get taken advantage of.
The moral of the story, get written quotes. Explain who provides what materials, what is expected, and the work to be completed. Don't go by hourly or per day, etc. Fixed price is the way to go. If you pay to install something that doesn't work, the trade fixes it on their dime. Any changes need to be written down and a price agreed upon.
That's not to say all of our trades were money-hungry; many were wonderful people! We got bids from all sorts of folks, high and low, and we went with a mix.
The process of getting all your mechanicals installed is pretty straightforward. Most traders do this all day, every day, and can finish without bothering you. They'll often only ask simple questions like do you want this here or there? With a custom home, framing can get in the way of switch boxes and other things, so you have to improvise and find solutions.
I like getting all of the mechanicals done before siding, so nothing else pokes through the wall after the siding is done. It gives you a chance to seal everything up from the outside. This includes shut-offs, hose bibs, electrical receptacles, and AC lines.
If you plan to put solar panels on your roof, run the electrical lines now. The same applies to media wires such as HDMI cables, speaker wires, etc.
22. Fireplace and chimney install.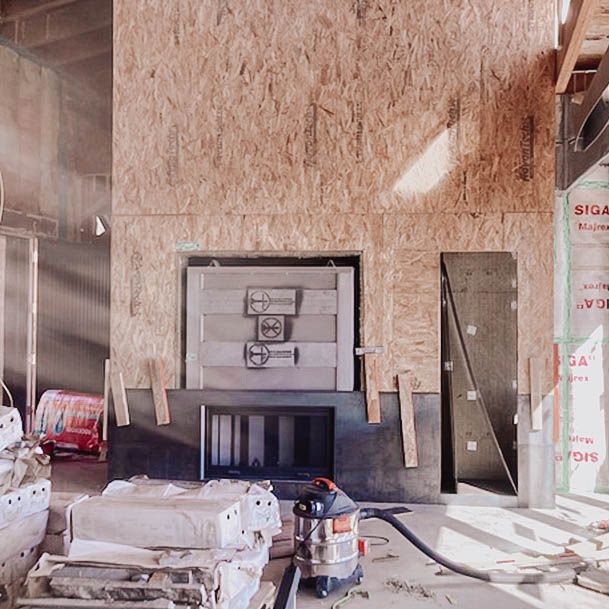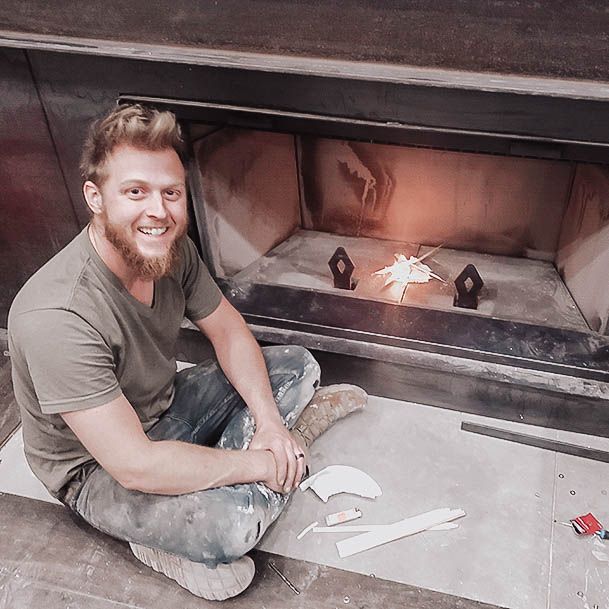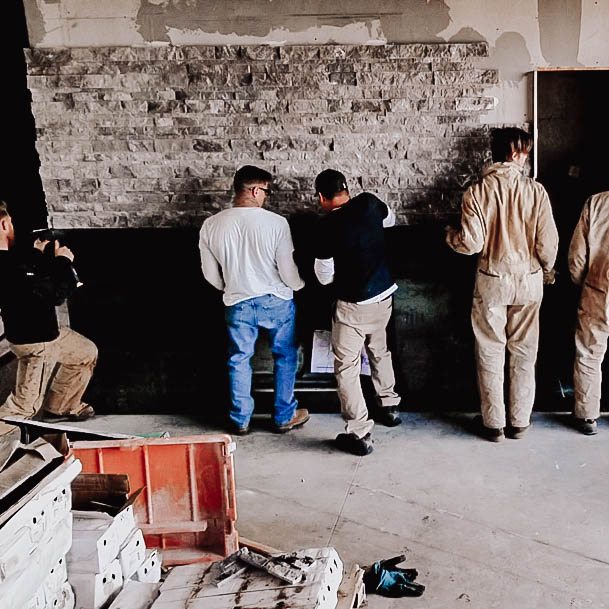 We went with a wood-burning fireplace for our custom home, which required a chimney to go through the roof.
Our pre-fabricated fireplace box was massive, so we had to plan our framing. Doing so, let us slide the huge fireplace box into an empty wall cavity.
23. Roof installation.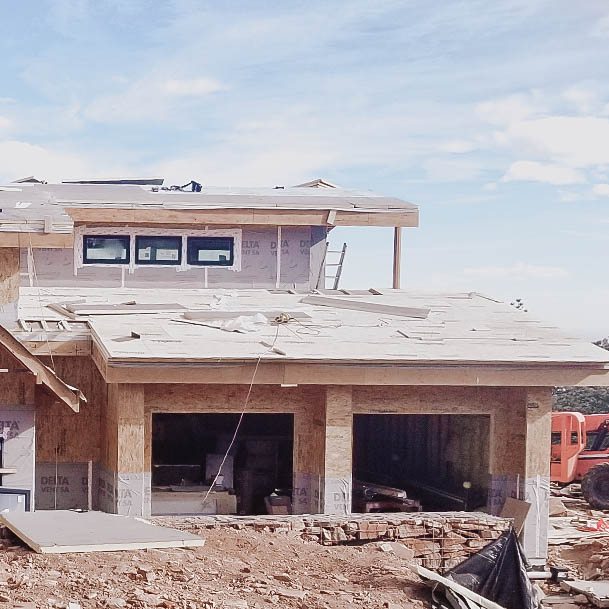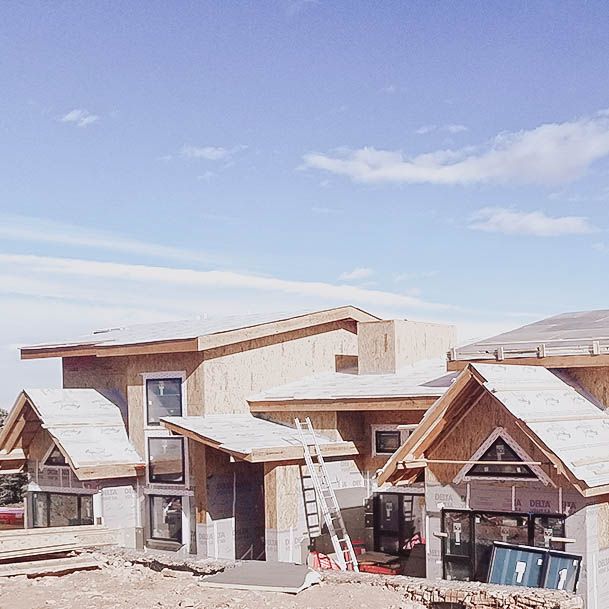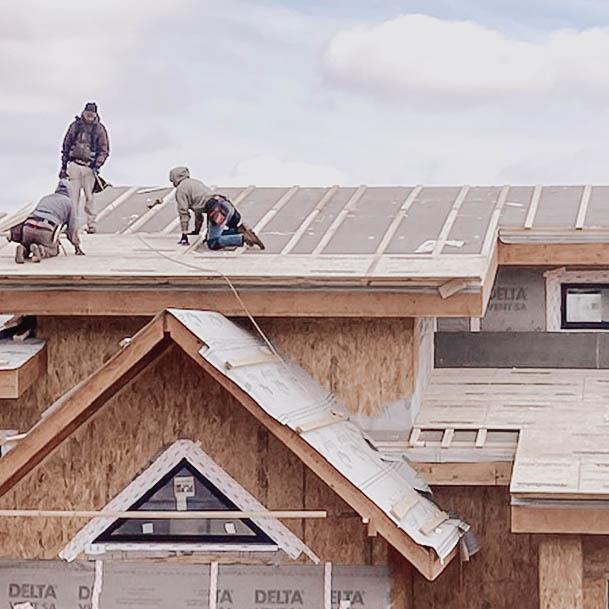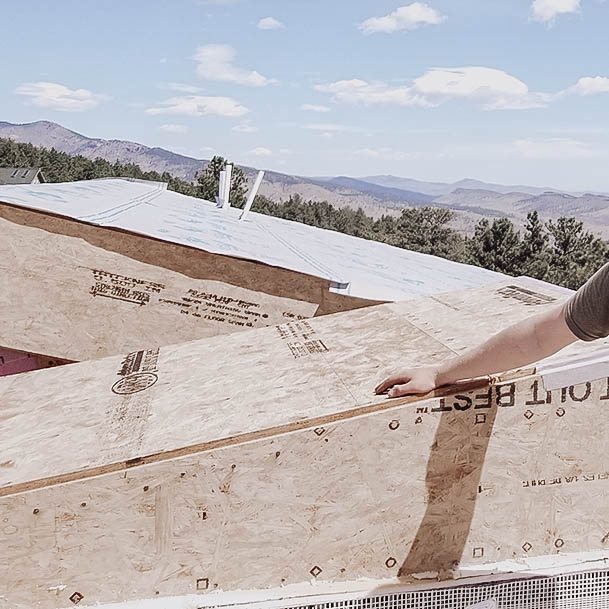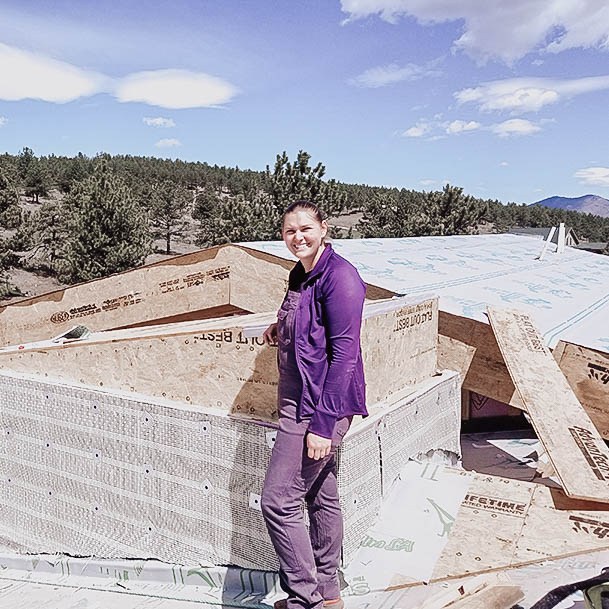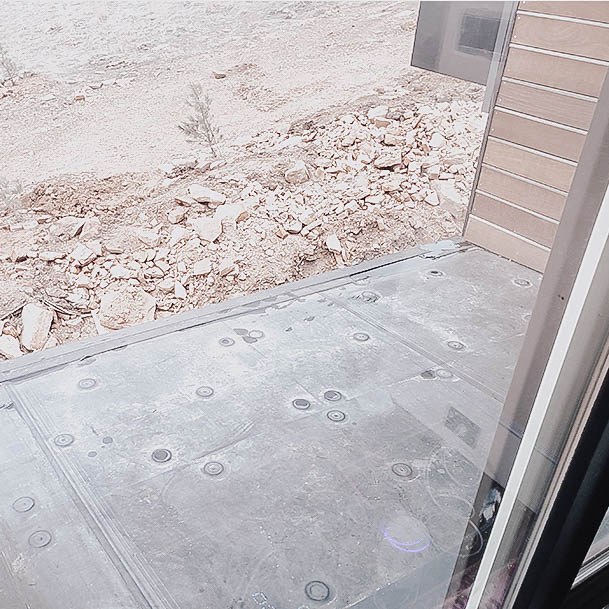 We chose to go with hail-resistant metal roofing, the thickest gauge of steel we could get. Metal is the way to go for wildfire-prone areas, as would be tiles, slate, etc.
We considered asphalt at one point, but it's not recyclable and doesn't last as long. We got a metal roof for more money, and we managed to lower our home owner's insurance rates by upgrading. The result was worth it.
Our roof is slightly different from most new home construction roofs. It's not just a roofing membrane and shingles. We've got two layers of 2.5″ polyisocyanate insulation on top of a fully adhered membrane. Next, we used 2×4 furring strips as a vent and installed ¾" Advantech on top. Finally, a second membrane was installed, and the standing seam metal roofing panels were added. Overkill? Yes, but just the way we wanted to build our custom home.
You don't have to go crazy, but ventilation is essential here. Ventilate your roof one way or another! It's critical for the longevity of the structure.
24. Soffit covering.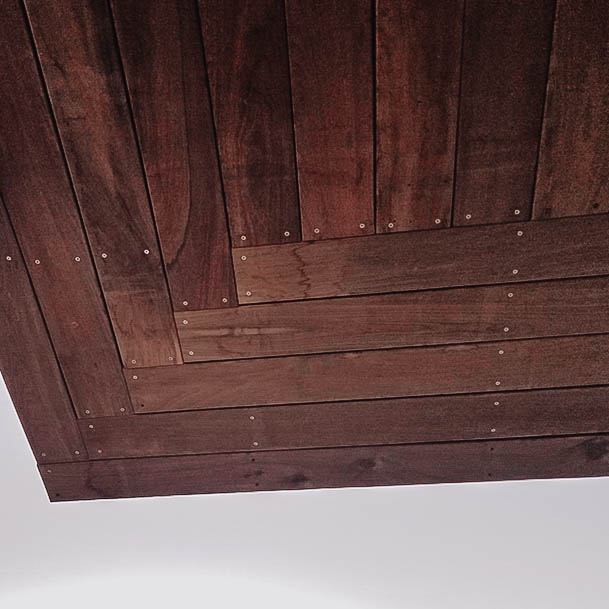 Next up was our soffit and soffit vent. Due to wildfire embers, we added a stainless steel mesh screen to our soffit vent and had perforated mild steel vents bent for additional strength against strong winds.
For the soffit covering, we again used the beautiful IPE Brazilian hardwood. Each board was face screwed using stainless steel screws. Note that we had to special order stainless steel screws online since local screws seemed to break with little effort.
I wanted to save money on our soffit material, so I ordered regular decking boards, which left a gap of 1/8″ or so between the soffit boards. We could have had these milled tongue and groove. We screened off the entire soffit with stainless steel mesh and staples to solve this. Easy and bug/ember proof.
25. Exterior wall insulation and siding.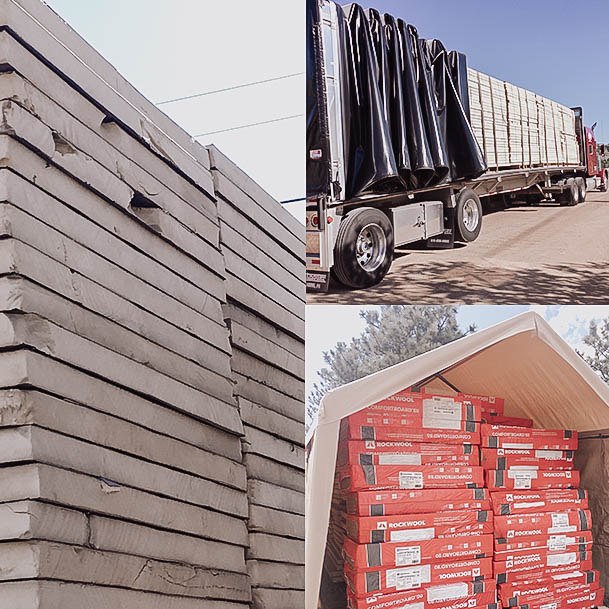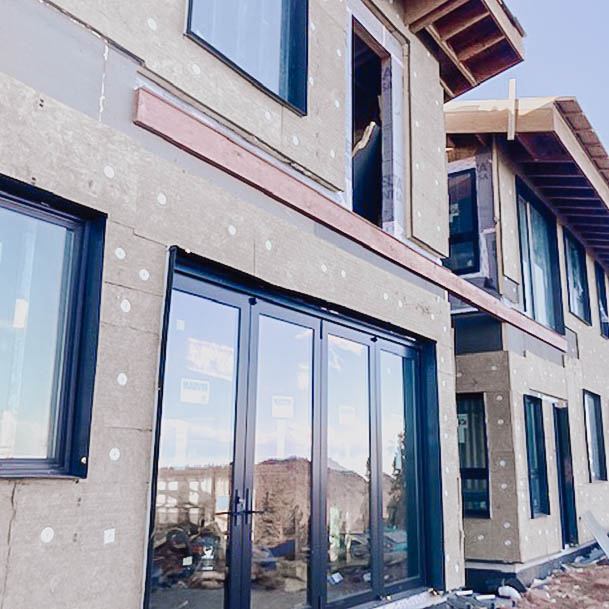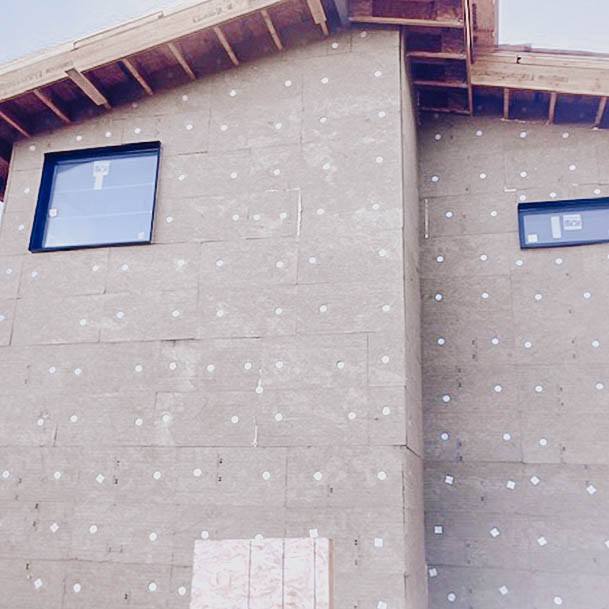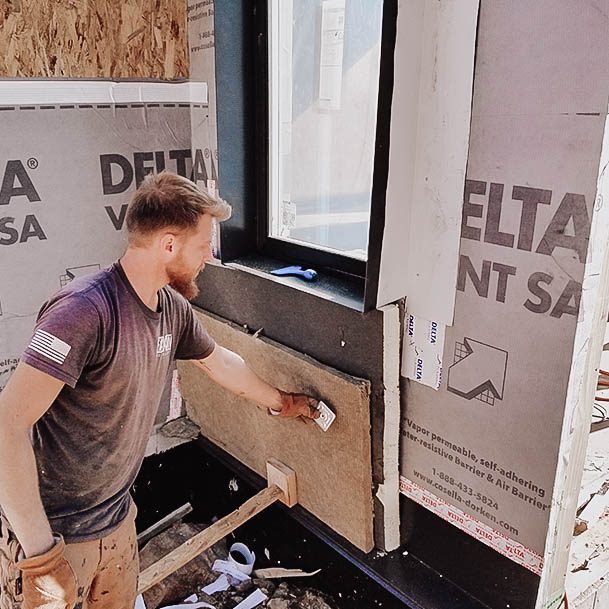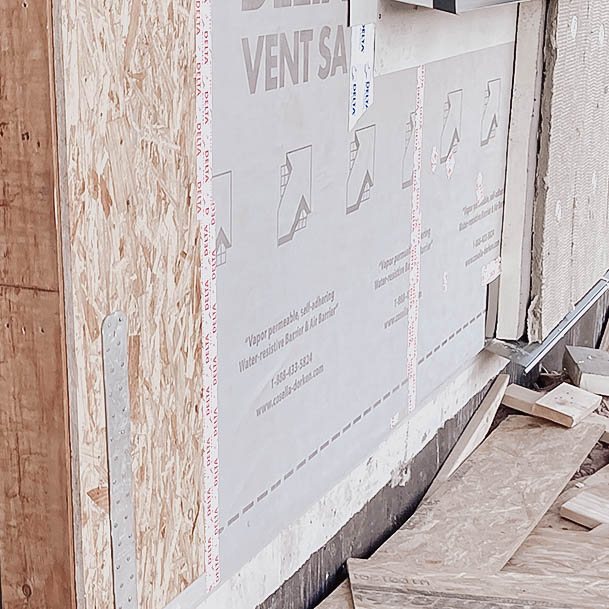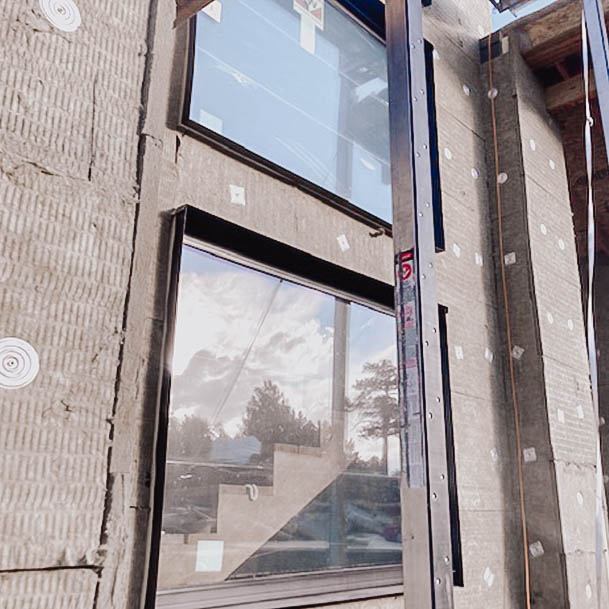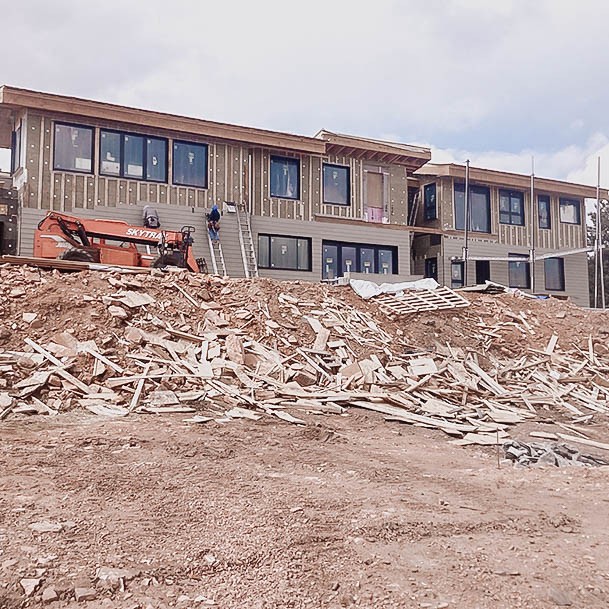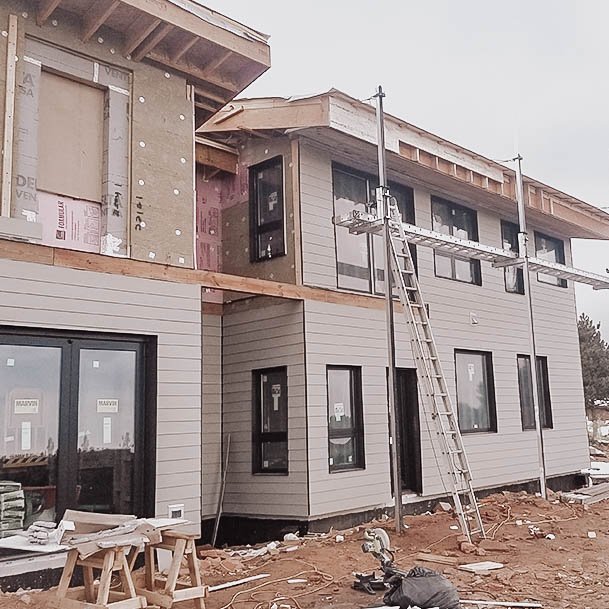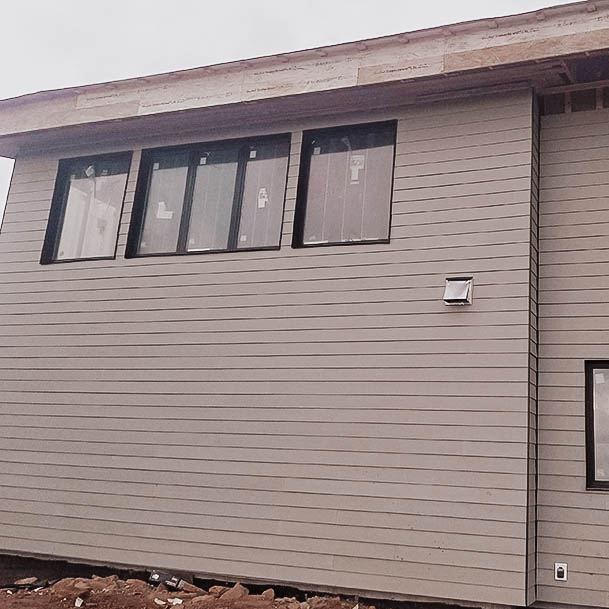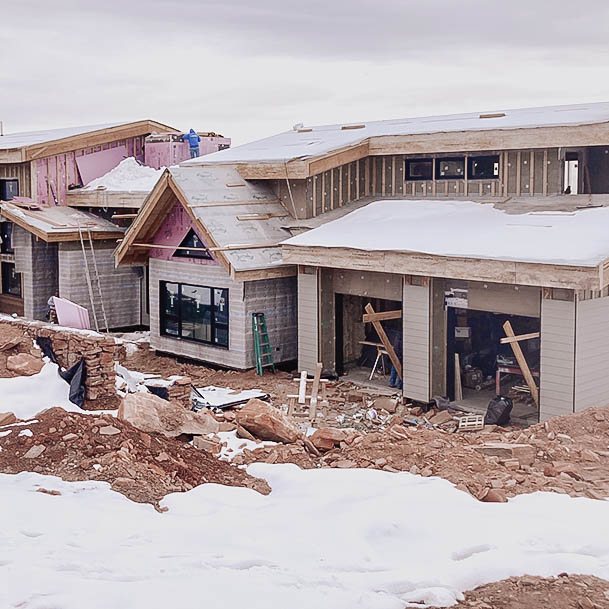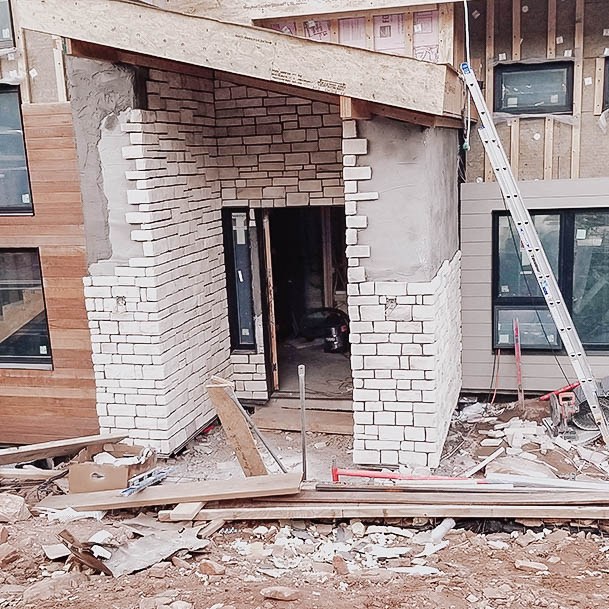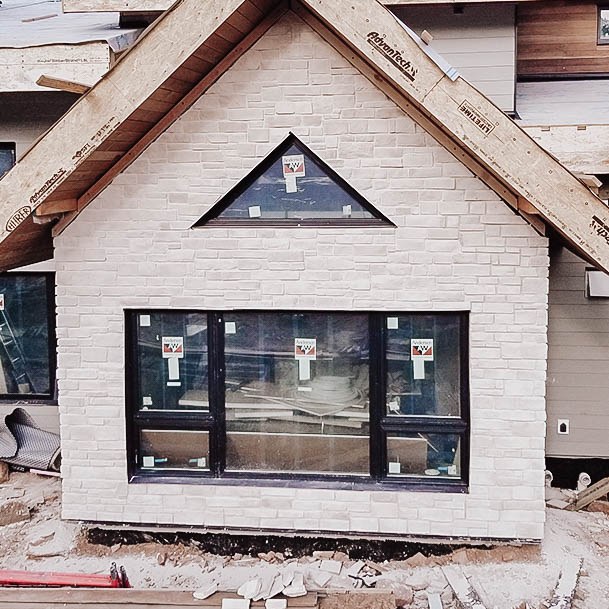 For cold climates, exterior insulation is a must. We choose to go with one layer of 2.5″ polyisocyanate plus a 1.5″ layer of Rockwool mineral wool board. We're not in an extreme climate, but we like having no energy bill.
For most homes, a simple sheet of XPS is enough to do the job. But why is exterior insulation so important? Well, it's reducing the thermal bridging effect from inside your home to the wall studs to the exterior. Think of all those studs as heat transferring fins. I don't remember the study percentage, but it's something like 22% of heat is lost because of thermal bridging from your wood studs. Exterior insulation drops this to 0% (plus fasteners, minimal thermal bridges).
We used roofing washers to hold our exterior insulation boards up and 2×4 strapping. We would have used 1x4s, but it turned out that using 2x4s was cheaper in our market. To press the 2×4 strapping against the wall, we used long Headlock steel screws that sunk into the framing studs. We had something to attach our siding to, plus a nice rain screen vent. All said and done, we paid to side our house essentially three times.
If the custom home your building doesn't have a rain screen behind the siding, stone, or whatever, stop and re-assess things. This is important for the structure's life; things need to dry out. There's an old saying in the homebuilding world, "if it can't dry, it's going to die."
I've seen older homes without a rain screen fair just fine, but they didn't have as much insulation as we do today. Same with airtightness.
Okay, back to business. We went with James Hardie smooth lap siding, which was special order since we could only find the wood milled finished in stock. We found it to be more modern. There are a ton of siding flavors out there; fiber cement is a winner in my book.
For stone, we wanted natural, but the costs were too high, and sourcing was a challenge. So we opted for faux stone, cement based with a texture. We went with Environmental Stone Works Texas White Stripstone, which we love! You cannot tell it's not a natural stone up close. I could care less; concrete is a manufactured stone at the end of the day. It's durable, and it looks beautiful too.
In contrast, we went with IPE wood on select parts of our home. You can either face screw it or use a clip system. We tried out both, and I prefer face-screwing better. If you want that stunning wood look but for less, consider using cedar. IPE is highly fire-resistant, and we're in a wildfire area, so it was our only choice.
Expect the siding on large custom homes to take as long as framing when adding exterior insulation, have many corners, and so on. We used bent sheet metal trim to eliminate the need for fiber cement trim/caulking.
26. Exterior wall attachments.
Most people overlook the little things when trying to figure out how to build a house. After siding is completed, it's time to add the exterior bath fan vents, outdoor receptacle boxes, and hose bibs.
27. Interior soffit framing around mechanicals and pocket door framing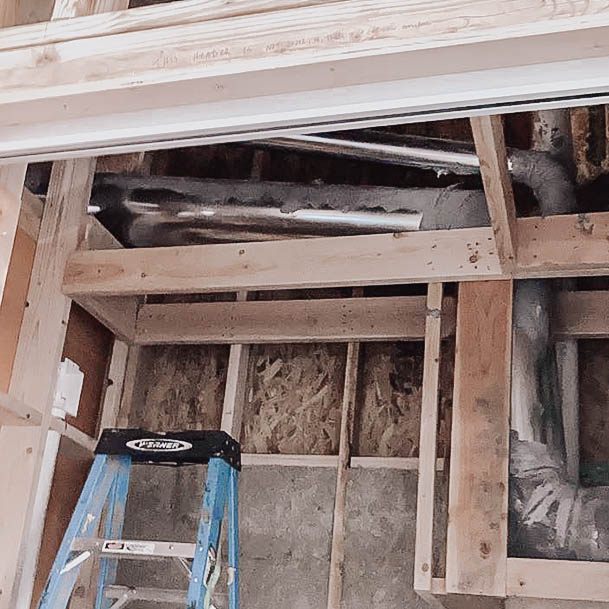 We built on a slab-on-grade, so there are no basement floor joists to hide ductwork, wires, and plumbing. We hid most of the mechanicals in the 2nd-floor joists and had frame soffits around the rest.
It sounds simple, but this took me a lot of time to complete. As I moved inside the house, I'd find small spots where there wasn't framing to screw in drywall edges—no big deal. The pocket doors had to be installed before the framing could be completed. So if you have many pocket doors in your custom home, expect to hit a few roadblocks here and there.
28. Interior insulation, air sealing, and soundproofing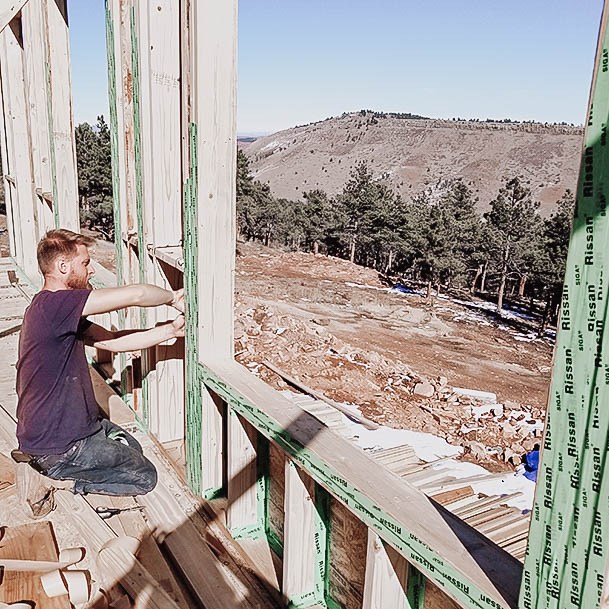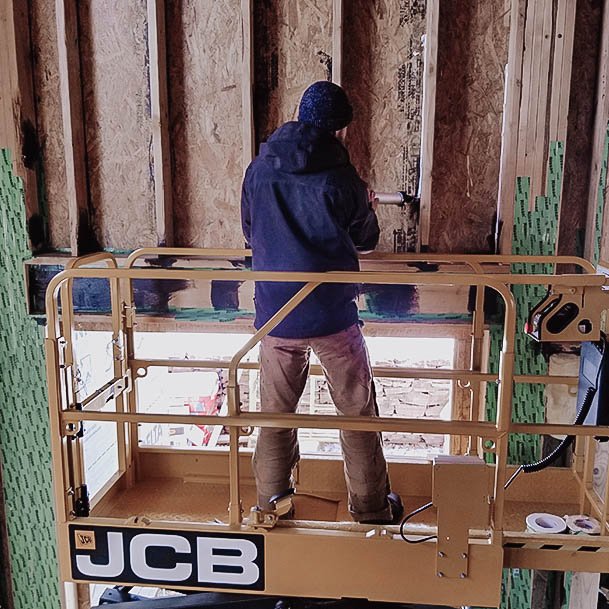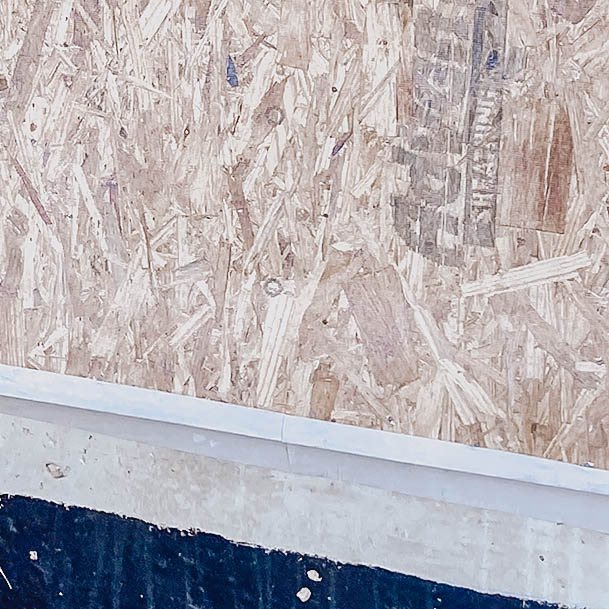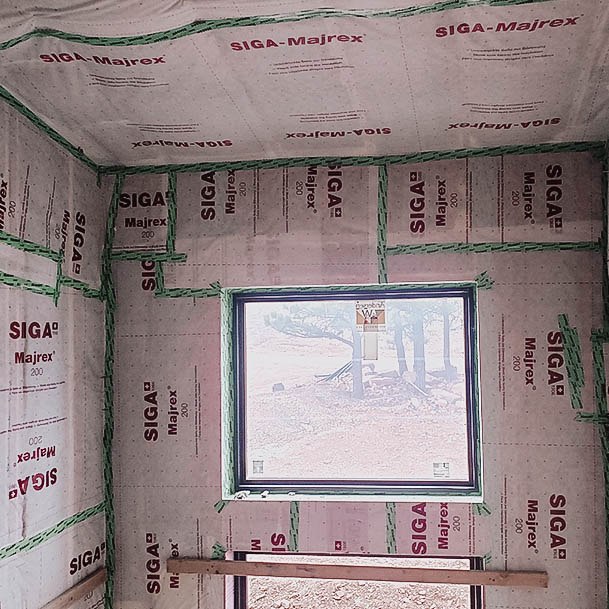 We sealed any penetrations going from the interior to the house's exterior. These include electric lines, AC lines, plumbing vents, HVAC exhaust fan vents, and so on. We used acrylic tapes like Tescon Vana. If you're going for super tight passive haus standards, now is the time to air seal every hole and go crazy with the tape and caulk detailing.
One prominent air sealing place that comes to mind is where the bottom sill plate meets the slab. Place a seam of tape over the joint; it's worth every penny. Next, we spray foamed window/door and framing gaps and applied some tape over the foam gap after it cured. Do what you can to make your home airtight. If you see an opening, seal it up.
Once all the air sealing was done, we installed fiberglass insulation in the walls along with Rockwool mineral wool. We would have used all mineral wool, but we got the fiberglass for free since it was reclaimed. We opted not to use spray foam, but we did end up spraying the edges of the roof rafters. To seal by hand would take forever, and batt insulation does not air seal. We had to either hand-tape/caulk gaps or spray foam in an hour and be done. We chose the latter.
We wanted to keep the noise down in the kid's bedrooms, so we put Rockwool Safe N' Sound in the walls before drywall. We also used double sheets of drywall with Green Glue in between them. Outlet receptacles were covered with a fireproofing sealant to reduce noise transfer.
As an owner builder, you've got to determine what kind of insulation you want to use. There's fiberglass, cellulose, hemp, spray foam, and many more. Even natural fibers like wool and alpaca are a thing.
After insulation, we used an intelligent vapor barrier on the interior walls. We used SIGA Majrex, but there are a lot of different options. They are expensive, but if you want a super airtight house, this is an upgrade to consider.
29. Interior door and garage door install.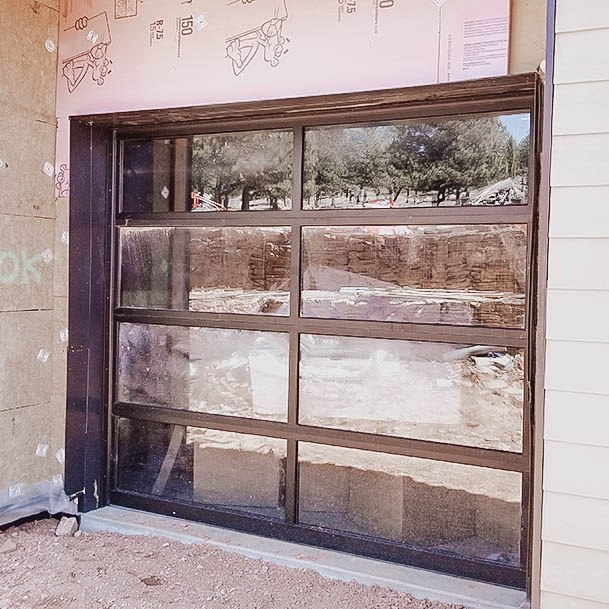 Go ahead and get the interior doors set in place. We went with reclaimed solid core Doug fir doors and custom thick Adler jambs.
While you're working on doors, get the garage door installed.
30. Drywall, shiplap and interior wall finishing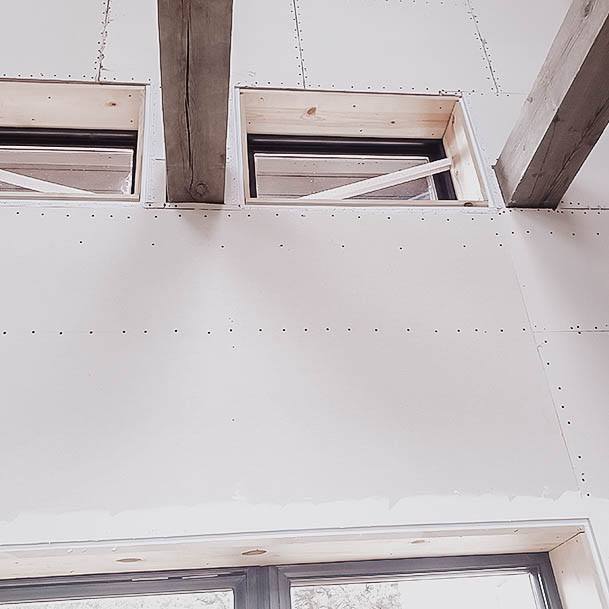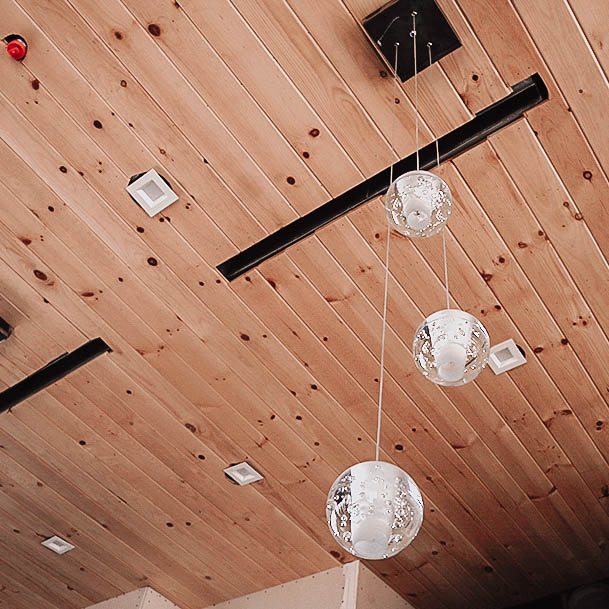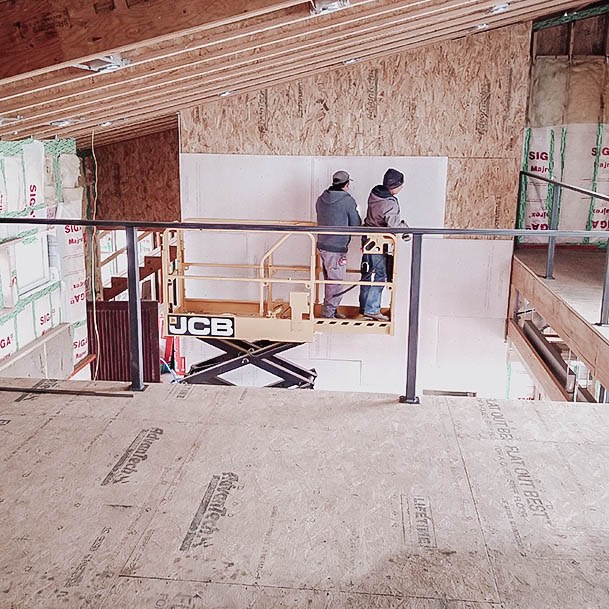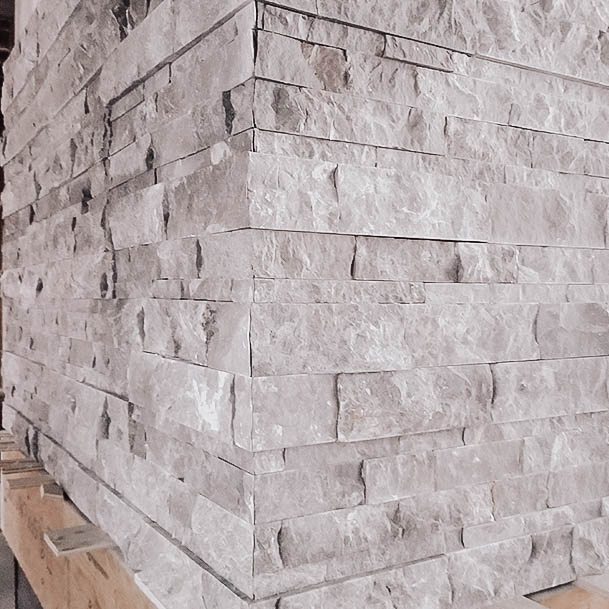 We hung drywall throughout the house but opted to use natural marble split face stone for some walls and pine shiplap for all ceilings.
When building a custom home, you can pick ½" or 5/8″ sheetrock. A custom home deserves 5/8″ if you ask me.
Everyone always says to hire drywall, and I agree mudding should be hired out. But hanging? I hung every sheet in our 4500-square-foot custom home, and I didn't mind it. I enjoy it, but I get it; most people hate the process.
Note, if you're installing a modern flush baseboard, install this before drywall and flooring go in. For bathrooms, you may want to opt for a better waterproofing system like Schluter.
31. Flooring install.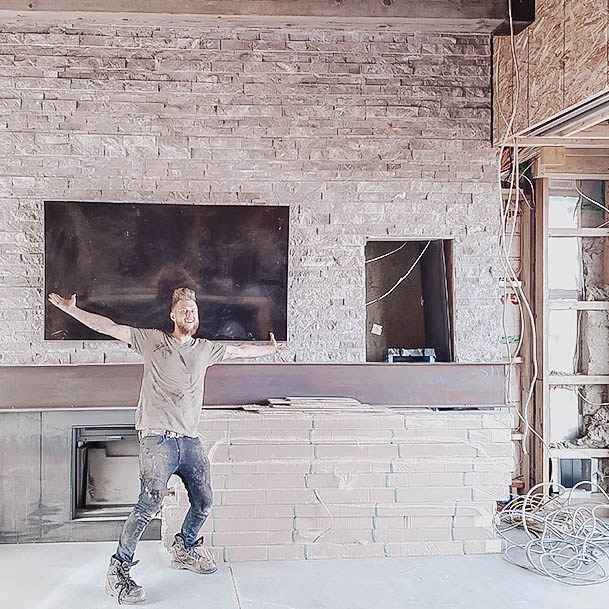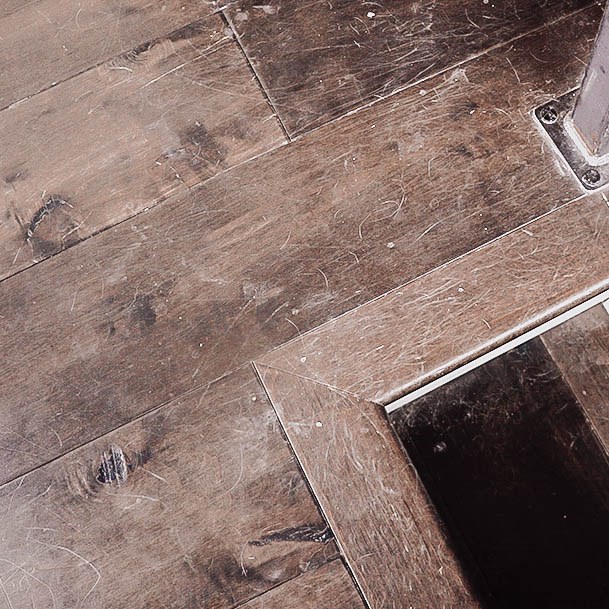 Install your hardwood, carpet, tile, or finish polishing your concrete floors.
32. Trim install.
Time to install crown molding, baseboard, and any other architectural trim. We went for the trim-less look and did flush modern basement in addition to running drywall back to the window frames.
33. Install cabinets, vanities, and countertops.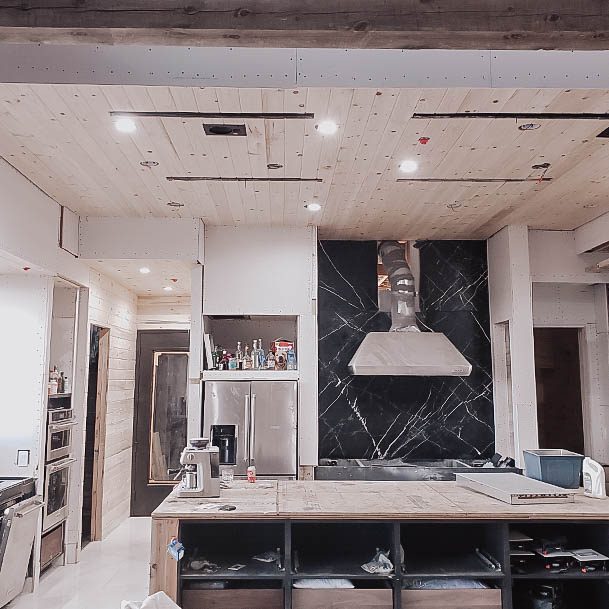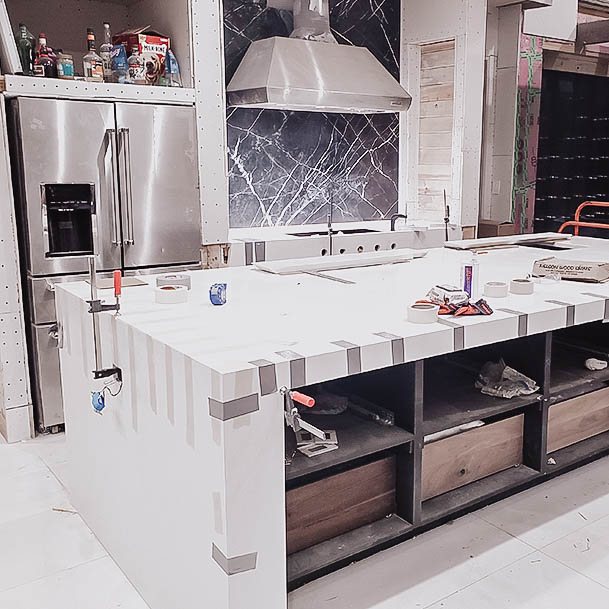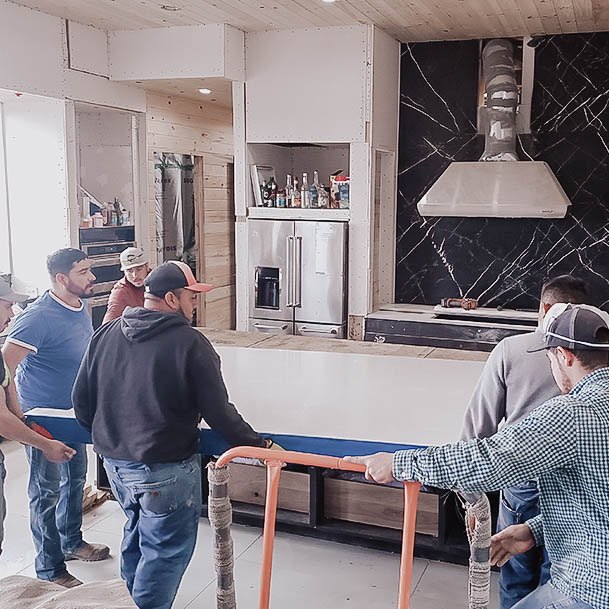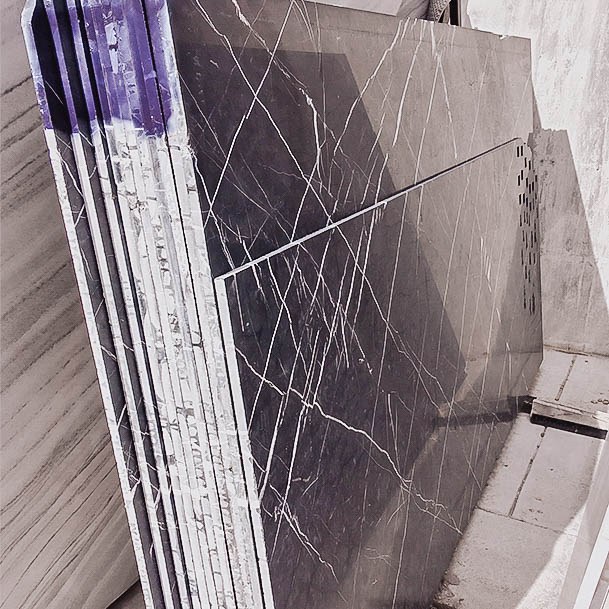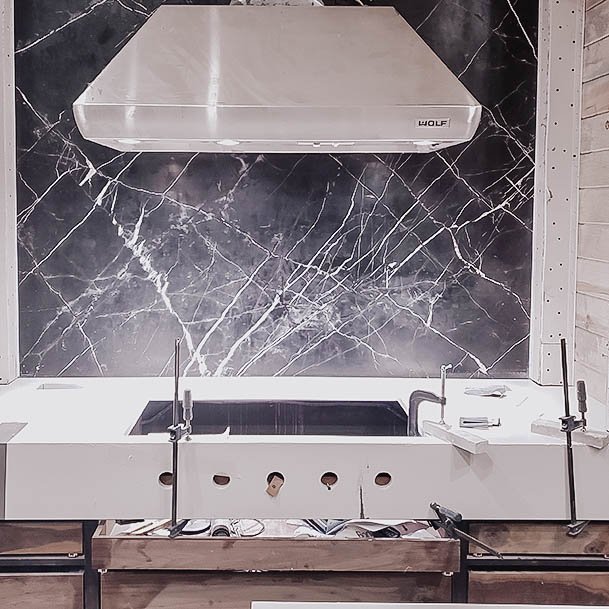 Time to work on the bathrooms, kitchens, mudrooms, etc.
34. Tile showers and install tubs.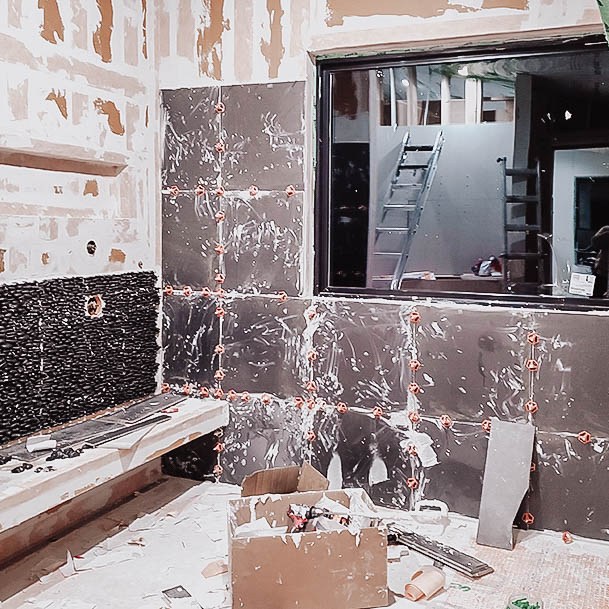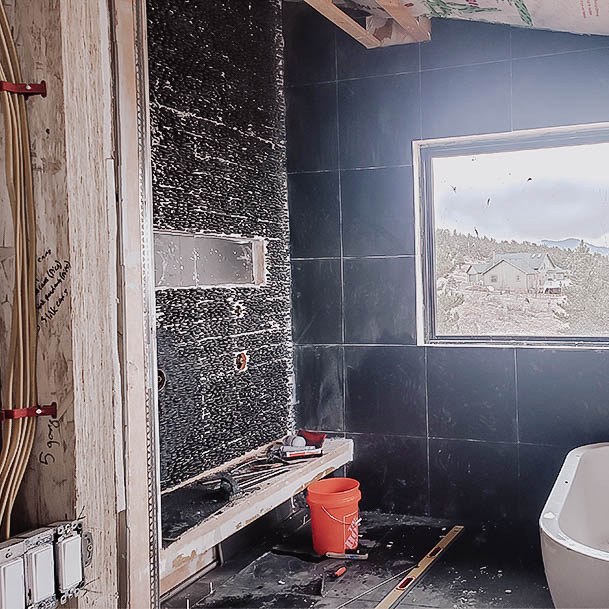 35. Add faucets, fixtures, and shower drains.
36. Install light fixtures, outlets, and switches.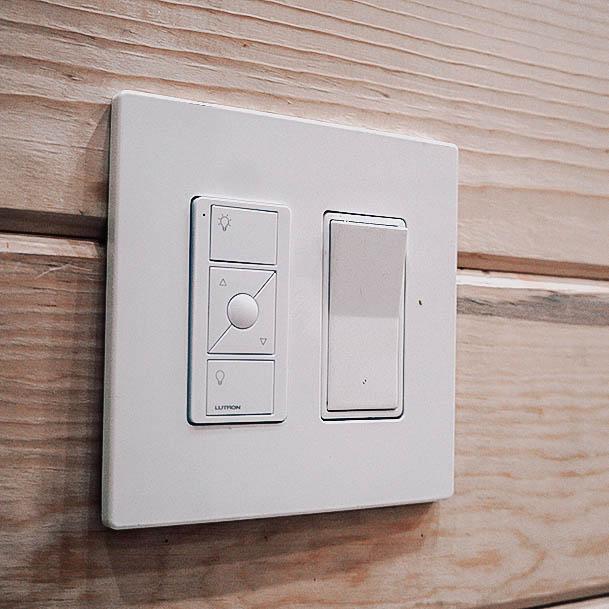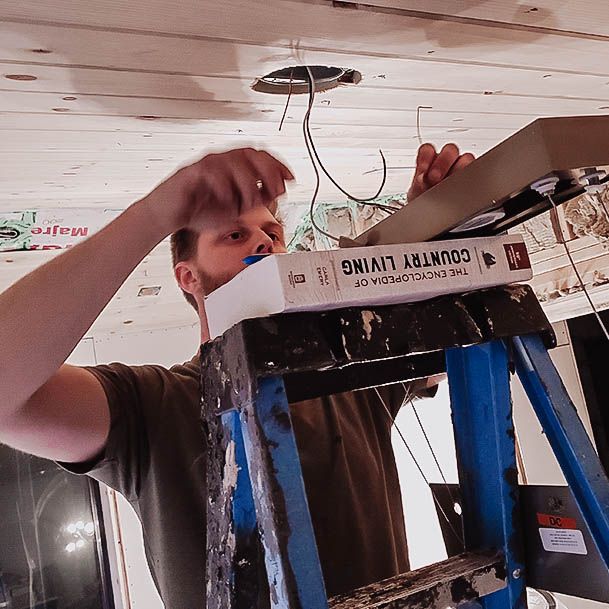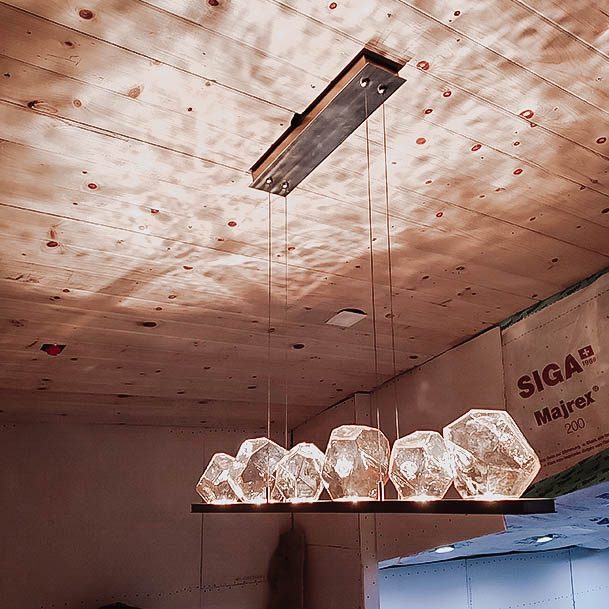 37. Install appliances.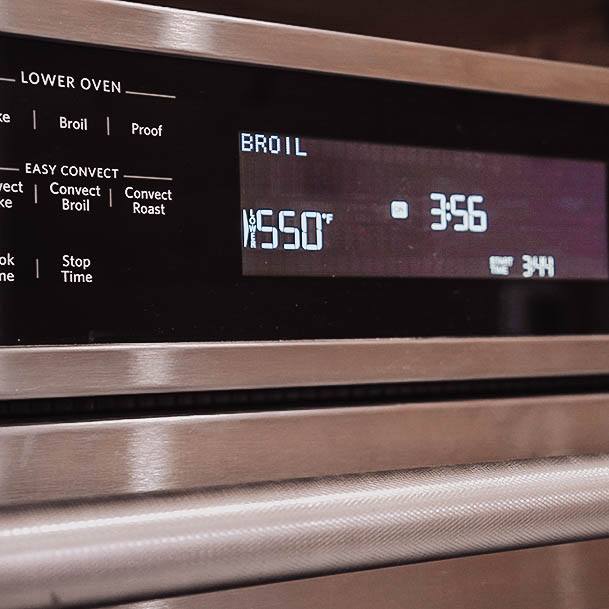 Set your fridge, microwave, cooktop, oven, and so on into place. Now is a great time to attach your kitchen hood to the wall.
38. Hang mirrors and misc. hardware.
39. Install interior/exterior door handles and locks.
40. Paint interior and exterior.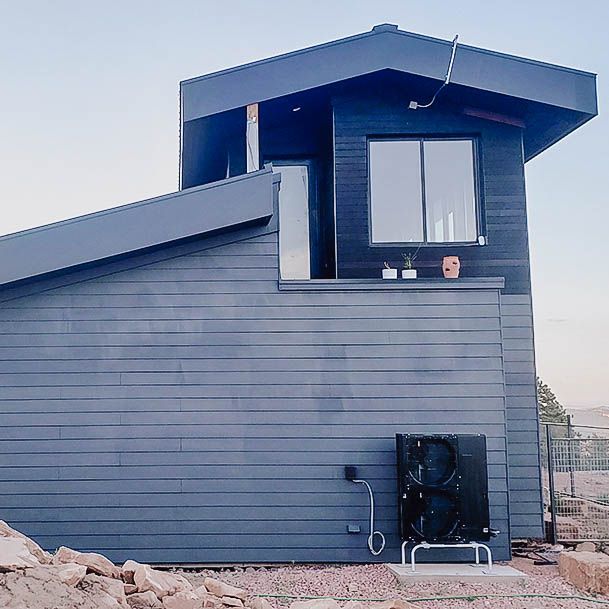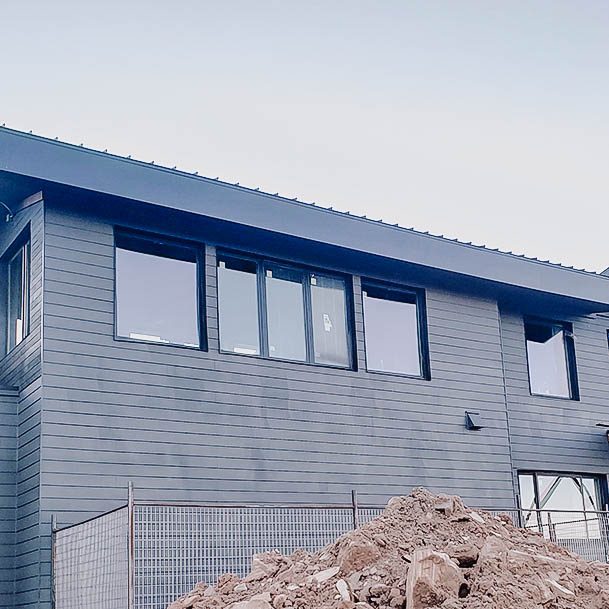 When it comes to custom homes, the world is your oyster. Instead of paint, you can always opt for wallpaper and wall coverings such as stacked stone.
41. Exterior grading, landscaping plants, and landscaping lighting.
42. Mailbox, doorbell, and exterior light fixtures.
43. Complete walkways and driveway.
44. Frame decking and add boards.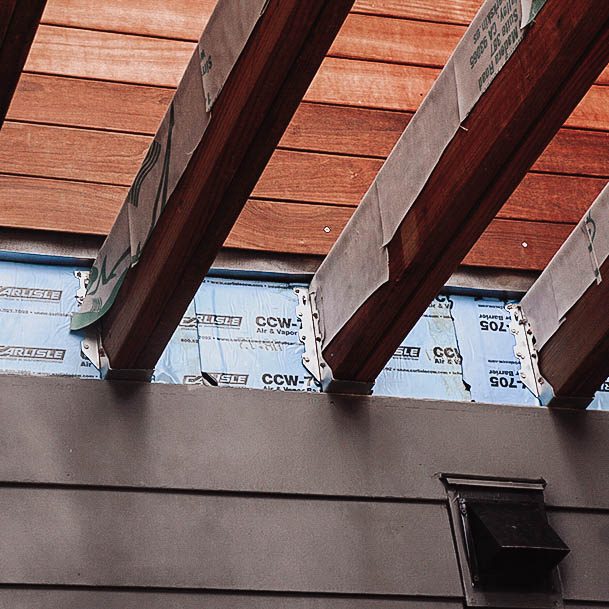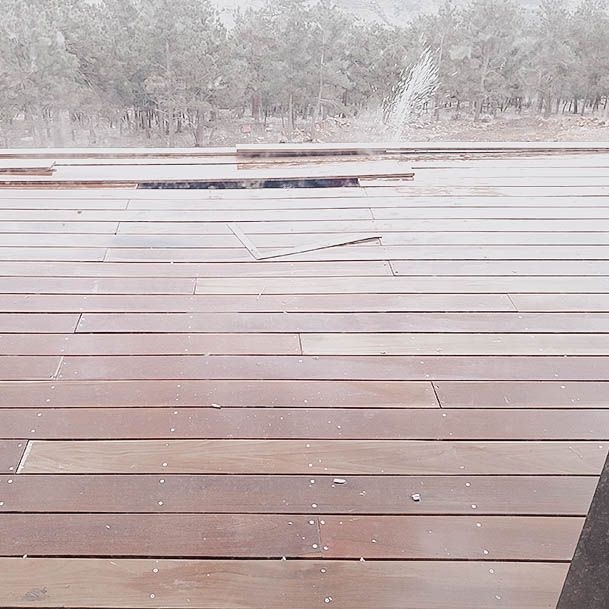 45. Solar panel, wind turbine and alternative energy.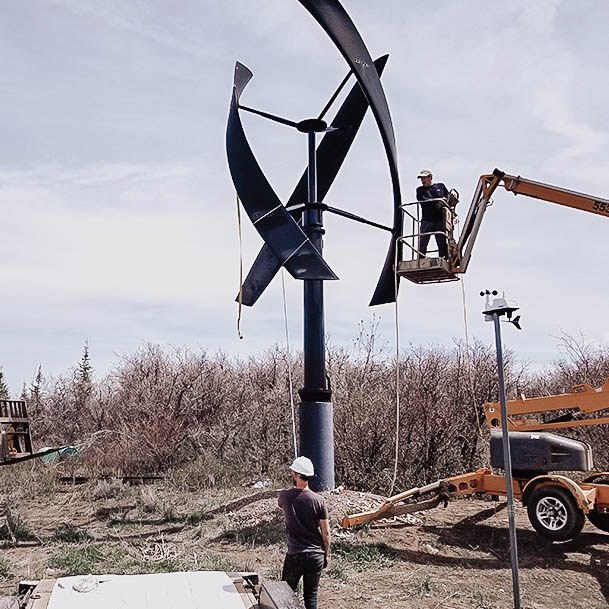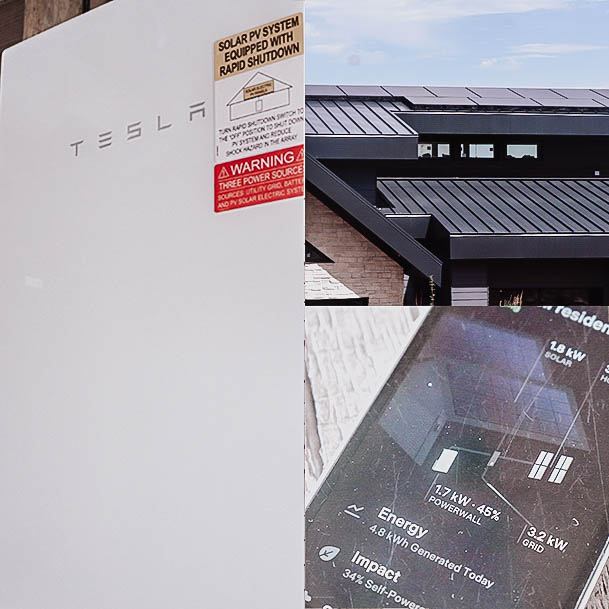 46. Final walkthrough, inspection, and closing.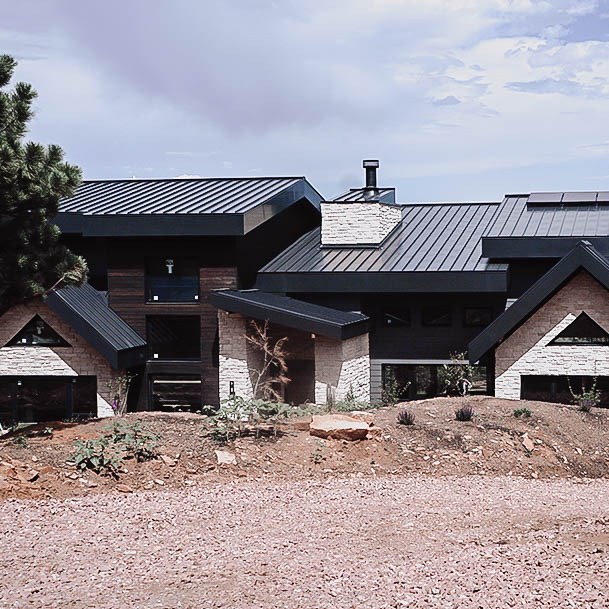 Can you live in an RV while building?

Yes, you can! We lived in our RV through two brutal Colorado winters and survived. Our neighbors did the same thing years before us. Just expect water lines to freeze in the winter and to go through a lot of 100# propane tanks for heating.

If you're going the RV route, a generator for power can work, but if you can connect to power do so. For us a 15 amp plug powered just about everything in the RV, minus the AC.

Expect mice to stop by from time to time. If you're out in the woods, buy some hay bales and put them around your RV bottom to act as insulation. It will save you a boatload on propane costs. One winter we got 3' of snow and with the hay bales our RV kept plenty warm. A 275 gallon water tote is perfect for water storage if you can't connect to a well or have a pre-existing water supply.

I should note that some places are against folks living in their RV while building. No one really cares unless someone else complains. Honestly, it's your land, enjoy it the way you feel is appropriate.

Whats the best time to build?

Not in the winter, unless you like to shovel snow from inside your house during the framing stage. If you rent a steel-tracked excavator in winter and have any kind of slope covered in ice or snow, then expect to slide and have no control. Those tracks don't give you traction in the winter; it's really surprising to find out. Colder temperatures make it harder for adhesives and tapes to stick; even with primer.

What was your biggest challenge as an owner builder?

Earthwork; there was a lot of it. You can only move so much dirt before getting quite burnt out on the process. Second to earthwork was government paperwork and processing. To get our site plan review approved and our building permit took near a year plus. The $25K permit fee was painful, but even more painful was dealing with government staff who wouldn't be honest with us. We had to continually look into the actual building code and local ordinances to find the truth. It was a bummer!

In addition to all the paperwork, stacks of paperwork, we had to tell the county what color we were painting our house, argue over how many windows we wanted, argue over them wanting us to plant 20 trees. Argue over our house being two-stories, the size of our house being too big, etc. Basically, as many curveballs as they could throw at us to stop us from building, they did. It's rather bizarre how bad they don't want you to build on a lot you own, worked hard for, saved money up for, etc.

But we got through it, and kept pushing back.

Is building a home a full time job?

Yes and no. You can do it on the evenings and weekends, but most trades work in the morning and on weekdays. A great deal of trades will be just fine working alone on the job site without your appearance however.

If you have the money you can essentially hire out everything and be hands off for the most part.

How long does it take to build a new home?

It really depends on how much work you are putting in. If we hired everything out to subcontractors or had contractors manage everything, perhaps a year or so for a large custom house.

For those who are going the owner builder route and putting in sweat equity, it's not uncommon for the process to take two to six years, or even beyond. It depends on what you're willing to hire out verses what you want to do yourself.

What are you regrets?

– Not going with a heavier gauge window trim.
– Not going with a top notch window brand like Alpen Windows. I will ultimately solve this by using Alpen's Winserts, which are window inserts that can turn a double pane window into a triple/quad pane.
– Not going with a rigid bent metal perforated profile instead of using a stainless steel mesh bug screen. I would prefer something beefier with the mesh inside of it. No issues, just preference.
– Moving the water cisterns under the slab or figuring out a way to take advantage of all that thermal mass.