Think about the overall design of the kitchen before you begin your search and you'll be off in the right direction.
Color is an integral part of any kitchen. Colors used in the kitchen should help people relax and let them cook even better. Consider the colors you're already using.
For example, if you've settled on a design of sunny yellow and bright orange, these are the ideal colors to use in your backsplash.
Make one color the center of you plan. Then you can add another color for contrast such as shades of red.
Another direction for your plans is to think about using this space to bring in some personality. A backsplash that has been specially designed for you with your own tile choices is one way to upscale your overall kitchen.
Many hardware stores allow clients to sit down and think about the direction they like best. A series of alternating tiles in varied shades are one way to bring in a look that is purely your own. The backsplash should also be one that works in harmony with everything else in the room. You can bring in some elements such as your flooring and translate that look into a look for the rest of the kitchen.
Put a look like tiles that share other elements with your chosen design. You'll have a look that is put together and one that is going to make you feel happy every time you start to cook.
This is a chance to take a small detail and use it effectively to create a pleasing whole.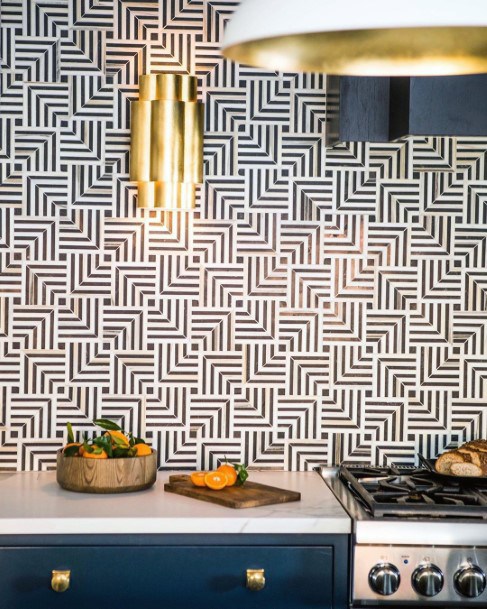 Personally, I love white countertops; especially when the cabinet base color is dark such as blue, black or even grey. In this case not only are the countertops and cabinets contrasting but so is the wall tile. The geometric angle pattern is the diamond tile pattern adds another unique layer of visual interest. They've paid special attention to the finer details too, matching the knobs and lighting fixtures to the gold inlays in the backsplash tile.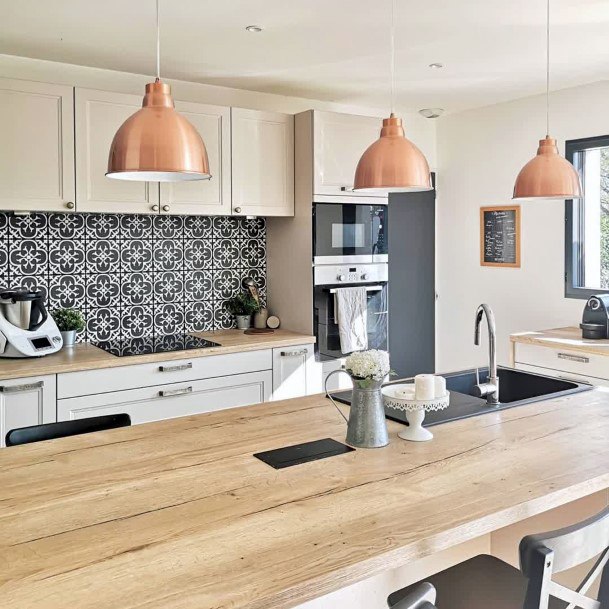 For a more farm house look, heavily patterned and contrasted backsplash tiles are excellent choices. The black and white pattern goes great with the solid oak countertops.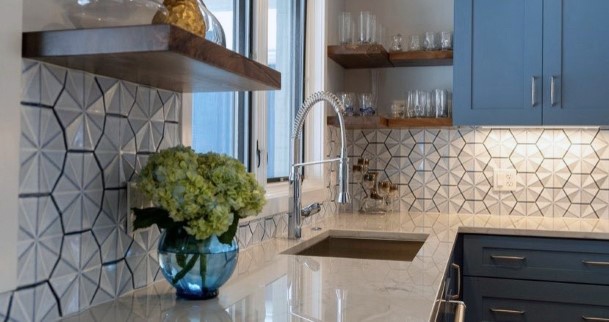 Here's something you don't see every day, three-dimensional tile. A few years ago this style was reserved for only special projects, but lately it's been making its way into kitchens, mudrooms and so much more. I love how the geometrical elements are further enhanced thanks to the raised texture. Navy grout lines against the white tiles pair beautifully with the navy colored kitchen cabinets below.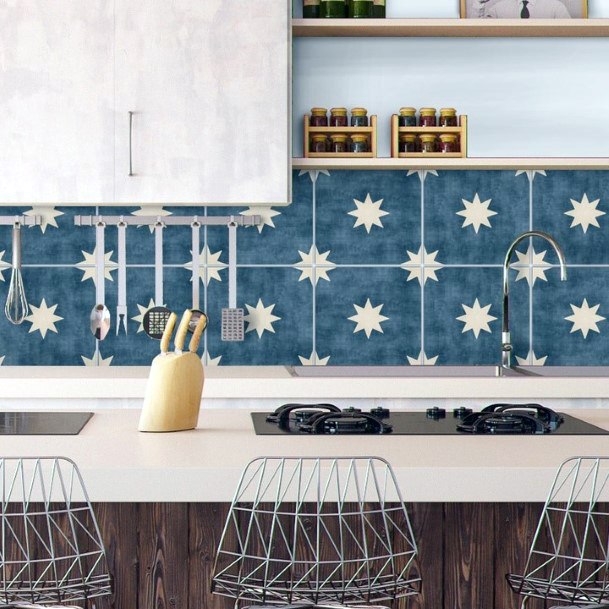 Want to add some fun to your kitchen but leery on going over the top? A visually interested backsplash like the one above can be a great way to turn an otherwise simple kitchen into a cozy, inviting room. The navy color while not found anywhere else in the kitchen, adds a great pop of color. The star pattern is unique and matches the countertops wonderfully. Instead of choosing a solid white grout to match the stars, they've chosen to go with a baby blue grout color for a subtle addition of visual charm.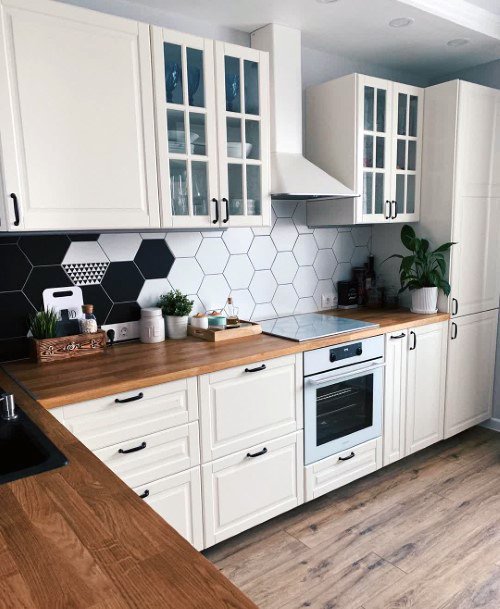 When it comes to turning a traditional kitchen into a contemporary kitchen, a modern backsplash is key. Hexagon tiles are just about as modern as it gets. Interesting enough, this kitchen doesn't have a uniform backsplash color, and they've choose to fade the wall from black to white. It make sense when you consider the black kitchen hardware against the soft white cabinet base color.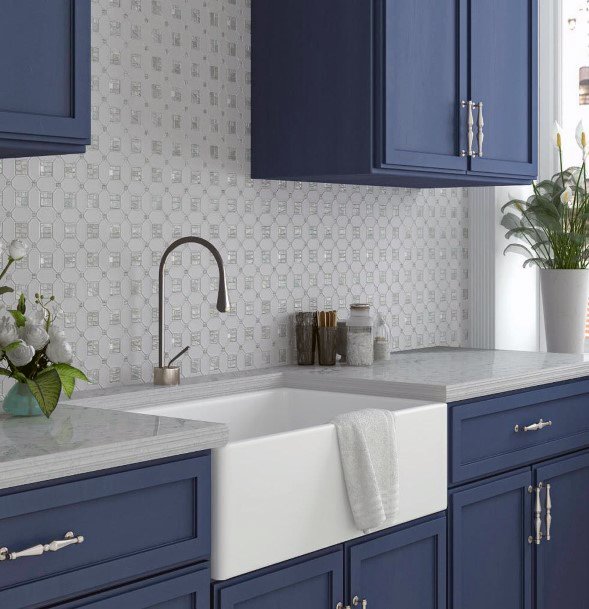 Wow, this backsplash tile is simply stunning! Can we first agree that navy kitchen cabinets are beautiful on their own accord? Add in a soft grey quartz countertop and wall tile that matches and you've got one stunner of a kitchen. I love the diagonal install pattern of this tile, but the shiny glass mosaic squares are what really captures my attention. A bright white farm house sink and satin hardware make this a wonderful style that both contemporary and rustic.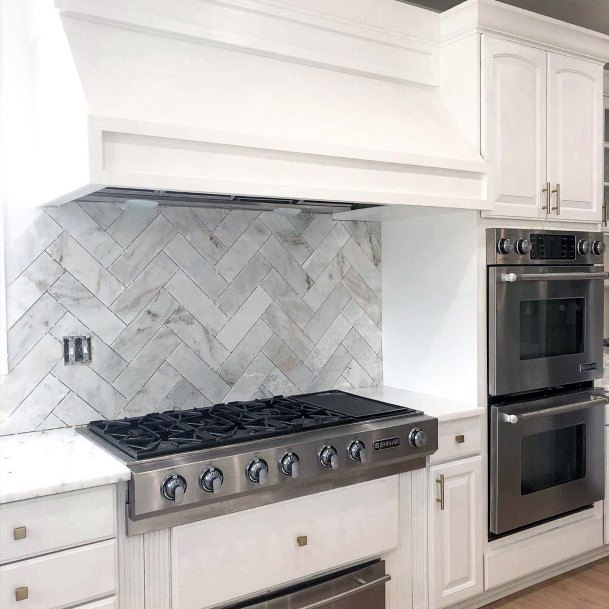 Who doesn't love herringbone tiles these days? Natural grey marble is a wonderful addition to a white kitchen, and gives offer a neat, clean look. Pair this style with stainless steel appliances and hardware, and you've got a nice contemporary kitchen.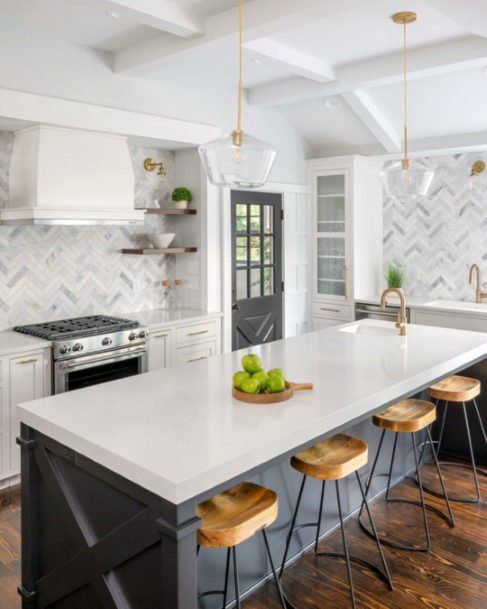 Chevron or herringbone, the choice can be difficult for most. We went with herringbone for our own kitchen, but I certainly love chevron patterns to death. In this kitchen, a beautiful white and grey natural marble backsplash is easy on the eyes, and pairs fantastic with the quartz countertops.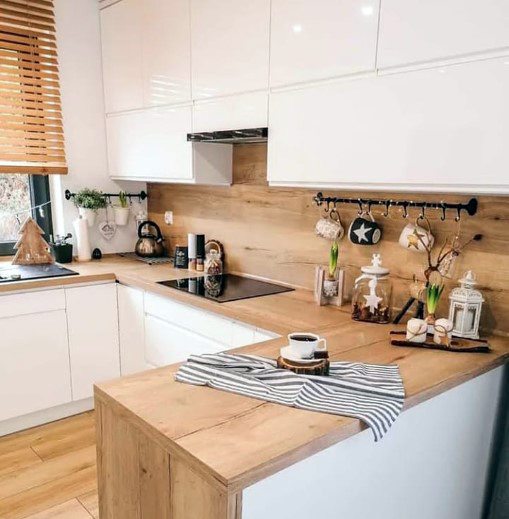 While wood countertops aren't too common these days thanks to quartz and other stone products being more affordable, when done right they are simply beautiful. In this case, they've choose to run that same wood species up the wall to act as a backsplash. It's a seamless look and the transition is kept minimal thanks to a small nosing at the base of the wall. Paired with glossy white kitchens, it's a budget-friendly, yet modern kitchen design.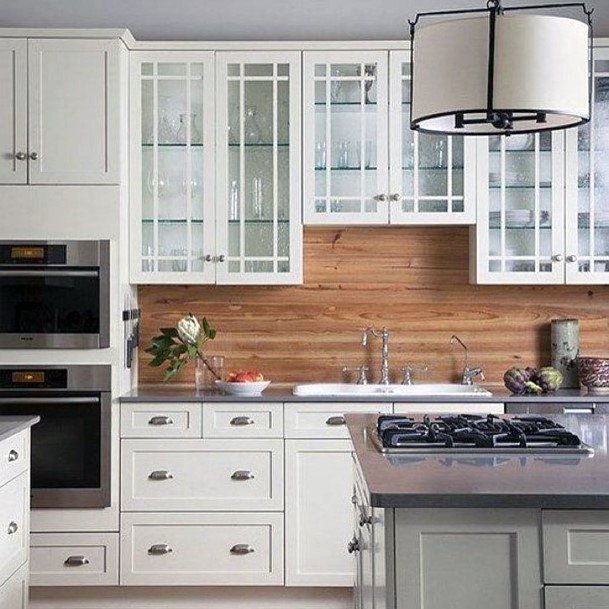 Have to have your stone countertops and classic white kitchen cabinets, but love the wood look? One option is to add paneling to the backsplash above the kitchen sink. It lends a hand at creating that rustic, cozy kitchen vibe that we all strive for. While wood-look tile is among the better options, you can also use wood flooring too. Just keep in mind the longevity when exposed to water.