Think about the kitchen cabinet doors. It's easy to make these your own. You can put in almost any kind of design. Painted kitchen doors are easy. Take them off the hinges.
Paint the shade you want. Let dry and rehang. It's also easy to add details with paint. Put in details like a stencil to add even more personality.
Wood and glass are good ideas in kitchen cabinet doors. You can combine both for a pleasing mix. Use wood for large areas. Add in glass in the corner.
Glass cabinet doors let you show off your wedding china and the rummage sale finds you've been collecting for many years.
Add in wood details such as gingerbreading along the edges for something that's interesting and unusual.
The interior of your kitchen cabinets needs just as much care. You want to be able to find what you need when you're cooking. Shelving should be adjustable if possible.
This means you can make the interior higher to accommodate larger things while leaving room for smaller items like spaces. Think about using pull out shelving. Doing so is great idea for parts of the kitchen that can be otherwise very hard to reach. Pull out shelving also allows many people to use the kitchen at the same time.
Younger children can reach for things without having to reach out things that might get broken along the way. Grandma can lend a hand without having to get out reach too high.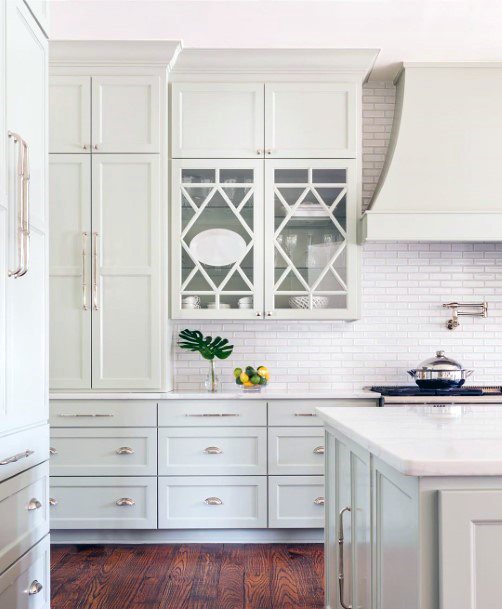 Clean, traditional and elegant, this all-white kitchen design is eye-catching without the color. You'll find a simple subway tile backsplash and a luxurious 3cm thick natural marble countertop. Note the chrome hardware including the wall pot filler. Crown molding has been affixed to the top of all wall cabinets, and the hood has been discreetly hidden with a beautiful piece of wood millwork. An open glass diamond lite cabinet door adds visual interest to otherwise simple kitchen cabinets.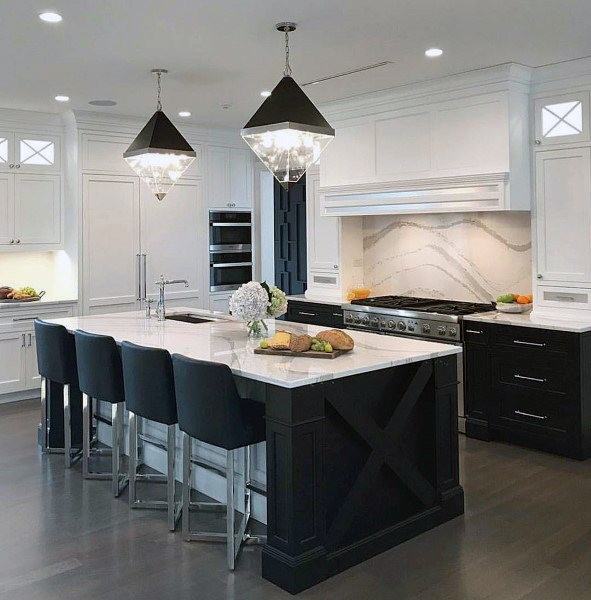 Go ahead, mix and match your kitchen cabinet colors. In this kitchen, you'll find black base cabinets paired with solid white upper wall cabinets. Glass doors with a white LED backlight add a small touch of modern refinement. I love the double color detail on the luxurious kitchen island. Note the ornate trim details on the cabinet door fronts and pillars on the side of the island.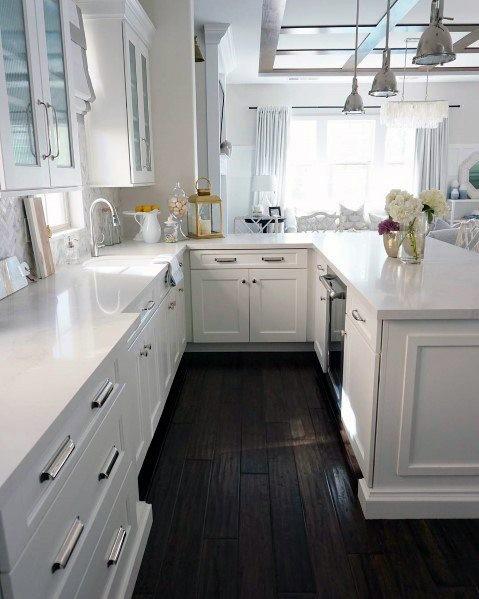 When it comes to kitchen cabinet door styles, shaker is a classic and refuses to go out of style. Pair the style with all-white color scheme and you've got a match made in heaven. I love how the smooth white cabinet door fronts contrast the dark hardwood floors.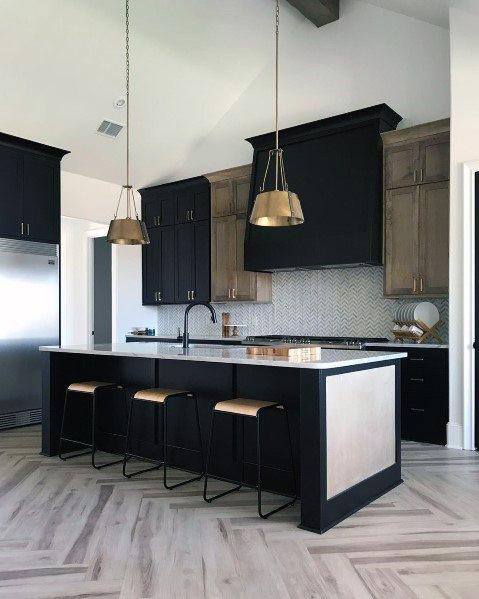 For our own kitchen cabinets we choose to go with walnut drawer boxes and black doors. I love the mismatched look of mixing both wood and solid color. For some this may be too much, but I find it rather modern and contemporary when done correctly.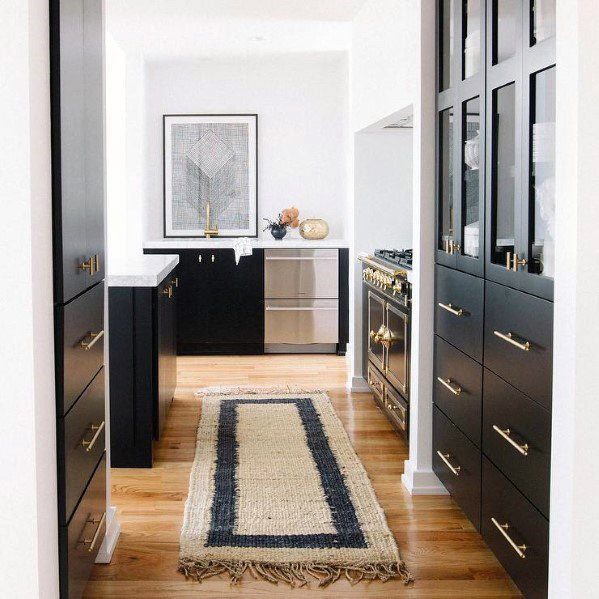 Turning your kitchen cabinets from traditional to contemporary is really as simple as painting them black and upgrading the hardware. You'd be amazed at the difference a color and hardware refresh can make. This kitchen captures the idea that you don't need your door fronts to have a lot of details to look good. Even a flat, smooth, kitchen cabinet door front can be attractive.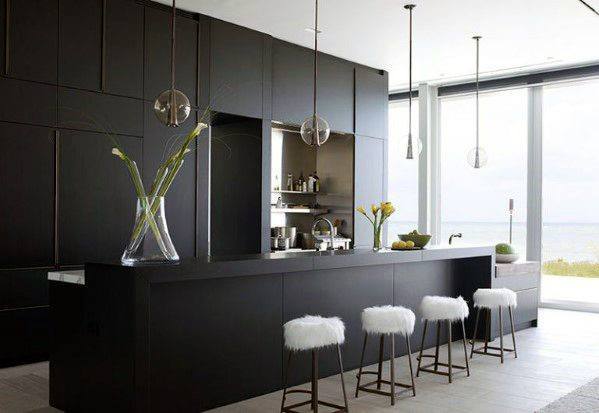 One of the latest trends in kitchen cabinet ideas is to not only go with a flat, detail-free door front, but also to incorporate hidden door handles. Personally, I love the hidden hardware look as it gives offer a clean, modern look. If you like the look as much as I do, look into things like shark nose kitchen doors, which feature no hardware at all.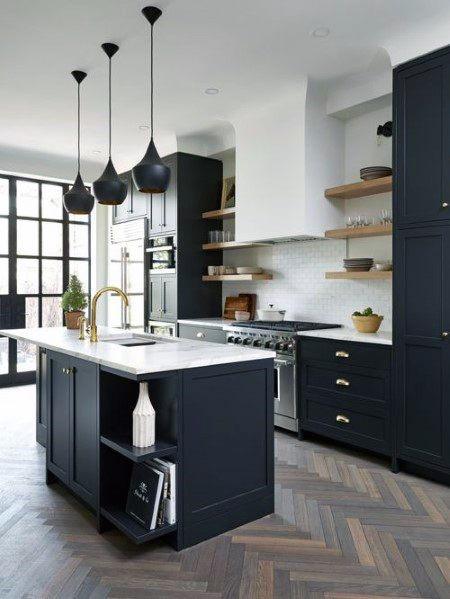 Bordering black and dark navy blue, this kitchen cabinet color is absolutely beautiful. Paired with the shaker kitchen cabinet door front and simple classic hardware, this kitchen gives off cozy vibes.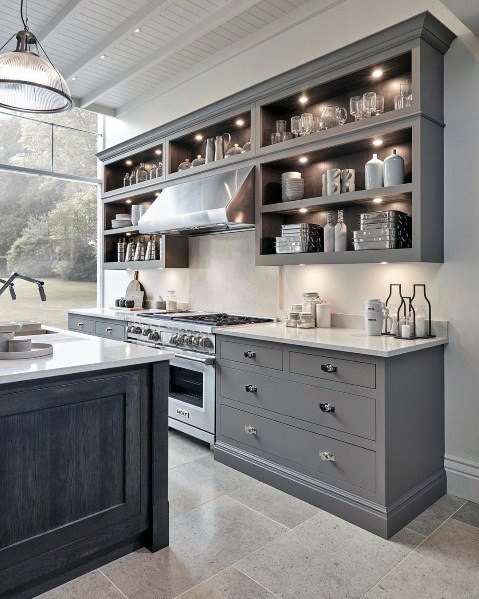 Grey has become super popular in terms of kitchen cabinet colors in the past few years. However, the inset drawer style has sort of lost its luster. Personally, I find the look attractive, but wood is natural material and it moves. Adjusting these drawers to sit just right can be a hassle when the seasons change. Of course, the extra attention to detail just speaks to the quality craftsmanship. Beyond the above, note the beautiful base crown molding in place of a toe kick. The open faced, door-free cabinet shelving above is remarkable. The added circle LED cabinet lights enhance this wonderful feature.