Every homeowner wants to perk up their kitchen decor without breaking the bank. Endless possibilities of what could end up as your kitchen countertop exist today.
Aesthetics, functionality, and maintenance rank high up on the list of considerations of a diverse selection of materials. A captivating styling of your kitchen top serves up as a great feature worth your investment.
A splash of color or a dynamic texture on your countertop creates drama and balance to your design. Whether it is through the naturally veined marble stone countertop or the sturdy butcher's block countertop, achieve that visual stimulation that you are looking for.
So, in the long run, are you going for a traditional elegant feel or a modern, sleek and minimalist look?
It is given that the kitchen top takes up a considerable chunk of the budget. Investing in one that is durable and will stand the wear, and even heat, over the years is essential. Needless to say that it ought to look good with age.
Nobody wants a kitchen that will give you a mold and mildew headache. Whether it is the timeless marble or the diamond-hard granite, choose an easy-to-clean, and maintain material that will be worth your while.
Homeowners keen on bringing in the modern contemporary feel with the countertops are particular on installations. Say goodbye to traditional dimensions that defined the thickness and overhangs of the countertops.
Thankfully, modern-day technology makes it easier for seamless installations and clean cuts of integrated sinks and appliances. The overall result is always light to the eye.
Don't gamble on the overall look and feel of your kitchen. Your kitchen top will play a massive role in the style of your kitchen, so take your time, because, with time, it will all be worth it. At the end of the day, you will cherish and enjoy the countertop you choose.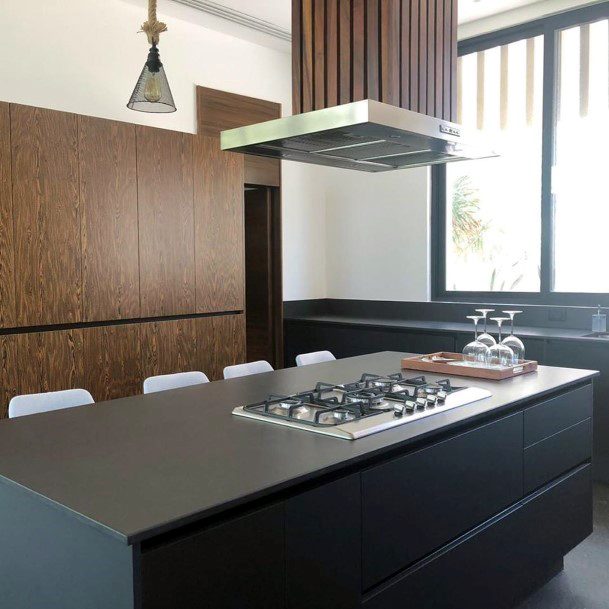 For modern and contemporary kitchen designs, it's hard to beat the sleek, smooth look of dark soapstone. While not as stain proof as man-made quartz, soapstone ranks as some of the best natural countertop stone materials out there. When we went shopping for soapstone we were amazed at how many different variations there are; everything from dark black to almost bright green.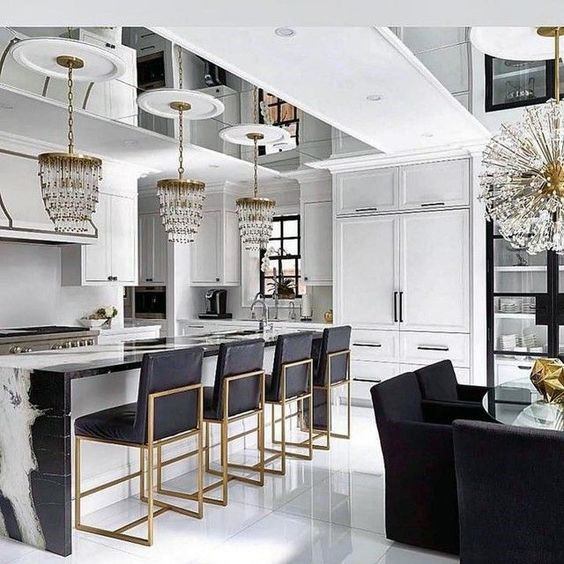 Personally, I love seeing the natural veins in marble, and this kitchen design has captured my heart. I cannot believe the size of those stunning vein details spanning across the top and waterfall sides. This countertop style subtly exudes elegance and luxury.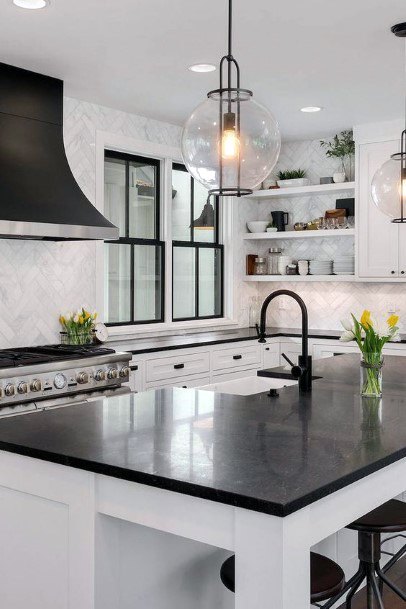 For all white kitchens, going with a black or dark countertop can certainly make a bold statement. This kitchen not only features a great white and black contrast, but also matches the black hue of the soapstone to the black drawer hardware. Even the light fixtures, faucet, hood, and window trim match flawlessly.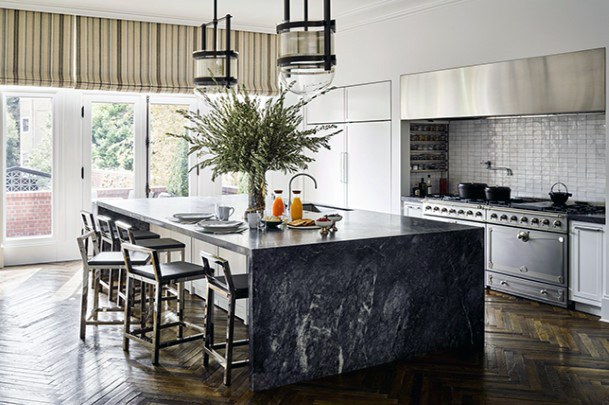 While quartz is taking over the contemporary kitchen world by storm, granite will always be a classic. When it comes to granite, getting that one of a kind look is effortless. Thanks to nature, no two slabs are ever alike. On the downside, this countertop material is porous, so it will gladly soak up everything from wine to juice. Note the 3cm thickness and mitered waterfall edges, which are a nice touch to this classic kitchen design.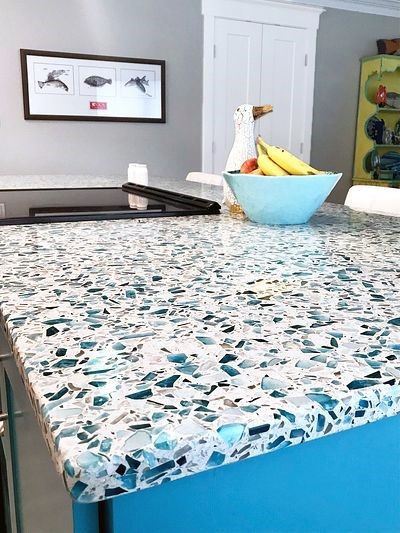 When most of think of quartz we tend to think of millions of tiny glass crushed crystals embedded in a resin. Though, these glass pieces don't have to be tiny or even naked to the bare eye. In this case, the homeowner had chosen to have some fun and add personality to their kitchen through using larger, exposed glass media. Most of which, likely is recycled glass, giving this countertop an eco-friendly rating.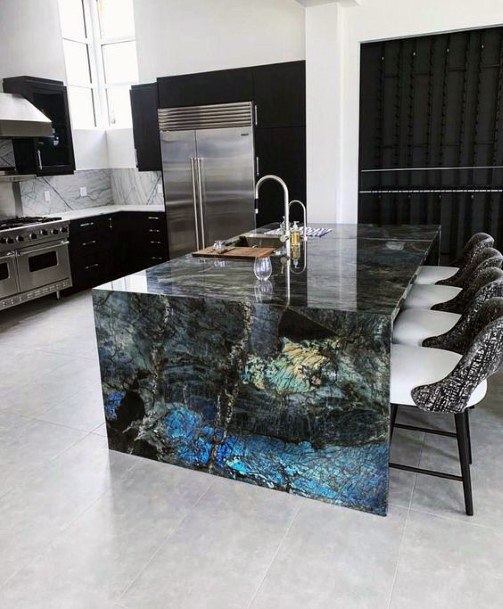 With a rainbow of stunning colors embedded in a dark substrate, this natural precious stone is simply stunning. Labradorite is a feldspar mineral that's calcium-enriched and amoung some of the most expensive kitchen slab options out there. If you're looking for exotic countertop ideas that are truly one-of-a-kind and exceptionally rare, consider labradorite.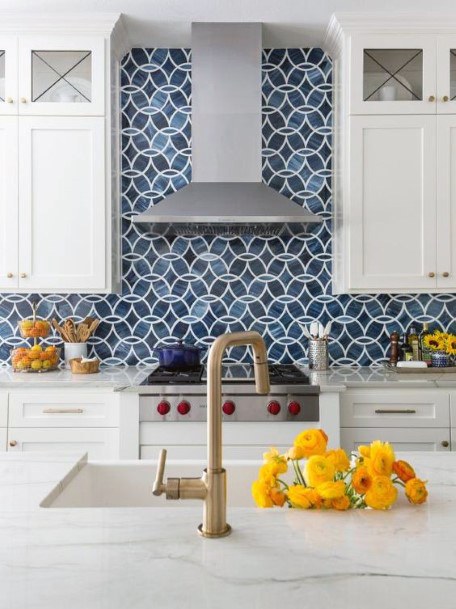 It's incredible how modern quartz stone can replicate the look of natural marble. You get all of the pros without the cons of dealing with a natural, pours stone. For virtually any kitchen out there, a white marble-style quartz countertop will fit in flawlessly.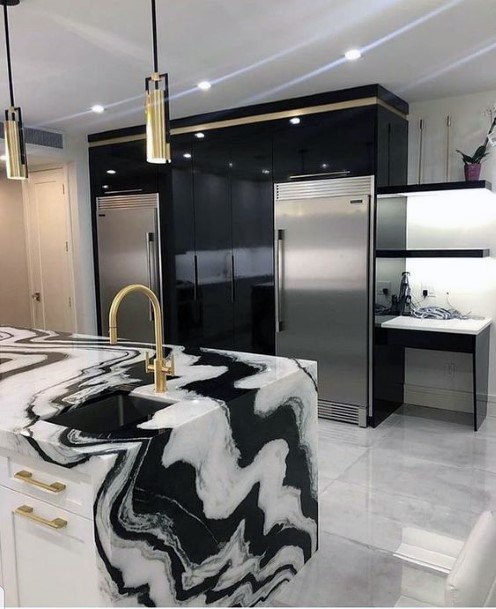 When it comes to making a luxurious, bold statement in any kitchen, marble is the perfected starting point. In this kitchen, you'll find a striking black and white marble countertop with waterfall sides and mitered edges. Paired with gold hardware, faucets and lighting accents, this kitchen design is for modern royalty.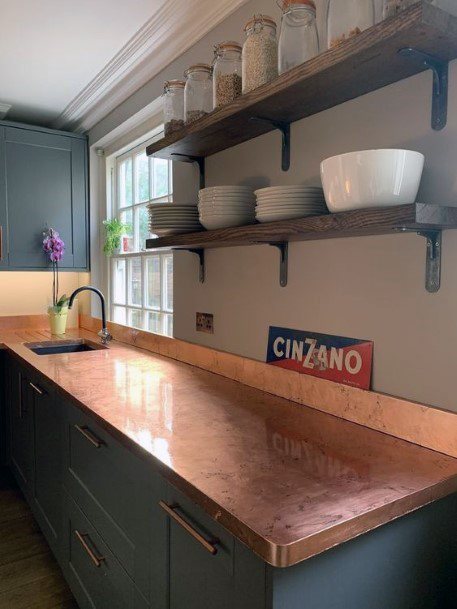 Here's something you don't see all that often, copper clad countertops. Over time these will certainly patina green in some spots, but with plenty of upkeep, you can maintain that bright, shiny metallic look. Note the integrated grooves near the kitchen sink for drying plates and glasses. In terms of cost, copper cladding a wood base is tremendously affordable, however, if you want solid copper countertops, which is unheard of, be ready to spend thousands.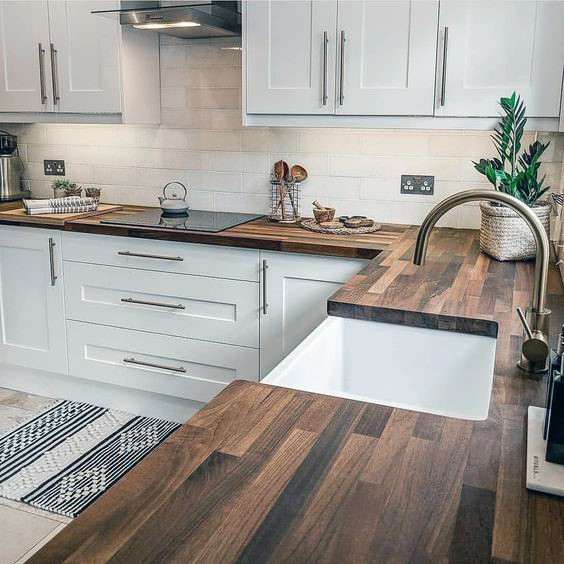 Who doesn't love the look wood butcher block? While we had quartz countertops installed in our kitchen we still find ourselves pulling out a cutting board all the time. A while ago we thought, how amazing would it be to have an entire section of our countertop act as a giant cutting board? I love the fact that you could literally use this entire countertop surface as a mega sized cutting board. Sure, you'd see the cut marks but a good sanding once in a blue moon would bring these countertops back to new.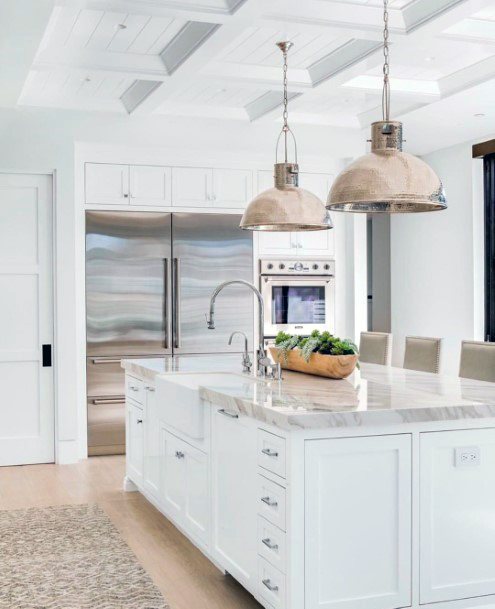 For all white kitchens, a thick natural marble slab is the way to go. I love the subtle grey vein details in this white marble slab countertop.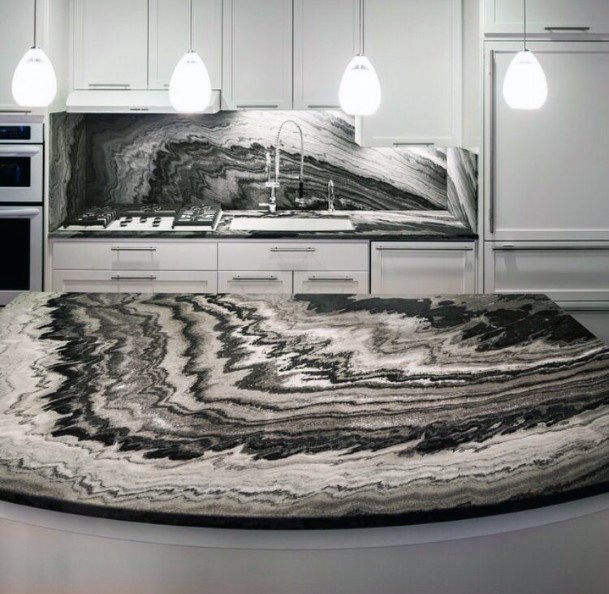 Personally, I find granite rather wild looking when it comes to all of the different patterns and natural variations. With simple white kitchen cabinets, going with a bold countertop is a great choice for adding tremendous visual interest. This style would be perfect for small sized kitchens were the primary focus is entertainment and parties.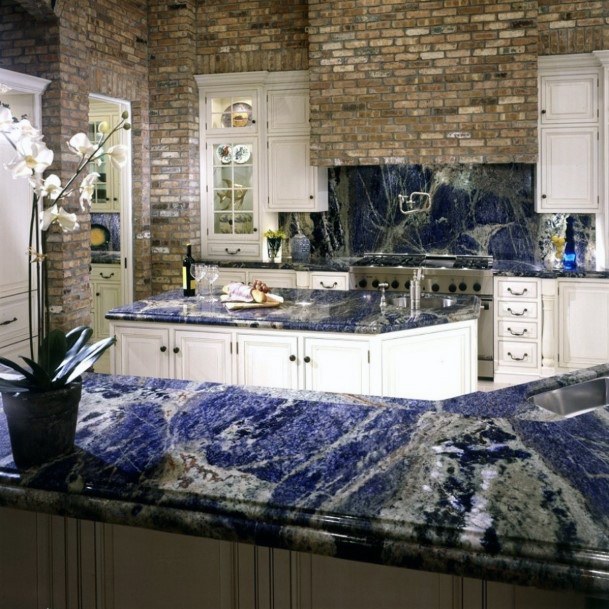 Here's another fun countertop option to consider, (Azul) Blue Bahia Granite. I love the natural bright blue hues and the grey veins that run throughout. If blue countertops are on your wish like, then check out other countertop natural stones such as Van Gogh, or Blue Pearl GT. Note your options will be much larger if you opt for man-made countertop materials such as quartz which can be easily colored.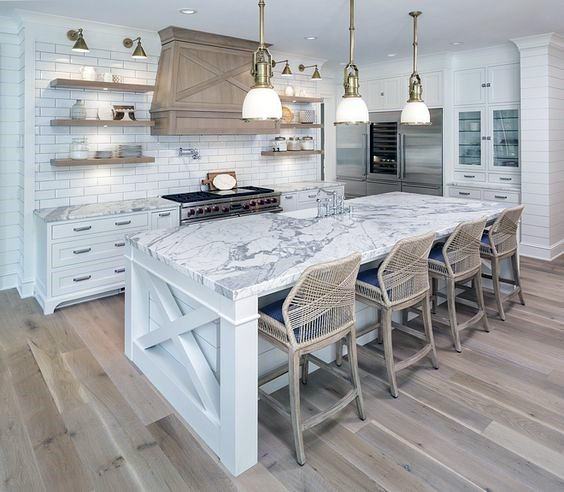 It's amazing how realistic quartz can look these days in comparison to natural marble slabs. Here's a beautiful farmhouse style kitchen, complete with white countertops, wood shelving and thick 3cm countertops.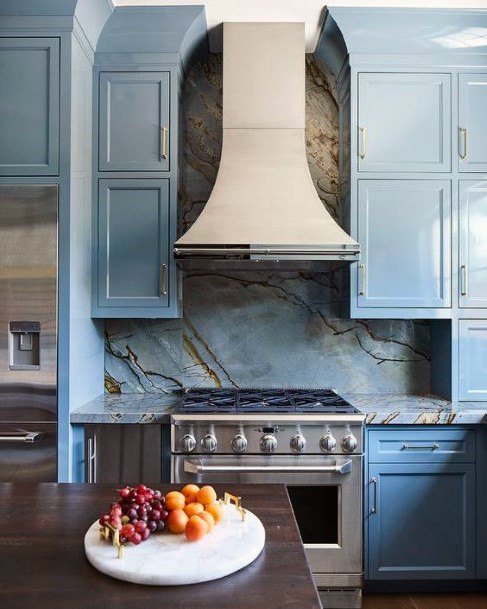 Wow, baby blue kitchen cabinets with a matching natural marble countertop and solid slab backsplash. I love this charming look that fuses vintage kitchen design with modern materials.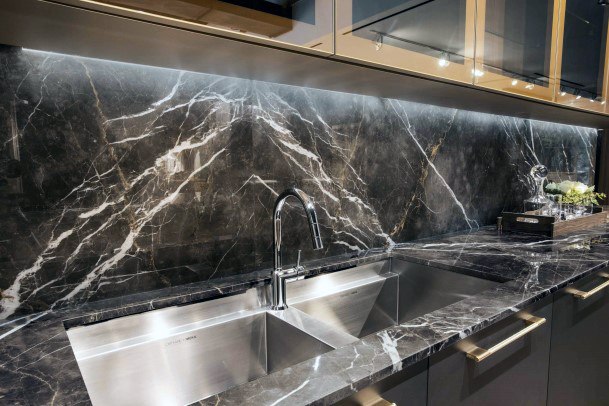 Pietra grey marble is one of my all-time favorites due to the deep, dark grey base with stunning, contrasted white veins. I would clad my entire house with it, but for the kitchen it's a wonderful option for those with darker cabinet colors. Add a LED light strip like the one in the kitchen above, and you can really highlight the white hues.