Fortunately, it's easier than ever to accomplish all of these goals at the same time.
Flooring comes in many types. The kitchen is subject to many strains. This is where people typically spend a lot of time.
It's also where they need to make sure that if hot water spills, it won't permanently damage the flooring. This is why many women want flooring that can go the distance.
Tiles are commonly used here as they are strong and will remain so over time. Natural stone tile is beautiful and adds in lots of subtle color.
Granite, slate and similar materials are luxurious. While such stone is porous, it is easy to add a sealant. The sealant protects the flooring from water. Ceramic tiles are pretty, understated and come in many types of designs. This is a good look for areas like the Southwest where such tiles have long been in use.
They have an infinite variety of patterns and colors. Tiles like this also stay in place nearly forever. Those who are concerned about the fact that tiles can be cold underfoot can bring in radiant heating and lots of gaily painted, scattered kitchen floor cloths.
Homeowners are also looking for flooring in the kitchen that is easy to keep clean. The last thing any homeowner wants is flooring that keeps stains in. For those on a cheaper budget, both vinyl and linoleum come in many varied colors. Stains can be removed immediately and cleaning is quite simply put, a breeze. A magic eraser does wonders for these types of floors.
When it comes to flooring for the kitchen, it's best to take your time and think about what is going work for your personal plans.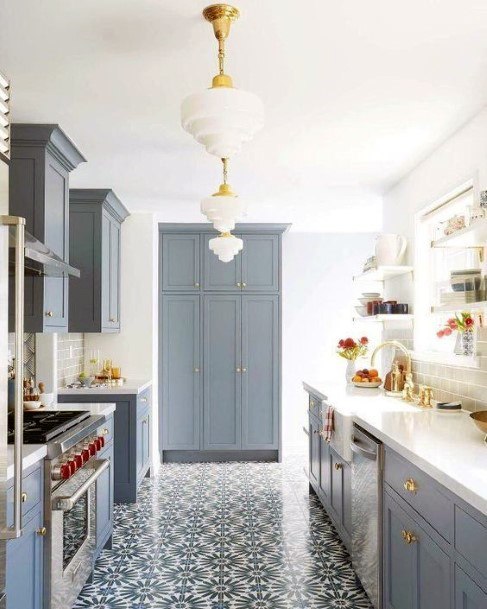 Keep the kitchen cabinets clean and neat, but go a little crazy when it comes to the flooring detail. If you want to turn any kitchen into a charming old-school slice of paradise, just consider the addition of retro-patterned tiles. The flower detail on these navy and white kitchen tiles adds some seriously rustic, classic vibes from the past.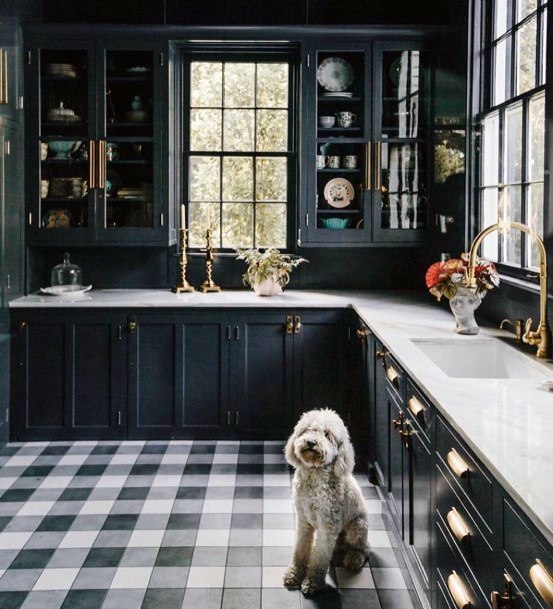 Plaid tiles in the kitchen? Even the most odd-ball styles can be wonderfully integrated into any kitchen when done in the right manner. In this case, while you'd think plaid would be overbearing on the eyes, the matching color scheme and gradient like detail offers just the right amount of attractive style.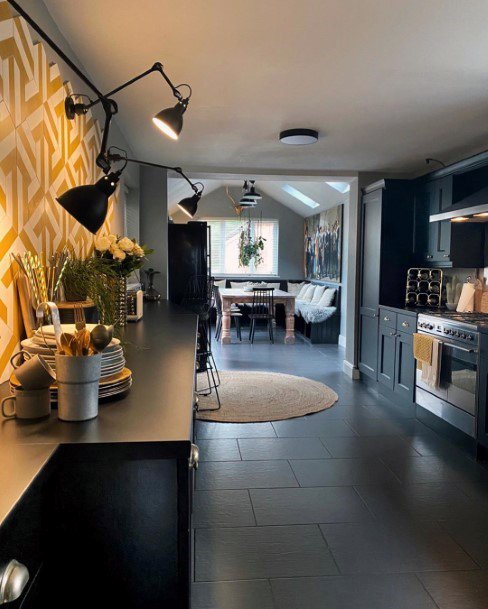 You really can't go wrong with a darker tile, such as black in the kitchen, especially when your cabinet colors match. While I personally love white tile in kitchens, light color flooring seems to always show every granule of food and every fiber of pet hair on the ground. Now, sure, black flooring can a bit much for most kitchens these days, but to tone down the look consider a tile with a textured pattern like the one above. It will go a long way in making your kitchen look a little more inviting and less bold.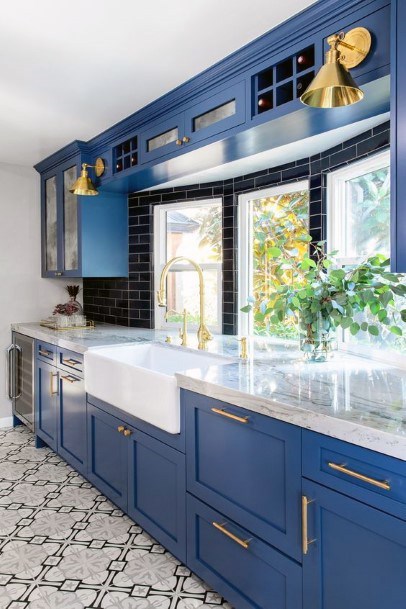 While I'm not a fan of bright blue kitchen cabinets, the detail to note here is the flooring style. Patterns do wonderfully well in most kitchens these days. Just aim to match the color of your tile selections to either the hardware, base cabinet color, countertops, grout color, backsplash or even lighting fixtures. You can honestly go as off the wall as you want with patterns as long as there is some sort of matching going on.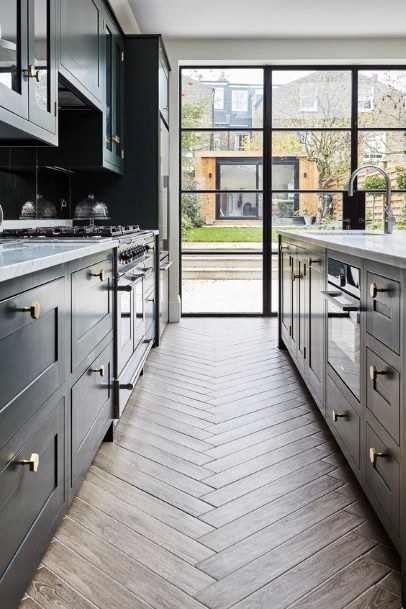 Give me chevron or herringbone patterns and I'll be happy. Wood look tile is the latest rage in most kitchen these days, but for some it can be a little too traditional. To take this style up another notch, install it using a chevron or herringbone pattern.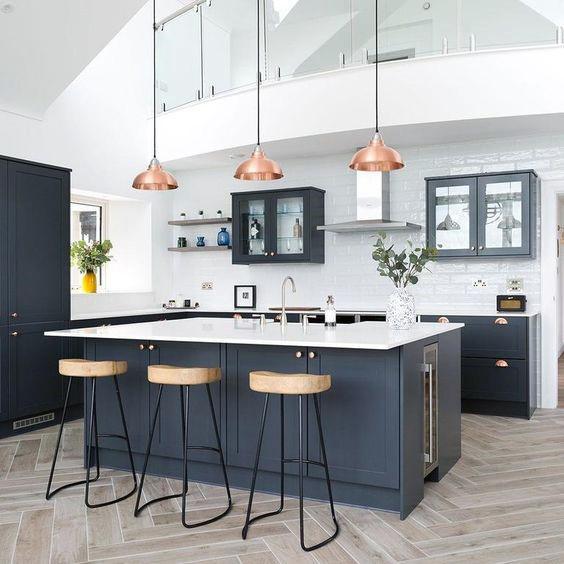 Another example of patterned tile that I love, you'll find a really nice light wood-look tile paired with a white grout, and dark navy kitchen cabinets. It's the perfect mix of rustic farmhouse and contemporary cool.