This is the part of the kitchen to make cookies with children, teach older kids how to select ripe fruit and sit down with a friend as you watch your stew come to perfection. Make it your own with the ideal kitchen island.
Storage is a crucial part of any kitchen island. This is a good place to up in lots of drawers. Choose drawers of different sizes for different kinds of items.
One series can serve as a place to keep extra flatware. Another area can be used to keep items you need when you're off shopping like reusable bags.
The side of the island offers additional opportunities to amp up the storage plan. Put in a rack so you can keep the specialized tools you need to make a souffle. Consider the kind of materials you want to use in your kitchen island. Wood, tiles and granite are common options. You can use the same materials you use for counter space.
Or, you can go your own way and put in contrasting items. For example, if you've gone with wood for the rest of the kitchen, put in marble. It's one way to add a touch of upscale elegance. You'll want to make sure this space is easy to clean. Test out the materials you use before bringing them home.
Have a close look at the layout of the kitchen. The ideal kitchen island makes it easy to get around. It should be centered. There should also be enough space so people can walk around it.
A well designed kitchen island is one way to make your kitchen more functional and add a splash of style.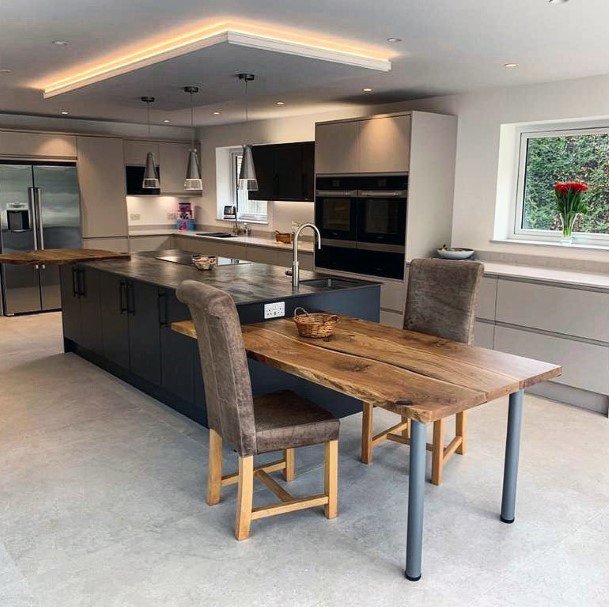 You want the classic kitchen island but you need a little extra dining and entertainment seating… No problem, just add some beautiful live edge wood slabs. Wonderful walnut slabs help tone down their otherwise very modern kitchen. Note the bar stool height addition on the left which helps make the wood table on the right look less like an afterthought.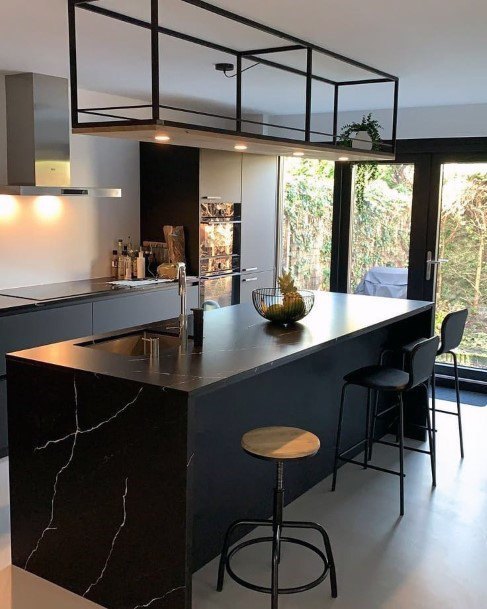 Black marble look quartz on its own is a beautiful compliment to any kitchen, but go with waterfall sides and now you've upped the ante. This all black kitchen island, offers a beautiful, modern style.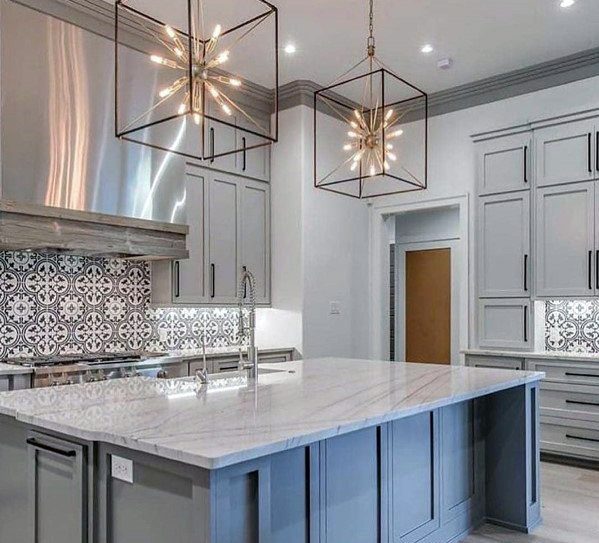 Let's face it, everyone loves a large kitchen island, the larger the better in fact. Some call them air plane landing strips, I call them much needed elbow room for doing recipes with a laundry list of ingredients. In this kitchen, we've got matching grey cabinets and a beautiful natural marble stone countertop. Wood trim details accent the bottom portion of the island for a truly custom-built finish.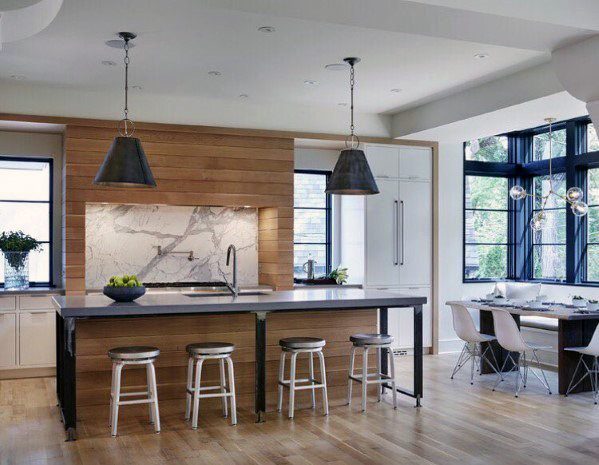 Wood and steel, a fusion of both modern and rustic materials. I love the industrial yet, contemporary look of this four-seat kitchen island. Between the two large industrial light pendants you'll find a neatly centered undermount kitchen sink with a chrome faucet.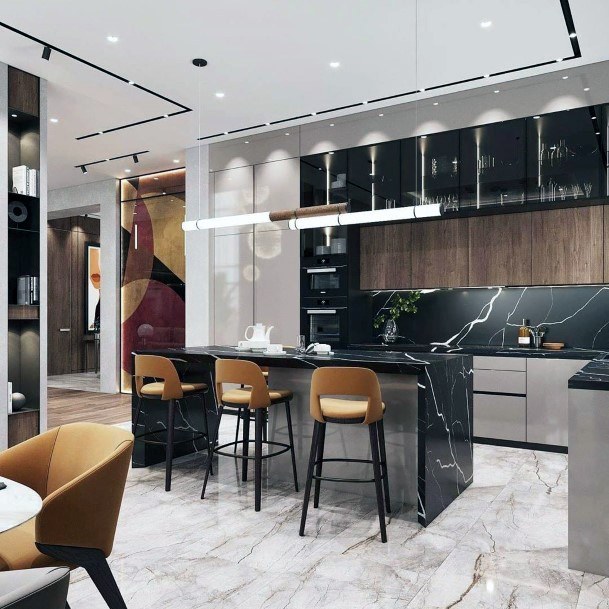 While most tend to think that a kitchen island has to be all cabinets below, the truth is, it doesn't. In this kitchen, you'll find only a portion of the bottom filled with stainless steel cabinets. The left side is completely bare allowing for a pass-through. Waste space, perhaps? Or perhaps, a really nice visual detail?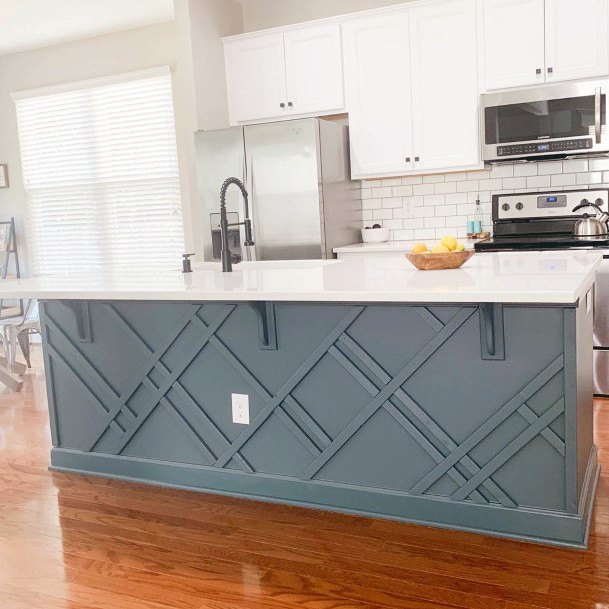 It can be difficult to add more visual appeal to a tradition kitchen without breaking the bank. Luckily, there are a ton of small simple things you can do to add more charm to your favorite place in the house. In this kitchen you'll find a unique geometric wood trim on the face of the kitchen island. Painted to match the cabinets, it adds a lot of visual appeal without being too over the top. Note the white kitchen cabinets throughout the kitchen and the blue painted island for an additional pop of color.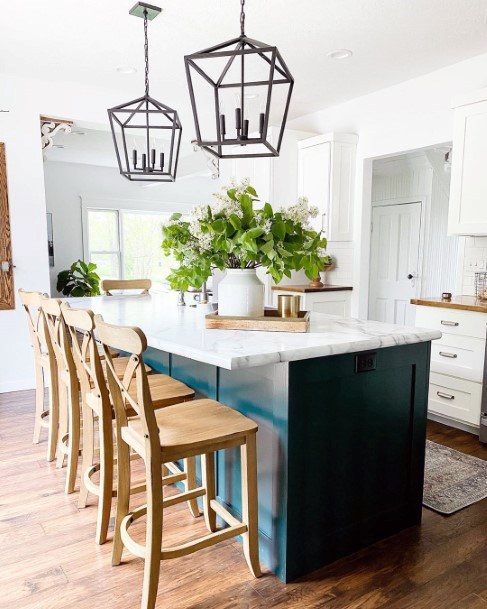 Does the kitchen island have to match the rest of your cabinets? We certainly don't think so! To give this kitchen some contrast, you'll find white cabinets and a lone dark navy kitchen island. Add in some white quartz countertops and soft maple wood bar stools and you've got a lot of visual depth to enjoy.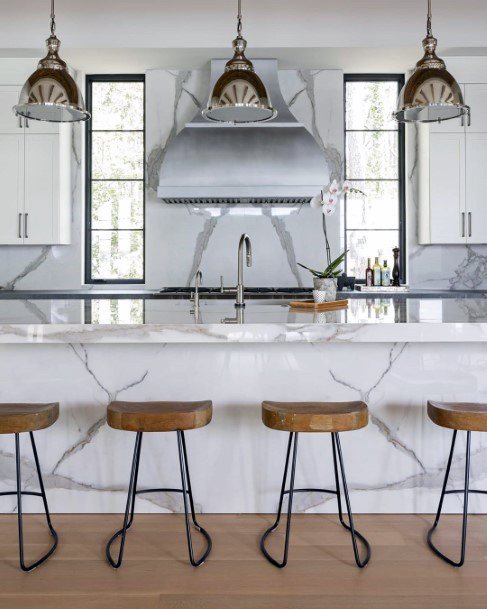 If I could finding a kitchen island that carved out of solid natural stone, I would be in heaven. Granted, that would cost an ungodly amount of money and the installation would be an absolute nightmare. The next best thing to that, is a waterfall kitchen island and a bookmatched marble front detail. With an almost seamless look, excluding the bar countertop overhang, this kitchen island gently screams luxury.