They're also searching for kitchens that are functional where they can go from a quick meal to a Sunday brunch for twelve without missing a beat.
One area of increasing use is that of the smart kitchen. The smart kitchen is designed to minimize energy use and integrate electronics. A smart kitchen has appliances that can be set to turn themselves off and on so you have the perfect stew waiting once you get home.
They are kitchens that you can control remotely. A smart fridge tells you what you have inside and what you need to stock up on. That makes grocery shopping a lot easier.
Another direction in the contemporary kitchen is the use of natural light. Modern cooks want to see exactly what they're doing and why. Large windows are ideal. Make sure there are curtains and blinds to make cooking easier at the height of the day. When the sun sets, this is a chance to bring out additional lighting. Lighting that can be directed exactly to where you need lets you cook with precision.
Social spaces are also important for the cook today. You want seating that is comfortable and yet easy to store and keep clean. Fold up options that are built into the kitchen help make the most of smaller spaces. Many modern moms want a space where they can keep a laptop. A protected, fold out drawer lets the mom multi-task so she can check homework and get dinner started at the same time.
A well designed, modern kitchen is your ticket to a more efficient home.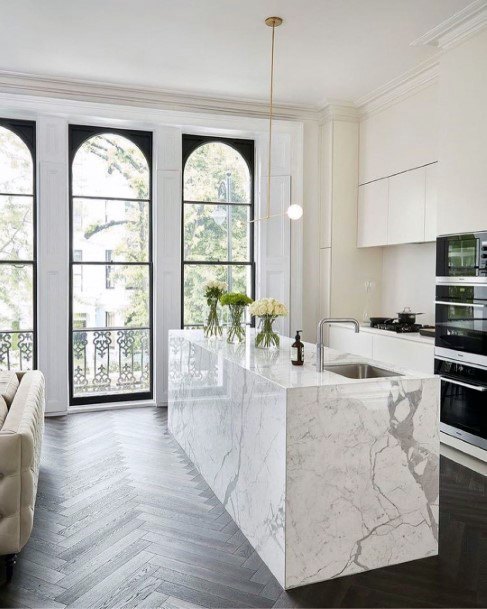 When it comes to modern kitchens, a waterfall kitchen island is a must. If you want to take it to the next level, then miter all of the edges and cover the front in a stunning natural stone slab. When we built our kitchen we learned that mitered edges are what makes an install super expensive. The more you have, the more the price skyrockets. Beyond the countertops, I love the huge windows which flood this kitchen with ample natural light. Dark black herringbone hardwood floors are strikingly beautiful against the solid white wall paint and kitchen cabinets.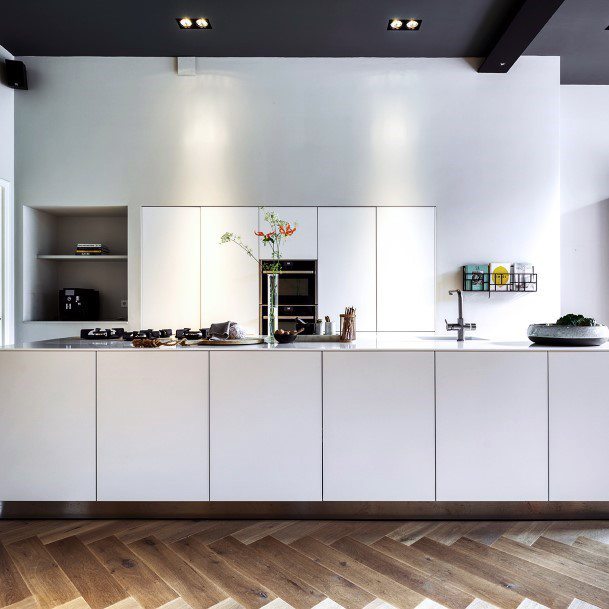 If modern is the goal, then it's best to forgo the ornate cabinet door face designs. A smooth, often glossy, finish can really help give an otherwise simple kitchen a contemporary edge. Chevron wood pattern floors offer a bit of rustic charm, while an all-white color scheme gives an impression of cleanliness.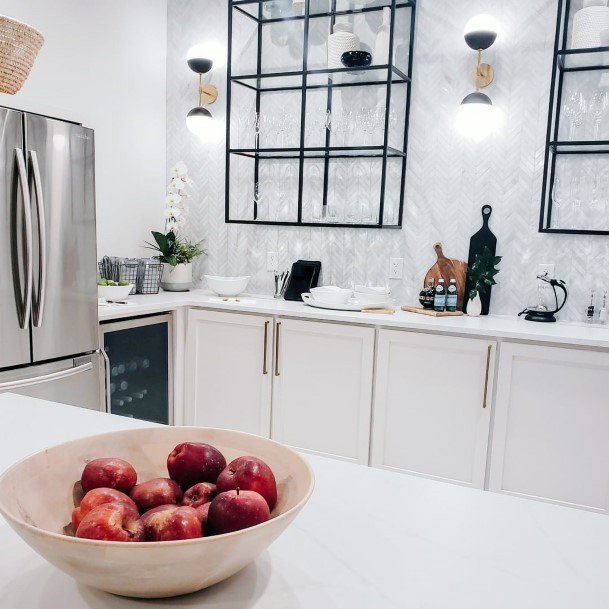 Have a small kitchen and think you can't go modern without having a luxurious amount of square footage? Think again, this kitchen hits the bullseye on all marks modern. Bronze hardware, simple cabinet doors, chevron marble backsplash, and white quartz countertops all work their wonder. Steel and glass wall shelving add additional storage for things like wine glasses and vases, while giving an otherwise plain wall more charm.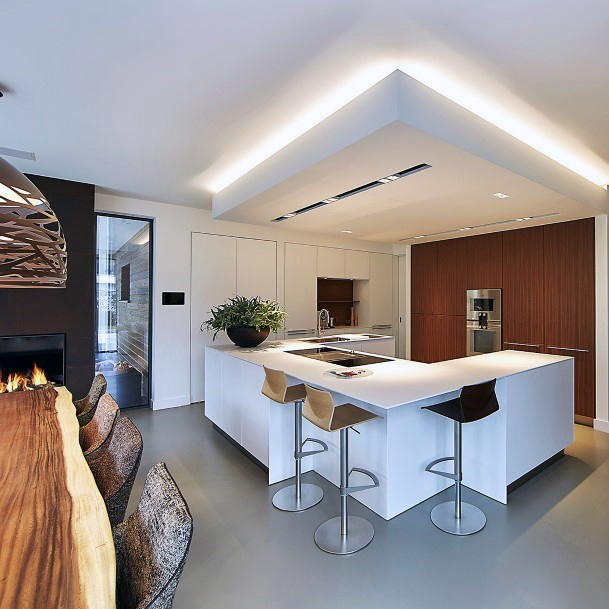 Beyond the kitchen cabinets, hardware and flooring, two important details for any modern kitchen are the ceiling and cabinet placement. In this kitchen, I love how the designer recessed the cabinets and appliances for a seamless look. Plus, they've dropped the ceiling down and added a sharp LED backlight to give this modern kitchen more depth.