From costs and installation time to durability and longevity, appearance and resale value, and much more.
But before we dive in, you should know about the history of stucco and siding so that you can get the complete picture before deciding on which one to go with.
Neither of the two are "modern" exterior wall cladding systems by any means.
The materials have certainly changed throughout history, but the application of each cladding has stayed the same.
Stucco has been around forever, i.e., thousands of years going back to the Romans, Greeks, and Egyptians. Look into the ancient 79 A.D. buildings in Pompeii (Mount Vesuvius), and you'll see stucco that has been applied over Roman brick.
Dig a bit deeper into history, and you can find stucco being applied in the 1400 BCE temple walls of ancient Greece buildings such as the Hadrian's Villa. It's safe to say that stucco has been around forever and has stood the test of time. If you think it's going to be outdated anytime soon, then you're mistaken.
The same can be said for wood siding, which is a timeless classic wall cladding. While today we've got modern siding options such as fiber cement, aluminum, steel, vinyl, and so on, the application itself is the same. Take a look back in history, and you'll find wood siding being used in small sections of the Horyuji Temple.
If you're not familiar, it's the oldest wooden building in the world (600 AD) and one of the oldest temples in Japan. The building is astonishing proof that wood can last a long time when properly taken care of.
History aside, let's get onto the good stuff: Stucco vs. siding, and which should you choose for your residential home?
Stucco:
When it comes to stucco, it's hard not to fall in love with the pristine, smooth finish that beautifully coats a home's exterior. From historical houses to modern construction masterpieces, you'll find the fantastic art of stucco just about everywhere.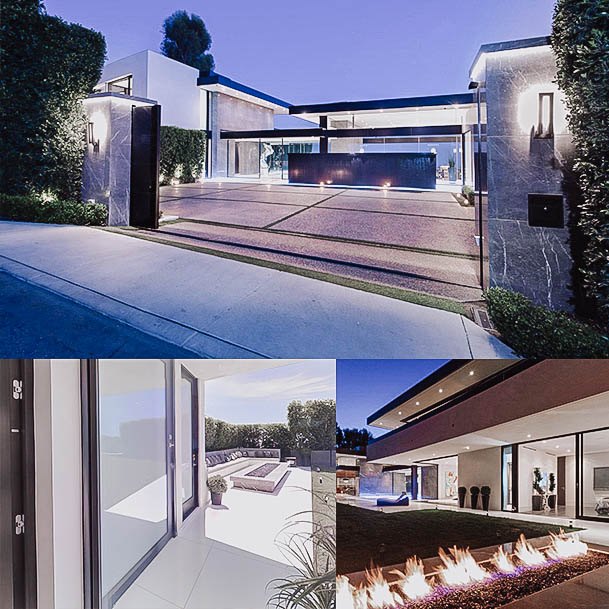 My favorite use of stucco can be found on the modern Bel Air masterpiece 864 Stradella Road in Los Angeles, California. The massive 14,219 square-foot home was designed by the renowned architect Paul McClean and used a beautiful stucco finish throughout the home's exterior.
It's an excellent example of how modern a classic building finish can look when properly executed.
Stucco installation: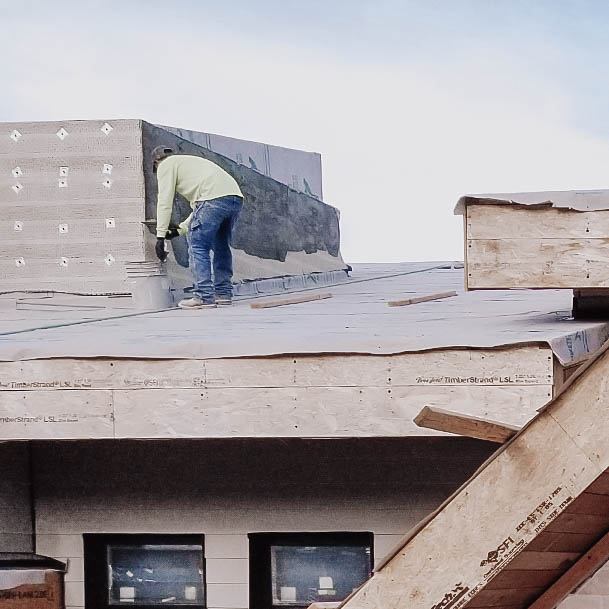 Given stucco's extensive history, it should be no surprise to know that stucco has changed dramatically over the years. It's gone from lime-based make up to a lime-Portland cement-based make up, then a Portland cement-based make up, and finally, today, a polymer-modified make up.
Scientists have figured out a way to make today's modern stucco stronger than ever, but it has come at a minor cost. It's far less vapor permeable, meaning it doesn't pass water through it as well. This wouldn't be a huge problem, but it is when you realize that today's modern homes are more airtight and have far more insulation. In other words, they can't dry as well, and a home that can dry out rots.
Historically, stucco was installed using three layers: A scratch coat, brown coat, and finish coat. Today, the process is essentially the same. First, a waterproofing membrane is installed, followed by a lath, scratch coat, brown coat, and color finish coat.
With today's modern insulation and airtightness of modern homes, you must install an airgap drainage layer behind the stucco. That means that you should have a tiny cavity behind the stucco that allows any moisture to escape. While many trades skip this step, it only leaves the frustrated homeowner years down the road when the paint starts to fail and buildings start to rot. It's time to get with well, get with the times.
In dry, warm climates, such as homes built in the desert, most folks could easily avoid doing this step and not see any problems. I still recommend doing it, though. But having an air gap and drainage layer is crucial if you're in a wet climate. You won't see this mentioned in many stucco installation guides because they need to be updated.
Siding: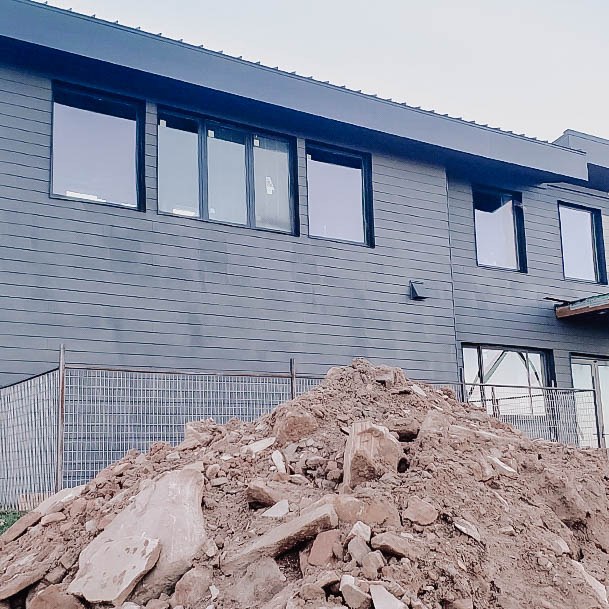 We choose to go with James Hardie fiber cement siding for our own home. If I had a higher budget, I would have gone with an all-stone exterior cladding, but could you imagine the costs? My second choice was the fiber cement siding, but stucco was something I was also considering at the time. We also incorporated small sections of Brazilian Walnut, aka IPE, on our exterior walls for added pop. It's a super dense hardwood that can last hundred-plus years with little maintenance.
Now, when it comes to siding, the most popular choice today is fiber cement. It's cheap, easy to install, fire-resistant, and lasts 50 years or more. Of course, siding comes in different flavors, including natural wood, steel, aluminum, vinyl, fiber cement, etc.
Personally, I like wood siding for non-wildfire-prone areas; it's a classic. But if you are in a wet, cold climate, then consider upgrading to a more modern material like fiber cement. Fiber cement is more durable.
I strongly prefer steel claddings when it comes to metal siding options such as aluminum or steel. When done correctly, steel siding can last just as long as a steel metal roof. The steel siding and panel options are taking off for modern homes. I wouldn't consider aluminum siding due to its weak nature. I've seen minor windstorms rip it apart just as easily as vinyl siding.
For those on a significant budget, vinyl is another option worth considering, but personally, it is the last resort and lowest tier of materials to go with. Aside from being a weak material, I've noticed an odd trend of vinyl homes developing mold-growth problems on the exterior walls. I'm not a fan when fiber cement is an available option and not that much more in terms of cost.
Siding installation: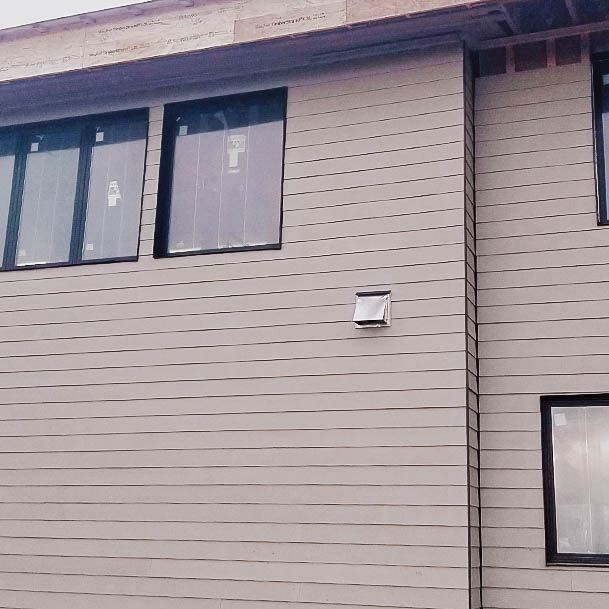 Virtually of siding is installed similarly, though some come with various profiles such as tongue and groove or shiplap, etc. Siding is installed in horizontal or vertical rows and pinned to the building with nails. Depending on the wind load for your area, aka how high of winds your home will encounter, your installers might choose to either face nail or blind nail your siding. Blind nailing means the nail is concealed and hidden by the next board, while face nail means the nail head is exposed. Face nailing is far stronger against high winds but can be unsightly for some picky folks.
The process of installing siding has been made super easy with modern tools like the PacTool Gecko Gauge, which automatically spaces each board evenly.
Most siding installs have two layers: The weather barrier and the siding itself. However, as homes have gotten more airtight and seen more insulation, this is now a problem. Today, you must install a drainage gap behind the siding to allow water and moisture to escape. This brings the total up to three layers: The weather barrier, drainage gap, and siding. Doing so will prevent your building from rotting plus your paint from failing earlier than expected.
Cost of stucco vs. siding
We spent approx. $24,186 for our fiber cement siding installation. That's for a 4800 square foot house with numerous corners —that's $5.03 per square foot. Now, remember that installers will measure your walls to determine the actual square footage of siding needed. The above numbers are just a very general guide.
When we received stucco quotes, we received a range of $10 to $15 per square foot. Keep in mind that we are in Colorado, and every market will have different prices and material costs. To put this in perspective, our electrical costs for our new house were in the $60K ballpark, but if we had built in Ohio, we could have gotten the work done for roughly $30K or half. The market determines your install price.
Material prices do vary by region but are pretty similar. Depending on where you shop, you will notice the most significant difference in siding and stucco materials. I've seen James Hardie siding marked up as much as 300% at one building supply store and ultimately found the best deal purchasing through the Lowes Pro program.
Stucco vs. siding labor and installation time
Stucco is more time and labor-consuming, but the difference compared to a traditional siding installation is not outrageously more complex or lengthy.
Remember that stucco will need time to cure, while the siding is essentially ready to be painted when installed on your home. You can also order siding pre-painted, which means that once the siding goes up, it's finished. (Minus filling nail holes and fixing handling damage, of course.)
Durability and Maintenance
Stucco has gotten stronger over the years as the materials have changed, but so has siding. Stucco is basically a cement covering on the exterior of your house, which, as expected, will last a long time. Most stucco installations will last 50-80 years or longer. It can easily be touched up or refinished and requires meager maintenance.
On the downside, stucco is absorbent; it can finely crack (all concrete cracks) and requires painting every ten years. Stucco fairs wonderfully when put up against a wildfire, wind, or other elements.
There are many different siding options, but let's use fiber cement for a fair comparison. Fiber cement can last 50 years with no maintenance other than painting every 15 years. Most fiber cement planks are super thin and can be broken by baseballs, for example, but they are still plenty tough against all natural forces. Certain companies offer fiber cement siding in extra thick planks, which are indestructible.
About 5 years ago, I took a piece of one of these extra-thick fiber cement planks and buried it in the ground. Years later, it looked brand new, minus the dirt. I was amazed at how resilient fiber cement can be. Speaking of resilience, when it comes to wildfires, you really can't beat a quality, non-flammable material like fiber cement.
I'm a huge fan of fiber cement for durability, but you must follow the instructions for installation. There are a lot of requirements, such as not letting the siding touch the ground. Or making sure there is flashing behind the butt joints, and so on. Many installers skip these steps, and that's what is causing a good deal of the fiber cement siding complaints online today.
Insurance costs and natural resistance to the elements
Both siding (fiber cement, steel, etc.) and stucco will lower your home insurance costs as they are fire-resistant. Vinyl and wood siding, on the other hand, aren't going to do you any favors as both burn easily.
Beyond fire, the wind is another consideration to keep in mind, as strong winds are known to rip off vinyl and aluminum siding. Of course, with strong enough gusts, steel, fiber cement, and wood can be torn off too. Though, manufacturers, these days have wind load data available and can offer you install methods to prevent this from happening. In reality, this shouldn't be a concern for most folks.
Appearance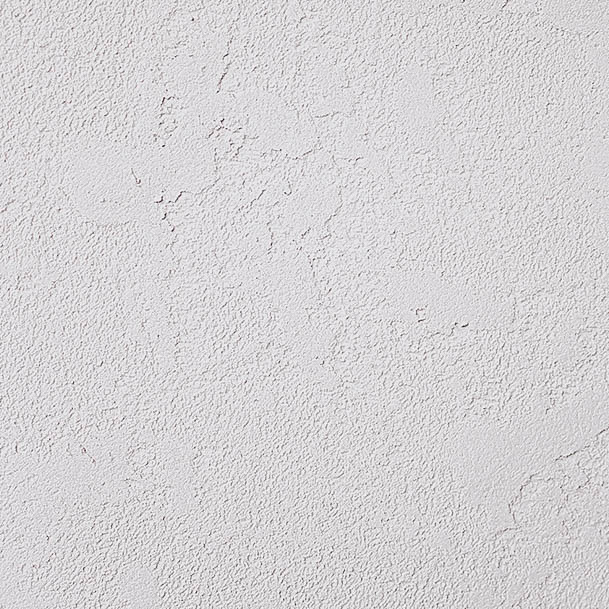 If you are going with fiber cement or stucco, then the only real difference you should consider is the appearance. Pick the one that looks the best and fits your budget the best.
You really only have to compare stucco vs. siding once you start looking into options like wood, vinyl, etc. siding. You are trading off a rock-solid option for a more maintenance-prone, less fire-resistant choice.
I love the look of both siding and stucco. Neither of the two is going to go out of style as they've been around for ages and will continue to be popular for a long, long time into the future. Stucco is often the way to go for more modern homes, as it is smooth and minimalistic.
Siding is better suited for more traditional homes, as it features more lines and details. You can opt for all sorts of classic styles such as clapboard, bevel, double-ogee, rustic, shingles, shakes, board and batten, v-groove, novelty drop, etc. Of course, that's not to say that siding can't look modern. Our modern mountain home uses smooth Hardie siding and looks very contemporary with a metal trim detail.
Remember, if you really want the look of natural wood without the hassles, then consider going with a stained fiber cement featuring a sawmill pattern. Woodtone is a good brand worth checking out, as is L.P. Smart Siding and others.
Even more comparison thoughts:


Stucco vs. vinyl siding

Stucco is the way to go here; the answer is too darn easy. Vinyl siding is so cheap and flimsy in comparison to stucco. If you can afford stucco, why would you opt for a more economical solution that performs far worse?

Stucco vs. wood siding

This is a tough one to answer as stucco clearly has all the better benefits, but wood can last just as long when well-maintained. Stucco wins in terms of fire resistance, but wood siding beats stucco in terms of character and classic charm. There's just something cold about stucco in my mind and something so warming about natural wood on the house. Go with wood for mountain homes and traditional styles where the character is a must. For modern or contemporary homes, stucco is a beautiful wall cladding choice.

Stucco vs. Hardie fiber cement siding

Honestly, the choice between these two comes down to appearance and budget. Both are fire-resistant, long-lasting, have lower insurance costs, etc.