But the cake that modern day couples are smashing may look very different from those of their grandparents.
White cake with white frosting and delicate white icing roses will likely always be the go-to design for the classic bride. And don't forget the traditional bride and groom figurine on the top of the tiered cakes.
Many modern day couples are abandoning some of these traditions and bringing new and innovative cake ideas to their wedding receptions.
Having a theme inspired wedding? If you are planning to recreate a magical wedding fit for a princess and her Prince Charming, why not have a cake sculpted to look like a castle? Many modern cake decorators play the role of sculptor as much as they do bakers and can likely to have the ability to create any shape, no matter how crazy your request.
Fresh flowers are always a safe way to keep the cake classy and chic. Choose flowers in the same colors as the wedding theme or go for a classic topper of all white floral heads. Modern cakes aren't always round and not always white. Experiment with chocolate icing or even add an ombre of colors. Some brides are opting for "naked cakes."
No, not that kind of naked (save that kind of activity for the bachelorette party). A naked cake is simply one that isn't covered in icing. The layers of cake are exposed and can create a pleasing look.
The cake can then be enhanced with icing layers and decorative toppers. Stacked cakes can be square or even a simple sheet cake will suffice for a more casual affair. Don't be limited by what you have come to believe a wedding cake should look like, but let your imagination be your guide. Weddings have been around for a very long time with different traditions having different ways of celebrating the union of a couple.
However, some wedding traditions have withstood the test of time. For instance, wedding cakes have been featured for as far as I can remember. Let us go over some of the innovative but tasty cake designs you should consider for your big day!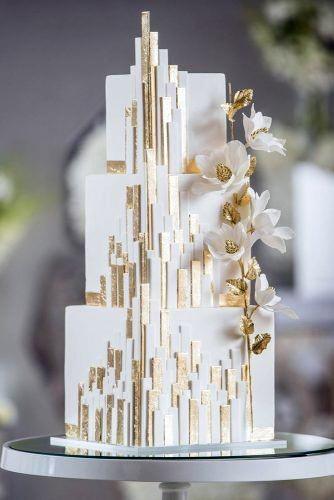 Enjoy your big day with this white triple-layered cake with golden accents. On one side, the cake features a gorgeous floral design that completes the simple yet beautiful cake design. The design is beautiful, and you will surely draw envious glances from everyone as you cut into it.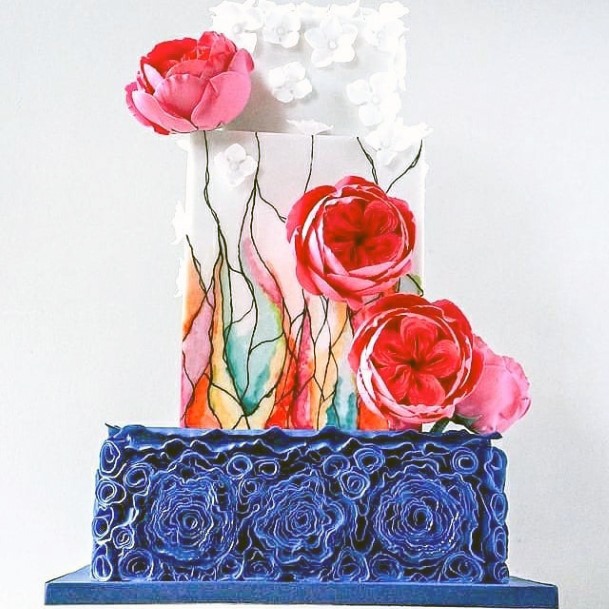 For all lovers of art out there, this is the design for you. The cake has an artistic feel with three flower petals designs, and aesthetically pleasing patterns adorn the white cake. For starters, the base of the cake features an all-blue floral design that you can custom order to match your wedding theme.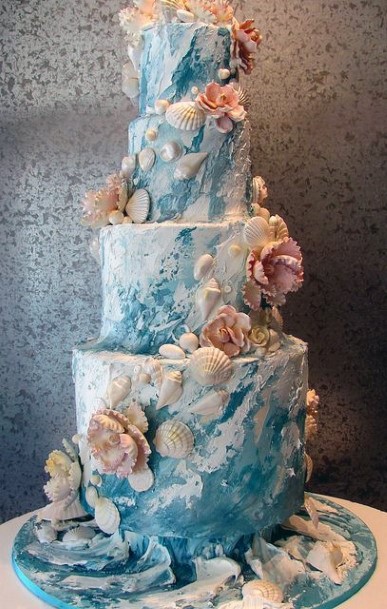 Is your wedding on the beachside? Step out of your comfort zone with this ocean-inspired design. This ocean-colored cake adorned with sea shells running the length of its layers is guaranteed to be the highlight of your special day.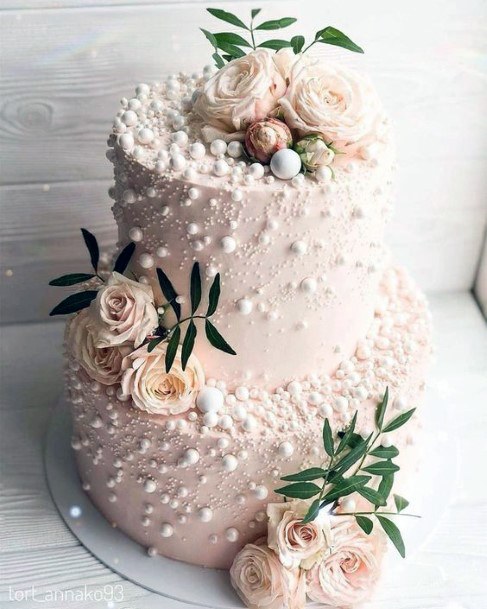 This beautiful pink-teared cake featuring blush roses is a simple yet elegant design to grace your wedding. The pink design can also complement your wedding theme.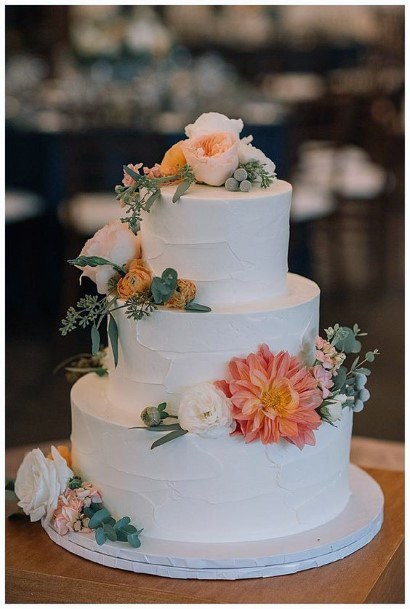 Give your bridesmaids something to snap away at with this stunning white-teared cake with a full white and orange theme. The floral design matches a beautiful garden making this cake irresistible.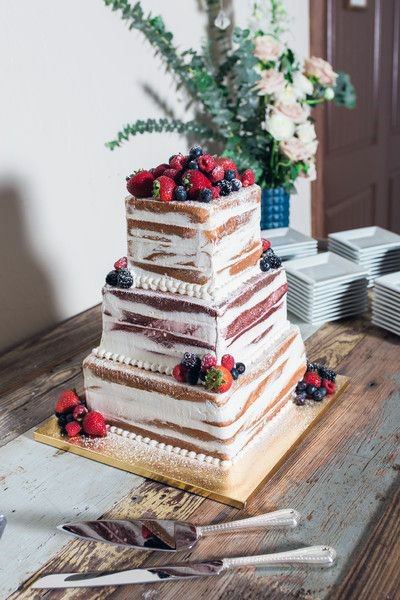 It does not get any tastier than this berry-inspired décor adorning the cake. The top layer is fully stocked with tasty and colorful berries guaranteed to satisfy your sweet tooth.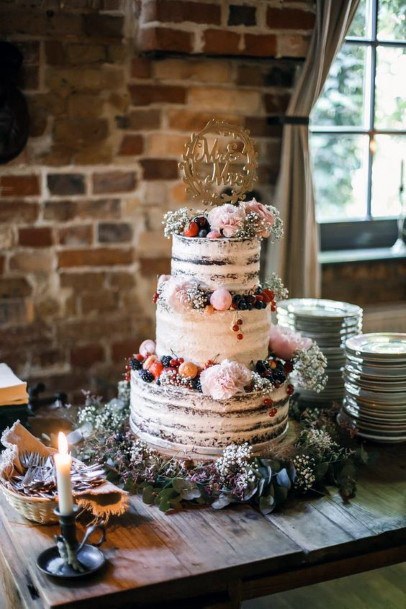 The three tiers of this cake are adorned with glamorous berries and flowers to pack a serious visual punch. The largely white semi-naked cake is sure to spice up your big day!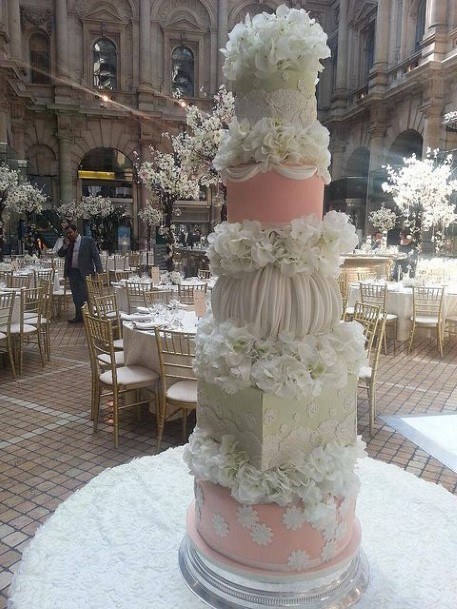 Want something large to catch everyone's attention? Look no further than this massive five-tear cake! The largely white cake also features a floral design where the tiers intersect and will be an eye-catcher in your ceremony.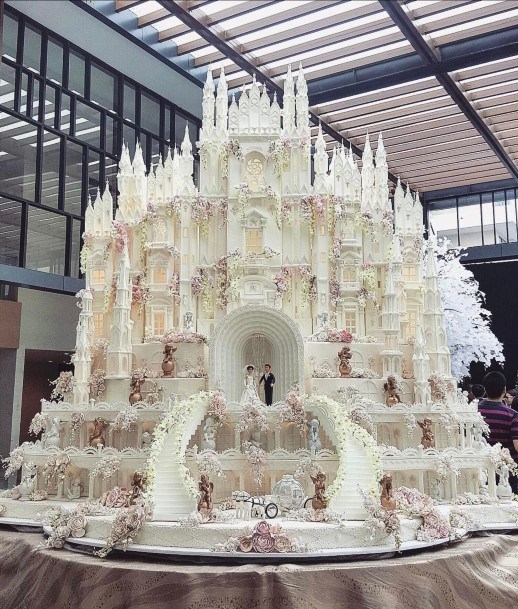 This is another eye-catching design for all fairy tale ending lovers out there! The large cake is shaped into a castle, with windows, stunning staircases, and a couple holding hands at its center.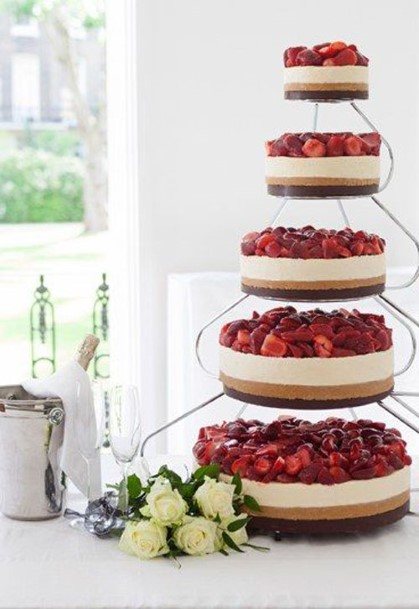 An adorable five-tier that guarantees to excite your taste buds leaving you craving for more. The top of each cake is covered in colorful and tasty strawberries making the cheesecake the perfect design!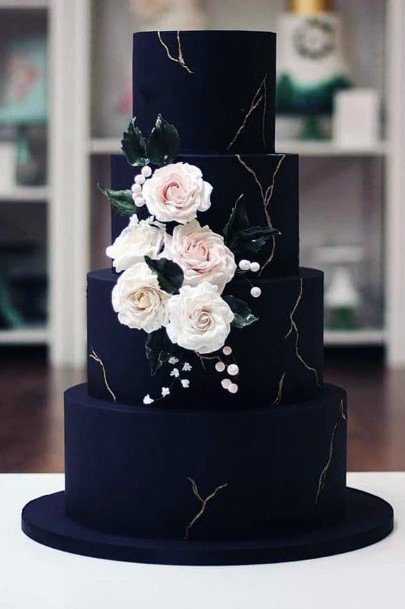 This soft cake comes in an all-black design with golden accents. This design goes against the grain of wedding cakes with its black color but also appeals to your girly side with the rose petal design at its center.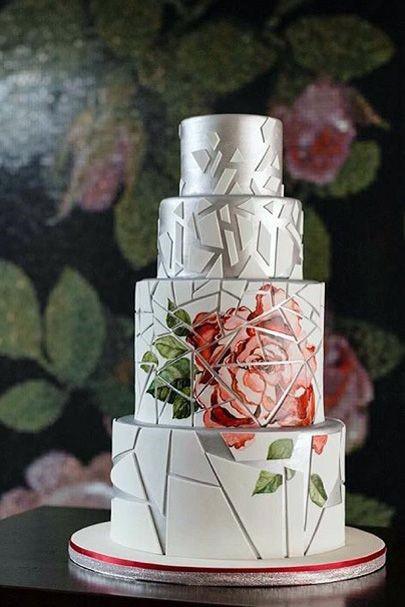 Well, if you love symmetry and patterns, this cool geometric design may be the tasty one for you. The four-tier cake is white and silver, with a large rose design at its center.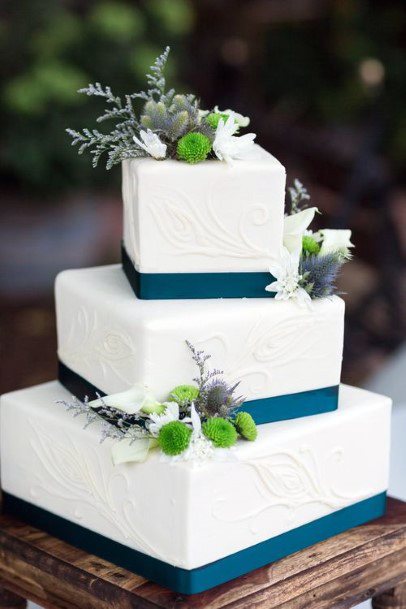 This is another beautiful yet simple design. The second tier does not sit in symmetry with the first tier, and the white cake has a teal and floral design that runs through its length.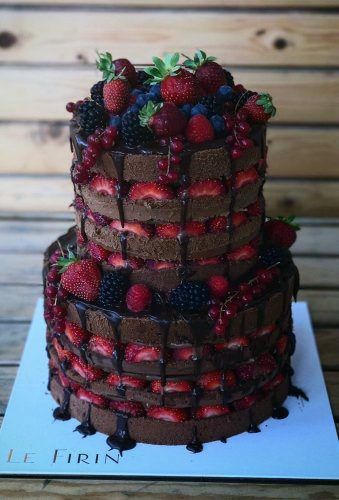 While you can get distracted by its rustic design, there is something that we find captivating about this two-tier country chocolate cake, complete with real strawberries!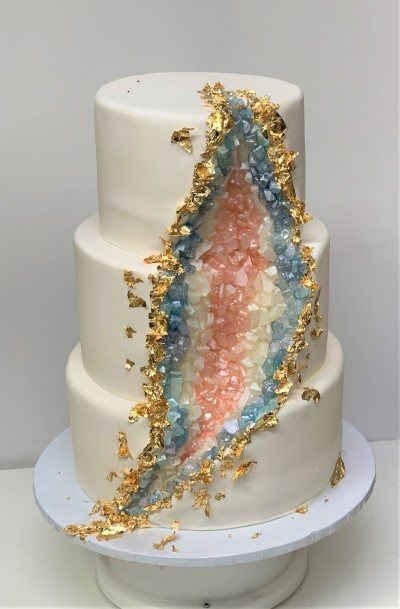 This plain three-tier cake has an eye-catching crystal design that runs through its length. Golden accents are at the edge of the crystal 'scar' that runs through the cake to add glamour to the occasion.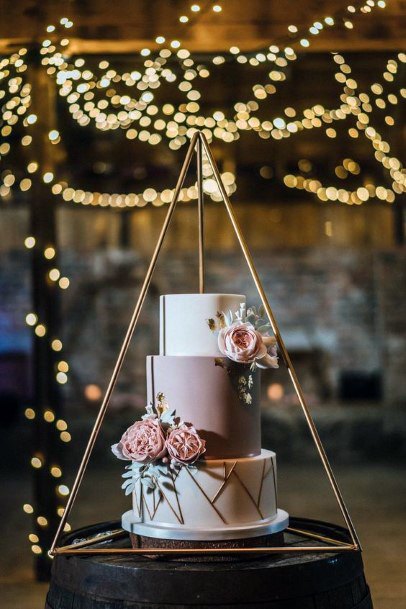 Something is appealing with minimalist décor, which can complement your style if you are a laid-back girl. The three-tier cake features a cute geometric design with pink and gold color schemes.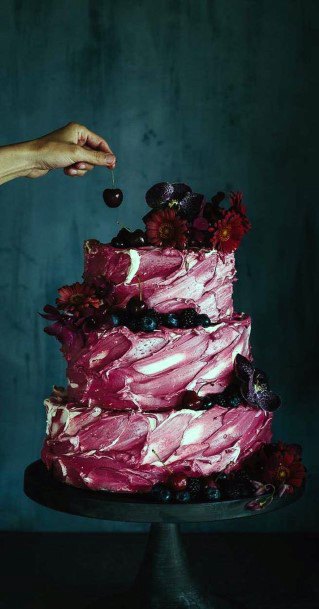 This striking three-tier design is the best fit for all your outgoing types. The red color scheme on the cake's exterior looks like a paint job gone wrong. The cake also features tasty dark berries and silk-icing.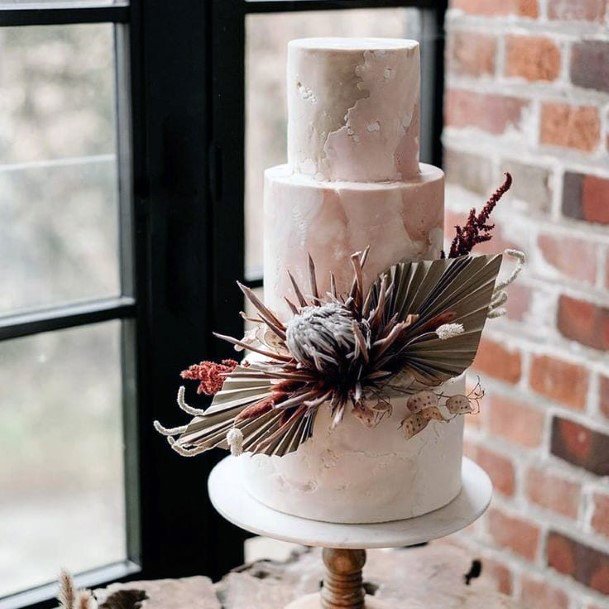 This unique three-tier design reminds you of a desert landscape, complete with a desert floral pattern at the center. The surface of the cake itself embodies a sandy marble design, but we guarantee that this does not translate into a dull-tasting cake!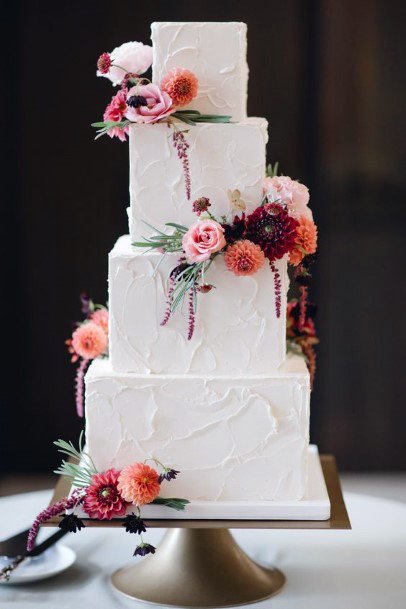 White with a floral design never lets us down. This cake features four tiers of elegant white cake with asymmetric floral patterns scattered among the tiers.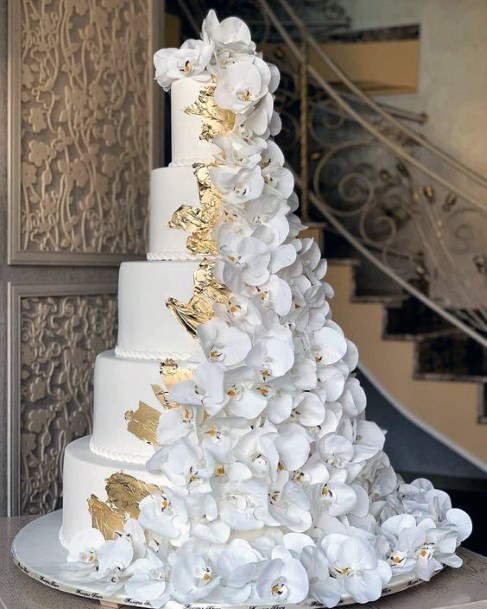 This unique tall-tiered white cake comes with cascading all-white florals that run along one half of the cake. Also featured are gold accents that add to the appeal just like a tiara would when placed on your head. What more could anyone ask for?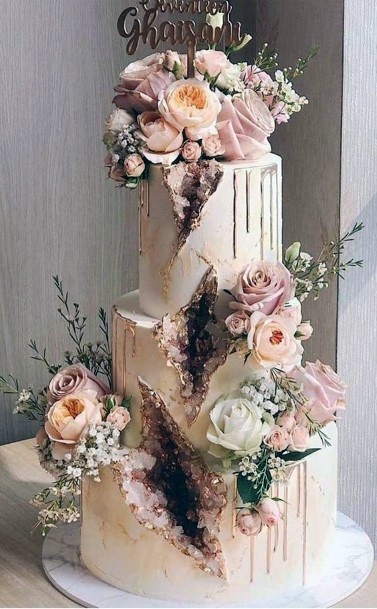 This three-tiered wedding cake has an appealing floral pattern with three distinct geode design that runs its length. The floral design adds beauty to the cake, making it look almost too beautiful to eat!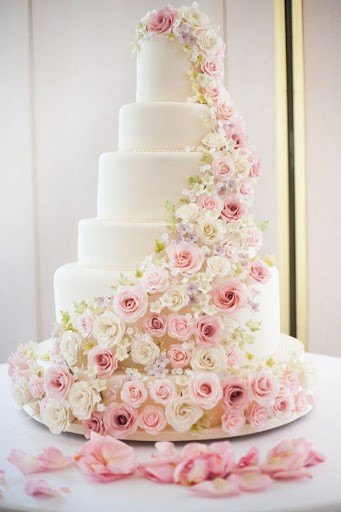 Unleash your inner princess with this elegant floral design that looks like the petals are being carried away by a summer breeze.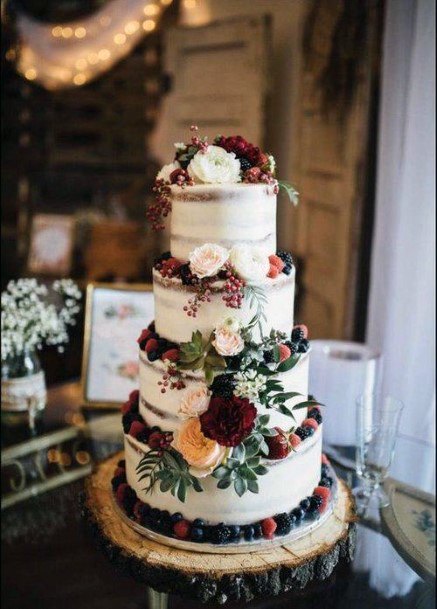 This is another of our favorite rustic designs that start with a tree bark base that supports four tiers of the semi-naked cake. Lining the edges of each tier is berries with a floral design at the center of the cake.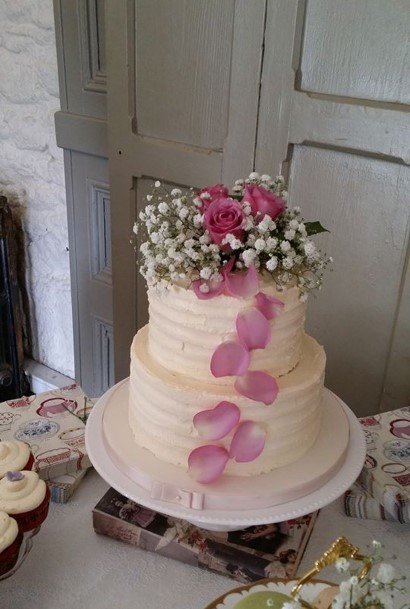 This cake reminds us of the renaissance days with its minimalist design. The two-tier cake is capped with flowers at its top, with rose petals cascading elegantly down the length of the cake.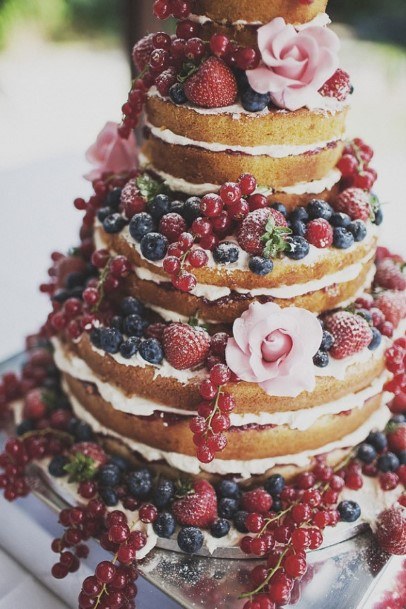 This is yet another elegant semi-naked design to grace your big day. The cake is adorned with real berries and looks like something out of a fairy-tale movie, making it a tasty treat.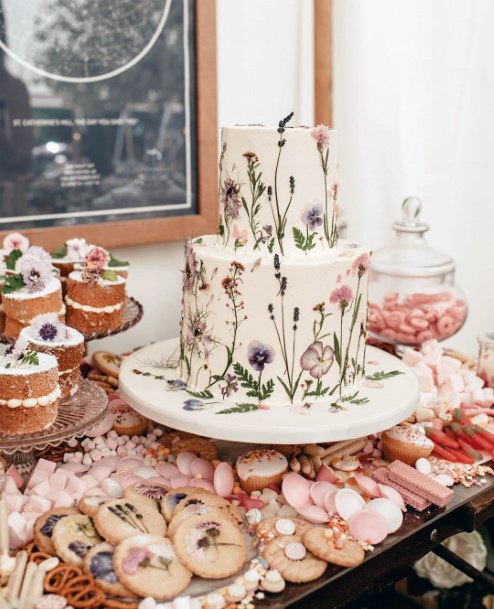 This two-tier cake is more beautiful in its simplicity featuring two tiers of garden-inspired painted flower patterns.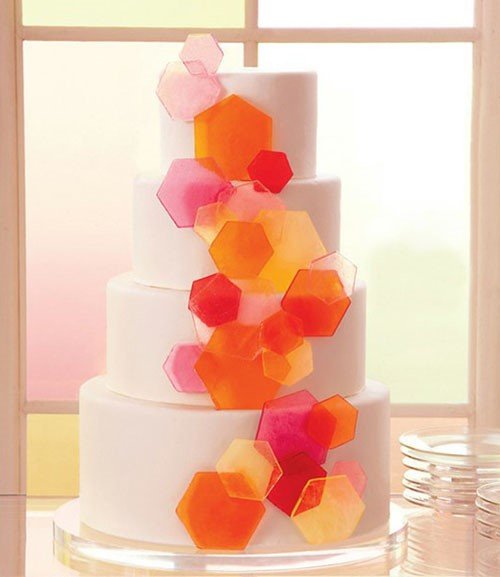 This is a great minimalist all-white design. The four tiers of this simple wedding cake are outfitted with a geometric design adorning its length to embody your personality.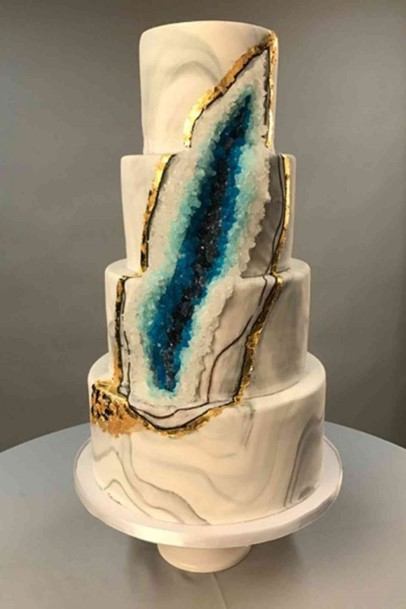 This large four-tier cake is sure to take breaths away at any ceremony. The standout feature is the large blue geode design prominent in the cake's middle tiers. The gold accents around the geode add a touch of beauty to this design.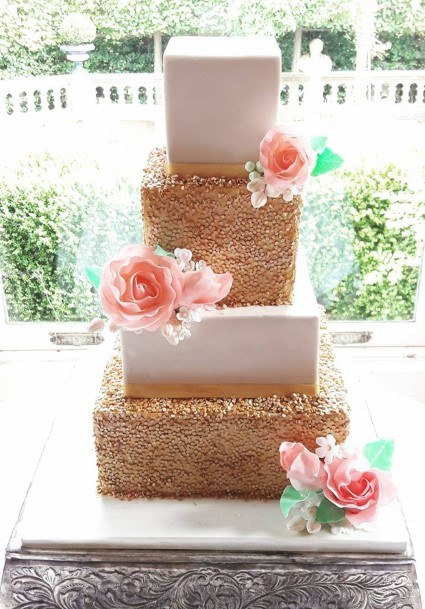 This refined take on rustic cake designs with a simple pink and brown color scheme. The modern cake has floral decorations and a strong, sturdy base.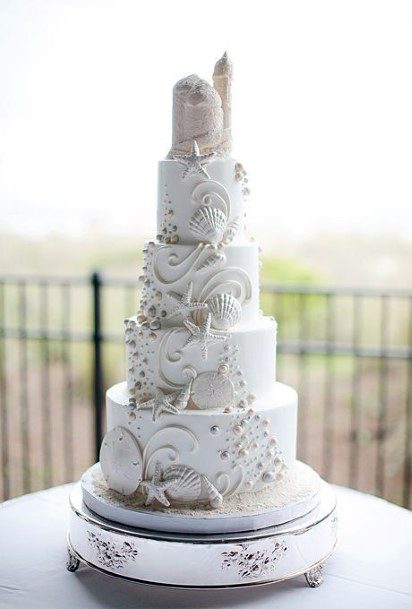 Stemming from its sturdy circular base is this elegant four-tier traditional cake. The cake, however, has a more modern twist, with starfish and pearl decorations snaking around its length.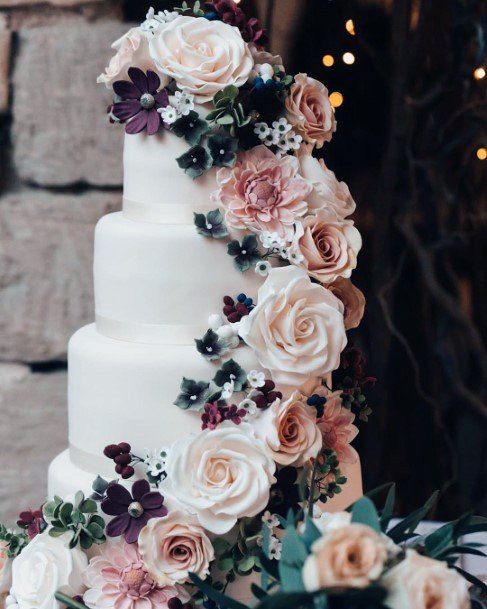 This cake takes on a traditional round-tier design. The cake is all white with stunning floral decorations cascading down its length, transforming this cake into a timeless masterpiece.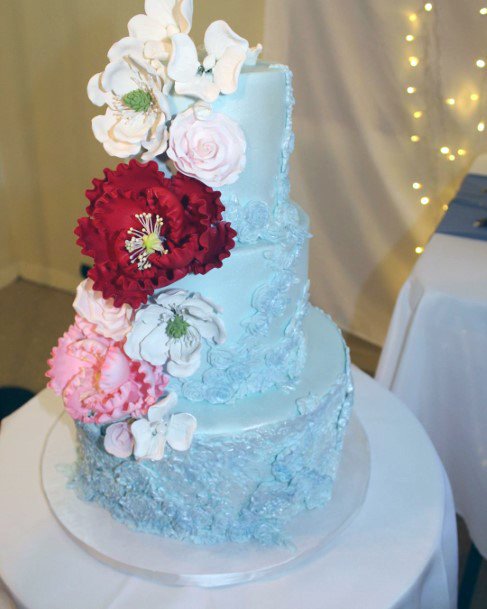 I love this three-tiered light blue design which reminds me of my favorite dress. The blue icing design is complimented by a decorative array of flower petals that run the length of the cake.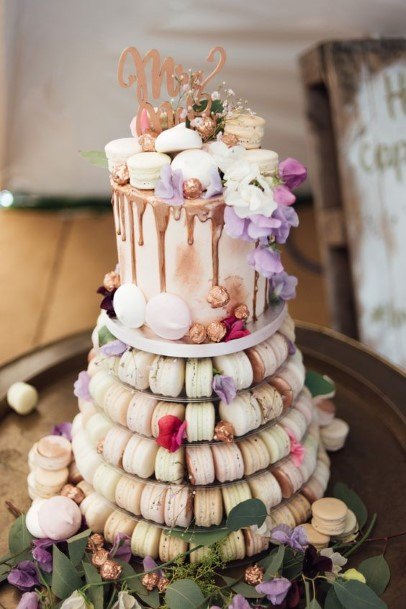 Take a step outside your comfort zone with this rare macron tower wedding cake. Your guests may need reassurance as I guarantee that many have never seen this design before, but they will love it!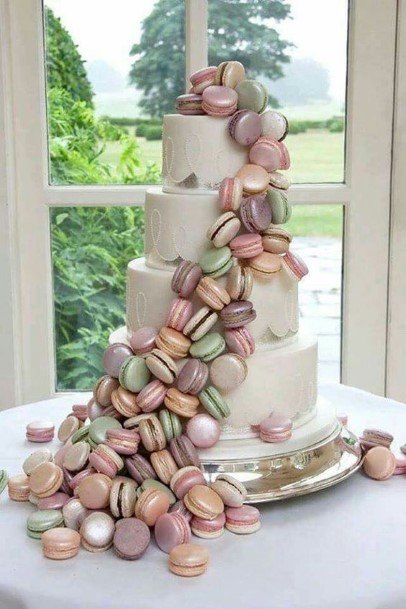 The traditional four-tier design of this cake may make you think it is just an ordinary cake. However, the cascading pieces of macrons add a unique touch of elegance as they snake around the cake.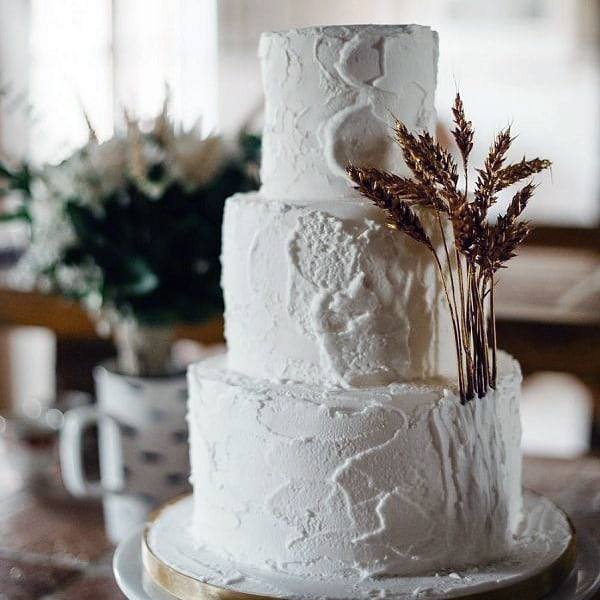 This is my personal favorite on the list so far. Enjoy the minimalist bohemian white cake that is complimented by a dried grass décor plastered on its side.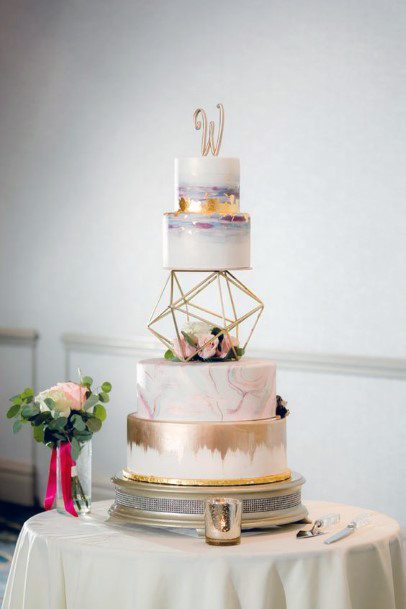 This modern wedding cake will make you anxious before cutting into it! Do not worry, as the geometric stand is sturdy and compliments the otherwise stunning cake design.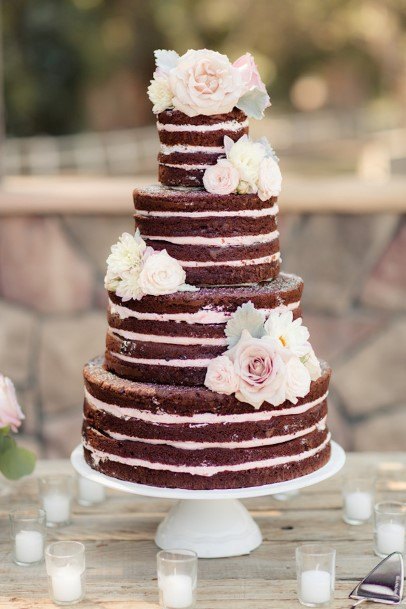 This traditional design is a naked four-tiered wedding cake that allows you to see the spongy but sweet interior before you dive in for a bite.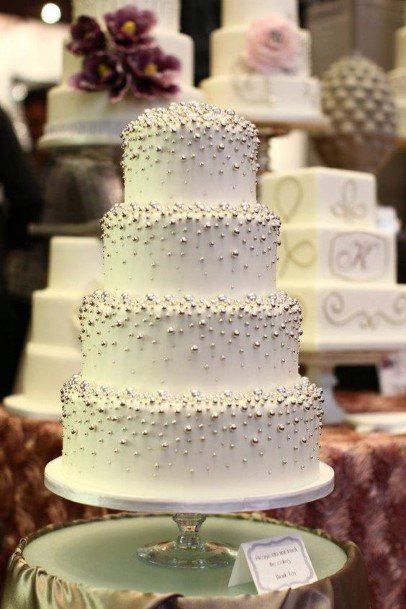 Enjoy this traditional minimalist design that features four creamy tiers of pure sensory heaven! The cake is not plain and is adorned with silver pearl decorations.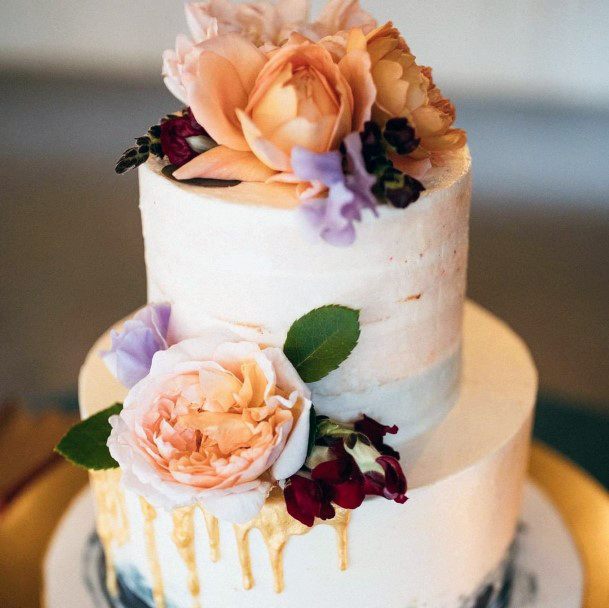 This is another brilliant minimalist design. The two-tiered cream-colored design is semi-naked and has gorgeous floral décor that gives it more life.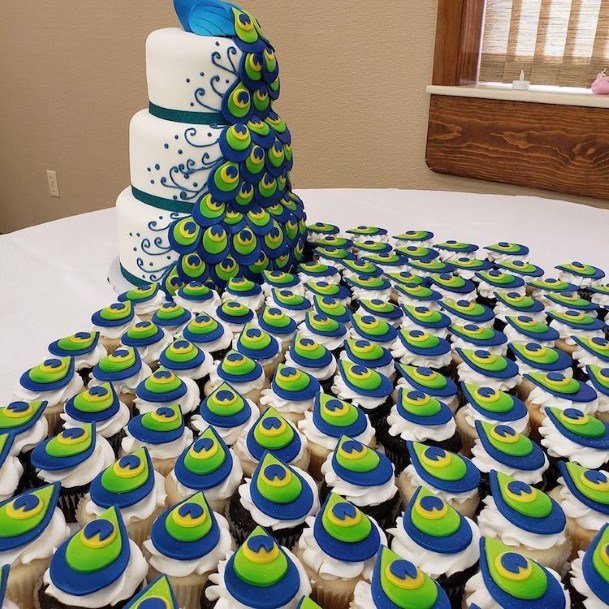 Peacocks symbolize beauty and elegance, and this cake embodies just that. Enjoy the eye-catching peacock décor that adorns the cake from the top tier and spread out in a large base.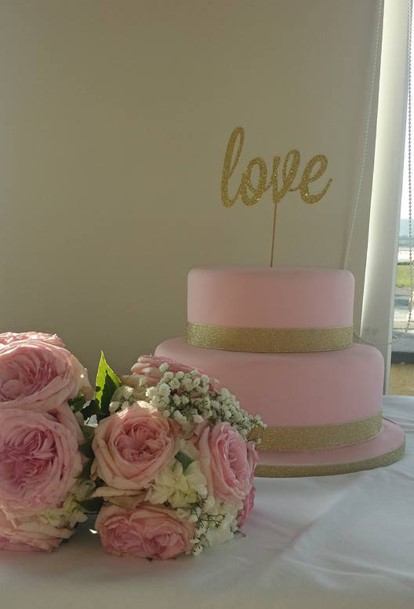 This pink and gold wedding cake may appear minimalist, but its taste certainly is not. The cake comes in two tiers with a golden ribbon adorning the base of each tier.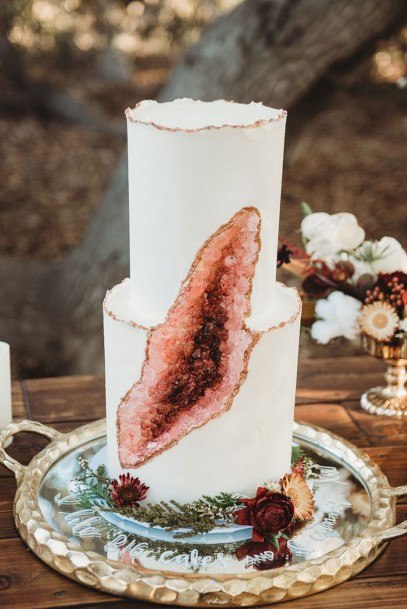 Give your guests something to remember with this stunning geode wedding cake. The geode design is imprinted onto the two tiers of the cake, which is supported by a unique base.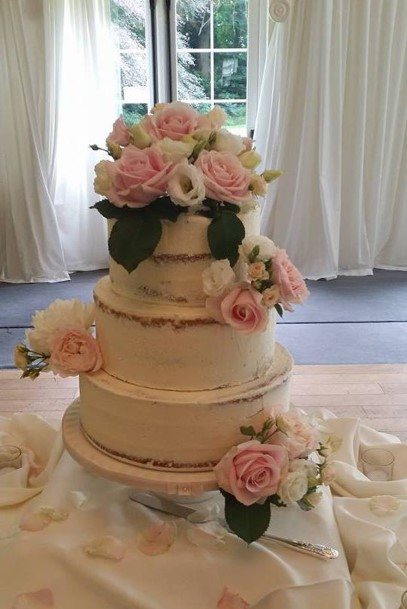 I disagree with some views that naked cakes are not stunning. This three-tier naked cake is beautiful, with the floral petals accentuating its beauty.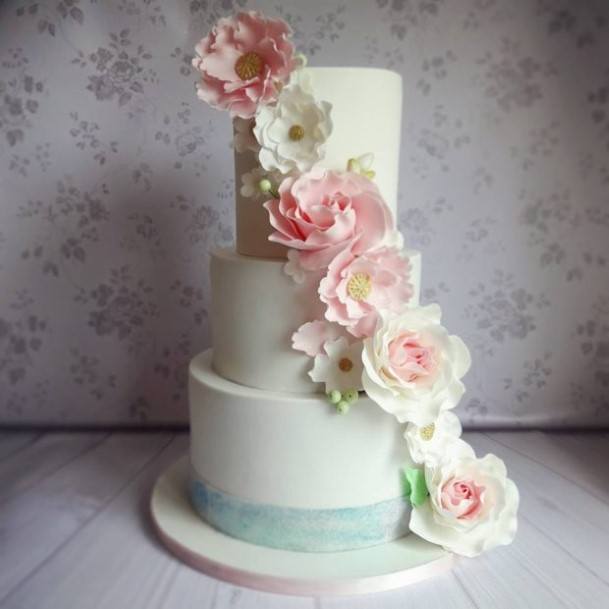 It hardly gets any more effortlessly elegant than this. This white three-tier cake has a floral décor running through its length, making it picture-perfect.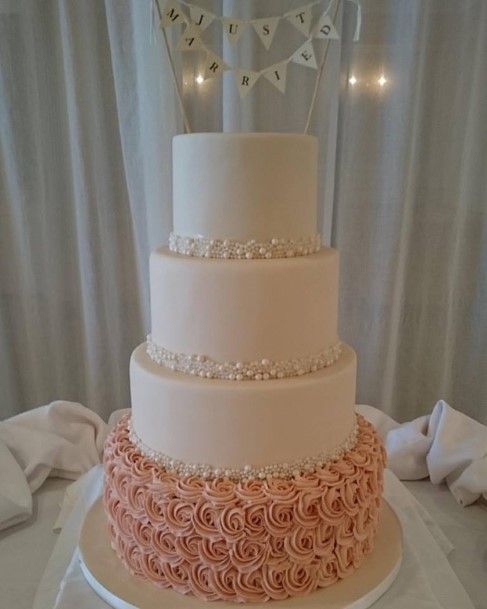 There is no better way to floss your marriage status than this romantic pearl and ruffle wedding cake. The first tier from the base is completely covered in a pink petals design to set the romantic mood.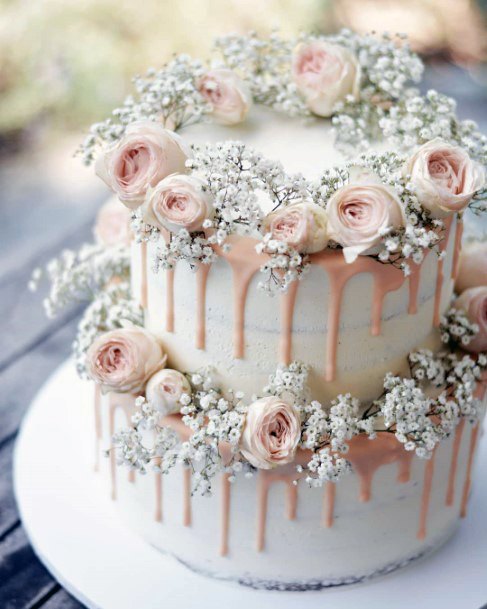 This two-tiered masterpiece is jaw-dropping. I find the dripping cream décor particularly elegant, although it does not take away from the floral decorations.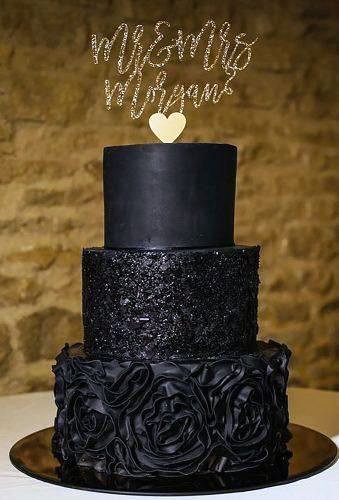 Make a statement with this all-black design. The three layers, particularly the base layer, are visually stunning and guaranteed to draw attention to your ceremony.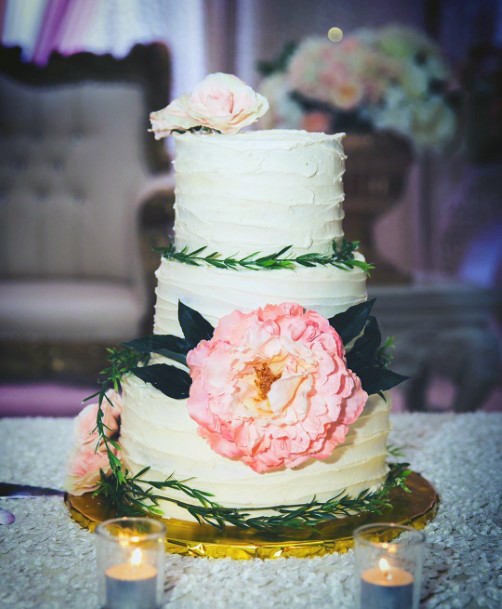 Something about simple designs always makes me smile. Enjoy this three-tier white cheese frosting cake with a prominent pink icing flower design.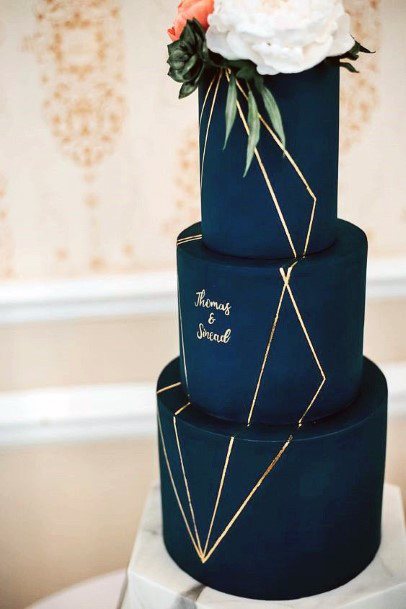 This design screams sophistication with three navy blue tiers. The stunning cake also features gold geometric designs running its length.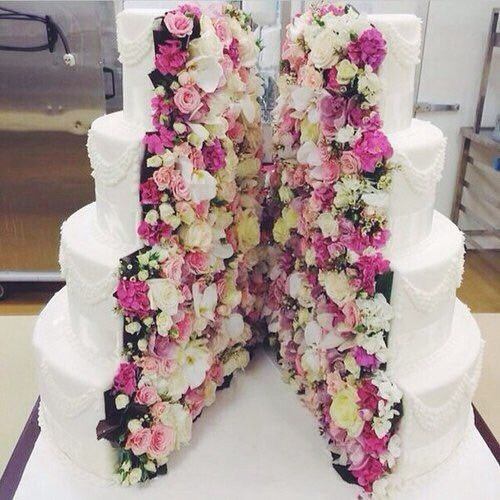 Take a second to imagine how appealing this cake smells! Be sure to take in the stunning split-open flower design before gulping down the cake.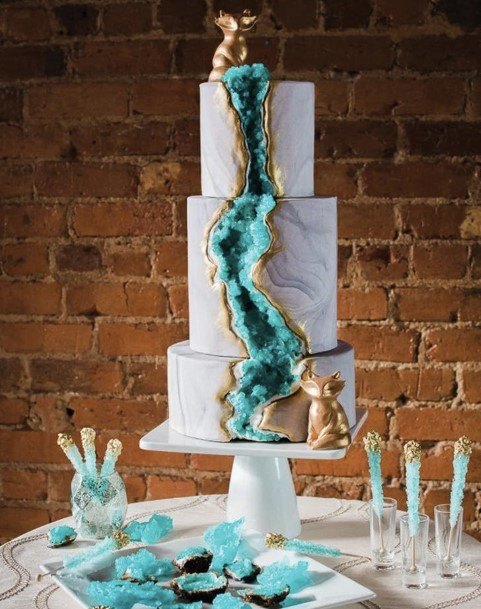 We cannot get enough of geode designs. This three-tier cake features a prominent blue geode design that runs its entire length.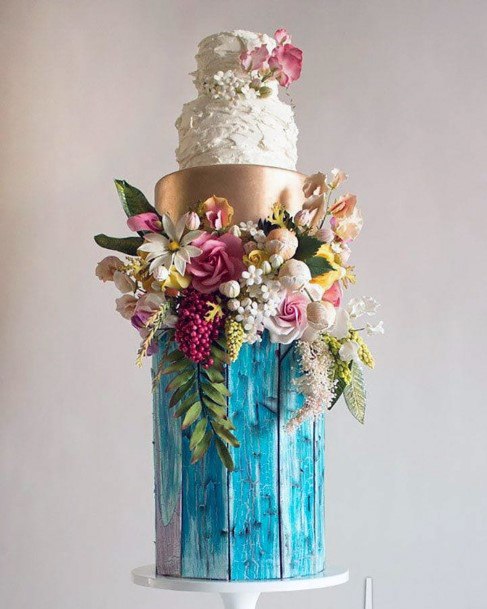 I am quite certain you have never seen this design before. This cake is tropical-inspired and features a stunning floral design. The blue bottom tier is unique and will remind you of your big day.
Enjoy this bohemian single-tiered with flowers and dried grass décor with a Mr & Mrs emblem that reminds you of your nuptials.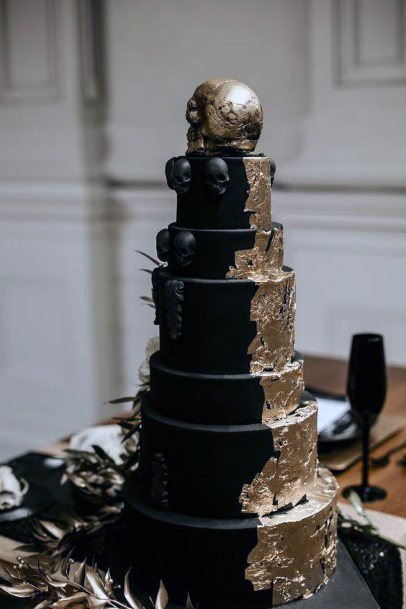 Nothing screams sophistication more than this ultra-modern black and gold wedding cake that may steal the show at your wedding reception.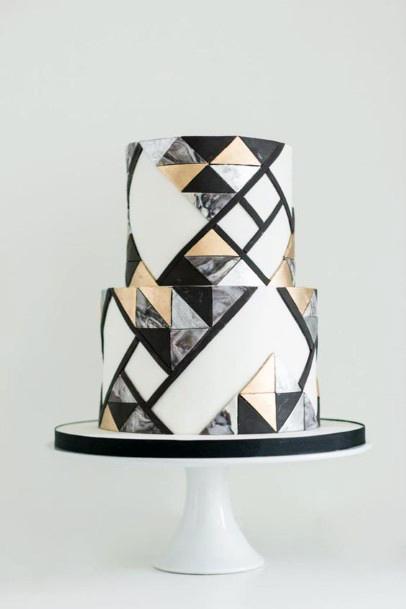 Spice up your nuptials with this unique geometric design wedding cake with a black and gold color scheme.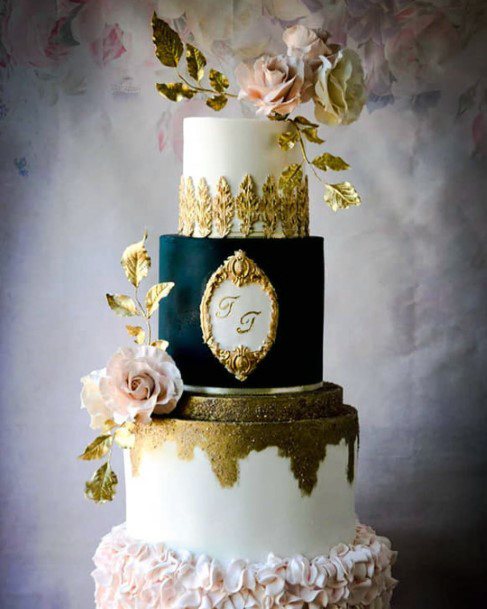 This classy design features three tiers of tasty cake, complete with golden accents and a stunning blue color scheme on the middle tier.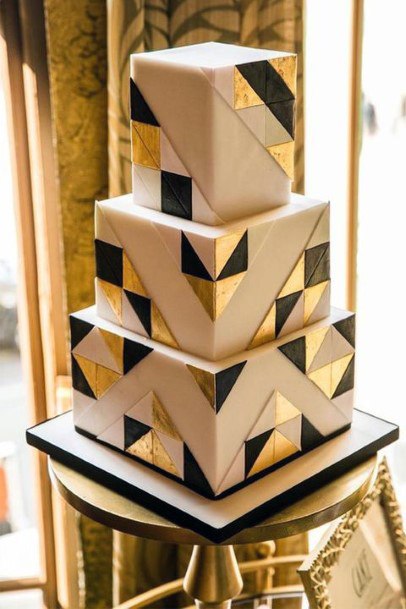 If you feel you have OCD like me, this is your design. The cake has three tiers of art-deco geometric black and gold design.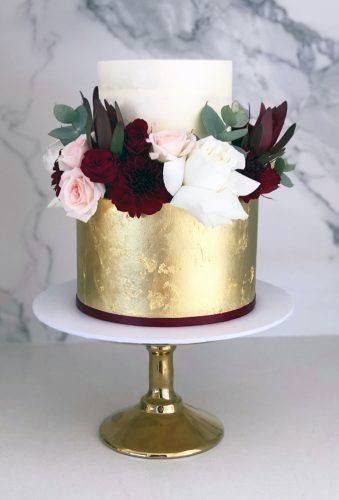 This two-tiered cake features a golden base tier with a floral décor between the first and second tiers.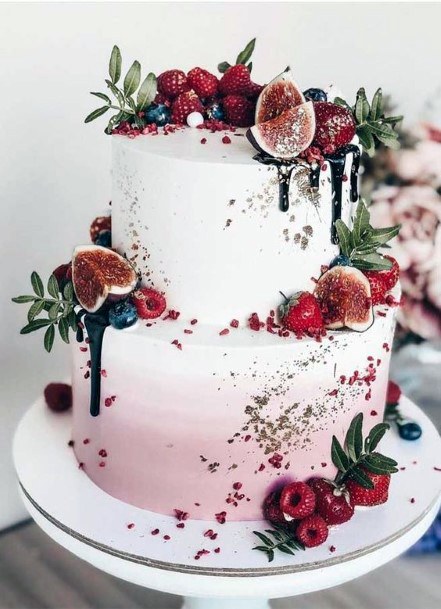 Life is short, and you should delight your taste buds with this delight on your special day. This two-tiered cake features tasty berries and pomegranate.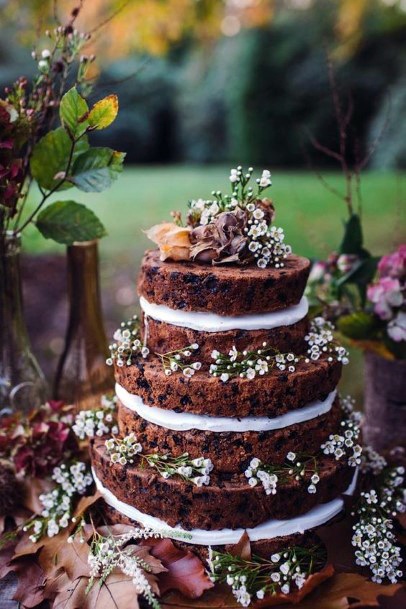 This particular bohemian nature naked cake will leave you craving for more. The cake has five tiers separated by tasty cream.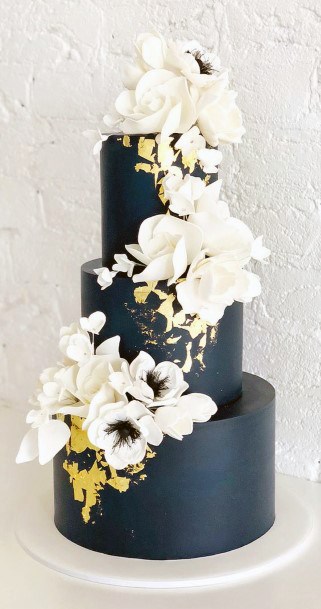 This is a bold design; I particularly love the blue color scheme. The three tiers of the cake also feature beautiful white petals.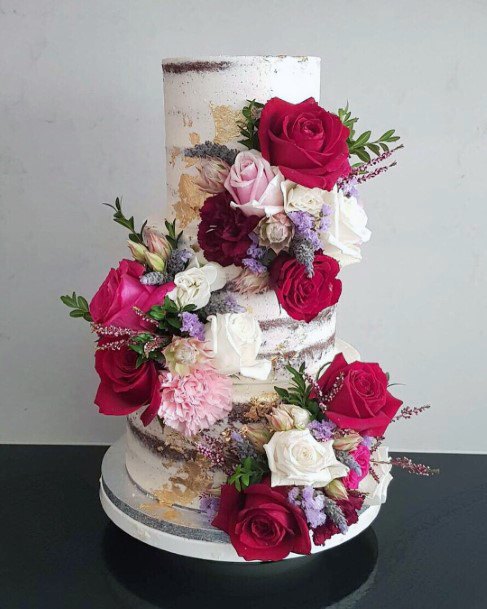 The cascading floral décor is the centerpiece of this three-tiered cake. The naked cake is visually striking and will leave you hesitant before you inevitably cut into it.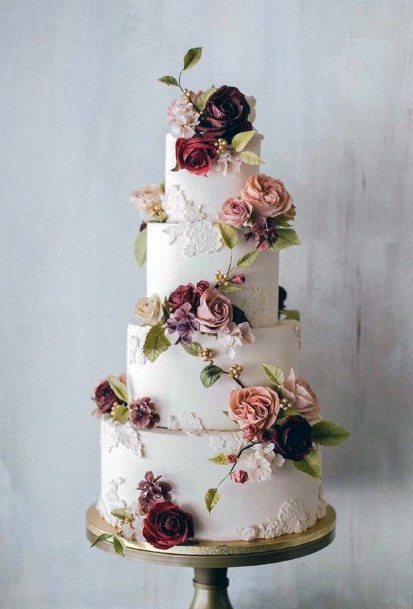 You should consider this striking four-tier wedding cake for your nuptials. The cake has elegant red and blush roses decorating the white tiers.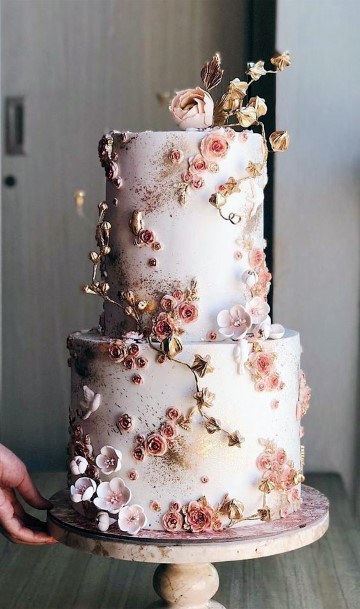 This design certainly cannot be overlooked, especially the beautiful fairy-whimsical little floral accents adorn the two tiers.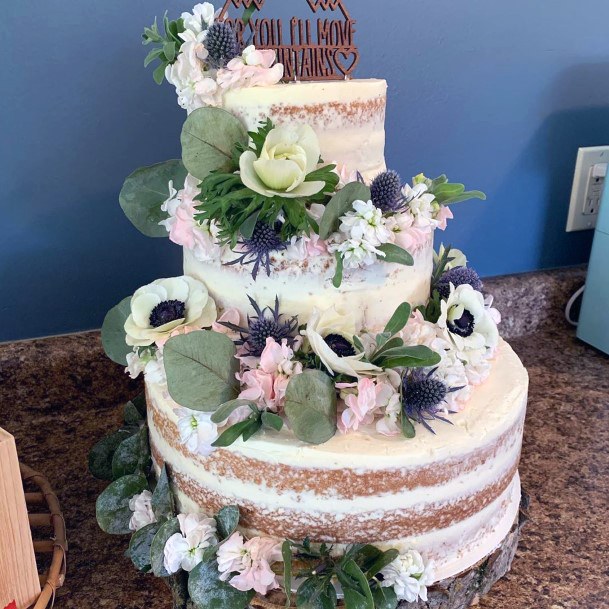 This is a modern take on a traditional design featuring an offset arrangement of tiers. The semi-naked design will also give you a glimpse of the sweetness you are about to enjoy.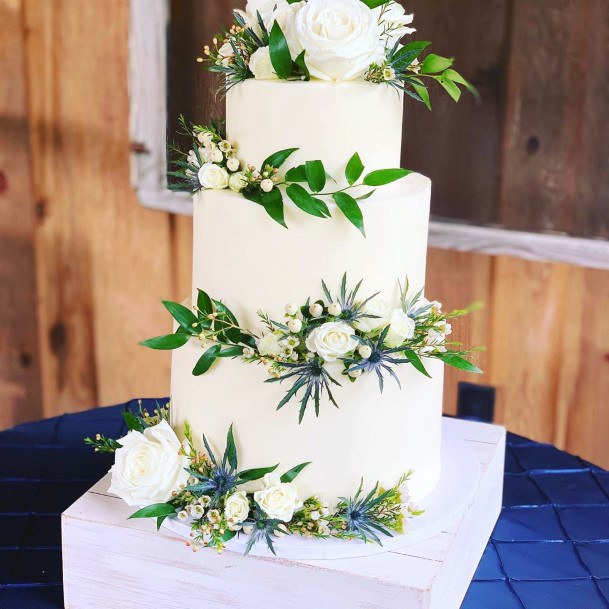 I love the green décor option that gives this cake a natural feel. The white tiers have a smooth finish making this cake pleasant to look at.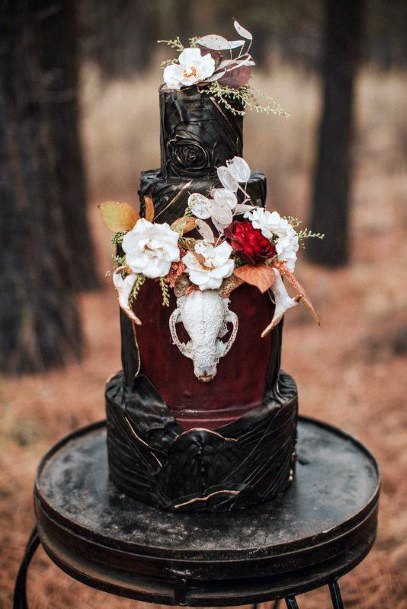 This Halloween-inspired cake is unique and appeals to anyone wanting to break the norm. The cake is black, featuring an animal skull in its center.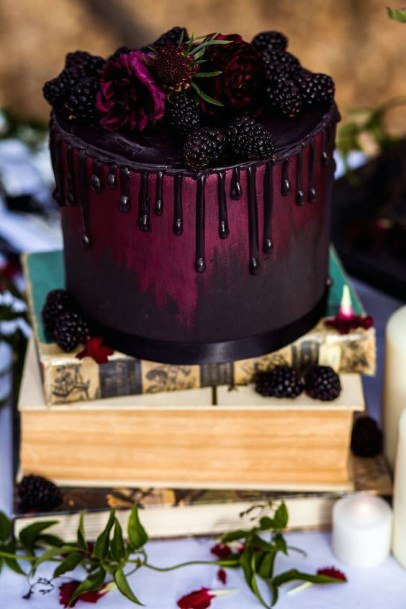 This cake can certainly set the mood with its luscious dark burgundy scheme. The single-tier cake features drizzled icing and berries at its top.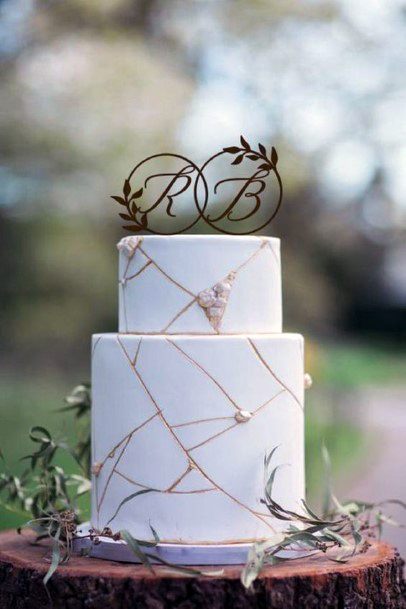 This is another simple design that we cannot get enough of. The two tiers feature a marbled-fondant-inspired theme.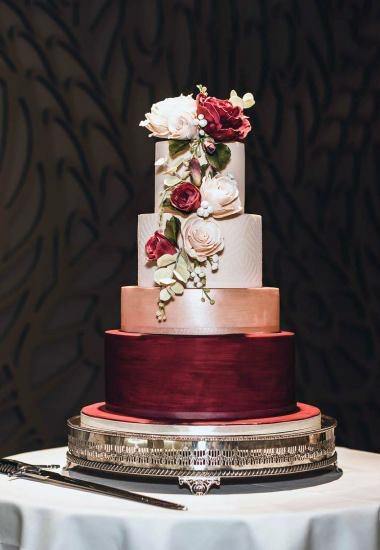 Enjoy this metallic design on your wedding day. Four tiers of flavourful cake await you featuring stunning embossed designs and floral décor.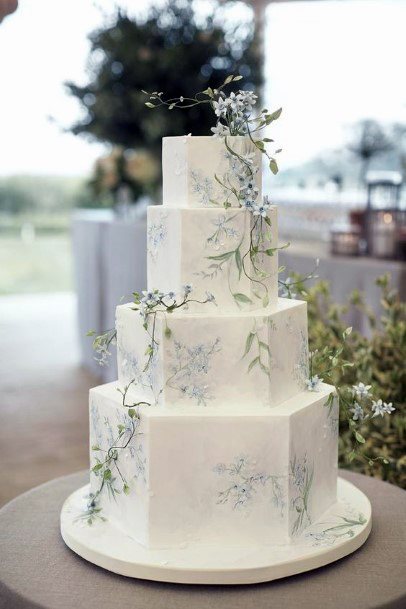 You will fall in love with these minimalist hexagon tiers that feature embossed greenery that compliments its beauty.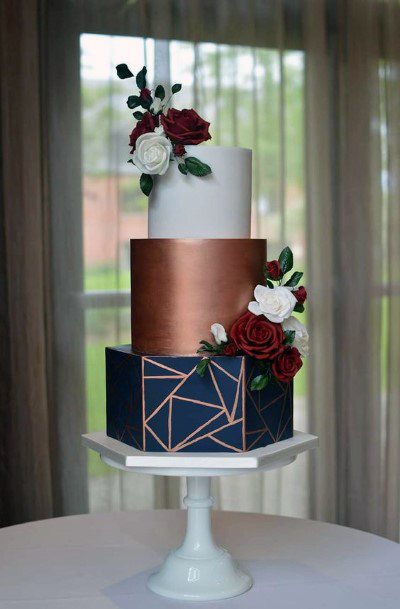 Captivate the guests present at your event with this modern take on the wedding cake. The three-tier cake features a contemporary geometric design with stunning gold and navy blue color schemes.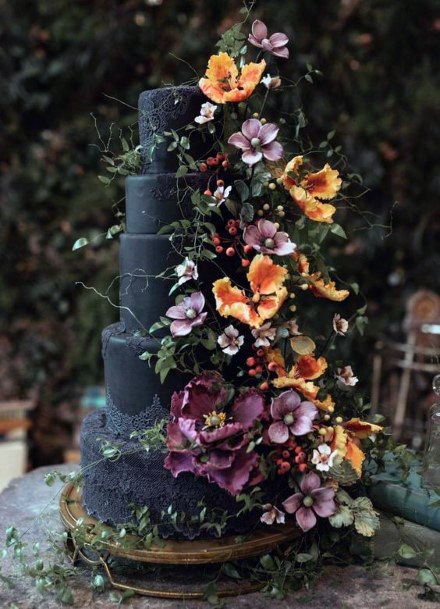 Set the mood with this moody black and purple five-tier cake. The cake also features beautiful purple and orange petals that add to its beauty.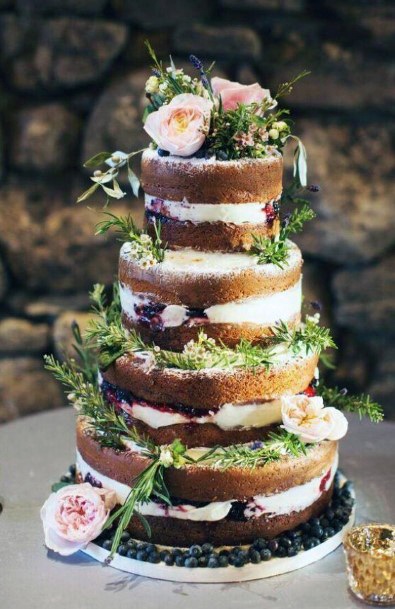 This peach-hued frosting is an elegant naked cake adorned in natural herb and petals décor, and the cake itself has cream and berry filling.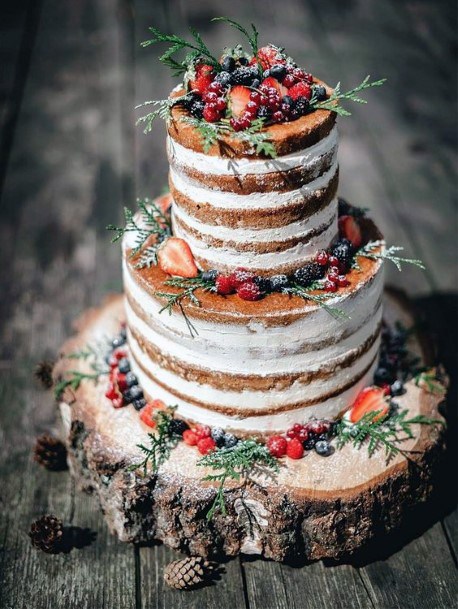 This design draws inspiration from berries and greenery to deliver a stunning semi-naked cake with a sprinkle of fresh berries and greenery.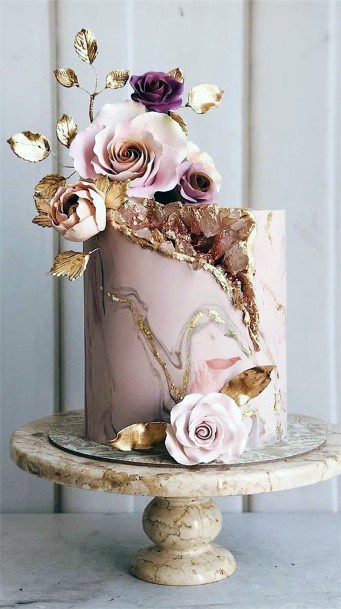 You will look forward to taking a bite out of this beautiful pink and gold geode design with a stunning pink color scheme.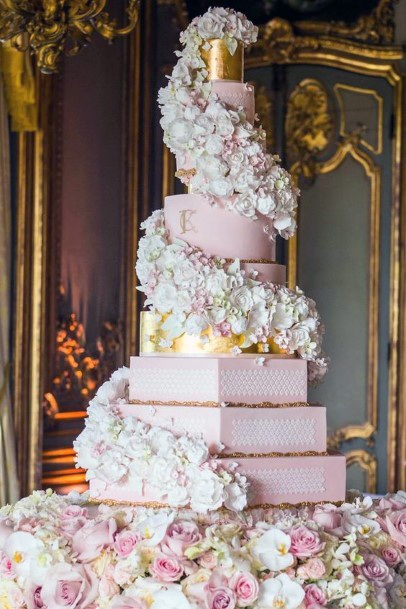 This massive cake screams romance with its pink color scheme and a cascade of elegant white petals hugging the cake.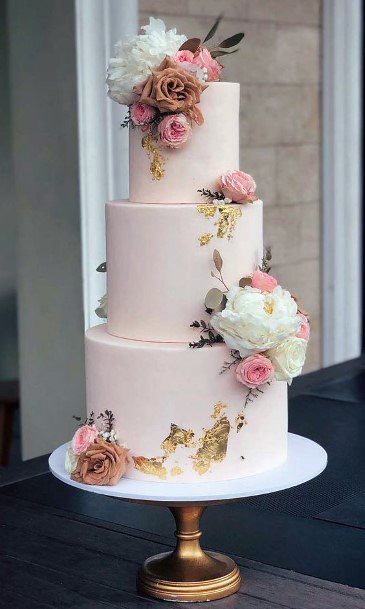 This minimalist cake has smooth pink tiers with stunning rose décor that will remind you of your youth.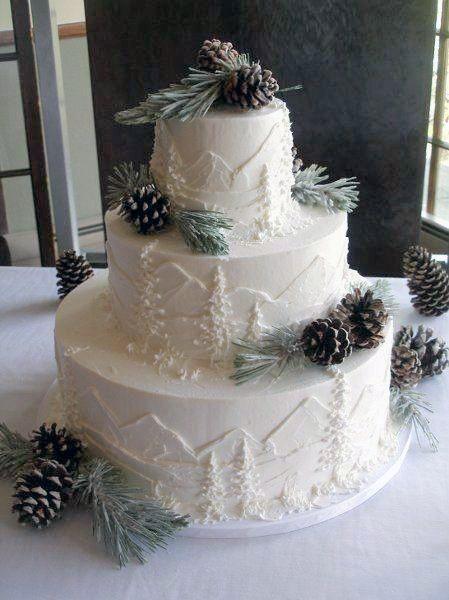 This cake gives a rustic feel with its beautiful embossed surface and comes with real pine cones for décor!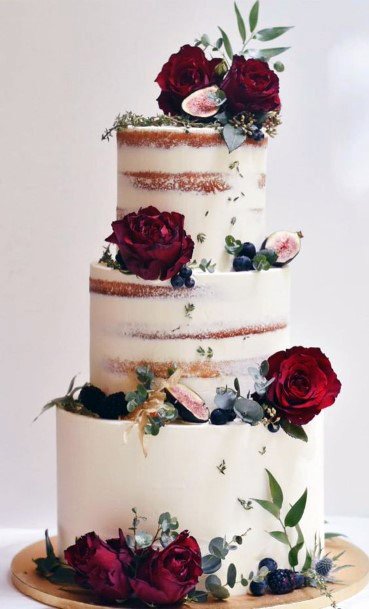 Red is the color of love, and this three-tiered semi-naked cake embodies this in the large red roses that decorate it.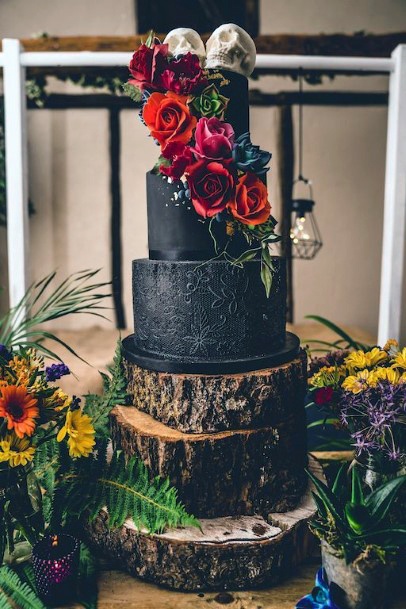 This woodland design will leave tongues wagging, and the black color scheme will be an eye-catcher. The décor of this cake features natural flowers.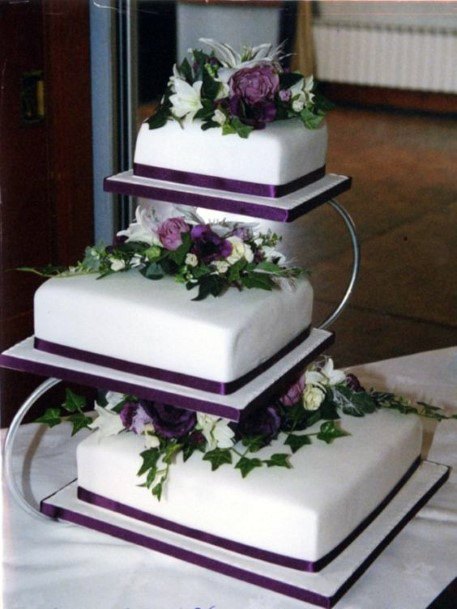 Take advantage of separated tiers with these simple square white cakes wrapped in dark purple decorative design.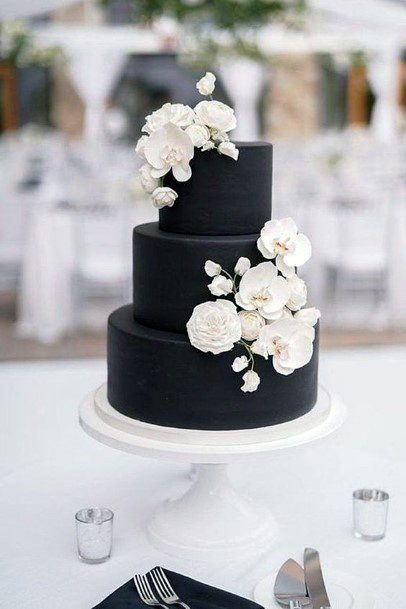 This simple black cake is a good way to mark your ceremony. The all-white flowers add an air of beauty to this cake.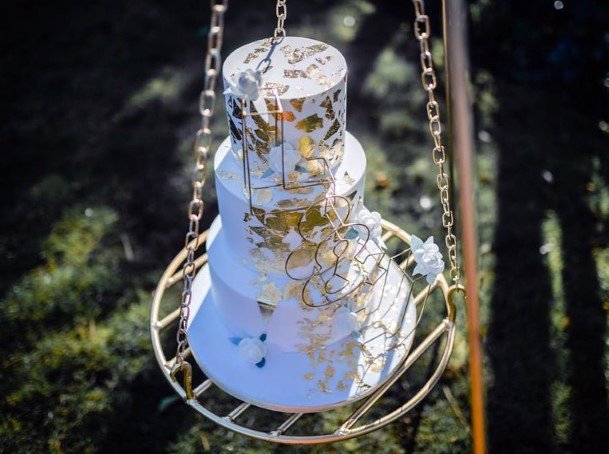 This is a complicated gold-leafing design that will remain engrained in your memory. Dig into the gold leafing design to enjoy this masterpiece1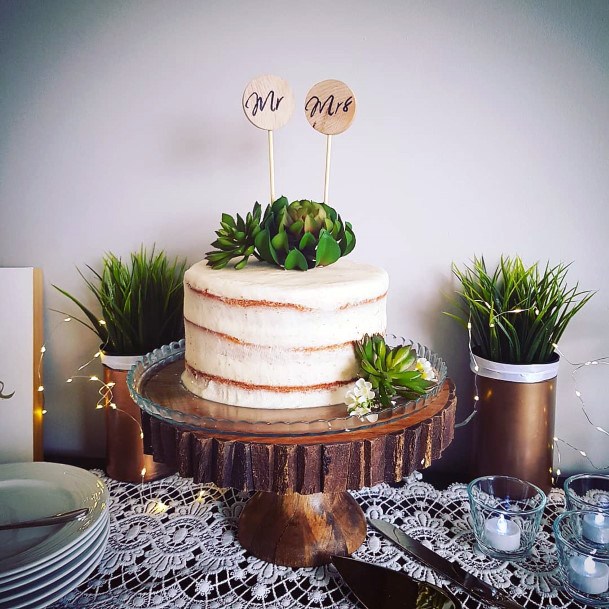 Cap your nuptials by enjoying this semi-naked minimalist design that comes complete with a succulent topper inspiration.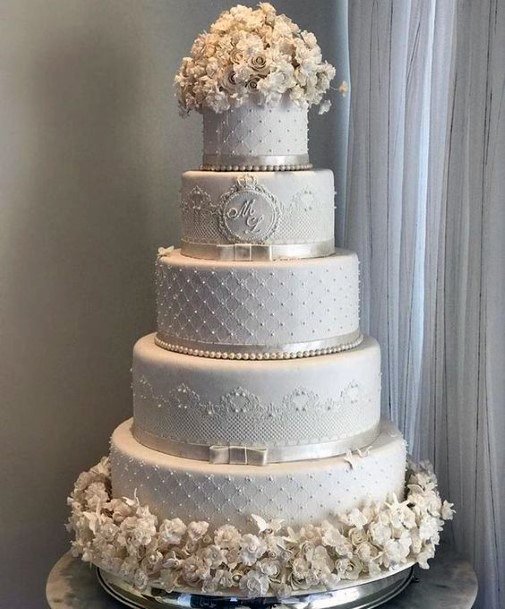 The elegant embossing is the highlight of this five-tiered cake. The cake has a traditional design adorned with white flowers.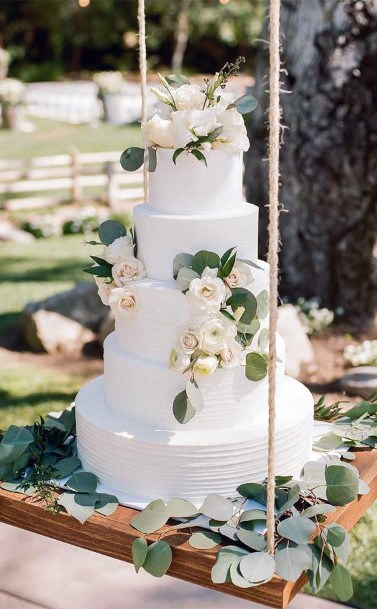 A white color scheme will never be dull, and this cake is evident proof. The minimalist cake is decorated with white flowers.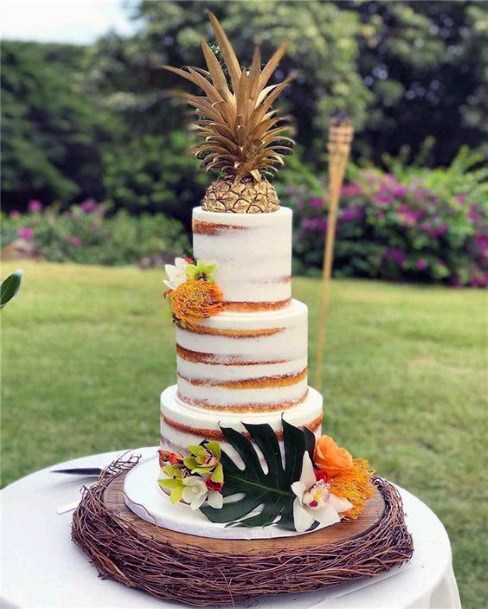 This cake gives the Caribbean feel with its tropical design. The cake is semi-naked and has a pineapple topping and tropical flowers.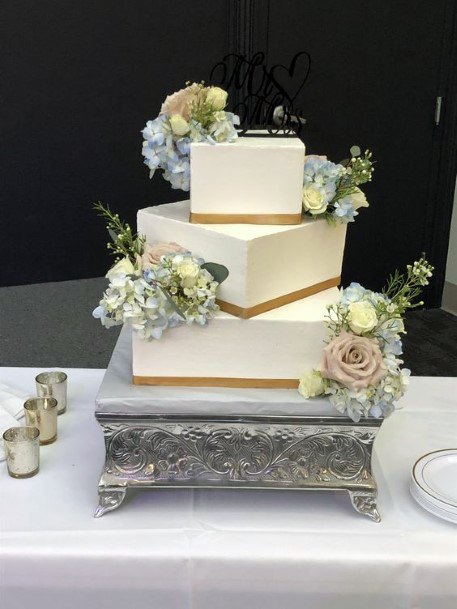 This square-tiered cake is a unique design, and it sits snugly on a vintage stand, ready to be delivered to a venue of your choosing.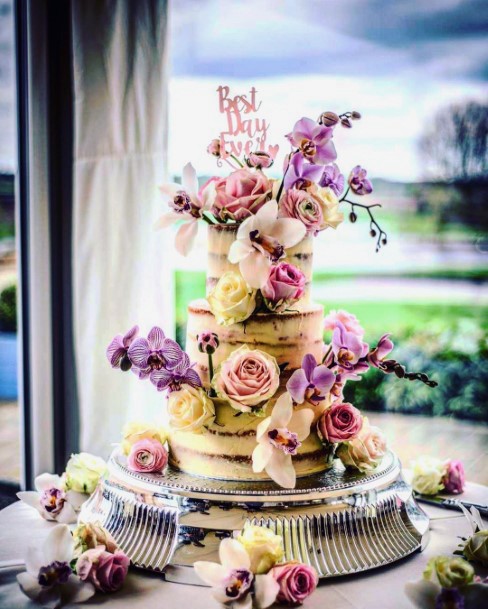 This cake is a good way to mark your best day ever with an over-the-top flower décor that hugs the semi-naked cake surface.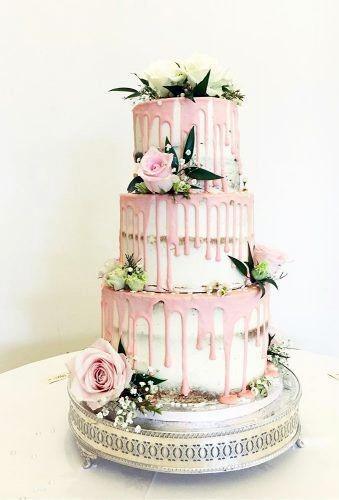 I fell in love with this design for its pink drizzle. The three tiers are semi-naked and feature some flower décor.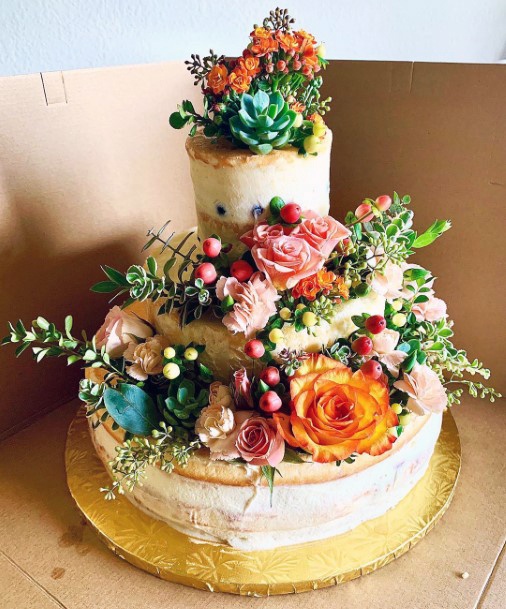 This unique cake has extensive natural greenery and florals, adding to its appeal, with the cake being semi-naked.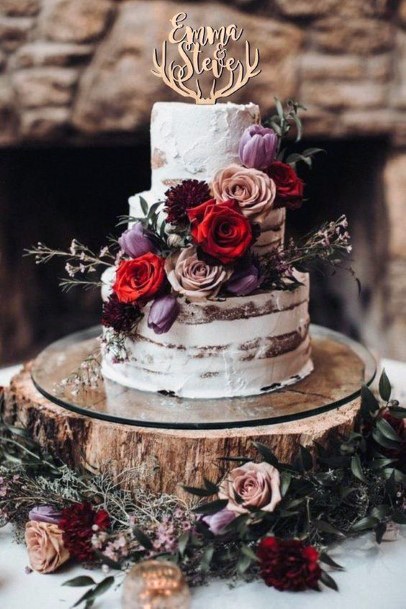 Set on a wood-slab stand, this semi-naked cake is adorned with cascading dark florals to mark your big day.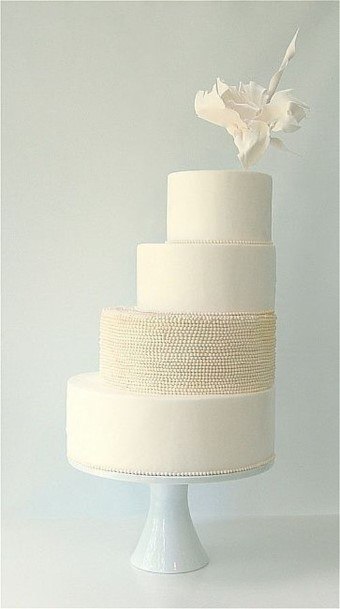 This is probably the most minimalist all-white design on this list, but you will fall in love with the offset arrangement of the tiers.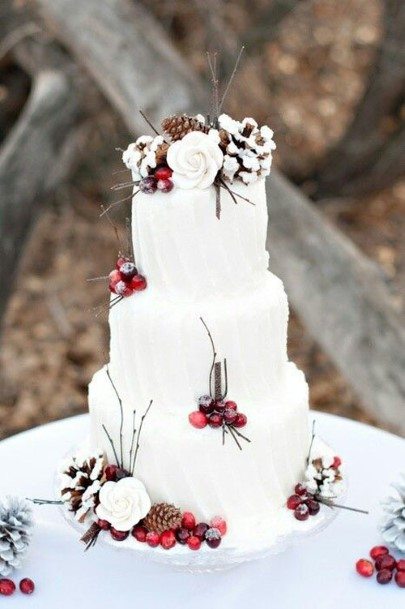 The elegant cake has three tiers crowned with flowers, berries, and cones.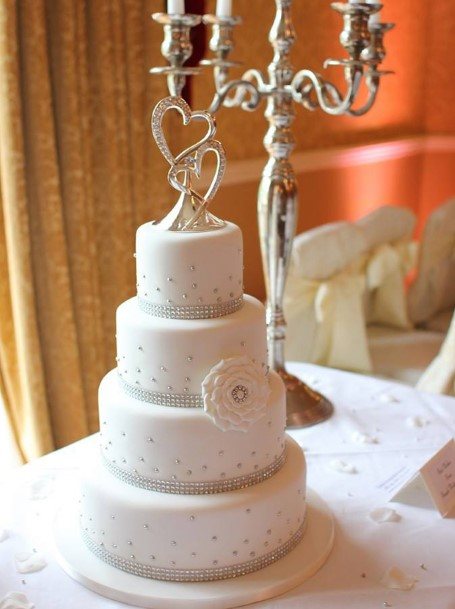 This four-tier cake will impress you and your partner with its diamante details and romantic crown.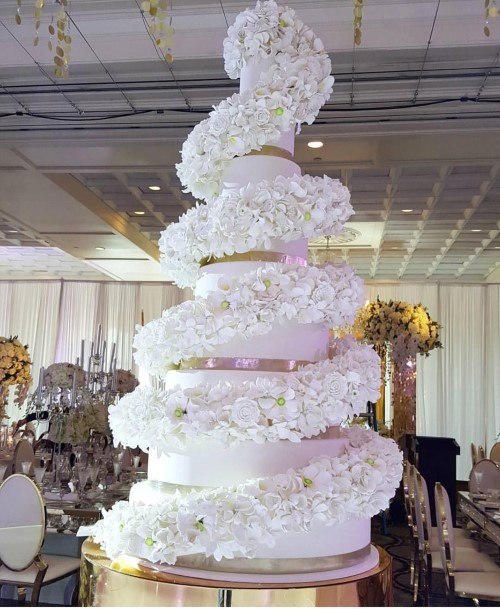 This is the cake for your big day if you are an extravagant girl! The highlight of the massive cake is the white flowers that snake down the cake.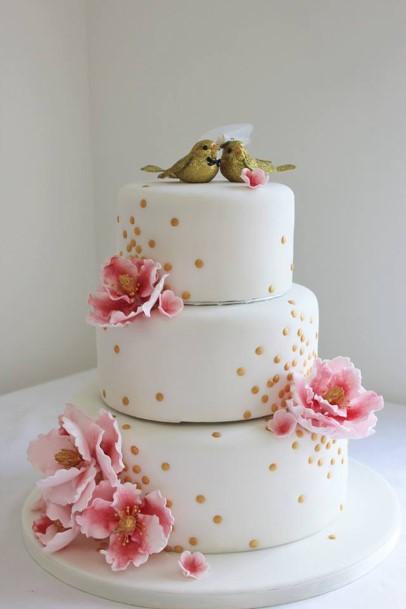 This is an awesome minimalist take on the wedding cake with golden polka dots and a romantic crown featuring two kissing birds.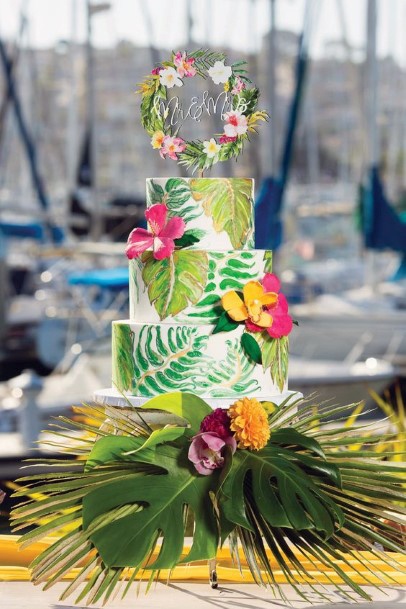 This cake brings palm leaves to life and is a vibrant choice for your big day. The bright colors are eye-catching and will compliment your ceremony.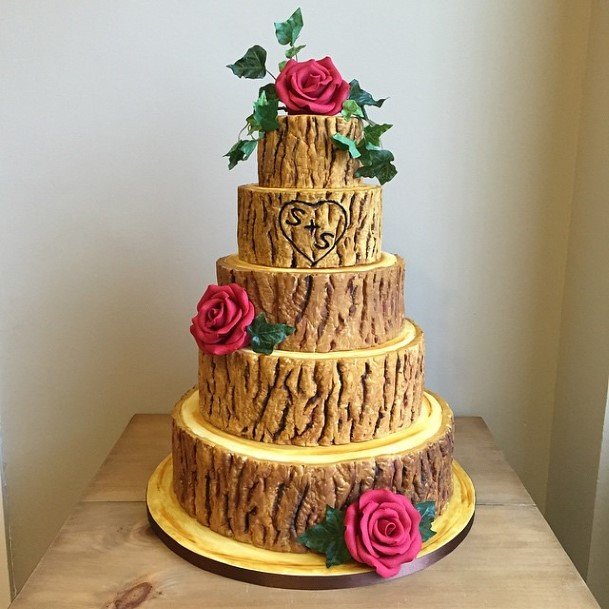 This wedding is tree inspired and can be a great option if you hold the climate dear to you. The five tiers resemble tree barks and will mark your big day in a truly special way.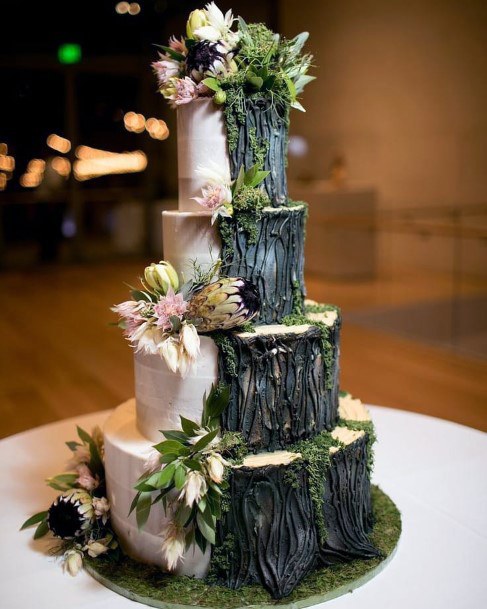 This woodsy bark design blends a popular pink color scheme elegantly with a more nature-inspired tree design.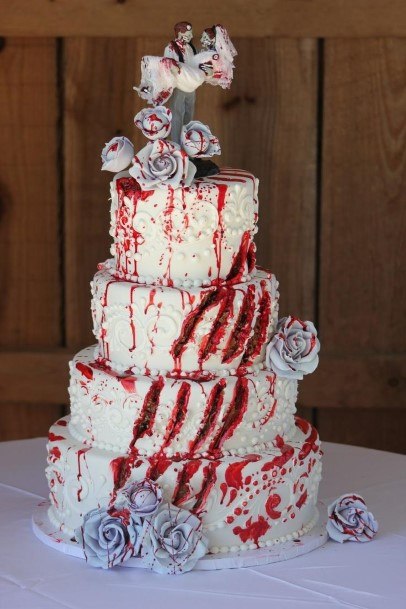 If you are a fan of zombie movies or are enamored with the idea of a zombie apocalypse, this is the design for you! The red drizzles represent blood with claw marks embossed into the cake to complete the look.