An idea that has been around for awhile but is still popular among modern brides is the instant photo guest book.
Provide a festive backdrop, a few props and an instant camera and let guests express their creativity.
Once the picture is snapped, ask guests to sign the photo and then hang it on a string with a clothes pin or put it into an album. This visual guest book will be treasured for years to come.
Some bridal couples display a large canvas or a large even a large photo of themselves with a white mat around the edges. Guests can then sign their name and offer best wishes in silver or gold pen. The bridal couple can then frame and hang the canvas or photo in their first home.
If you have an intercontinental relationship or simply enjoy traveling together, you might consider using a globe or world map as your guest book.
Purchase a white toned globe or map so guests' signatures will be more visible. Another way to celebrate your love of travel is to gather a collection of modern or vintage post cards and make them available to guests.
Have each of your friends and family members write a nice note on the back of a postcard and deposit it into a white or decorative mailbox. For bohemian or nature inspired weddings, use polished rocks as a guest book alternative. Give guests paint pens and allow them to sign the rocks.
After the wedding, seal the rocks and use them in your garden or even display them in a decorative bowl. If you're getting married during the Christmas season, consider having guests sign round glass ornaments. You will remember your wedding day and your friends and family who attended every Christmas as you decorate your tree.
No matter what type of guest book you ultimately decide to use at your wedding, you will treasure the memento of your special day for many years to come.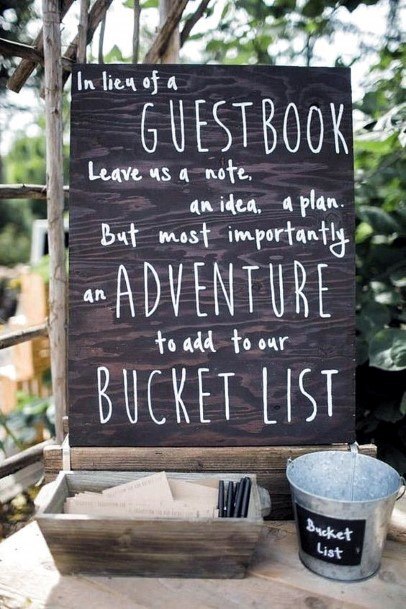 Add a guestbook with a literal bucket list. Use them to go on random little adventures. Be sure to let your girlfriends know when you get a chance to accomplish them!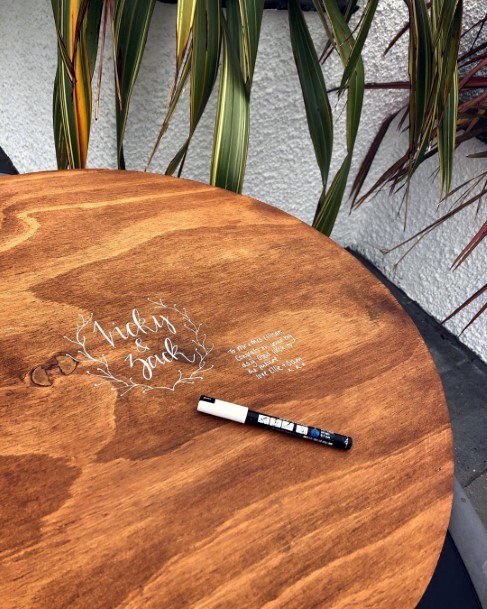 How about messages on a wooden table? You can add a finish later to keep the writing from smearing. Markers work best, so get some fresh from the pack before the big event!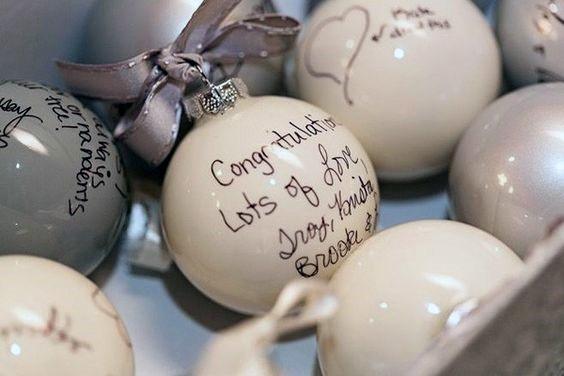 Got some extra Christmas bulbs lying around from last year's holiday season? Why not use them for guests to sign on your wedding day? Use light-colored bulbs to match the festivities.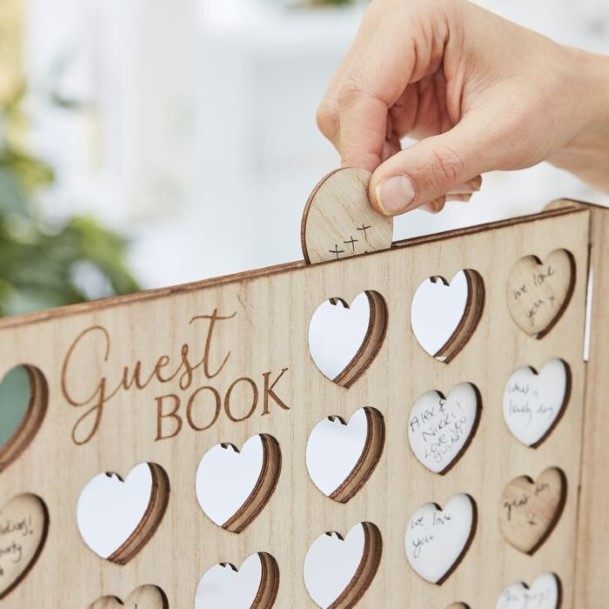 Besides diamonds, hearts are a bride's best friend. Use cardboard cutouts or wooden hearts for guests to attach to a board. Frame it up and hang it on your wall to keep the memories alive.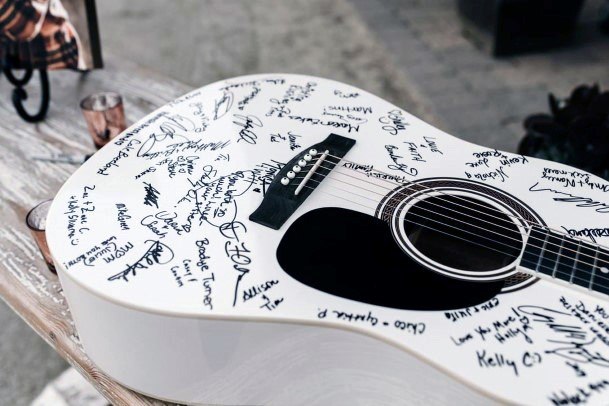 Let your BFFs express themselves on your favorite musical instrument. Add varied colored markers for your bestie's different personalities. Guitars offer enough space for attendees to post a cute signature.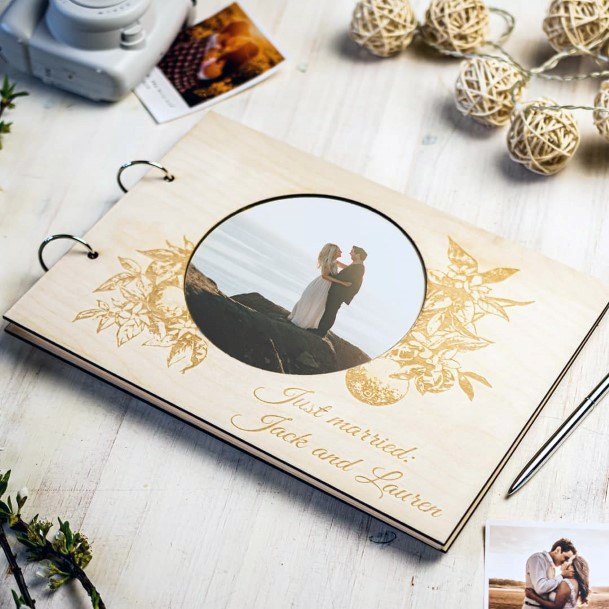 You can never go wrong with a romantic photo album. If you want to make it more personal, save it exclusively for your closest girlfriends and family members.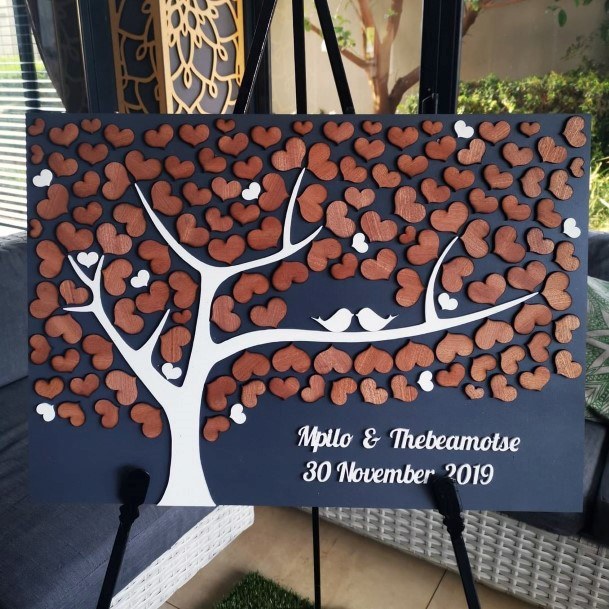 With a canvas and a bit of creativity, you could make a tree with little cutout hearts for people to write on. Have them place their messages on the tree with colored markers for a bit more flair.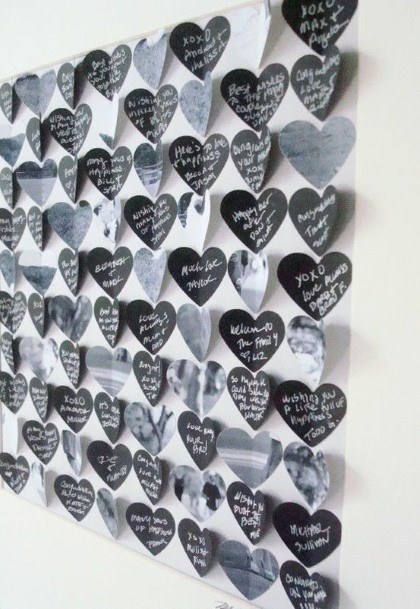 Yep, it's hearts again! This time, things are simple but elegant. Cut some hearts with construction paper and paste them onto the wall or a picture frame. Not fond of neutral colors? Throw a little pink and white in there!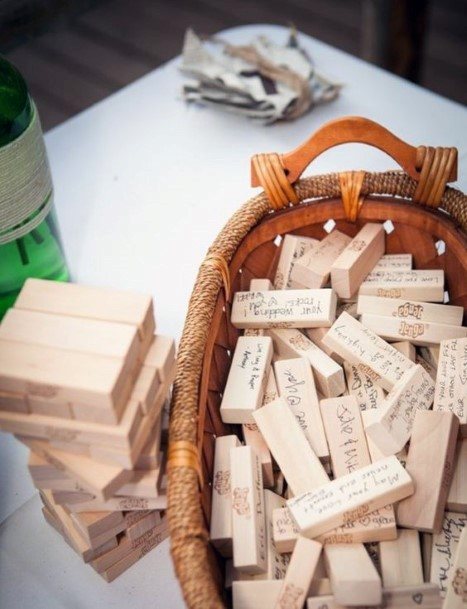 Wooden Jenga blocks can be fabulous too, especially when they're used when you tie the knot. Place them in a basket or canvas, then live the moment all over again for future anniversaries.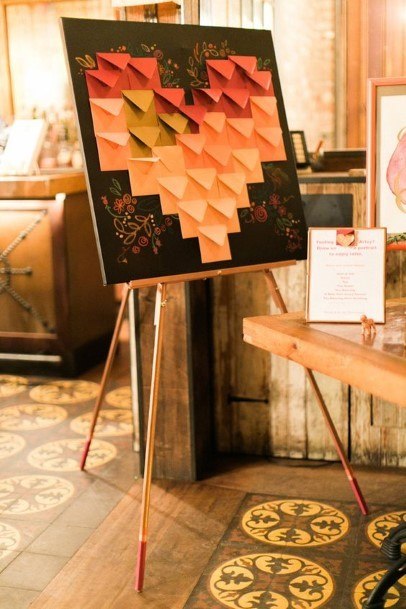 Don't be afraid to let your talent show on your wedding day by painting a canvas with strategically-placed signing cards. Your bridesmaids will marvel and envy your creativity!
Planning on doing some international travel with your partner in crime? Have wedding guests sign their recommended honeymoon locations on top of a globe.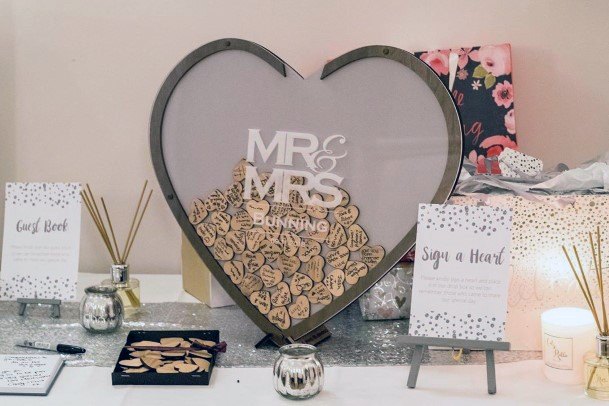 You can never go wrong with heart signatures. Get miniature cardboard hearts and have guests drop them in a larger container, preferably one with the same shape to accent the hearts.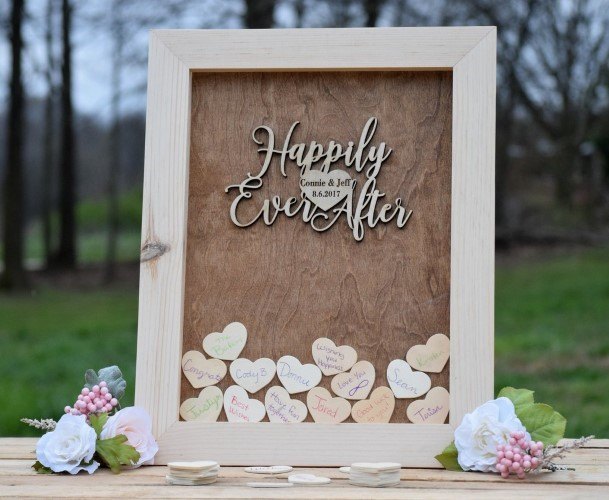 An alternative to canvases is wooden boards and frames. You might find them cuter for guests to tack on their well-wishes and wedding congrats.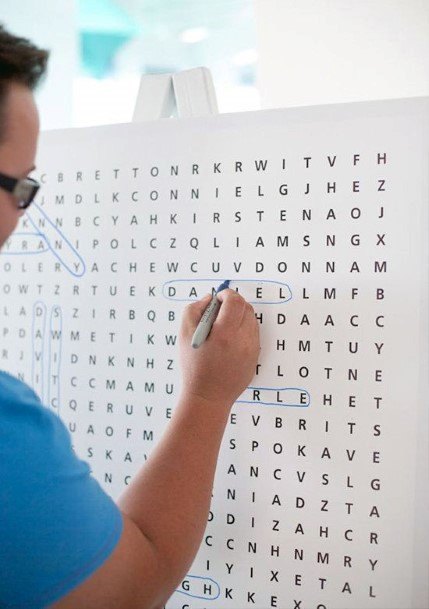 Do you and your newlywed partner love crossword puzzles? Why not work them into the messages your friends leave behind? You don't have to stick to the rules of the game, either.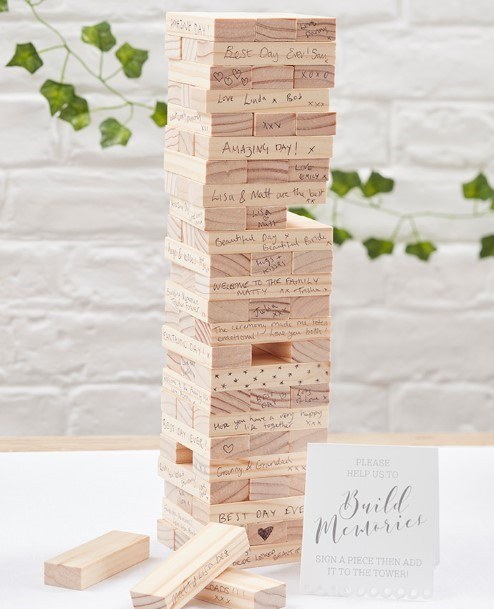 Jenga blocks can help you bond with those you invite to the wedding. Have your besties remove one block each. When they topple over, everyone gets to sign at the same time!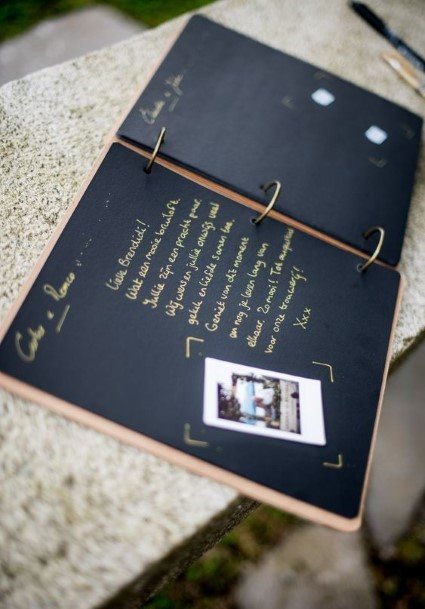 Remember your high school yearbook? You could do something similar on your wedding day. Use a scrapbook for memorable messages, one you can write and stick pictures on.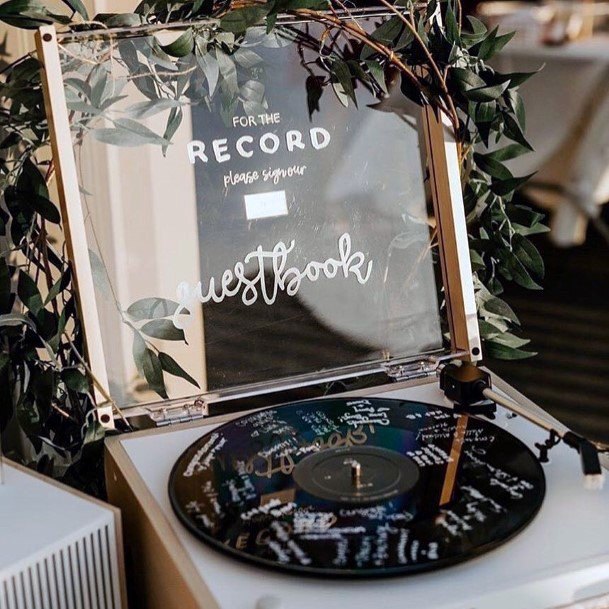 Got some vinyl for you, the girls, or the newlywed to jam out to? Let people sign on that, or even create your own vinyl recording for posterity!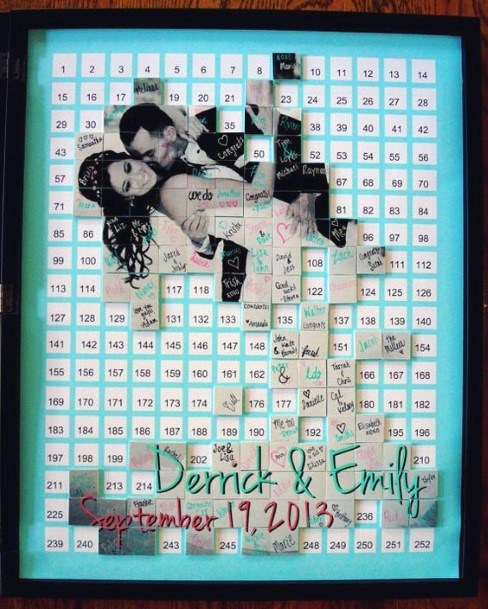 Collages make for sweet wedding memories. Use numbered squares so attendees know where to attach them on a board. Make sure to get more square when expecting a large attendance!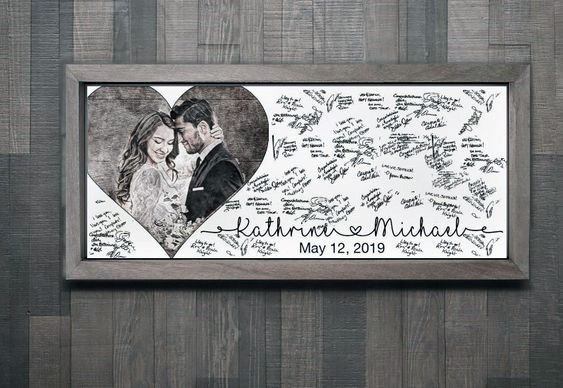 For a look that combines a rustic yet modern appeal, lay out your frame with a dark-colored wood and sepia background. For signatories, use hard black pencils and charcoal, or feminize it with pastels.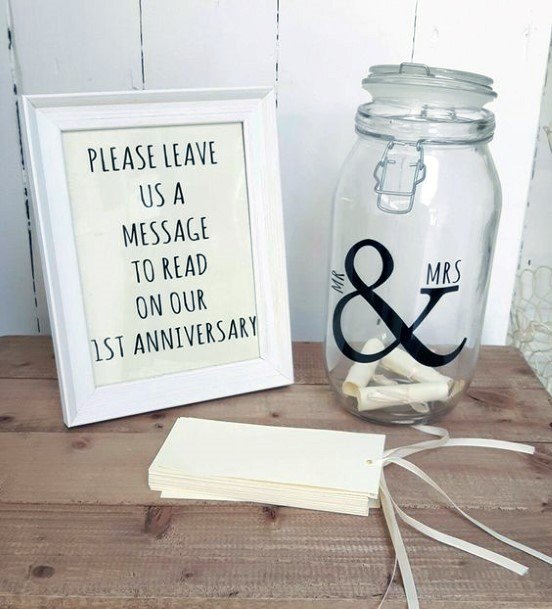 Customize a mason jar with your and your sweetheart's names. Have everyone toss a heartwarming message inside after rolling it up. Open during your honeymoon, on your first anniversary!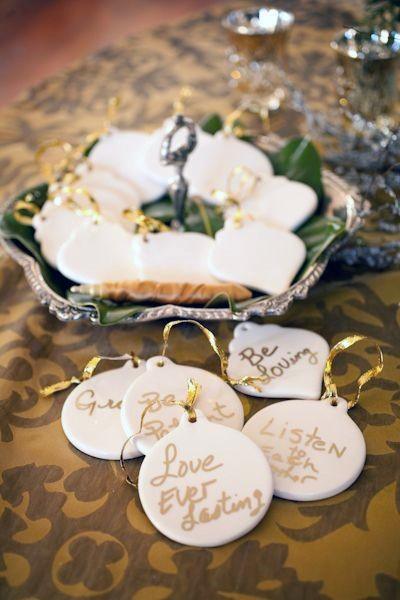 Smaller ornaments like flat little bulbs could work, provided you have them in the right color! Add a bit of your favorite girly arts and crafts touch, and voila, you'll have yourself some writing material for your guests!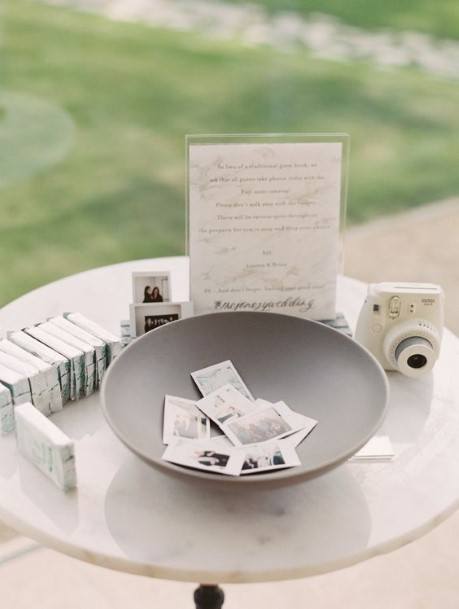 Do something that's both traditional and modern with your favorite instant camera and a bit of innovation. Guests take photos and jot down messages for the beautiful occasion.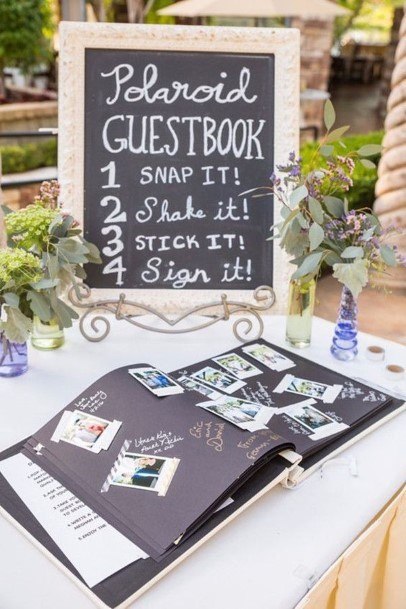 Prefer to use your instant camera photos on a guestbook? What's stopping you? You'll smile as everyone sticks them on. Just be sure to have plenty of quirky marker colors for all to sign their names.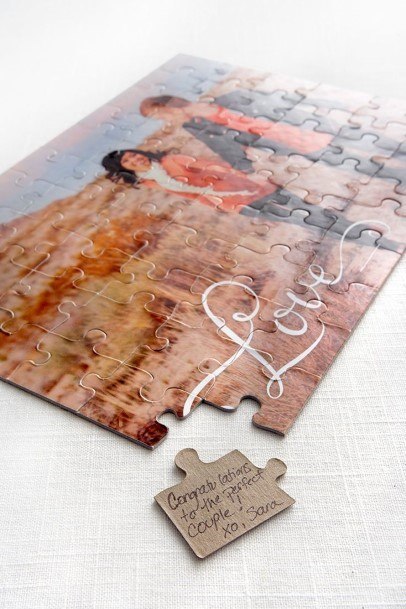 The one who takes your hand in marriage might not be puzzling, but that doesn't mean that your guestbook can't be! It's easy to get a puzzle made for weddings. You can use the individual pieces for those in attendance to say their congrats!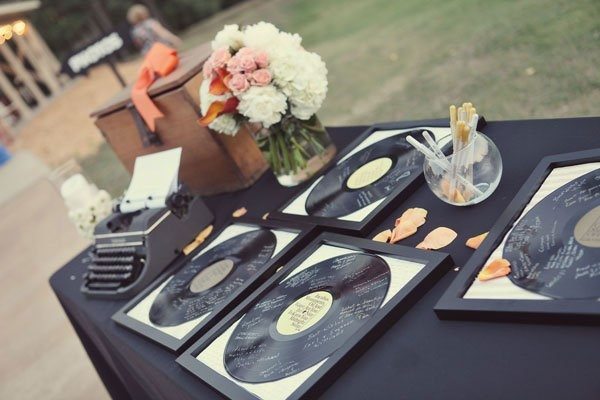 More vinyl, you say? Nothing wrong with that! Lay them on a table with other creative material. But does it have to be writing? Break out the old typewriter if you want to be different!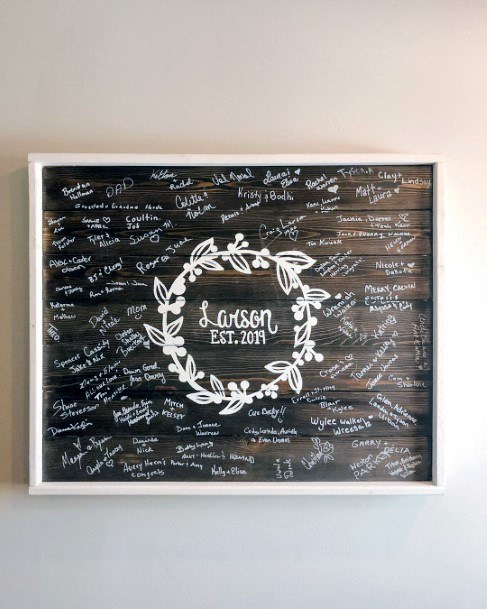 Do you or the one you're marrying have a thing for carpentry? Let it show on the big day! Add a finish to some two-by-fours, throw in a white marker, and you've got a canvas as a gorgeous guestbook!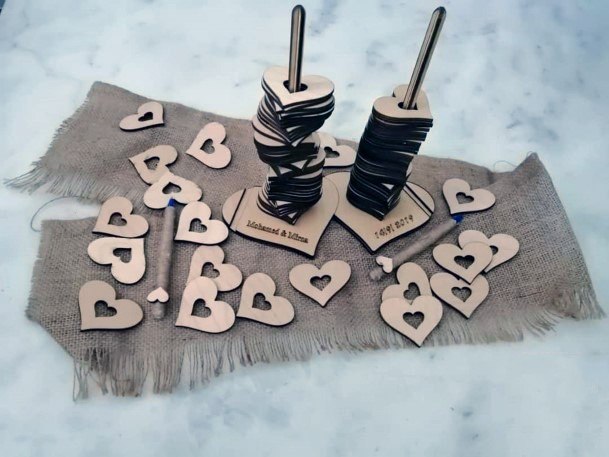 Tight on space at the wedding event? Maybe you just find small crafts adorable and pretty. Whatever you're fond of, make teeny little hearts with holes in the middle. Guests can put them on a rod and present them to you as a gift.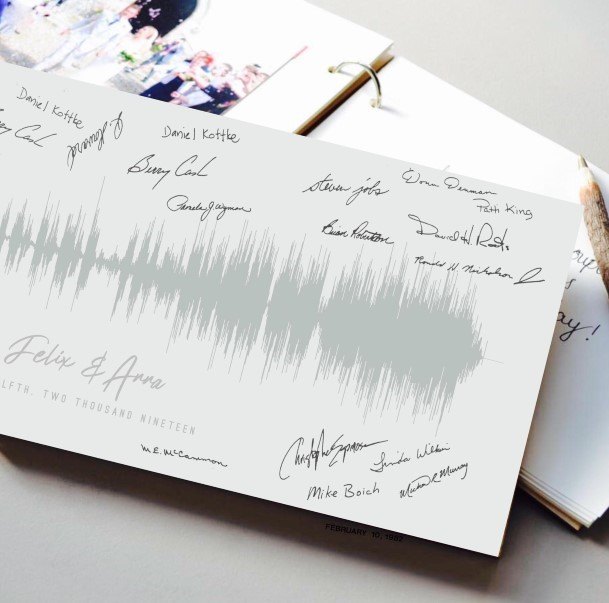 With construction paper, you add a background to your guestbook, showing your profession or anything else that you and the newlywed are passionate about. How marvelous is that?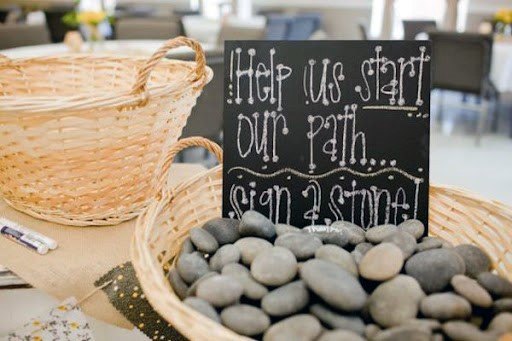 Whoever said you had to be on the beach for well-wishers to use stone? Take your favorite basket, get some smooth-washed rocks, and let your guests have at it!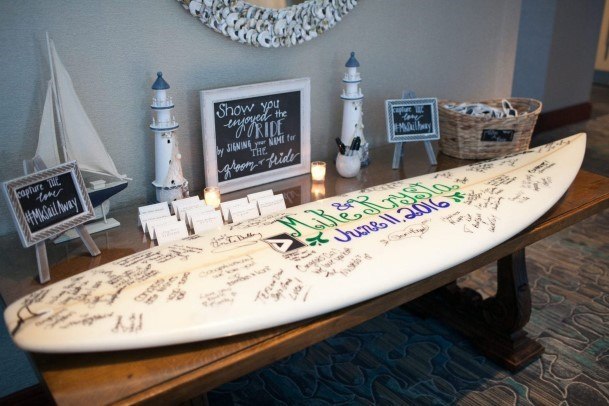 Ever gone surfing with the girls? How about with the bridesmaids? Bring your favorite sport with you to the wedding for signatures.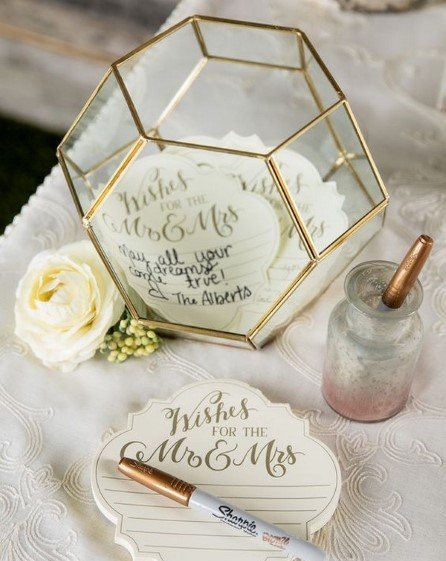 Go a step further than pink sticky notes in a basket with one specifically designed for the big day. Don't forget to add a touch of cute with white roses, paper, and markers that fit the mood!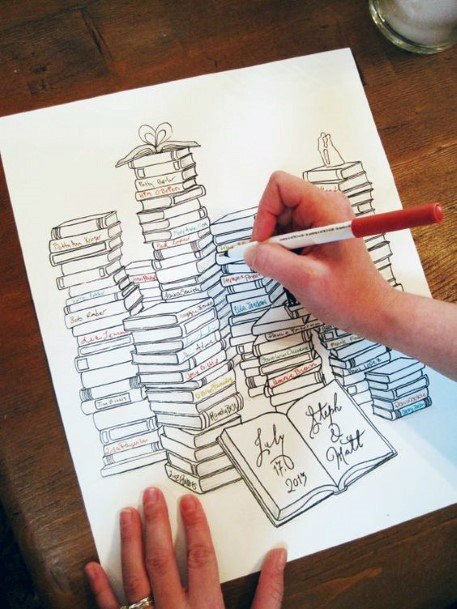 Want to bring out your creative side? Draw books where everyone gets a slot to place their name on the space where the book's title would be located. If you prefer a message, try using an illustration that offers more room on the spine.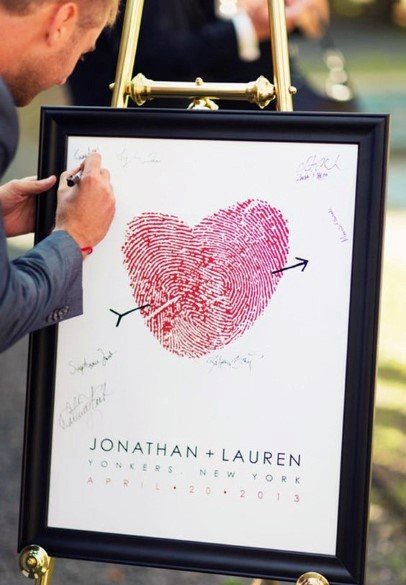 This idea will really wow your friends. Have you and your love make two fingerprints in the shape of a heart, then blow the photo to a larger print and use that for your guests. Don't forget to color the heart red!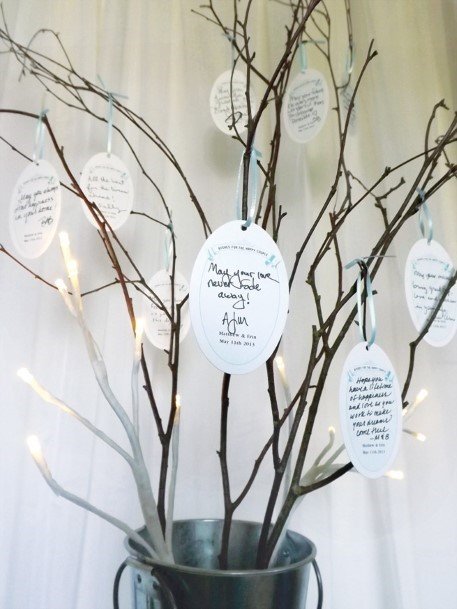 Real or fake, you can take a bush or small plant that guests hang their messages on. Slim branches wonderfully accent the white labels.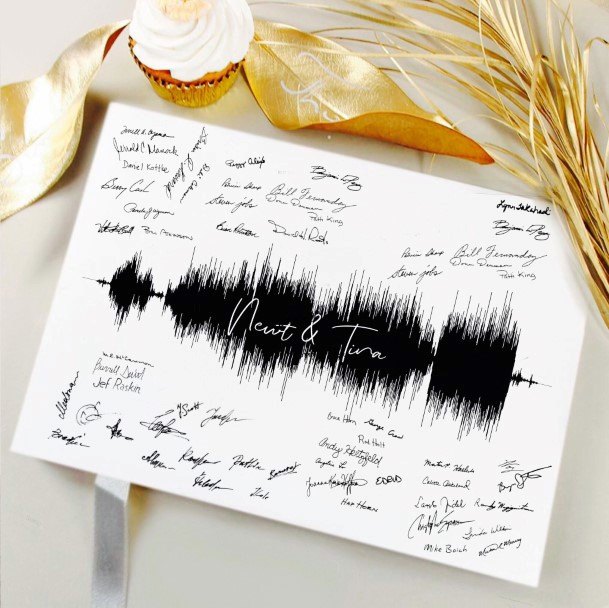 Use papers that lie next to the desserts you have for everyone. Whenever a guest reaches for cookies and cupcakes at the reception, they can make a quick stop to sign their name.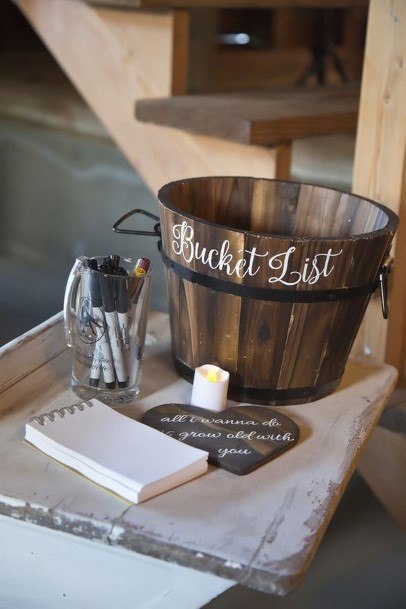 Get an even larger, more extravagant bucket list, one that's dazzled with candles, plenty of paper, and a whole lot of feel-good messages to flatter yourself with later!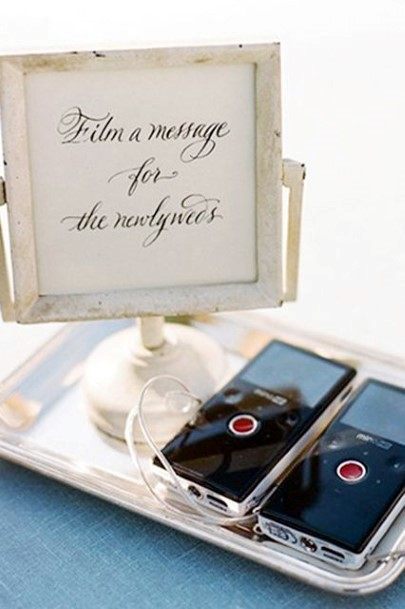 Here's a neat one: Guests can use a recorder for their heartfelt messages to you. One for the ladies you love the most, and one for your partner's best buddies.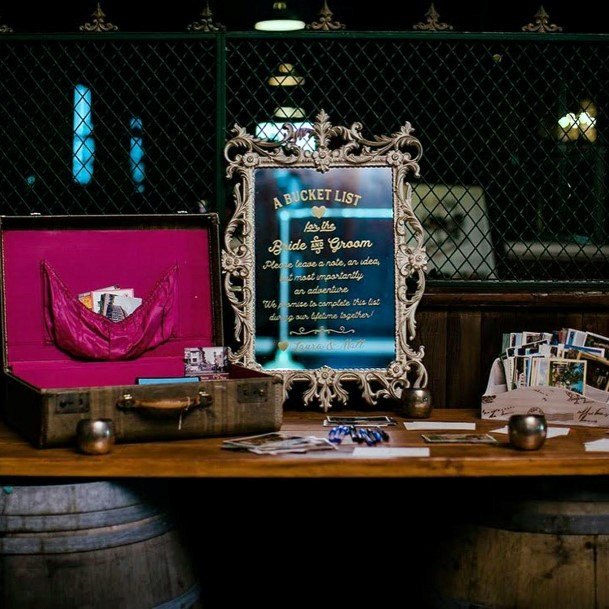 Have you ever been inside a boutique store and fallen into a trance over how cute everything is? Turn your guestbook table into a boutique stop for all to drop their fabulous instant camera pics into your favorite jewelry box. Jazz it up with a pretty luxurious tablecloth!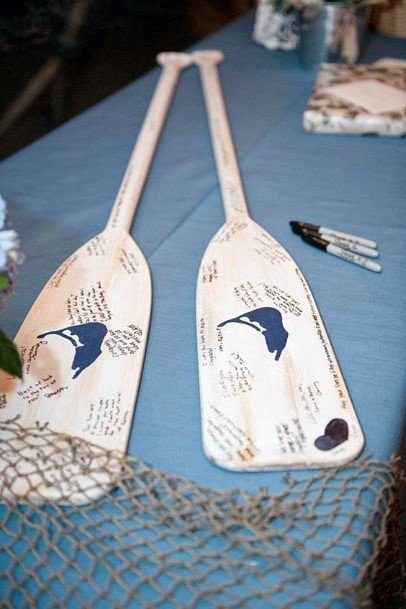 If the sea is your second home, you could bring some paddles with you to signify your love for the water. Two is enough for everyone to write down their support.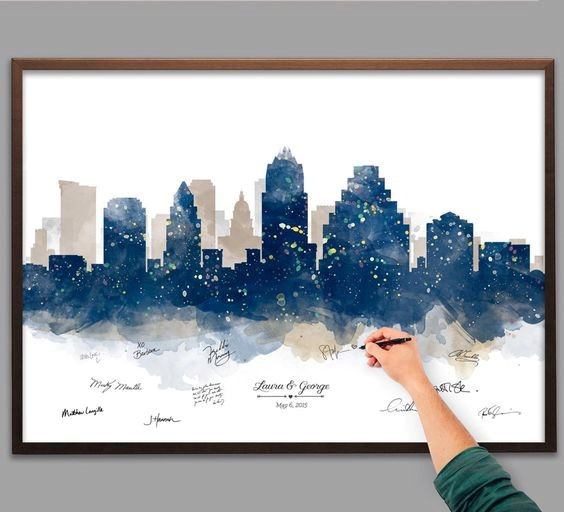 Whether it's Paris, London, Tokyo, or New York, take the silhouette of your favorite city, or one you plan on visiting for your romantic honeymoon!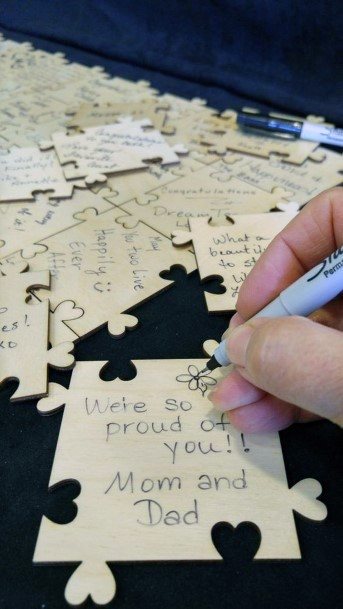 Keep the puzzle pieces blank for your guests, then you can paint a beautiful picture representing the joy of your marriage on the other side. Let wedding guests put them together, or do it with your love after the ceremony!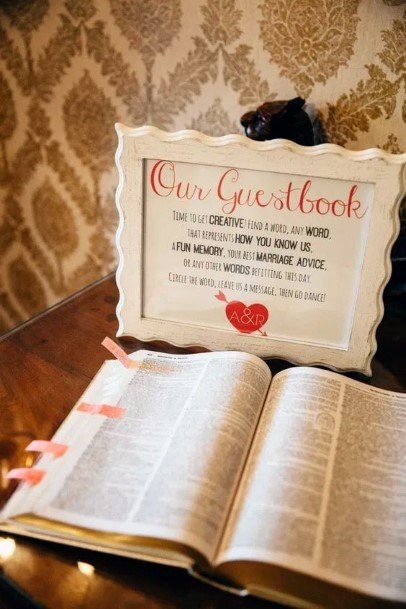 Are you and yours devoted to your faith? Take the scripture with you to the wedding, letting everyone mark down passages they think pertain to your marriage.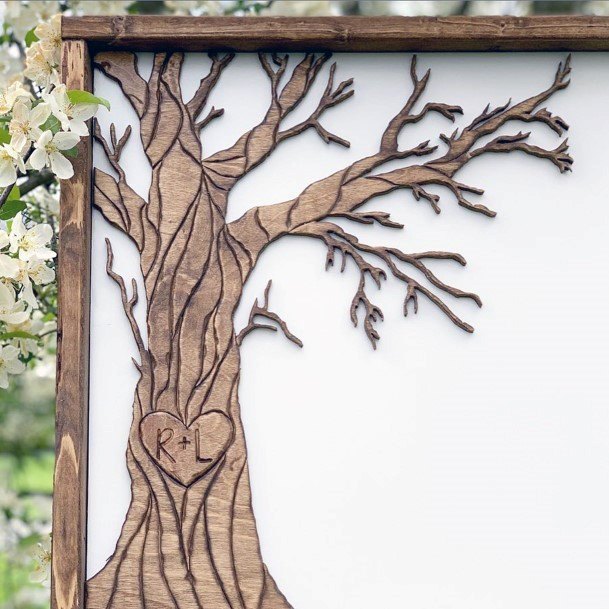 Use a frame with a tree that's placed in front of a canvas. Carve out a heart at the base of the branch, then beautify it for your wall decoration!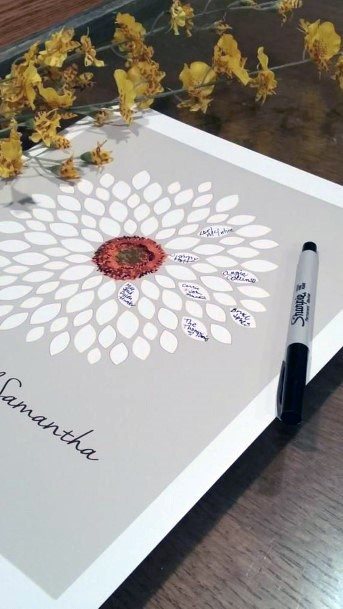 Have a love for sunflowers? Take some paper with small sunflower-shaped pedals to get signatures. To stay with the theme, consider using brown paper with yellow markers!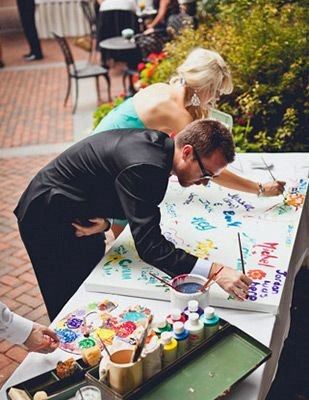 Grab some acrylic paint, oil pastel, watercolor, and paintbrushes for attendees to unleash their touching messages in the most artistic way possible. Be sure to use a strong painting surface!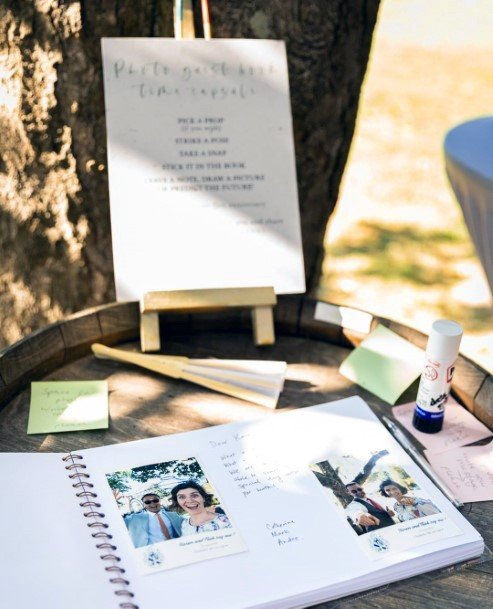 With sticky notes, an instant camera, colored pencils, and markers, let your girls and other guests add humor and love to your guestbook.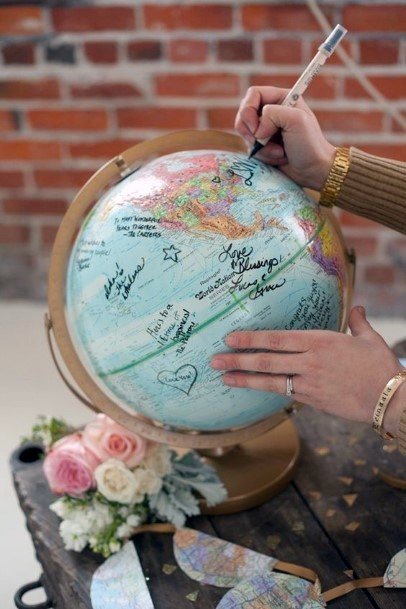 The earth is filled with exciting places for you and your partner to see and be seen. Use a globe for people to indicate future accomplishments they would like for you and your love to reach!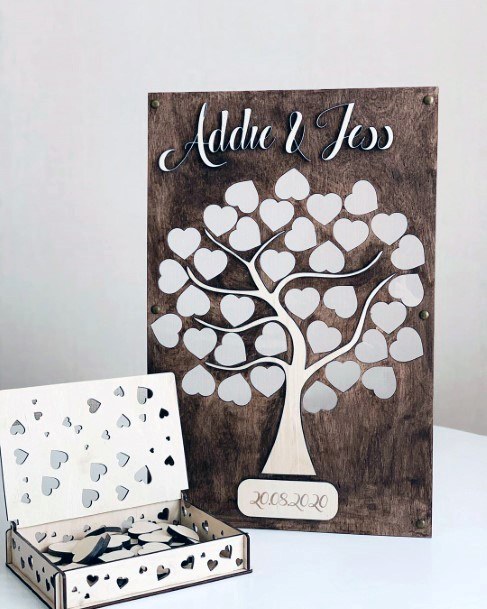 Using paper hearts as tree branches, your wedding guests can quickly sign and stick messages at any time during the festivities.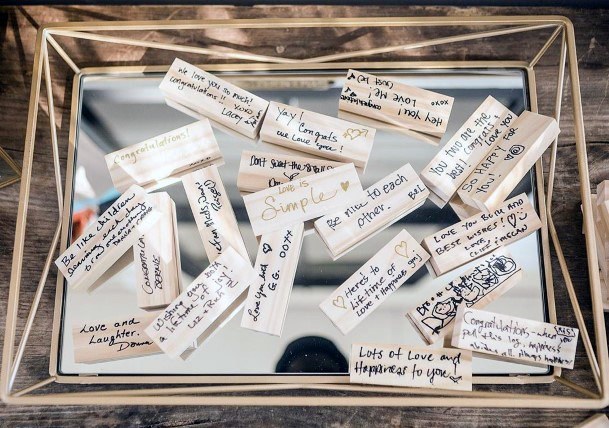 Jenga blocks, wooden blocks, or anything similar can be written on. Wedding guests can drop them in a basket. Cute, simple, and elegant!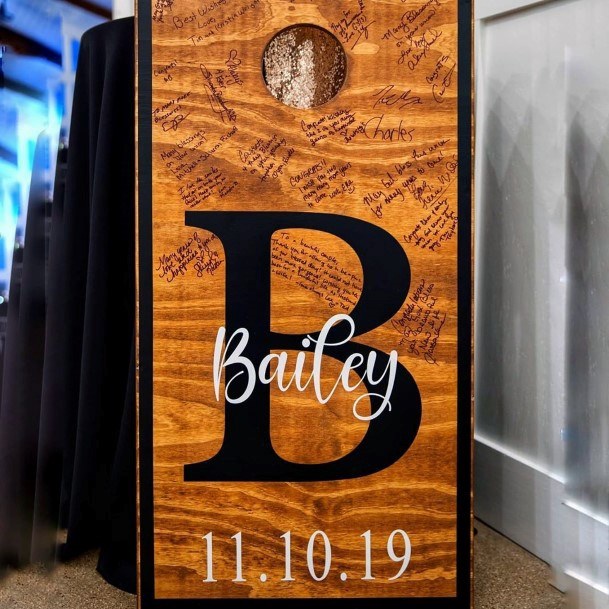 Place a decorative wooden block at the end of your wedding reception table. You'll get the feels from having everyone's messages displayed in such an authentic way.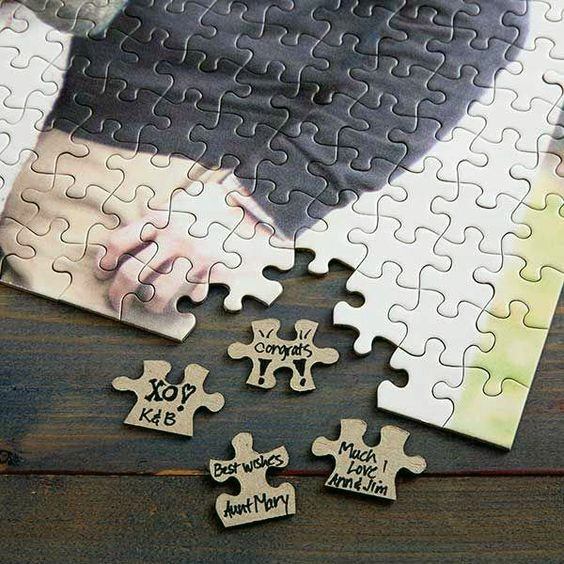 Puzzle pieces are small, cute, and easy to decorate after the wedding's over. Let a guest take one piece, sign, then watch you dance with your newlywed.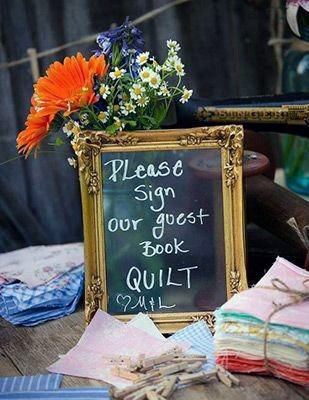 Every piece on a quilt should have its unique character. With enough fabric squares, guests can sign their names on them. It's a perfect idea for you to later weave into a comfy and large quilt. You and your partner will always have something to snuggle under when you're cold!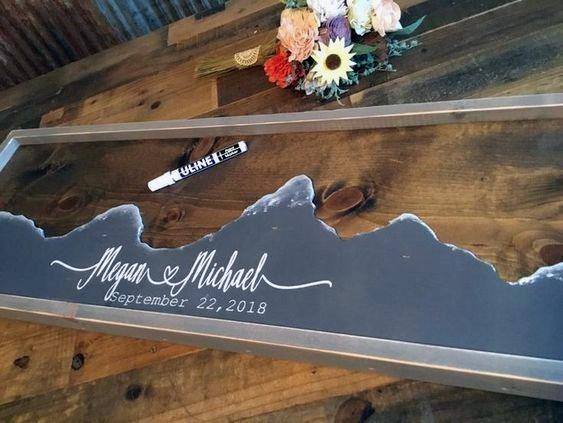 Take a rectangular frame, add your favorite landscape and the foreground, and a nice canvas as the background. Let the sighing commence. Simple, right?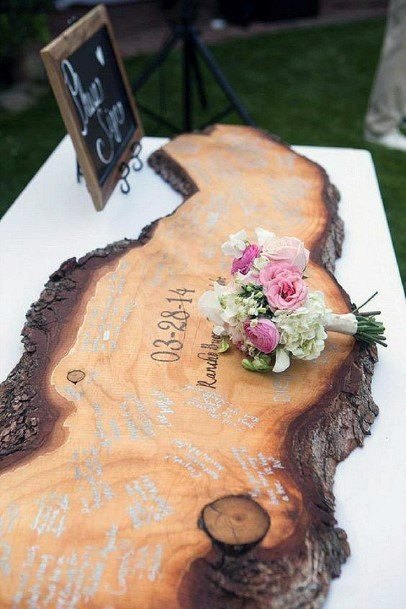 Use part of a tree branch so all can see your love for nature. The surface should ideally be flat for writing. Accept the table with a bouquet of enchanting roses.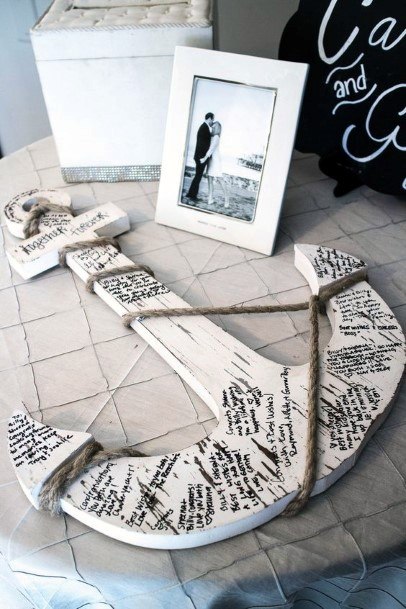 What is it about sea themes that are so cute? Dazzle up your guest canvas with a wooden anchor.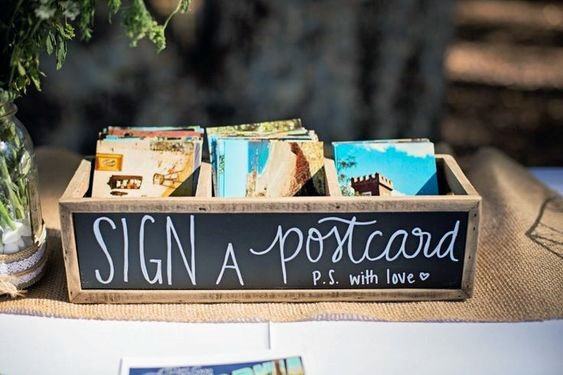 Let guests sign a postcard, preferably showing a future destination for the cute wedding couple that you are!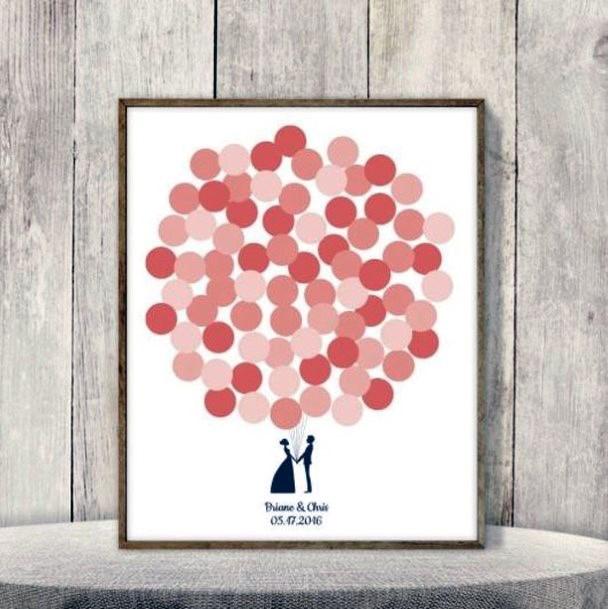 Let all the shades of pink take over the paper that attendees use to mark their best wishes.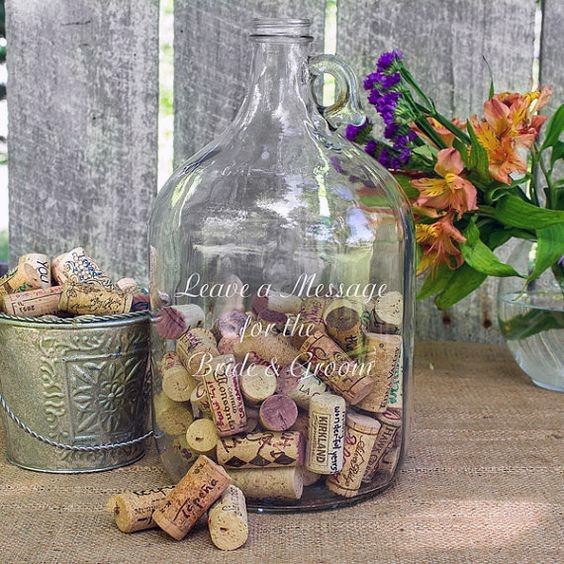 Corks are good to write on, especially with markers. Get a jug and corks, which are placed inside for cherished memories.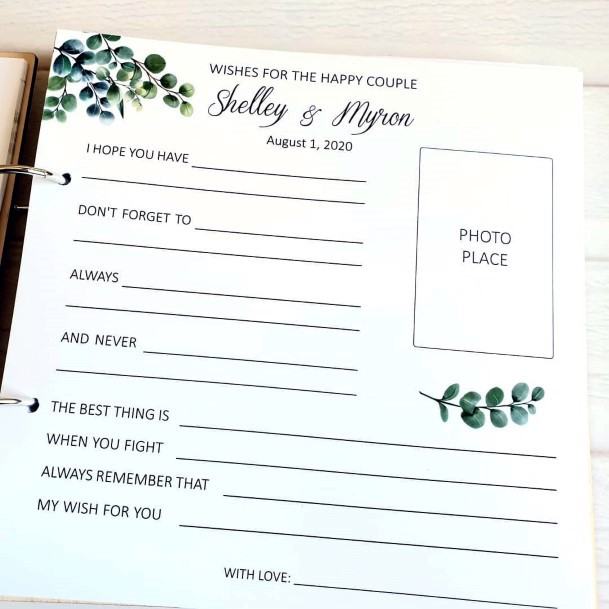 How about keeping things simple and direct? Let guests place their instant cam photos, well wishes, advice, and signatures all in one spot!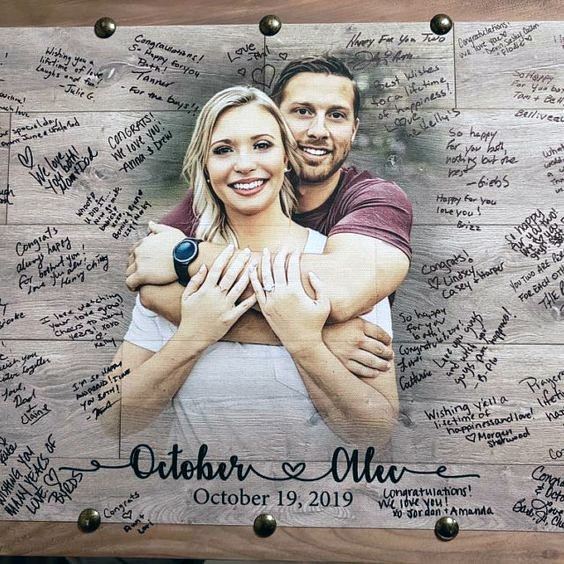 There's no cuter writing surface than one showcasing you with the love of your life. Why not have your besties sign alongside it?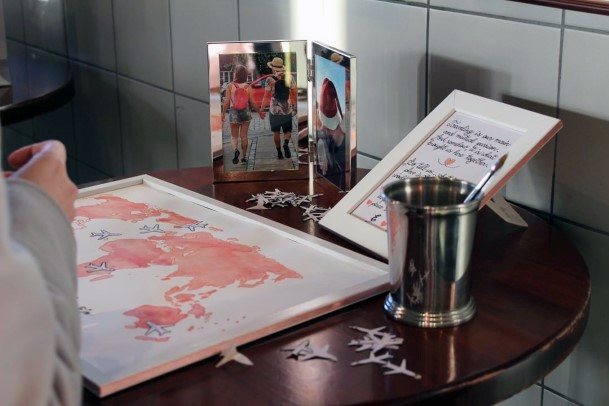 For the traveler in you, add little airplanes with enough space for one signature. With a large enough map, everyone there to witness your marriage can find a spot on the board!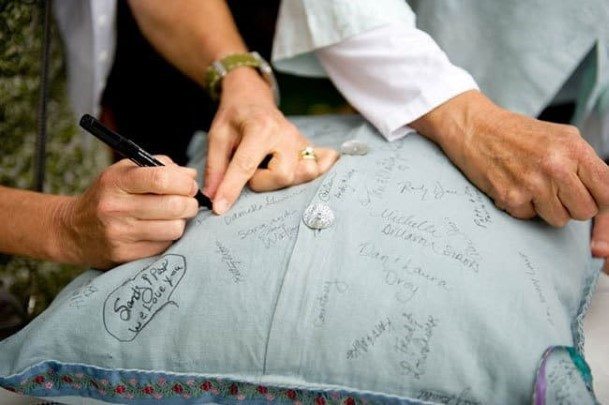 Got a favorite pillow you use to snug on? Take it with you to the wedding! You'll always have the most important people in your life close to you this way.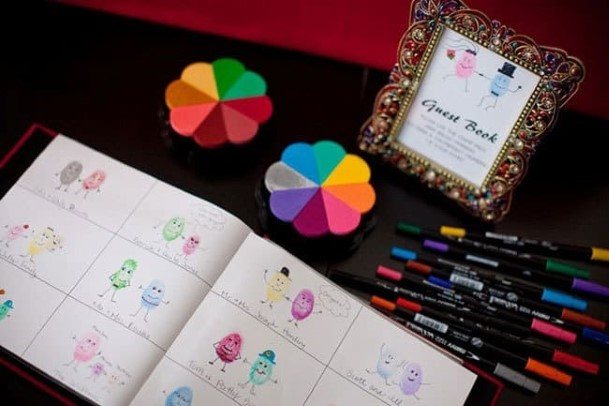 Take some colored markers or felt pens, then guests can let their imagination run wild with funny egg characters made on top of encouraging words!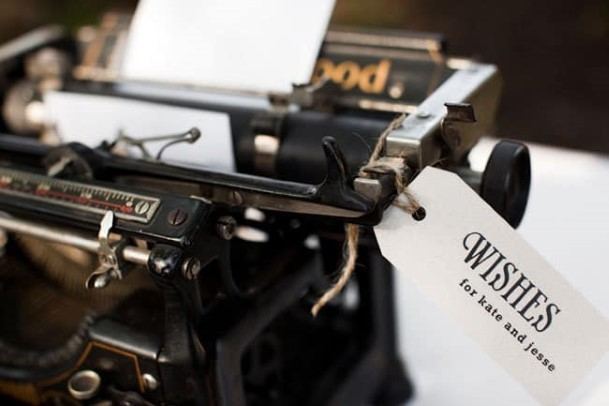 With a typewriter to set the theme, you well-wishers can textualize moving and loving words to take with you into your marriage.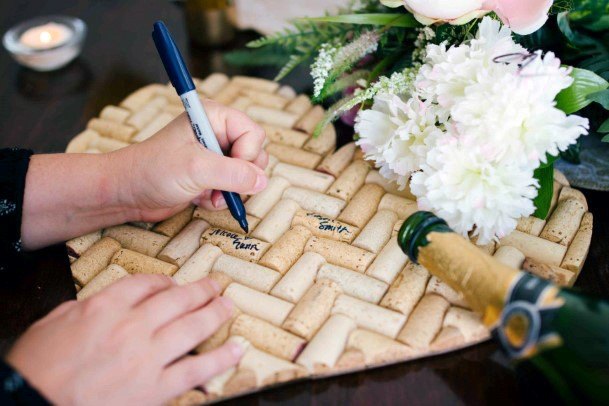 Want to make things interesting at your wedding? If there's going to be lots of wine and champagne going around, let guests use the corks to sign their drink-infused messages!

Smooth rocks in all colors are easy to place in your home as furniture. Let them carry meaningful words by breaking them out for your wedding guests to sign!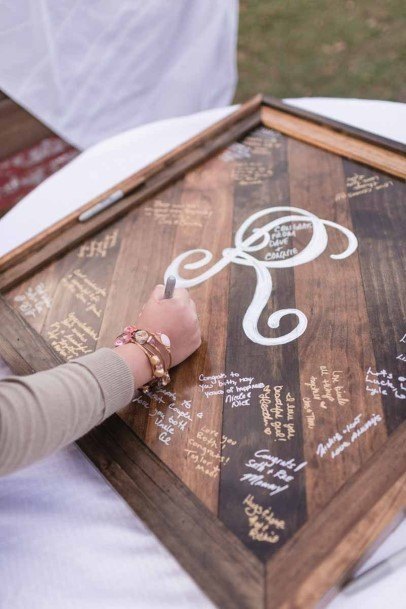 With your last name in the foreground, take a wooden picture in a frame as writing material. Marker colors can be anything you desire, even hot pink!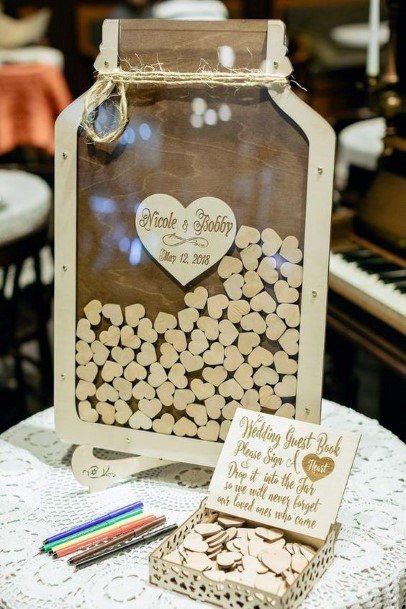 There's no better way to show off your femininity with bite-sized hearts of joy in a jar-shaped frame. Let guests add a dash of color using markers with your favorite hues.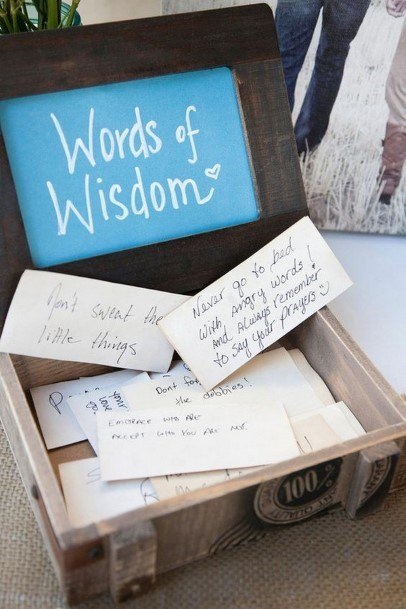 With a wooden box, your BFFs can post their tear-inducing messages on paper squares. Have plenty of tissues around when you're ready to read them!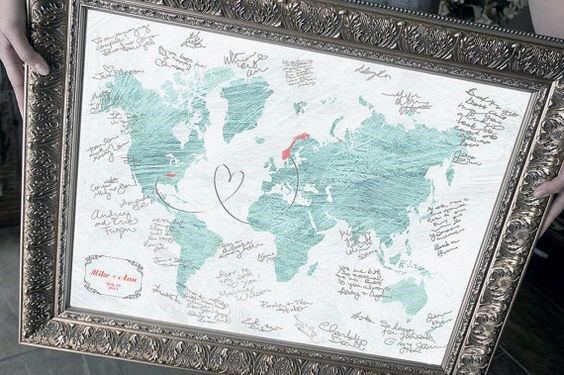 With an elegant frame that shows off your taste, use the backdrop of the world that invitees can write on in style!