We've passed a few hotels with their own individual gem and mineral shows, but somehow we managed to totally miss out on the original Denver Gem and Mineral show.
This show features far fewer wholesale and trade dealers and more individual dealers and private high-end collectors. You'll find far less polished stones and more of the raw, natural mineral specimens for sale. Instead, they have a dedicated section for gemstones and jewelry where all the finished stones are displayed.
After exploring this original show and comparing it to other major shows, we found the original Denver Gem and Mineral show to be our favorite. It's not as big as the other show but more focused on education, local mineral clubs, and drool-worthy collections.
In terms of what we saw the most of or what was new to us, it's hard even to mention one or two mineral specimens. The variety was all over the place, with some of the most unique, jaw-dropping minerals we have ever seen. We couldn't stop snapping photos because there were so many minerals with that "wow factor."
However, we managed to spot some uncommon prized minerals such as cornetite. If you walk around most shows, whether Denver or Tuscon, you don't find this mineral specimen anywhere. The more we looked around the show, the more of these highly-desired, hidden crystals we found.
You should go to the original Denver Gem, and Mineral show even if you don't plan on shopping. You can get close to display cases with hundreds of thousands of dollars worth of minerals. To us, it's like walking around an art gallery; only the artwork isn't manufactured; it's all nature's natural and beautiful creations.
Honestly, photos of the show will do all of the talking, so with that said, let's dive into what we found at the show this year. If you love gemstones, minerals, crystals, and so on, then we're sure you'll enjoy every part of this show guide below.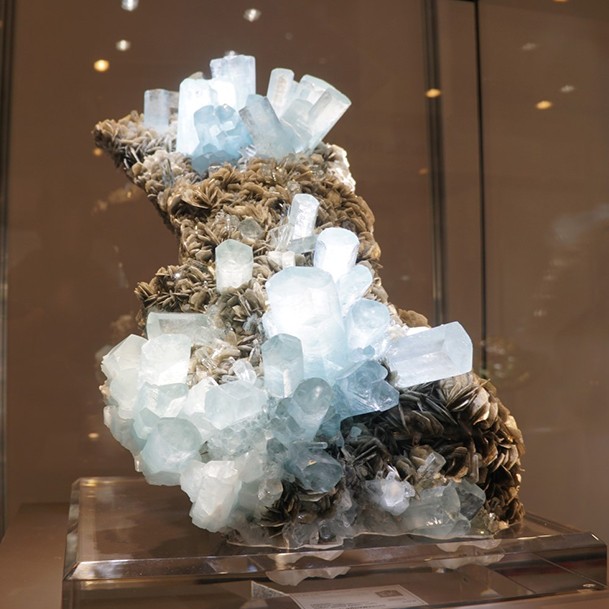 Wow, look at this massive cluster of muscovite and aquamarine! The huge matrix of muscovite on its own is impressive, but the brilliant transparent blue aquamarine crystals truly capture the attention. Over the years I've come across a lot of aquamarine in either small clusters or simply one giant standalone crystal, but never in such high numbers such as the mineral specimen above.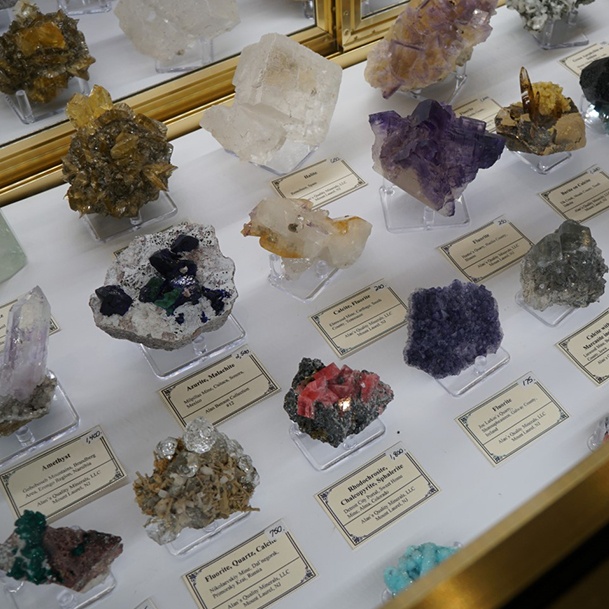 Here's just one of the many display cases at the original Denver Gem and mineral show. This seller had everything from Rhodochrosite to Fluorite, Azurite, and Amethyst and much more all in one case. This is what you can expect to see at the individual dealer booths when walking around. Note the higher price tags of most of these minerals offered for sale, with the cheapest being $175.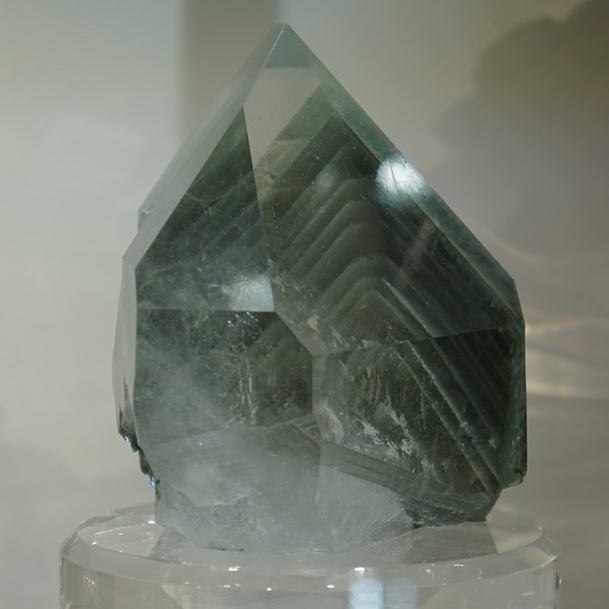 Have you ever seen a quartz crystal like this before? It's rare that we ever spot these multiple phantom quartz crystals at gem and a mineral shows. The layers is truly breathtaking.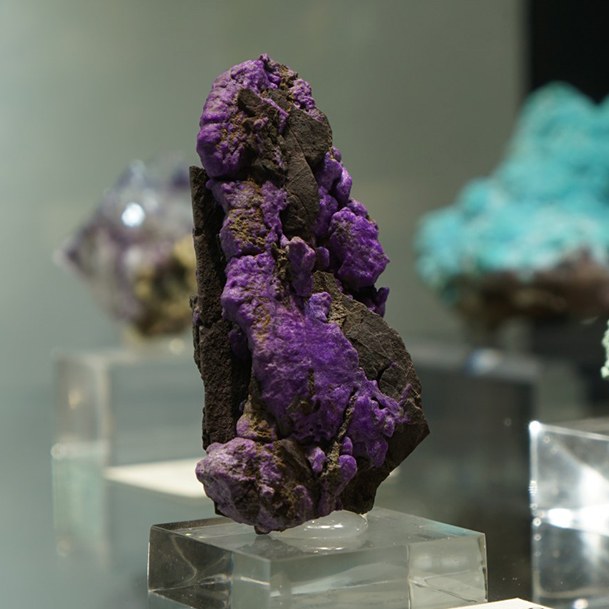 Let's face it, crystals with a black or dark matrix are always in high-demand and almost always have an expensive price tag attached to them. The contrast on this black and purple mineral specimen is truly jaw-dropping.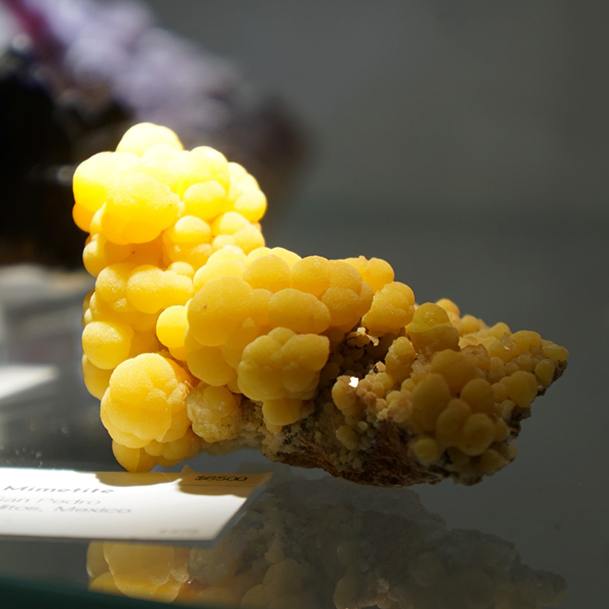 For most collectors, a dusting of tiny mimetite across a matrix is affordable. But if you really want to see those giant bubbly orange and yellow crystals, then be pre-pared to pony up some cash. Personally, I am torn between both the tiny dots and the giant sized specimens. Sometimes it's nice just to see a coating on a matrix and other times, just the prized mineral itself with very little matrix attached to it.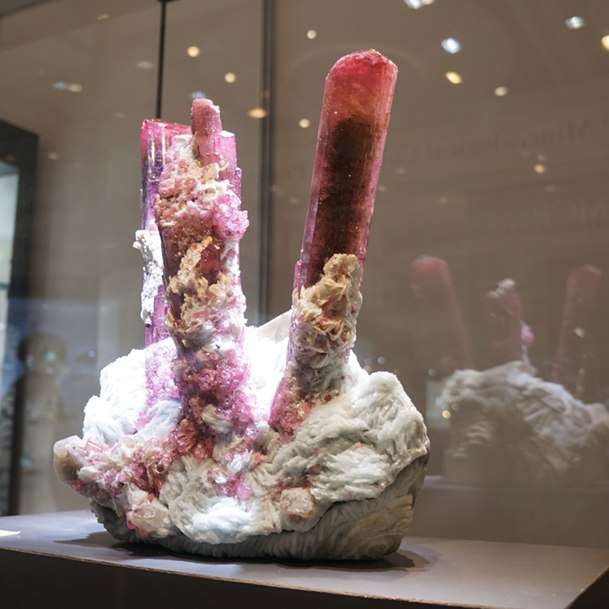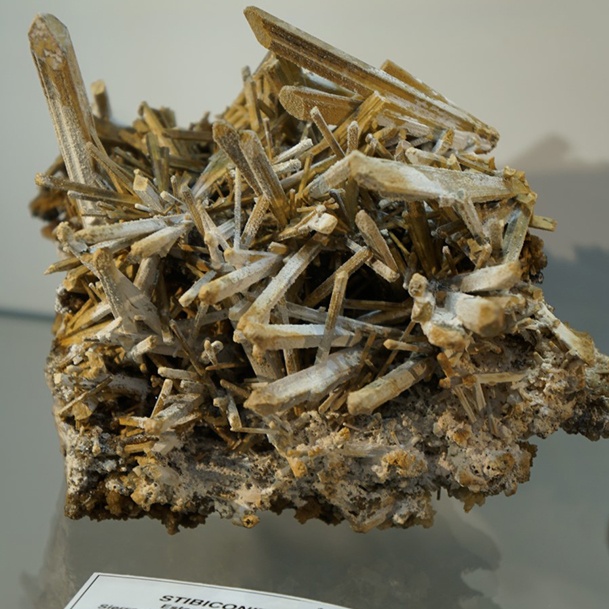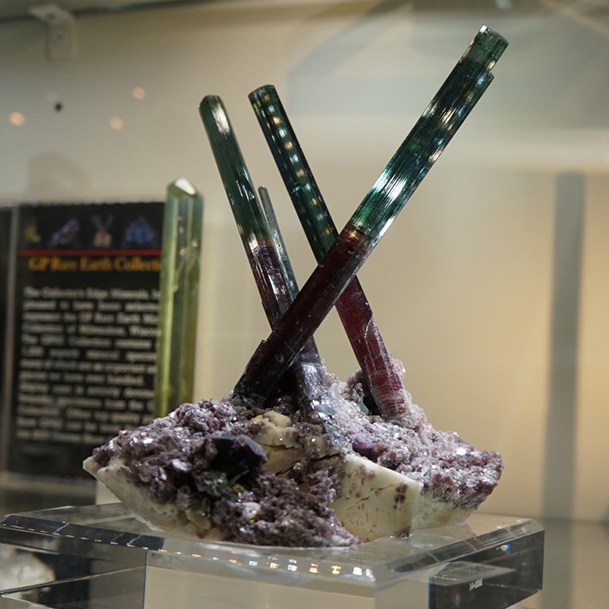 Watermelon tourmaline, need I say more? This piece is truly a high-end collector's dream, and would make an exceptional addition to any million dollar mineral display cabinet. I can't imagine how difficult it must have been to extract this mineral unbroken, not to mention to the profuse sweating of discovering it in the first place.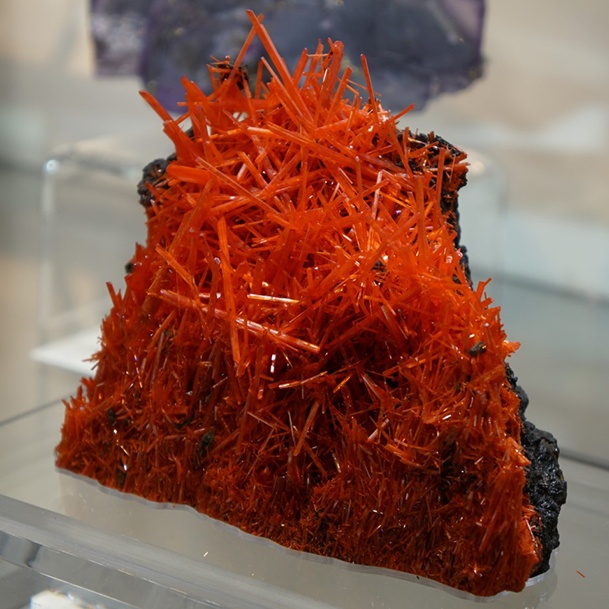 Crocoite reminds me of a bunch of finely exploding firework streams that shout out into the air in various directions. It's truly a fascinating mineral specimen to take a closer gander at. This piece in particular really caught my attention with its high number of unbroken crystals protruding outwards.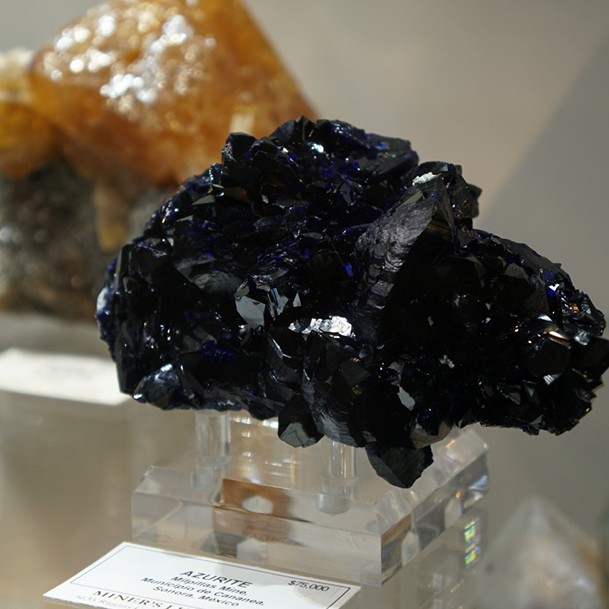 Azurite is everywhere these days, and the price seems to be falling lower and lower lately. However, most pieces I've been finding are simply coatings of azurite on a large matrix or small penny-sized gemmy-quality mineral specimens. When you start looking at fist-sized pieces of gem-quality azurite, the price jumps dramatically upwards. With such a beautiful blue color, it's hard to not to have a piece of azurite in your prized mineral cabinet.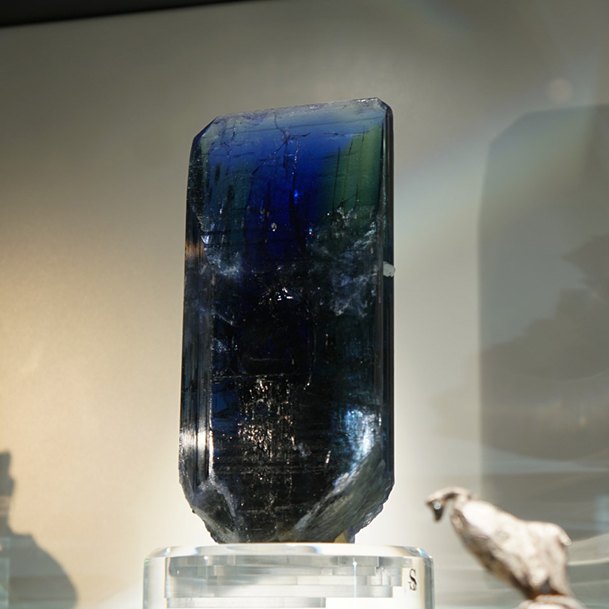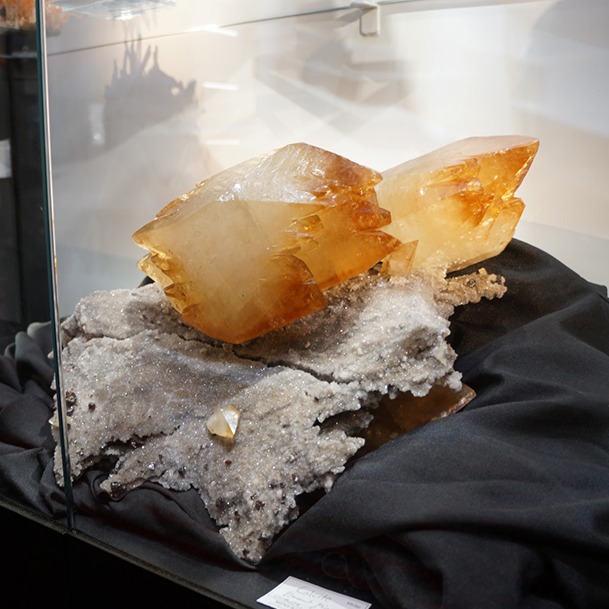 I love the contrast of the deep orange and yellow calcite that sits atop a sugary quartz matrix below. The crystals of this mineral specimen were simply enormous. It's another fine example of how more common minerals can be truly beautiful when it comes to different variations.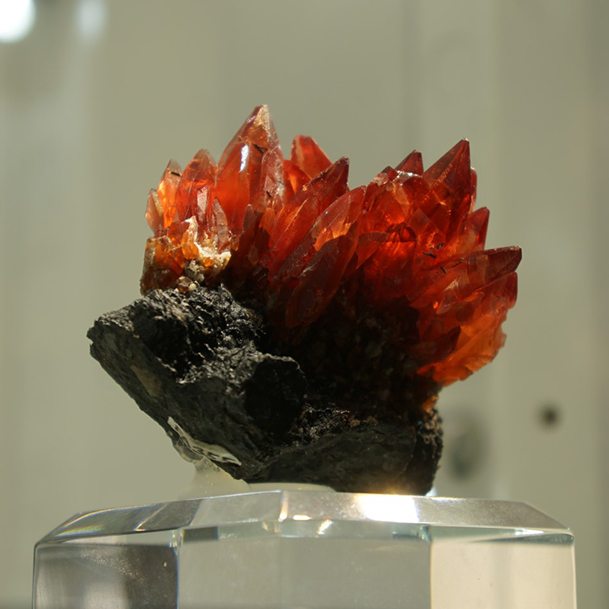 Walk around any gem or mineral show and you're bound to find rhodochrosite. However, most booths have Rhodochrosite that's rather hazy or pale in tone, and never that truly glass gem-like quality. Don't get me wrong, the natural red color of Rhodochrosite, pale or glossy is fascinating to look at, but I find the gemmy variation to be jaw-dropping. This piece above was no exception; I could stare it for days!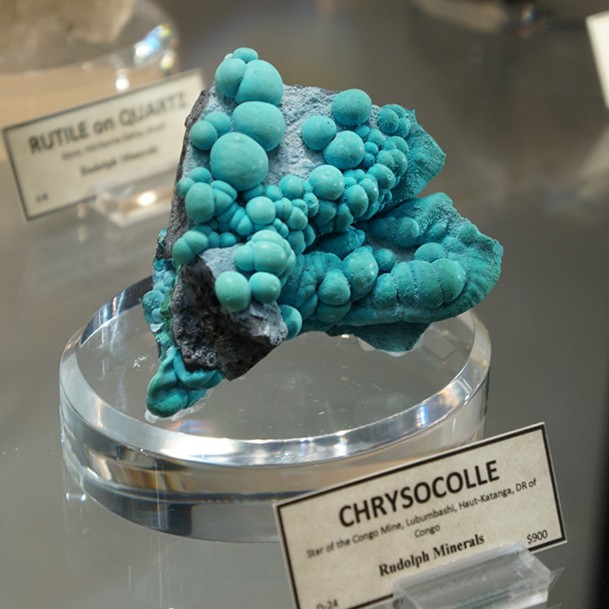 When it comes to favorite minerals, Chrysocolla ranks highly in my collection of prize pieces. Yes, it's a more common botryoidal mineral, but the teal/turquoise color is just incredible. This mineral specimen from the Star of the Congo Mine would gladly be welcome in my collection!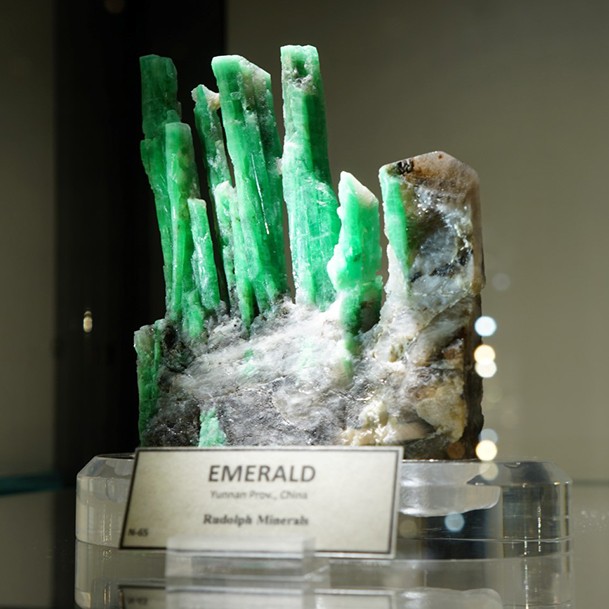 Oh emerald! Who doesn't love the deep, bright green colors found on this natural mineral. Here's a beautiful example from China with a matrix at the bottom and striking crystals soaring upwards.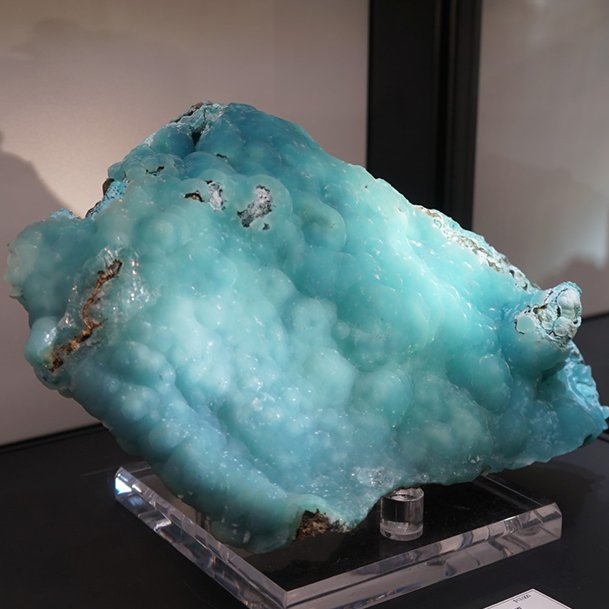 I fell in love with the baby blue, cloud-like piece of smithsonite. Usually I'll come across cream, sometimes pink, but not too often large-size pieces of blue.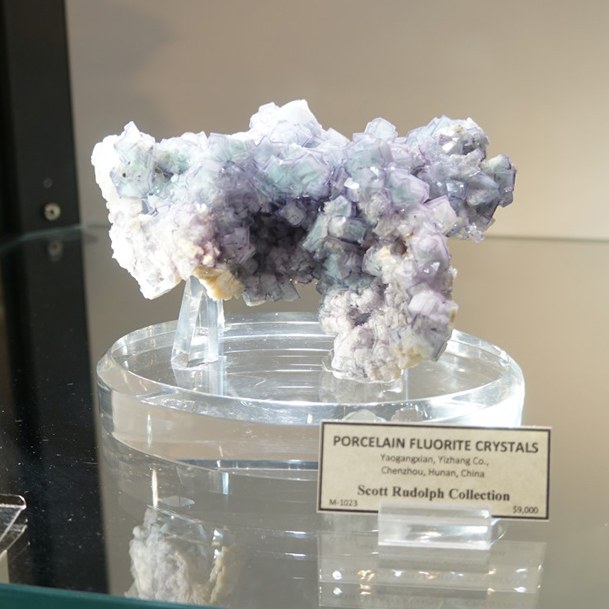 When it comes to fluorite, there are just so many different variations to admire. I'm sure you've seen both teal, green, purple, clear fluorite and so on, but I found this particular blend of colors to be rather beautiful. This crystal comes from Chenzhou, Hunan, China and featured a very steep price tag for fluorite, but nonetheless, the piece was truly wonderful to gaze upon.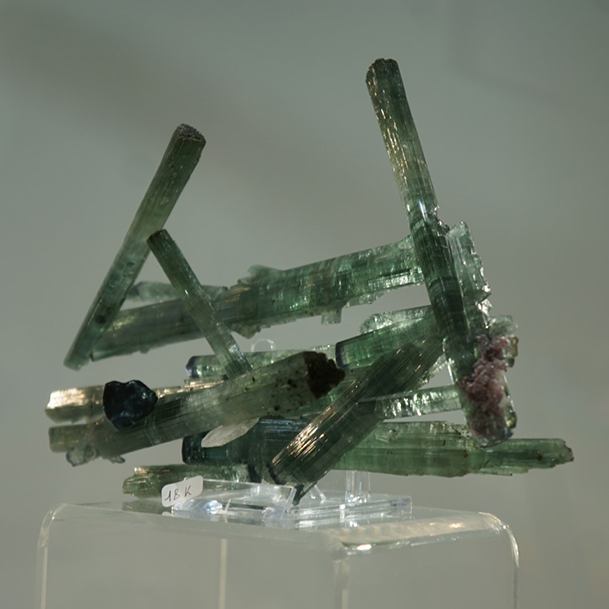 I love crystal formations such as the transparent green one above. These types of mineral specimens are so rare to find, and if buying online, most end up getting damaged through shipping. So when I come across an intact crystal with a lot of projections I am truly amazed at the formation in front of me.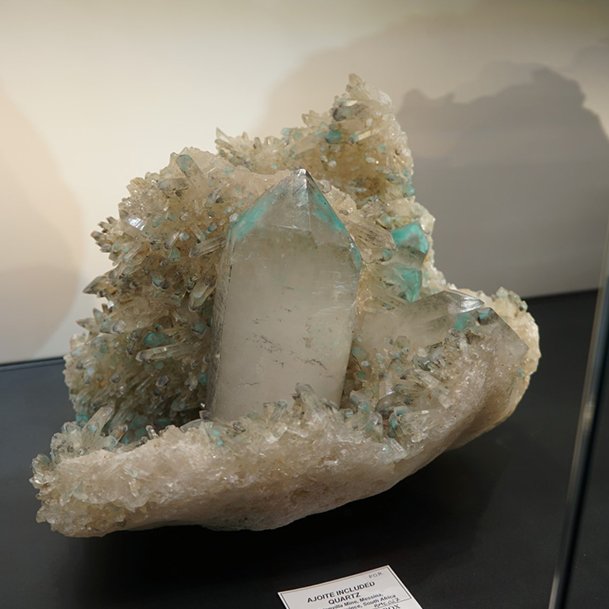 I've seen all sorts of ajoite included quartz in the past, most of it being tiny pieces, but this mineral specimen was a monster! At the size of a soccer ball, I had never truly seen one this large in size and with such vivid turquoise colored detail. I believe the price tag was around eighty-thousand, but given the market of ajoite these days, I wouldn't be surprised if it broke a hundred plus. Truly an amazing piece to see at the show.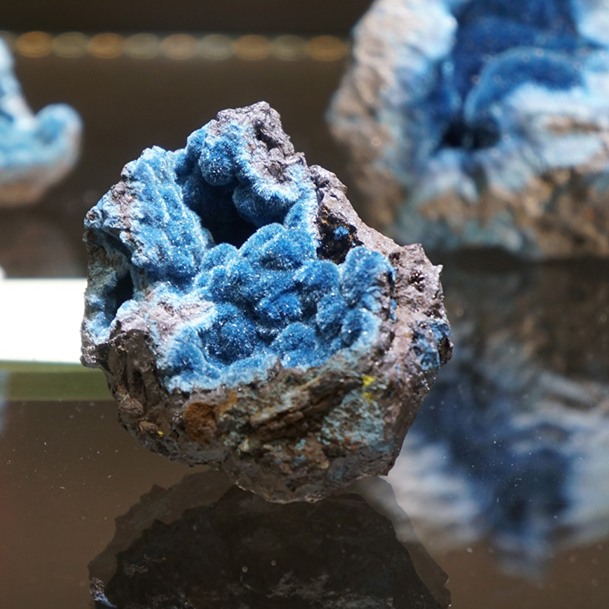 Here's a remarkable mineral specimen of shattuckite, featuring deep ball-shaped crystals in a velvety blue color. It seems like this mineral has been appearing more and more often lately, though, it still remains quite rare and expensive for a piece such as the one above. Most specimens I find are simply velvety fuzz covered matrixes without the deep definition.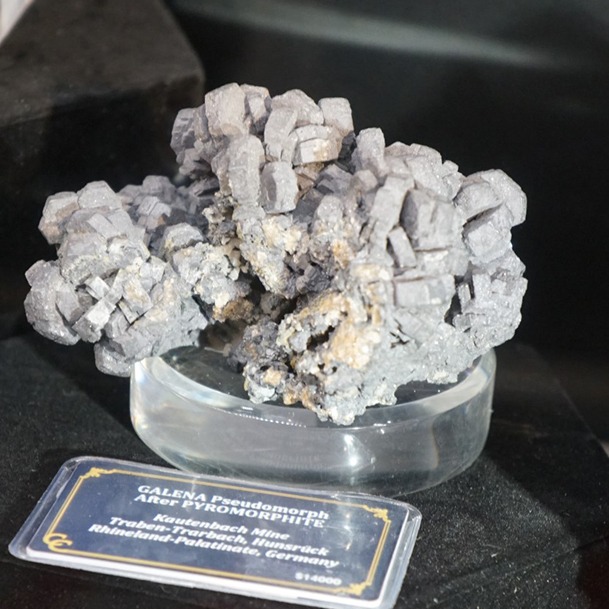 I find all things pseudomorph to be just too cool! Here's a brilliant example of Galena after pyromorphite from Germany.