You can make use of the bricks to build yourself a raised garden bed where you can plant some veggies, flowers, or herbs.
If you desire to build a short garden bed, you can simply collect a bunch of bricks, stack them three to four bricks high, and pour in the soil to begin gardening. A short garden bed does not require you to use an adhesive to hold the bricks in place because the short garden bed is still stable and the bricks can stand on their own.
However, if you desire more stability for your raised garden bed, stack the bricks on top of each other and build the bed with a thickness of at least two bricks around it. This will make the raised garden bed more stable and prevent critters from knocking it down. Additionally, in case there are intense heavy rains, your brick raised garden bed will remain in place.
Bricks are appealing in nature because of their different colors and textures. If arranged carefully, your brick/paver raised garden bed can add more curb appeal to your property. For instance, if there is a fence surrounding your property, you can use bricks to build a long narrow garden bed along the length of the fence. This will make your outdoor living space appear more spacious and organized.
If you do not have a big compound where you can grow your plants, the empty corner in your yard will do. Find a tiny corner in your compound where you can stack a pile of bricks around it to plant some fruits or vegetables for your family.
Raised garden beds require you to be creative and imaginative to build the perfect garden for your fruits, veggies, herbs or flowers. Which raised garden idea will you try out?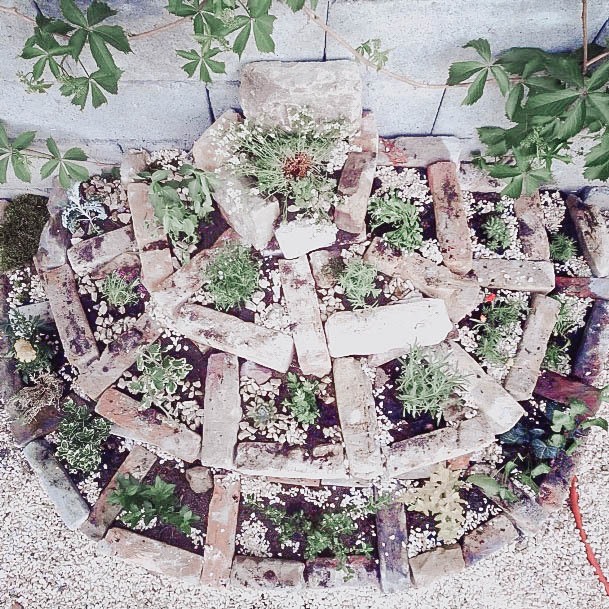 Contrary to popular belief, raised garden beds built from traditional bricks don't have to follow a nice and neat stacked pattern. I love this unique take on a brick garden bed, and enjoy the small separated plant nooks. If you have a plain fence or bordering neighbor wall, this can be the perfect towering solution to add some tranquil, natural appeal to your backyard.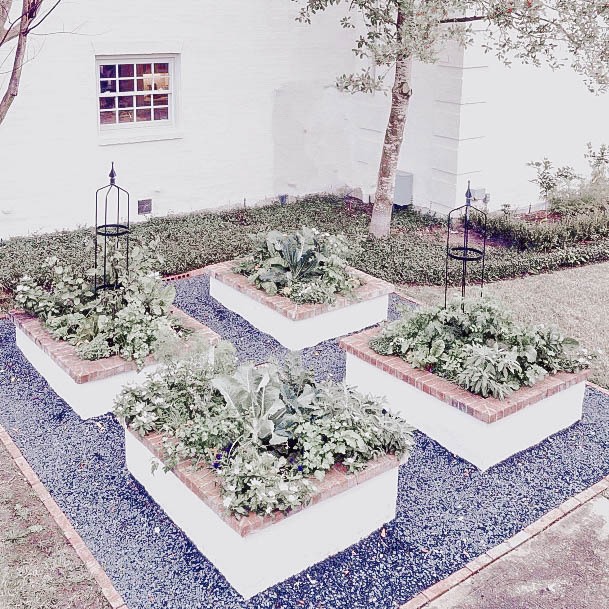 Here's another brick look that I love, featuring a white painted brick base and an unfinished trim at the top. Note the wonderful mitered edge brick detail which tugs at my heart strings in terms of craftsmanship. A dark mulch adds even more fun contrast, and the single brick border around the garden area adds the crowning finish.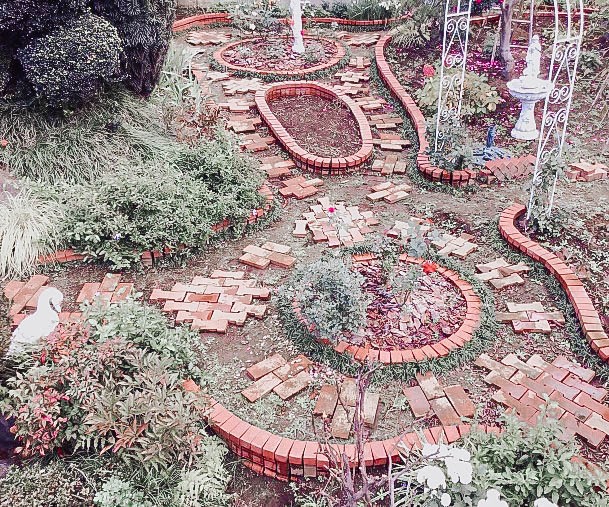 Have extra pavers or bricks lying around from a past home build or patio construction? Put them to good use in the garden. I love the fun, resource-saving design of the stepping stones and the rounded curves of each raised garden bed. It's like wandering through a wonderland that you can fill to the brim with all sorts of beautiful plants.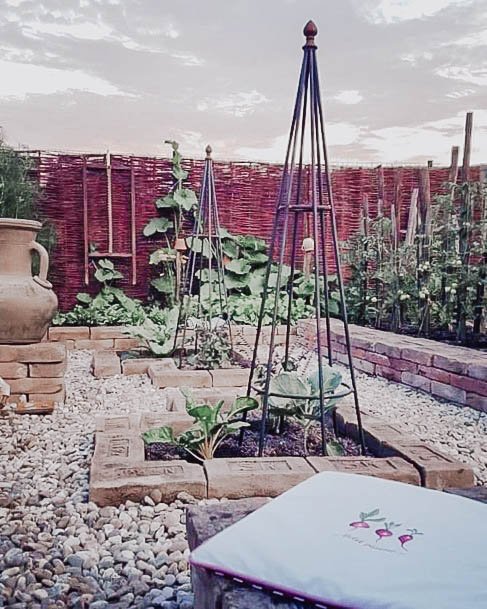 When most think of raised garden beds, it's not uncommon to think in terms of two to three feet in height. However, if you have good soil, then a simple brick border with a few inches of raised dirt can work just fine. Note the awesome small river rock walkway to keep the garden pathway neat and tidy.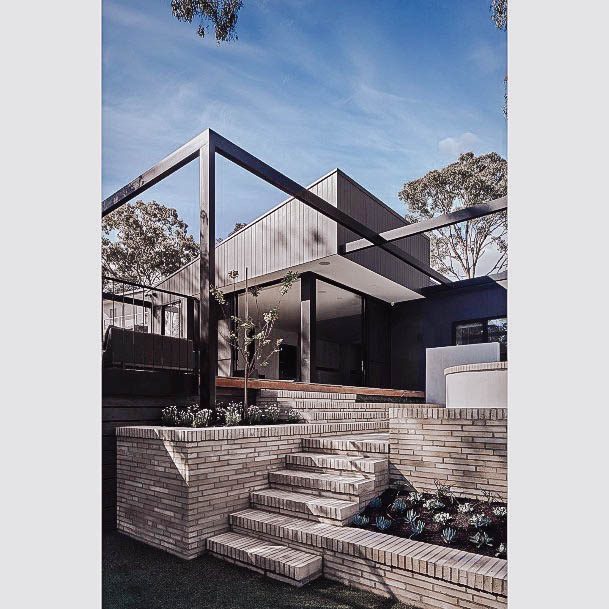 Just because you have a sloped lot, doesn't mean it's a problem lot. Don't even worry about trying to level out your yard; instead just go with the flow. Check out this wonderful brick staircase that incorporates multiple levels of raised garden beds. I'm a huge fan of this contemporary and modern design style.