Decorative concrete rocks and stones add a charming accent to your landscaping, which can help to boost the value of your property if you are planning to sell your home.
Also, stone raised garden beds are wonderful for your backyard because they bring an attractive contrast with the lush plants, shrubs, and blooming flowers in your garden.
Rock raised garden beds add texture and unique neutral colors into the design of the garden thereby creative an alluring background for displaying your colorful flowers and lush plants.
Stones that are perfect for building raised garden beds include faux rocks, slate, concrete garden edgings, and bricks. Stone raised beds are exceptionally durable and can survive in any climate without shifting, breaking, or deteriorating because stone does not rot. Whether you want a formal, country or modern garden style, stones provide you with a variety of options on how to design your garden.
Rock raised garden beds act as natural insulators to ensure that the temperature of the garden bed remains cool. The cool temperature prevents the moisture from evaporating at the same rate as the moisture from a traditional garden, thereby allowing your raised garden to retain more moisture. This means that you will not be required to keep watering the plants, thereby saving you more time.
Additionally, stone has better drainage properties compared to concrete, which means that the soil will not be saturated with moisture. Rock raised garden beds are perfect if you desire to grow plants with shallow root systems such as strawberries because the roots will not be too wet.
If you want to practice gardening while simultaneously adding ornamental features to your property, then stone raised garden bed ideas are perfect for you.
How to build a rock raised garden bed the right way:

Deign ideas to consider for your garden:

Creating a rock garden bed is an aesthetically pleasing way to bring a touch of nature into any outdoor space. Rock gardens can add texture and contrast to the landscape, and provide an opportunity to show off interesting rocks that you may have collected over time. They are also perfect for growing low-maintenance plants that thrive in well-drained soil.

Before you start building your rock garden bed, it's important to plan ahead and consider what kind of plants you would like to include in your design. Some popular choices include succulents, ornamental grasses, groundcovers, wildflowers, and small shrubs or trees. It's important to consider the size of the area where you plan on building your rock garden bed as this will determine how large or small the plants should be for them to look their best.

Once you've chosen which plants will go into your rock garden bed, it's time to start working on its design. Here are some ideas for creating an elegant rock garden:

1. Choose Rocks That Complement Each Other – When selecting rocks for your rock garden bed, choose ones with similar colors and textures so they look cohesive when arranged together. Think about how different sizes of rocks can create depth in the design (e.g., larger rocks at the back and smaller ones towards the front).

2. Create Different Levels – Using different levels within your rock garden will make it more visually interesting while also allowing you to use larger rocks at varying heights throughout the design (e.g., one level could feature larger boulders while another features smaller pebbles).

3. Incorporate Plants Into Your Design – Make sure that there is enough space between each plant so that each one has enough room for proper growth without competing with its neighbor for nutrients or light from the sun. You can either arrange them randomly or group certain types together depending on their needs (example: sunny versus shady spots).

4. Use Pathways To Connect The Areas – Pathways don't only need to be practical but they can also add aesthetic value by connecting different elements within your garden. Seating areas and other focal points like bird baths or water features all should be considered. My favorite addition to any garden is stepping stones made out of flat river stones. You can match the stone to the rock used in your raised garden beds for a seamless look. Best of all, these types of landscape styles mirror the cool modern/contemporary Zen gardens or Mediterranean-inspired designs and looks. The result is an outdoor oasis that's oh-so soothing and peaceful. Add some terracotta pots full of herbs and lavender bushes and you've built a paradise girl!

5. When it comes to choosing between dry-stack or cement bedding for holding the rocks in place, go with whatever is easiest for you. Historically, stacked rocks can stay in place for decades, but if you want a little extra holding power, then add some mortar between each stone. Remember that by filling those uneven gaps, you will ultimately retain more water, but reduce soil air flow.

Creating an elegant yet natural looking raised rock garden bed doesn't have take much effort if done correctly; just understand that planning ahead is key before getting started! With these ideas in mind coupled with careful consideration when selecting both materials and plants – you'll be able create something unique without breaking budget constraints too!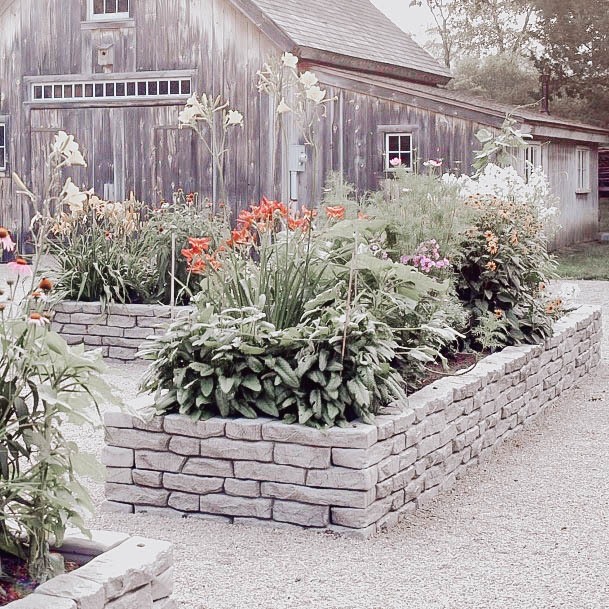 For a neat and clean look consider using natural stone from either your yard or from the local landscaping supply. Simple, easy and cost effective, this style of raised garden bed will last nearly forever. Consider grouting joints instead of dry stacking to hold in more water.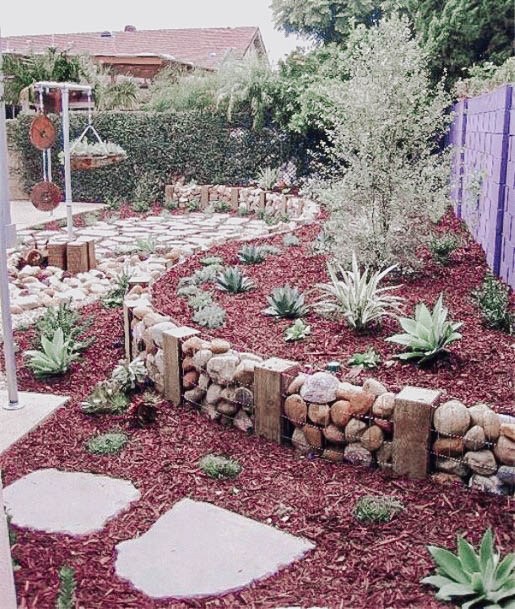 A unique take on the gabion retaining wall, this design uses two-foot high fencing wire and is attached to 6×6 wood posts every three feet. You can use staples to attach the wire to the wood blocks and fill with local rock from your lot or purchase river rock.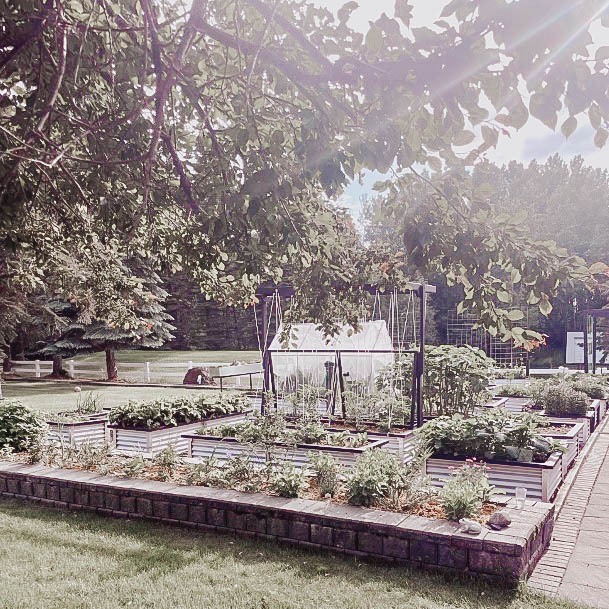 Personally, I love the look of mixed garden bed designs, such as steel and stone. This garden has taken advantage of both materials and used landscaping blocks for their planter construction.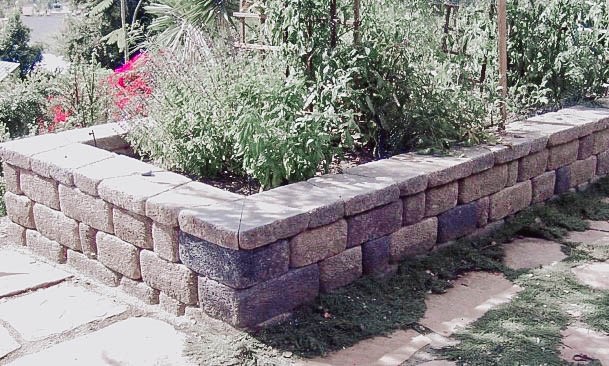 If woodworking isn't your thing, you can opt for standard sized pavers at virtually any Home Depot or Lowes. At a buck or less per piece, sometimes more depending on the style, they aren't terribly expensive. Best of all, they stack effortlessly. Consider using construction adhesive to hold the stone pavers together.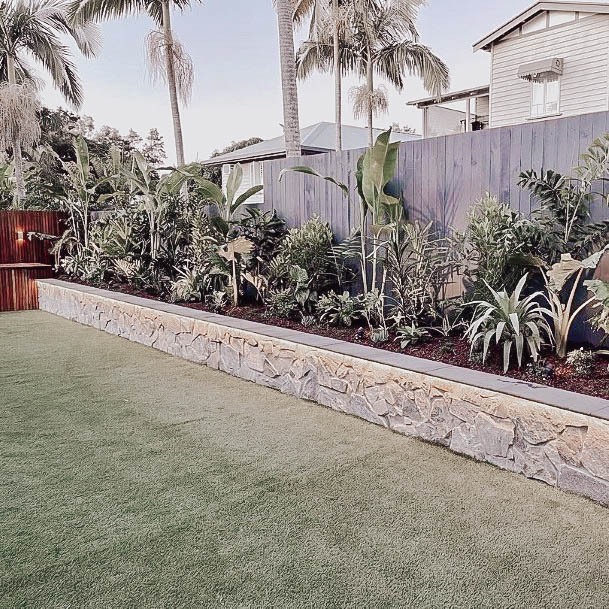 Nothing beats the look or longevity of natural rock. If you've got a lot of thin slab-like rock on your property you can always build the raised garden bed out of cinder blocks and cover the face with natural stone by sticking it on with mortar. I love the stone cap on this garden bed design and the fact that they've tucked a hidden LED light strip under the cap.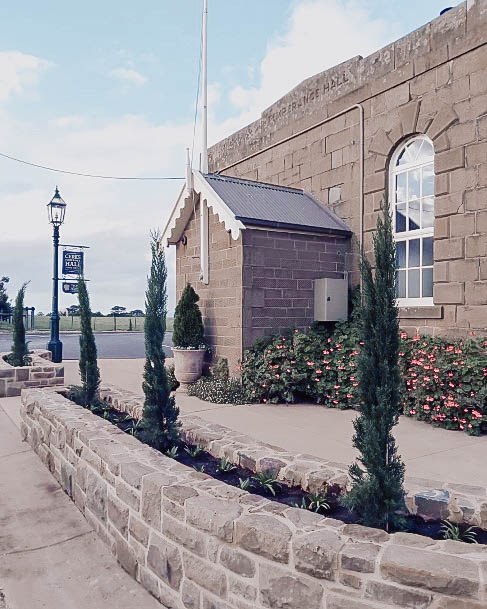 When it comes to classic cobblestone, the look is simply so enchanting. Grouted to retain water and for additional strength, this garden bed design combines the best of both worlds. I personally enjoy the contrasted look of the white natural stone against the dark brown soil.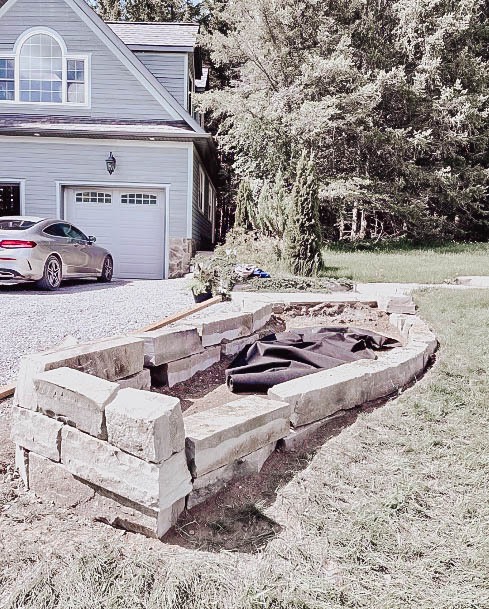 Limestone is another wonderful natural stone option for your backyard garden beds. While more expensive than other stones, including man-made, it offers far more curb appeal.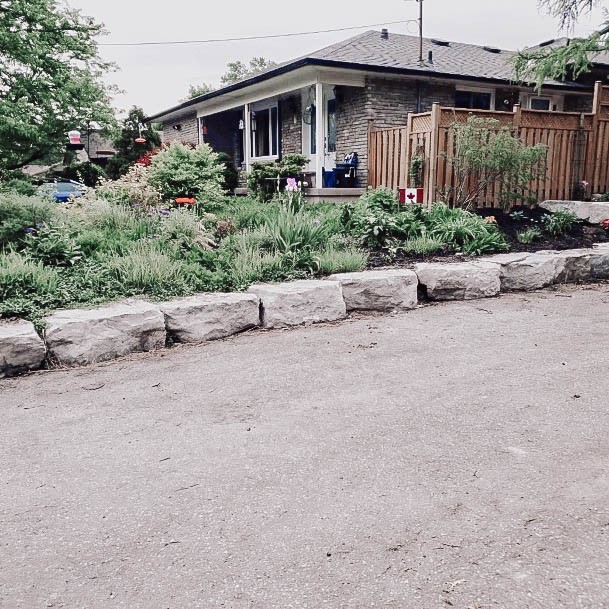 If you've got access to some heavy equipment such as a skid steer or mini excavator, you can always truck in boulder and set them in place with straps. If you've already got boulders on site, then you're all set! I love the fact that just a handful of these not so giant boulders can create a garden bed in under a day. The trickiest part is getting them to all line up like a puzzle.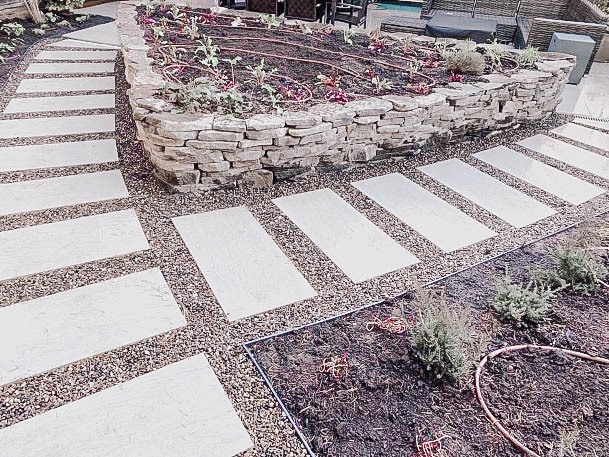 Round up the garden gloves and start collecting rocks from your own backyard. If their flat enough like the sandstone rock we have here, you can easily dry stack them without any expertise or additional construction material. This design works wonderful for those smaller sized rocks you can find just about anywhere.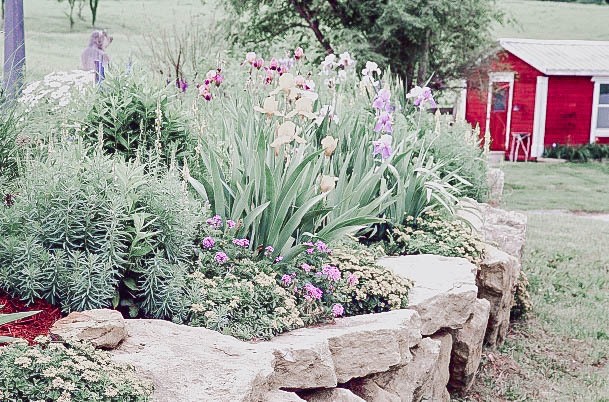 Have bigger rocks? No problem, just seek out bigger muscle to put these in place. Small than boulder stones can be great for double or even triple stacking to achieve a great raised garden bed height.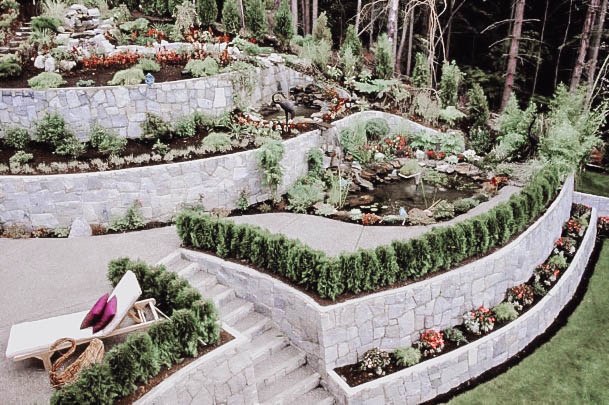 If money is no object, well then, the world is your oyster when it comes to luxury raised garden beds. This design features a beautiful, hill-side backyard covered in raised garden bed terraces. I love how they managed to not only incorporate a pond feature but also a sidewalk and stairs. While this borders more on landscaping, it's equally possible to take advantage of this backyard design for gardening purposes.