Decorative concrete rocks and stones add a charming accent to your landscaping, which can help to boost the value of your property if you are planning to sell your home.
Also, stone raised garden beds are wonderful for your backyard because they bring an attractive contrast with the lush plants, shrubs, and blooming flowers in your garden.
Rock raised garden beds add texture and unique neutral colors into the design of the garden thereby creative an alluring background for displaying your colorful flowers and lush plants.
Stones that are perfect for building raised garden beds include faux rocks, slate, concrete garden edgings, and bricks. Stone raised beds are exceptionally durable and can survive in any climate without shifting, breaking, or deteriorating because stone does not rot. Whether you want a formal, country or modern garden style, stones provide you with a variety of options on how to design your garden.
Rock raised garden beds act as natural insulators to ensure that the temperature of the garden bed remains cool. The cool temperature prevents the moisture from evaporating at the same rate as the moisture from a traditional garden, thereby allowing your raised garden to retain more moisture. This means that you will not be required to keep watering the plants, thereby saving you more time.
Additionally, stone has better drainage properties compared to concrete, which means that the soil will not be saturated with moisture. Rock raised garden beds are perfect if you desire to grow plants with shallow root systems such as strawberries because the roots will not be too wet.
If you want to practice gardening while simultaneously adding ornamental features to your property, then stone raised garden bed ideas are perfect for you.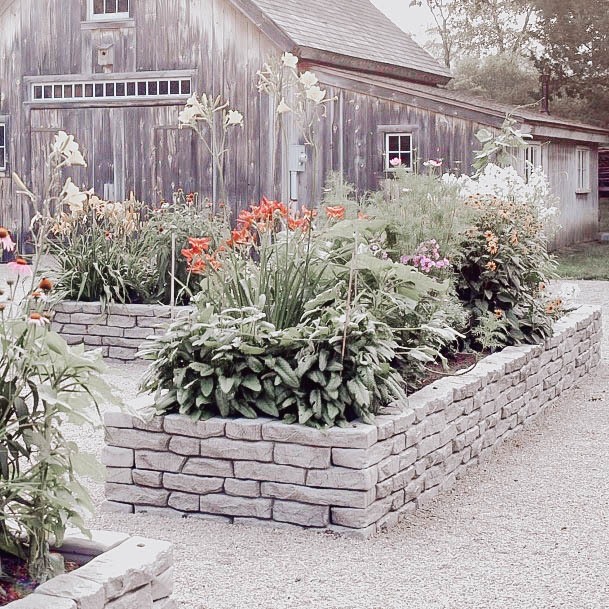 For a neat and clean look consider using natural stone from either your yard or from the local landscaping supply. Simple, easy and cost effective, this style of raised garden bed will last nearly forever. Consider grouting joints instead of dry stacking to hold in more water.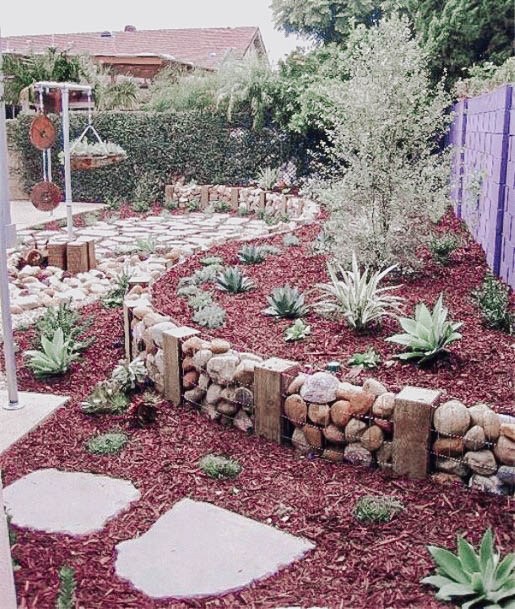 A unique take on the gabion retaining wall, this design uses two-foot high fencing wire and is attached to 6×6 wood posts every three feet. You can use staples to attach the wire to the wood blocks and fill with local rock from your lot or purchase river rock.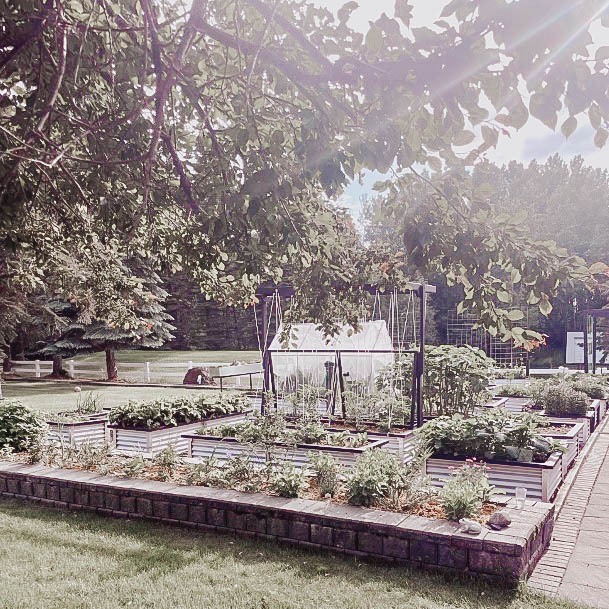 Personally, I love the look of mixed garden bed designs, such as steel and stone. This garden has taken advantage of both materials and used landscaping blocks for their planter construction.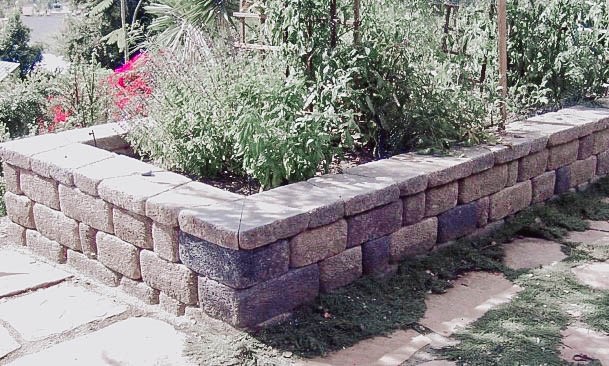 If woodworking isn't your thing, you can opt for standard sized pavers at virtually any Home Depot or Lowes. At a buck or less per piece, sometimes more depending on the style, they aren't terribly expensive. Best of all, they stack effortlessly. Consider using construction adhesive to hold the stone pavers together.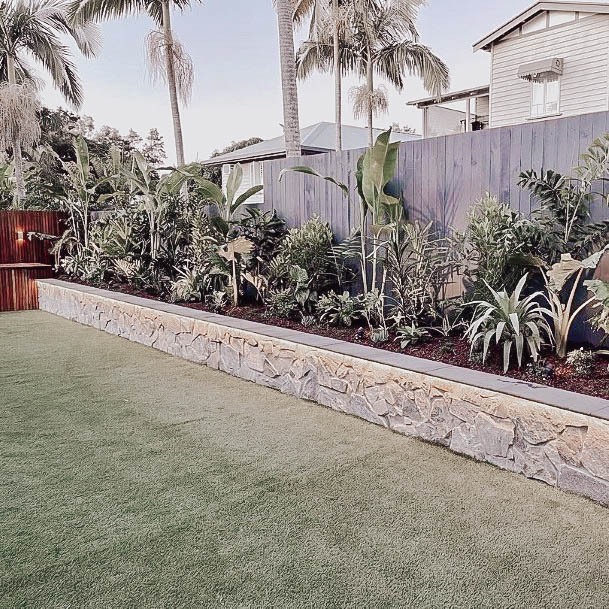 Nothing beats the look or longevity of natural rock. If you've got a lot of thin slab-like rock on your property you can always build the raised garden bed out of cinder blocks and cover the face with natural stone by sticking it on with mortar. I love the stone cap on this garden bed design and the fact that they've tucked a hidden LED light strip under the cap.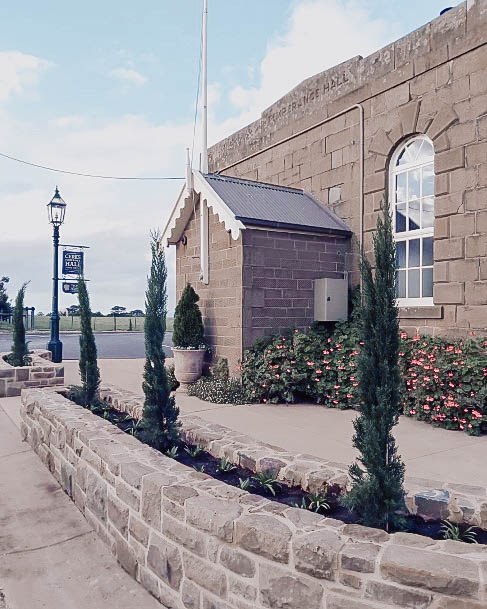 When it comes to classic cobblestone, the look is simply so enchanting. Grouted to retain water and for additional strength, this garden bed design combines the best of both worlds. I personally enjoy the contrasted look of the white natural stone against the dark brown soil.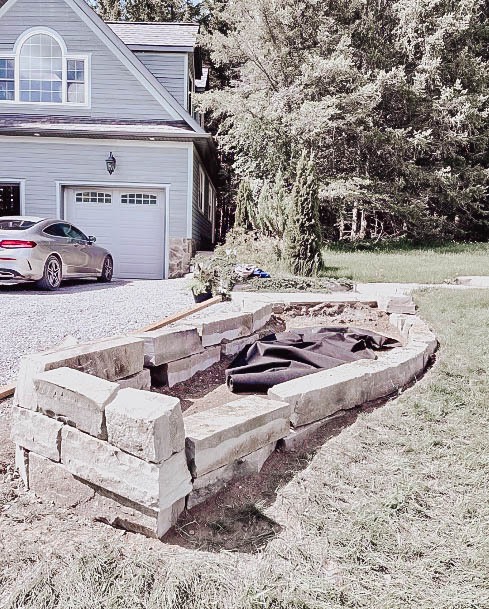 Limestone is another wonderful natural stone option for your backyard garden beds. While more expensive than other stones, including man-made, it offers far more curb appeal.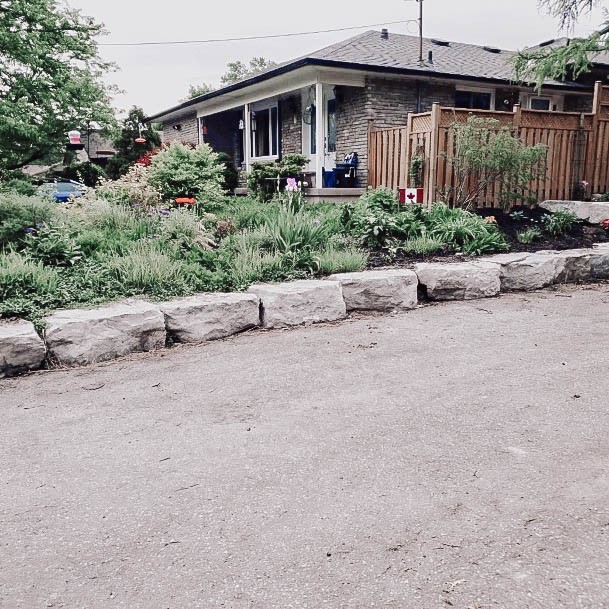 If you've got access to some heavy equipment such as a skid steer or mini excavator, you can always truck in boulder and set them in place with straps. If you've already got boulders on site, then you're all set! I love the fact that just a handful of these not so giant boulders can create a garden bed in under a day. The trickiest part is getting them to all line up like a puzzle.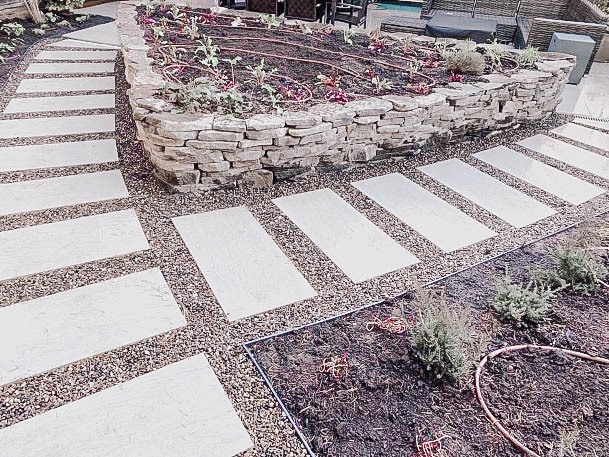 Round up the garden gloves and start collecting rocks from your own backyard. If their flat enough like the sandstone rock we have here, you can easily dry stack them without any expertise or additional construction material. This design works wonderful for those smaller sized rocks you can find just about anywhere.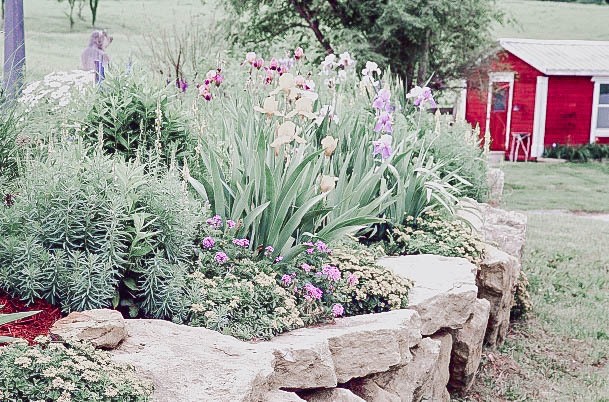 Have bigger rocks? No problem, just seek out bigger muscle to put these in place. Small than boulder stones can be great for double or even triple stacking to achieve a great raised garden bed height.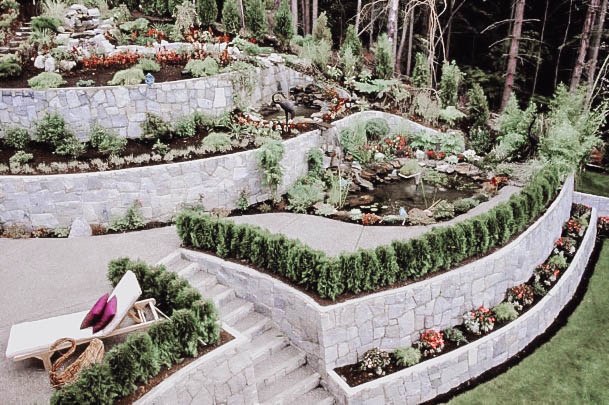 If money is no object, well then, the world is your oyster when it comes to luxury raised garden beds. This design features a beautiful, hill-side backyard covered in raised garden bed terraces. I love how they managed to not only incorporate a pond feature but also a sidewalk and stairs. While this borders more on landscaping, it's equally possible to take advantage of this backyard design for gardening purposes.