Black goes with everything, and the color looks stunning on its own or with any combination of sparkling additions or patterns. And black polish doesn't have to be overly dark or lack any fun personality.
If you've been on the fence about springing for a bold black manicure on your next trip to the nail salon, this is your sign to go for it.
Whether a black manicure is your go-to or you're just wanting to take a break from your usual colorful and extra fun nail styles, a set of elegant black nails could be just what you need right now. Black nails look super on any nail length or shape, which is one reason that a black manicure has been a nail style staple for years and years.
When it comes to black nails, your choices are innumerable. The possibility that the bold neutral color allows for makes it deceptively simple to come up with a breathtaking and different nail design. The most popular way to wear a black nail is simply that – no glitter or designs added to the look. And even the most devoted lovers of glitter can't deny the beauty of this manicure.
However, there is always room to improve. Another beautiful way to sport your black nails could be with some matte polish. A matte black set of nails is dark and mysteriously beautiful without the shine of the regular polish.
Some people choose to incorporate things like glitter, gold sheets, or small rhinestones into their black look.
Making any kind of addition like this truly adds to the natural beauty of black polish, whether you use a normal polish or shoot for the matte.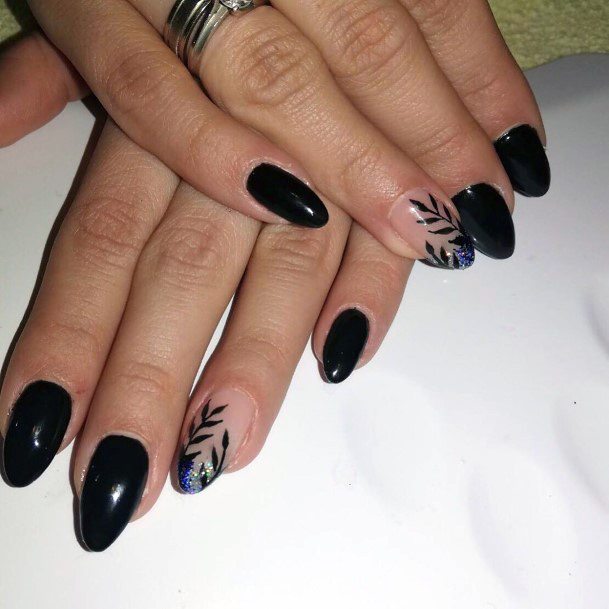 Sleek and sexy, these black nails are accentuated by a single nude nail on each hand. They aren't completely bare, however. They have a brocade-like laurel topped off with just a hint of electric blue glitter.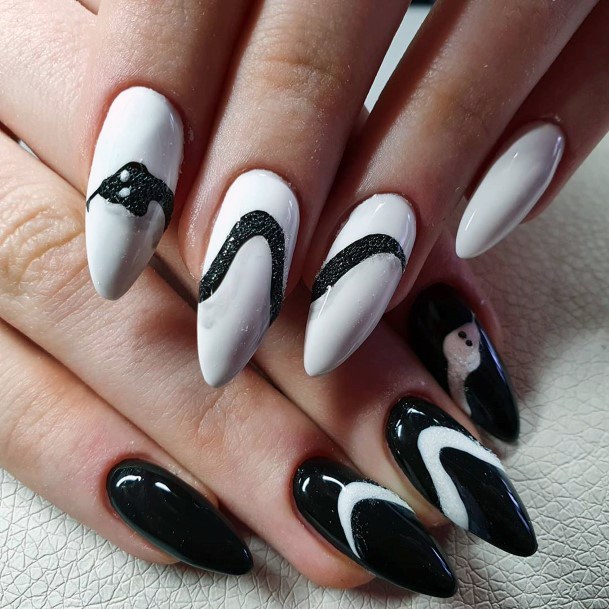 Let out your venomous side with this elongated snake design that takes over the middle three nails. Each hand has a contrasting black and white pattern for maximum impact.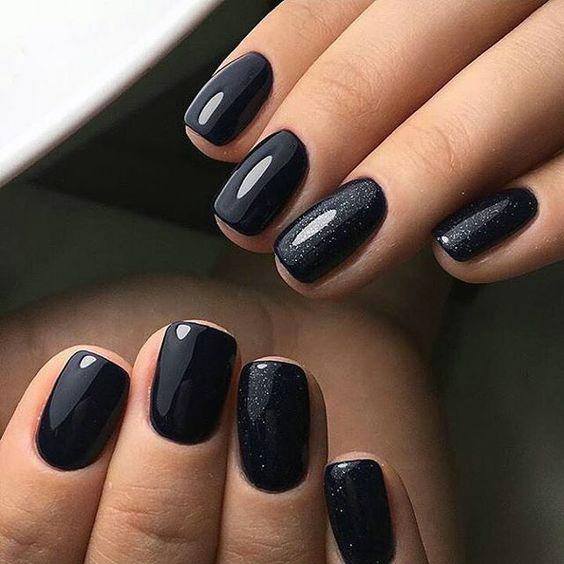 If you like glittery acrylics but need something more understated for work or school, these are the nails for you. They have a light shimmer on the inner nails contrasting with a plain matte black on the outer nails.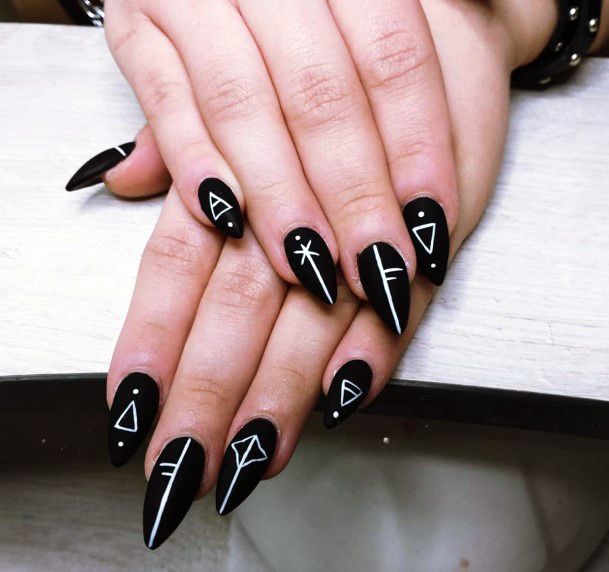 These black gels are decorated with finely-drawn symbols from another time. They'll give you a mystical look that also suggests power, glamor, and witchiness.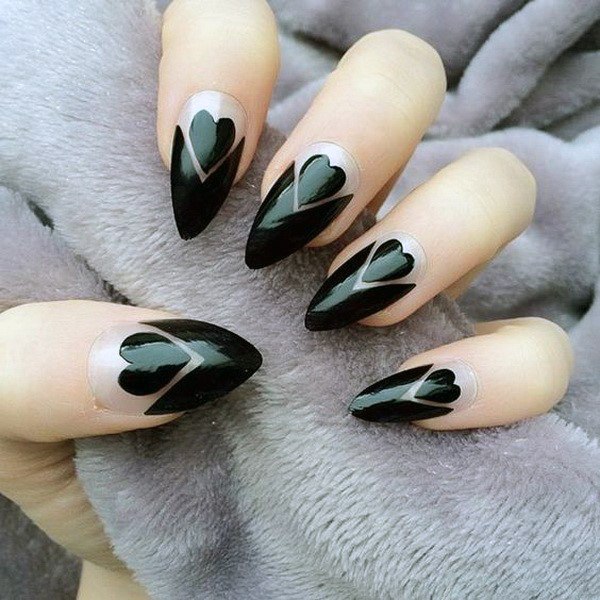 You've got mail! This letter of love looks like a heart popping out of an envelope. It'll be perfect for a dark or gothic Valentine's Day.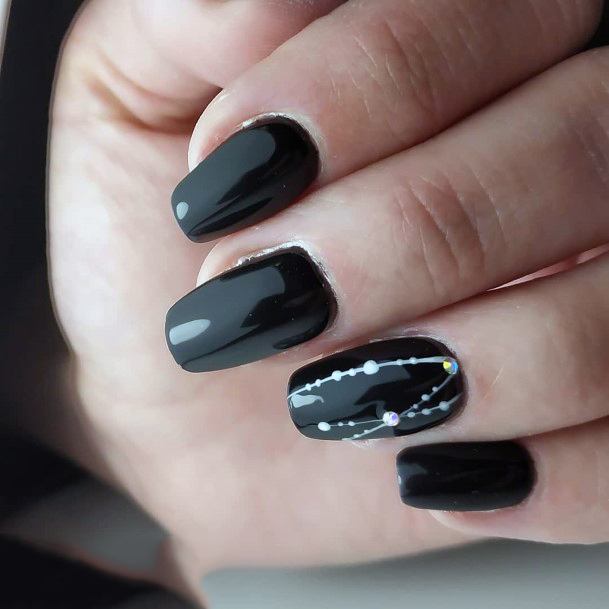 These plain black nails are decorated with a single beaded chain in white. A glimmering crystal set like a diamond can found near the cuticle. It'll be like wearing jewelry even when you're completely bare.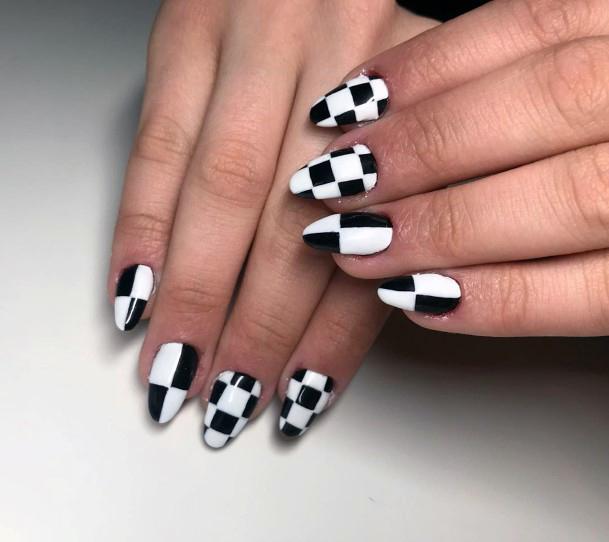 Chess doesn't have to be your game to rock a vintage look from The Queen's Gambit. These black and white squares are pure checkers!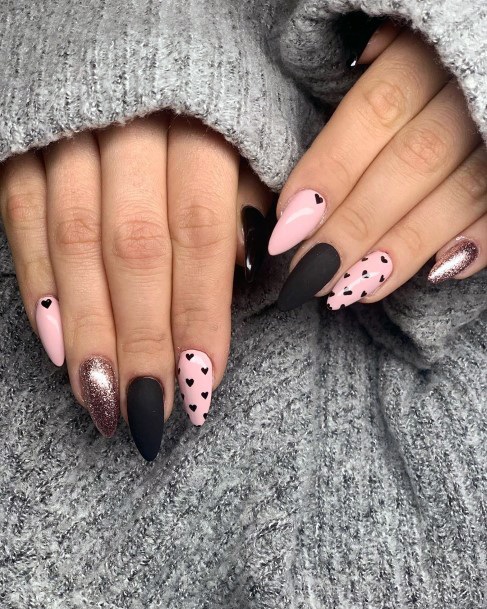 If you can't choose between one nail design, why not indulge in them all? These long, fine-tipped nails alternate between black, pink, pink glitter, and pink with tiny black hearts.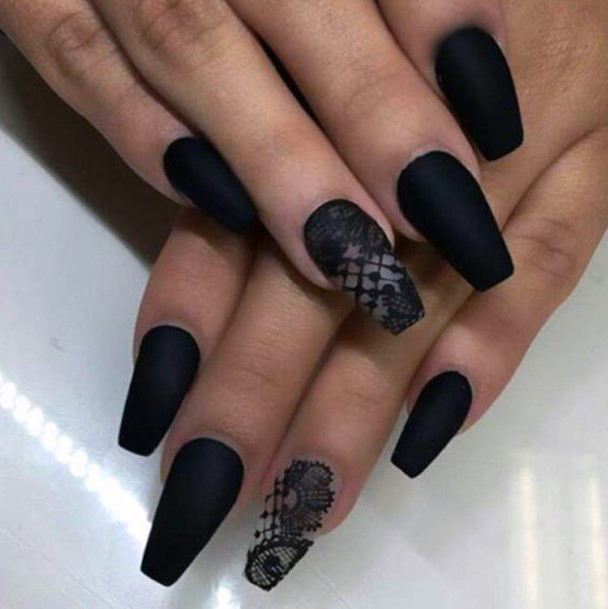 Darkly captivating, these coffin-shaped nails take gothic to the next level with a shroud-like design on the ring finger. Their lacy details will be perfect for burying the competition alive.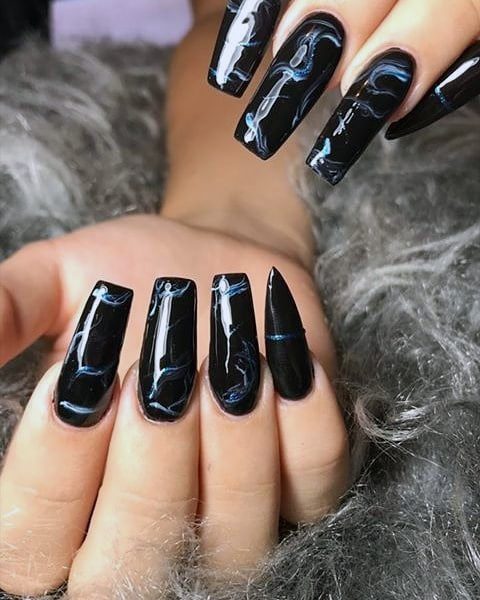 These mesmerizing nails have marble swirls on every finger, bringing out the depth of the black and highlighting the cool, smoke-like grays and blues. They're fancy nails for fancy occasions.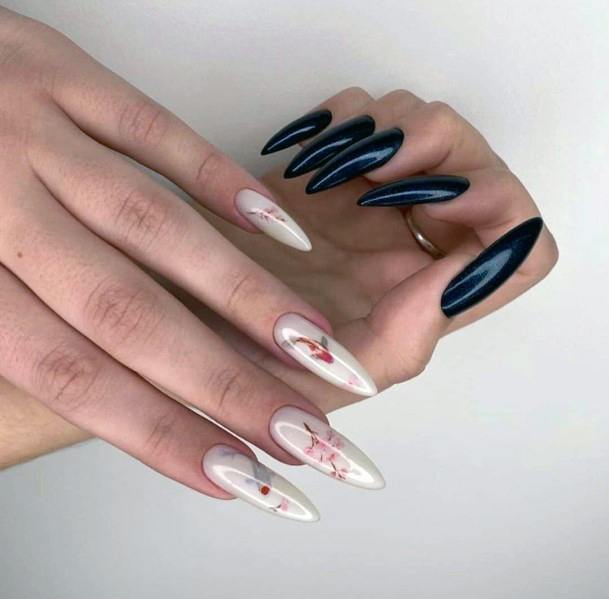 Who says that your hands have to match? One plain black, one white with pink flowers, these stiletto nails will be killer for women from all walks of life.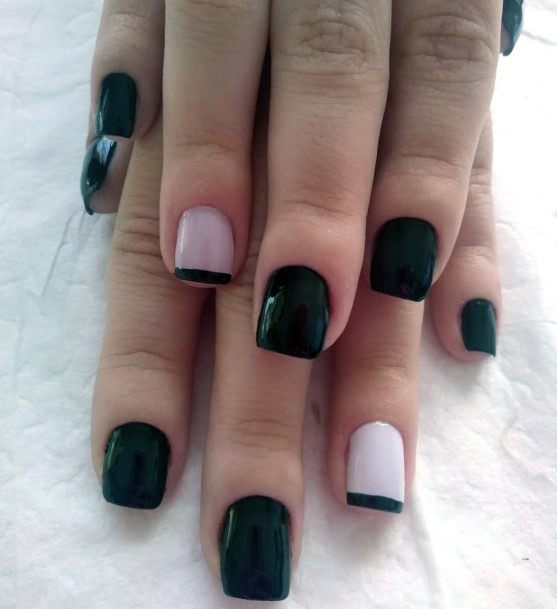 Nothing brings attention to black nails like a strategically placed white one, especially when the white is topped with black, too. The square shape only adds to its stylish design.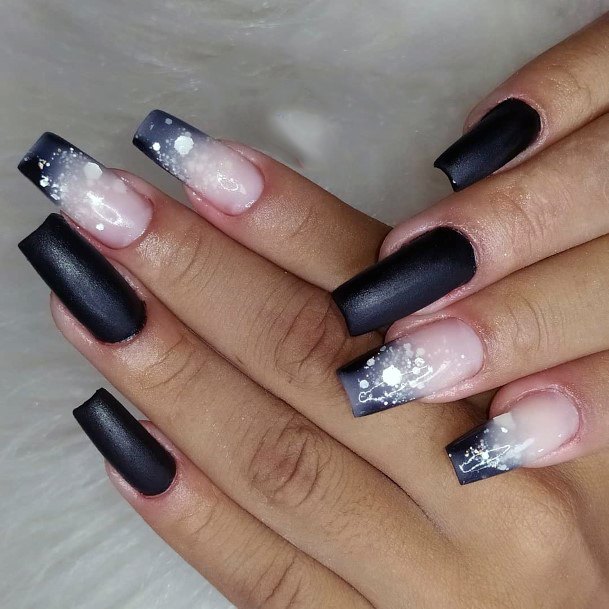 Ombre nails can be quite vivid and eye-catching, especially when they start with a deep black and fade into a light cream. Throw in some abstract art, and you have yourself a one-of-a-kind manicure.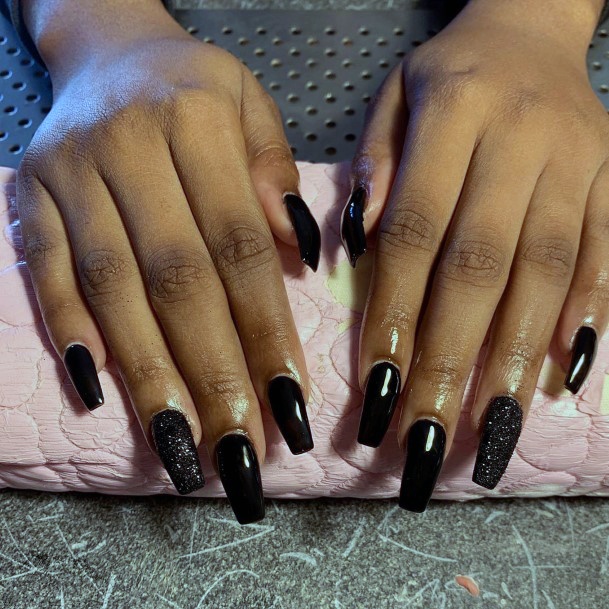 These ballerina-style nails can be dressed up or down depending on the occasion. For formal events, leave them alone with their single shimmering finger. For a girl's night out, apply nail art!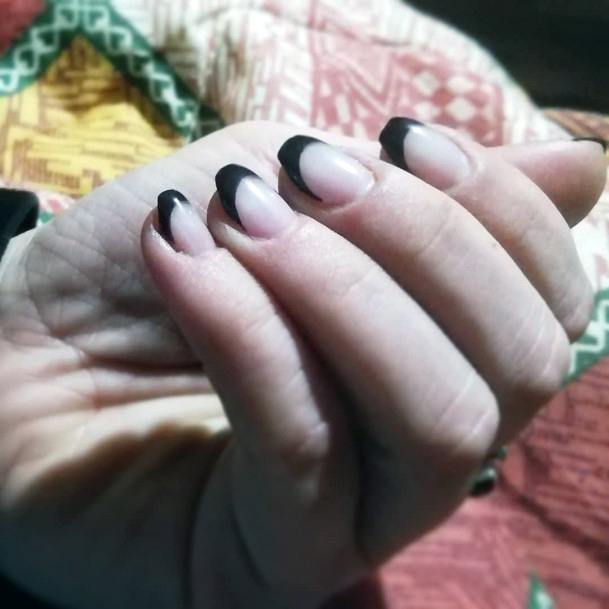 Nude except for a curving half-moon of obsidian at every tip, these nails will make you as mysterious as the night sky. They'll be easy to touch up, too, since the design is so simple.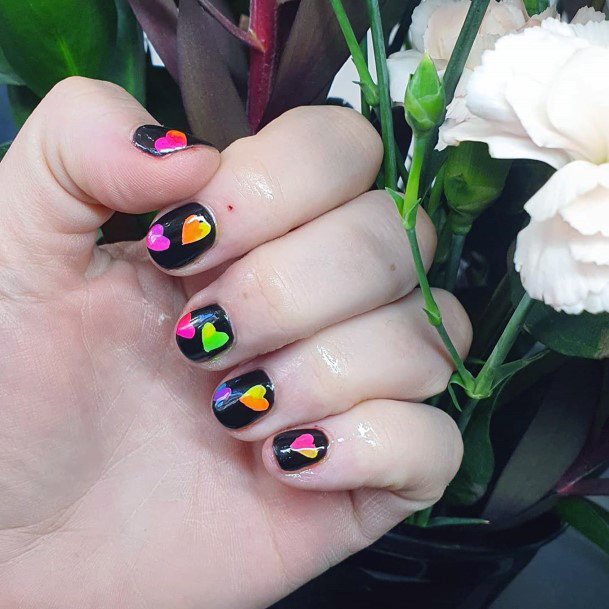 Who says that black nails can't be colorful? Though their background is as dark as night, they're decorated with rainbow hearts in every shade.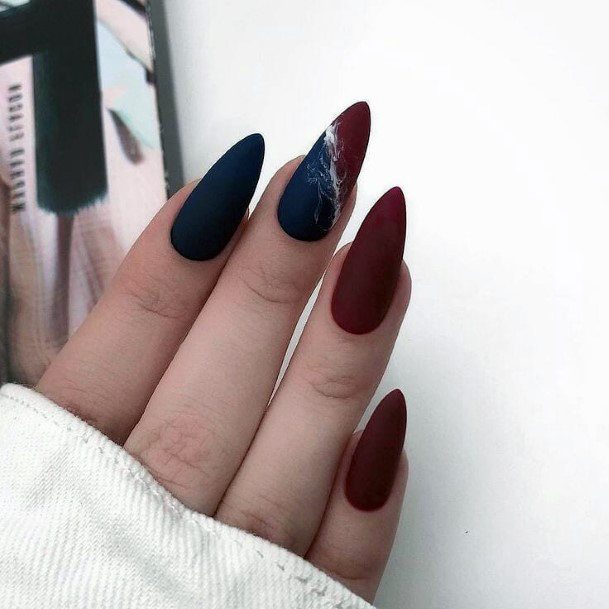 Almond nails are very trendy right now, and their length gives you lots of room to play. Take these blue and maroon nails, for example, with a galaxy-like burst of white separating them.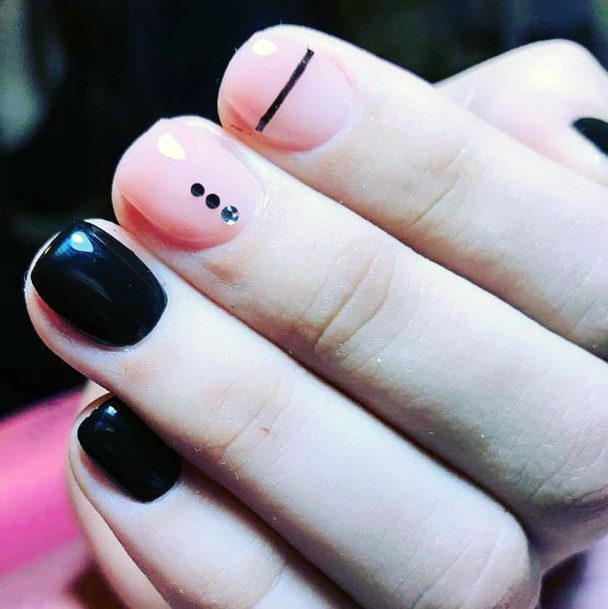 Inlaid with tiny gemstones, these nails will make you feel like a million bucks. Their black and nude pattern is just as unique as you are.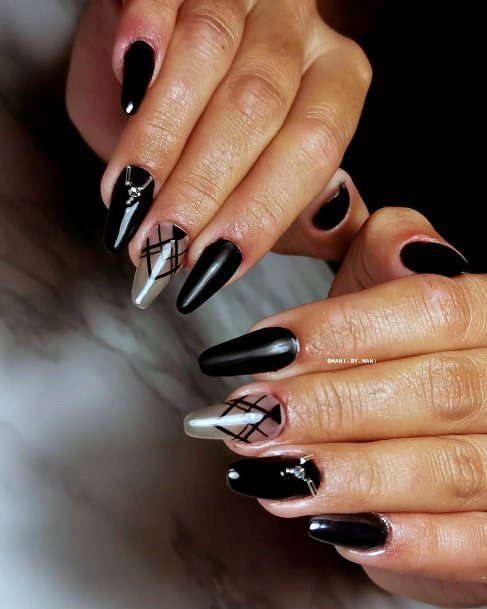 The crisscrossing lines of these nails can bring to mind everything from garden latticework to stained glass windows. Either way, however, they'll be gorgeous for date night.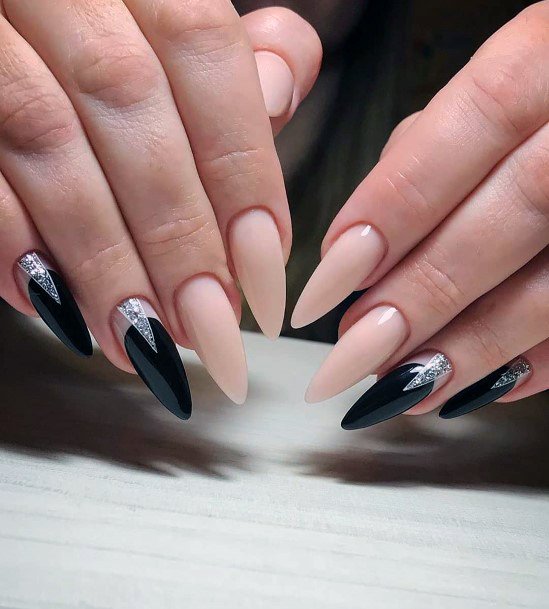 Sweetly pink in the center, these nails take a dark, bold turn with black at their outer edges and silver triangles adorning the pinky. It's the perfect aesthetic for the sharp and dangerous stiletto shape.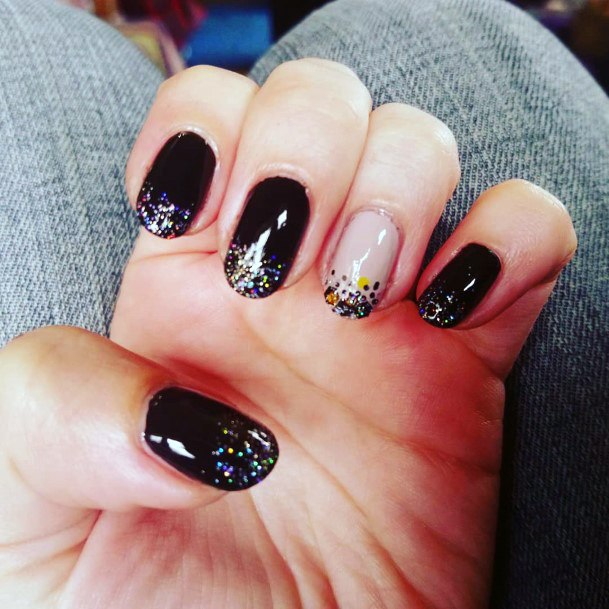 To add a little color to black nails, apply rainbow glitter to the tips. They'll look like fireworks going off on each finger!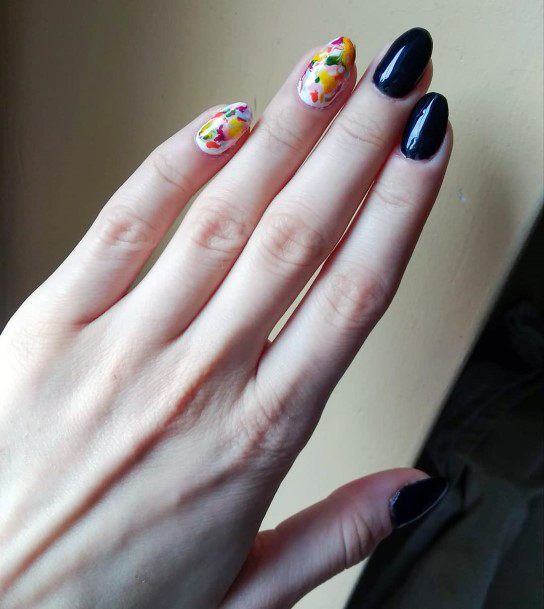 Confetti. Birthday cake. Fingerprint. These are just a few of the things that'll come to mind when people see your alternating nails in basic black and color-splattered white.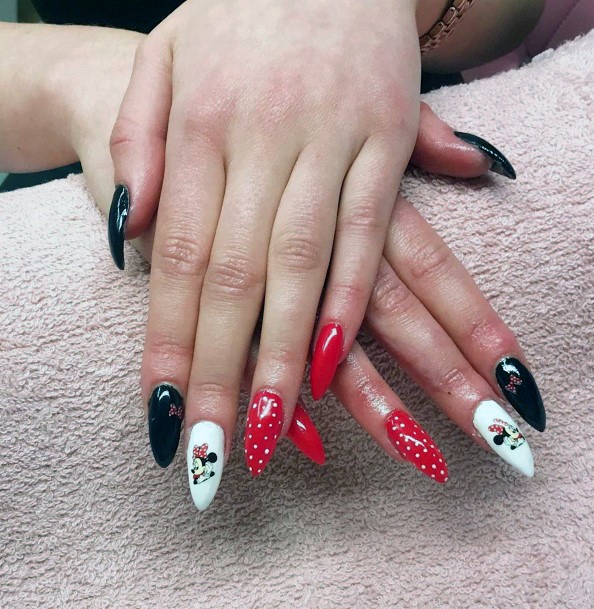 Disney fans, these nails are for you. They combine black, white, and red in both plain and polka dot patterns, and Minnie Mouse stickers can be found on each middle finger. Retro never looked so cute and feminine!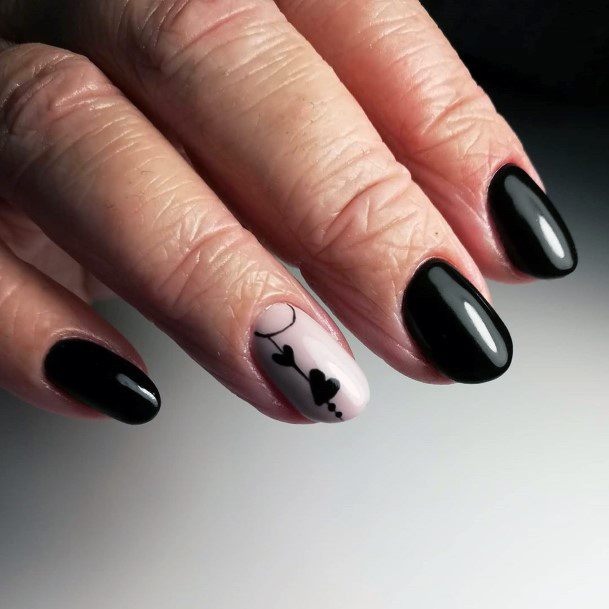 These cute oval nails are decorated with trailing hearts on a string. Perhaps it's the string of fate between you and a special someone?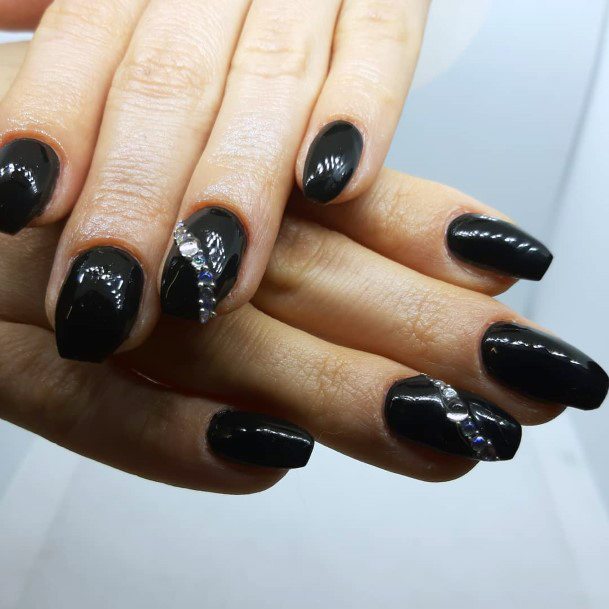 Let 'em know that you're a lady with expensive taste when you strut into the room with these nails. Their glossy black shine is second only to the band of rhinestones in the ring finger.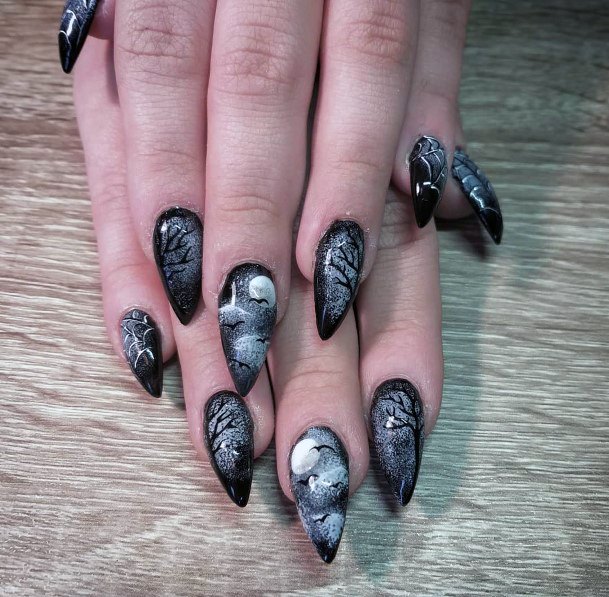 Combine the best of "eerie" and "ebony" with these spooky Halloween nails. Each one is a piece of art in its own right, detailing portraits of spiderwebs, dark woods, and bats flying against the moon.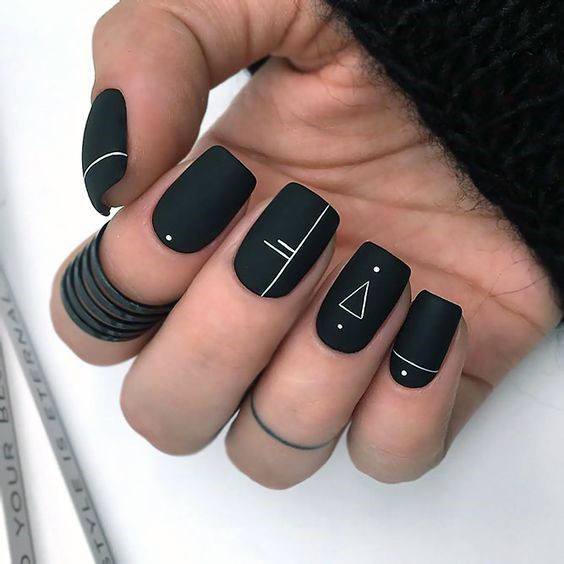 Channel your inner Cleopatra with these Egyptian-style nails. Their matte black surfaces are sparsely but richly painted with what looks like hieroglyphics.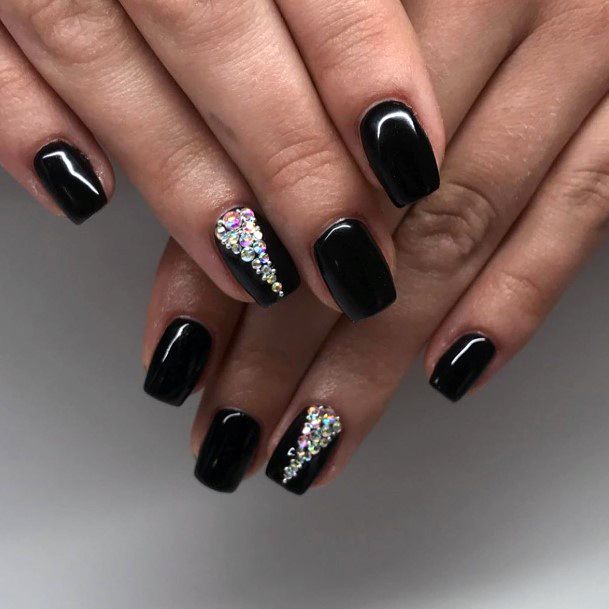 Walking the line between fashionable and functional, these nails are simple enough for the office but with just enough sparkle to showcase your personality. No one will be able to deny your style when they see the crystal triangles.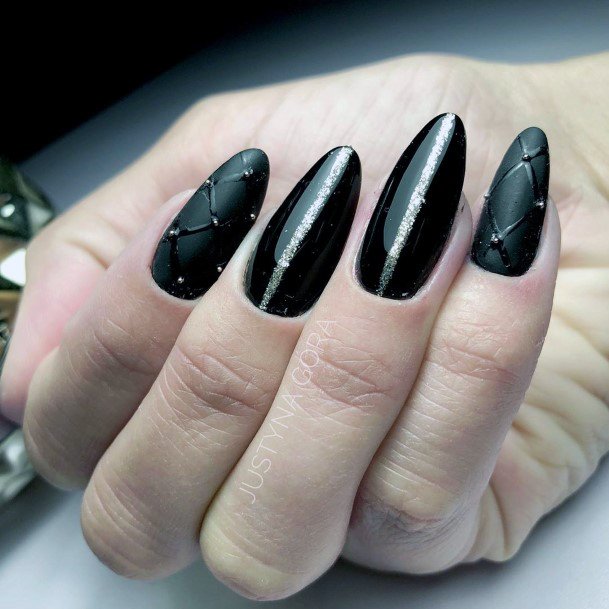 Have you ever wondered what "futuristic apocalypse chic" looks like? Behold these nails with their chain link patterns and straight, shimmering lines.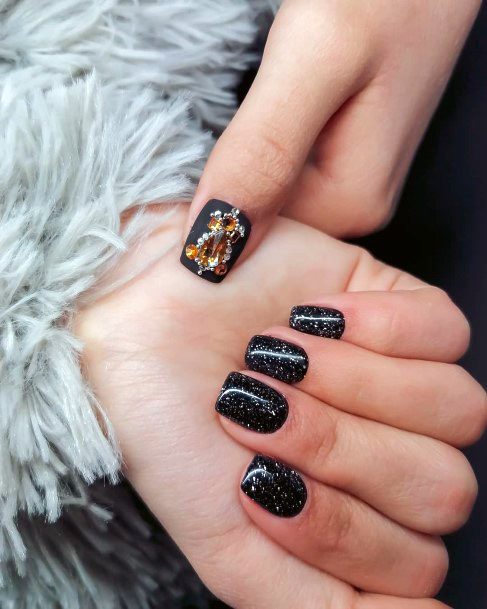 Fit for an empress, these nails are mostly plain and black, but they go fully regal on the thumbs. A fire opal sits amidst crystals that are just as showstopping as any piece of jewelry.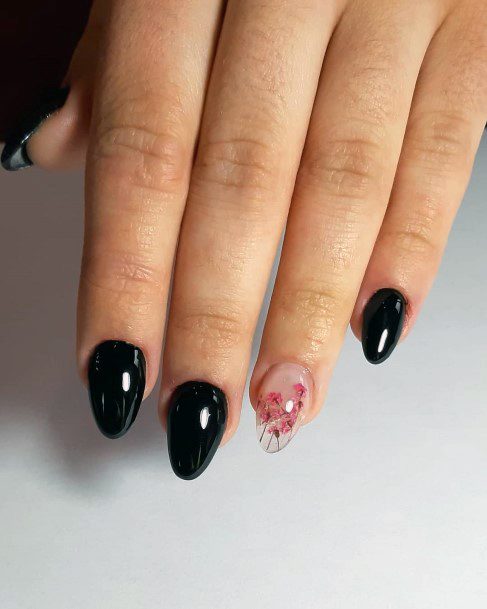 Another great example of using contrast to highlight your nail color, these black nails have a single pink nail on each hand. The pink is further adorned with light and girlish cherry blossoms.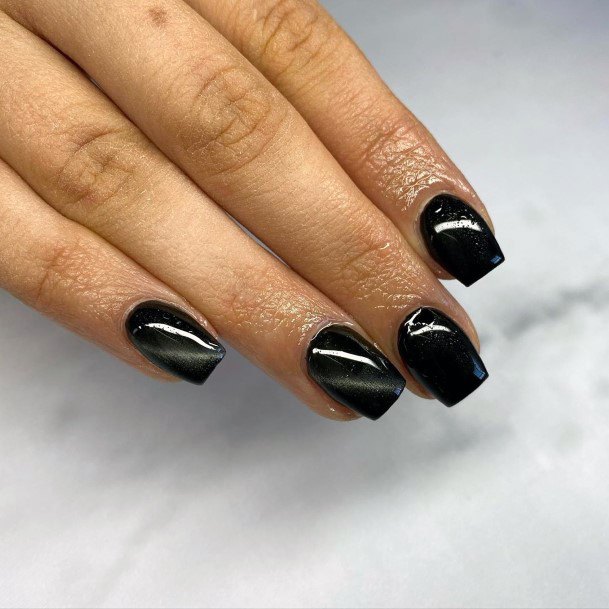 Square nails can be a bold choice, especially when they're black. Add a little sheen to really show the world that you're a BAMF.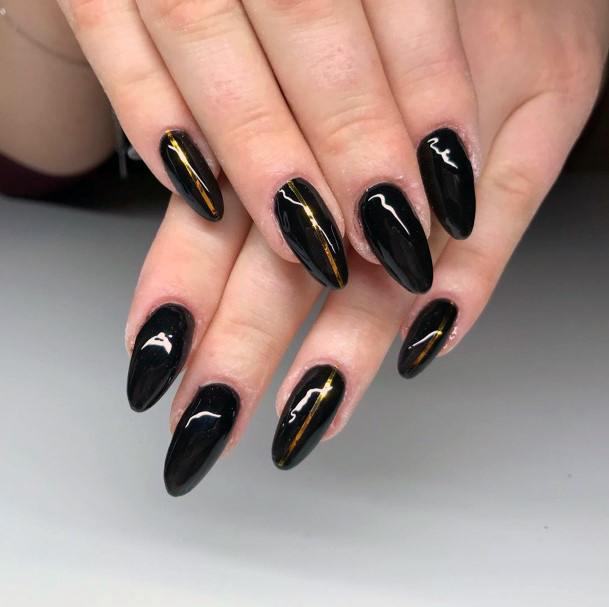 Long and luscious, these almond nails have a very classy air to them. They're also decorated with thin strips of fiery orange, which can bring to mind everything from tigers to mounds of gold buried underneath a mountain.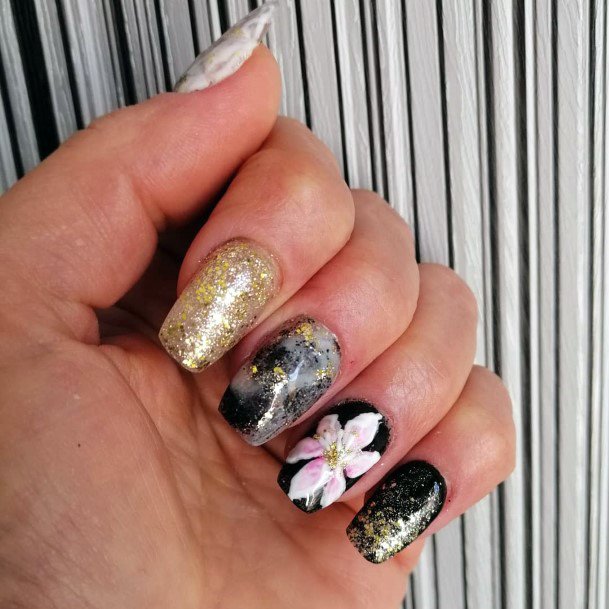 Say it with a lily when you get this beautifully floral manicure. The outer fingers frame a flower in full bloom. Consider it an affirmation for your own life!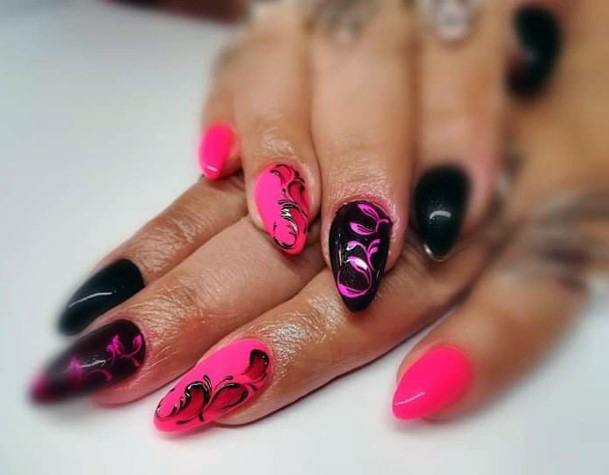 Pop some bubblegum with these ultra-pink nails offset by a black foundation. You'll be ready to join the girl gang from Grease at any time.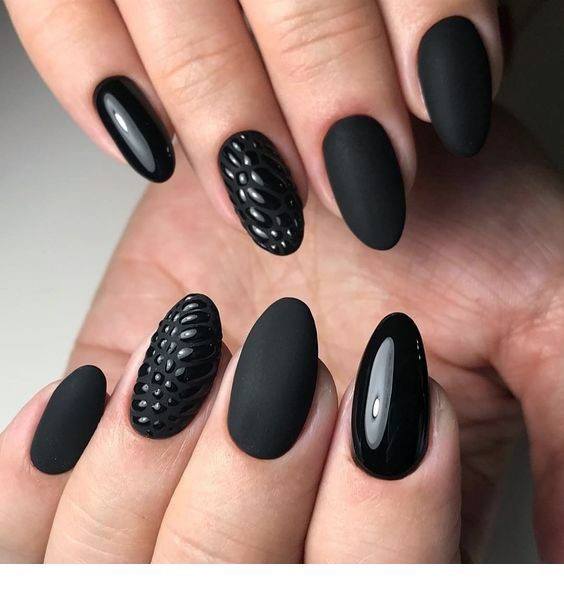 These nails are almost completely black, but they use textured elements to bring them to life. One nail looks vaguely reptilian. Another has what looks like a star being born in the inky black cosmos.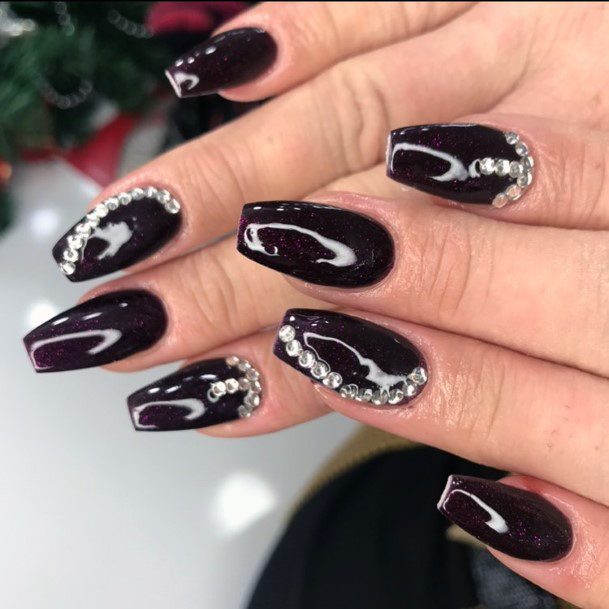 Shine bright like a diamond when you get these star-studded nails. Not only do they catch the light with a glitter layer, but they also sparkle with careful curves of gemstones.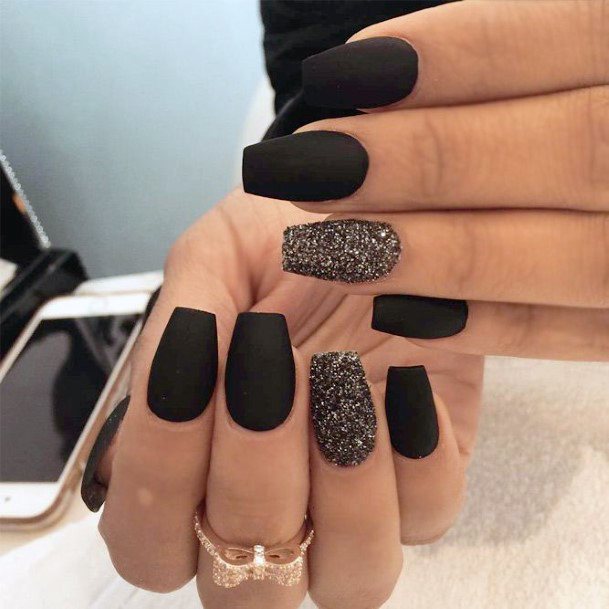 Black sand is streaked with gold in these amazingly textured nails. You'll look and feel expensive with a lustrous manicure like this one.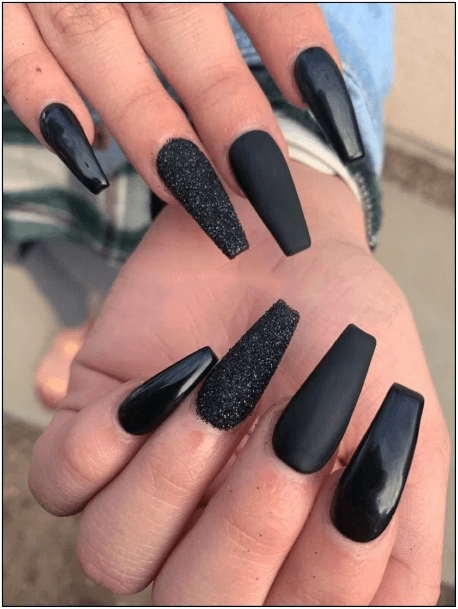 Similar to the above but in jet black, these nails are a perfect example of how you can play around with texture. Don't limit yourself to just color and shape. Involve all of your senses when you're dreaming up nail design ideas.
Get some of that girlboss energy with sophisticated nails. The black says that you aren't here to play, and the small, subtle crystals say that you're upscale but classy about it.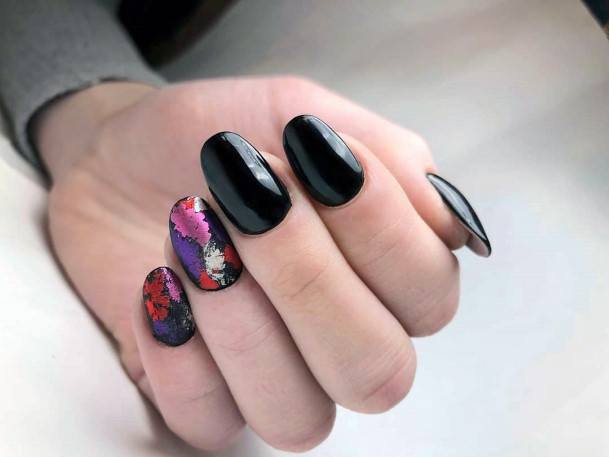 Foil can be a great way to get artistic nails even when you don't have a lot of time for a manicure. Just choose nice purple colors like these ones, and you're good to go!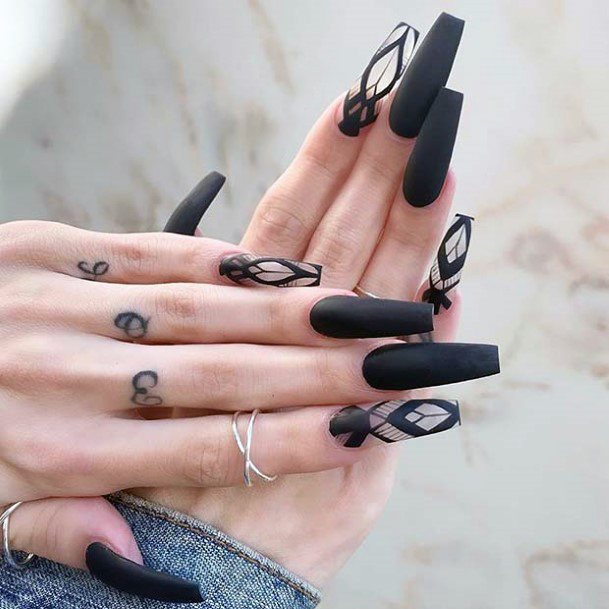 Claws like these will show that you mean business. They're still fashionable thanks to their geometric patterns, but they'll definitely mark you as a woman not to be messed with.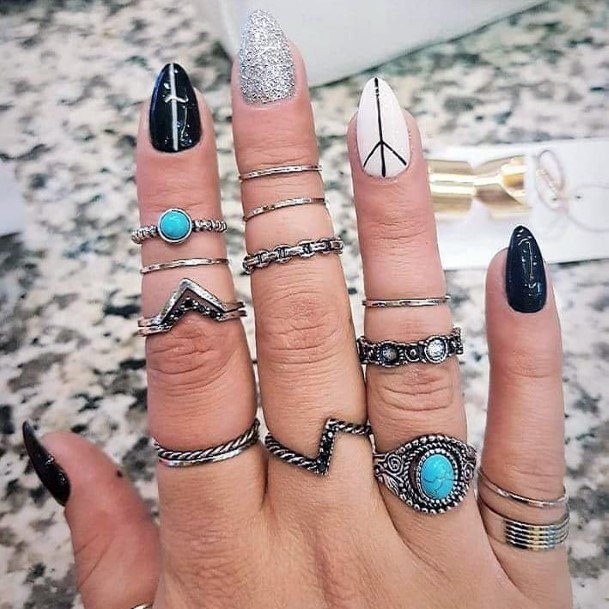 Give peace a chance with these artful, boho-style nails. The alternating colors and patterns will give you a truly free-spirited look.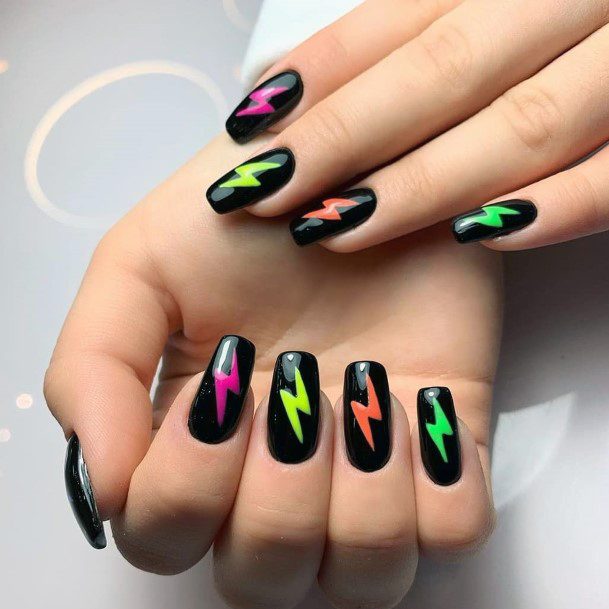 Bright and bold, these lightning bolt nails use neon colors to stand out against a black base. You can bring to mind an '80s roller derby with their nostalgic but stylish design.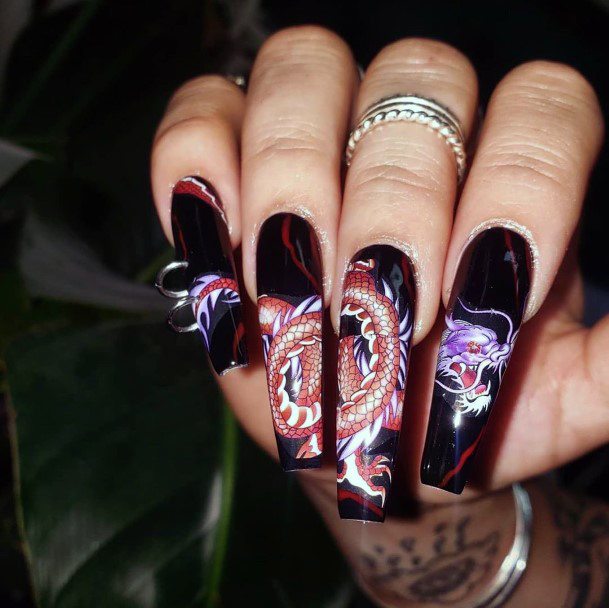 Utterly epic, these nails depict a dragon unfurling his body and roaring into the night. The artwork is so rich and finely detailed that it requires super long nails to handle the entirety of the mural.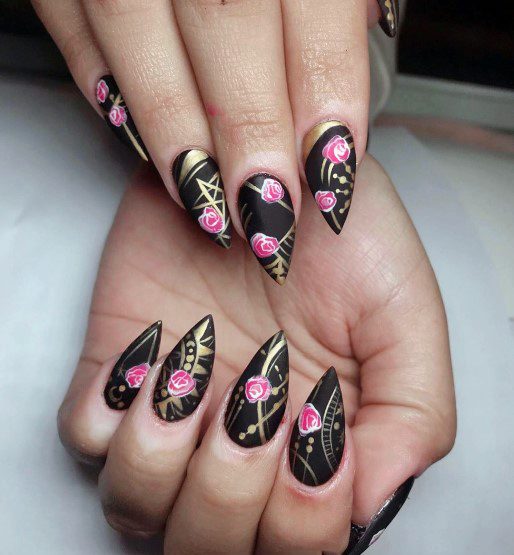 It's fitting that these nails end in sharp points since they're decorated with pink roses against a black and gold base. You mess with the rose, you get the thorns.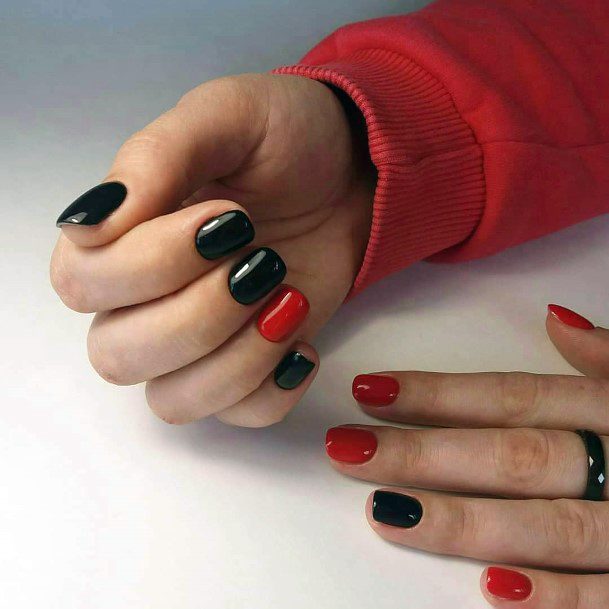 Asymmetrical nails can add a splash of personality to an otherwise ordinary look. Just look at how these black and red nails play around with your visual perception like an optical illusion!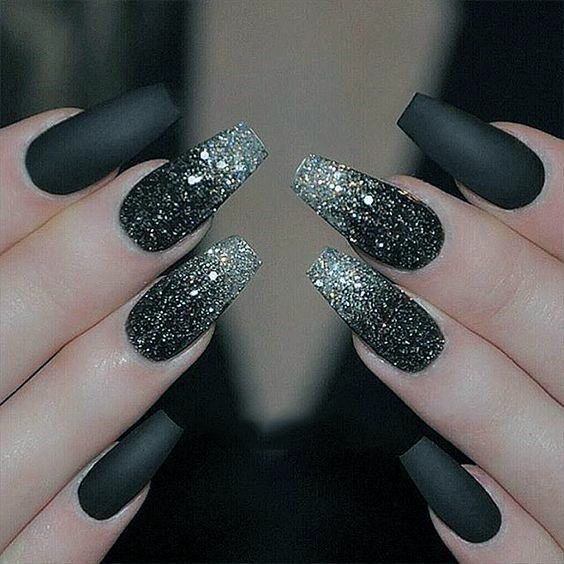 Star light, star bright… These nails will make you feel like you're wearing a constellation on your body. They'll be great as a confidence booster. Always remember that you're made of stardust.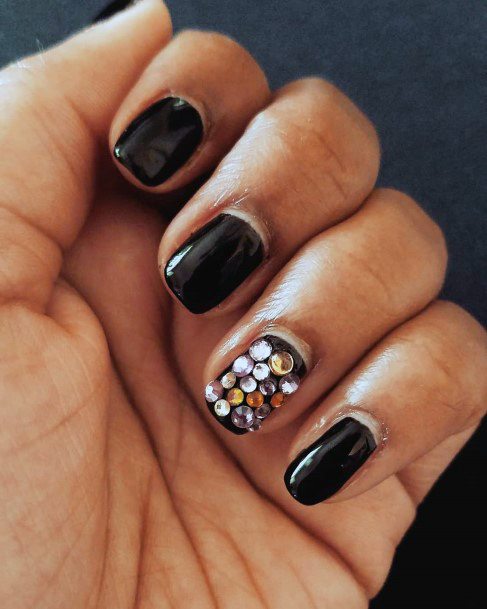 Onyx is the perfect foundation for colorful rhinestones. You don't have to put them all on one finger, of course, but it can be a cool look when you do.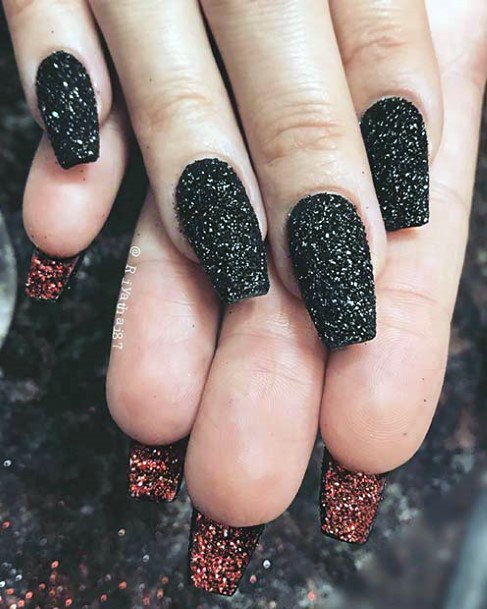 These wow-worthy nails pull double duty on the sparkles. The front side has silver glitter while the back side has crimson!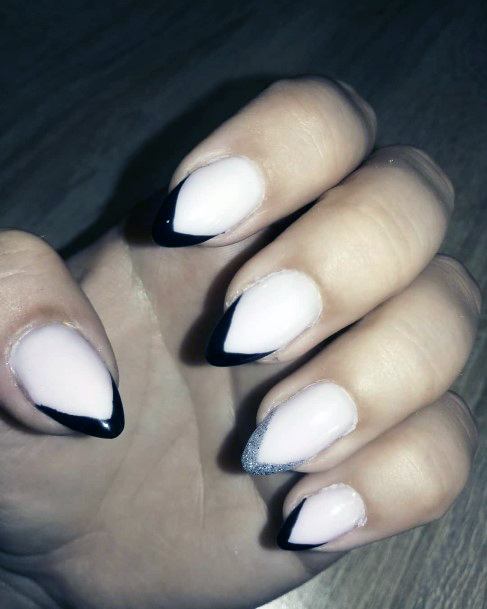 Make your enemies nervous with these sharp-tipped nails. Not only are they deadly, but their black color is used to draw attention to their points, so your prey can't say that they weren't warned.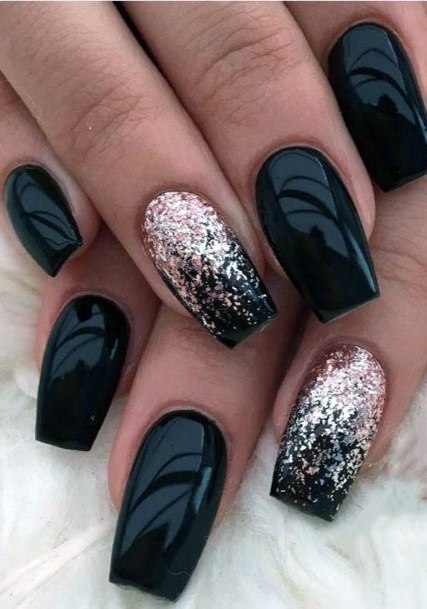 The only thing better than an ombre style is an ombre style with bonus glitter. Enjoy the best of both worlds with these black nails transitioning into a shining silver!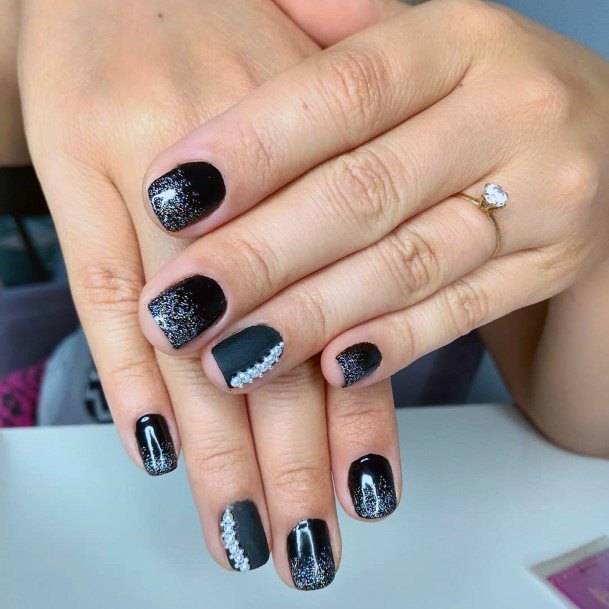 If you can't choose between beads and glitter, just use them both. This nail design will give you an excuse to practice with the glue bottle.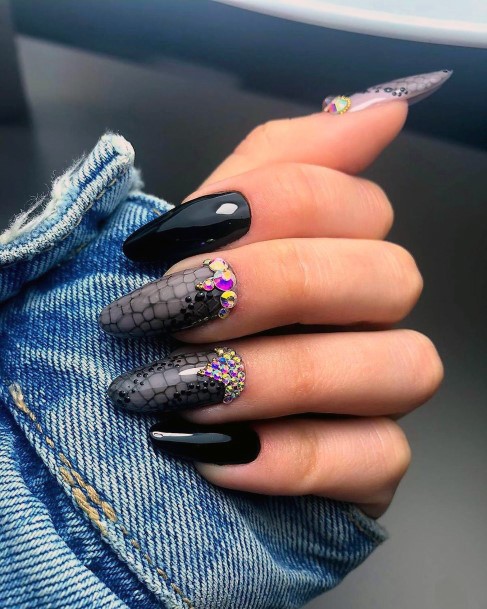 Unleash your inner Slytherin with these snakelike nails. They resemble scales, but they also have a fun burst of color and texture with press-on gems, so you'll be a serpent who knows how to party.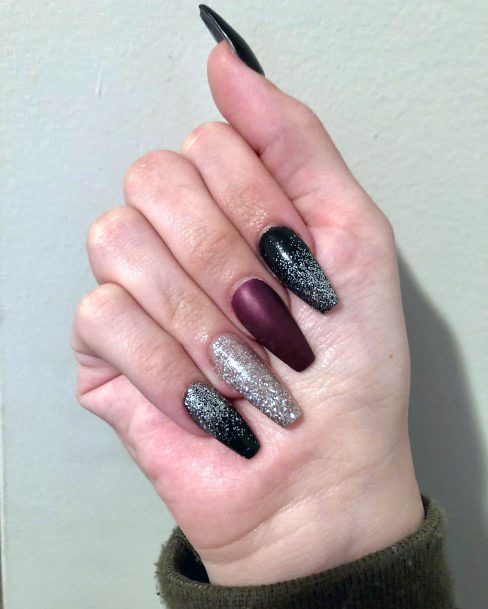 Ballerina nails are already glamorous, but when you add a sheen, they reach the edge of the atmosphere in terms of style. Feel free to experiment with colors like this manicurist did, too.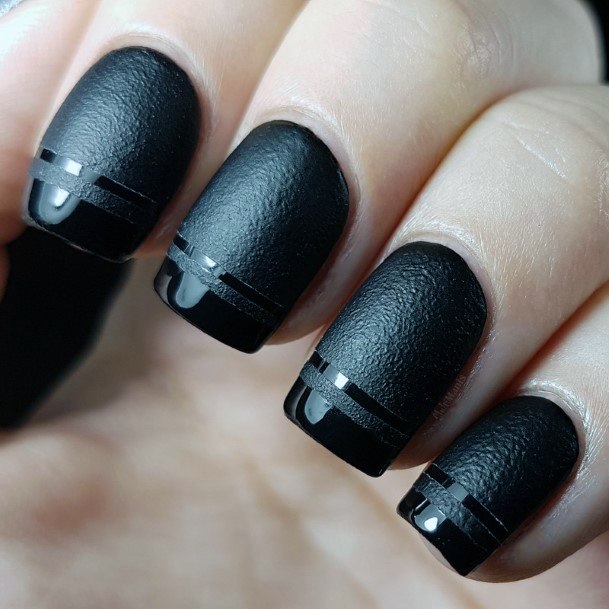 These short, square nails have the color and texture of charcoal. They'll be ideal for girls who work with their hands a lot. You don't have to sacrifice style just because you have a job!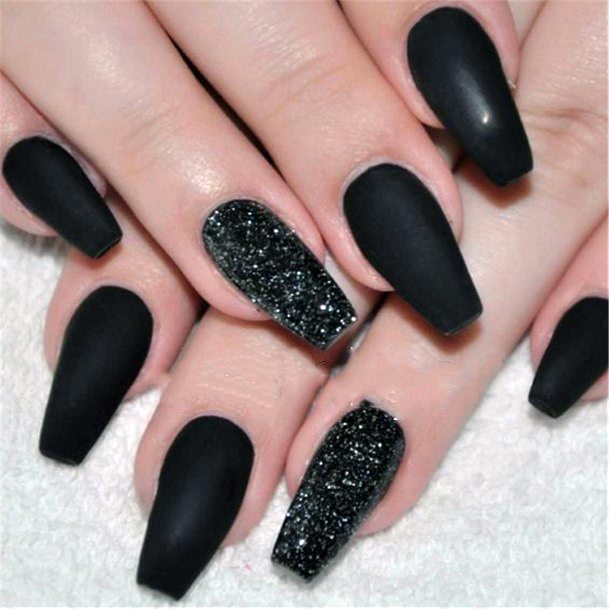 Matte or shine? How about both? These black nails won't make you choose, and they'll look great with all sorts of outfits.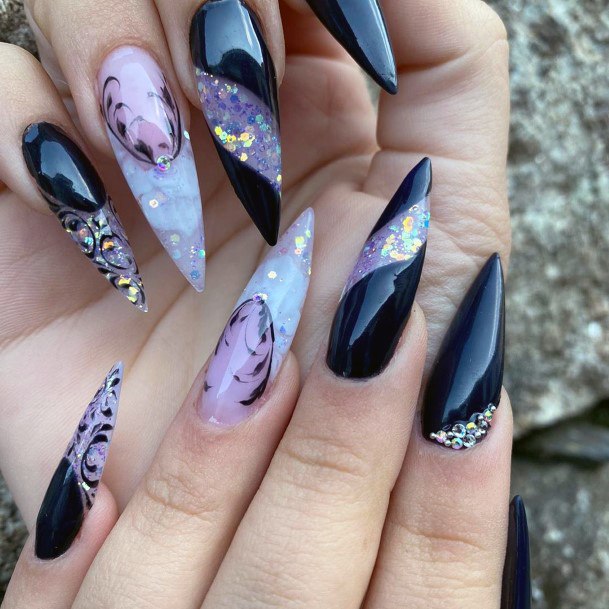 These mesmerizing nails are proof that nail art can be real art. They boast such an amazing balance of color, light, and texture that they could be an art print on your wall rather than polish and appliques on your nails.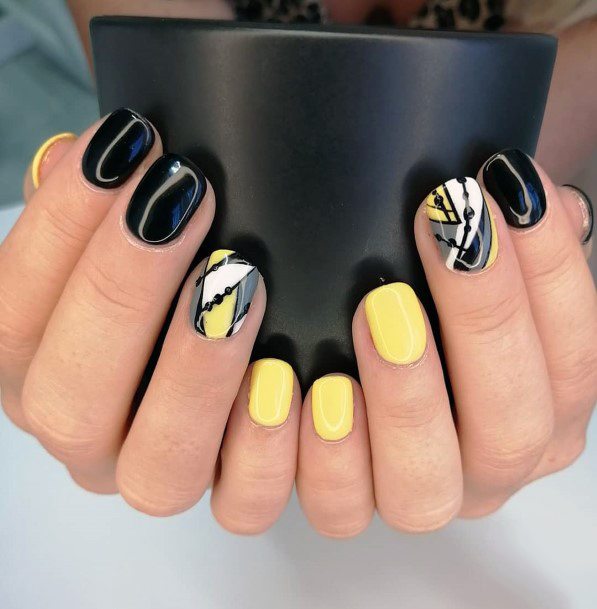 Bring a little sunshine into your life with black and yellow nails. They'll keep you as industrious as a bumblebee even as they showcase your bright and spunky personality!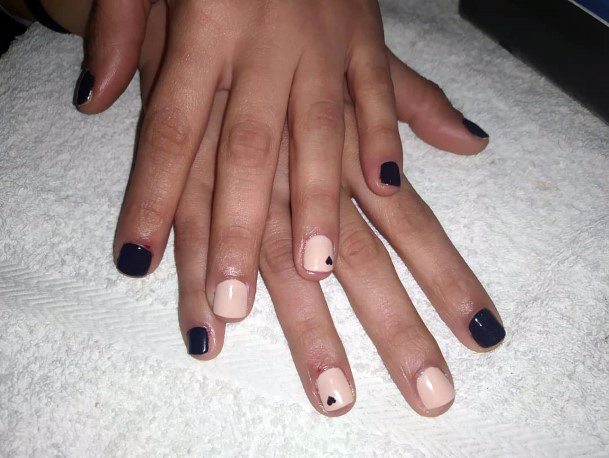 You don't have to get fancy to have nice nails. Just paint them with an attractive color scheme and add a cute decorative element like a heart or two.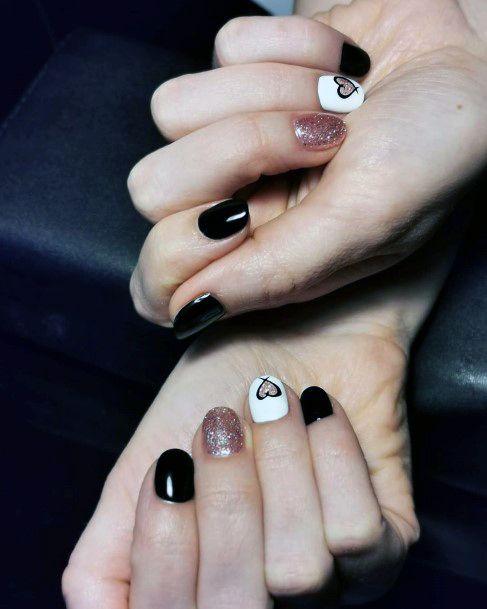 Simple and sweet, these heart-filled nails have something of a punkish style to them. They'll be ideal for girls with a feminine side who can also kick butt.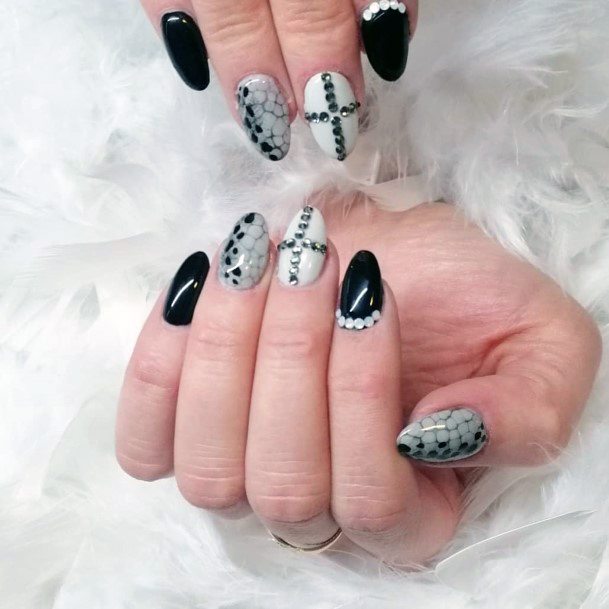 Pull on your cobra skin with these striking nails. Some have spotted scales; others are almost religious, using jewels to form crosses. They'll help you strike hard and pray for your victims afterwards.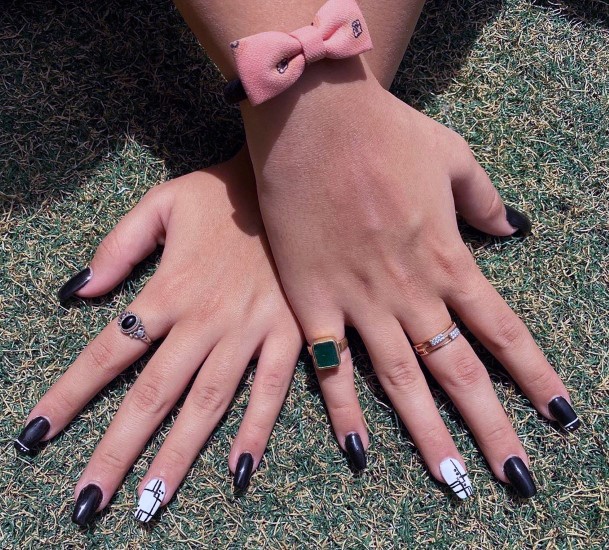 Geometric patterns are always fun in nail art. When you alternate between ebony and ivory, you can make their lines really stand out, too. Precision is key!