Your dark tresses can give you an exotic look that will make people think you have a well-kept secret.
It's up to you and your stylist to make the most of what you've been given. This is your chance to have a little fun with your hair as you explore ways to change things up.
If you have never gone with bangs before, a fringe over your eyes can give you a playful look. You can choose a layered trim, ensuring you don't have a straight line running across your forehead. Tousle them with a little product and you're ready to go. Bangs work with hairstyles of any length.
Sleek is the way to go if you want to be sophisticated. Whether you have a high-powered job or you want to make a positive impression for the love of your life, your hair can set the stage. Whether your hair is long or short, a flat iron can smooth your tresses. Add product that enhances the shine. Don't forget to use a finishing spray that will keep any frizz under control.
If you are blessed with long hair, you have several options. You can wear braids, try lollipop curls that fall in waves down past your shoulders, or sweep everything on top of your head in an up-do that takes everyone's breath away. Choose a hairstyle that shows off your finest assets.
You can frame your oval face to give yourself more fullness or shorten your length to highlight your fine cheekbones. Bring out the beauty within by being open to new styles.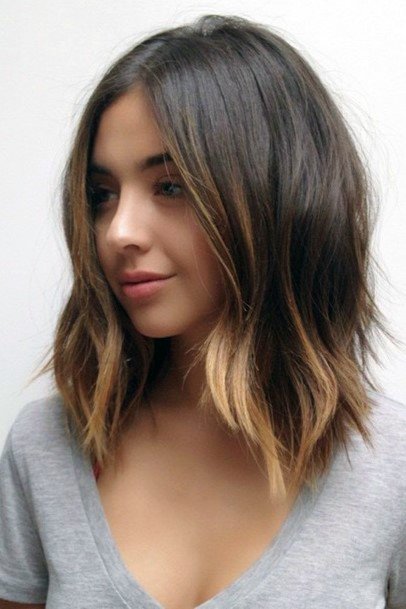 If you're looking for a fast and easy style that still looks great, loose layers and a shoulder-length haircut are a perfect choice. The versatile length gives you great options for pulling it up or wearing it down. Plus, it's a voluminous choice for brunettes with fine hair.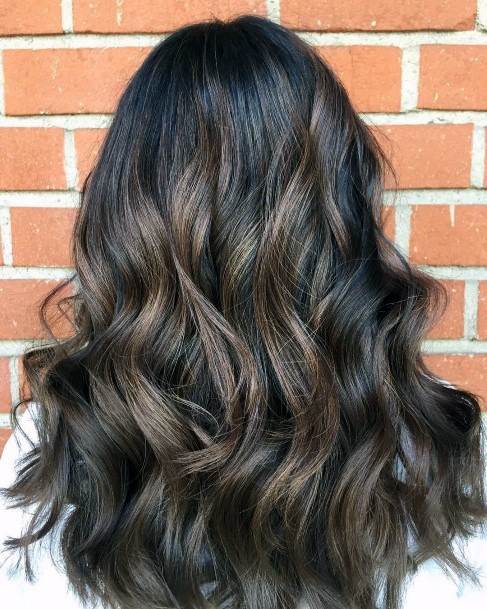 Are you looking for a hairdo that will turn heads? Then check out this bouncy, highlighted hair! Carefully placed layers showcase gorgeous brunette color depth.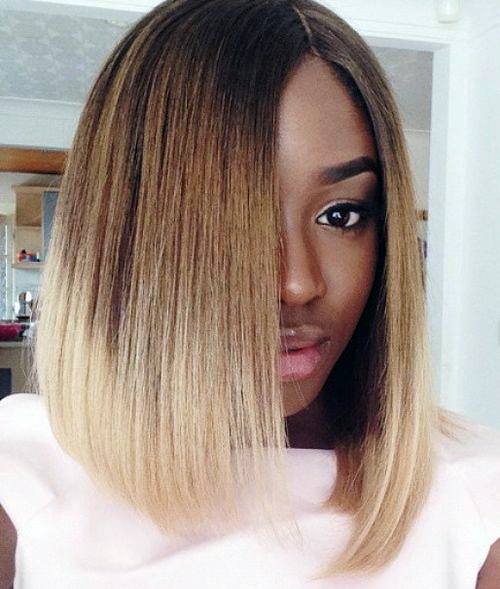 This long straight bob radiates empowerment and confidence. The deep side part and long, face-framing layers give this look a touch of glam.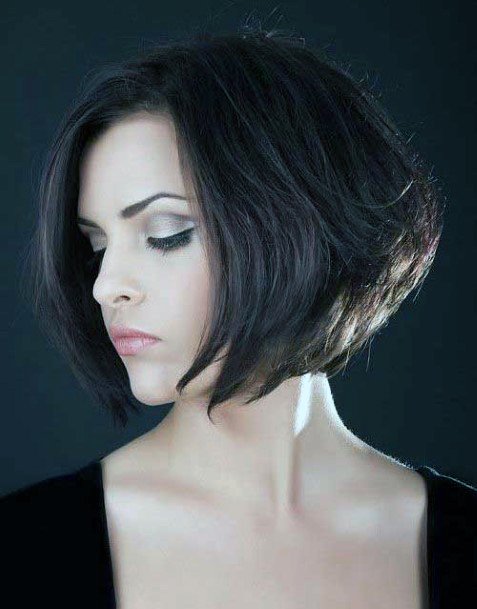 If you want a sleek and polished hairstyle, go for a classic bob. This timeless look can be worn with any outfit and always looks put together. Short bobs are perfect for busy ladies who don't have time to style their hair.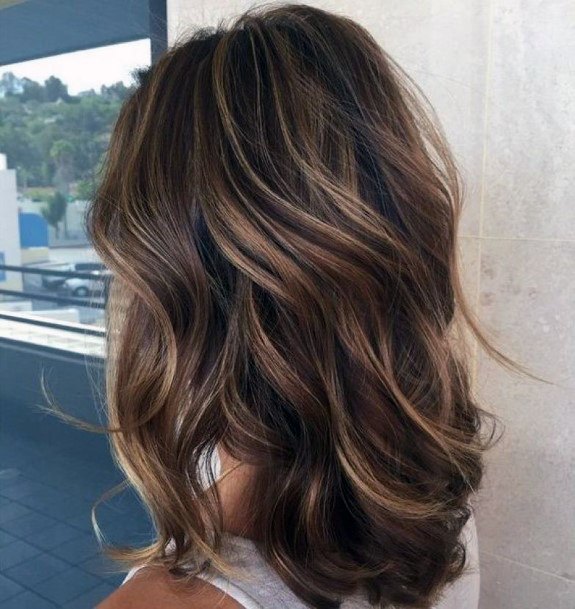 Wispy waves that fall just below the shoulder make for a style that works for both business and pleasure. An understated beauty, it is both dressed down and elegant.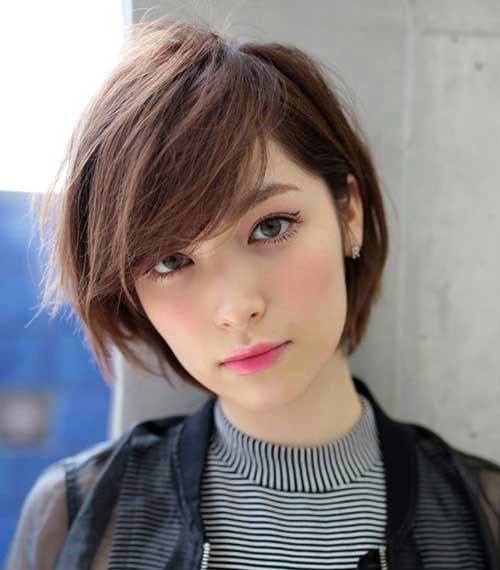 This long, side-swept pixie cut is all about confidence! Long, sweeping layers reveal the eyes in a way that is mysterious and playful! Add a little more structure and body and it's perfect for the office!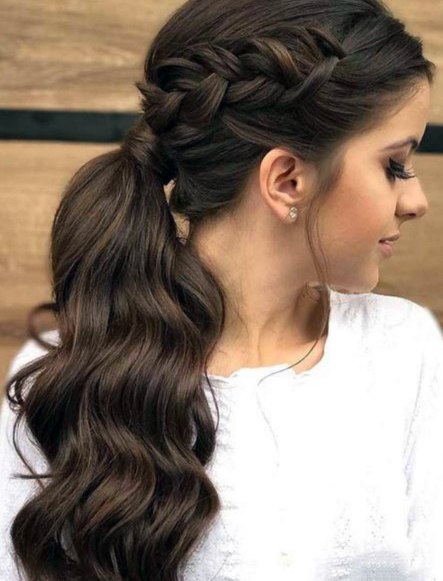 This is combo perfection! The braid on the side tells of an organized woman who has it all together, and the flowing ponytail lends a flexible, soft tone to the style. Talk about versatility! From the office, add a few flowers or gemstone clips and take this classy style straight to the party!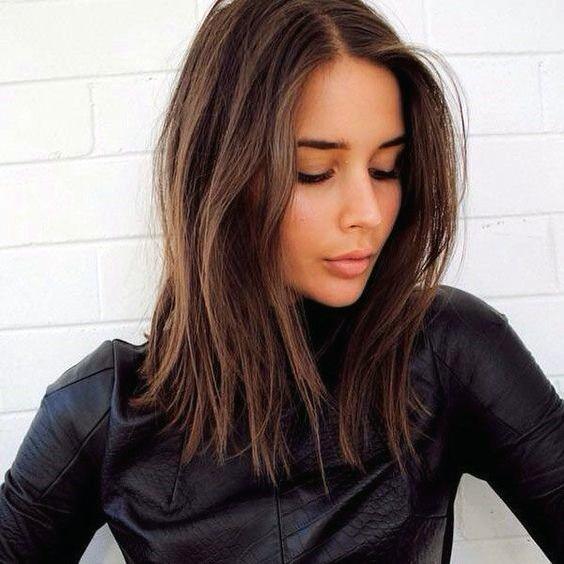 If you're looking for a rough-cut, trendy-edged style, this is the cut for you! With just enough length for a fast and easy updo, this style works well for the busy woman. It also happens to be a great cut for women with fine hair, as it's intended to appear wispy and light.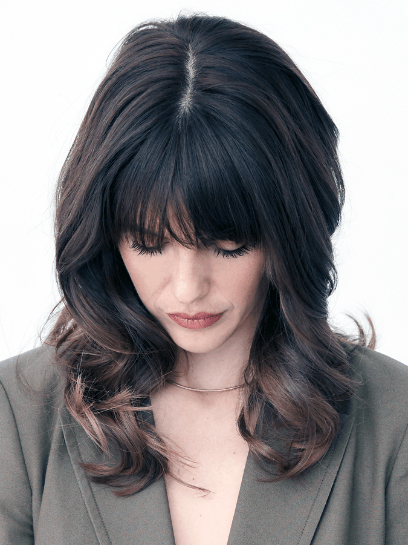 If you've got thick hair, why not go for some bangs? After all, not everyone is fortunate enough to have thick, voluptuous hair that still looks great after shortening the front. If you've got it, flaunt it!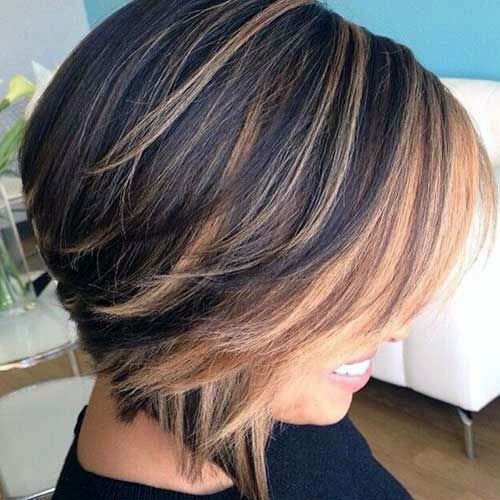 This has to be one of my favorites! High and low lights give this bob so much dimension. It's gorgeous for any occasion and works with thick or fine hair. A real show stopper!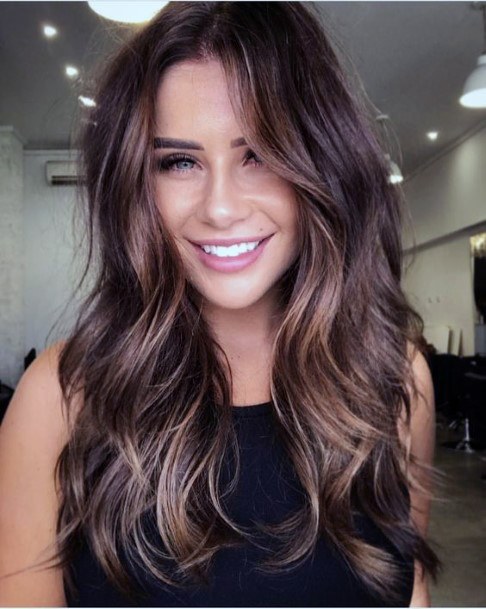 Flowy waves make this hairstyle easy to achieve. Try using an automatic curling iron to make quick work out of getting these feminine face-framing waves!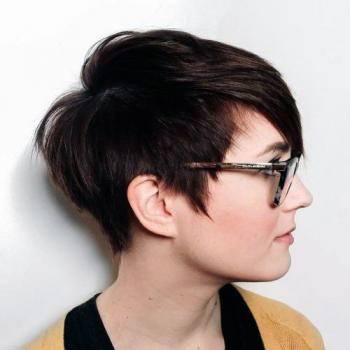 What's better than a short and long pixie combo cut? Not much! This style brings out the spice in any personality, and while it screams business, it's still soft and feminine.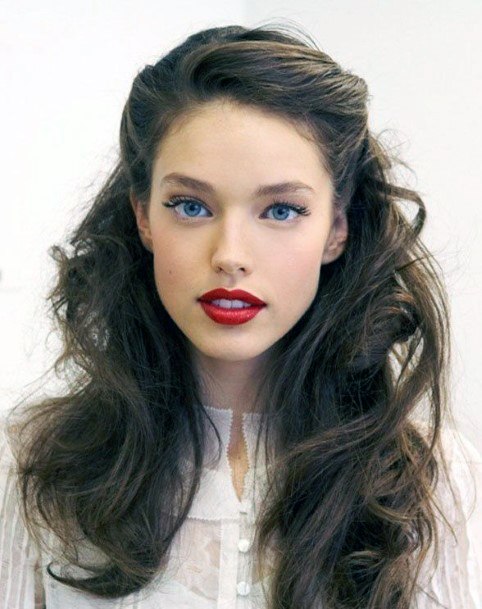 If you aren't one to have your hair hanging in your face, this is a fantastic style for you! It combines classic large wavy curls with a gently tied back front, for a fast throwback to the 80s type elegance.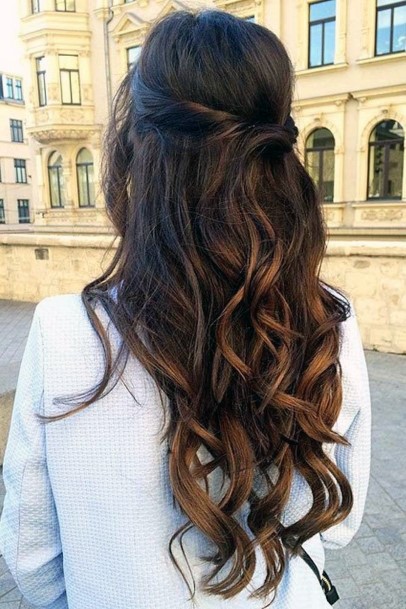 Ever wanted to be a princess for a day? You can't help but feel that way with this gorgeous style. It's a very simple look, with a few loose end curls and some twists to frame the head. Who needs a crown with these gorgeous locks?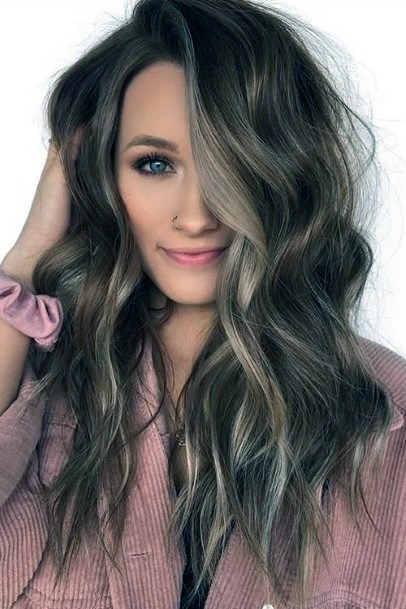 Here's a side part relaxed-curl style we can really appreciate. A no-fuss cut and style that is further enhanced with long layers of beautiful color. Does anyone else think a straw hat would be great with this?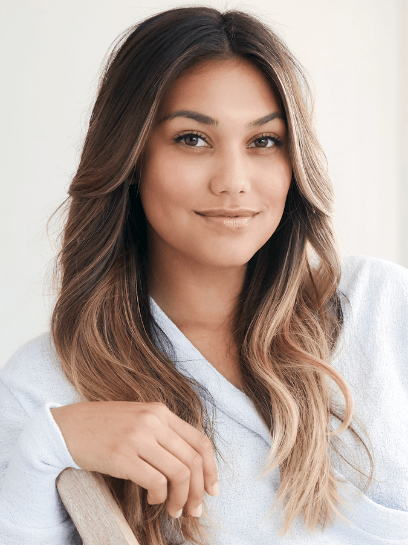 We just adore this super simple, low-body layered cut that is all about pretty while letting the face be the star of the show. Perfect for the professional woman who wants pretty hair that's not a distraction from what she is communicating.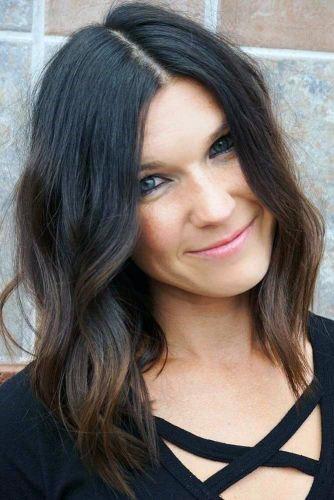 If you like low maintenance, here's a great style choice. Ready in minutes you'll be after adding a couple of quick loose curls to this cut. Perfect for a day of shopping, and easy to pull into an updo for a little more glam.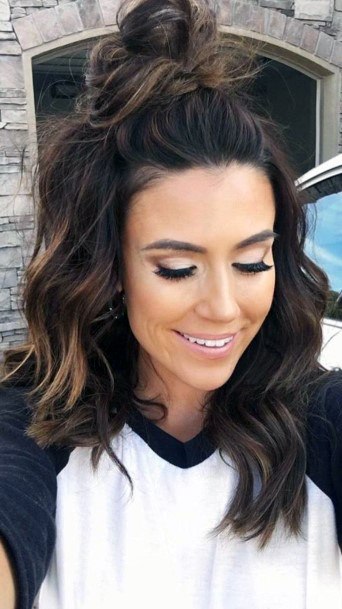 To bun, or not to bun. Why not both? This half-updo pulls your hair back away from the face so you can concentrate on that project without the distraction of your hair, while still leaving some down so that it looks pretty while you're getting things done!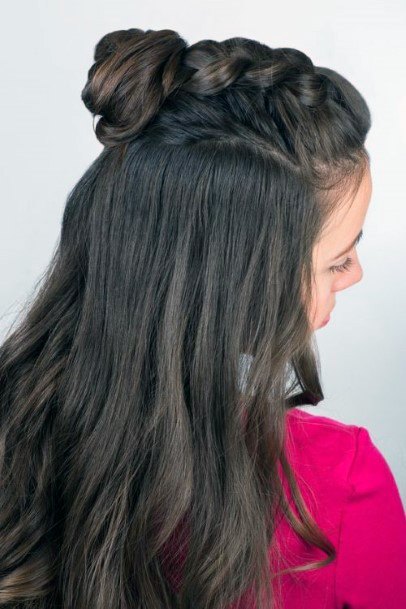 If you've got plenty of hair, why not add a french braid on top while leaving your other long locks flowing from beneath? It's a simple but elegant look and could be further glitzed up with a few twists and gems for a special event.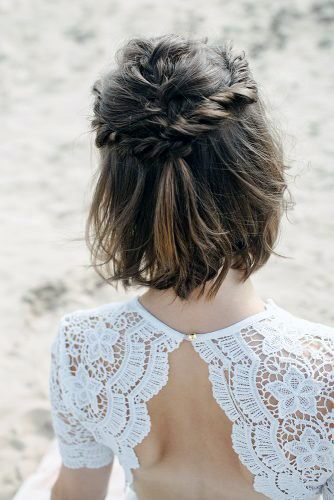 This sweet combination of twists and braids in short hair is absolutely charming. Reminiscent of summer days, flowers, and all things innocent, this style will surely catch everyone's attention.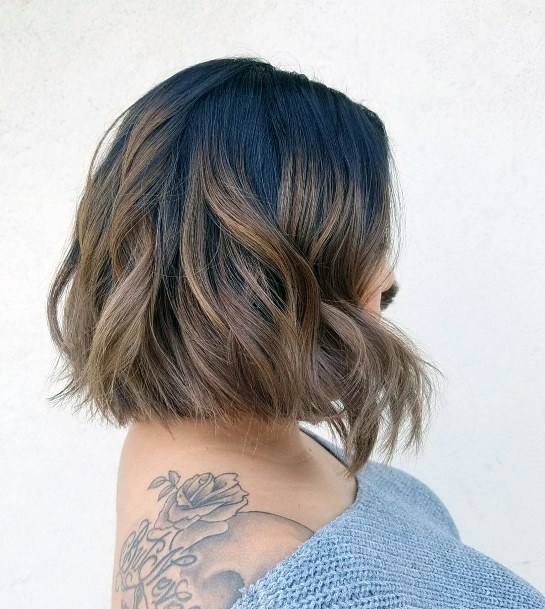 This take on a bob is perfect for the woman who avoids perfectly coiffed locks. With razored edges and a slightly longer face-framing section up front, this style exudes enthusiasm!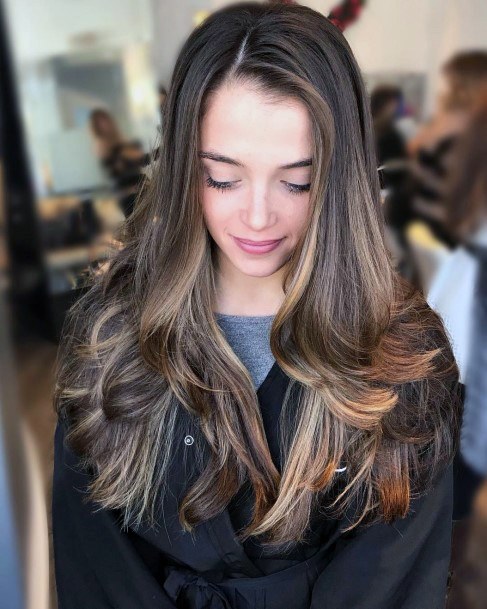 Multiple chunky layers and waves make this long style an instant beauty win! Best for those with thicker hair, you're sure to get many compliments about your gorgeously healthy, cascading locks!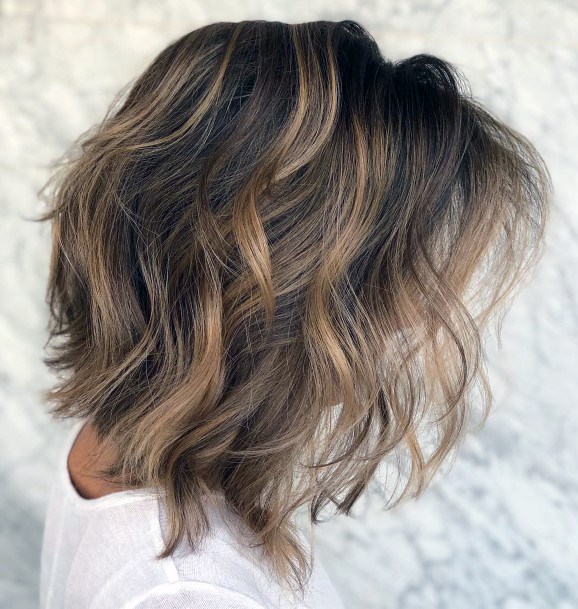 Whispy curls and multi-dimensional color make this an easy and practical choice for anyone, but especially our friends with fine hair. A style that doesn't require a lot of product, or fuss, it's lightweight and lovely for any occasion.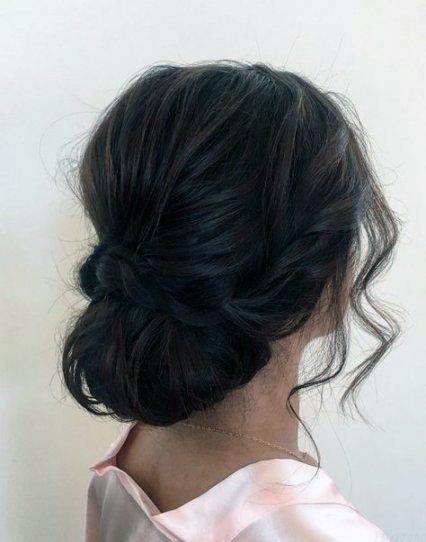 We're in love with this! Deep brunette strands of gently tousled and wound hair pulled back into a classy and graceful updo. It can be perfect with jeans and a blazer, or with flowers tucked into it for a wedding. We're amiss to think of anywhere this wouldn't be perfect!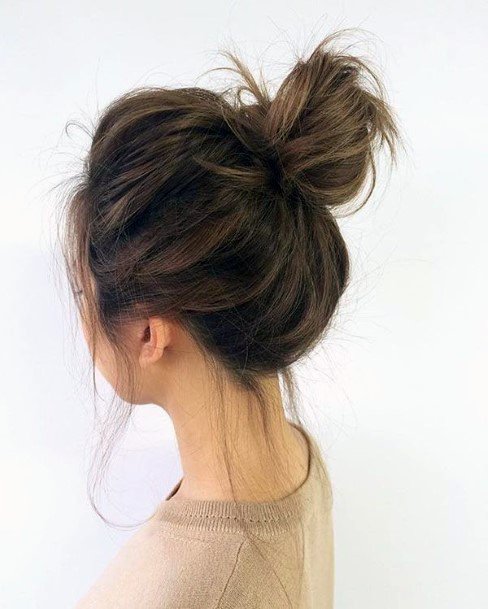 When it comes to messy buns, balance is the key. This version has a perfect blend of organized chaos that makes it perfect for yoga, errands, or a nice lunch with friends.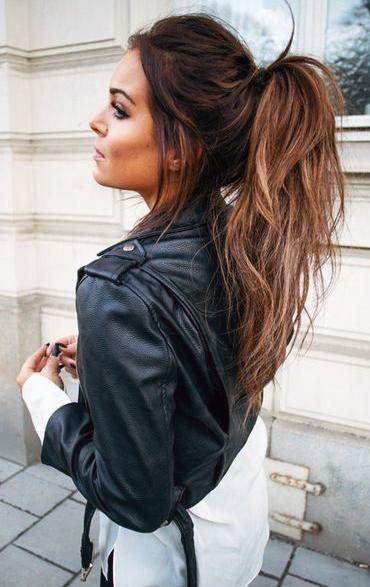 Ponytails take on a new shape with layering techniques that give the style volume and texture. Try doing a double ponytail for an even fuller look and pull some loose strands away from it to get that not-too-fussy look.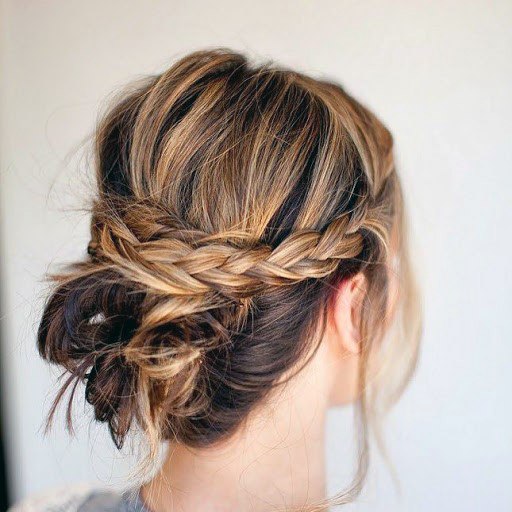 Small messy braids crossed over to make a beautiful crown for a low bun. This style is very romantic, giving off a look of effortless and untamed beauty.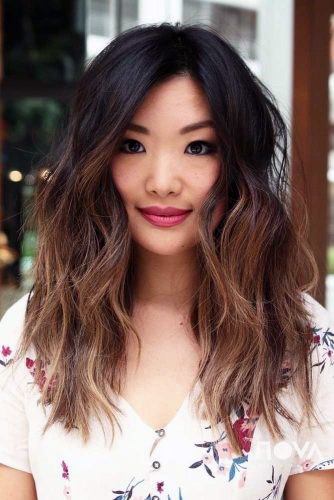 Layers and color work together to lighten the look of thick locks. The ribbony curls work with the layers to give a whispy, carefree flow to this style!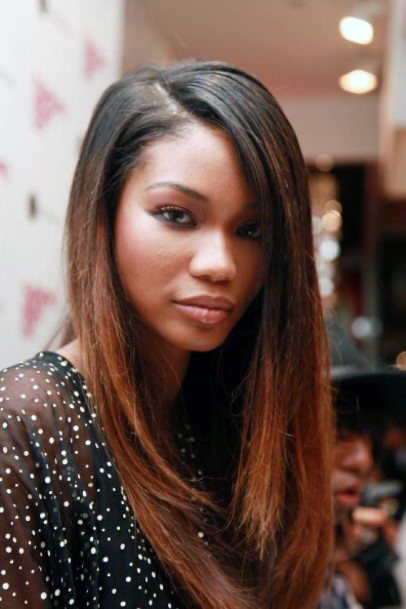 A sweeping side part and long, face-framing layers make this a stunning win! Polished and classy, this style will look great from work to the weekend!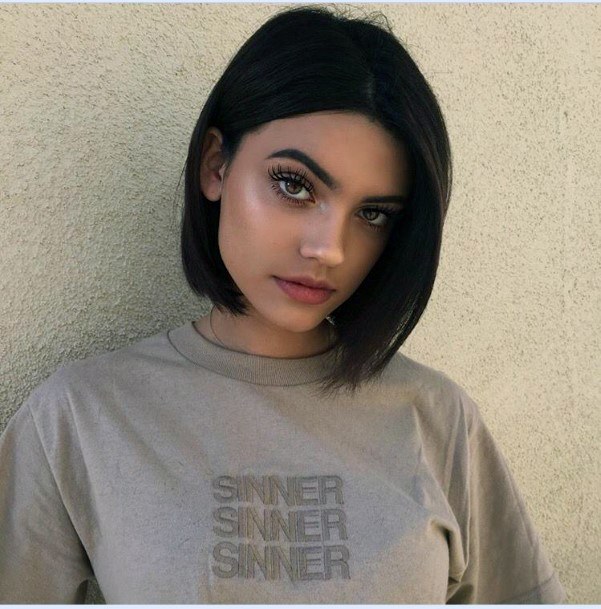 This style has our vote for being the easiest to style. Depending on the thickness of your hair, you may not even need a blow dryer! Fun and flirty, serious and businesslike, this hairstyle is a versatile dream!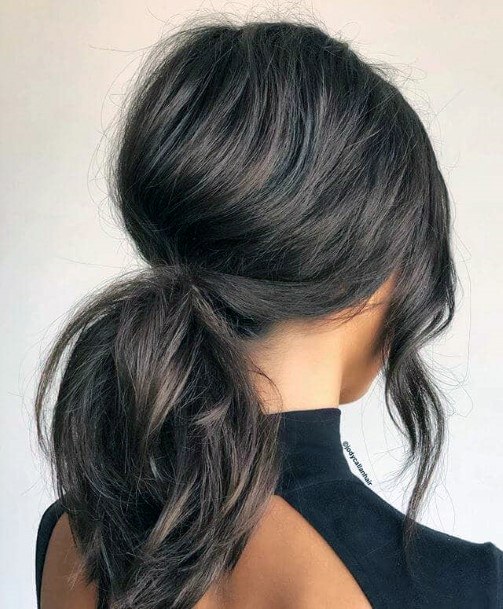 We're always looking for ways to take ponytails from lackluster to luscious – and this hits the mark! Adding volume to the top and the bottom can balance a woman's head shape and make the ponytail look more voluminous.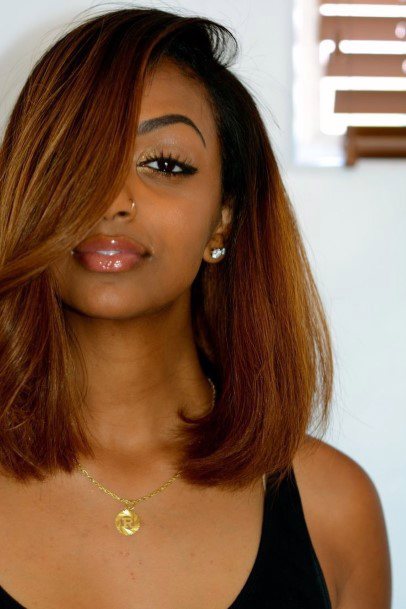 This is a great style for an evening out. Soft gently flowing curves frame the face and rich color further accentuates this daring and flirtatious cut!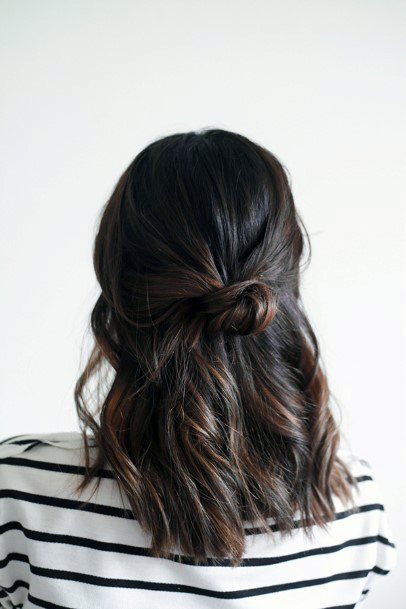 Quick and easy, this is a grab-and-go kind of style. Late for work? Toss this together in two minutes flat to look put together enough to face the world!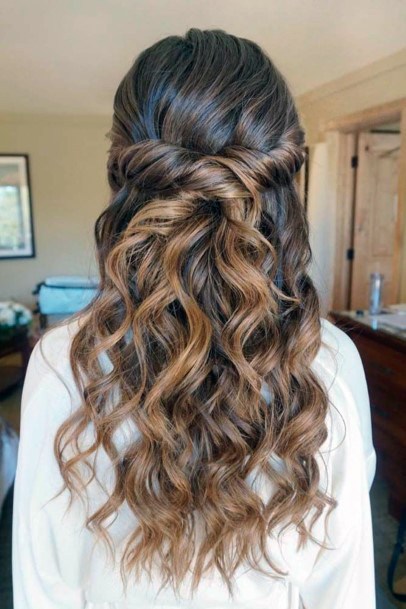 Here's another simple-to-style look, with a drawn-back front that's twisted and wound together, leaving the rest of the locks draping in curls. We can think of all kinds of places to sport this gorgeous look!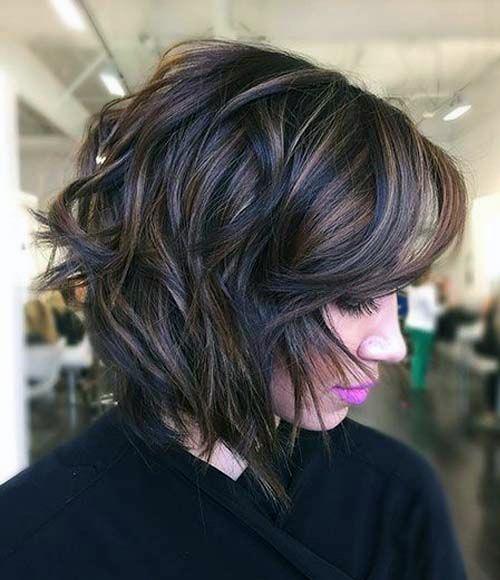 If you like simple, chunky style, this is the cut for you! Strategically placed layers and lots of depth in color give this look a nod toward whimsical. Pull some strands forward, and send some back for an unorganized yet polished appearance.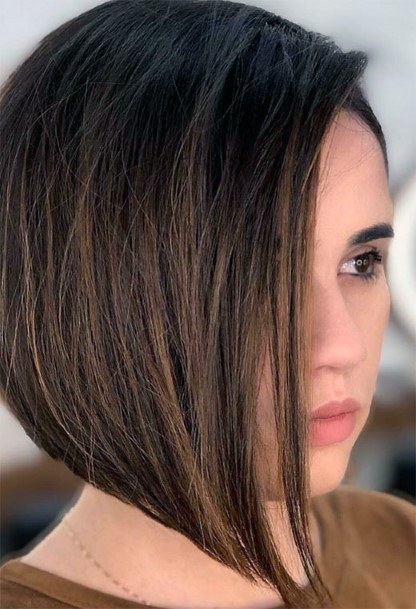 Ahh, the sophistication that exudes from this forward slanting, chin-length bob is just delicious! We're envisioning classy suits and heels paired with this style that clearly states that discipline is the name of the game.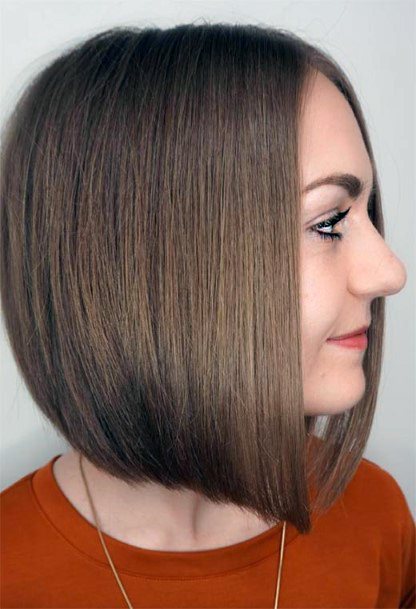 If you're looking for a bob with a little less angle, try this style. Soft curves gently frame the face and draw a little less attention to the jawline.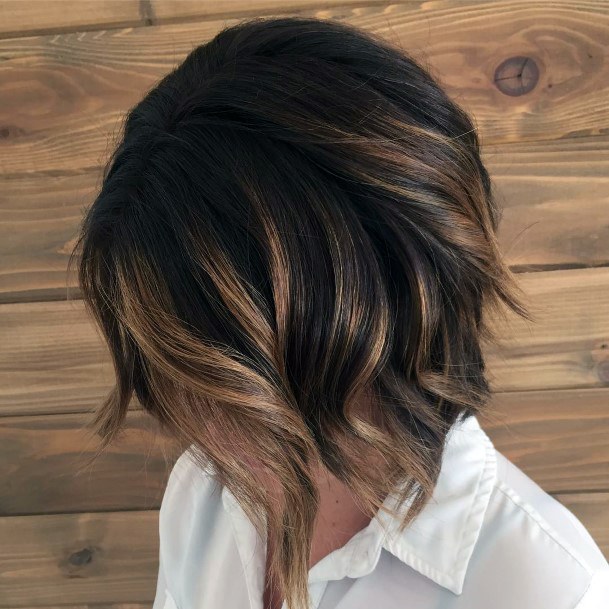 Blocks of color and chunky layers make this look an easy choice! If you want a look you can put together quickly, this one takes little effort. You'll end up with soft movable layers that compliment any head shape.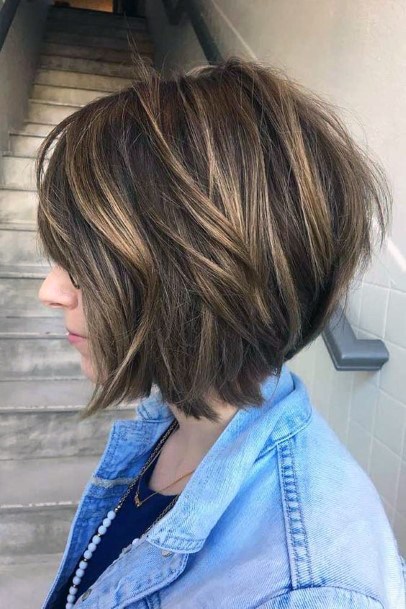 Caramel highlights dazzle on this chunky layered bob. Angles toward the front accentuate the neck and shoulders while allowing the various color layers to roll across one another in beautiful harmony.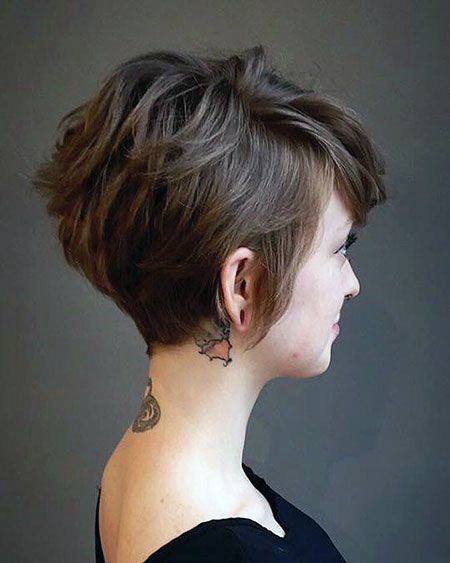 What can we say about this level of short hair perfection? Carefully placed layers give this look a defined and chunky appearance that is a fine hair owner's dream. Soft, lightweight, and easy to style once you get the hang of it – it's tempting to schedule an appointment right now!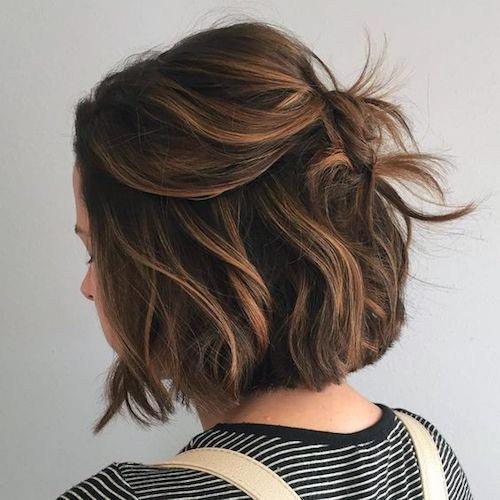 Here, we have another super simple but cute pull-back style that gets your hair out of your face and looks good, without looking like you did much to it. It will look cute while you're cutting fresh flowers from the garden, or doing a little grocery shopping!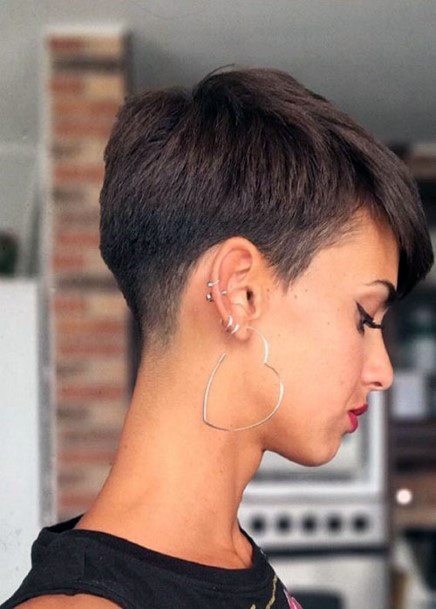 Super short and absolutely stunning! This style is reserved for the most confident among us, who aren't afraid to bare it all, using their hair as an accent rather than a feature. And talk about a quick style in the morning! You'll be looking sharp and out the door in no time at all!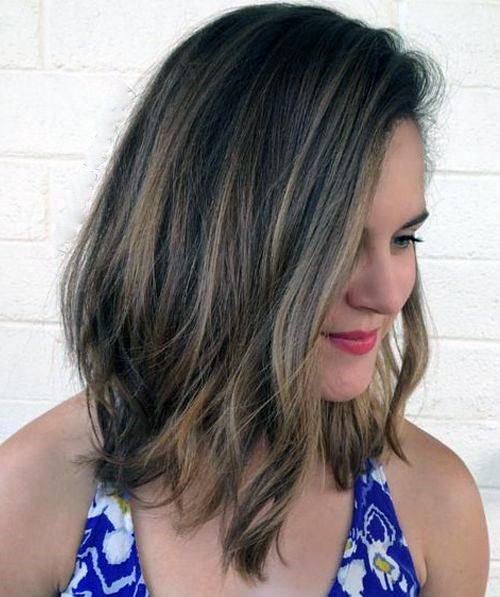 Just a few long layers add some bounce to this style. Great for women with finer hair, just a few layers carved in around the bottom can add fulness and bounce to make your hair look thicker, and to lighten the top layer for volume.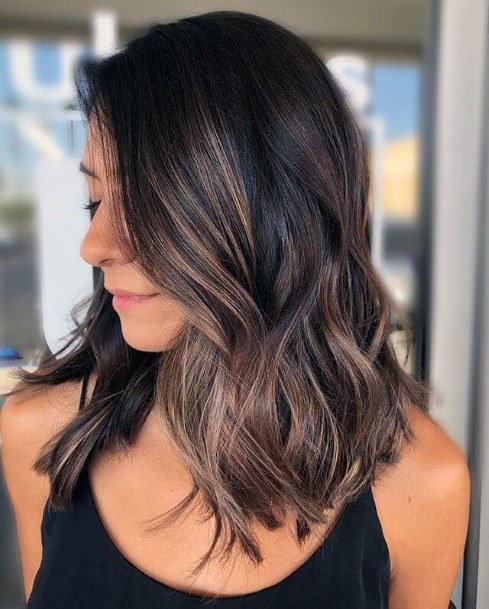 There aren't many layers in this cut, but you wouldn't know it because multiple highlight colors give it a dimension that makes it appear that it has layers cut in!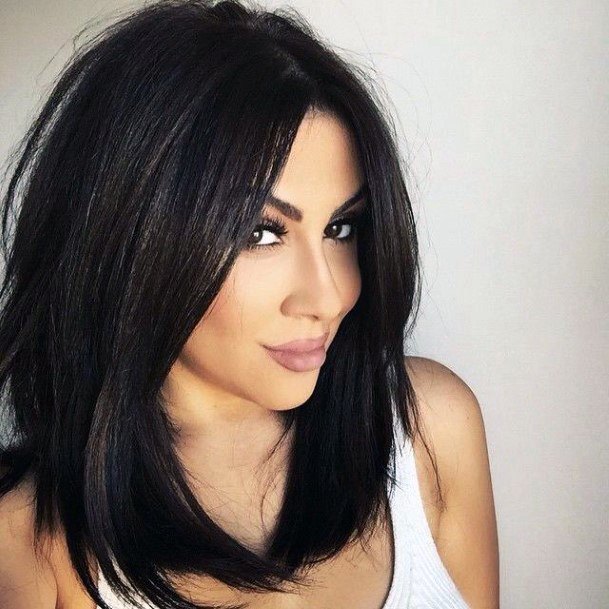 Just a few hidden layers frame the face in this dazzling hairstyle. So simple yet elegant, it draws attention to the face and neckline.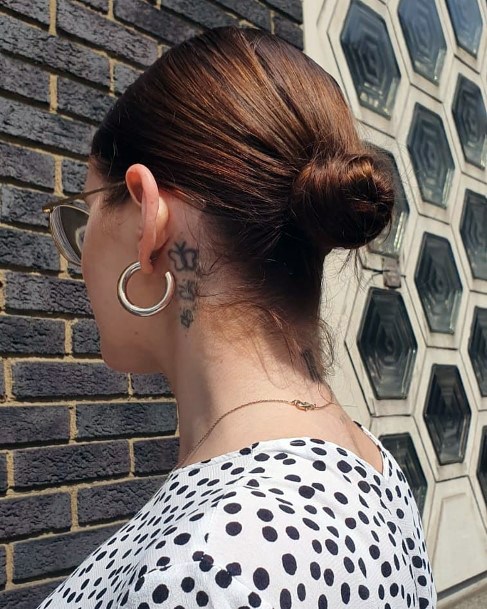 Who says you can't look chic with a simple ponytail bun? Fast and easy, you won't have to fuss over this style at all!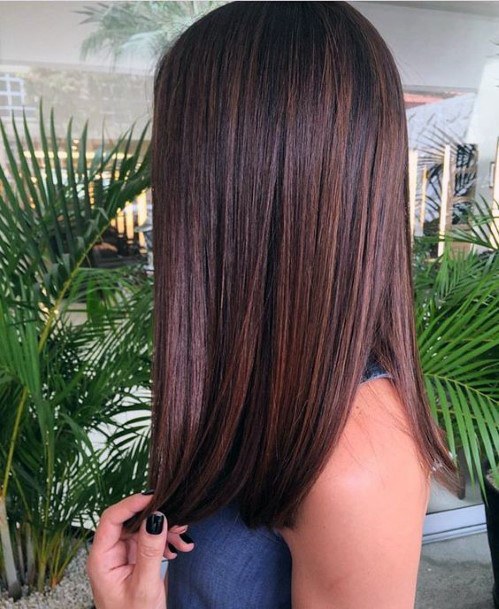 This straight simple cut is gorgeous. It lets healthy hair and fabulous color do all the talking!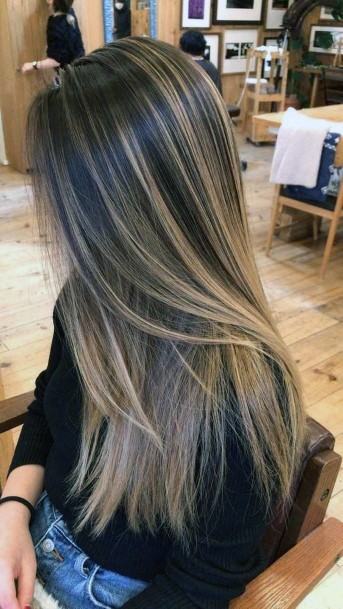 Another simple flowing look for long locks. Easy to style, letting great color take the lead!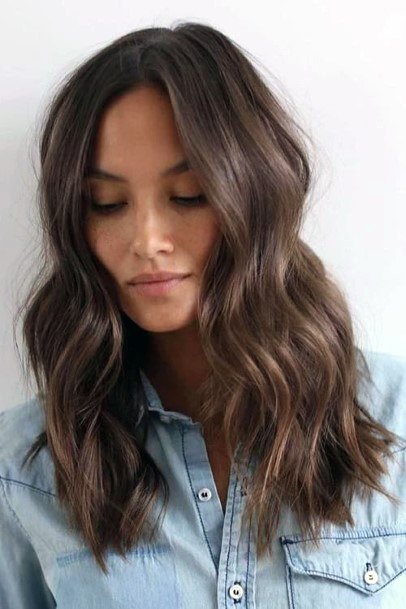 Soft, casual, beachy waves add a touch of understated romanticism to this look!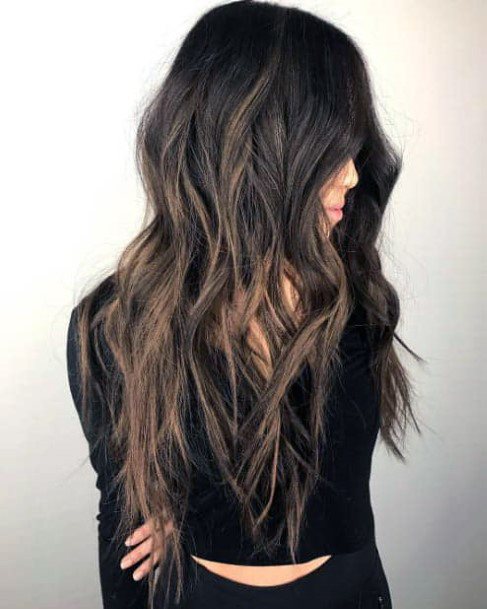 Long, uneven layers give this style a unique look. Loose waves are romantic, but when you leave the ends fringy it adds a level of mystery!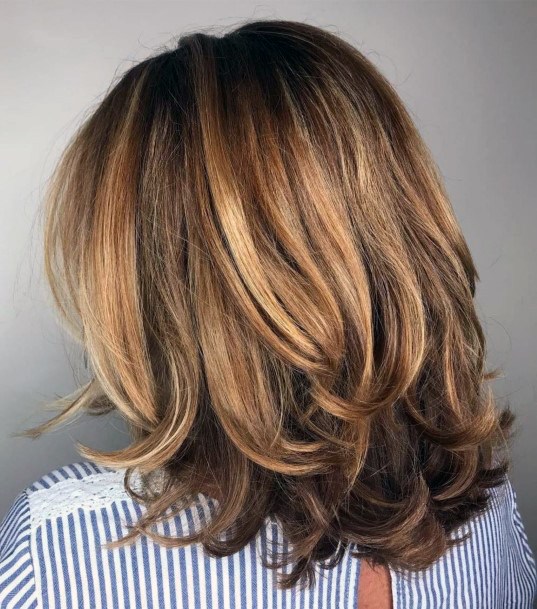 Layers of bright gold and red make this a beautiful style to consider for summer or fall. Are they fun or sophisticated? We think a bit of both!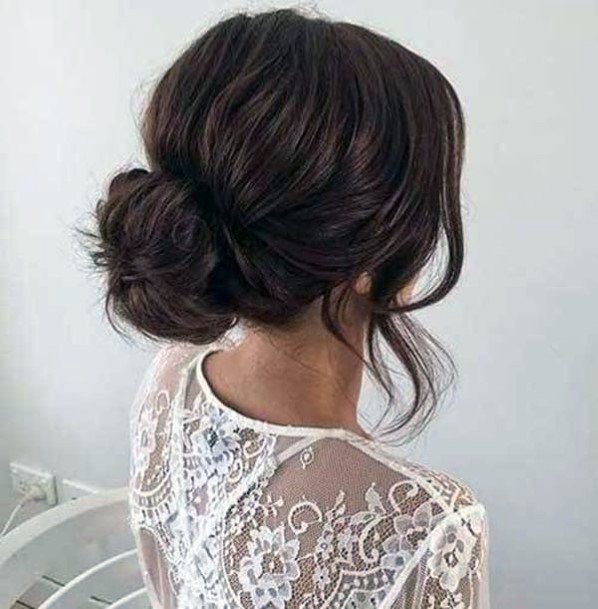 An elegant low bun is easy enough, but those loose strands in the front take it to the next level of pretty! Office or event, it works well for either!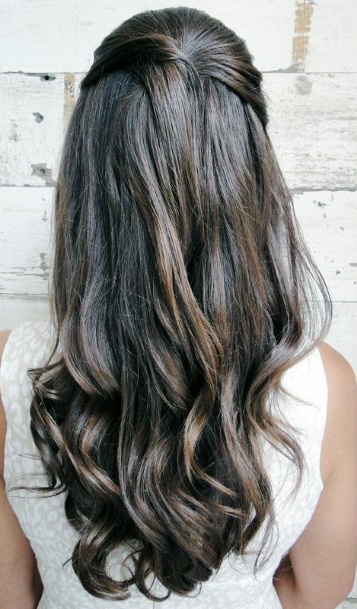 For such a simplistic hairstyle this pulled-back front with a slight twist in the back is simply dreamy. Soft caramel highlights blend into brown like a creamy drink we just can't get enough of.