The cat eye look is a very recent one. It only became popular in the late 2010's.
This fingernail style is actually supposed to resemble the cat eye gemstone more than an actual cat's eye. However, you can make it resemble either one. Just pull your second color into a wide circular shape to look like an actual cat's eye. This one can be a little tricky at first but once you get the hang of it, the sky's the limit.
It involves a special apply-and-cure process. First, the base coat and then the first coat of the solid color is applied. The base coat should preferably be a dark one, such as black, navy blue or blue violet. Cure with a UV LED lamp in the 30's range.
Then your cat's eye should be a bright color such as gold, a tint of purple, blue, etc. Once the cat's eye coat is applied, the magnetic pen is then applied to make the cat's eye shape.
Again, you can make it vertical or round. Once you apply the top coat, go ahead and use your UV lamp to cure in the 60's range for about 30 seconds. The cat's eye can't be done with traditional polish. It's called magnetic nail polish because it reacts to the magnetic pull of the pen.
The catch is that you have to use the pen while it's still wet. Magnetic nail polish has iron particles in it, which the pen pulls on.
Please check out some of my catty ideas below!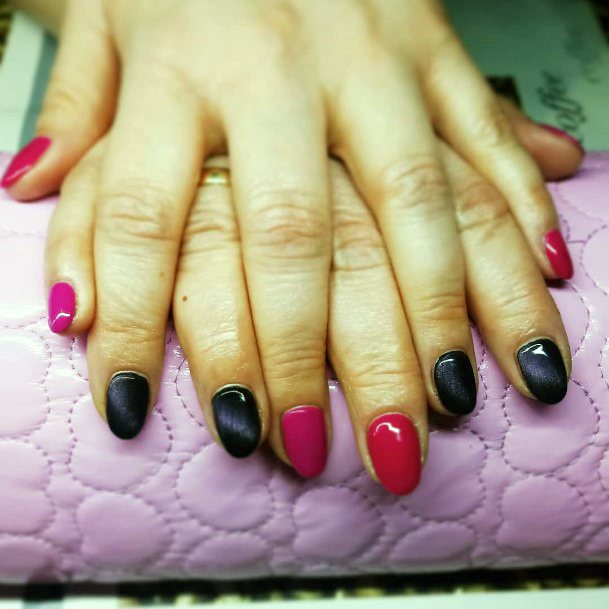 Short nails are always a to-go style that never gets boring and even better when a cat's eye look comes to play. Try a glittered black and purple combination for a change.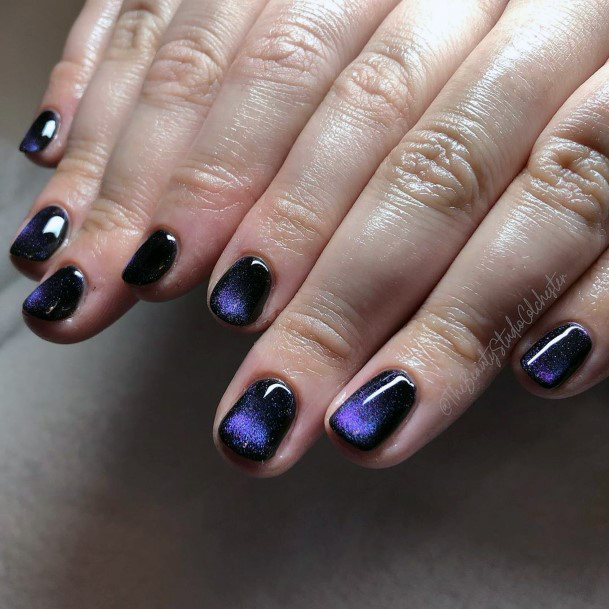 A black polish and blue glitters achieved through the cat's eye style is the perfect glitter that gives a playful outcome. You can never go wrong keeping it short.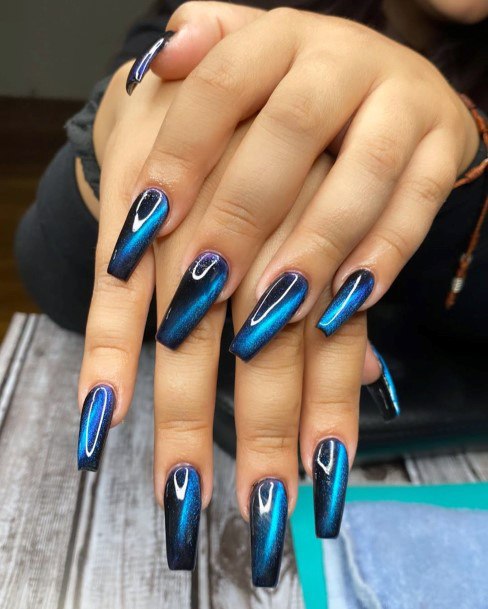 If you ever wondered what heaven looks like, this sky-blue glitter effect on black is the perfect example. The super glow is what makes it heavenly.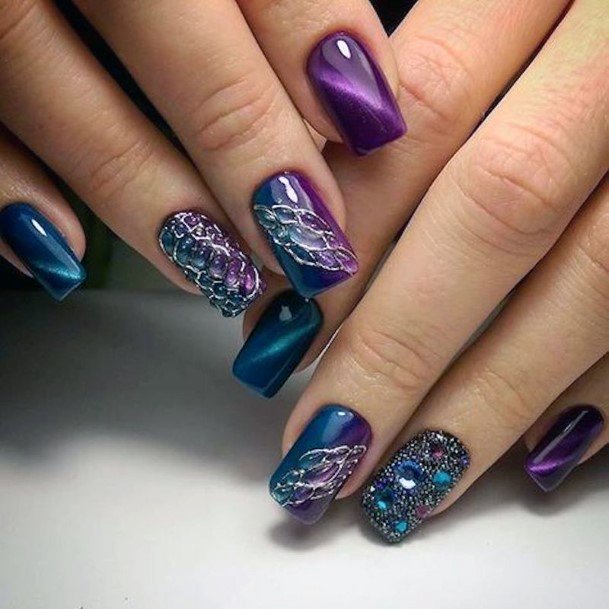 We don't all conform to simplicity and the 3-D and textured glitter plays a major role in going overboard. Blue and purple are the perfect fit for a color blend that you should try.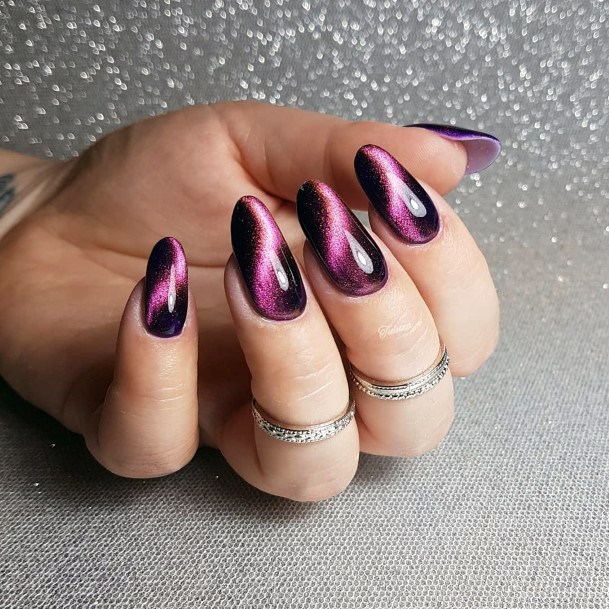 When the glowing cat eye is literally giving a reflection on your nails. Don't be afraid of mixing up colors that bring out the true meaning of design.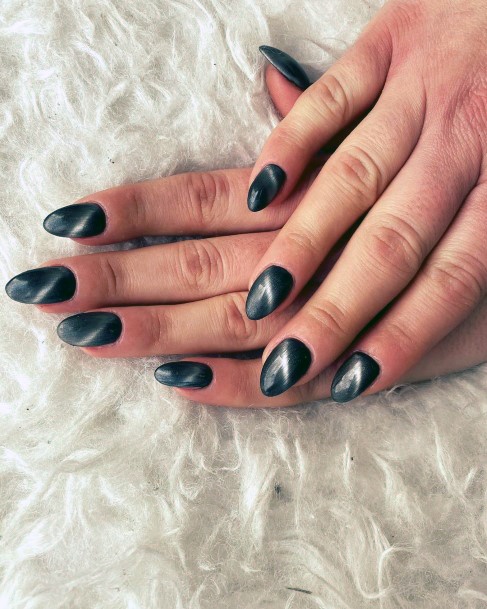 For anyone looking for a more relaxed look, a matte finish will work to your advantage. The white effect on black is an all-compatible type of finish that any individual will look good in.
A pop of color is at times needed to bring out that soft and glowing finish. Some people want simplicity and therefore only prefer the cat eye design on one nail for contrast.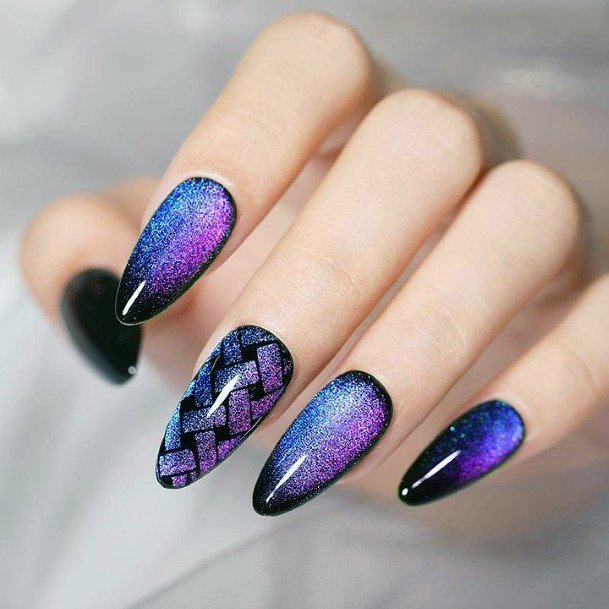 Talk of glitters and color pop. This cat eye gives the feeling of the sky at night, which is admirable to say the least. Play with shapes and designs as a cat eye can never be too much.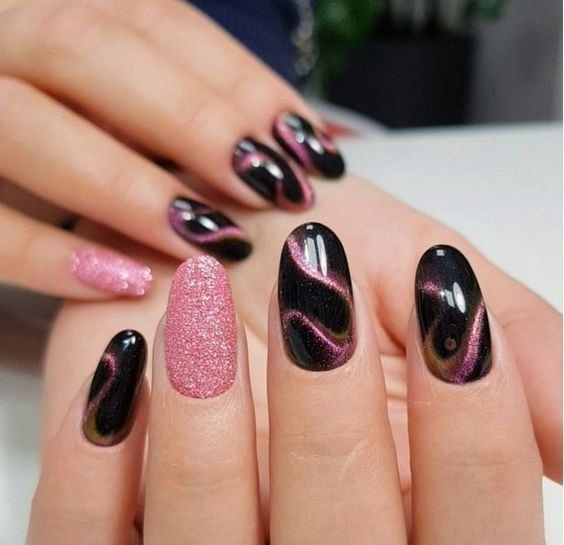 Who would have thought pink can be so aesthetic? Sometimes the pop of color needs just a dark combination to bring out perfection.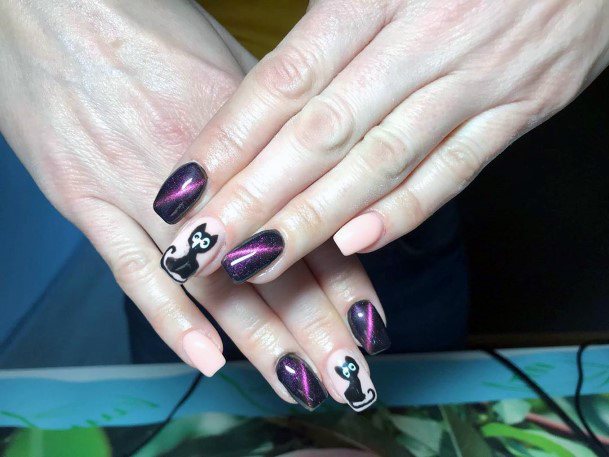 Who said that you can only do plain polish? Have you tried an image of your favorite pet? Make it make sense to you.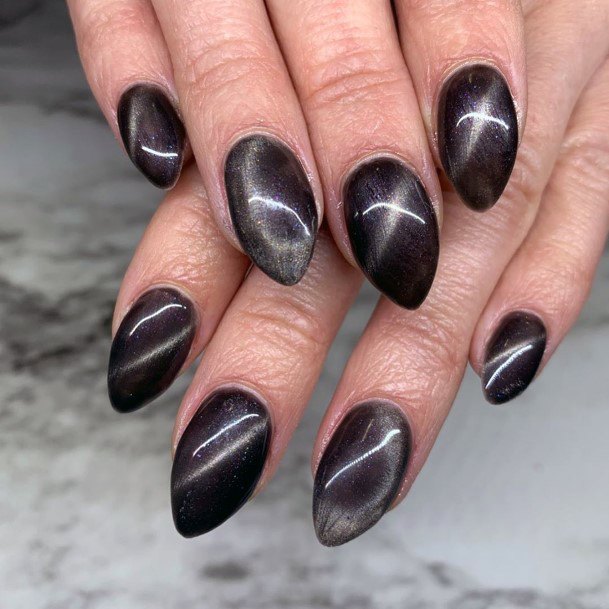 Dark colors are best accompanied by glow and white designs to balance the equation. See how the cat eye look goes well with sharp pointed nails.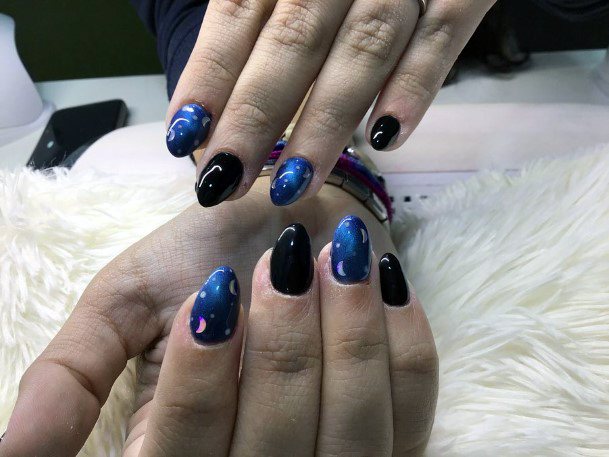 Bring the solar system right on your nails by having customized designs made. Remember that glow is a bonus in every cat eye look for your polish.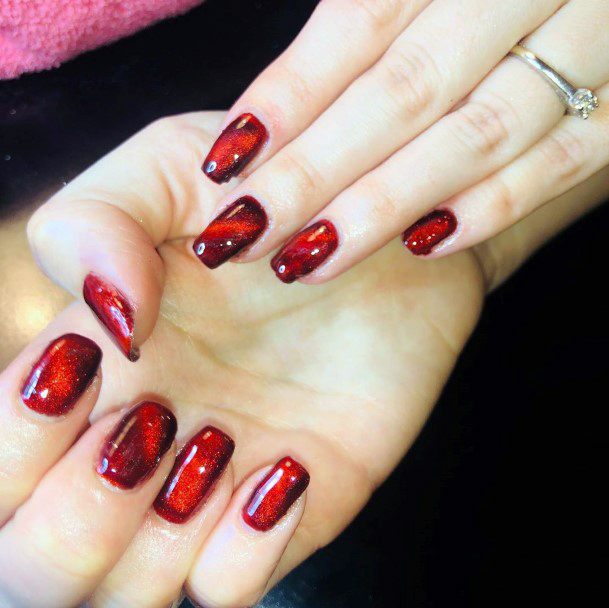 Wine red is always an outstanding look that never goes out of style. There is nothing like too much glow, therefore, you can go all in.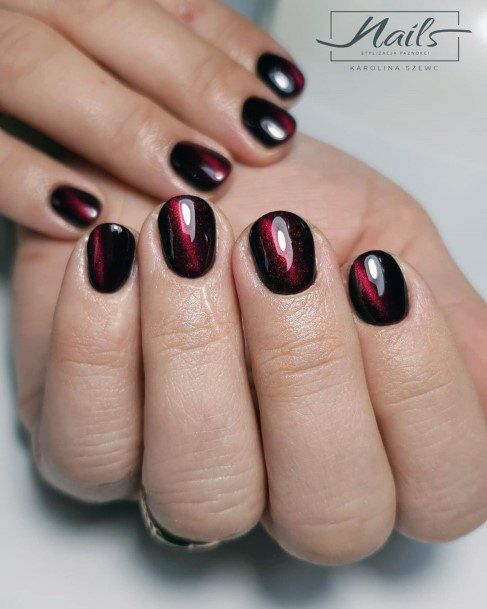 What if you love black but still want a pop of red glitter? A cat eye nail look will give you just that and it is even better on short nails.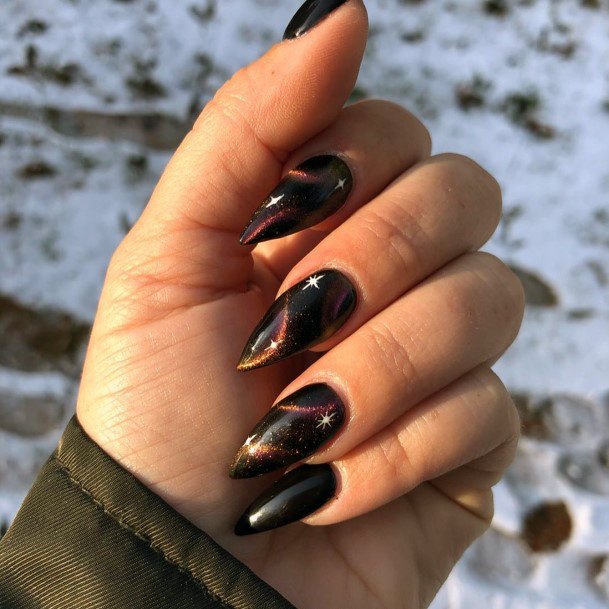 Black is super magical because how do you explain this city-kind of a view on nails? You can always go long and pointed as long as the cat eye polish is well executed.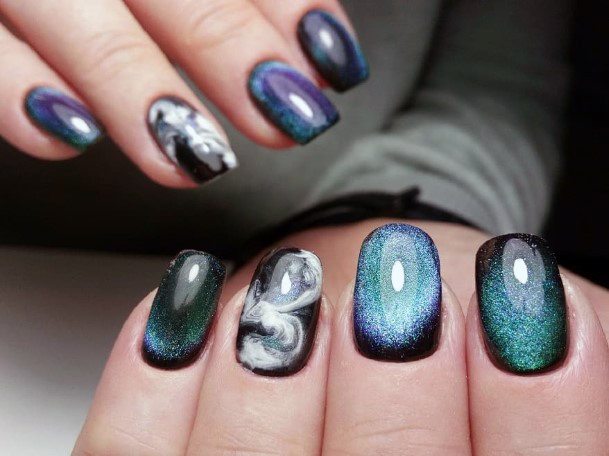 Following a certain pattern has never been part of the cat eye looks. Play around with colors, designs and watch the outcome unveil itself.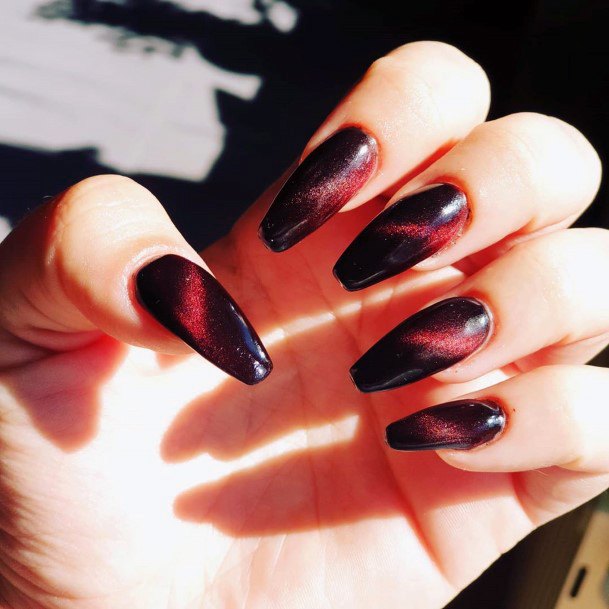 If you don't completely want to go dark, try incorporating a pop of color by adding some glitter. Black goes with basically everything and some pink is something to put into consideration for the pop.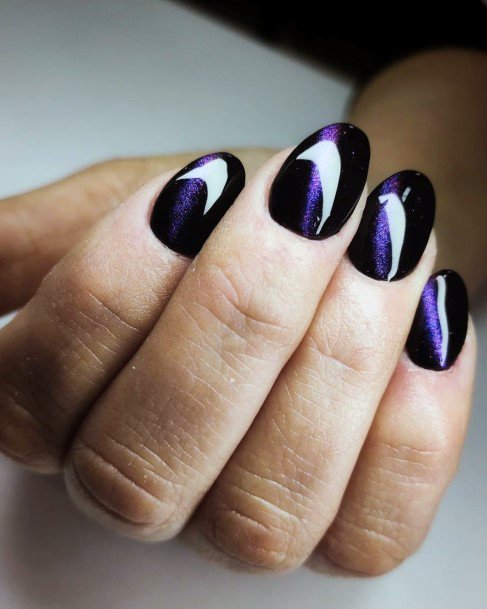 When trying out a cat eye polish design, the glow makes the whole difference and, in a case, where white has been used to enhance that effect, then it is a win. And don't we all love the blue and purple combination.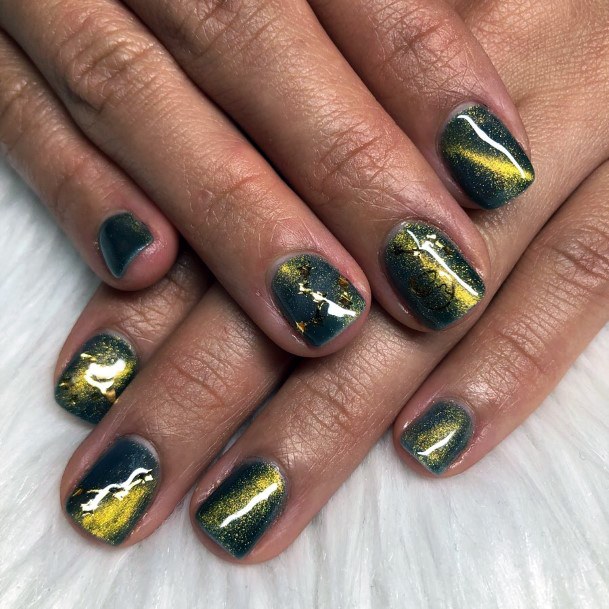 I have never seen anything more perfect than a blend of grey and mustard yellow. The good thing about cat eye looks is there are no rules as the colors can be mixed according to preference. Bring the glow no matter what is happening.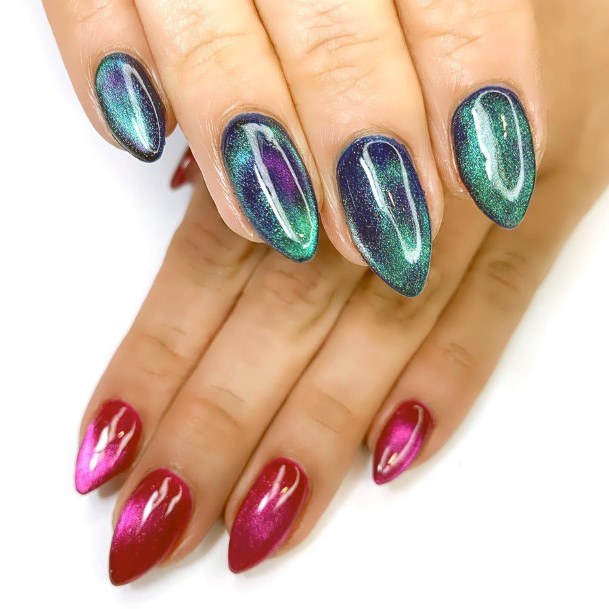 Here we go again with the purple and blue combination. Perfect right? And did you also know the possibility of having both hands on different colors? Let's go crazy.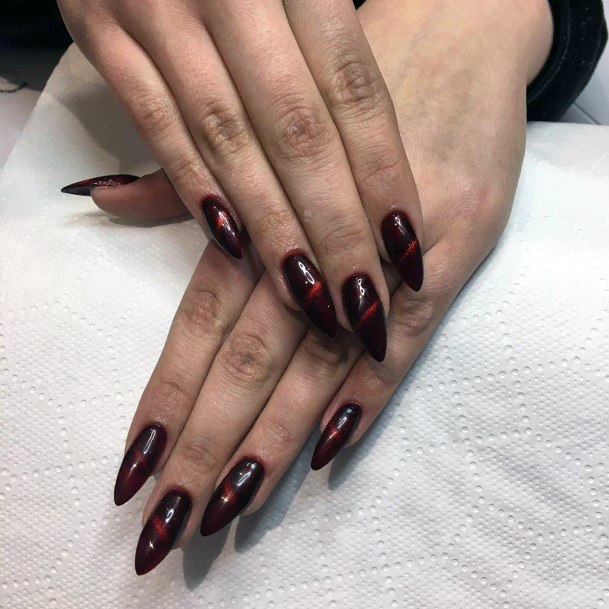 Brownish red has that calming effect that introduces neutrality. Have you however tried a glow and glitter of a brighter color? We can always achieve this through the right application of the cat eye look.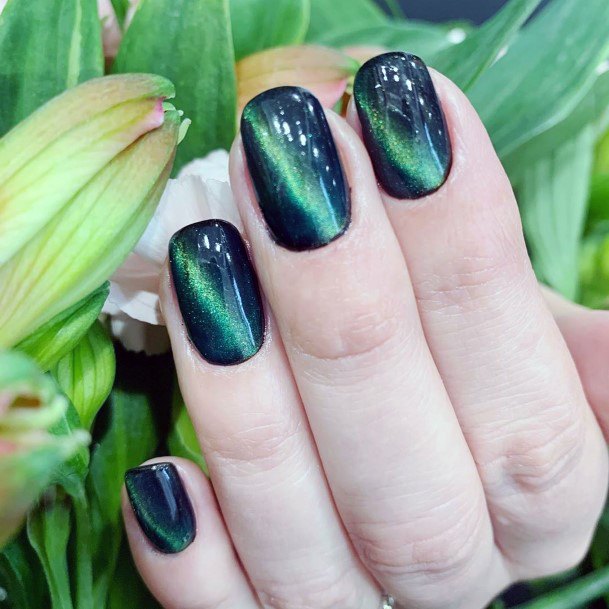 Let's bring in that natural look by combining the shades of green. The cat eye effect gives an almost-reflection kind of glow.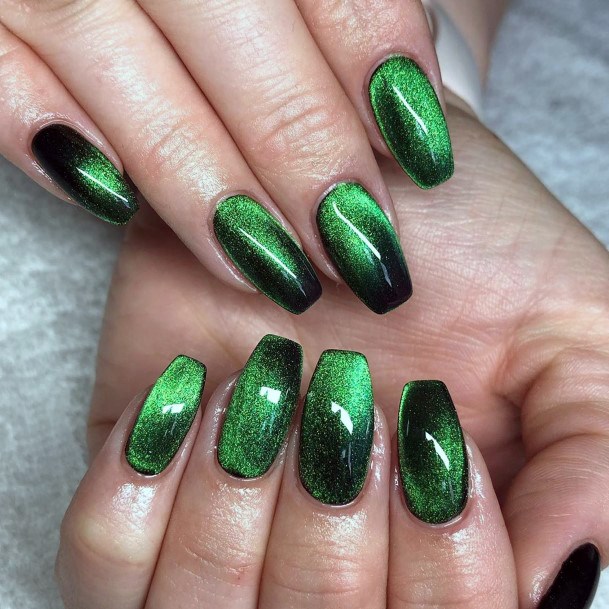 Can we ever get enough green glitters? Now bring in black and glow into the combination. Nothing looks this good.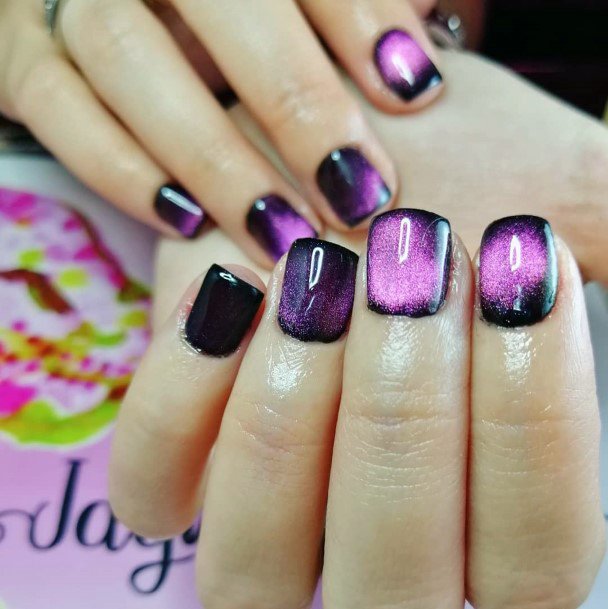 A cat eye look makes glow an essential concept. We must talk about purple on black as that is always in style.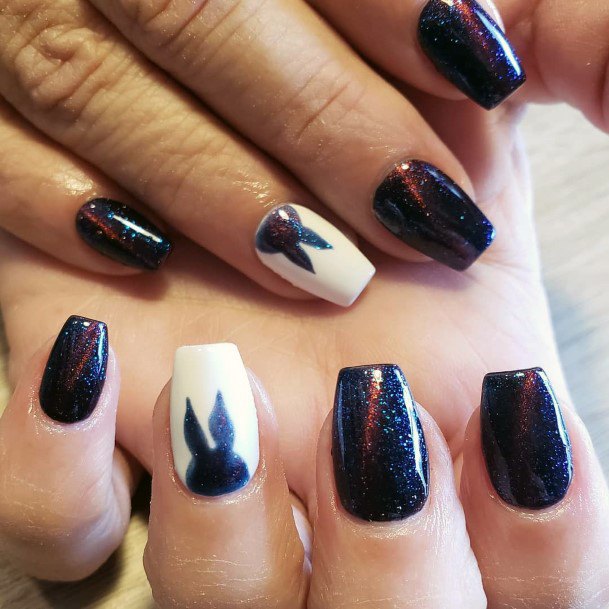 We must all admit that dark colors with a pop of color and glitter bring in the magic of a city under the stars. Now talk about one contrasting nail that has white and to make it even better, art. A bunny is a sign of happiness.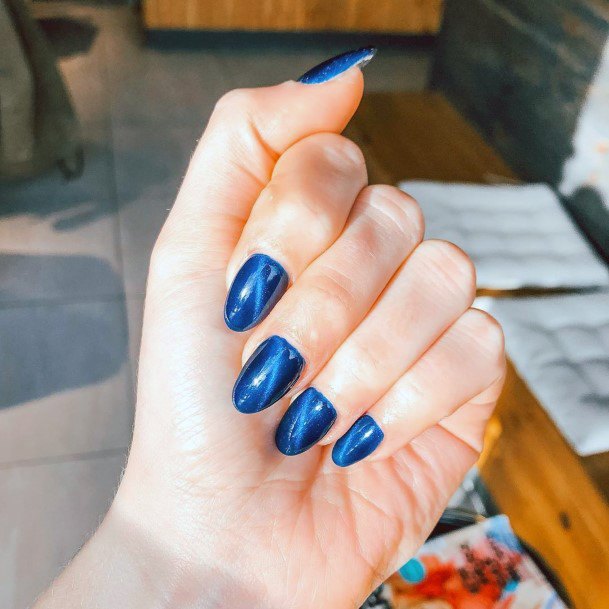 There is nothing regular about blue because it gives that skyline kind of a view. I understand just how much we can introduce complexity in a simple look and that is where the cat eye nail polish comes in.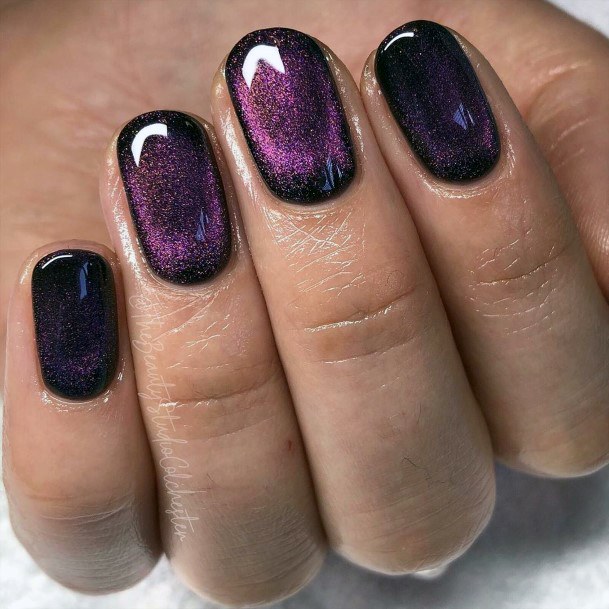 I don't know if it's just me but short nails are magical in such a unique way. Black and purple glitter bring out something closer to what blue does. City under the stars.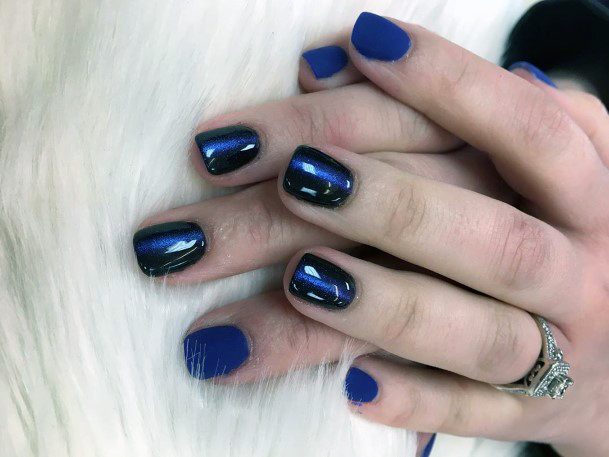 In another episode of the magical blue, we get to experience glow, glitter, and matte finish. I really do love glow but matte brings out the beauty in such a subtle way.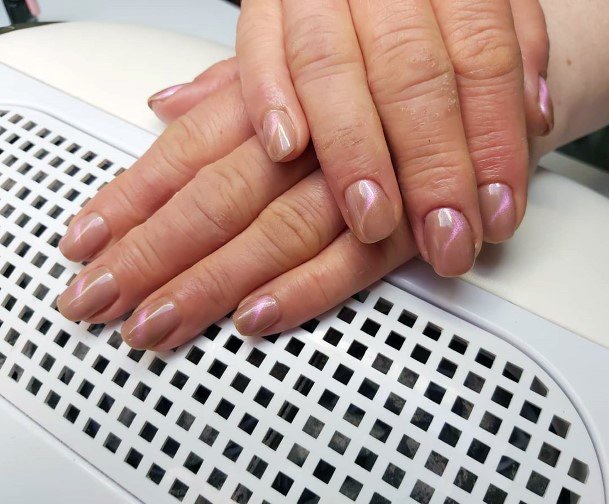 Well nudes are the epitome of beauty in simplicity. Cat eye nail polish still manages to bring out the glow even in nudes.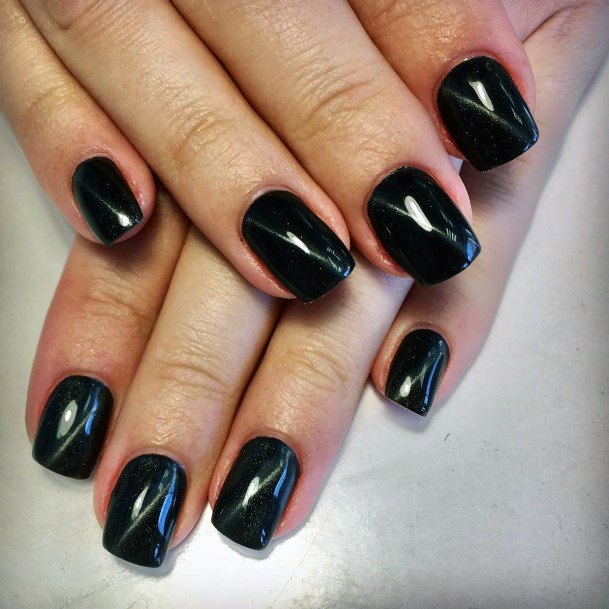 This is not the age of calling black gel polish plain. The cat eye look introduces the extra glow that makes black magical.
The city under the stars is always almost a guarantee when dealing with blue. Have you, however, seen how a cat eye design brings in the mirror like a reflection? Your nails deserve such touch-ups.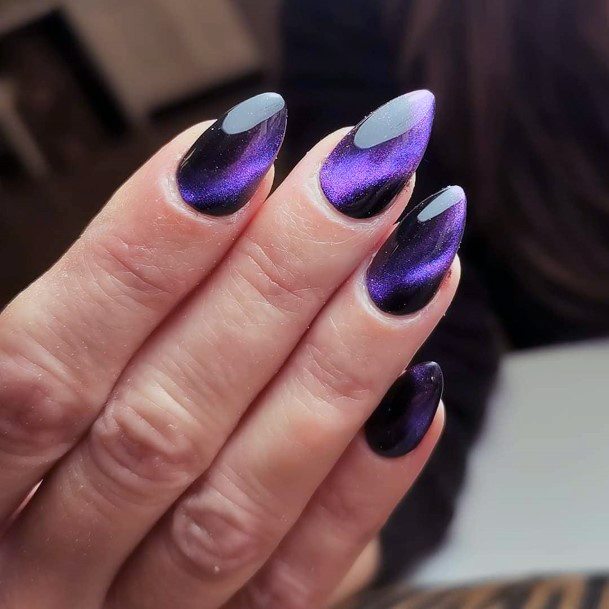 Let's learn more about how to introduce a bring color to darker ones like purple to attain a reflection-like appearance. Purple glitters in a darker shade are an automatic magical representation.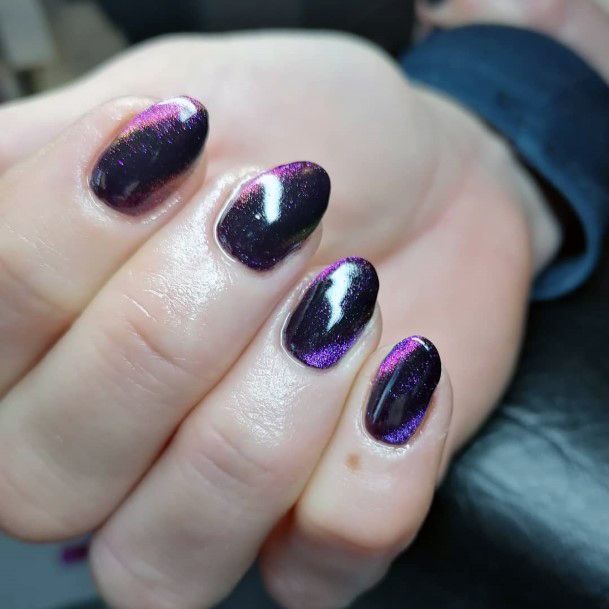 Feel the magic on your nails by trying out a combination of purple and pink glitters in a dark shade. I am certain that the cat eye design is meant to introduce the heavenly look on nails.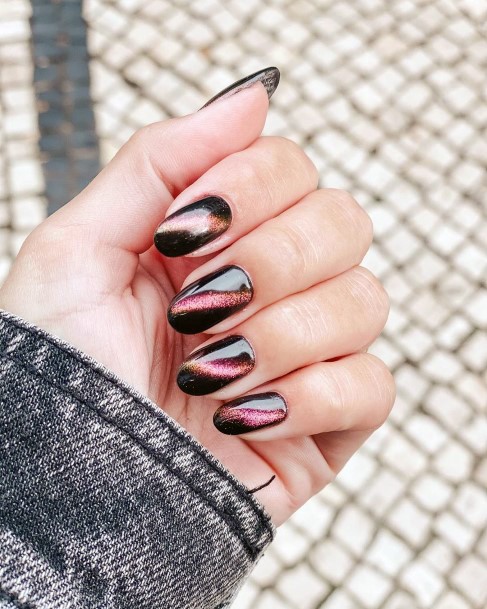 The best part about trying out a cat-eye look on your nails is that even the most random designs come out perfectly. How can you recognize that this pink glitter is not the same on all nails? Even better, who wants their nails to look the same.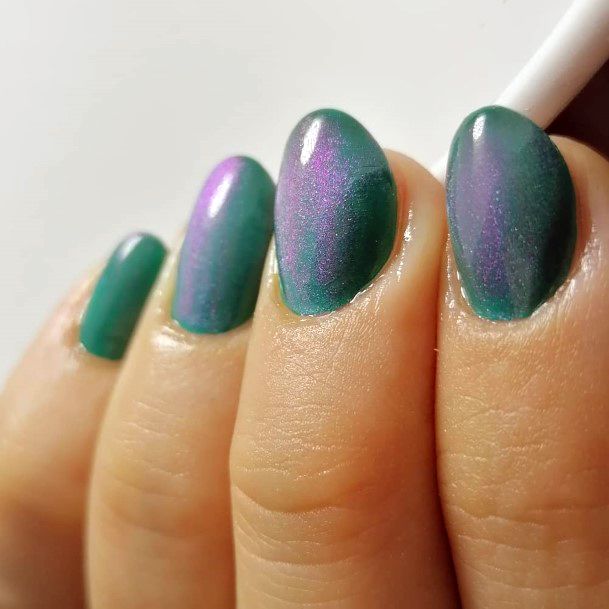 Green and purple is such an unexpected combination that I never thought possible. What can go wrong as long as the glow is prioritized? Cat eye nails are all about fun and mixing up things.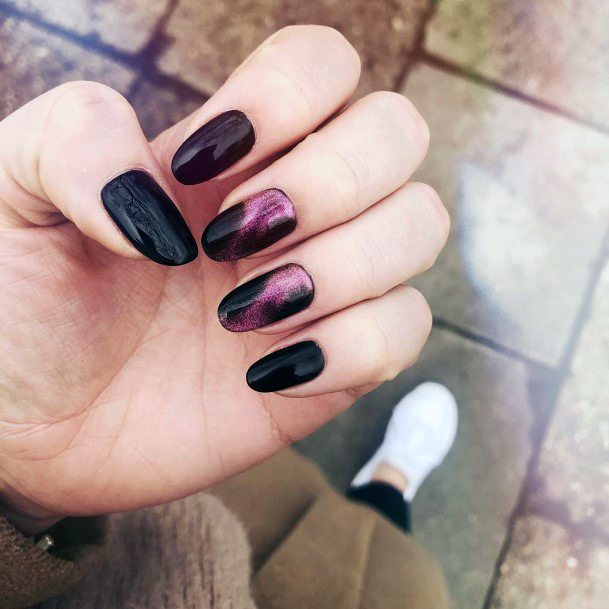 A pop of color on some dark nails will never fail. It even gets better when these nails get that splash that come with the cat-eye look.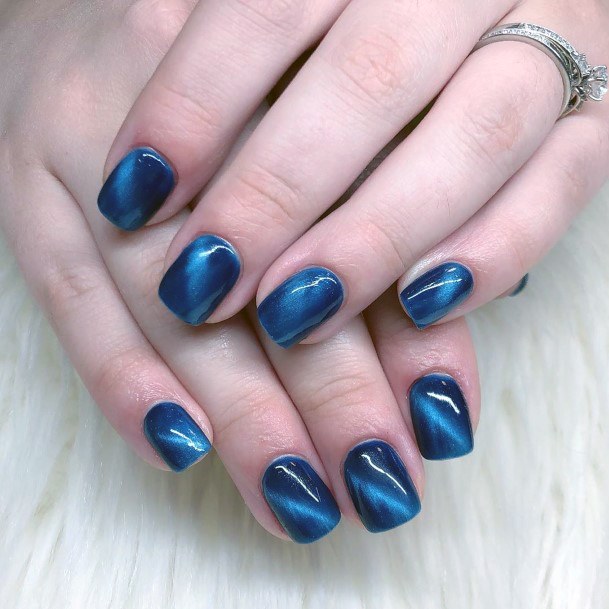 I feel some type of way when I see short nails. The feeling is perfection. Now add the magical blue effect with some glitter and glow. Exceptional.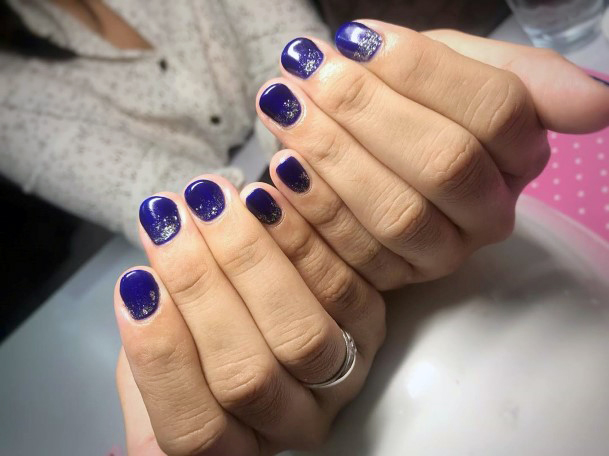 I thought that blue with glitters can only give the impression of a city under the stars. There is, however, a different shade of blue that introduces royalty. The cat eye nails are so diverse.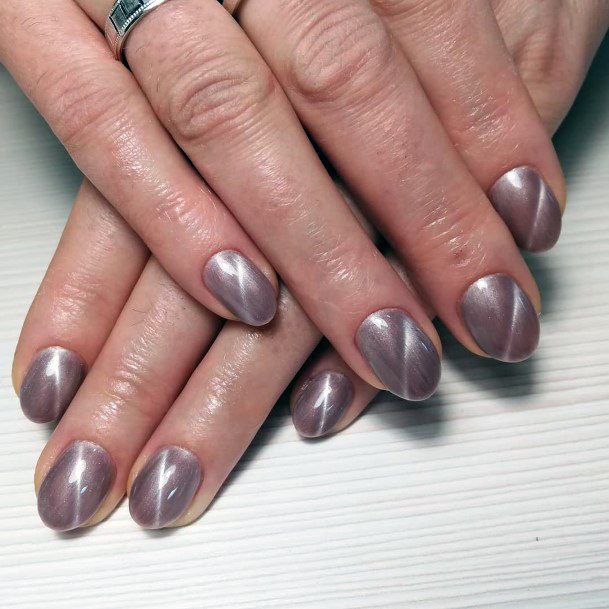 Any color that I cannot comprehend falls under the nude category. I know that sounds ignorant but don't we all love some mystery? I am glad that there are some colors we cannot identify right away and they are perfect.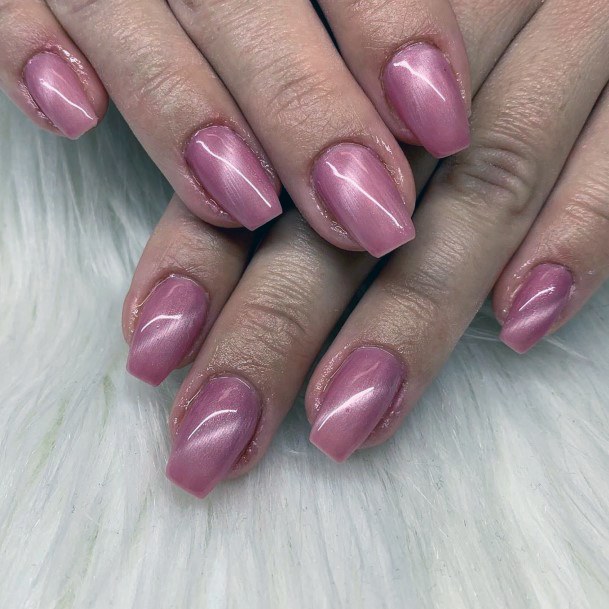 Pink always comes out pretty and girly in all perspectives. Now, add a little bit of glitter and glow. You don't need anything else to call it perfection.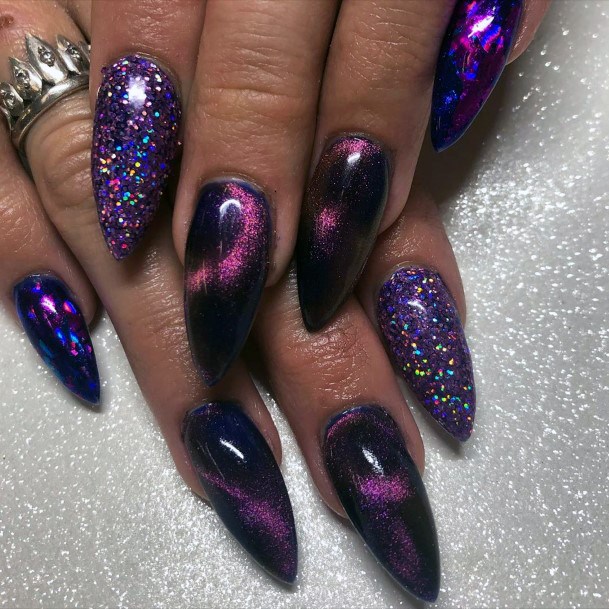 Sometimes we want to be extra and that is when the long and pointed nails come in. Cat eye design has made all possible by introducing different looks in glitter and glow. Every glitter is different and there is nothing wrong with being a little bit extra.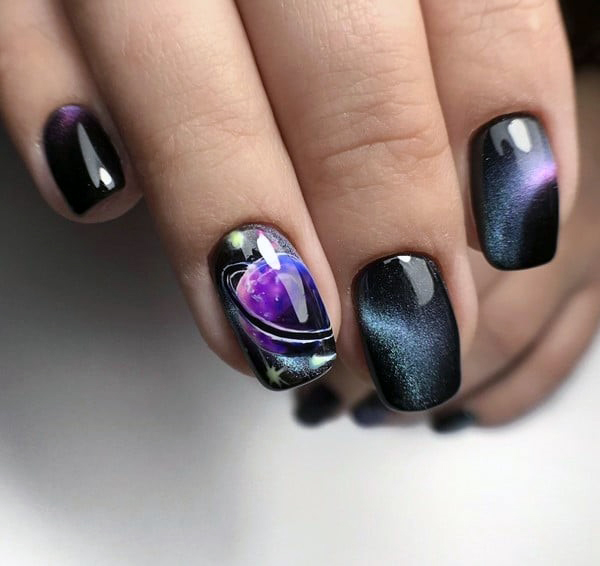 I am amazed by the kind of effect that purple brings to any nail finish, especially when accompanied by glitter and blue. This here is a whole solar system from a distance we are looking at.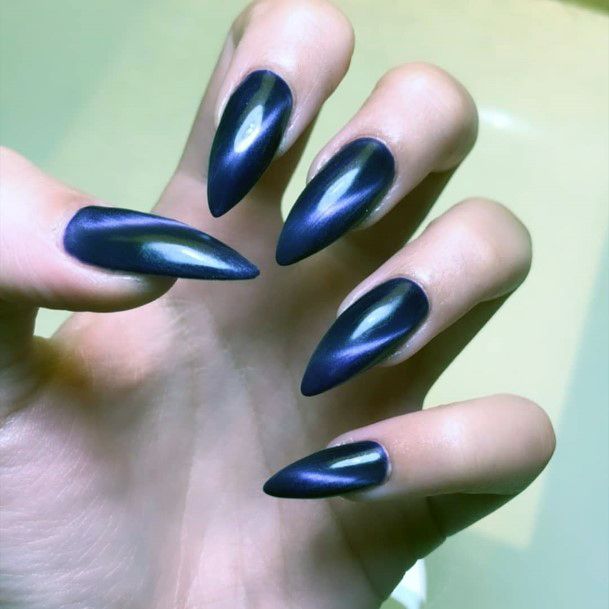 If there is any color that has been diversely explored under the cat eye chart of nail polish is blue. Regardless of how you structure it, there is always something to admire.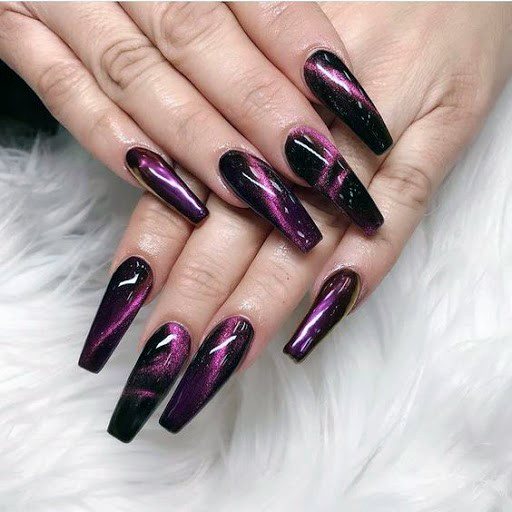 These purple nails make me change my mind about siding with the short versions. They are a reflection of perfection and magical combinations with glow right in the middle of it.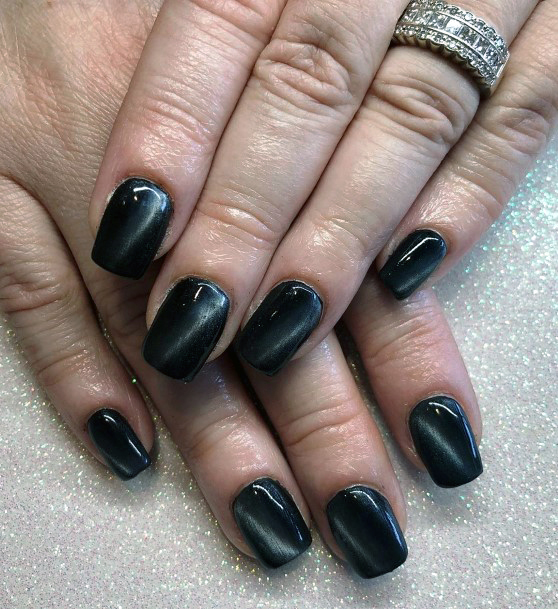 The glowing finish especially with black makes it more inviting than it would have been. Now add some white glitter and you have heaven right on your hands.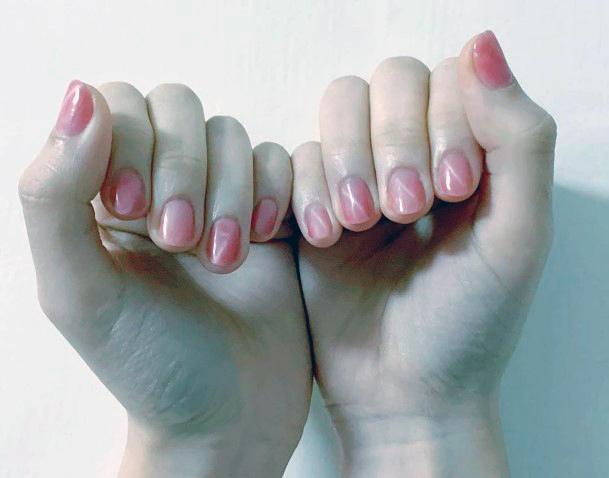 Pink can sometimes fall under the nude category of colors but I am sure it is pinker than it is nude. These short nails scream simplicity yet sophistication due to the cat eye motivated finish.