Let's investigate the enduring fascination of the heart and dagger motif, tracing its origins in early Christian art and looking at its application in contemporary tattooing.
Many women are curious about the meaning of the heart and dagger tattoo when they see it. The heart and dagger tattoo features two powerful pieces of juxtaposed imagery, which is maybe why it has endured for so long as a potent symbol.
When we examine the symbolism, we discover that the heart stands for love, the center of our emotions, the source of life, and our deepest wishes. Traditionally, the dagger has been used to denote brutality, sacrifice, death, or betrayal.
Since daggers were long considered the preferred assassination tool, they are the perfect metaphor to describe betrayal. Daggers have become more common among murderers because of their tiny size and ease of concealment.
We notice the dagger's appearance in the heart and dagger tattoos designed to portray a sense of betrayal because the way the victim was killed only served to emphasize the sense of ruthless violence.
Although frequently seen in Catholic iconography, the heart and dagger can also stand for the Voodoo spirit Erzulie Dantor; a bisexual female goddess thought to guard women, children, and the marginalized. The Haitian Voodoo community fears her fury since it is supposed that she will get revenge on anyone who hurts the people she is entrusted with watching after.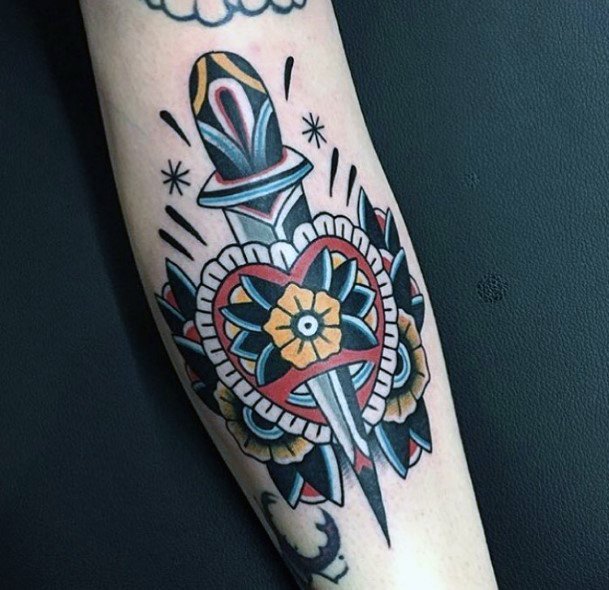 How beautiful is this forearm traditional old school female dagger tattoo? I love the unique combination of colors which include black, yellow, red, blue, and grey. Unlike most other dagger heart designs, this one features a floral background behind the heart for even more stunning detail.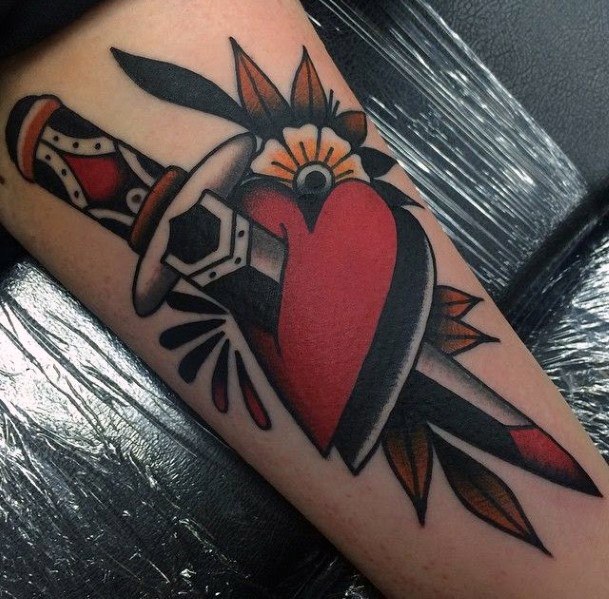 Here's another awesome women's dagger heart arm tattoo featuring a traditional old school style. A vibrant red and black ink heart is the main focus, while a heavily shaded black and grey blade looks sharp and menacing. To keep this otherwise masculine design more feminine, you can add a simple flower or leaves in the background for a cute feminine touch.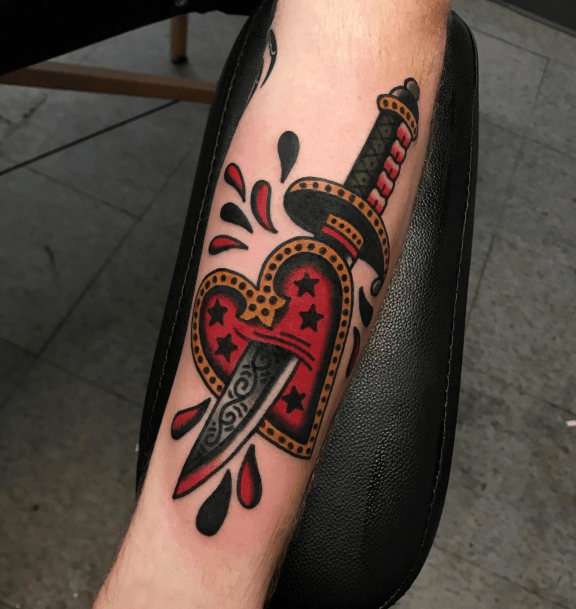 I love the ornate detail work done on the border of the heart. Not only is the border is a cool orange color but it also features lots of small black ink round dots. Just a bit further inside of the heart you'll also find a nice black ink drop shadow detail alongside five black ink stars. Take a glance at the blade and you'll find a tribal style pattern on the silver blade too.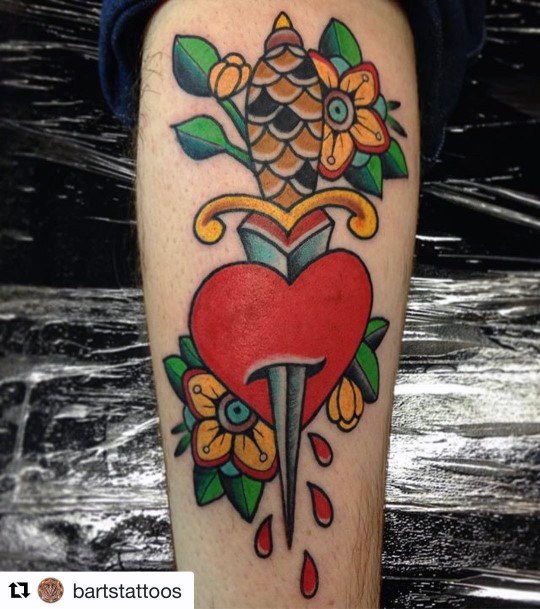 Who says dagger heart tattoos have to be Gothic or moody? Here's a beautiful exception to the norm with this awesome women's brightly colored dagger heart tattoo. A combination of vibrant colors gives this design a punch of fun while giving the overall look a touch of creativity.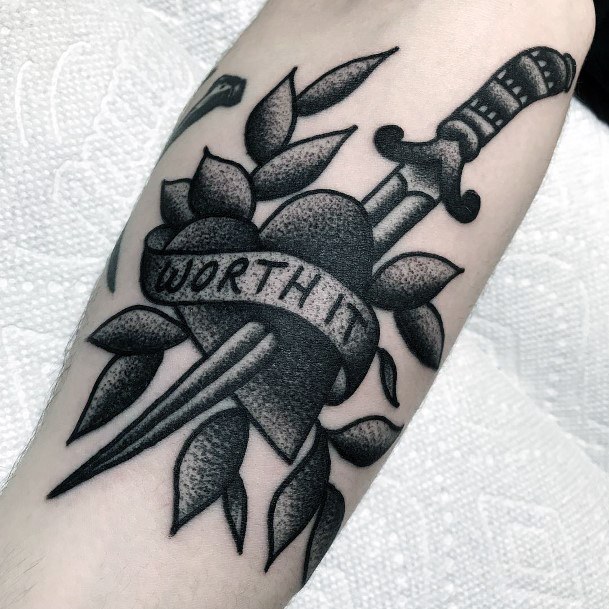 When it comes to giving your dagger heart design more detail, you don't have to opt for more colors or even patterns. Here's a great example of how you can take your tattoo idea and give it plenty of life by using a dotwork design. Every part of this design features thousands of tiny black ink dots in a cool negative space shaded theme. Note the nice banner with the words "worth it" covering the heart. You can easily give your design added meaning with a simple scroll or banner running across the heart.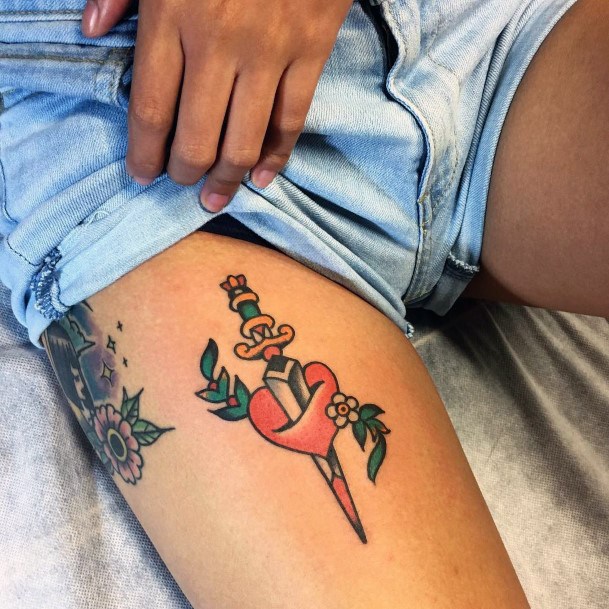 Check out this cute women's thigh heart tattoo featuring a soft red heart, green leaves, a white flower, and a silver dagger. Take a close look at the dagger blade end and you'll see a red tip which is a beautiful use of detail. Most designs simply have a blade that's either all black, silver or a shaded combination of both in a gradient effect. Look to the top of the blade and you'll find a fun, ornate handle with a lot of cute details. While the heart and blade are pretty much set in stone in terms of how creative you can go, the handle is one spot where you can get super creative.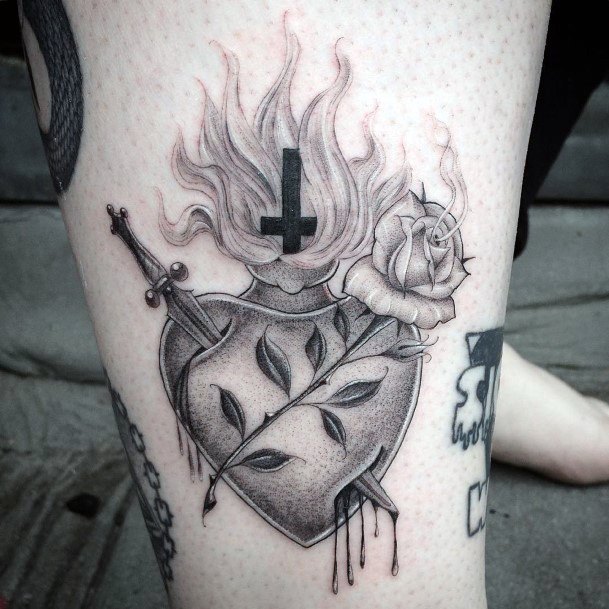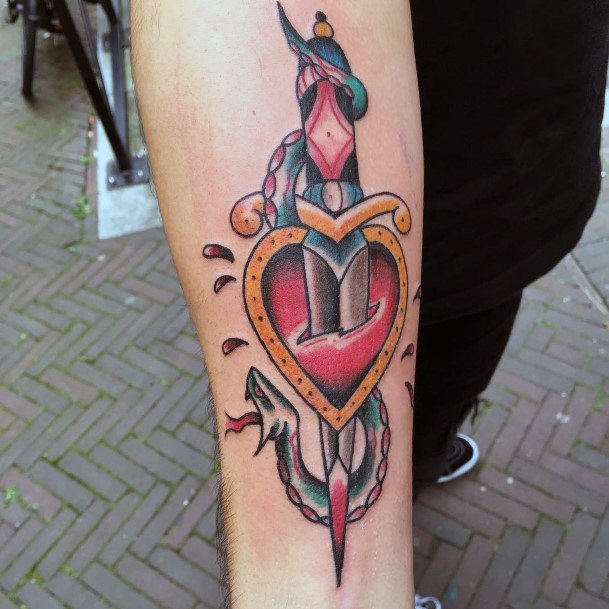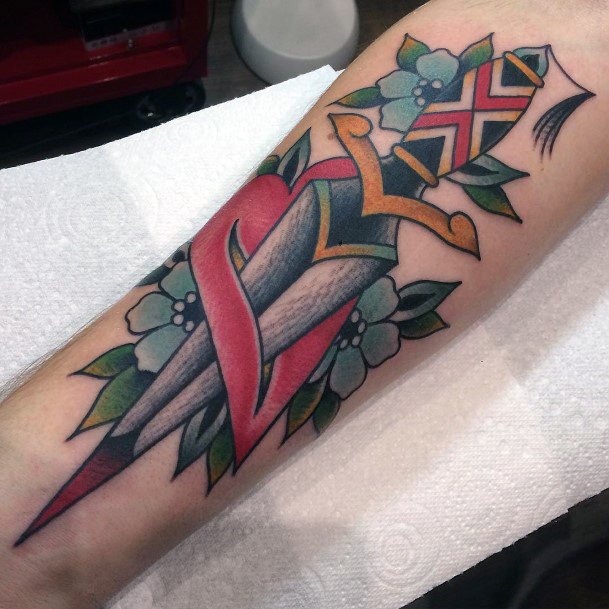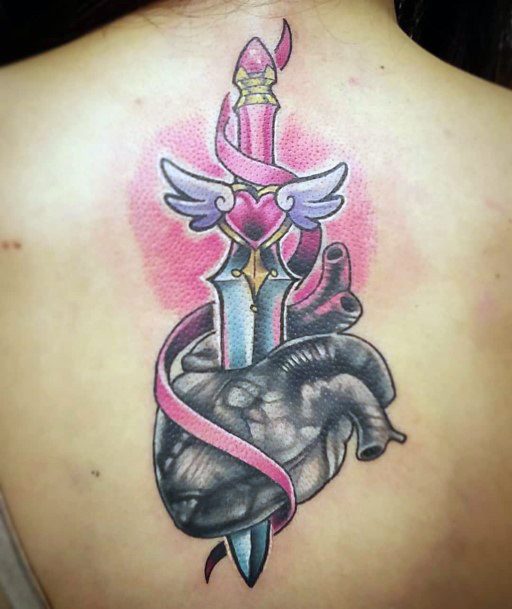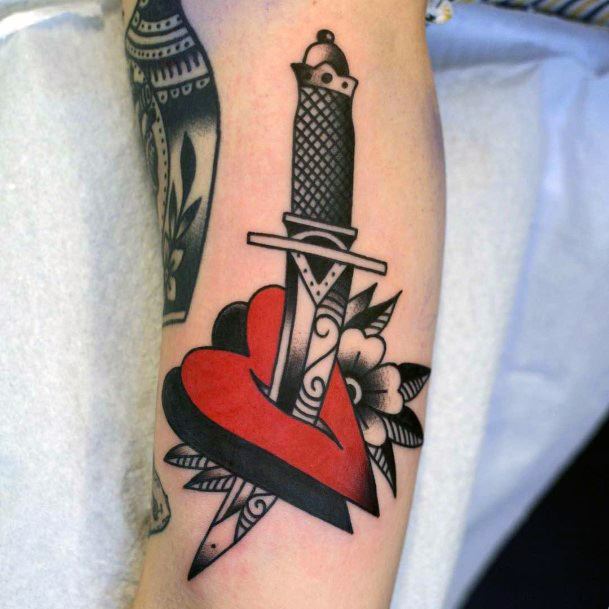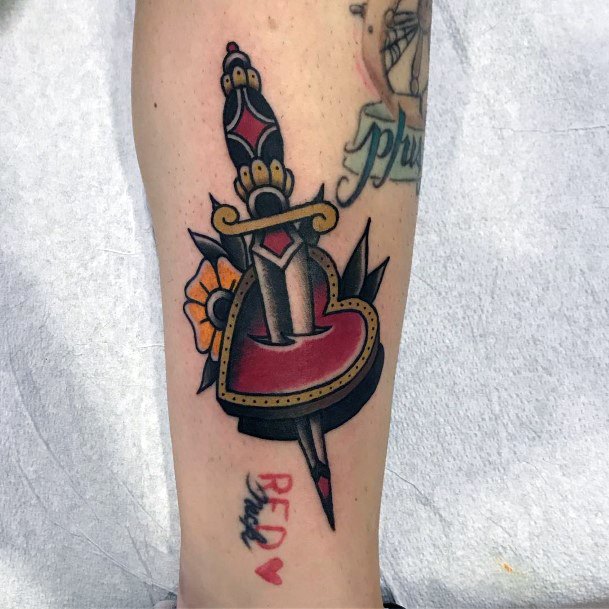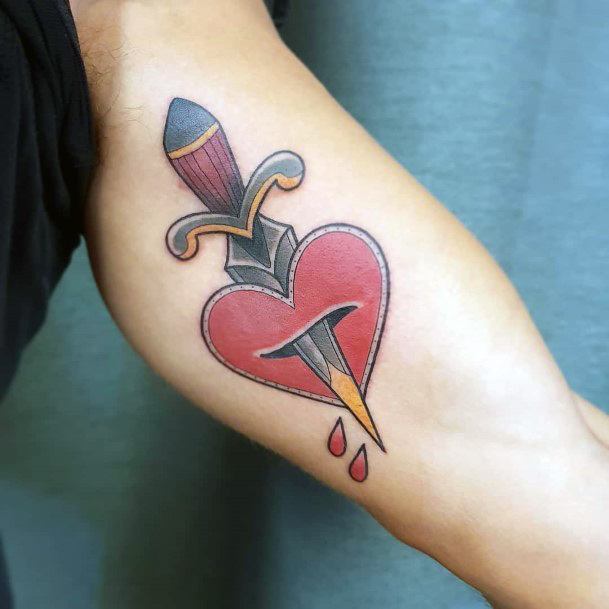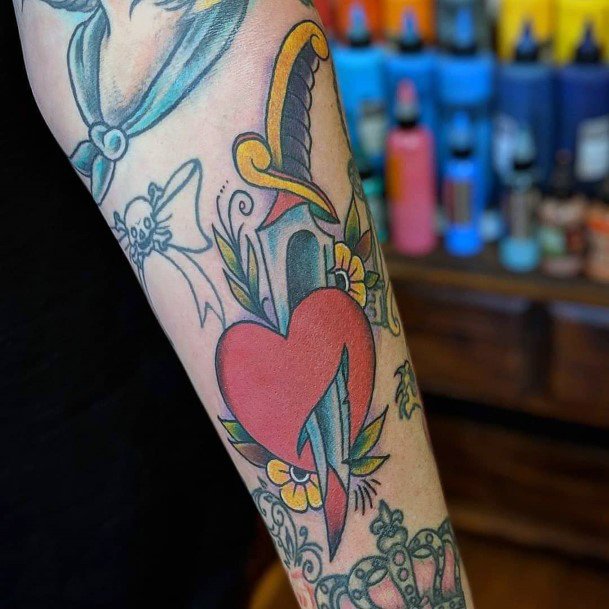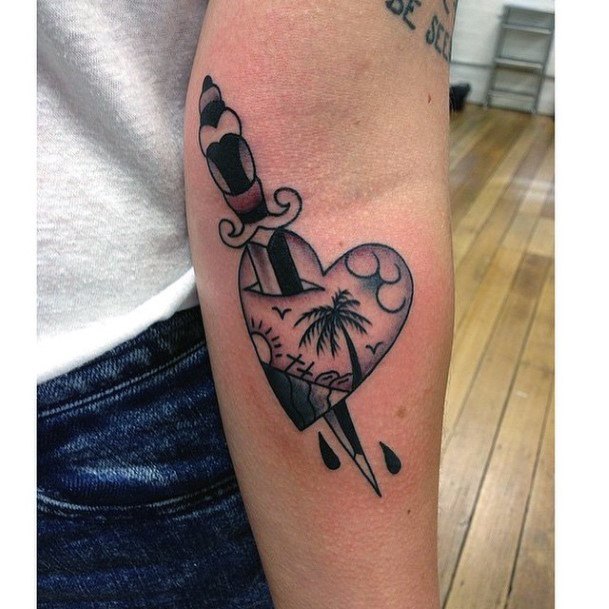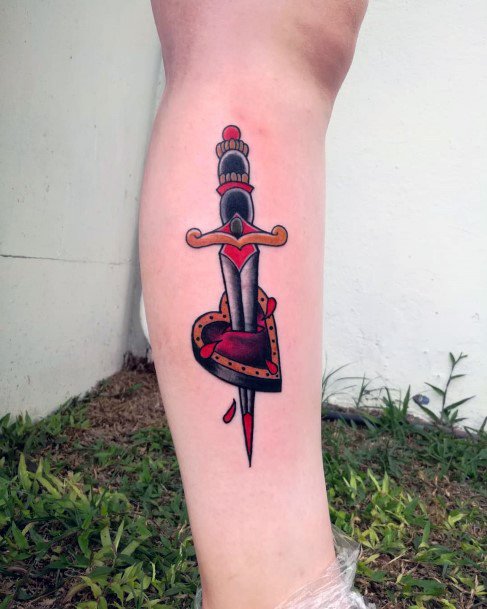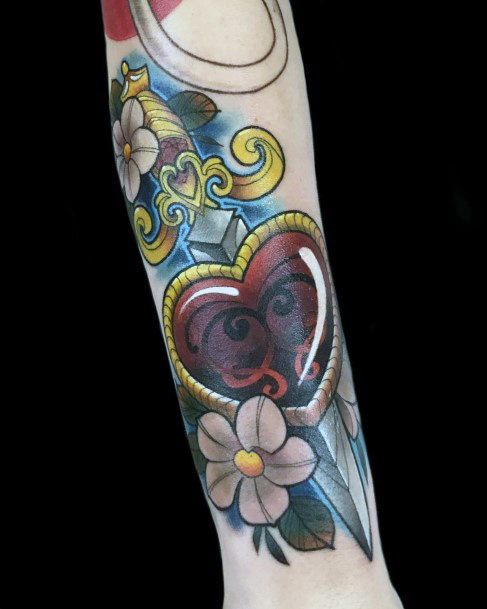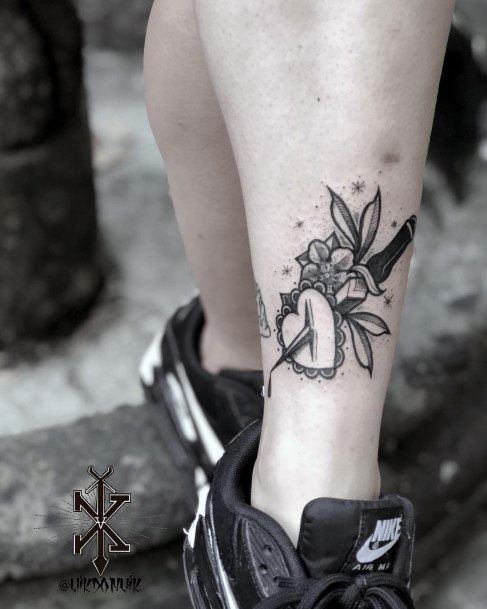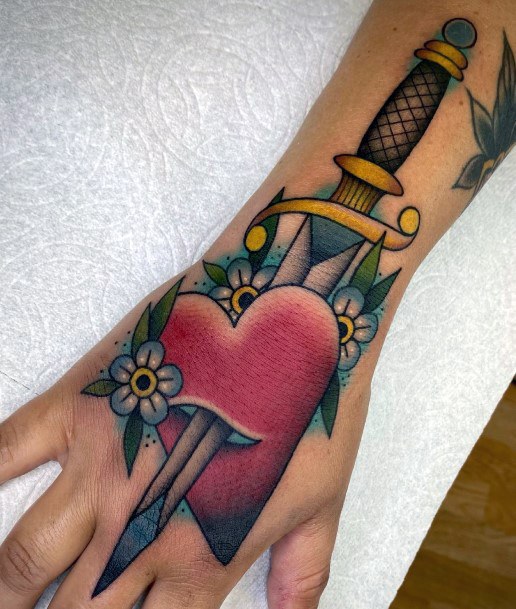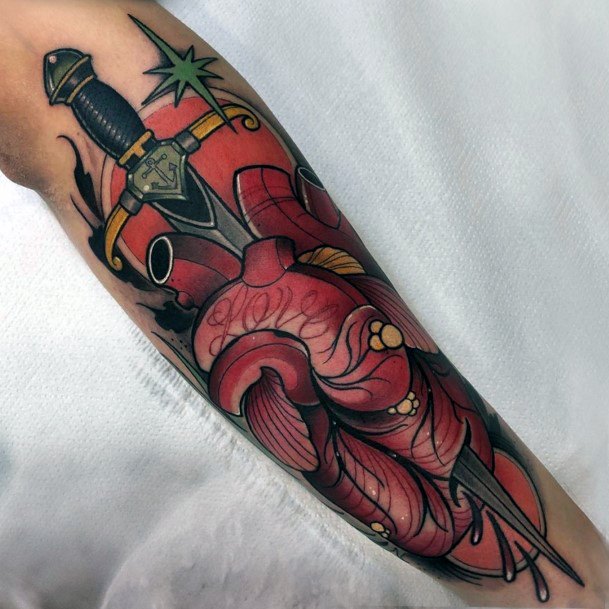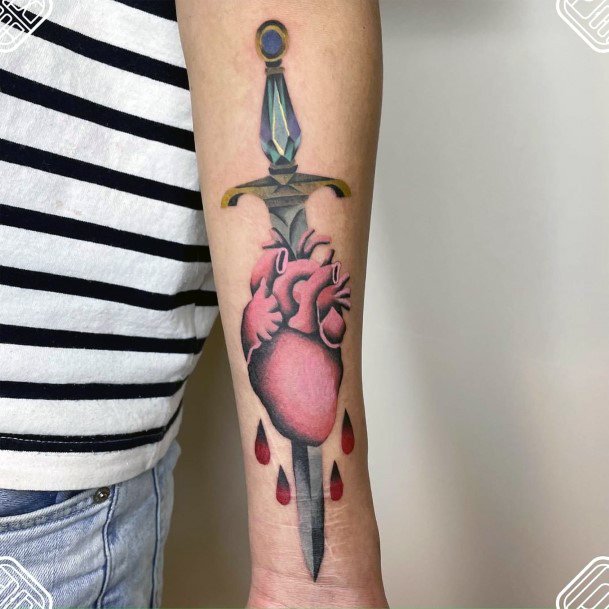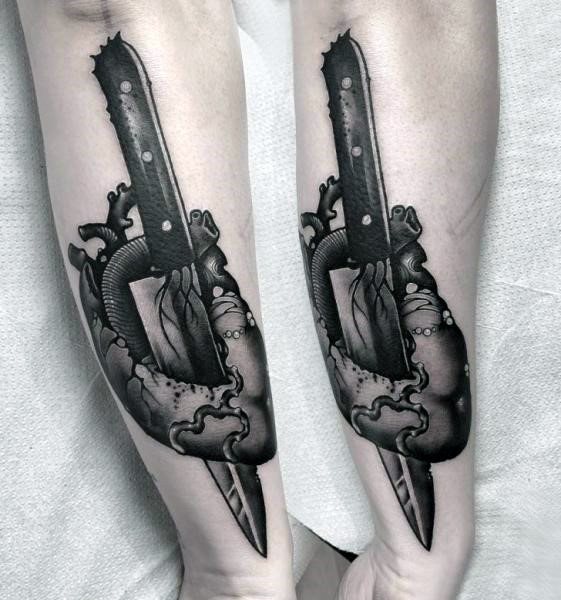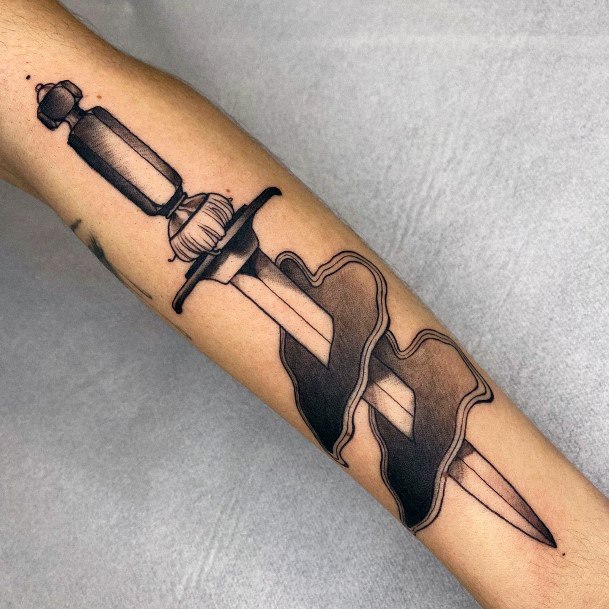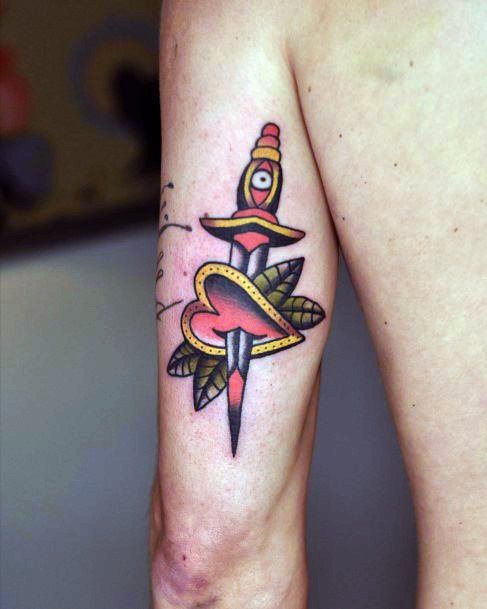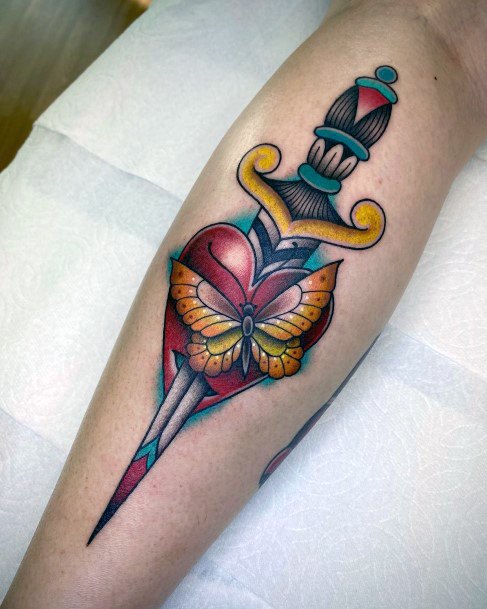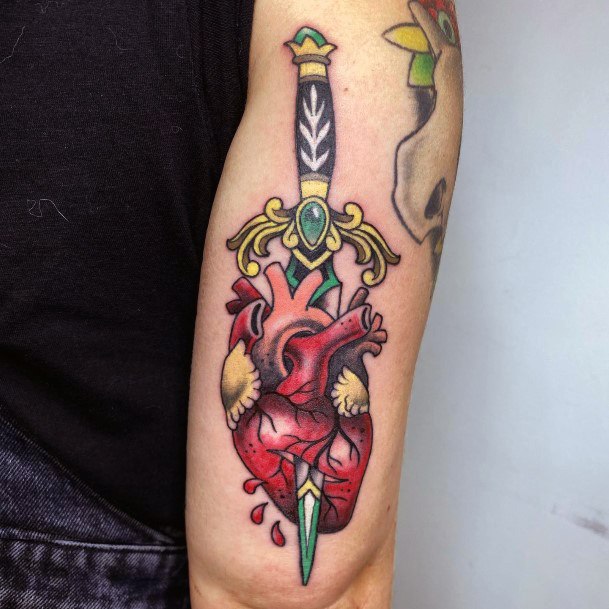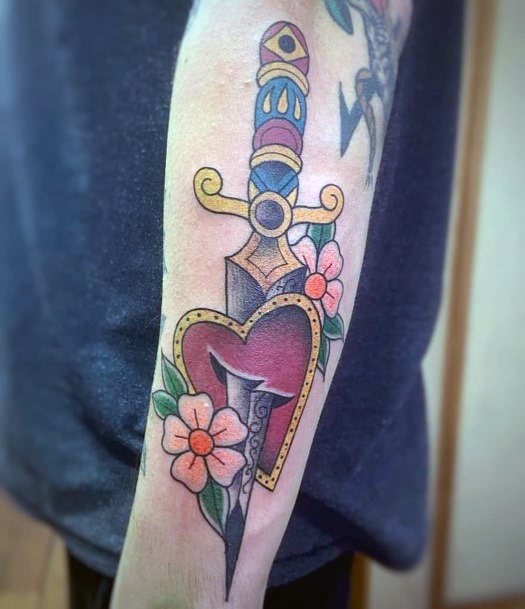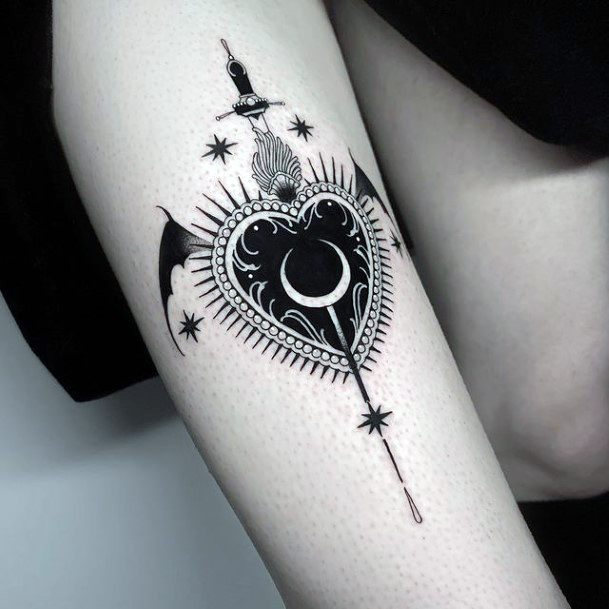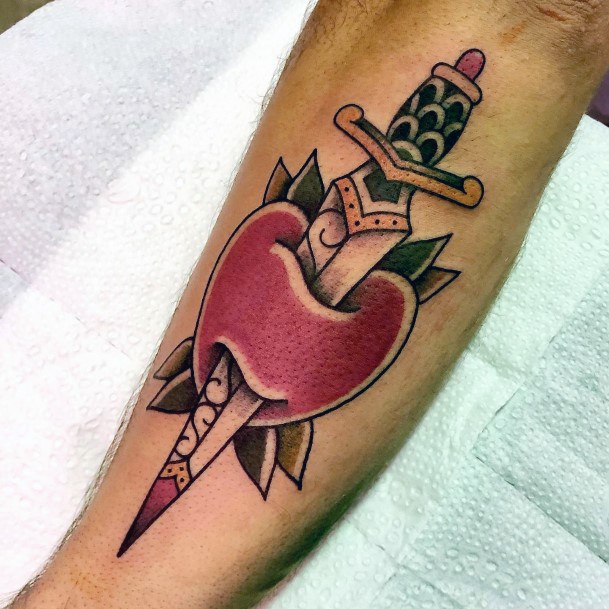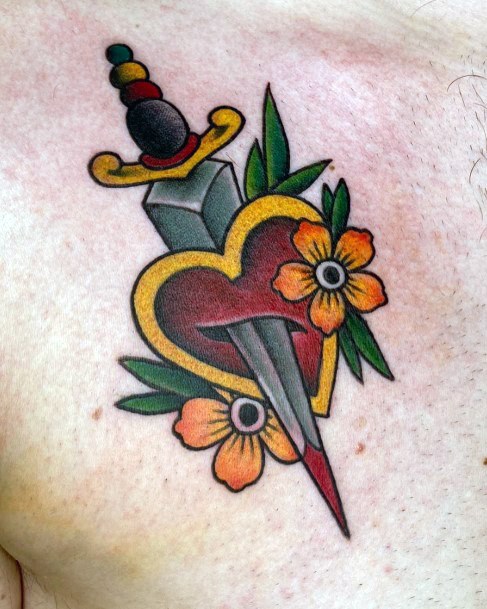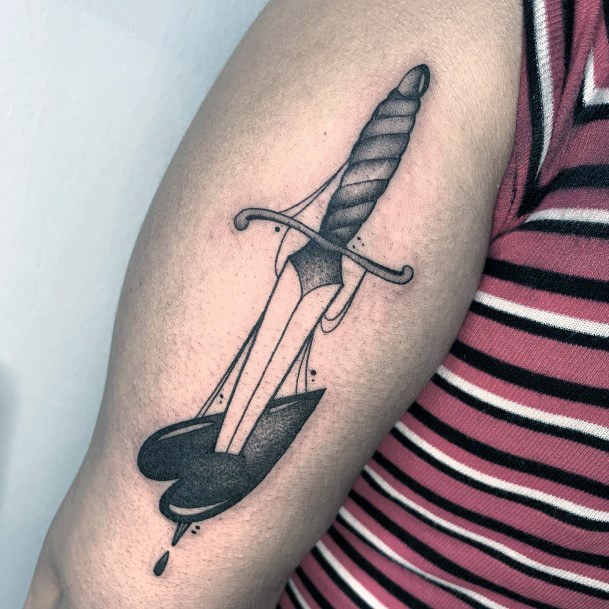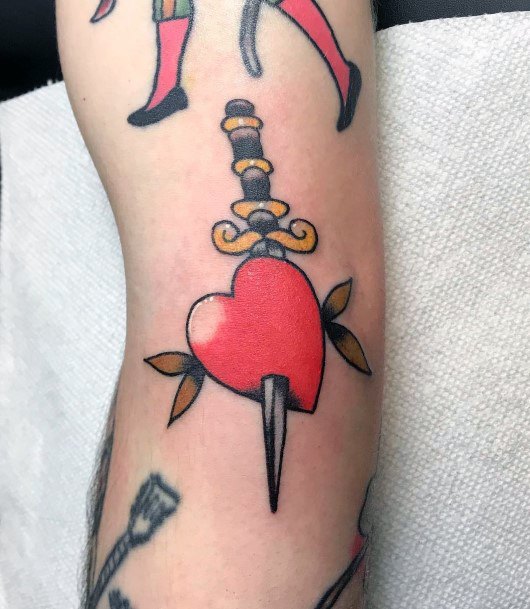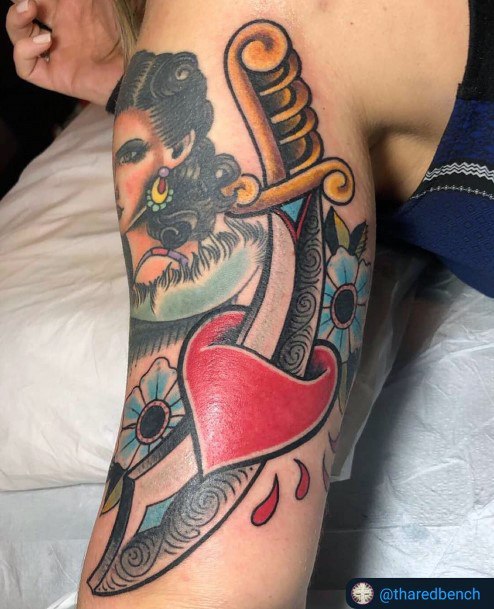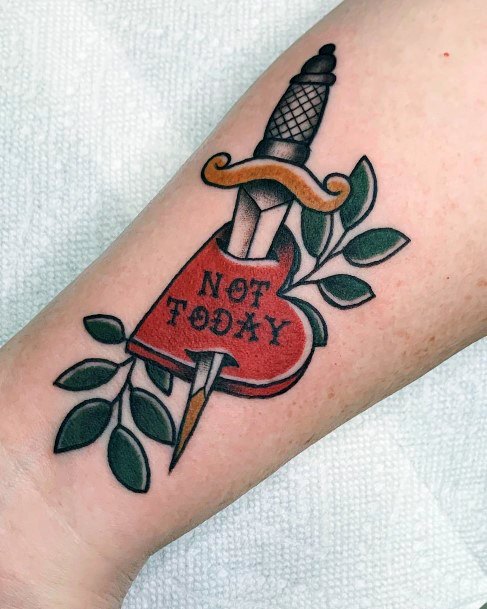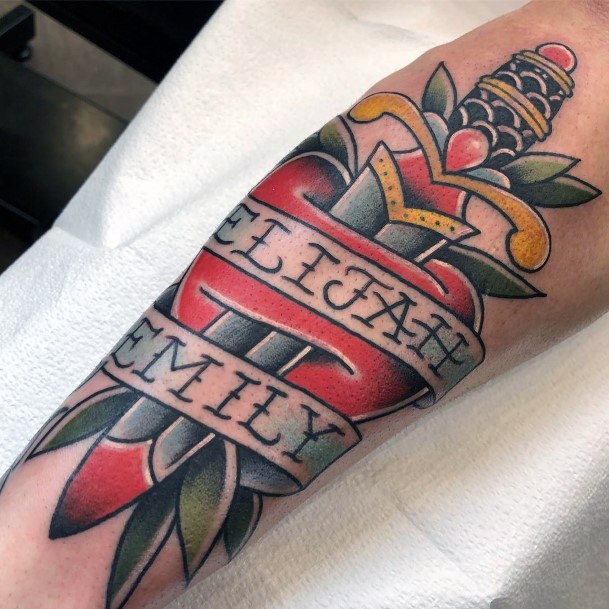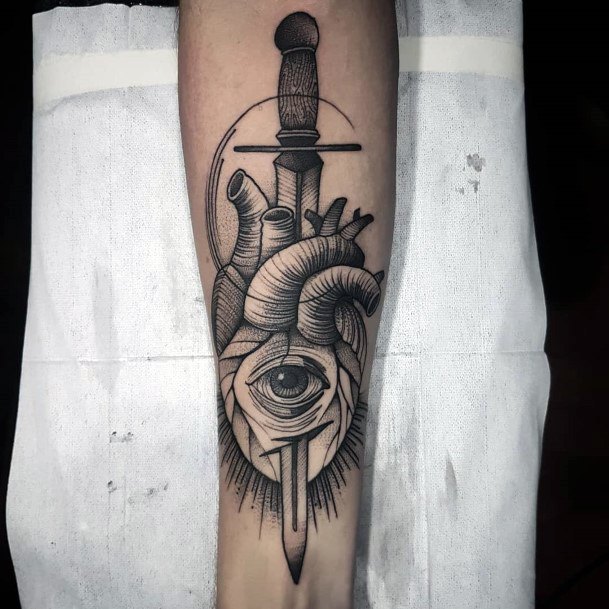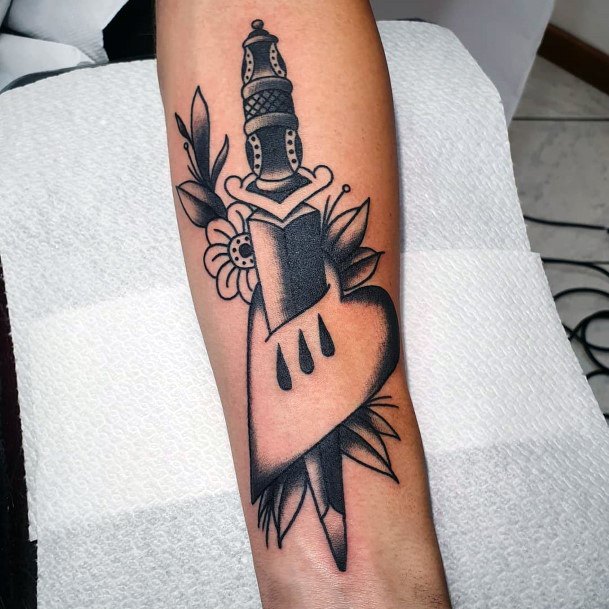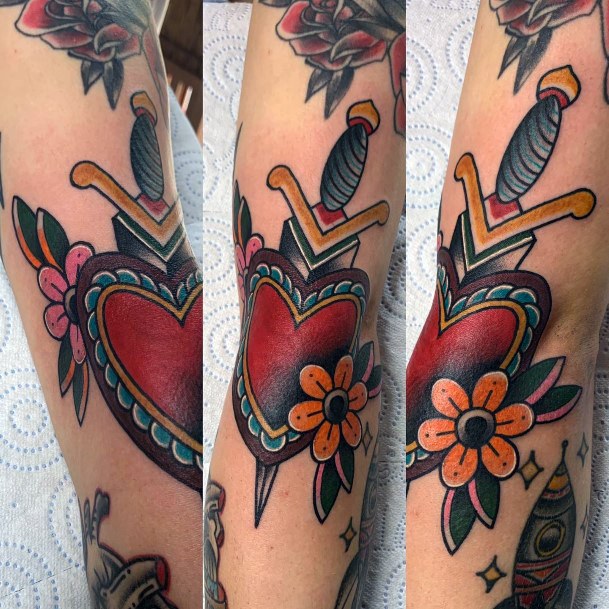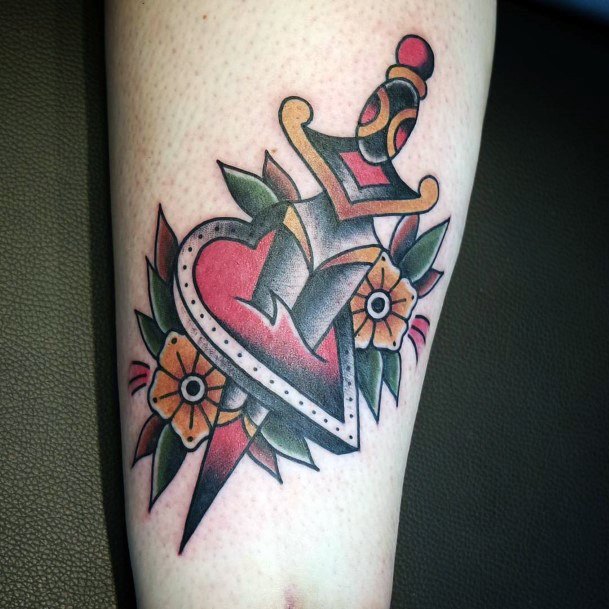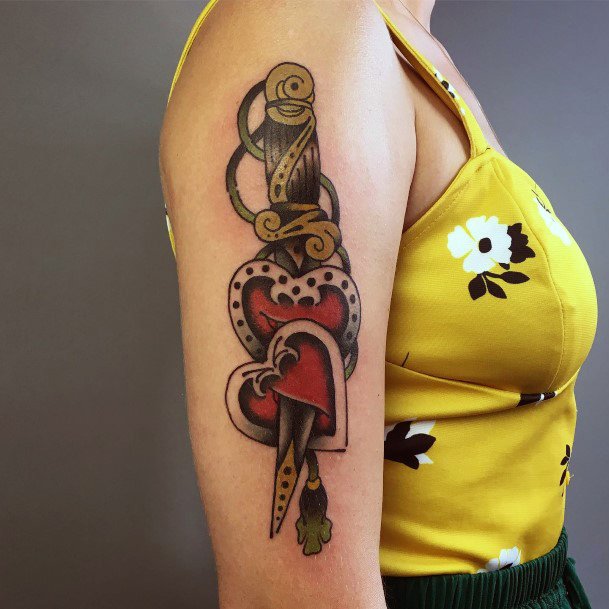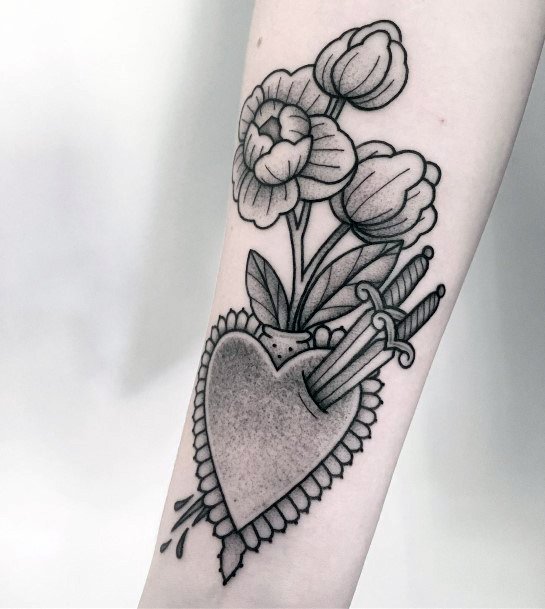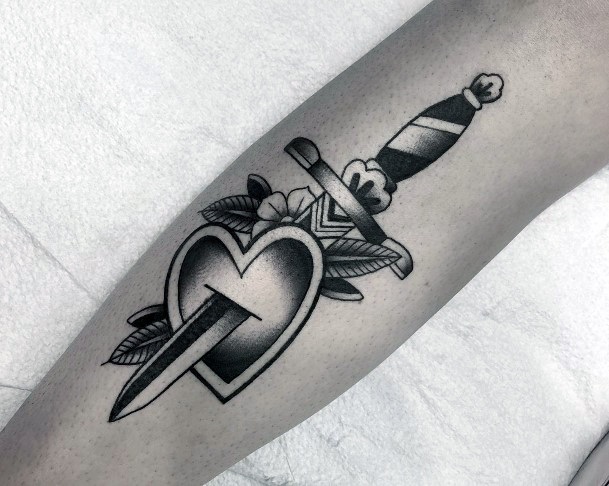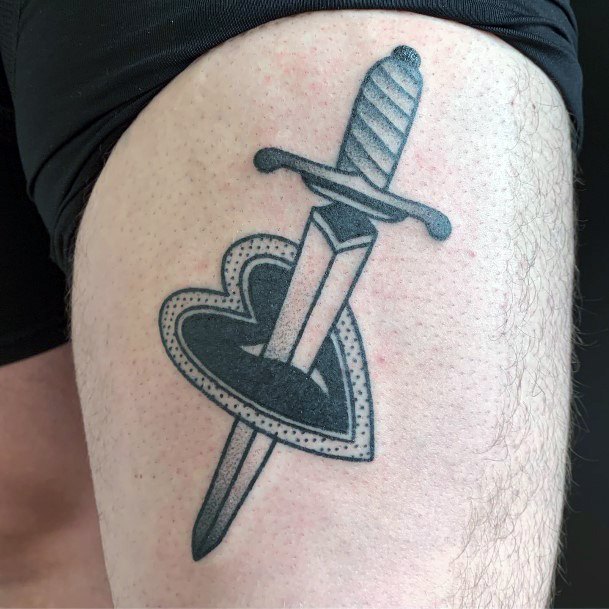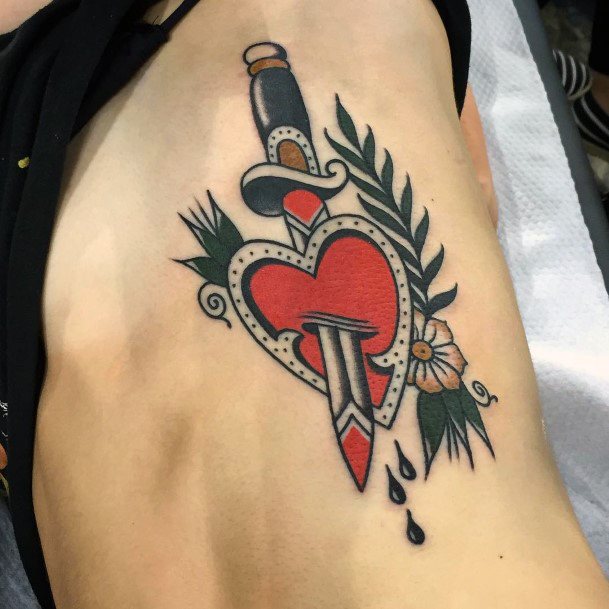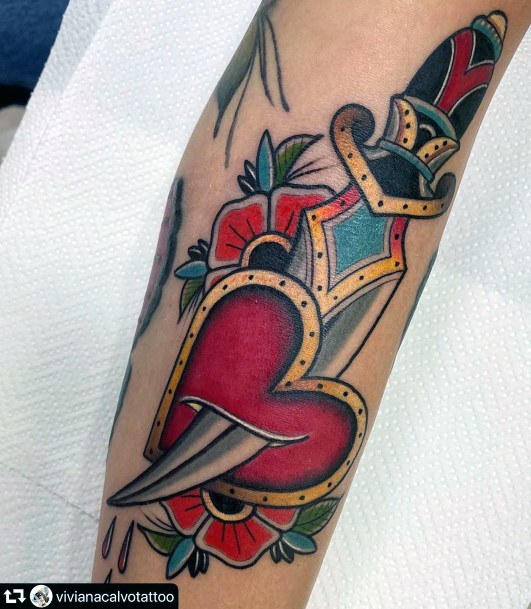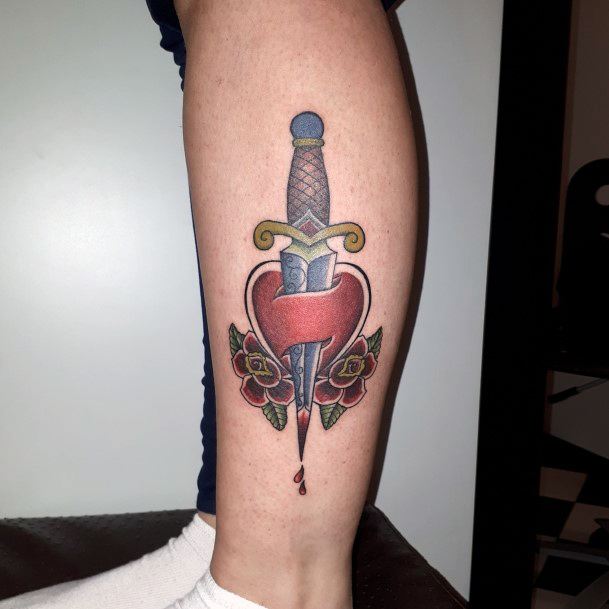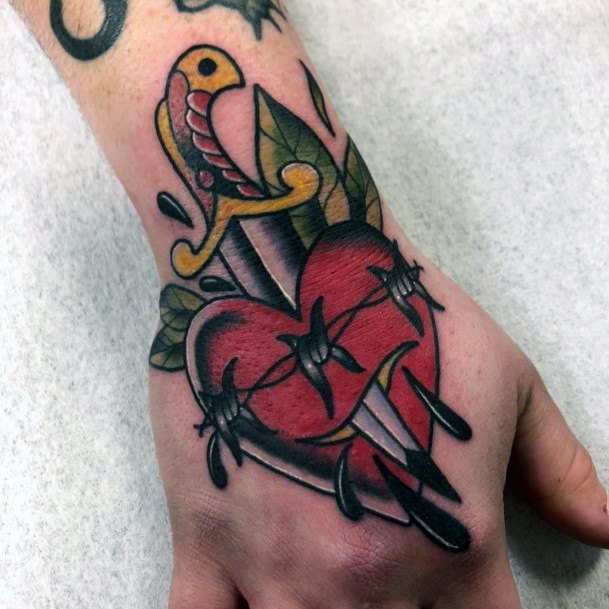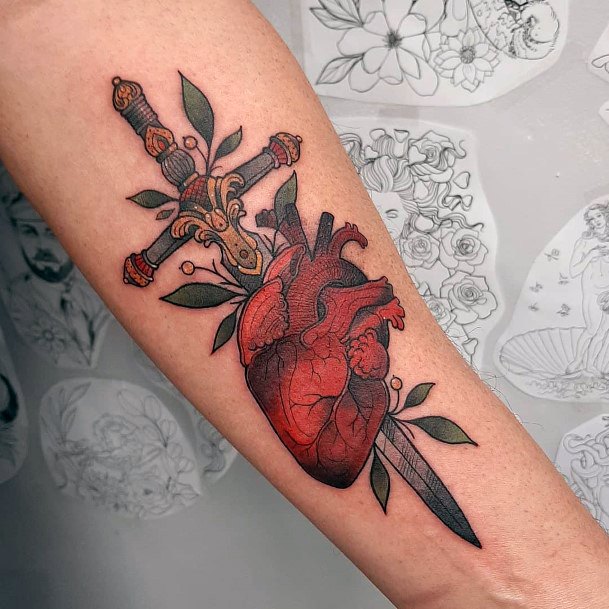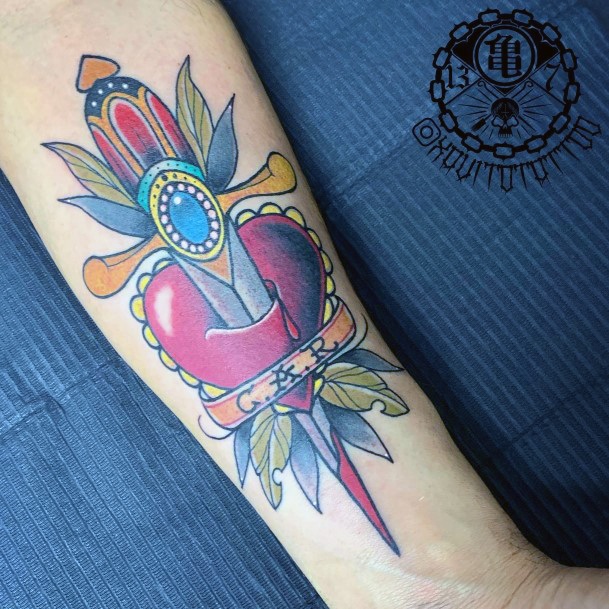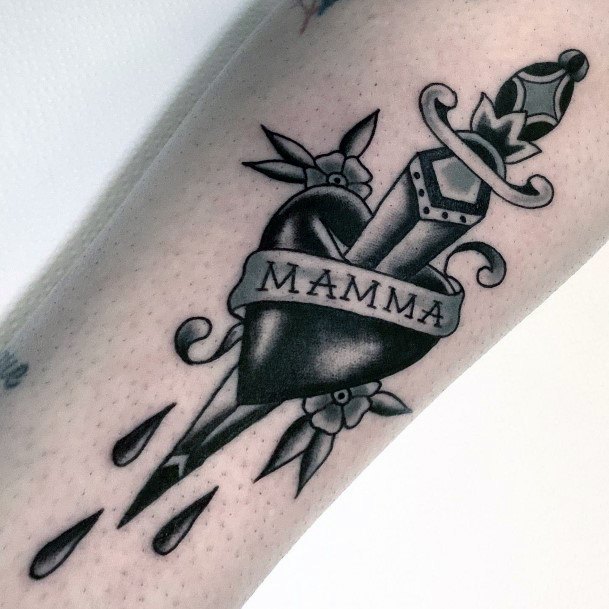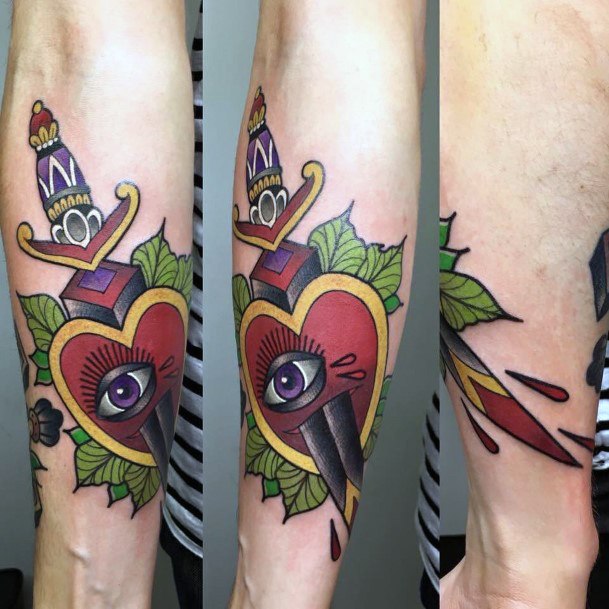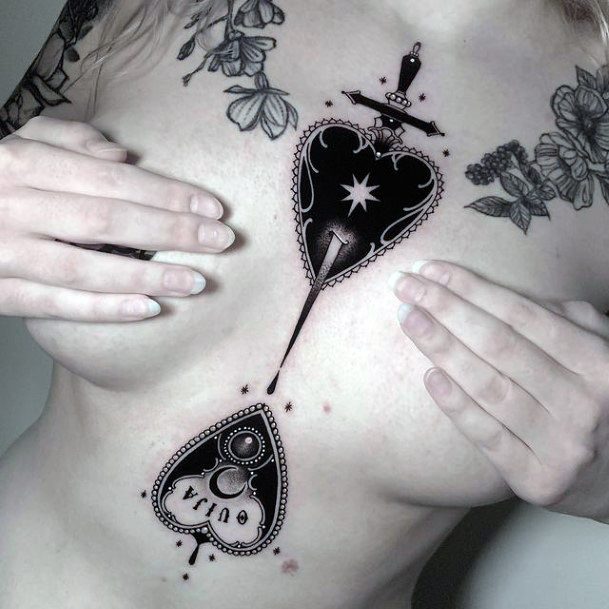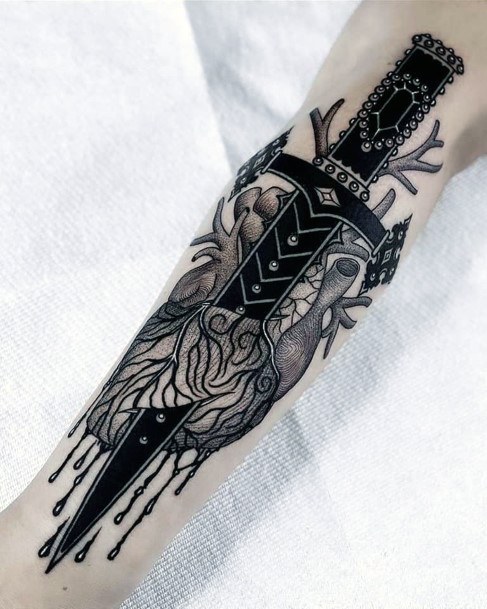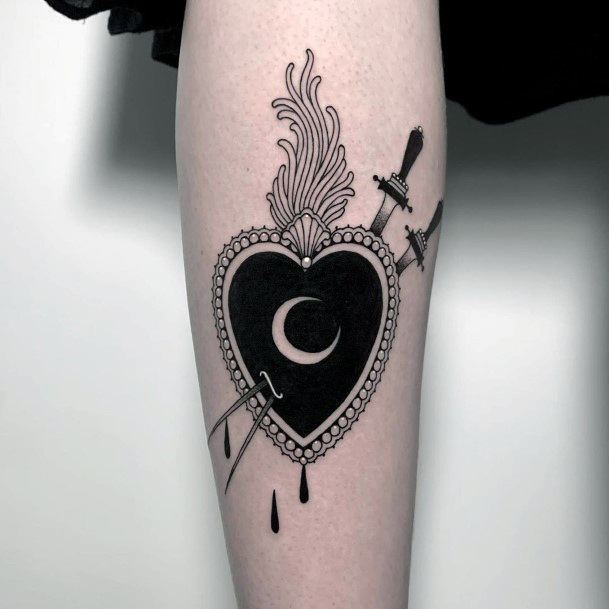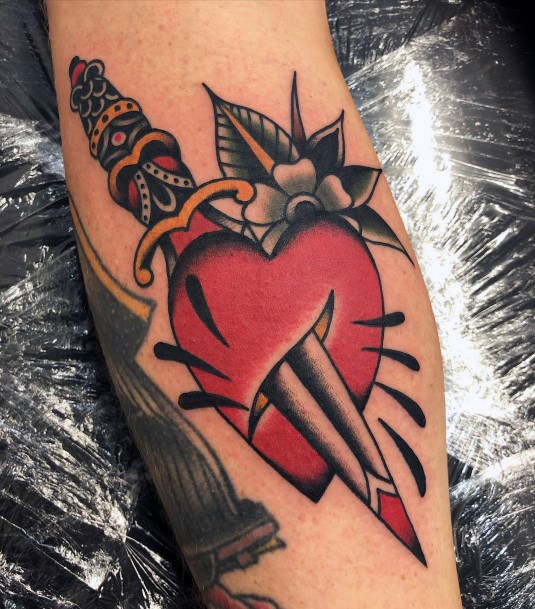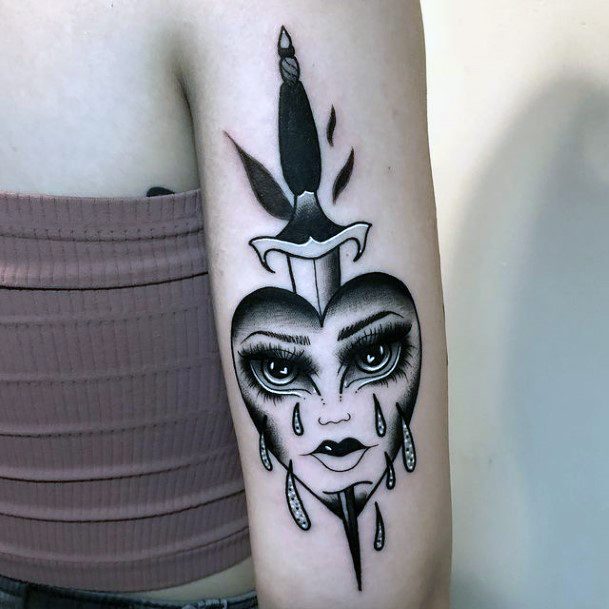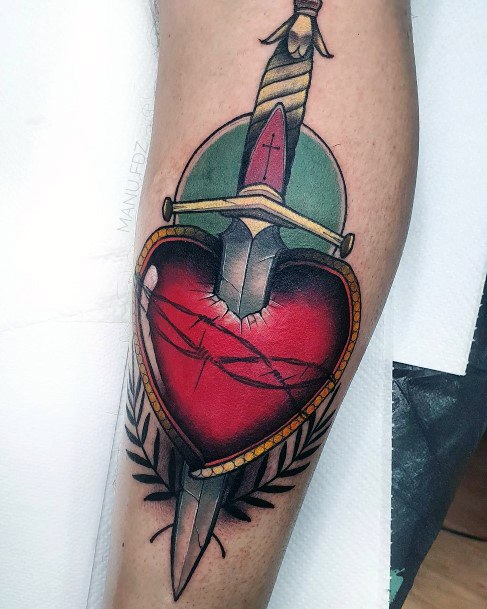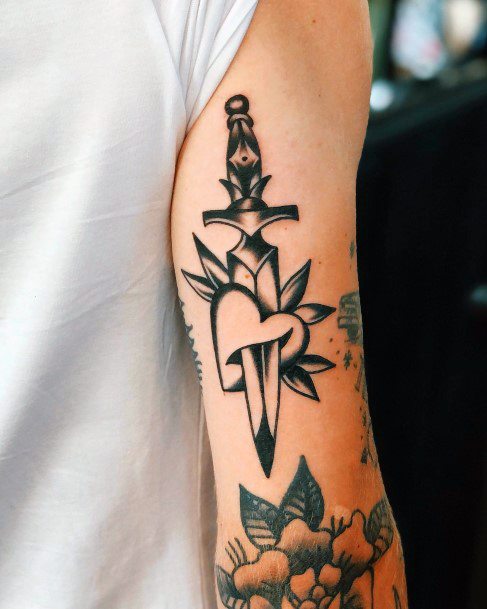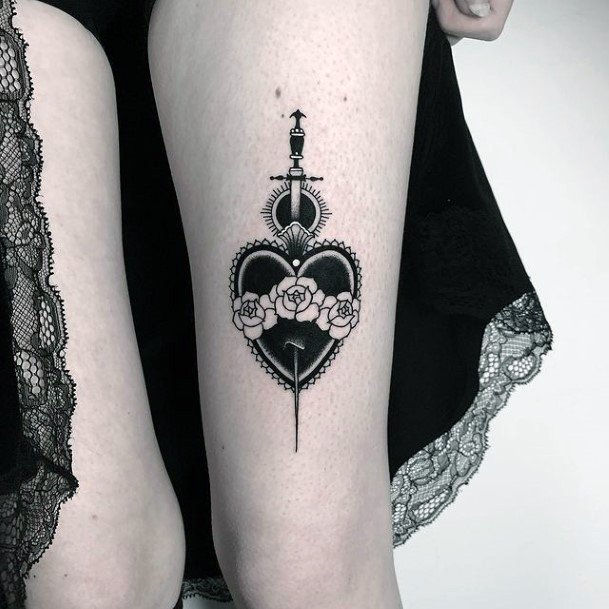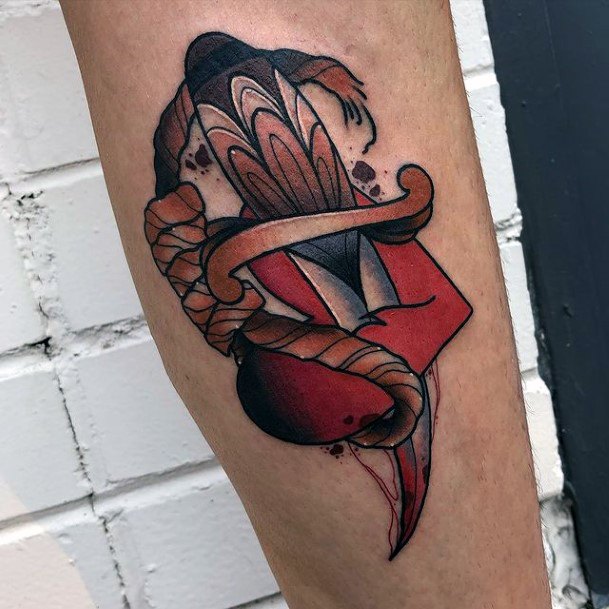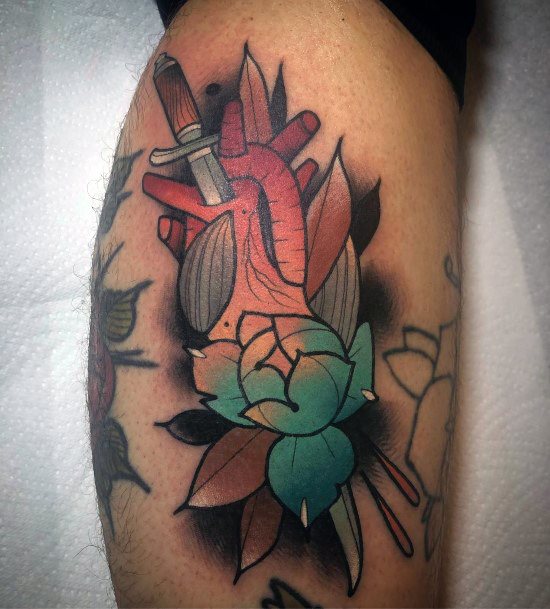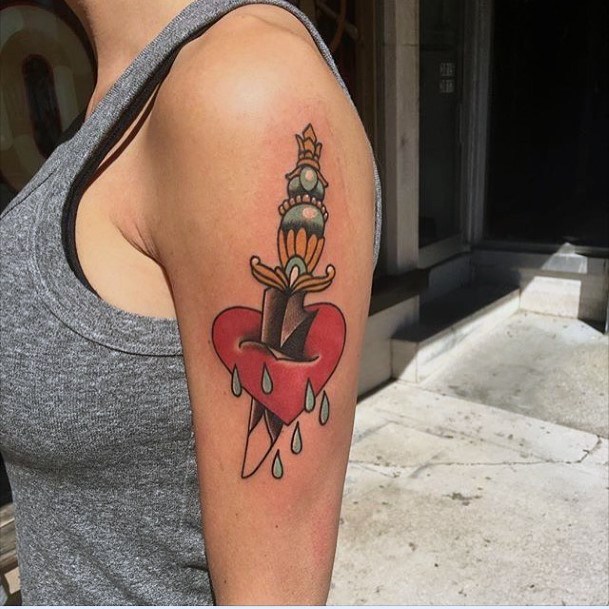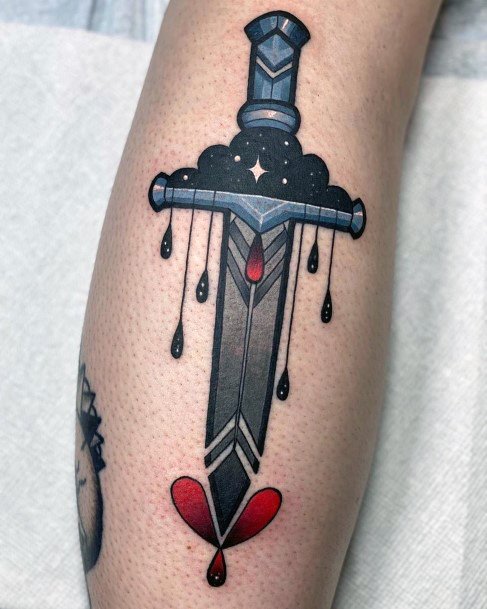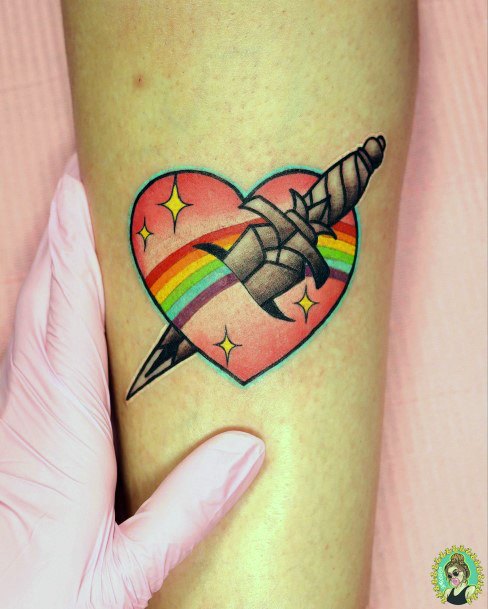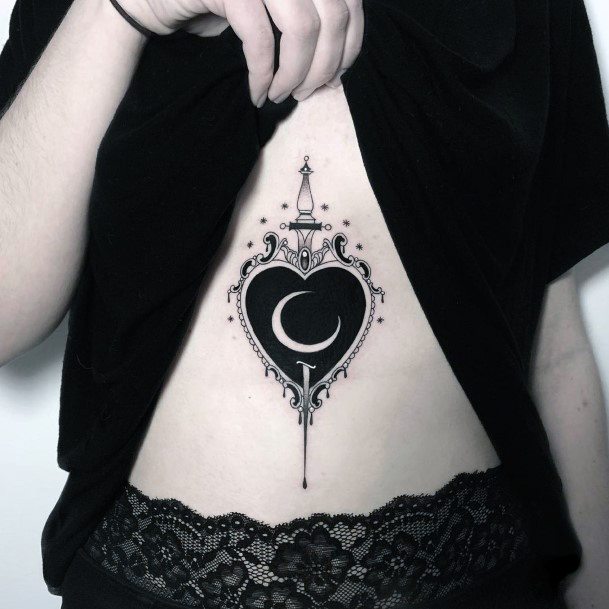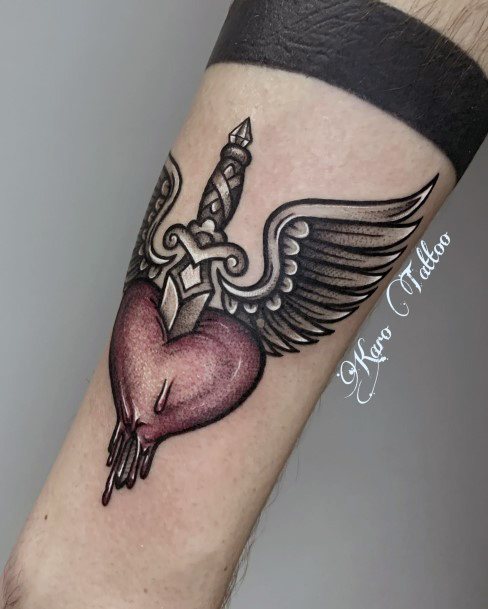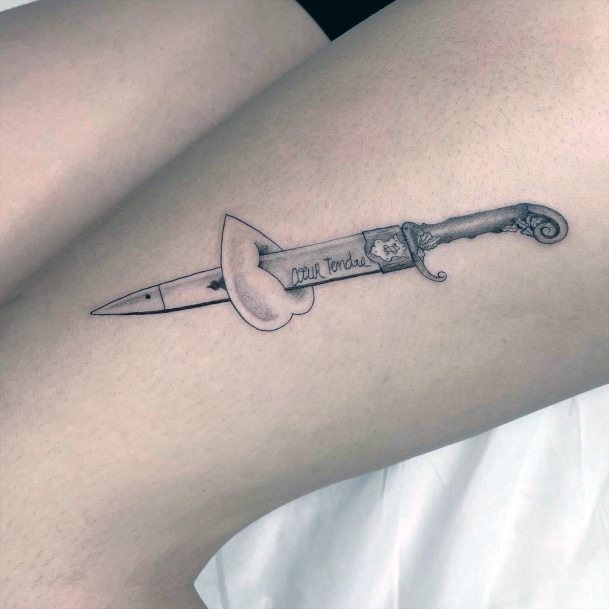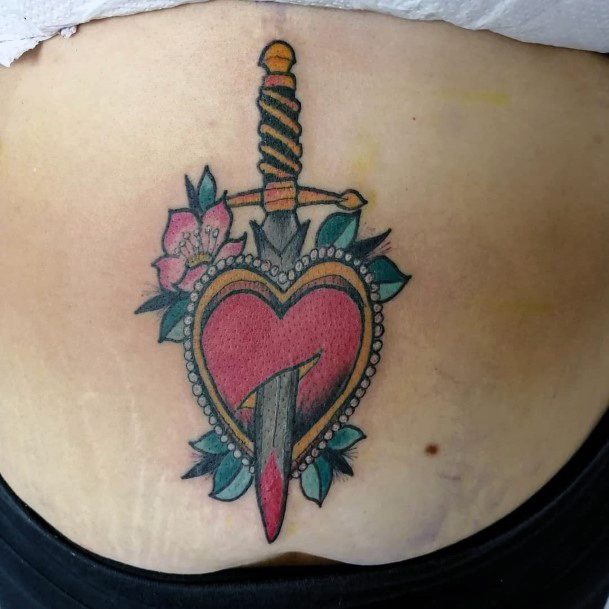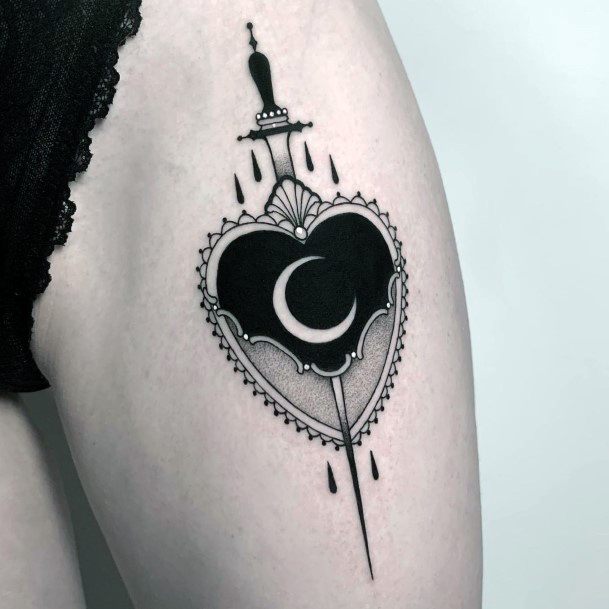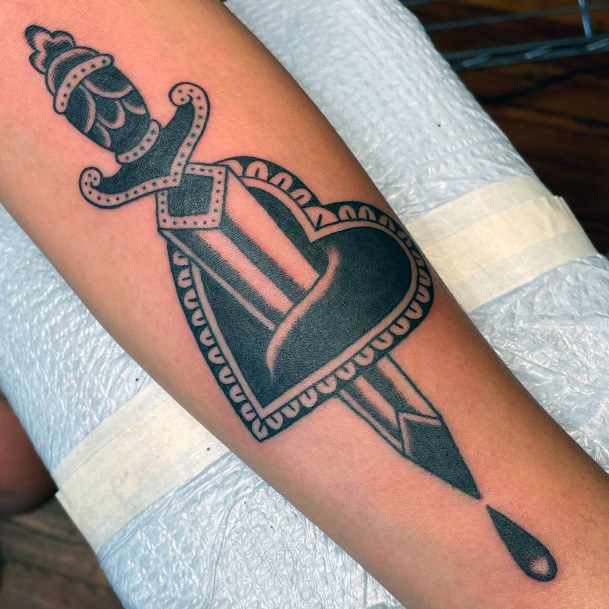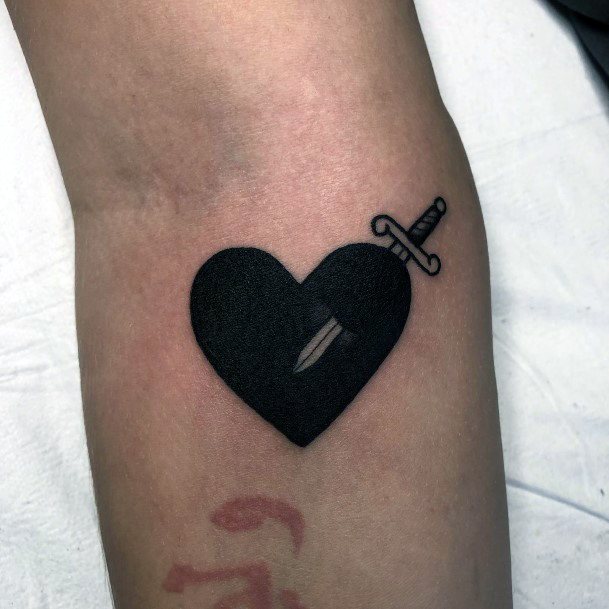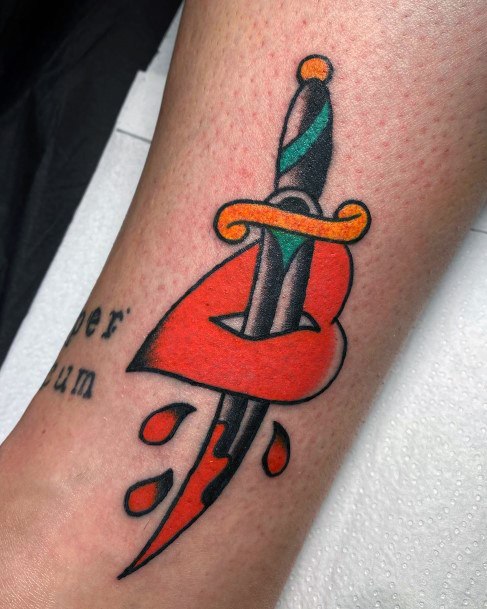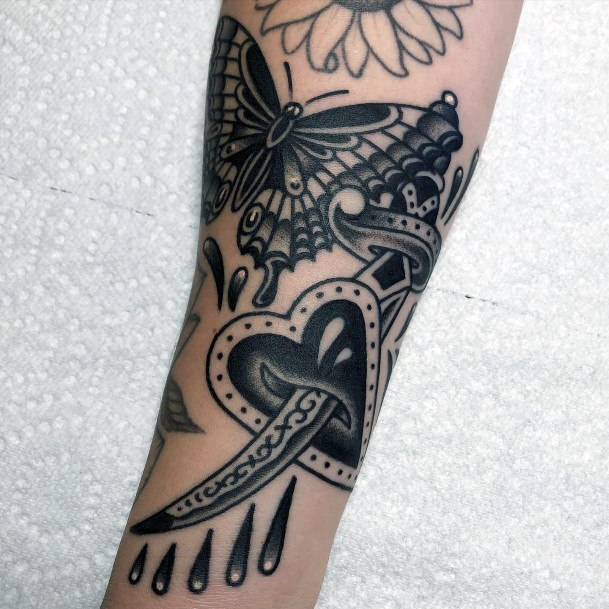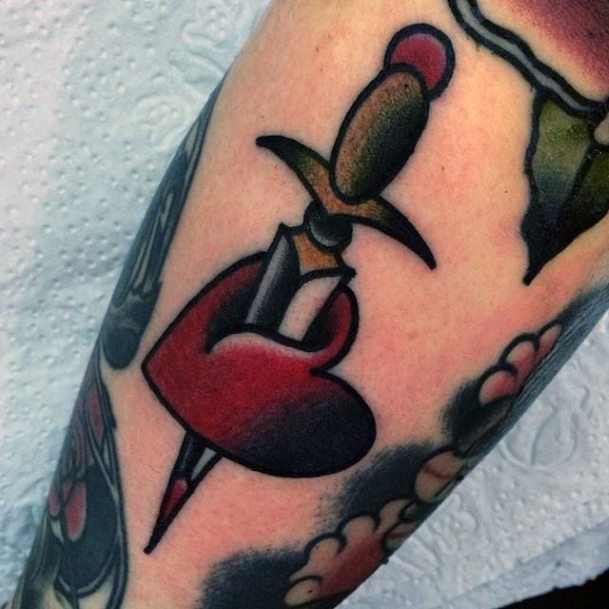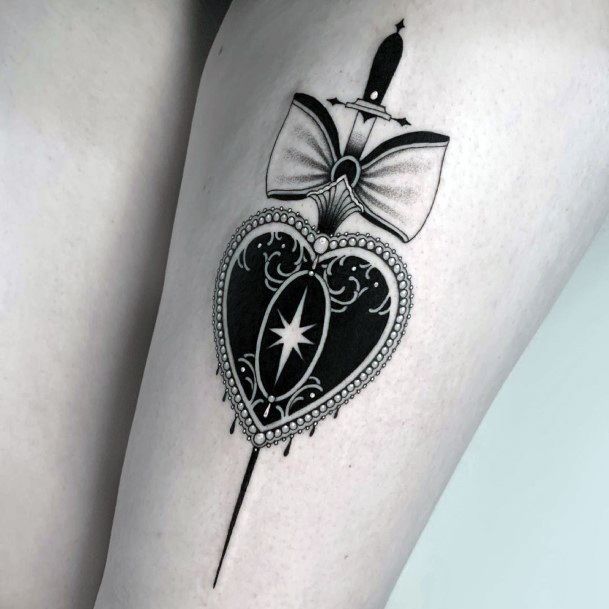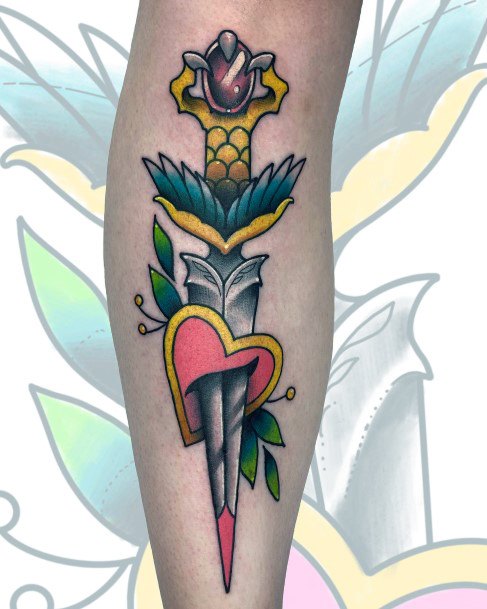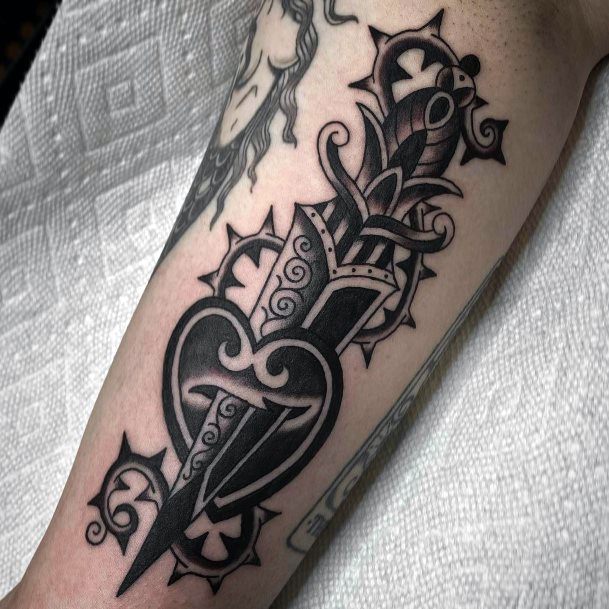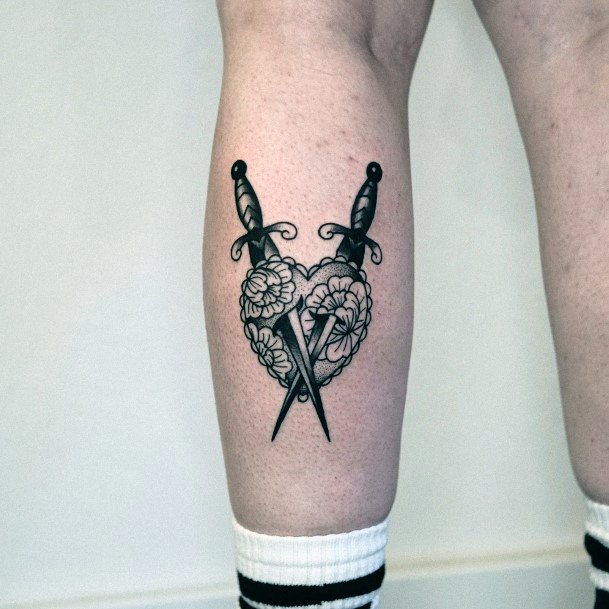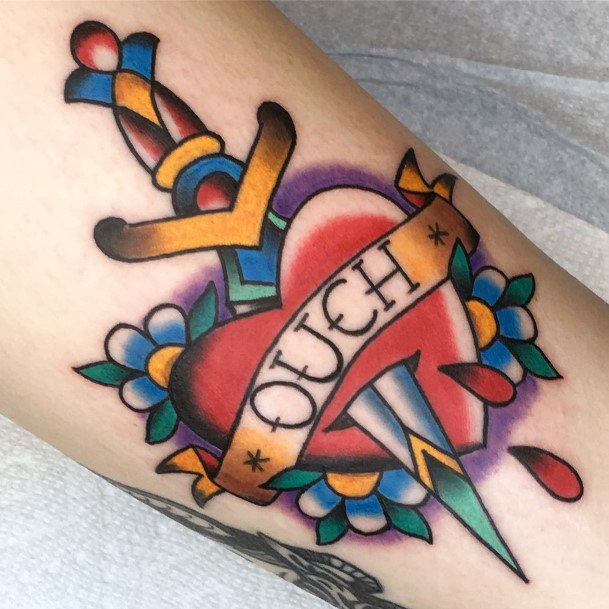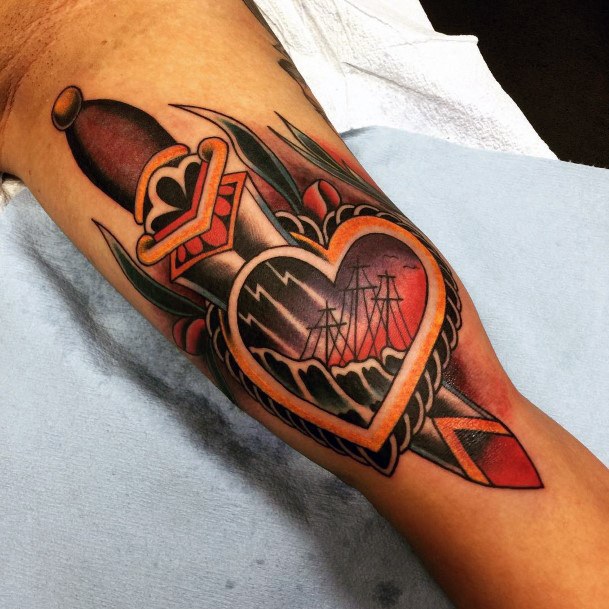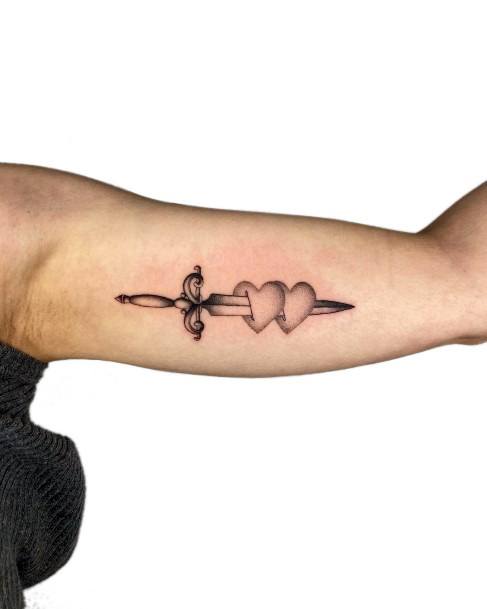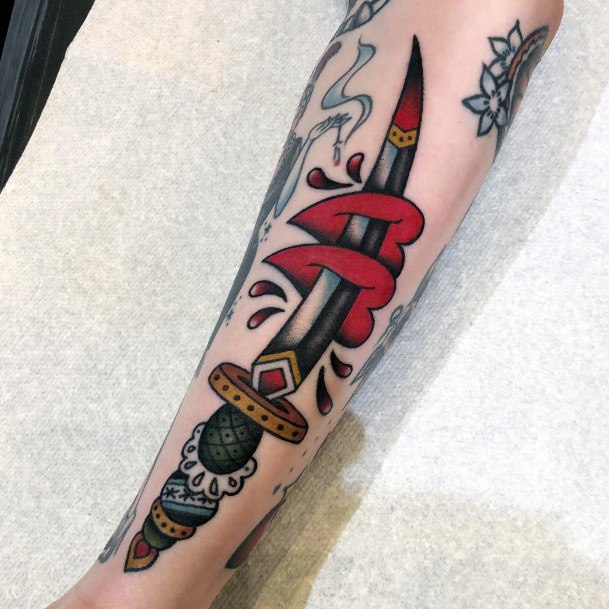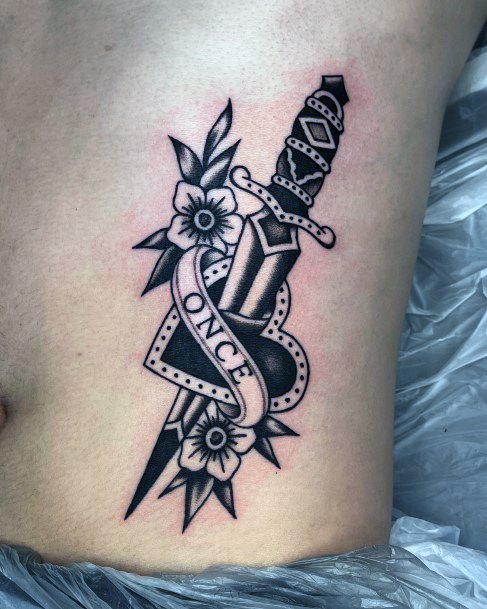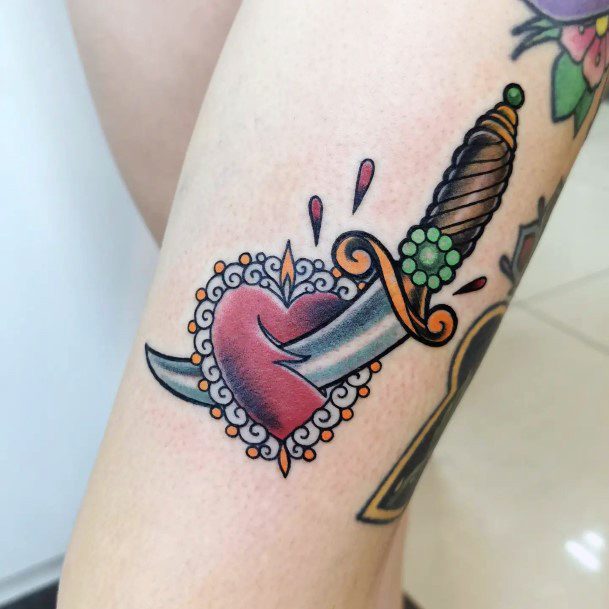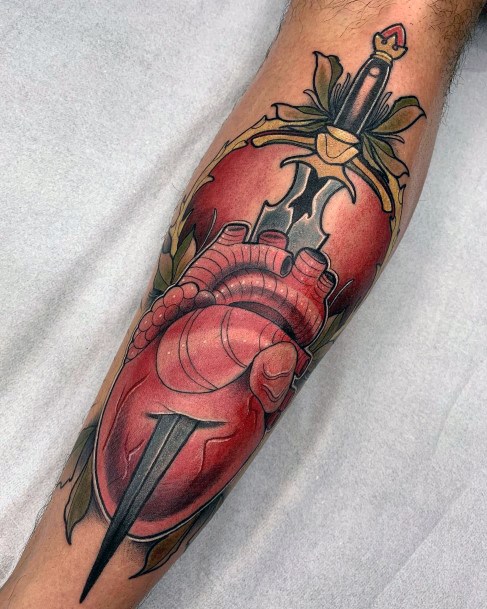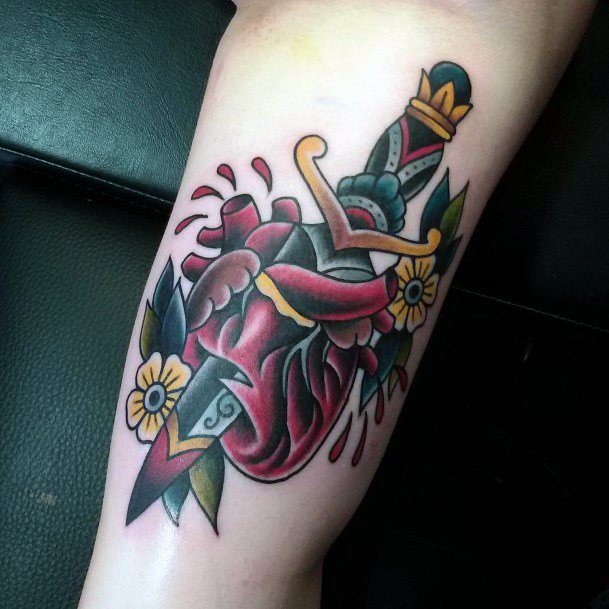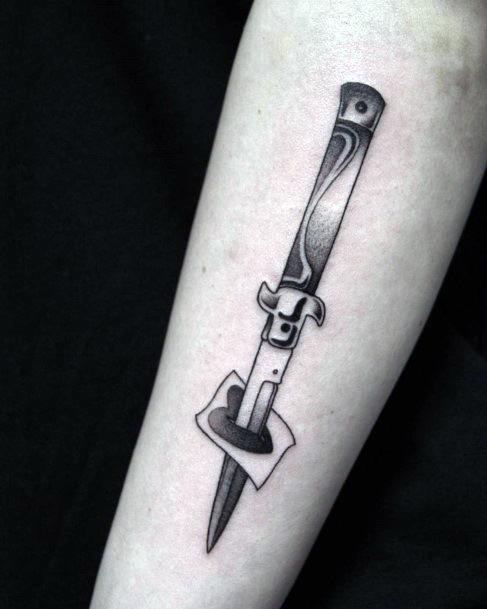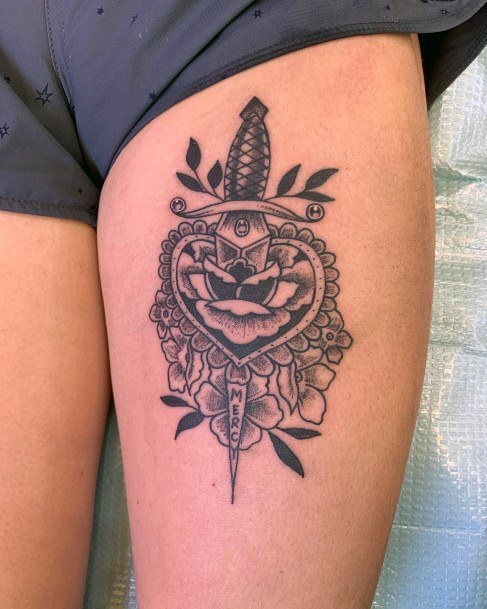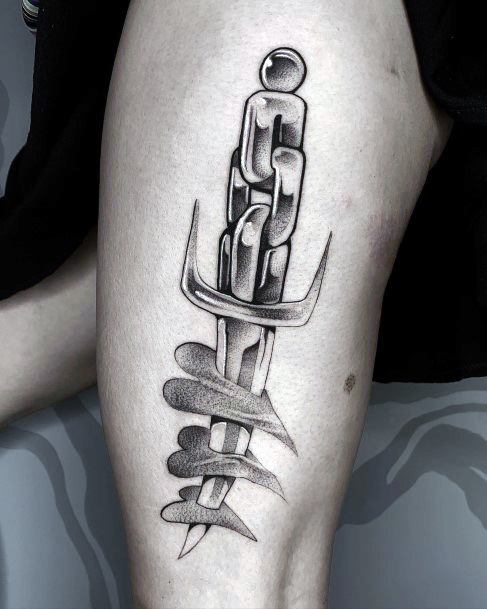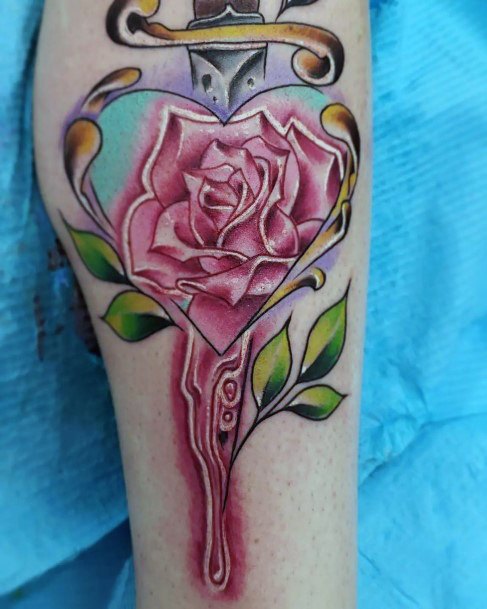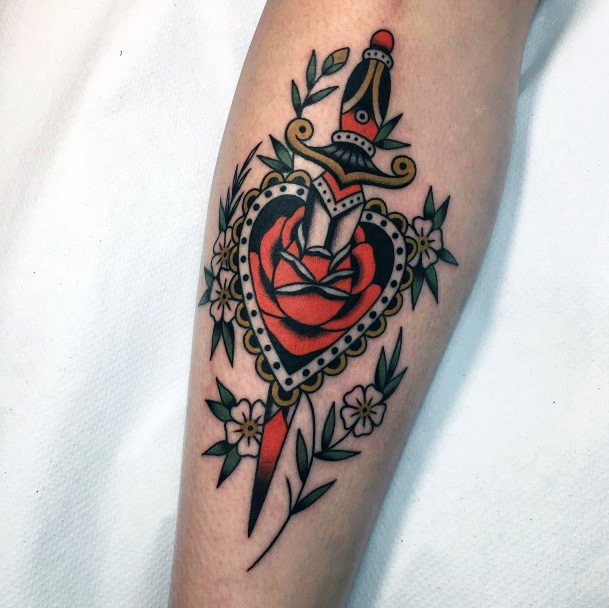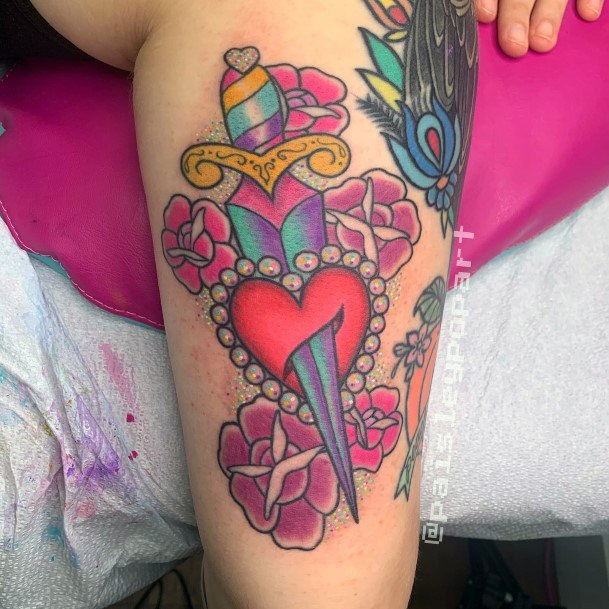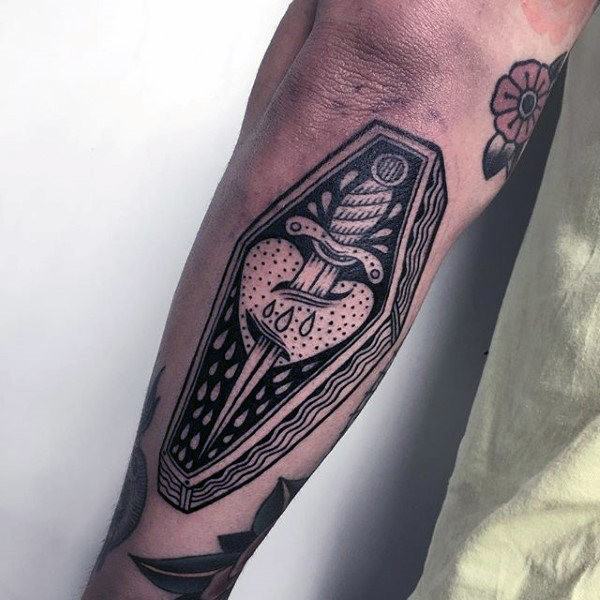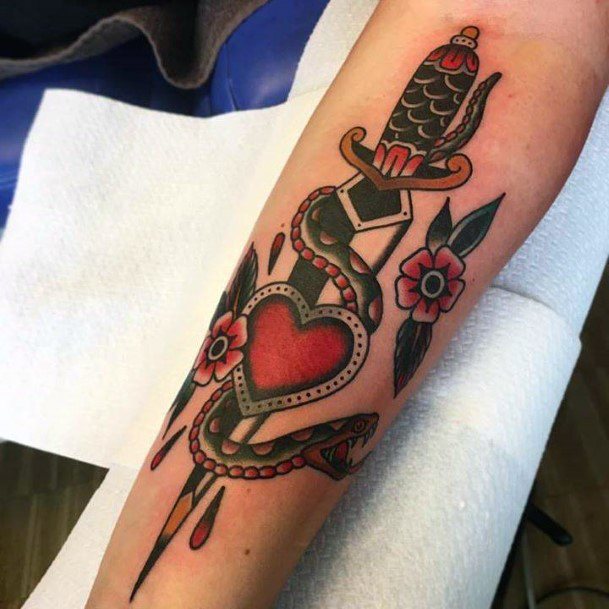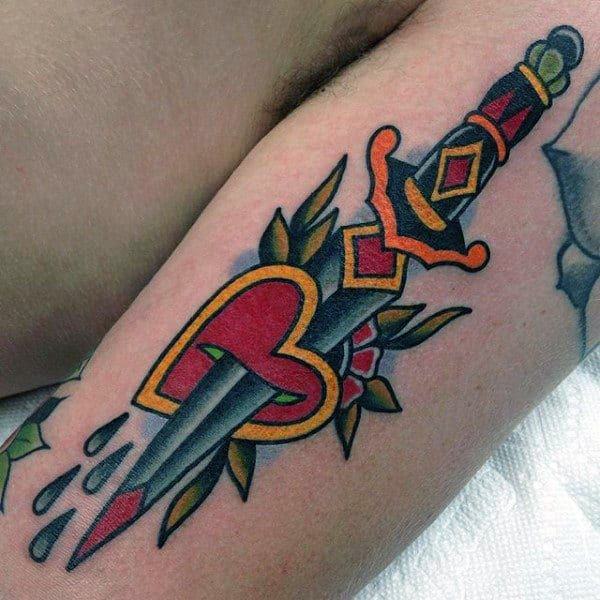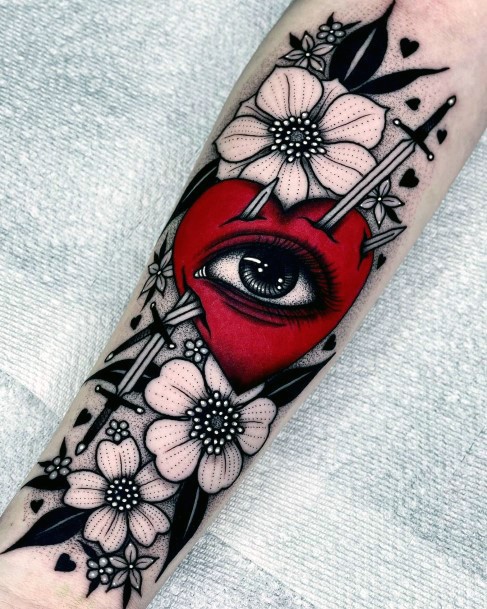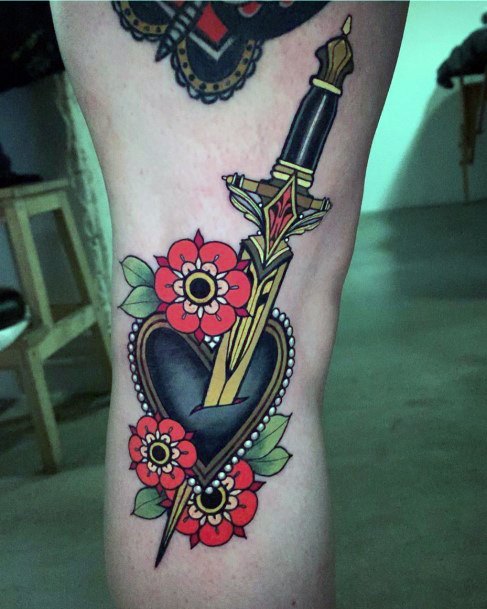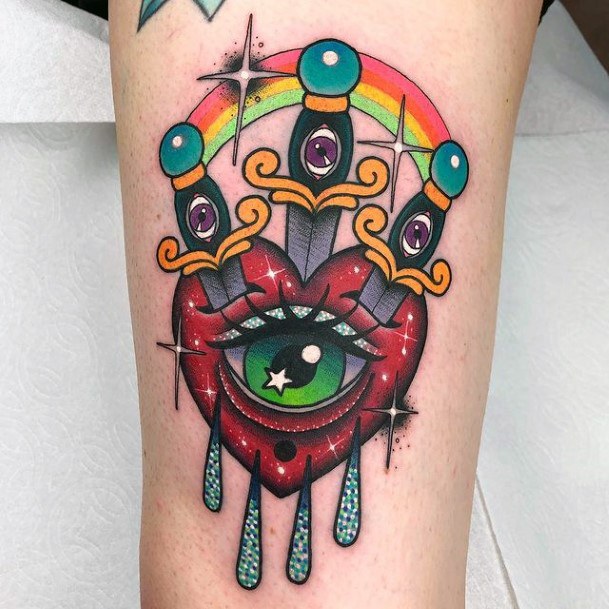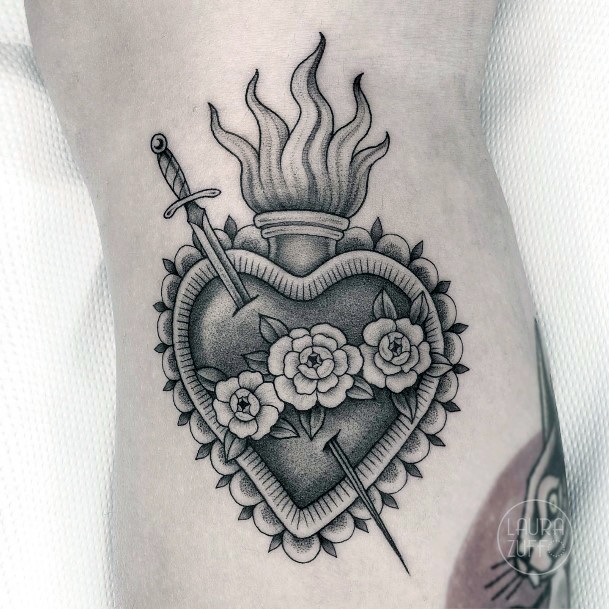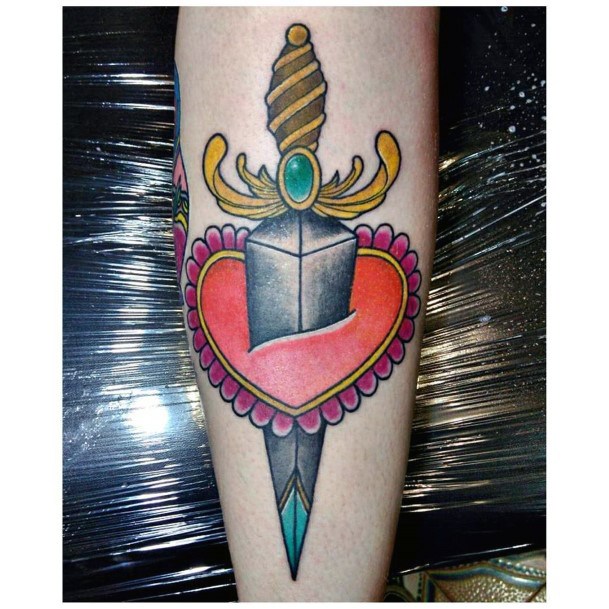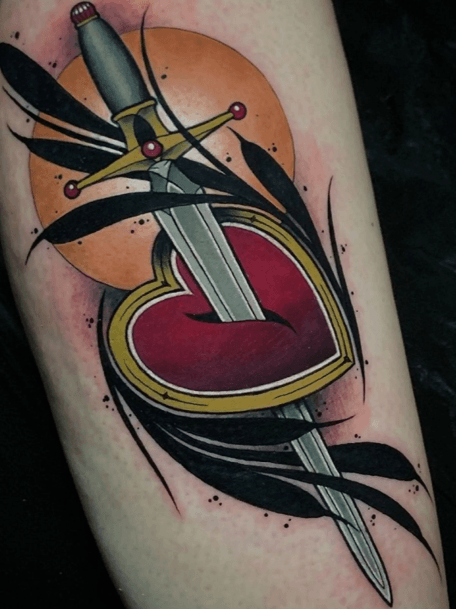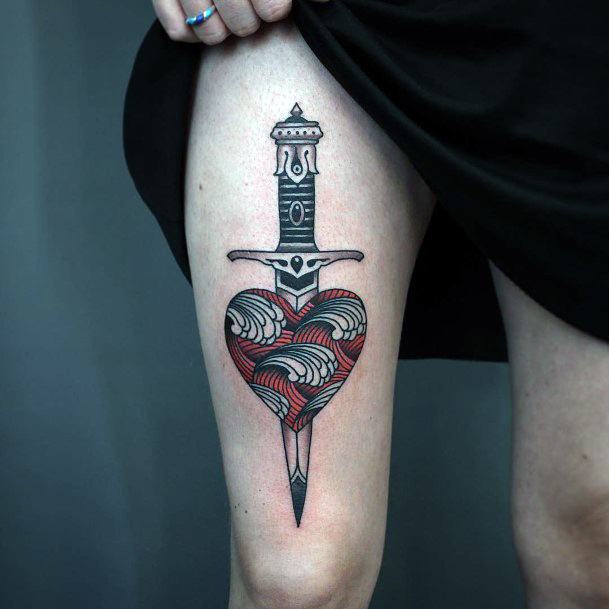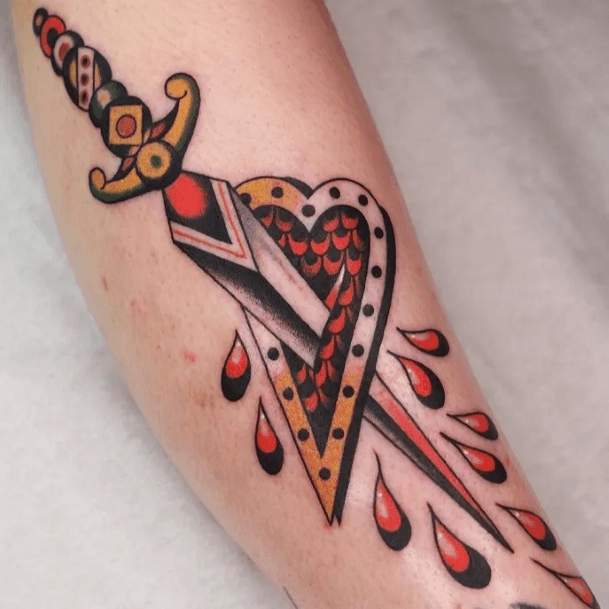 Dagger heart tattoo meanings and symbolism:

What do Dagger heart designs mean and symbolize?:

A dagger heart symbol is a visual representation of a broken heart, and it is often used to express feelings of sadness, grief, and despair. It is a symbol of pain, sorrow, and loss. The dagger heart symbolizes the emotional pain that comes with a broken heart. It can also represent the feeling of being betrayed or hurt by someone you love. The design is often used to express feelings of hurt, betrayal, and despair. It can be used to show that someone has been deeply hurt by someone they love or care about. It can also be used to show that someone has been betrayed or let down by someone they trusted.

Of course, along with betrayal also comes the expression of feelings of anger and frustration. Dagger hearts can be used to show that someone is feeling angry and frustrated about something that has happened in their life. It can also be used to show that someone is feeling angry and frustrated about something that someone else has done to them.

Feelings of loneliness and isolation are beautifully captured in the dagger heart design too. The design can be used to show that a woman is feeling lonely and isolated from the world around them. It can also be used to show that a woman is feeling lonely and isolated from the people they care about. Hopelessness and despair anyone? Yup, the dagger and rose combination can symbolize those things too.

Overall, the dagger heart symbol is a beautiful, and quite powerful visual representation of the emotional pain that comes with a broken heart. It is a symbol of pain, sorrow, and loss, but it can also be used to express feelings of anger, frustration, loneliness, isolation, hopelessness, and despair. We've all been there girlfriend. Stay strong! Be brave and venture onward! You will find love, happiness and comfort again.

For a less depressing meaning, consider that the Dagger Heart was once a legendary weapon of immense power, said to be capable of slaying even the most powerful of foes. It is said to have been forged by the gods themselves, and is believed to be the only weapon capable of defeating the great evil that threatens the world.

The Dagger Heart is said to be made of a mysterious metal, so strong that it can cut through anything. It is said to be so sharp that it can pierce even the toughest armor. The blade is said to be inscribed with powerful runes, granting it immense power. It is believed that whoever wields the Dagger Heart will gain great strength and courage, and will be able to defeat any foe. Is that woman you?