The dazzling glow can radiate powerful light and heat, which can be preserved forever in tattoos.
While these two art forms are virtual opposites, artists have brought them together on special occasions, like photos of celebrations. That is why it works so well: it brings the instantaneous and timeless. Celebrations, like at Disney parks and the 4th of July, can be captured in a tattoo beautifully so that the memories can last forever.
As we stare in awe at these fireworks, the splendor of those dazzling pyrotechnics never fades. The firecracker tattoo is a stunning piece of art that surpasses its origins of inspiration. Imagine an explosion of fireworks over your skin, in every color imaginable and in any size you like.
Originally invented to ward off evil spirits in the 9th century by the Chinese, fireworks have a long history that naturally made their way to the skin. Tattoos are more than just a tribute to one of history's greatest inventions. They are also a symbol of community spirit and patriotism.
Fireworks not only illuminate the sky but also brighten our lives. They help us reconnect with childhood experiences and memories. The firework tattoos serve as a reminder to keep looking up and dreaming of a better, more fulfilling existence. Wherever you sport your firework tattoo, you can dream a little bigger when you have the light to guide you.
Popular firework tattoo design idea inspiration:

The different types of fireworks to consider:

1. Roman Candles
2. Fountains
3. Sparklers
4. Wheels
5. Rockets
6. Mines
7. Comets
8. Cakes
9. Smoke Bombs
10. Parachutes
11. Firecrackers
12. Colored Flames
13. Smoke Balls
14. Torpedoes
15. Missiles
16. Bombshells
17. Gerbs
18. Multi-Shots
19. Pinwheels
20. Flying Fish
21. Palm Trees
22. Chrysanthemums
23. Flying Saucers
24. Snake Pots
25. Crackling Balls
26. Flying Spiders
27. Strobe Lights
28. Octopuses
29. Airbursts
30. Crossettes
31. Glittering Stars
32. Peonies
33. Tulips
34. Dahlias
35. Willows
36. Comet Mines
37. Falling Leaves
38. Flying Sharks
39. Skyrockets
40. Trails of Fire
41. Whistling Comets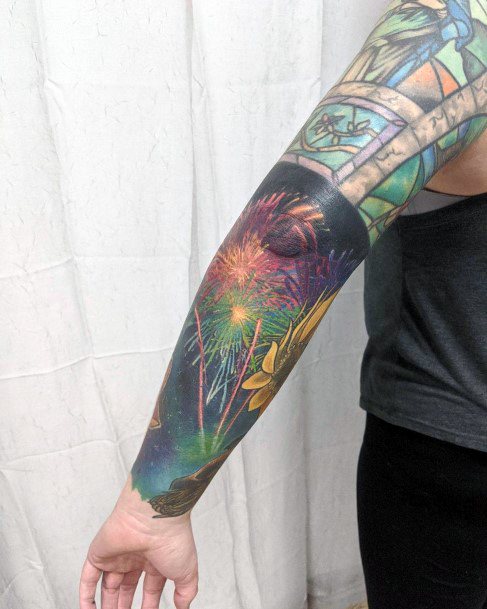 How cool is this female sleeve featuring a fireworks theme? A dark purple and blue night sky covers the entire background while bursting fireworks explode with beauty. I love the contrast of this sleeve tattoo, but the details are what really capture my attention the most. Note the three fireworks shooting upwards into the sky from the ground. Each leaves behind a red tracer which I find to be a really cool pyrotechnic effect.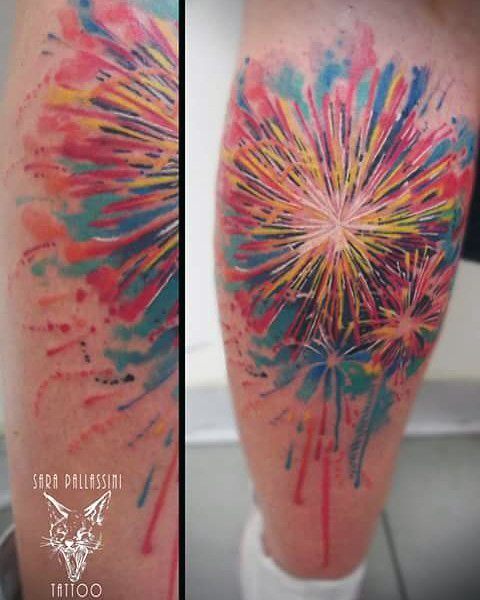 Wow! This bursting firework design is simply stunning thanks to its watercolor design. Placed on the leg calf, this female tattoo is exceptionally colorful and really gives off that festive vibe. The design reminds me of the fun and excitement felt on the 4th of July. Note the negative space center of the fireworks and the fine white ink lines on the largest firework burst.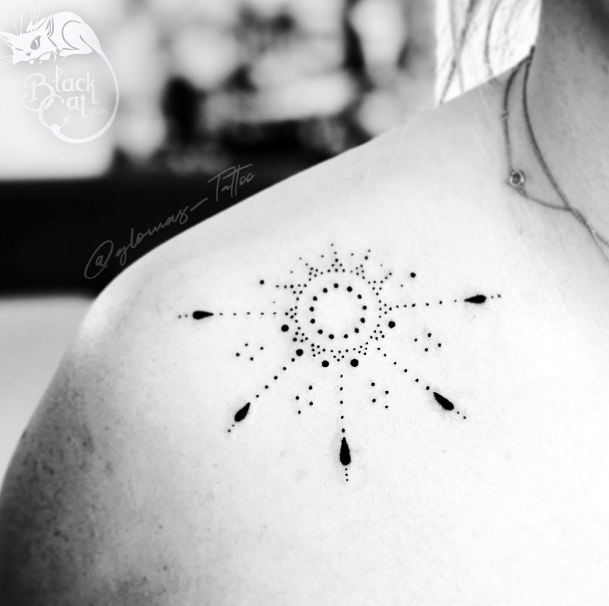 Here's a modern take on a firework tattoo without all of the colors or finely detailed lines. No glitter or glam here, yet, this contemporary style reminds of me the blast you feel when fireworks boom in the sky. I love how the tiny black ink dots form a unique radiant sparkle effect. Placed on the front top of the shoulder, this women's tattoo is simple but beautiful.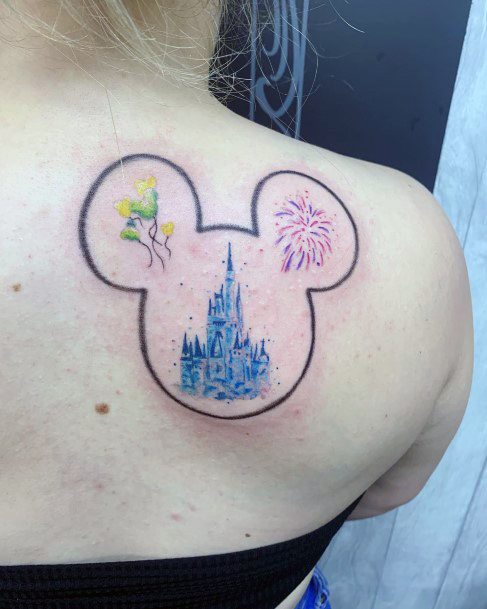 Calling all Disney lovers who can't get enough of the magic! Check out this Mickey Mouse shaped shoulder tattoo feature a solid black ink outline. Inside the outline you'll find Mickey Mouse shaped balloons, a castle, and of course, a stunning fireworks display. For those women who want to forever remember their Disney vacation moments, here's a great way to do it.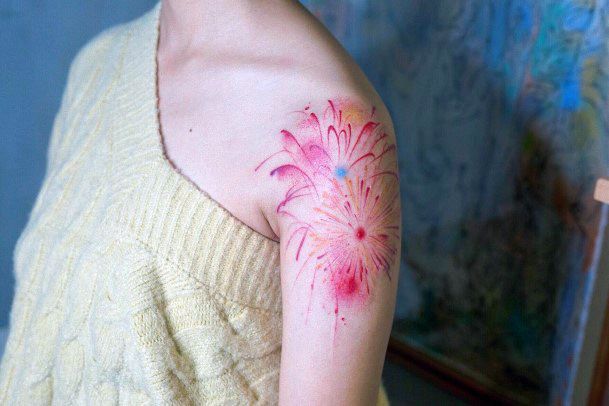 One unique element to any firework tattoo is color variation. Here's a great example of how you can opt for one or two colors and still have a stunning design in the end. I really like the hot pink which gives off a glowing neon effect. Note the background yellow lines and tiny blue center which add a bit more interest to the piece, and help quickly explain the design to all our peek at it. I'd imagine if it was all one color, this tattoo might be a bit confusing, and considered more abstract at first glance.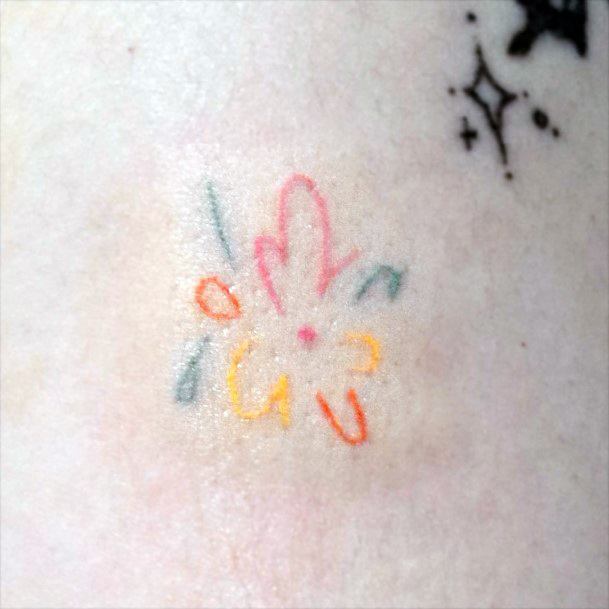 Love fireworks, but don't like large tattoos? No problem girl! Here's a fun, little tattoo that's super festive but as tiny as it gets. Simple colorful lines make up the bulk of this design, while a tiny pink dot can be found in the middle. It's a creative take with a modern edge that harnesses the power of minimalistic style.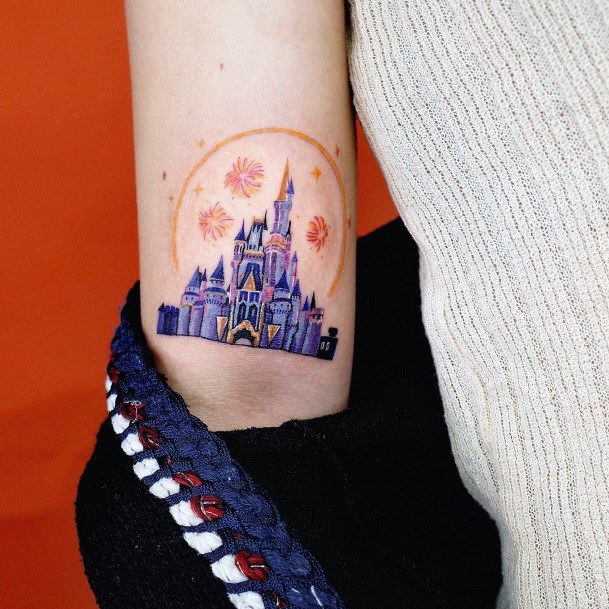 How magical is this Disney castle with a sky filled with fireworks and stars? So dreamy! Placed on the lower arm, this tattoo is a good example of how you can incorporate small fireworks into virtually any design for added flair.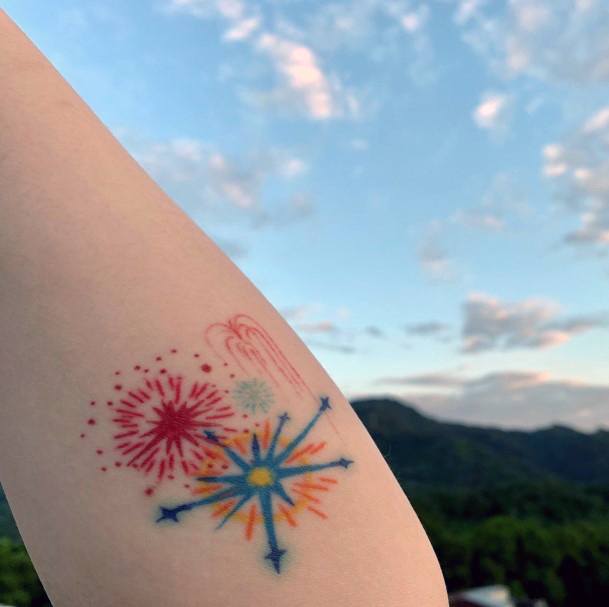 This explosive firework tattoo on this person's forearm is small but mighty. If you're looking for a simple, abstract tattoo of fireworks this is the one for you. Using only shades of yellow, blue, and red this artist managed to make a beautifully simple tattoo. This tattoo manages to incorporate different shapes of the different types of fireworks.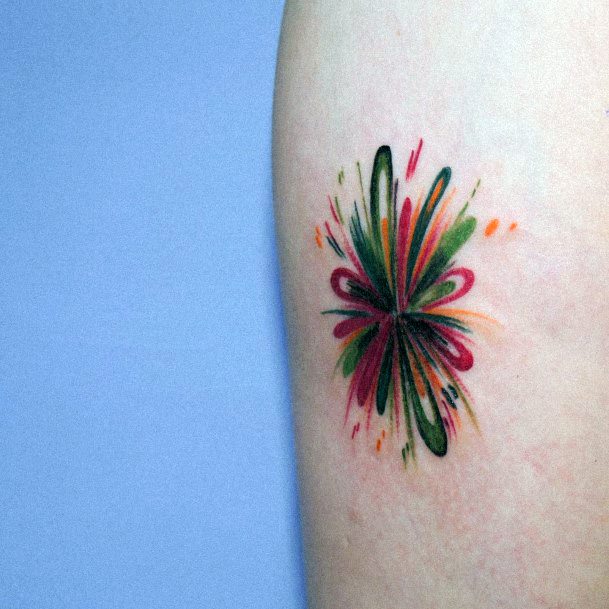 If you're looking for an abstract tattoo with unique colors, look no further than this tattoo right here. Smaller in size but it packs a punch with an almost floral firework. This tattoo is small enough that it can be placed most places the wearer would want it to go.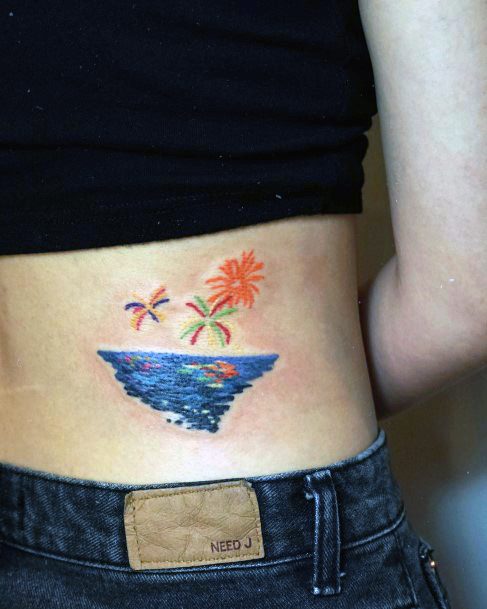 Do you like the beach? Do you like fireworks? I found your next tattoo! This back tattoo has lines that make the water look like waves and there are simple lines showing the fireworks in vibrant colors. This one is a little bigger so it's more of a commitment but it's oh so fun.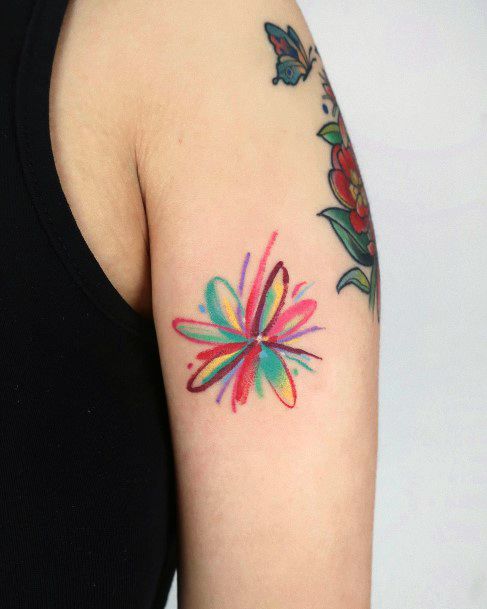 This one is a perfect addition to the butterfly and flower in the background, it's got similar shapes as the butterfly. Even if you don't have the butterfly tattoo to go along with it the neon colors alone are enough to make me want to call my tattoo artist.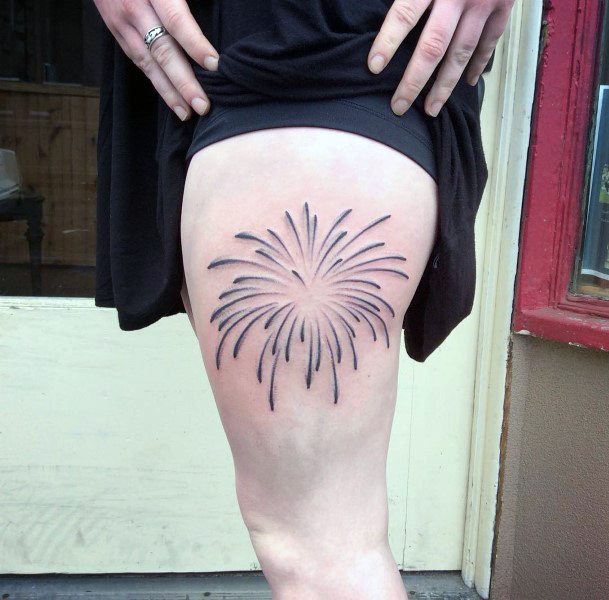 This large, thigh tattoo is just gorgeous, who would have thought a tattoo of a firework in black and white would be so beautiful? The shading of this tattoo is absolute perfection and the placement on the thigh helps the curves of the fireworks themselves in my opinion. This firework is a definite bang!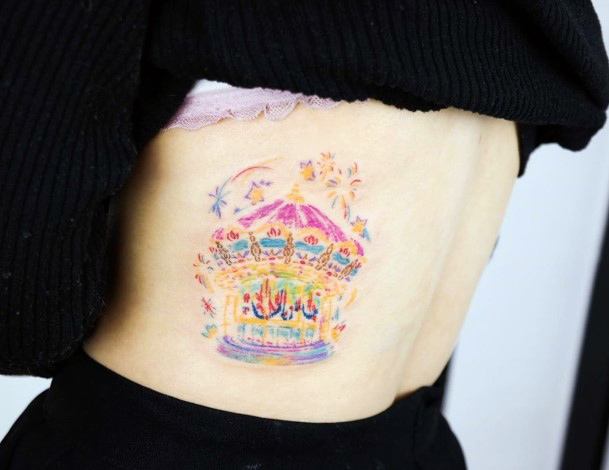 I'm not sure about you but I'm a sucker for carousels, this abstract tattoo has fireworks and a carousel and dare I say a bit of a Disney vibe to it? This tattoo has it all. Colors, shapes, and it manages to cover what seems like a lot of bases to make the tattoo work for the woman receiving it on her ribcage. The detail in this tattoo is phenomenal while still managing to look abstract.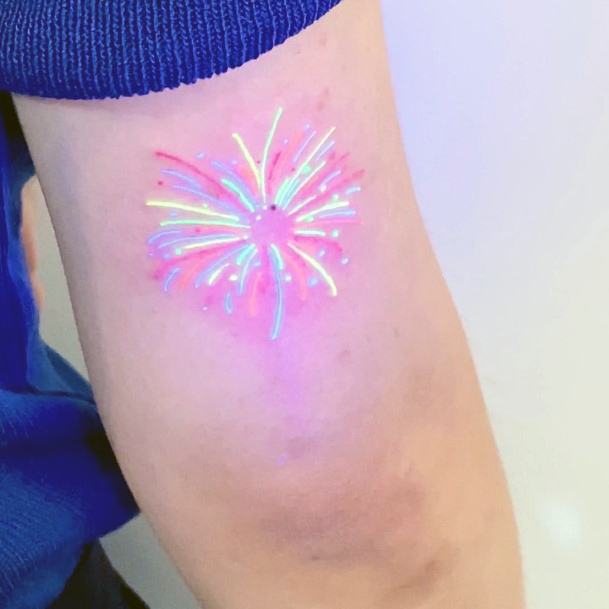 This tattoo has it all. Not only are the lines exquisite but the colors in this are completely unique. This picture was taken under a black light, and it's got perfect simple lines. The black light, neon colors make the fact that it's a firework even more magical, almost like looking in the night sky on a summer night while enjoying the fireworks. The location is perfect as well, the fact it can be seen with a t-shirt makes this the perfect placement.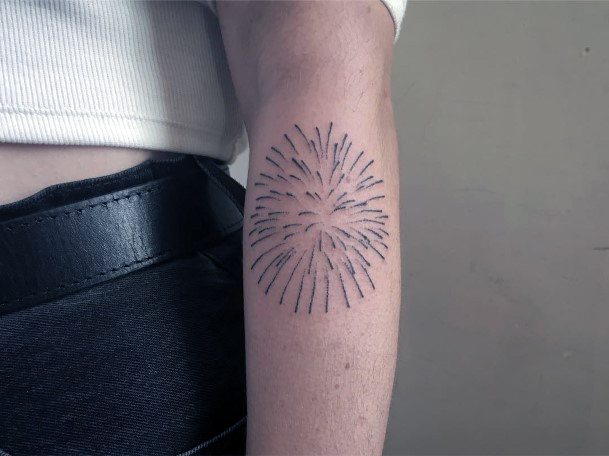 When you think of a firework you don't think of the color black, but this tattoo manages to incorporate both in a beautiful way. This shows it on the back of a bicep, but it could also be placed on the leg as it curves with this woman's arm in a way that highlights the exploding firework.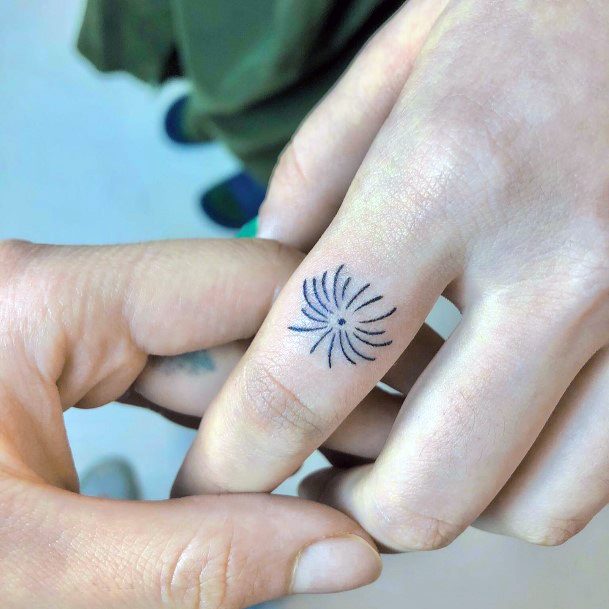 Want a firework tattoo but you're not quite ready to commit to a big one, this is the tattoo for you. This one is on her finger but with it being such a small tattoo it can fit anywhere, where someone can see as well as places others won't see. It's simple black and shading makes this a quick yet simple but beautiful tattoo. Perfect for a first timer as well as the seasoned tattoo getter.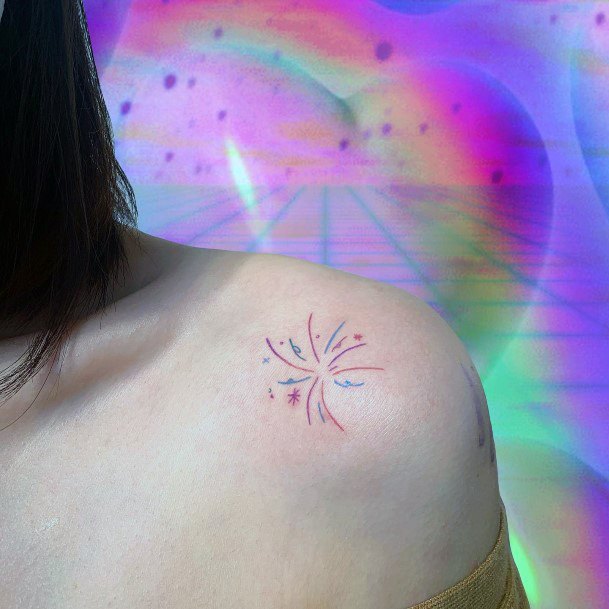 This single firework is in such a cute location, perfect for an off the shoulder top. The use of the three comparable colors and the few lines to shows such a beautiful firework is exquisite. Even without the use of neon's and a blacklight this tattoo makes it feel like you're catching the rare glimpse of a firework on a random night. Stars included.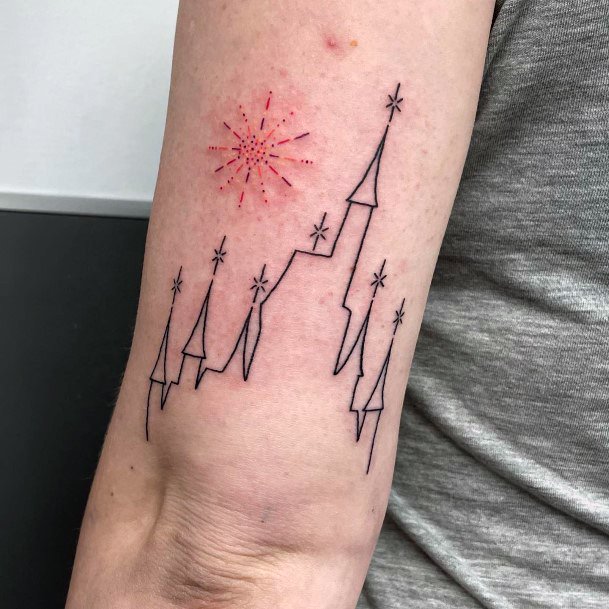 This firework tattoo not only covers your love of fireworks are well as your possible dream of being a princess in your own castle one day. The red tones of this firework are positively stunning. It also helps remind the tattoo wearer to keep wishing big. The lines of these are perfection and the stars on the top of the castle really make this one sparkle.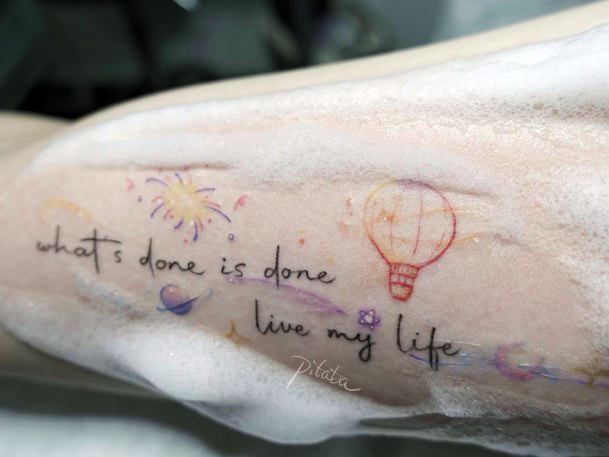 What's done is done, live my life. This beautiful, inspiring tattoo almost has an Around the World in 80 days vibe and seems perfect for someone that plans to travel the world. The color and the amount of detail in this is gorgeous, I don't think this tattoo would have worked so well had the artist not used the watercolor technique and the white speckles in the firework give it the perfect highlight to help it stand out.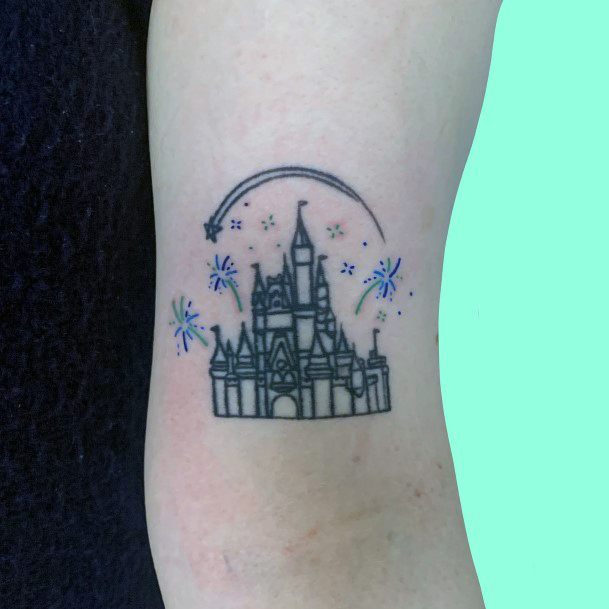 Not only does this tattoo have the Disney castle but the fireworks are also made up of what I would consider Disney blues. The shades of blue on the fireworks really make the fireworks themselves pop over the castle. It even has a shooting star for those unafraid to wish upon a star.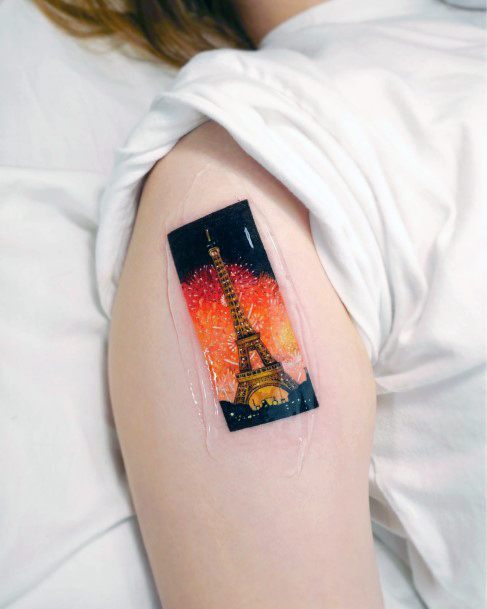 This tattoo is incredible and perfect of lovers of Paris! The detail in this tattoo is fantastic, it makes it look as if there is an actual photo of the Eiffel tower and fireworks on this woman's forearm. Orange and red were perfect choices for these explosive fireworks within this gorgeous tattoo. The idea of combining fireworks and Paris to get this beautiful scene right out of Paris, from the Eiffel tower down to the streetlights on the bottom.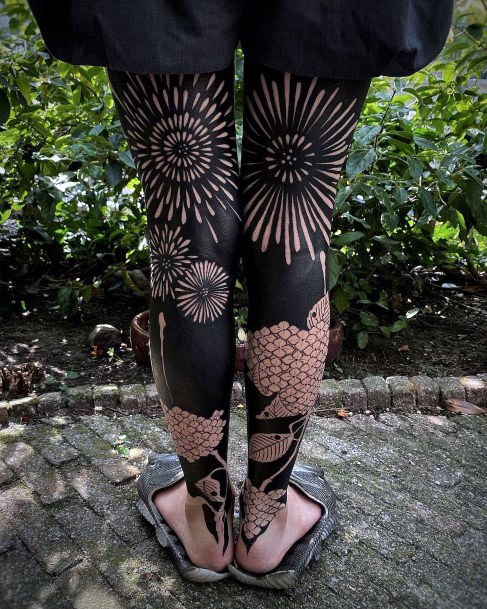 This tattoo isn't for the faint of heart but the idea of using the negative space to allow the design to show through is an unusual yet oh so cool way of tattooing. This beautiful tattoo manages to even show the tail after a firework has been launched into the night sky. I have to say that I love that she has this tattoo on the back of both of her thighs, but I adore the fact that it's an asymmetrical tattoo, the fireworks aren't the same on both legs, just like the uniqueness of actual fireworks.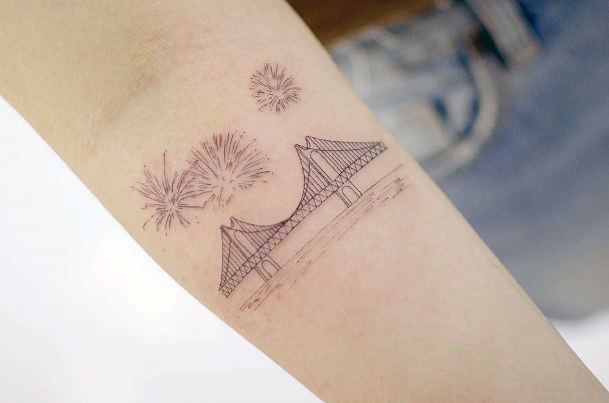 Looking for a small tattoo with gorgeous lines that showcase fireworks and the Golden Gate Bridge? I've got the perfect tattoo for you. This tattoo may be in black and shading, but the artist managed to put so much into the design of this, from the fireworks to the waves in the ocean below the bridge. Even with a bridge and the ocean to compete with these fireworks manage to draw your eyes.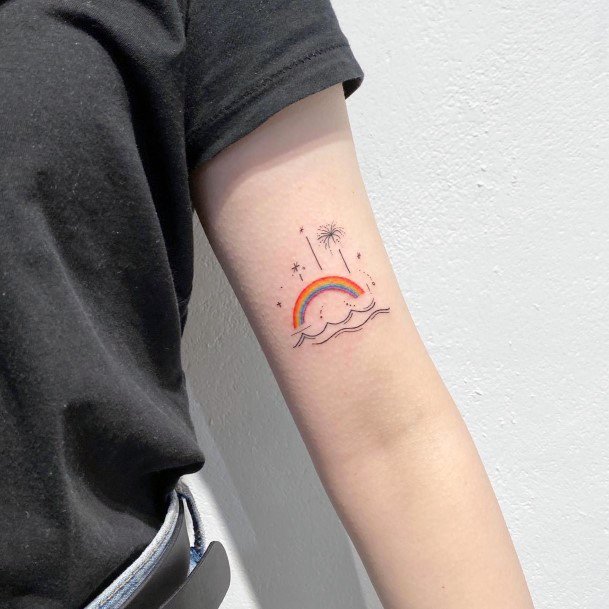 Do you love rainbows and fireworks and don't know which to get tattooed first? What about them both at the same time. This one has the fireworks all in different stages of exploding, from the tail from it's launch to the full weeping willow one. The rainbow blends together so nicely, just like one in nature. This one even has the addition of waves at the bottom, the texture from this tattoo is *chefs kiss*.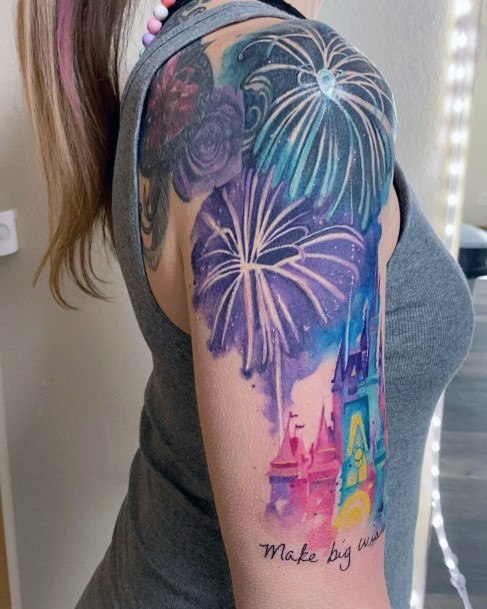 Calling all Disney lovers! This watercolor tattoo has managed to incorporate this persons previous tattoo of flowers by making the fireworks the same size as the previous flowers. It's got the messy, yet concise, coloring on the castle itself. This tattoo also used the negative space to create the picture but rather than using black and shades, watercolors were used, and it almost makes the fireworks look as magical as the opening credits of a Disney movie.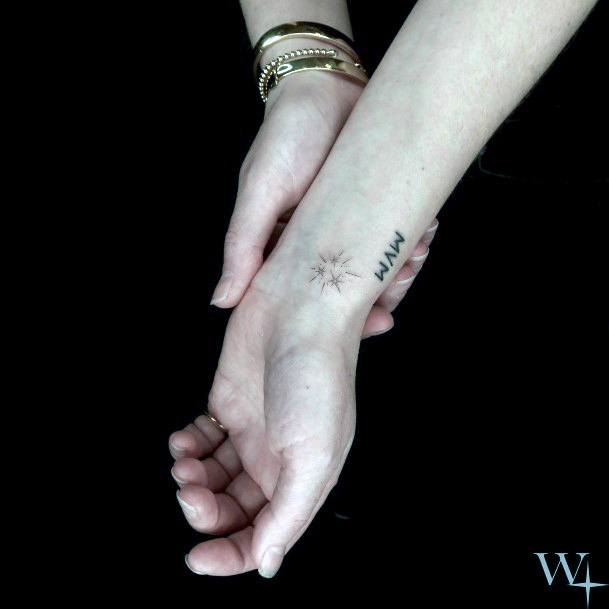 Have you been looking for a firework tattoo that may be really small yet still pack a mighty punch? This is the tattoo for you! Even without being what looks like any bigger than a quarter this tattoo has managed to get the point across that it's a design of fireworks. For the size of this tattoo I believe the location choice was awesome, it's an easy spot to show off that banging tattoo, get it?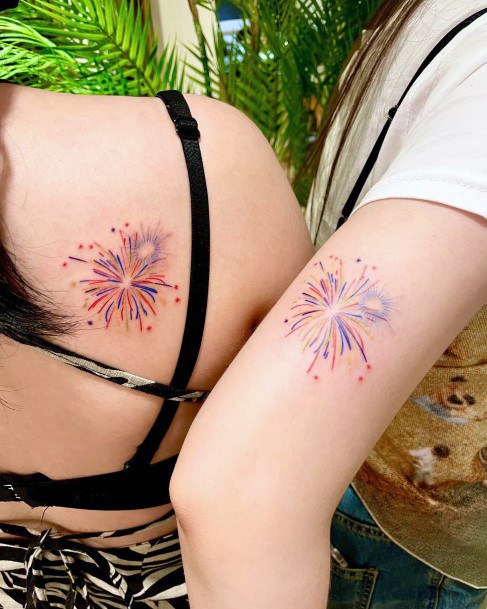 These matching fireworks are made up of the colors red and blue and it also seems like the artist gave the fireworks themselves shadows. I also love how this picture showcases that just because you and your bestie wanted matching tattoos it doesn't mean they have to be in the same spot. One of these is on the shoulder while the others is on the bicep although we still can look at the two tattoos and know that they're still connected.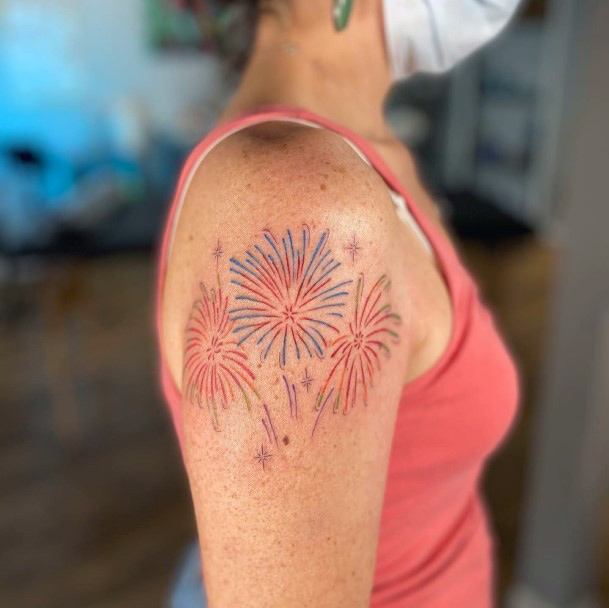 This tattoo of fireworks is not only perfect for the 4th of July lover it also has perfect placement, the way the fireworks flow with her shoulder. The different heights of the fireworks allow a depth that you don't always see in tattoos. It even has multicolored fireworks just like those you see in the night skies.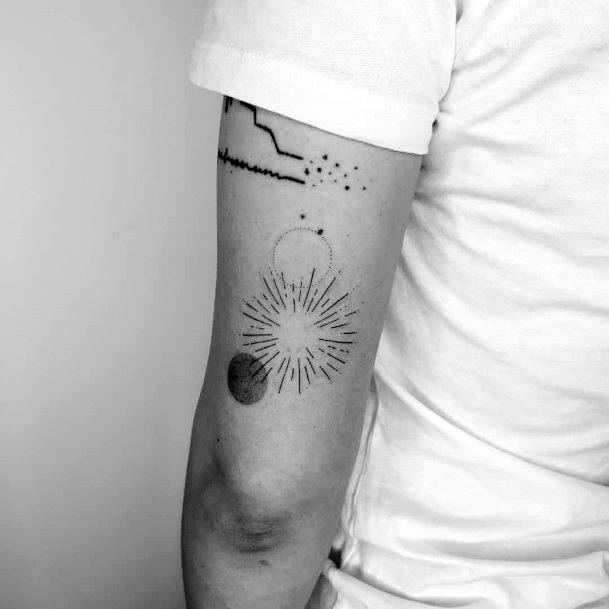 This is a great tattoo for anyone who loves anything to do with the skies or space as well as fireworks. This tattoo makes me think there is a sun as well as a moon, possible new moon, behind the firework. This is a simplistic tattoo with gorgeous line work perfectly placed right under where t-shirts will land on your arm.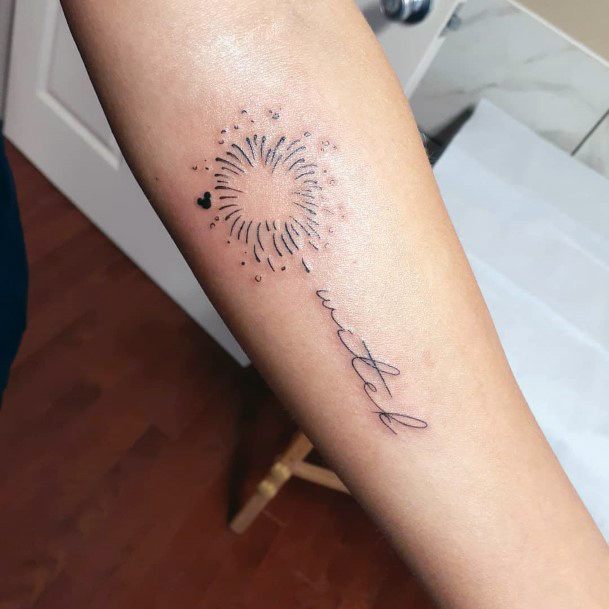 Do you remember when Disney movies hid a certain character in backgrounds of movies? Well Mickey Mouse managed to sneak into this tattoo, and I absolutely love how he was worked in! He's part of the burst from the firework itself, he's in there both subtly as well as obviously once you see him. I also love how the launching tail for this firework is the word witch as opposed to a straight line.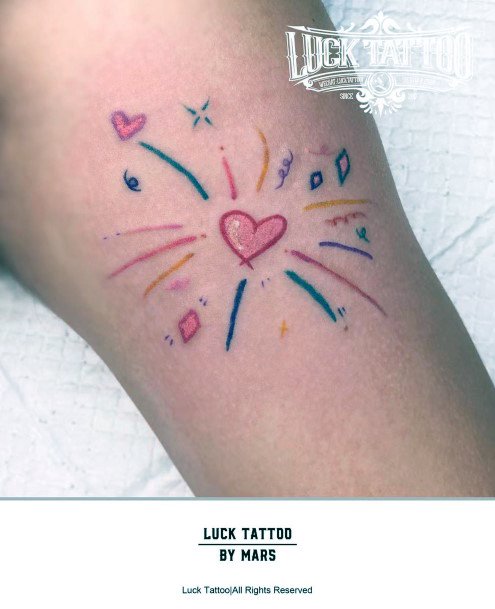 This tattoo screams the 90's! From the hearts to the choice of the neon colors this artist nailed this tattoo. I also personally love that the fireworks are made up of different shapes as opposed to the same shape that most firework tattoos are made up of. If you're looking for a smaller tattoo that packs a punch, this is the one for you!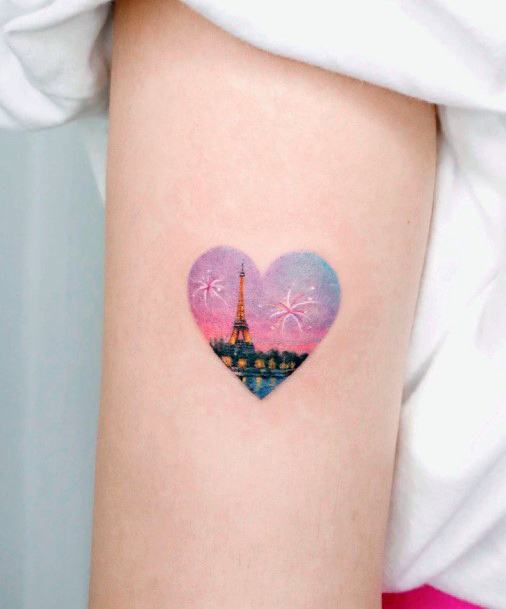 Have you ever watched Bob Ross paint a landscape in 30 minutes and be amazed by the fact that it was not only painted but painted so quickly? This tattoo makes it hard to believe this was made with a tattoo gun. Between the Eiffel tower, the heart shape it's in, and the two simple, yet detailed fireworks, I love this tattoo. The use of colors to create the sunset is impeccable. The lines of this tattoo are amazing as well, this artist managed to make gorgeous lines as well as use colors so wonderfully.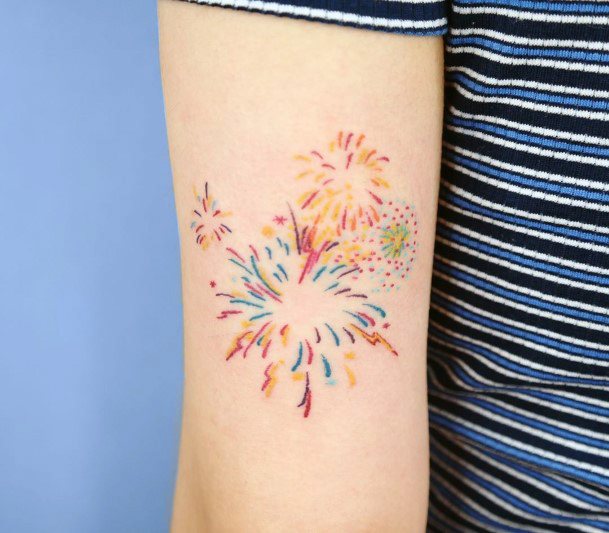 Do you want a tattoo that's as bright and colorful as your personality then look no further! This firework tattoo manages to incorporate the colors of the rainbow as well as different shaped lines making up each explosion. I adore that the layout of the fireworks themselves look almost identical to what it's like watching the fireworks in the summertime, they don't always land uniform or perfectly either.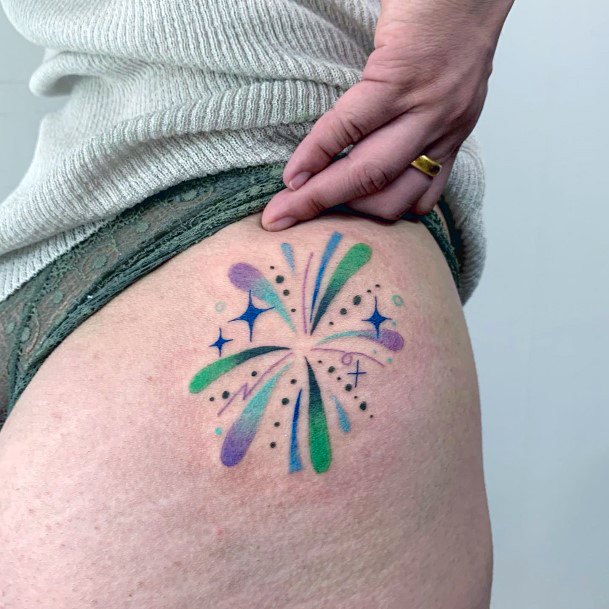 If you're a lover of water and a lover of fireworks this is the perfect body art for you. It doesn't specifically have water but the colors of teals, greens, and purples but even the shapes of the fireworks themselves are made up of almost water drop shapes, so I think of reflecting fireworks.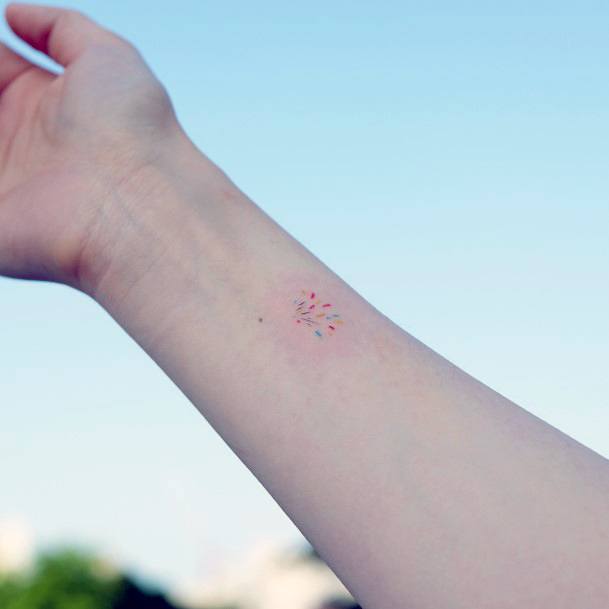 This tattoo may be smaller, but it packs a punch with the fact that it manages to have all the colors in the rainbow and still be the size of a quarter. This firework is a different shape than many of the other firework tattoos while still being an obvious firework which helps make this one even more unique. The placement is also fun, having the ability to look down at your own tattoo anytime as well as show it off easily, even when bundled up for the winter.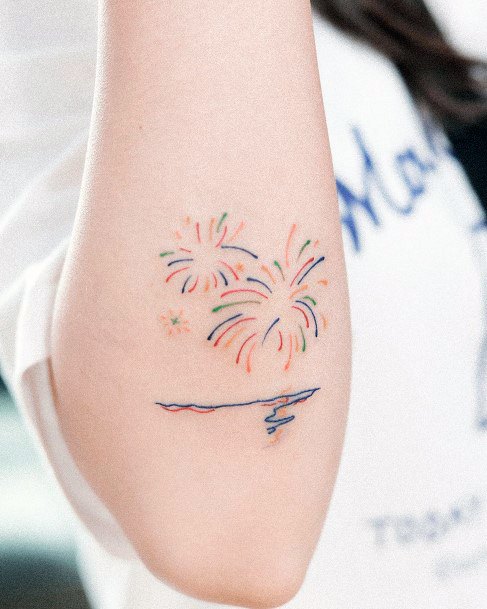 Here's another one for any water lover that is also a lover of fireworks. The artist of this tattoo has even managed to put a reflection of the fireworks in the water below, I absolutely love that realism to it. This is made up of only a few lines but there is no doubt in our minds what we're looking at and this execution was amazing!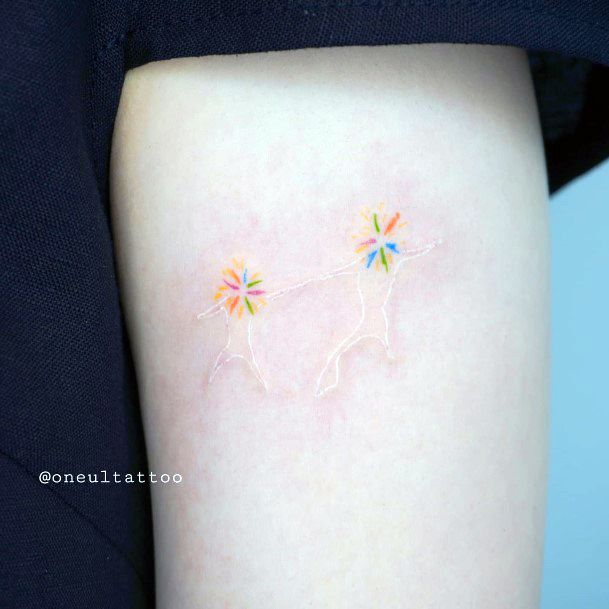 This one is extremely unique. It has two very small fireworks but if you look very closely under either firework you will see that there are outlines of people, seemingly frolicking while holding hands. It does look like one of the people are smaller so it makes me wonder if this was for a mother and her child or even an aunt and her niece or nephew. This tattoo could be used in other ways to relay your own reality of the people who are fireworks in your life.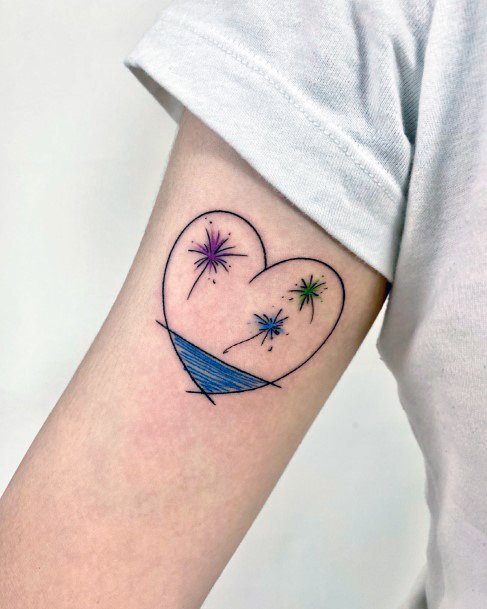 This tattoo is CUTE! Between the intentionally long lines that make the heart overlap and the use of blue, green, purple, and black to make such a detailed yet simple tattoo. Each firework has a tail and the way the shape of each is made up of black and the dollop of the color in the center gives this tattoo a very unique color.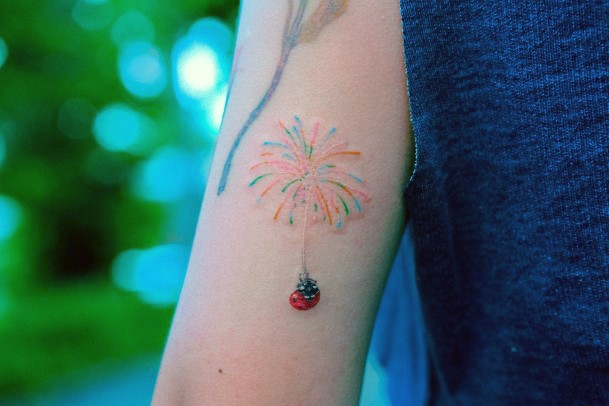 This pastel firework is a work of art between the shape of the firework itself and the color work this is wonderful. This firework also appears to have a ladybug riding the tail of the firework itself. Ladybugs are supposed to be good luck, maybe this tattoo would be also.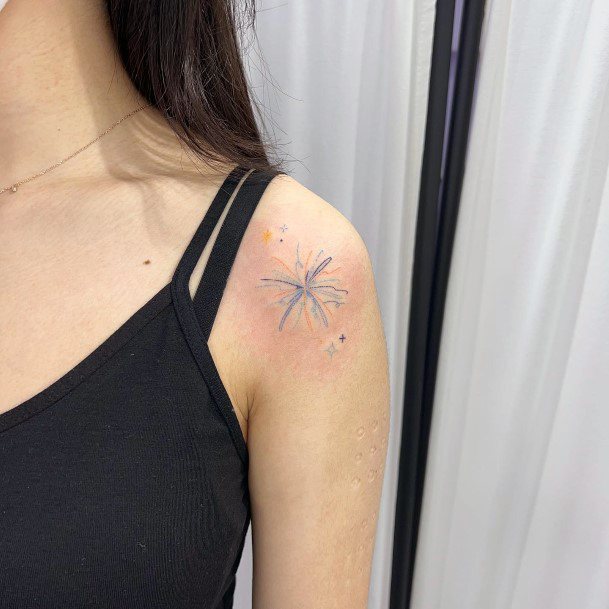 Did you love spirographs when you were growing up? This beautiful firework looks like it was built up with a spirograph and not with a tattoo gun, the lines also remind me think of the rings of Saturn. The gold stars and shades of blue make this firework even more spacey or night sky like.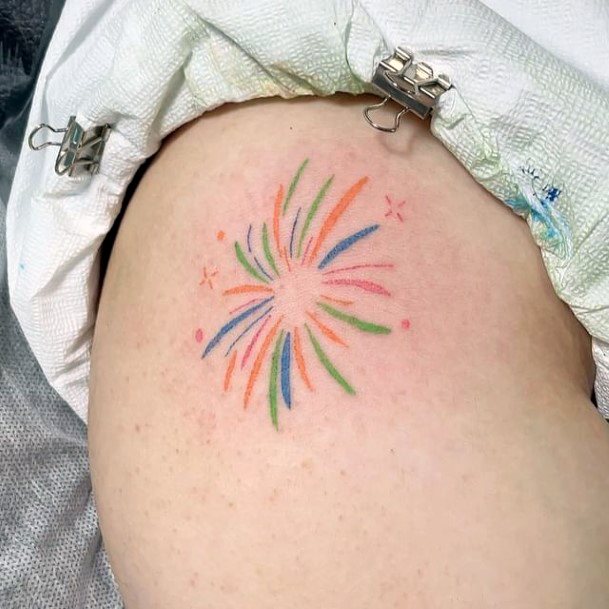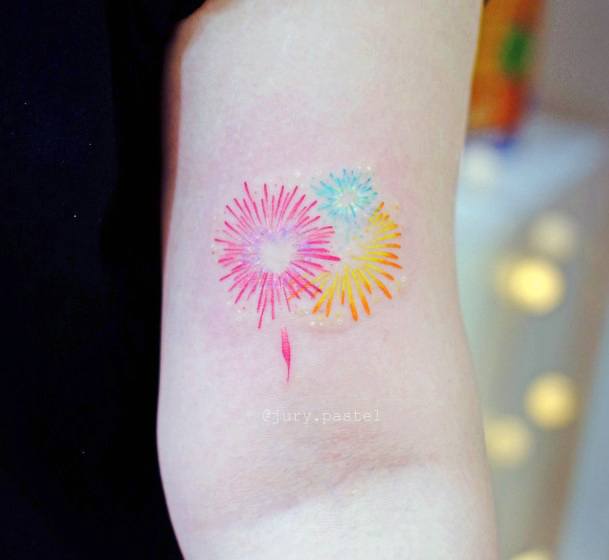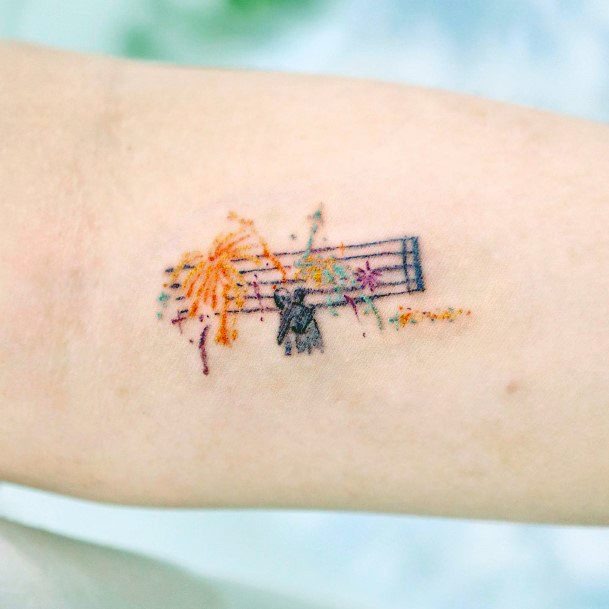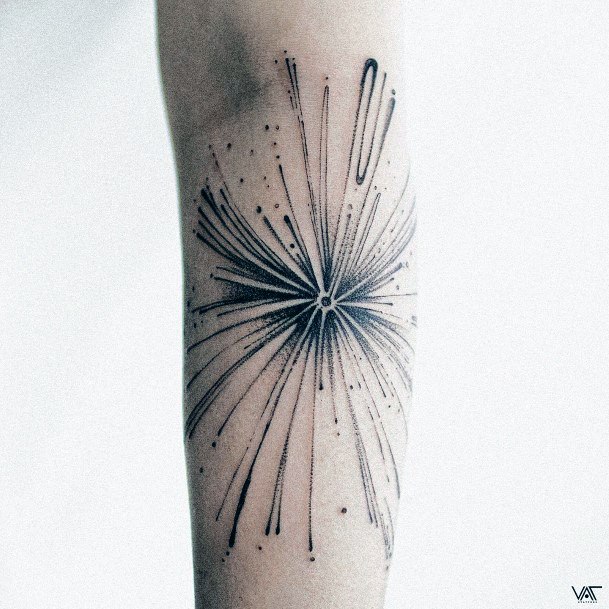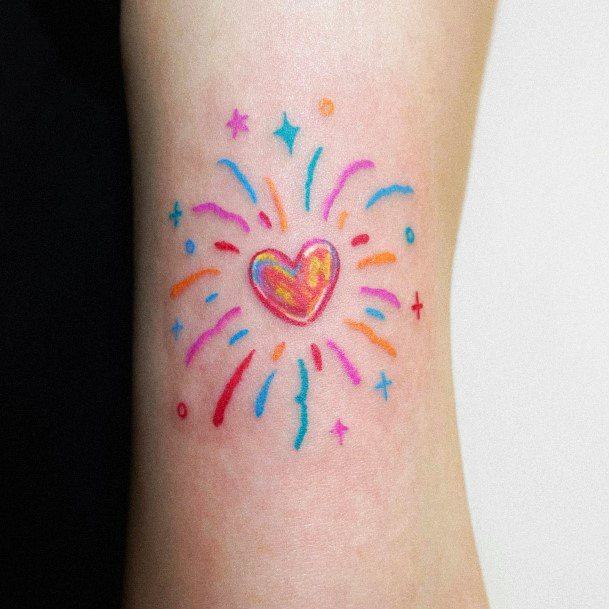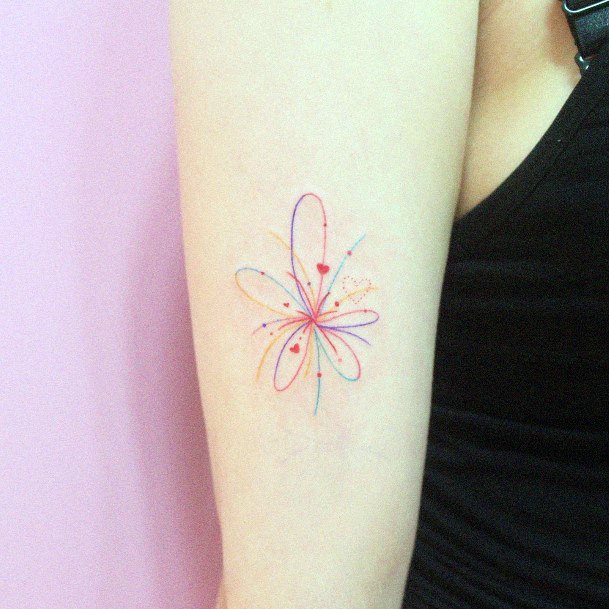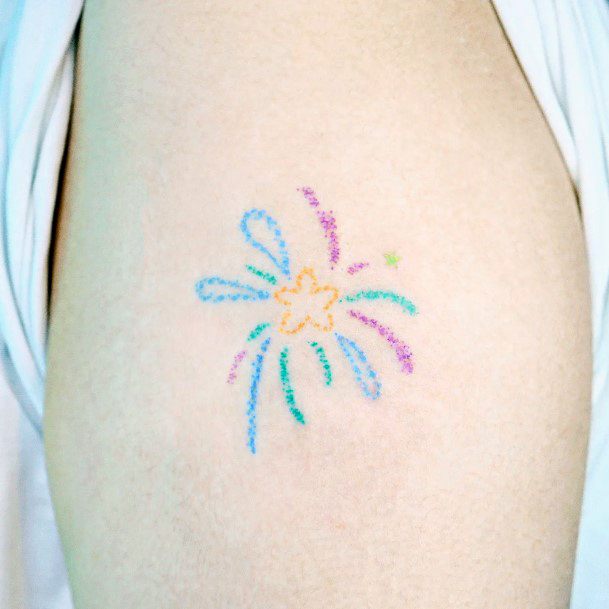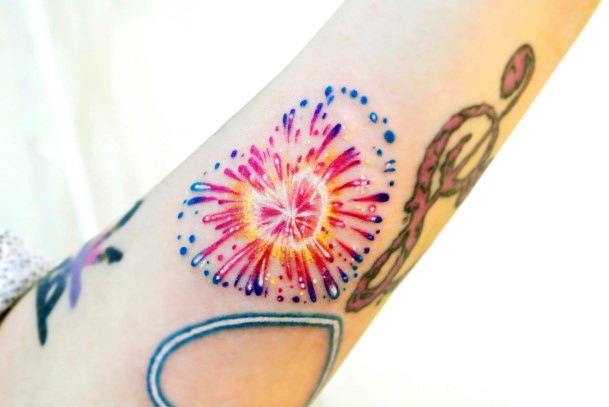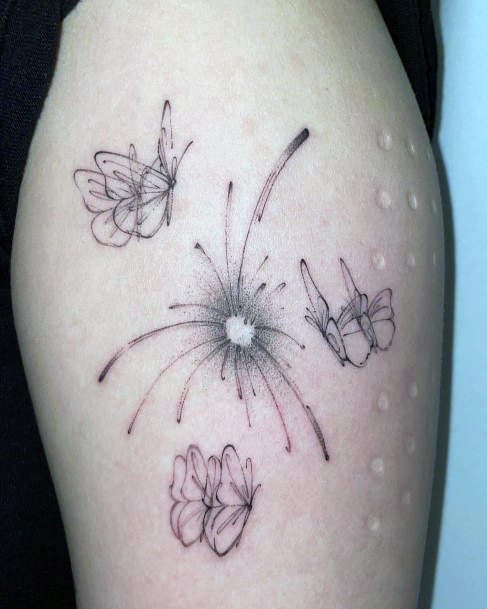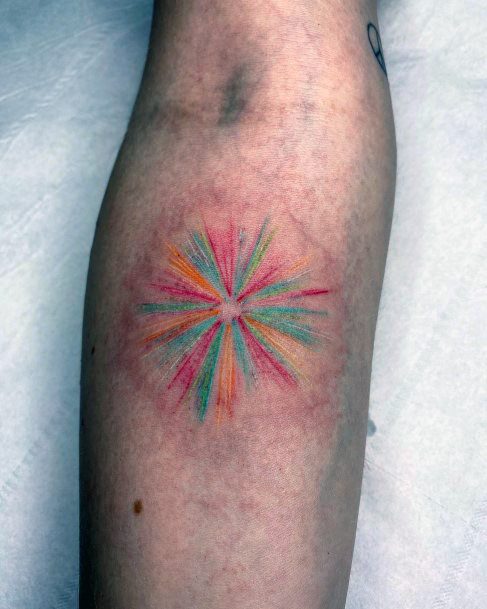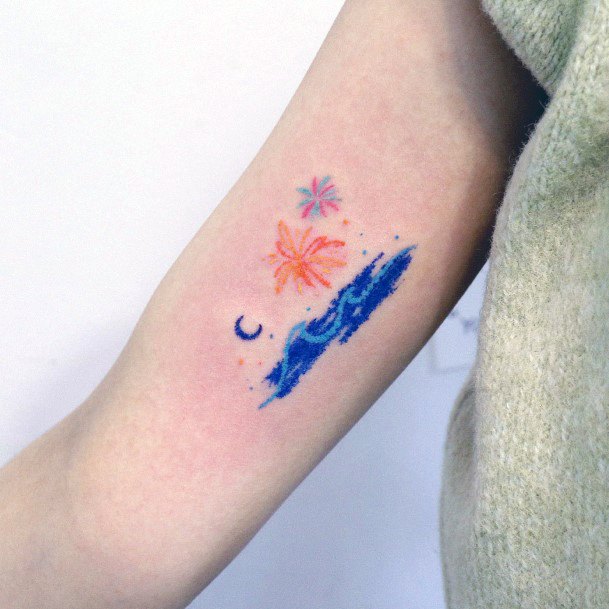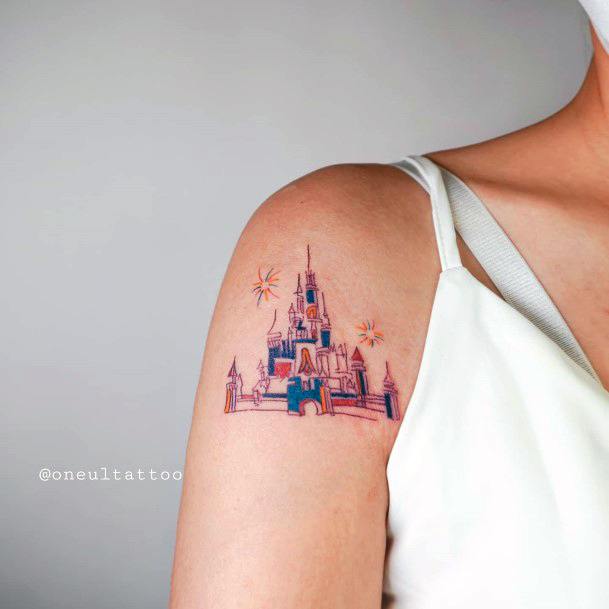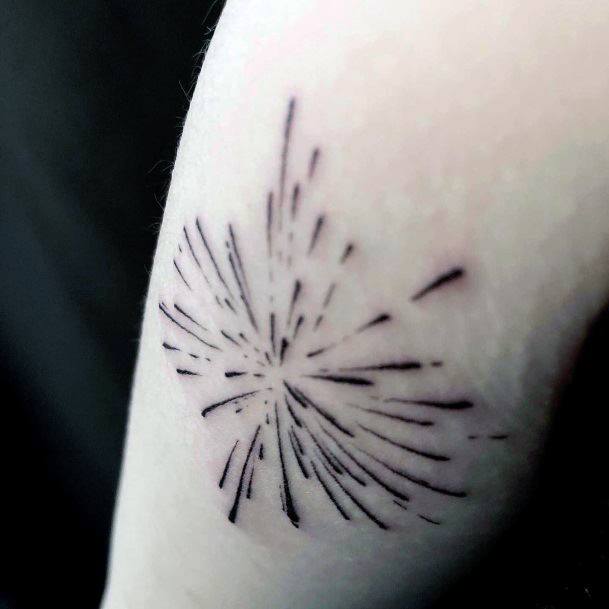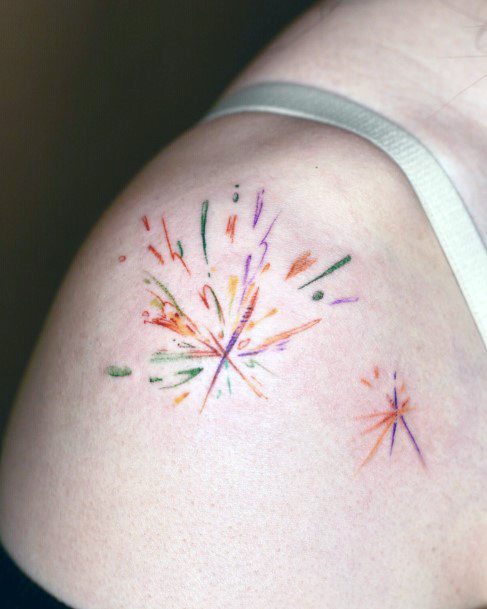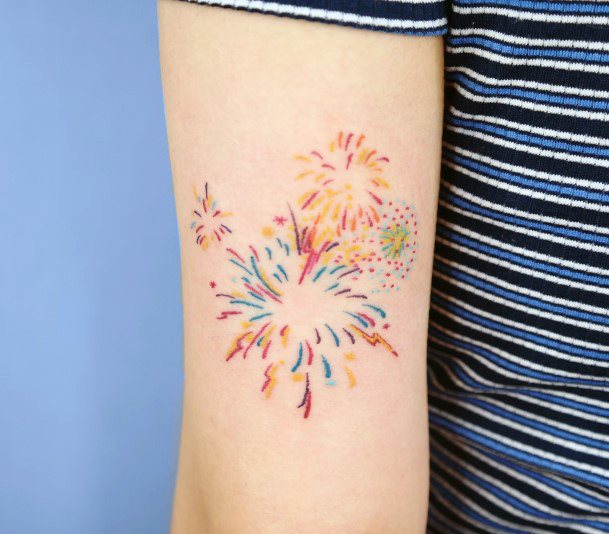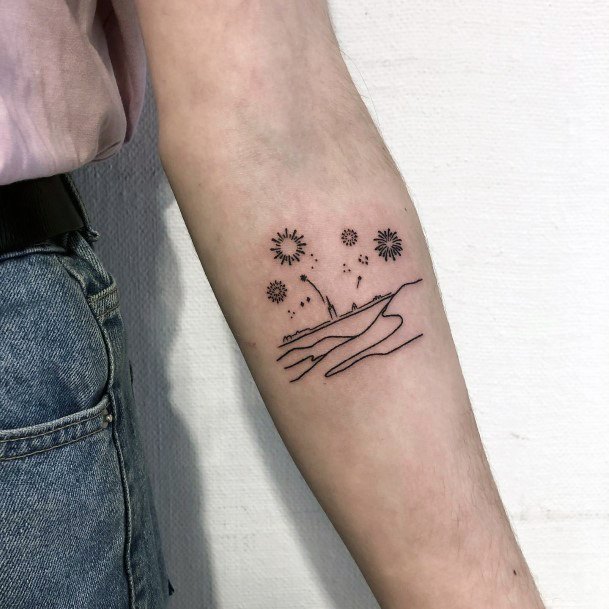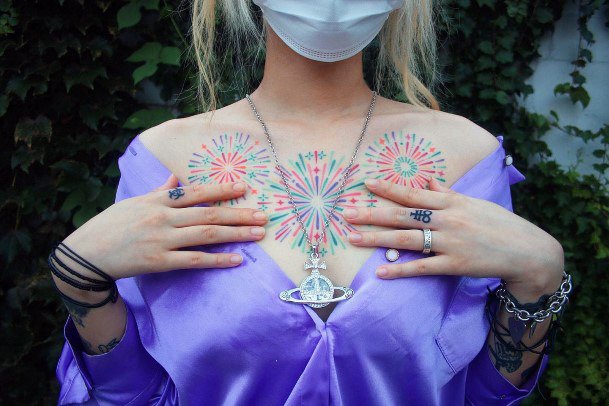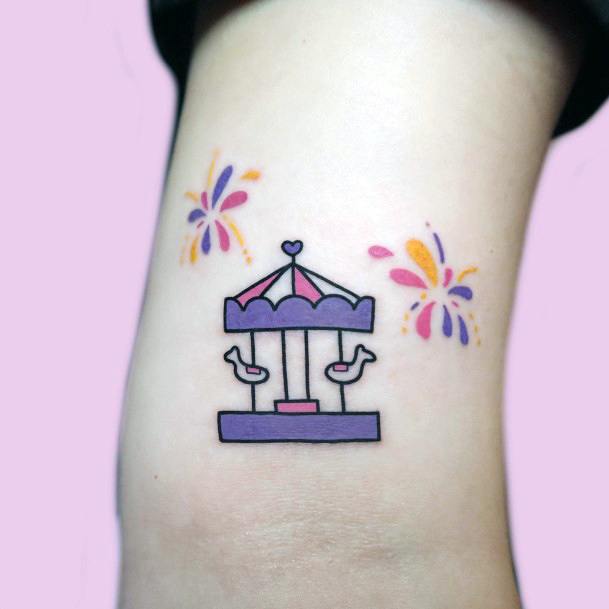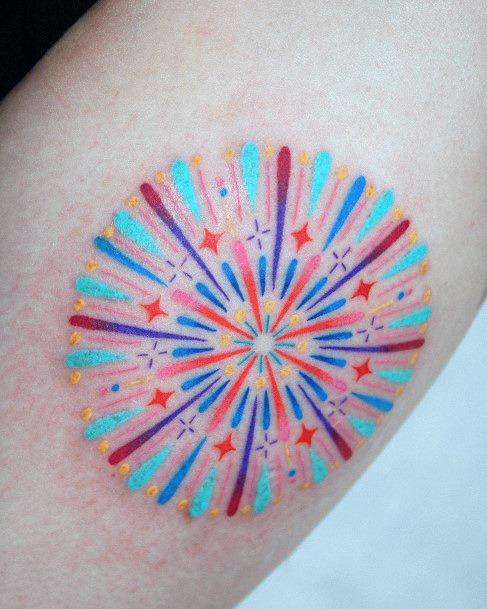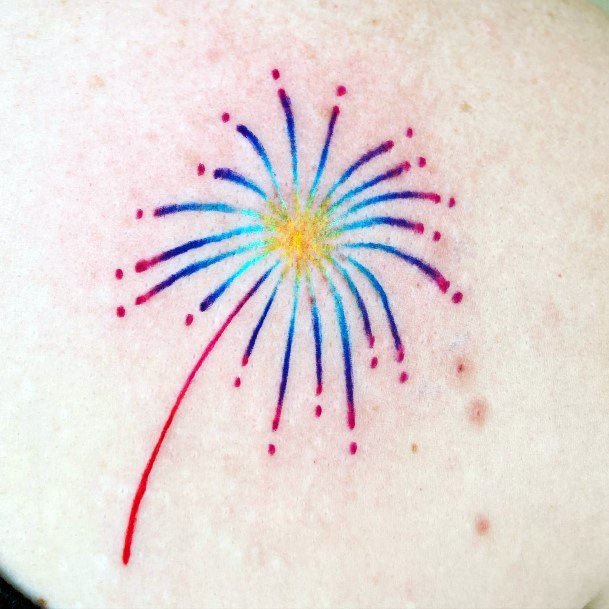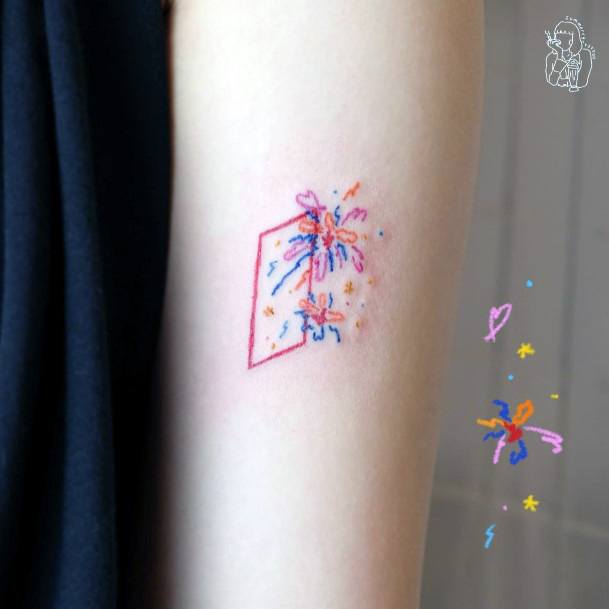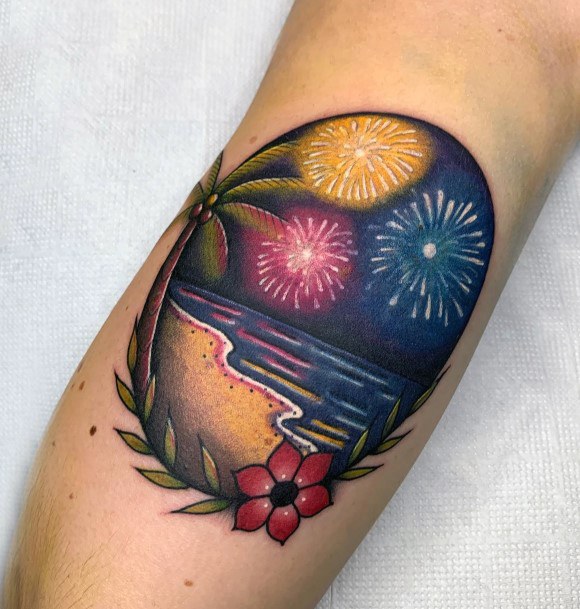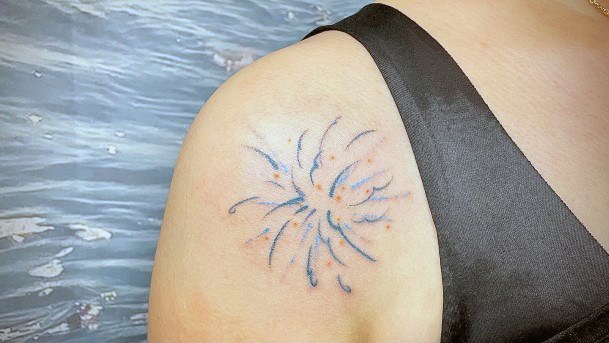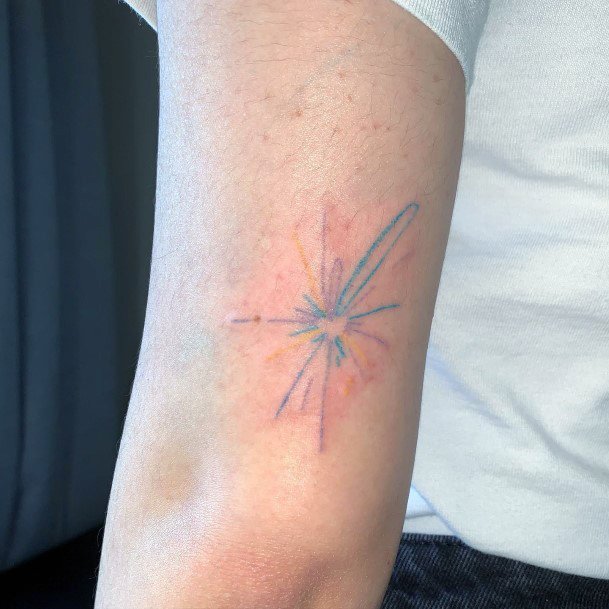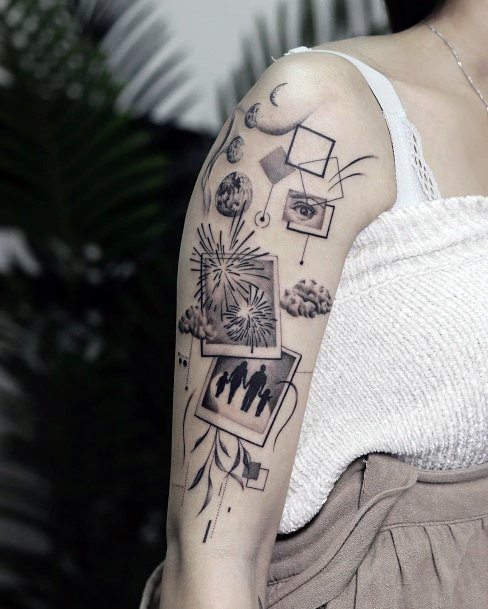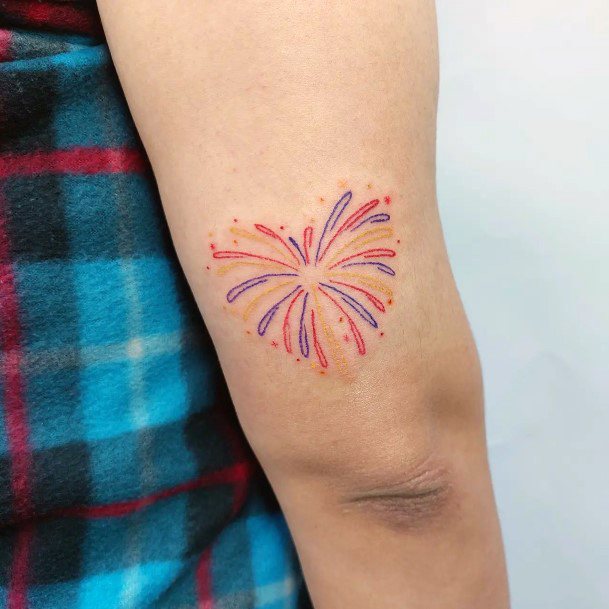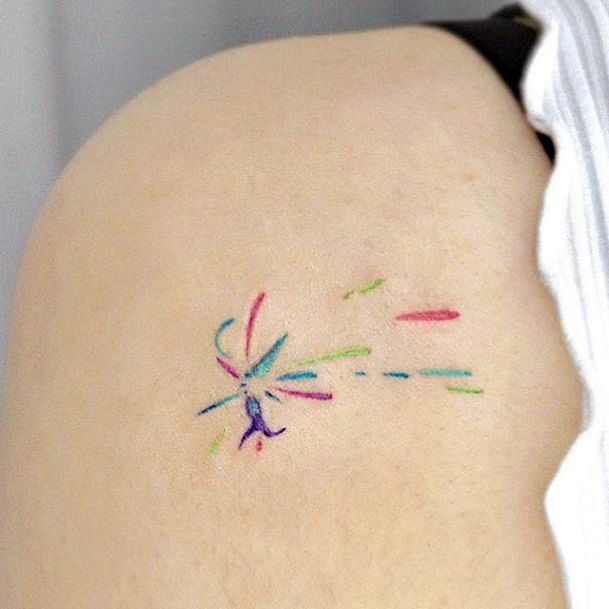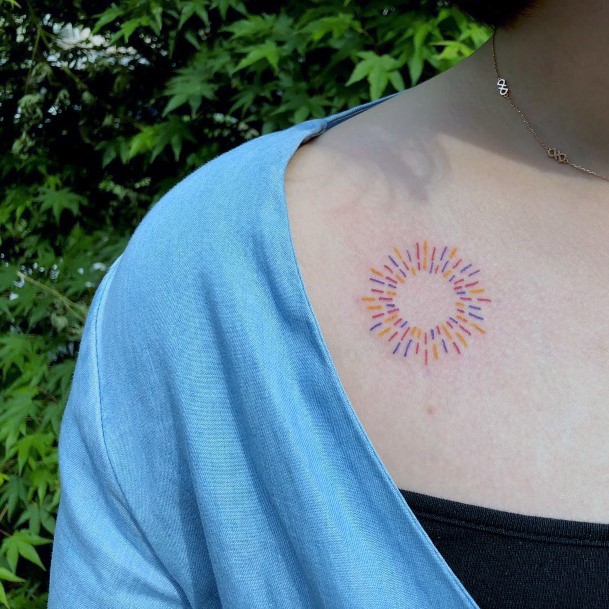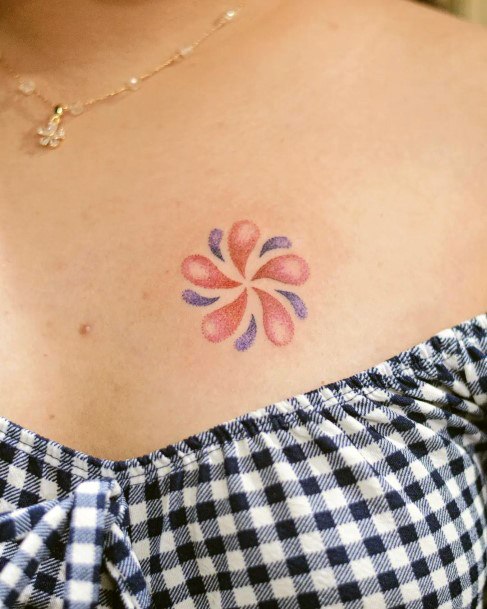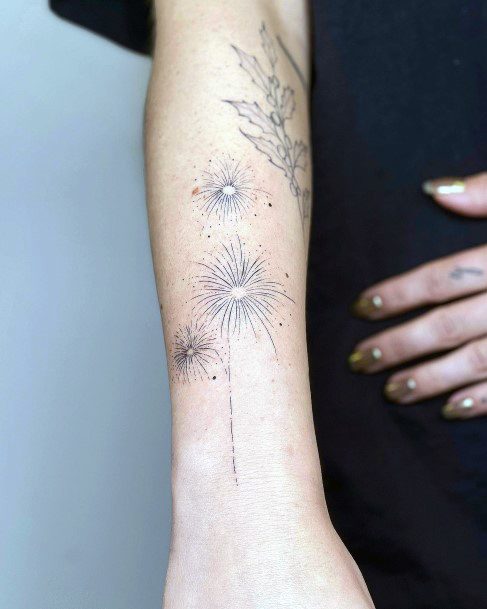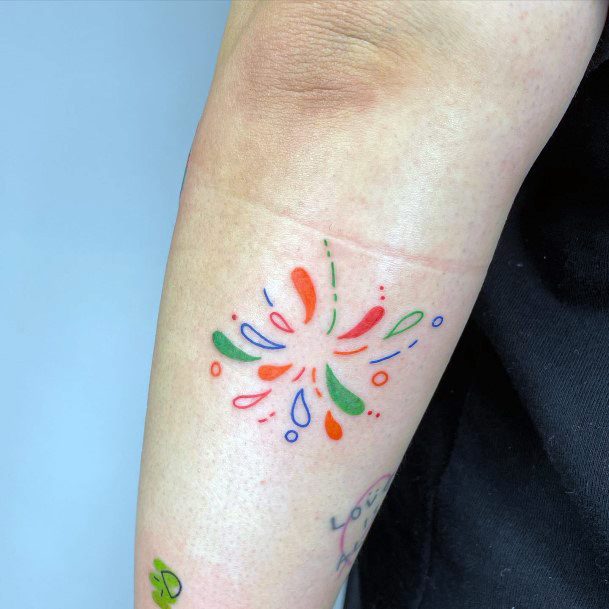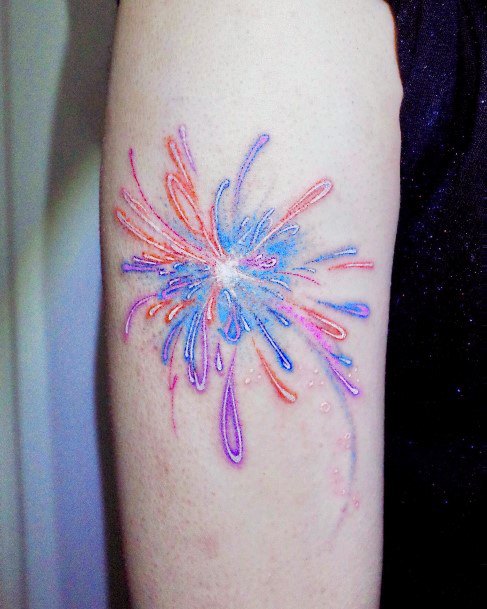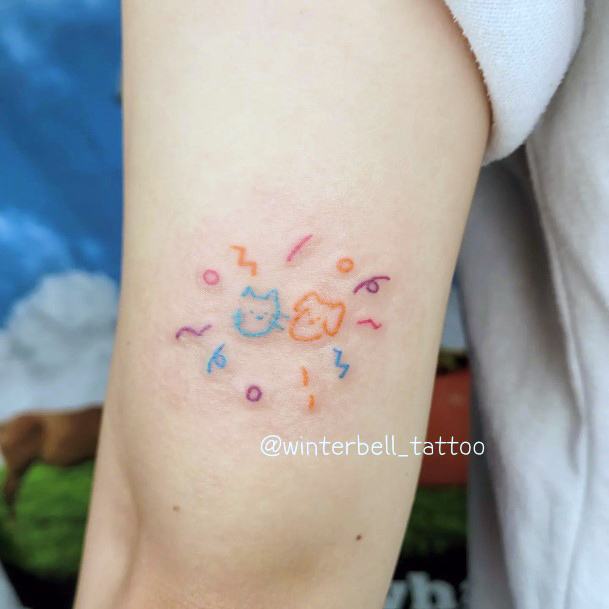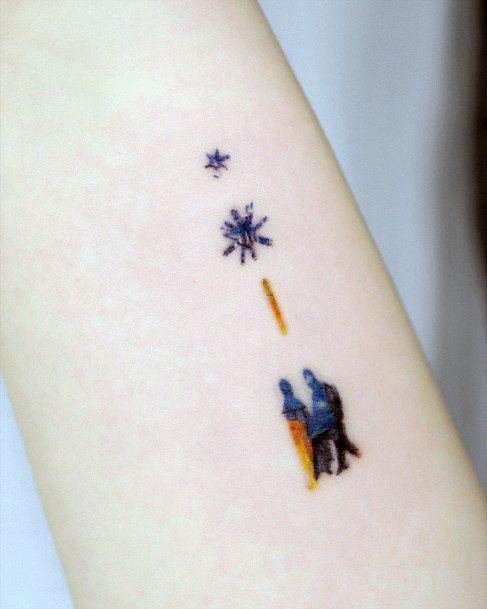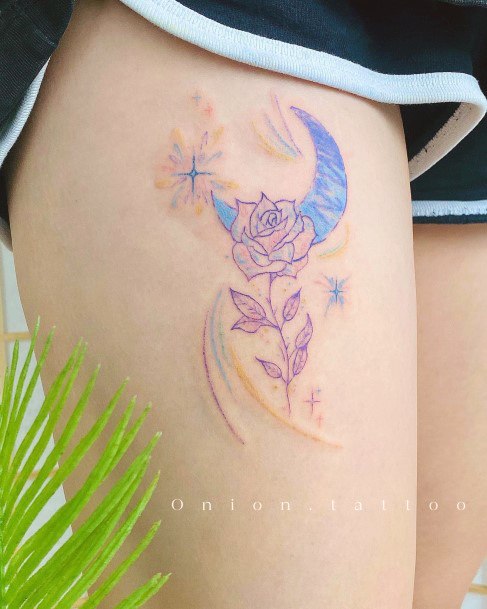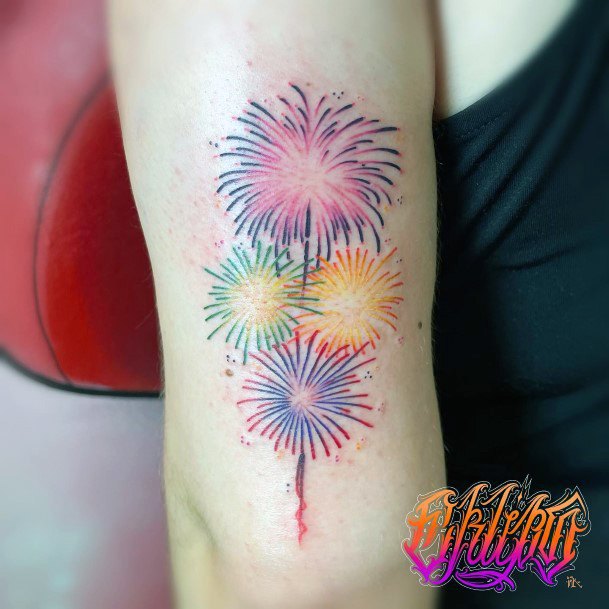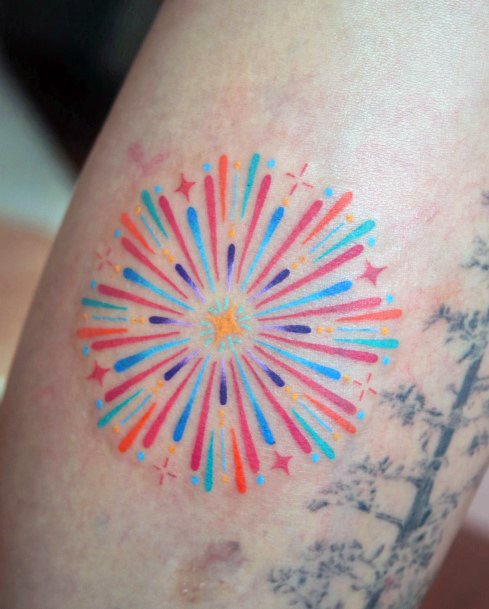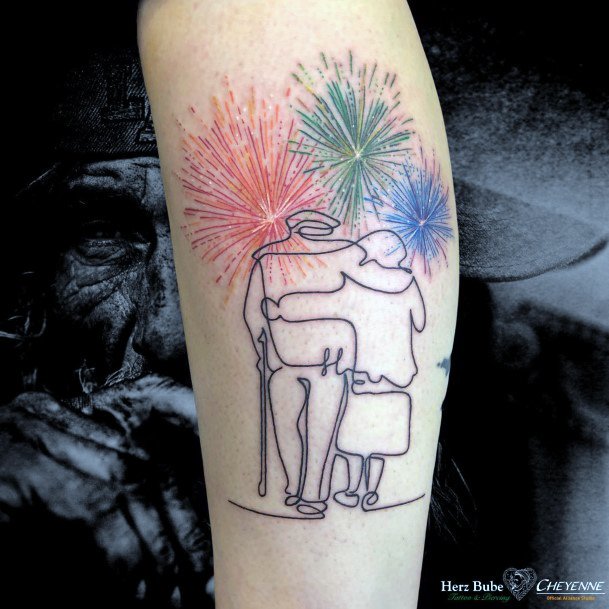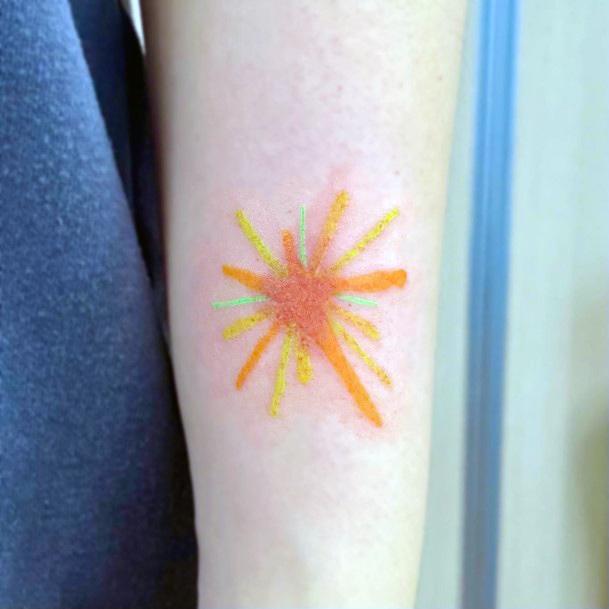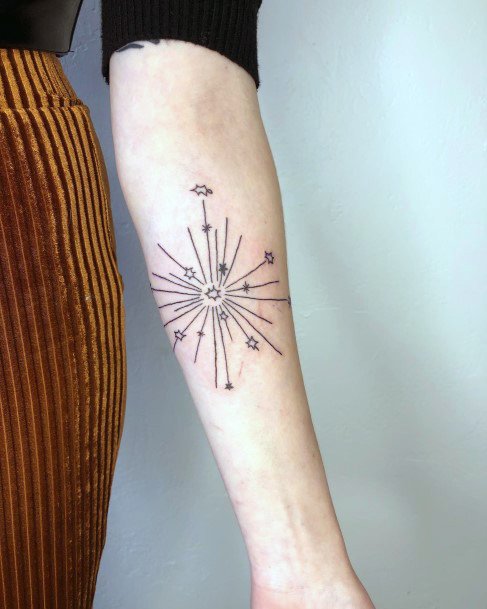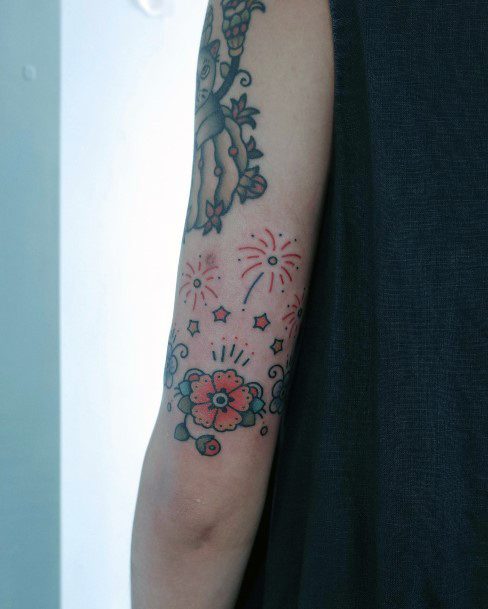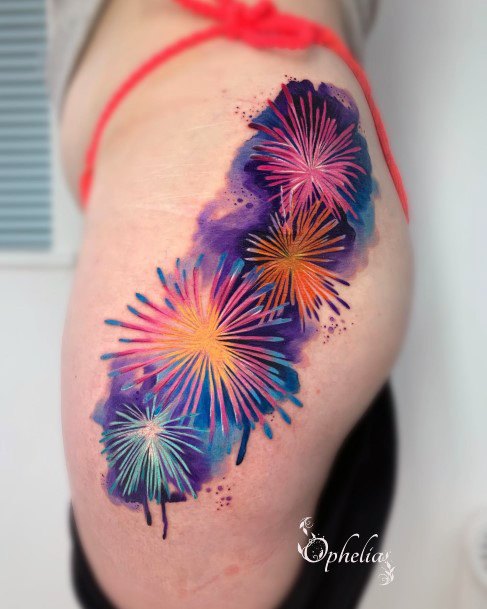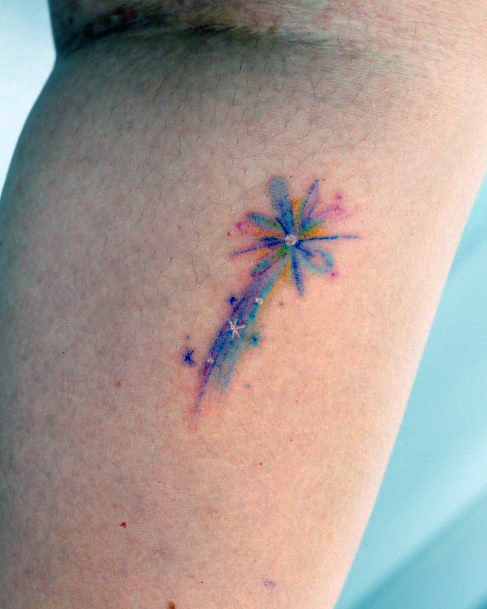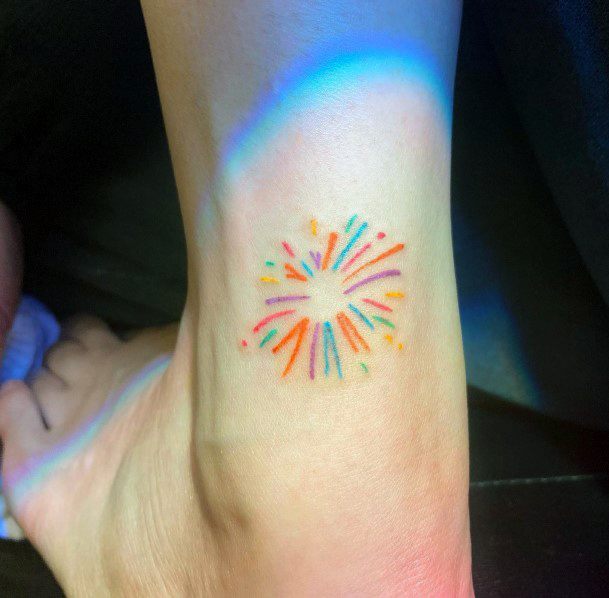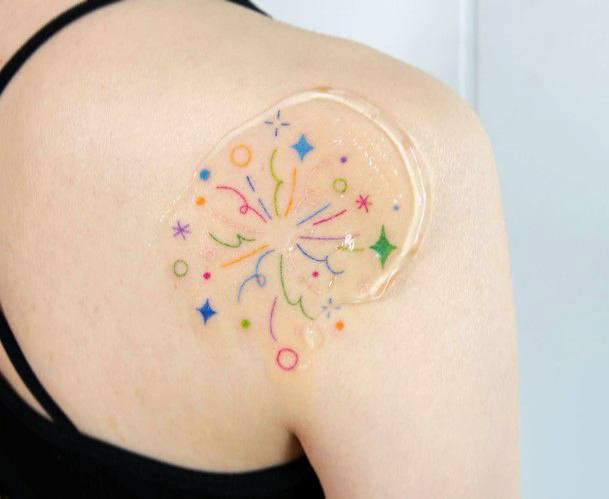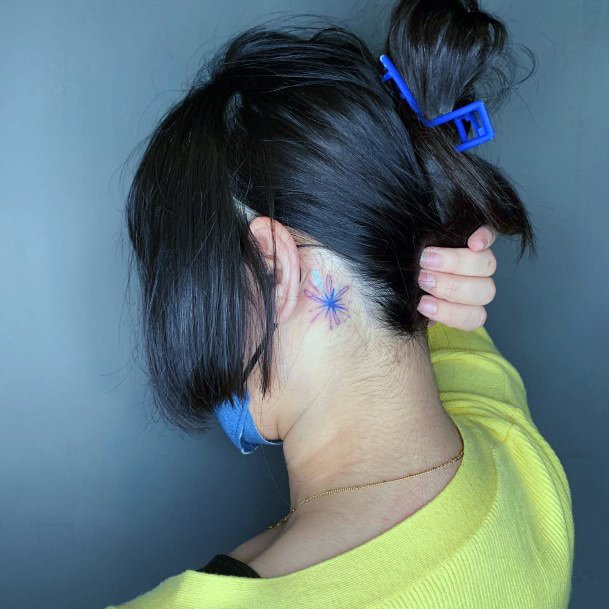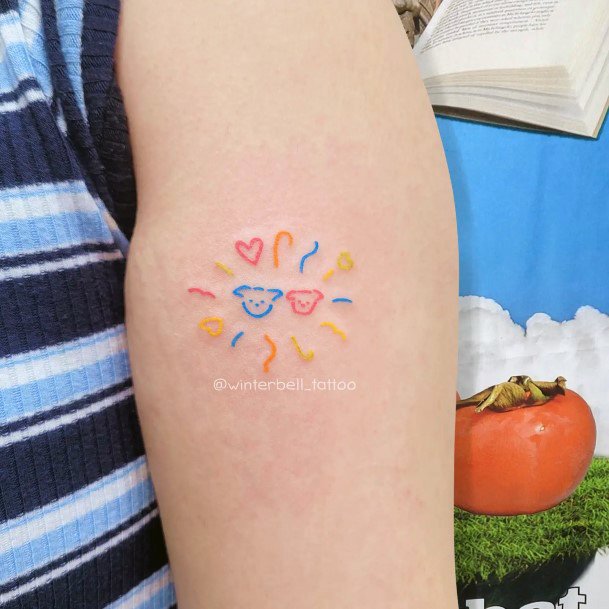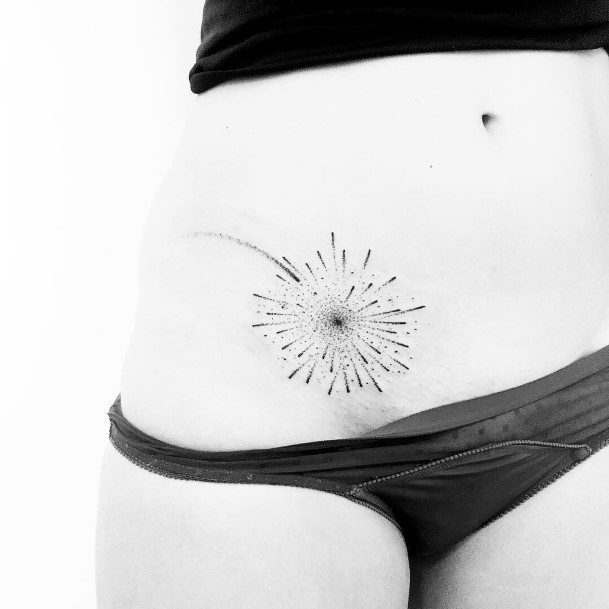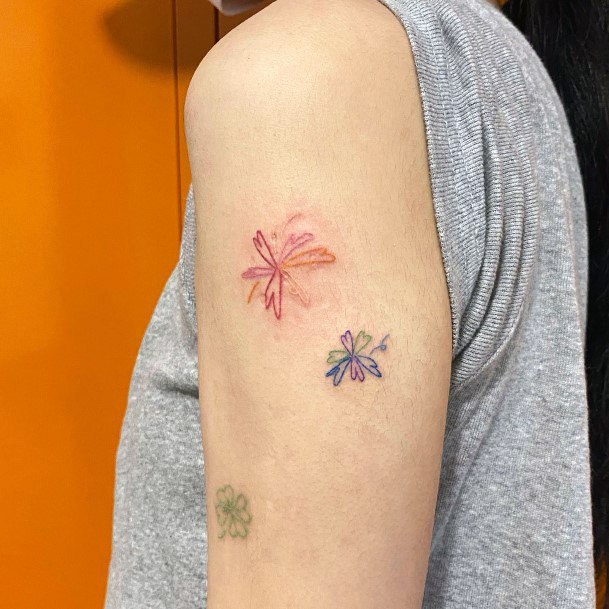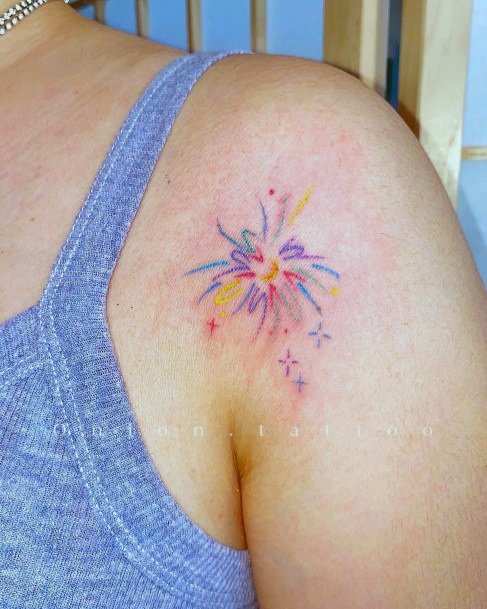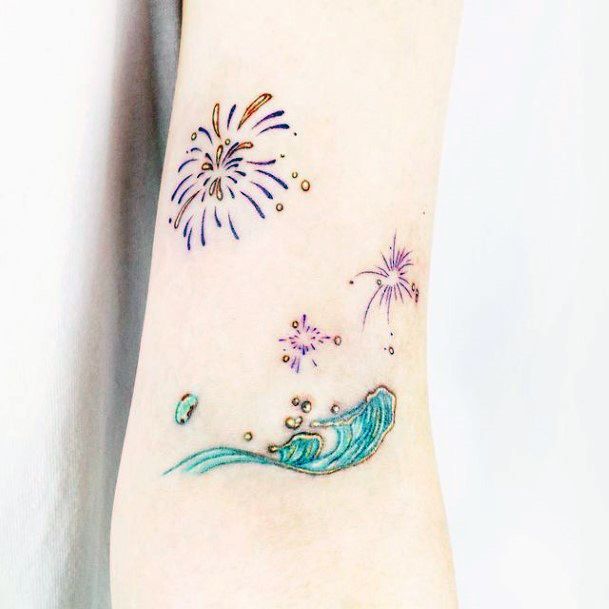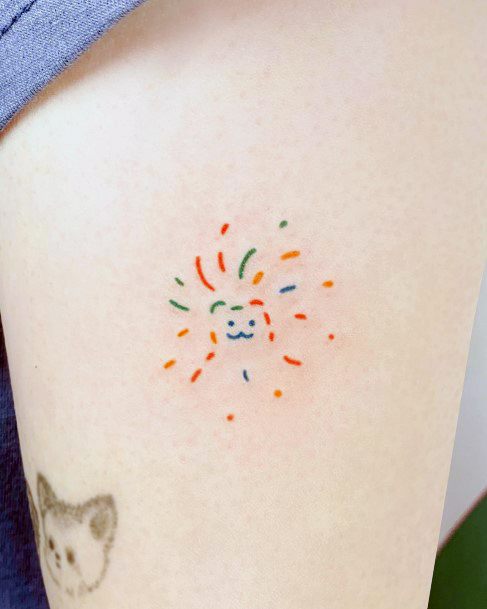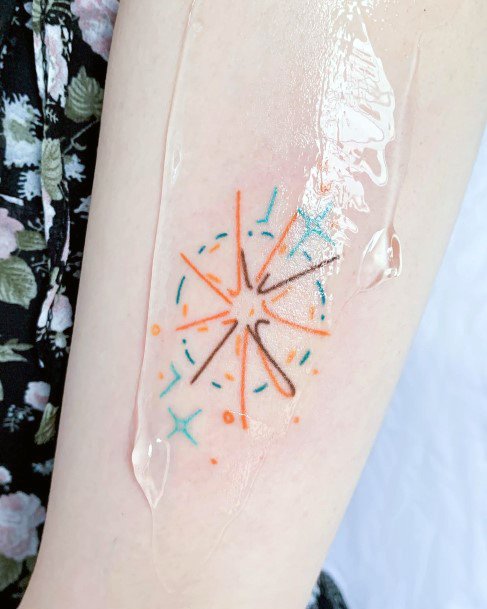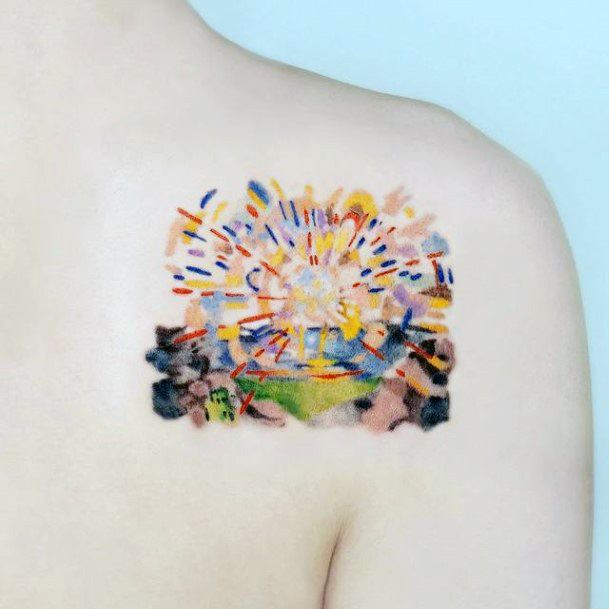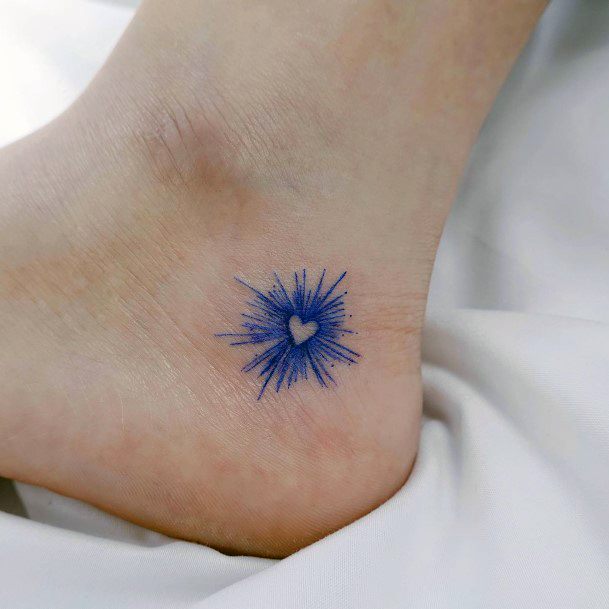 More fireworks inspiration:

Fireworks are often associated with celebration, so it's no surprise that many people choose to get fireworks tattoos. Something about the exhilarating spectacle of sparks and color just makes us feel alive.

And what could be more celebratory than permanently marking our bodies with a tattoo that reminds us of the fireworks we've seen and experienced in our lives?

For women, fireworks tattoos can be particularly empowering. They are a reminder that we are always capable of lighting up the dark night sky with our inner brilliance. Whether celebrating a special occasion or simply enjoying the simple pleasure of watching fireworks, these tattoos remind us that we can always make our light shine brightly.

Additionally, fireworks tattoos might be an exquisite method to commemorate a special moment in our lives. Whether it's the birth of a child, graduation, or any other significant event, fireworks tattoos can help us keep those memories alive forever.

There are countless choices available for designing fireworks tattoos for women. Here are just a few ideas to get you started:

A single spark: This can be placed anywhere on the body but is often seen on the wrist or ankle.

A firework: This can be placed anywhere on the body but is typically seen on the back or shoulder.

A fireworks display: This tattoo can be large and detailed, covering a significant portion of the body. It is typically seen on the back or chest.

The night sky: This tattoo can be tailored to look like a starry night sky, with fireworks bursting in the distance. It can be placed anywhere on the body but is often seen on the arm or leg.

Firework tattoo meanings and symbolism:

What do Firework themed designs mean and symbolize?:

Firework symbolism has been around for centuries, taking many different forms as it has evolved and changed over time. In 1799, the year of the first modern fireworks display in France, firework symbolism has remained mostly unchanged. This is likely because fireworks displays were generally created to commemorate a significant event or mark a milestone in someone's life.

The most common type of firework used during this period was the sky rocket. This type of firework was usually employed to symbolize power and strength. The loud explosions combined with a spectacular show of color and light made it an excellent choice for moments that deserved an extra bit of fanfare.

The second most popular type of firework used during this period was the Catherine wheel. This type of firework was associated with joy and celebration, often seen at weddings and other festive gatherings. The bright spinning display was meant to bring luck and good fortune to those watching it.

An additional type of firework that was very popular during this era was the Roman candle. This type of firework was often used to signify unity and strength. As multiple sparks burst from the candle, it represented both individuals coming together as one entity and a strong, unified community capable of overcoming any obstacle.

Fireworks also frequently served as symbols for various countries or organizations. The English used fireworks to demonstrate their patriotism, while the French employed them in order to celebrate their victory in battle or mark important events in their history. Fireworks were also utilized by governments in order to send messages or declare war against another country or group.

These pyrotechnic wonders were frequently used as a sign of respect when someone died too. The loud explosions and bright colors were thought to represent the person's life being celebrated and remembered forever. Fireworks were also thought to direct the deceased's soul to heaven, giving them a proper farewell as they passed on into eternity.

Of course, you could simply love the good old 4th of July!