Beyond the hard, crisp shell of this sugary cookie wafer rests a simple piece of paper with mysterious fortunes and lucky numbers.
Do these life fortunes or lucky lottery numbers ever come true? Most don't, but that still doesn't take away the fun, mysterious moment every girl has cracking them open. Besides, who can be mad at incorrect future predictions and vague prophecies when a sugary treat delights the tongue?
What might surprise you however, is that fortune cookies have nothing to do with China. In fact, the original fortune cookie comes from Japan back in 1878, and is called a "tsujiara senbei." These Edo period "fortune cookies", were much larger in size and looked a bit different than they do today.
It wasn't until 1890 till fortune cookies made their way into San Francisco, and it took till 1989 for China to get their hands on these sweet treats. How crazy is that?
With millions of these cookie wafers made on a regular basis, someone's arm must surely be getting sore from all the fortune and luck number writing.
When it comes to the world of tattoos, fortune cookie themed designs have exploded in popularity. Their fun, cute and can hold a lot of meanings thanks to the ability to write virtually anything on the tiny piece of paper inside. Speaking of the paper, did you know that the folds bend the dough around the paper before its cooked?
With that said, go ahead and explore these cool lucky designs below. I'm sure you'll have a blast checking out these creative variations of a classic sugary dessert.
Popular fortune cookie phrases and messages:

Which one speaks to you?

1. "A fresh start will put you on your way to success."
2. "A pleasant surprise is waiting for you."
3. "A smooth long journey! Great expectations."
4. "A soft voice may be awfully persuasive."
5. "A truly rich life contains love and art in abundance."
6. "Accept something that you cannot change, and you will feel better."
7. "An alien of some sort will be appearing to you shortly!"
8. "An important opportunity is coming your way."
9. "An inch of time is an inch of gold."
10. "Be careful or you could fall for some tricks today."
11. "Beauty is not only skin deep."
12. "Believe in yourself and others will too."
13. "Change can hurt, but it leads a path to something better."
14. "Competence is the best way to get recognition."
15. "Courage is not simply one of the virtues, but the form of every virtue at the testing point."
16. "Determination is the wake-up call to the human will."
17. "Difficulties are things that show a person what they are."
18. "Every flower blooms in its own sweet time."
19. "Every wise man started out by asking many questions."
20. "Failure is only the opportunity to begin again more intelligently."
21. "Fortune favors the brave."
22. "Good news will be brought to you by mail."
23. "Happiness begins with facing life with a smile and a wink."
24. "If you look in the right places, you can find some good offerings."
25. "If you refuse to accept anything but the best, you very often get it."
26. "It's time to get moving. Your spirits will lift accordingly."
27. "Let the world be filled with tranquility and goodwill."
28. "Listen not to vain words of empty tongue."
29. "Living with a commitment to excellence shall take you far."
30. "Love can turn cinders into gold."
31. "Love is like sweet medicine, good for everything."
32. "Make all you can, save all you can, give all you can."
33. "Many will travel to hear you speak."
34. "Nature, time and patience are the three best physicians."
35. "Never fear! The end of something marks the start of something new."
36. "No one can walk backwards into the future."
37. "Nothing is impossible to a willing heart."
38. "One day soon, you will be sitting at the head of the table"
39. "Opportunities are like sunrises; if you wait too long, you miss them"
40. "Our deeds determine us, as much as we determine our deeds"
41. "Patience is your alley at the moment"
42. "People are naturally attracted to you"
43. "Put your mind into planning today; your reward will be considerable"
44. "Rest has a peaceful effect on your physical and emotional health"
45. "Share your joys and sorrows with your friends"
46. "The greatest risk is not taking one"
47. "The harder you work, the luckier you get"
48. "The night life is for you"
49. "The world may be your oyster, but that doesn't mean you'll get it's pearl"
50. "Things may come to those who wait, but only the things left by those who hustle"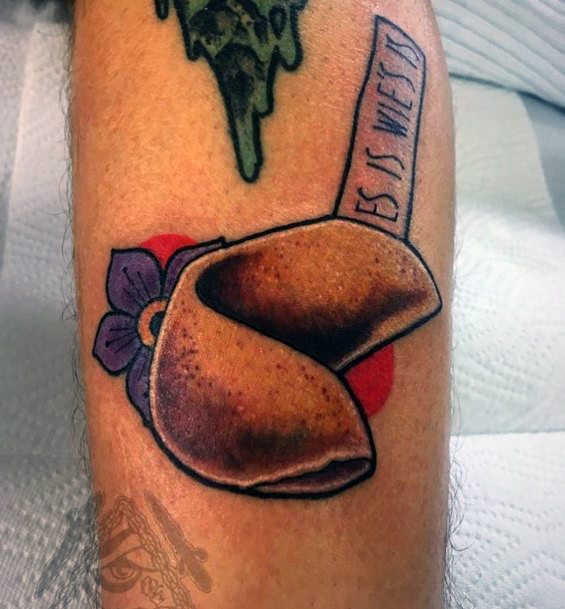 Go retro with this old school traditional forearm fortune cookie tattoo. Note the "it is what it is" wording on the paper plus the red rising sun and purple flower detail.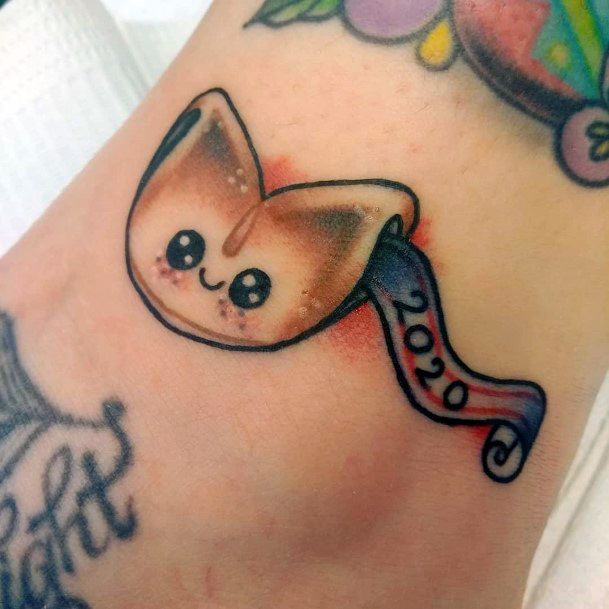 How cute is this women's ankle cat themed fortune cookie tattoo? Oversized eyes are super charming as is the glitter effect eye-shadow and tiny upwards smile. I love the double pointed ears alongside the unique placement of the paper scroll which has a memorial date written on it. Simple, small and a brilliant creative approach.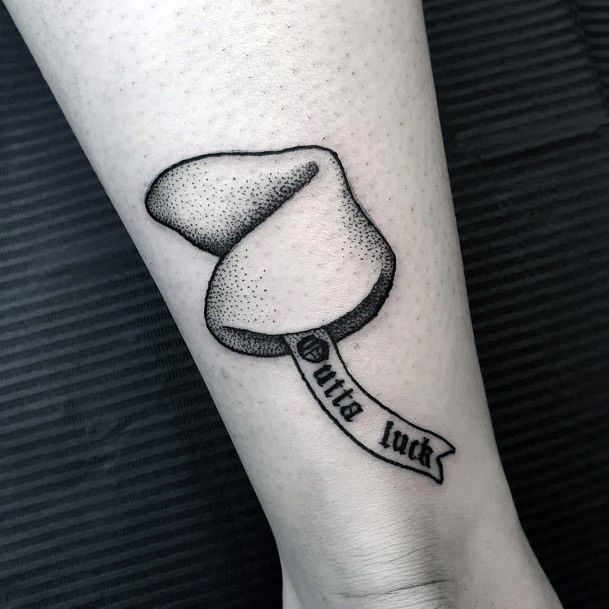 Want to venture on the dark side? Consider this out of luck themed simple fortune cookie featuring an all-black ink design. A dotwork detail gives this fortune cookie plenty of depth and a unique shading effect. Remember to consider the font used for your wording on the paper, as the options can greatly change the vibe of your body art.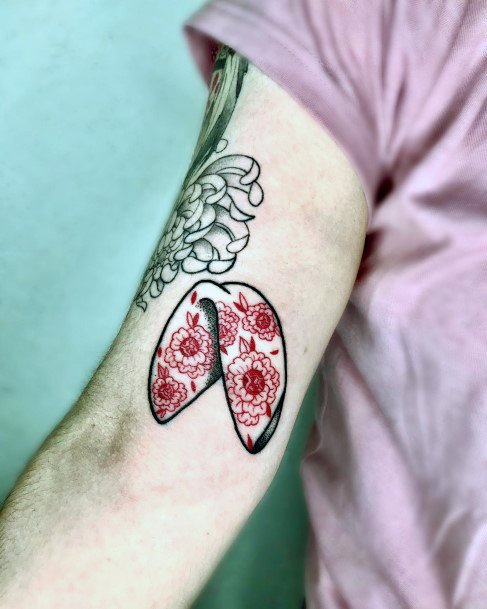 I love this red ink decorative flower pattern themed women's inner arm tattoo. A simple black ink outline gives this fortune cookie definition while super tiny dots give a 3D effect without being too realistic.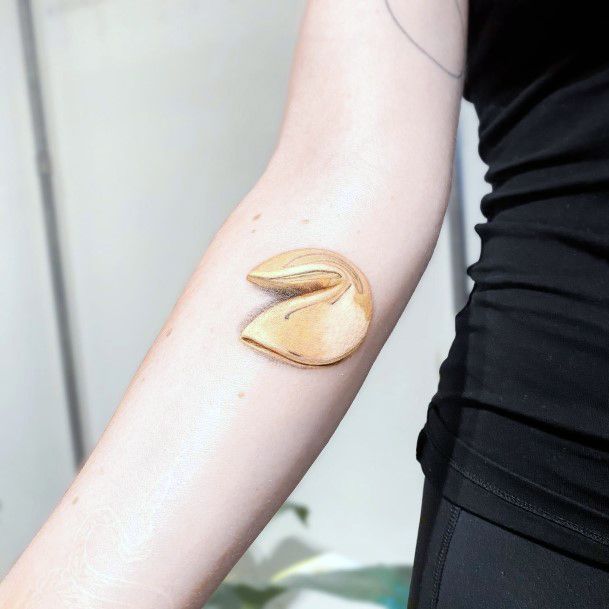 Speaking of realistic, here's a super realistic variation of an inner forearm fortune cookie tattoo. How incredible is this three-dimension design? I love how well this piece stands off of the skin with a unique optical illusion effect.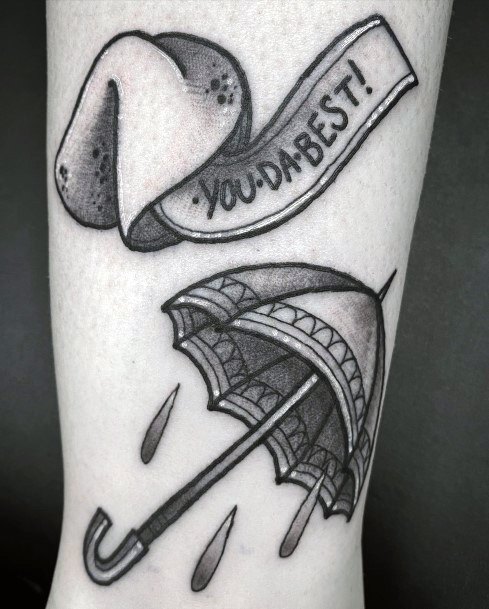 Give yourself a little pep in your step with this you the best fortune cookie tattoo. The reminder is as simple as the design of the cookie itself, featuring a traditional style and black and grey shaded ink. Note the tiny white ink used to give the entire piece cool highlights.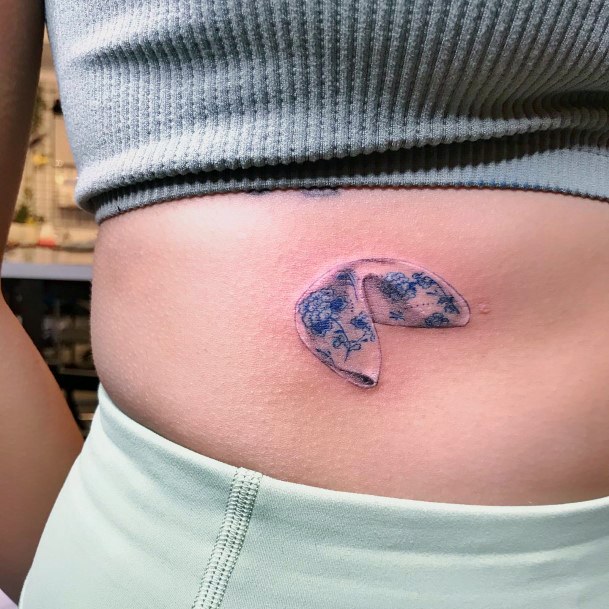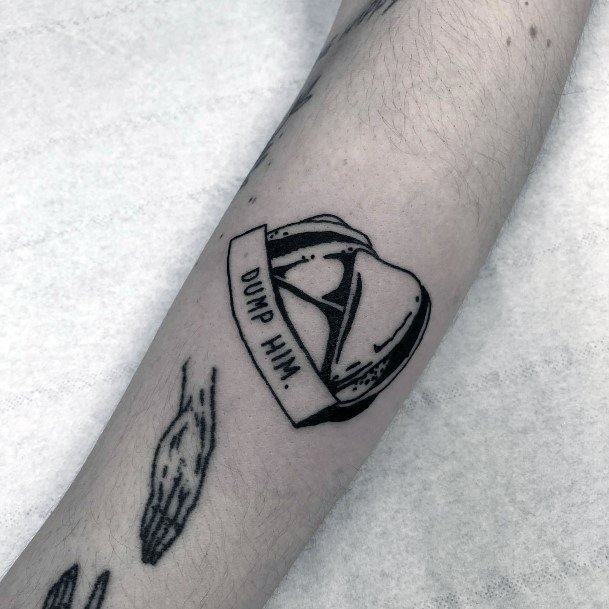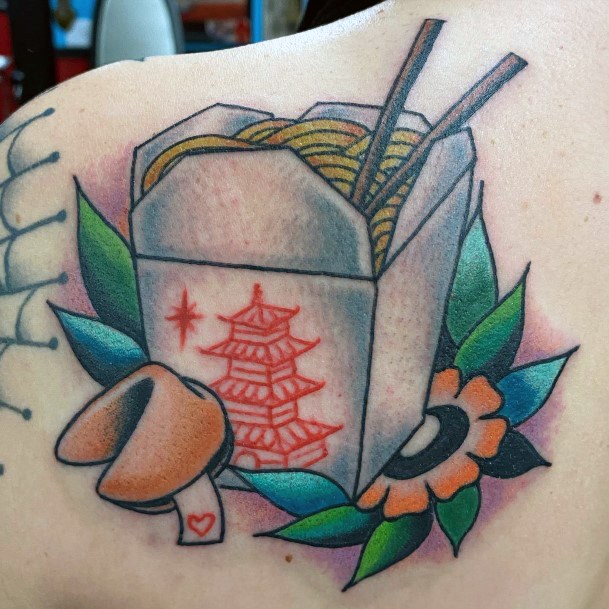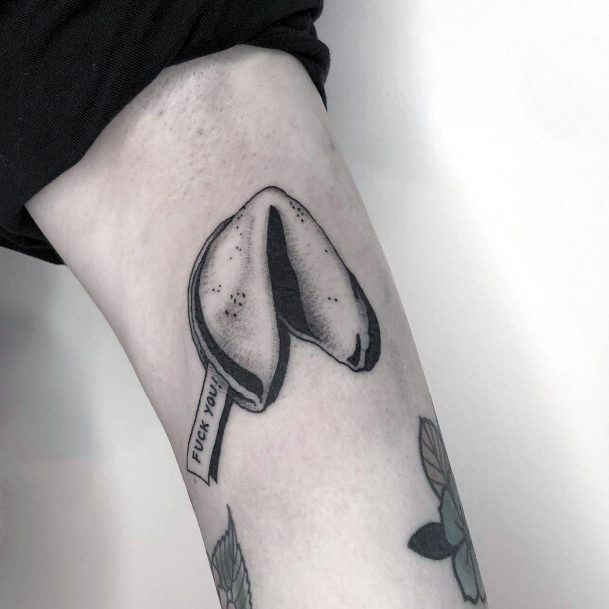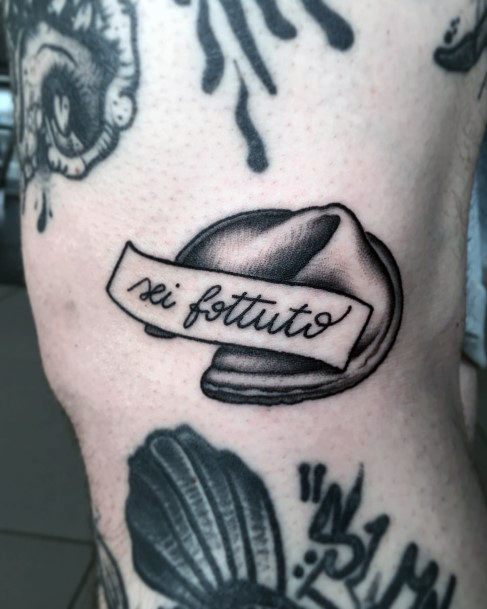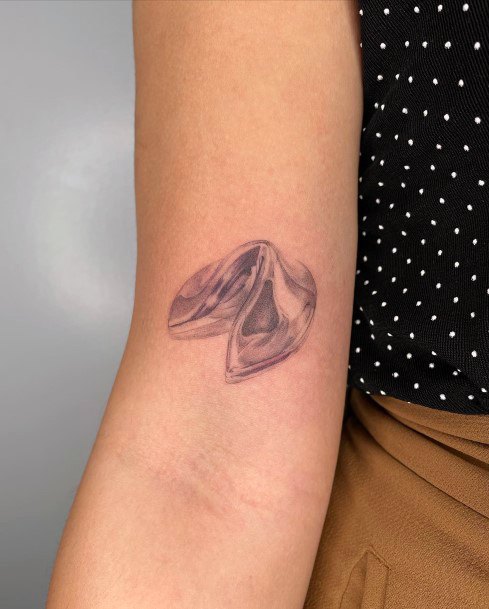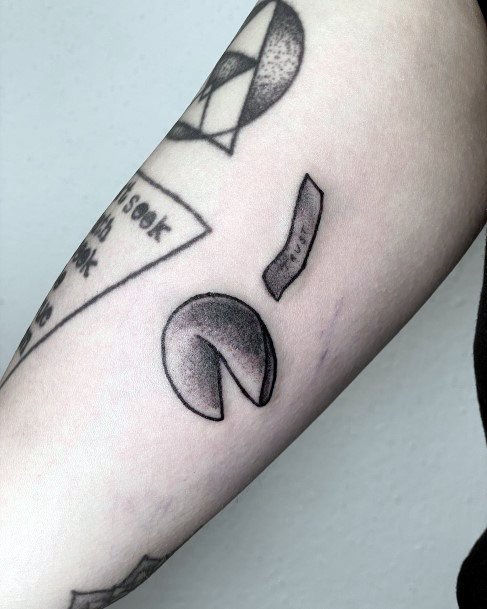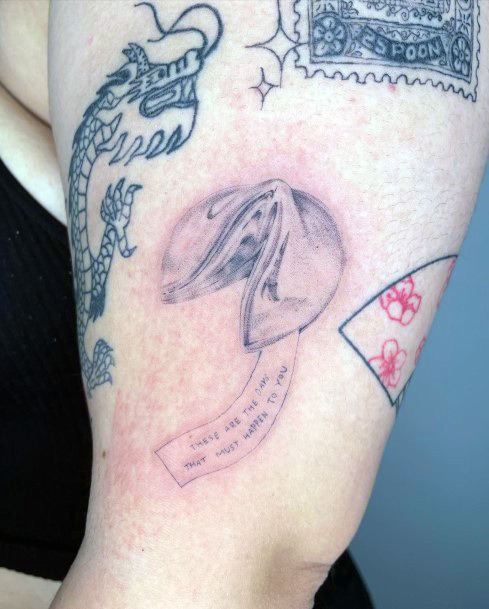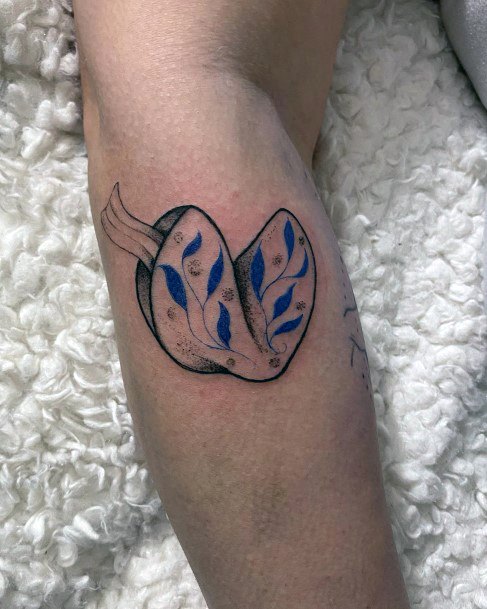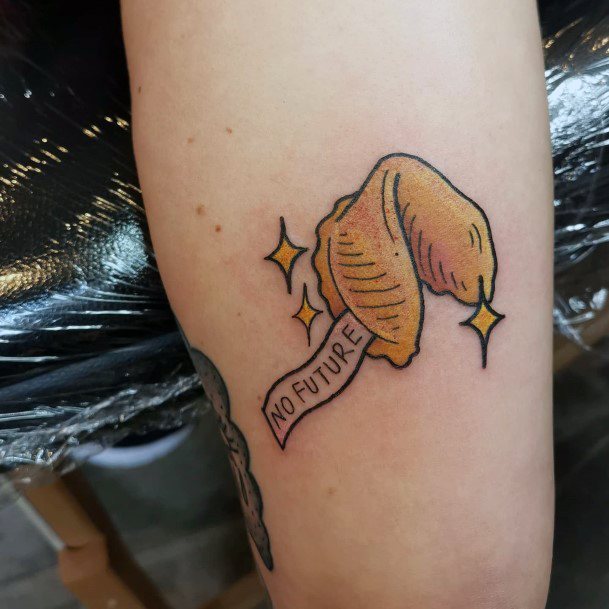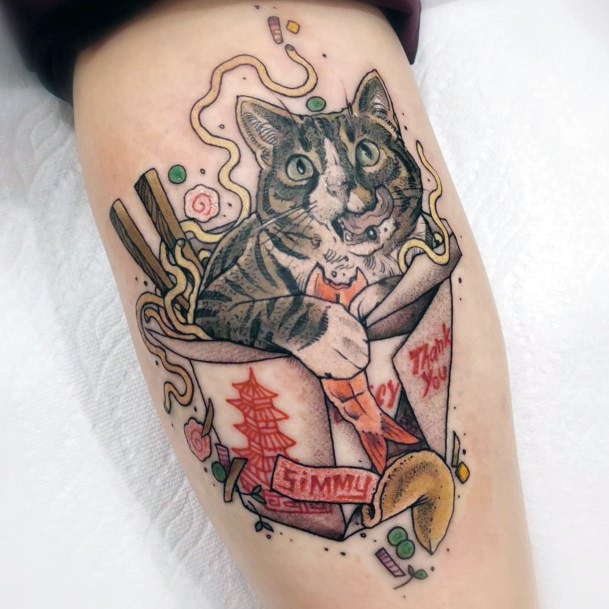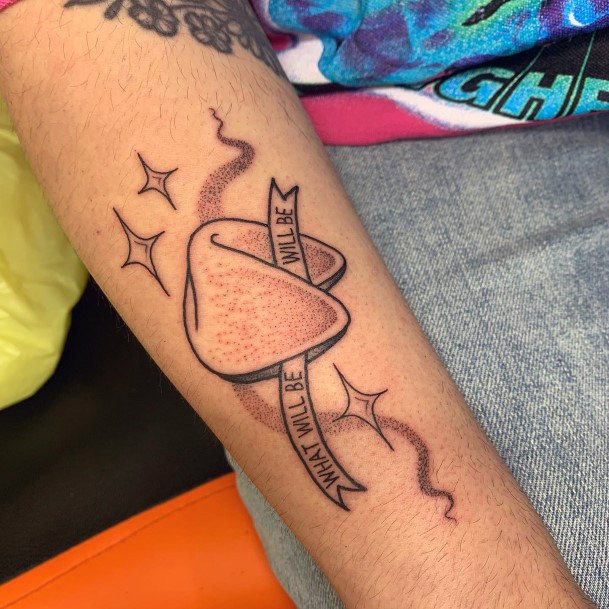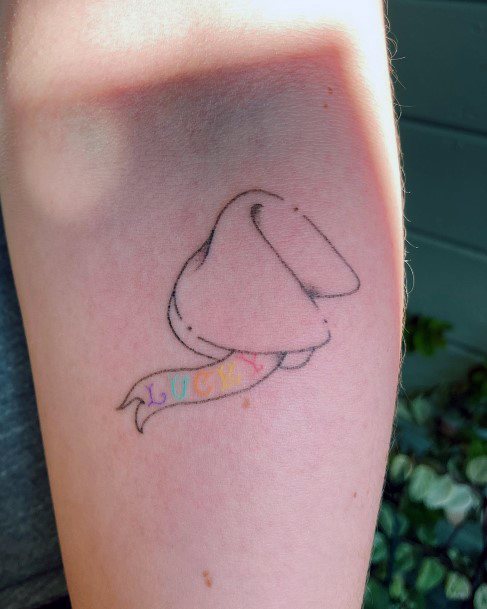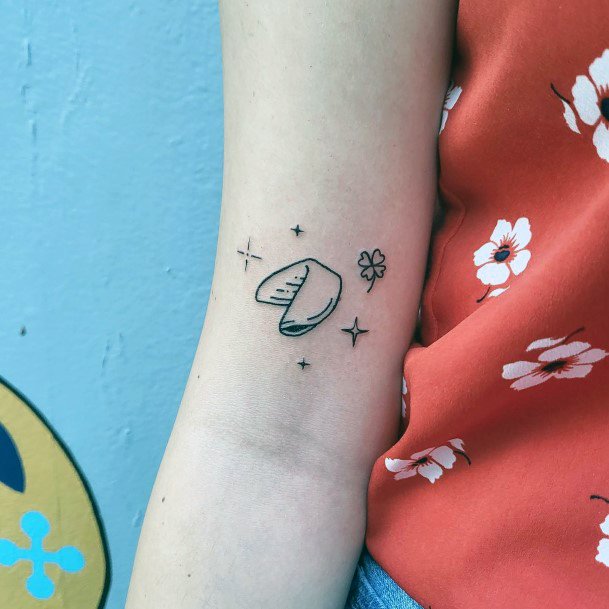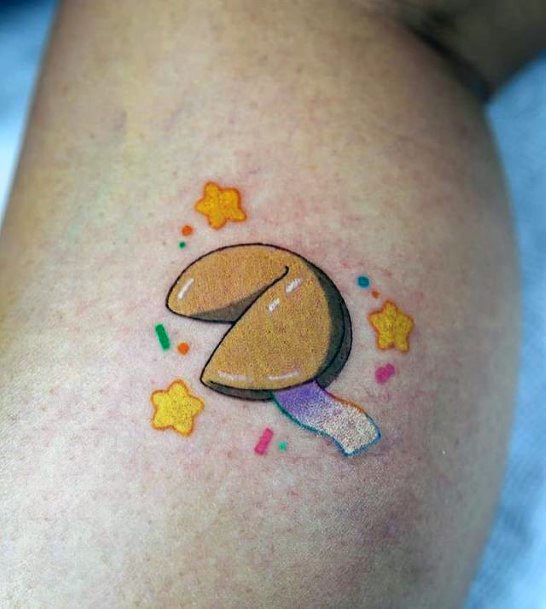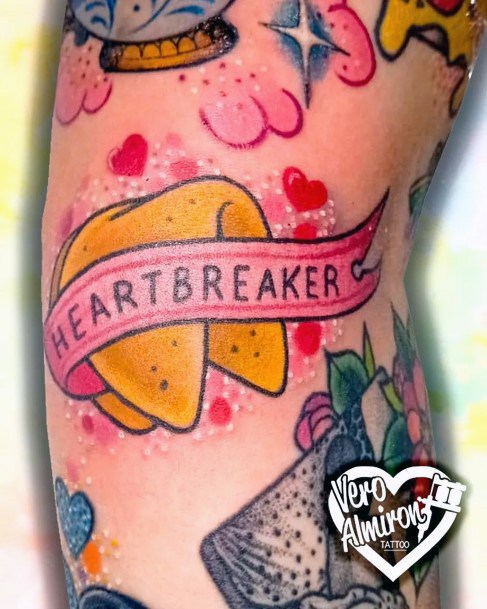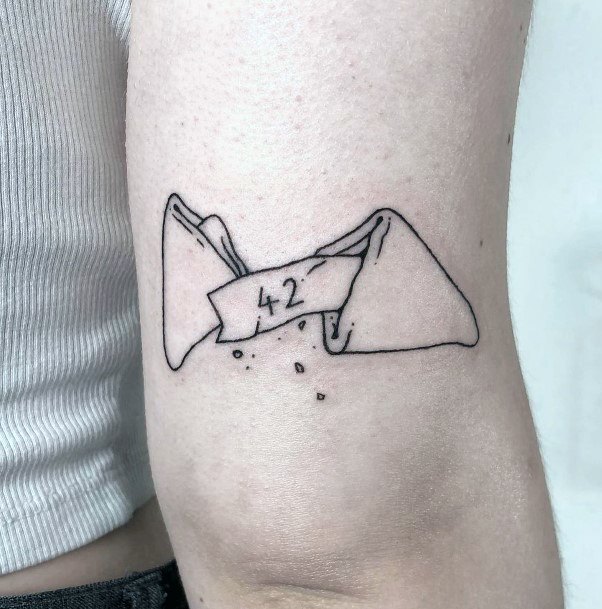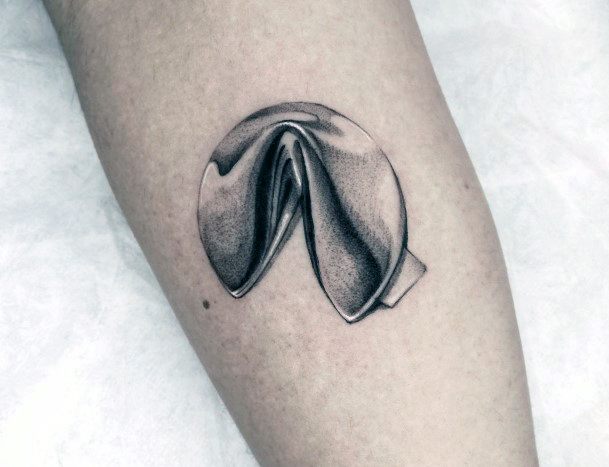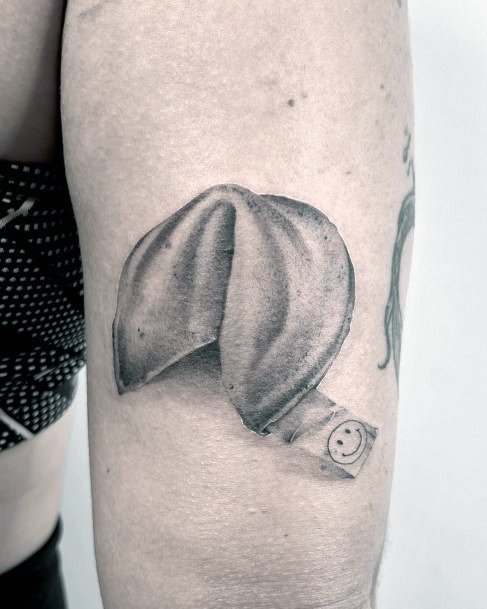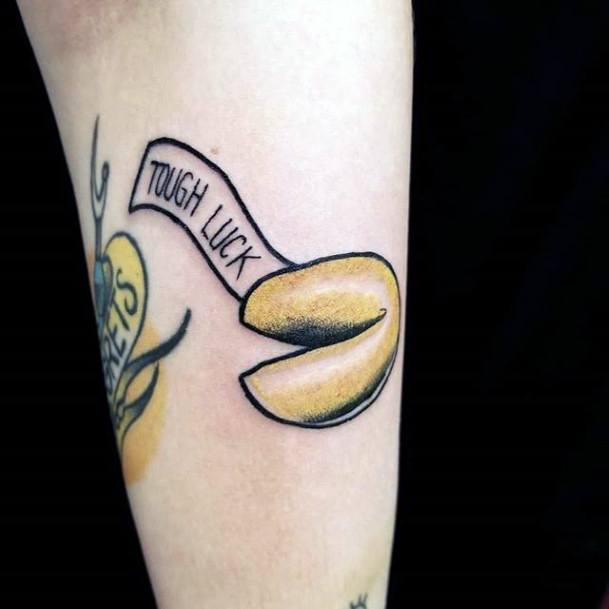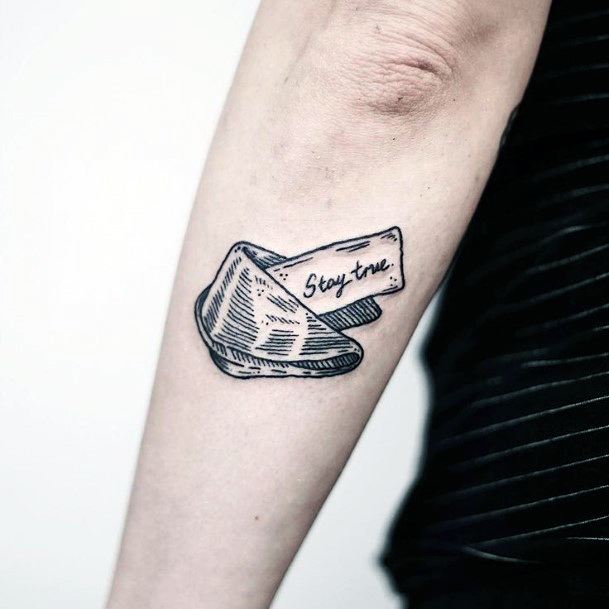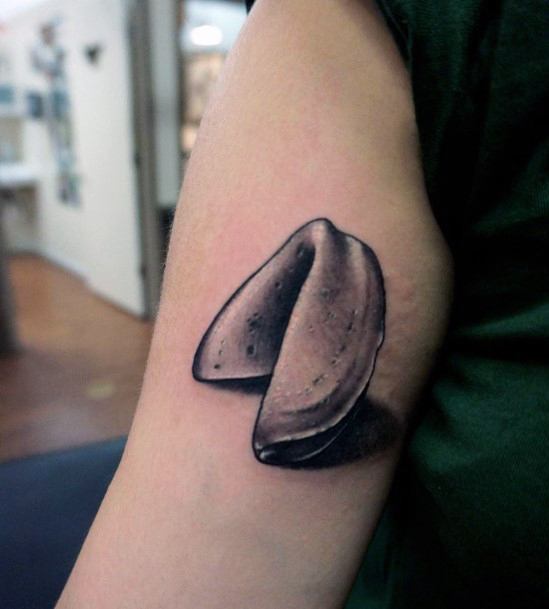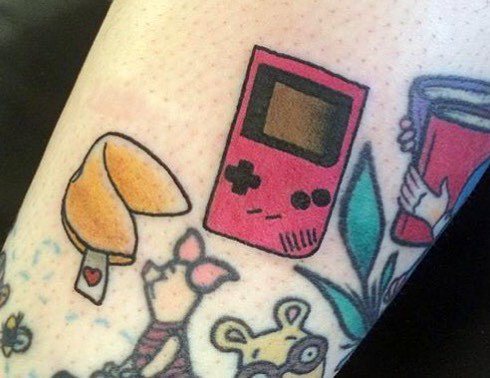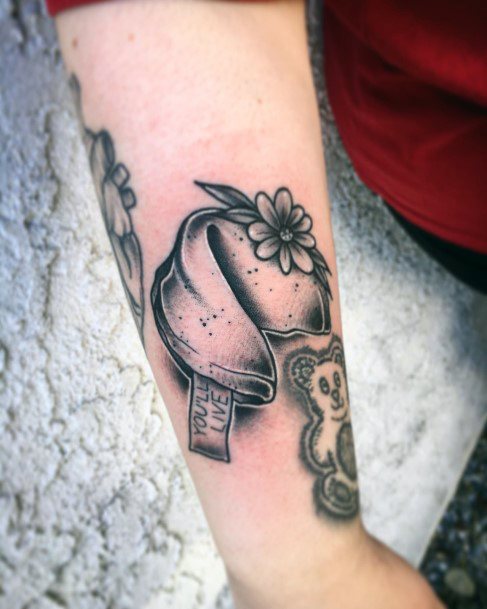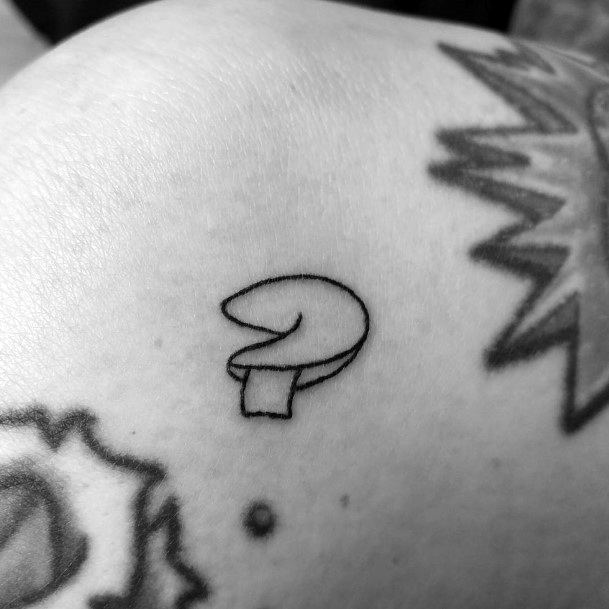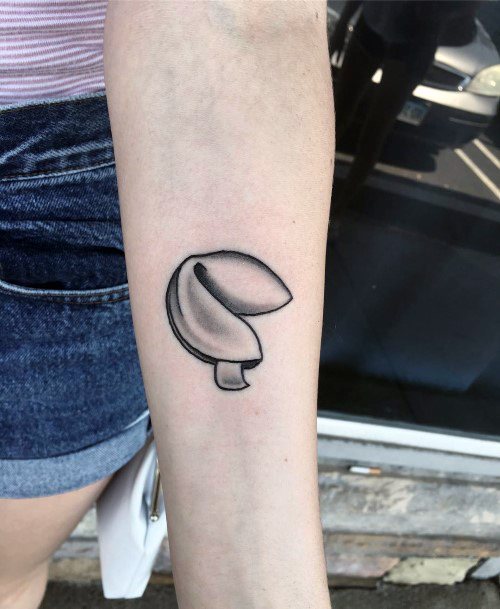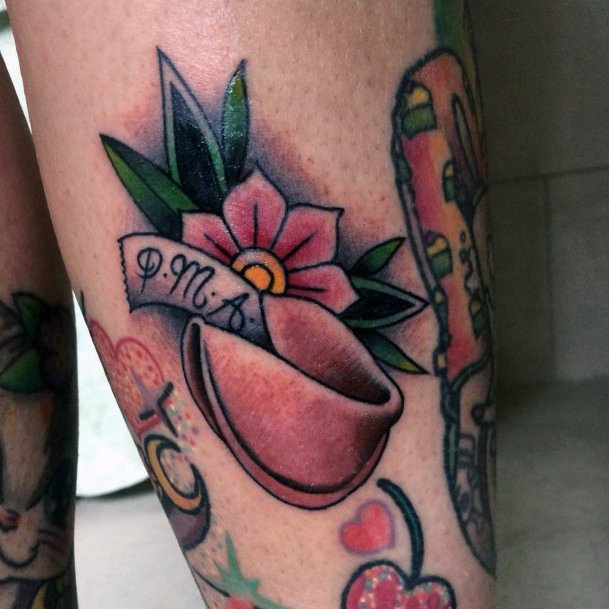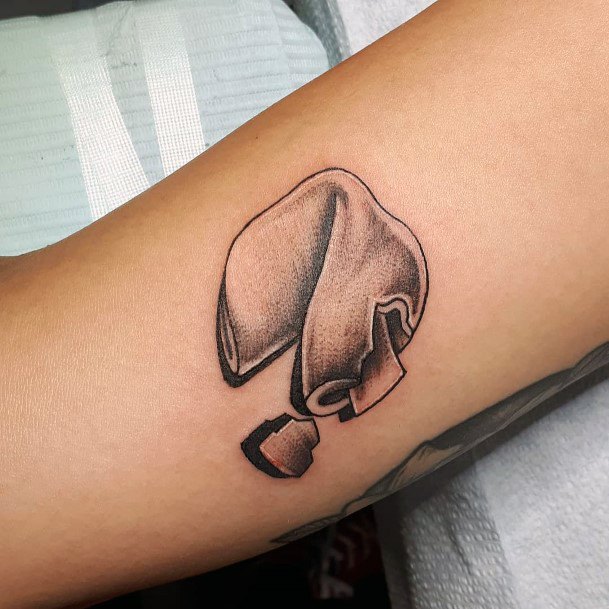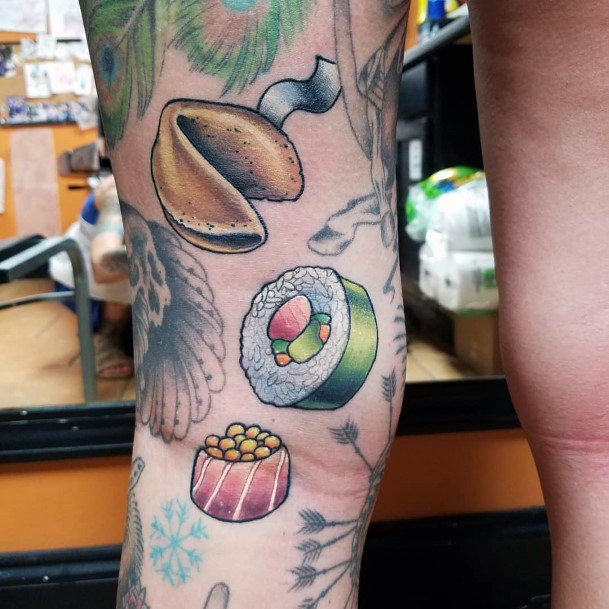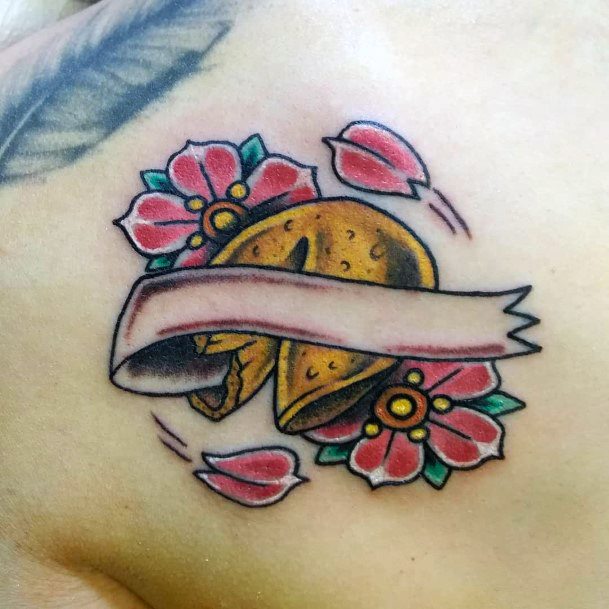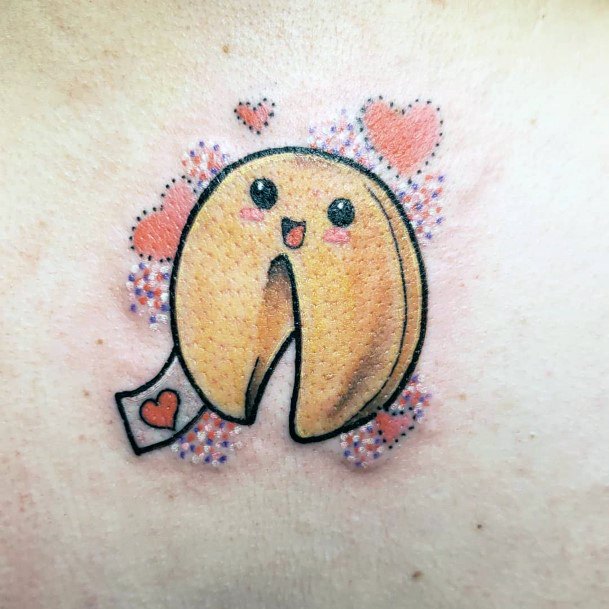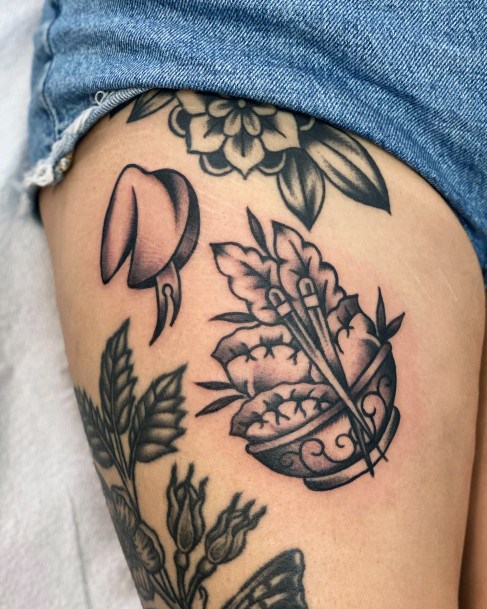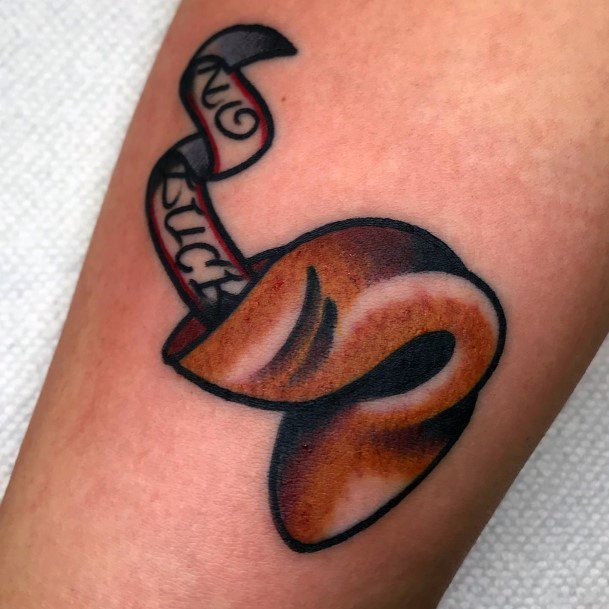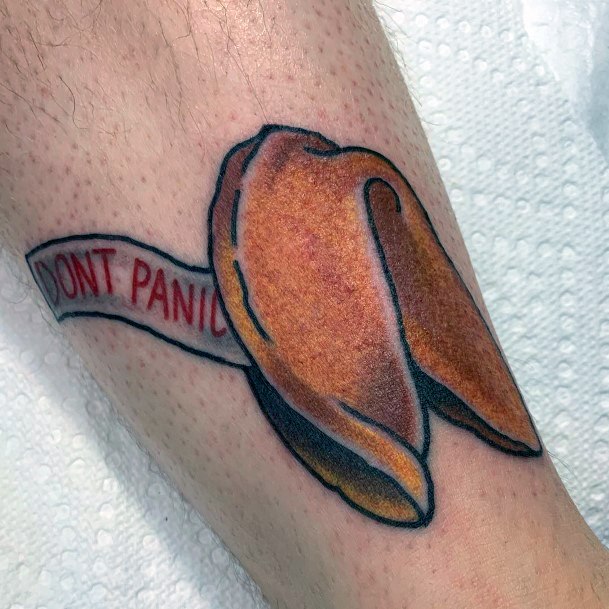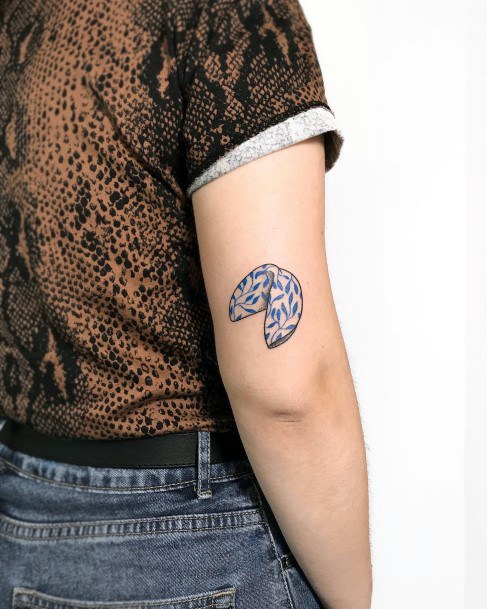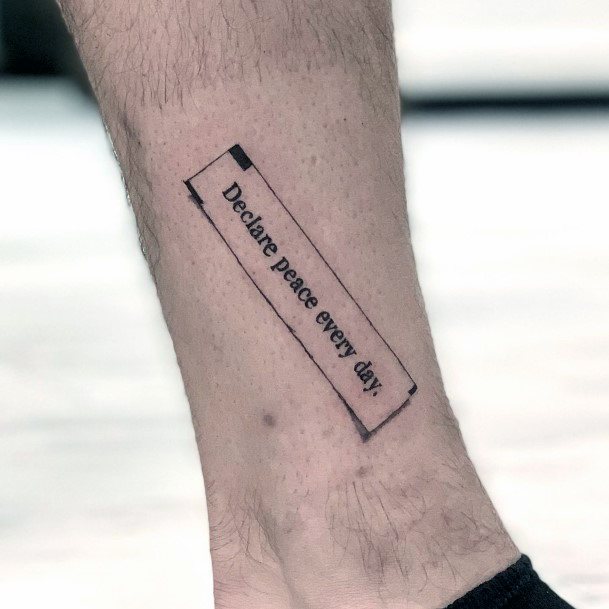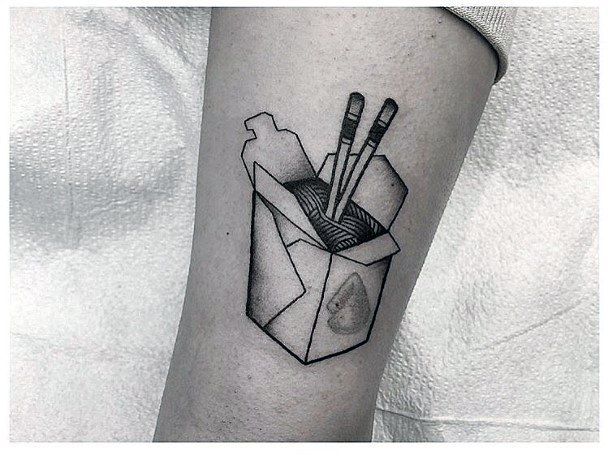 Fortune cookie tattoo meanings and symbolism:

What do fortune cookie designs mean and symbolize?:

A fortune cookie tattoo symbolizes luck, good fortune, and optimism. It is a reminder to stay positive and to trust in the universe that things will work out in the end. It is a reminder to stay hopeful and to keep striving for success.