If you've ever been into a rock shop or just a general appreciation for all things gems and minerals then chances are you already know what a geode is.
These hollow rocks feature a geological secondary formation with an interior cavity filled with sparkling quartz crystals and/or banded agate. Personally, they remind me of the feeling you get when finding the toy inside of the cereal box as a kid. But geodes are so much better than plastic toys of the past.
Let's face it, who can resist the alluring beauty of staring into an amethyst cathedral geode? The natural wonder is truly jaw dropping to look at. It gets even better when there's a dogtooth calcite crystal formation inside or perhaps a scintillating druse of tiny quartz crystals everywhere. While quartz is nothing like diamond, I find druse to be like look at millions of tiny diamonds scattered of minerals. The sparkle is just so marvelous and magnificent!
Now, you don't have to be a geologist to love geodes. Even if the sparkle isn't your thing, then perhaps you simply love banded agate variations which feature incredible lining formations. It's incredible to think that on the inside of these rough and tough rocks is a beautiful interior. For some women, this is a golden meaning behind their body art piece. It's not always what's on the outside that matters, but rather what's on the inside. Inner beauty is everything girlfriend.
Some women get geode tattoos to represent their origins, as most geodes these days come from places like Brazil, Mexico, Uruguay, or Namibia; though, they can be found all over the world. In the US, you've got Geodes of Kentucky, Dugway, Wisconsin, Lake Superior Agate, Keokuk, Indiana, Woodbury, Arizona Gem Silica, Oregon Thundereggs, and many others just to name a few.
Whatever your personal favorite or connection to these wonderful rocks, I'm sure you can appreciate their natural beauty. Geodes are just another remind of how the world around us can be so incredible. All it takes is a closer look and perhaps a crack at the world around us to uncover what we once missed.
Geode design idea inspiration:

Popular geode types and minerals found inside of them:

– Volcanic
– Amethyst
– Quartz
– Chalcopyrite
– Sedimentary
– Chalcedony
– Pyrite
– Magnetite
– – Calcite
– Agate
– Aragonite
– Hematite
– Celestine
– Citrine
– Millerite
– Rhodochrosite
– Baryte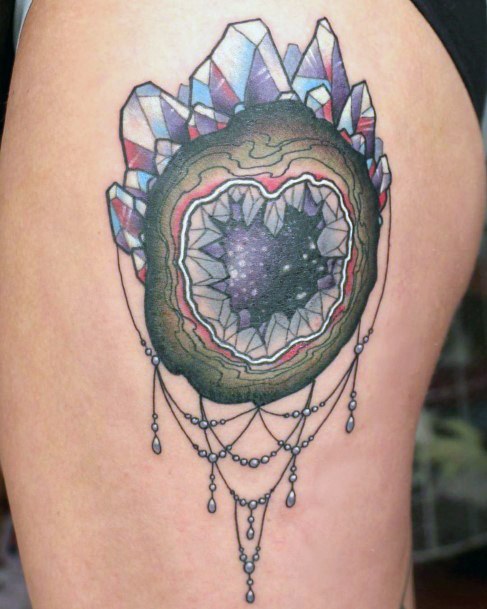 Here's a fun, feminine take on a classic geode tattoo featuring a chandelier themed design and head of crystals at the top. This women's thigh tattoo features a mixture of quartz and amethyst crystals with a blend of white and purple inks. At the heart of the geode, you'll find an interior that's covered a druse of amethyst crystals. The effect is done beautifully with a gradient purple background and lots of tiny white ink dots to act as individual sparkles. Note the outer agate bands, the white on in particular, which give this geode some great definition.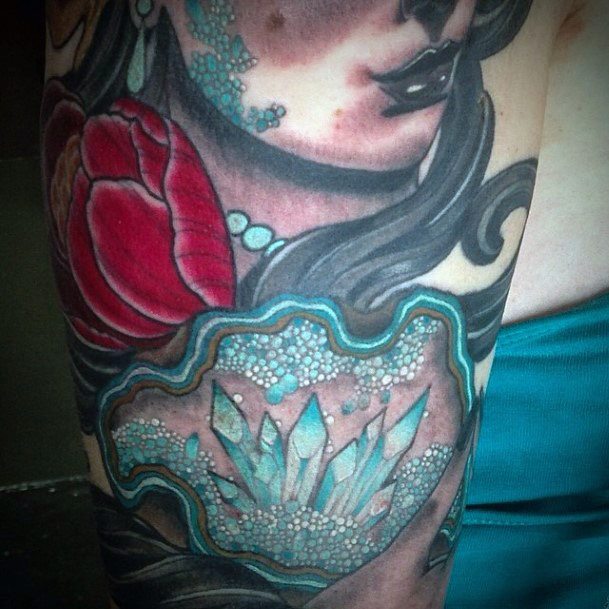 If you want to go with less of the rock potion of a geode and more of the crystals in sight, then here's a good way to do it. These teal crystals are stunning and emphasized beautifully with a white ink sparkle. Personally, I find this women's design to have an electric, vibrant vibe to it.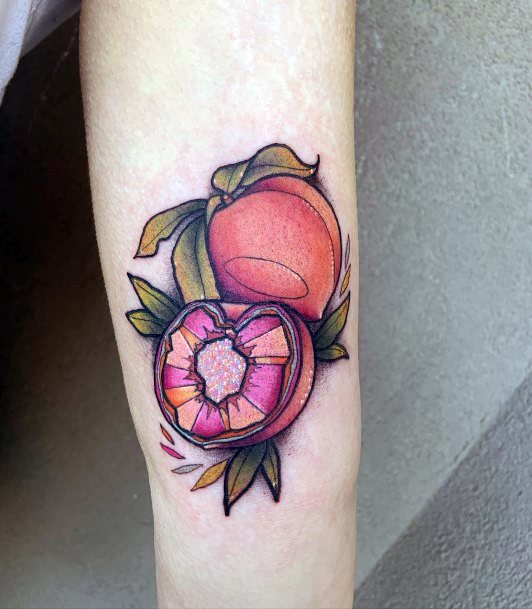 You can turn virtually any round object into a geode with a little bit of creativity, and this sliced open peach says it all! I love the glitter interior which is acting as a druse design, plus the pink and peach colored giant crystal chunks on the outer rim, which act as the calcite band.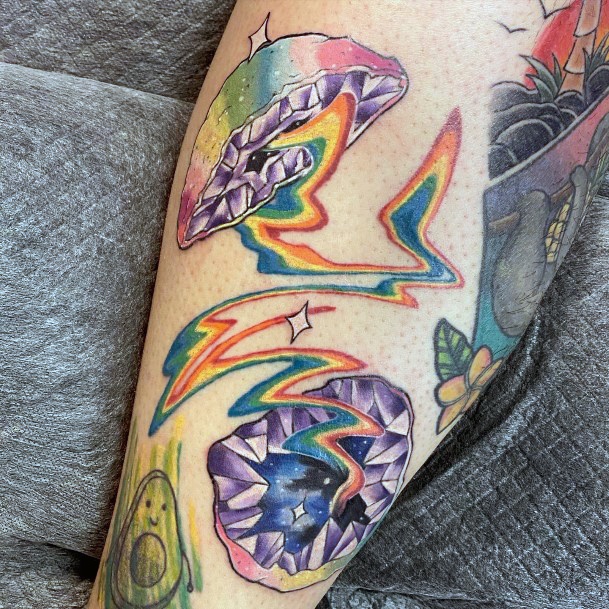 Check out this trippy, rainbow colored women's geode tattoo that connects both split halves together. Placed on the lower leg area of the body, this outer spaced themed geode design is super funky and fun. It's easily the most colorful design I've ever seen for geodes.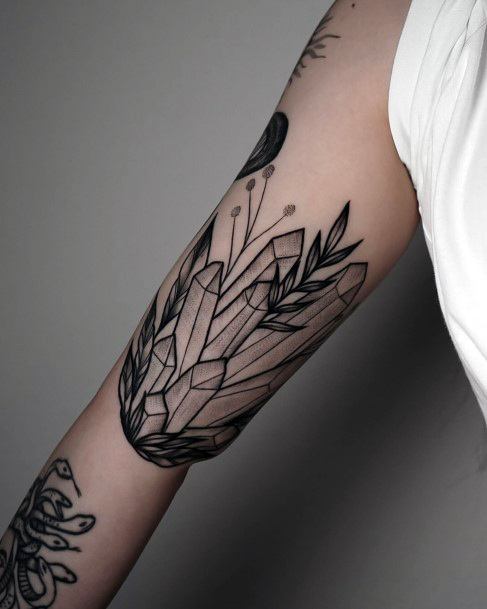 I love this modern crystal formation design that's placed on the inner arm. The design is wide enough to be considered a mini sleeve or sorts, and I find the placement to be perfect for the size of this piece. Note the wonderful dotwork details which give the crystal some wonderful subtle sparkling style. Rather than go with an all crystal design, they've choose to add in some delicate leaves to soften up the piece and make it more feminine.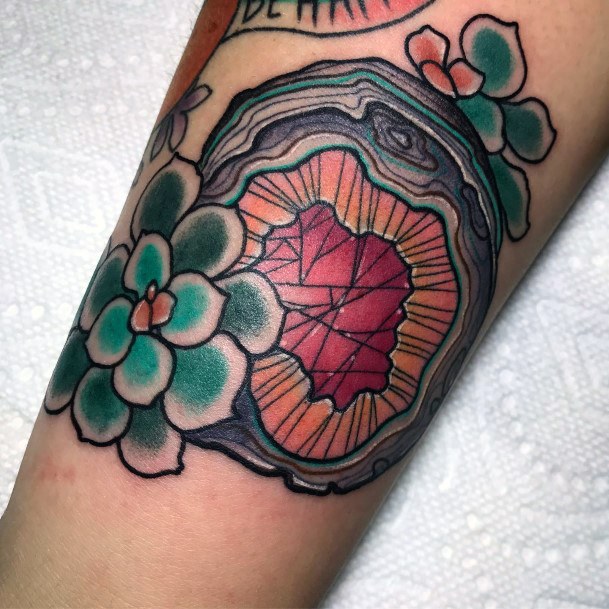 If you're looking for a geode design that has a lot of detail, this is a great option. I love how you can see the many layers of this fascinating mineral from the outermost shell in grey and turquoise to the inner layers of gradient pink to orange and finally a deep maroon at the center.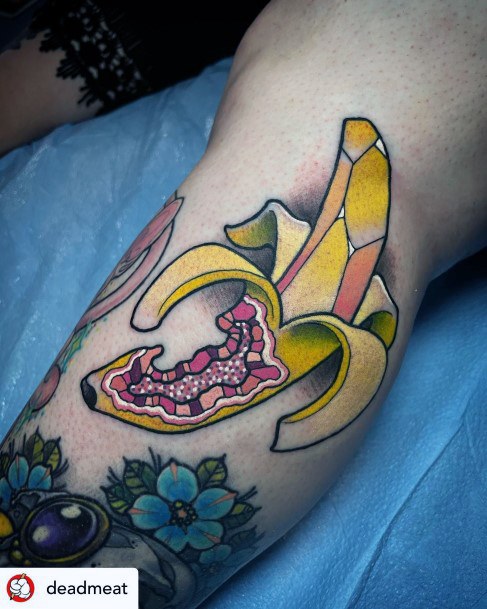 When the creative juices start flowing you can even turn a banana into a gorgeous mineral design! The lower portion of the peel has been transformed into a sparkling geode in pinks and purples, and the banana up top is a multifaceted quartz crystal glittering in pinks and yellows. The use of white dots and accents adds to this shimmering design.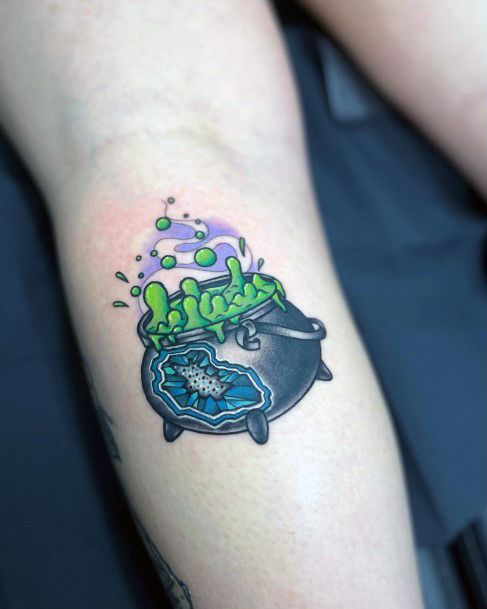 This is a fun design and goes to show how versatile a geode tattoo can be. Here they've turned a cauldron bubbling with green brew into a glimmering blue geode inside. The bits of green splashing from the top and the rising smoke outlined in purple give this image lots of fun movement.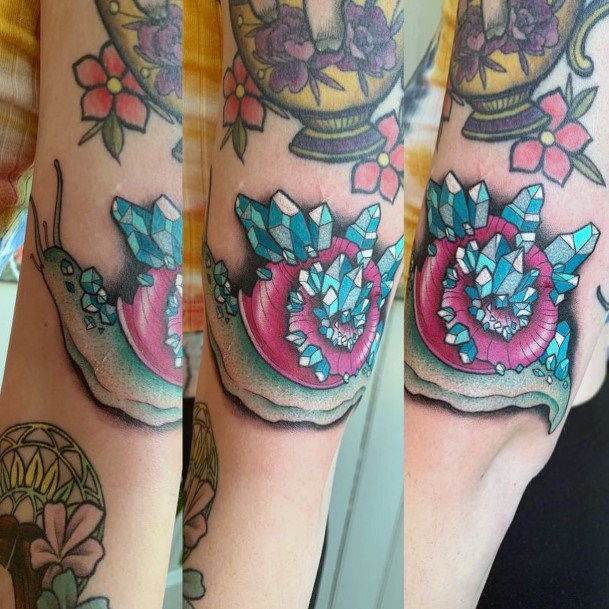 Talk about breaking out of your shell! This super cool design features a gently shaded green snail carrying a whole world of blue druzy stones on its magenta shell. White is used well in her tattoo design to accentuate the shimmer of the stones and the snail shell. Overall, this little guy has a magical yet unassuming vibe.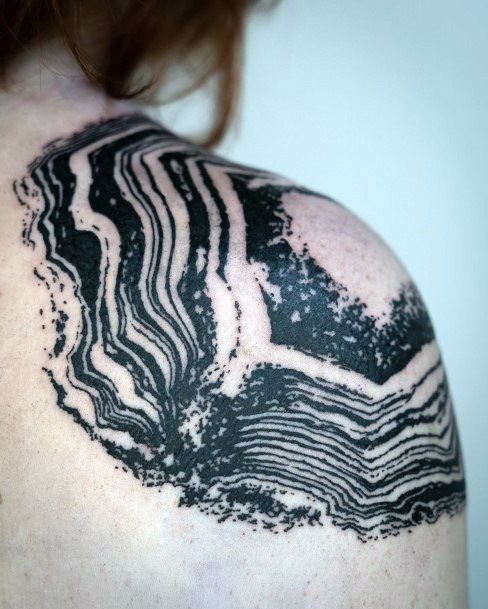 What draws you to this eye catching tattoo in all is bold simplicity is the placement and the details. Proof that less can be more sometimes. The woman chose a clever spot over her entire shoulder to give this ringed tattoo a deep layered look. The use of pack shading mixed with fine lines and smaller dot details creates an organic feel that gives this design lots of interest.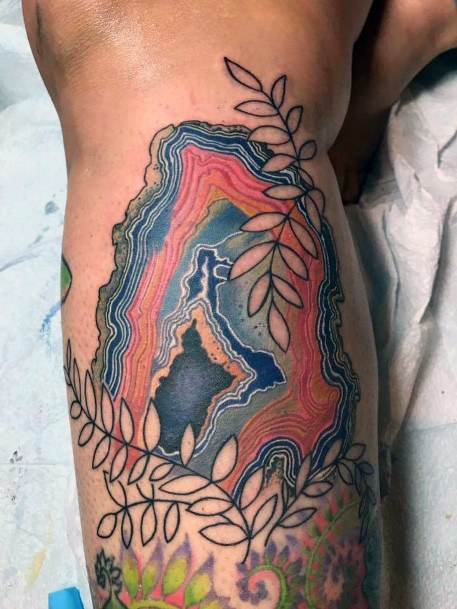 A mix of shapes, colors, and fine lines give this agate geode a naturally stratified look. Thoughtfully placed swirls and bold colors are used to bring the viewers eye from the rocky shell through a churning layer of blues and pinks, and finally plunging into a black core. Outlined in black, leafy stems accent the top and side of this design.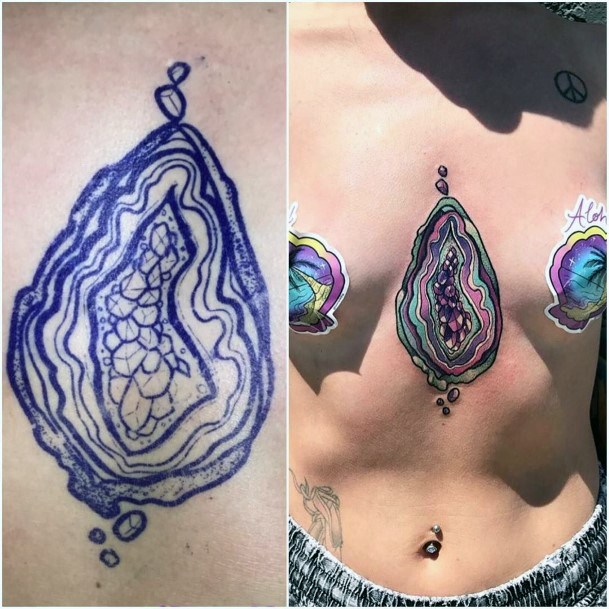 Unique placement of this woman's tattoo along the middle of her sternum, gives this design a feminine touch while also allowing for a larger scale to really create some depth. The artist accomplish a sense of descending into the amethyst crystal core of this geode by surrounding it with many rings of deep purples, pinks and blues. The organic shapes and black and white outlines of each ring provides a sense of going inward.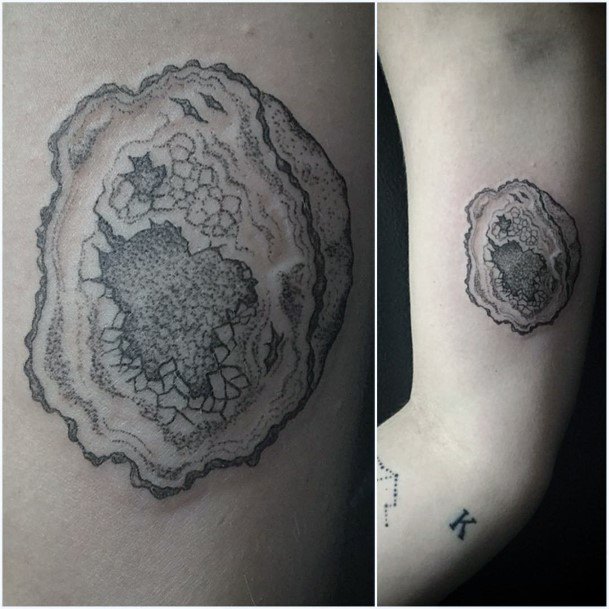 I just love when a design delivers a whole story with such simplicity. This woman opted for a grey scale geode, and what brings it to life is the use of detail, fine lines, and shading in all the right places. From the speckled center to the cracked lines reaching out toward the shell, the minimalist approach really delivered here.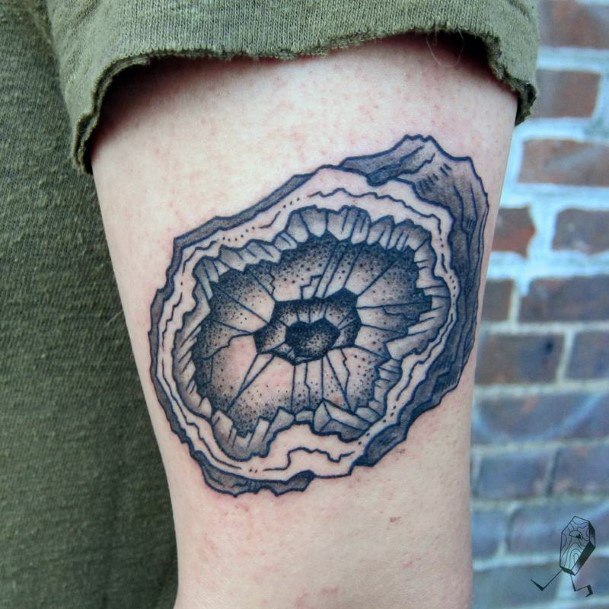 The lack of color in this woman's outer arm tattoo doesn't take anything away from the illusion of reaching a core filled with millions of tiny sparkling gemstones. Shading and edgy lines take you on a journey from the grey shaded outer layer through the druzy agate middle into the speckled sparkling core.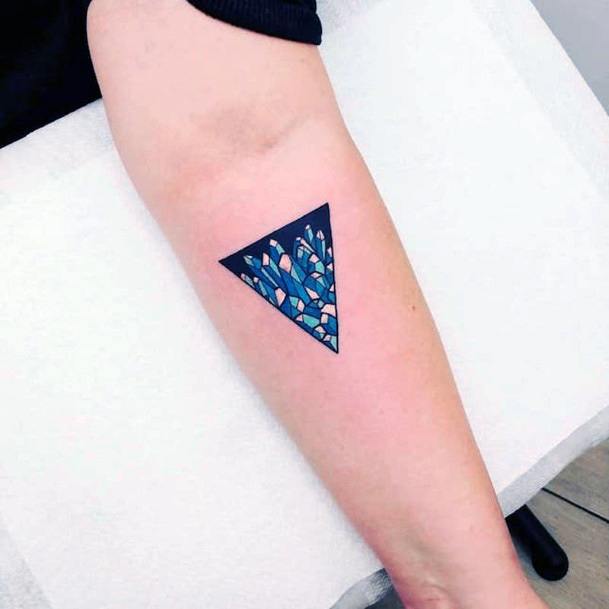 This woman chose a simple upside down triangle design on her inner forearm pack shaded in a dark navy with quartz crystals erupting from the bottom point. Each gemstone glimmers is gradient blue with white terminated tops. A perfect minimalist design with some personality!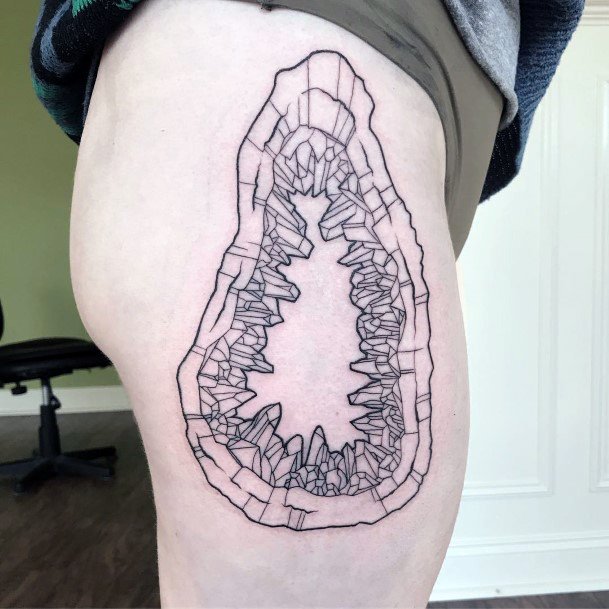 It's amazing how much detail can be accomplished with talented line work! This woman chose a grand design that radiates from her hip to her thigh, putting each individual crystal in this large scale cathedral shaped geode on display. Every facet of the stones so carefully crafted can be seen leading to a blank center.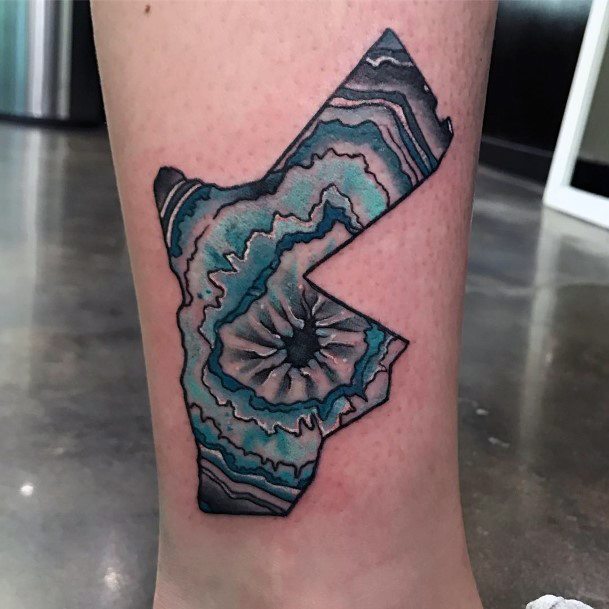 Many women choose unique shapes for their geode tattoos and this one is no exception. Here we see a bold black outline giving way to layers of blue and white agate before plunging into a crystalline center illustrated with softer lines grey to black shading. The thoughtful placement above her ankle bone allows this tattoo to be on display for all to see.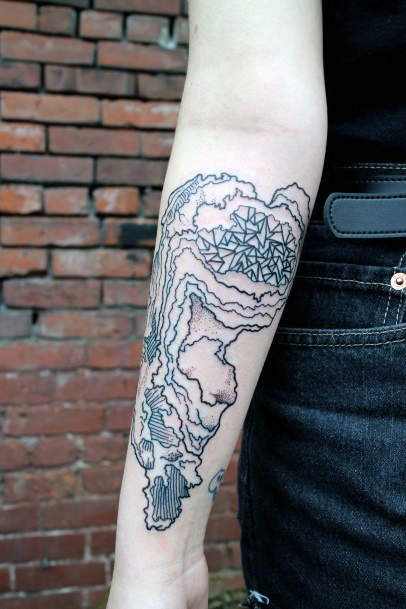 A half sleeve design can be seen on this woman's forearm using bold black ink as an outline. Texture rules here, and the details in this druzy quartz are outstanding. From the jagged cluster of gems at the top, to the glitter filled center this organic design puts these stones on display.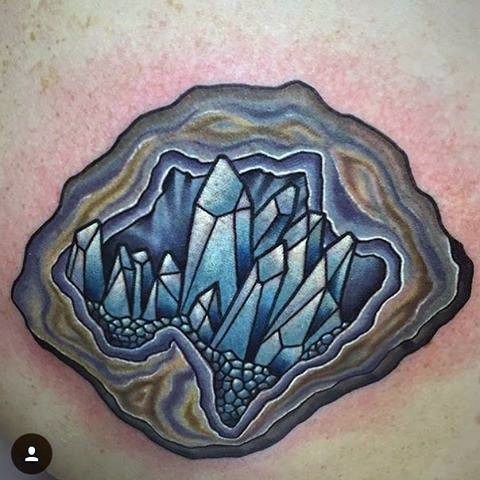 Three dimensional amazingness happening here with so much texture and color! I love how this one jumps off the page! A dark grey shell gives way to brown and purple agate layers, with a quartz crystal cluster rising up from the center. Black, blue, and white shading and a pebbled bottom bring this tattoo to life.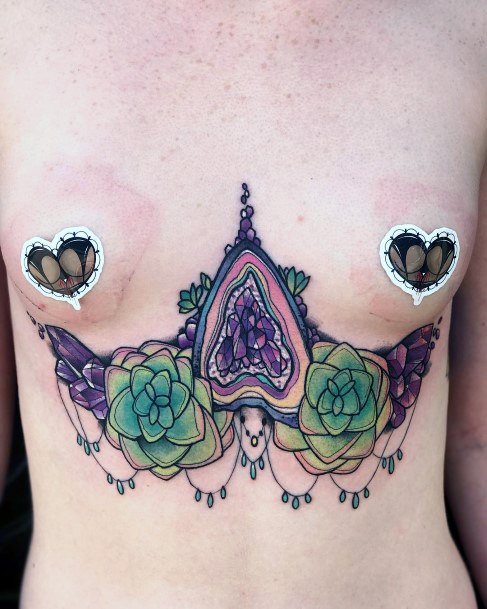 Look at all the unique components of this design! A large scale chandelier style tattoo, featuring an amethyst geode at center, stretches from either side of this woman's ribs and up to her sternum. On either side of the deep purple geode there are rose shaped green succulents with pink outlines, flanked by a cluster of purple quartz crystals at each end. Dew drops hang below the piece on delicate strings bringing a soft feminine touch to this grand piece.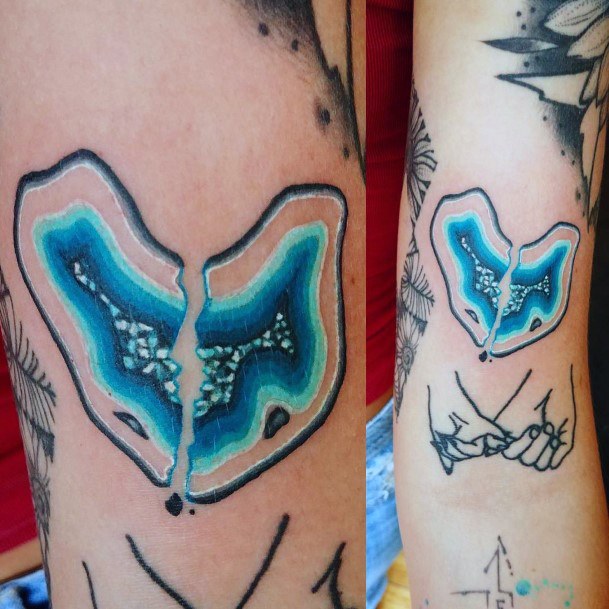 The perfect bookends! These identical halves of a whole geode are cracked open to expose a beautifully vibrant blue agate with a sparkling center of crystalized druzy quartz. Hints of white are used against a dark blue center to create this glittering affect, and negative color space against a white and black outline is used to accent the molten rock shell of this mineral.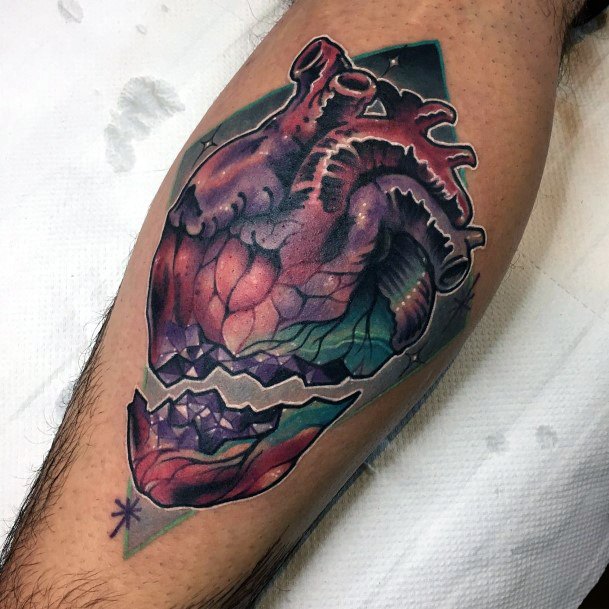 A heart cracked open! This calf tattoo features a heart complete with ventricles, veins, and arteries colored in crimson, purple, and turquoise. What makes this design so special is the bottom of the heart glitters with druzy amethyst and is cracked in half with jagged edges of crystals on either side. Star embellishments over a night sky geometric background finish off this work of art.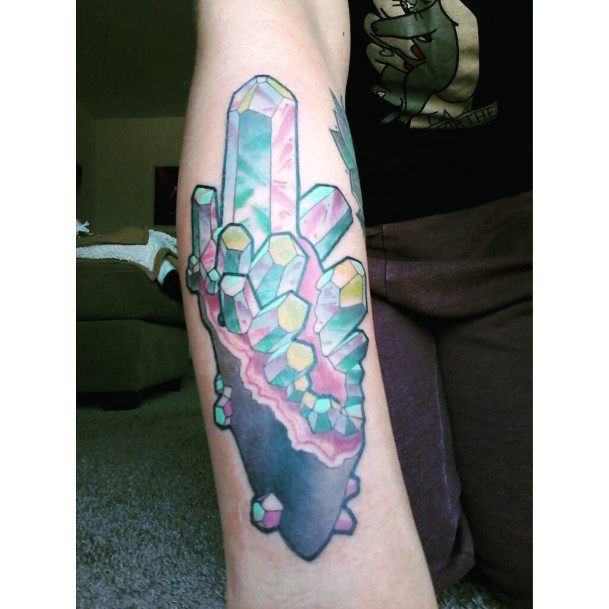 Radiant glowing terminated quartz crystals jump off the page full forearm tattoo. The large stone exterior contrasts deeply from the red, yellow, and blue quartz that seem to glimmer due to the excellent shading techniques used here. A large scale piece that is sure to grab people's attention.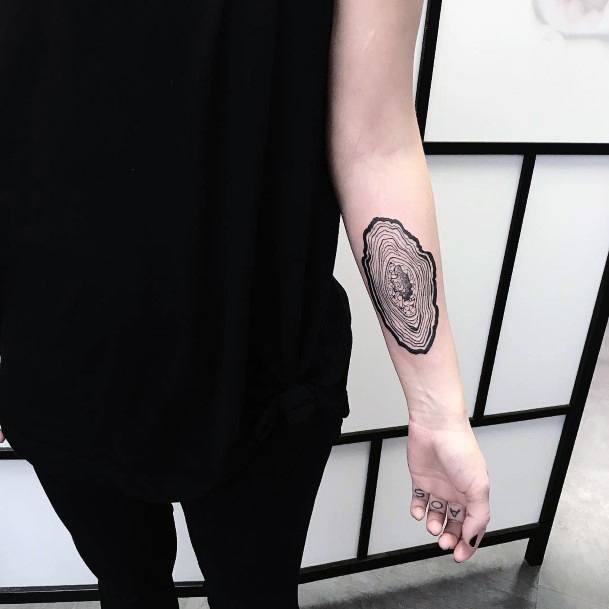 This black outline geode caught my eye because it looks as though it could be a cross-section cut of a tree with all of its fine lined rings. The very center is covered in druzy crystals and black gradient shading which gives much interest to the magical center of this design.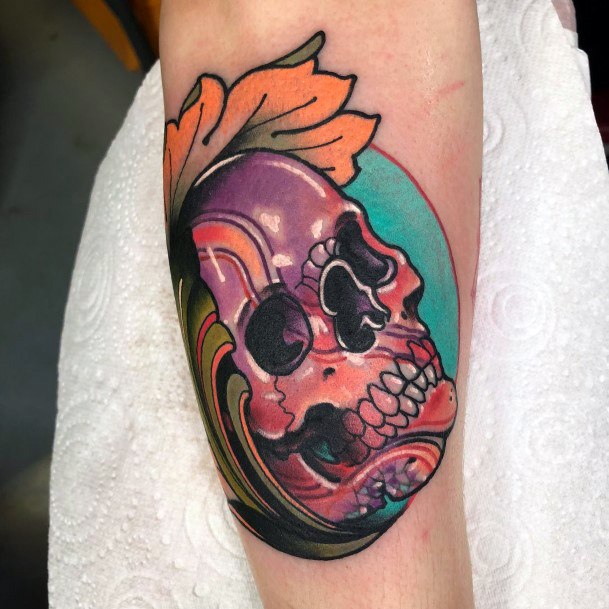 With the colorful vibe of a sugar skull, this gorgeous pink and purple tattoo takes on a whole new meaning with a subtle amethyst druzy accent on the chin. A large green and orange leaf frames the left side and a turquoise half circle background makes the colors on the skull pop.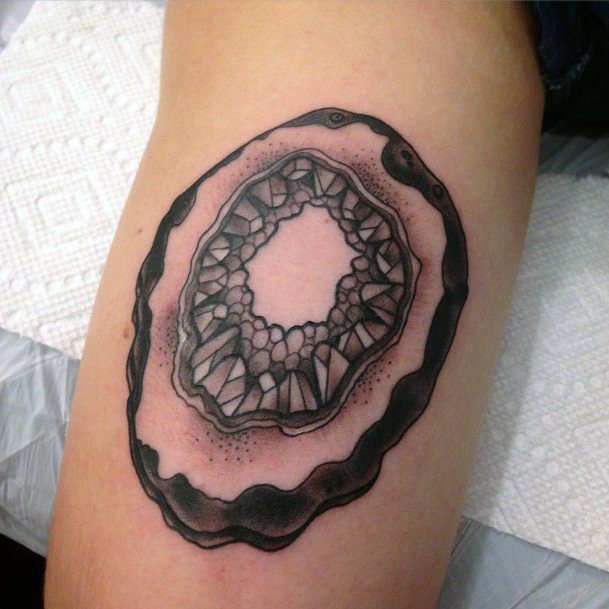 Shading is hard at work in the grey scale tattoo that uses negative space to accentuate the glittering crystalline core. A thickly shaded black outline against a second ring without ink creates the rugged rocky crust the geode. The next ring abounds with radiant quartz against a hollow core.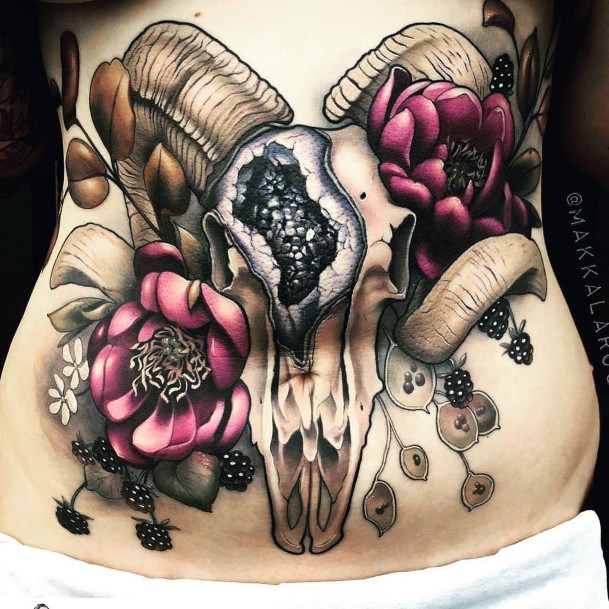 A talisman of protection, this ram skull tattoo has so much texture, depth, and detail, it's almost as though you can reach out and pluck one of the blackberries right off the drooping stem. The texture of the horns, shading on the magenta flowers, and the detail in the druzy crystal geode protruding from the ram's forehead make for an unforgettable full abdomen tattoo. For real, is this a tattoo or a hand drawn illustration?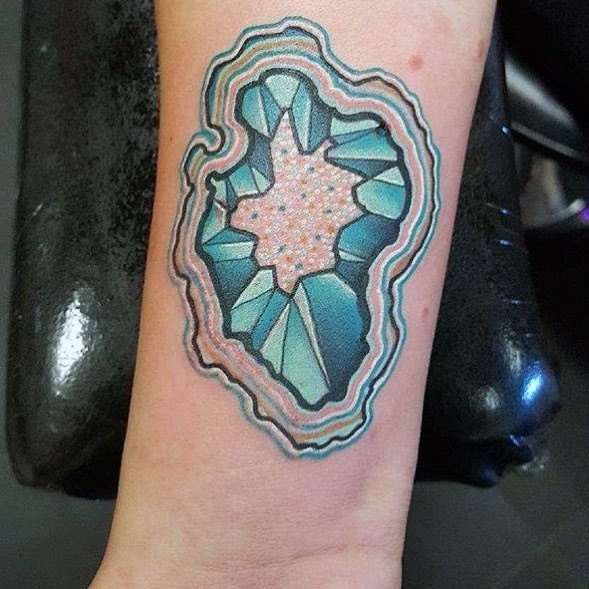 This funky little blue agate geode design idea gives off a fun, carefree vibe. Rings of white, brown, and blue draw the eye to the turquoise crystal center surrounding a diamond speckled core. I love how the use of blue shading and white accents gives the core a three dimensional look.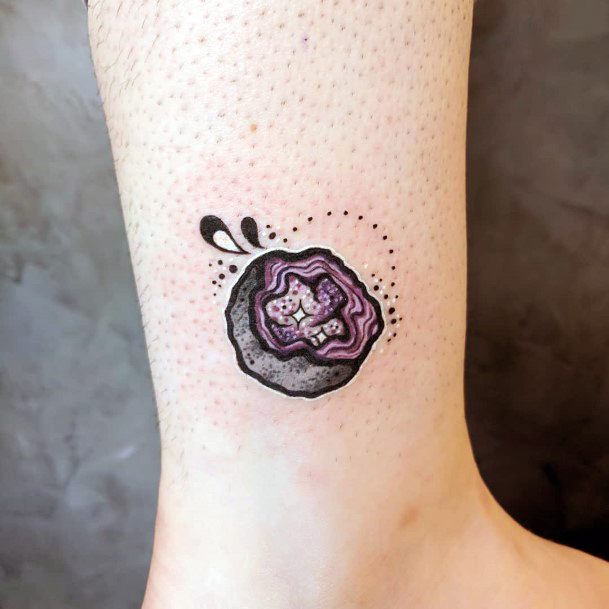 A subtle little ankle tattoo for women that looks as though this sweet little round geode just rolled out of someone's pocket and cracked right open to reveal a world of magic inside. Dots and tear drops create movement around this piece that highlights its glitz and glimmer pink center surrounded by a bumpy outer rind.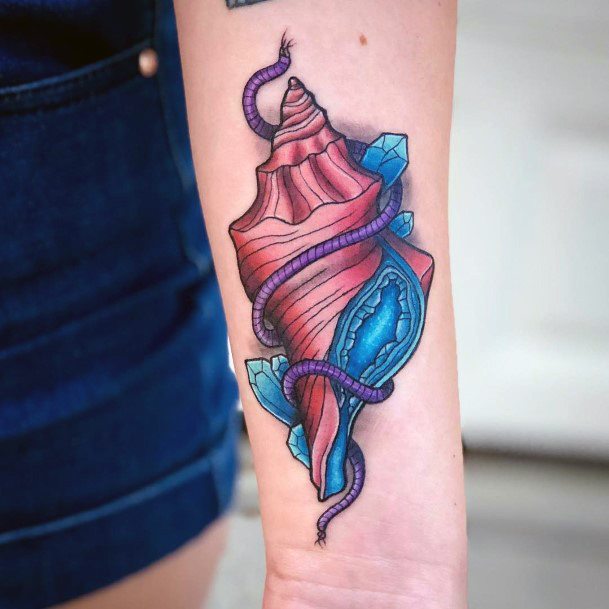 Earth and water elements abound in this exquisite full forearm piece. A coral colored conch shell is bound together with blue quartz crystals and a large blue geode cross section exposing its gleaming interior. Purple twine weaves throughout the design and ties all of elements together. The perfect tattoo design idea for an ocean loving gal.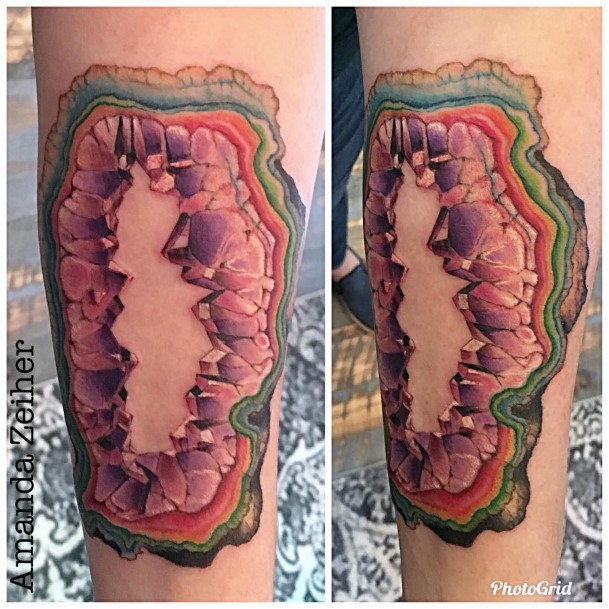 Rainbow lovers this one's for you! A full spectrum of color radiates from the outer most rinds of this agate geode making it pop while retaining its earthy feel with jagged edges and a misshapen outline. The eye catching center uses soft lines and contrasting black and white shading against negative space to create and organic three dimensional crystal cathedral.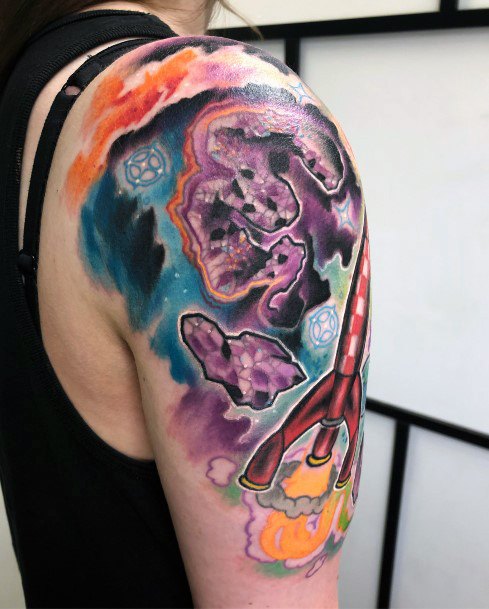 To infinity and beyond! A half sleeve with a full personality brings us an outer space version of the adored geode tattoo complete with a rocket ship and floating amethyst meteors. The vibrant colors and bold placement of this galactic design make this a great option for a playful creative personality.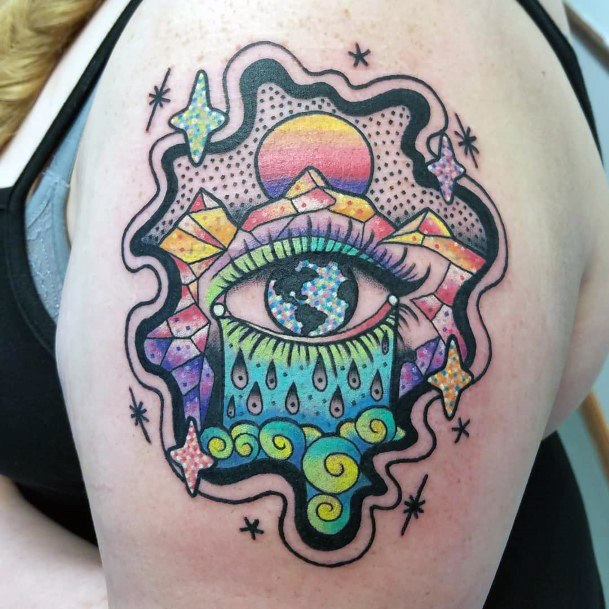 Where the ocean meets the sky! This piece is chockfull of gorgeous design elements including a feminine eye at the center. The earth is pictured as the eye's pupil, with green and blue water and tear drops flowing from the bottom forming an ocean. Purple crystals flank either side of the ocean and rise upwards into orange mountains which ascend over top of the eye. My favorite part is the sun setting over the mountains giving way to a starry sky.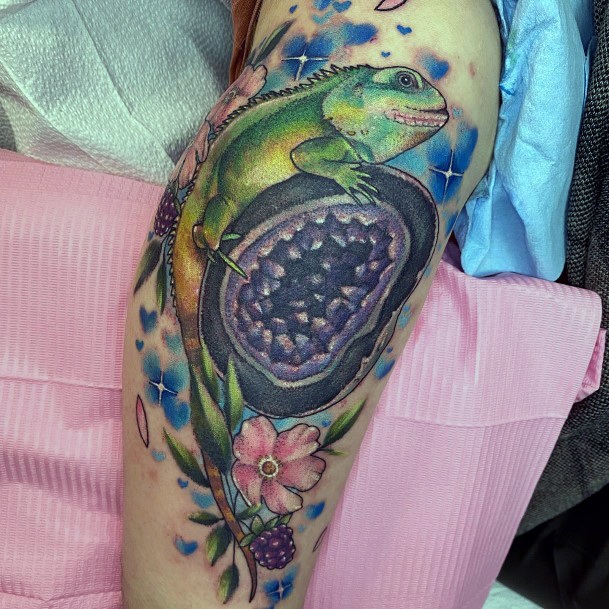 Paradise found! An incredibly detailed, life like green iguana claims his treasure here of a rare purple amethyst geode split open to reveal millions of sparkling crystals in a deeply hollow inner most layer. Branches of soft pink flowers and ripe purple blackberries good enough to eat provide a backdrop for this one of a kind piece.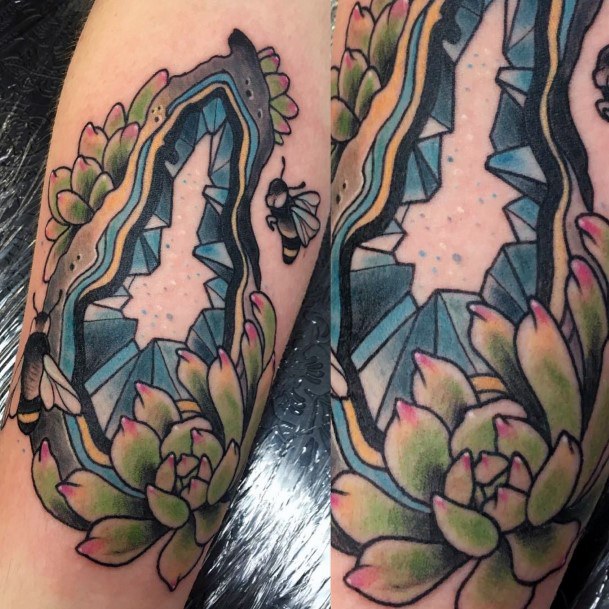 Succulents of green and pink grow thickly around this bold black and blue layered agate geode. I love how the crystals in this design grow up and inward giving the illusion of traveling to the infinite center glittered with lightly colored dots. Two black and yellow bees fly over opposite ends the tattoo as though they are about to journey to the center of this magnificent crystal.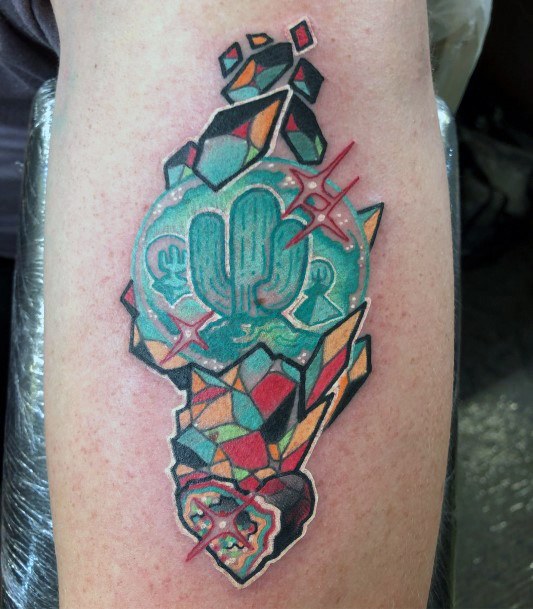 Psychedelic crystal clusters rise up over the tricep in this woman's tattoo design. At the center are saguaro cacti and a small pyramid in light blue ink. The funky colors and imagery give a southwestern vibe to this bold and colorful art.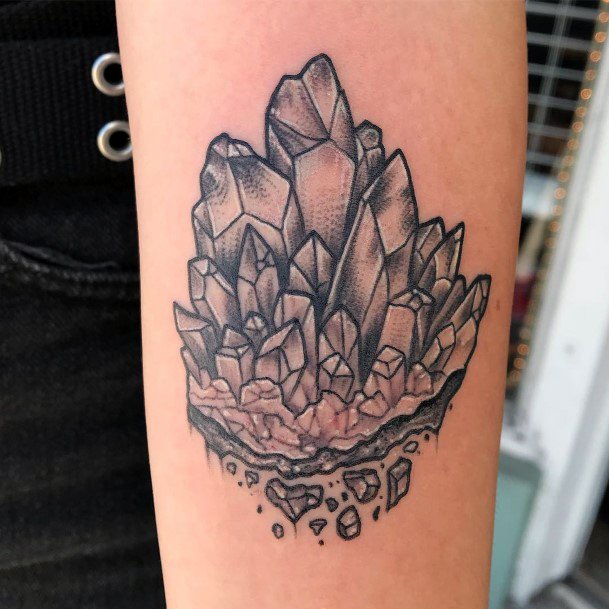 I love when an artist is able to easily create movement using a simple technique in their design process. Here you can see the tiny glimmering rocks breaking away at the bottom from the cluster of quartz crystals rising up out of a diamond crusted outer rind. Black shading and white accents give this piece sparkle and create lots of interest.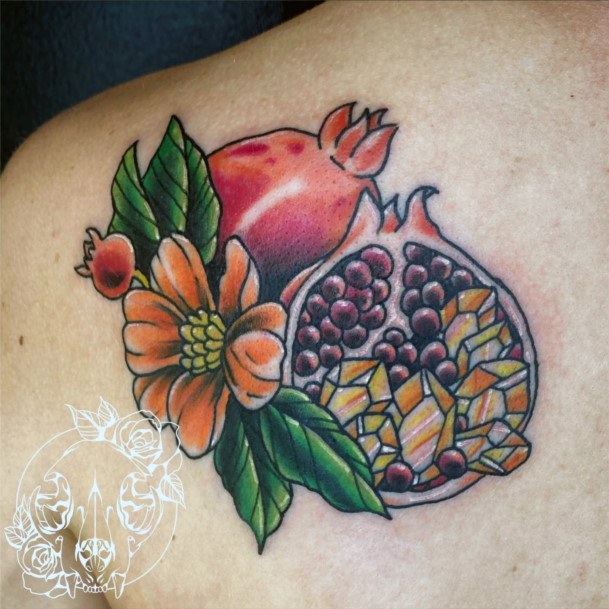 I'm almost certain that you can incorporate a geode into any creative design you like. Here is a perfect example of a tropical pomegranate turned into the most beautiful citrine quartz. The crystals are nestled in a bed of pomegranate seeds and the line technique used to shade them gives off a radiance as bright as the sun.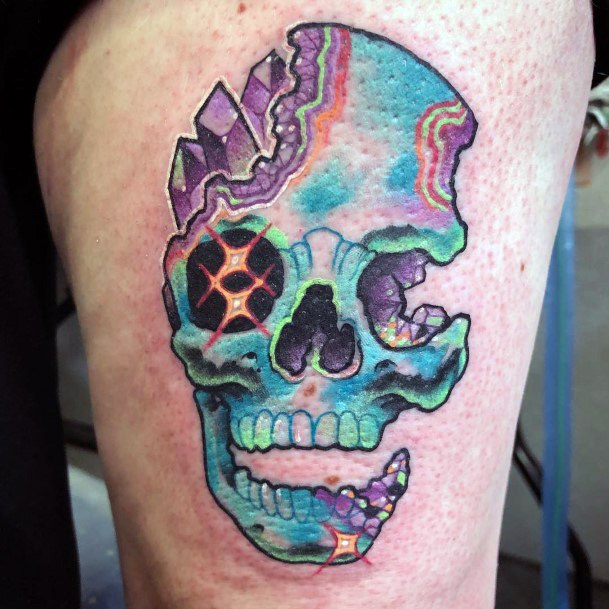 A full thigh skull tattoo made feminine with crystal accents. What I love most about this design is the ethereal cloud like shading given to the skull, and where the shape begins to deteriorate, amethyst crystals in brilliant purples and greens spring up. There's much to admire about this style.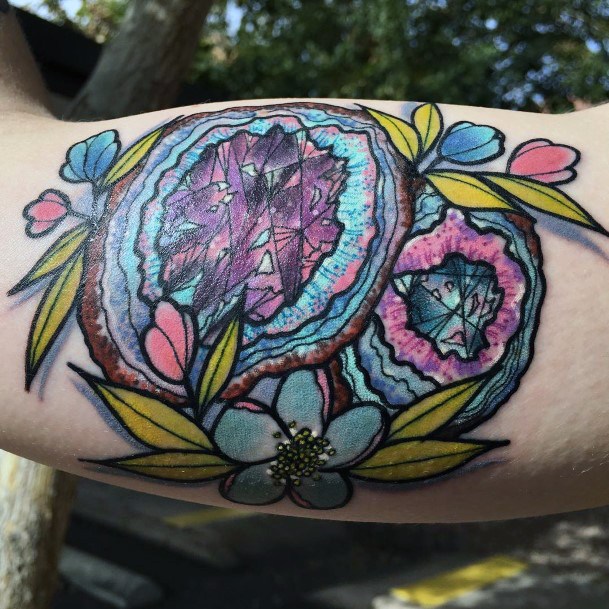 Look at the details in the layers of this design! Two coconuts turned gorgeous geode masterpieces! Blue, purple, and pink shading brings the craggy centers of these gems to life. Each pitch and peak creating a razor sharp edge that finally gives way to the smooth creamy center of the fruit. Brown rinds and purple, blue, and green florals anchor this work and add a great deal to the artistic vision.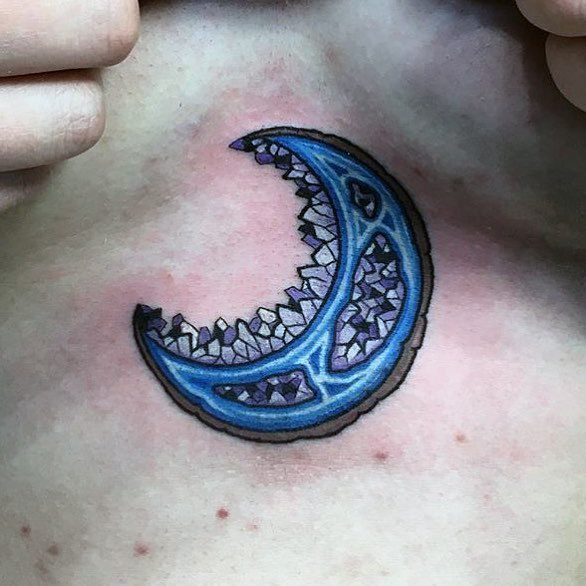 An electric blue crescent moon pulsing with energy appears as though it will zap you at the slightest touch. Between the veins of live wires, amethyst crystals sprout and protrude from the cradle of the moon shaded in white and appear as though they are lit with the very light of the moon. A thick black crust outlines the outer edge of this lunar design acting as the outer rind of the geode.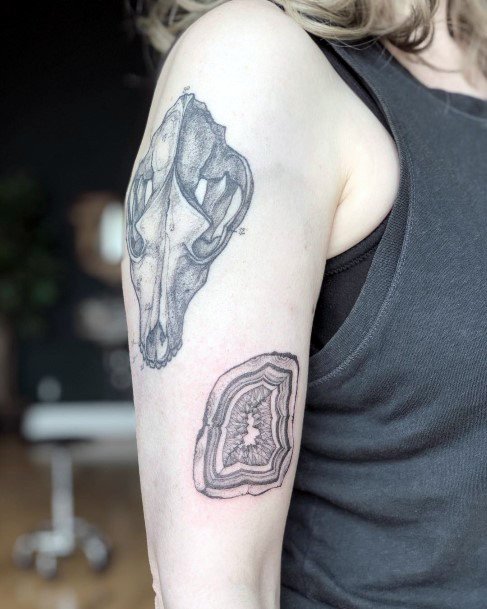 Look at this perfect example of a smaller bicep tattoo in all black and grey shading. Layers of agate are shown in different degrees of shading on the outer half of the design, while the center is filled with thousands of sharp toothed gemstones. I'm always in awe of how shading and negative space can create such a detailed yet simple design using variations of one color.
The scale and vibrancy of this design make it an impressive artistic endeavor. A full thigh tattoo with a multi-layered geode in deep pink with a pebbled crystalline center, and large blue floral bloom can be seen front and center. Smaller blue and yellow flowers rise up alongside the crystal softening the image.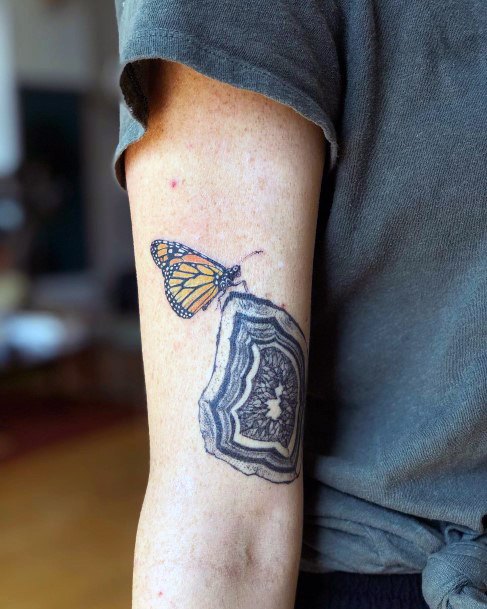 The life like details on the monarch butterfly in this piece are a wow factor here for sure. Perched on top of black outlined cross section of a geode, this butterfly boats bright colored orange wings and tiny eyes and antennae that have you taking a second look. In my opinion, the contrast between the wings and the rest of the darkly colored women's tattoo make a thought provoking statement.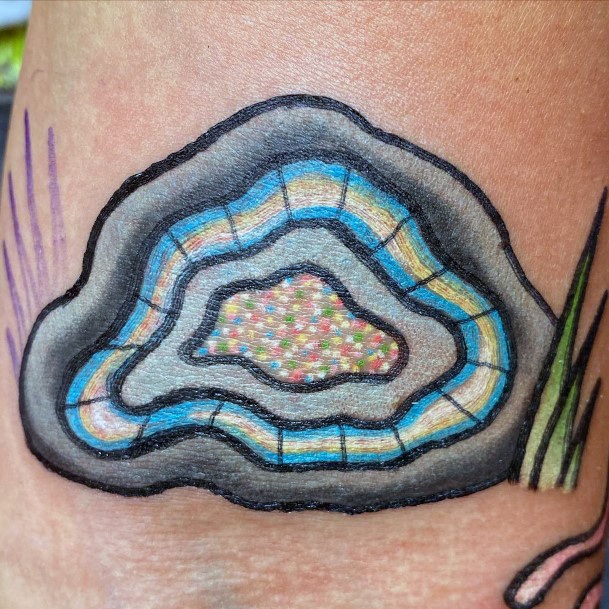 A smaller geode design with a sweet funky little vibe that lets the eye travel to the center of this tiny sparkling universe. Rainbow dots surround the inner most circle, and layers outlined in thick black create depth in this understated design. The perfect tattoo for a woman looking for something smaller while still providing that cool geode effect of traveling through to a hollow center.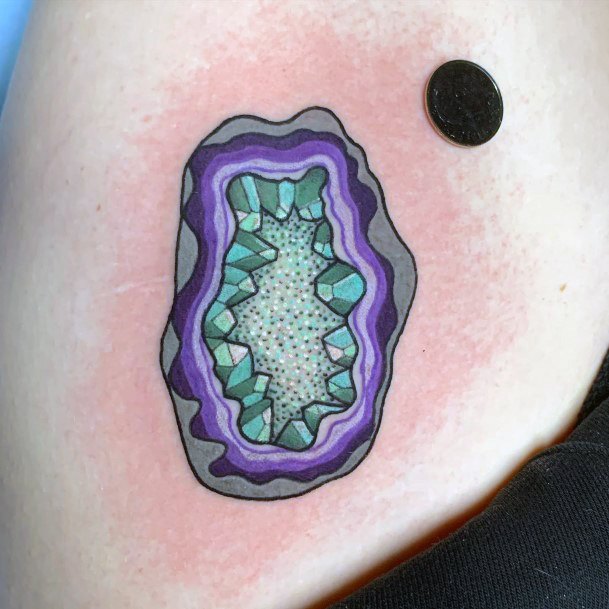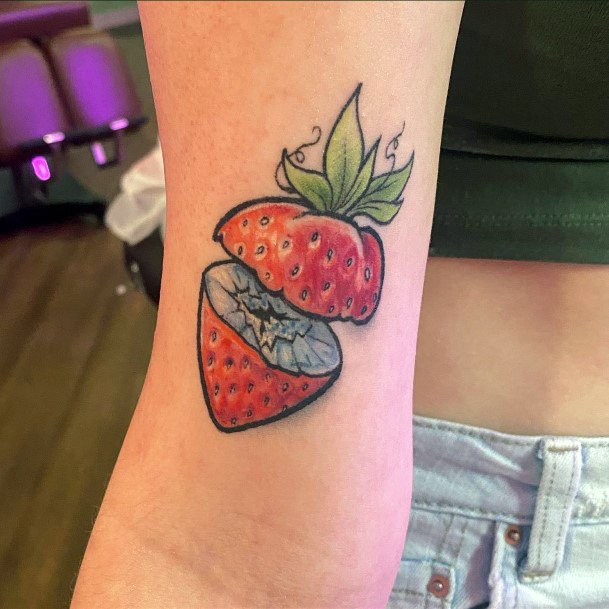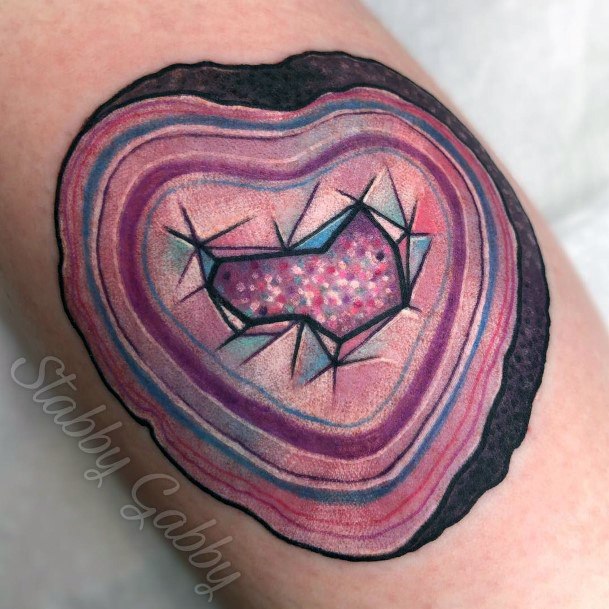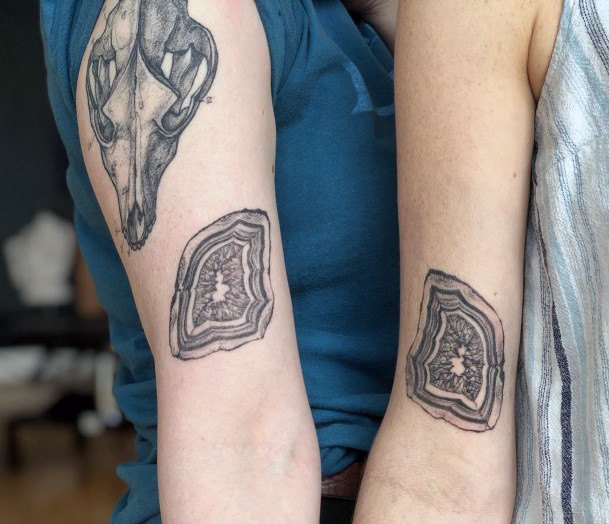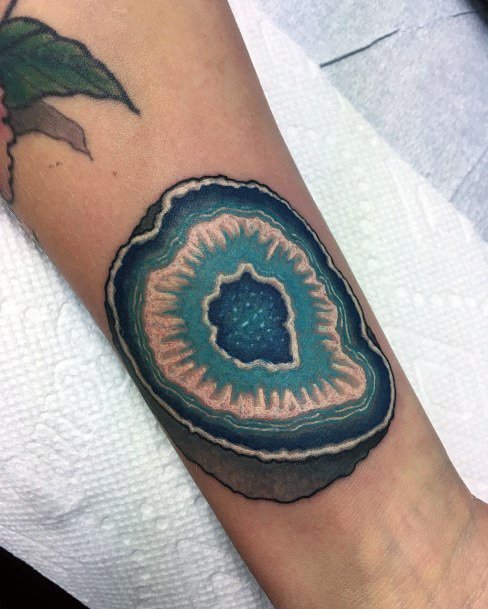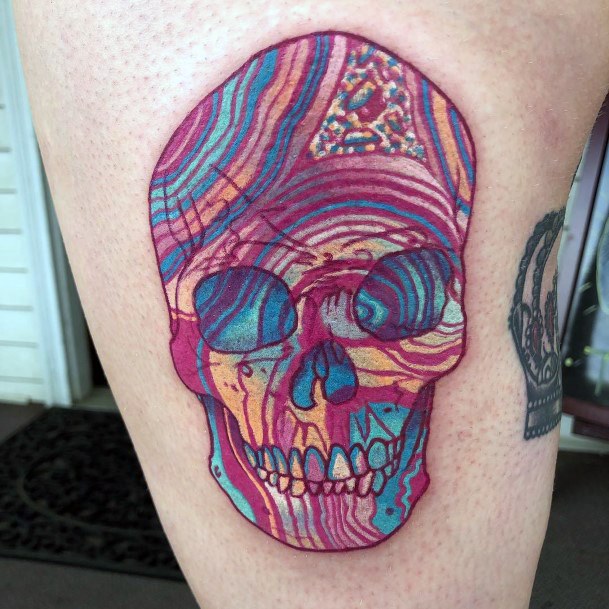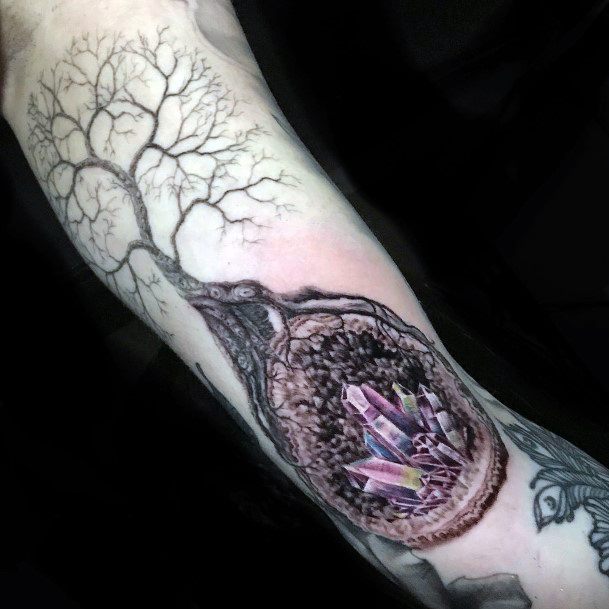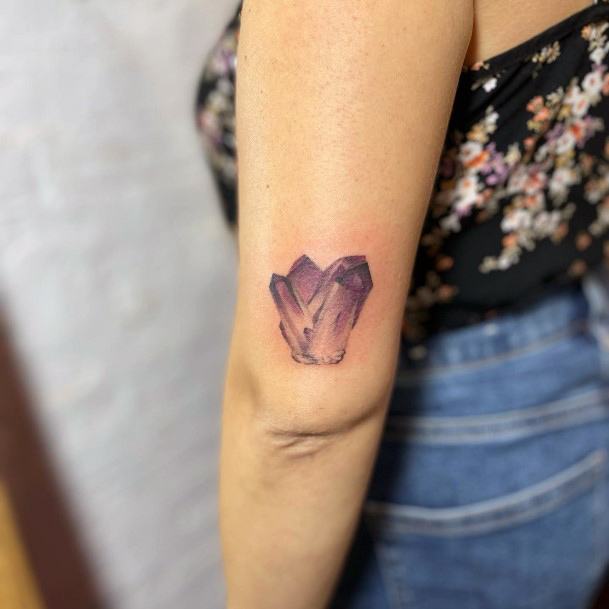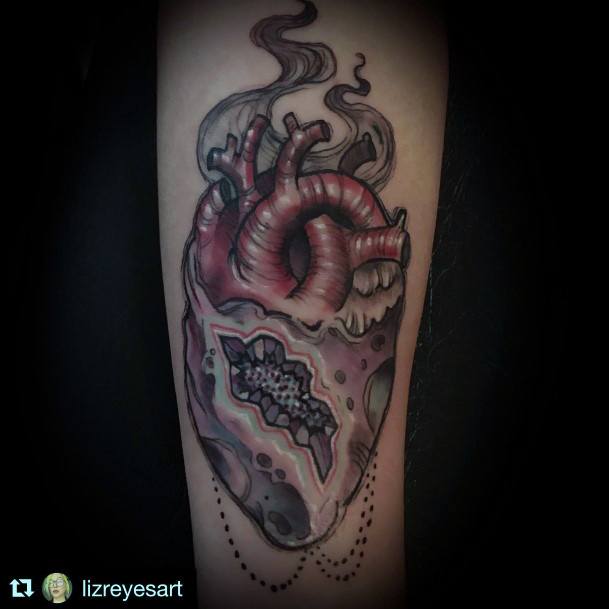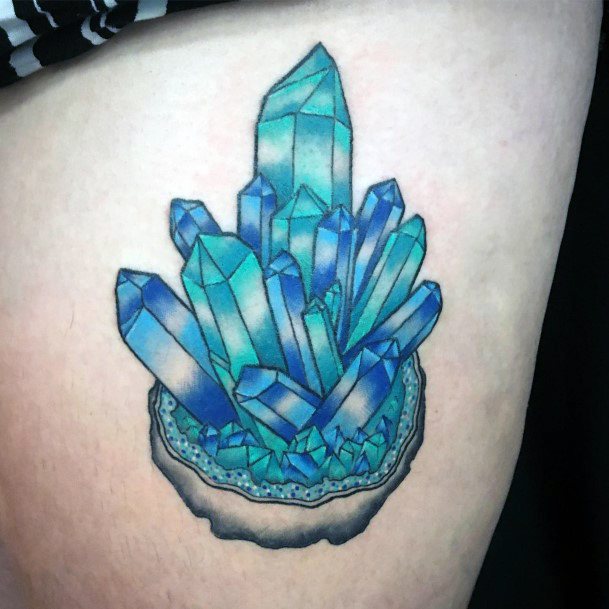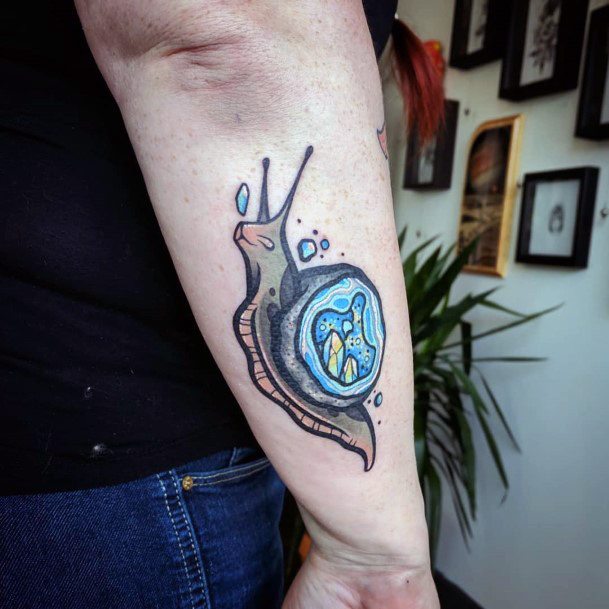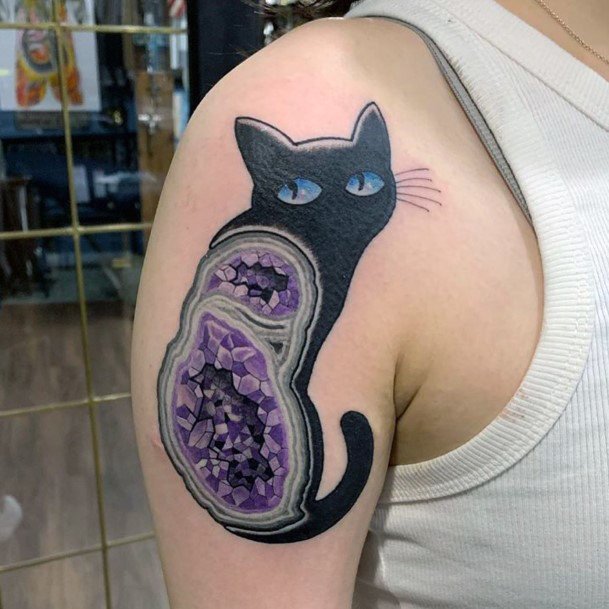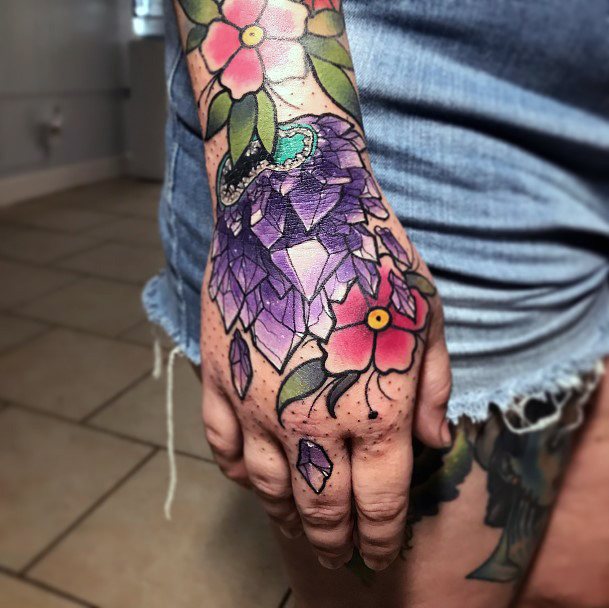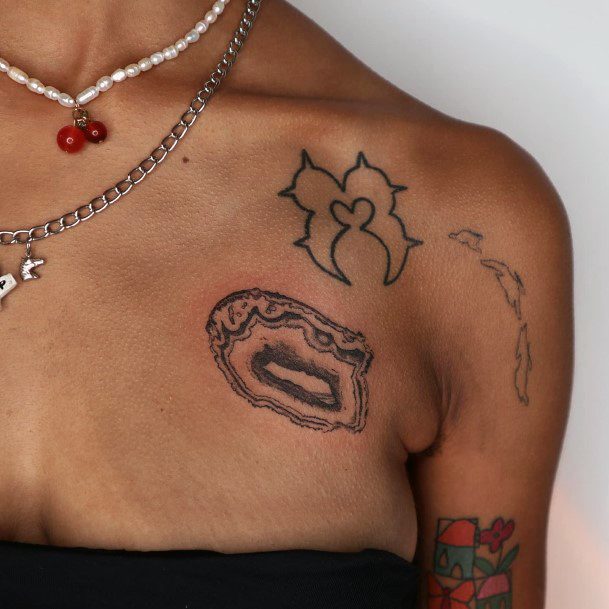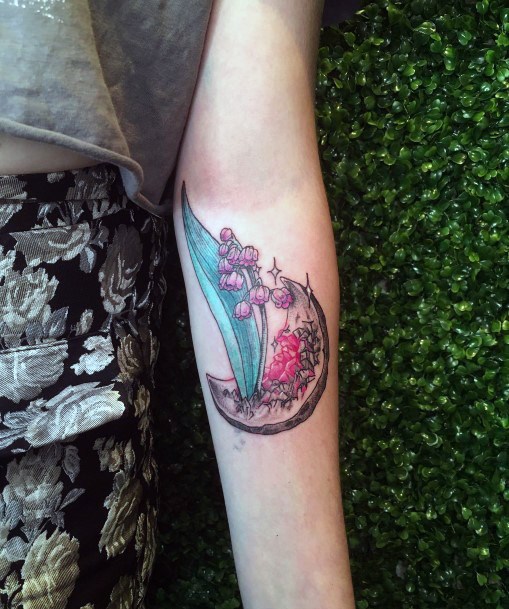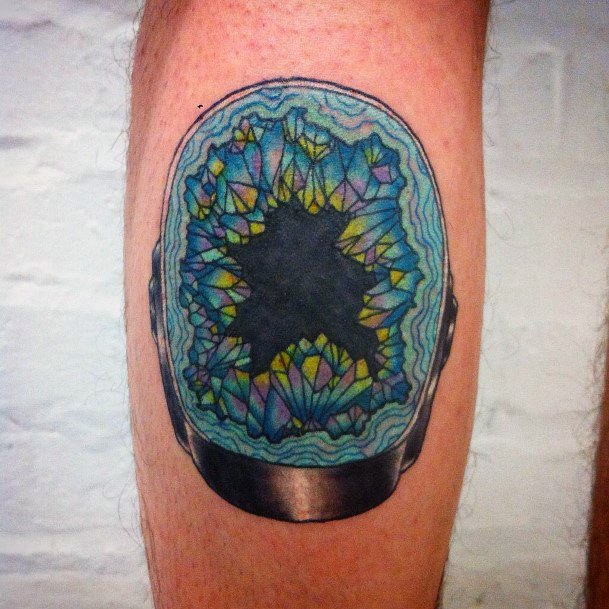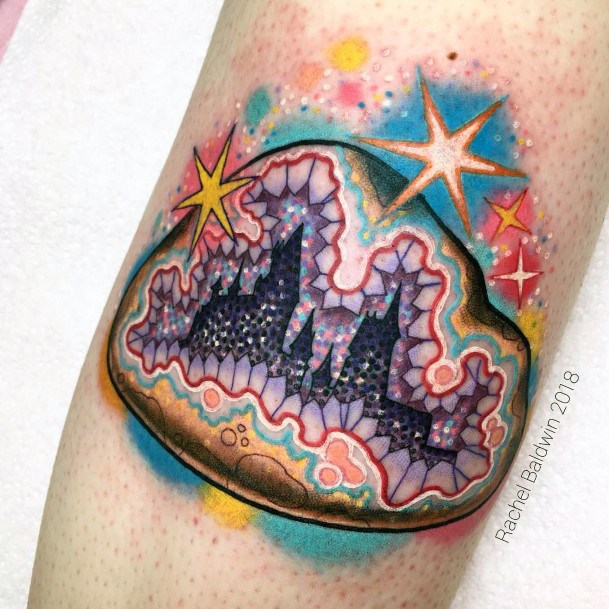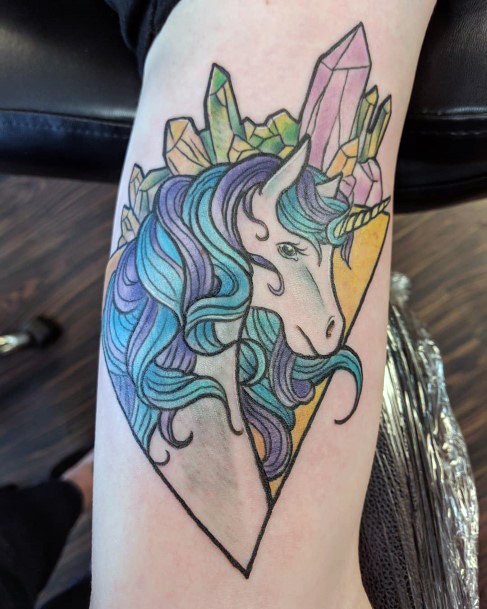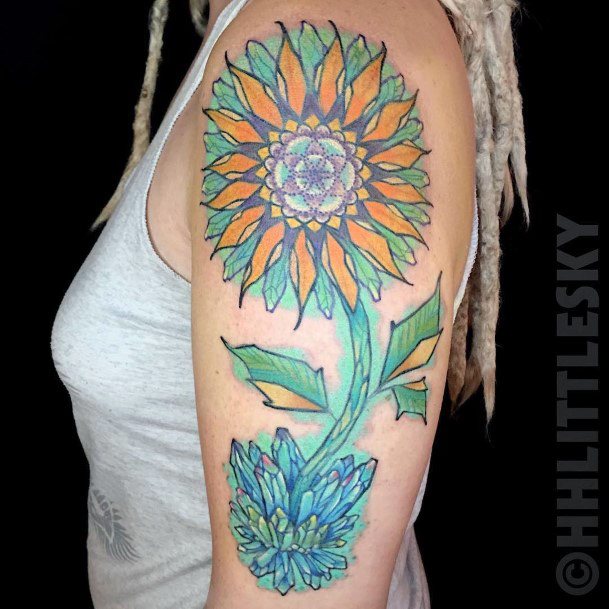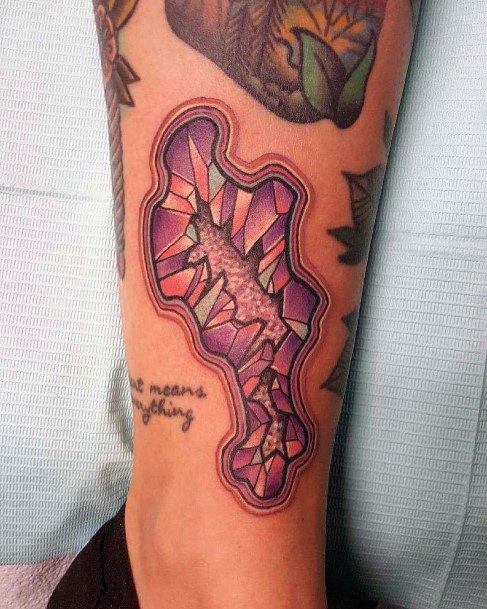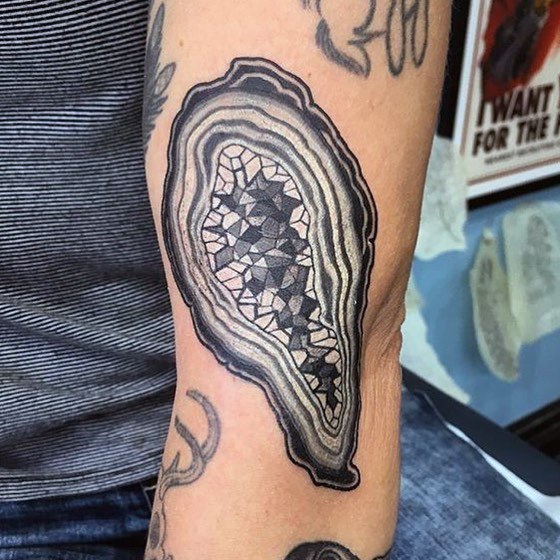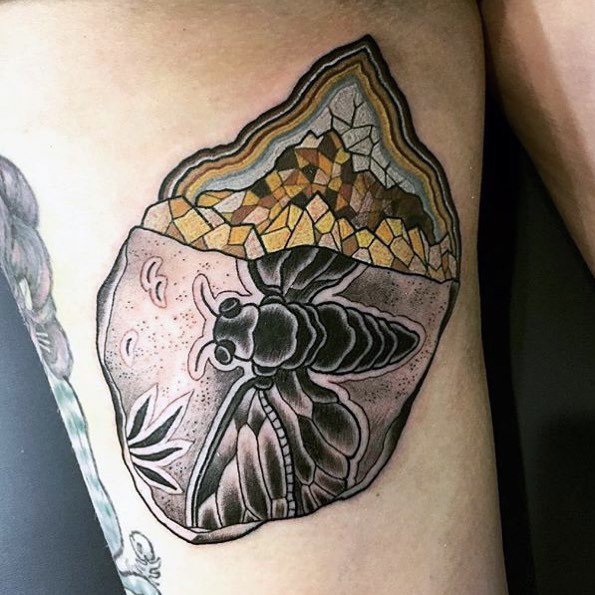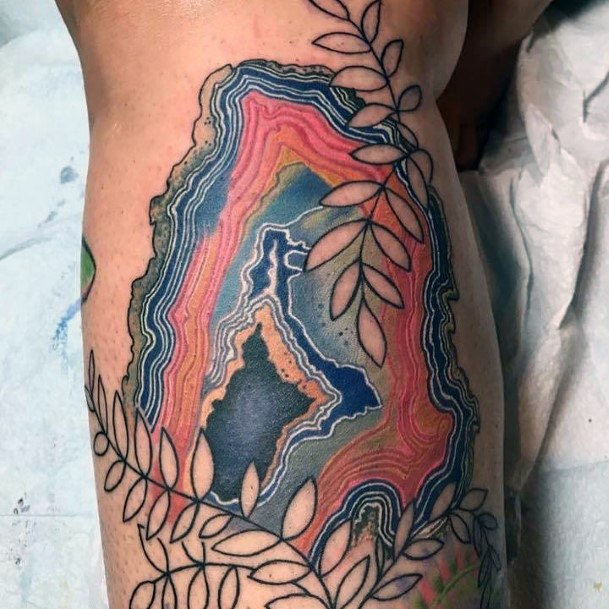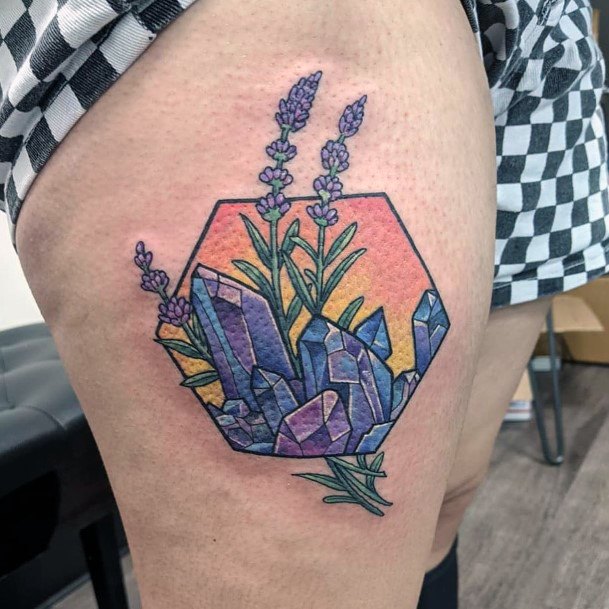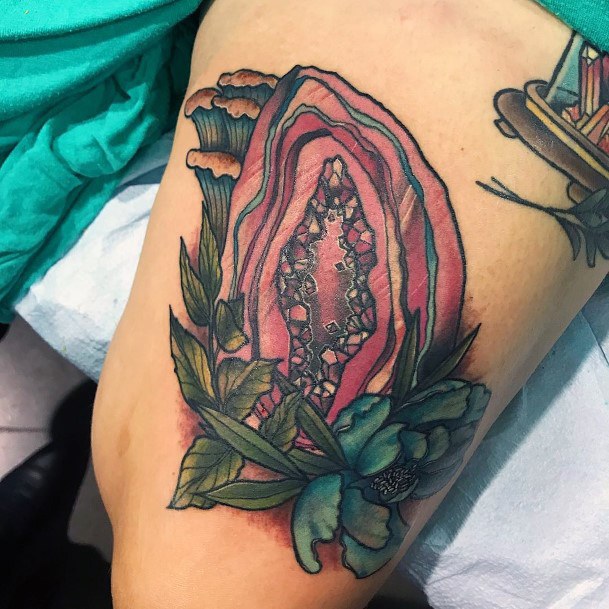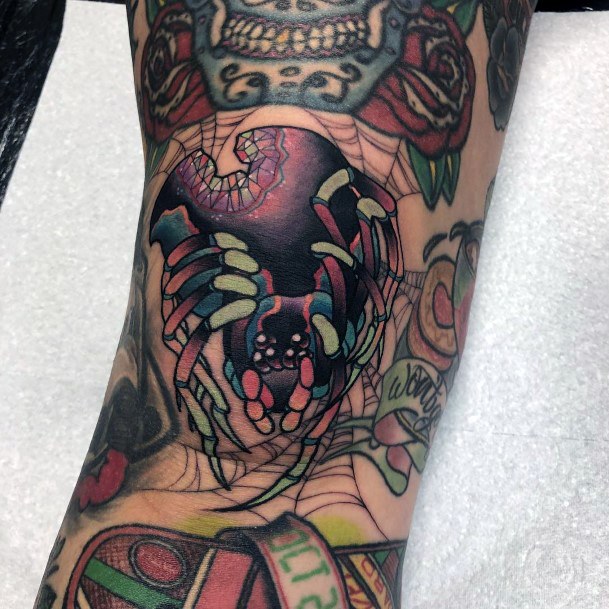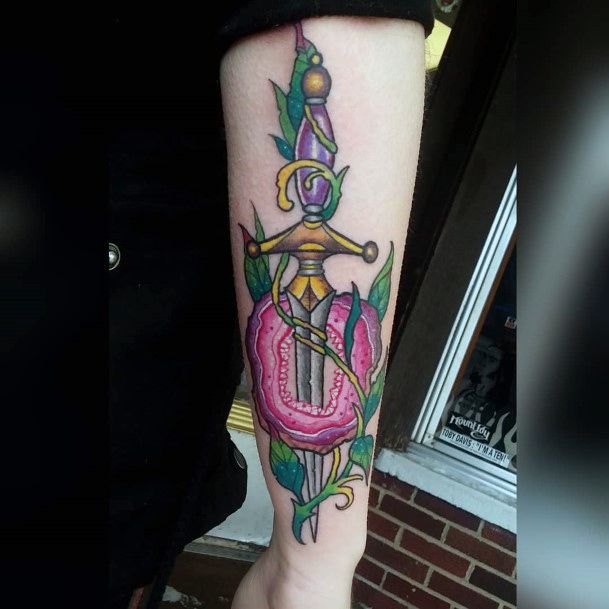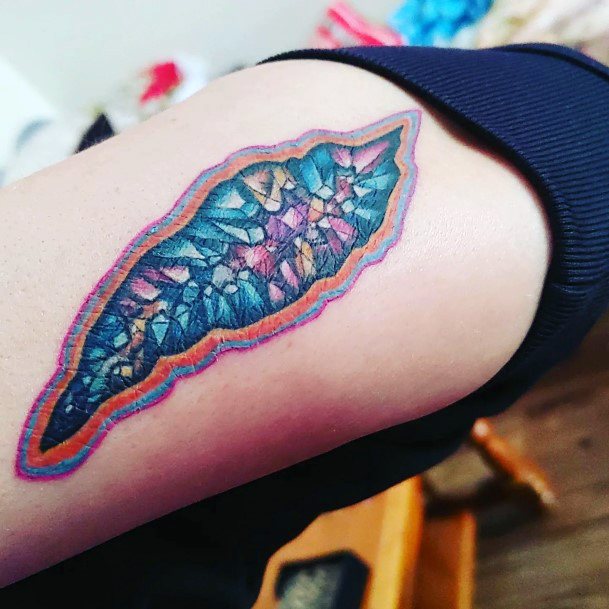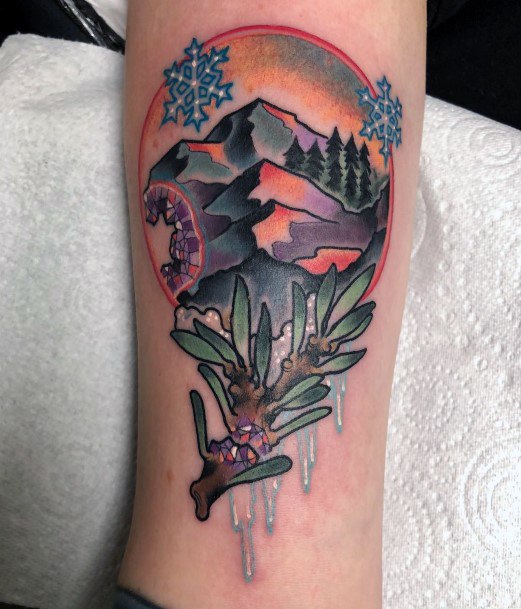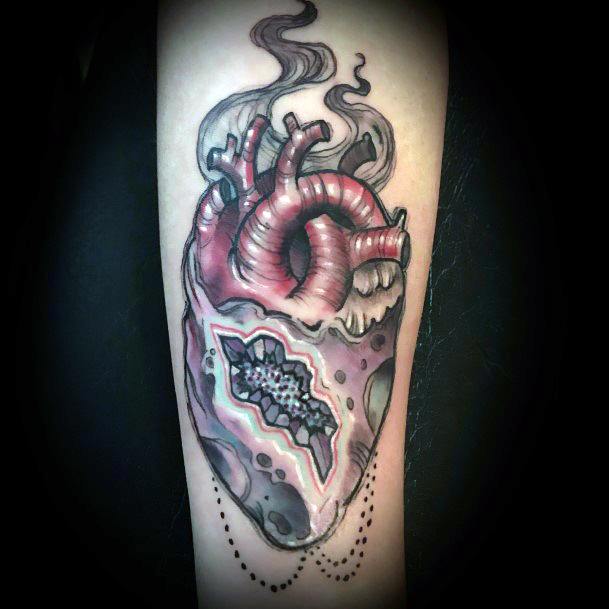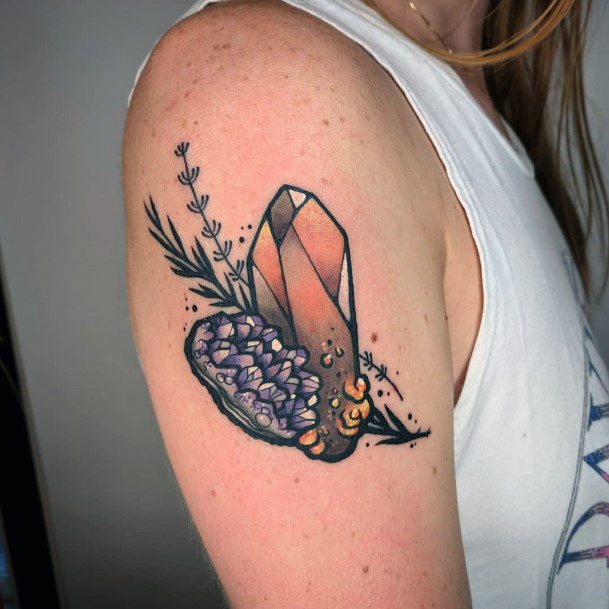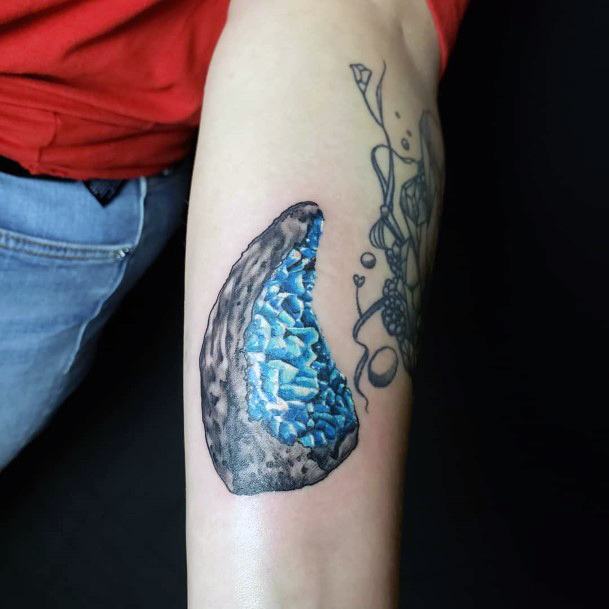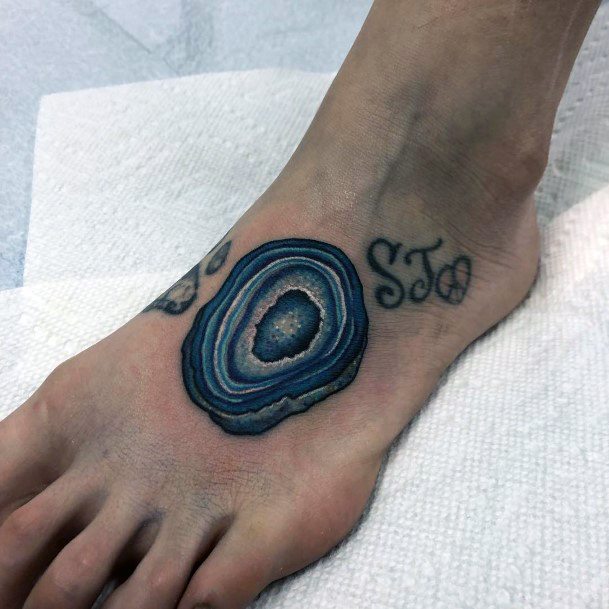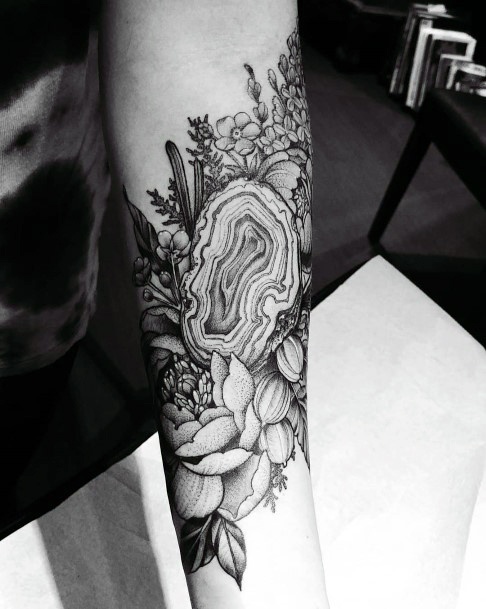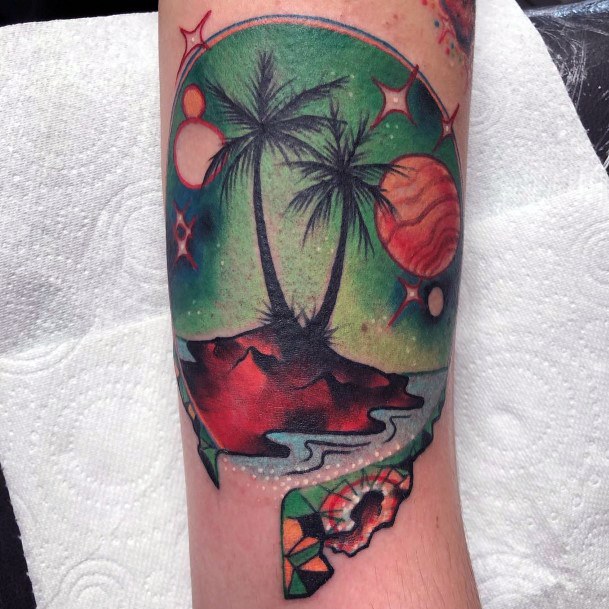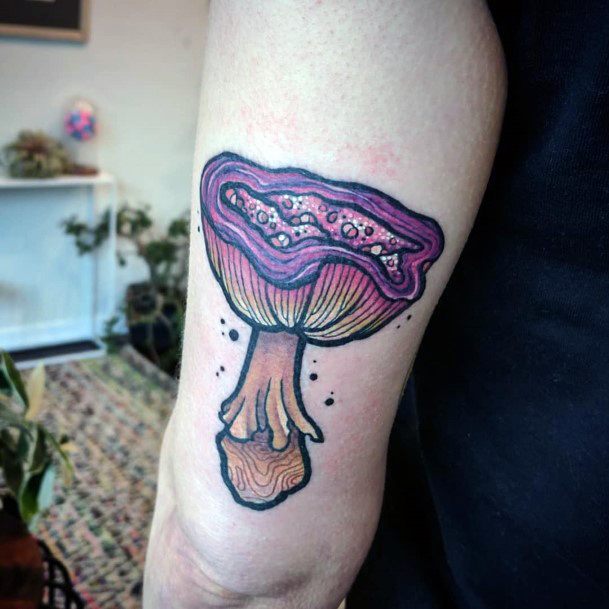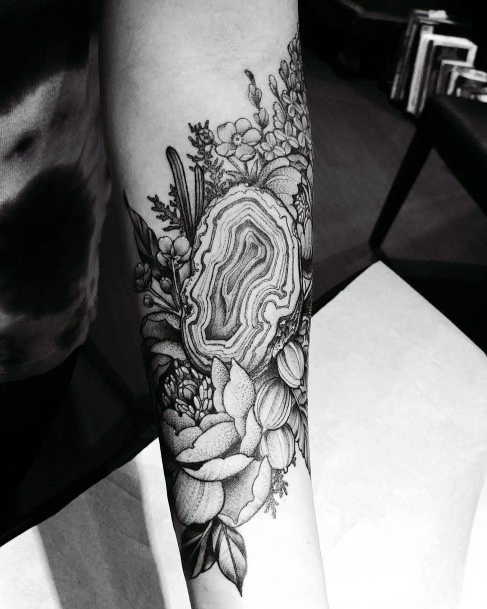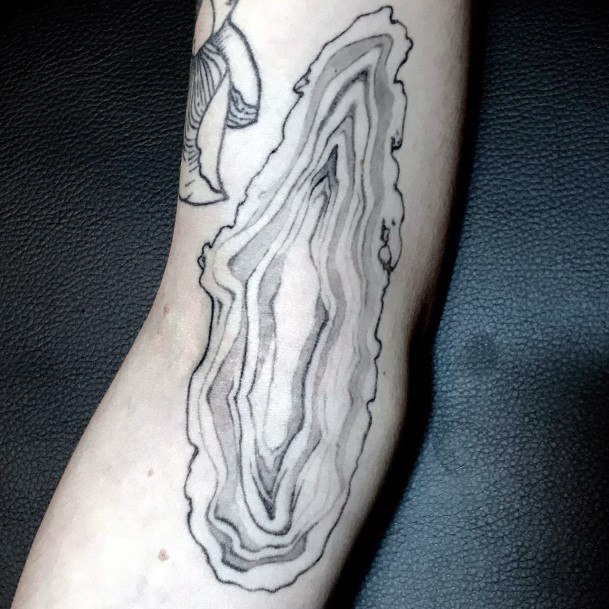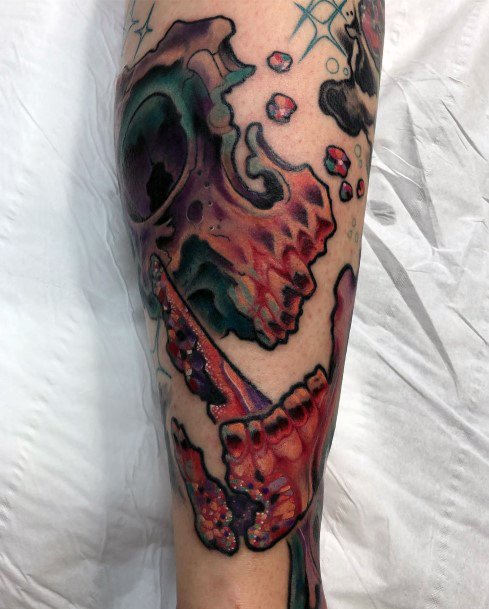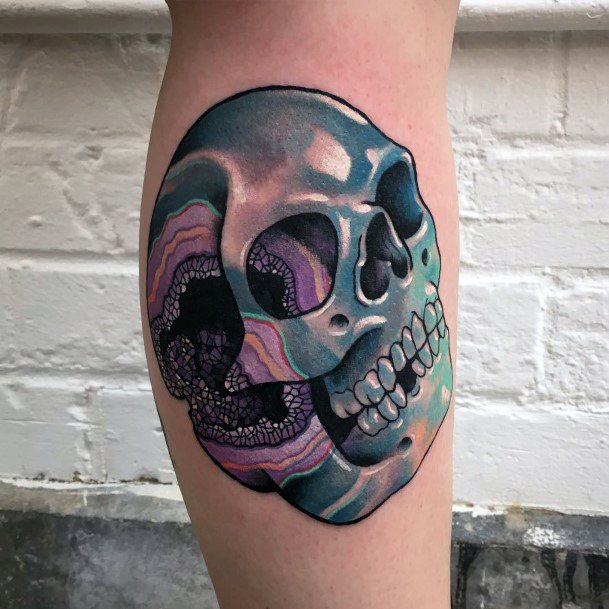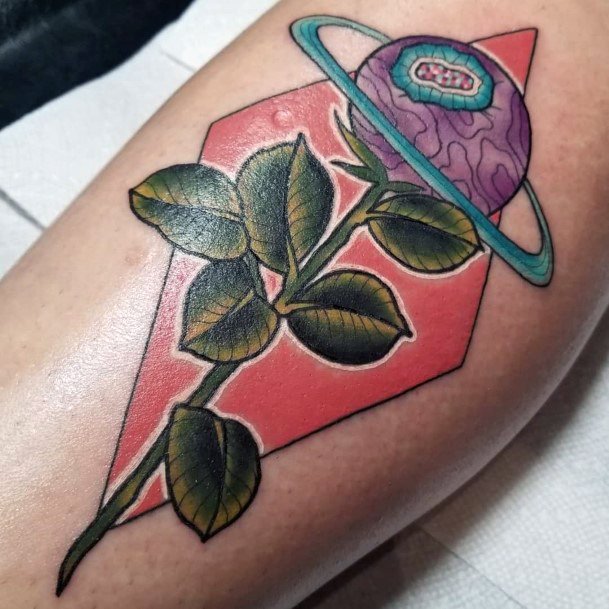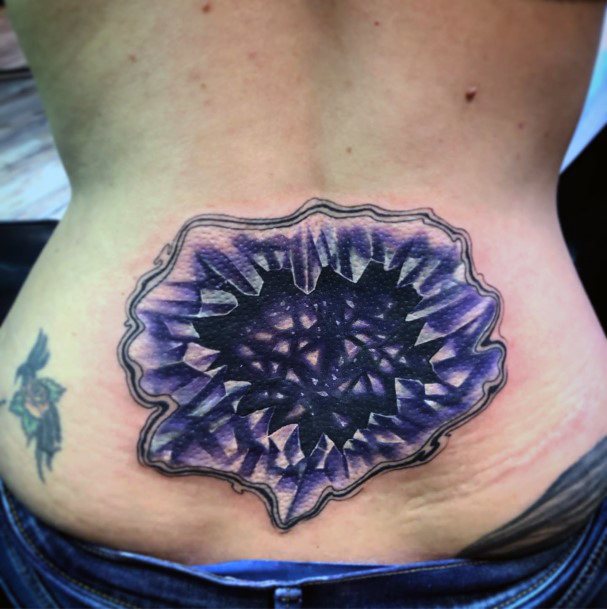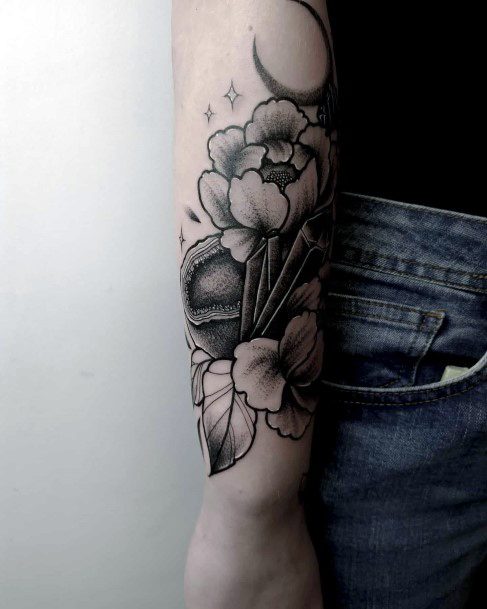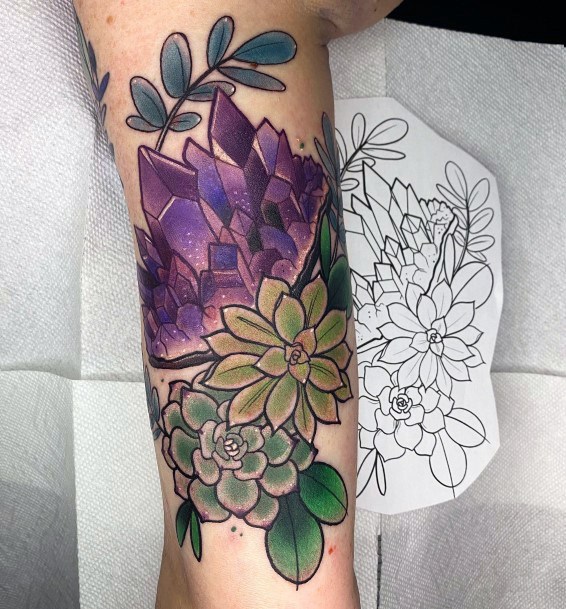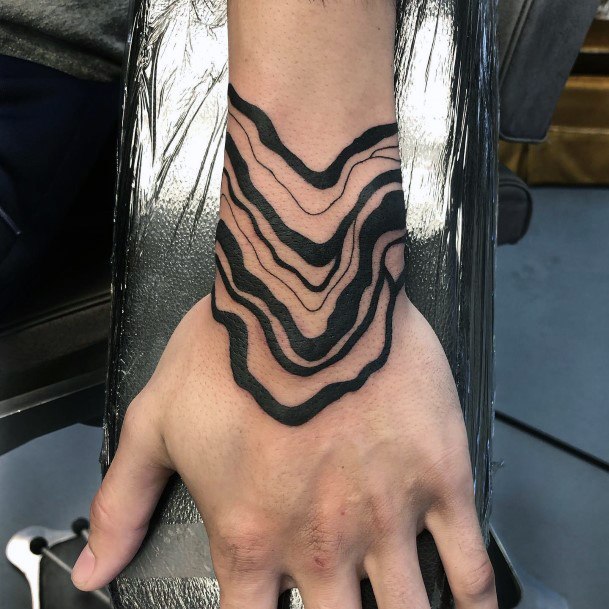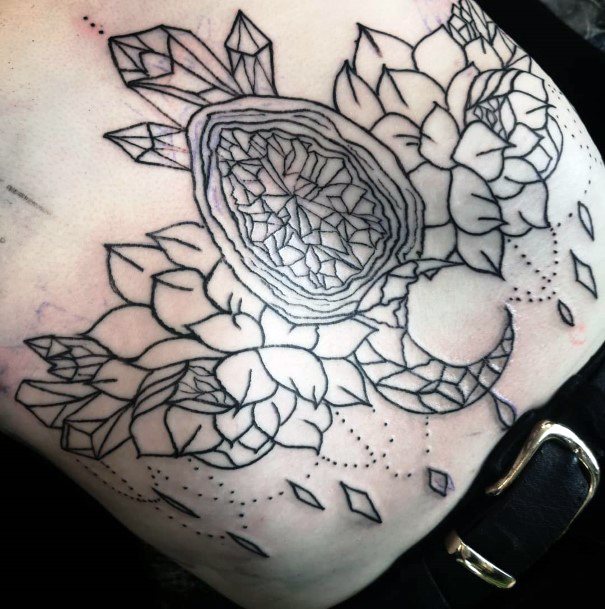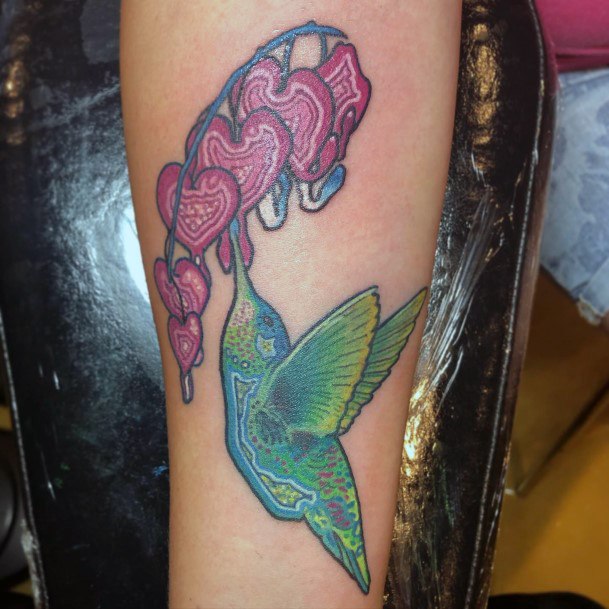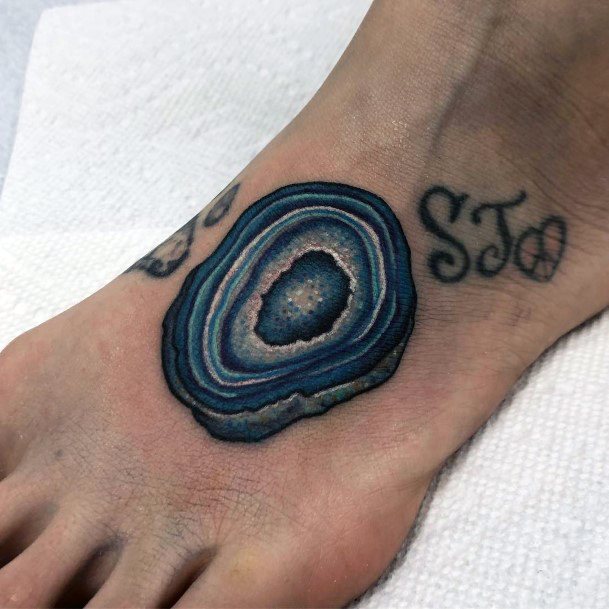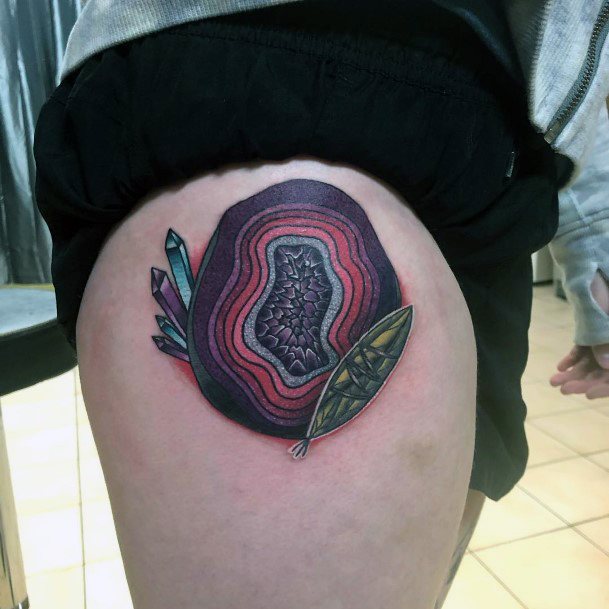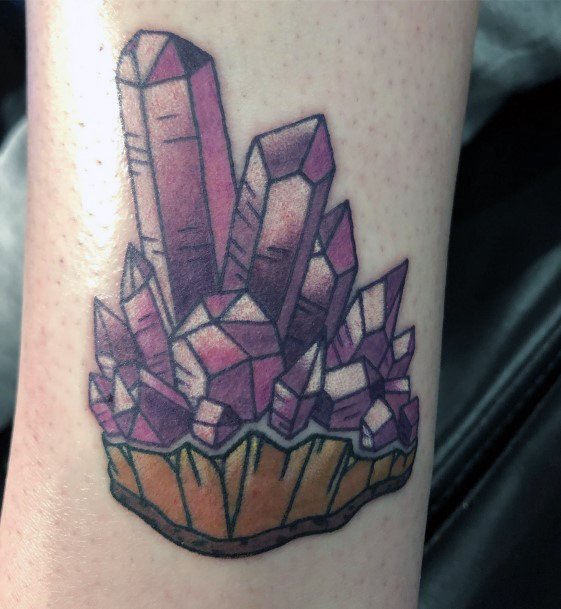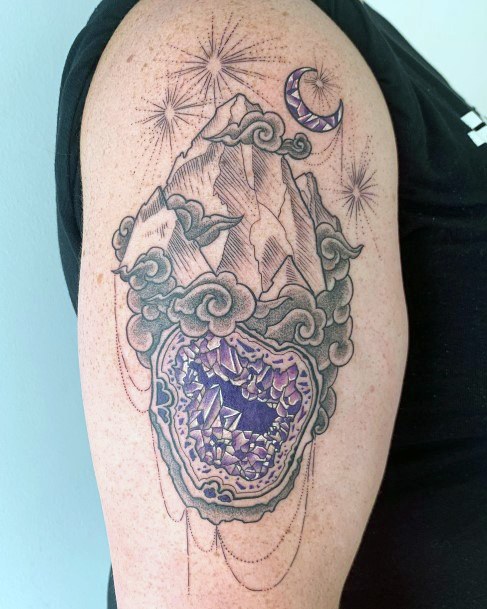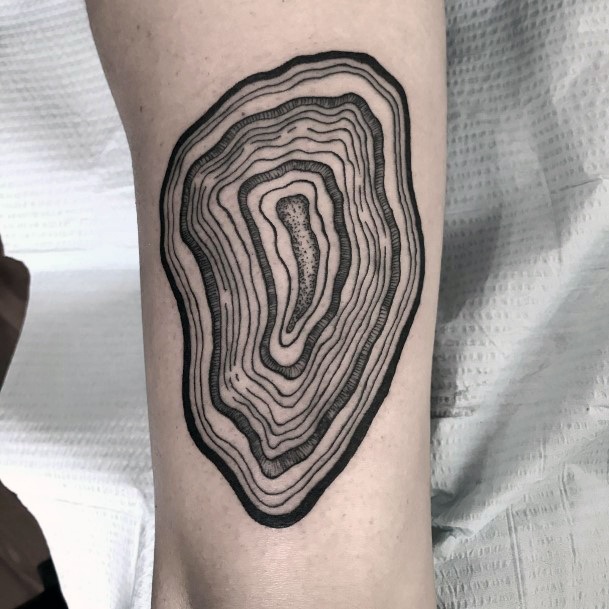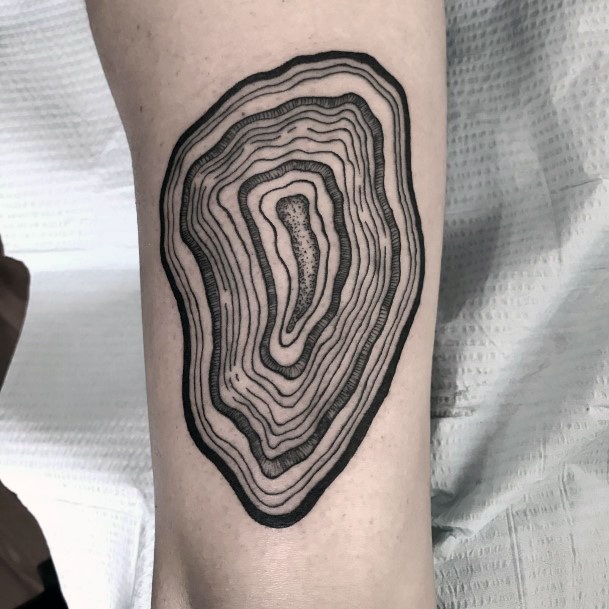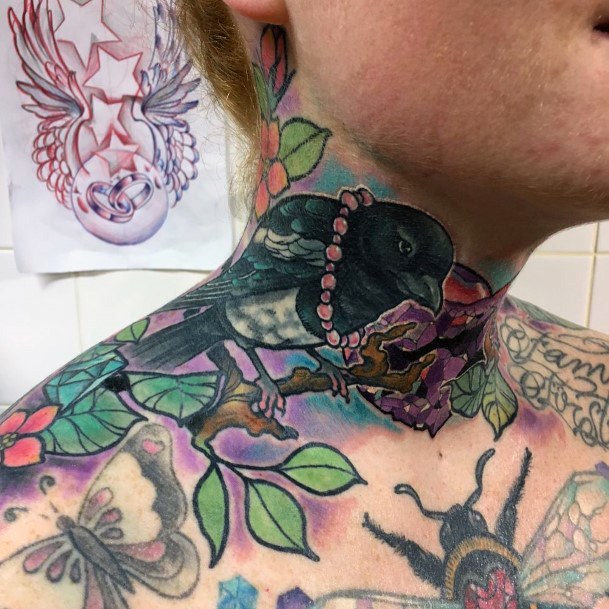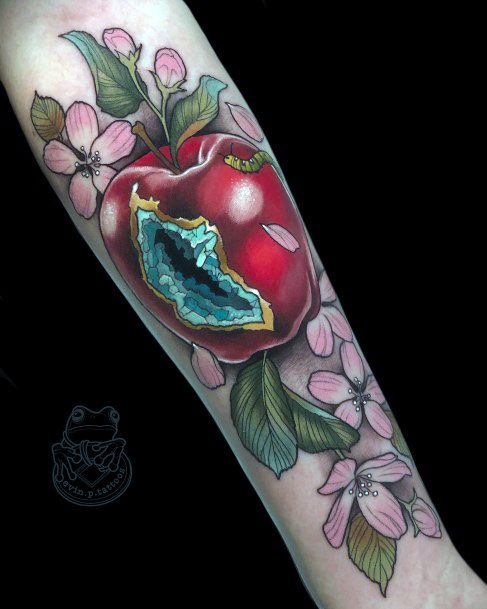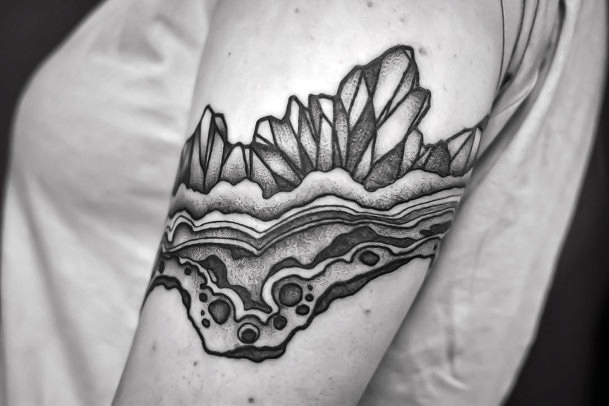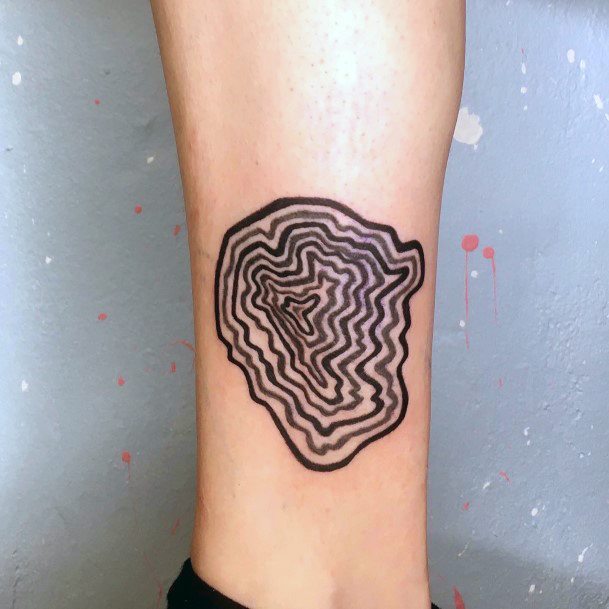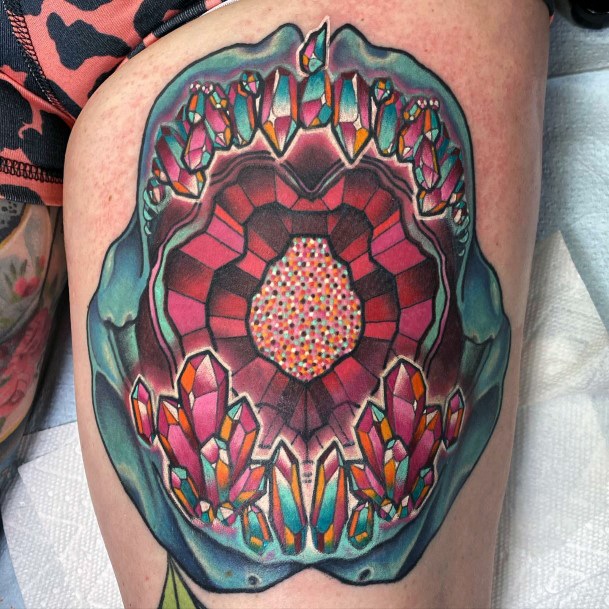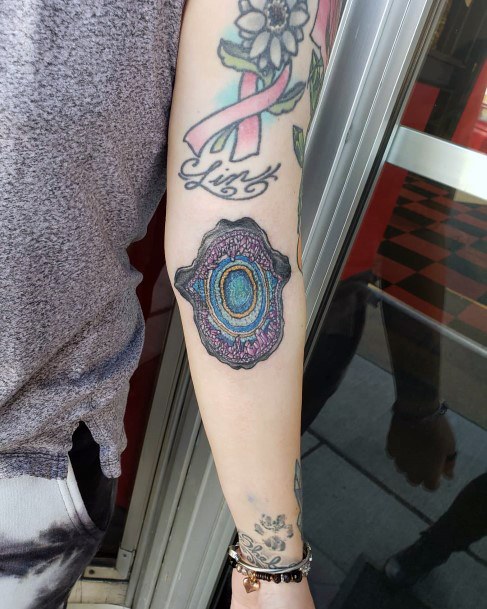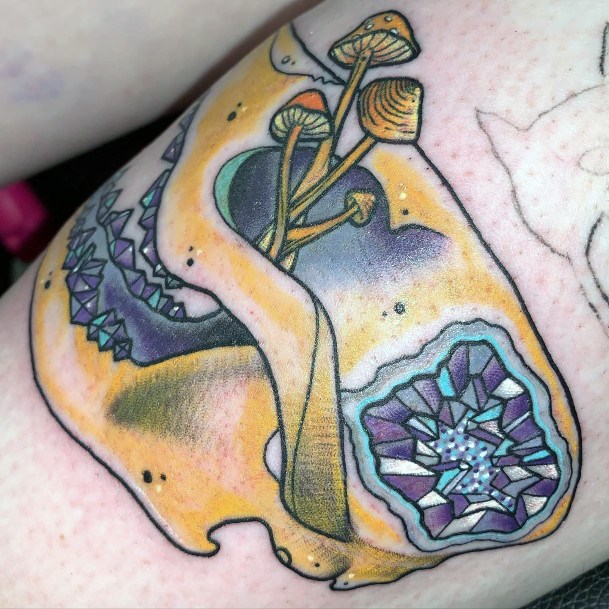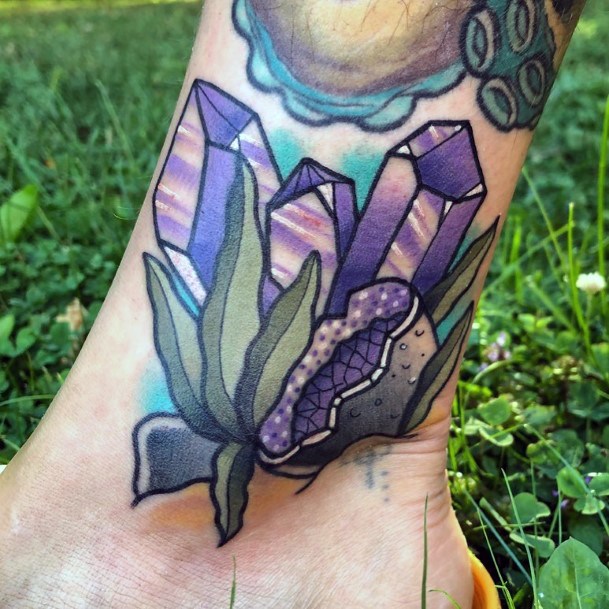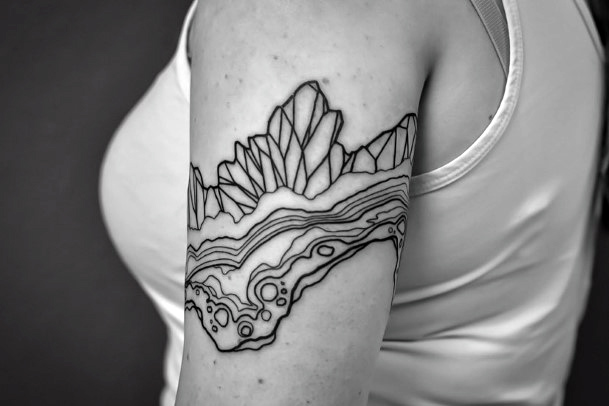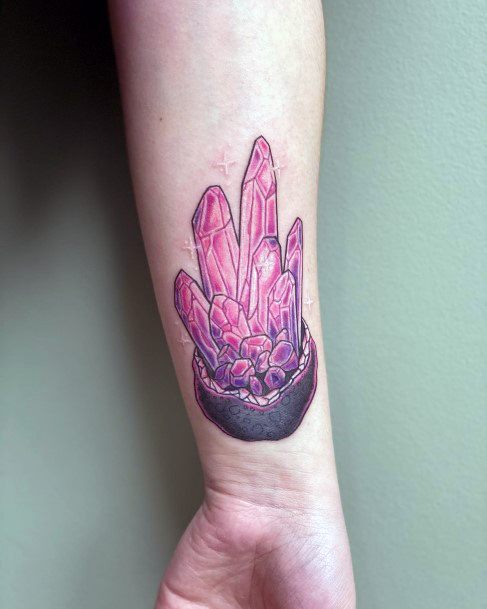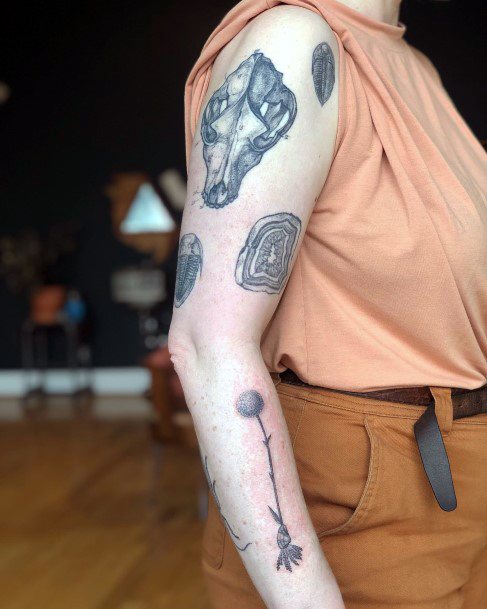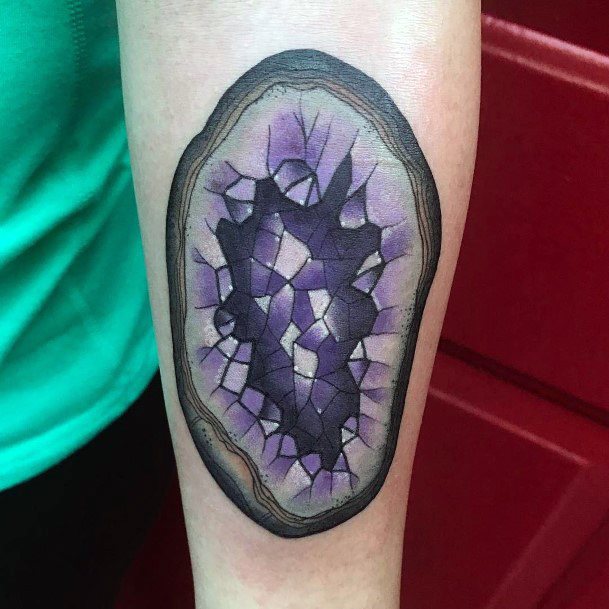 Geode tattoo meanings and symbolism:

What do geodes mean and symbolize?:

Okay, let's face it, gemstones and minerals are just downright cool! But beyond the cool factor, these minerals have some hidden meanings. A girl's geode tattoo is a symbol of strength, resilience, and protection. It is believed that the crystals inside the geode provide protection from negative energy and bad luck. The geode also symbolizes the inner strength and beauty that lies within each person. It is a reminder to stay true to oneself and to never give up on one's dreams.

Geodes can also represent the journey of life. The crystals inside the geode represent the different stages of life, from childhood to adulthood. The geode is a reminder that life is full of ups and downs, but that it is important to keep going no matter what. This natural mineral can also be seen as a symbol of transformation. The crystals inside the geode represent the changes that occur throughout life, from physical changes to emotional changes. It is a reminder that life is constantly changing and evolving, and that it is important to embrace these changes in order to grow and become stronger.

The geode design also has a beautiful meaning that includes the ideas of both creativity and imagination. The crystals inside the geode represent the creative potential within each person, and remind us to never stop dreaming and creating. Overall, the geode is a powerful symbol of strength, resilience, protection, transformation, creativity, and imagination. It is a reminder to stay true to oneself and never give up on one's dreams. It is also a reminder that life is full of ups and downs, but girlfriend, the only important thing to remember, is to keep going no matter what! You can do it!