Make a strong feminine statement that empowers through drawings, phrases, quotes or significant symbols.
Having a girl power tattoo shows that being a woman is something you should be proud of.
Women face challenges daily, such as low-wage jobs or getting uncompensated. Women have come together to make changes. The girl power tattoo is a permanent way to show your support for women's equal rights. It is an excellent way to celebrate the independence, strength and power of being a woman.
One way women are raising awareness is by getting the girl power tattoo. GRL PWR, short for girl power. GRL PWR is a non-profit organization dedicated to building self-esteem for girls. The feminist movement seeks women's rights to vote, hold public office, get an education and earn equal wages. The organization's goal is to provide young women with the tools they need to be successful.
Most girl power tattoos are small but have a lot of meaning. The girl power tattoo symbolizes solidarity, and women are coming together for a common cause. Women get tattoos as a symbol of solidarity and sisterhood. The tattoo symbolizes strength and success.
You can get the classic design style inked in plain text or add objects around it such as a juice box or heart. Another example would be having the girl power tattoo with eyelashes or a hand. The two words are tiny, and you can place them in hidden areas in case your employer has issues with tattoos.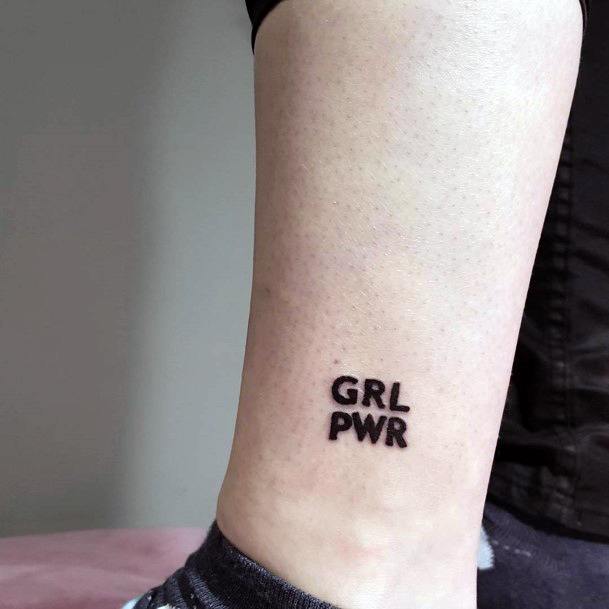 Let's face it ladies, the two shortened words make a bold enough statement on their own. Fancy designs aren't required, and this minimalistic black-ink typography tattoo is a brilliant example. Placed above the ankle on the lower leg, this GRL PWR tattoo is as simple as it gets while still putting out a powerful message and meaning.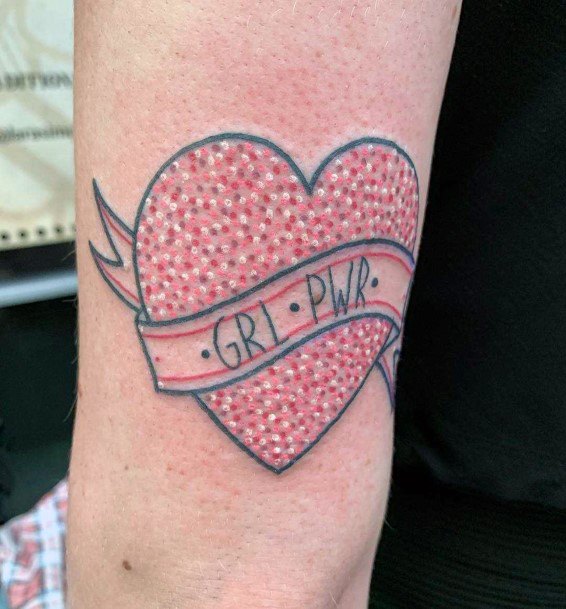 Located on the triceps, this female tattoo embraces GRL PWR with plenty of love thanks to its fun, glitter themed heart design. A banner scroll surrounds the words while an old school traditional style keeps things super simple. I love the red, pink and white dots which give the heart a sparkling, passionate vibe.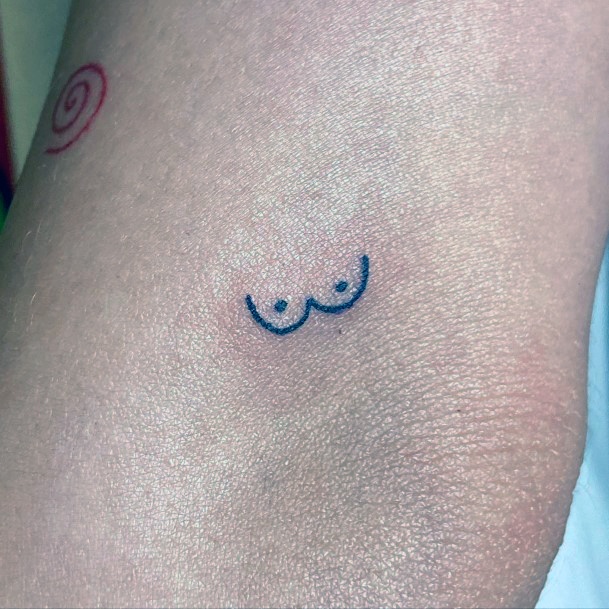 While most women these days are choosing to go with word tattoos, the truth is, there are so many other options out there ladies. Here's a fun, small and simplistic boob themed tattoo that is simply two dots and a curved outline. Its great reminder to be confident and embrace who you are, and celebrates both the female body and mind.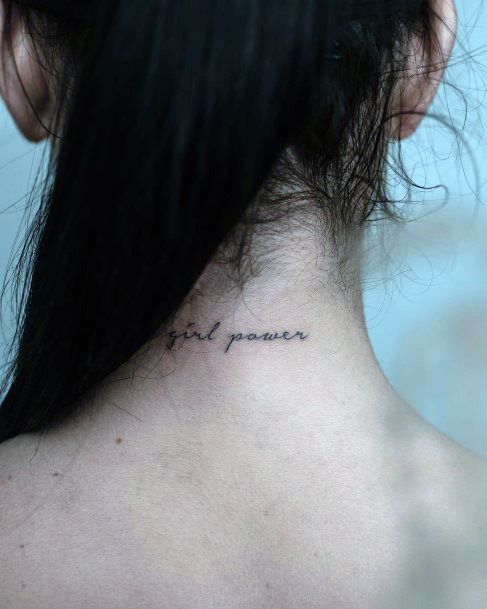 Let's face it, the all-caps word design is the most popular style, but script wording is a super cute second choice. I love the placement of this cursive "girl power" tattoo that's placed gently on the back of the neck. No other design elements accompany the words, just a simple black ink design that says so much.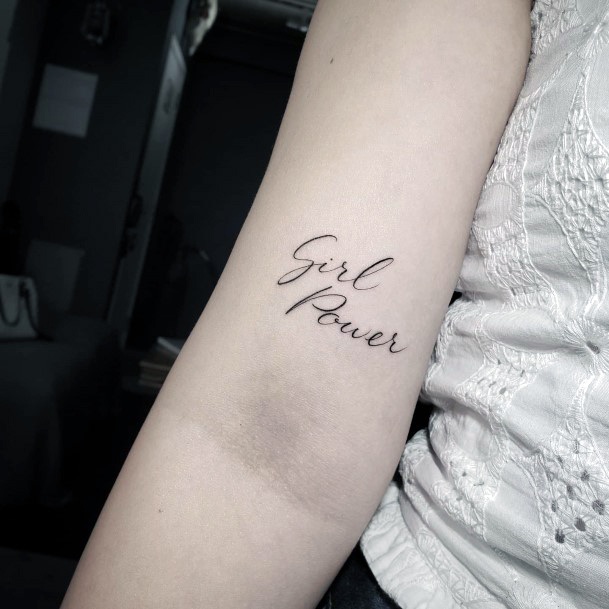 Here's another awesome cursive black ink girl power themed tattoo for women. The design above is an excellent example of how the words can be placed virtually anywhere on the body and still look good. In this case, the script design has been placed just above the inner elbow on the lower portion of the arm.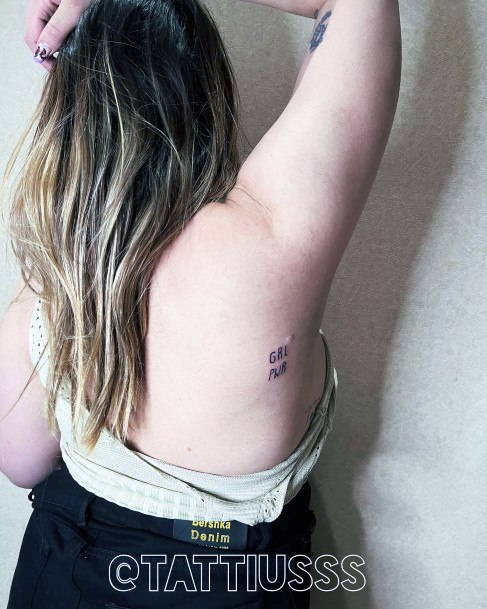 Beyond the arms, legs and wrist, here's another placement option to consider for your design. This two word design with three letters has been placed on the far right side of the back. Black ink keeps the design simple, affordable and quick to tattoo.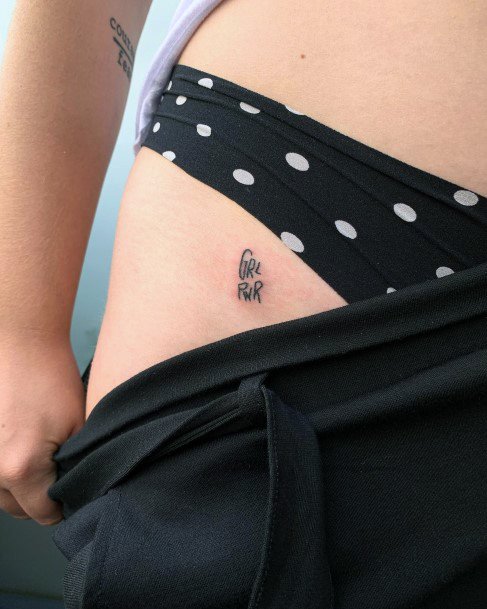 Be fearless but fun with this awesome hip GRL PWR tattoo design. Not the handwritten style letters which have a playful tone to them.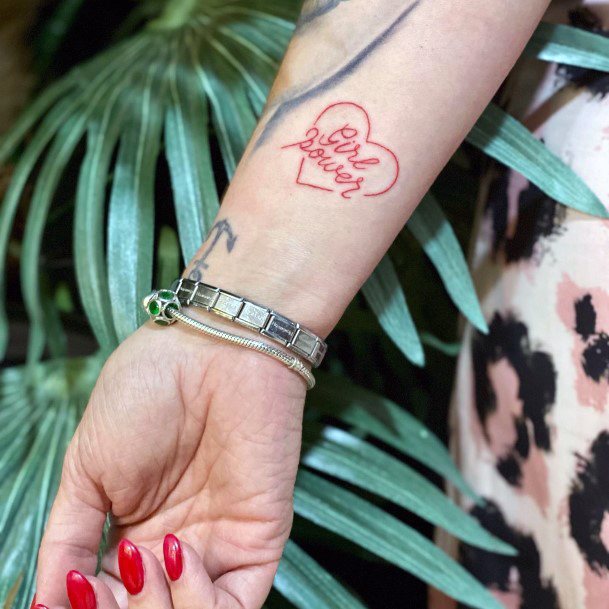 Go beyond the cursive font design and give your tattoo an added punch of feminine power with this cute red ink heart tattoo. This design has been placed on the inner forearm, and is just ever so slightly located above the wrist area. While most women are going with black ink these days, it's nice to see a bolder color, such as red being used.