What is glossy hair? Healthy hair is hair that is moist and soft and has a healthy shine.
However, glossy hair is not only healthy, but it has an atypical shine, a shine that you absolutely notice.
You can go for a DIY approach with a clarifying shampoo and an at-home gloss. Or you can go for an even more DIY approach with something like apple cider vinegar. However, the Hollywood gloss that you see on celebrities is not something you get out of a bottle and trying to do it yourself could leave you with a funky look, and not in a good way.
If you want that head-turning glossy look, you've got to visit a professional who can apply a professional toner. Toners are a special kind of product that you typically use in conjunction with hair color, and that modify the color of the shade. Although hair color can sometimes cause damage, toners are safe.
The result will be a super glossy color and shine that will make heads turn. Come back every four to six weeks to maintain the look. In the meantime, protect your hair from damage, wash your hair with a quality toning shampoo and condition, and use a heat protect spray if you blow-dry or use any other heat styling tool on your hair.
The style looks best on long straight hair with a bit of wave. Kinky hair can achieve the look if the kinks are straightened or relaxed.
Are you ready to shine bright like a diamond? Gaze at the following women's glossy hairstyle ideas below!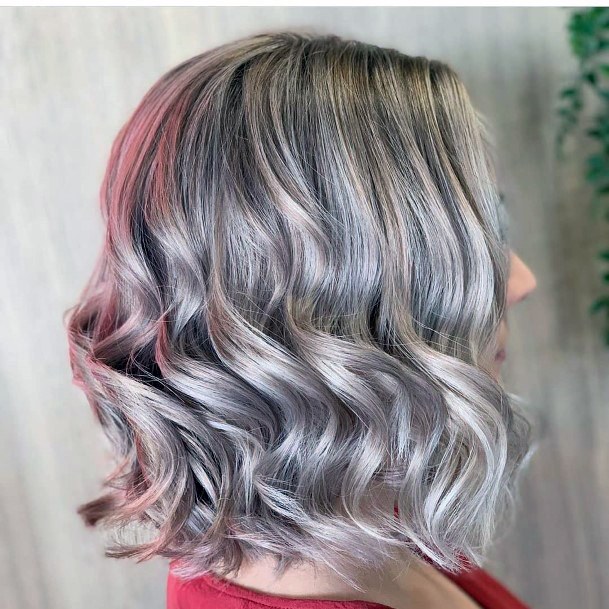 Cropped short and adding light waves on the bottom half of hair turns glossy shine into movement. As you can see from this lovely example, even gray tones can hold shine and reflect the light for a youthful appearance, thanks to professional hair gloss.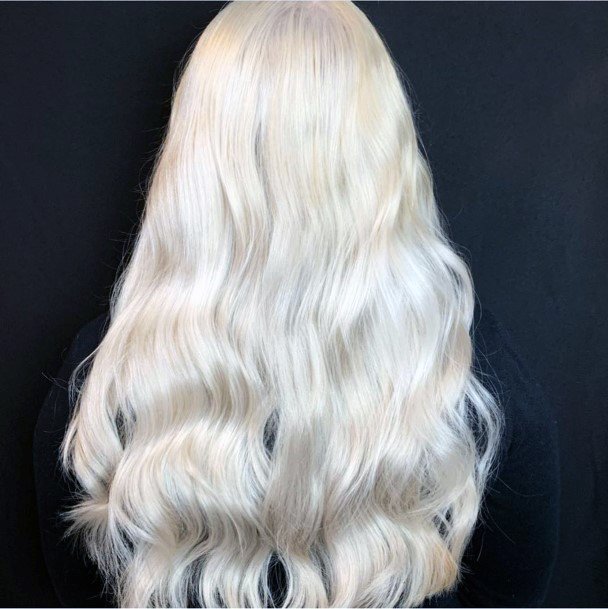 Platinum blonde can appear bleached out and straw-like without shine. We've all seen dead-looking platinum and know that look well. Professional gloss imbibes life into long waves and restores a healthy appearance to even the blondest of strands.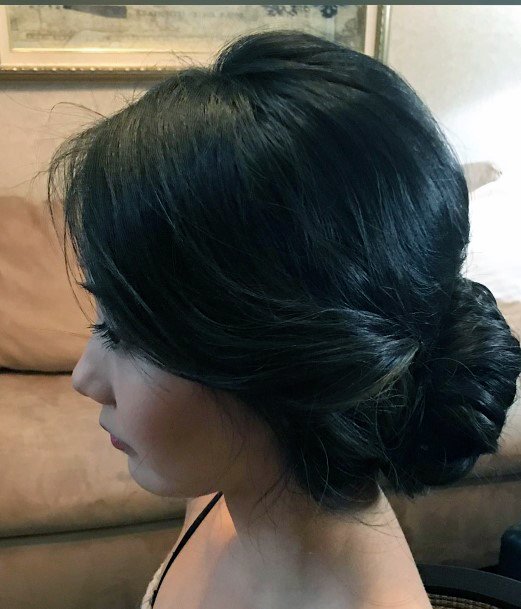 Even when worn in a knot or other updo, glossy hair catches the light. Here, loosely pulled-back black hair still looks healthy, elegant and well-nourished.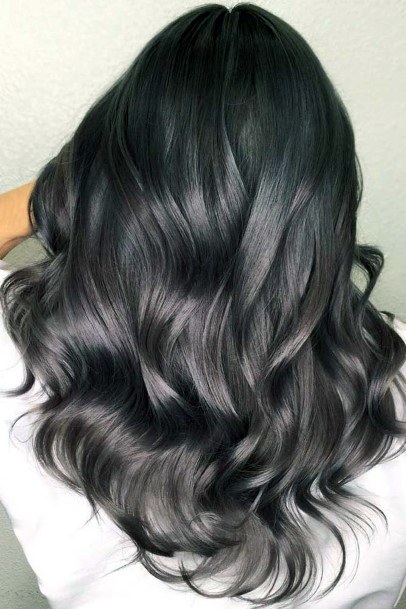 Many people believe darker hair shows less shine. Nothing could be farther from the truth when hair gloss is professionally applied and well-maintained at home. This model's hair shows the reflective beauty of dark tones accentuated by gloss.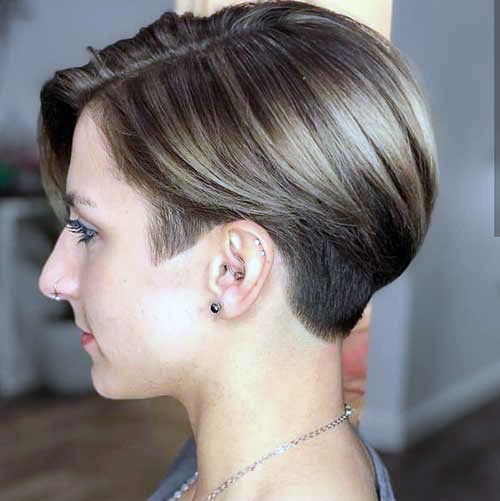 Even dark blondes, light browns and "dishwater" tones can appear highly multi-dimensional and reflective with the right professional's touch. Here, glossiness adds depth and brings out individual strands. The shine makes this on-trend pixie cut the picture of youth, beauty and health.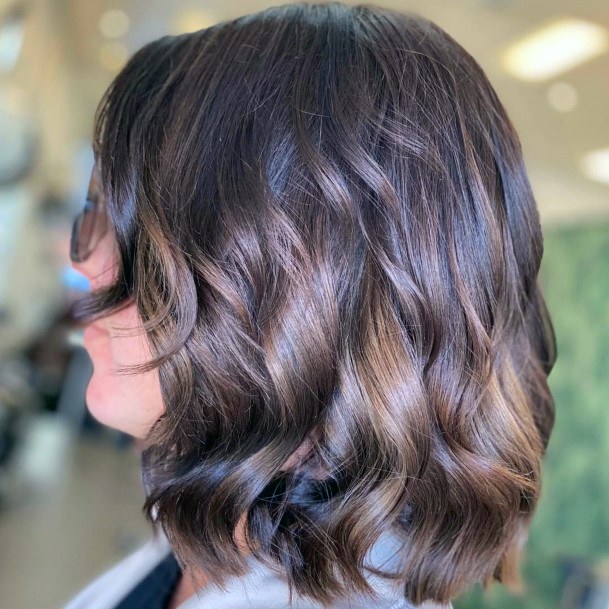 Who said beachy is just for blondes? Light brown color infused with hints of auburn play well with a shoulder-length chestnut bob and beachy waves. A good cut with glossy shine restores vitality to previously dull color and shape.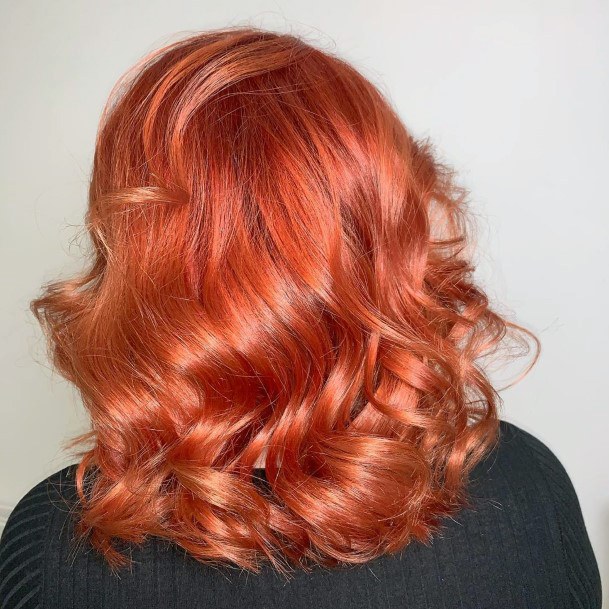 Va va voom! Is there anything else one can say upon seeing the confidence a spark of red brings into any room? These lively fire tones coupled with gloss exude energy and magnetism. Notice how the waves look fuller and richer because of spotlighting shine.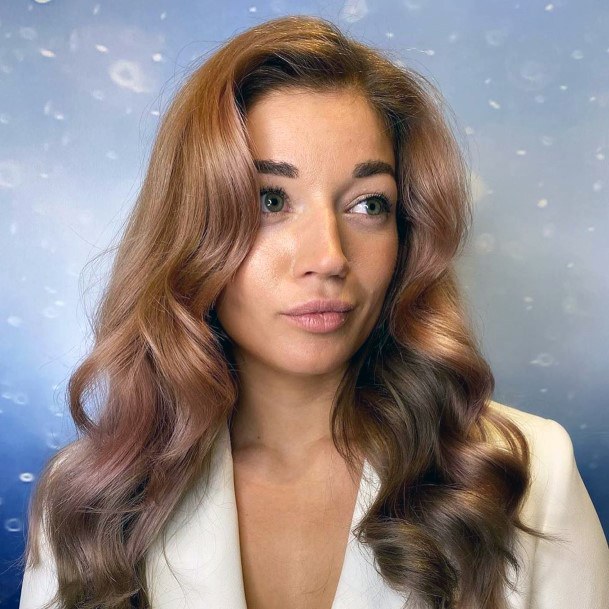 Dark blonde, chestnut and chocolate all come together for this natural brunette growing out her previous pink dye. Instead of just layering dark brown to hide the grow-out, this client's stylist applied the darkest tones for under layers and lightest hues on top. Gloss infuses life back into the strands and brings all of the tones together.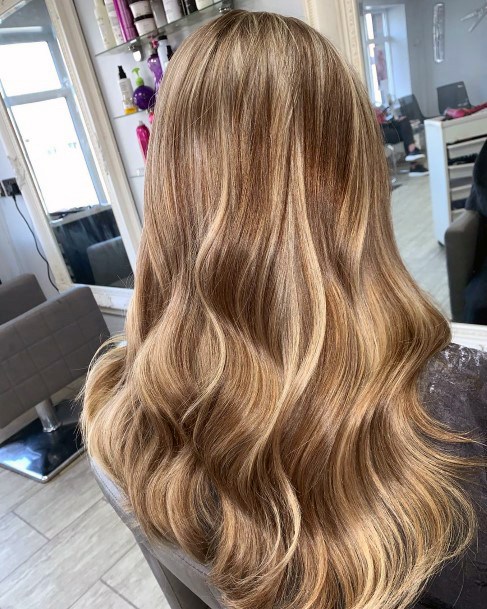 Long hair can look tired and overgrown, but not with professionally applied multi-dimensional color and gloss! This is a great example of how highlights, lowlights and shine work together to restore health and vitality to lengthy strands.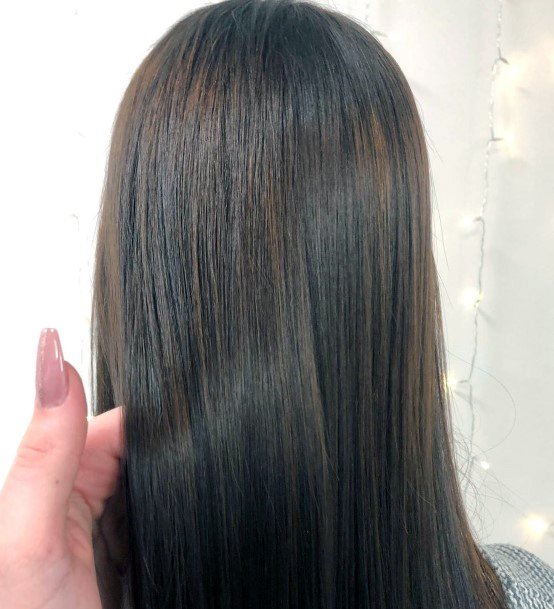 Professional gloss adds sleekness and shine in all of the right places for chocolate brown-black hair. This infusion of hydration helps straightened hair lie flat, taming flyaways for easy elegance.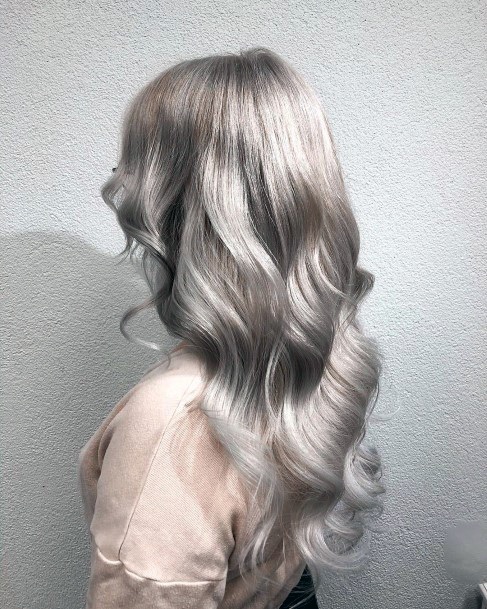 Like platinum, ash blonde is one of the more complex hair colors to maintain. But with professionally applied color and gloss, you can keep even long ash colored hair looking rich and full of life.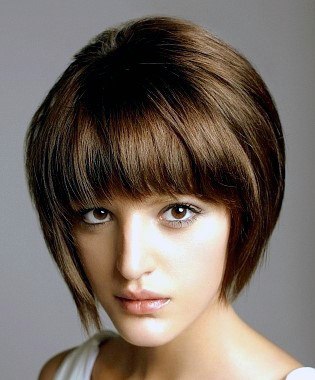 Pixie cuts are back, bringing 1960s flirtiness and fun into 2020s fashion. Here, short is hydrated with shine, just as this chocolate toned pixie reflects. Instead of looking extreme, even the most geometric of cuts can still look soft when the hair looks healthy.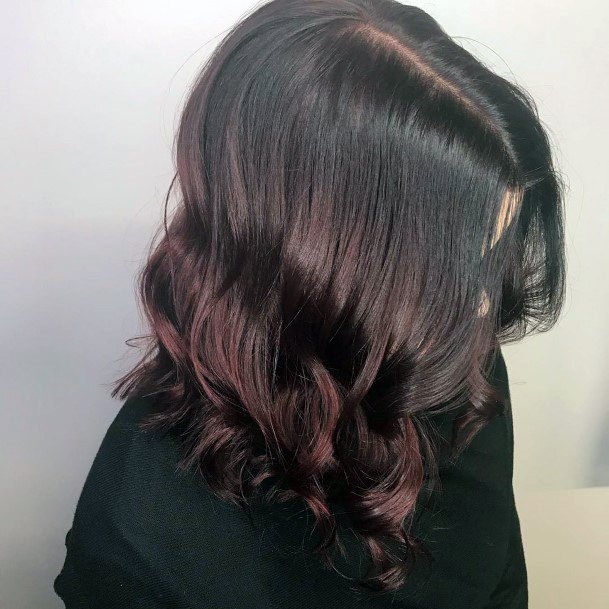 Shadow roots can be purposeful or the result of growing out previously colored hair. Here, darker new growth meets chestnut with grace, thanks to gloss-infused shine, a great cut and subtle waves.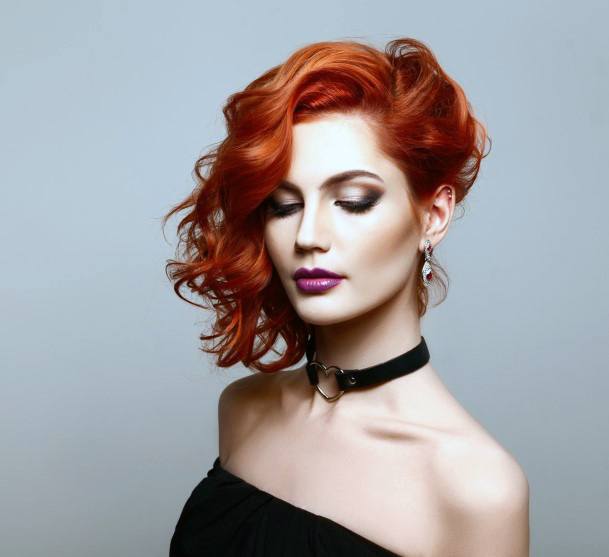 Perfectly coiffed auburn is made easier with the right maintenance, a good cut and periodic professional gloss. Here, a bob transitions into a partial updo with the whimsy of loose, all-over curls. You can see the difference shine makes in bringing the look together.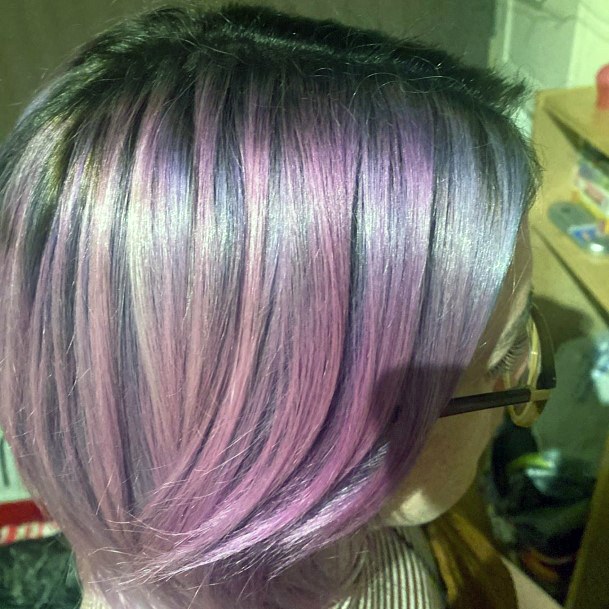 Even rich, cartoon-like hair colors can be subtle with the help of a professional. Here, dark blonde is infused with pink and lavender to add dimension with a dash of rebellion to a short cut. Professional gloss keeps the hair looking healthy and hydrated.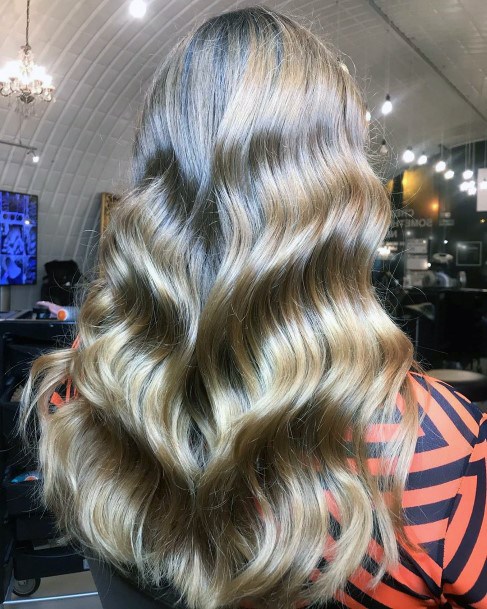 It is very important for long hair to have shine. Otherwise, even blonde hues appear heavy and dehydrated. This image is the perfect example of how vivacious long honey blonde hair can look when shiny, thanks to a professionally applied gloss.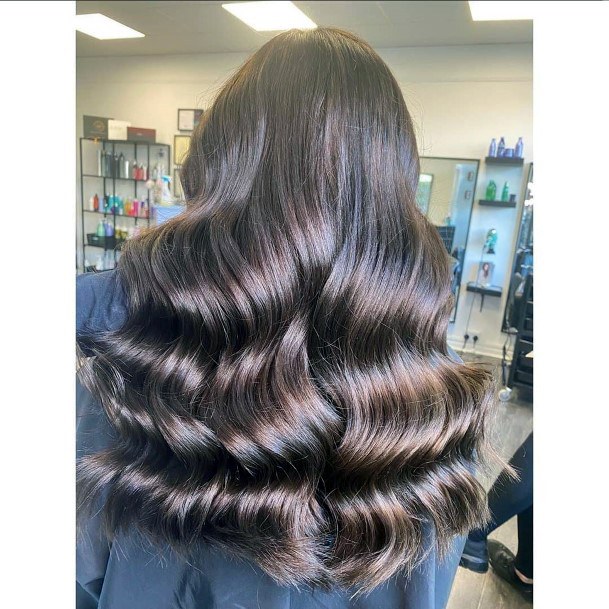 In another example of how wonderful gloss can make a long style look, check out these chocolate brown waves. Instead of weighed down and dry, this dark toned 'do appears vibrant and strong.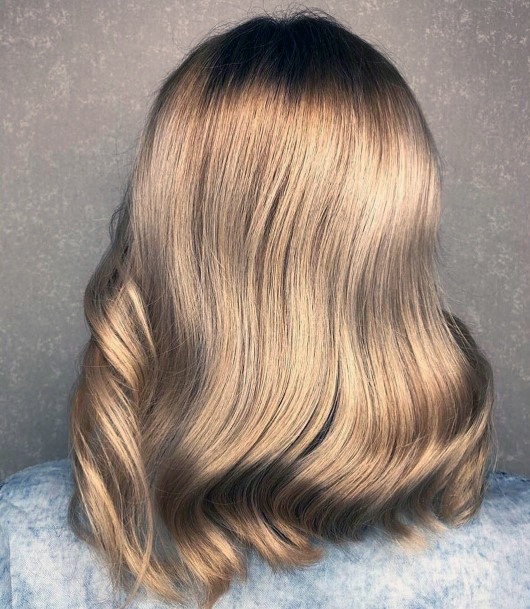 Medium-length hair is as responsive to professional gloss as longer styles. With gloss and a good at-home maintenance regimen, your style appears more refined and color fresher.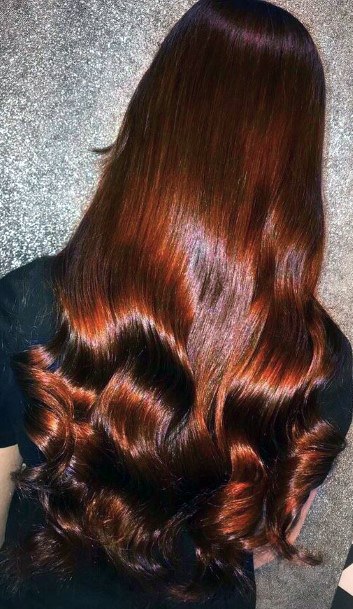 Multi-tonal auburns look so vibrant and healthy when glossy that you will frequently be asked, "Is that your natural hair color?" To maintain your "natural" look of long with big waves, simply follow your stylist's recommendations for at-home shampoo, conditioning, heat styling and shine infusion.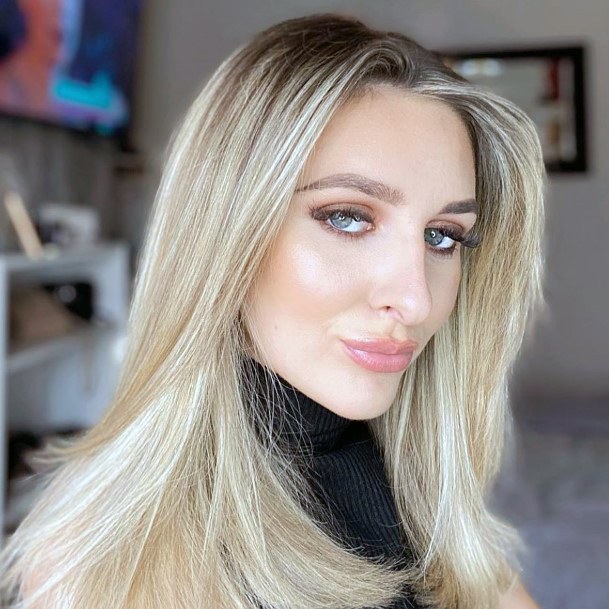 Besides adding pigment, tones and shine to hair, gloss also prevents fading. That is important for the appearance of blonde, a realm of color that can quickly fade and change due to sunlight, minerals in water and other elements. Here, you see the impact of a freshly cut and glossed blonde at its best.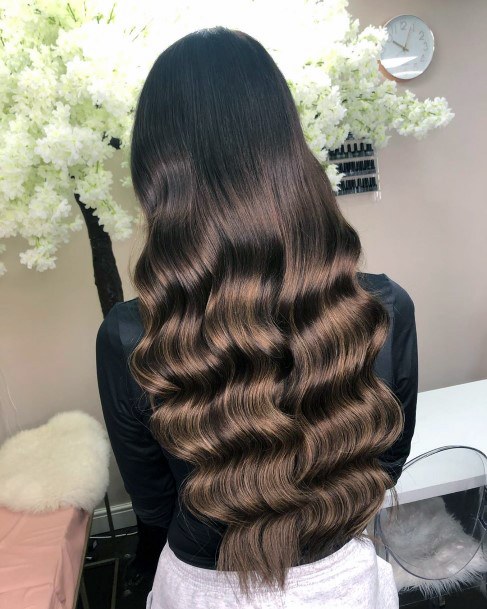 Dark brown becomes luminescent, thanks to professional gloss. As these gentle waves show, gloss adds shine and multiple tones. It takes showing off your hair to a new level.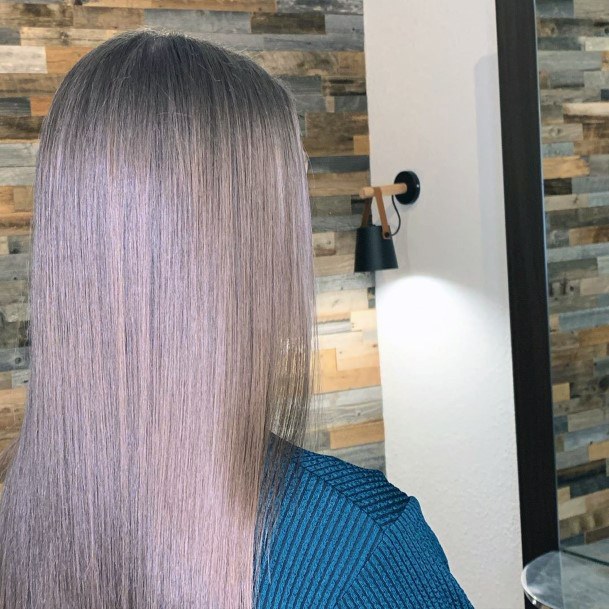 There are tinted glosses and clear glosses, each of which infuse shine and health into your hair. If you want to try on semi-permanent color without a long-term commitment, talk to your stylist about a tinted gloss. Otherwise, go sleek, strong and hydrated with clear shine, just like this client.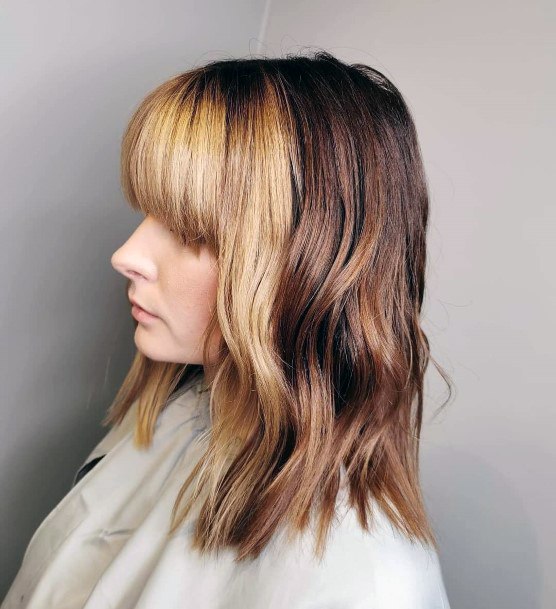 Whether you worry about color grow-out or want to enhance color shifts in your style, professional gloss is key. Lasting about 4 to 6 weeks, glossing prevents brassiness, too.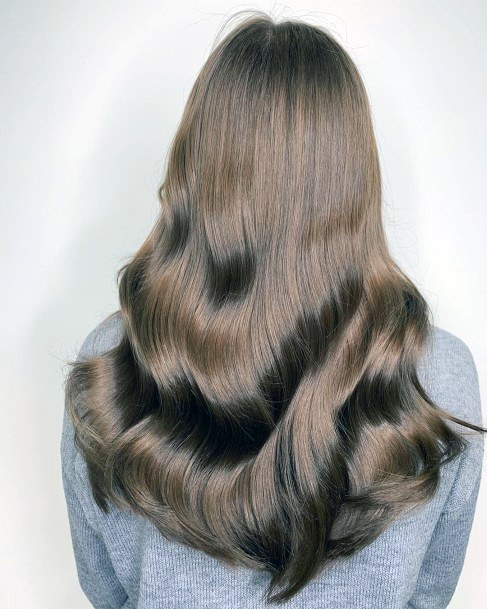 When your hair has great shine and looks well-hydrated, you can make the choice to wear it down or sweep it up into a ponytail or top knot. Ask your stylist for gloss and wear yours down more often!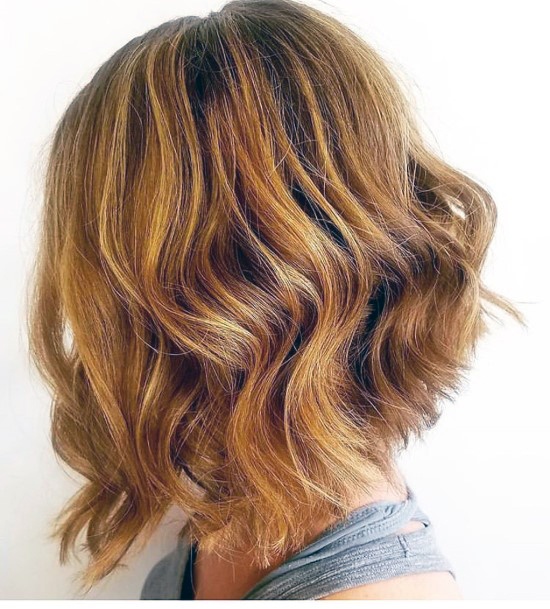 For easy manageability, a short A-line bob always looks chic. Choose to add gentle waves or wear it silky straight. Either way, you look pulled together and stylish.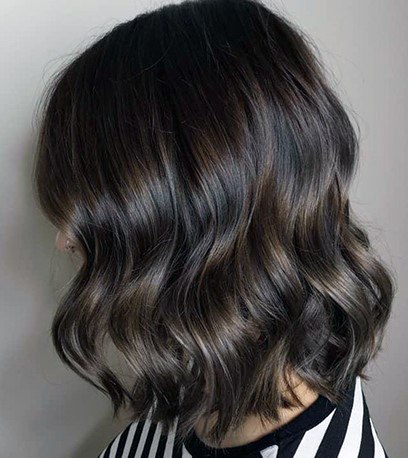 As another example of a short bob, you can see the effect that shine has on a simple style. Gloss adds an upscale quality to just about any look.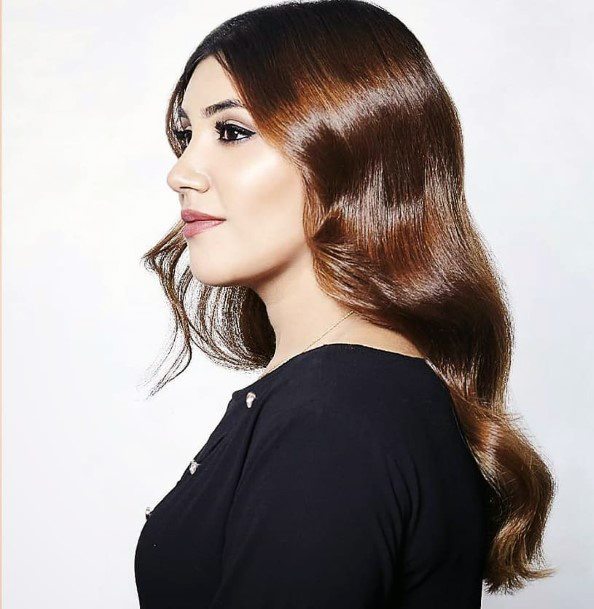 Check out this shiny sweep of auburn! Sleek and svelte can be used to describe your hair, too. Whether you want red tones, blonde, brown or black, you can enjoy wearing your hair more when it looks so healthy, thanks to professional gloss.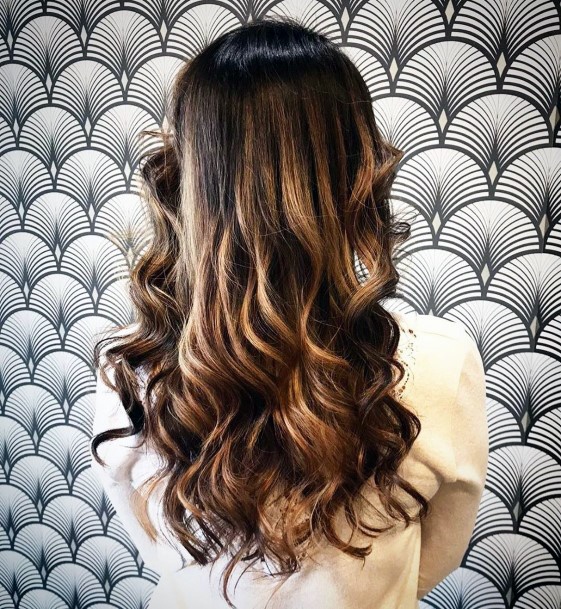 As another example of shadow color, you can see how subtle the transition between lighter color and the darker roots appears because of hair gloss. This makes growing out color less dramatic. Or, you can choose to maintain the dark-light look of this popular trend.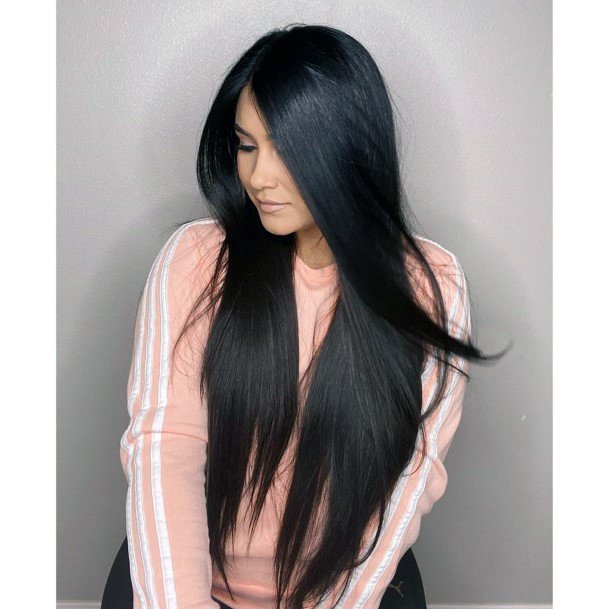 Straight hair looks so much more refined with hydration and shine. For your extra-long locks, talk to your stylist about your color and shape goals. Services provided for a long, super-straight style like this may differ from those of a wavier outcome. They can also provide tips on achieving this final look.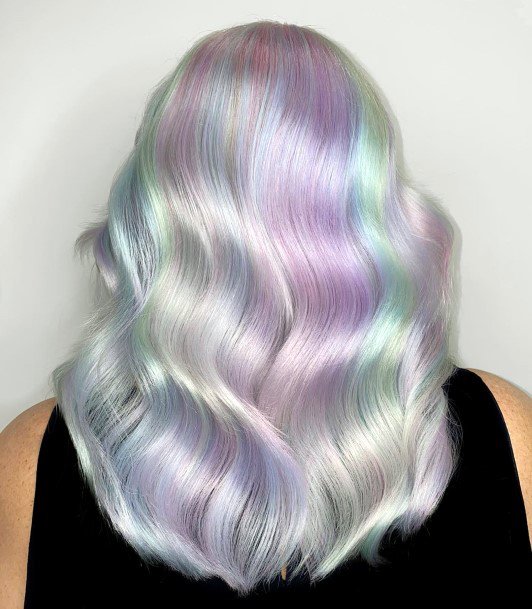 Have you heard of the glass hair trend? This glossed style is super shiny and reflective. Here, you can see the trend in action on silvery hair with multi-toned highlights of pink, green, blue and yellow.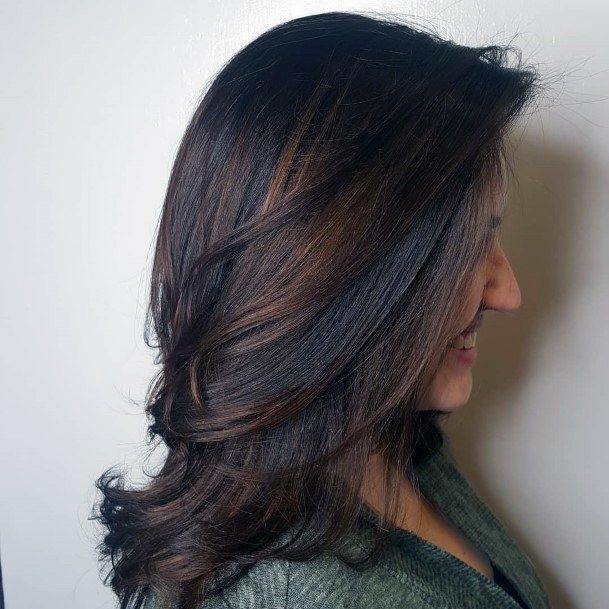 If a glass-like look is not your preference, glossed hair can even look toned-down and subdued in its healthy hydration and shine. This windswept style is a great example of that subtlety.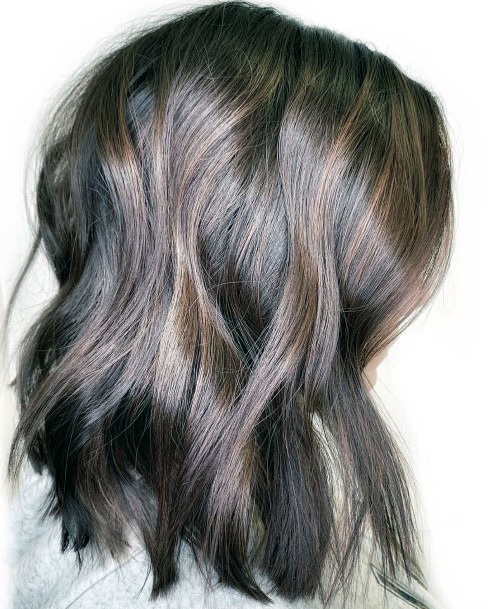 To achieve a tousled bob like this one, talk to your professional stylist about multi-dimensional tones, highlights, lowlights and hair gloss. Ask how best to achieve the waves through heat styling, as well as which heat protection to use in the process.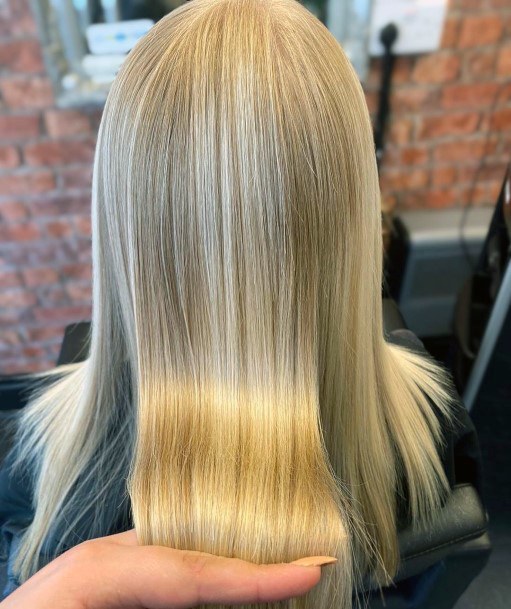 As another example of the glass hair trend, here you can see the effect of gloss for blondes. While not as reflective as the multi-tonal silver above, this style is chic, sleek and shiny.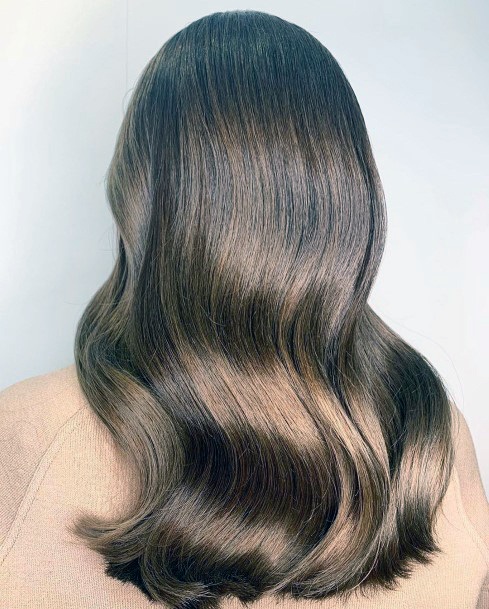 To achieve reflective shine like this, invest in quality shampoo, conditioner and professional treatments like hair gloss at your salon. It is important to prevent product build-up and moisturize hair well with each shampooing.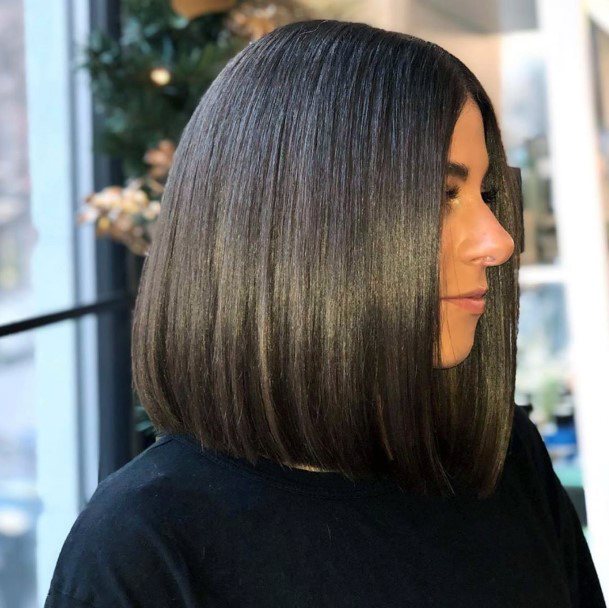 If you are one of millions who follow the Kardashians' fashion influence, you have surely seen Kim K. in a sleek, short and super-gloss bob. This is one style in the glass hair trend, a refined bob like this with so much shine you can almost see yourself in it.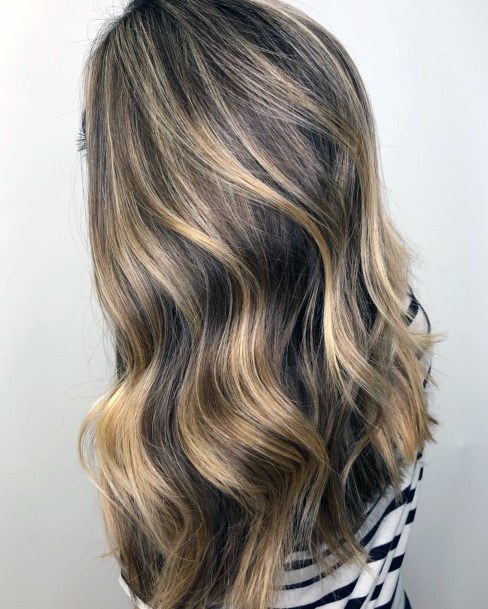 Why are beachy waves so popular in combination with glossed hair? You only have to look at this photo to see the answer. Waves, curls and straight hair all accentuate the results of hair gloss treatment. In turn, the gloss makes styles of all kinds look better.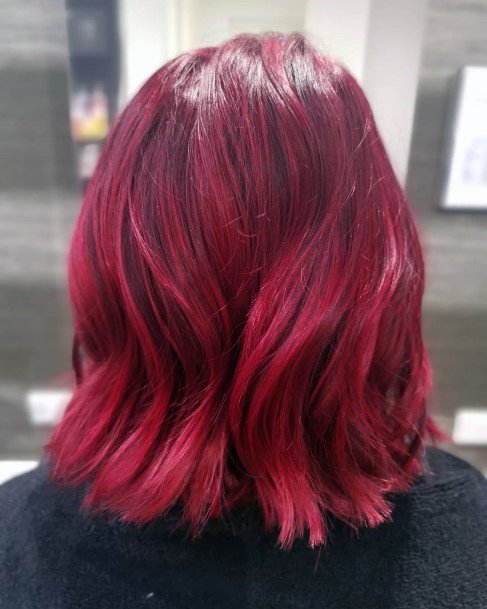 From the crown of her head down to each hair tip, you can see how hair gloss brings vibrant color to life. Yes, you can have healthy-looking magenta hair with your stylist's help!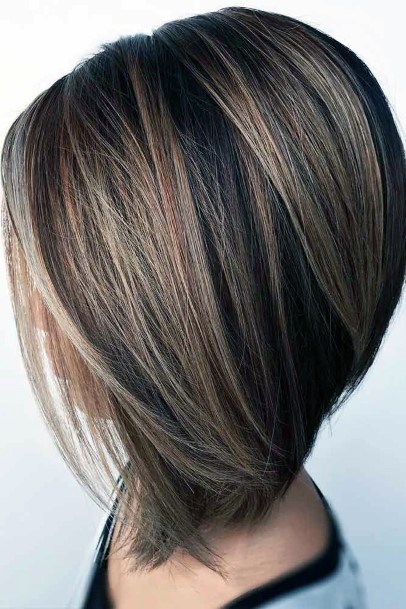 Since the 1890s, the bob has endured as one of the most popular and fashionable hairstyles of all time. The A-line or "swing" bob is a style within that realm, a sportier take on the cut and one that shows off the good health and hydration of glossed hair.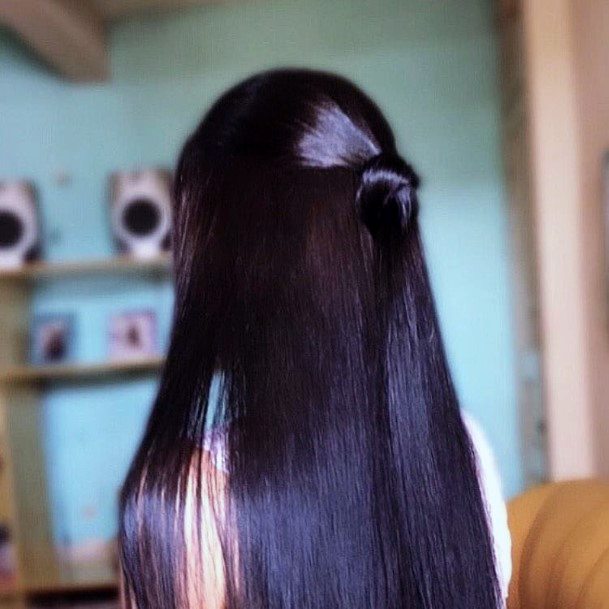 Look at this remarkable shine! Even a simple knot at the crown accentuates dark brown hair dressed in plum with a professional gloss treatment. The gloss tames strands while providing remarkable sheen.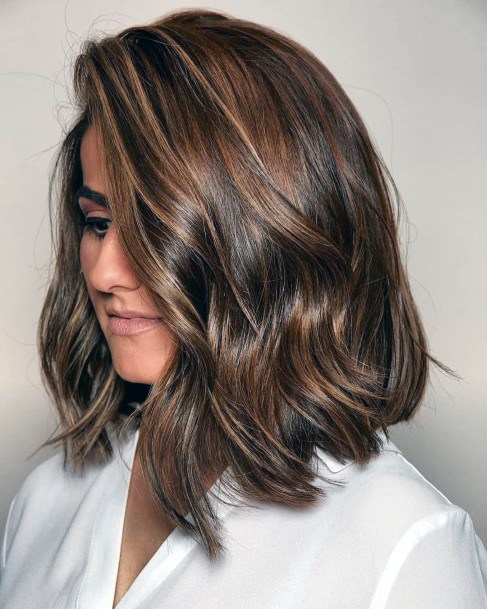 Styling a glossy bob is as easy as a blowout followed with section-by-section heat-styled waves below the crown. You can literally wear this look by investing only minutes each day after your salon treatment.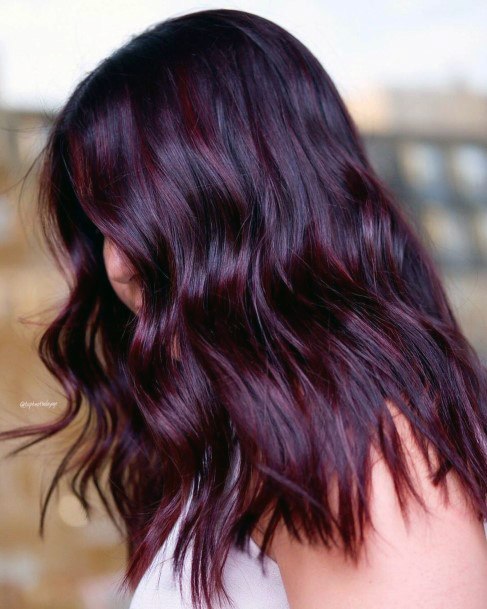 This longer example of a glossy bob gives you the versatility of hair worn down that also looks great in an updo. But you shouldn't hide your face as the model has! The shine on her plum and magenta style is incredible.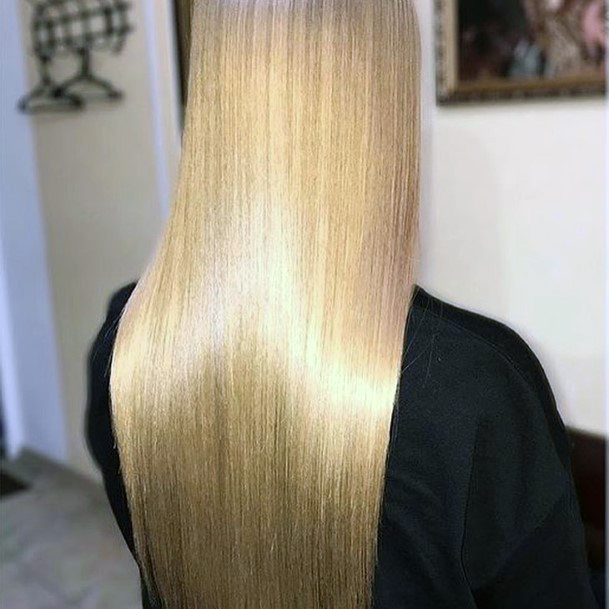 Glass hair is not just for dark tones. This blonde's lengths show how reflective hair can be with some care. The strands look like spun gold, thanks to hair gloss treatment and a great daily regimen.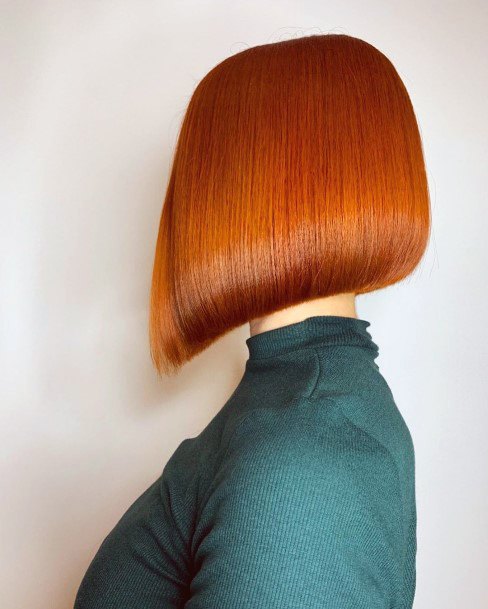 This is a great example of a glassy and glossy A-line bob worthy of any red carpet or runway! Of course, a precise cut like this requires frequent salon maintenance to keep ends in line. But the results are worth the effort.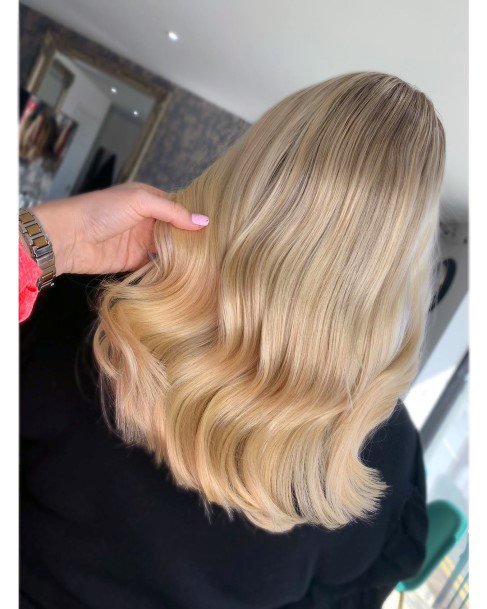 Using a rounded brush when blowing your hair out ensures strands behave for easier iron styling and a more polished result. Whatever your chosen style, you can see that hair gloss shine provides the perfect finish.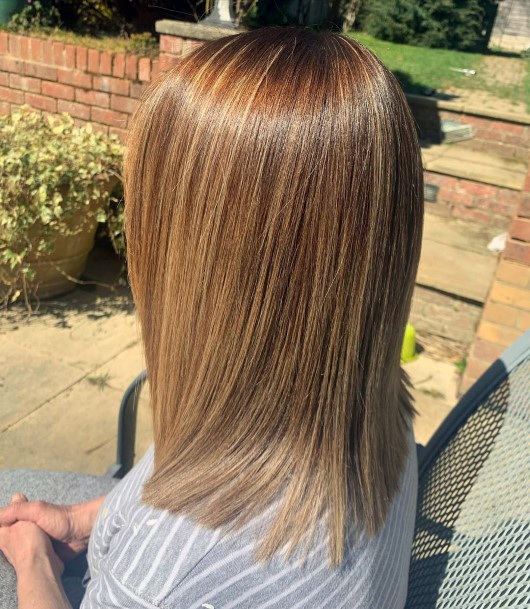 Essential for sleek styles, hair gloss helps reduce frizz. This is important when you spend minutes or even hours creating a look like this super-straight one and don't want to lose that style upon walking outside.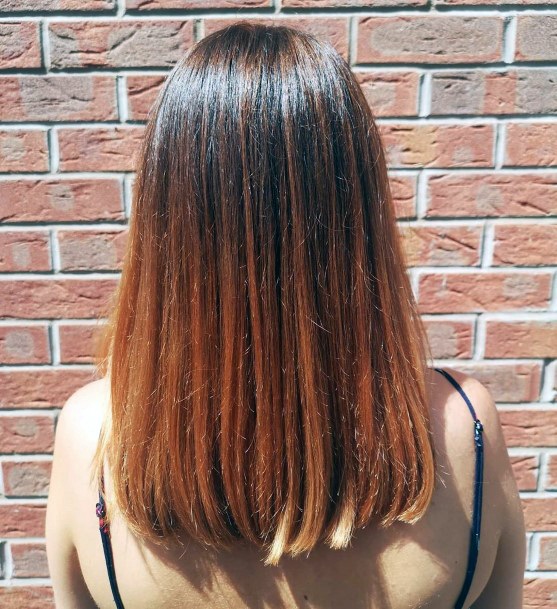 From shadow roots and through subtle color transitions, your hair looks sleek from top to tip with the help of hair gloss. For everyday wear, the gloss helps hair behave and provides classic style more easily without a lot of fuss.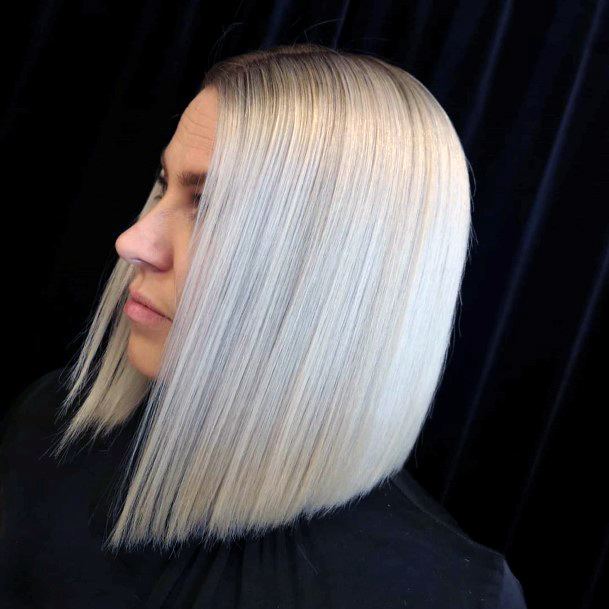 Gray is one of the hardest hair colors to style. These hairs tend to be unruly and stiff. They do not react as well to many hair solutions. But hair gloss can tame your grays while brightening your color, at the same time. Like in this example, you can again enjoy super-straight or sleek hairstyles.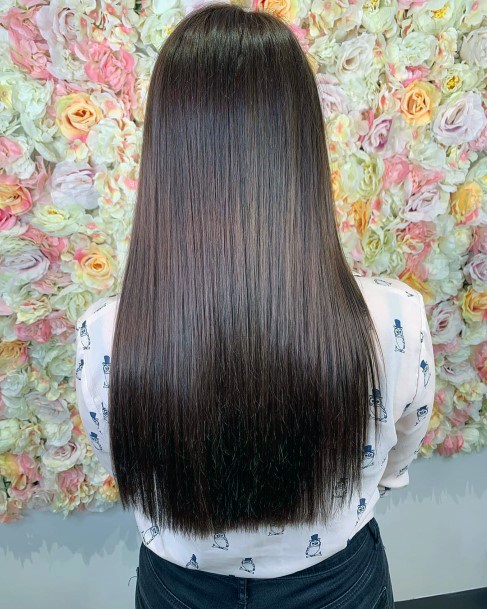 For young people not ready to permanently color their hair but wanting to bring back vibrancy and enhance their natural look, hair gloss can work wonders. Try a tinted hair gloss at your salon. This semi-permanent, subtle color lasts 4 to 6 weeks and does not damage hair.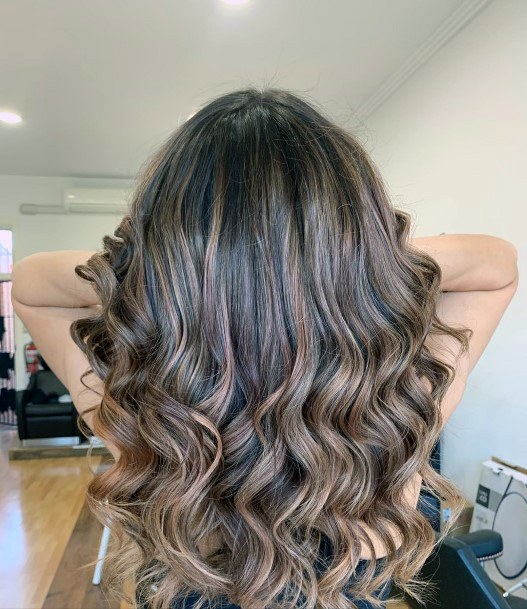 Most styles look better after professionally applied gloss, such as this dressier set of waves. From formal to the most casual and with only a little time spent in the salon, your looks can take on a more finished appeal, too.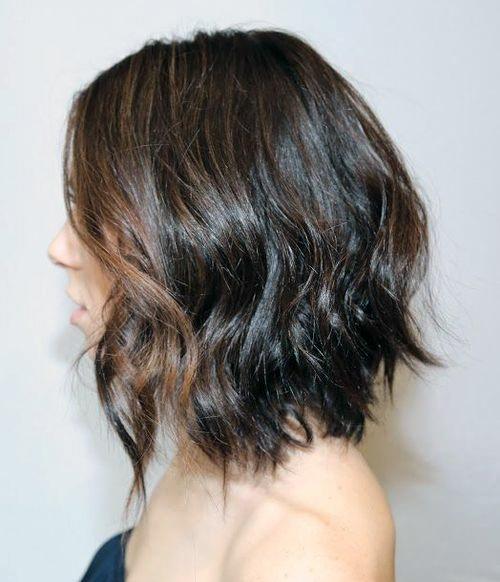 Such shine and vitality! Check out how upscale this tousled look appears, thanks to reflective shine. The next time you visit your salon, ask for hair gloss treatment to provide a glassy finish for your beach waves.