Well, you get the picture. Guys have been wearing all sorts of hand tattoos, and only recently has it become what we call the norm.
Enough about the guys, women have been wearing another style of hand tattoos that are becoming more popular by the day. These designs aren't the NBA billboards that you see on the players hands in the league, nope these are different in many ways. For one, let's take a look at how the intricate designs unfold in the mind of the creators.
Women from all walks of life deserve to feel beautiful, and a hand tattoo can definitely be an accent to that beauty. Taking what is within and giving it to the world is one way that many find inspiration for this particular design. The hand tattoo has been known to be just a tad bit on the painful side, however.
Knowing this would help anyone to understand that there are certain things to consider before going the distance. Just hooking up with some random tattoo artist isn't the move here. Think long and hard about what you want displayed on your hands, then formulate a real idea. When there is a rush to get to the finalized goal, then that is where so many of the common tattoo mistakes can happen.
So many people have regrets about their tattoo decisions and you shouldn't be one of them. The healing part of a tattoo can be tedious for some and you have to remember that when getting a hand tattoo. The focal point of any interaction will be determined by your choice of design on your hands. You don't want to scare people away from you, or maybe you do.
No matter your reasoning behind getting this tattoo, just know the importance behind it. You want to achieve your goals and dreams regardless of society's standards. Think about the effect that you want to have on people when they approach you. If you don't want them coming close then there is an interesting skull design that comes to mind. This is just an easy way to show that you can have fun with just about any design if you opt for something a little less serious!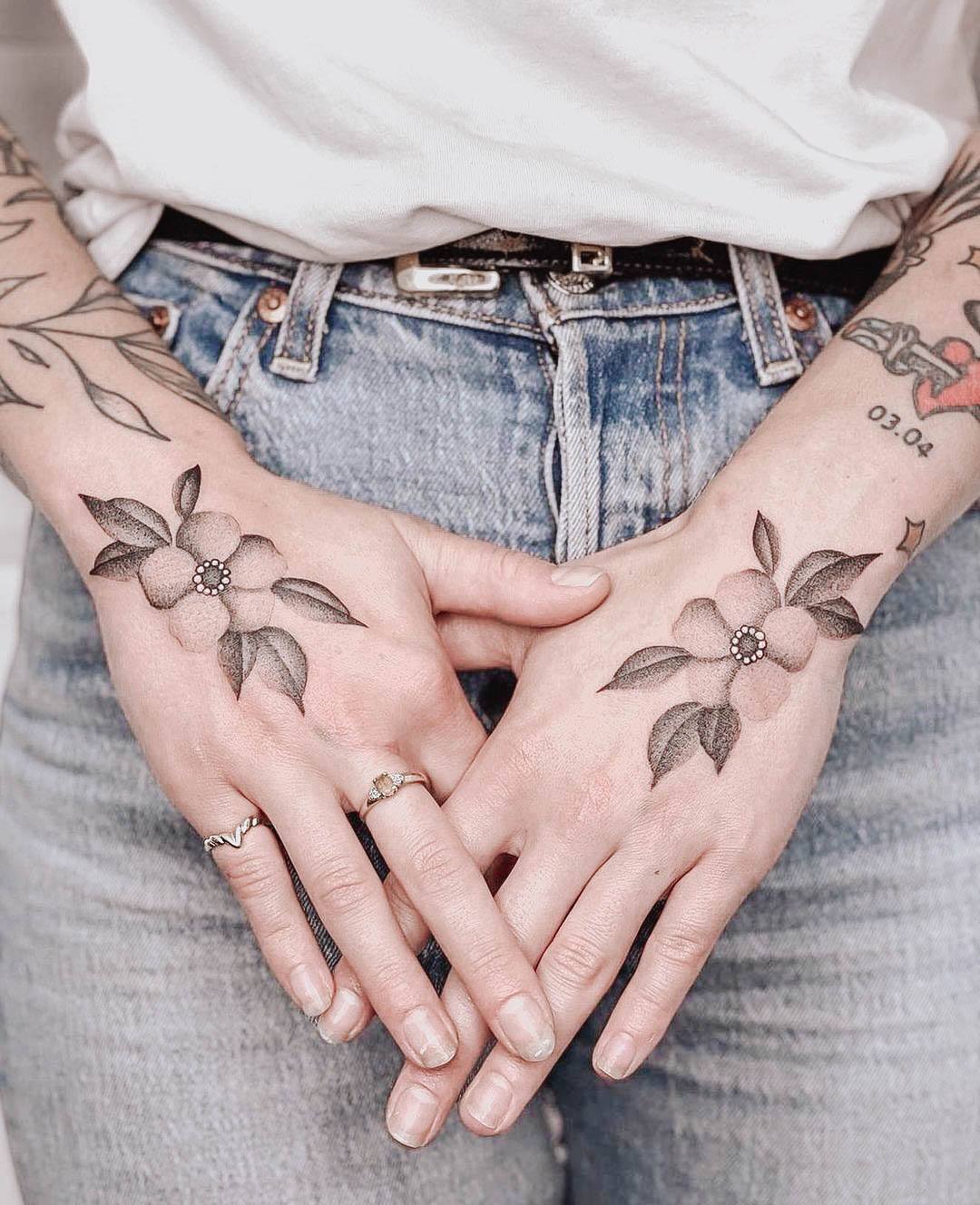 Double matching flowers offer a graceful and sophisticated charm to delicate hands. I love the soft grey ink that has been carefully shaded to form flower petals with plenty of definition. Black leaves offer plenty of contrast to make the flower and white ink seeds truly pop with wonderful beauty.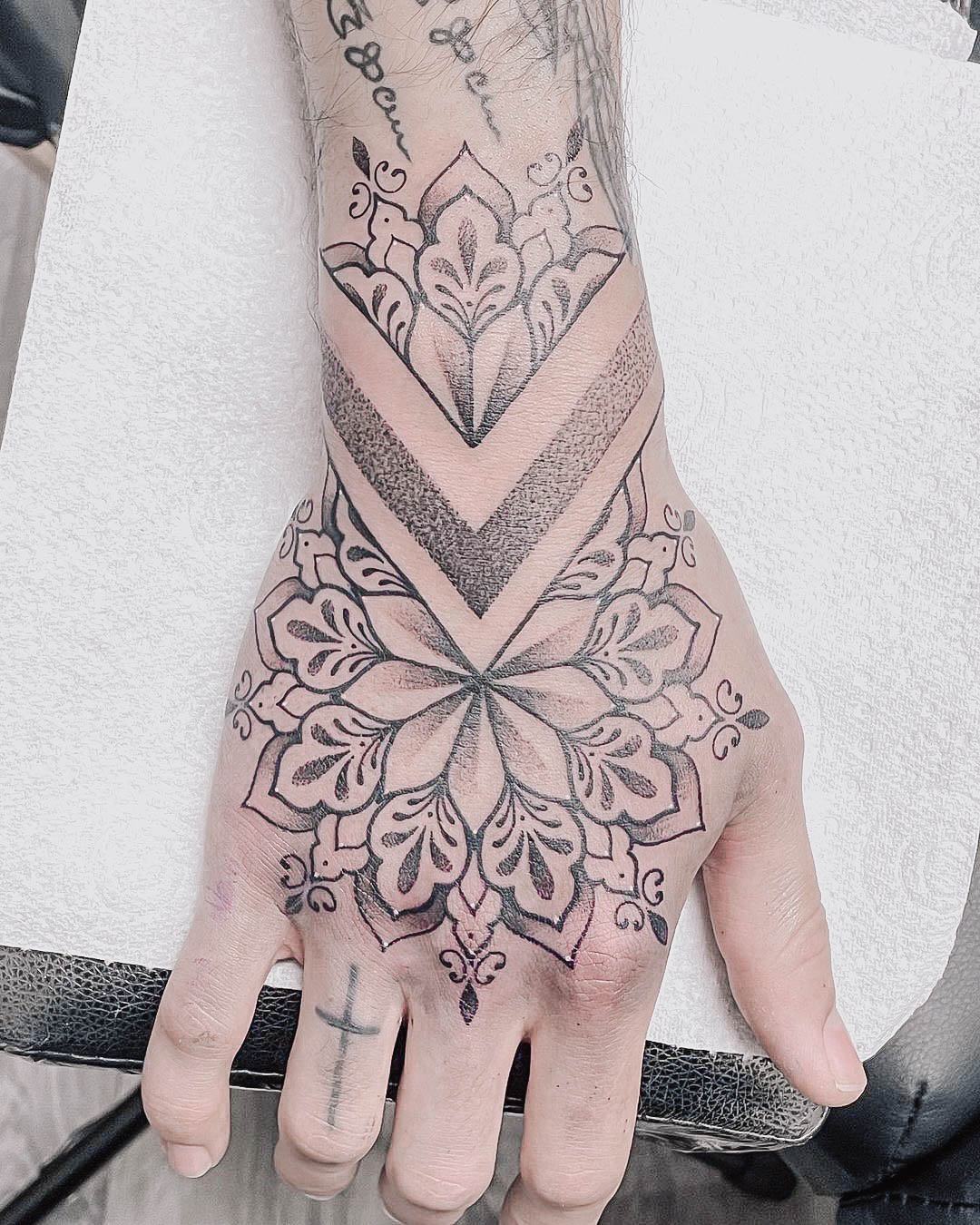 When it comes to female hand tattoos, few designs can match the striking appearance of mandala themes. Geometric and floral patterns fuse together as one artistic marvel.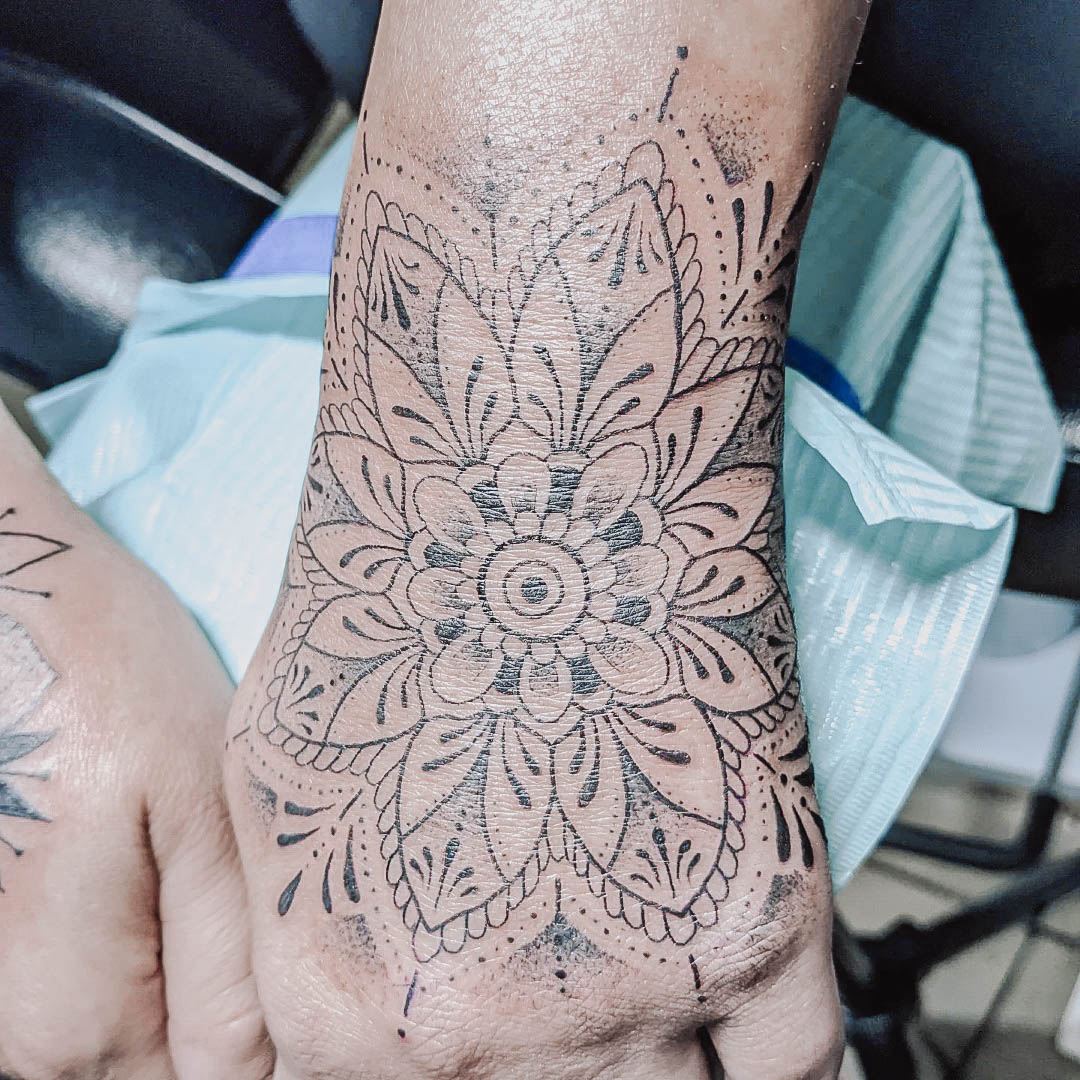 Here's another mandala themed tattoo with a heavier emphasis on a floral design. I love the ornate details that make every element of the flower appears as if it is bursting with vibrant beauty. Note the use of negative space which gives this flower plenty of depth, plus the tiny background dotwork details which give this hand tattoo plenty of charming character.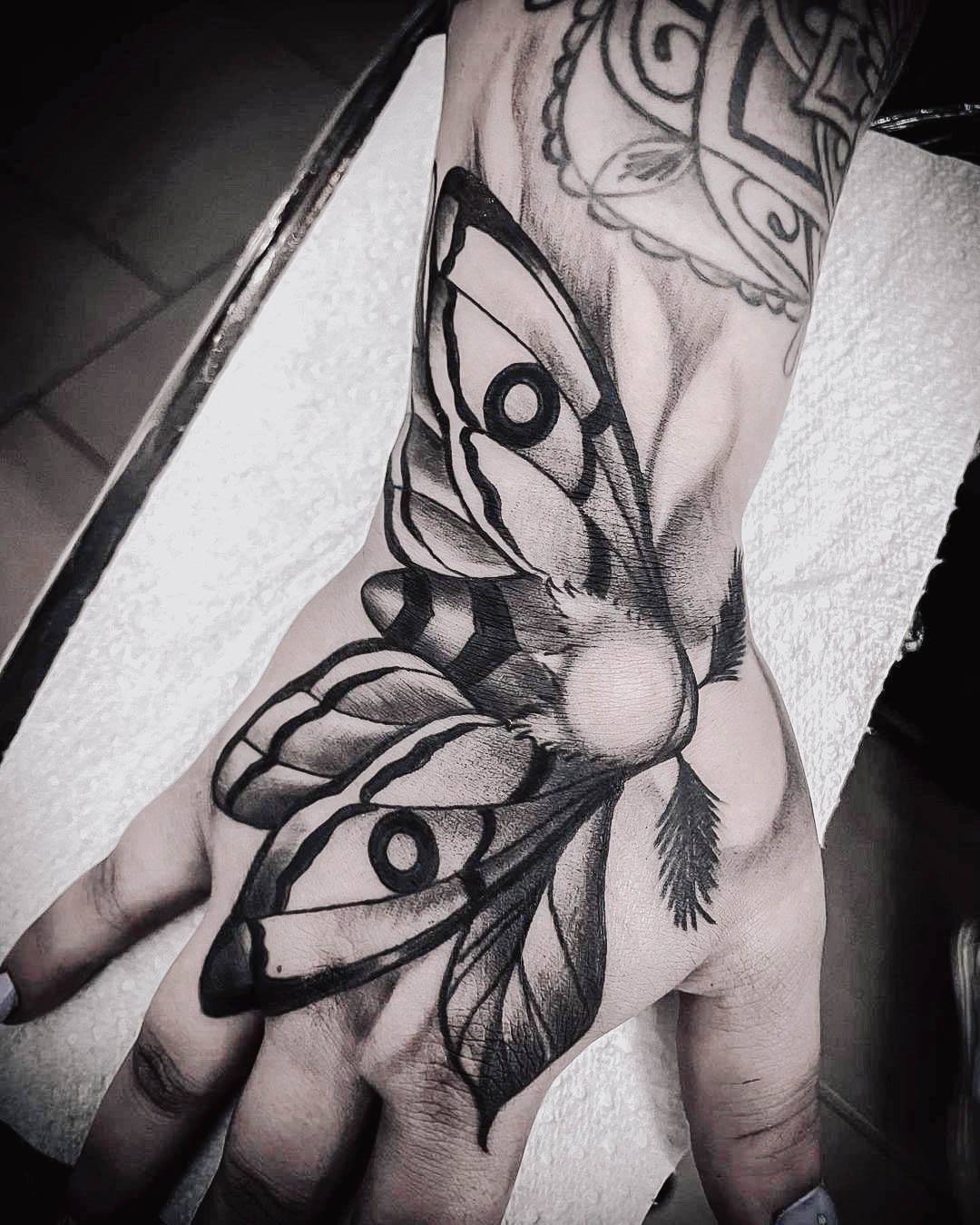 Moths have always been a popular female favorite, but when it comes to hand tattoos, the design is used far less often. Personally, I like the vertical placement of this moth which extends beyond the wrist and stops at the knuckles of the hand. Most tend to stamp the design somewhere in the middle of the hand, but this approach is more unique.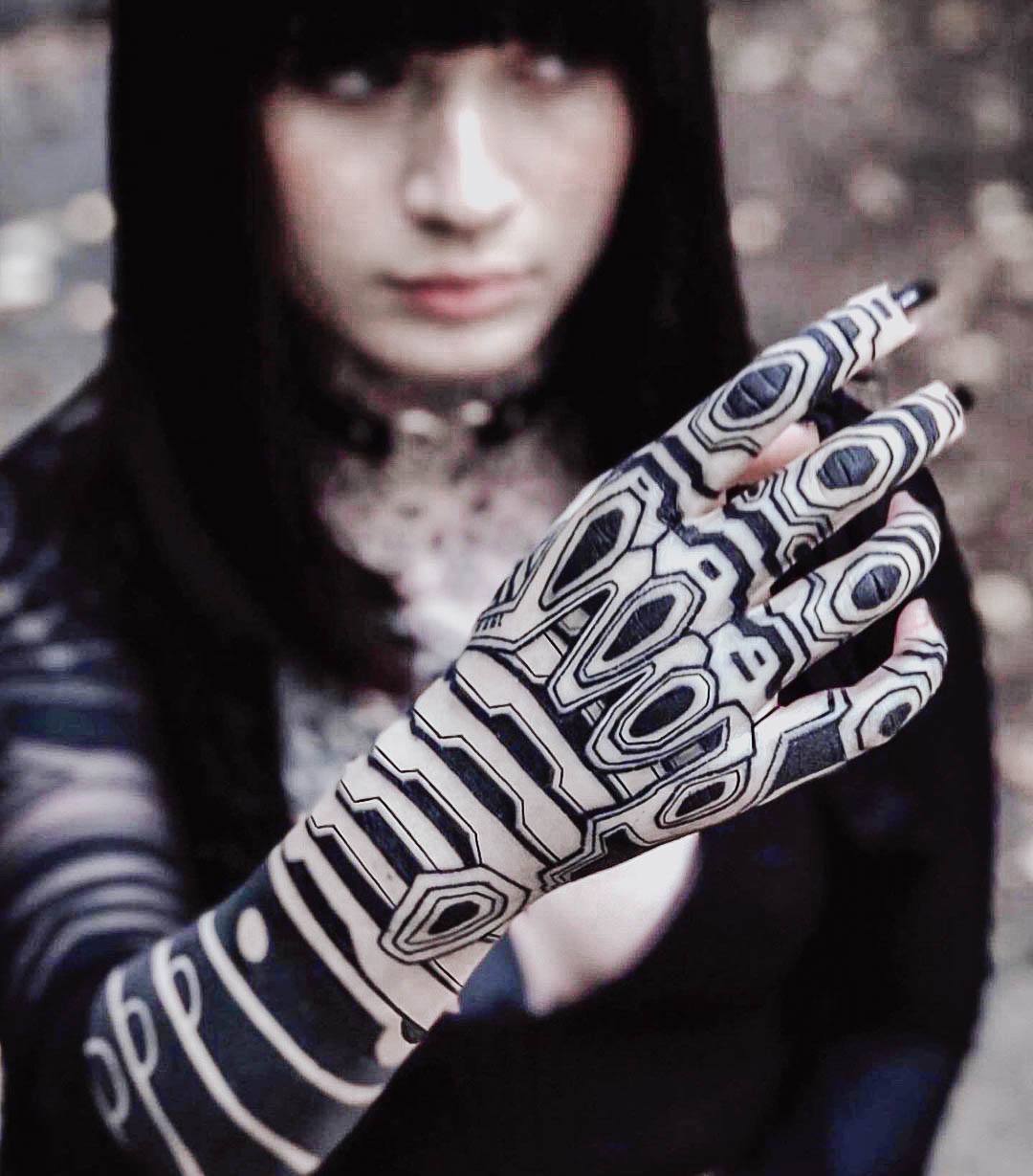 Here's one for the women out there who are brave enough to venture on the far side of creativity and artistic brilliance. This robotic sleeve and hand tattoo features a mechanical style that's simply out of this world! While not the most feminine design I've ever seen, you have to stop and admire the cool and crazy factor at play here. This women's tattoo is wild and inspiring!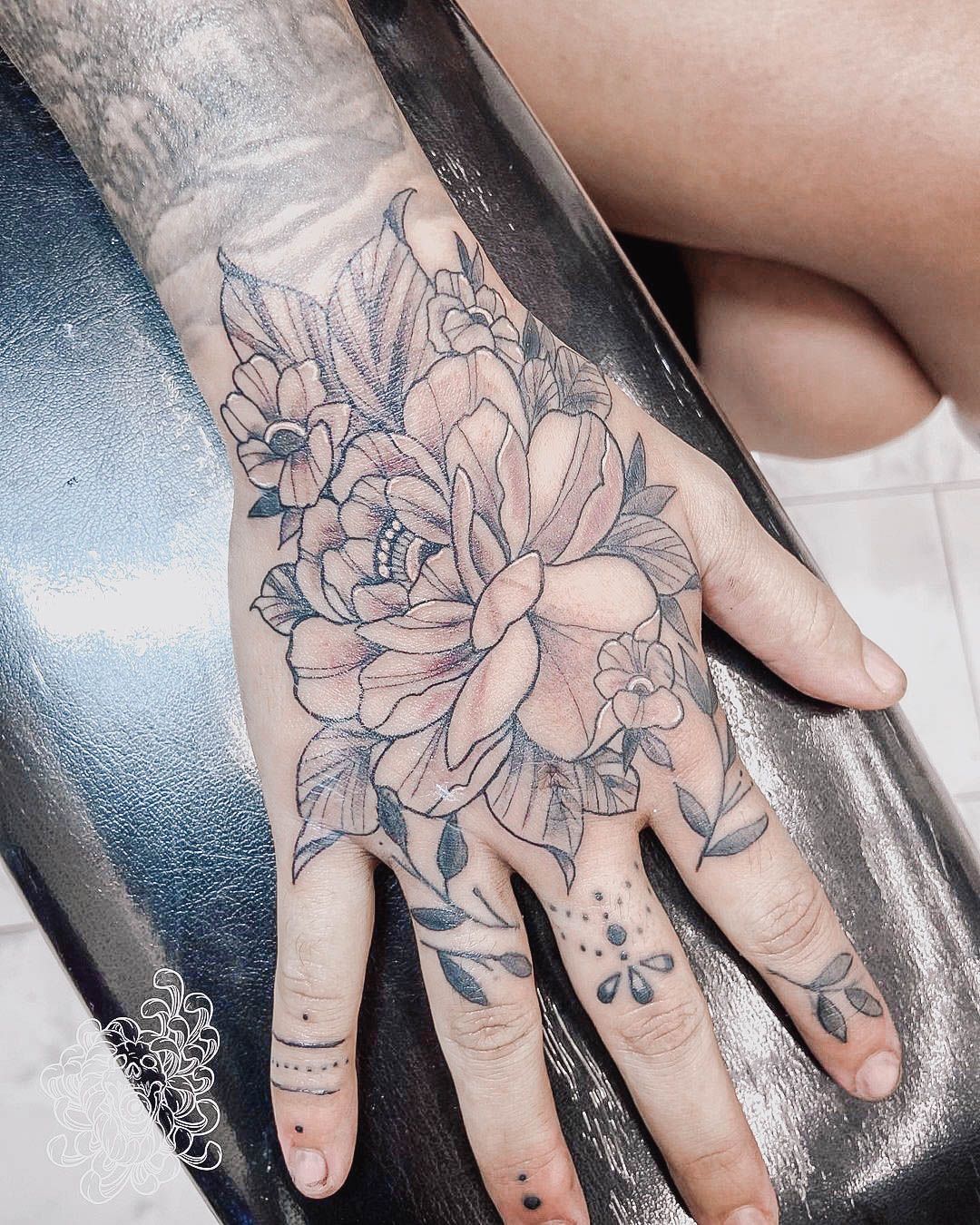 If there's one tattoo design and placement combination that I love the most, it has to be flowers that are placed on the hand. The two just go together like peanut butter and jelly; simply beautiful. Rather than sticking with just one giant bloom, they've chosen to incorporate multiple smaller flowers scattered around the background. Doing so, has created a very feminine and cute effect.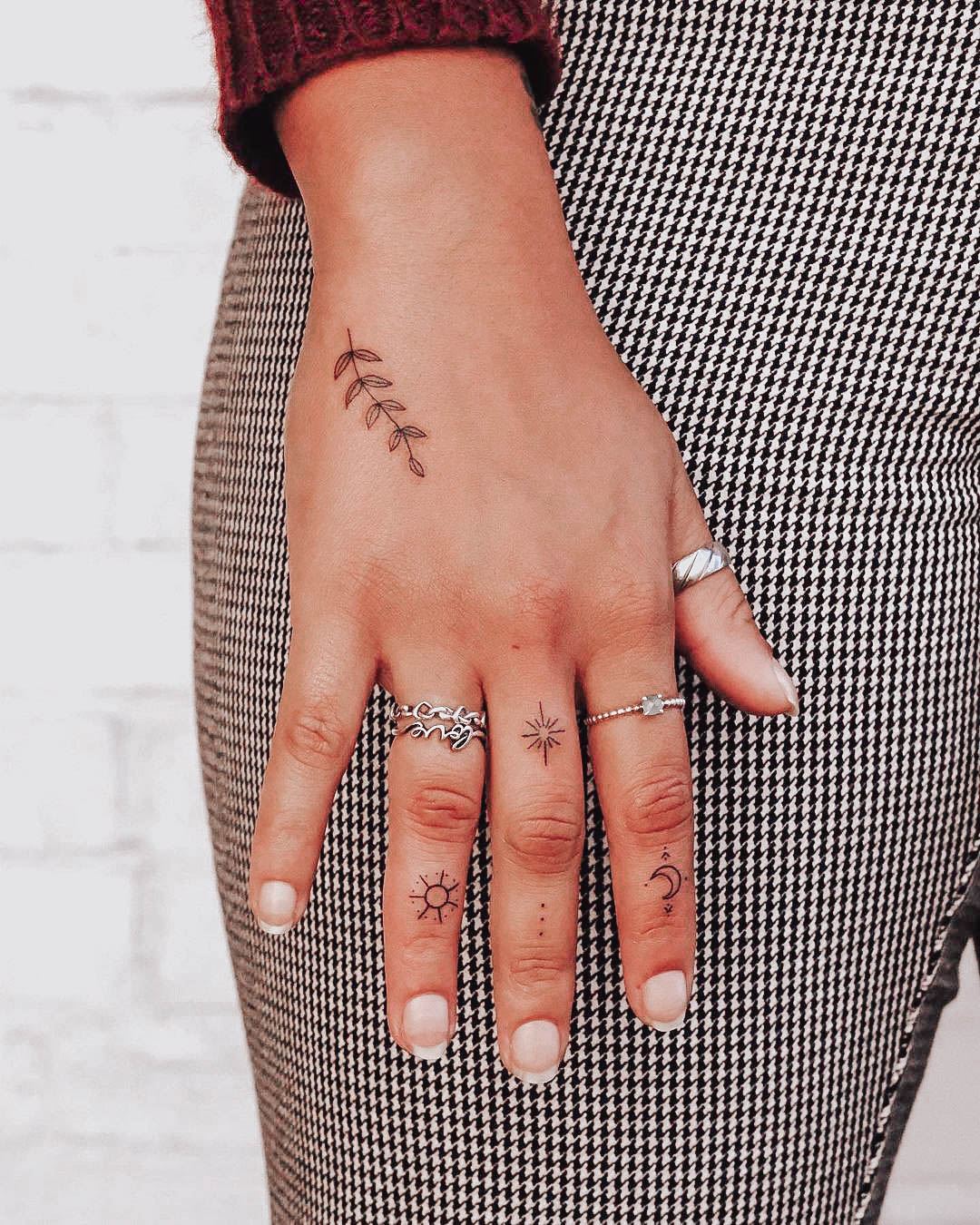 Want a hand tattoo but afraid of going too bold or entering the dreaded job stopper territory? No problem girlfriend! Check out these super cute and tiny women's hand tattoos featuring stars, the sun, moon, three dots, and a leafy branch. All are done in a basic black ink outline style which keeps things more discrete and elegant.