Headbands have been around since the time of the ancient Greeks, who wore wreaths of gold and silver.
They were also extremely popular during the 50s, 60s, and 70s from the 1950s Rockabilly style to the 1960s hippie look to the 1970s disco groove.
Today, you can get creative with the headband in a wide variety of ways. For special events, such as weddings, the bride can rock a headband of fresh flowers. You can have a florist create it, or you can do-it-yourself with the help of a DIY video, if necessary. Another fancy variety is a sparkly or beaded headband, perfect for formal occasions. For more casual looks, choose your favorite pattern and tie the material around your head with a big bow on top.
It's a fun look for everything from doing errands on the weekend to out with the girls on a Friday night. How about for the colder months? You can rock a knitted band that can also substitute a hat if it's not too cold out.
Arguably headbands look best on hair that's at least shoulder length. However, short hairstyles can rock the headband as well. There are so many different fabrics and materials and textures that you can wear as a headband, that limits on the style don't exist.
Have you wanted to wear headbands? Well, after reading this, hopefully, you've been encouraged. Check out the following headband style ideas to spark your imagination and get you ready to rock the style.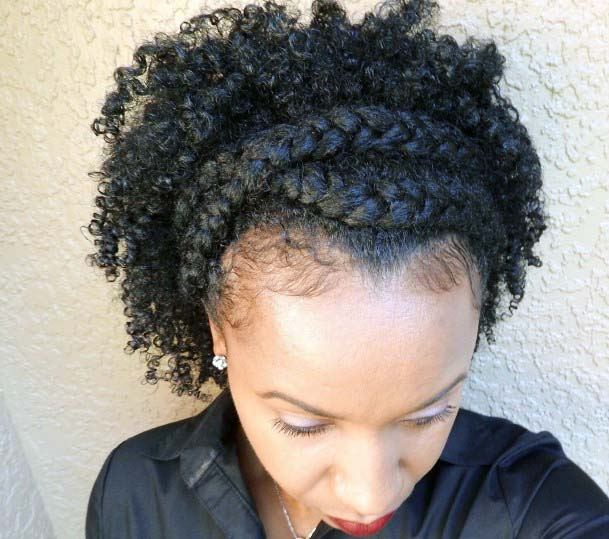 Look how gorgeous these braids are! Using your braids as a headband creates a natural and stylish look for any occasion, and it can be casual or more formal.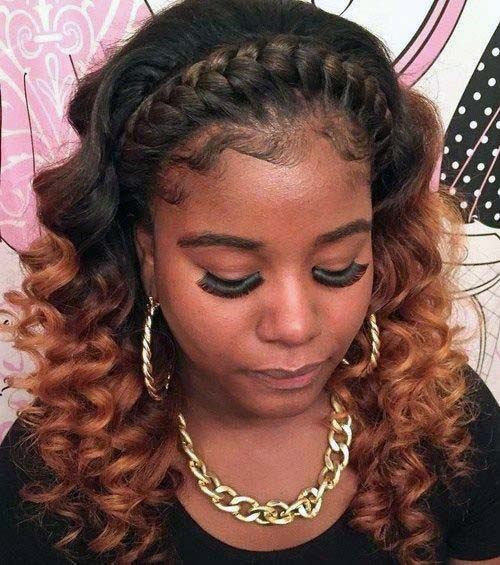 A braided headband is a great way to frame luscious beachy waves, and it is both timeless and trendy! I love how it pairs so well with her chunky jewelry.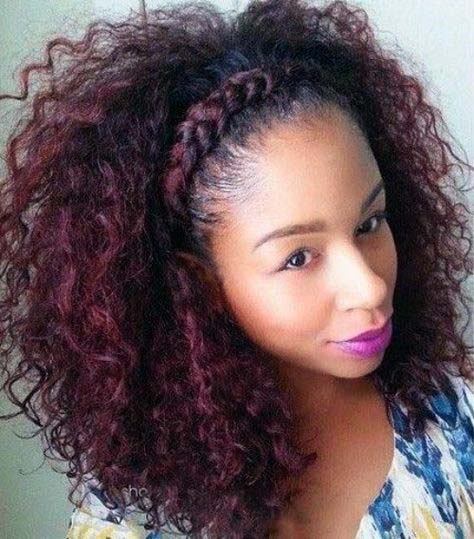 When it comes to hair with gorgeous volume, a headband braid is a great way to contrast and highlight its beauty, and as a bonus, it helps keep it out of your face.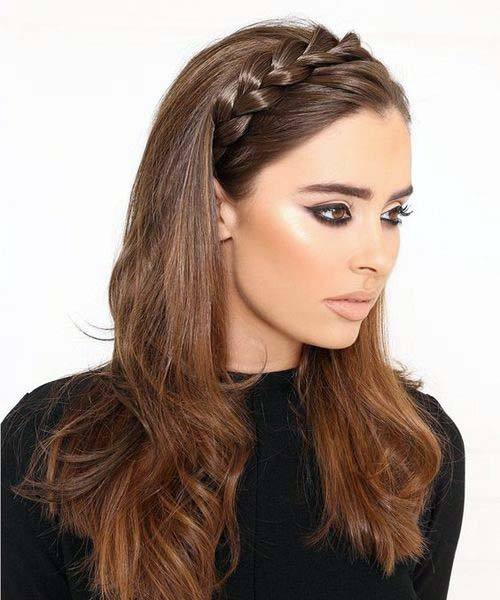 A sleek 'do can be brought to a whole new level with a braid headband. It adds an extra touch of grace, and it gives the charming look of braided locks with the convenience of a headband!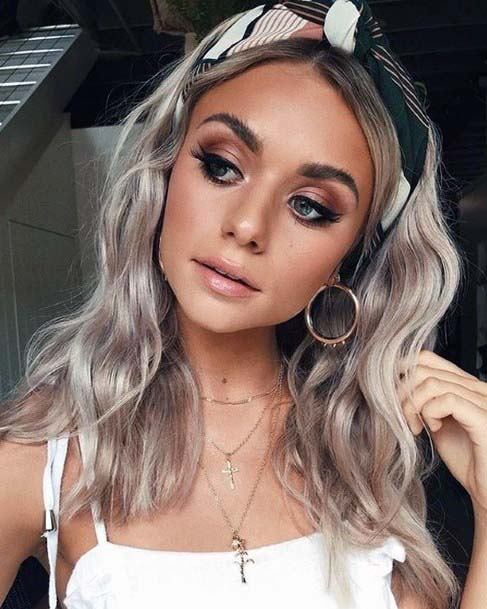 A topknot headband in a pretty color or pattern can spruce up your everyday casual outfits, and I love that you can match them to your earrings.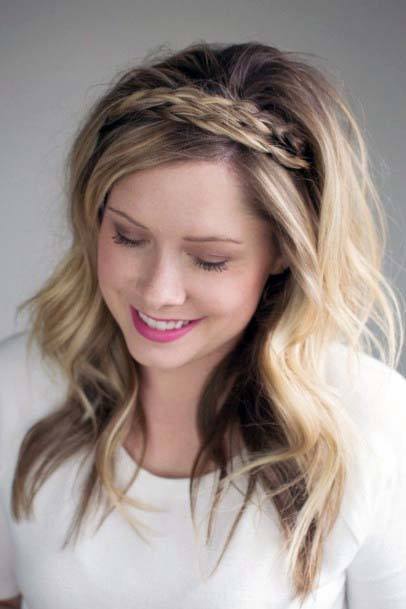 There is just something about a headband braid paired with a neutral sweater that says "effortlessly classy." It is a great go-to look for cozy days with friends or for an afternoon out and about.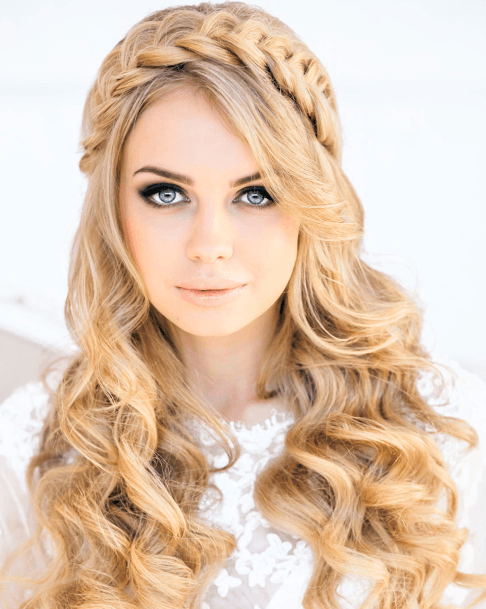 Long, wavy hair paired with a headband is a lovely look, and the boho elegance of a thick braid headband is stunning and versatile. It is graceful, free spirited, and lovely.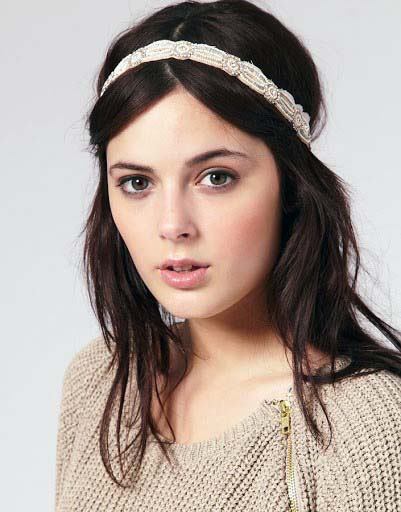 An elegantly stitched headband adds a cohesive touch to your ensemble when you coordinate colors. Whether it's a sweet, mild white or a bolder color, the effect is both stunning and stylish.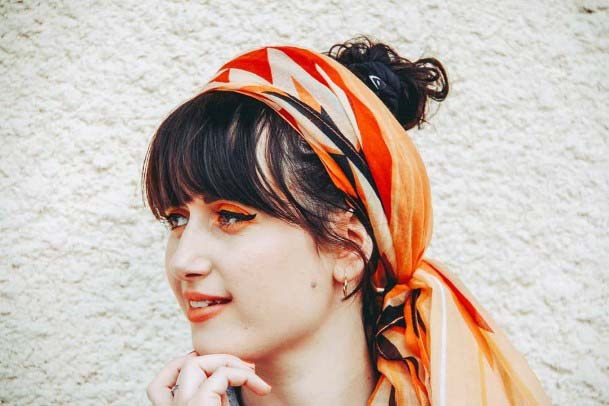 A scarf-style headband is a bold and beautiful statement, and it goes really well with a simple bun. Use a boldly-patterned one, and you can pair it with minimalist jewelry and let it be the star of the show.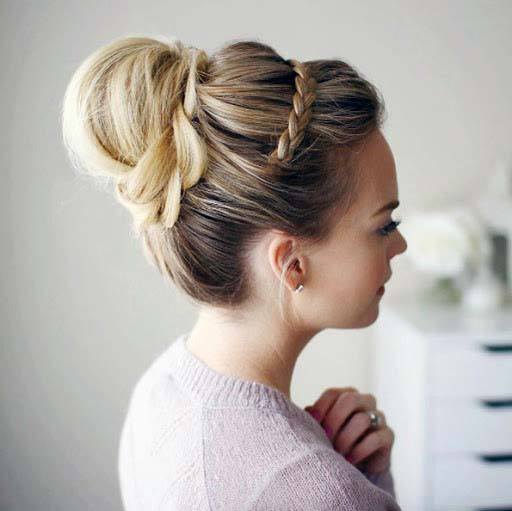 A thin braid headband goes so well with an intricate updo. It cuts down the time it takes to get ready, without compromising on the finished result.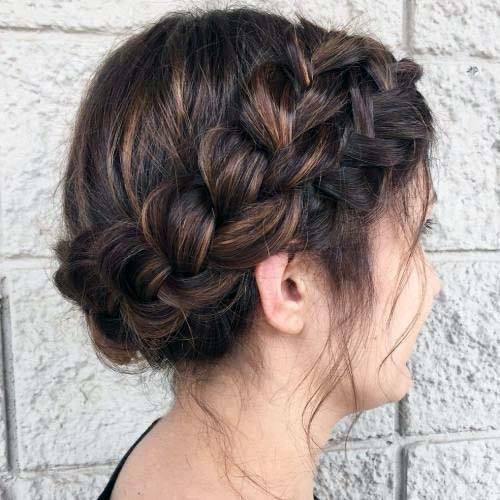 The completely-tucked-in aesthetic goes so well with a thick, wrapped braid headband. It adds visual interest to a more minimal style, and to top it off, it is simply gorgeous!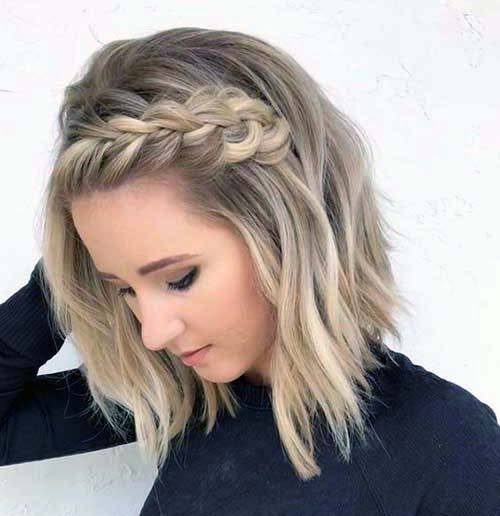 A shorter cut gets a lift from the partial-headband braid, keeping it casual but sophisticated. This is such a cute hairdo, and it goes beautifully with nearly any outfit.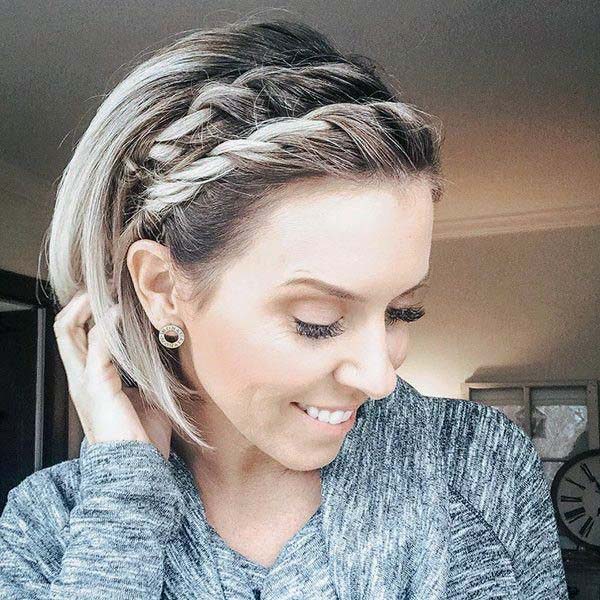 The double braid acts not just as a headband – it also adds an unexpected dimension to an otherwise simple look. It works well with both long hair and short hair as well.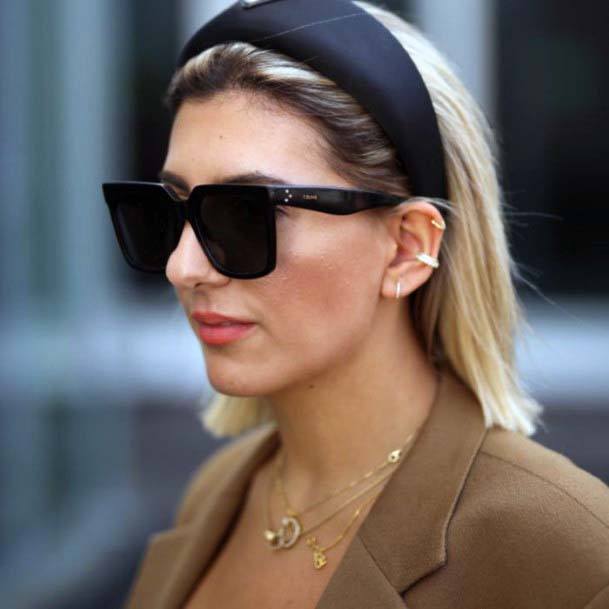 A classic, thick black headband is so simple and understated, yet it brings a boldness of its own. I love how it pairs with her sunglasses, tying the look together.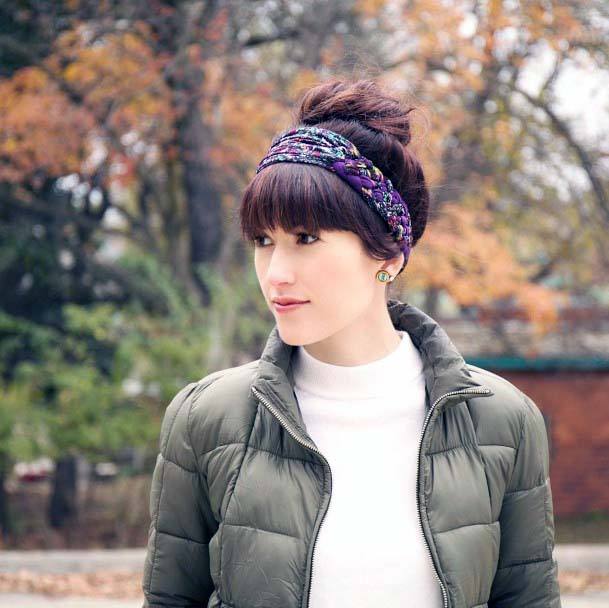 Braided cloth headbands have such an innocent, playful side to them, and they can give you the feel of hair braids while taking your look in an entirely new direction.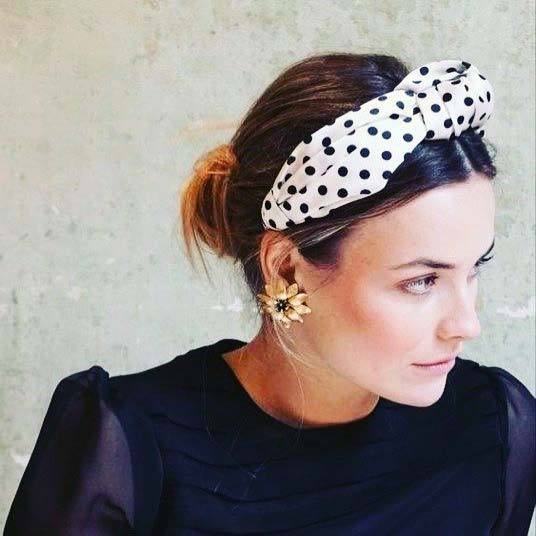 I love how her headband compliments her flower earrings! A headband is such a versatile accessory, and you can pair pretty headbands with your favorite pieces of jewelry for a stylish, effortlessly put-together look.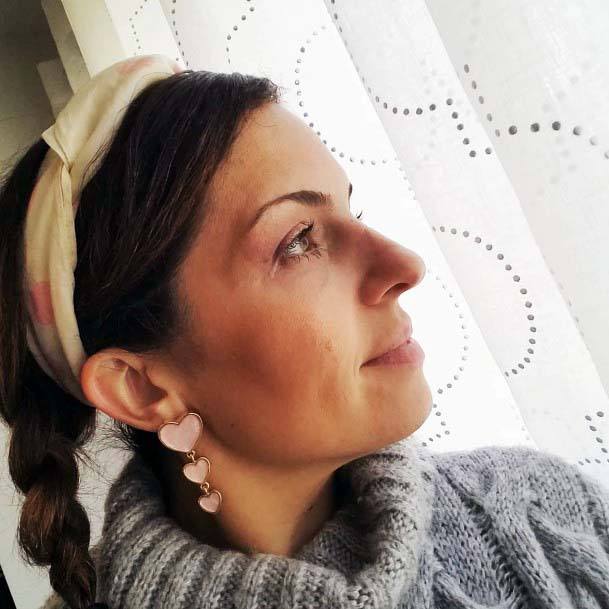 Cloth headbands help create a cute, soft look, and the sky's the limit when it comes to color and patterns. It can be as bright or as neutral as you desire!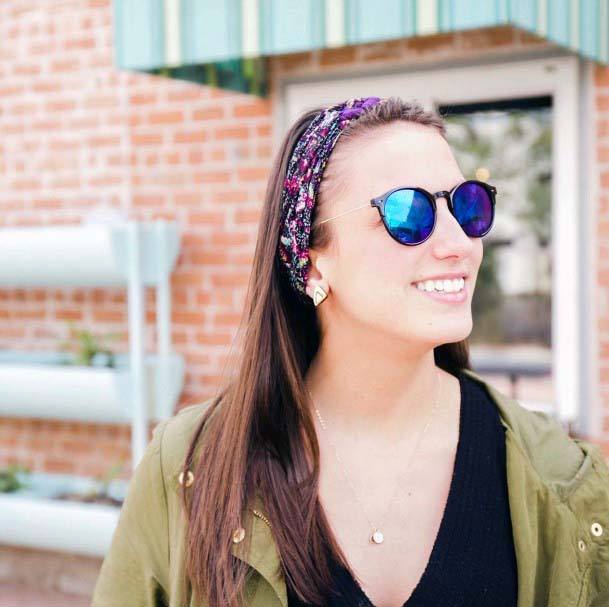 The wonderful thing about a pretty, flowery headband is that you can do your hair in a few minutes and be out the door, ready for whatever unexpected adventure is calling you.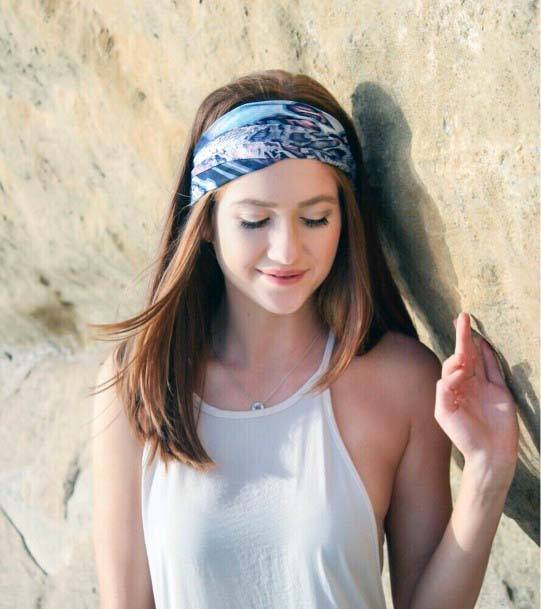 If you find yourself needing a way to extend your hair in between washes, a wide, stretchy headband can be worn lower on your forehead, covering any oiliness you may have. It's pretty even if you just washed your hair, too!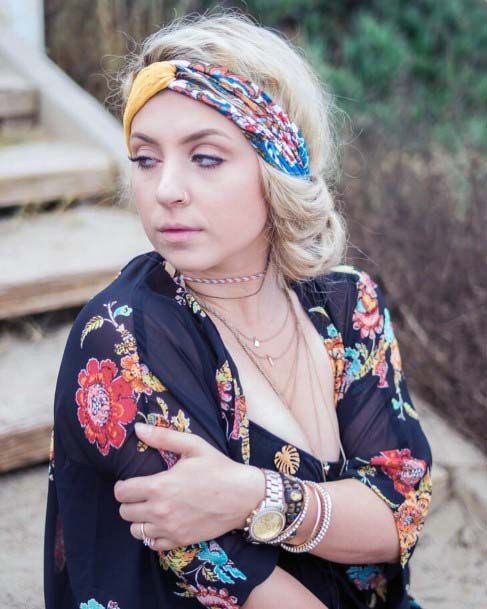 A fun floral pattern can spice up any outfit, and it can be fun to wear your hair up in a loose bun or twist to balance the look. Summer, anyone?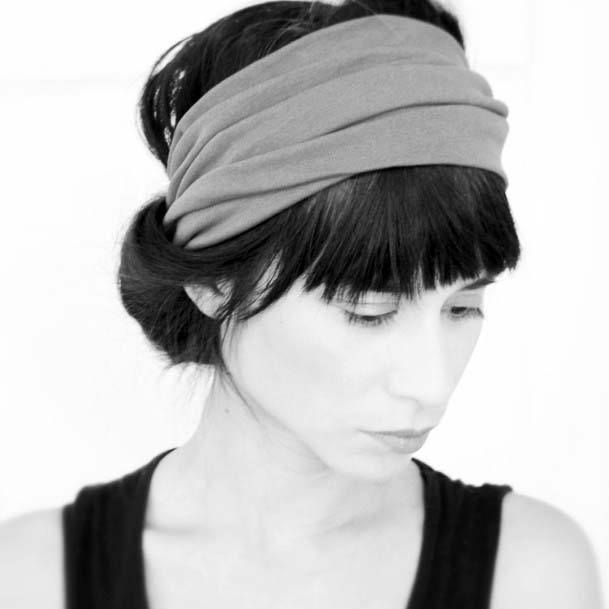 Some women shy away from headbands if they have bangs, but there is no need to! A headband is actually a great way to frame your face and show off those amazing bangs.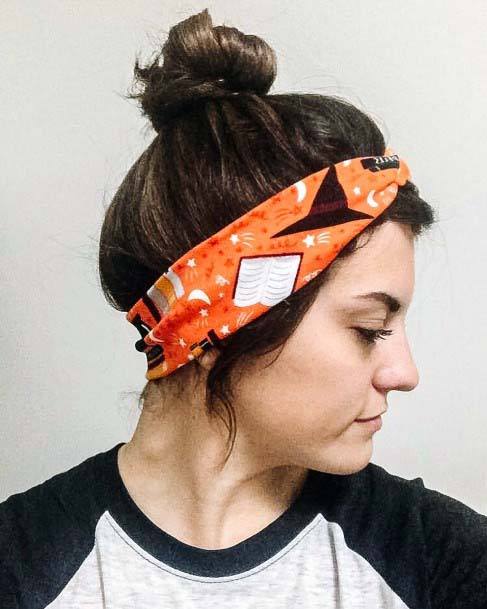 This high bun looks bewitching with a bold, colorful headband, and it is a great way to show off your personal style to the world. Your fashion sense is something special, so why not show it off?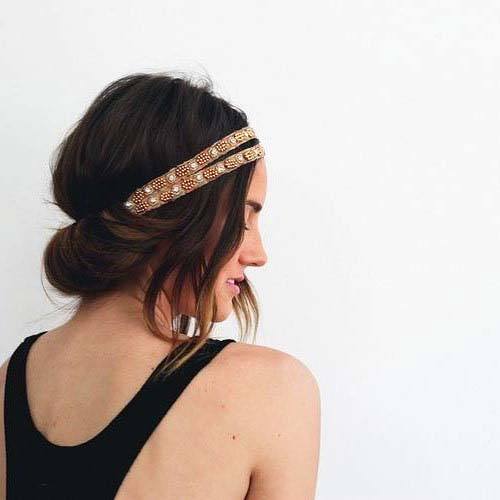 This beaded headband gives off such charming flapper girl vibes, and the way her hair is twisting into the band is lovely. This is a look that can be dressed up or down, so it is beautifully versatile.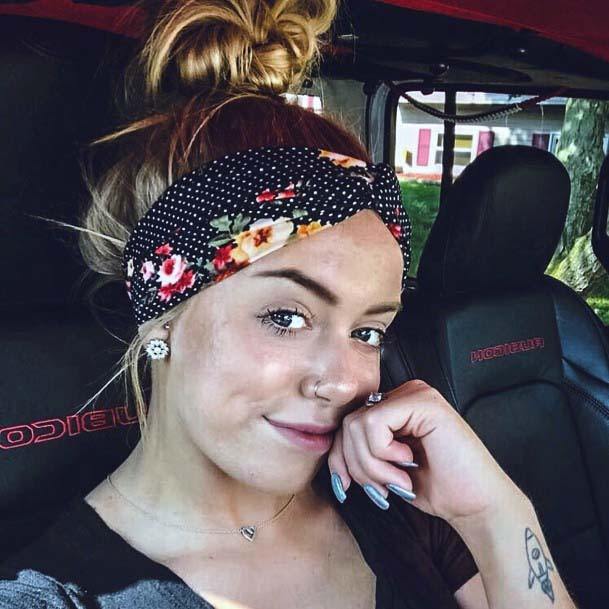 One great thing about cloth headbands is that they are so comfortable, you might forget that you're wearing one! You can spend the whole day running errands or spending time with friends in comfort and style.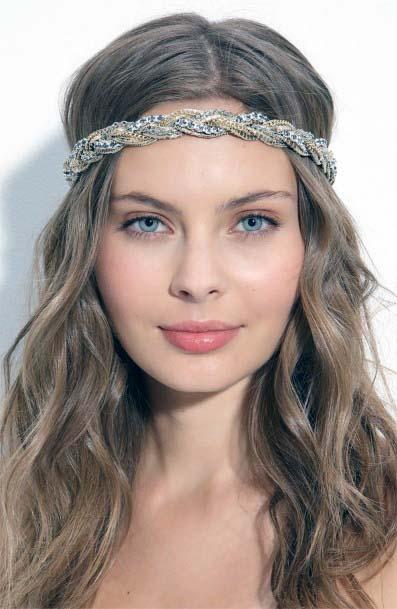 Some headbands are meant to be worn lower on your head, and the effect is both playful and regal. It's gorgeous – and it just might make you feel like a queen.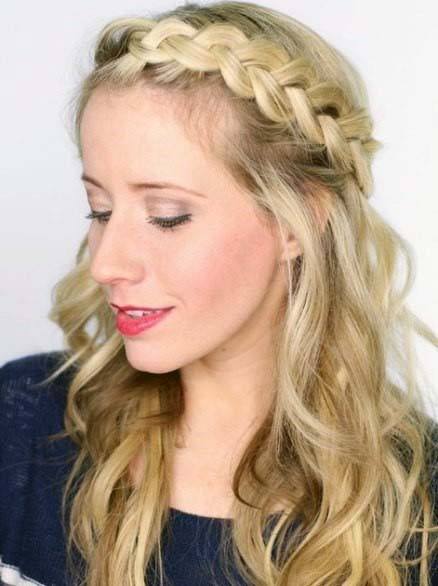 High crown braids are lovely, and are appropriate for nearly any occasion. Whether you need a new go-to hairdo for work or for more special occasions, this is an elegant look.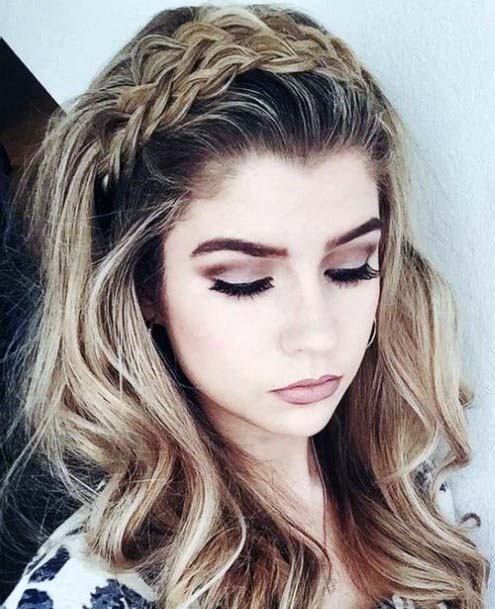 Look how gorgeous this style is! The braid creates a looser band on top, allowing her waves to lay naturally. If you want a relaxed but elegant look, this is a winner.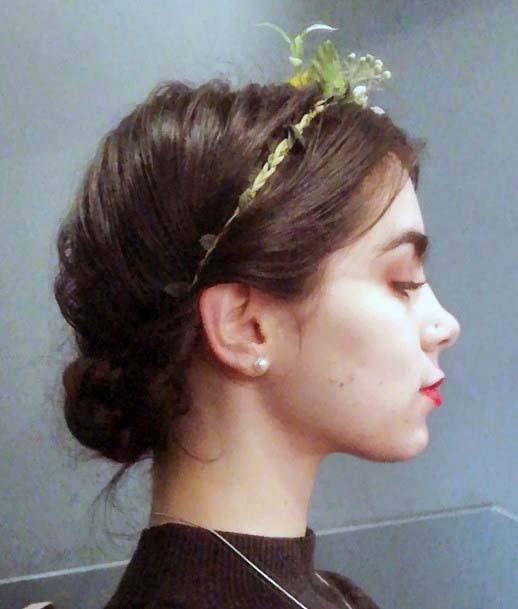 A thin headband wound with flowers adds an ethereal touch to her updo, and the effect is just the cutest! This is a great springtime look, but it can be worn into the summer, too.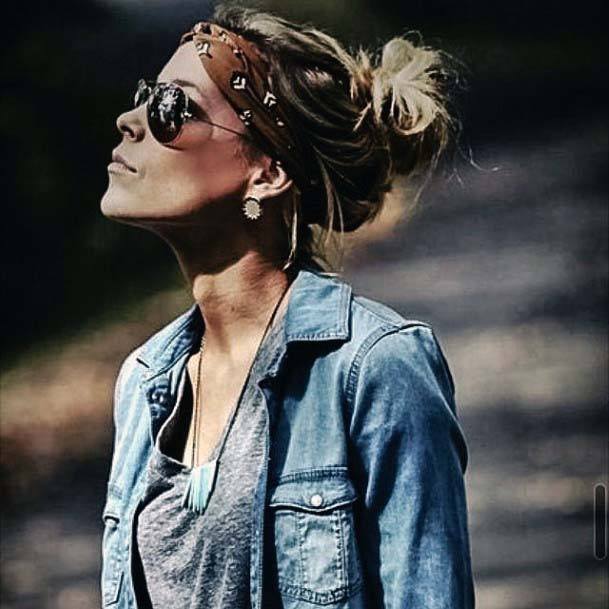 A stretchy cloth headband can help you achieve the messy bun you have been striving for! It lends a casual grace that works for the ins and outs of daily life.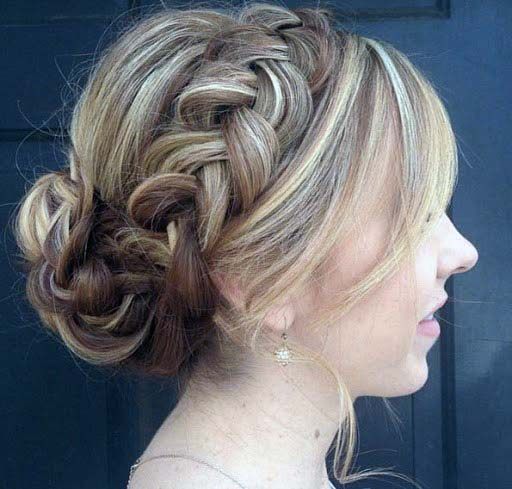 This braided bun hairdo is only made more beautiful by the braided band holding the look together. This style can be dressed up for the most formal of occasions.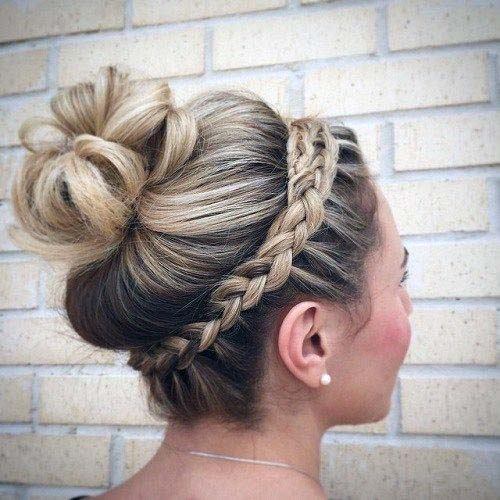 A high curly bun is cute under any circumstance, but when you add a braid that goes all the way around, it takes it to a whole new level of cuteness!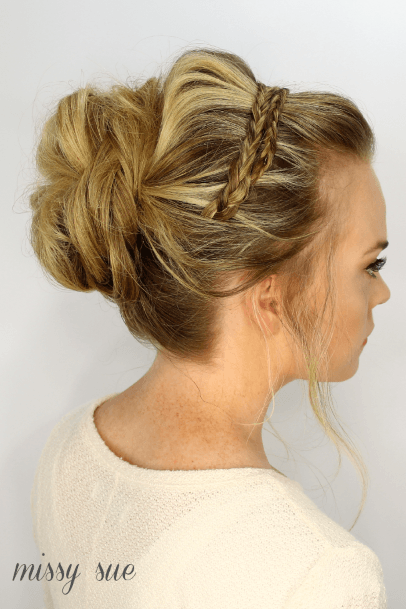 The grace that the two thin braids add to this lovely style is truly something special. It is not only timeless, it is also incredibly chic and sophisticated.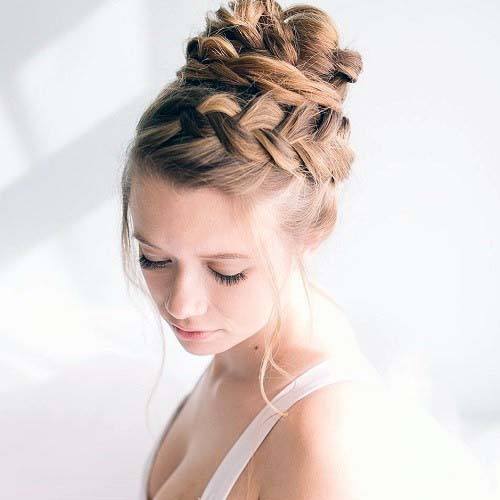 If you want a look that uplifts and is perfect for a dressy occasion, an updo that starts as a braided headband and winds into a beautifully braided bun is a classy and versatile style.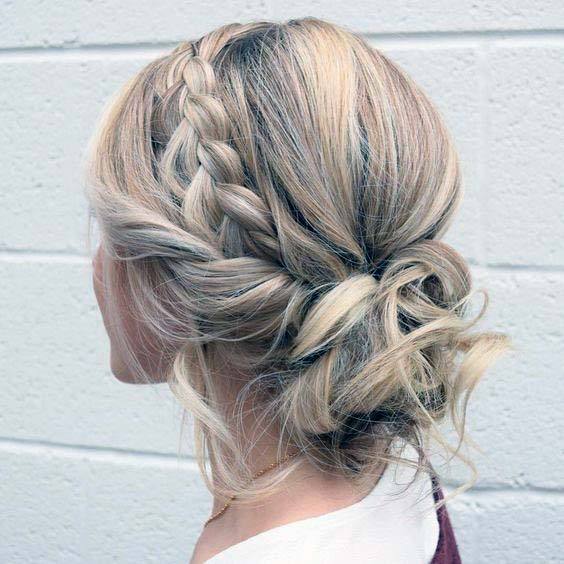 Headband-style braids work well with the intentionally messy low bun, and it is elegant and relaxed at the same time! You can't go wrong with this lovely look.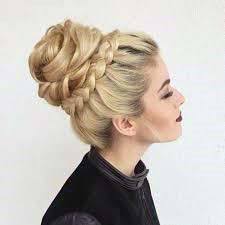 The braid-headband style can be worn many ways. One fun way it can be worn is around a voluminous bun, and the effect is stunning and versatile.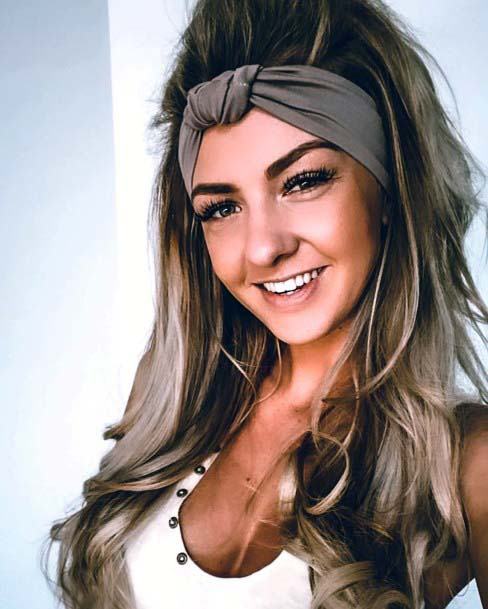 Soft, stretchy headbands lend a playful element to a casual, everyday look, and you can spice it up with patterns or bold colors if you so desire. Your go-to look doesn't have to be mundane!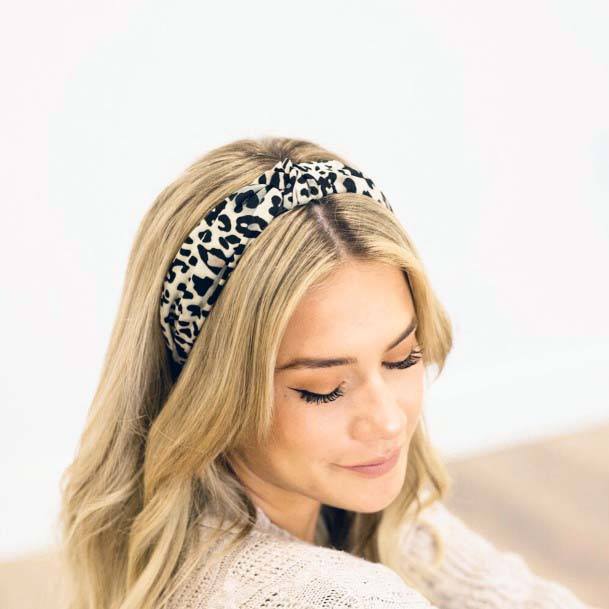 Whether you are a leopard print fan or not, you can't deny how cute this look is! A bold pattern pairs beautifully with a solid-color sweater or tee, and it is an effortlessly pretty pairing.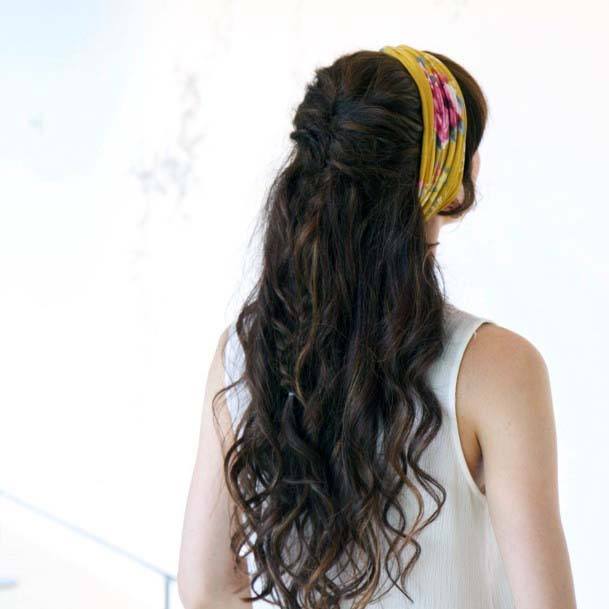 For women with luscious, long locks, a wide headband can pull hair away from the face and showcase its beauty from the back. You can get creative and braid it a bit if you like, too!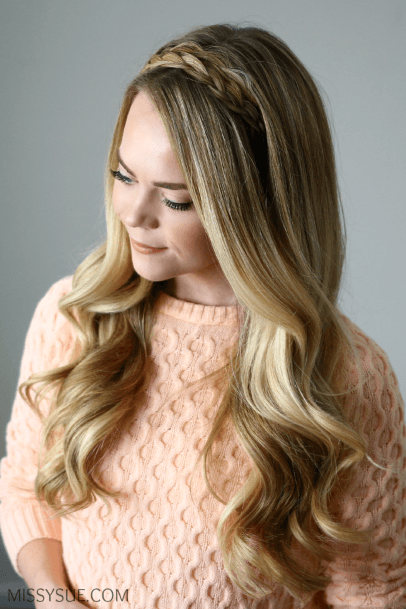 These long, perfect waves are only made more stunning by the understated braid band atop her head. It adds a little something to the look, without being distracting.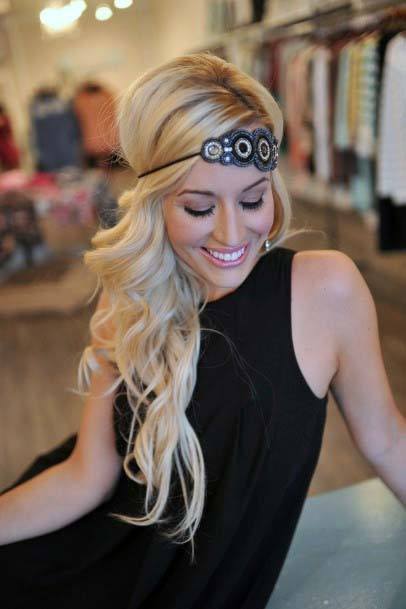 This striking band turns a pretty, sedate style into a showstopper! It takes a simple black dress and makes a stunning ensemble that is fit for a special occasion.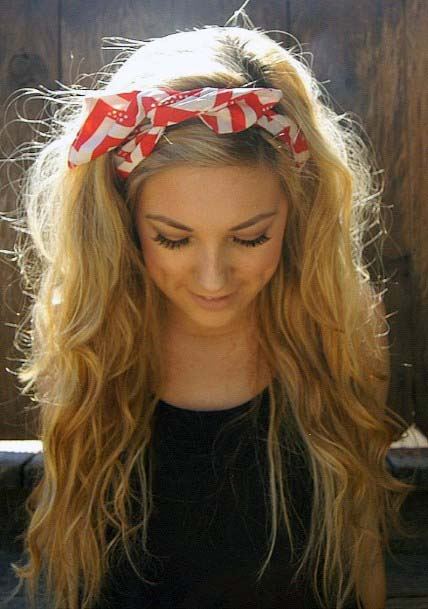 This tie-cloth headband is so summery and cute, and it helps keep your beautiful hair back. I love how playful and practical this look is – it adds freshness and fun.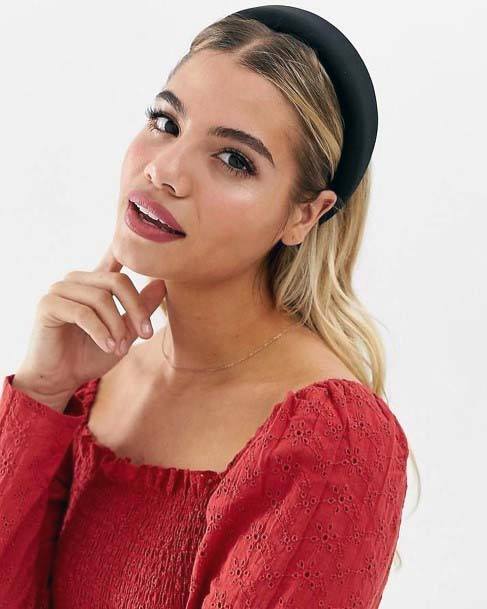 A thick, solid-color headband like this black one is a great go-to accessory. It pairs beautifully with so many colors and outfits, and it is an easy way to tie your look together.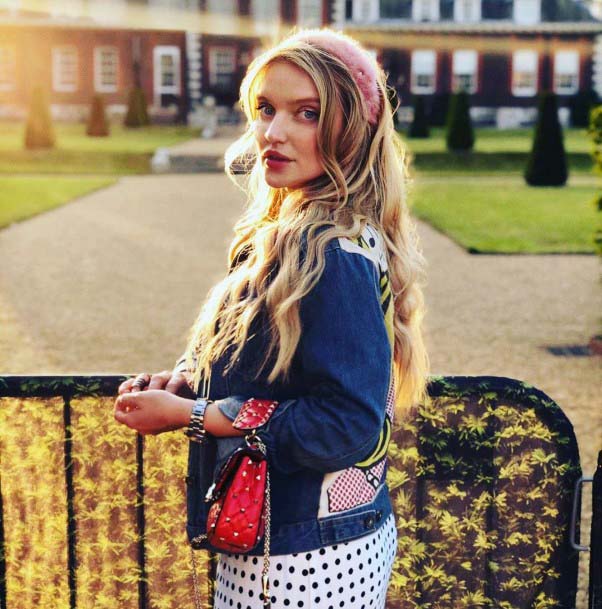 No one can resist this fluffy headband! Talk about playful. It pairs so well with a jean jacket and long, flowing hair, but the possibilities are endless.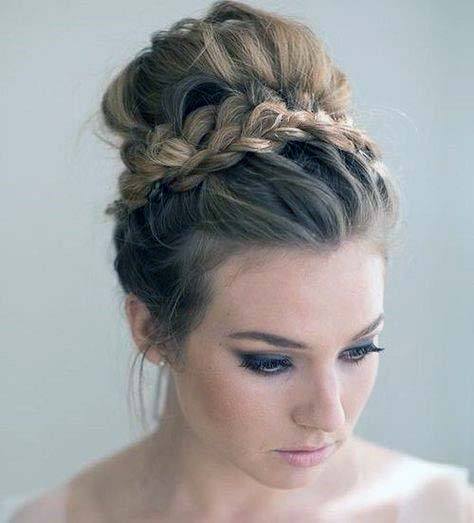 This lovely wrapped braid is so whimsical. It takes a regular bun and makes it the star of the show. Classiness and elegance – the perfect combination for a special event.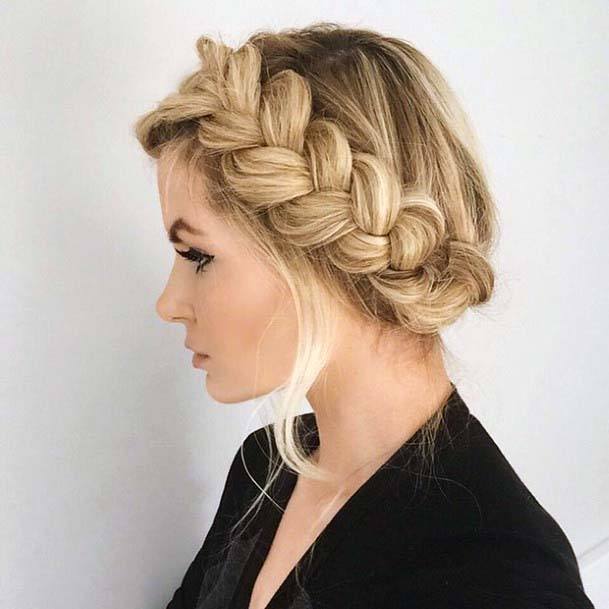 The thick braid band, the wispy tendrils, the slightly loose hold…so gorgeous! This is a classic and timeless look that you can wear to work or for a weekend night out.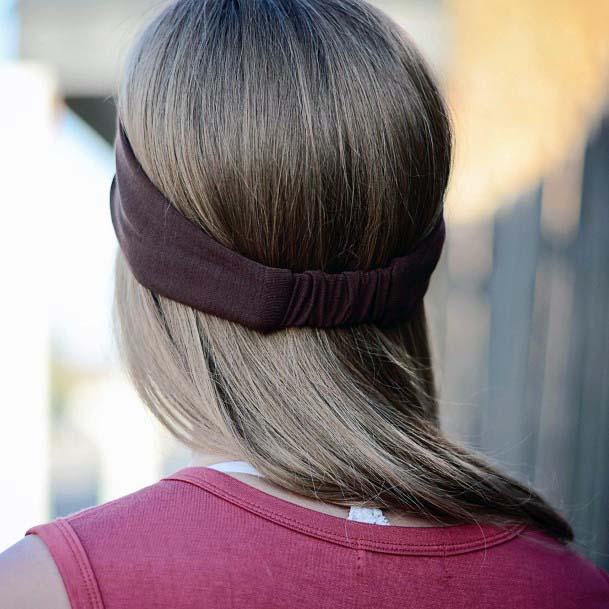 An extra stretchy headband offers extra comfort without compromising on your own bold style. Here's the truth: You should not have to settle for one when you can have both!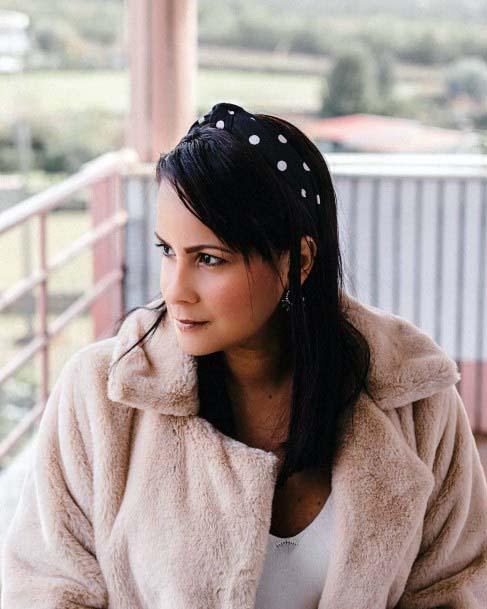 A black-and-white polka dotted headband is not only charming, it goes with more than you'd think. You can add it to your rotation to incorporate some classic charm into your wardrobe.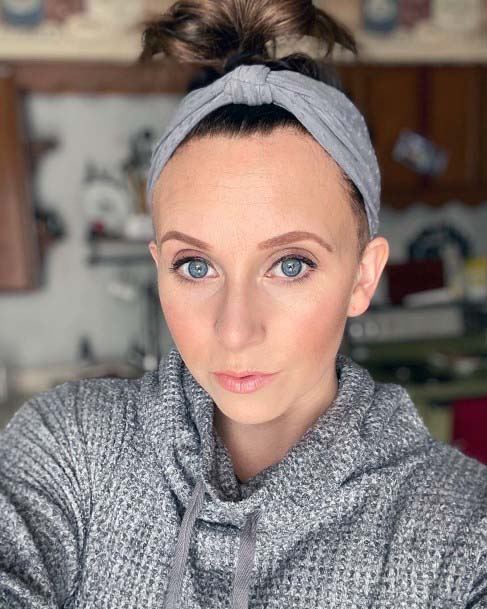 I love how this simple gray cloth headband makes her casual outfit special! You don't have to be headed somewhere fancy to wear a topknot headband, and it makes everyday casual more interesting.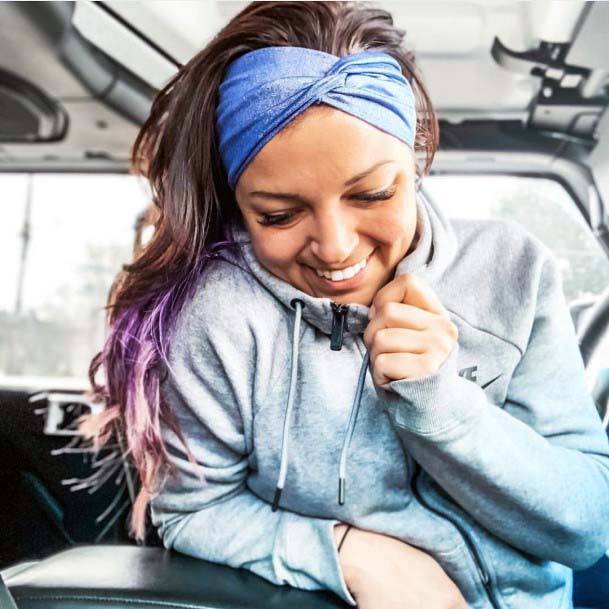 Headbands can be sporty, too! A stretchy cloth headband can help keep your locks out of your eyes and help you accomplish whatever the day has in store for you.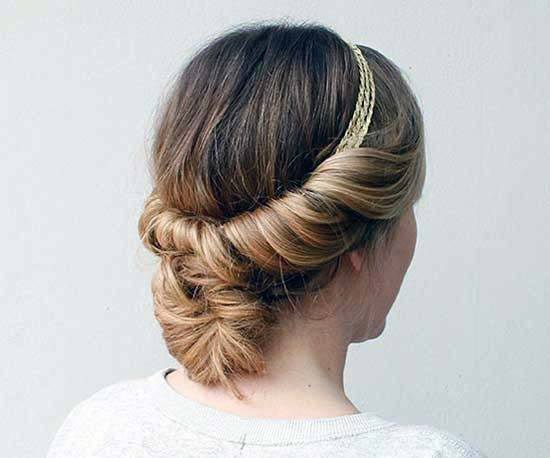 This gorgeous hairstyle gives off Greco-Roman vibes, and I love the delicate gold braiding in the band. Such soft beauty and regal elegance, all from a simple gold braided headband!