Worldwide adoration for the animated series is so great that Hello Kitty tattoos have been popular for a long time.
Although Hello Kitty's appearance is typical and rarely changes, many people have infused their style into the tattoo designs.
There are many Hello Kitty tattoo designs to pick from, whether you're fascinated with the cat's adorable appearance or there's a tattoo meaning that speaks to you.
Hello Kitty is a well-known cartoon character born and reared in Japan, commonly referred to as Kiti-chan. Japanese culture uses it as a literal representation of "cuteness."
The kitten has ruled the globe since her creation in 1974. And now, the adorable character is beloved everywhere.
Hello, Kitty is frequently thought of as a cartoon character for kids. The animation serves as a metaphor for friendliness, charm, and sweetness. She effortlessly embodies the purity, vitality, and joy that most people identify with in childhood just by looking at her face.
Since the cat has such a sweet appearance, many people associate Hello Kitty with love and kindness. Additionally, many think that the character's lack of a mouth represents speaking from the heart.
Hello, Kitty naturally features a round, blank face with a few whiskers on either side. She also has basic black eyes and an oval, yellow nose. The cat is most notable for wearing her signature accessory—a red bow—over her left ear.
And as we previously noted, since the kitty's fundamental appearance is constant, it's usual for people to utilize the character as a blank canvas so they may add their distinctive touch to the design.
Because of Hello Kitty's straightforward style, it's incredibly simple to embellish the image and customize your tattoo.
Hello Kitty tattoo design idea inspiration:

Popular Hello Kitty characters:

You'll also find a full list of all the cartoon characters at the bottom.

– Hello Kitty
– Pompompurin
– Badtz-Maru
– Little Twin Stars
– Cinnamoroll
– My Melody
– Sanrio
– Kuromi
– Gudetama
– Tuxedosa
– Pochacco

General design inspiration:

– Japanese Bobtail cats
– Red bows
– Yellow bows
– Kawaii
– Manga comic themes
– Donut Pond
– Omoiyari star
– Almond pound cake
– Kuromi's 5
– Café Cinnamon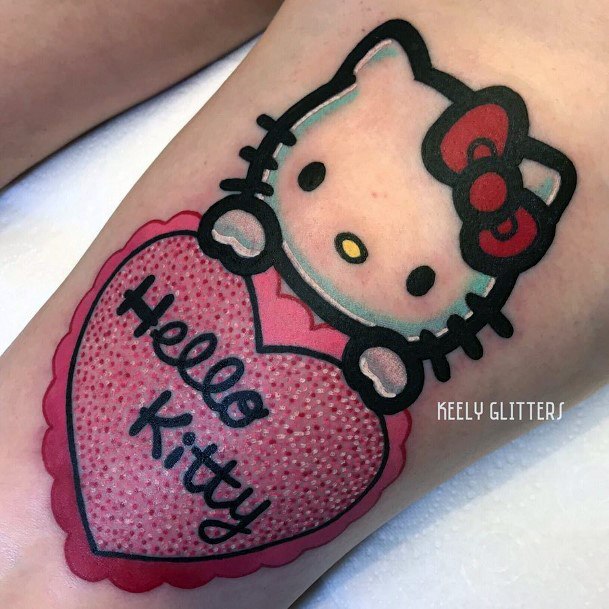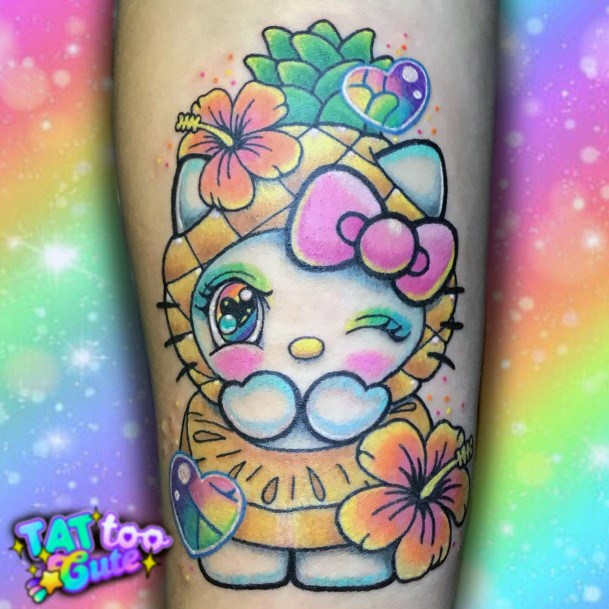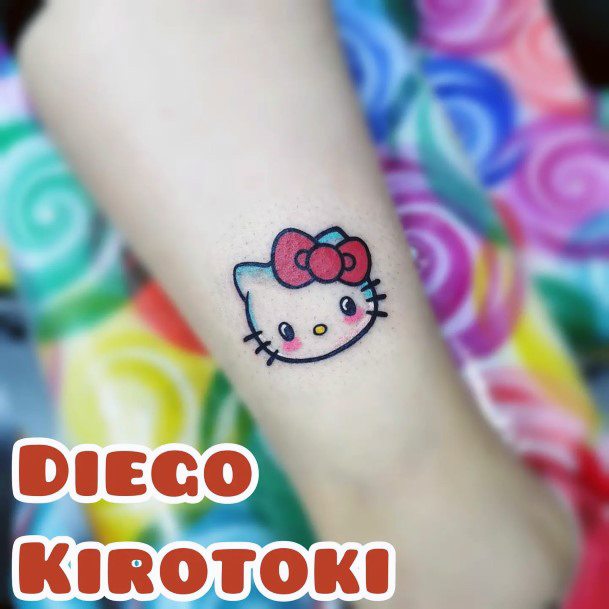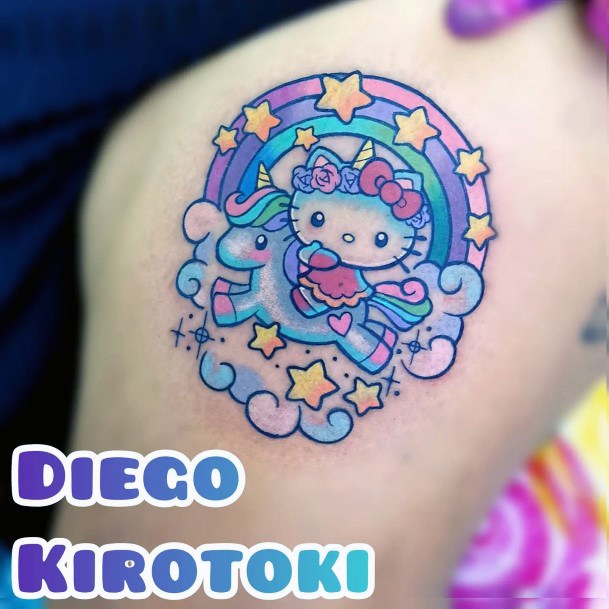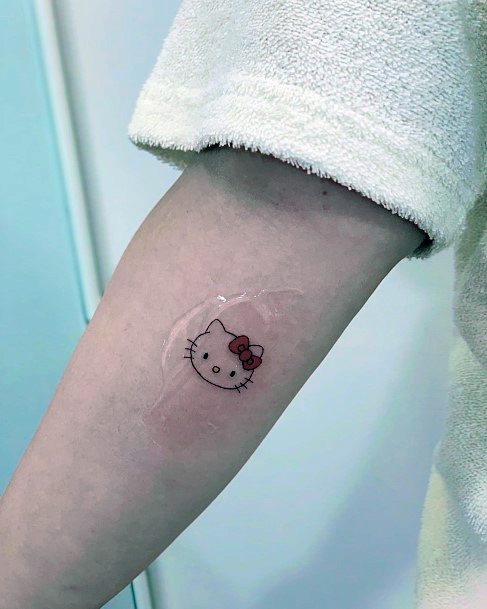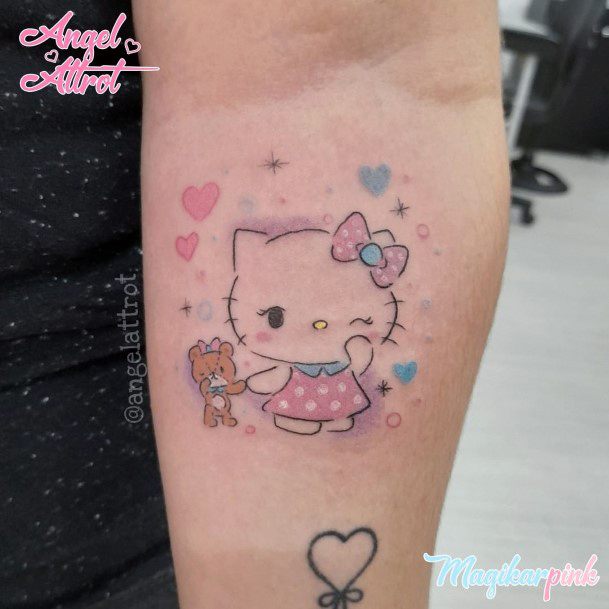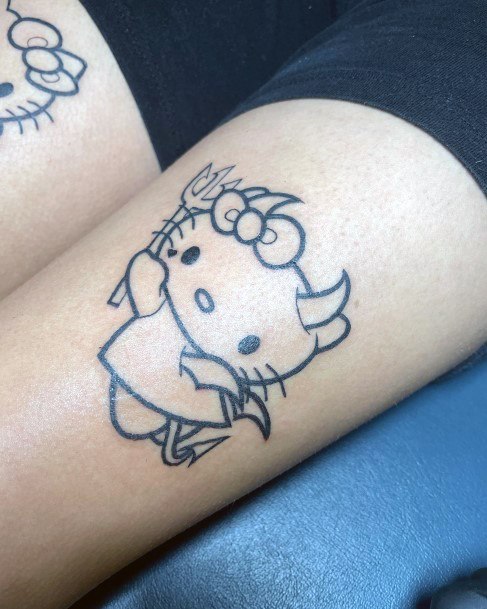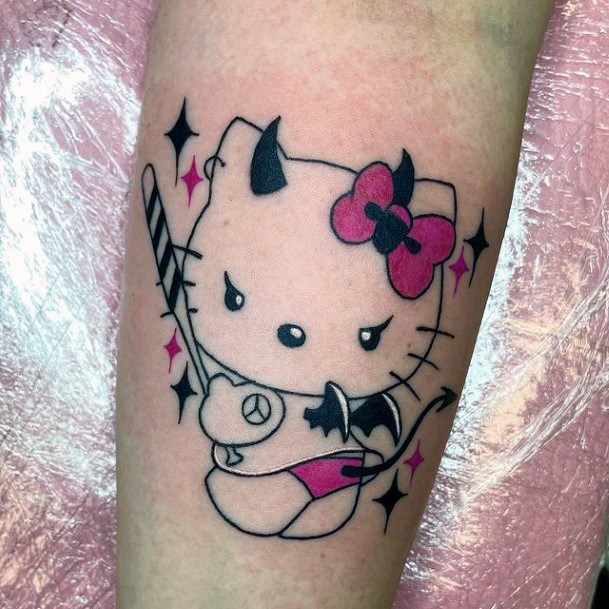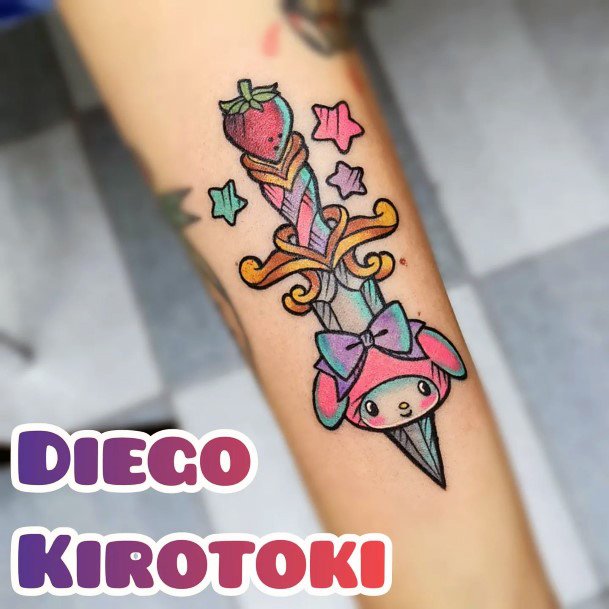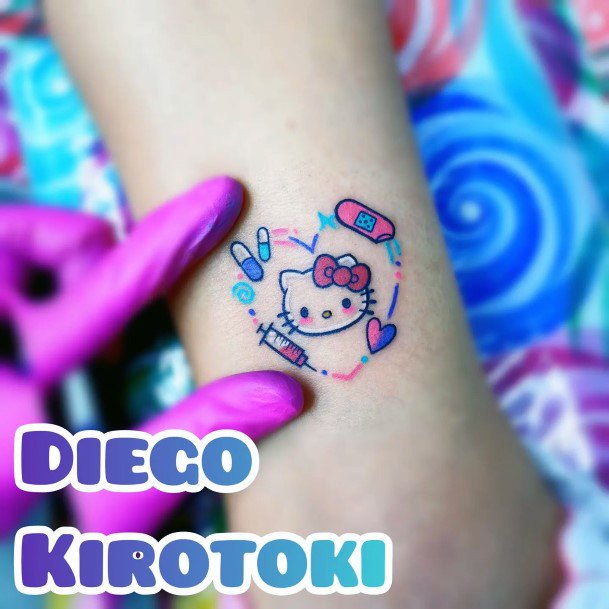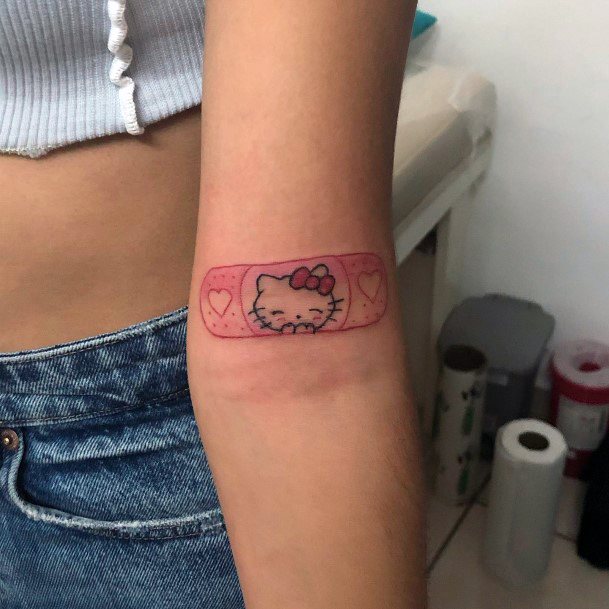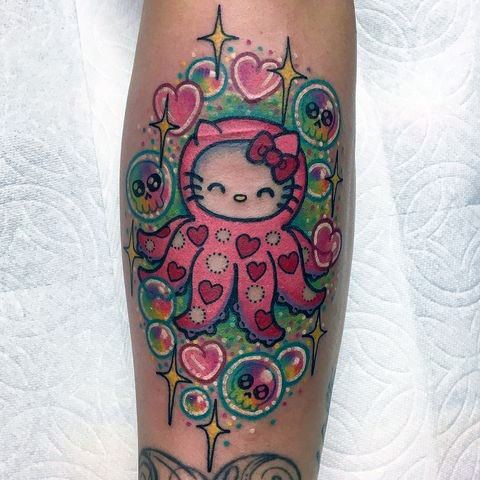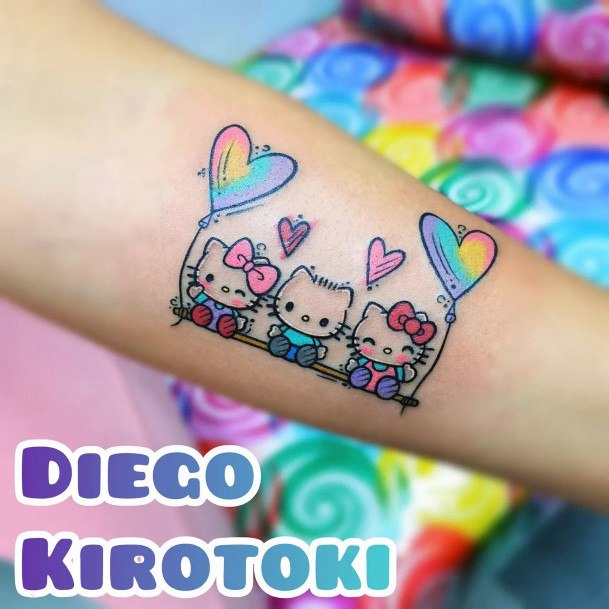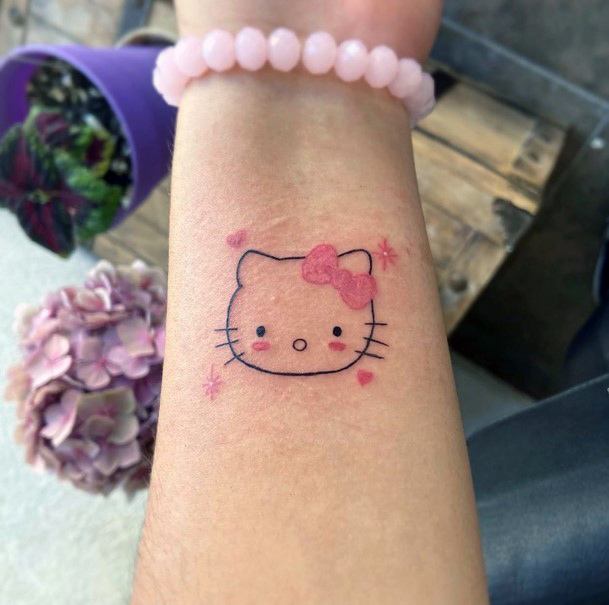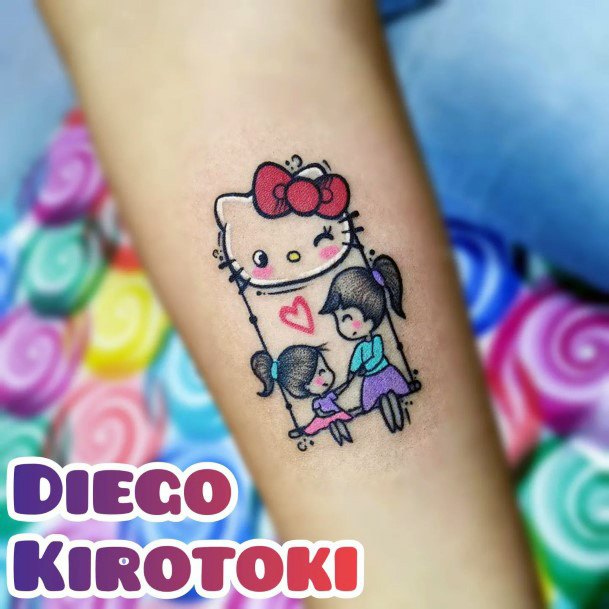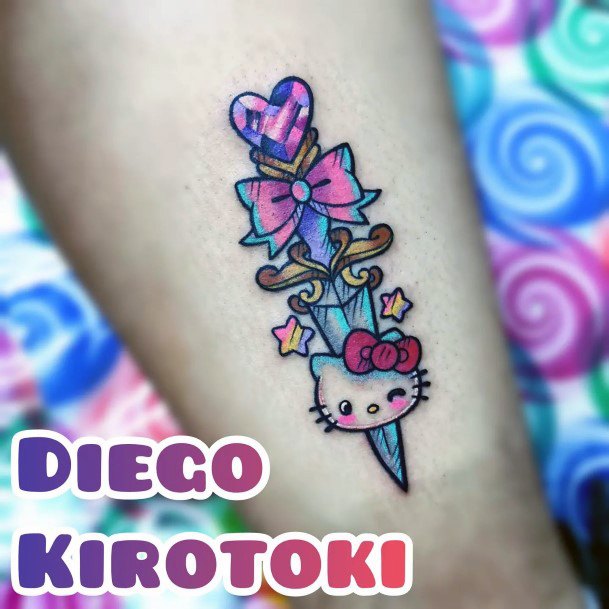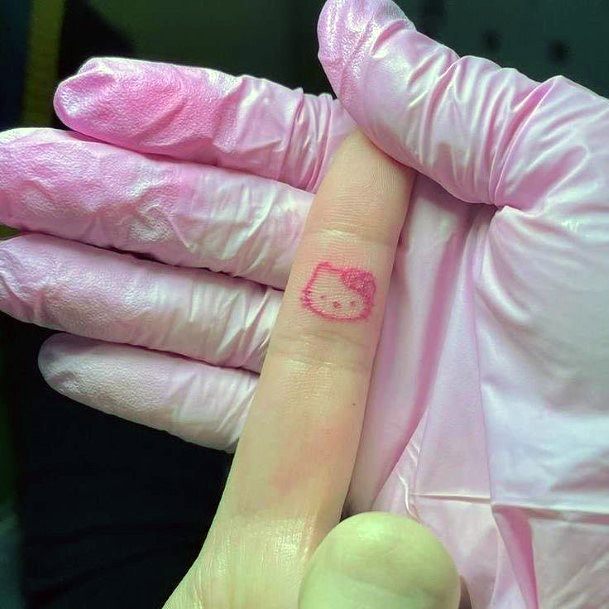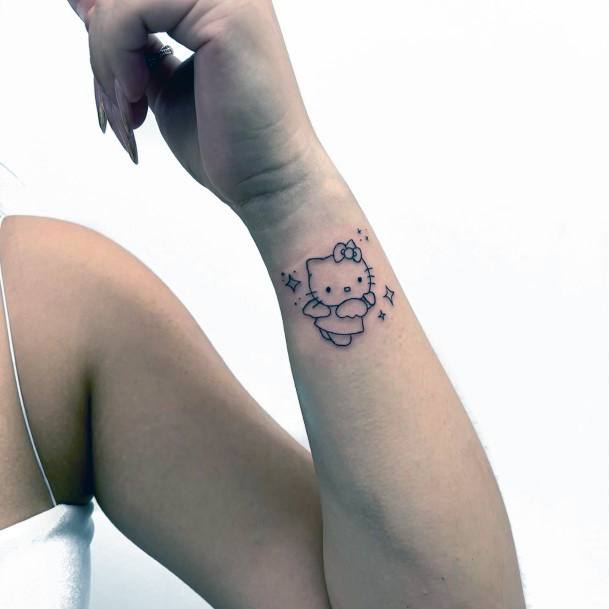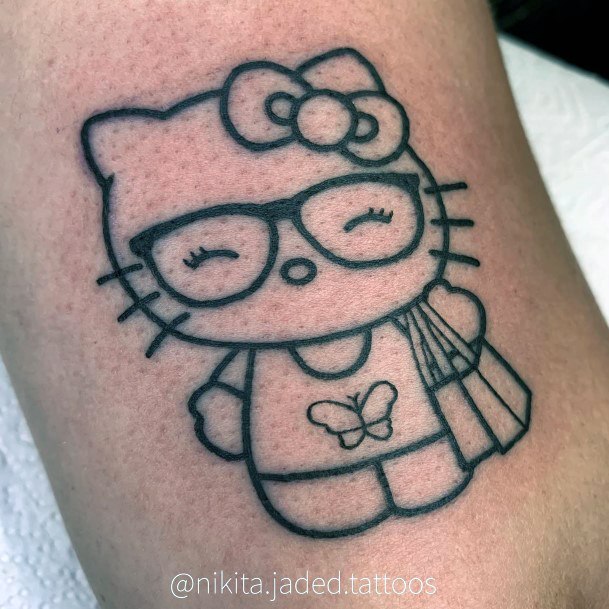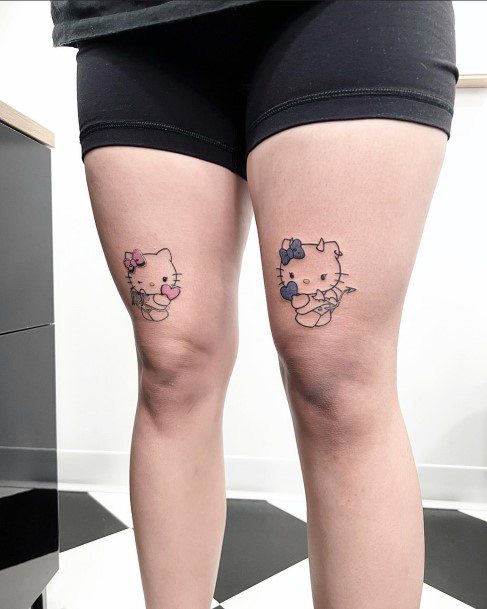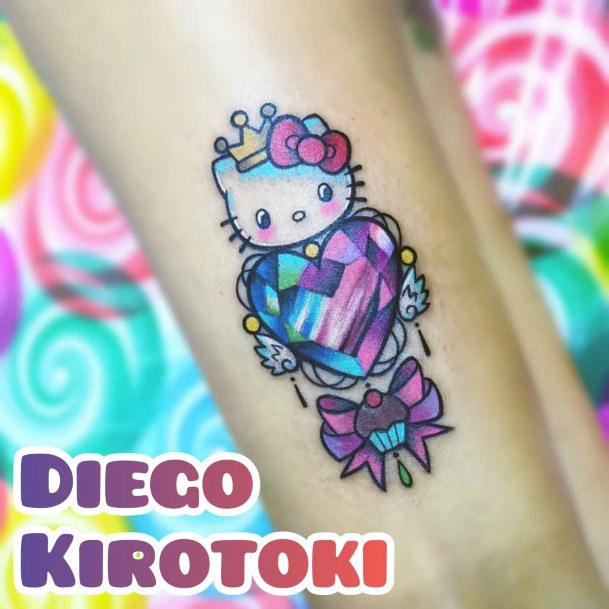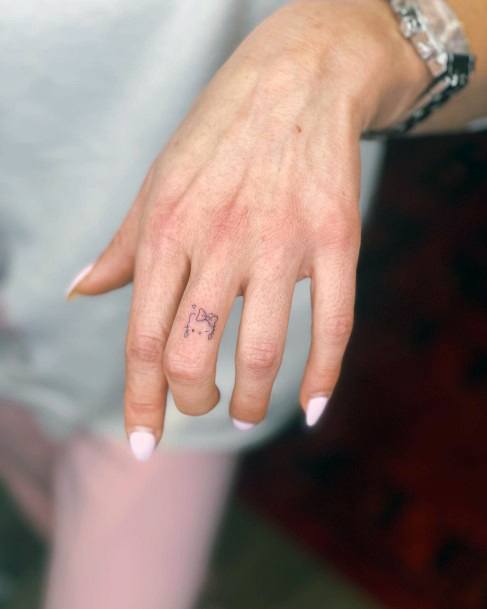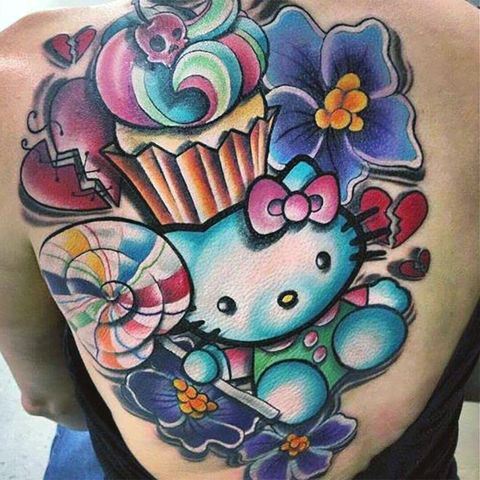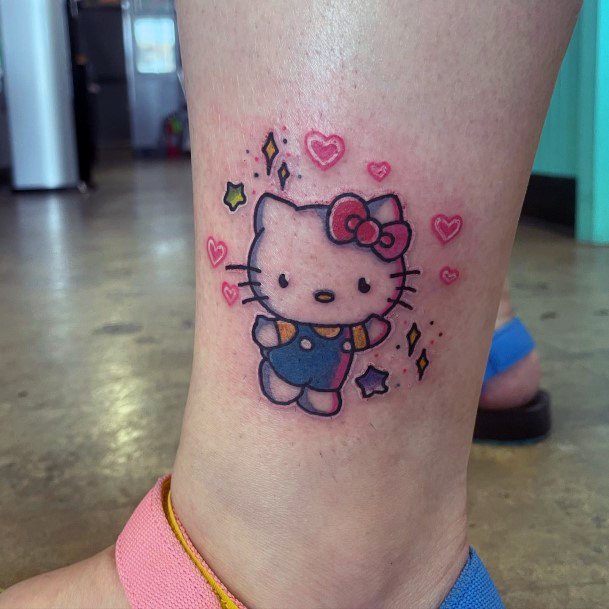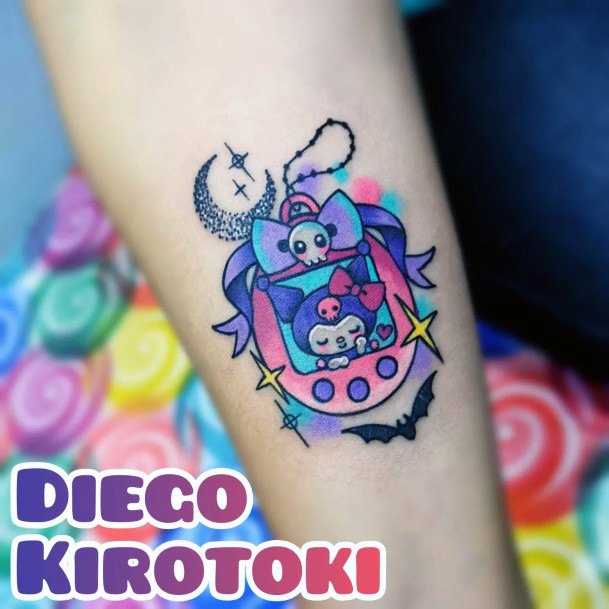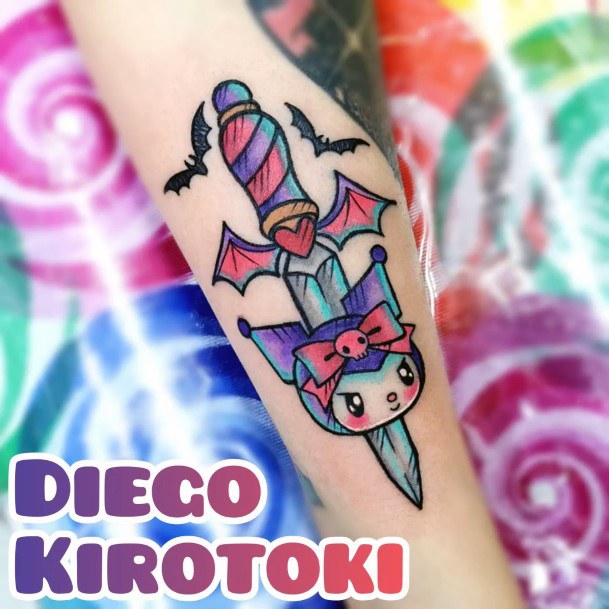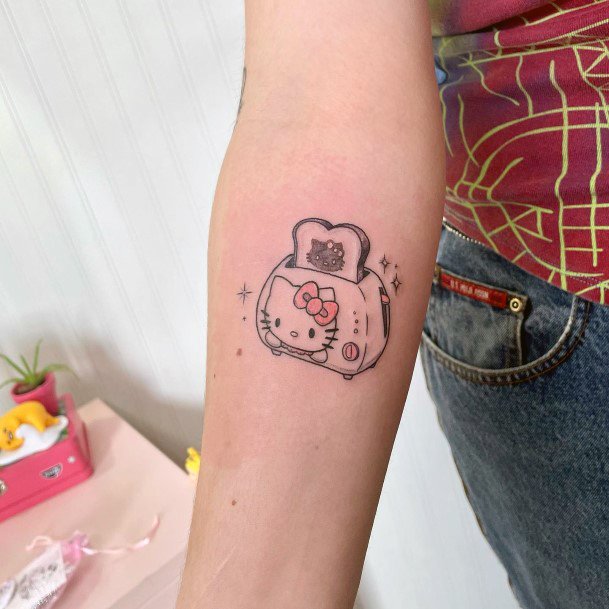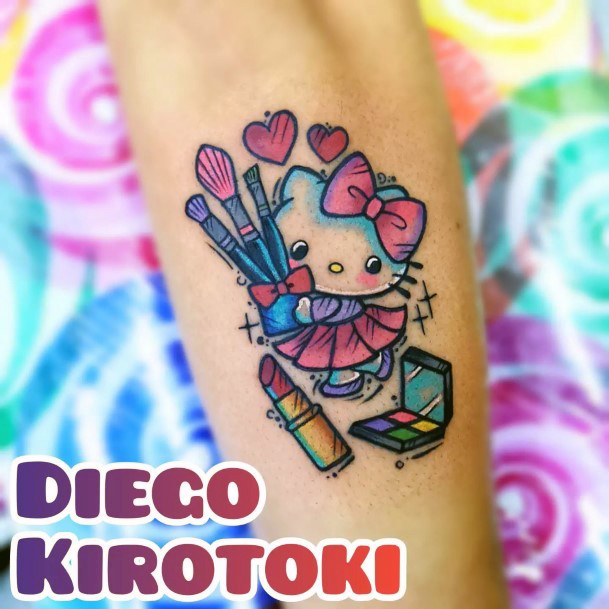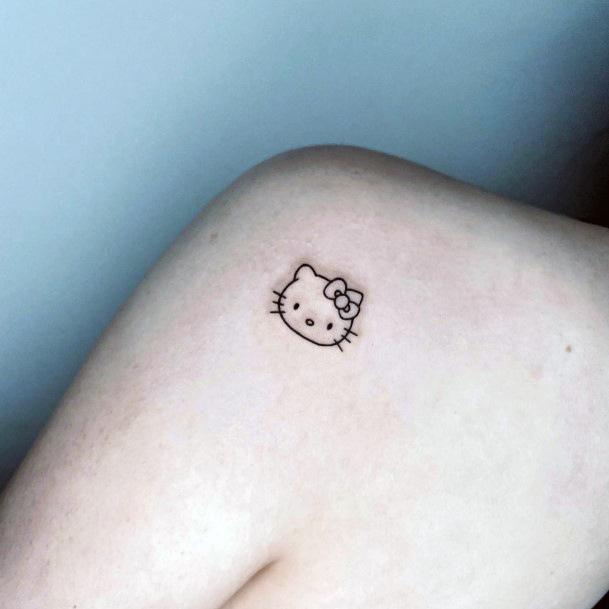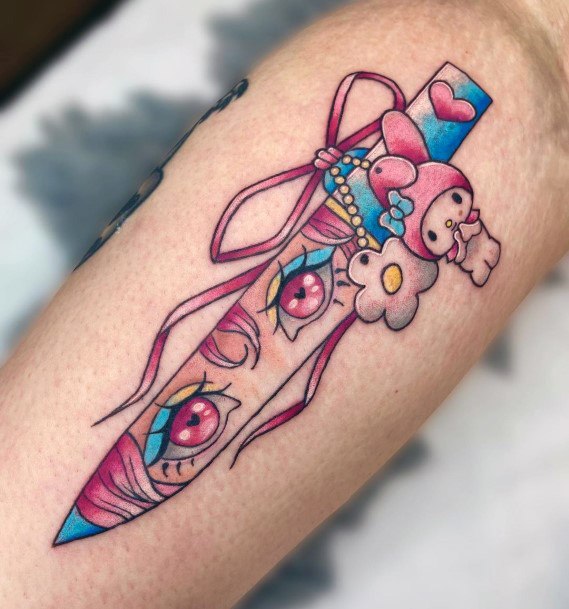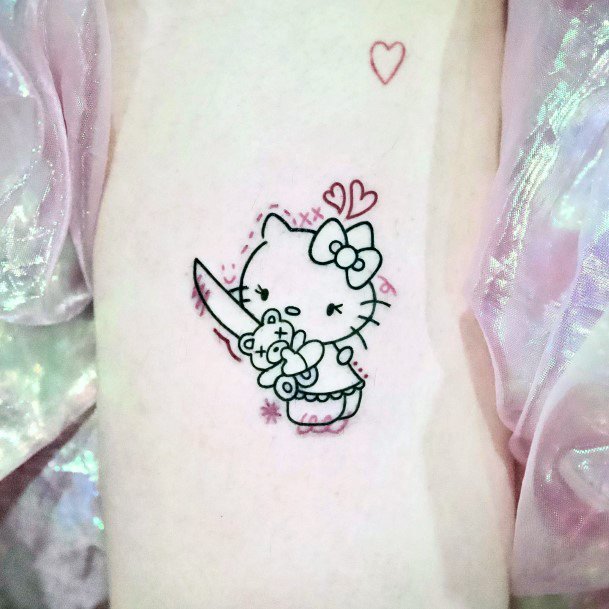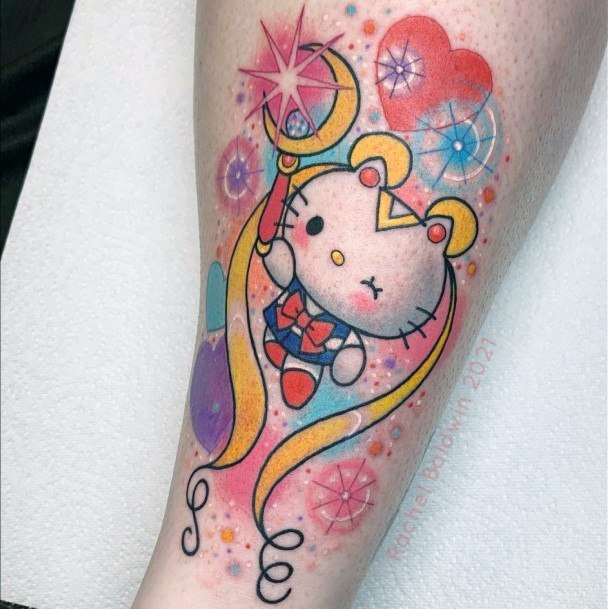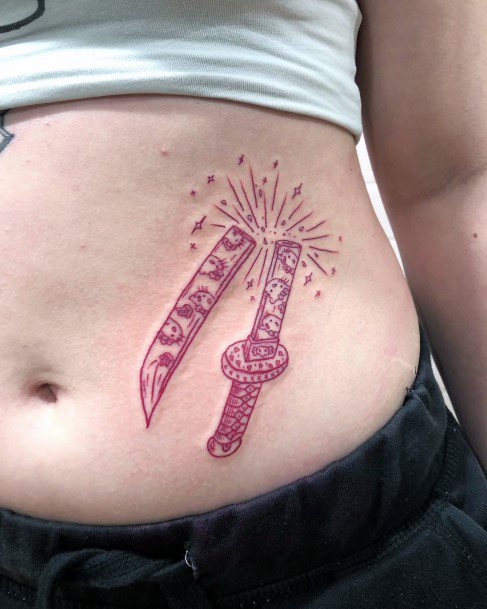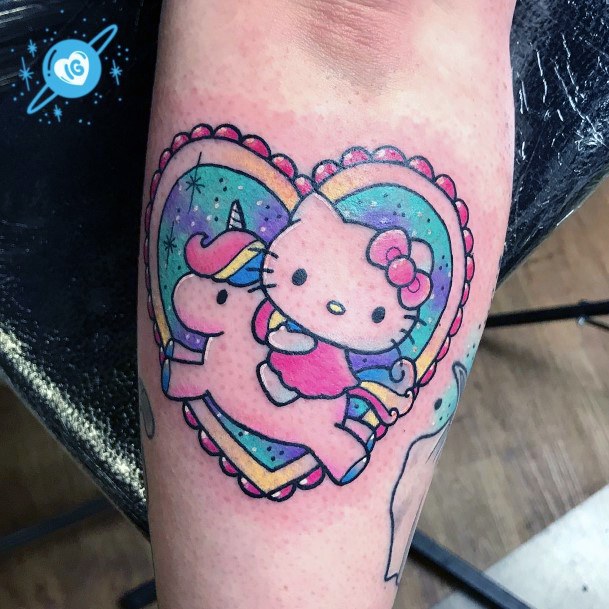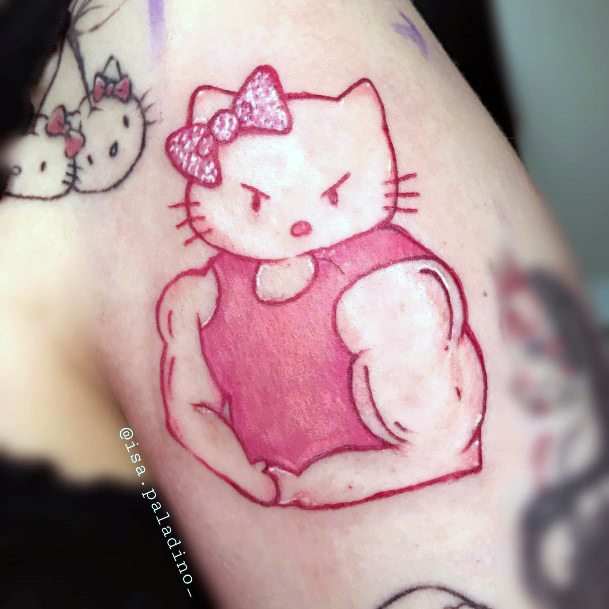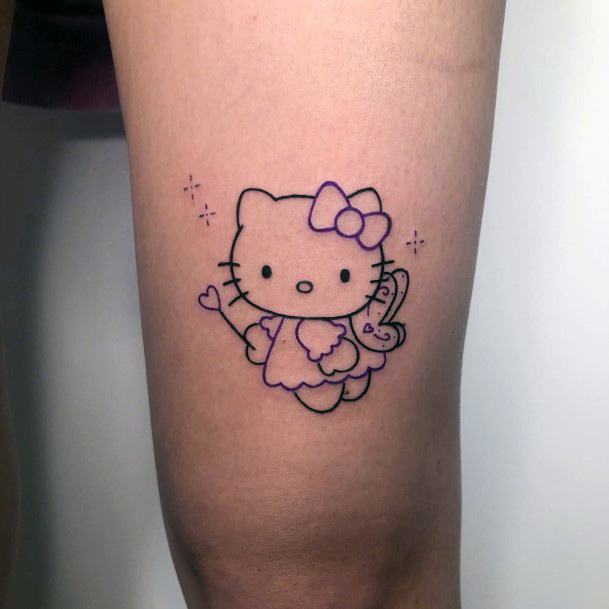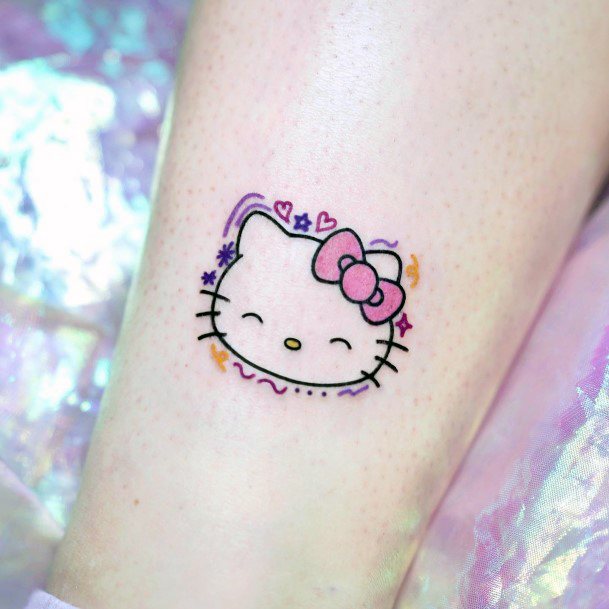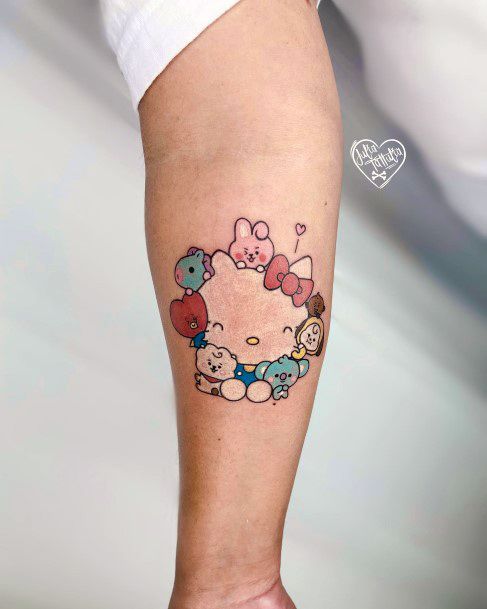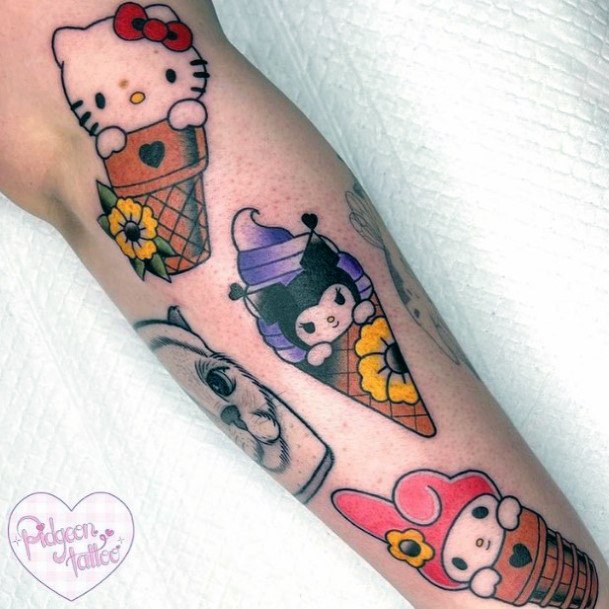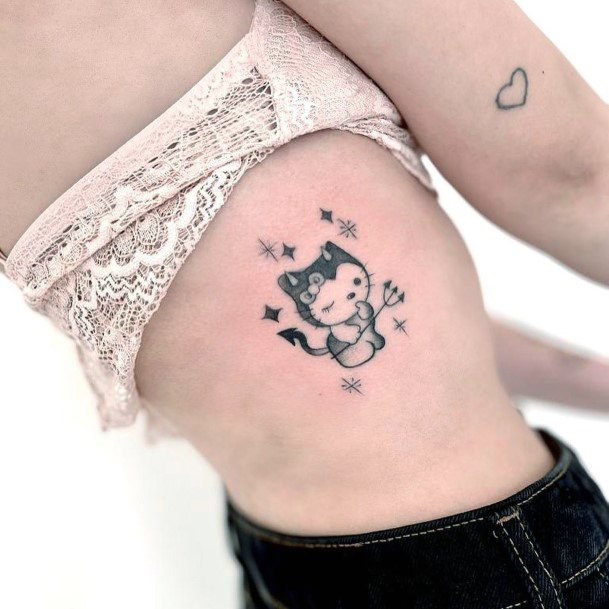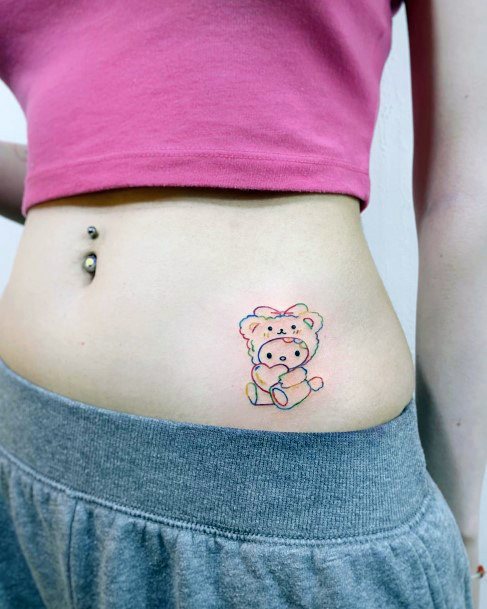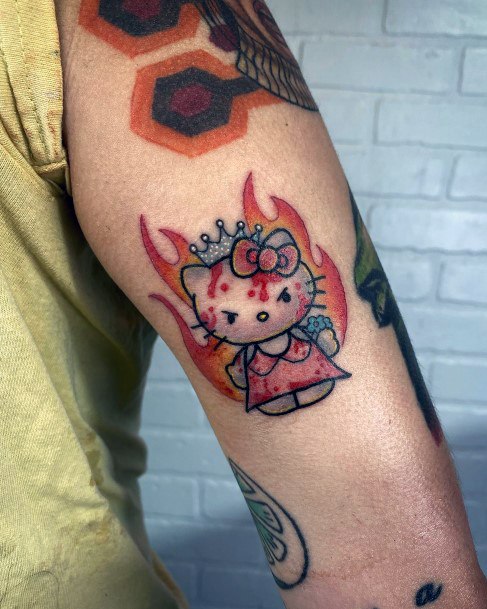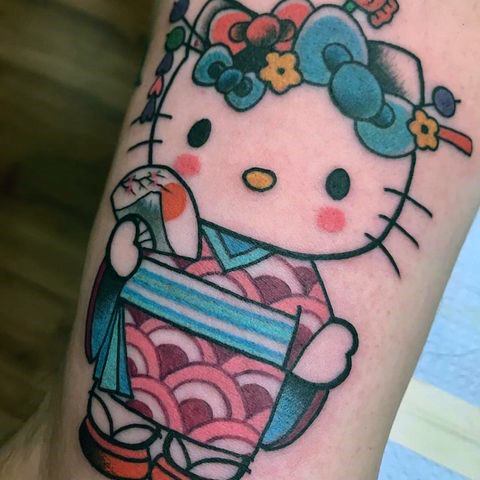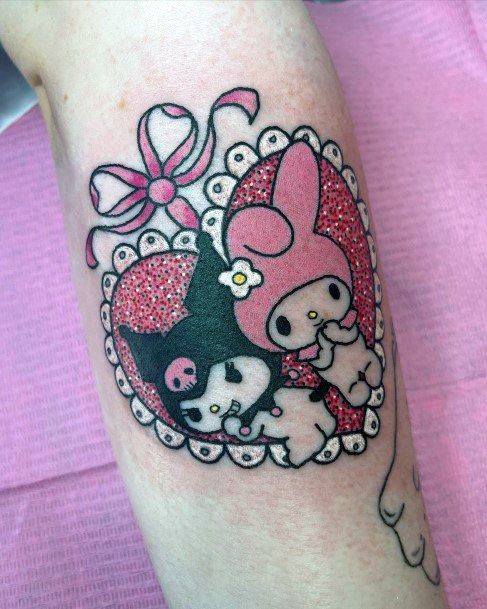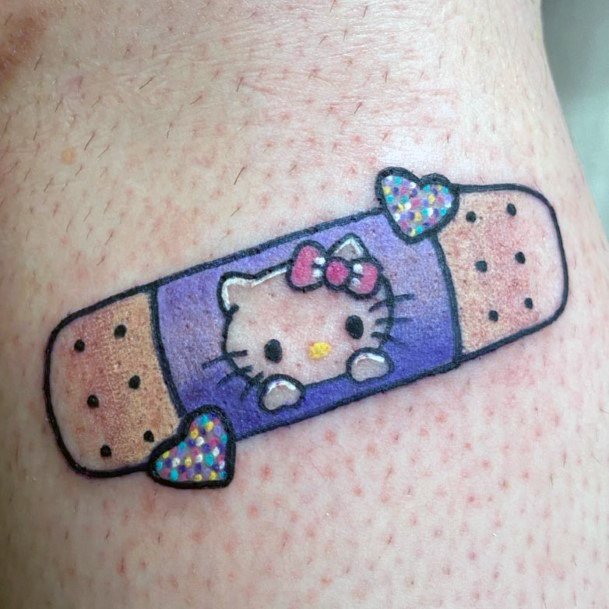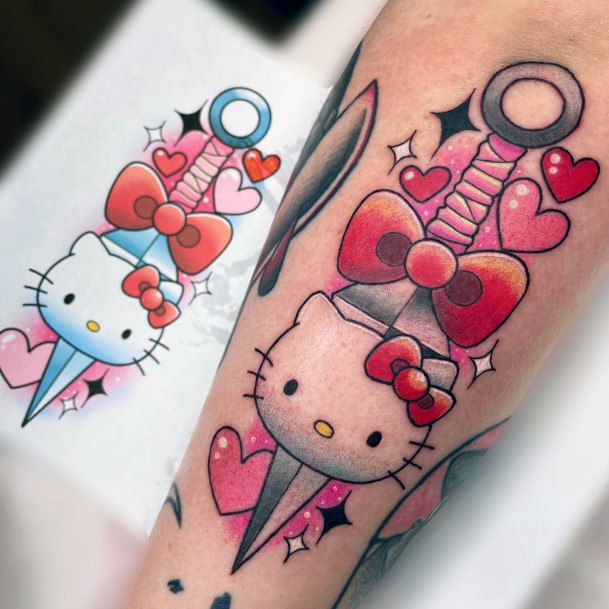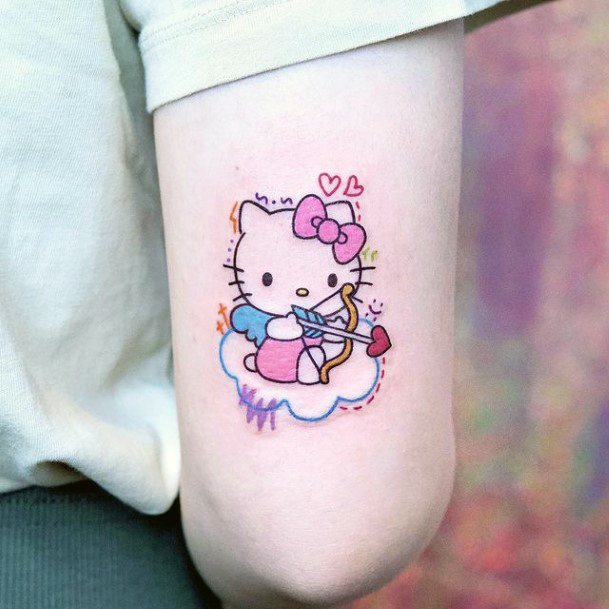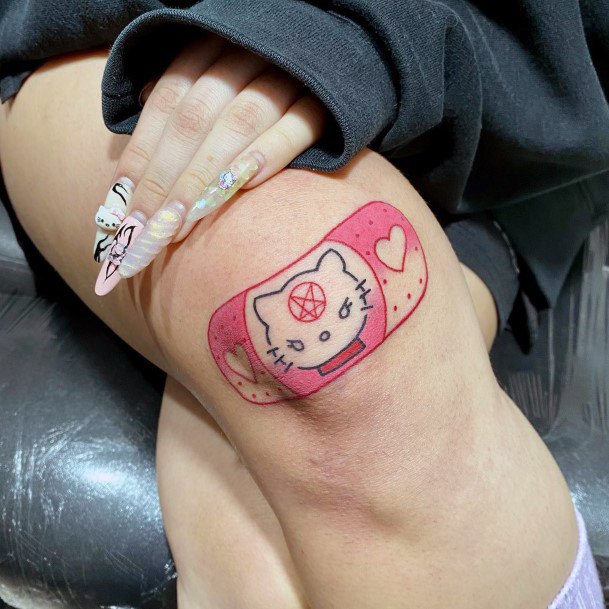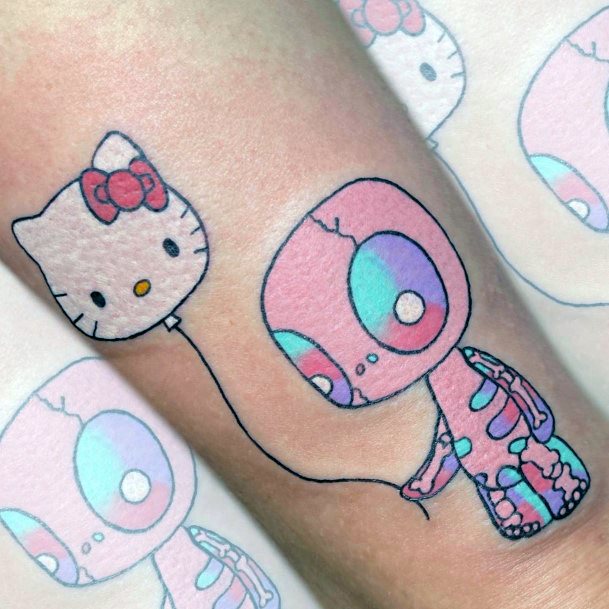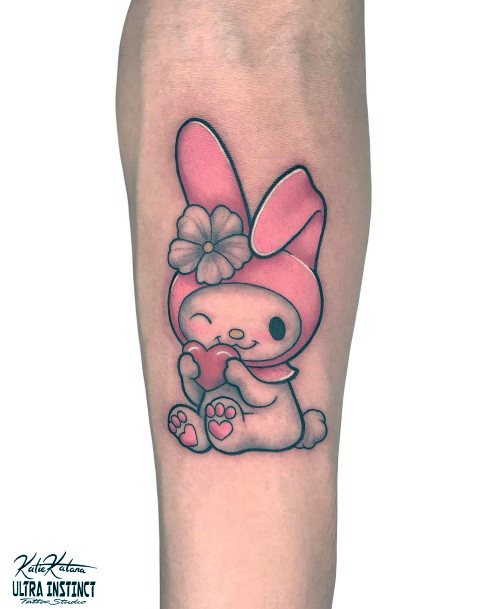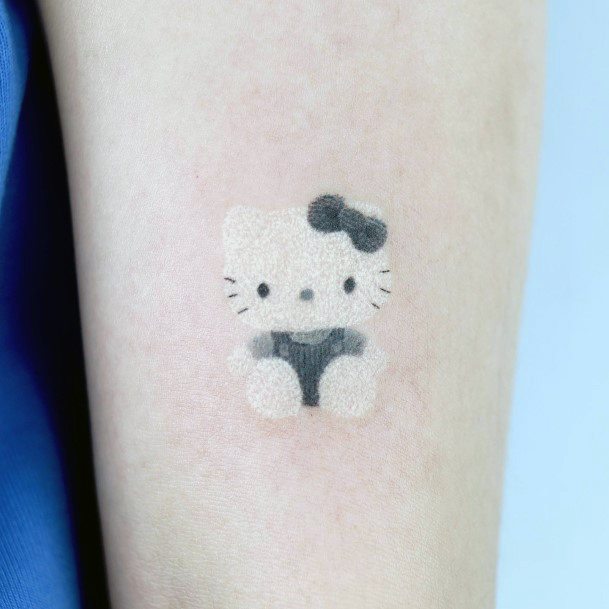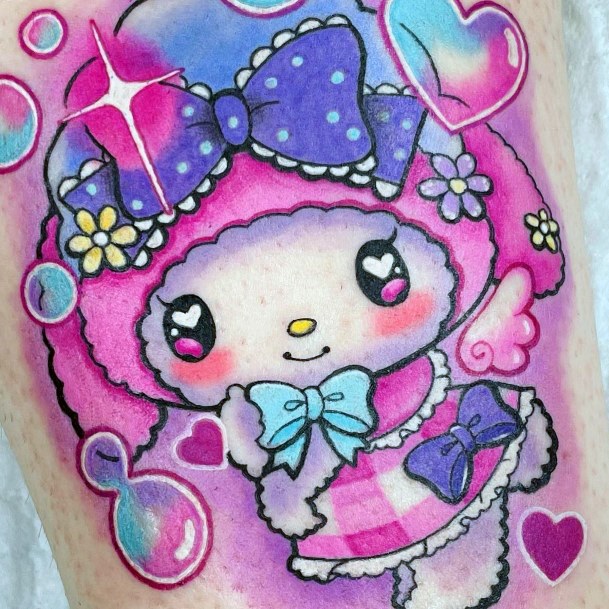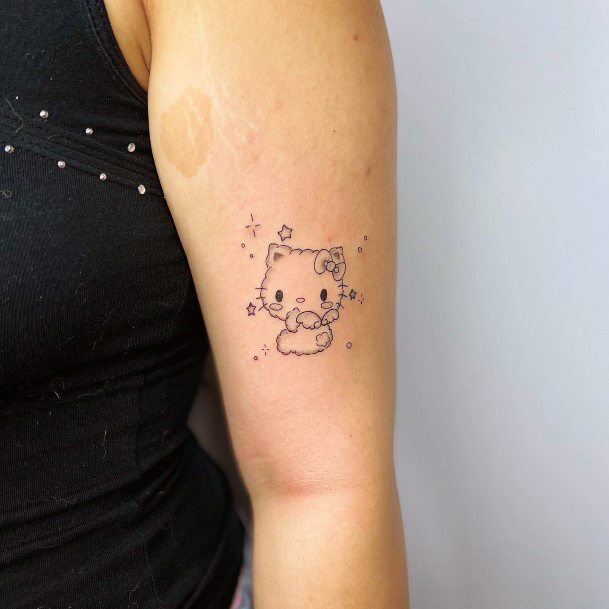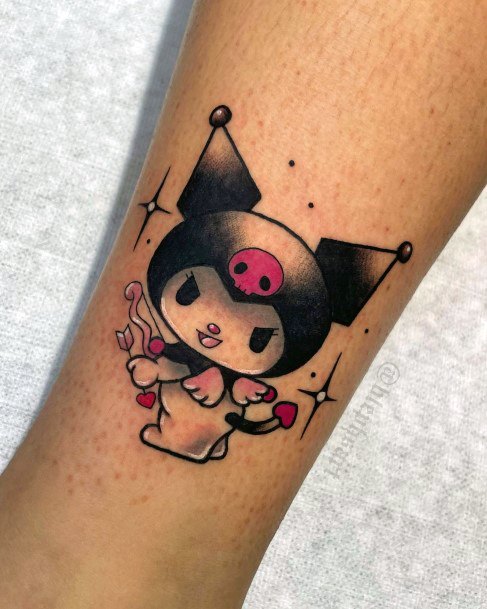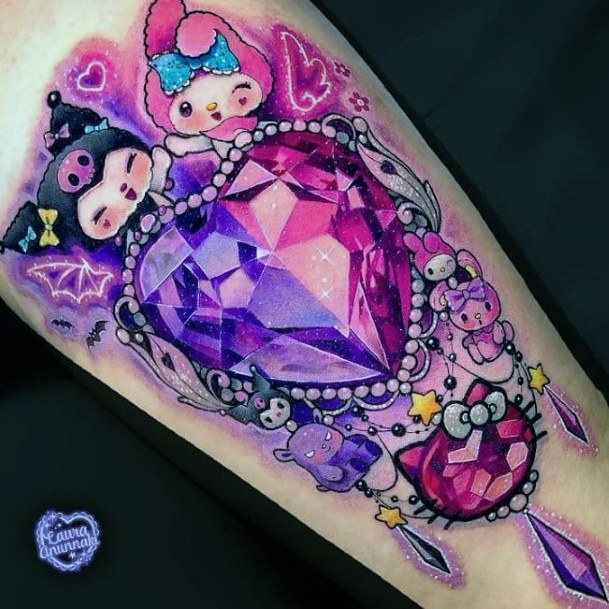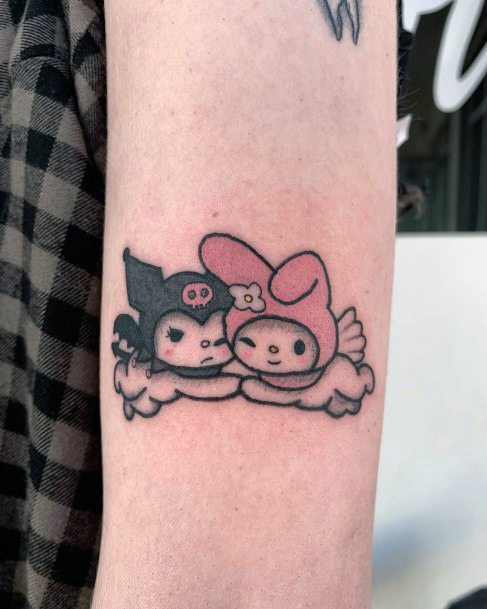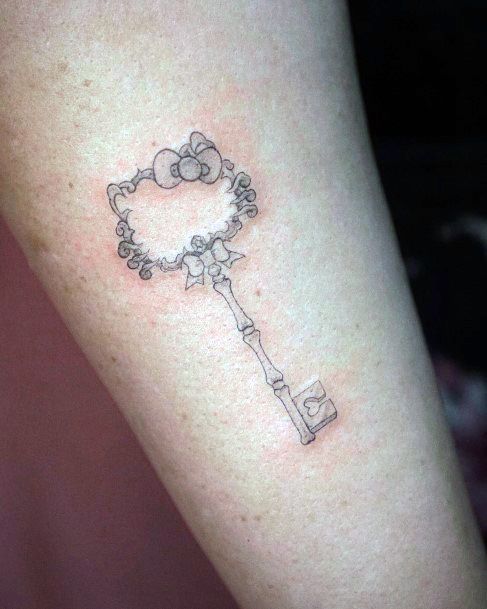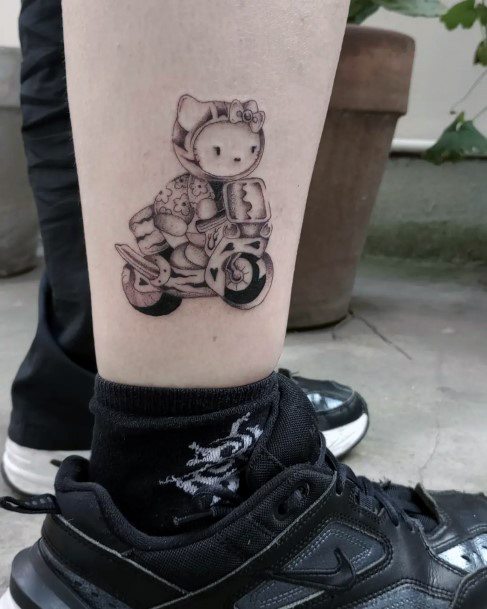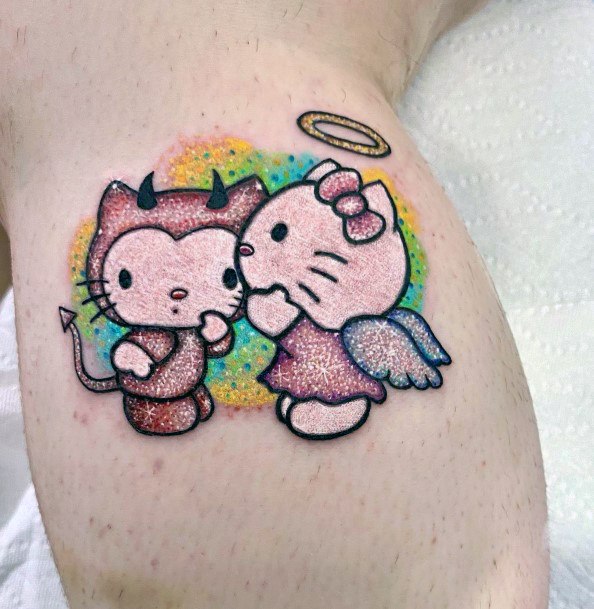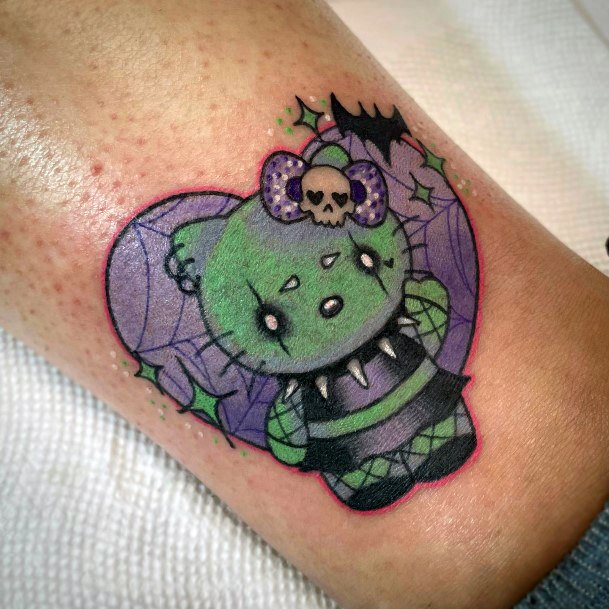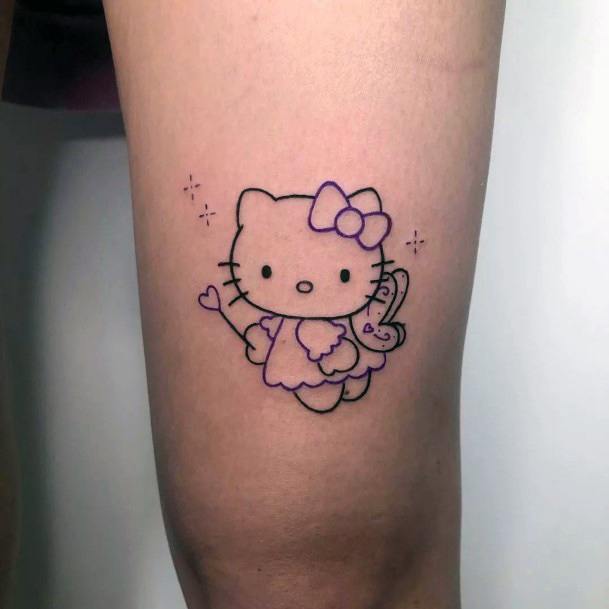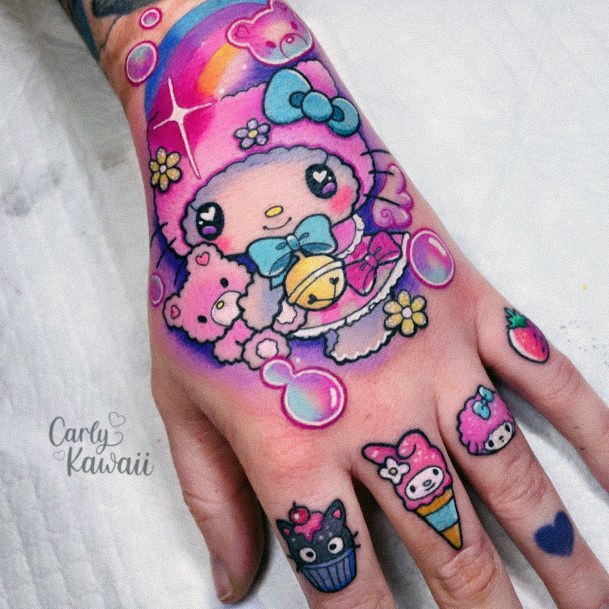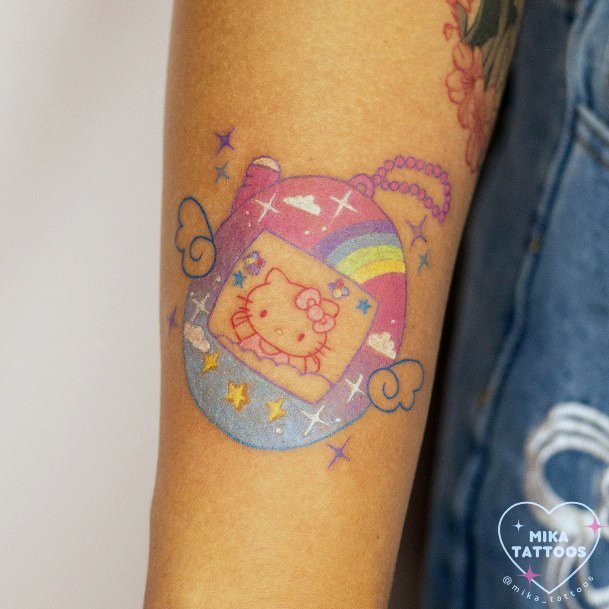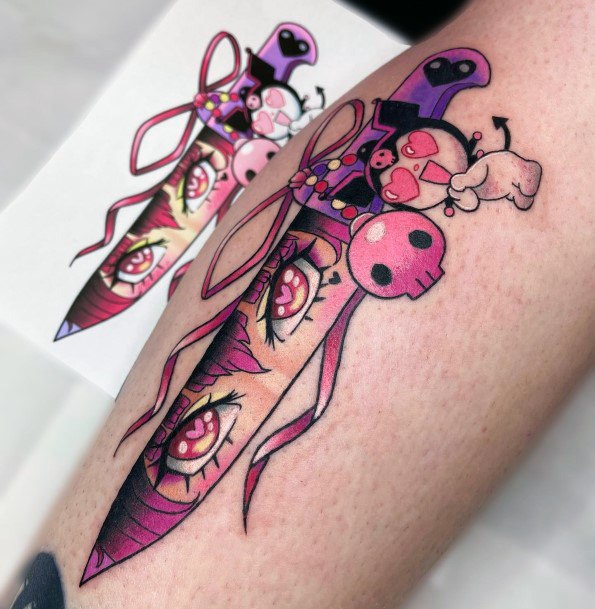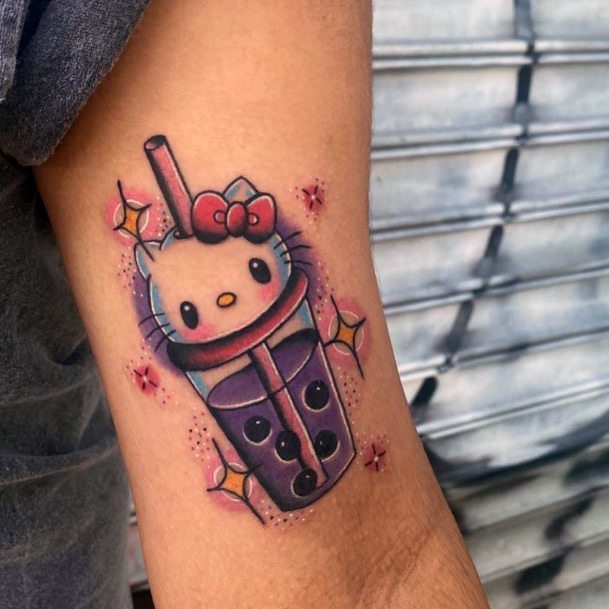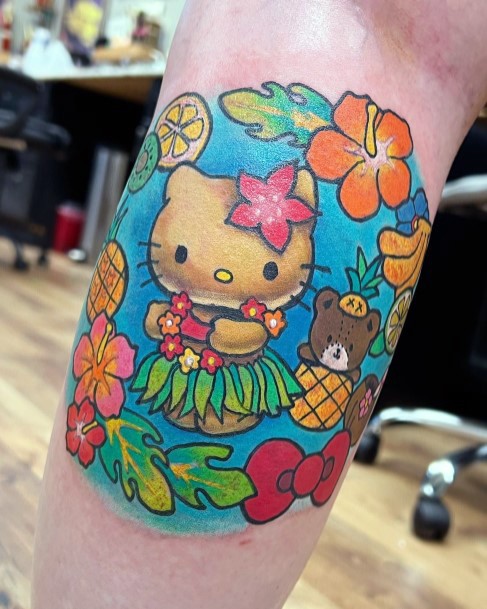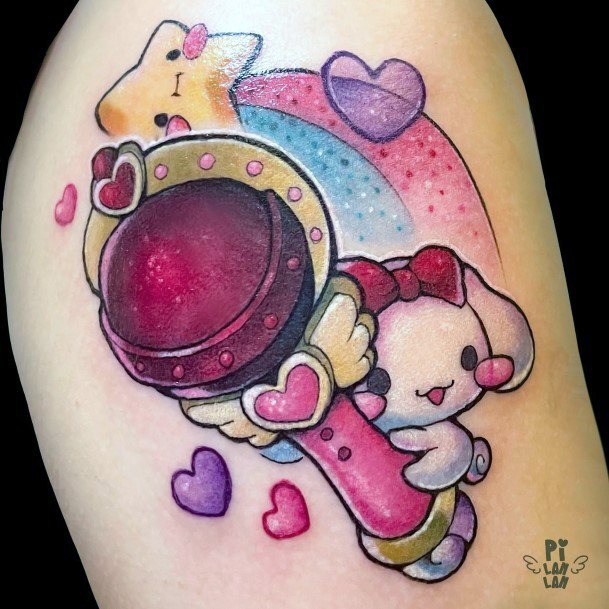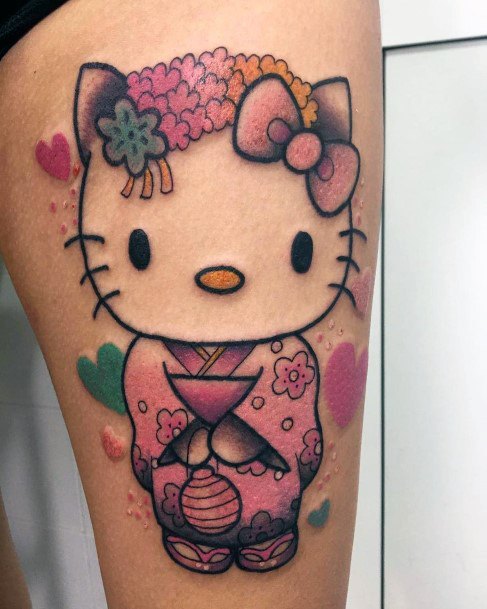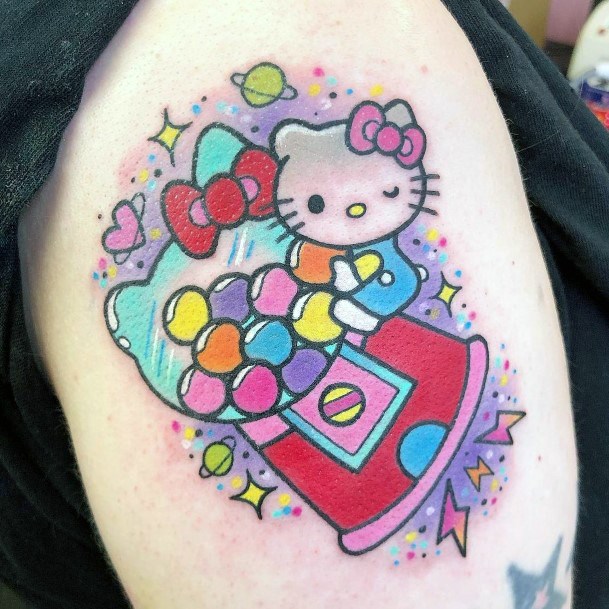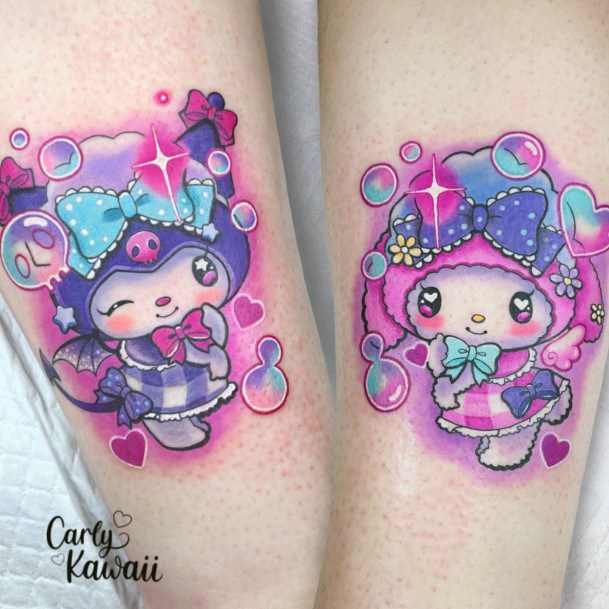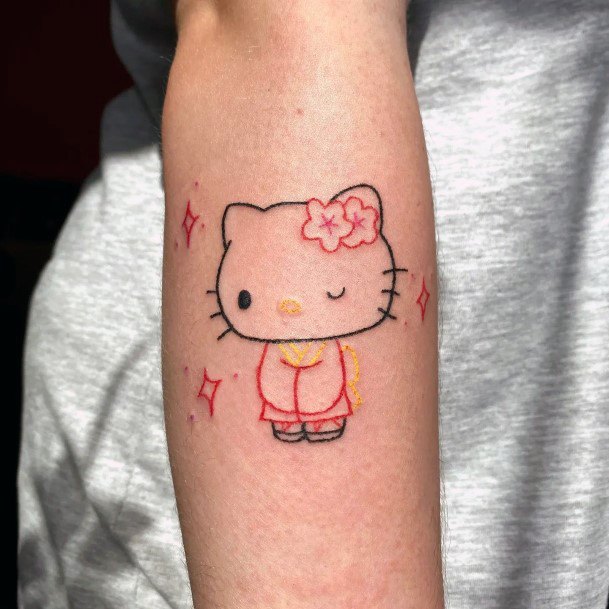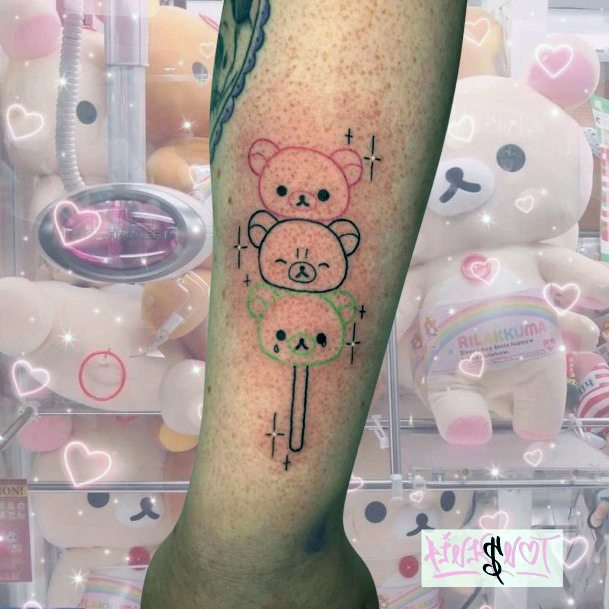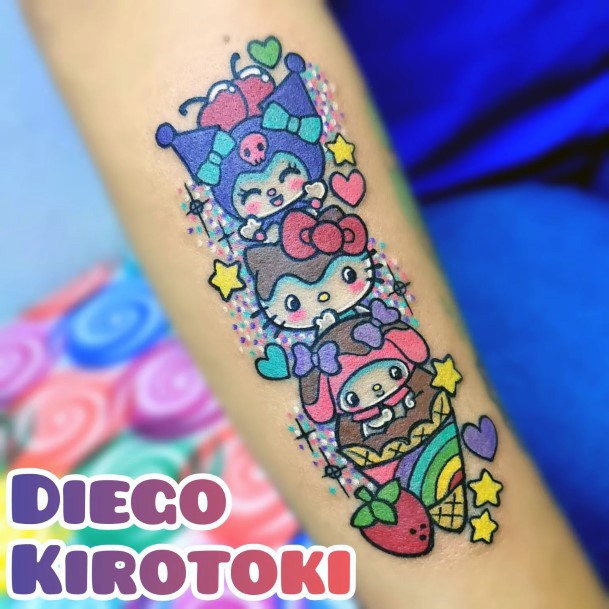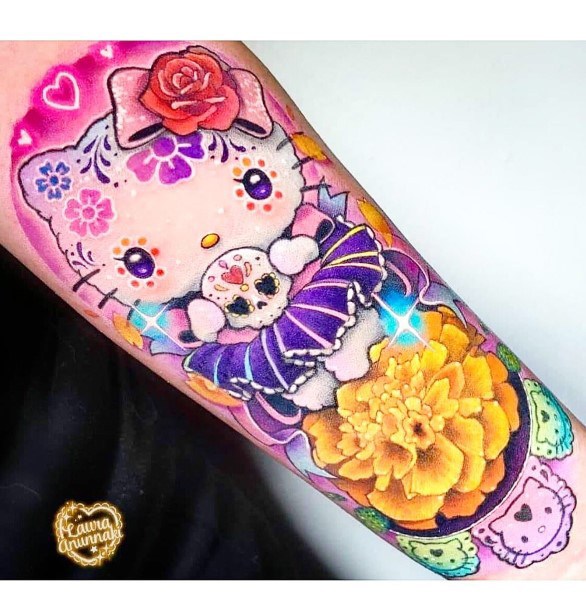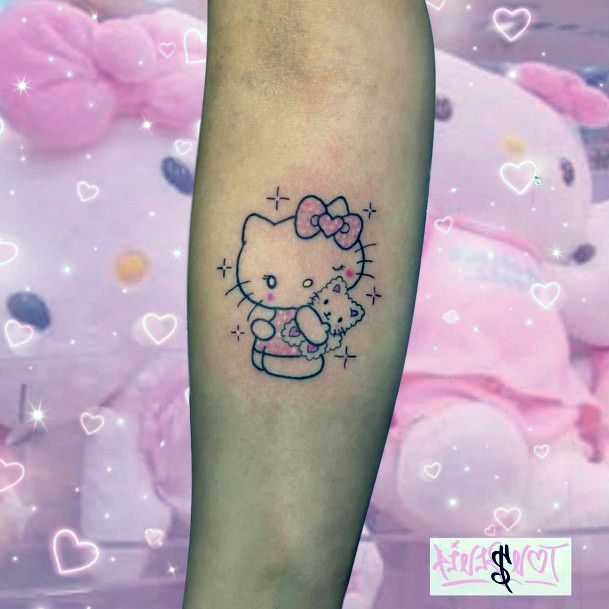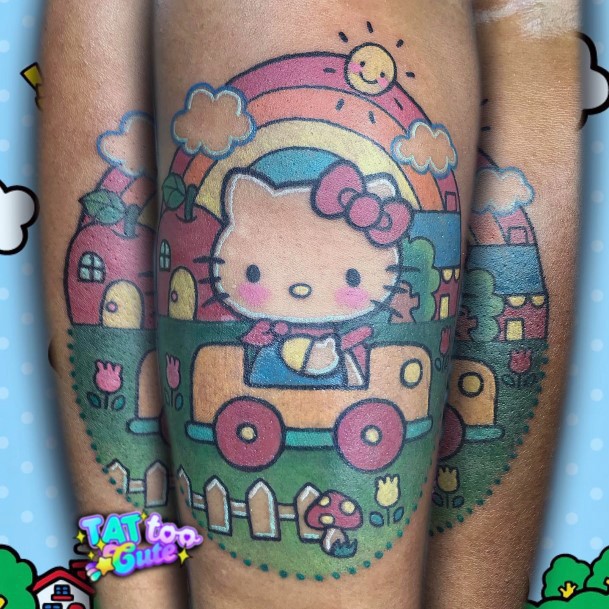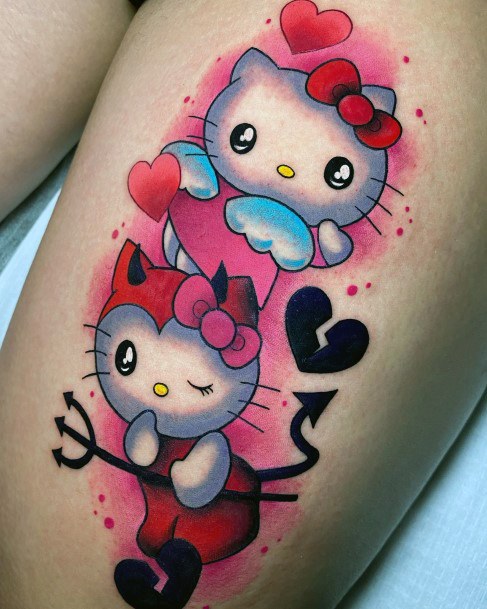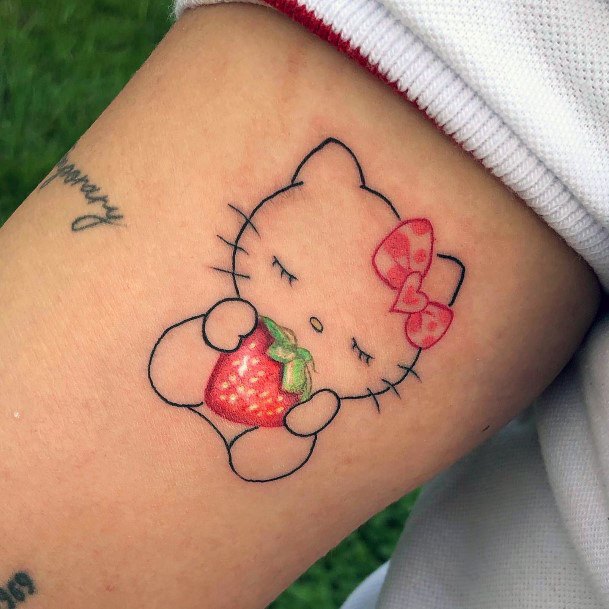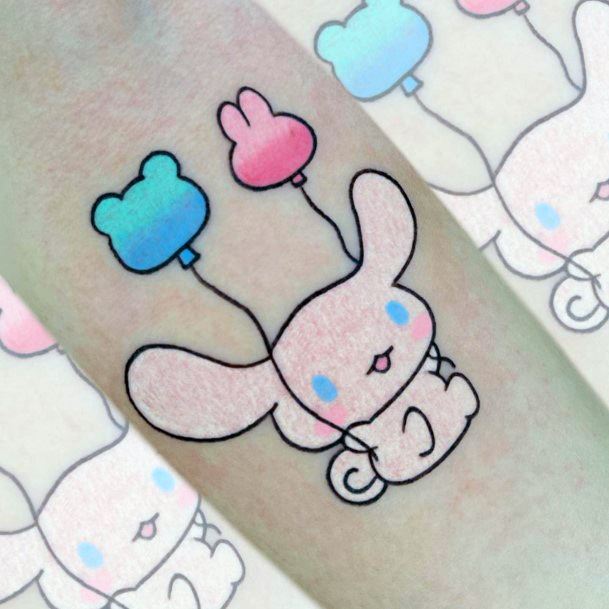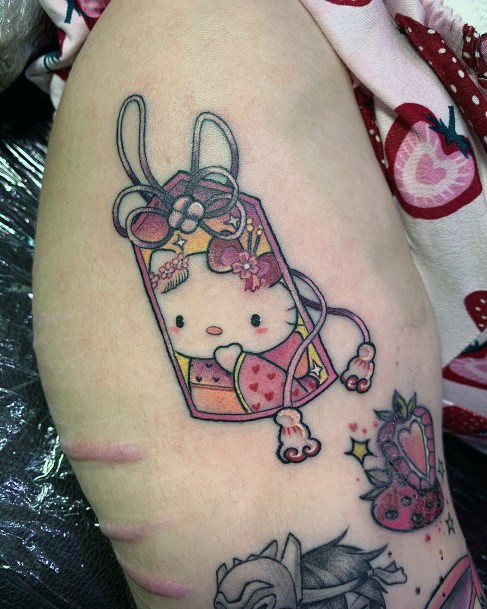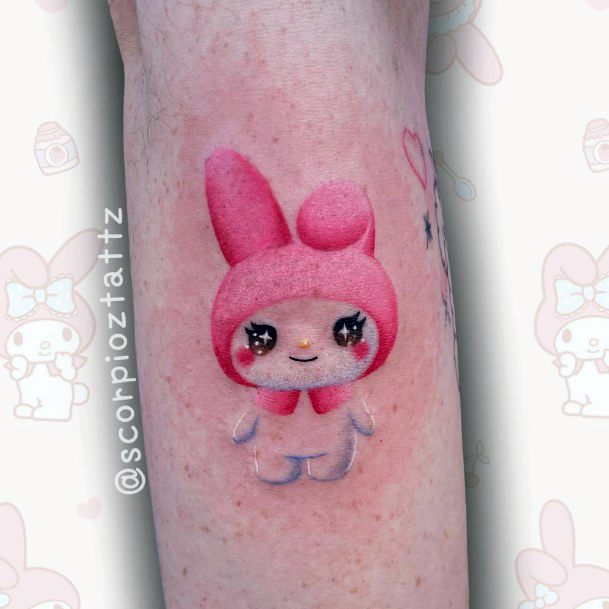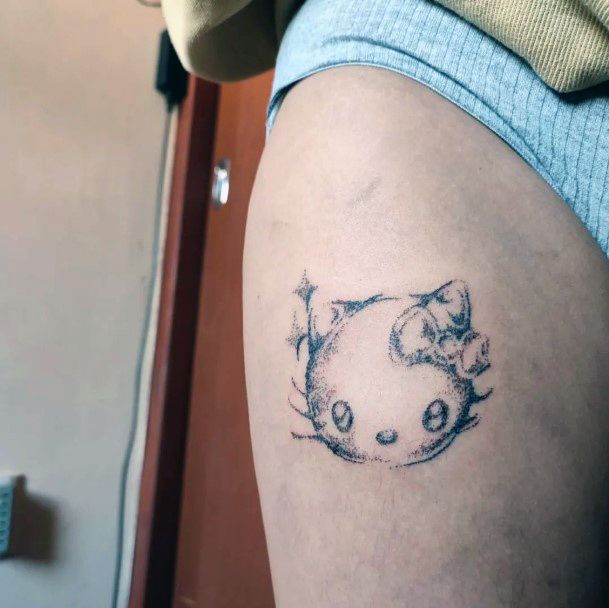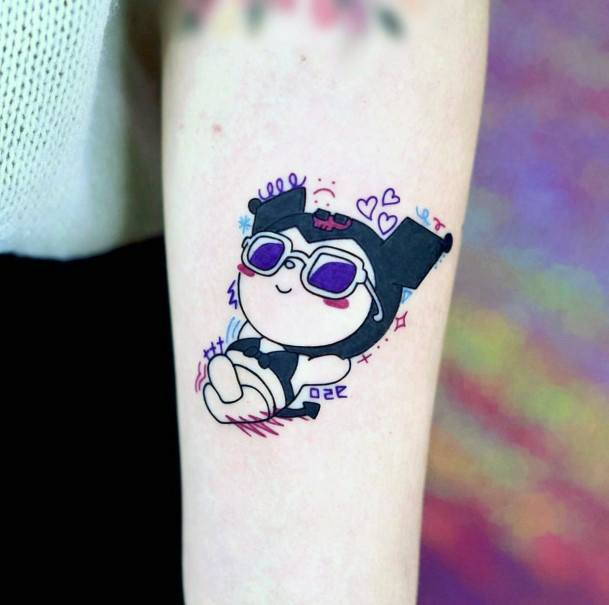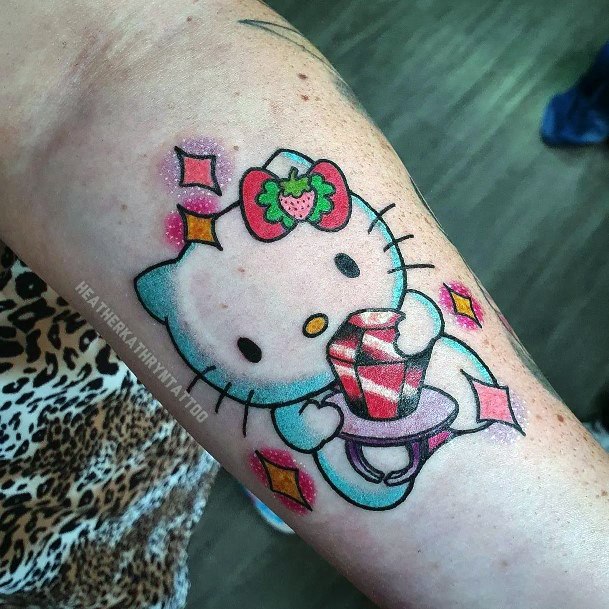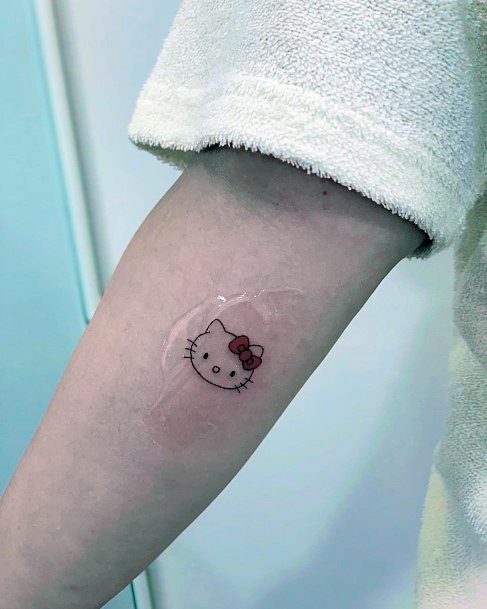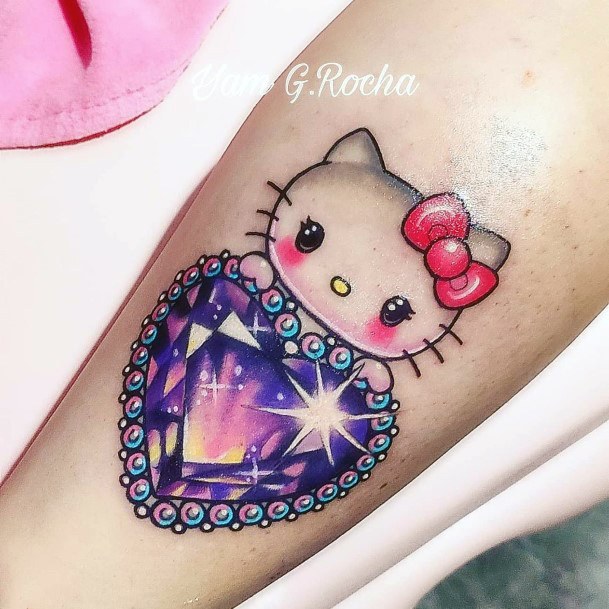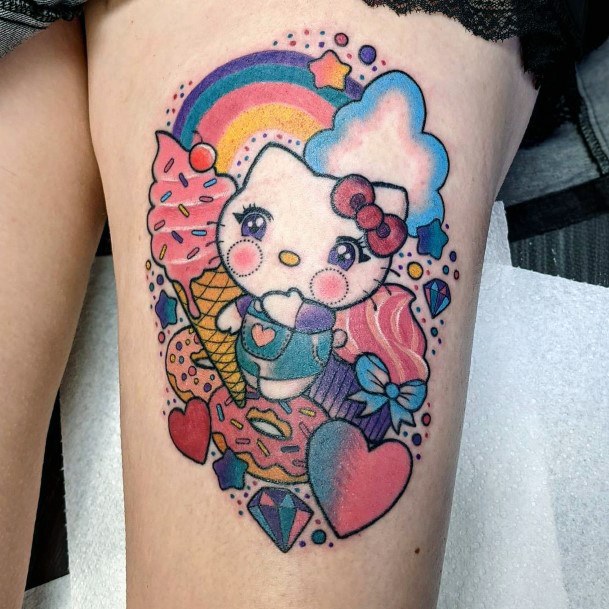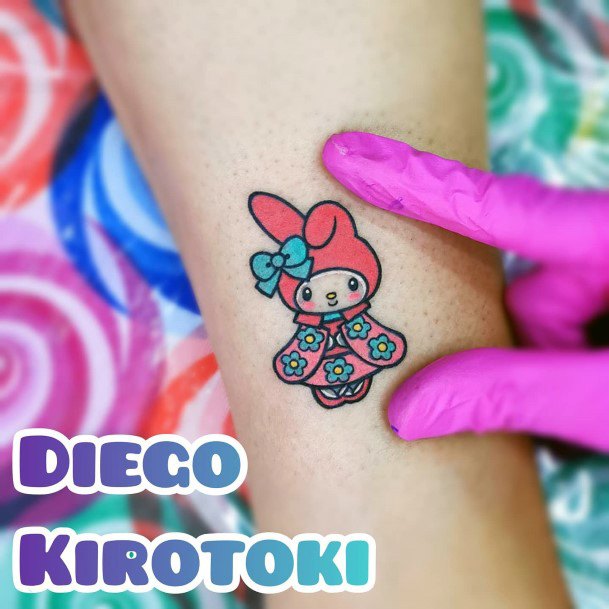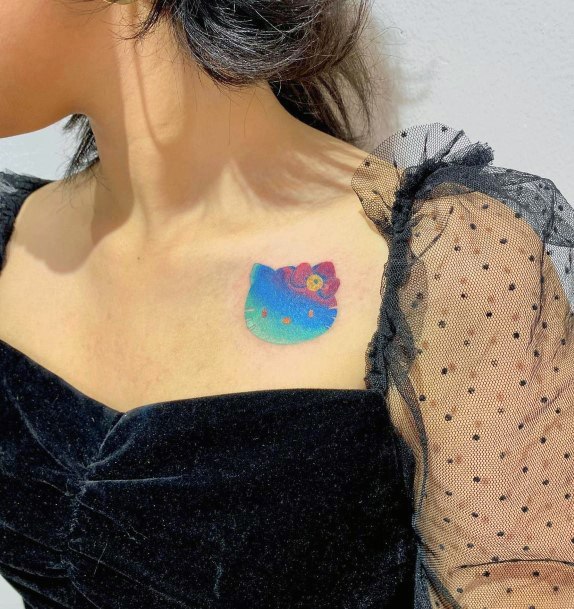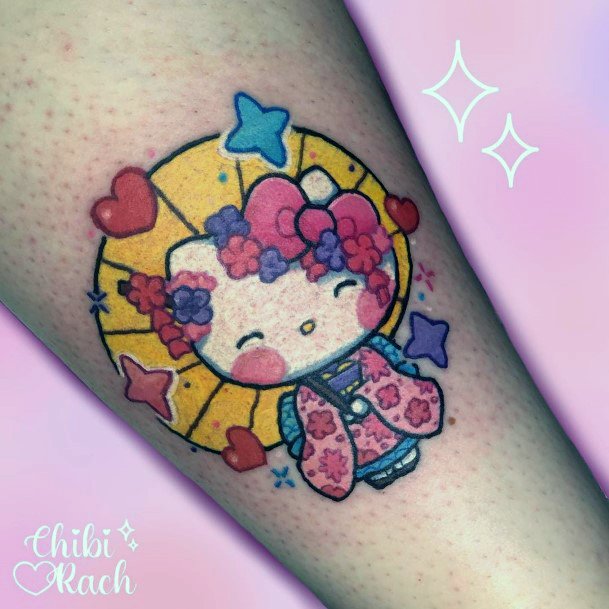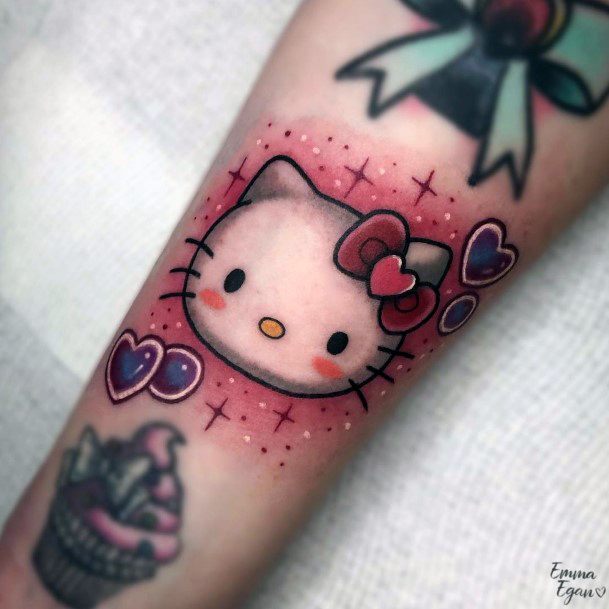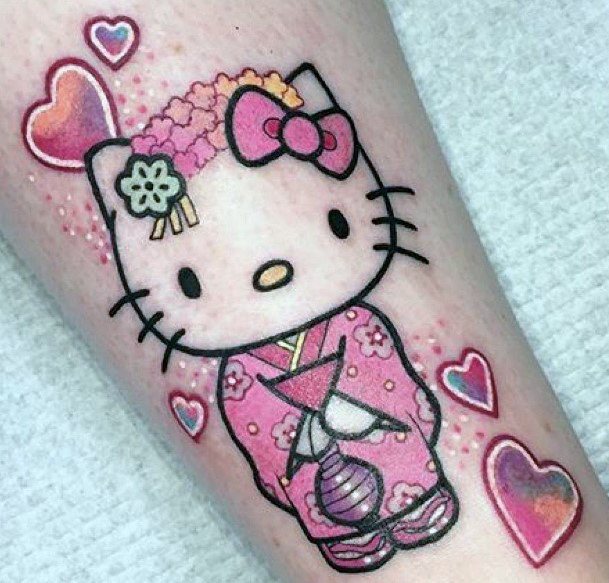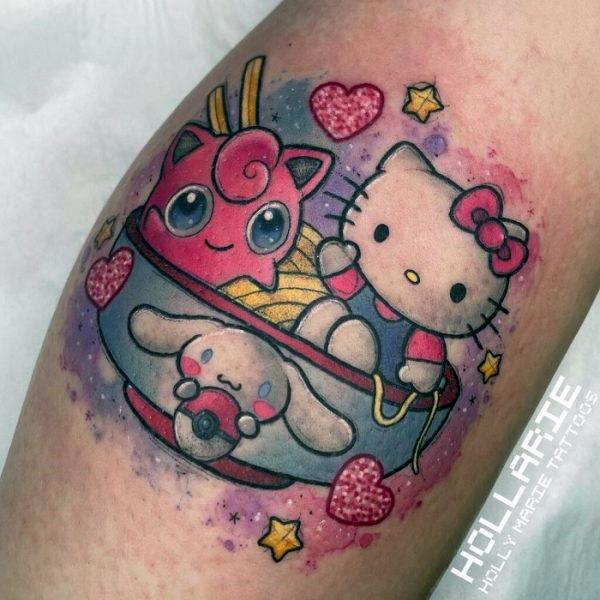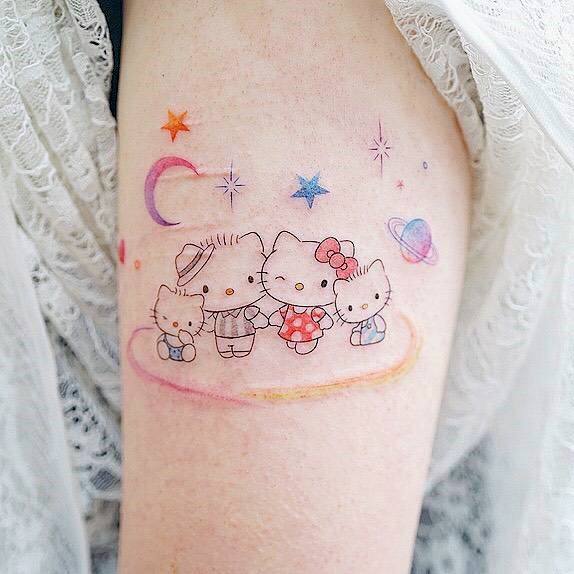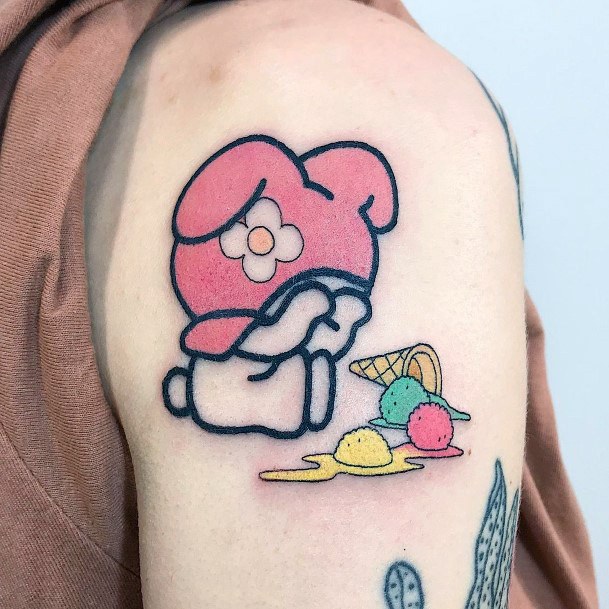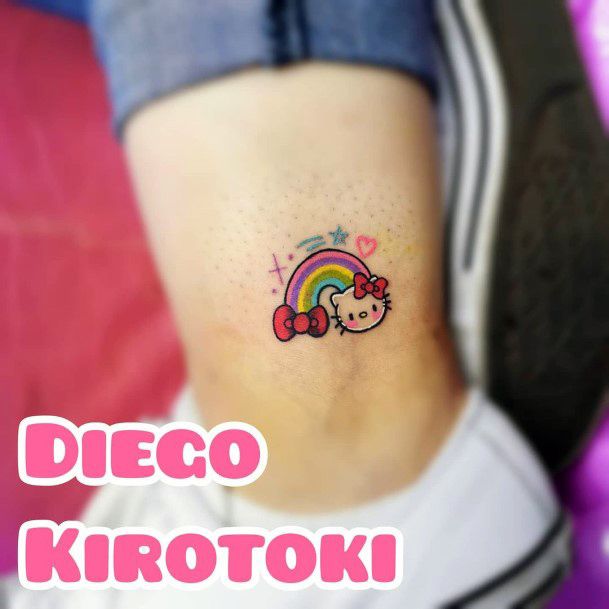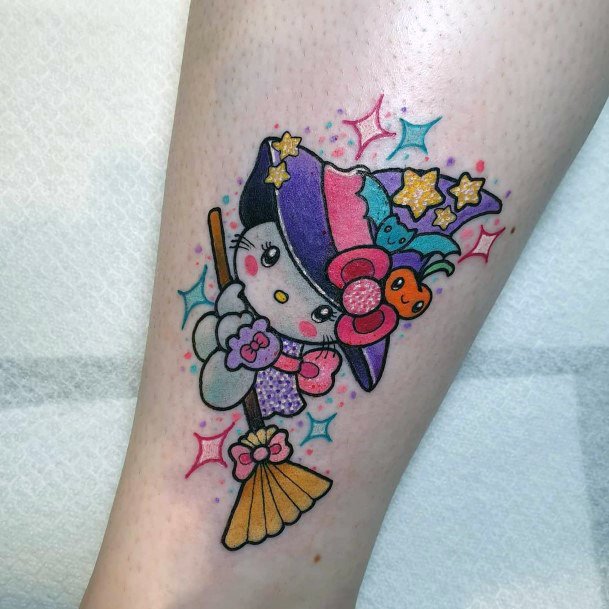 Character ideas to ink:

– Accyan ga Ichiban
– Aggretsuko
– Alain Allen
– Alex (Jewelpet)
– ALFREDALOHA
– Almond Cream
– Amelie (Jewelpet)
– Anko
– Aomimiusa
– Aousa
– Aousa and Aomimiusa
– Araiguma
– Aro
– Ayankey
– B. Hills Kid
– Baby Milo
– Badtz Twins
– Badtz-Maru
– Bagel
– Baku
– Bambina
– Bearobics
– Beatcats
– Beetroid
– Beezy Riders
– Benjaminbear
– Bery MacDog
– Best friends' story
– Bibi
– Bibinba
– Big Challenges
– Billy
– Billy Pie
– Biscuit
– Biscuit (Pompompurin)
– Black Opal
– Blacky
– Blue
– Bogo the City Boy
– Bonbonribbon
– Boo Bee
– Boo Gey Woo
– Boo Gie Boo
– Boy & Girl
– Brother (usahana)
– Brownie (Jewelpet)
– Brownies' Story
– Bubble Cheeks
– Buchiusa
– Buchiusa and Mintousa
– Bunny and Matty
– Buppi
– Button Nose
– Buushka
– Candy (Strawberry King)
– Cappuccino
– Captain Willy (human)
– Captain Willy (whale)
– Cathy
– Catnip
– Catrina
– Catsbykids
– Chacha
– Chai
– Category:Character Groups
– Category:Character Pairs
– Category:Characters by occupation
– Charmmy Kitty
– Cheery Chums
– Chelsea Stripes
– Cherinacherine
– Cherri
– Chewing Gum Street
– Chi Chai Monchan
– Chibikuri
– Chibimaru
– Chico
– Chiko-kun
– Chinjyumin&Gochan
– Chip
– Chippy Mouse
– Chirin
– Chiwapiyon
– CHOBOT
– Chocho
– Chococat
– Chocola (Hello Kitty)
– Chocola (Jewelpet)
– Chocopanda
– Choppy
– Chumi
– Chunenheroine Ojisan's
– Chuppies
– Chu~Chu~Ta~co
– Cielo
– Cinnamoangels
– Cinnamoroll
– Coco and Nuts
– Cocoa and Vanilla
– Coconut
– Cogimyun
– Cookie
– Coro Chan
– Corocorokuririn
– Cottontails
– Country Fresh Veggies
– Crafty Crew
– Criticrista
– Crybaby
– Culture Shock
– Custard
– Dachomi
– Dachonosuke
– Daisy & Coro
– Dandy
– Darkgrapeman
– Dean The Bean
– Dear Daniel
– Category:Debut Decades
– Deery-Lou
– Den Den
– DinDonDanny
– Dokidoki Yummychums
– Donjarahoi
– Donragon
– Dopey Demons
– Dora
– Dori
– Dotchi
– Dr. Helen
– Dreamtale Kubear
– Duckadoo
– Emerald
– Espresso
– Fairy Charmer
– Fairy Florence
– Fancy Elephant
– Fangora
– Fifi
– Flat
– Flint Hammerhead
– FORMULIXZ
– Framboiloulou
– Frappe
– Fresh Punch
– Friendly Kokkochan
– Frooliemew
– Fukuchan
– Fukurou
– Fun Come Alive
– Funnybones
– Fuzzie's Family
– Fuzzy
– Ganta
– Garnet
– Gatorgags
– Geetown Special
– Category:Genders
– Gentle Bear League
– Gimmefive
– Gingersnap
– Giraffe
– Goro (Badtz-Maru)
– Goropikadon
– Grandma (Hello Kitty)
– Grandma (My Melody)
– Grandma (usahana)
– Grandpa (Hello Kitty)
– Grandpa (My Melody)
– Granny
– Grinder
– Gudetama
– Guri
– Hagurumanstyle
– Hally
– Hana-Maru
– Hanatousagi
– Hanausa
– Hangyodon
– Hannari Komachi
– Hapidanbui
– Hapiru chan
– Happakids
– Harinezumi
– Hello Kitty
– Heysuke
– Hikidashi aita
– Hitsuji-san
– Holly's Bear
– Honey (Jewelpet)
– Honeycute
– Honeyfield
– Honeymomo
– Hopty Copty
– Hoshinowaguma
– House Train
– Howdy
– Hummingmint
– Ichigoman
– Ikkuchan
– I
– Iruka
– Jewelpet
– Jivexpress
– Jody
– Joey
– Judy
– Julianna Scott
– Jumbo
– Jump
– JungleBikky
– Kahme
– Kaitou-roppappu
– Kamome
– Kamonyohashi Series
– Kangaroo
– Kappa no Kappy
– Kappa Rumba
– Kashiwankomochi
– Keroleen
– Keroppa
– Keroppe
– Keroppi
– Kimi Kameleen
– Kinderkidz
– Kirimichan.
– Kitsune
– Kobun
– Kokero
– Komugiusa
– Komugiusa and Pandausa
– Konmi
– Koppepan
– Koroppi
– Kuma
– Kuromi
– Kurousa and Shirousa
– Kyorosuke
– Labra
– Lalalaflora
– Landry
– Latte
– Les nounours
– List of Sanrio characters
– Little Cottonwood Cottage
– Little Twin Stars
– Littleforestfellow
– Littlelovin
– Lloromannic
– Lookyloo
– Lou (Wish me mell)
– Lovee Days
– Lucy
– Lullaby Lovables
– Lutz
– Macaroon
– Macchiato
– Madonra
– Magical Rion-Chan
– Maimai
– Mama (Badtz-Maru)
– Mama (Hello Kitty)
– Mama (My Melody)
– Mama (Pompompurin)
– Mama (usahana)
– Maple
– Marin
– Marroncream
– Marumofubiyori
– Masyumaro
– Mellotune
– Melorina (Jewelpet)
– Mewkledreamy
– Miffy
– Milk
– Milkeemimi
– Mille-Fuille
– Milly Lilly
– Milly Pixie
– Mime
– Mime (Hangyodon)
– Mimicmike
– Mimmy
– MINNA NO TABO
– Minny le Mew
– Mint (Pompompurin)
– Miss Bear's Dream
– Mogumogu
– Mogura
– Mokuba
– Moley
– Momousa
– Mon-Mon
– Monkichi
– Monsieur Marin
– Mowzer
– Mr. Bear
– Mr. Bear's Dream
– Mr. Gross
– Mr. Mouse
– Mr. Policeman
– Mr. Robot
– Mrs Lindsey
– Mrs. Squirrel
– Muffin
– My Melody
– My Sweet Piano
– Nemukko Nyago
– Nezumikozou
– Nifty Fifties Comic
– Nina
– Noberun
– Noranekoland
– Nutz
– Nya Ni Nyu Ne Nyon
– Nyako
– Nyanmi
– Nyokki & Penne
– Okigaru Friends
– Opart
– Osaketachinonichijo
– Otamaro
– Pajamasclub
– Pandaba
– Pandapple
– Pandausa
– Pankunchi
– Pannapitta
– Panya
– Papa (Badtz-Maru)
– Papa (Hello Kitty)
– Papa (My Melody)
– Papa (Pompompurin)
– Papa (usahana)
– Paradise Lives
– Party a la carte
– PataPataPeppy
– Patty & Jimmy
– Paupipo
– Pea
– Pearl
– Pearlusa and Kirausa
– Peek-a-Boo
– Pekkle
– PePePePengiin
– Pero
– Peter Davis
– Petite Ange
– Petitmericco
– Category:Pets
– Pi-ru-ru
– Pich
– Picke Bicke
– Pierrot
– Pikki
– Pink no Corisu
– Pinki Bee Chan
– Pinki Lili
– Pippo
– PIX Press
– Plasmagica
– Playin' Paradise
– Pochacco
– Pochamii
– Pochi
– Poco
– Pokopon's Diary
– Polar Picnic
– Pompompurin
– Pon Pon Hieta
– Ponchi
– Pop'n Berry
– Popple
– Powder
– Presso
– Princess Squirrel
– Professor Kamato
– Puchipuchi Wanko
– Pukapuka Paradise
– Puppie Luv
– Pururun Kyupi
– Puwawa
– Qui-Quaks
– Rachel
– Ranran Puranrou
– Rateusa and Kapuchinousa
– Red
– Rhythm
– Rilu Rilu Fairilu
– Rin Ling
– Risu
– Risuru
– Robby Rabbit
– Robert
– Robow@n
– Rolé Molé
– Roonroonlulu
– Rorry
– Rory
– Roseanne
– RosiePosie
– Ruby (Hello Kitty)
– Ruby (Jewelpet)
– Runabouts
– Rururugakuen
– Saint candy
– Sakuran (Jewelpet)
– Sally
– Sambo and Hannah
– Sameo
– Samyu
– Sango
– Sapphie
– Sapphire
– Sassy
– Scone
– Sengoku Prison
– Seven Silly Dwarfs
– Shingan Crimsonz
– Shinkaizoku
– Shinkansen
– Shirirapper
– Sister (usahana)
– Small People
– Socrates
– Sora
– Space Saga
– Sporting Bears
– Spottie Dottie
– Spunky Burro
– Stega
– Stillsmall Tales
– Stinky
– Strawberry
– Strawberryusa and Blueberryusa
– Sugar
– Sugar cream puff
– Sugarminuet
– Suzumeya
– Sweetcoron
– Swim
– Syrup
– Tabby
– Tabisuke
– Tabitha Dean
– Tap
– Tart
– Teddy Bear
– Teddy the Teddy
– Tenorikuma
– Tera
– Teru Teru
– Teruteruporon
– Tetsunagikuma
– TGiF
– The Academic Friends
– The Chilli Pepper Trio
– The Duck Family
– The Duckies
– The Friendly Club
– The Little Train
– The Mainstream
– The Pi-chans
– The Strawberry King
– The Utensils
– The White Family Goldfish
– Thomas
– Ticky
– Tim and Tammy
– Tiny Chum
– Tiny Poem
– Tippy
– Tiramisu
– Tiran
– Toby Trix
– Toffeeroo
– Tommy
– Tonari no kappa-san chi
– Tops
– Tori
– Tracy
– Trend Point
– Trend Setters
– Tric Trap
– Trichronika
– TRIP TO WONDERLAND
– Trix & Trunx
– Tsugumido
– Tsurezurenaru Ayatsuri Mugenan
– Tuffy
– Tulip Mates
– Turfy
– Tuxedo Sam
– Twee Dee Drops
– Tweedle Dee Dee
– Tweety Hello Kitty
– Tzunko
– U*SA*HA*NA
– Umeya Zakkaten
– Uncle Cheshire
– Unico
– Category:Universes
– Uriurikoron
– Ushi
– Vanilla (Pompompurin)
– Vanillabean
– Vaudeville Duo
– Veggie Menu
– Vento
– Waffle Kids
– Wanmi
– Wanwa
– Warau Onna
– WeAreDinosaurs
– Wee Marylou
– Whip
– Whiskers & Paws
– White Bird
– Winkipinki
– Winning Jack
– Wish me mell
– Yachiyo Charmer
– Yeah What
– Yellow
– Yoshikitty
– Youkai Kids
– Yutakun
– Zashikibuta
– Zoozoogang
– Zou
– Zou Jitensha