This nice matte finish is good for your nails and serves as a really good-looking base coat.
If you have a dark or medium brown polish, it will work best. Once you nail this look, it might be fun to play around with color!
Traditional henna patterns are drawn with a red brown ink so when you go to pick your colors, make note of the base coat tone juxtaposed to the brown color that you will use with a very thin paint brush. A liner brush will give you nice, thin lines.
When you dip the brush in the brown paint, it's a good idea to take the time to go slow so that the brush will make a mark similar to a ball point pen when you are ready to start drawing.
Painting or drawing on henna nails should feel like you are doodling a little floral pattern. Before you begin, you'll find that there are plenty of pictures or paisley patterns that you can use for reference online.
We find that it's easiest to make the design look evenly placed on the nail if you begin your doodle with a circle cropped to one corner of the nail.
As you draw in a slow and calm manner, remember to embrace the calm feelings you experience as you trace in complimentary shapes.
You might begin to feel the rhythm of dragging the tip of the brush along the surface of the nail.
We hope you enjoy making henna nails because the energy you put into the manicure will show when your doodle dries so very pretty. As always, remember to use a glossy or matte top coat.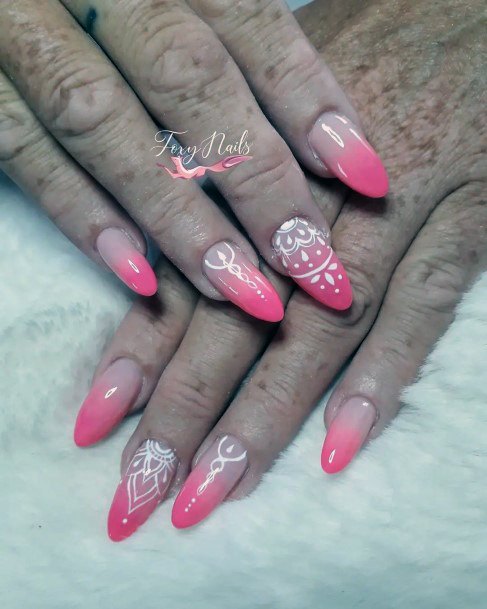 From pink to nude, these fading ombre fingernails are truly beautiful on their own. Add in the striking white henna pattern and you've got that wow factor going on. Pretty, pink and girly, I love the charming style of these classy yet, fun fingernails.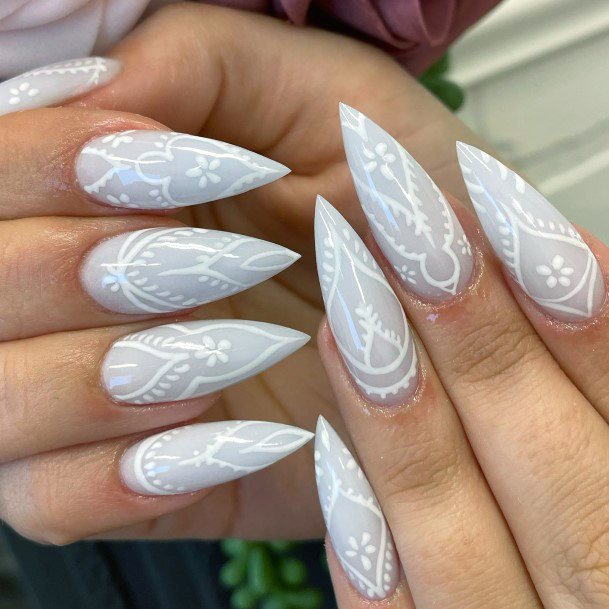 I can't help but think of formal occasions whenever I see white nails; the look is crisp, clean and neat. However, I like what they did here with the stiletto fingernail style which incorporates sharp, pointed ends; it's a unique touch. I love how the white subtly pops against the slightly-grey-ish off-white base color.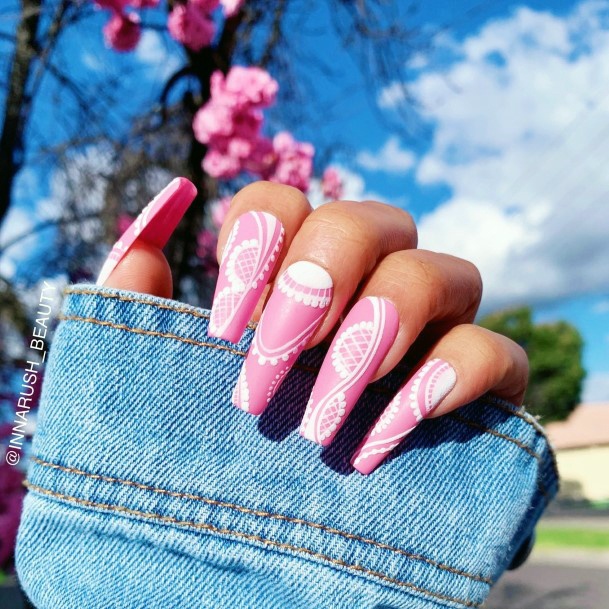 I found this henna pattern to be rather unique, with lots of crosshatching, waves and rounded dots. The pink and white color combination is definitely girly, as is the longer length of nail. This look is perfect for both summer and spring, and as shown pairs wonderfully with any kind of denim, dark or light.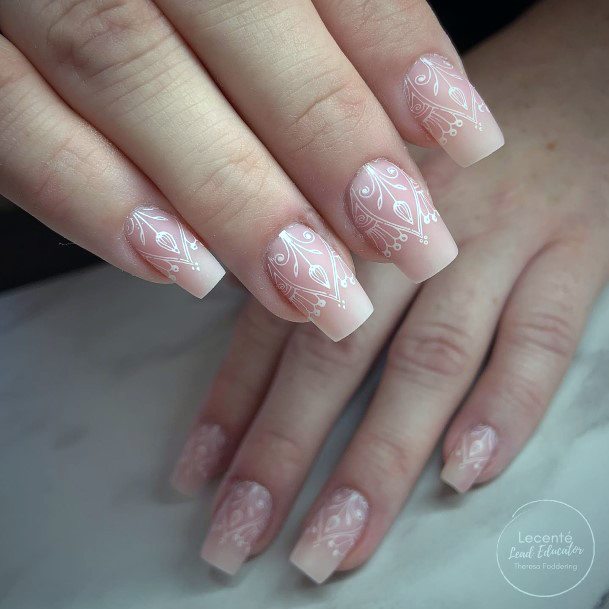 Henna patterns on their own are delicate and beautiful, but this nail style really captures the essence of graceful and classy. The subtle ombre base paired with a thin lined henna pattern is truly magnificent. I love how these nails aren't heavy on the statement making but rather draw you in with these beautiful details instead. The flower pattern on the inside is beautiful and the ornate elements surrounding it are certainly charming.