You might use nail art clay, nail polish alone or have matte and glossy yellow nails. Combining these techniques will make your manicure beautiful bright and juicy!
For the fist approach, you will see little baby slices of lemon on each nail. This kind of nail art features a slice from a roll of clay that was made to be sliced off like sugar cookies.
Each tiny and thin slice will look like a little lemon. These tiny lemon slices are beautiful when you place them on top of a solid white coat on each finger.
You might also place them right in the middle of the white line of your French manicure.
Another simple approach is to get a few colors of yellow and paint every third nail the same color. This will create a pattern of yellow that will look fresh and lemony!
You might play around with matching the colors in the bottle first to make sure the yellows compliment each other.
It could look a little strange before you put on your top coat but if you go with high gloss, it will tie the different colors together and look very beautiful.
You can take a matte white polish and use a liner brush to draw on little white seeds on your nails. You might also paint your nails tips a matte yellow and leave the bottom part glossy.
This will make a neat wet and dry look, just like a real lemon. You might also use painter's tape to mask off stripes or tips for this look.
No matter how creative you get with layering these techniques, remember to wear a pretty summer dress or a bright color to compliment your beautiful lemon nail art!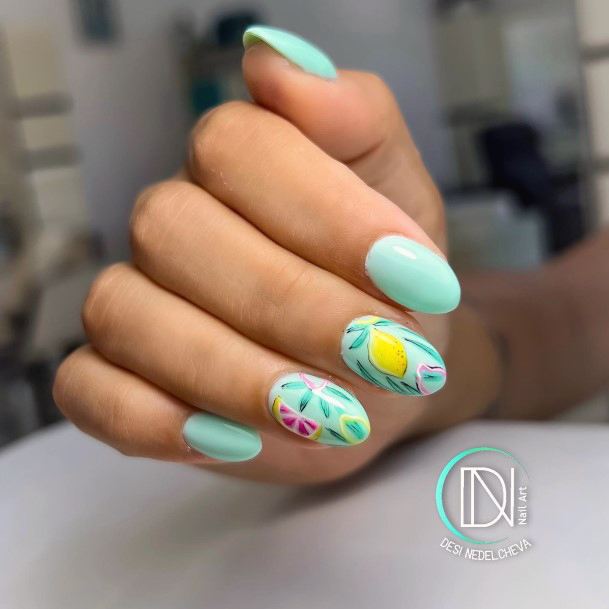 Love the lemon look but want a little less yellow? No problem! I love these short nails with a solid pale green base coat and fun summer style.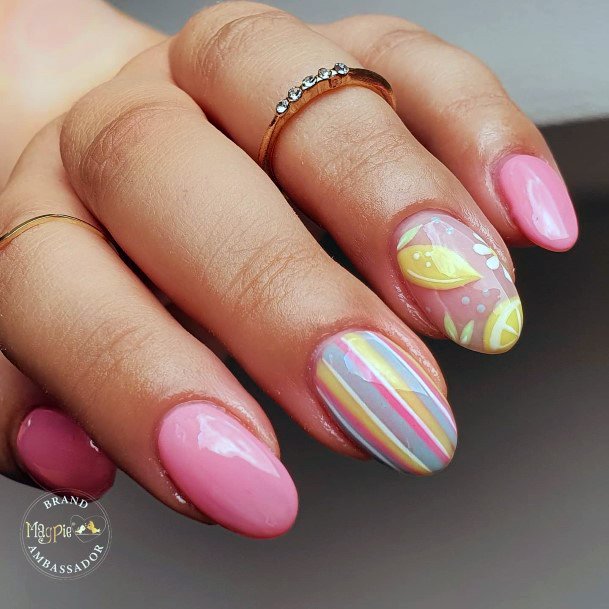 A simple whole and sliced lemon give this fingernail style a whole lot of personality while not being overly in your face. Note the lighter pink base underneath the lemons alongside the cute flower print pattern. I love the colorful summer or spring vertical stripes and the girly solid pink base.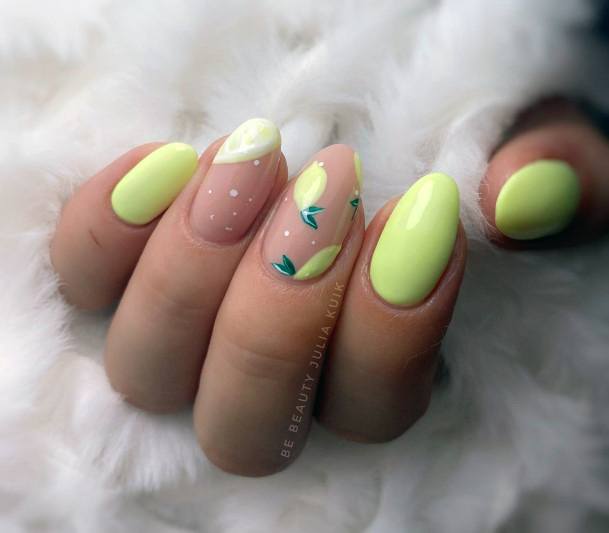 Here's how to go with lemon nails and keep the look on the classier, and less flashy side of things. Instead of using a bold, bright yellow such as a neon, they've gone with a nice pale tone. A nude base color on the middle two fingers adds plenty of contrast against the round fruit.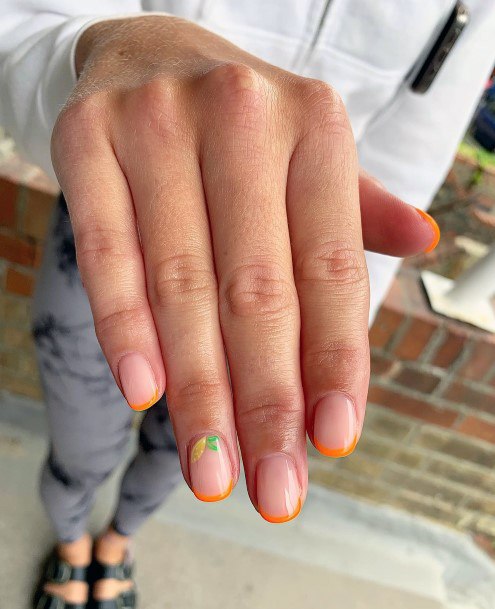 Tone down the look but keep it vibrant with these awesome orange French tip summer nails. Tucked near the cuticle is a sole lemon with a tiny green leaf attached. Short, plain and simple, these fingernails are super cute.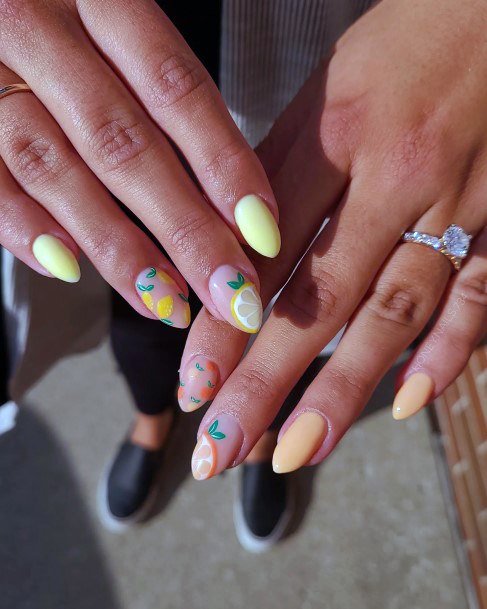 Can't decide which citrus fruit you want to rock this summer? Make things more interesting by going with lemon on one hand and orange on the other. Note the beautiful pale yellow on the left hand and pale orange on the right. Both hands feature a simple sliced in half fruit design over a pinkish-nude base coat; plus tiny whole lemons and oranges.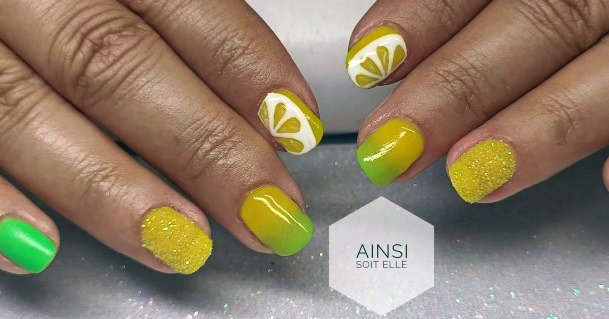 For a bright summer look, you can combine both neon yellow and neon green base colors. You can even opt to do a single ombre like they have. A touch of glitter on a single finger in this case, adds even more visual interest. Sliced lemons complete the citrus themed manicure.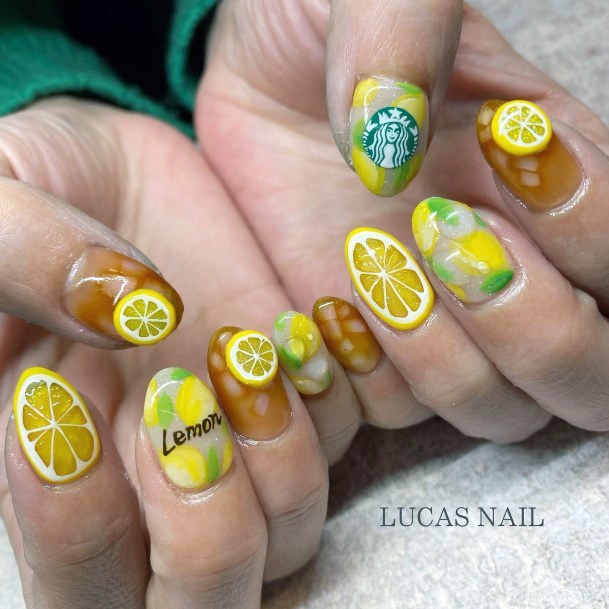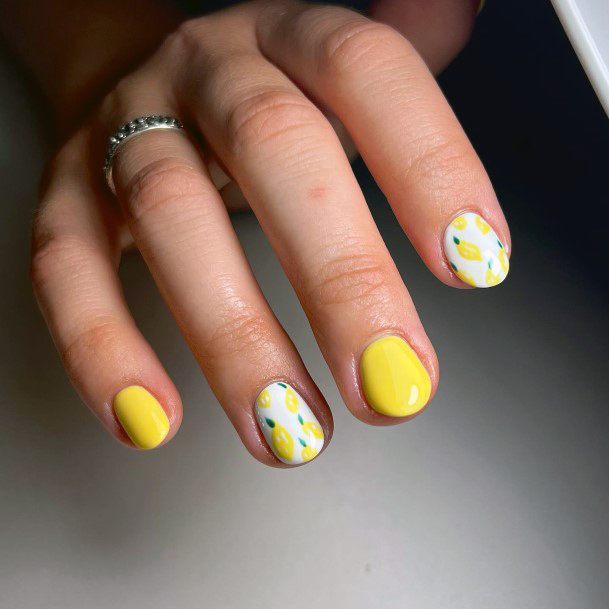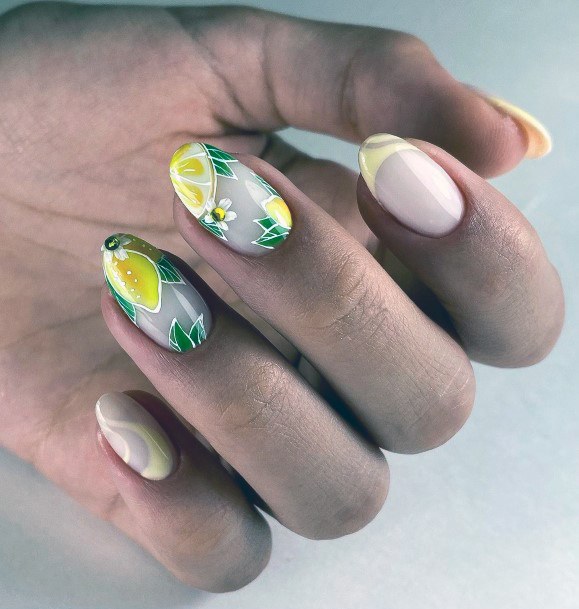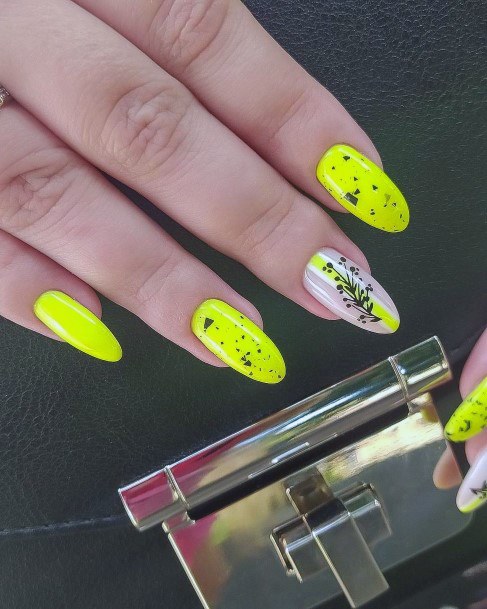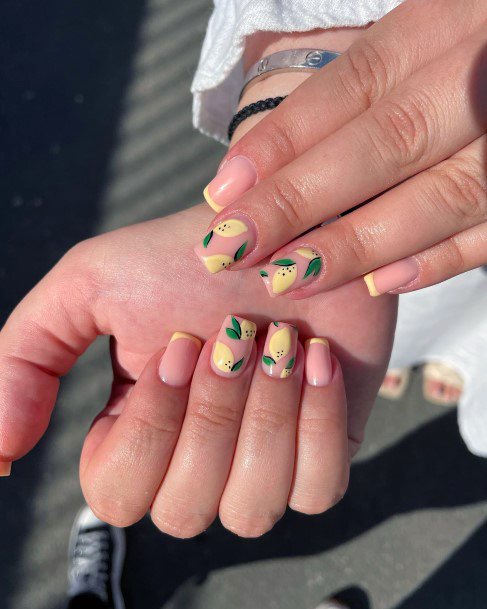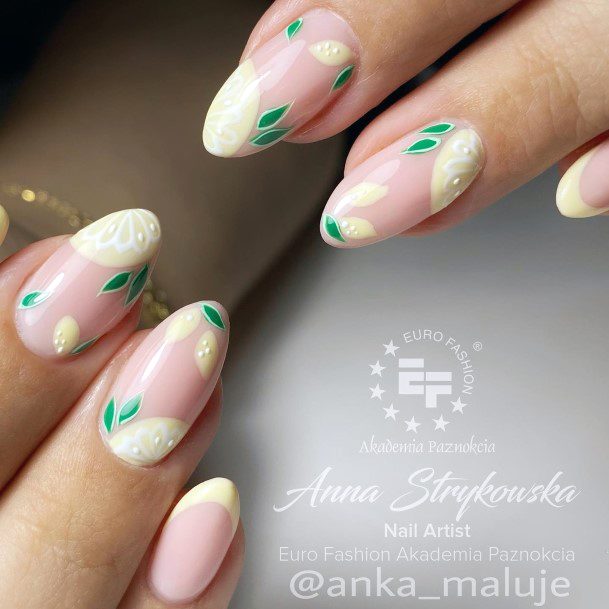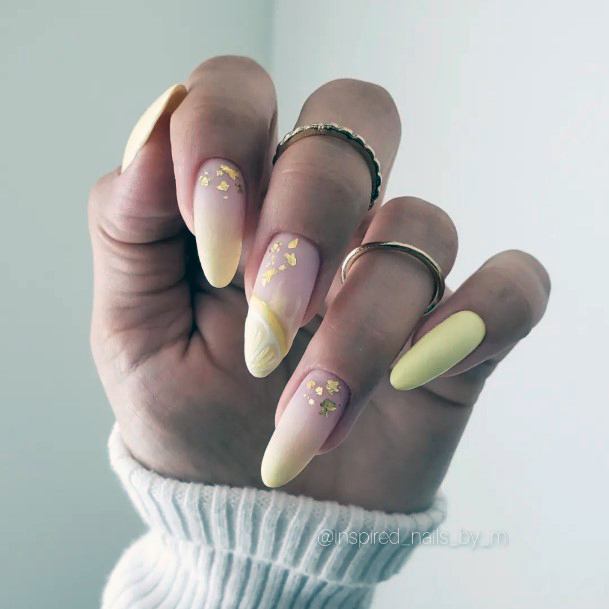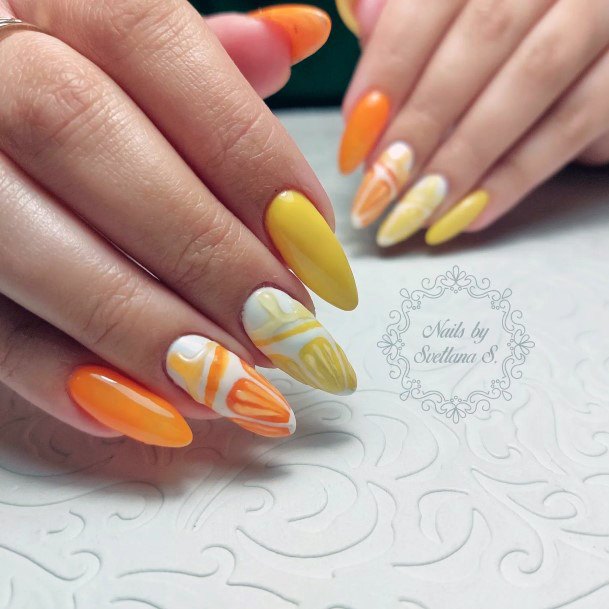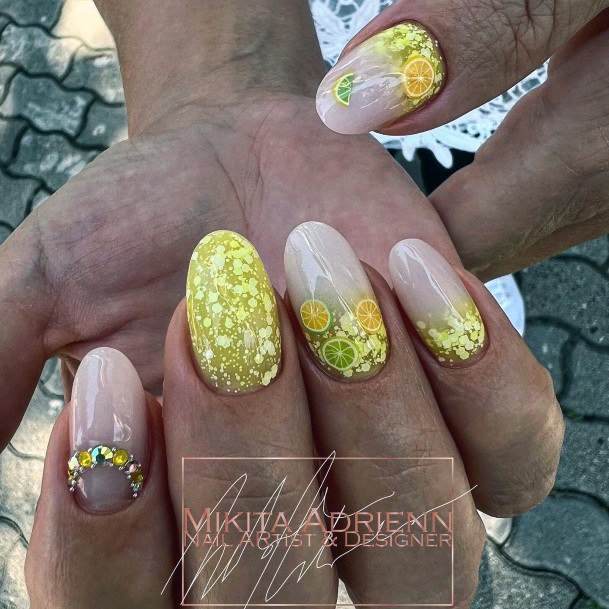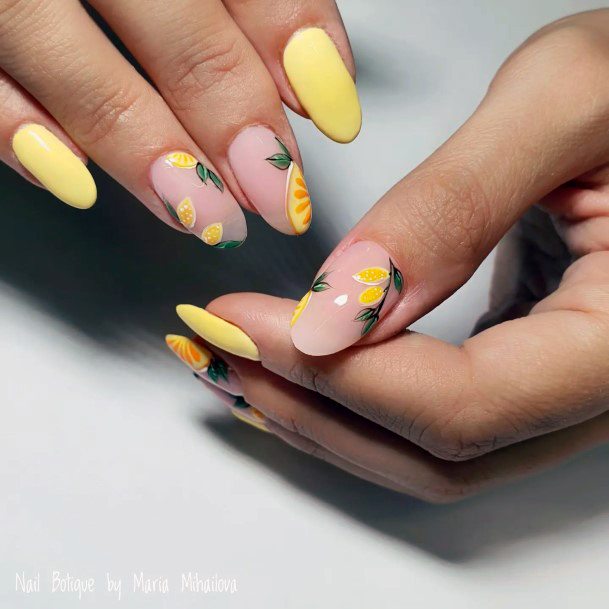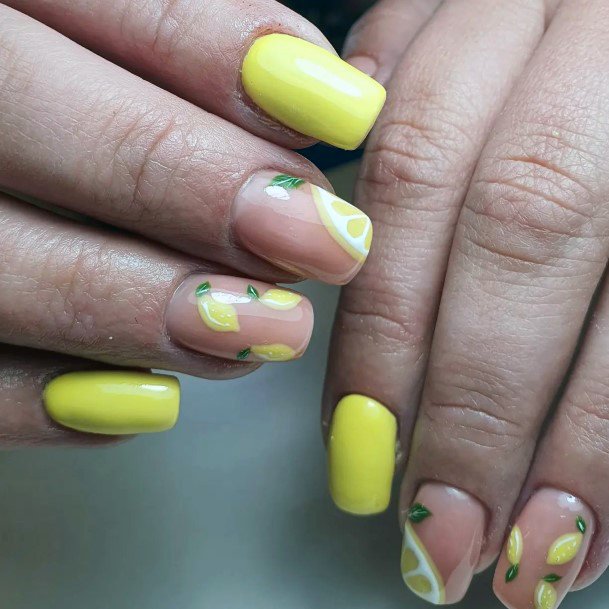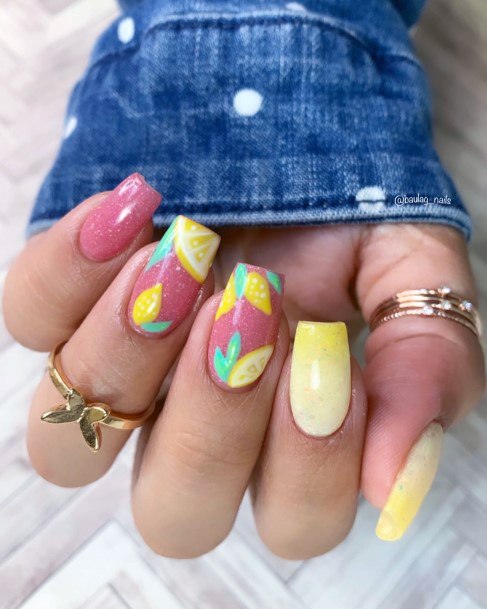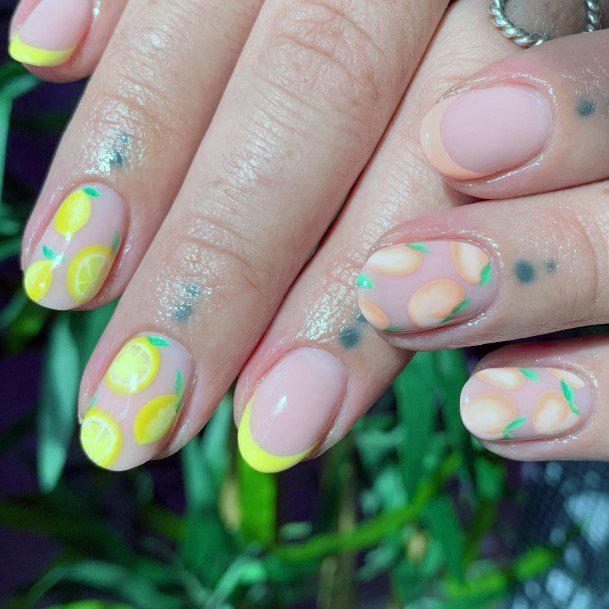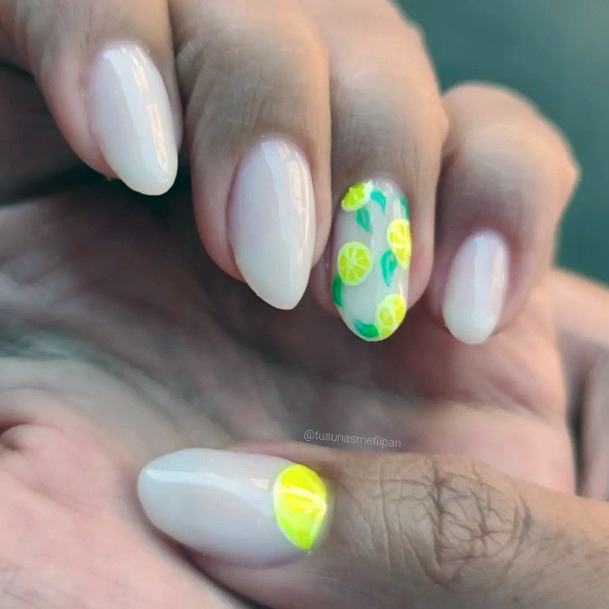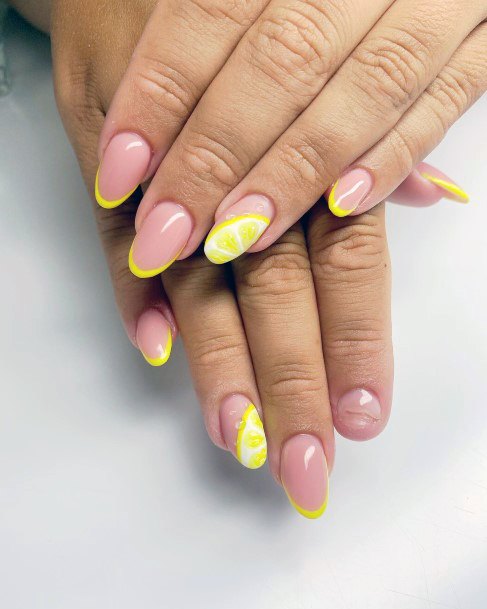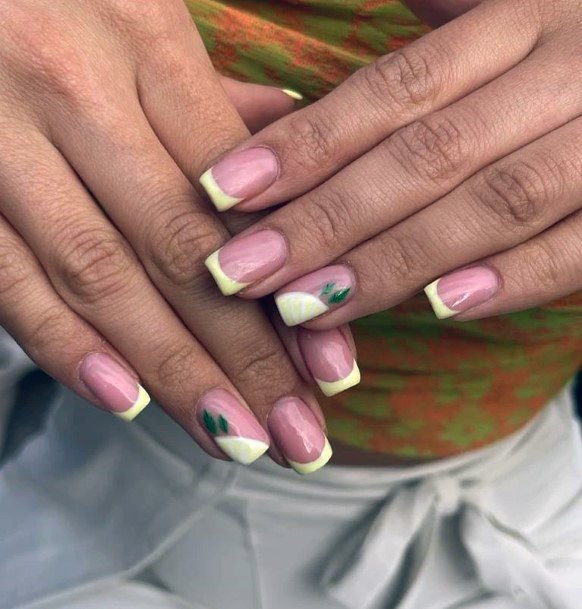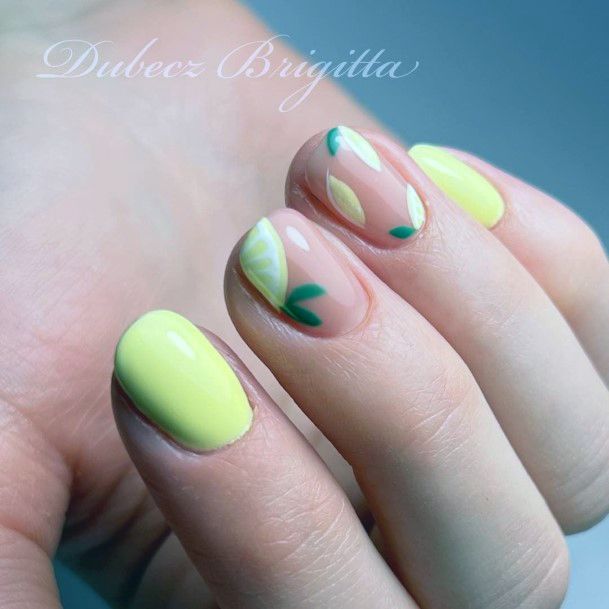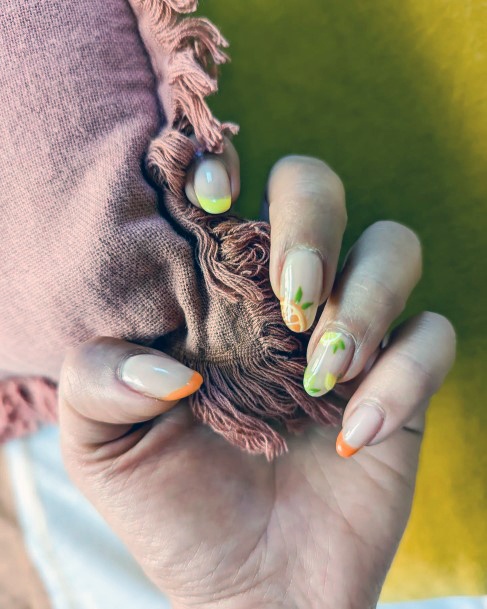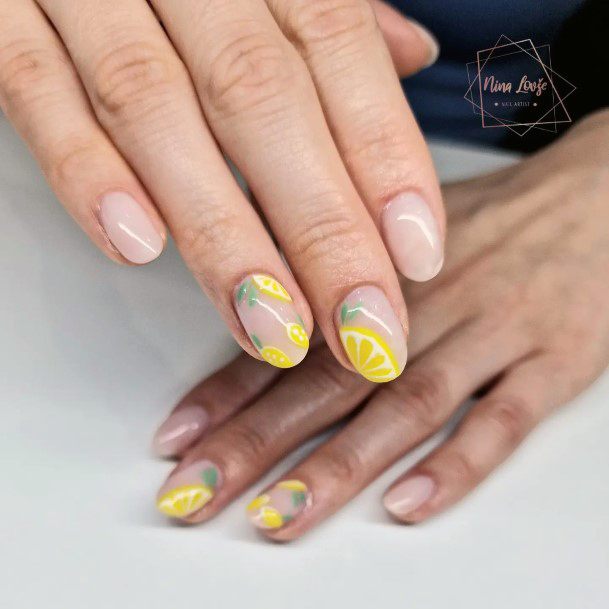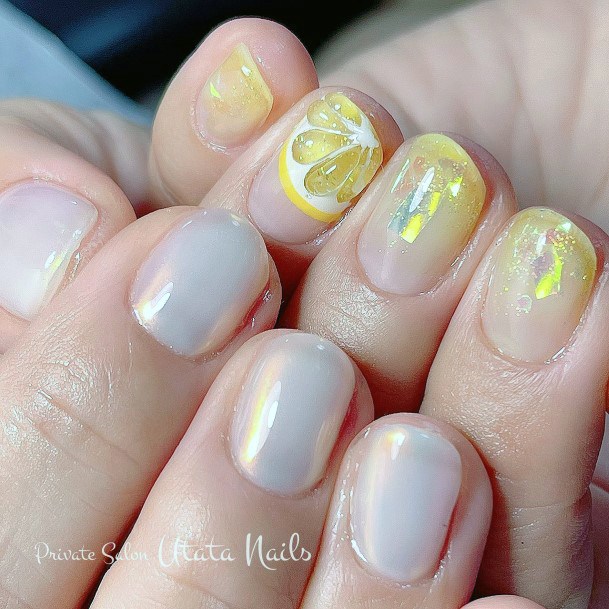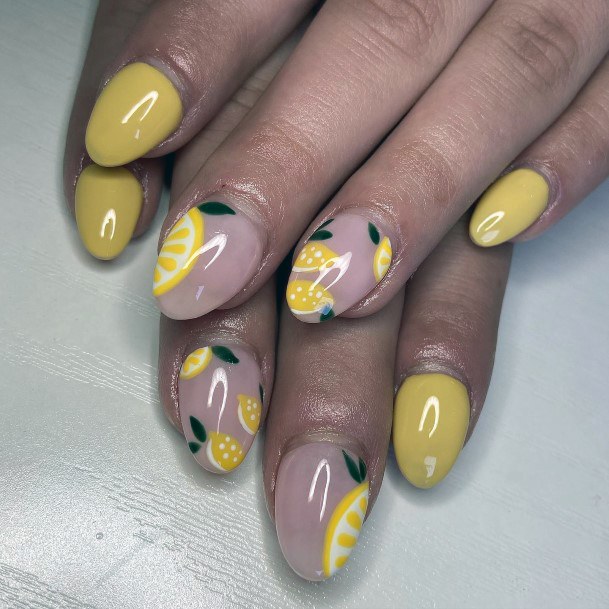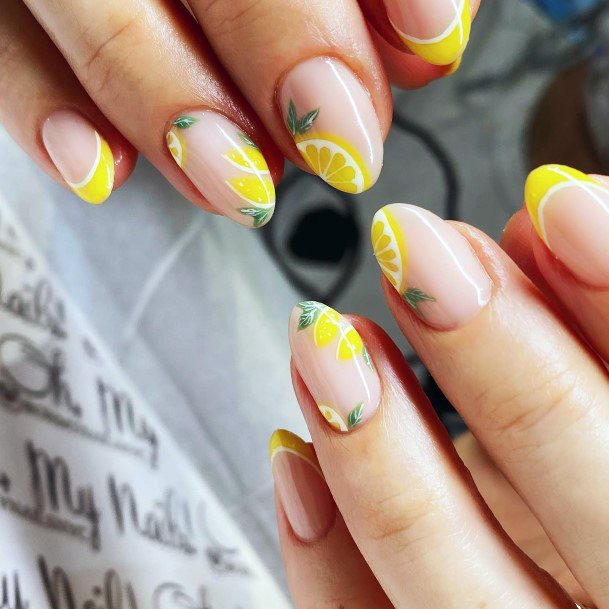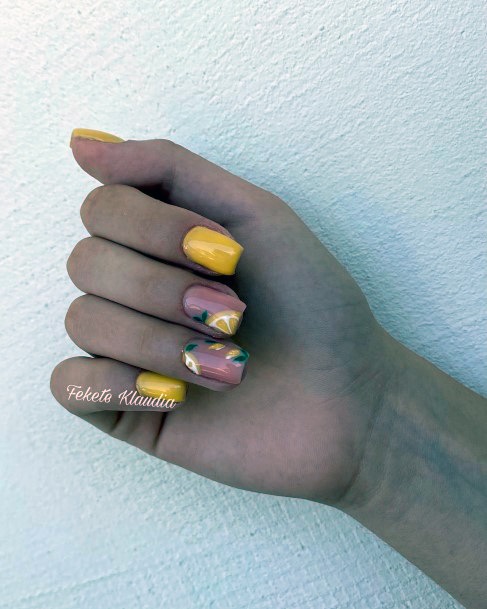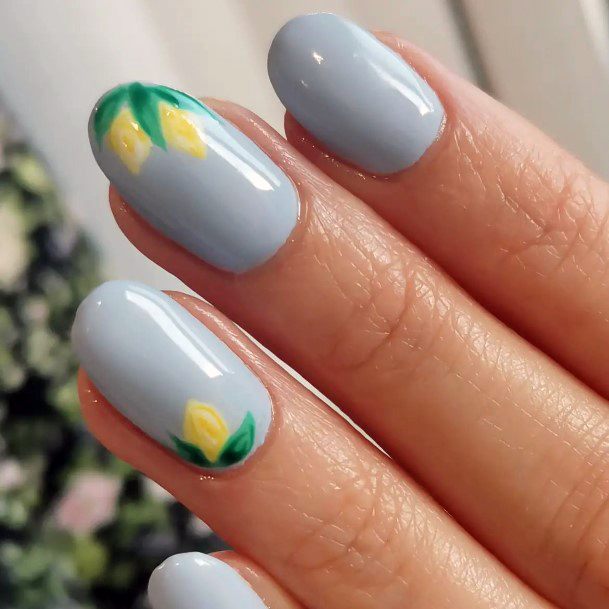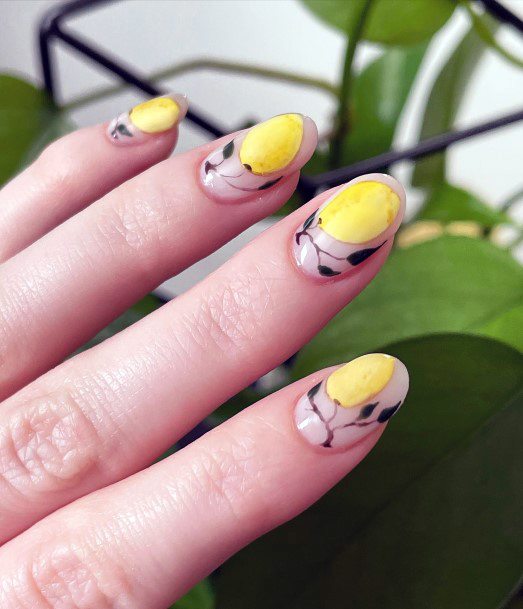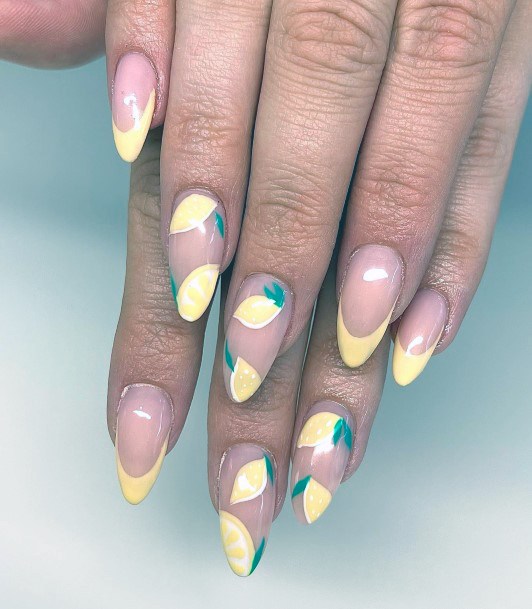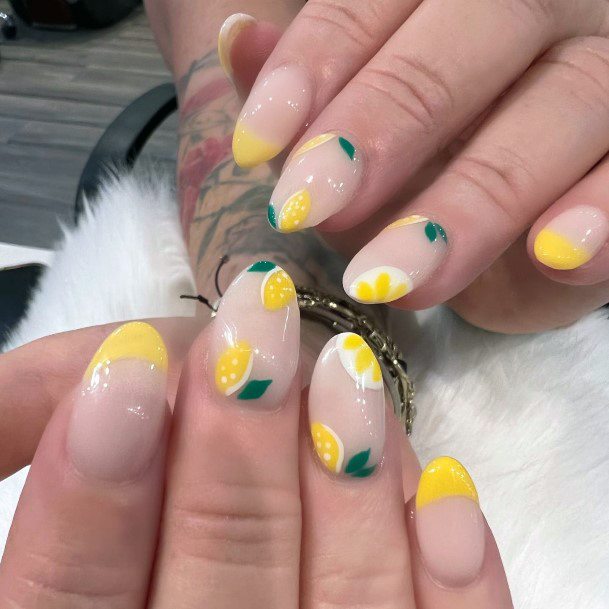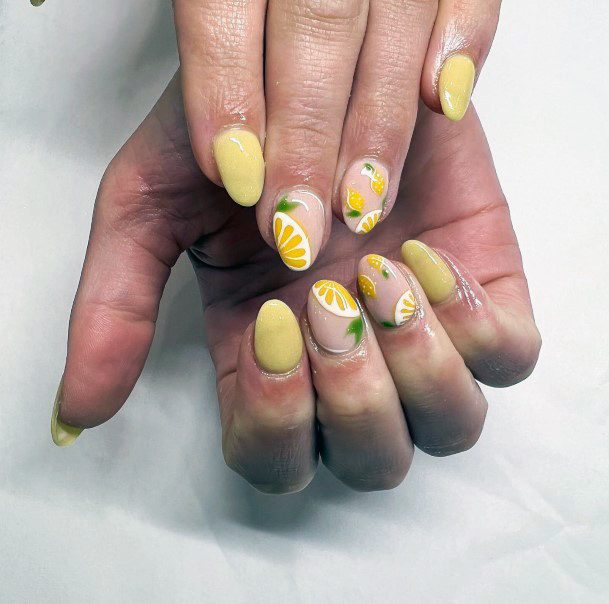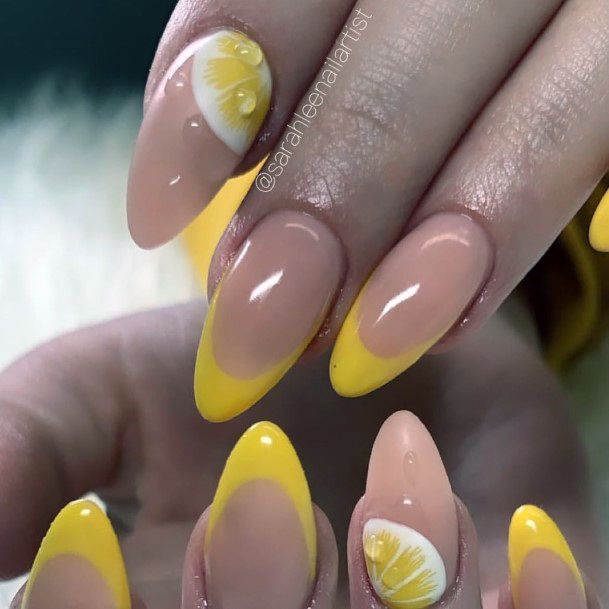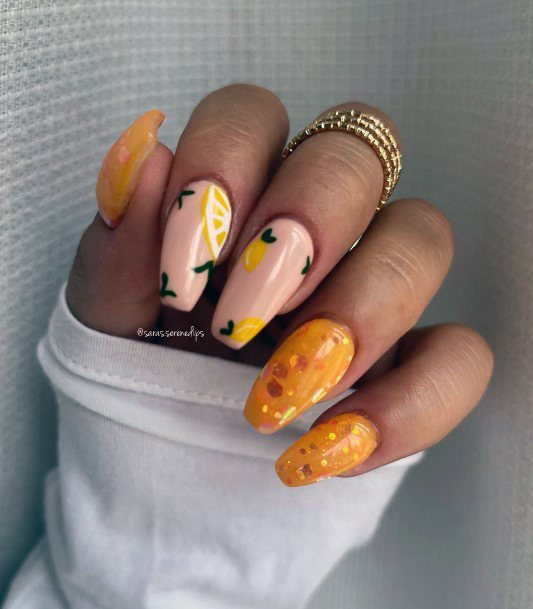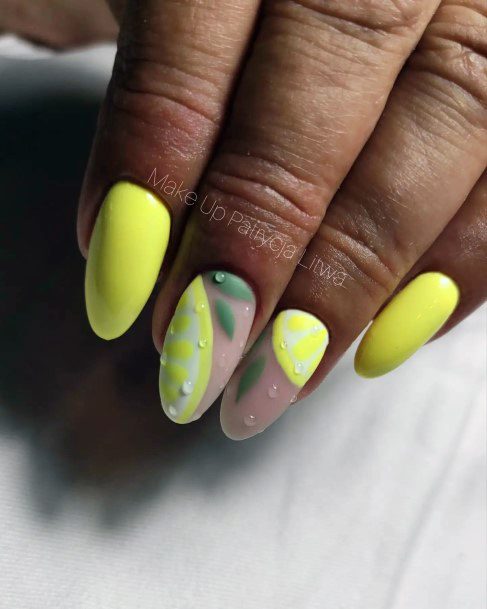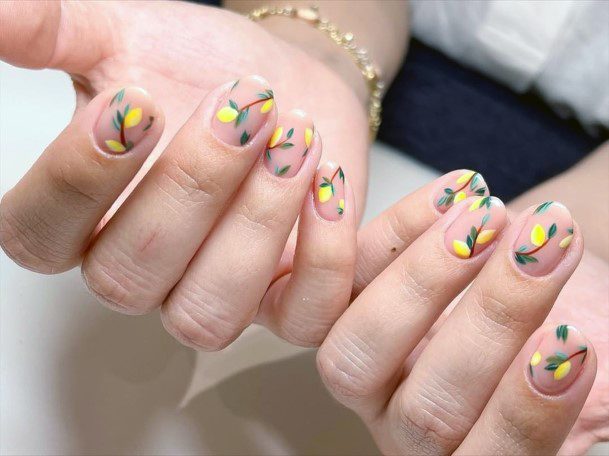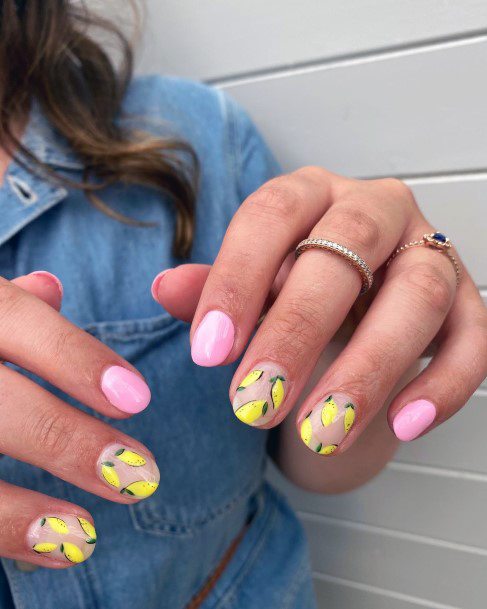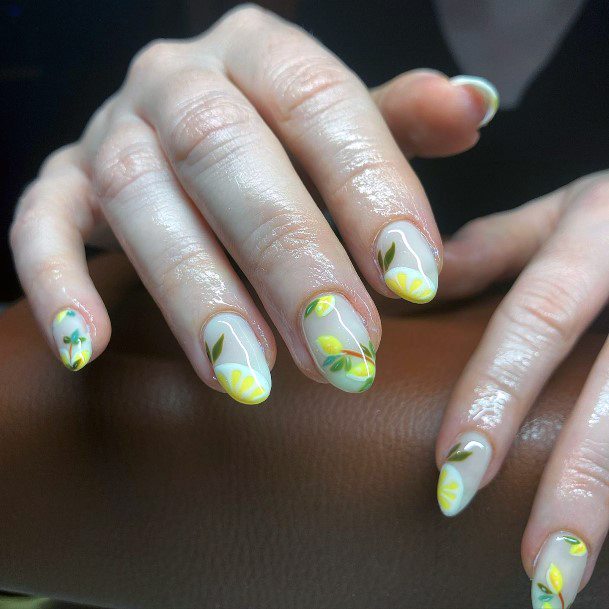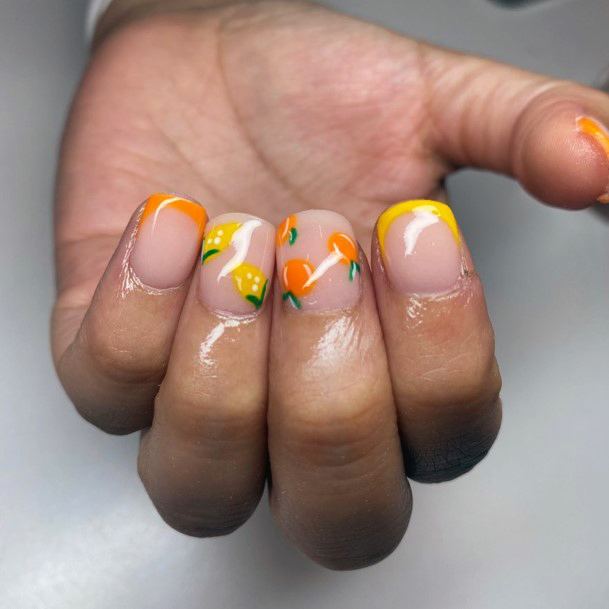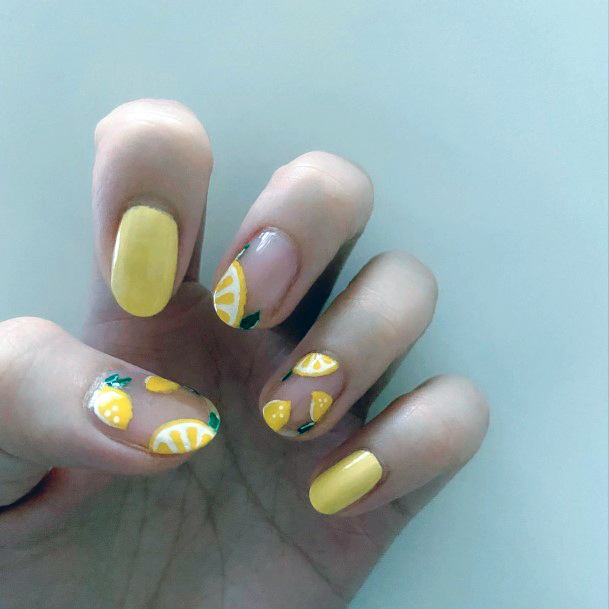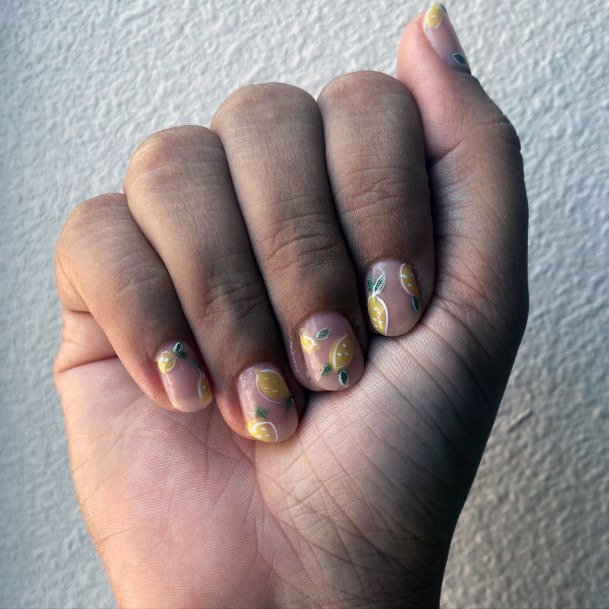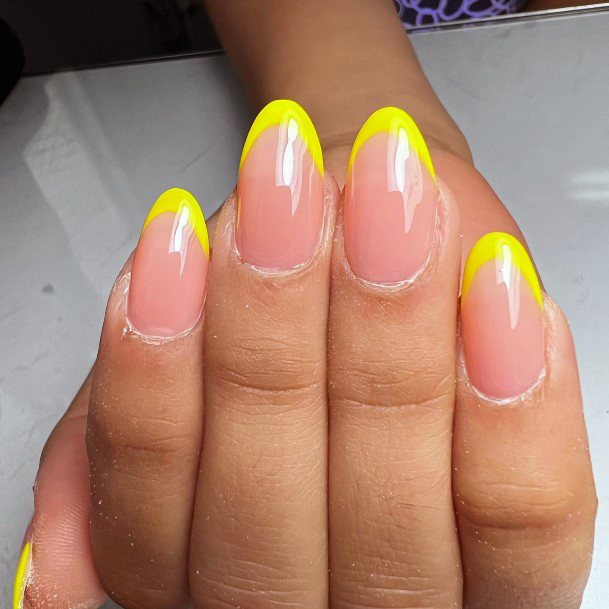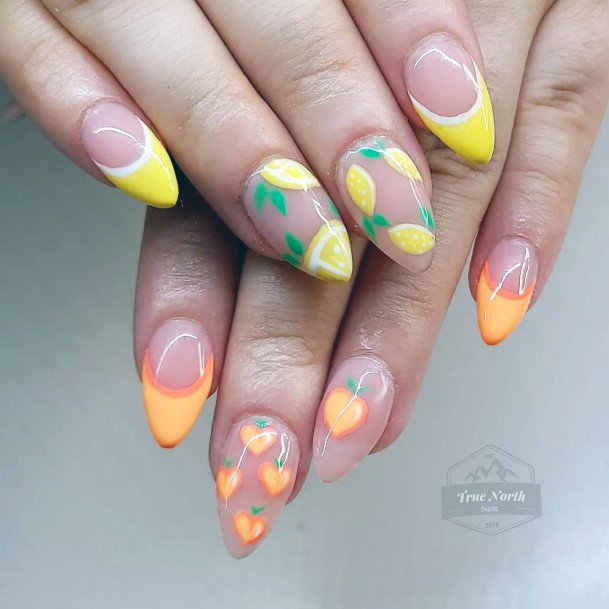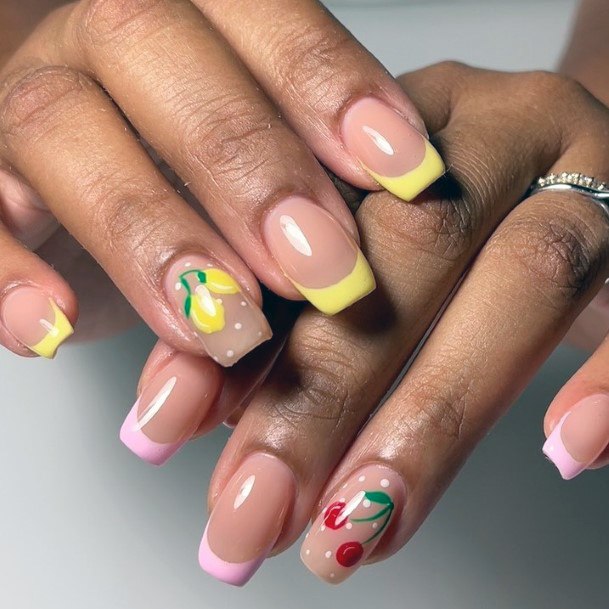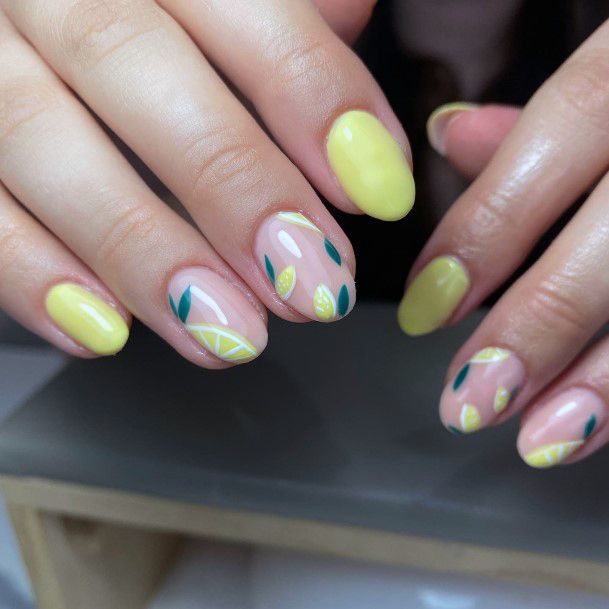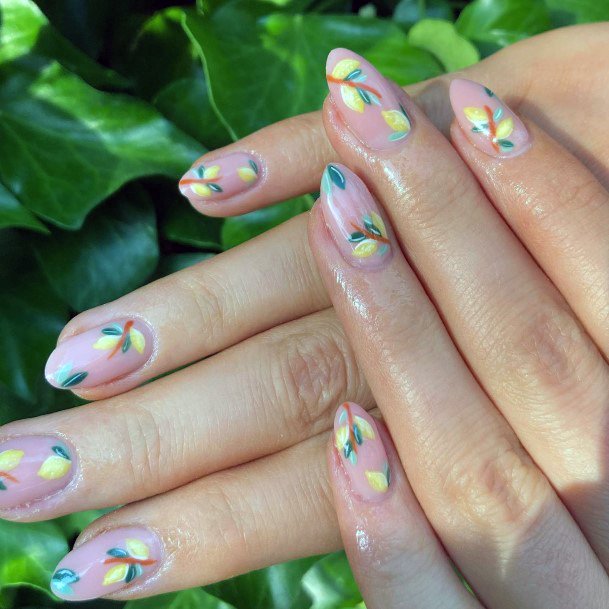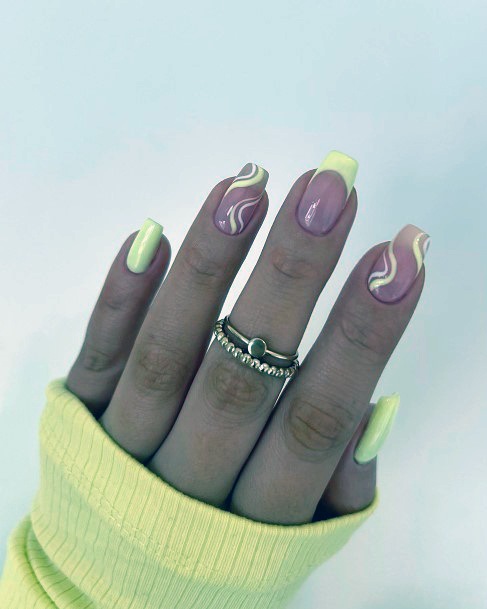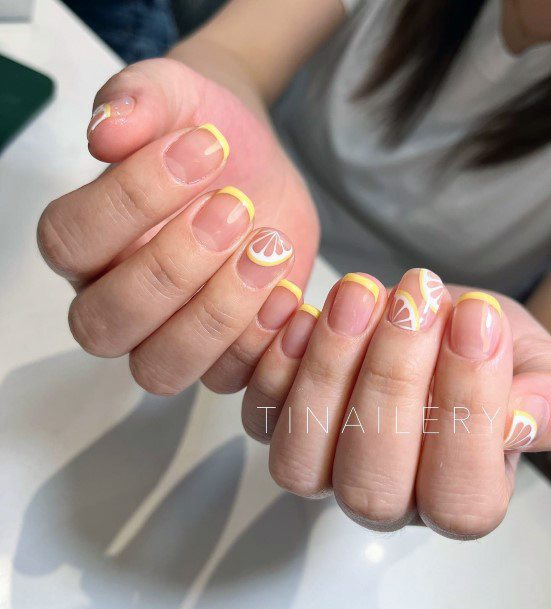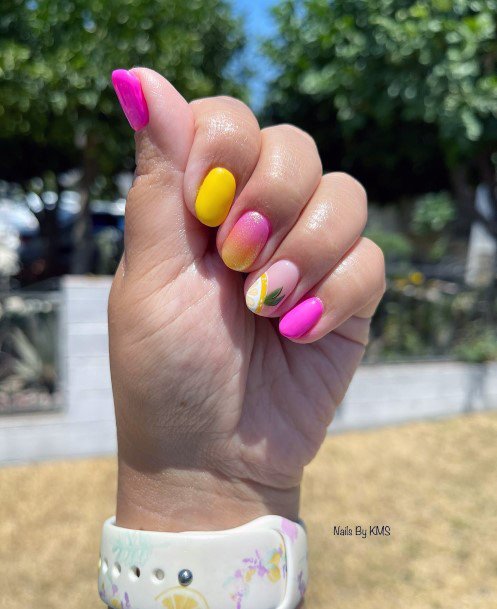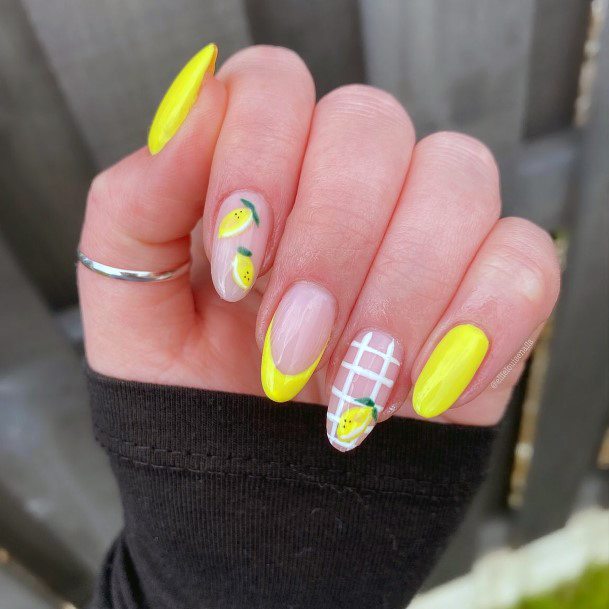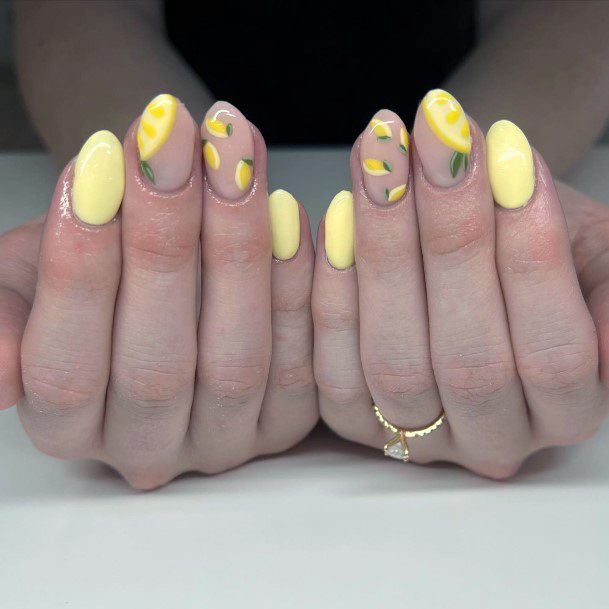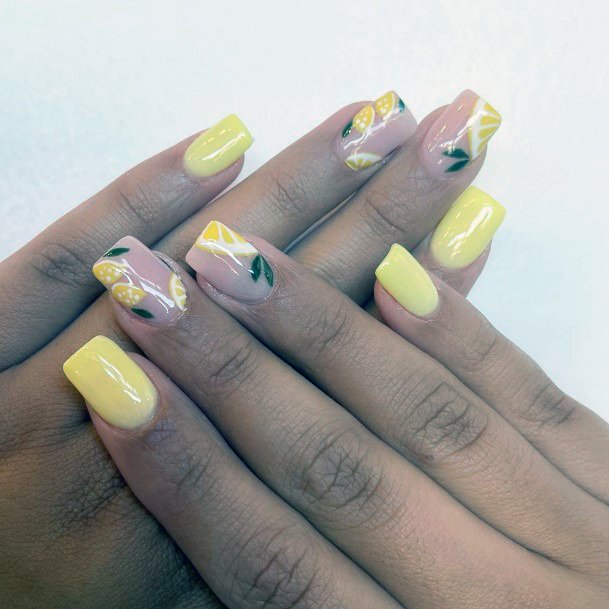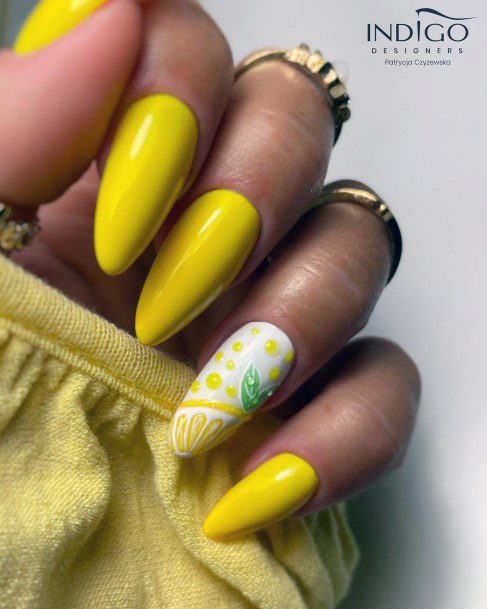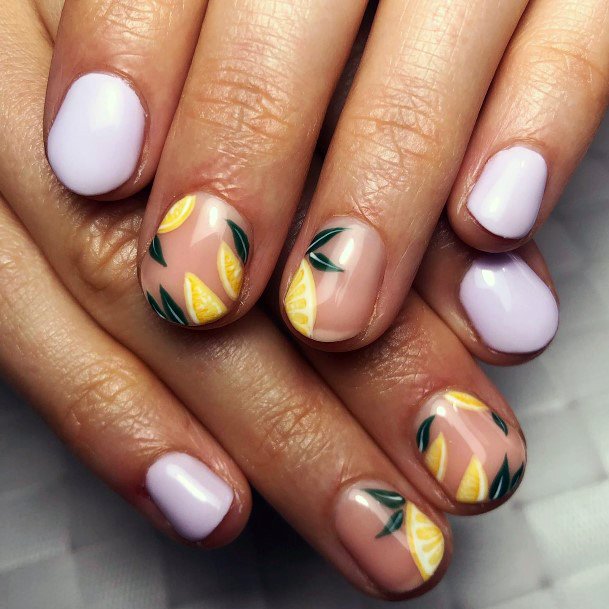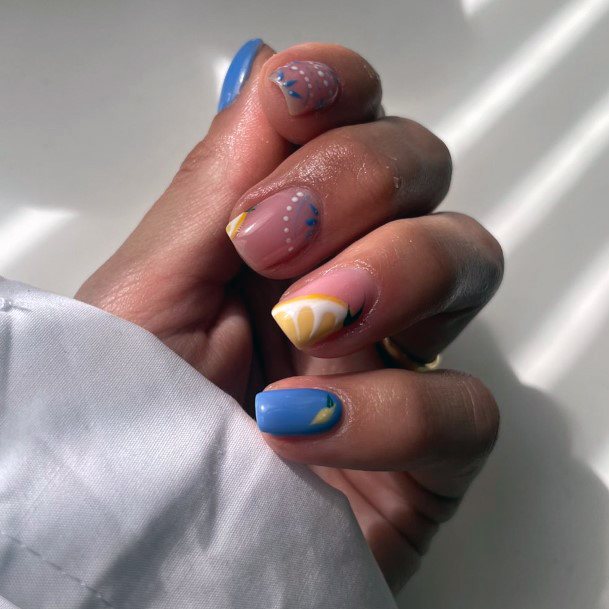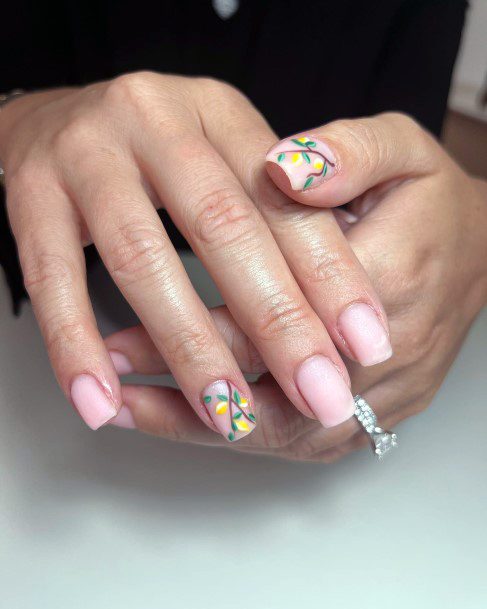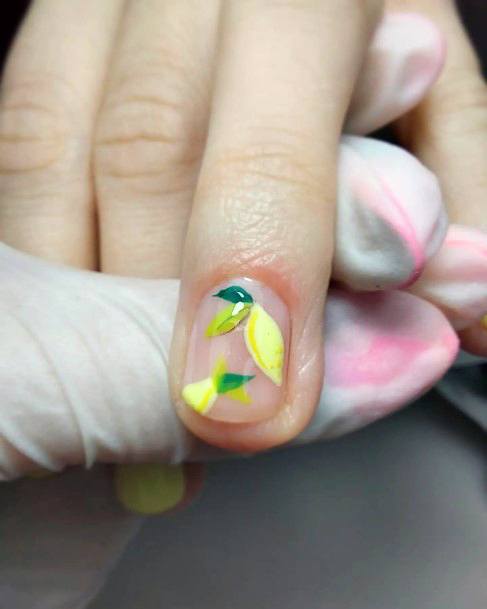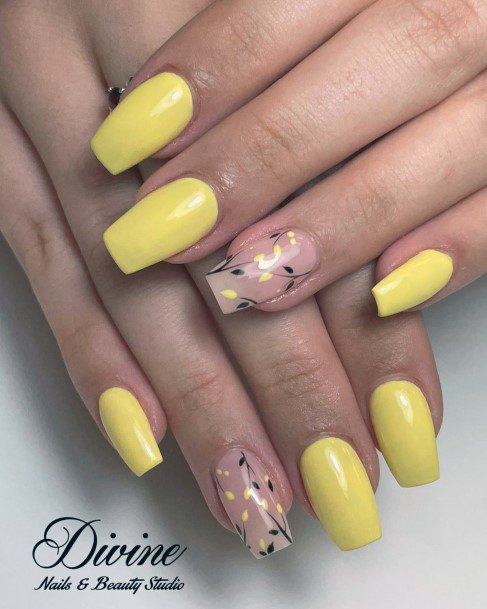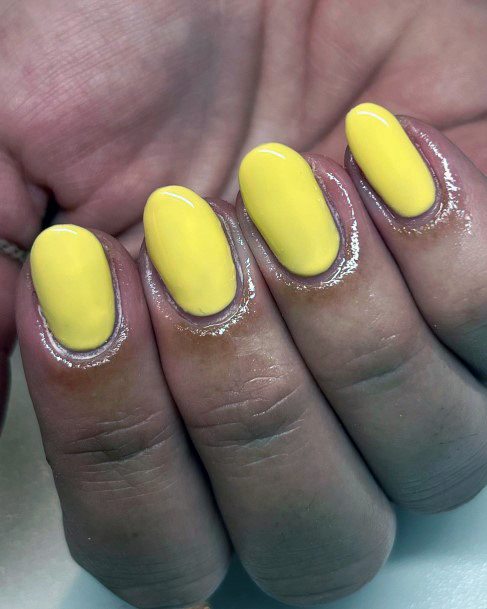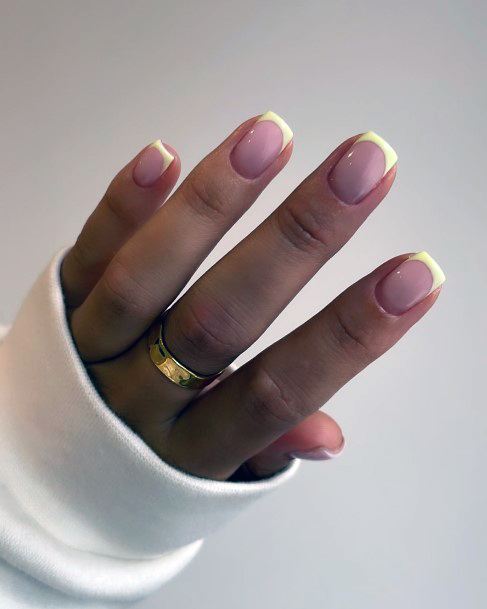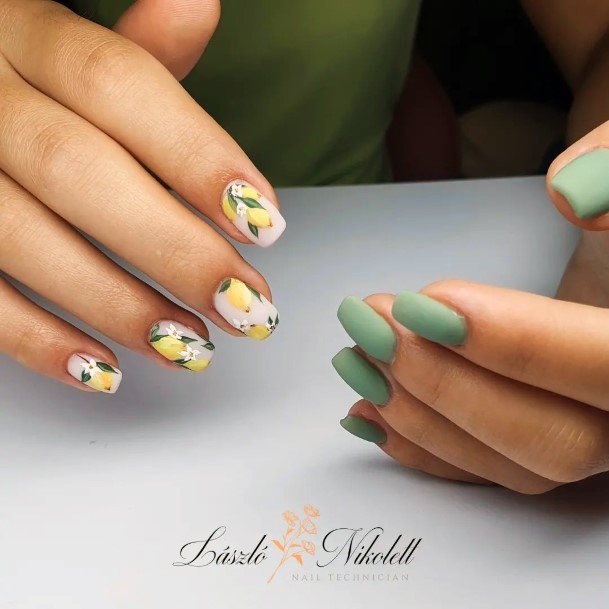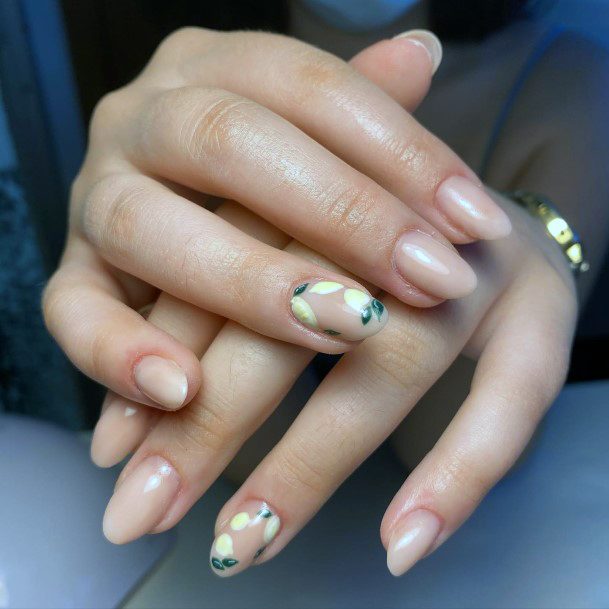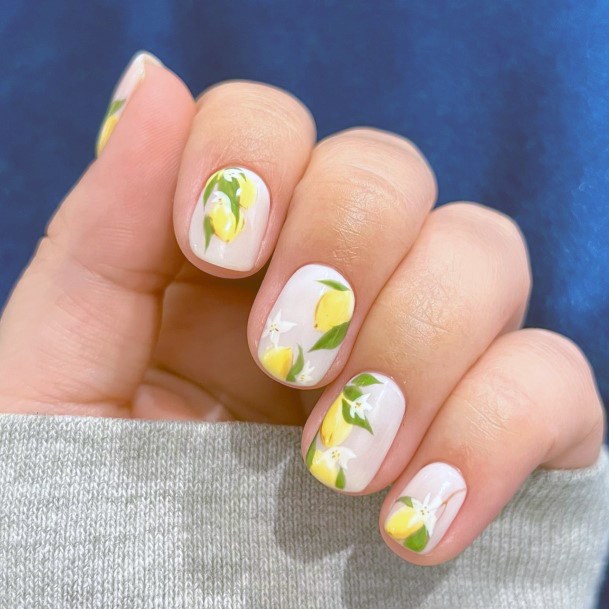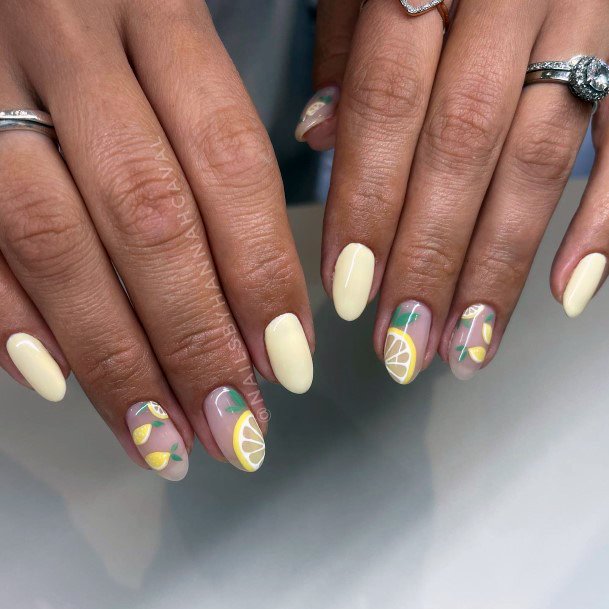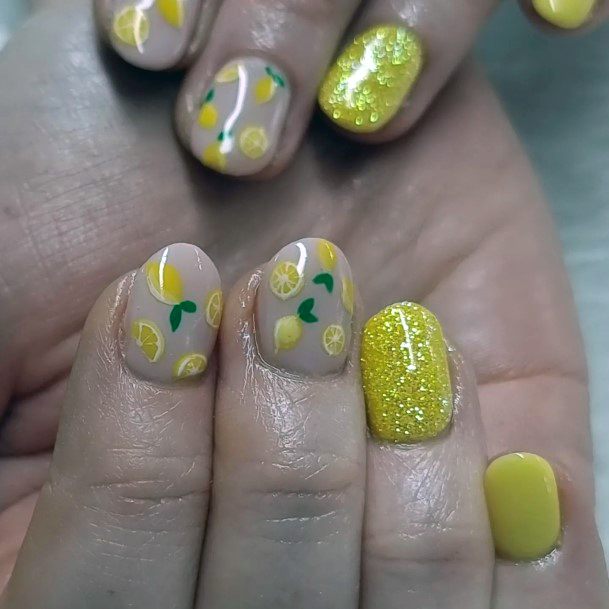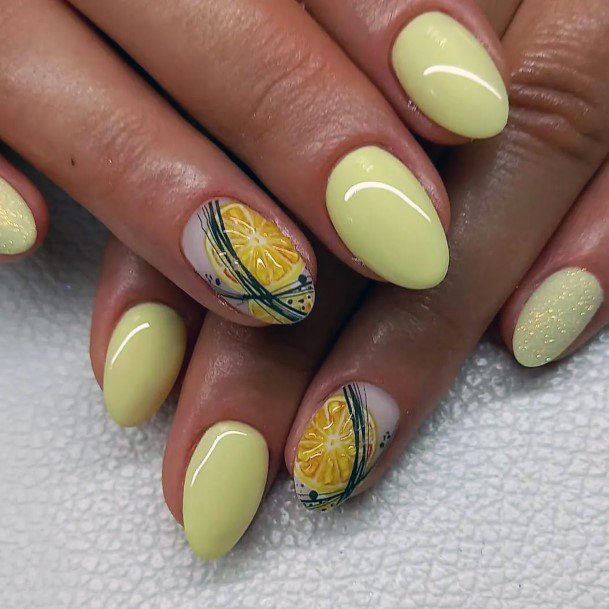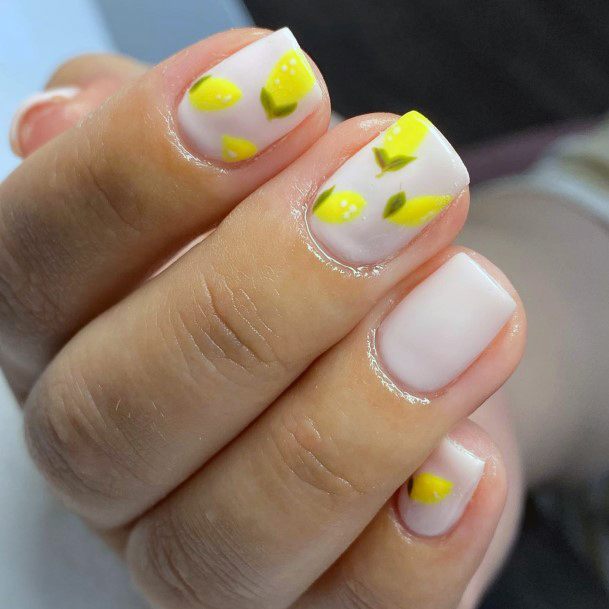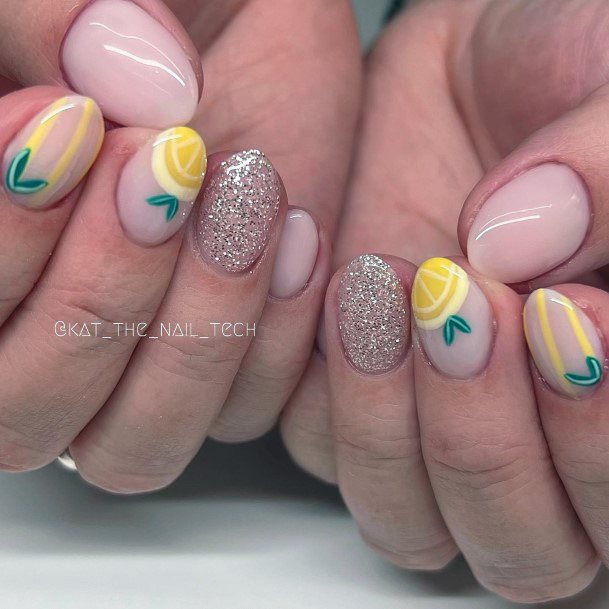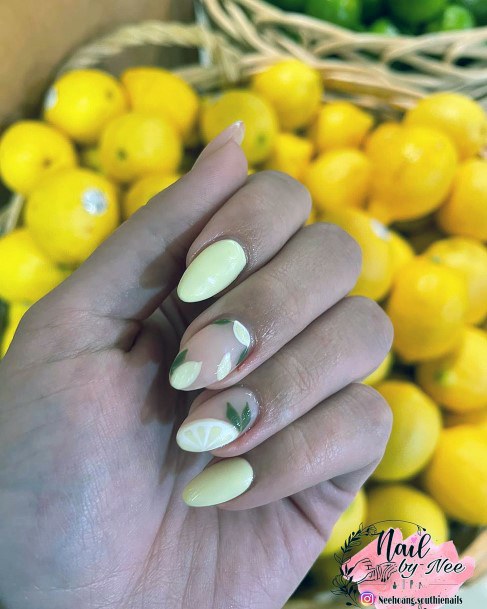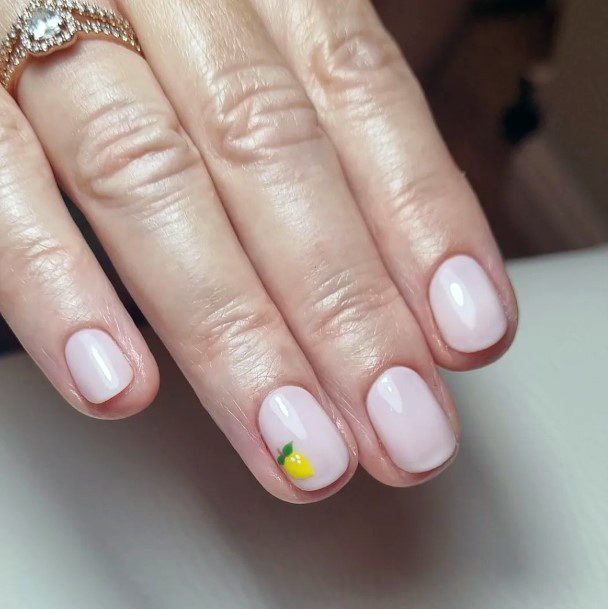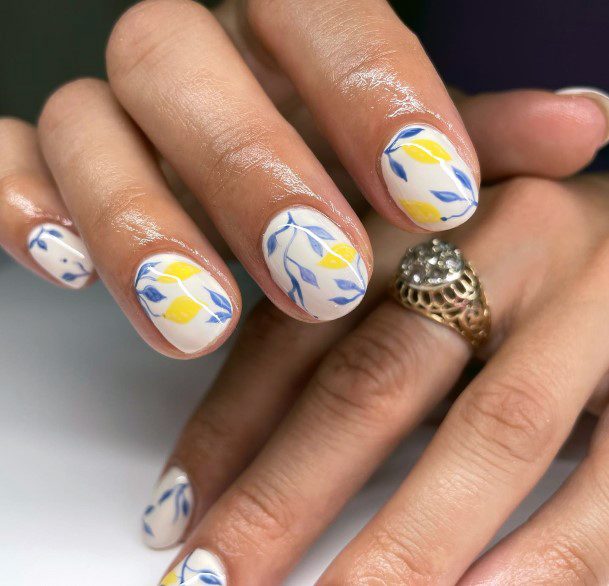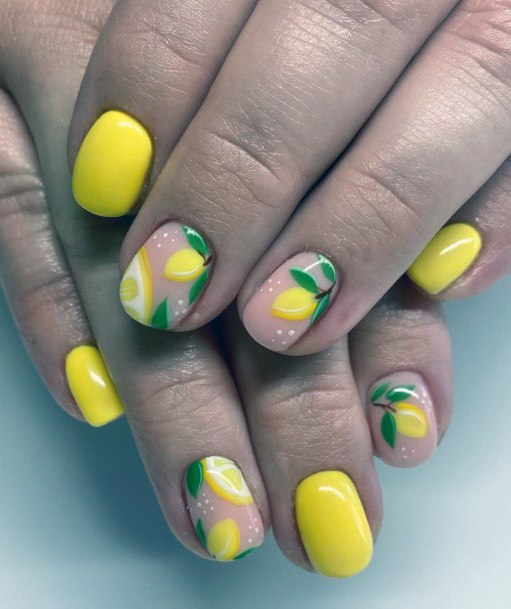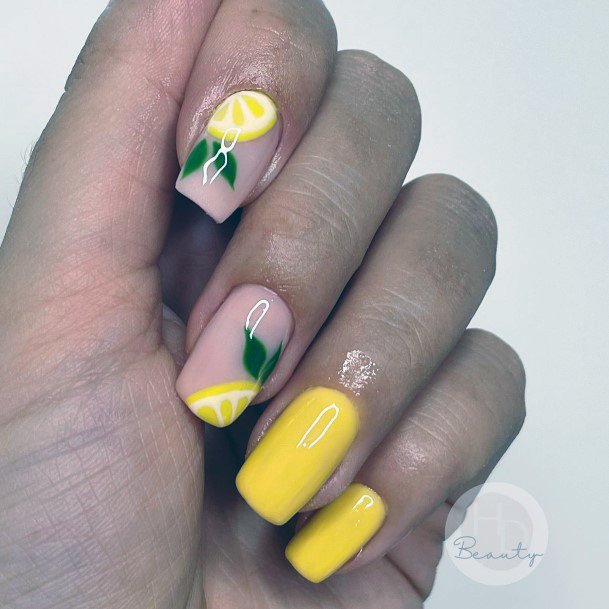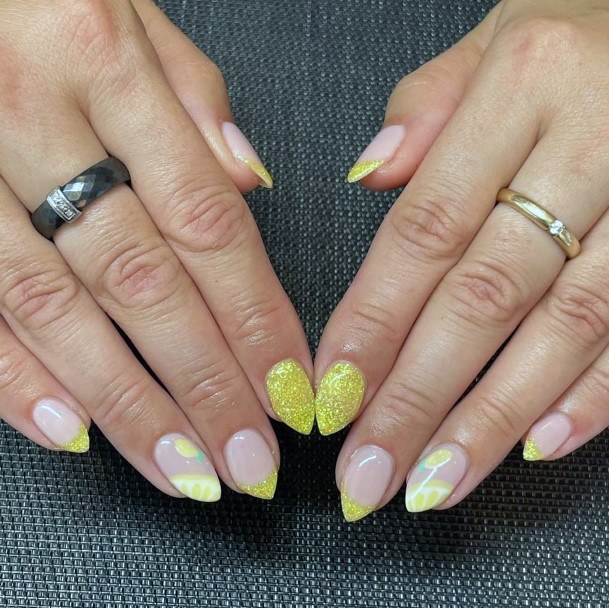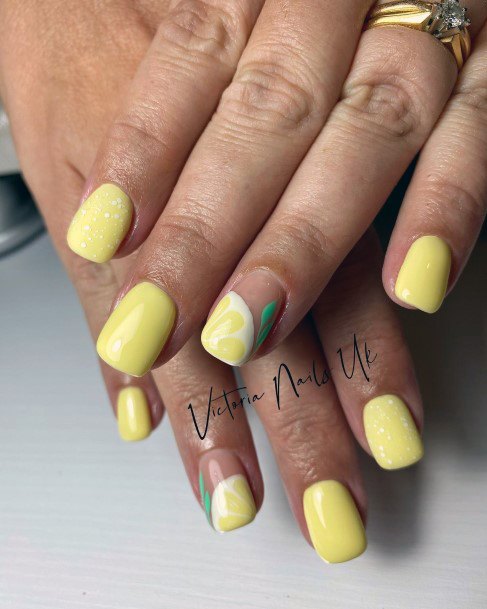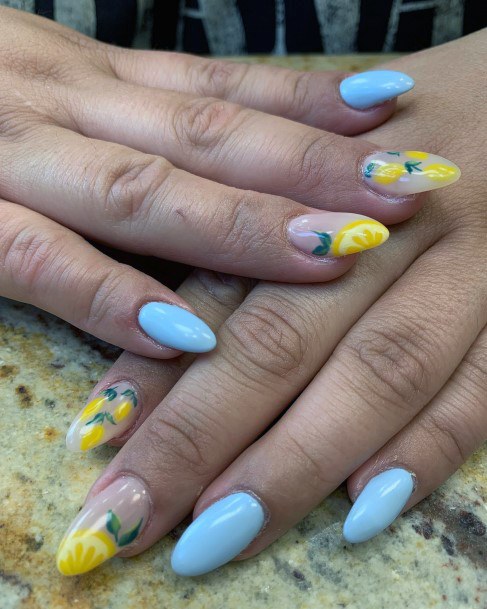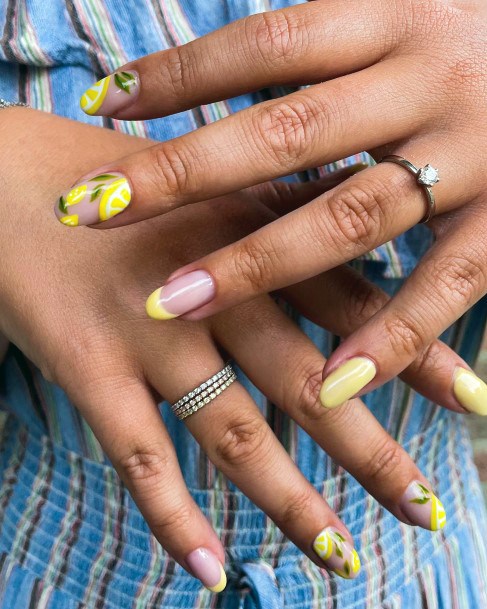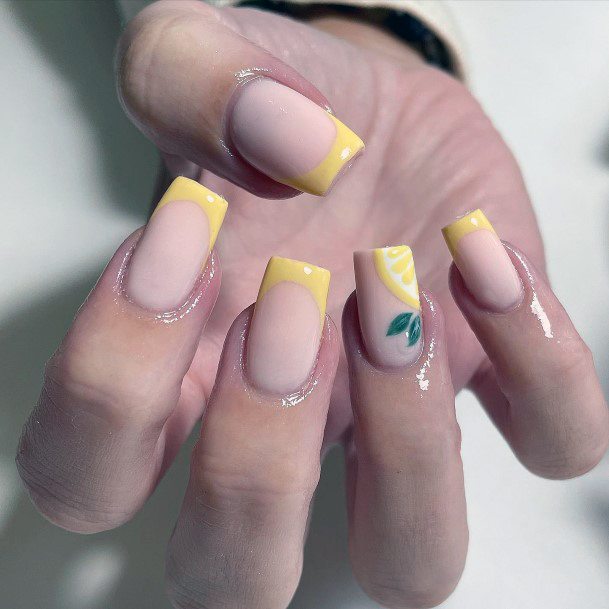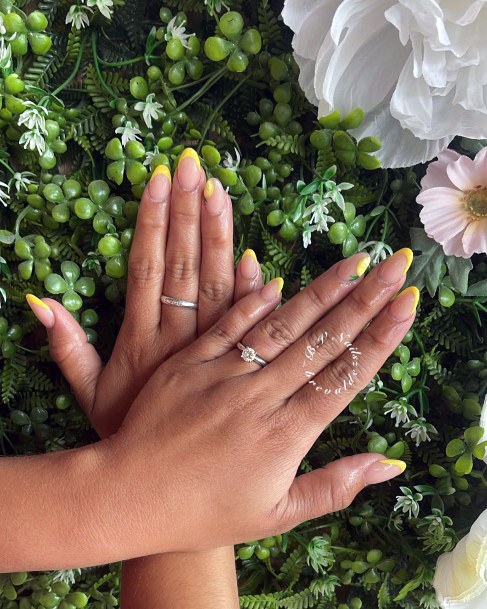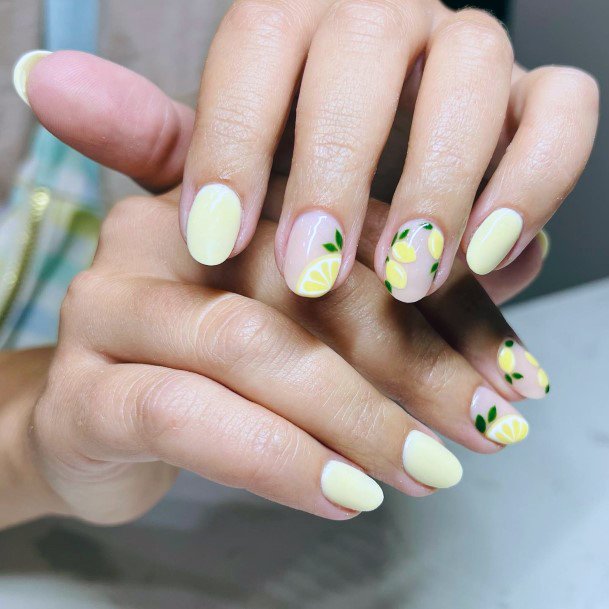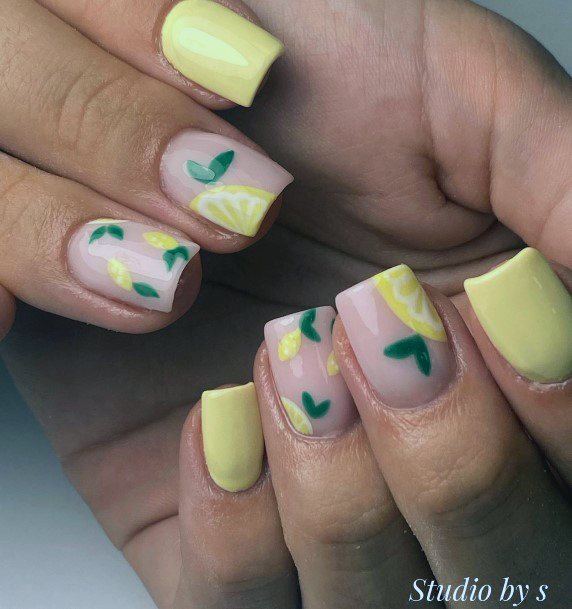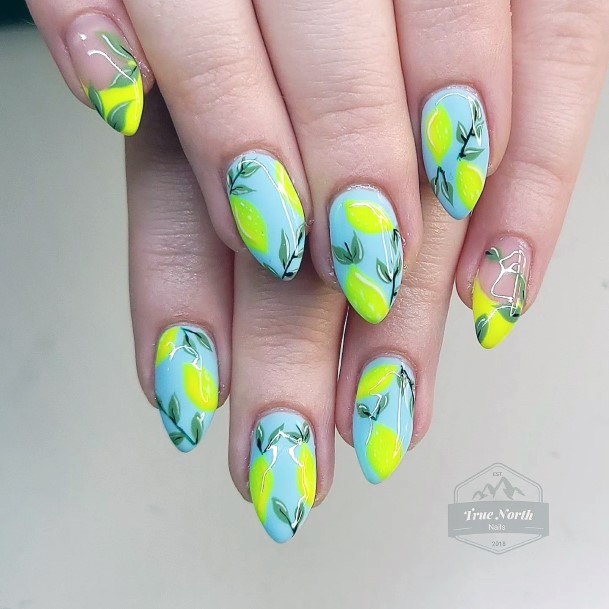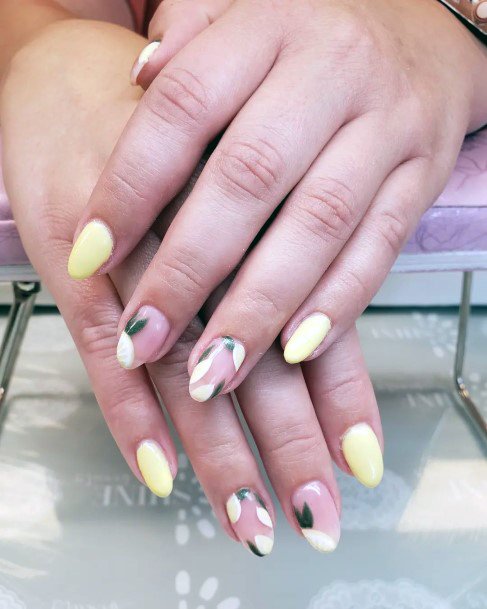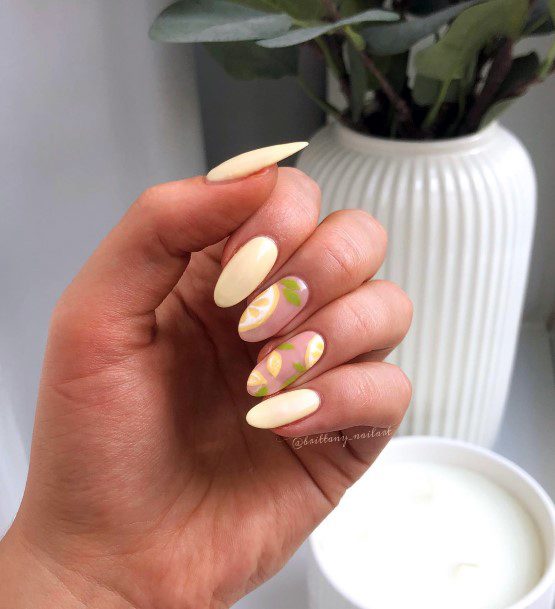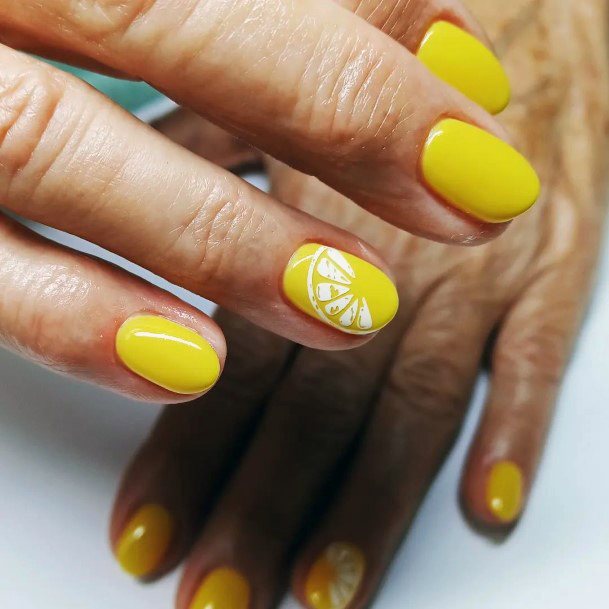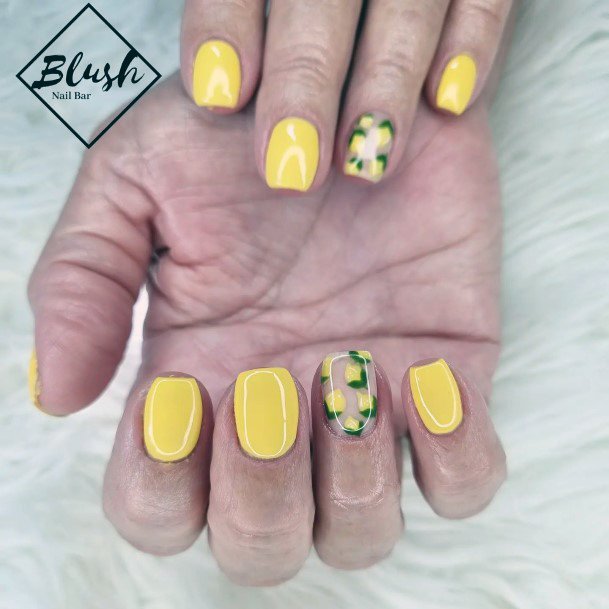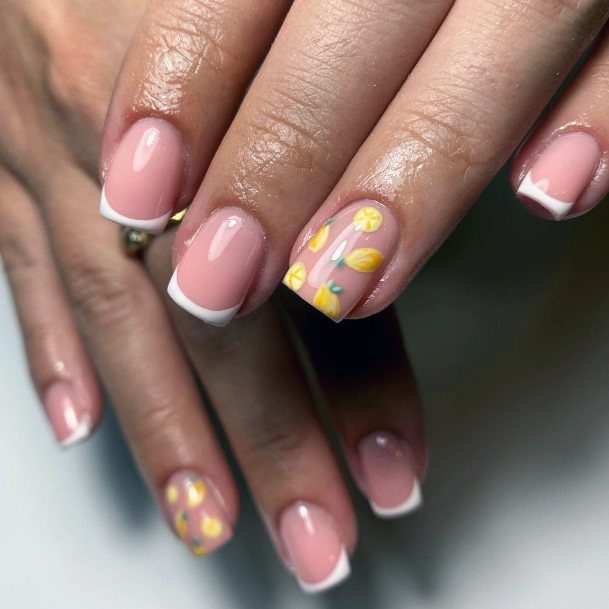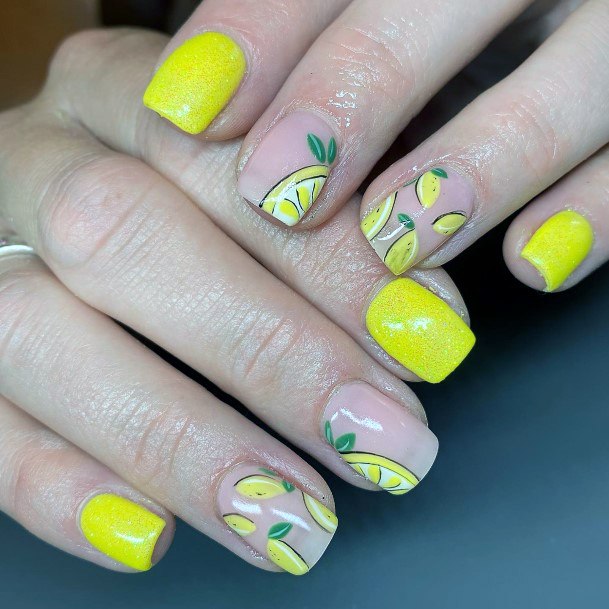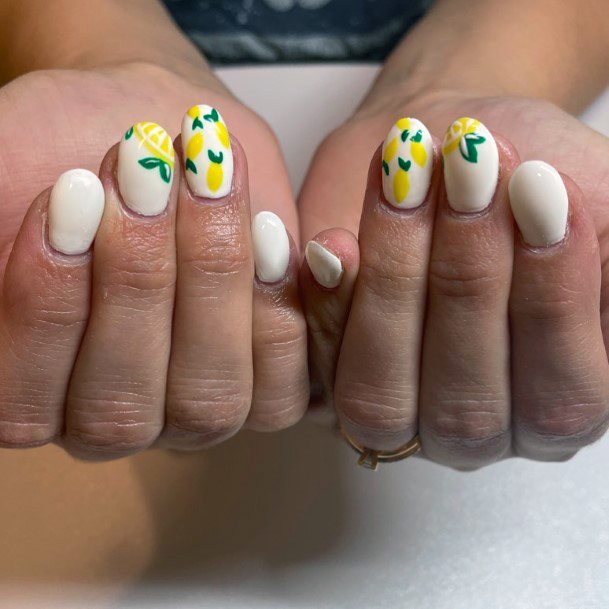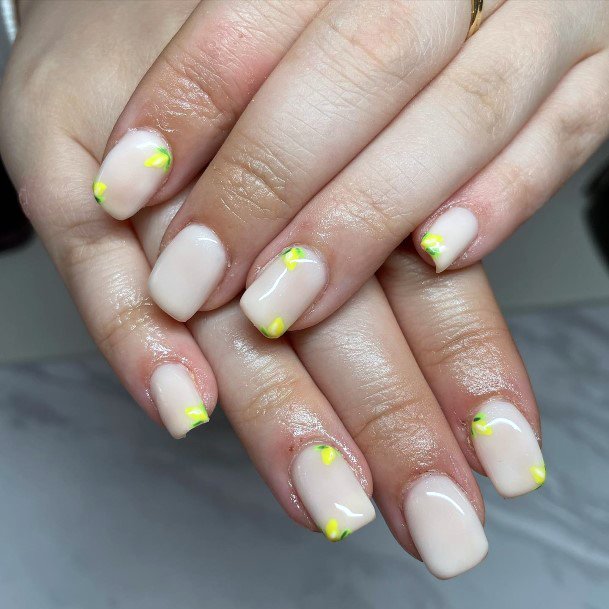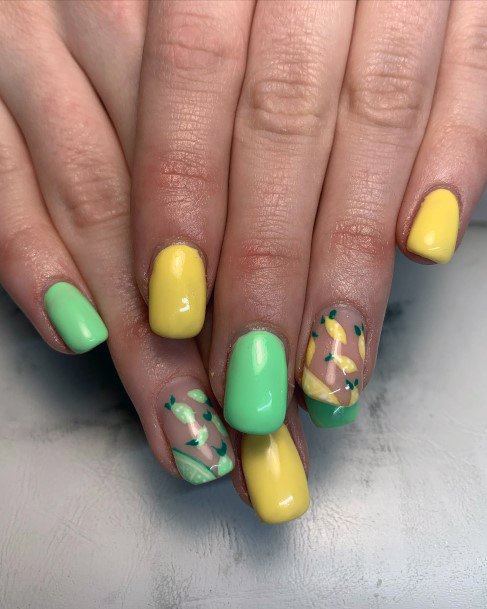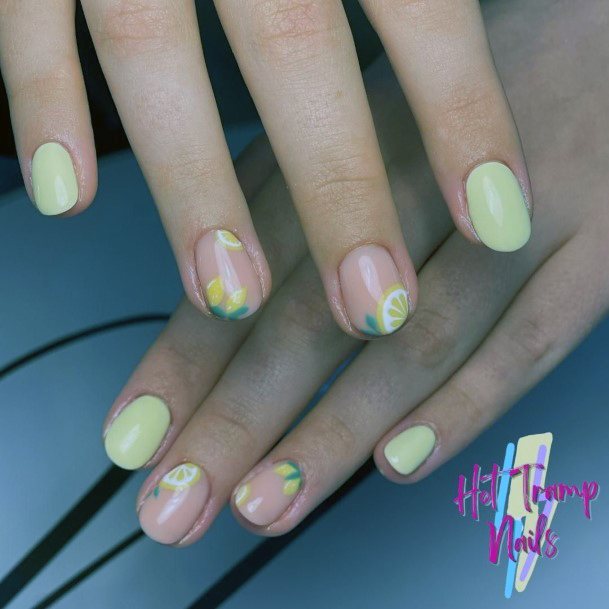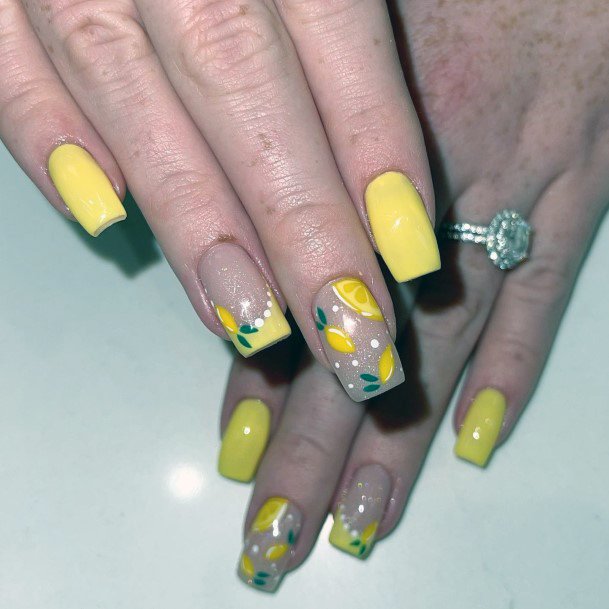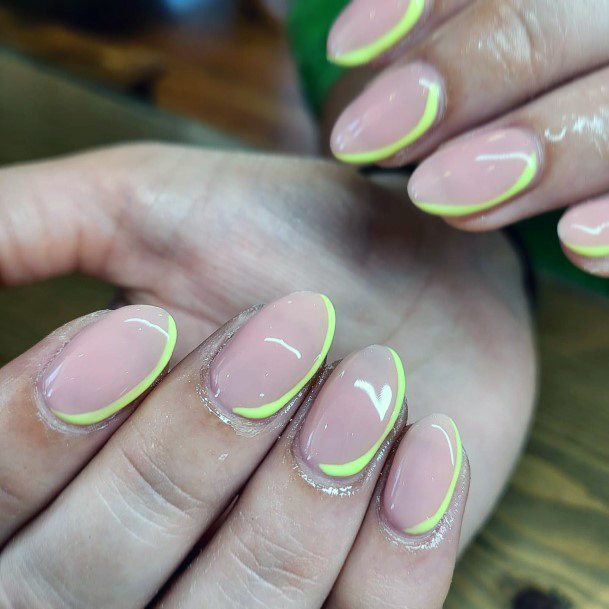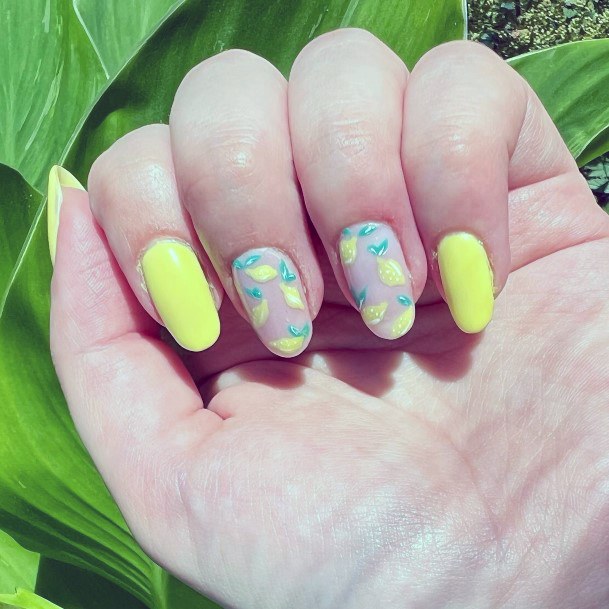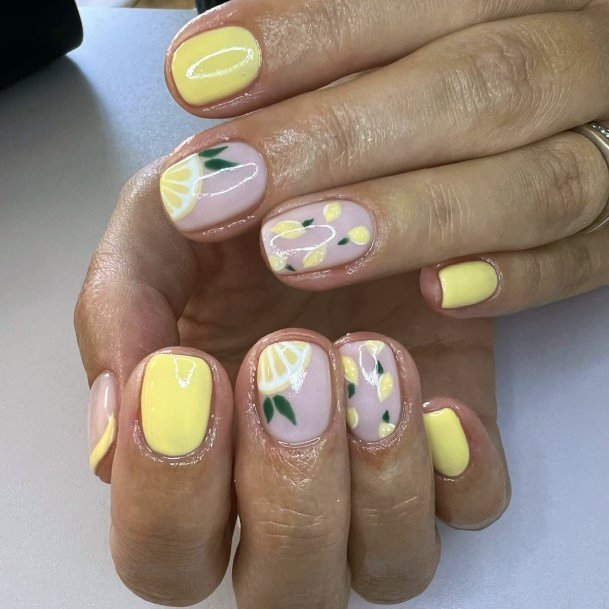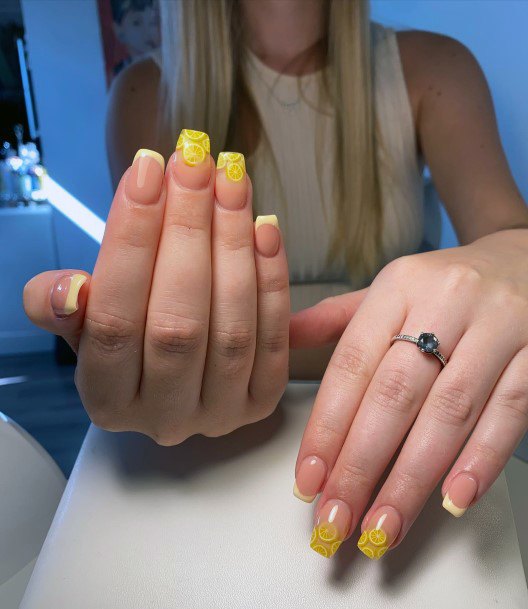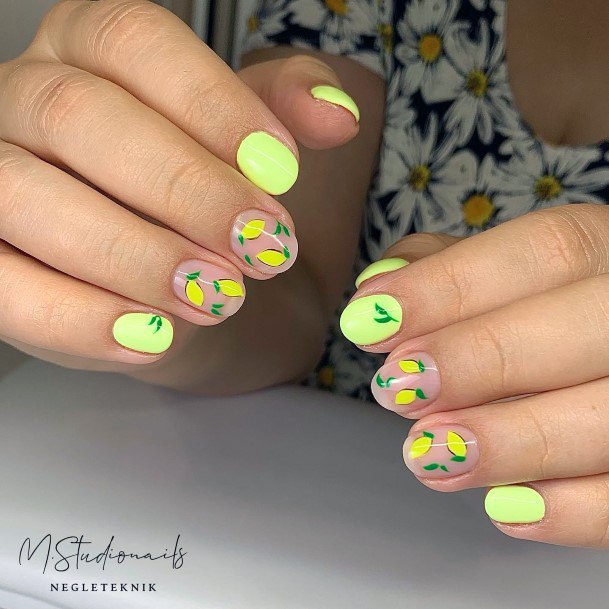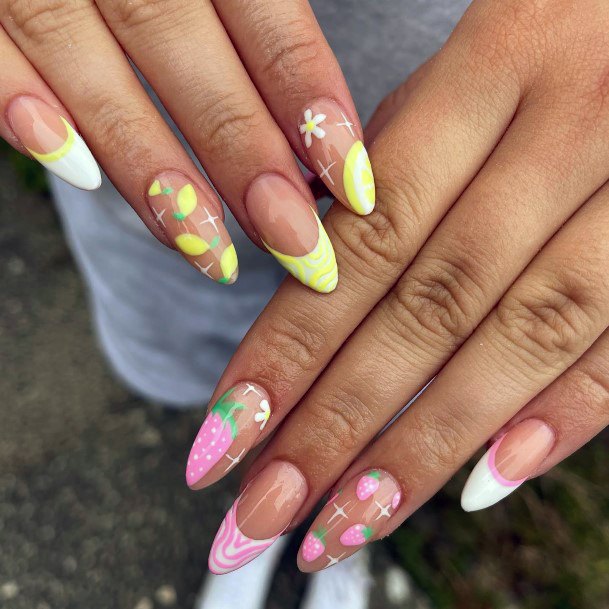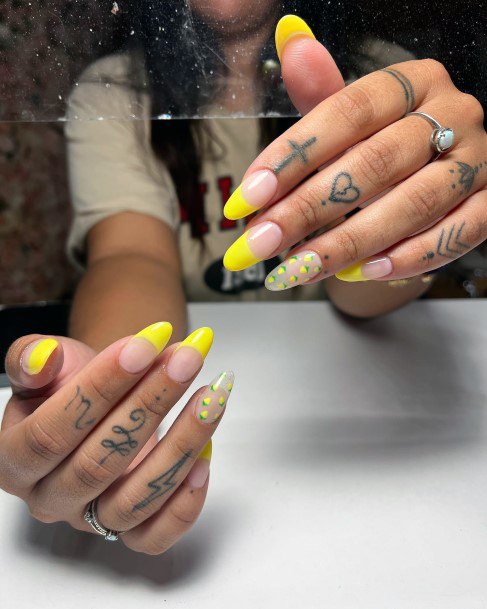 Why I love lemon themed and colored nail designs:

Ladies, lemon colored nails are a classic and timelessly elegant look that has been popular for many years. The bright and slightly acidic hue of lemon is associated with vibrancy, youthfulness, and fun, while still being sophisticated and fashionable. Whether you're looking to add a subtle pop of color to your evening ensemble or make a bold statement with your everyday style, lemon colored nails can provide the perfect solution.

The shade of lemon is often associated with freshness and cleanliness, which makes it an ideal choice for those who want to keep their manicures looking neat and professional. Lemon also pairs nicely with neutrals like black or grey, so you can create an eye-catching contrast that's sure to draw attention. For more daring nail art enthusiasts, incorporating glittery elements or even intricate patterns can really make your manicure stand out from the crowd.

When it comes to selecting the right polish for your lemon nails, there are a few things you should consider before making your purchase. First off, take into account the quality of the polish itself; opt for long lasting formulas that won't chip easily and will stay vibrant on your nails throughout the day without needing touch ups every few hours. You should also pay attention to how opaque or sheer each shade appears in its bottle – this will help you decide if it's something you really want on your fingertips!

Lemon colored nail designs truly offer an array of styling possibilities! There are endless ways in which they can be combined with other hues in order to create unique looks fit for any occasion. For example, pale pink compliments lemons nicely by providing just enough contrast without overwhelming the overall design; if you're feeling extra daring then adding silver accents gives off an edgy vibe while still staying within the boundaries of sophistication. On the other hand if you prefer something more subdued then pairing pastel yellow with light peach tones creates a subtle yet striking effect that remains versatile enough for any event on your calendar!

Lemon polished nails instantly give off a summery feel due to their lightheartedness yet chic allure. This makes them perfect for wearing during hot weather months when heavier shades may seem too dark or intense against skin tones that have been lightly sun-kissed over time. When properly paired together these two colors become complementary opposites. Whereas yellows bring energy and cheerfulness into play, pinks inject femininity into whatever outfit they occupy making them almost inseparable (in terms of fashion).

Overall lemon colored nails never go out style! They offer versatility both day night settings depending what type look someone trying achieve whether casual professional aesthetic wise speaking. With proper care given towards upkeep these lively and cute girly hues will continue remain staple within numerous beauty related routines indefinitely!