If you call yourself a true lover of all things nature, then chances are you own at least one or two Monstera plants from the Araceae family.
These tropical plants hail from regions such as southern Mexico and Panama (Central America) and love hot, humid environments. Interestingly enough, rather than being full sun loving plants, Monstera's actually prefer the shade the most.
Best of all, these indoor houseplants are super easy to care for and deliver big returns in the form of giant leafy greens and a modest 3' height. Some call these split-leaf philodendrons the Swiss cheese of plants due to their numerous leaf holes, but I just call them cool!
Now, aside from their indoor aesthetic and decorative appeal, these plants also make for wonderful body art inspiration. Front small wrist pieces to full thigh designs, the stems and leaves can be as big or small as you want and still look marvelous. If you want to really get creative, then consider the Monstera Deliciosa "variegate", which features a marble cream and white look.
The Monstera tattoo can have a whole lot of meaning, ranging from a simple connection to nature to a fine appreciation for the art of indoor gardening. Perhaps you are growing stronger as a woman on a daily basis, or spreading your branches outwards and living an adventurous lifestyle? For most women, the Monstera deliciosa is simply a beautiful plant to look at and let's face it, who wouldn't want this natural wonder to be tattooed on their body?
With that said, I've rounded up some of my favorite Monstera tattoos below to give you a ton of cool and super cute inspiration!
Why do I love Monstera plants:

I loathe ALL houseplants, and will bring them all home with me, but…

Monstera plants have a really unique and attractive foliage. The large, glossy leaves of the Monstera plant are often variegated with holes or splits, give them a distinctive look that is sure to draw attention. The leaves are a variety of colors, ranging from deep green to yellow or even white. The plant is also known for its ability to climb, making it a great choice for those looking to add some vertical interest to their home or garden.

This huge, leafy plant is also known for its air-purifying qualities, making it a great choice for those looking to improve the air quality in their home. The plant is able to absorb toxins from the air, such as formaldehyde and benzene, making it an ideal choice for those looking to reduce the amount of pollutants in their home.

The Monstera is also known for its low maintenance requirements, making it an ideal choice for those who don't have a lot of time to devote to caring for their plants. The plant requires minimal watering and can survive in low light conditions, making it an ideal choice for those who don't have a lot of time to devote to caring for their plants.

Monsteras are also known for its ability to bring life and color into any room. The large leaves of the Monstera plant can be used as a focal point in any room, adding a touch of greenery and life into any space. The plant can also be used as a backdrop for other plants, creating an interesting and unique look that will draw attention.

Finally, I love Monstera plants because they are easy to care for and require minimal maintenance. No green thumb required girlfriend! The plant is relatively hardy and can survive in most conditions, making it an ideal choice for those who don't have a lot of time to devote to caring for their plants. The Monstera plant is also relatively easy to propagate, making it an ideal choice for those woman looking to add more plants into their home or garden without having to purchase new ones.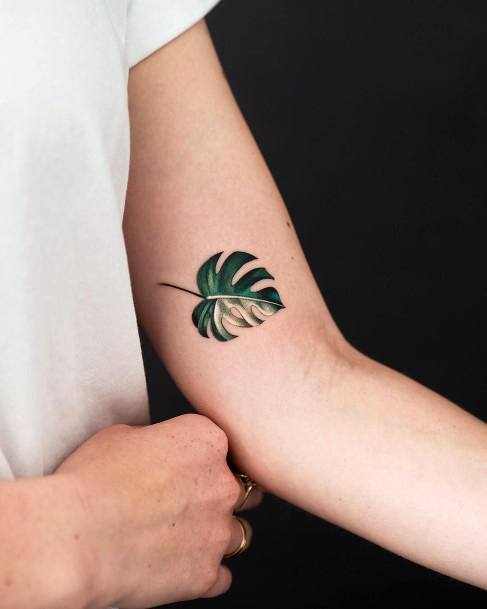 Check out this awesome inner arm women's monstera tattoo featuring a shaded green and white ink design. I love the wonderful shading detail which blends both light and dark green hues together as one. This style is a brilliant example of how you can ditch the planter pot and just go with a single leaf design to keep things cute and simple.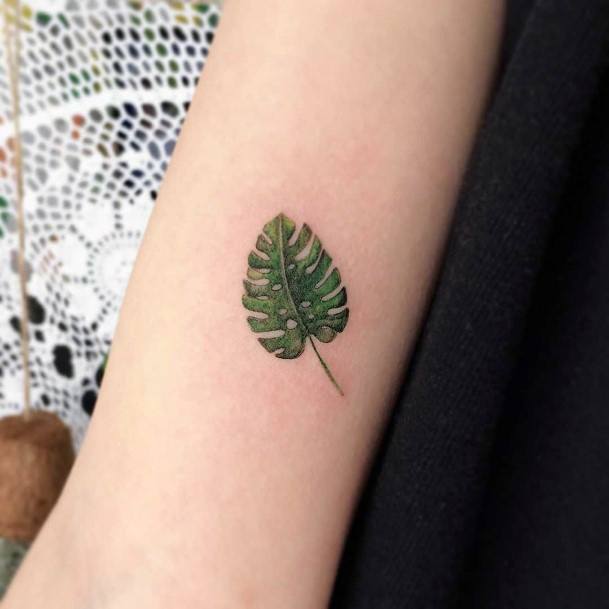 Here's another variation of the leaf design featuring a super tiny size and a forearm placement. Note the all green design which isn't big on creativity but is still exceptionally feminine and beautiful. I love the tiny hole details in the leaf and the faded leaf stem which gradually goes from dark to light.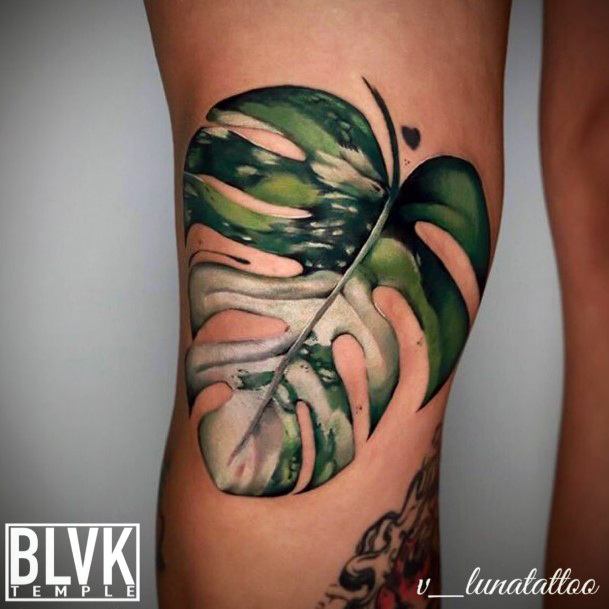 If you want to give your monstera tattoo even more depth and realism without going with a fully realistic design, then consider adding a watercolor theme to your body art piece. Here's a great female monster thigh tattoo featuring a bland of green and white hues.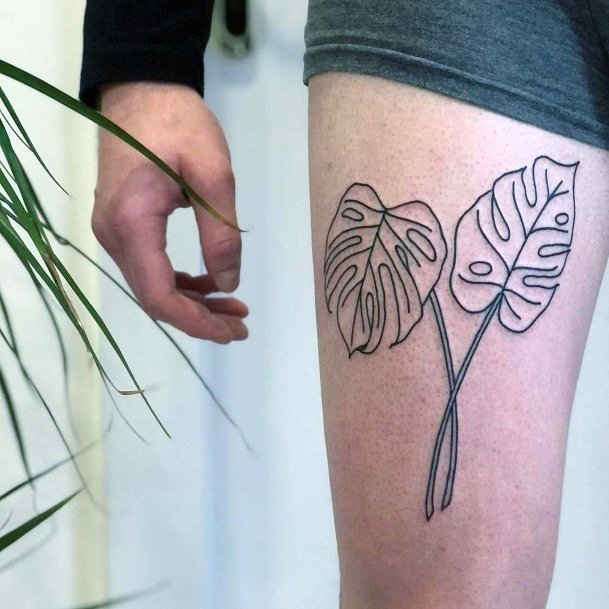 Go minimalistic with this monstera women's thigh tattoo. Black ink outlines are all it takes to pull off an awesome overall design without being too flashy on the eyes.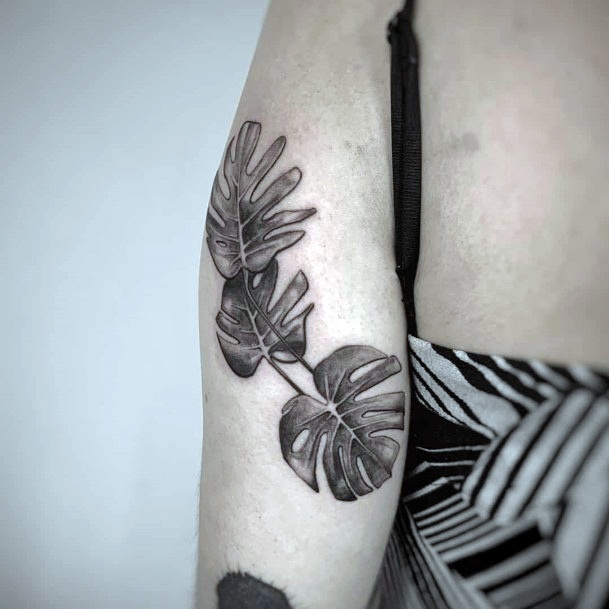 A forearm monstera tattoo is a great way to display to natural curves in the stems and leaves. I love how this tattoo looks as though it wraps around her arm giving the simple grey shaded tattoo a hand drawn natural feel.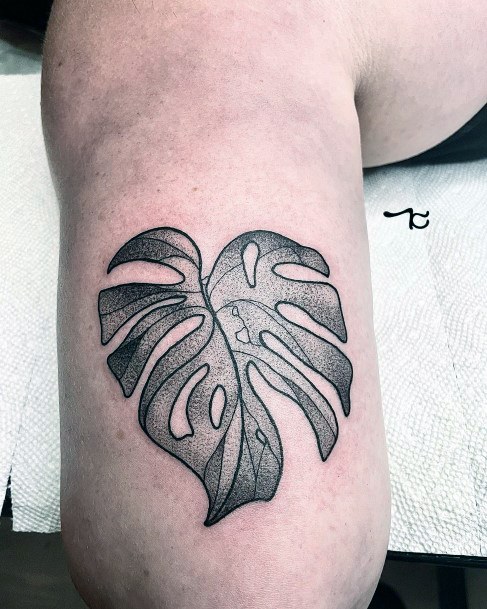 If you're into a more subtle look this single monstera leaf tattoo looks as though it was taken right out of a sketch book. With pencil like shading, this design keeps it simple, yet interesting, highlighting the naturally beautiful shape of this leaf.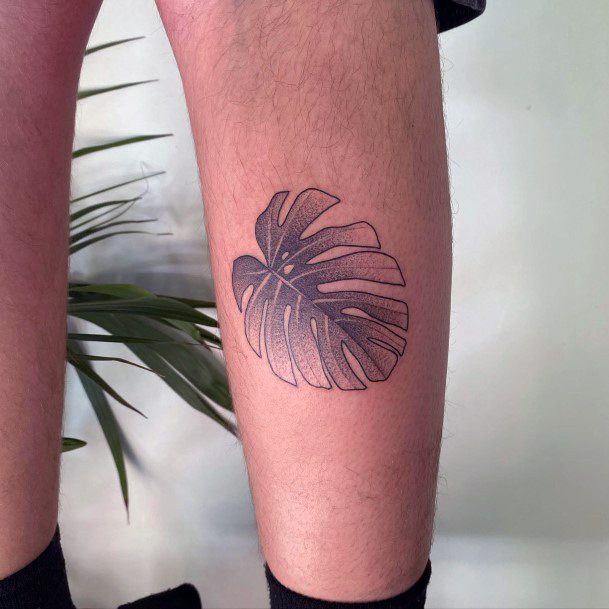 Another single leaf monstera design seen here on the calf highlights a different shading technique where the color in more saturated in the center of the leaf and gradually fades away toward the outer edges. I love how the shading was done to show where the veins are in the leaf.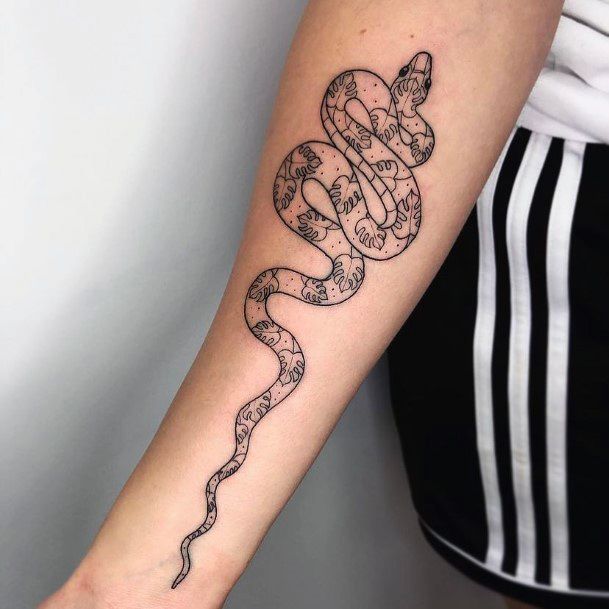 Where my snake loving ladies at? This awesome design features a small garter like snake with tiny monstera leaf scales covering its body. This simple black outlined design highlights the soft lines of the slithering snake and covers the length of the forearm.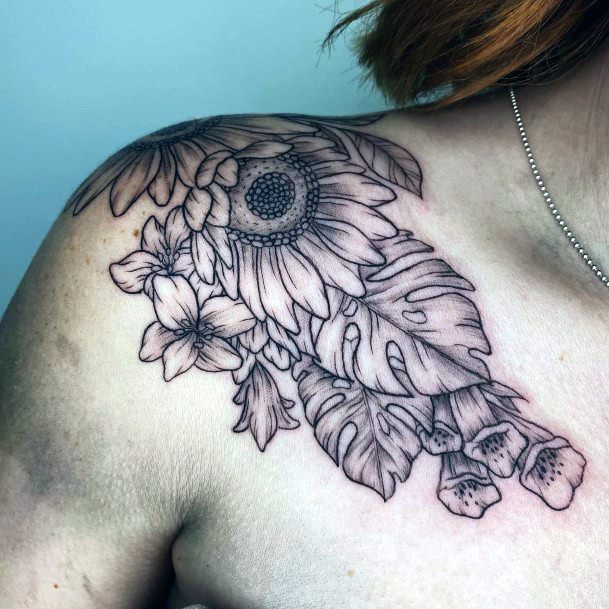 For women who love florals, these lightly shaded sunflowers and monsteras cascading off of this woman's shoulder make for an excellent botanic themed tattoo. The gentle shading giving the leaves and petals a realistic texture is what stands out for me when I look at this design.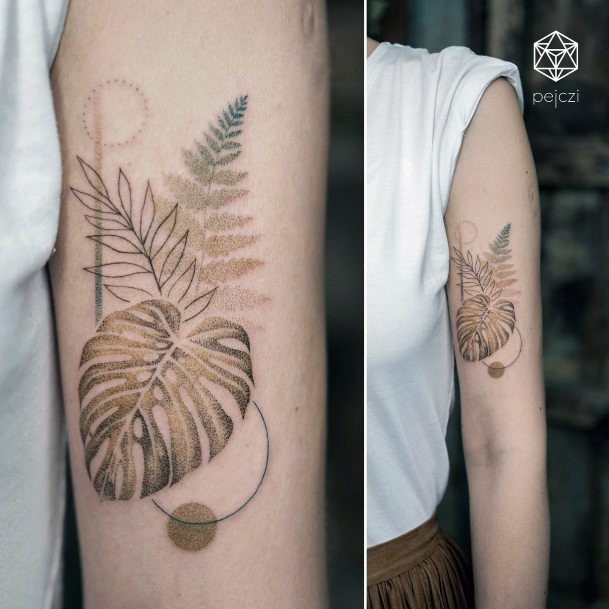 Soft, subtle, and natural come to mind for this tattoo. If you are someone who enjoys a less bold design that gives a nod to Mother Nature herself, then this design might be for you. The colors and lack of shading almost remind me of sun prints you can take by putting a leaf on a special piece of paper out in the sun only to remove it sometime later and find an impression of the leaf on the paper. Absolutely stunning.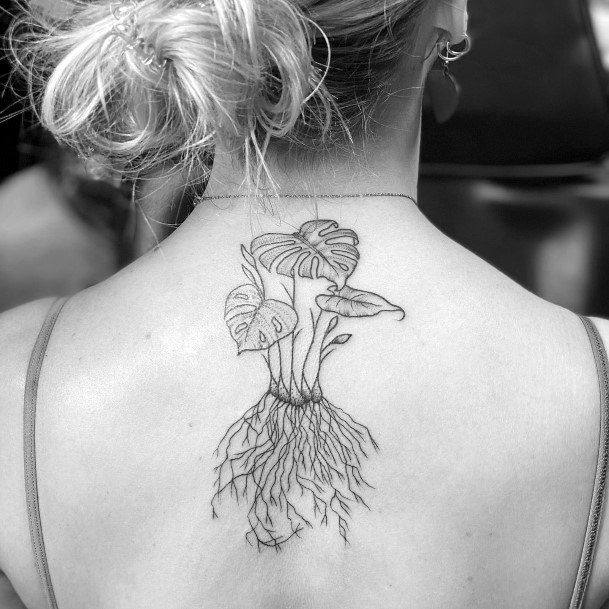 Looking for a female monstera tattoo that holds symbolism for growth and strength? This tattoo offers a simple black and grey design showing roots reaching up to a cluster of monstera leaves and small buds. With minimal shading, it's the natural lines of the leaves and roots that stand out here.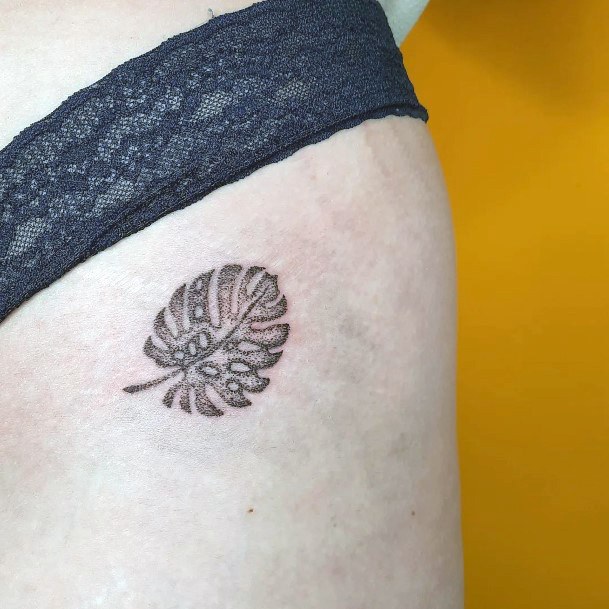 Proof that you don't need a large monstera tattoo to appreciate the beautiful details of these split leaf fronds. You can see a petite version of this gorgeous plant with a black stamp like texture pictured on this woman's shoulder. While small scale, it's anything but insignificant.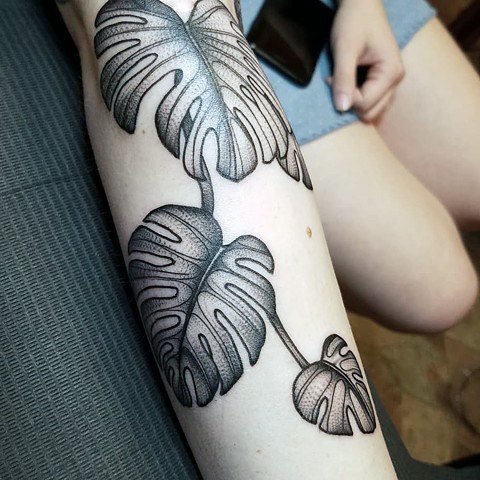 In contrast to the last image, this full shin monstera grouping features four winding leaves that certainly make a statement on a large scale. The shading and veins outlined on the leaves provide texture and bring these fronds to life. Each cascading leaf grows smaller as they move down the leg.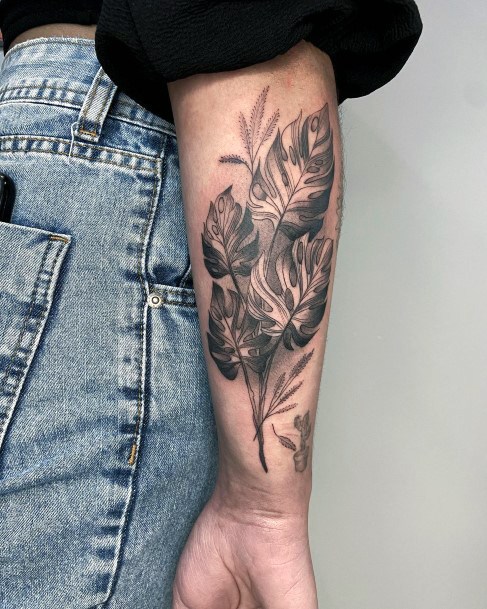 Marbled monstera perfection is on full display in this grey scale full forearm design. The grouping of leaves here look like they were plucked fresh out of a bouquet, each one a different swirl of grey and black and negative space. If you're looking for a larger tattoo design, going this route certainly puts the natural beauty of these leaves on display.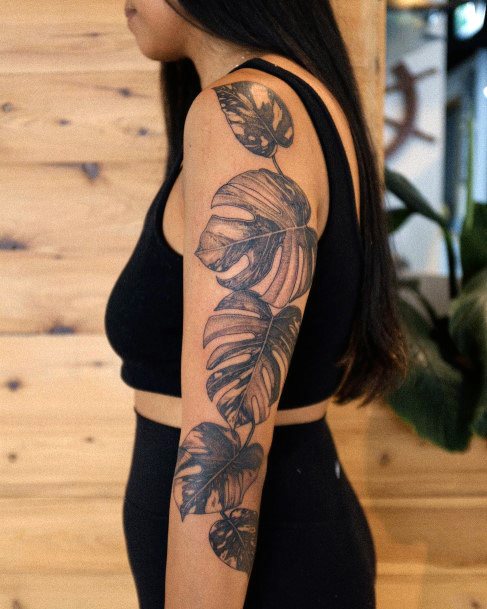 Here is another look at a cascading monstera design. This one traveling from this woman's shoulder down to her forearm and using lots of dark grey and black shading to give contrast to the different philodendron leaves. The perfect statement piece for plant lovers and nature lovers alike!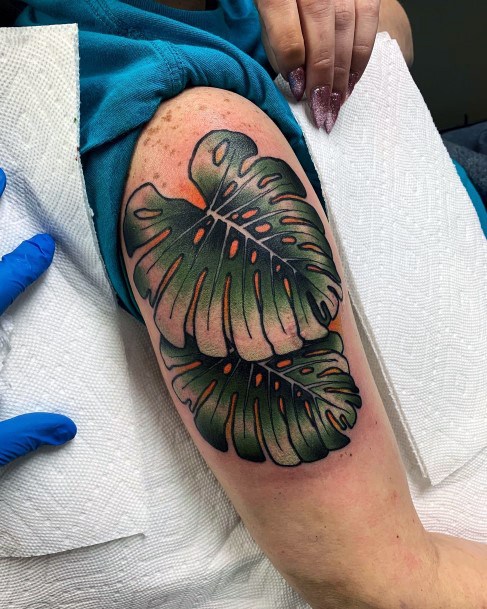 For those of you who enjoy a little color in your artwork, here is an idea you might love. Layered monstera with bright green hues and an orange background giving a nice pop to the swiss cheese like texture of this foliage. A shoulder tattoo tricep tattoo that is sure to turn some heads.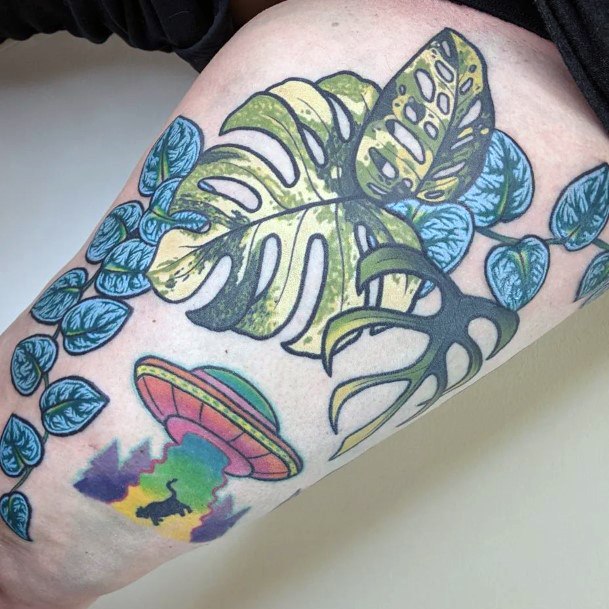 The perfect plant lady tattoo for women! This one combines a giant monstera leaf with a number of other types of philodendron leaves including a crawling version of this greenery. The tattoo expands the entire length of her thigh, and really puts the impeccably shaded monstera on display while the vining philodendron tangles in either direction around her leg.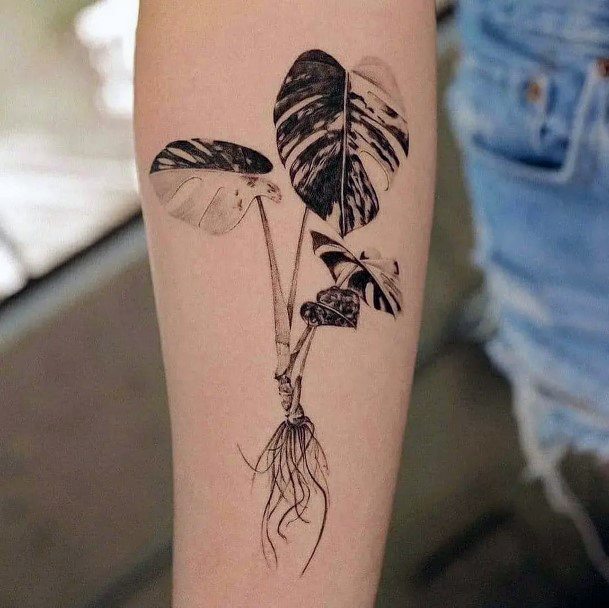 If you like contrast and delicate femininity in your ink work, look no further. A bundle of monstera leaves rises up out of a clump of tangled roots and shows off the power of shading in this pencil sketch version of a monstera tattoo. Dark black is seen opposite a super gentle touch of grey color used to highlight the intricate details of these gorgeous leaves.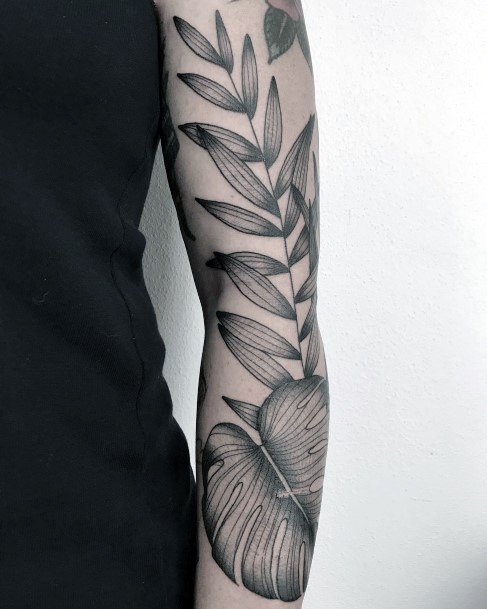 A full sleeve of foliage creates a bold yet delicate design in this large scale work. One giant monstera leaf is the focal point while a frond of smaller leaves rises up from the background giving this tattoo lots of creative space. Simple grey scale shading with fine black lines completes the idea.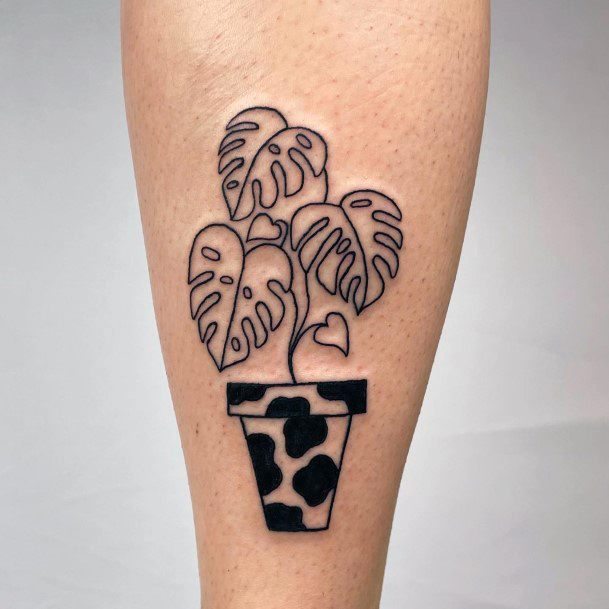 A playful take on the girl's monstera tattoo for all you cow lovers! No but really, I love the idea of a pot providing a blank canvas for creativity and personalization to your typical monstera tattoo. Here they used a simple black outline to draw attention to the beautiful shape of the leaves while using pack shading to create their own design on the pot, and that little heart shaped leaf is everything!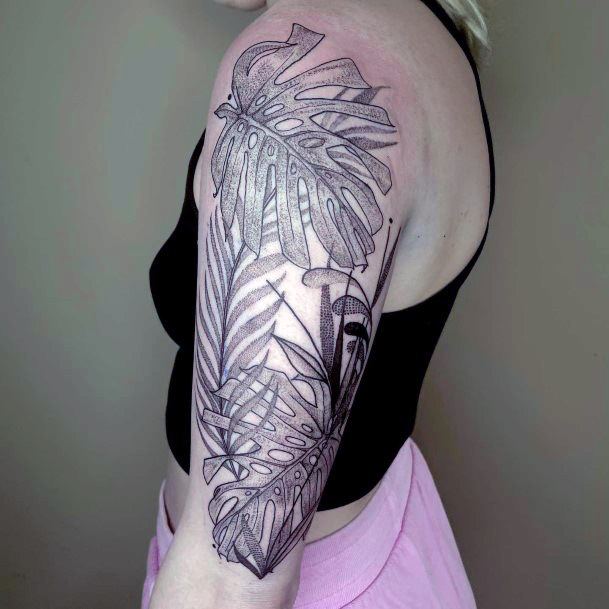 Those in search of a botanical half sleeve look no further! This gorgeous grey scale design features lots of different greenery with gentle shading and lots of overlay to create a foliage master piece. Monstera leaves entwine with other elements generating lots of visual interest.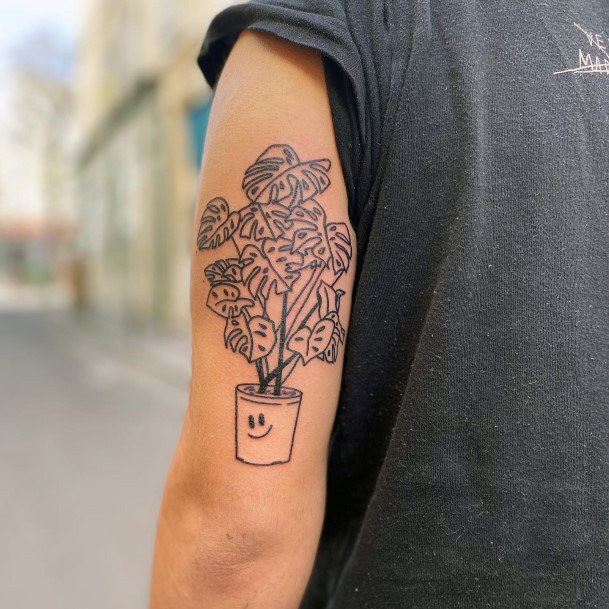 The juxtaposition of the elegant monstera leaves here with the little unassuming grin on the pot make me swoon. Another prime example of how to take a simple black outline design and add a little personalization and a lot of character.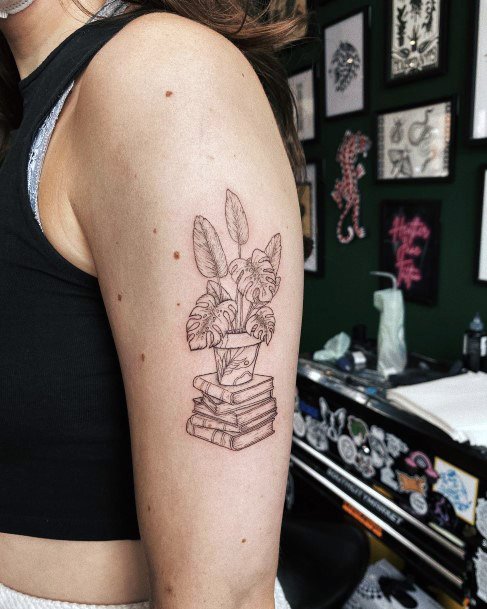 The book lover in me about died when I saw this one! A compilation of delicate strokes, this tattoo combines earthy monstera with a stack of well-worn pages. So much room for personalization here and for expanding on this unique idea to make it your own.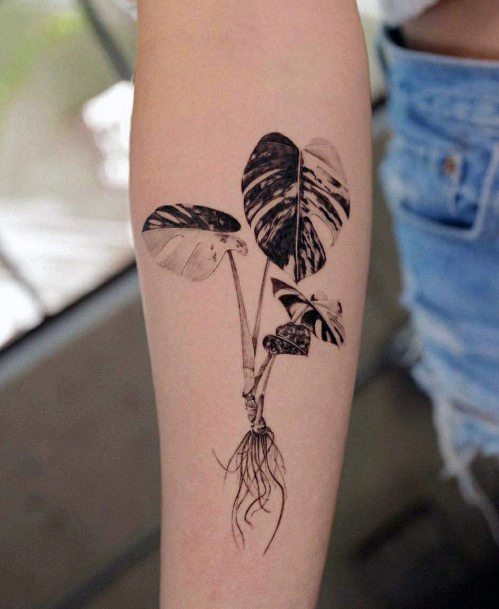 Freshly picked monstera, roots and all! I love when a tattoo includes the roots of a plant, it allows for such a deeper meaning to be pulled from a piece. Let it mean what you will, this piece demonstrates the power of contrast with dark black shading against soft grey to really pull out all the details of each unique leaf.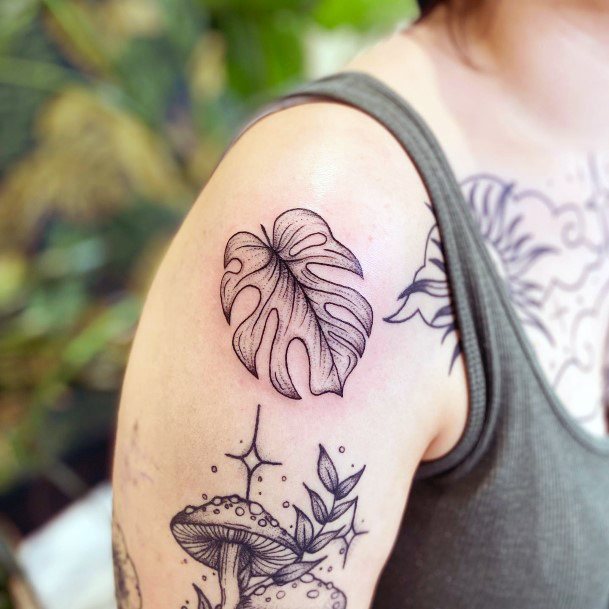 If simplicity is what you're after, you're going to love this. A single monstera leaf shaded ever so slightly to display the delicacy of the veins and details of this unique greenery. Proof that you don't need to go big or elaborate to allow for a lot of detail in a design.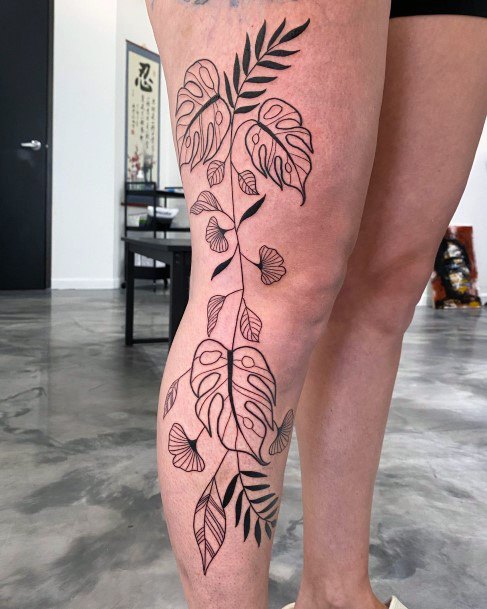 When going large scale, it can be hard to keep the delicate aspects of flora at the forefront, but this woman was able to achieve just that with soft sweeping lines and delicate flowers throughout. A full leg tattoo, this boldly outlined design is a great example of how to mix various elements when going big.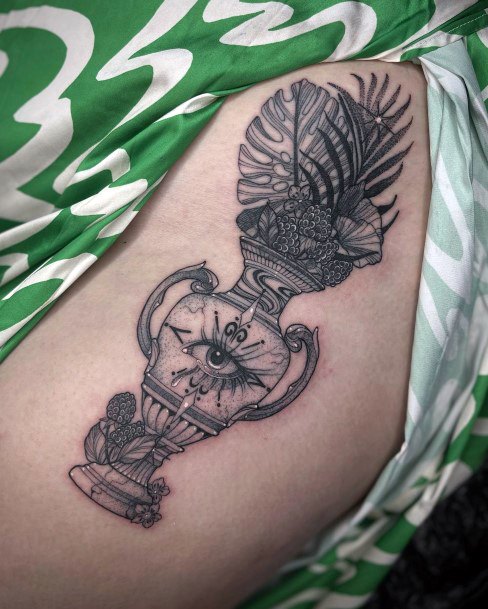 Grey scale but give me all the detail. This ornate vase is full of intricacies that tell a story all their own. From the eye at the center, to the swirls and cracks, this is another great example of a vessel providing a canvas of opportunity for a monstera tattoo.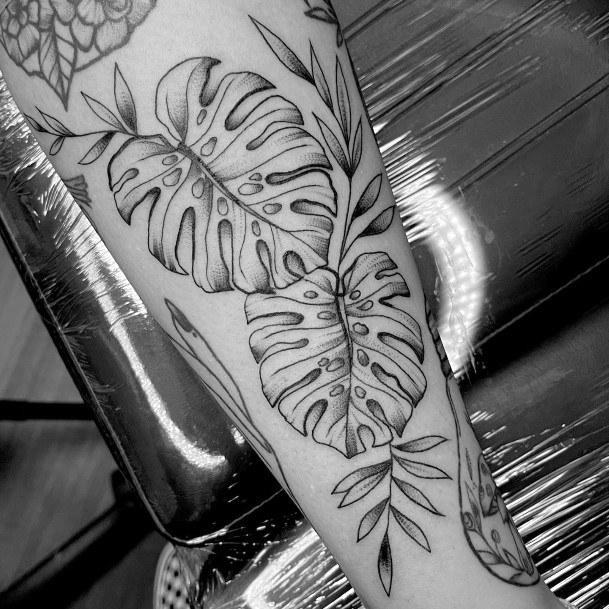 Black and white women's monstera tattoo design ideas seem to be quite popular with botanical loving women. Here is an example of a larger scale set of monstera leaves outlined in black and shaded lightly with grey. What stands out for me here, is the time and detail put into each leaf really showing off the natural beauty of this plant.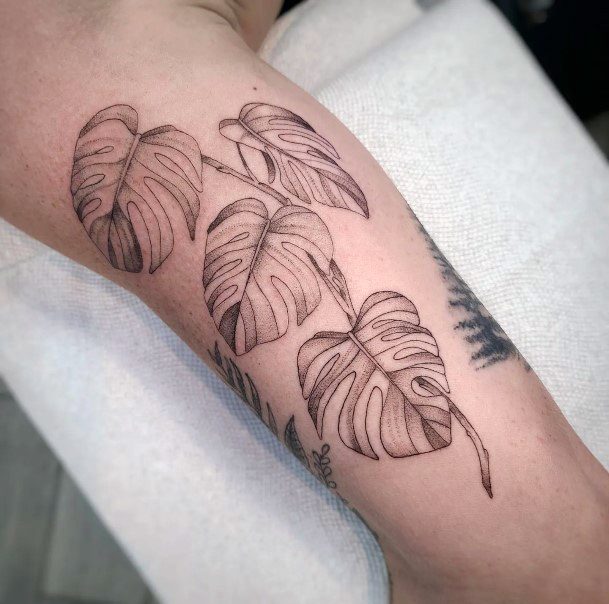 Soft shading and delicate details offer a uniquely feminine version of this large calf tattoo. The drooping leaves and warm grey color give this piece a hand sketched quality, while the soft lines and gentle shading allow it blend in with any look.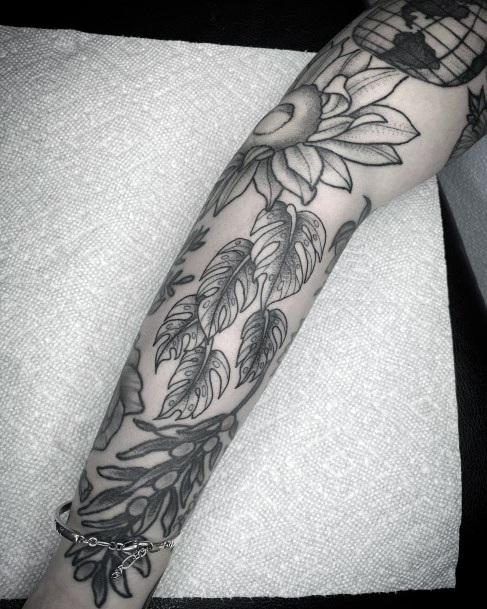 Fronds of monstera hang here in a cascading waterfall of gorgeous greenery. Dark grey shading fades out from the center of each leaf and black outlines accentuate the layered look of the leaves. A botanical tattoo that highlights the beauty of this one of a kind foliage.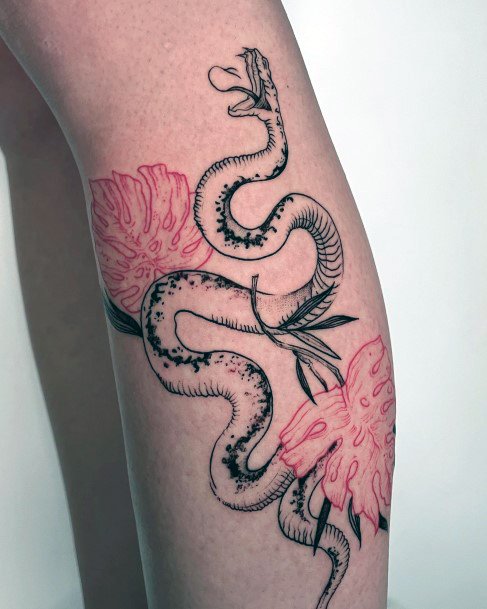 A reptilian take on the monstera leaf, this design shows a slithering snake couched between red leaves in all their Swiss cheese glory. A fierce piece full of power that really exposes every nook and cranny of the foliage using a red outline technique.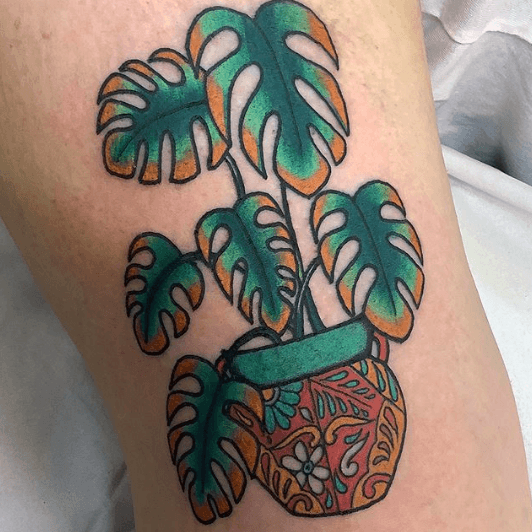 Look at the vessel used here! Terra cotta and green bring this potted monstera to life showing off the intricate floral pot along with the plant itself. Tricolor leaves in dark and light green with orange give a fresh new look to this tried and true design.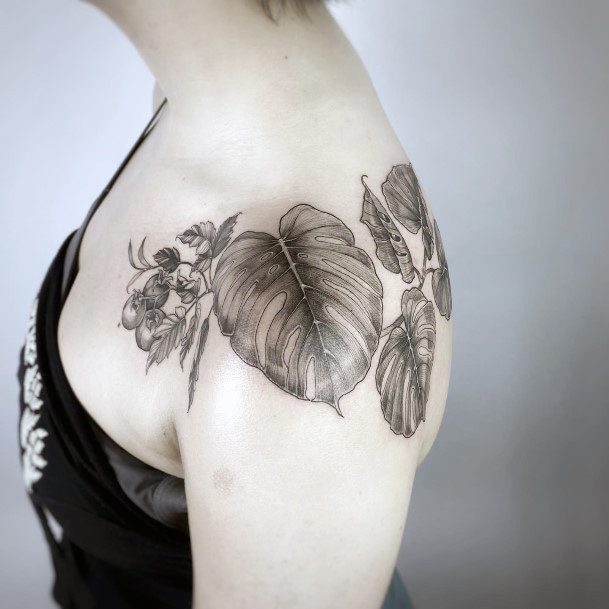 Design that takes a typical grey scale monstera to a whole new level with its perfect placement and intricate life like details. Everything from the shine on the berries to the curl in the leaves has been carefully drawn out to produce a sense of gorgeous texture and realism. A stunning wrap around placement that will put your monstera on display.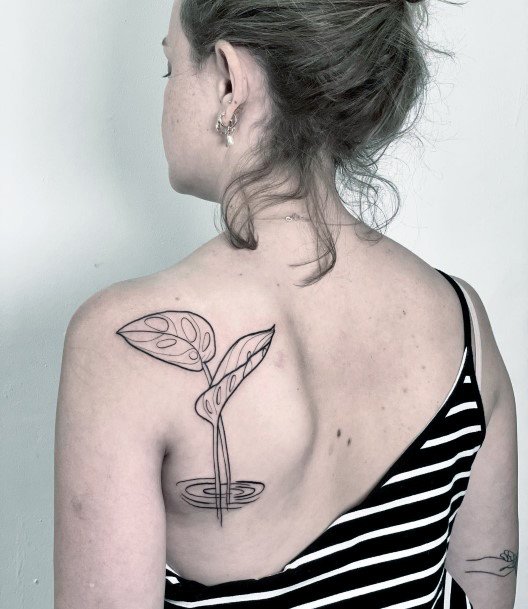 A fun shoulder blade placement of two long stem monstera outlined in black creates a sense of simplicity and tranquility. Perfect for women who want to include a water element in their tattoo, the artist creates rippling movement with an effortless outline around the base of fronds.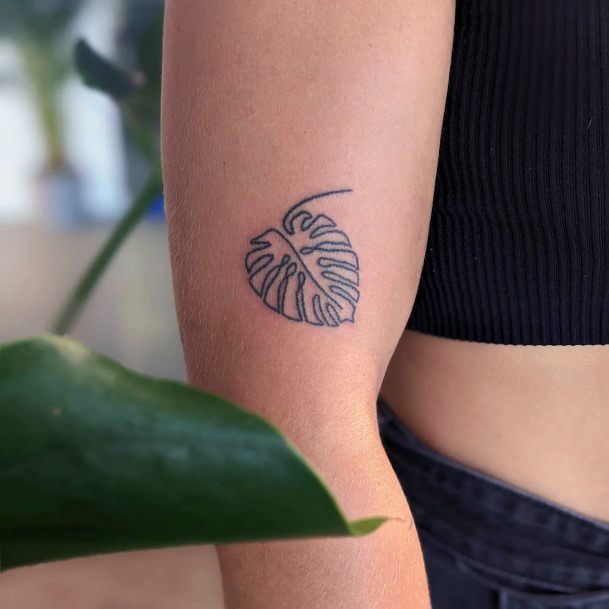 For women looking at smaller black outline designs, this will meet all your monstera needs. Excellent arm placement near the elbow puts this tiny leaflet on display, but won't overtake your look. Boho, cute, understated. Ladies, could you ask for more?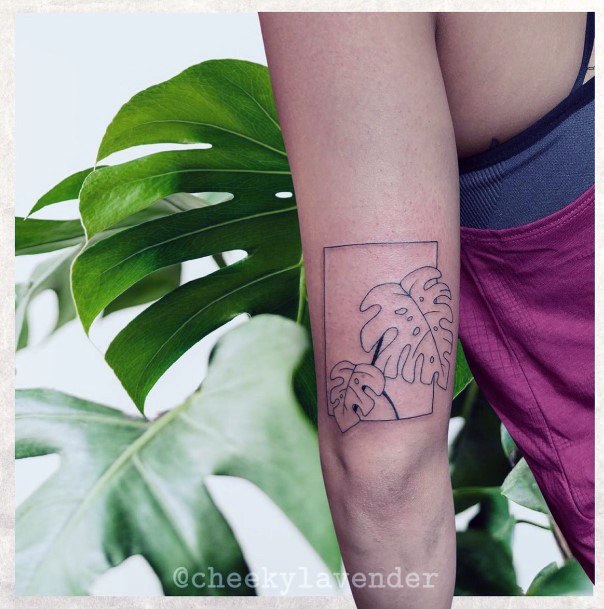 Picture perfect! Two framed monstera leaves rise up into a square frame drawn in thin black ink. Minimal lines and details make this a great option for someone who appreciates the simple things in life.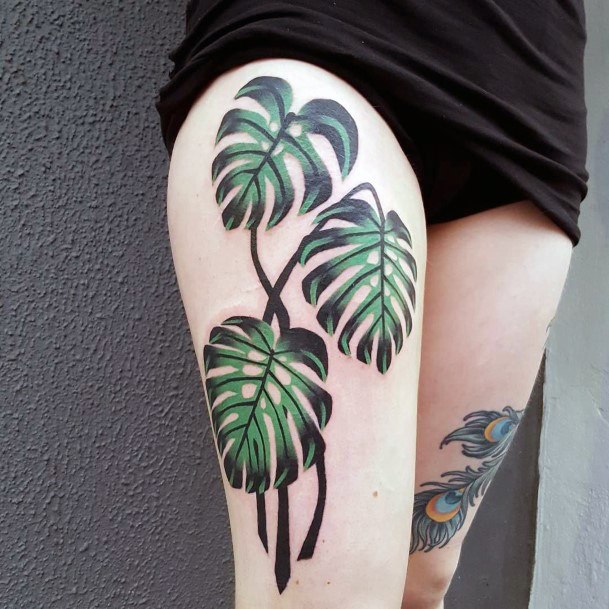 A bold statement! This full thigh masterpiece features a grouping of monstera leaves anchored by thick black lines for stems. Deep Emerald green and bold black dance across the leaves to create veins and shading that show off spaces in each leaf where the light comes through. A great option for bold beautiful women who aren't afraid to take up space and make their presence known.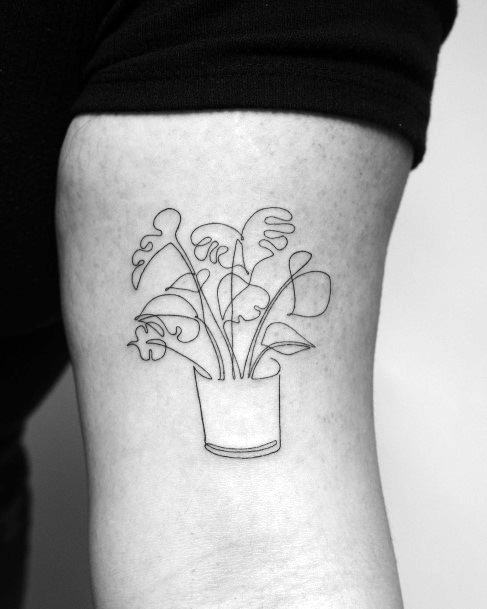 Whimsical potted monstera leaves showcased in an elegant continuous line drawing. I love how this drawing starts and ends at nearly the same exact point without having lifted the pen once. Artistic skill shows off the delicacies of each flora while the overall placement and impact of the tattoo is beguiling.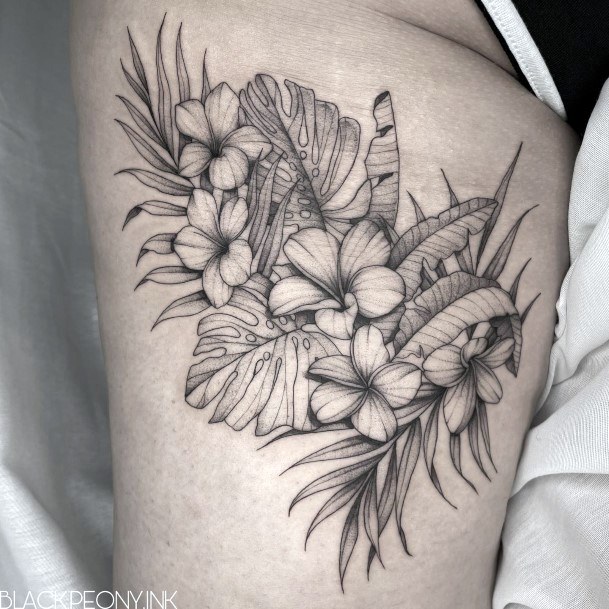 Floral enthusiasts this ones for you! Gorgeous flowers are enveloped by two large monstera leaves drawn using a light black outline and gentle shading. A full thigh placement that is softened by the feminine touches of folding leaves and delicate lines. Proof that large tattoos can be drawn up in a way that keeps the tender effeminate details alive.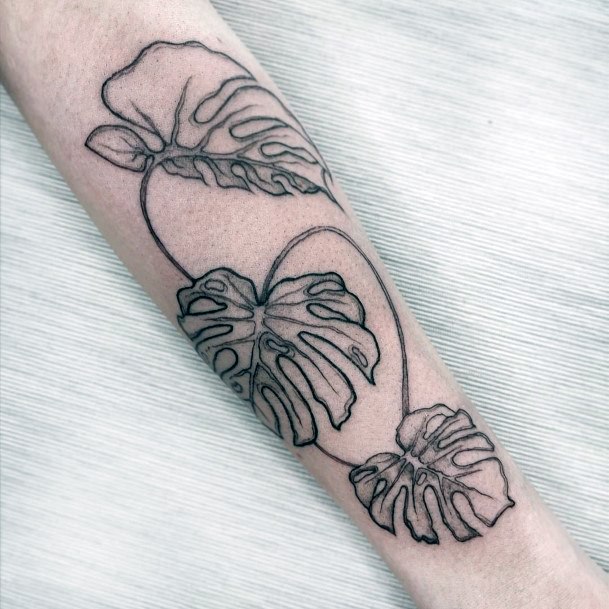 For women looking for a half sleeve option, these three monstera leaves are an exquisite delineation of the subject matter. Rippling leaves outlined in dark black lines with super light shading have a realistic feel in this organic looking design. I love how the top leaf is drawn from the underside giving it a different appearance and feel that adds to the uniqueness of this option as a whole.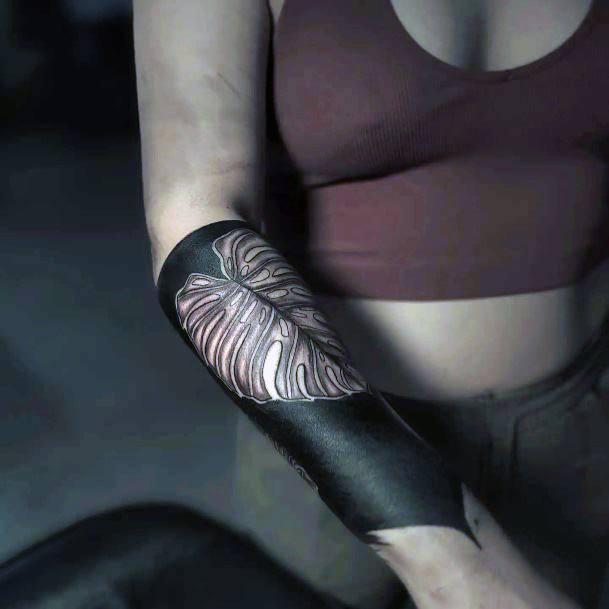 A bold half sleeve that truly emphasizes the elaborate nature of the monstera. Thick black pack shading is used to cover the forearm in its entirety aside from two giant leaves shaded in grey on either side of the arm. The wrap around effect of this distinctive design is one for the books.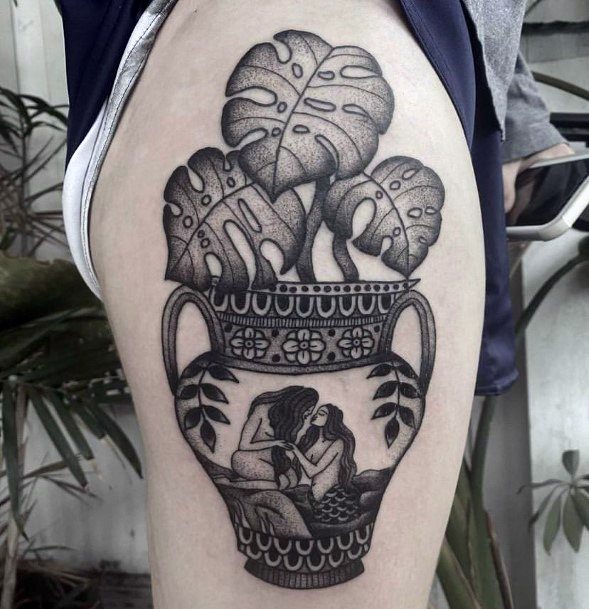 For those looking to make the monstera tattoo their own, using a vessel is a great way to add a personal touch. Here you can see a rather large vessel allowing for lots of unique details and giving a hand painted affect while monstera spring to life over top of the vase. Another large scale design offering up lots of room for customization.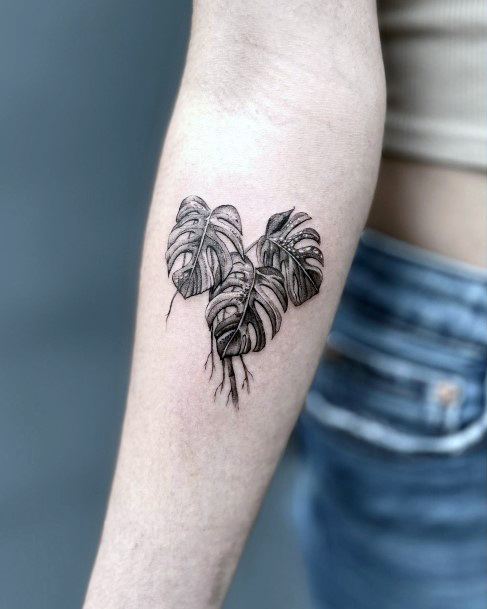 An inner forearm tattoo with delicate details seems to be quite popular, and this one does not disappoint. A gathering of three monstera leaves toppling over their root covered stems glisten with white accents over dark grey shading.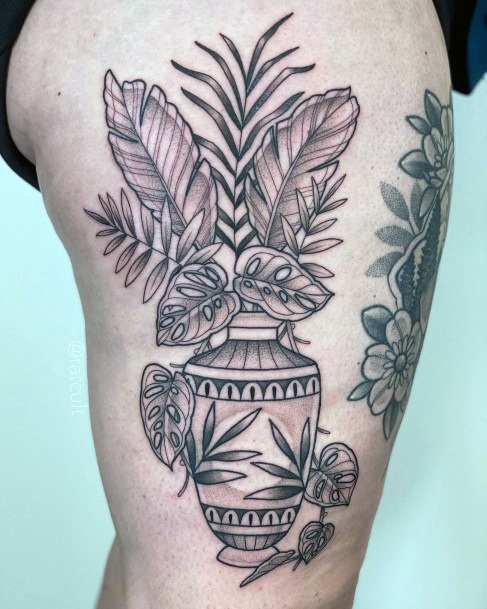 A gorgeous vase full of towering philodendrons. Another grey scale option for those who want to include more than one type plant in their work. I love how the vessel looks like it is positively overflowing with life. A great tattoo option for plant lovers!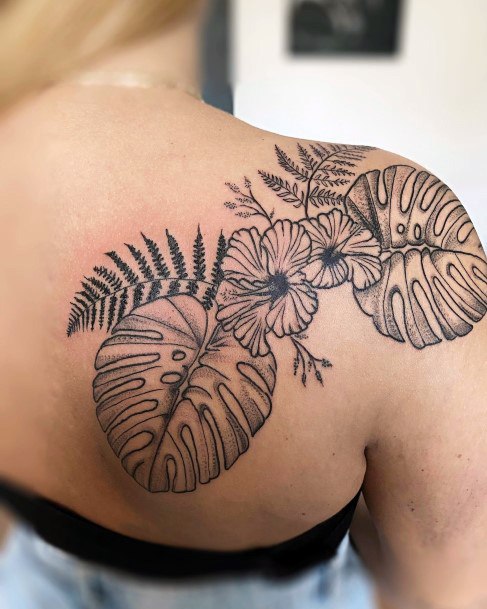 Hibiscus flowers, ferns, and monstera give a tropical vibe in this fanning shoulder tattoo. I love the versatility of this design allowing for you to add any type of flora you might be drawn to. The placement draping over the shoulder also accentuates the life like heaviness of the large leaves.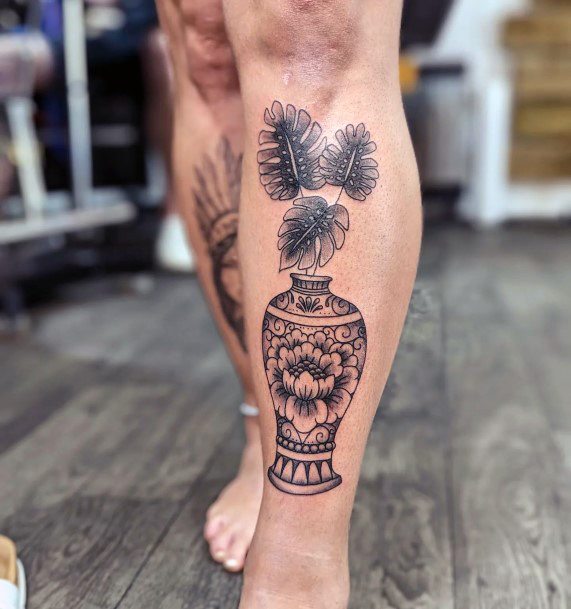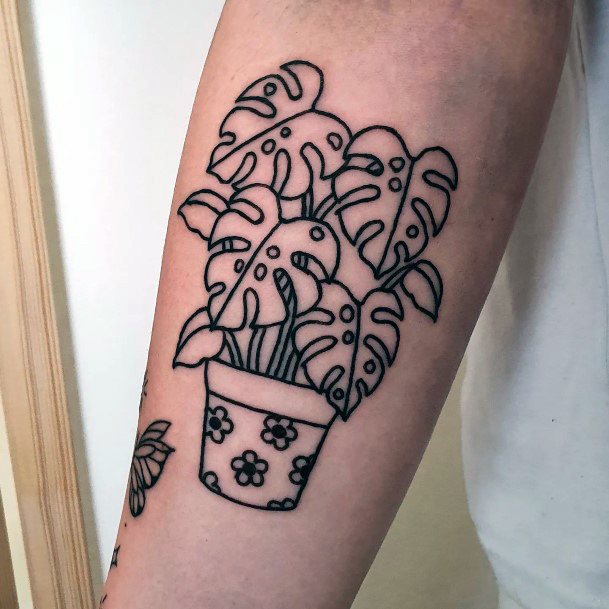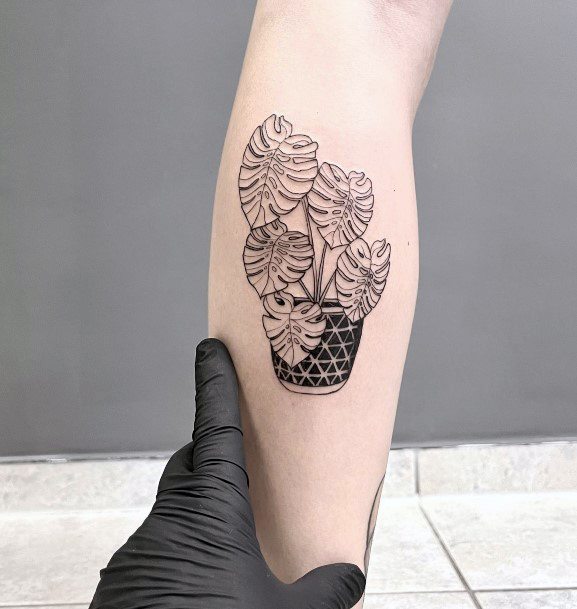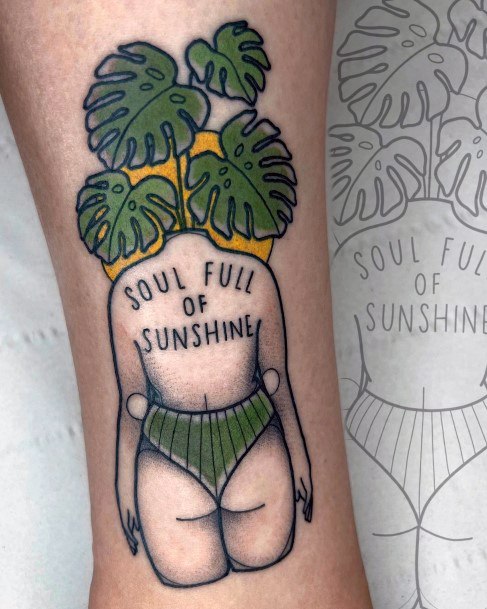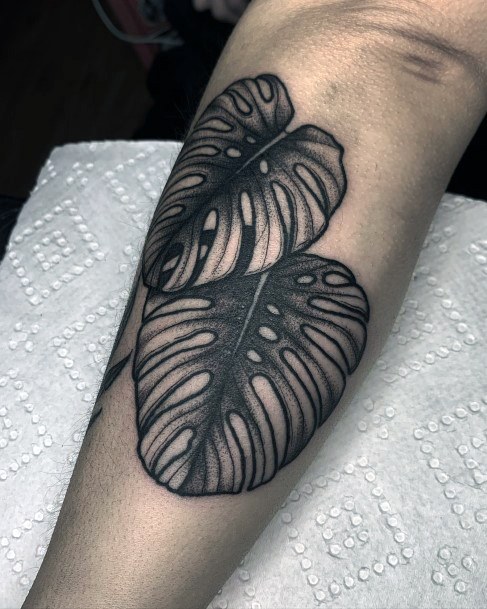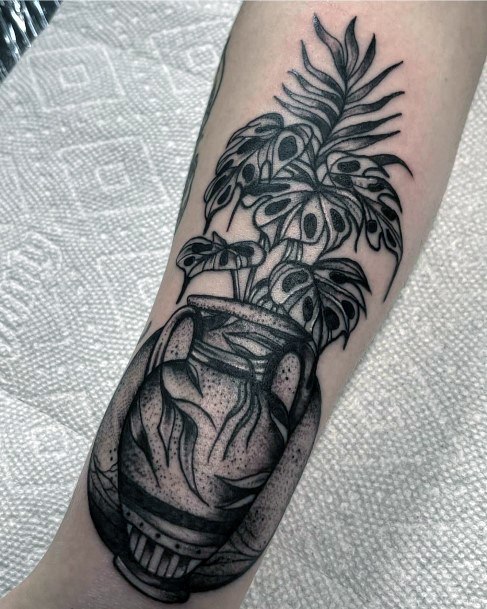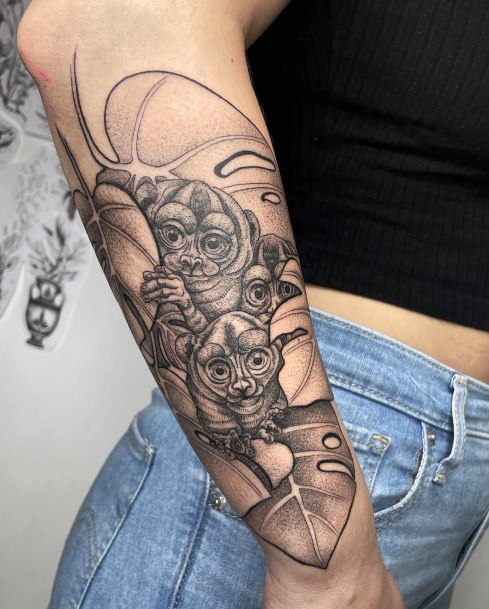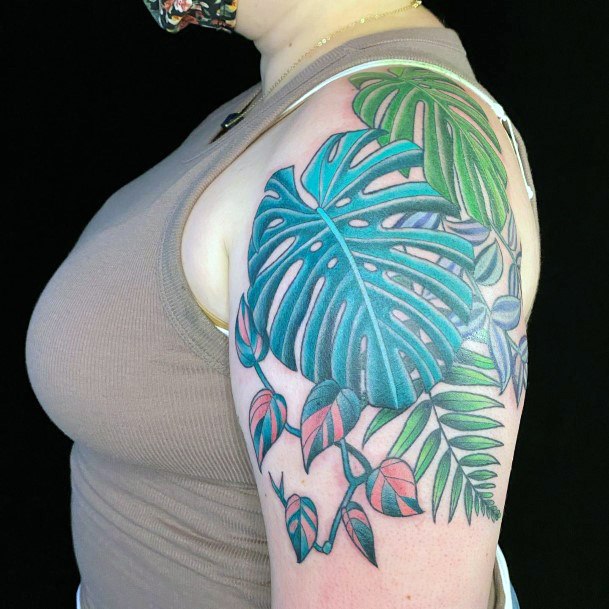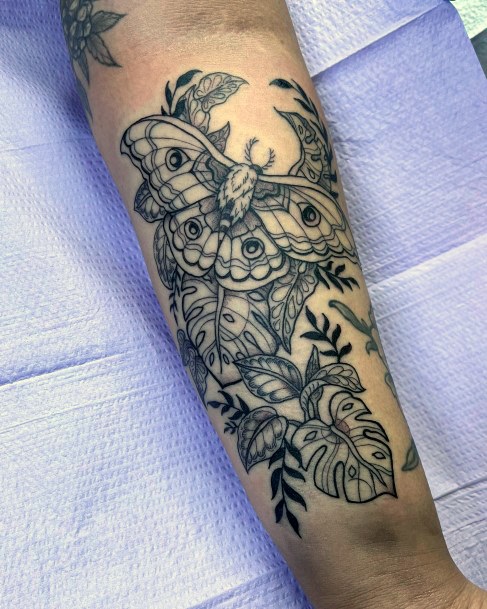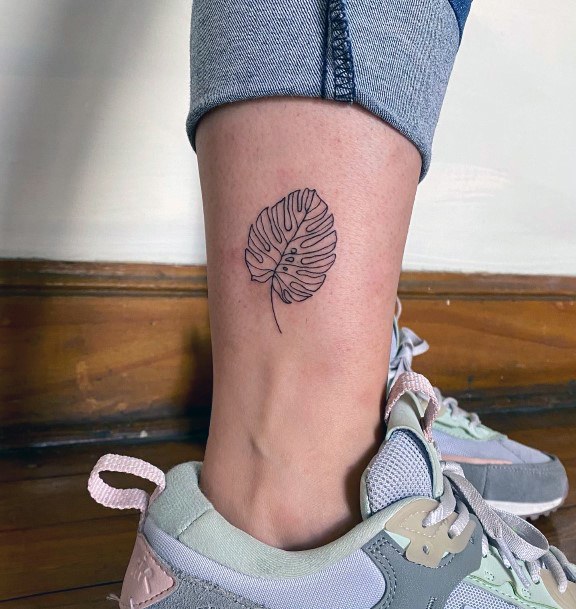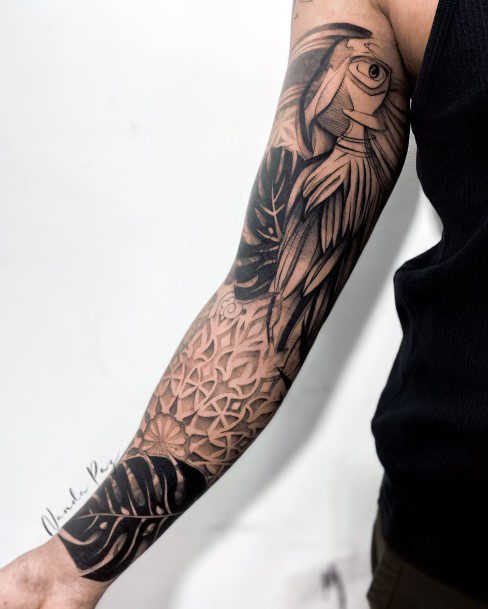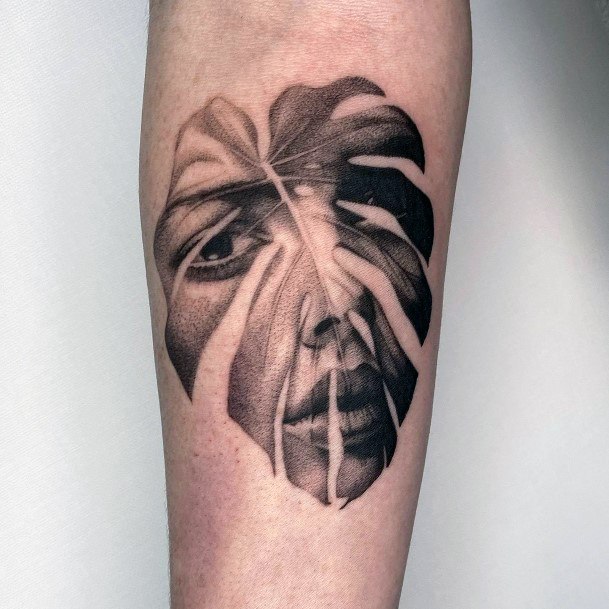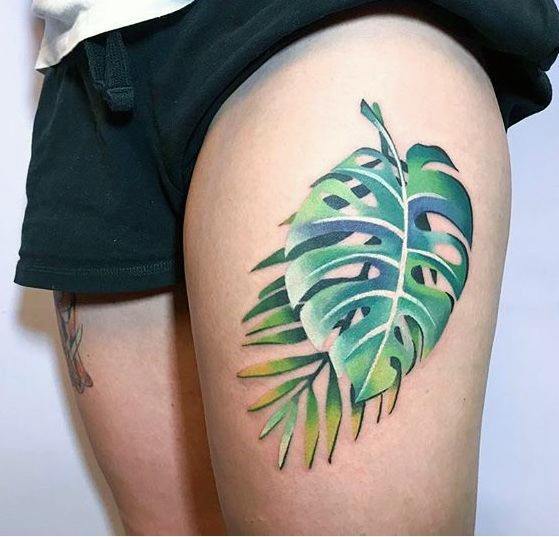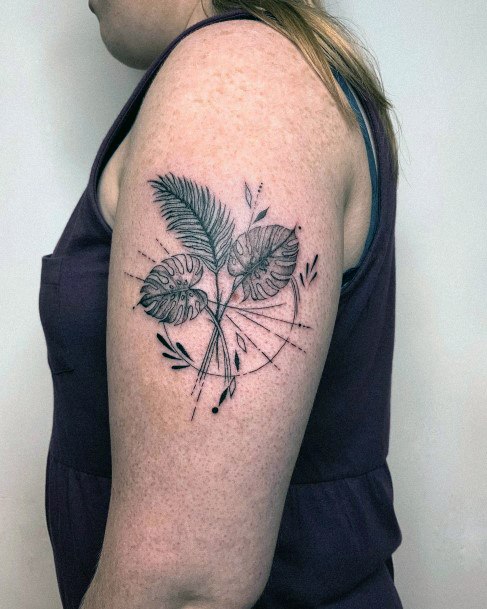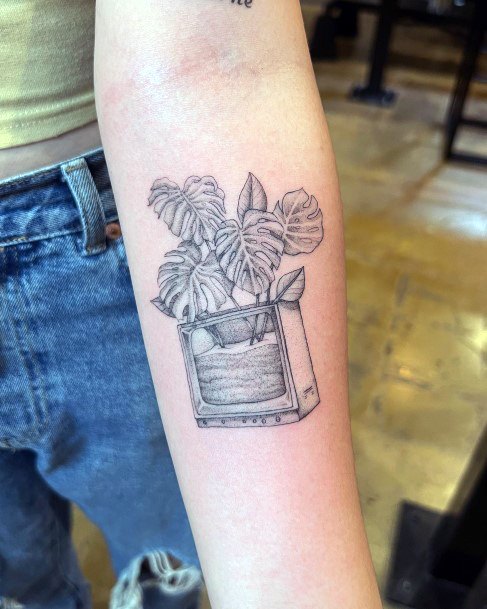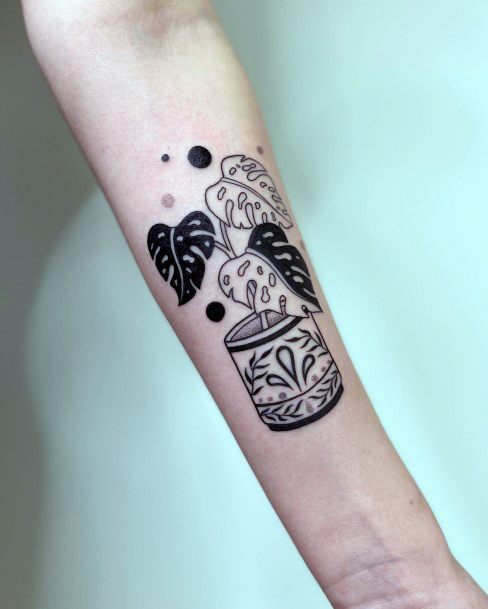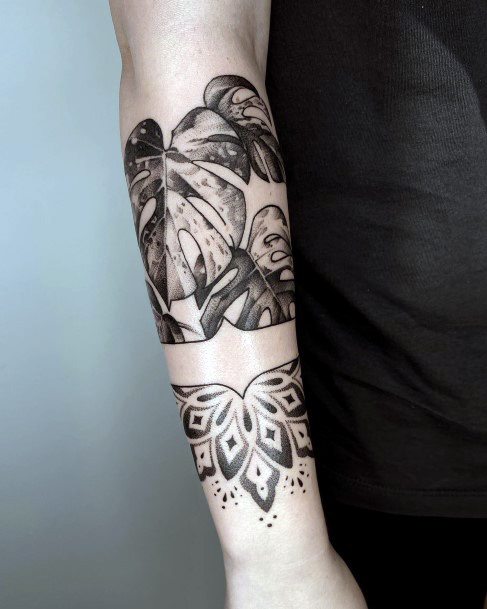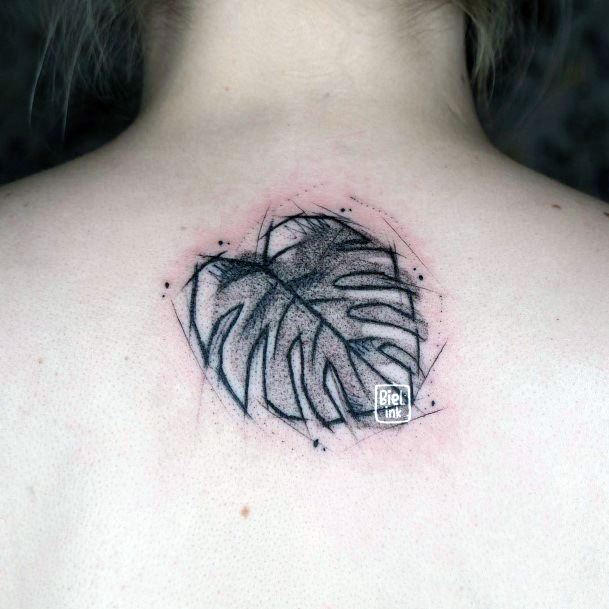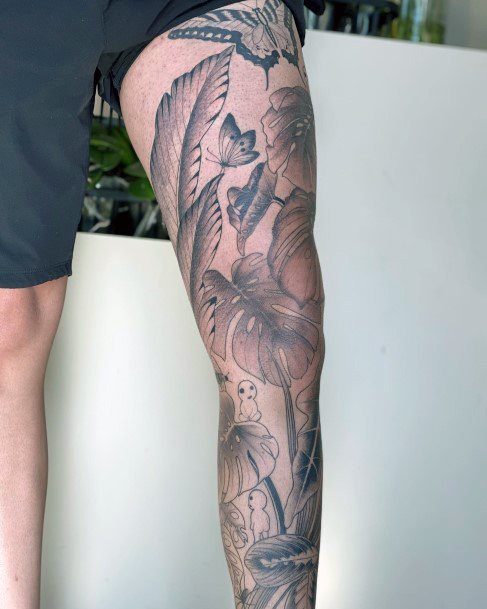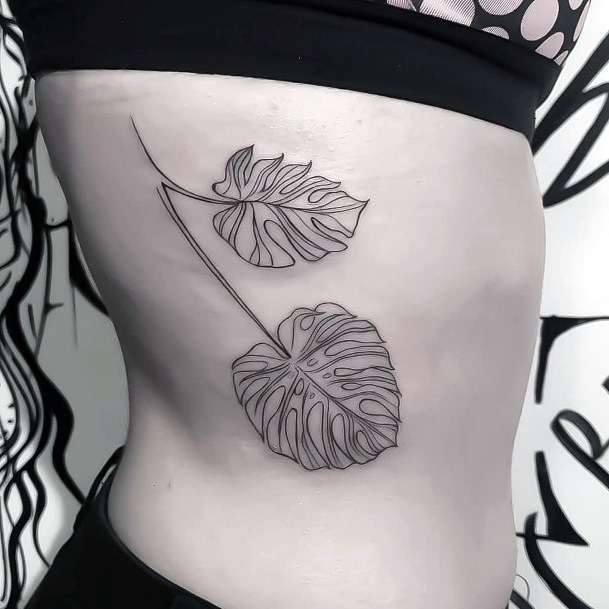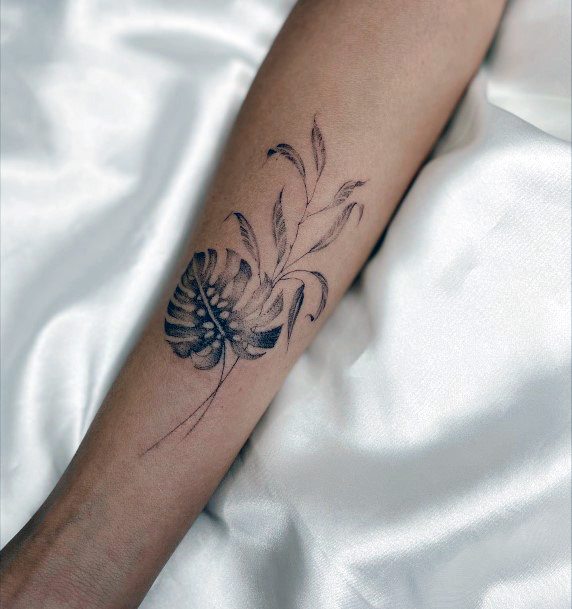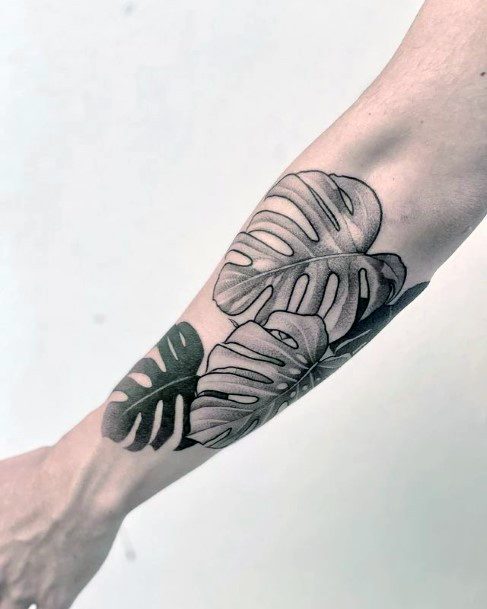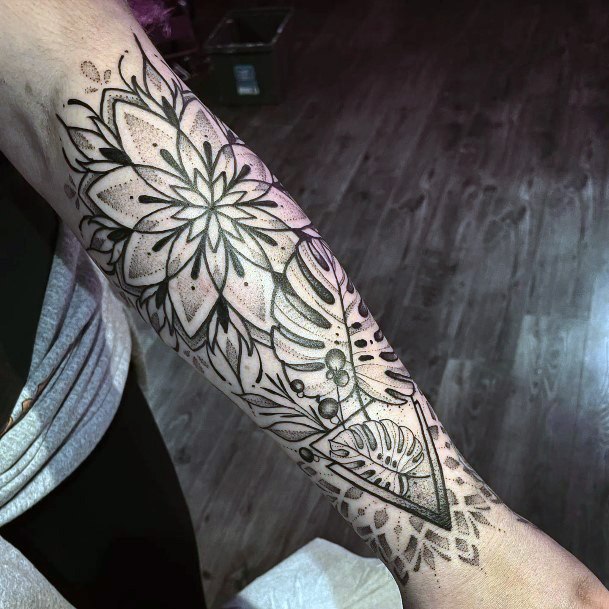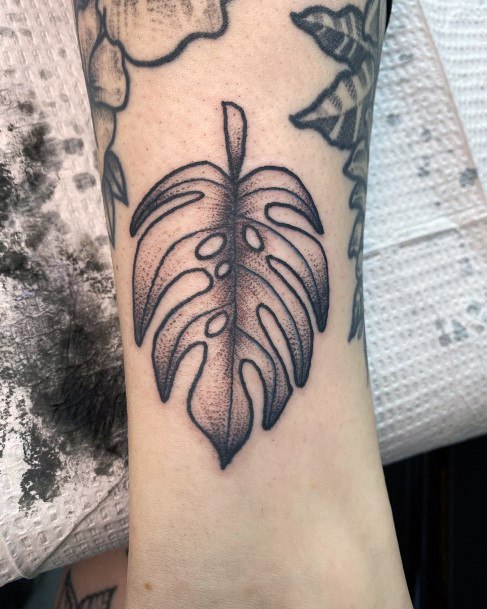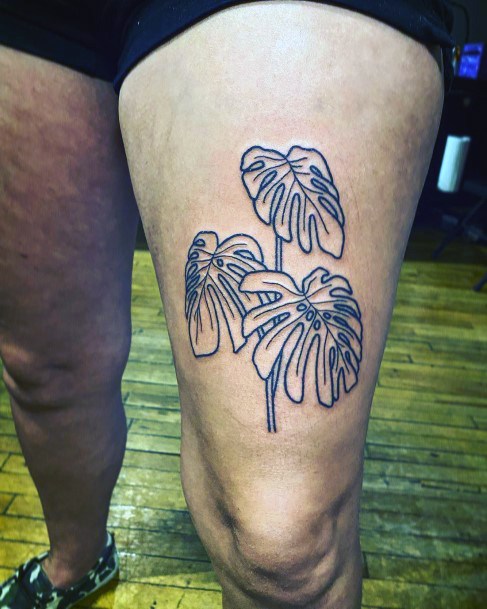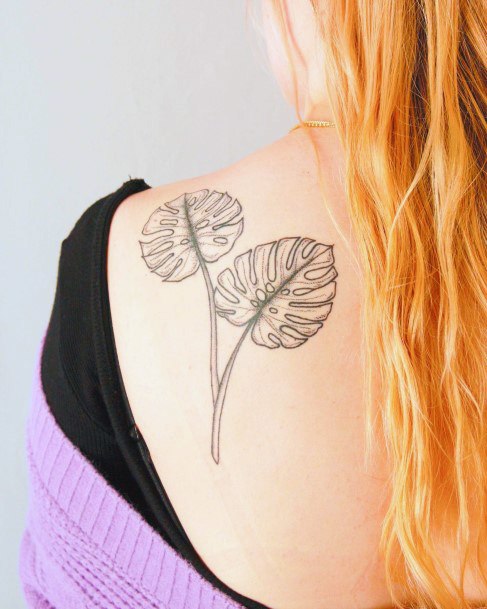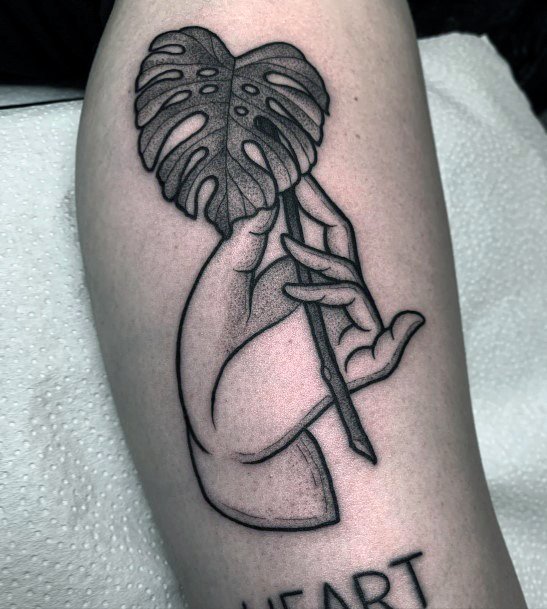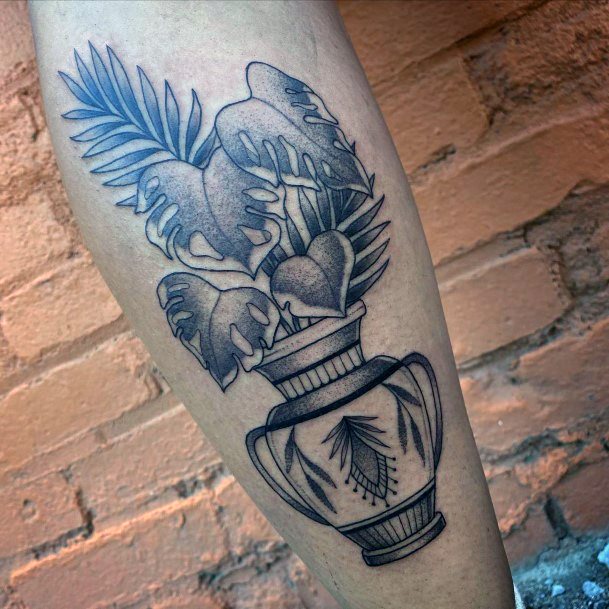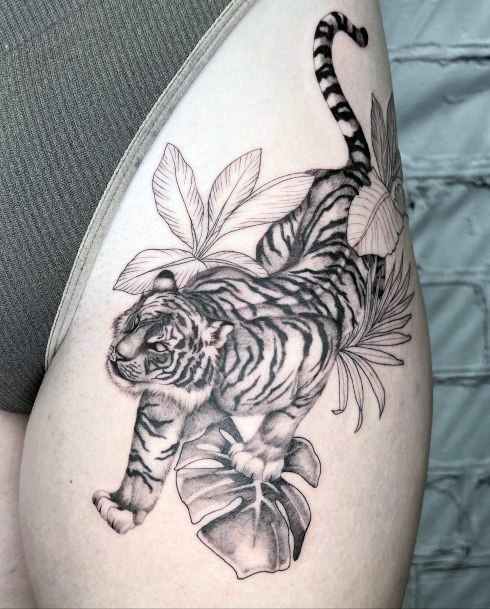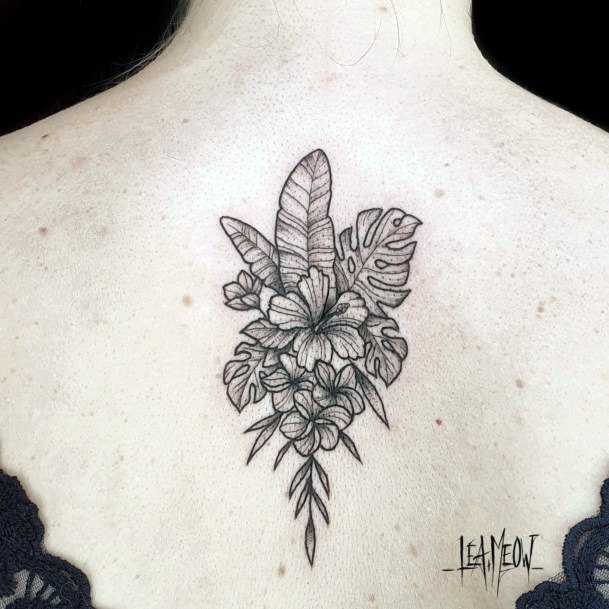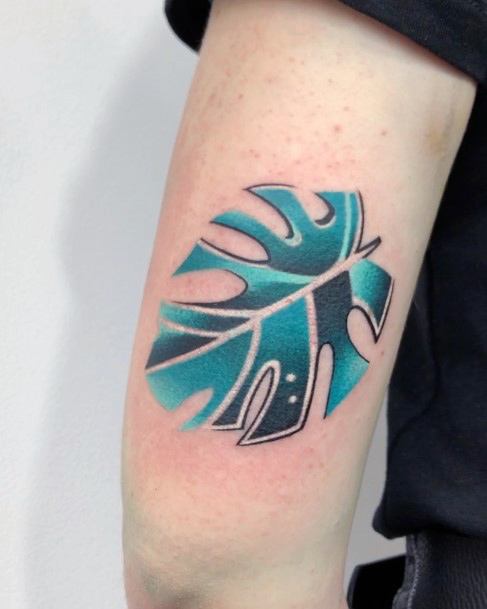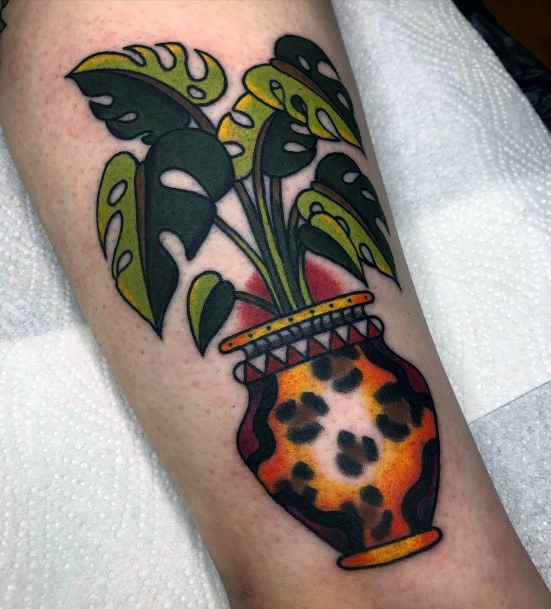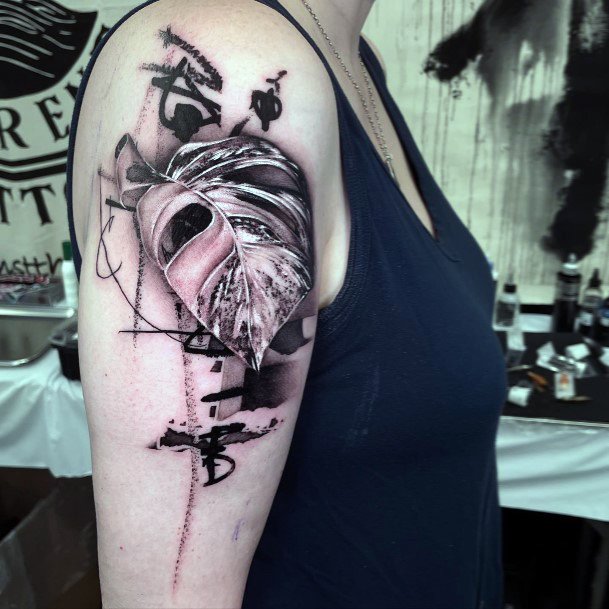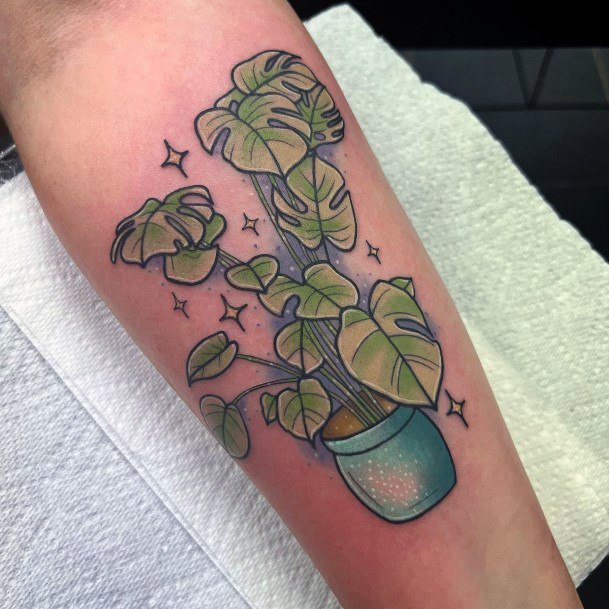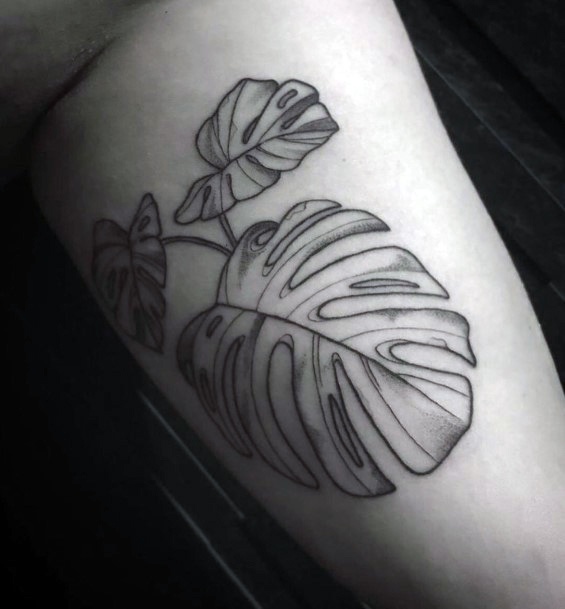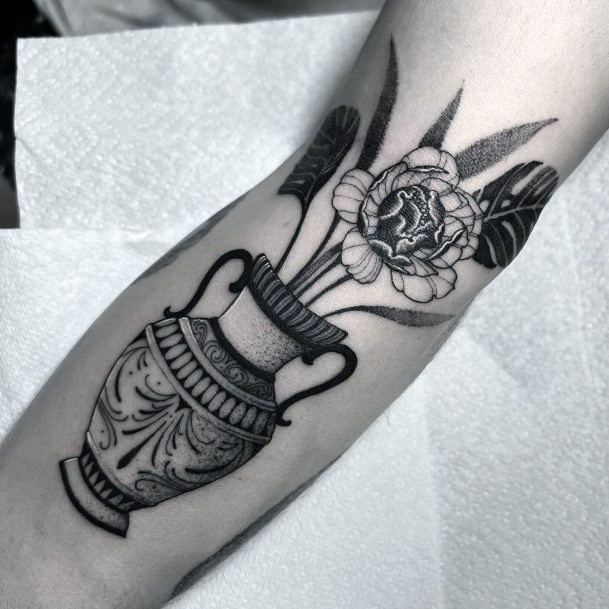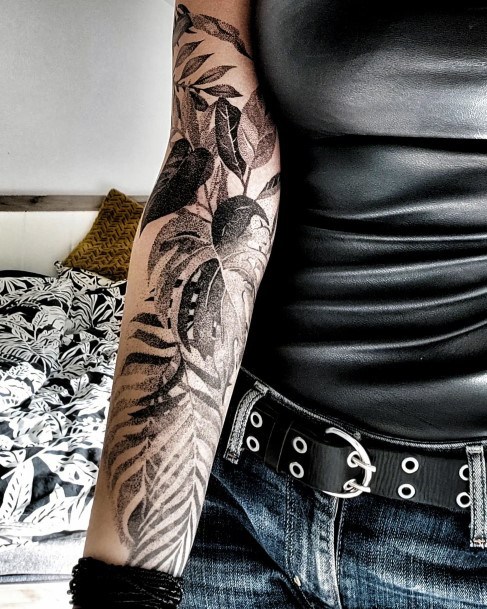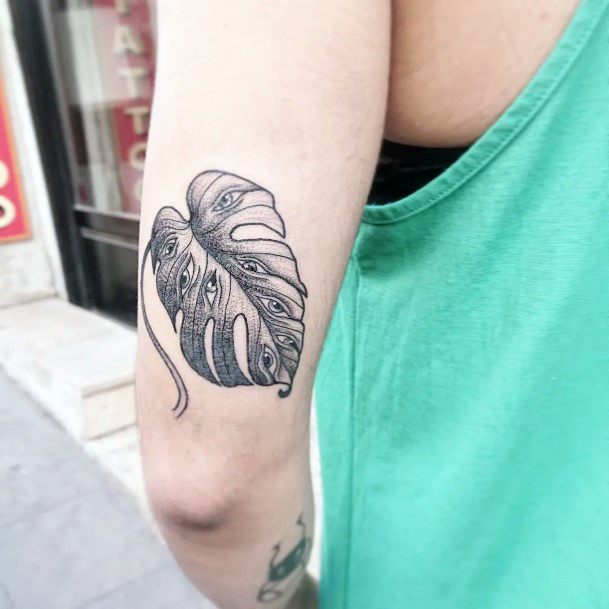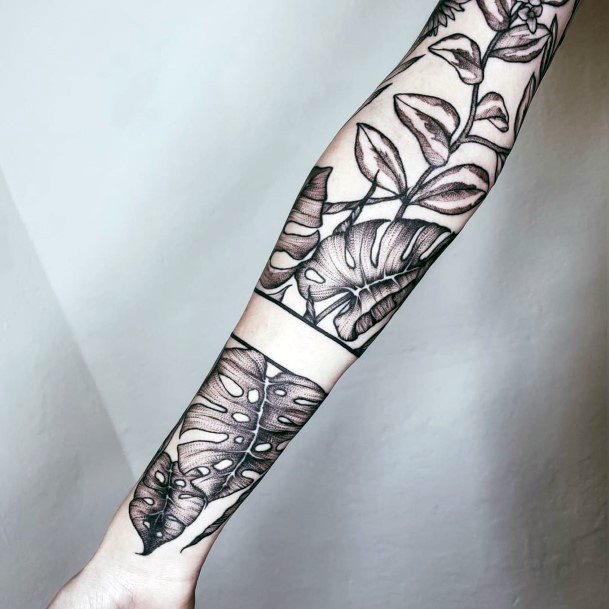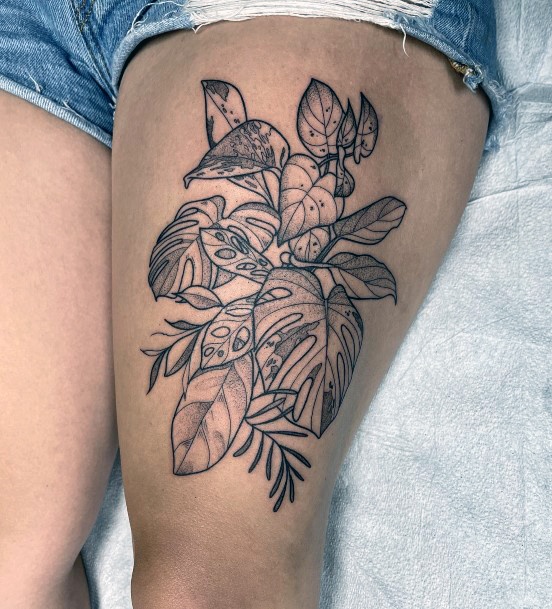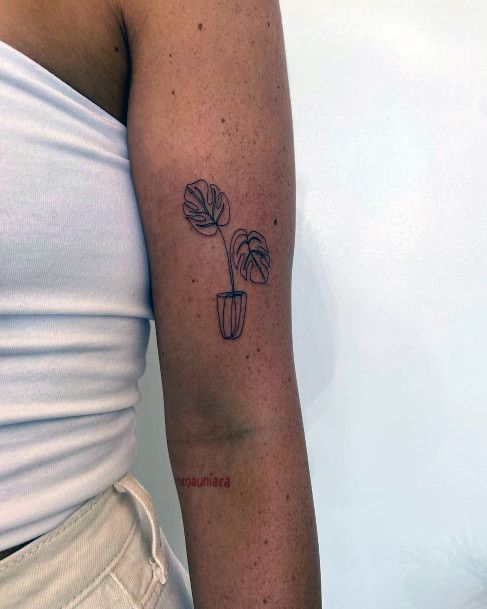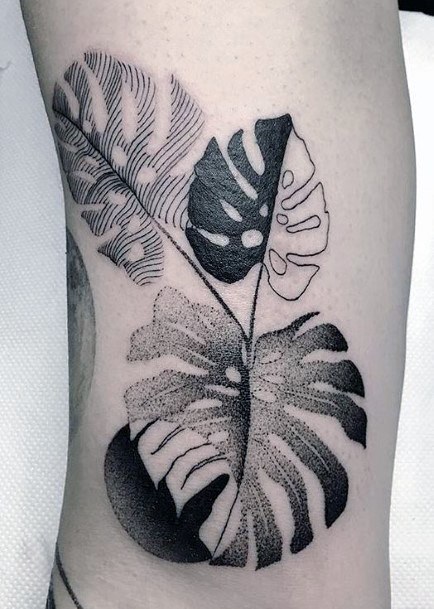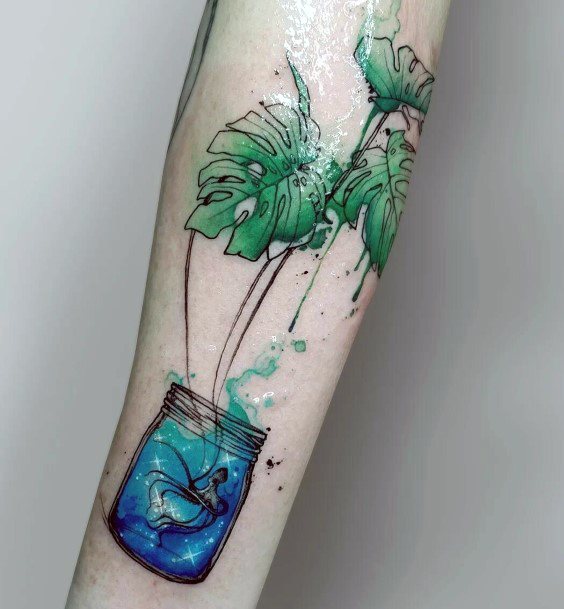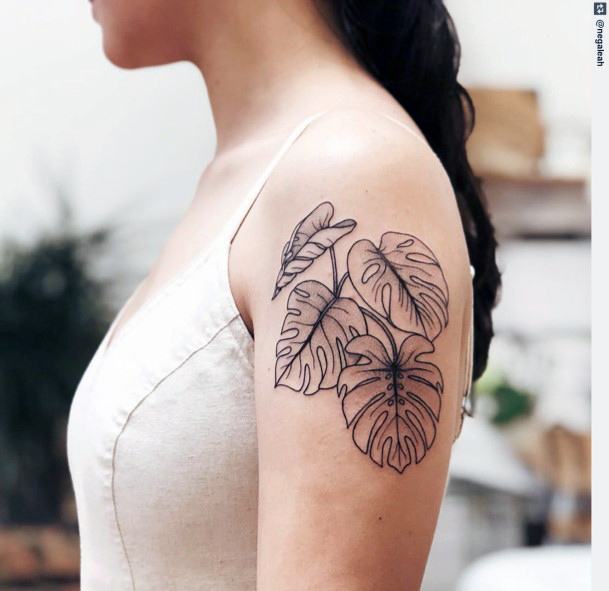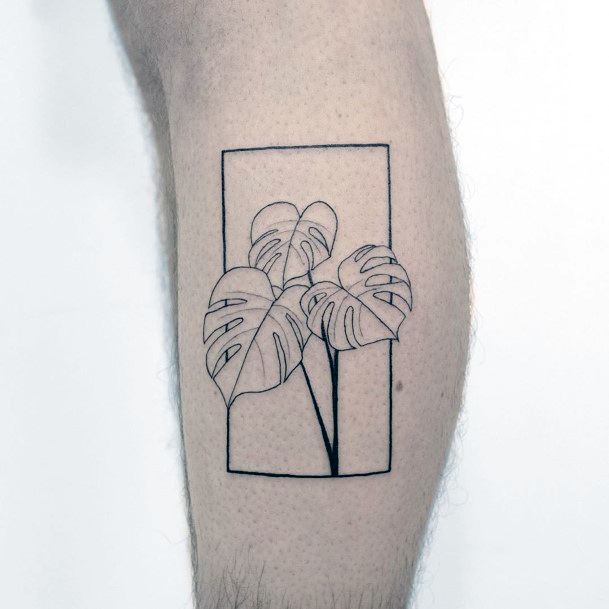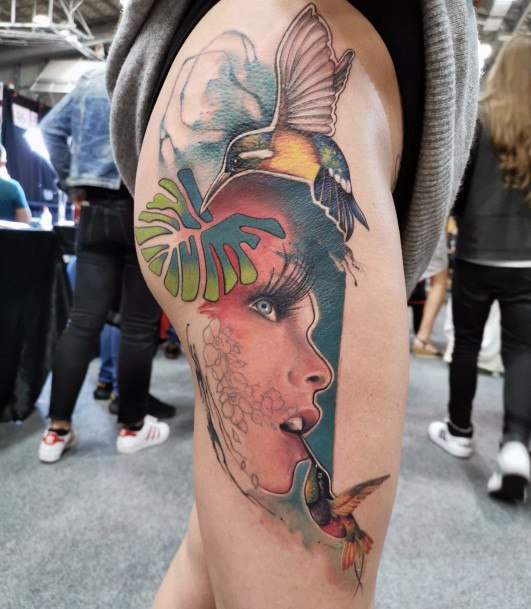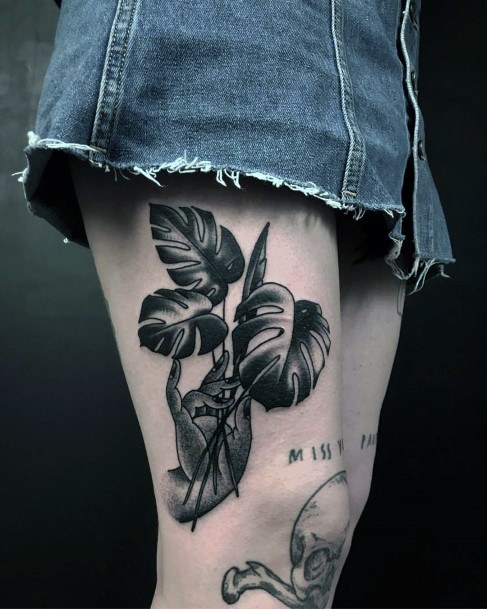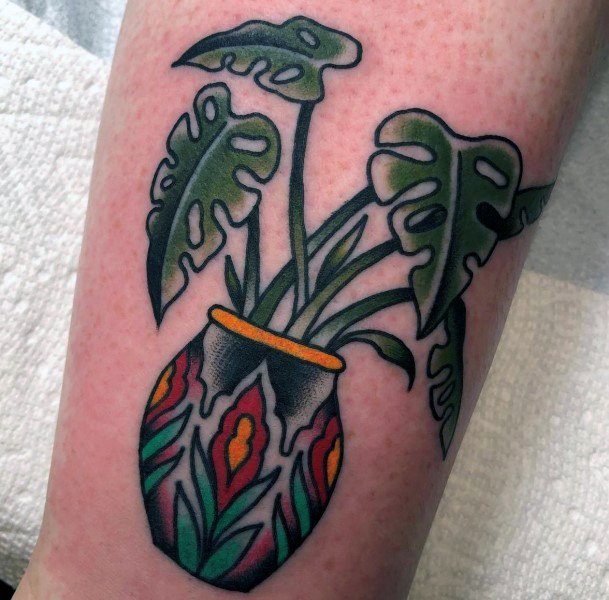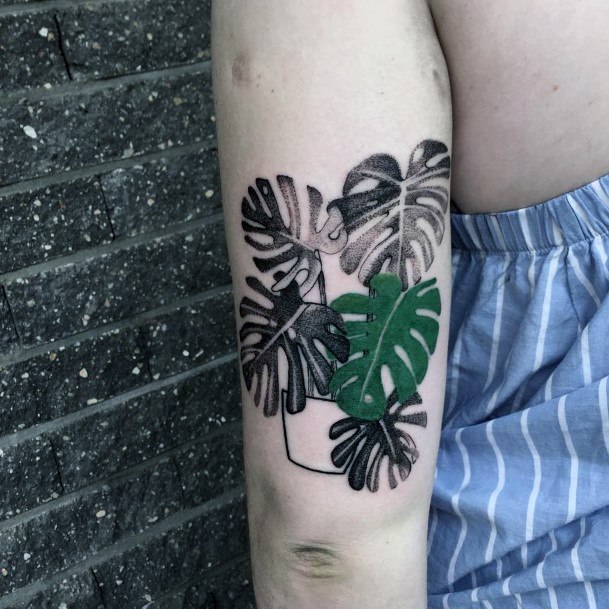 Monstera tattoo meanings and symbolism:

What do Monstera plants mean and symbolize?:

The Monstera's large, glossy leaves are often seen as a symbol of protection and shelter. The plant's ability to thrive in low light conditions is seen as a metaphor for the ability to survive and thrive in difficult circumstances. The Monstera's resilience is also seen as a symbol of hope and optimism, as it can survive even in the most challenging of environments.

The Monstera's adaptability is also seen as a symbol of growth and transformation. The plant can grow in many different environments, adapting to its surroundings and growing in whatever space it is given. This is seen as a metaphor for personal growth and development, as we too can adapt to our circumstances and grow in whatever environment we find ourselves in.

The Monstera's large leaves are also seen as a symbol of abundance and prosperity. The plant's lush foliage is often seen as a sign of abundance and wealth, as it provides shelter and protection from the elements. This is seen as a metaphor for abundance in all areas of life, from financial wealth to emotional wellbeing.

Finally, the Monstera is also seen as a symbol of balance and harmony. Its large leaves are often seen as a reminder to seek balance in all areas of life, from physical health to mental wellbeing. The plant's ability to thrive in both light and dark conditions is seen as a reminder that balance can be found even in the most challenging of circumstances.

The Monstera serves a symbolic design of resilience, adaptability, growth, abundance, prosperity, balance, and harmony. Its large leaves are a beautiful reminder to seek balance in all areas of life, while its ability to thrive in low light conditions is seen as a metaphor for the ability to survive and thrive even in difficult circumstances.