When it comes to quartz, just about every woman who's into rocks, gems and minerals these days has a piece somewhere in their collection.
Let's face it, quartz is the second most abundant mineral out there. It's in just about everything. No seriously, did you know that almost every rock you pick up off the ground contains a fractional amount of quartz in it? Even granite, like the granite on your kitchen countertops can have a quartz composition of 20% or higher.
While most of us think of quartz as being this super clear, glass-like crystal, the truth is, there's a ton of variations to this mineral specimen. My favorite clear quartz crystal clusters come from Brazil, but in my backyard I have found a ton of milky and rose quartz. A trip up to places like Mt Antero in Colorado can often reveal another variation such as smoky quartz. Look further and you can find quartz in just about every color from purple to yellow, black, brown, pink, green, red, grey, and beyond.
Clear quartz is definitely the most popular choice, most collectors will pay top dollar for quartz with inclusions. By inclusions, I mean quartz with other minerals inside of the matrix, such as chlorite, brookite, calcite, dumortierite, epuidote, floruite, ruitle, ajoite, etc. Even a tiny, finger sized piece of ajoite quartz alone can be worth hundreds of dollars. How wild is that?
Of course, beyond inclusions there's phantoms too, which means one crystal grows inside of another, forming layers or bands. The effect is super cool to look at. Speaking of looking at quartz, what women doesn't want to wear this mineral in the form of a necklace, ring or general piece of jewelry? It's the perfect gemstone and far more affordable than diamonds. Less sparkle sure, but still beautiful nonetheless.
When it comes to meanings behind this crystal, they are truly all over the place. Some women believe these crystals have healing powers while others simply admire their natural beauty. One unique meaning is an attachment to electronics. Perhaps you are a gamer but love crystals; you could view quartz as a connection to electronics as they have a piezoelectric properties. Because quartz has pure silicon, it often gets utilized in the production of countless electronic and computer components.
Whatever your connection to the mineral, one thing is certain: Rocks are make for cool tattoos!
Consider quartz inclusions and the different types:

Skeletal Quartz: Skeletal quartz is a type of quartz inclusion that appears as a network of thin, branching crystals. It is usually found in agates and jaspers and is often referred to as "skeletal druse" or "skeletal druzy".

Druzy Quartz: Druzy quartz is a type of quartz inclusion that appears as tiny crystals covering the surface of a mineral or gemstone. It is usually found in agates and jaspers and is often referred to as "druse" or "druzy".

Enhydro Quartz: Enhydro quartz is a type of quartz inclusion that contains water inside its crystal structure. It is usually found in agates and jaspers and is often referred to as "enhydrite" or "enhydro".

Phantom Quartz: Phantom quartz is a type of quartz inclusion that appears as an inner layer of crystal within another layer of crystal. It is usually found in amethyst and citrine and is often referred to as "phantom" or "phantom druse".

Rutilated Quartz: Rutilated quartz is a type of quartz inclusion that contains needle-like rutile crystals within its structure. It is usually found in amethyst and citrine and is often referred to as "rutile" or "rutilated".

Opalized Quartz: Opalized quartz is a type of quartz inclusion that contains opal within its structure. It is usually found in opals and is often referred to as "opalized" or "opalized druse".

Smoky Quartz: Smoky quartz is a type of quartz inclusion that appears as a dark gray or black color within its crystal structure. It is usually found in amethyst and citrine and is often referred to as "smoky" or "smoky druse".

Chlorite Quartz: Chlorite quartz is a type of quartz inclusion that contains chlorite within its structure. It is usually found in agates and jaspers and is often referred to as "chlorite" or "chlorite druse".

Amethyst Quartz
Aventurine Quartz
Blue Quartz
Citrine Quartz
Dendritic Quartz
Elestial Quartz
Faden Quartz
Fire Quartz
Hematoid Quartz
Herkimer Diamonds
Milky Quartz
Prasiolite (Green Amethyst)
Rose Quartz
Smoky Quartz
Snow Quartz
Spirit or Cactus Quartz
Strawberry Quartz
Tiger's Eye Quartz
Tourmalinated Quartz
Tourmaline-Quartz
Yellow Citrine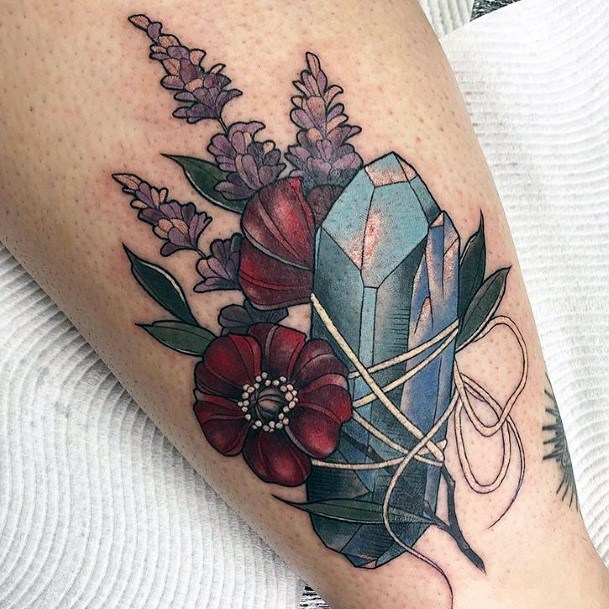 Here's a delightful clear quartz crystal with blue hues and subtle white ink shading details. Attached to theis terminated crystal are purple lavender flowers, deep red poppy flowers and a tiny white ink twine line to tie it all together.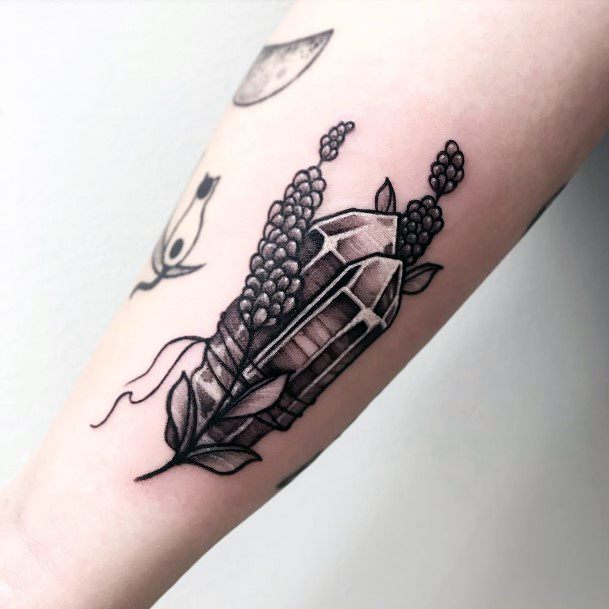 I love this heavily shaded black and grey ink quartz crystal female forearm tattoo. White ink defines the angles of the crystal and gives it some extra sparkle. Two delicate flowers are tied to the two crystals with a thin blank ink piece of string.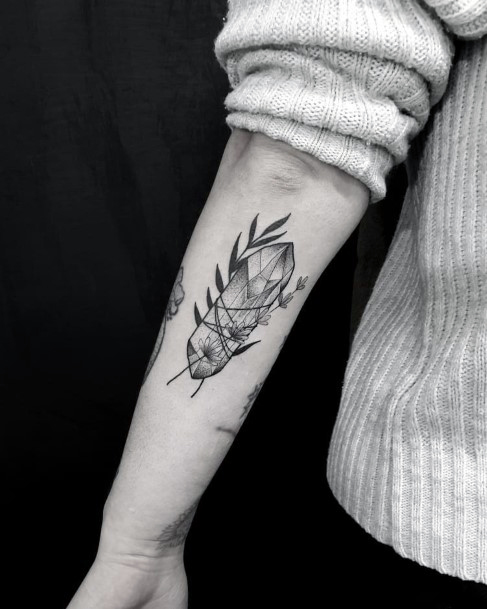 When it comes to quartz crystal tattoos, most women these days are opting to put the design either on their outer arm or forearm. The long canvas area is perfect for inking a long crystal plus branches of flowers, and this tattoo is a wonderful example. To keep the design simple, they've choose to go with a black and grey shaded theme, and paired the double terminated crystal with two branches.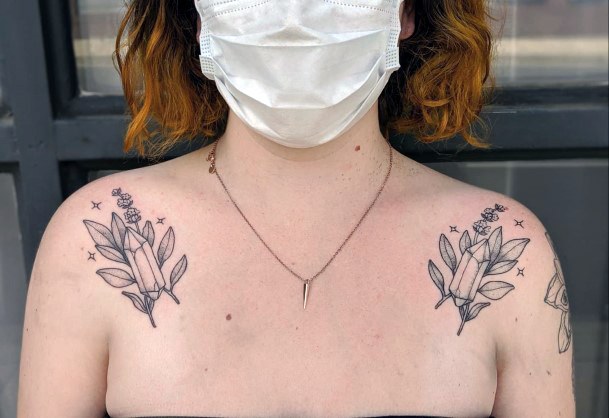 Check out this cool matching/opposite women's front of shoulder crystal tattoo featuring two double terminated quartz minerals plus leaves and a single flower. To give this piece of body art a cute magical vibe, you'll also find three tiny stars around all of the elements.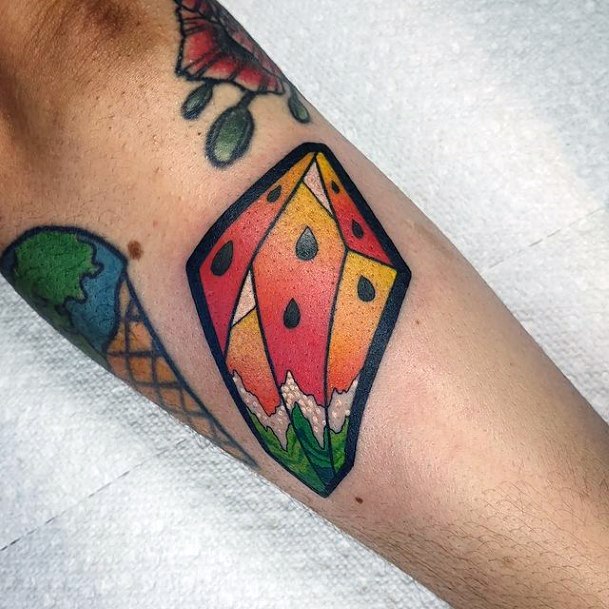 How far out is this super creative watermelon quartz themed women's forearm tattoo? Note the druse detail that has a glitter effect in white ink, plus the green pattern at the bottom; an incredible style. I love the gradient yellow to orange and red watermelon color theme, plus the black ink seeds which add a level of fun to their creative women's tattoo.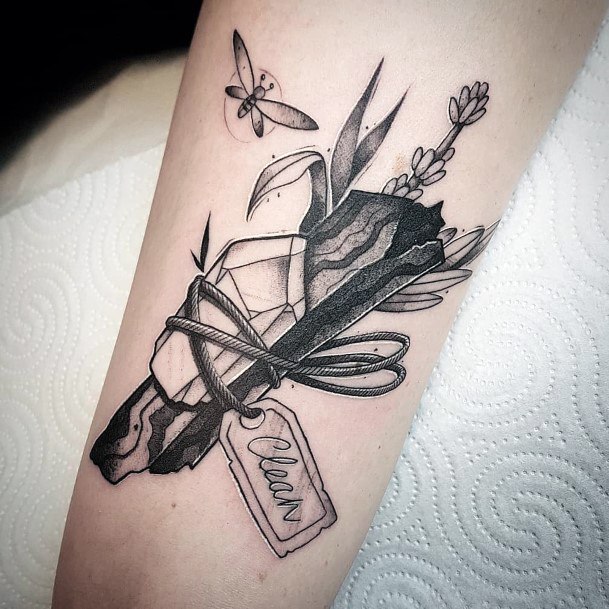 Manifest all your dreams with this design! Transformation and growth come to mind with this stunning black shaded tattoo featuring a butterfly, quartz crystal wrapped with Palo Santo and attached tag that reads "clean". I love the way the artist uses a black outline to contrast the skin and bring out the clarity of the quartz in this image. A thoughtful piece that evokes deep feelings of beginning a new chapter, or maybe rewriting the whole darn book.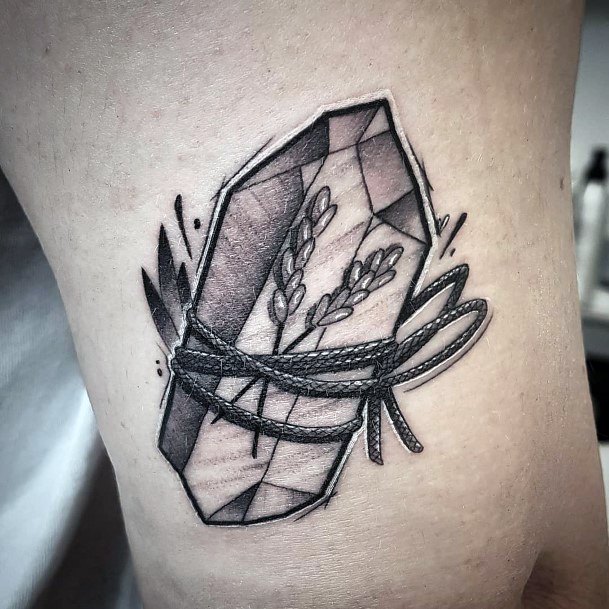 The unique placement of this tattoo above the elbow on the back of the arm allows this simple design to make a fun statement. A black and grey shaded quartz crystal with elegant flowers tied to it is really brought to life with white outlining to make the whimsical design stand out.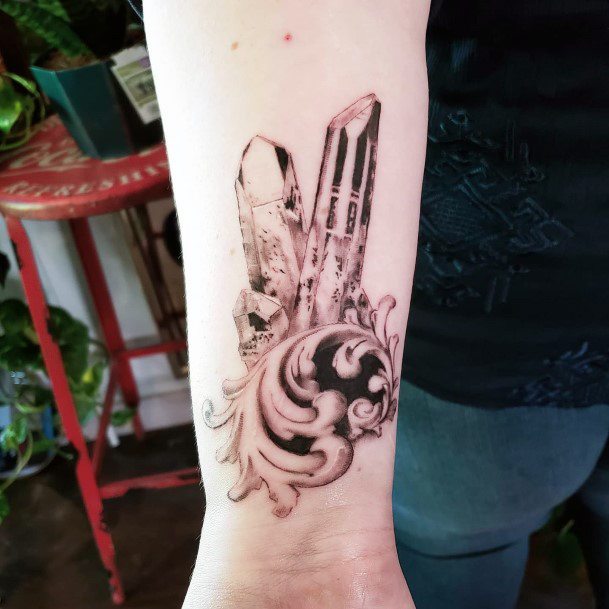 I love the placement of this three quartz crystal cluster rising out of an intricate leaf design. There is something about the inside of the wrist placement that feels delicate, feminine, and interesting. The artist uses a deep black ink to contrast the design adding a life like sheen to the crystal and leaf.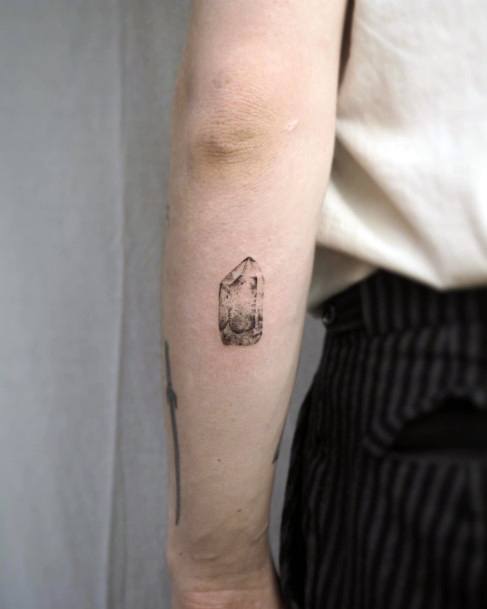 A girly tattoo to go with any look. For a more understated appearance, this design features a small crystal with soft lines and minimal dark gray to black shading on the bottom. It has an airbrushed look adding interest to the tattoo while not stealing the show, so you remain the center of attention.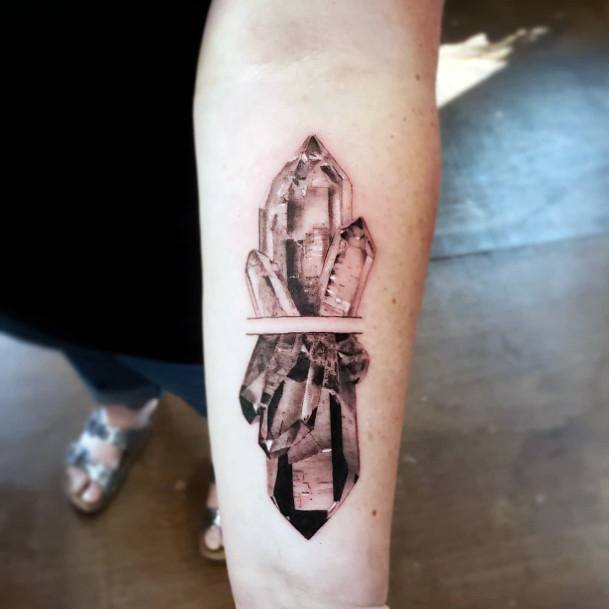 A mirror image! Definition and shading are at work in this detailed quartz crystal cluster design. The top cluster is brought to life using lots of grey and white brush shading, and by contrast the bottom is shaded using a solid black in some places. I love how the artist's shading technique brought clarity to the crystals giving them a transparent look.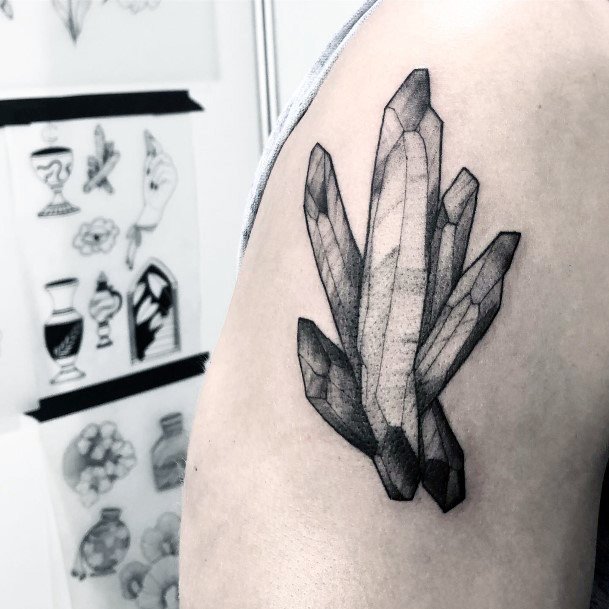 Hints of hand drawing illuminate this standalone druzy quartz cluster, with whip shading adding to the feel that this one was inked right from your favorite sketch book. I love this look for a tattoo because they tend to have a more sophisticated and life like feel.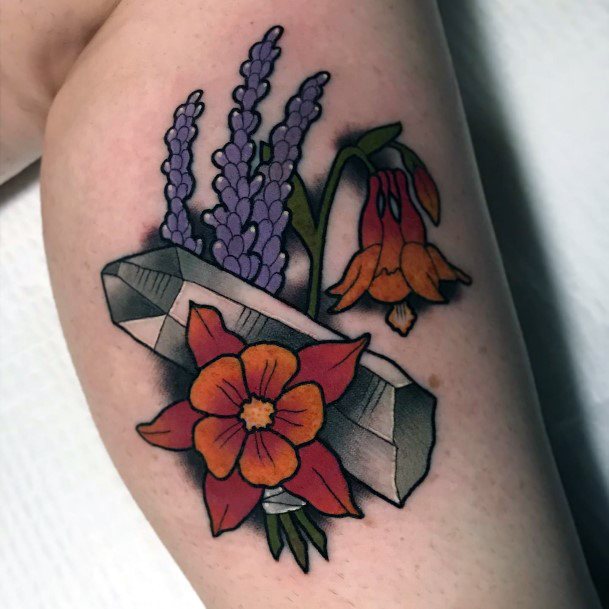 Feminine details and bright colors give this tattoo the ability to tell a story. The white shading on the quartz mineral flanked by purple lavender flowers and orange daffodils standout with black background shading. Thoughtful accents and brilliant hues make this inner bicep tattoo unforgettable.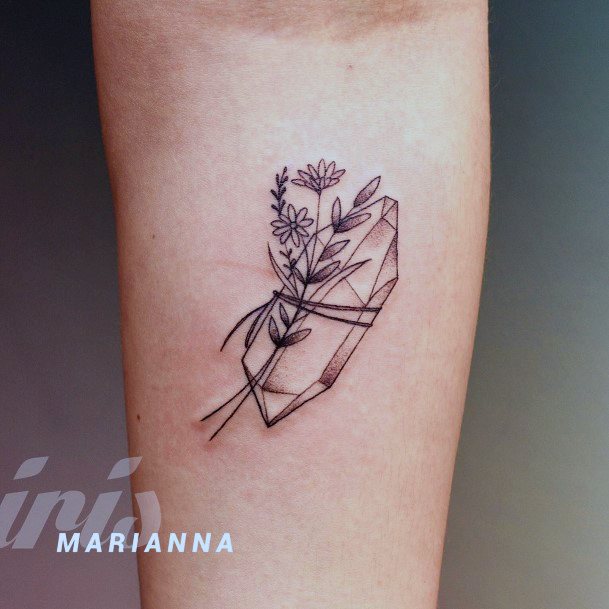 This female tattoo is a vibe! Delicate lines and popular placement make this flower wrapped quartz crystal super memorable. I love how this tattoo would be a gentle reminder of the clarity, alignment, and intuition that the stone evokes. It has a very airy and light quality to it which makes it great for someone who wants a more low-key look.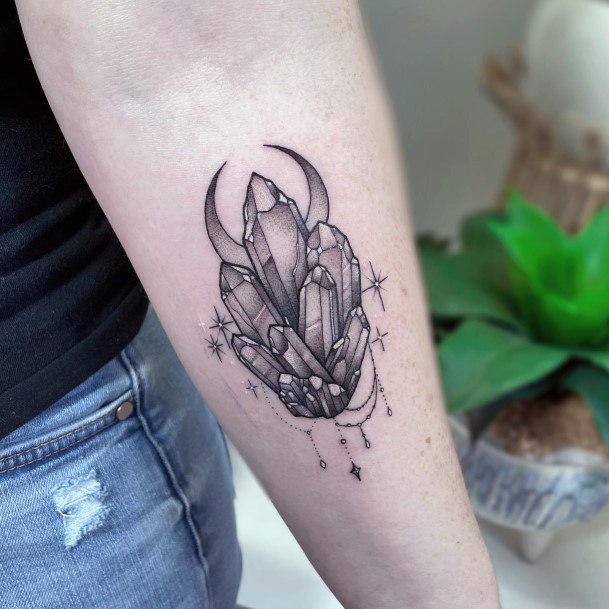 Magical manifestation! Women who enjoy the look of this tattoo might be into a more mystical vibe given the stars and jewels surrounding this large quartz cluster. Given that quartz is the stone of manifestation it's no wonder so many are drawn to it!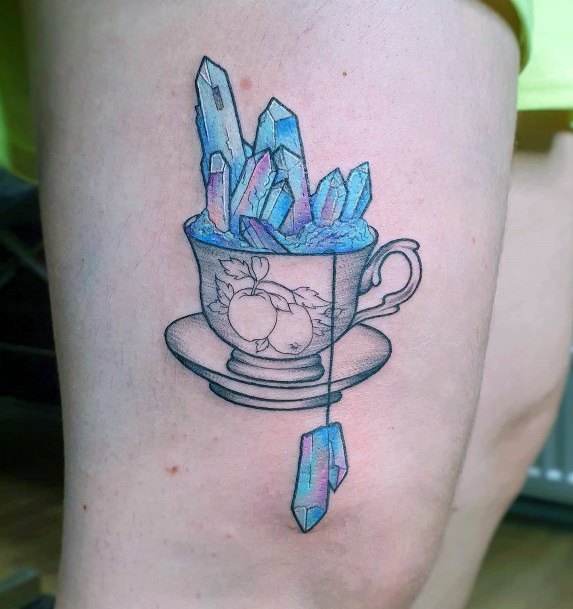 It's tea time! This image evokes so much thought around its meaning with a delicate tea cup and saucer full of brightly colored blue and pink crystals. A crystal tea, if you will, offering up a drink of clarity around intentions, desires, and intuition, perhaps, given the many uses behind these gems. Surely a conversation starter and a potent reminder to internalize the healing properties of this mineral.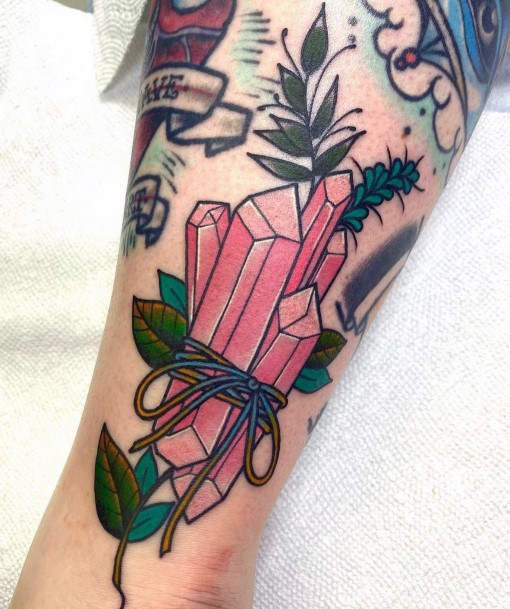 How perfect is this group of red crystals wrapped in blue and yellow ribbon tied in a bow? The background of green florals and leaves brings it all together and blends so well with the other tattoos shown here. A very vibrant and earthy feel that is sure to appeal to the creative at heart.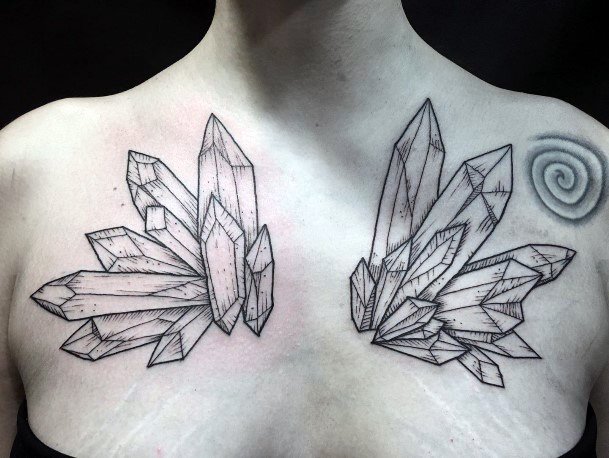 Dynamic quartz crystal clusters on either side of this woman's chest expanding from her collarbone across her décolletage are shown in black ink lines with minimal shading. A very eye catching look with the crystals' jagged edges and large display. A clear statement and artistic display.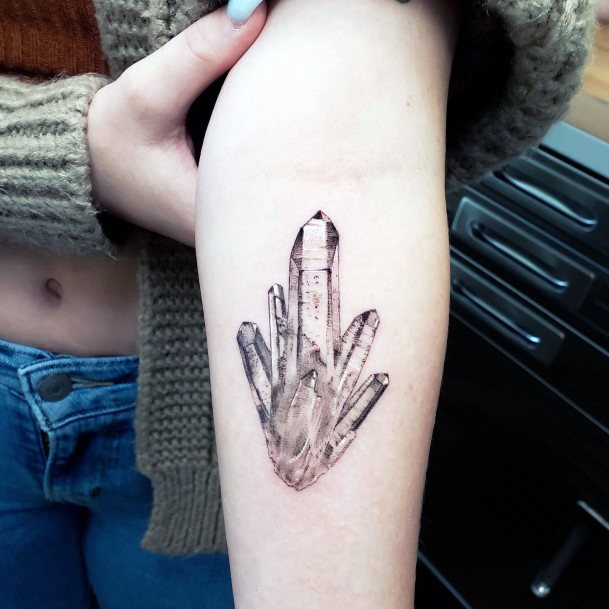 A large quartz crystal cluster is seen here with popular placement on the upper inside of the forearm. The use of shading with grey, black, and white adds an illusion of shimmer to this artistic vision, and the fine lines bring out lots of detail in this intricate image.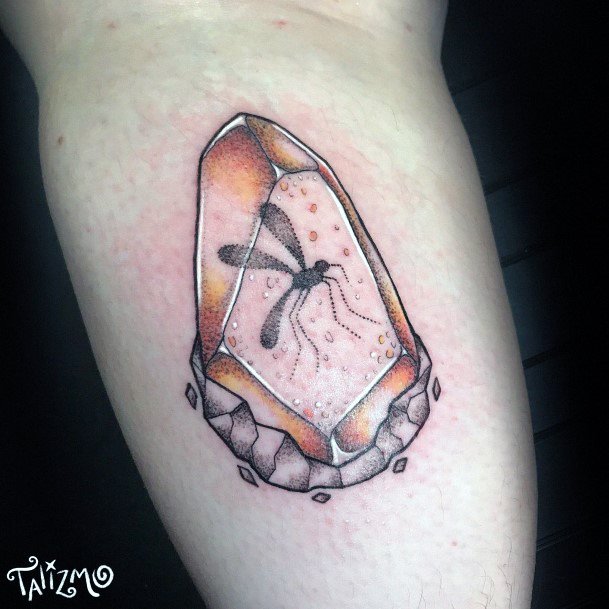 An insect in resin is as old as time and this tattoo captures the idea with a mosquito in what looks like an amber stone. The light brown shading to the stone gives it a warm feel and the white outline adds a sense of glimmer and shine.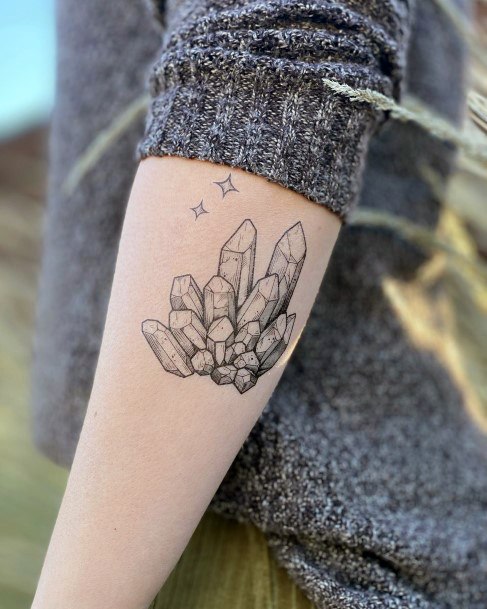 Crystal clusters with a celestial twist! While the image gives off an earthy feel with a rather large cluster of druzy quartz, the small stars lingering above the grouping give a nod to the heavens. Lightly shaded to give the crystals dimension, this image gives us an earthy anchor with the permission to keep dreaming.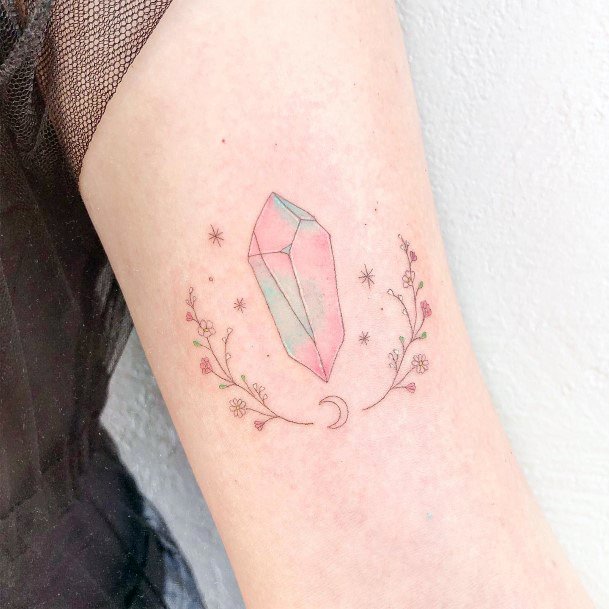 Boho, but make it delicate and feminine. A crystal pictured with ballet slipper pink and turquoise colors cradled by a bough of similarly colored petite flowers on either side. In the center of the boughs of flowers just below the crystal lies a crescent moon pairing nicely with the stars floating around the druzy stone.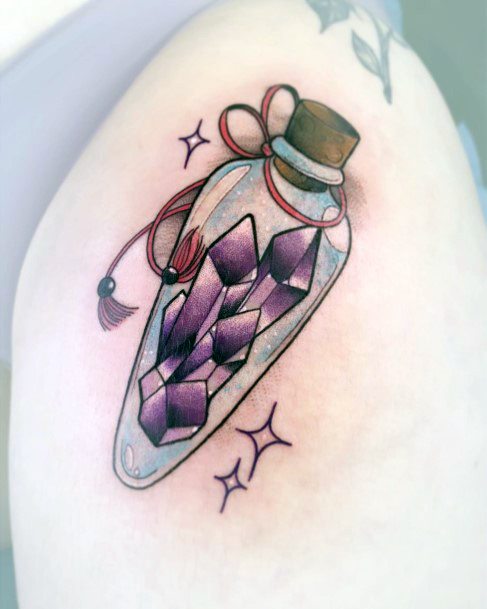 Amethyst crystals in a glass vile create a striking image in this shoulder tattoo. The bright purple stones are shaded with white giving off a shimmer, and the vile is shaded with light blue using lines and bubbles creating the illusion of shine on the glass. The bottle is corked and tied with a pink ribbon with flowing tassels while stars surround the image.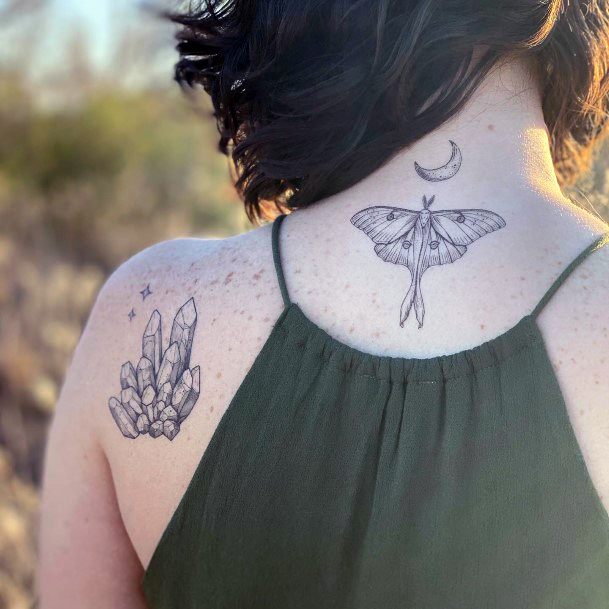 What a gorgeous pairing of tattoos! The shading on this quartz cluster mixed with the dark lines used to define each individual crystal really make it stand out. Loving the placement of this tattoo on the back of the shoulder and how the shading and color coordinates perfectly with the crescent moon and moth tattoo on the back of her neck. The added celestial theme helps tie these pieces together for a cohesive look.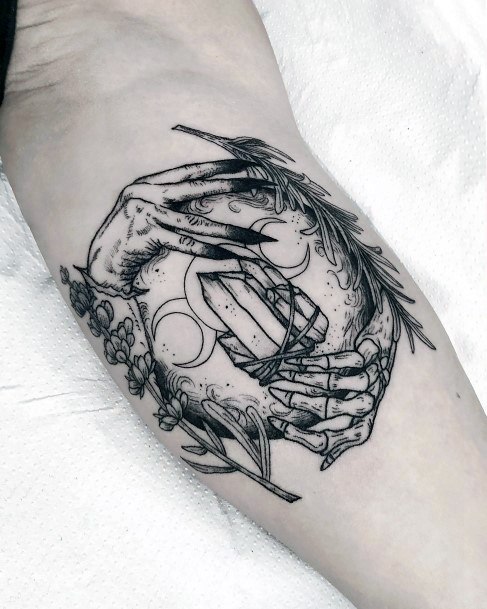 Two mystical hands, one of skin and one of bones, wrap around this tied cluster of crystals flanked with earthy elements of thyme and rosemary. In the center of the circle, above the bundle of gems are a waxing, full, and waning moon. This women's tattoo conjures up a witchy vibe we all love.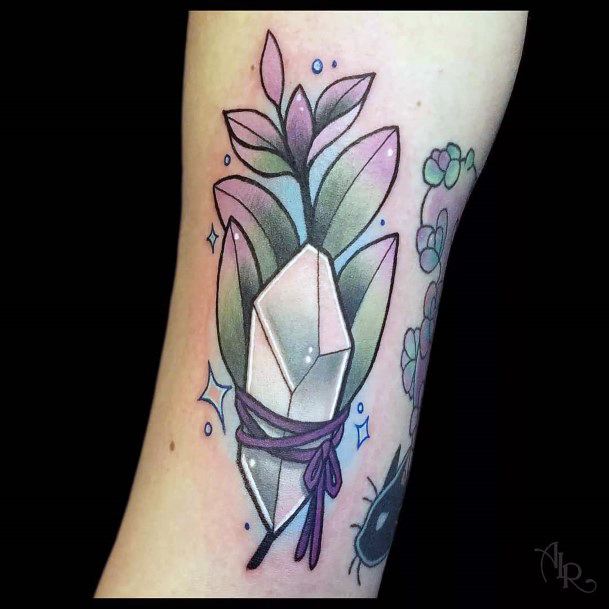 The glow of this crystal is breathtaking! Shaded in white, olive, and hints of light pink the image of this crystal evokes the shimmering glow of the moon, and balances perfectly with the green and purple leafy sage plant in the background. Tied together with a purple ribbon, this image catches the eye and the heart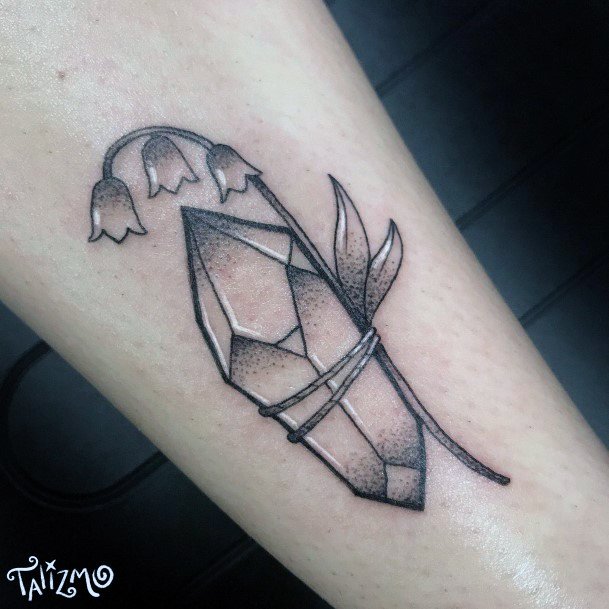 An effortless design of a single double terminated quartz tied with a branch of florals that hang delicately over top. The stipple shading technique used here gives contrast to the image and allows it to subtly captivate the viewer. Delicate lines help to bring the foliage to life.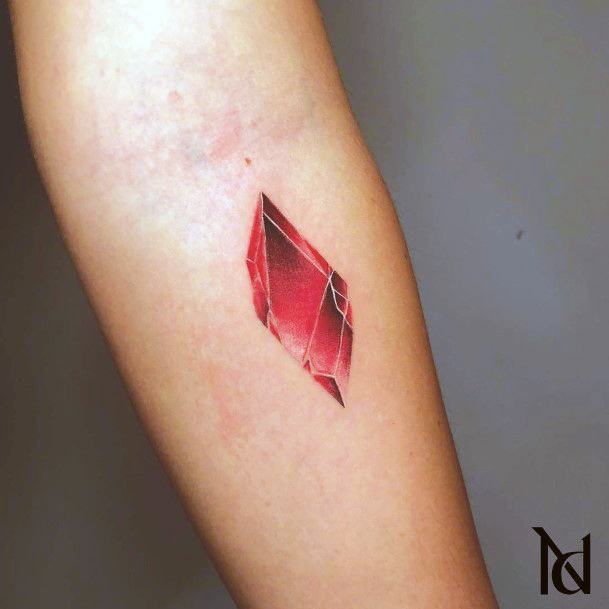 A vibrant jewel that makes a subtle statement. This bright red gemstone is pictured on the upper inside of the forearm with juicy texture and shading that give life to the veins and occlusions of real gemstones. The use of black and grey shading and white lines gives this image dimension and shape that really make this image pop.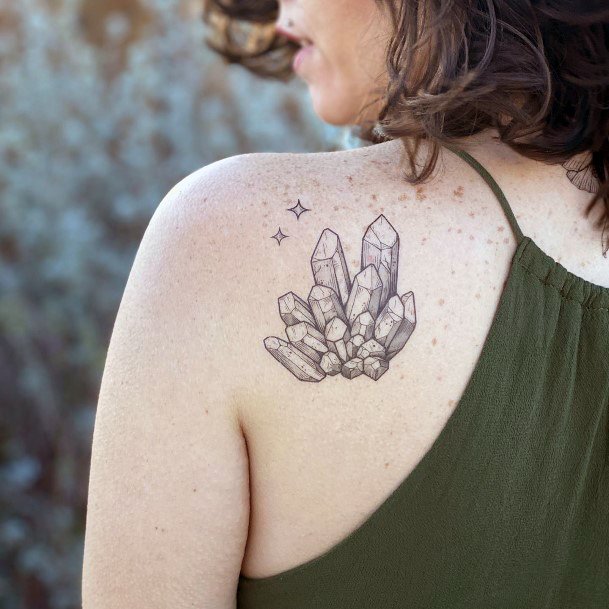 A super fun placement of this large quartz cluster on the upper shoulder offers a fun and playful take on the crystal tattoo trend. Shaded in grey and lined in black this cluster is full of intricate details. The placement of two stars over top conjure up an ethereal night sky.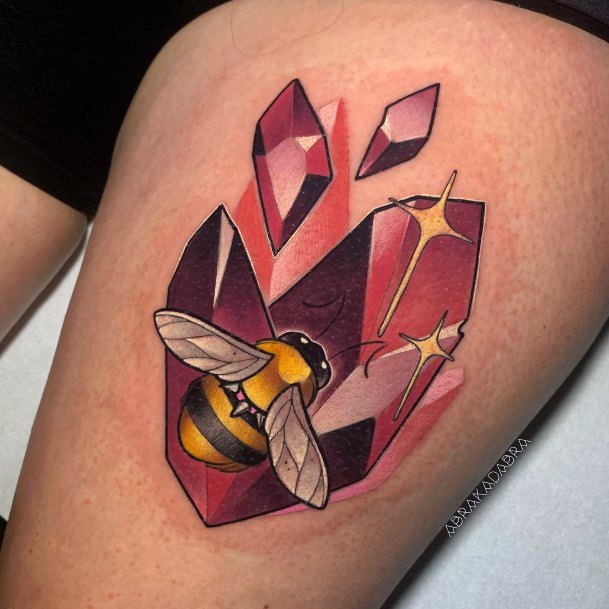 How unique is this design? A ruby red crystal breaking apart with a bee flying over it. The deep red, black and white shading add shine and dimension to this crystal and also give it the illusion that it is breaking into pieces at the top. Stars shine yellow over the stone, and the bee's wings have exquisite vein detailing.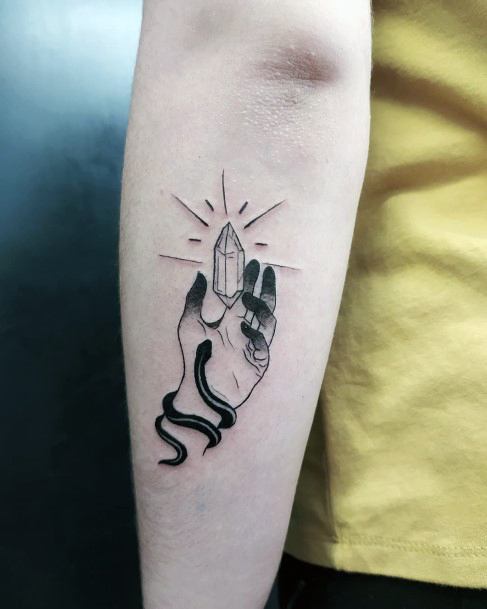 I love a tattoo with deeper meaning! Perhaps this one shows the pull of opposing forces? The black snake crawling up the wrist of the this hand reaching out for the quartz crystal is an ancient adage of temptation, while the crystal often embodies clarity of mind, body, and spirit.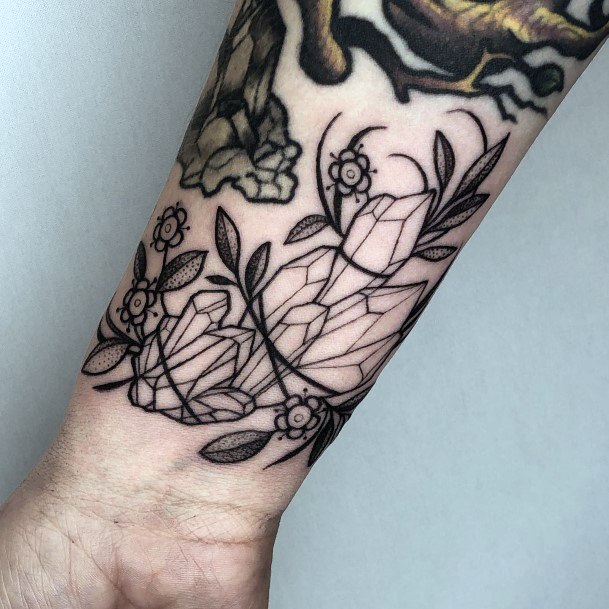 A bold yet delicate depiction of crystals and foliage. This inner wrist tattoo is full of fine lines and sweeping florals. The lack of shading really makes the image jump off the screen allowing it to have a strong presence while remaining feminine and beautiful.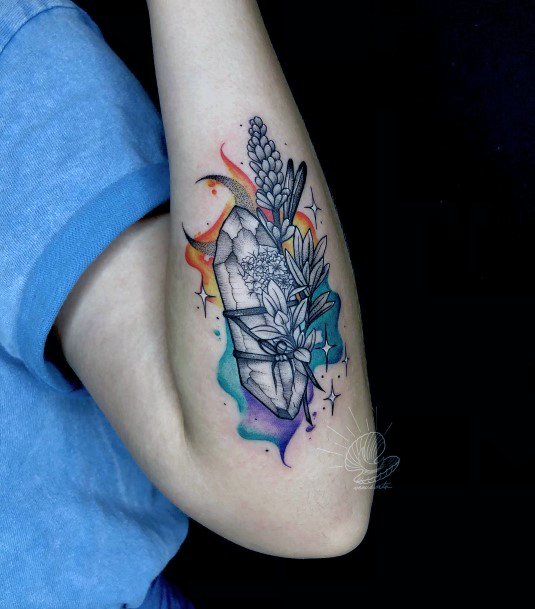 A work of art! This crystal takes a backseat to the full feminine floral bouquet it is entwined with. My favorite part is the contrast of the black, white and grey quartz and blooms, with the almost smoky looking tie dye rainbow background. Adding to the ethereal look of this tattoo is the crescent moon that rises over the whole scene.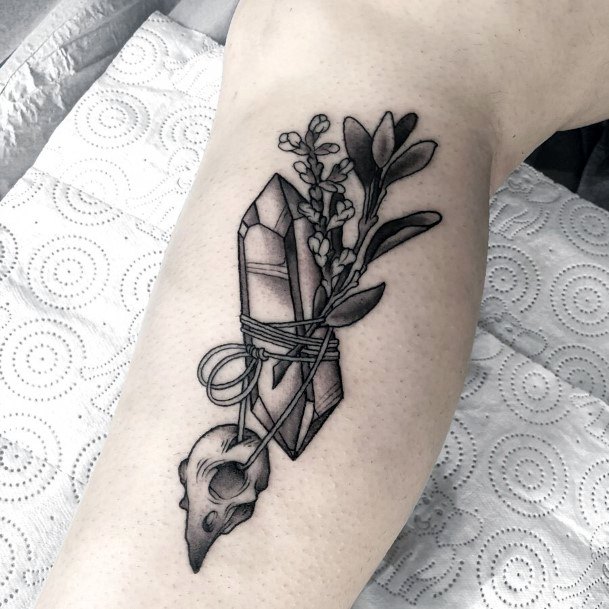 Classic lines and dark shading lend themselves to a moody yet feminine feel in this quartz tattoo. Twine ties together soft florals of sage with an image resembling a half of a heart. The unique placement of this tattoo on the outer calf make this a bold statement sure to wow passersby.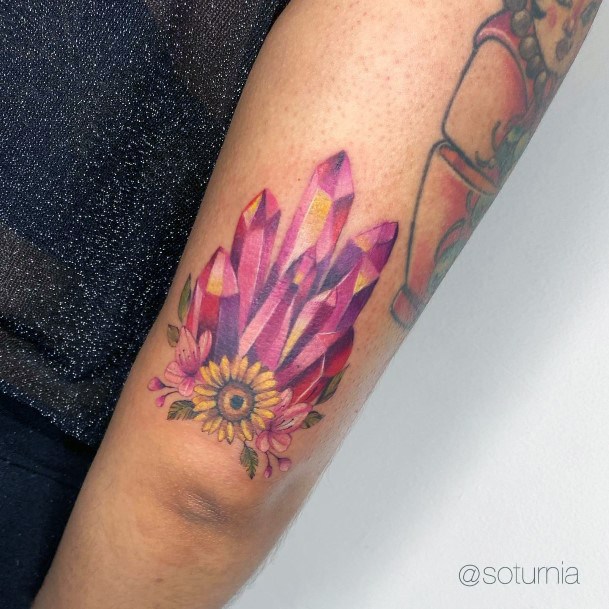 If happiness was a tattoo this would be it! Bright pink crystals clustered together and shaded using reds and yellows steal the show here, rising up out of a bed of flowers. The bright yellow sunflower and pink florals on either side give this tattoo a cheerful girly essence bound to evoke a smile.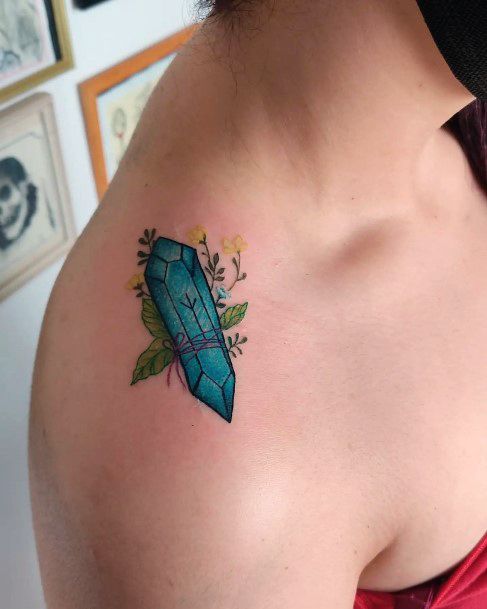 Dainty yellow florals tied up with a tiny purple ribbon make this bold blue crystal alluring. I love the unexpected placement of the top of the shoulder and the way the blue shading in the crystal gives it so much shape and dimension, and these tiny flowers look like they were freshly plucked from a garden!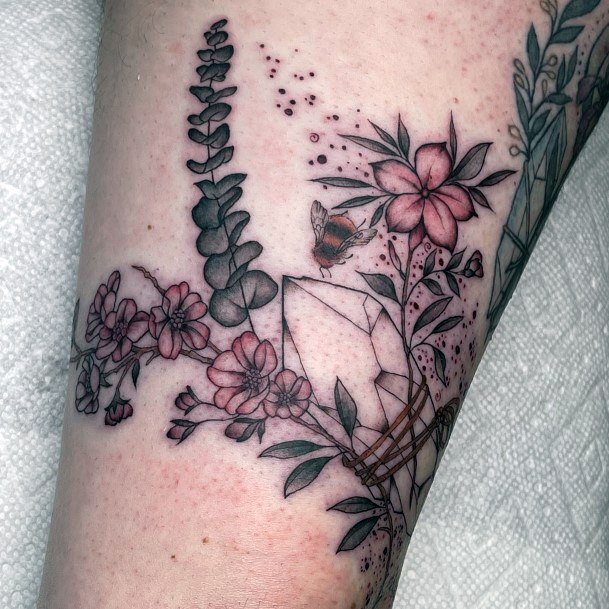 I'm a sucker for flower blossoms in tattoos and these did not disappoint. The intricate shading of the leaves and petals, the tiny bee flying over the delicate crystal, the otherworldly scatter of glitter across the background all create a soft romantic feel in this intricate piece.
Distinctive and luminous, this special take on a crystal tattoo is one of a kind. The image of purple, blue, lavender, and turquoise flower petals superimposed in a double terminated quartz crystal creates a colorful image with lots of interest. The thick black outline around the stone helps the eye see both representations clearly at one time almost creating an illusion of reflection on the skin.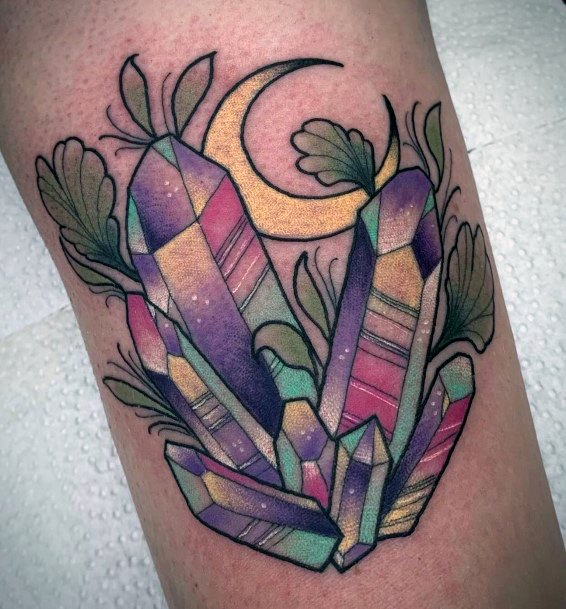 Artistic expression is in full swing with this radiant piece. The shading and colors added to the crystal cluster show off the iridescent nature of these unique minerals. I love the golden shimmer on the crescent moon and how that color brings out the shimmer in the shading on the crystals.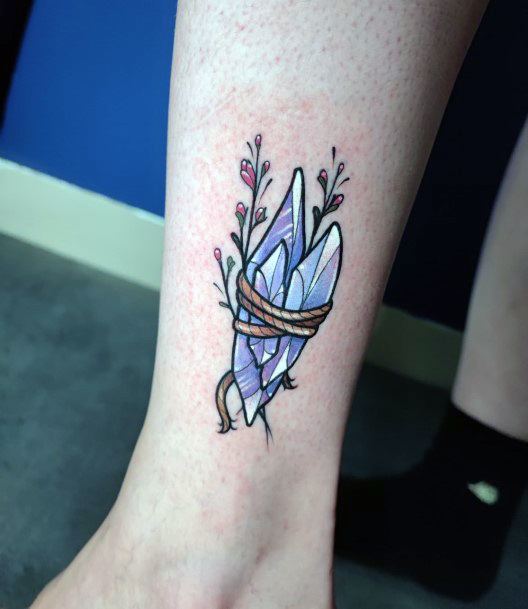 Popular placement of this dainty bundle of crystals wrapped in twine makes this an easy tattoo choice. I love the purple color of the stones and the tiny details on the stem of pink flowers behind them. The double terminated quartz glimmers with white accents.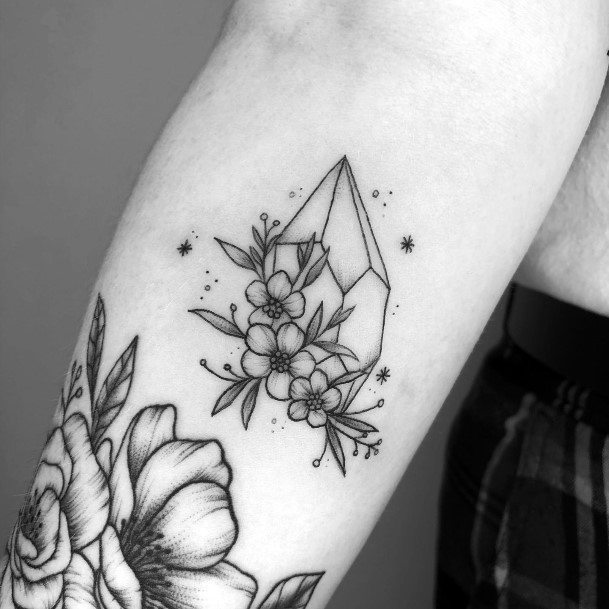 An elegant, yet simple design, this tattoo features very little shading and small floral and star accents. I just love the juxtaposition of the straight lines of the quartz with the soft edges of the flowers. It's the small touches that make this tattoo a versatile choice for many.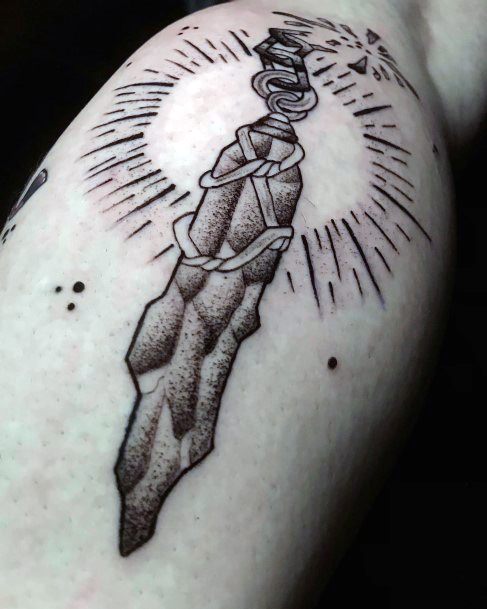 A strong choice for a girl's tattoo, this image features a jagged crystal with stipple shading to show off just how rugged this stone is. The stone is bound to a chain and has a lattice of twine at the top. The background boasts a circle design with sharp lines surrounding it.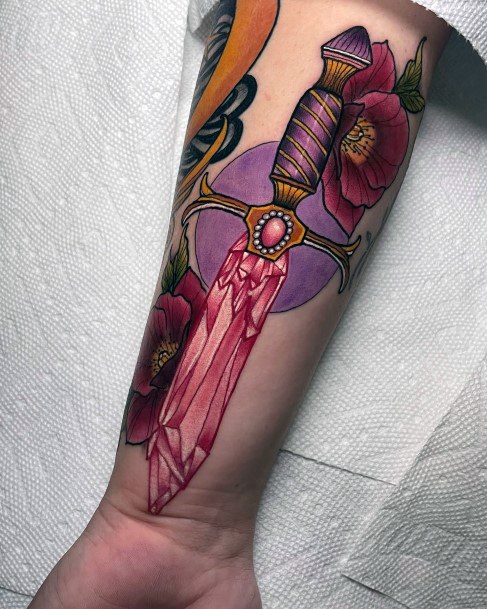 Look at this vibrant one of a kind design! A sword whose faceted blade is fashioned from a ruby colored crystal, the handle a deep bronze color, and it's laid over two large magenta colored blossoms at the top and bottom, with a purple circle in the center.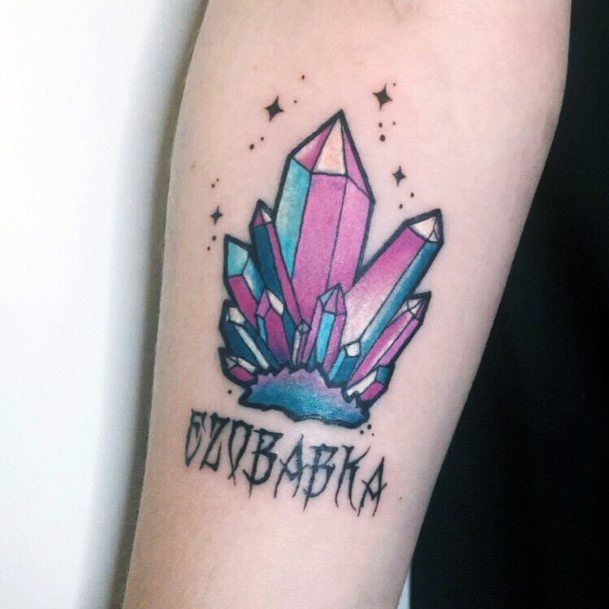 A two-toned purple and blue quartz cluster is illuminated using white shading in this forearm tattoo. Four black stars hover over the design adding some magic to this brilliant design. An excellent center piece placed over a special word or phrase.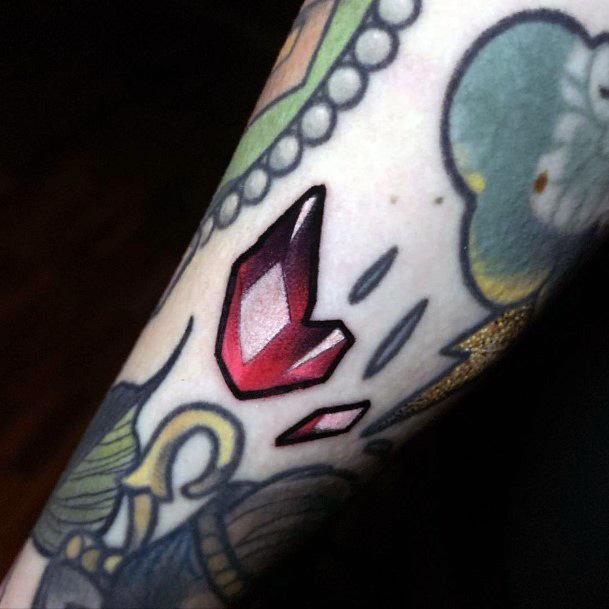 The use of ruby red color and white shading has my eyes second guessing what I'm looking at here. This stone truly has a magnificent luster resembling that of a real stone! While this is a smaller design it certainly holds its own against a back drop of existing tattoos.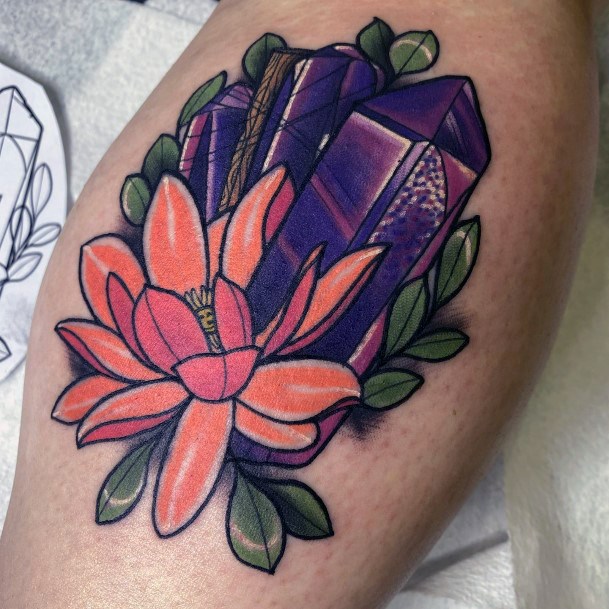 Talk about a wow factor! The use of contrasting dark and bright colors really highlight the striking features of this design. A group of rich purple and pink crystals lays on a bed of greenery with a bright orange flower placed over top. The delicate petals against the firm crystals make a statement all their own.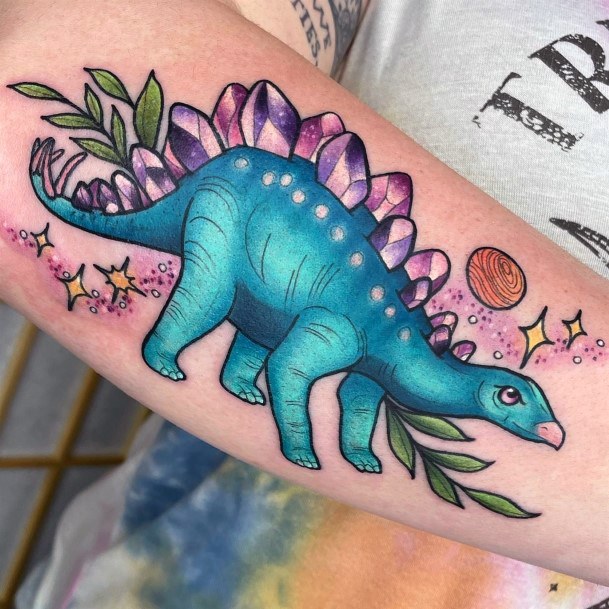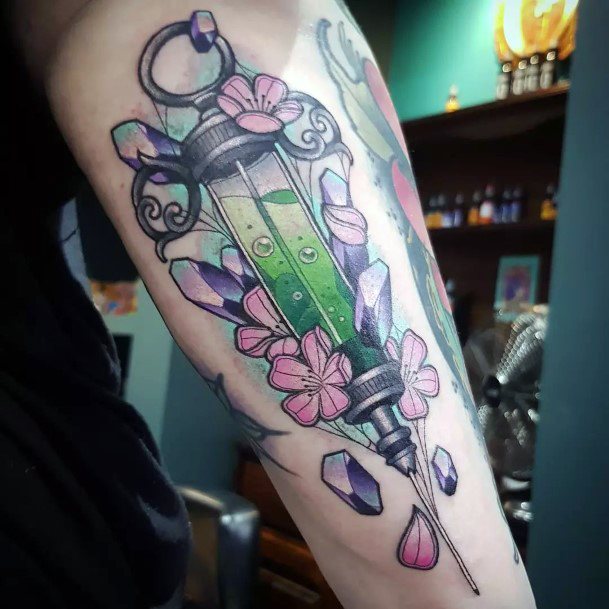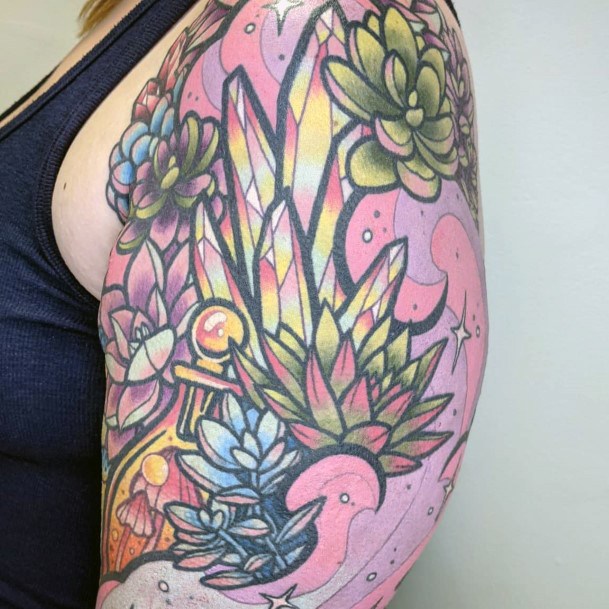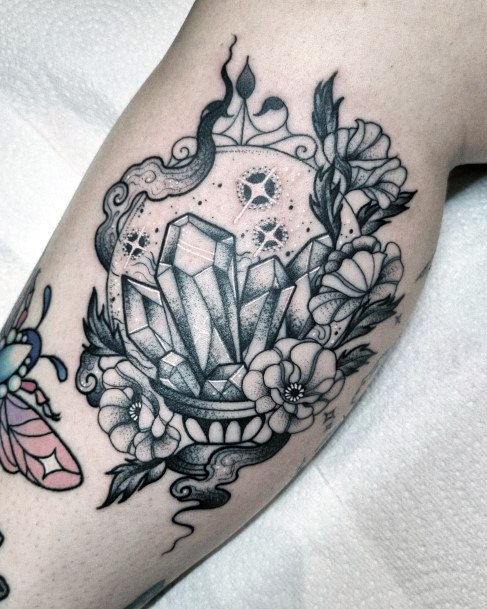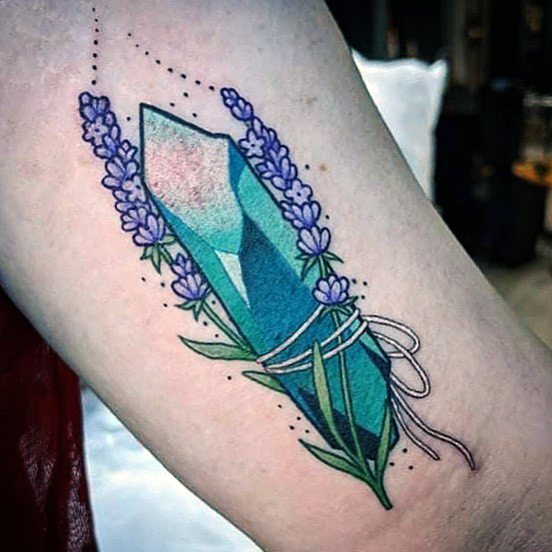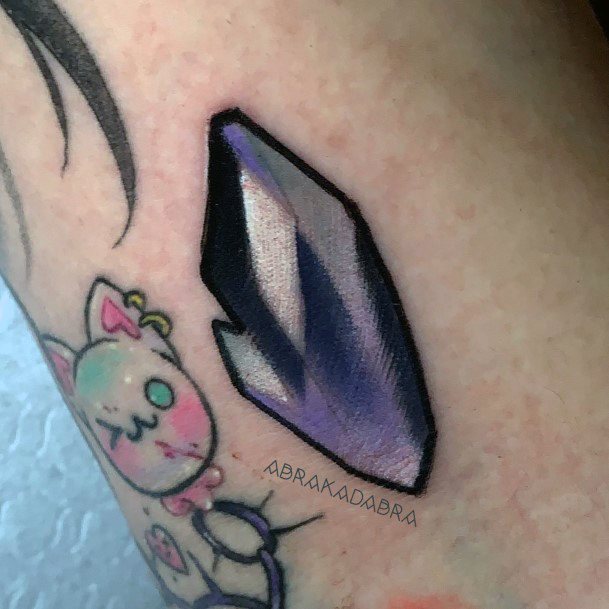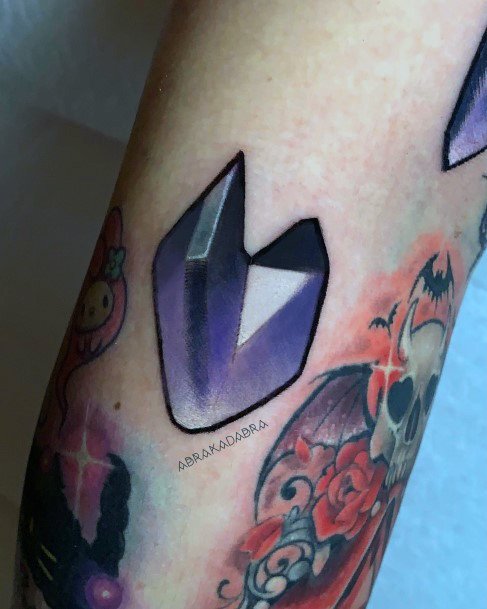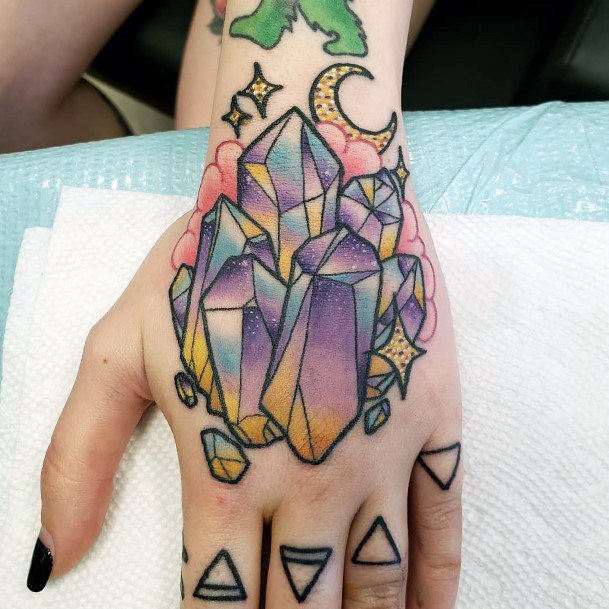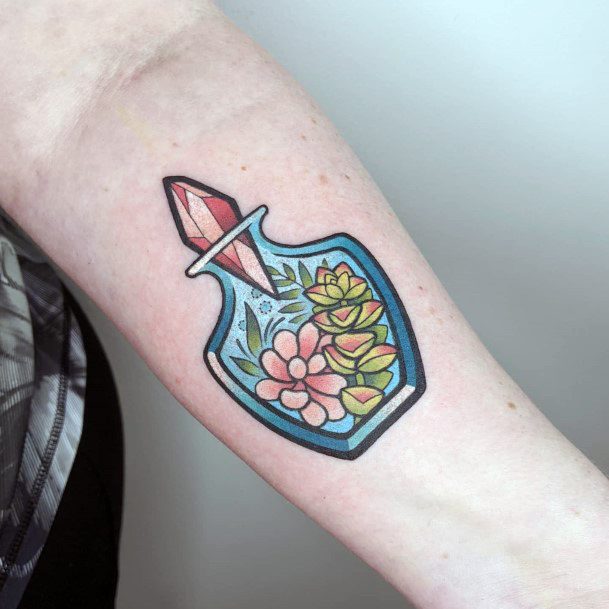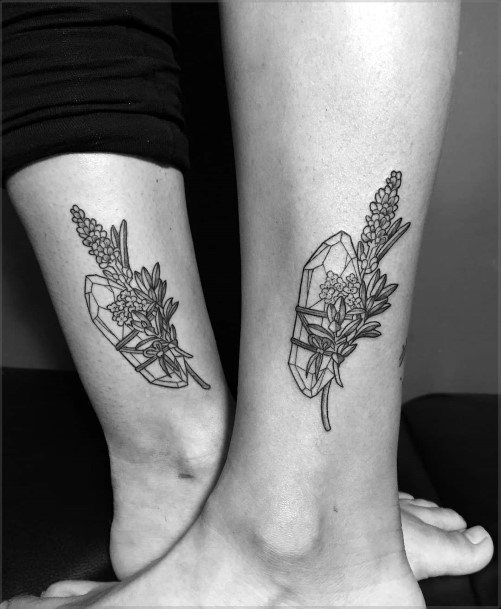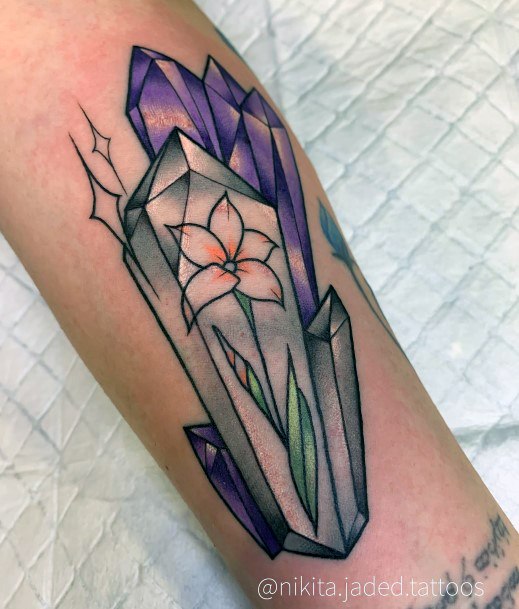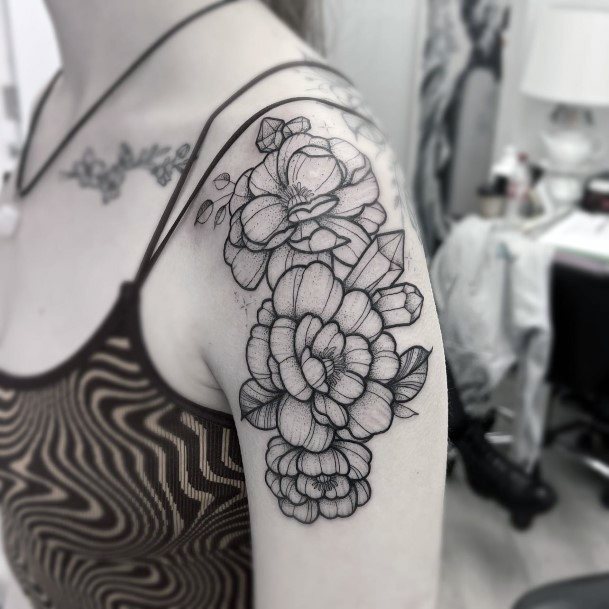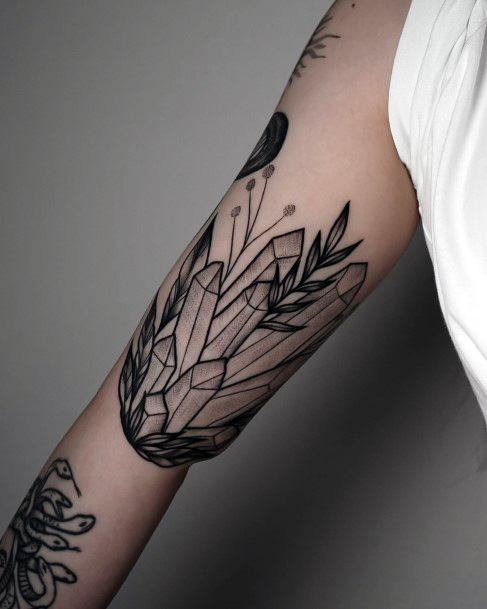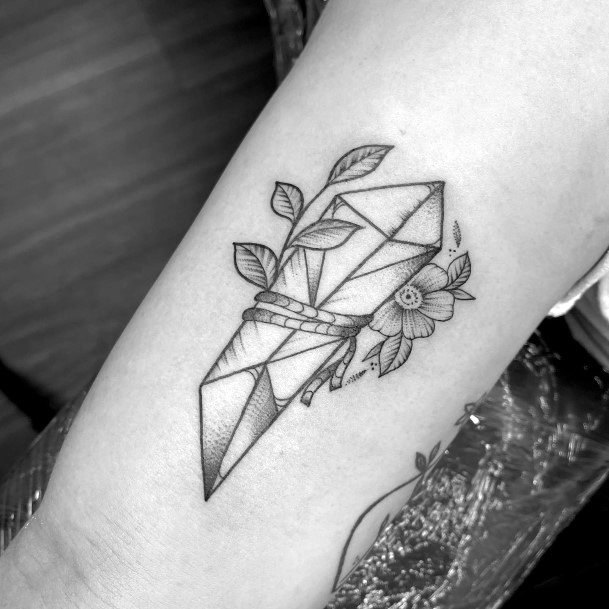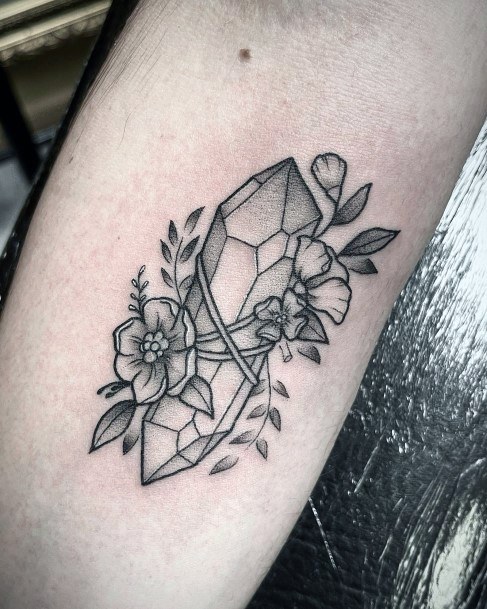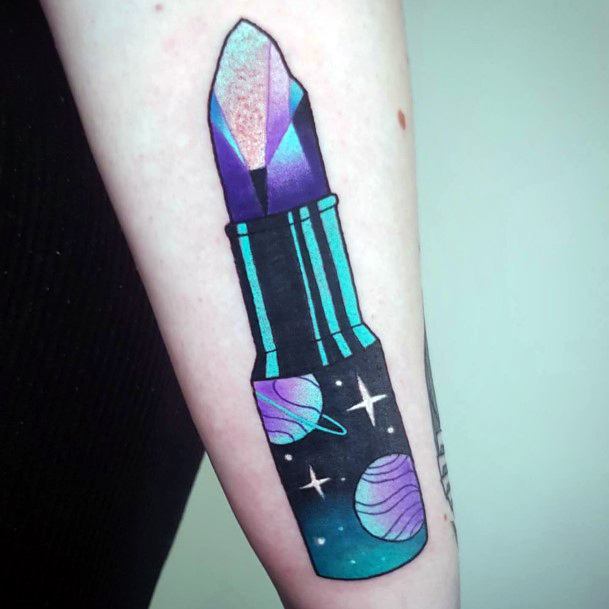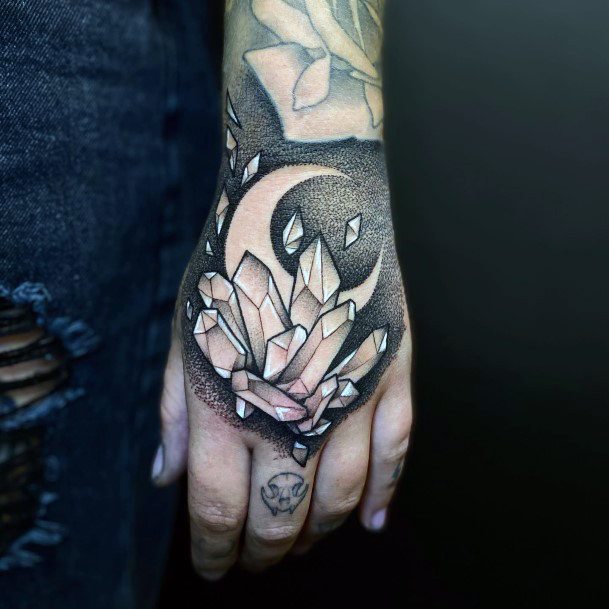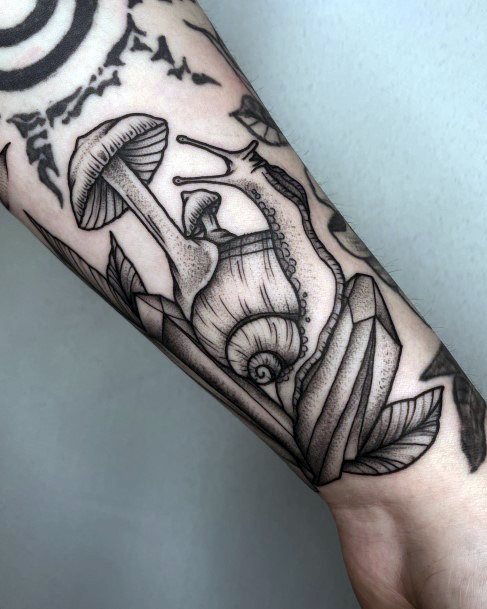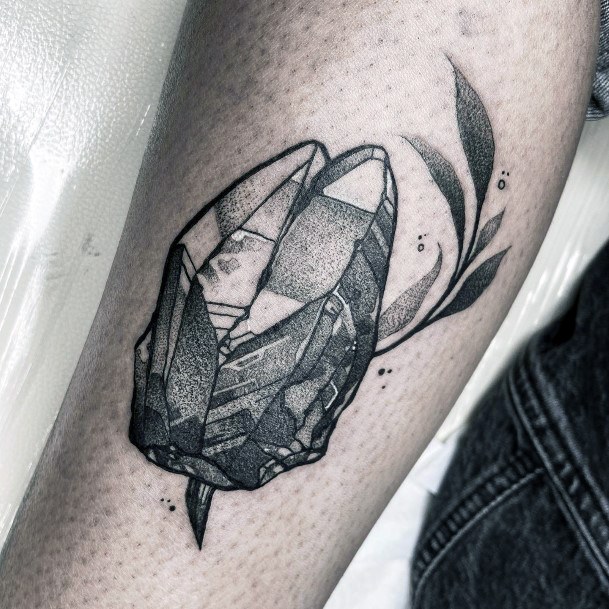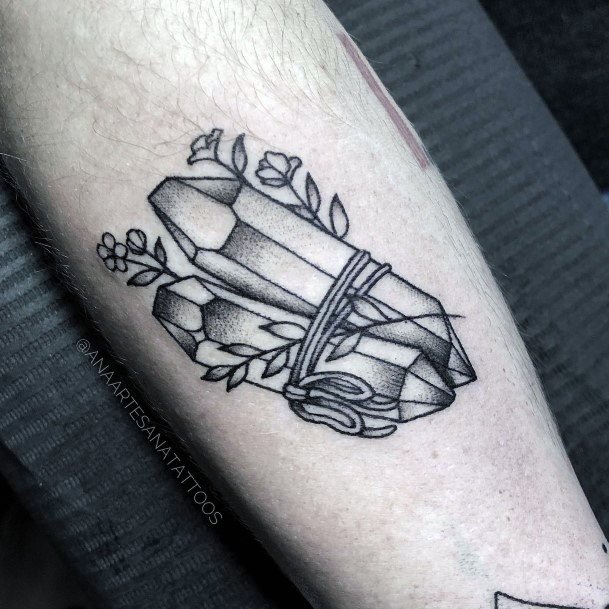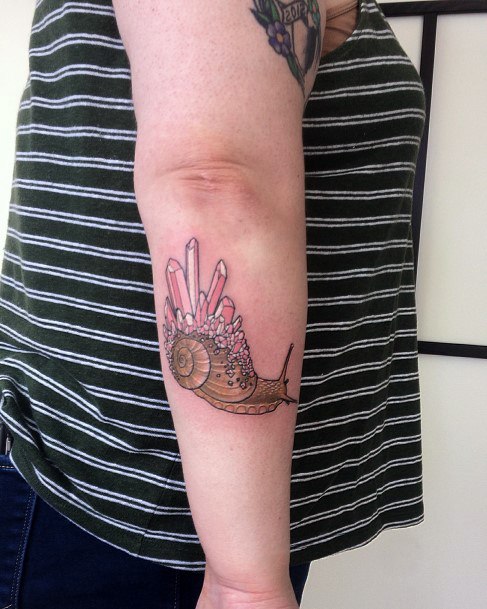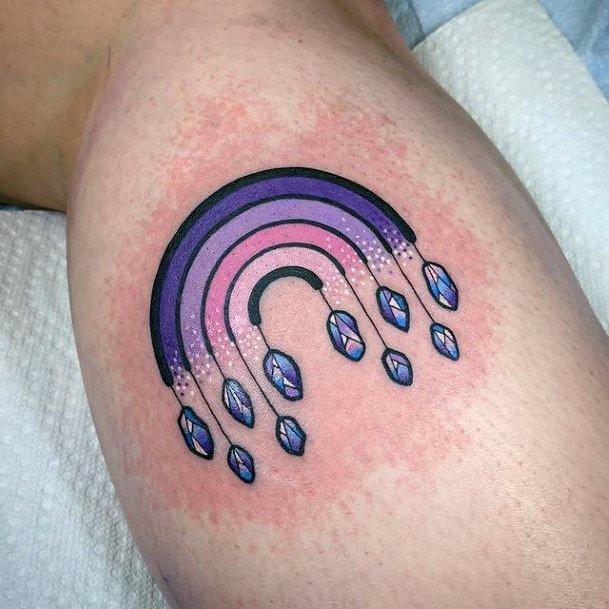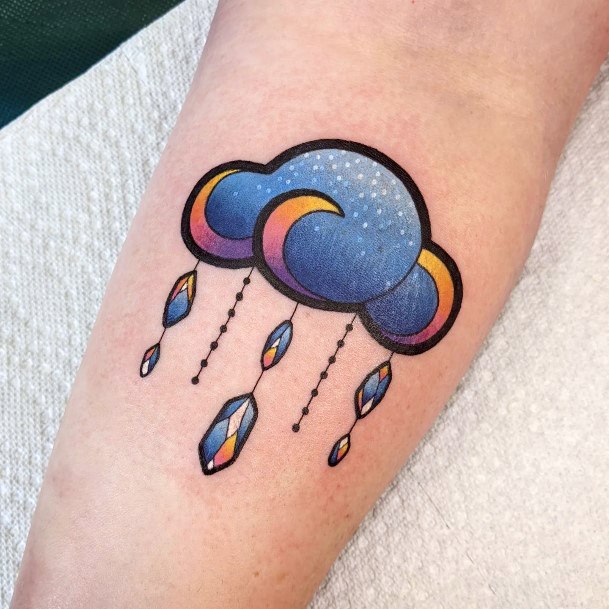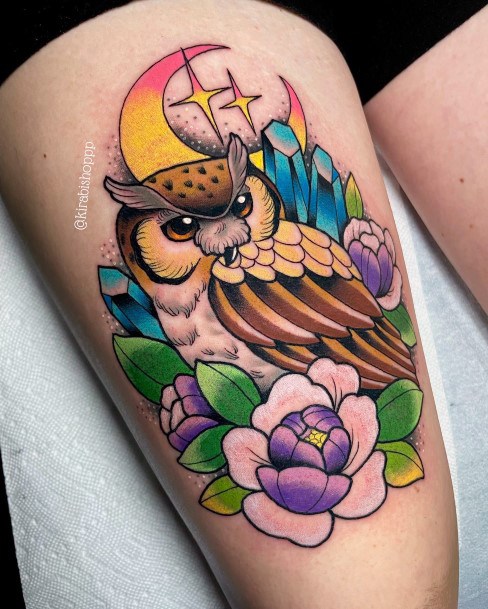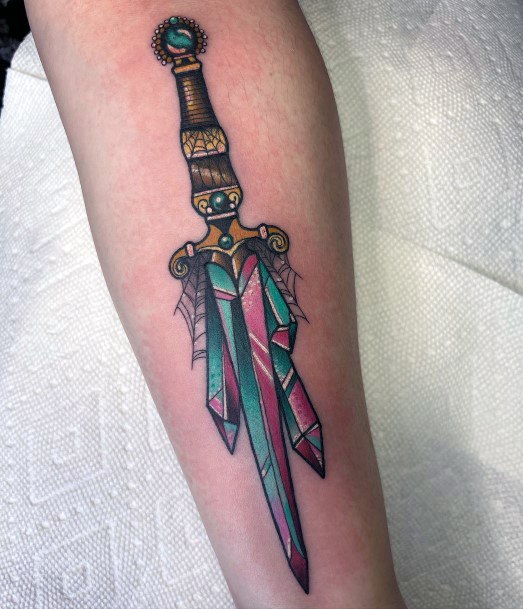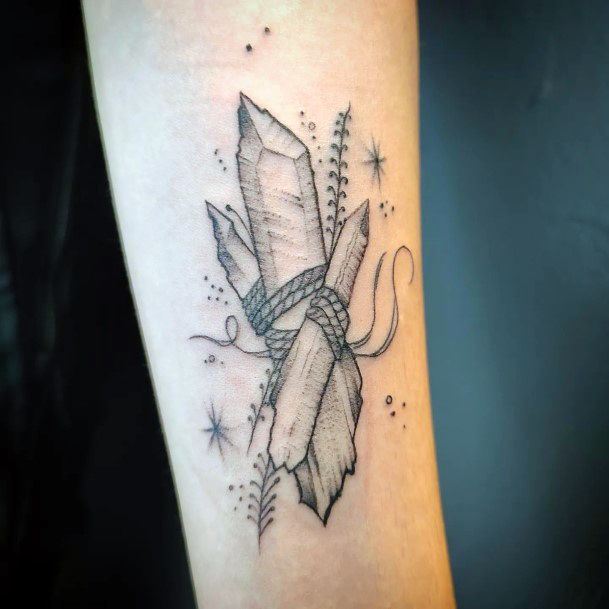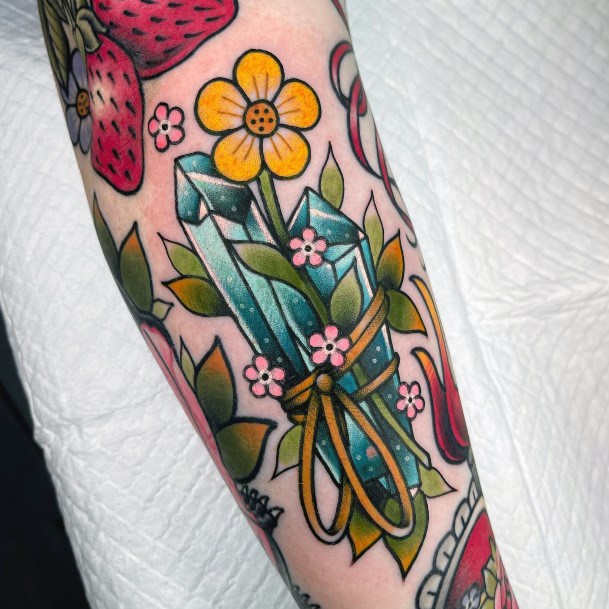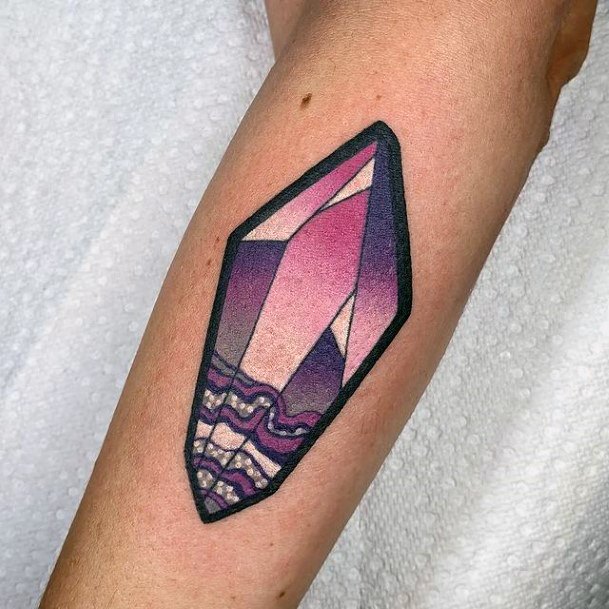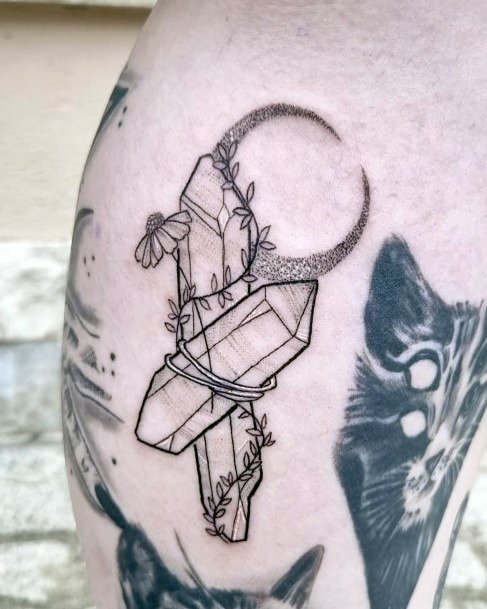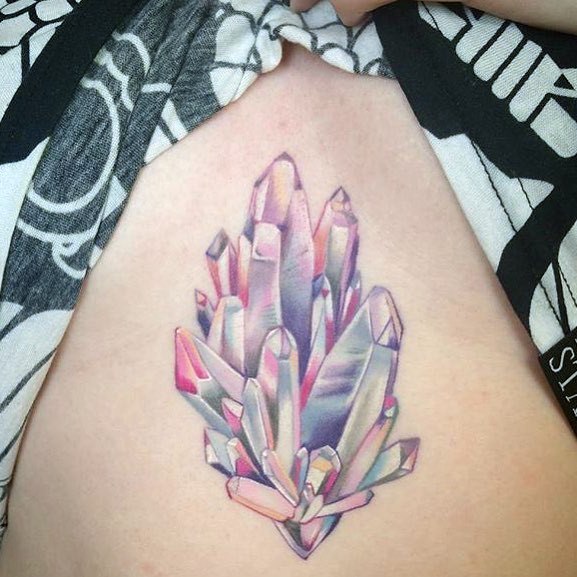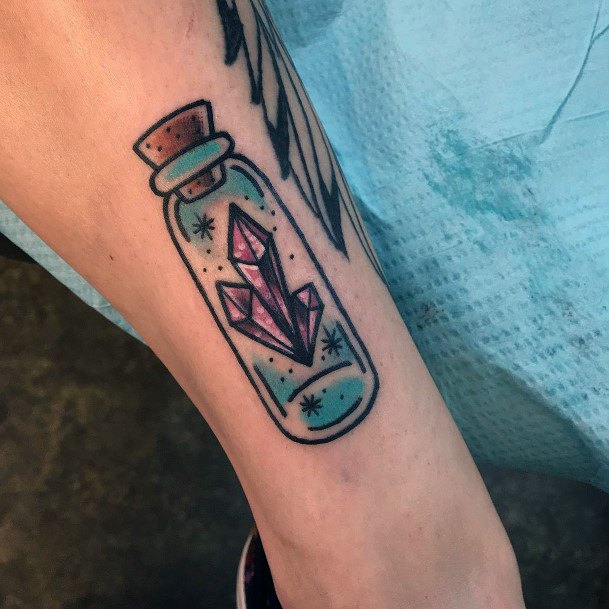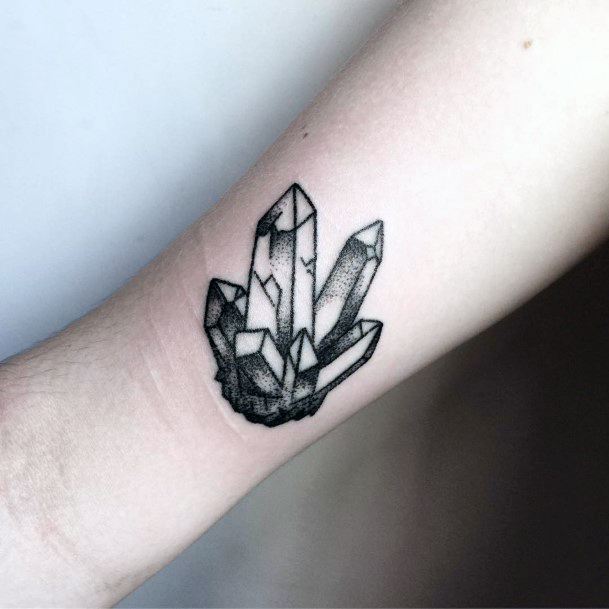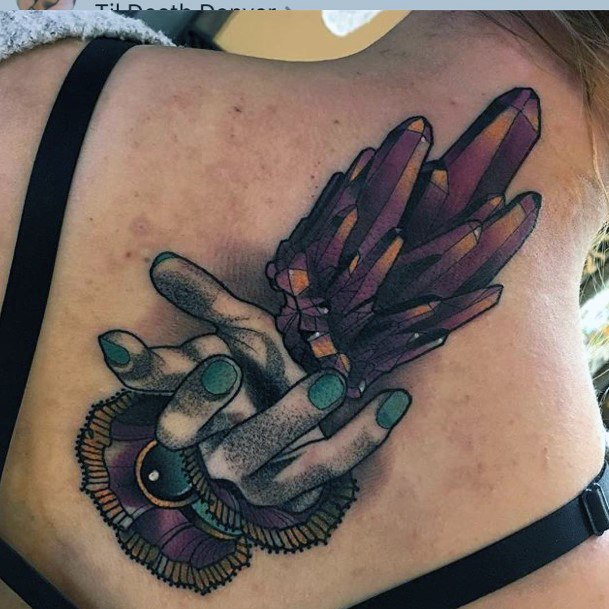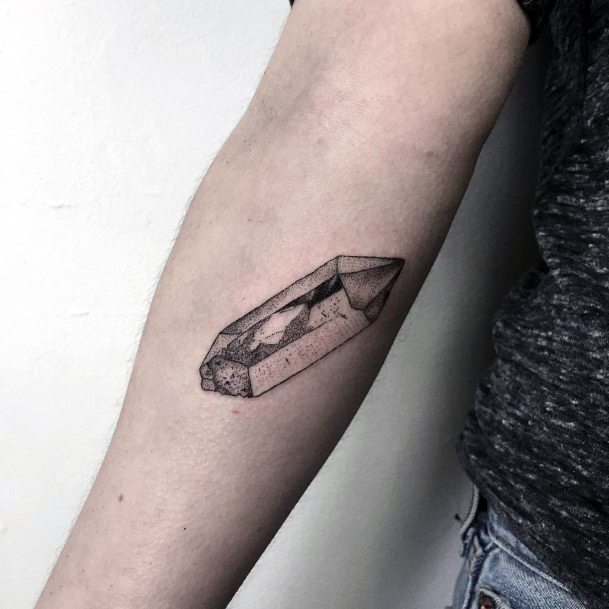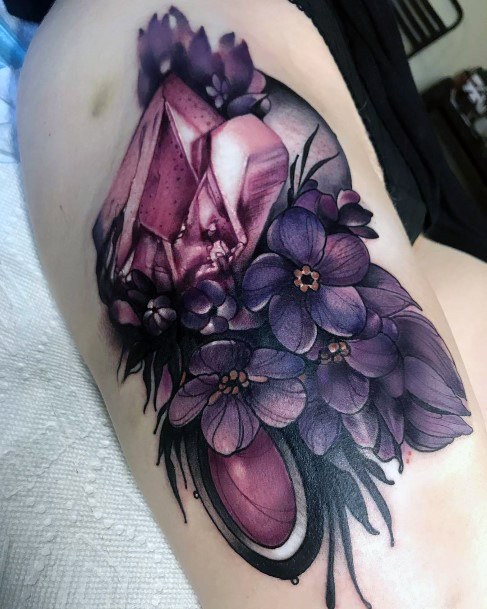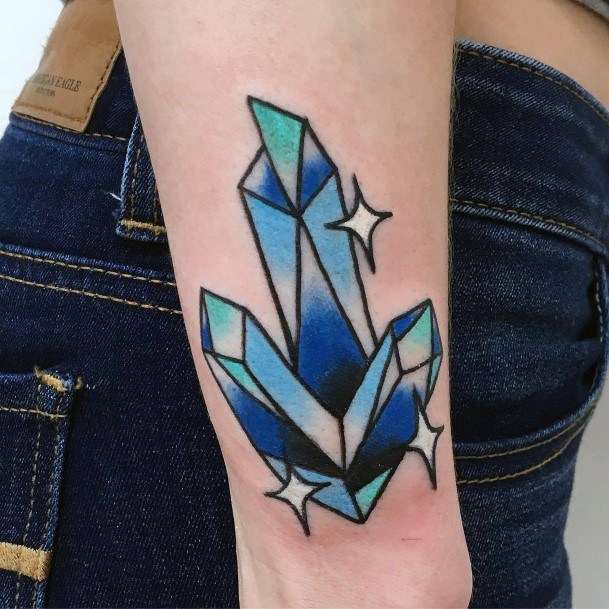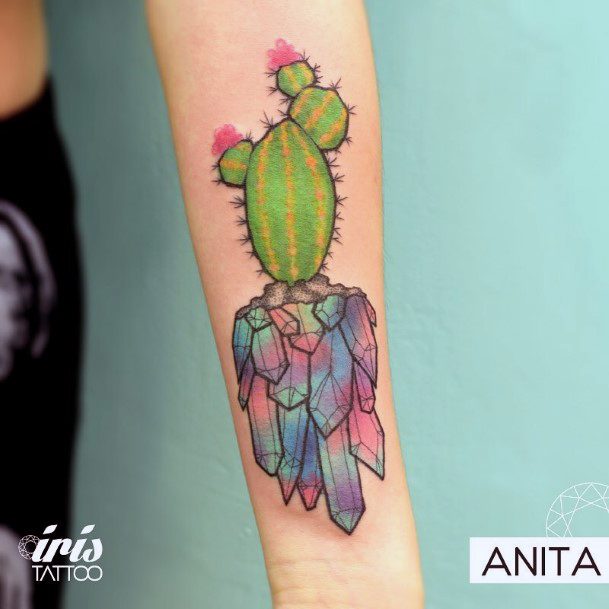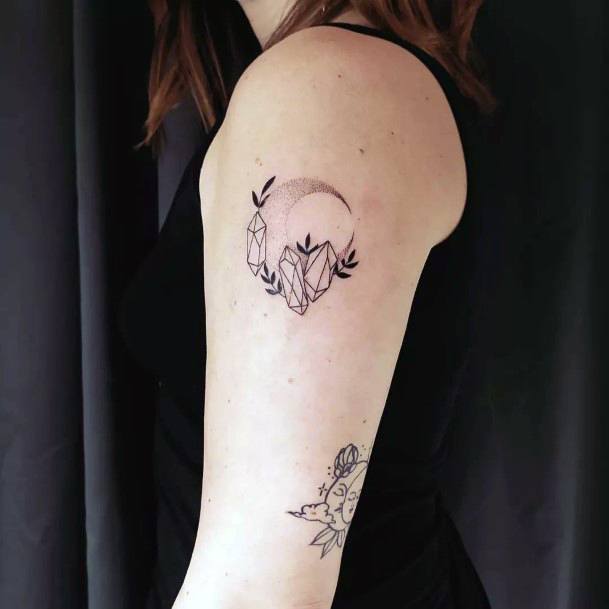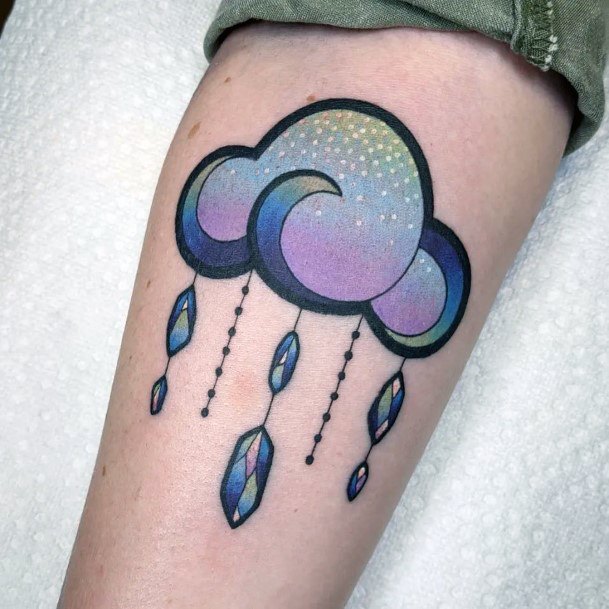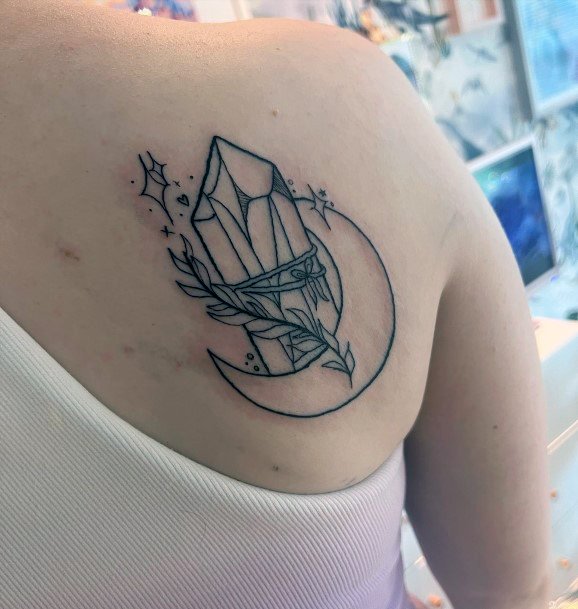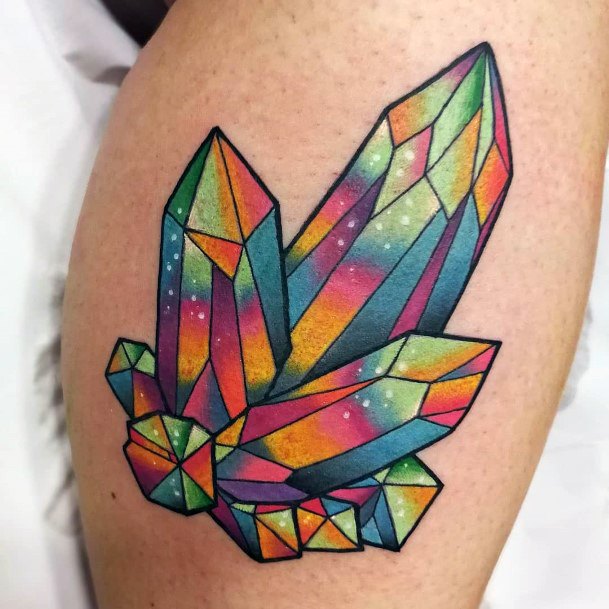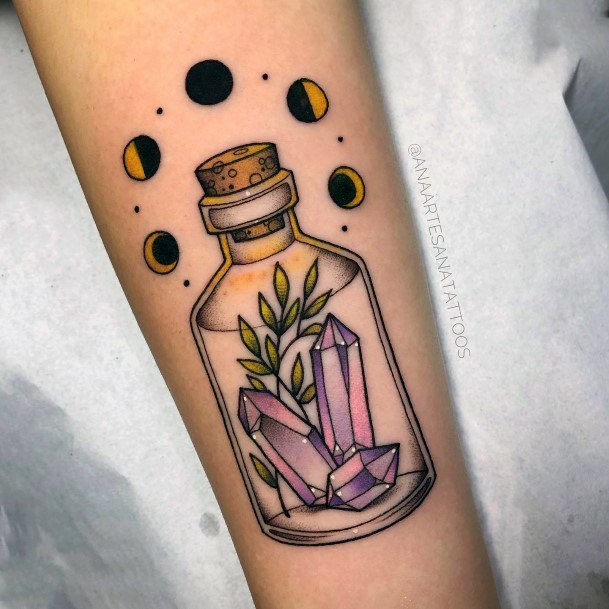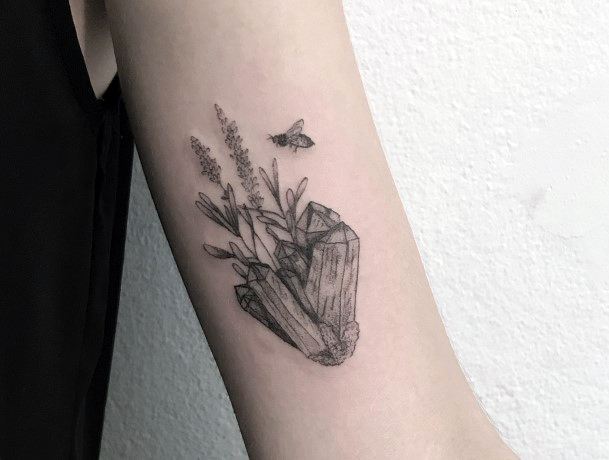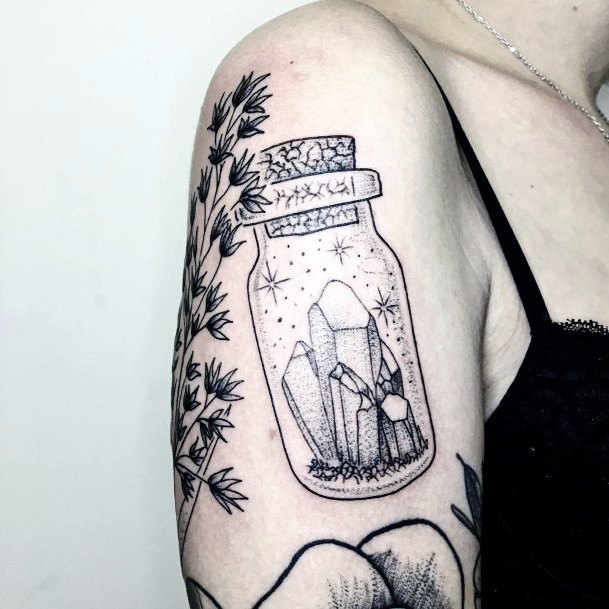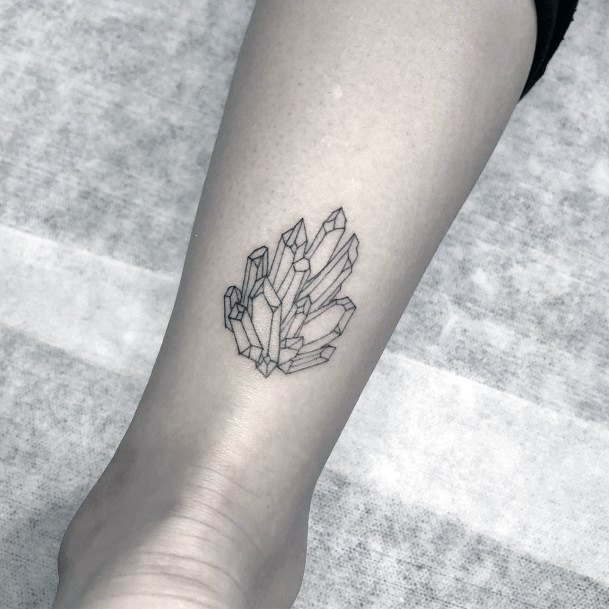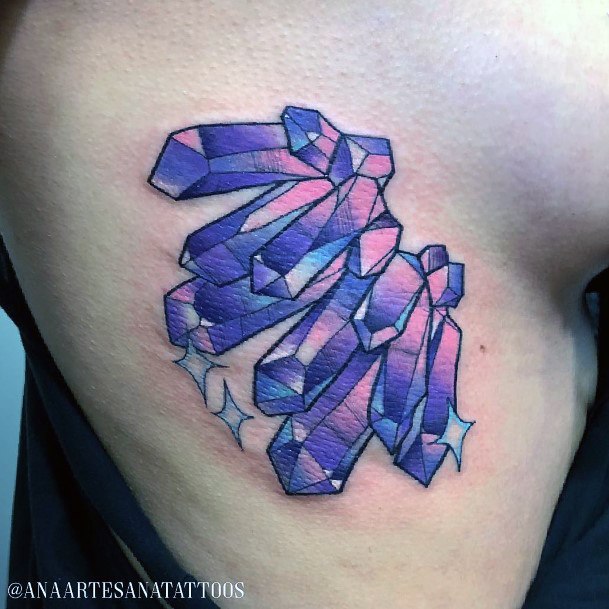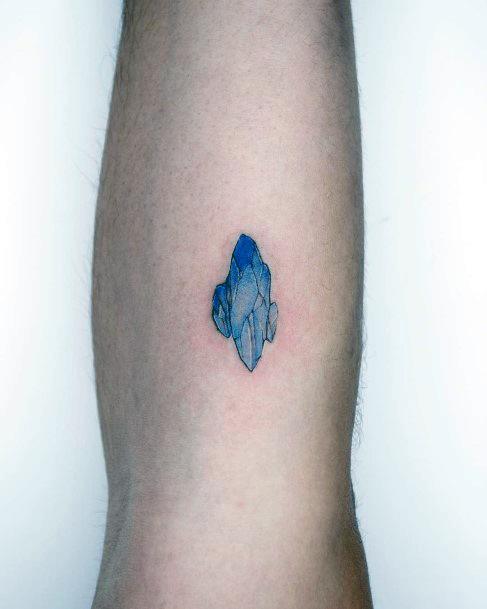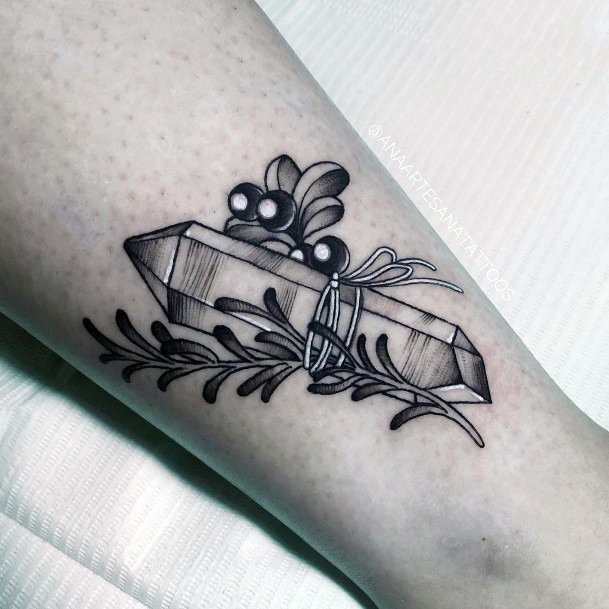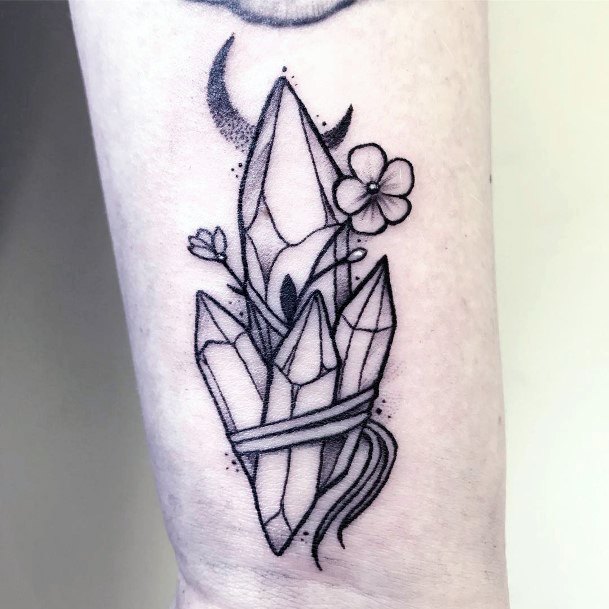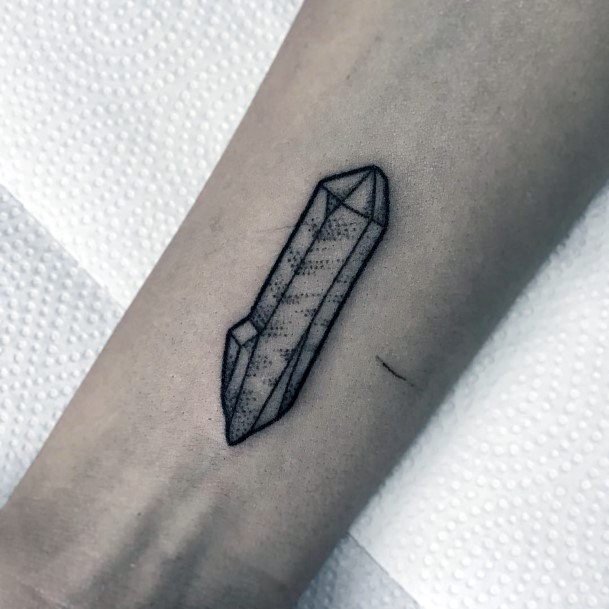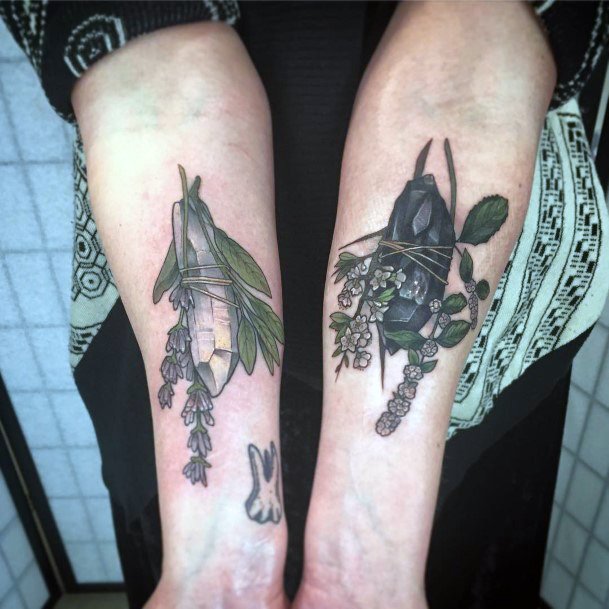 Quartz tattoo meanings and symbolism:

What does this natural mineral mean and symbolize?:

Quartz is a powerful crystal that has been used in many cultures for centuries. It is believed to have healing properties and to bring balance and harmony to its wearer. Quartz is also thought to be a powerful protection stone, shielding its wearer from negative energy and providing clarity of thought.

The color of quartz can also have an effect on its symbolism. Clear quartz is often associated with clarity and focus, while rose quartz is associated with love and compassion. Smoky quartz is believed to be a grounding stone, helping to bring balance and stability to its wearer.

The shape of the quartz can also have an effect on its symbolism. A pointy quartz can represent strength and protection, while a round quartz can represent healing and balance. A triangle quartz can represent the three aspects of the mind, body, and spirit.

Female quartz tattoos are often used to symbolize strength, clarity, protection, healing, balance, and harmony. They can also be used to represent the power of crystals and their ability to bring positive energy into one's life. Quartz tattoos are often seen as a reminder of the importance of taking care of oneself and being mindful of one's thoughts and actions.

No matter what type of quartz tattoo you choose, it will always be a reminder of the power of crystals and their ability to bring positive energy into one's life. These natural minerals are a beautiful way to express your beliefs and values while also making a statement about your personal style.