If you love rushing streams of water then having a river tattoo will make sense.
However, some rivers are violent while others are gentle. A river will continue flowing no matter what stands it in its way. Because of this, a river design has deep significance.
Nature tattoos are a great way to show your creative passion. You can have a tattoo to show your love to the world. There are many nature tattoo designs you can have river is one of the nature tattoos you can have inked. You can get inspiration from nature for your next tattoo. You can have other elements in your river tattoo, such as a beautiful forest. The flow of water means the ongoing progression of life.
Rivers were once associated with the sacred rhythms of fertility. It represents our unavoidable transitions to get to the next level. Rivers don't flow in a straight line and are very unpredictable. One thing about rivers is that they never stop flowing. Similarly, whatever the circumstances, you have to keep going. Having tattoo art is a great way to pay homepage to rivers. A river is a symbol of nature's power and time.
A river can change its course, but never its way. Having a river tattoo means that you are finding your way through life's challenges. You can have it on your leg or your inner elbow.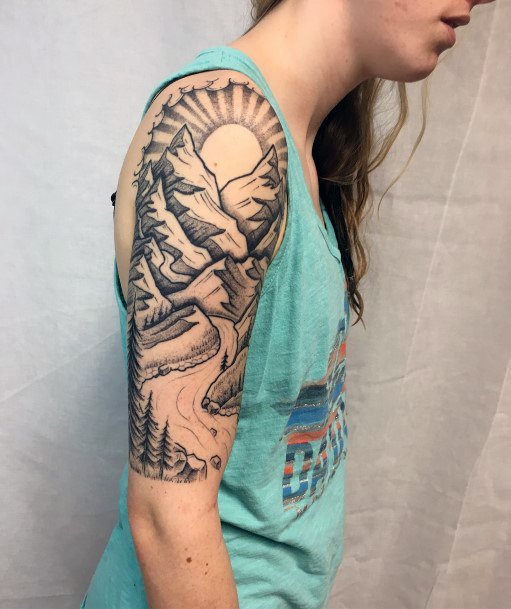 Check out this beautiful women's half sleeve tattoo featuring a black and grey shaded and dotwork design. You'll find a negative space cloud detail at the top alongside a radiant sun hovering over majestic mountains. Running through it all is the river with detailed river rocks and tiny pine trees. Note the simple lines used to mimic the flow of the water.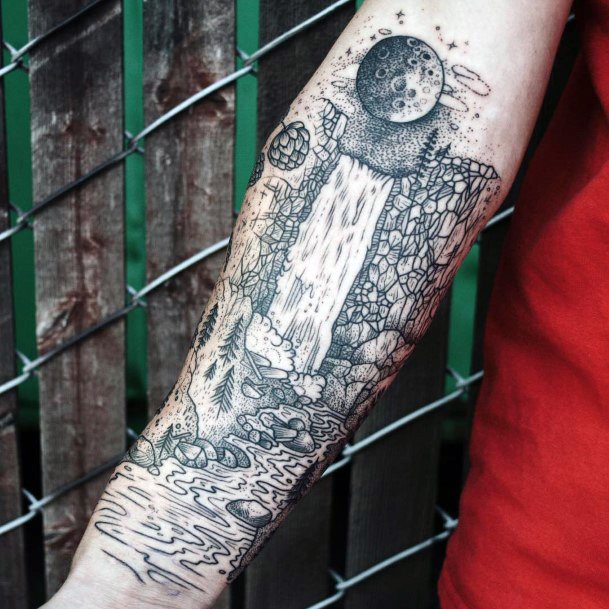 Rather than panning outwards to capture an entire landscape, you can instead choose to get up and close with nature and capture all the vivid details. In this case, this forearm sleeve tattoo features a very detailed crumbling rock waterfall, alongside a jagged river stream. Pine trees, river rocks and grass gives this design a little more edge, while a dotwork moon and stars give the tattoo a magical feel.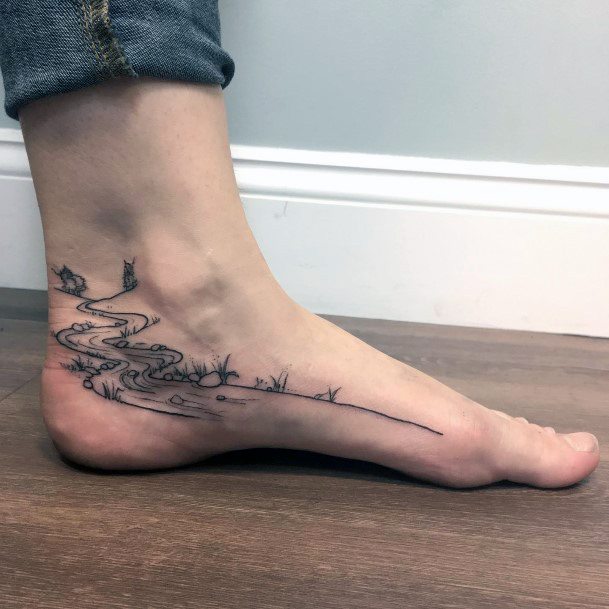 Now, there are a lot of great places on the body for women to get tattoos, but I can't think of one better than the foot for river tattoos. In a sense it's like walking on water when you have a design placed on the side of the foot. Who could ever forget the sensation of steeping into a cold river steam and feeling the water flowing on by? I like the simple black ink design, which is extremely minimalist but the artist has still aded details like the rocks and tall grasses.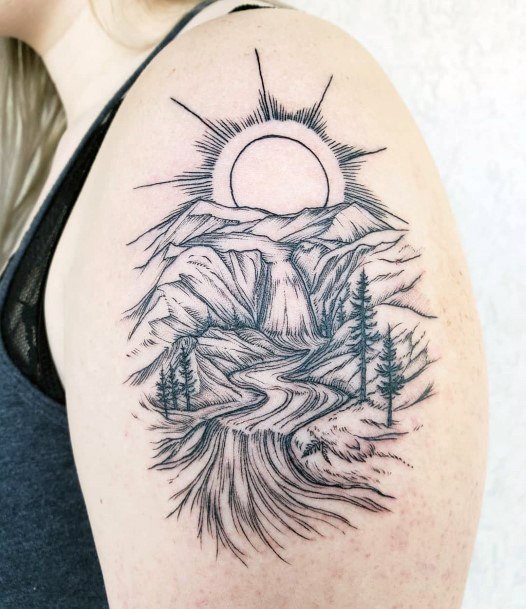 Calling all nature lovers! I love this upper arm heavily sketched women's tattoo design. Not the fine black ink lines which give plenty of depth to both the water and mountains. Pine trees surround both sides while a bright sun shines above it all. Note the tiny, right hand side fern leaves, which seem at out place. I have to wonder if this detail was on purpose, on accident, or perhaps has some hidden meaning to it.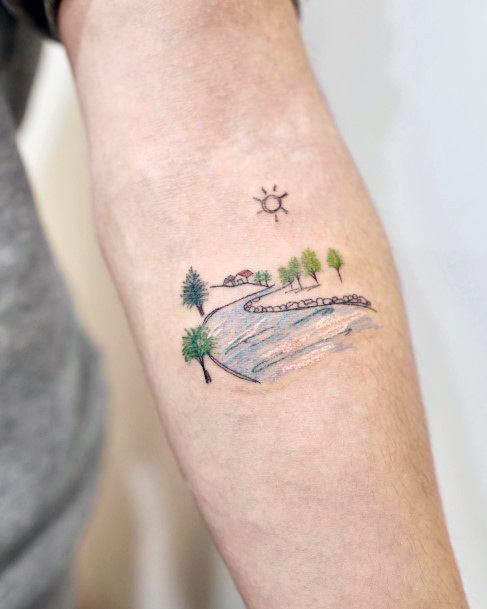 Here's a fun, colorful water to capture the essence of a flowing river in a small, compact design. This women's inner forearm tattoo features a simple blue, navy and white ink river stream, alongside light and dark green trees. A tiny sun shines above, while in the distance you can see two small houses with red clay tile roofs. This design would be perfect for any woman who wants to capture an urban river without all of the nature themed backgrounds.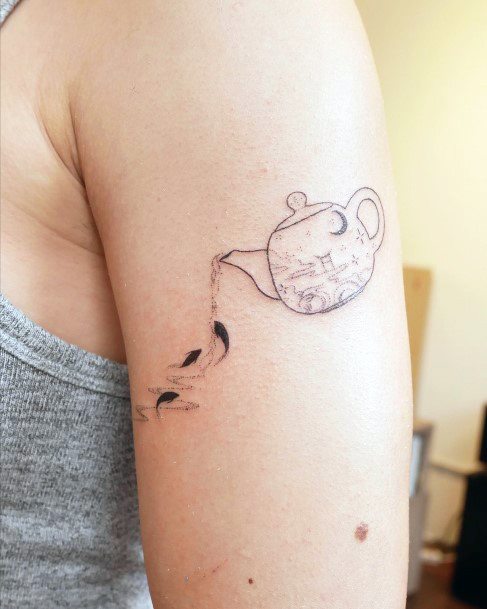 You can have a lot of fun with river tattoos and go far beyond just a nature landscape inspired scene. In this case, I like how she has choose to go with a tea kettle design. Inside the tea kettle you'll find a very tiny dotwork design with a moon, stars and a stream of running water. At the spout, they've added an overflowing design that mimics what happens when you go to pour a hot glass of tea. At the bottom of the water are three solid black ink koi fish making an attempt to swim upstream. Place on the upper arm, this creative tattoo is a brilliant example that you can go a different route and still acquire a visually impressive and feminine look.