If you want to talk about a timeless design, the rose has been the perfect example of this for ages. Don't get it confused this doesn't mean that the rose is dated, however, let's dig a little deeper.
Speaking of dated, we all know of the traditional rose design that incorporates a date within itself. This design can be unique or traditional, all depending on the artist that you trust to do it. There are many examples and styles to choose from, this happens to be one of the more popular combinations used by many artists.
While the rose is a beautiful flower, the symbolic meaning behind it goes deeper than what can be seen on the exterior. The rose is a flower that is known for being the number one choice as a gift of passion. Not only that, but many relationships have established their forever bonds with a rose.
There are some designs that are really popular with rose tattoos. The Tribal Rose and The Black Rose Tattoo designs have incorporated two very unique styles. Both typically feature black and are known to really stand out to the eye.
If you are having issues deciding on what type of rose design you want, have no worries. Talking to a reputable artist will allow you to let your own creative juices flow. From the minimalist to the decadent designer, there is a rose for you.
Why wait to experience the appeal that a rose has to offer you expression? Whether you are naughty or nice, a rose is waiting to forever join you on the course of the physical experience that we call life. Are you ready to commit? Don't be afraid, the thorns are protection and will keep your enemies far from you.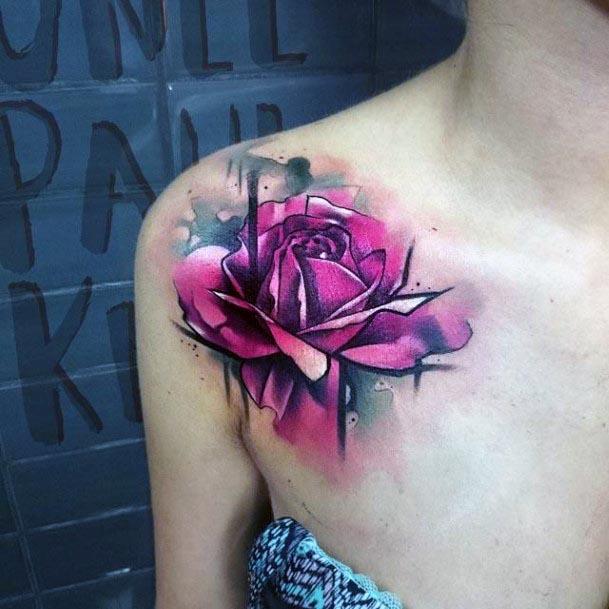 Pinks are a popular color to use in rose tattoo designs. Inked along the collarbone and near the shoulder is a pretty and feminine location to display their glory. The painterly background of green is a nice combination with the harder black line. This blurs the lines of softness and hardness giving an overall lovely image.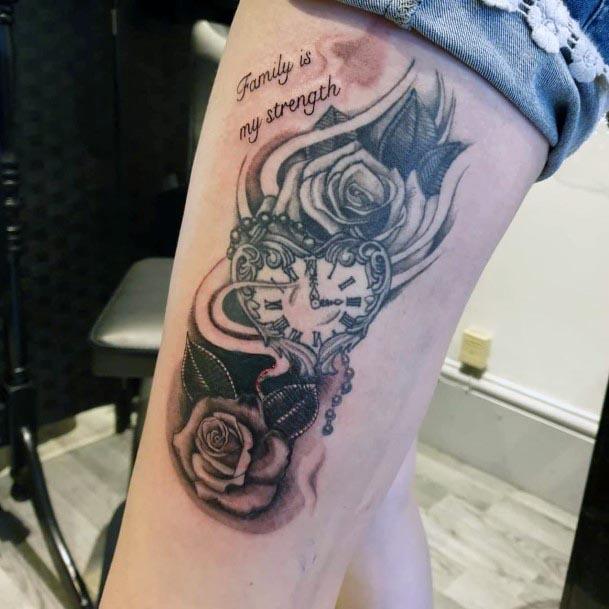 Roses symbolize all kinds of love. Here we see a rose and heart clock demonstrating the love of family. Adding different elements to your design can help make it a successful image like adding messages and jewelry in the design work. These leg tattoos can be displayed to everyone or more hidden to be more meaningful to the person wearing it. Note the "family is my strength" quote just above the heavily shaded flowers and heart shaped clock.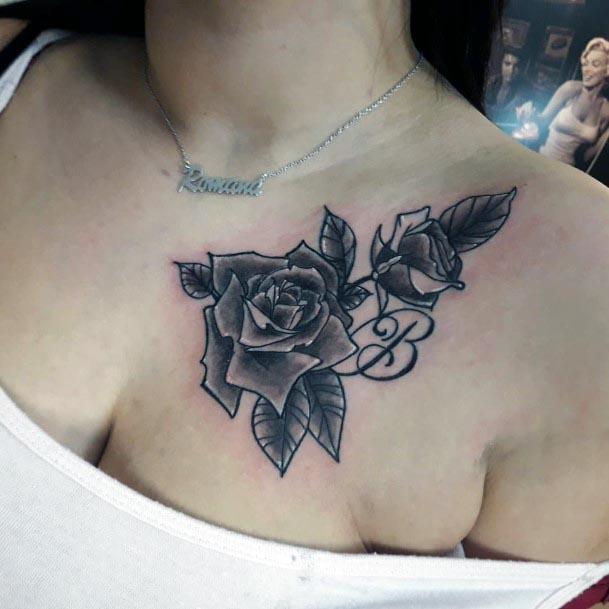 A female chest rose tattoo can include things like initials. Maybe you want to memorialize someone else like a grandmother or an uncle, or maybe just your own initials are of upmost importance in your design. Either way, adding elements like dates, etc. will make your rose tattoo more special over time.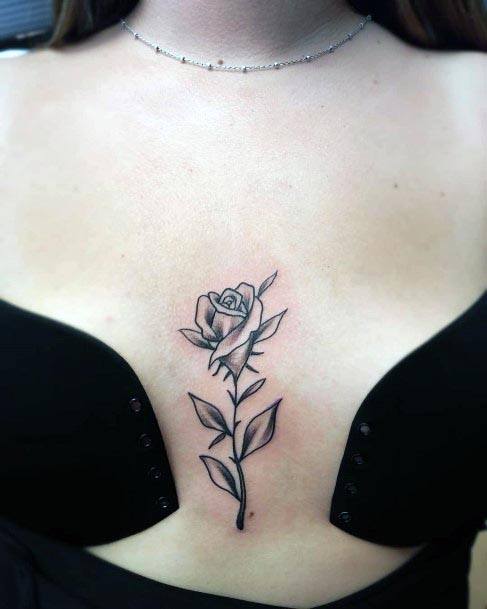 A single rose stem tattooed between the breasts can be a symbol of love for your more intimate times. Meant to only be seen in the mirror or by someone who is close enough to see you in intimacy, brings a more hidden meaning to this rose. It does have thorns so please handle lightly.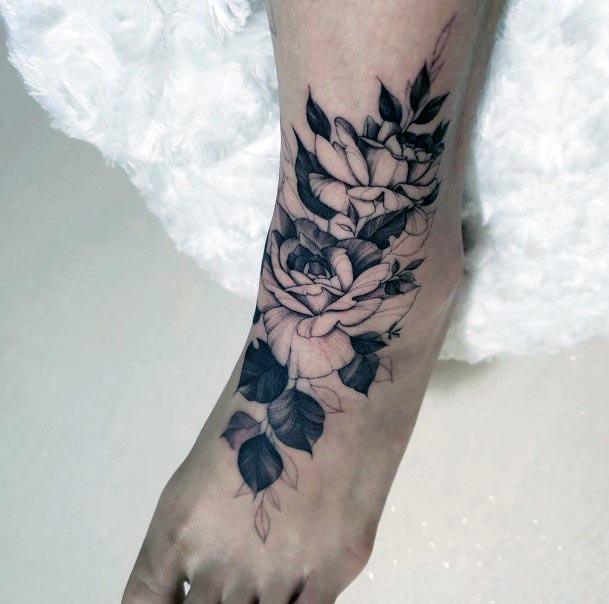 The front of an ankle or foot in general, can be a feminine location for a nice sized rose tattoo idea. Here we see two plump roses framed by their leaves. The lack of color is a nice choice and lends itself to the symbolism of the rose rather than their colors.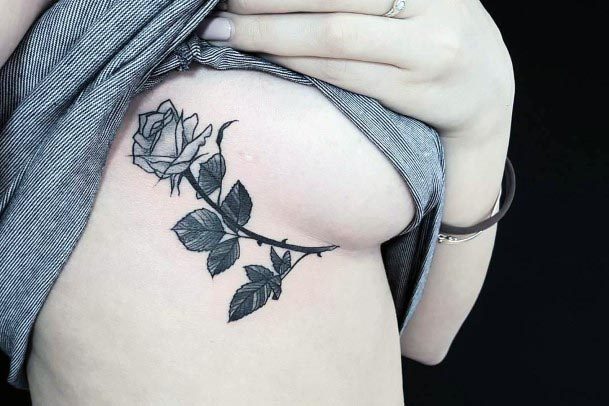 Ladies, do you want to add a secret rose tattoo? Wrapped underneath a breast will be secret until you bare all. This rose does have thorns so don't mishandle. Rose tattoos are popular for displaying femininity and strength too.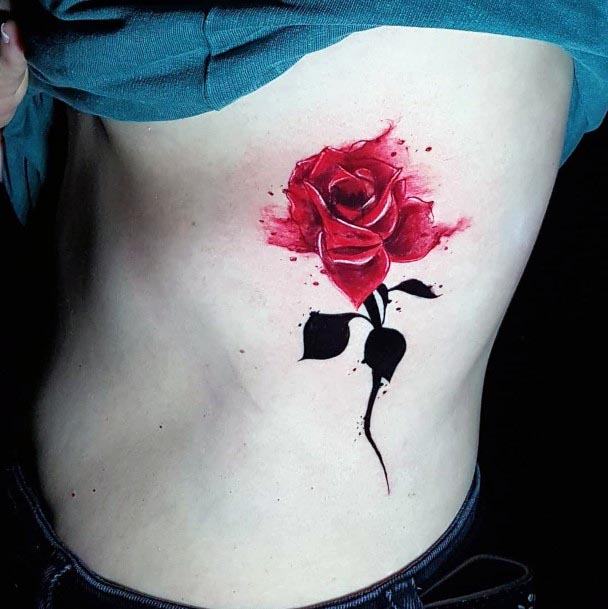 Having a large blooming red rose tattooed on your side can be a fun investment. Choosing your image is important. Always think about what you want to convey and what the overall meaning is before taking a design to your tattoo artist. This particular rose is a lovely shade of red.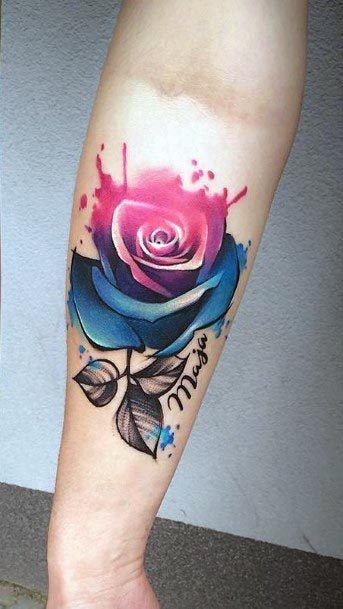 Maja is a Spanish word referring to a woman of lower class who still dresses brightly and is recognized for that. This rose tattoo is an ombre of color from black to blue to pink at the top and eventually disappearing. The painterly splashes of color add a lot to this image.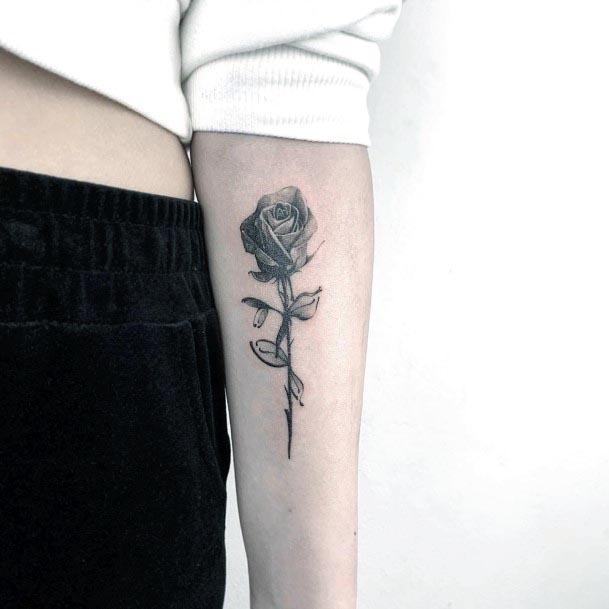 A simple and delicate black rose done with smoky shading is a beautiful image to place on the back of your arm. The flower itself is realistic while the leaves are a bit more abstract. This rose does have small thorns so please handle with care.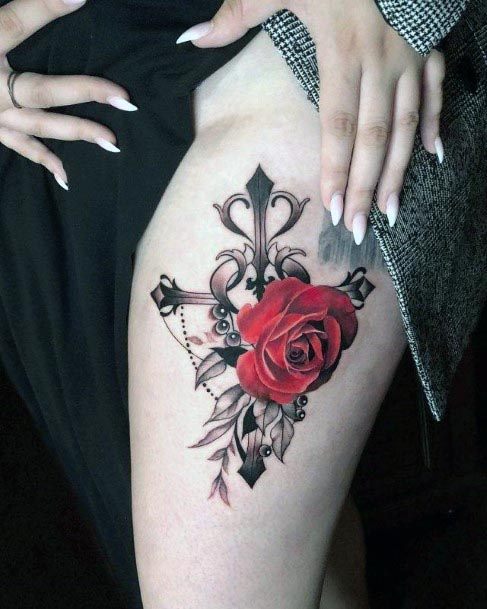 This rose a sultry color of red over the black cross in the background. Displayed on the upper thigh, this will only be seen at certain times and definitely in times of intimacy. Lovely pearls or beads drape around the cross and look very dimensional in their gradating shading of color to make them look spherical.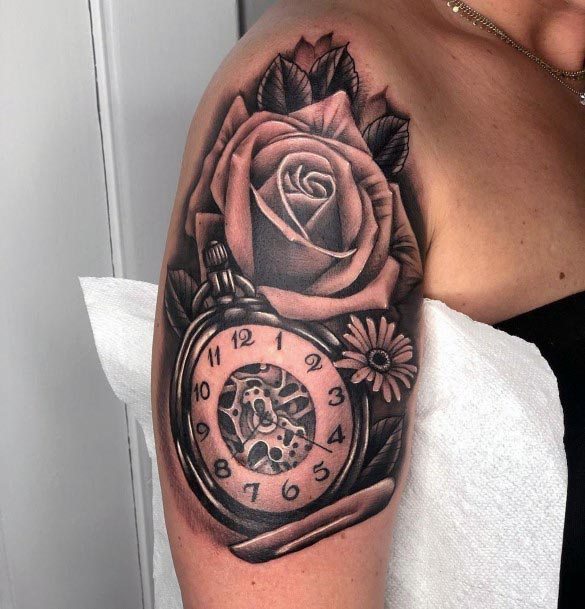 Roses, daisies and clocks are all symbolic images. Put them together and you have your own rose tattoo image full of uniqueness in appearance as well as meaning. The time set on the clock might have great meaning of the time you fell in love or the time you get out of bed every morning. A lot of thought goes into some women's rose tattoo designs.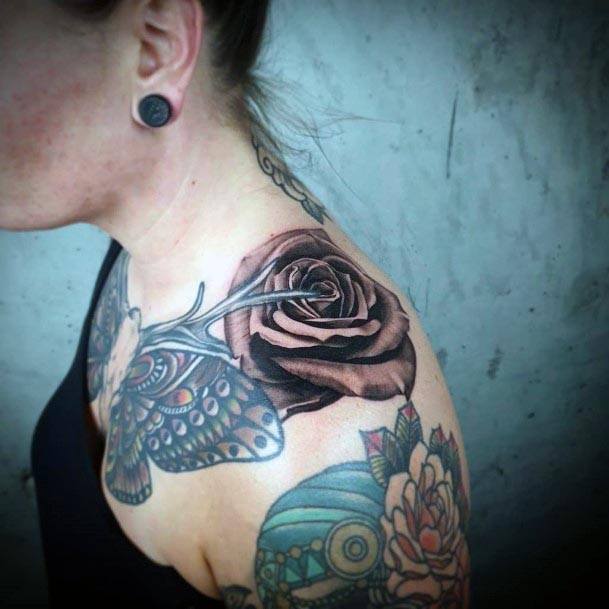 This rose looks incredibly three dimensional. Interesting in contrast to the more flat look of the antlers that seem to cover the edge of this rose. Subtle shades of light red and pink contrast with the silky smooth boldness of the black ink. Rose tattoos can fit in anywhere on the body and are easily added into your own tattoo look.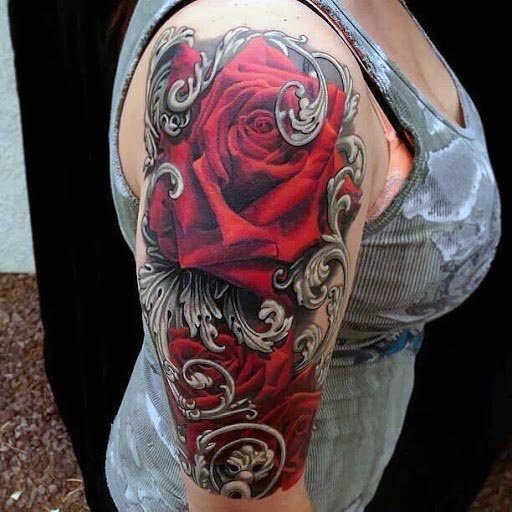 Here is another unique girl's rose tattoo with lots of dimension to it. It looks as though it can almost come right off the body. The swirling of the metalwork around it also add to the illusion of depth. Keeping the palette simple and adding shocking red has a special look to it. Don't be afraid to go bold.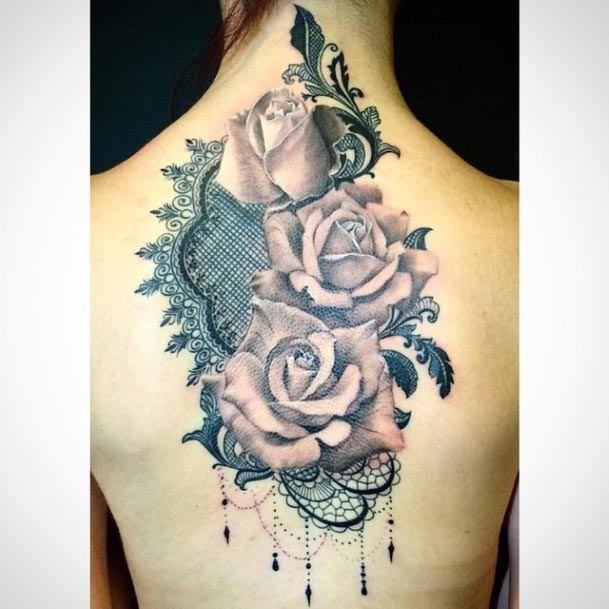 This rose tattoo is gorgeous and goes beyond simply cool. The soft pink pastels of the roses against the dark inky black line work are simply divine. Dripping with jeweled tattoos and laces, this image looks great at the nape of the neck and down the backside. This large piece needs a lot of space to complete on your body so the middle of the back is perfect.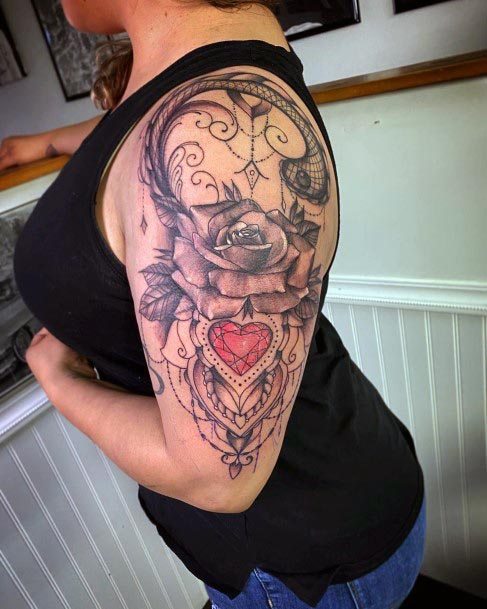 Shoulders are a popular placement for girl's rose themed tattoos. The artist must have really enjoyed inking this one. The softness of the rosy pink combined with inky black are a lovely color palette. Adding a little bit of white highlight here and there are a nice touch. The large red faceted diamond heart seems central to this tattoo.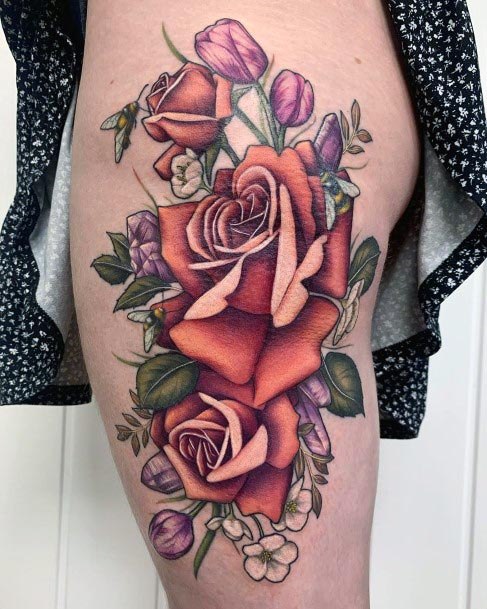 This is a stunning array of roses and garden flowers. The bee drinking nectar and flying above is a nice touch for a rose tattoo. Using multiple colors really adds a lot of beauty to the overall design. The upper leg is a nice choice for this scene knowing that it would be happening on this level in your own garden, right around your leg height.
This woman's sultry rose tattoo offers a lot of seductive qualities. Tattooing this image down your torso to share in your most intimate moments says a lot about the love you want to convey. The swirling lines of black echo the curves of a woman's body. The subtle use of color is just enough to add real beauty without being too colorful or bright.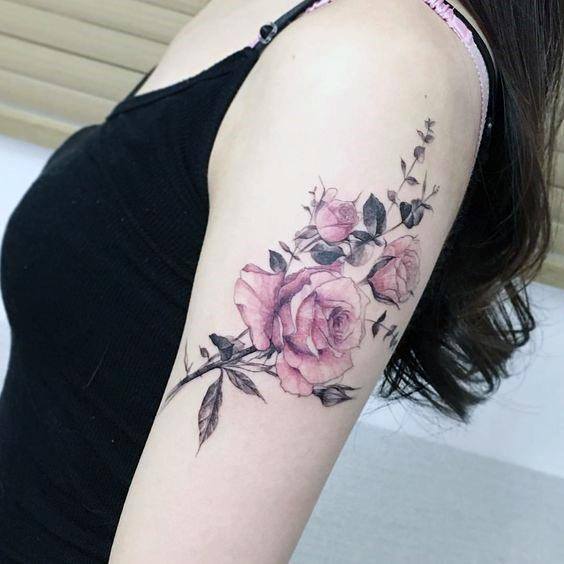 Soft pinks and delicate line work in your rose tattoo can demonstrate a very sweet and subtle image of beauty. Seen here on the upper arm, this small bouquet of pretty roses will be seen most of the time. This rose tattoo seems to focus on the beauty and feminine qualities of rose symbolism.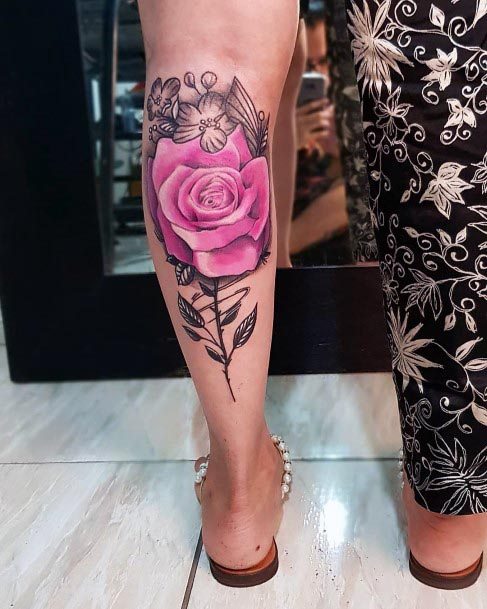 The back of the leg on the calf is a nice spot to add a rose tattoo. A full rose looking round and full of depth is contrasted with the line drawn styles of the flowers behind this pink beauty. All of the attention is on this rose. Roses stick out in the flower world and are used heavily as symbols of love and romance, possibly making it more prominent to put the focus and attention on the rose.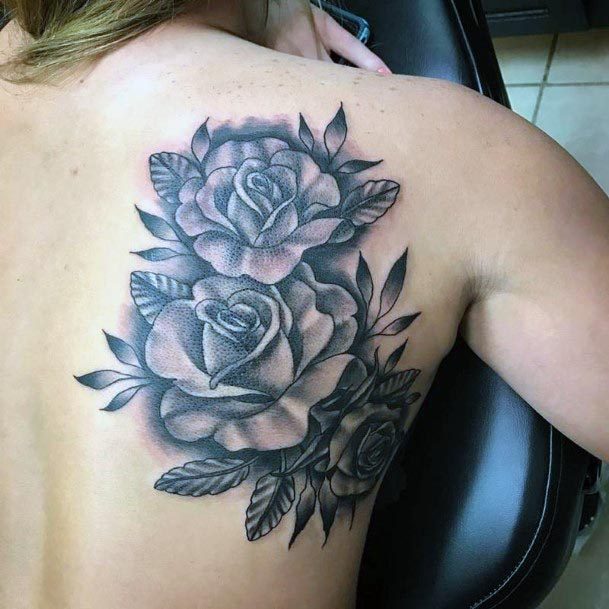 Sumptuous roses worn on the back of the shoulder take no shortcuts to displaying their beauty. Wearing your summer dresses will really show off your girly rose tattoos. The black detail of the leaves shows the lovely texture and gradations of color within them.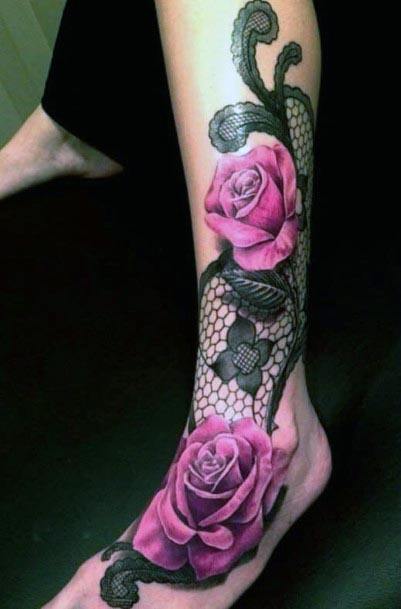 Pink and black always look sexy and feminine together. Here we see black lace design mixed with voluptuous large pink roses. This is a fun tattoo design idea to show off whether you are wearing stockings or not. The image alludes to actual stockings in its pretty lacework.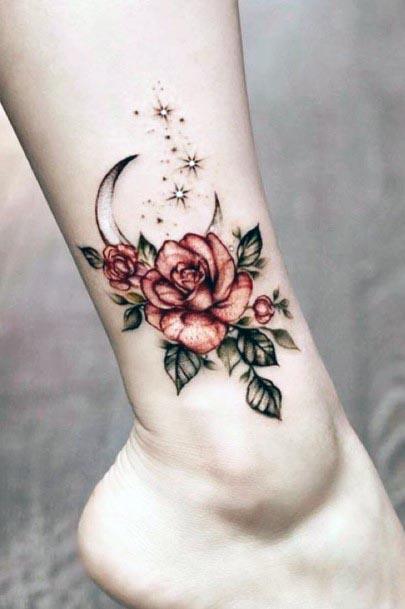 Placing a sweet little red rose on your ankle with imagery of a sparkling crescent moon and dainty stars adds a lot of playfulness to your rose tattoo look. A tattoo like this can easily be added anywhere on the body. Think about whether you want to show it off most of the time, or hardly at all.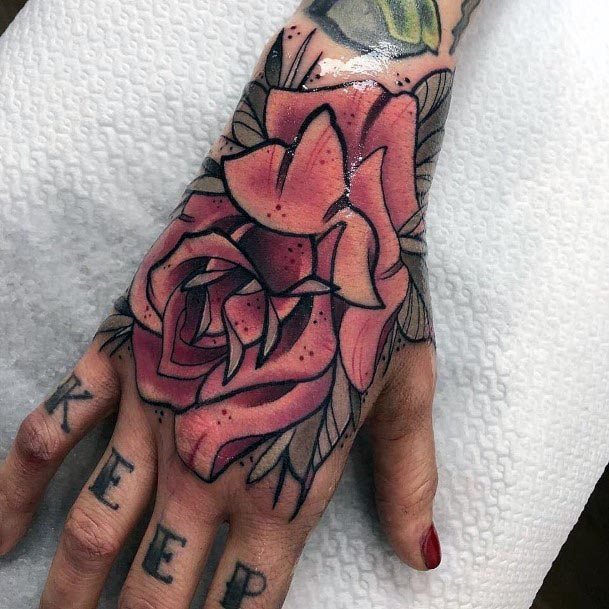 This pink rose worn as a wrist cuff is a sweet place to display a rose tattoo at all times. Mimicking a bracelet in its location, you won't need to wear bracelets around your wrists ever again. The dotwork in the rose itself adds an extra cute detail to the overall rose.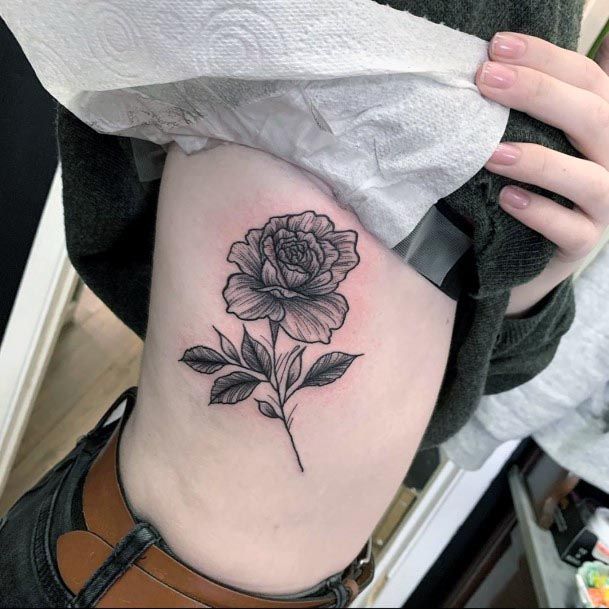 Want to get a rose tattoo but unsure of the placement? Tuck it away on your torso so you can decide later who you want to show it off to. This simple design is a popular way to have a rose on a stem in your tattoo work. The lack of extra color puts the importance on a rose being a strong feminine symbol of love and friendship.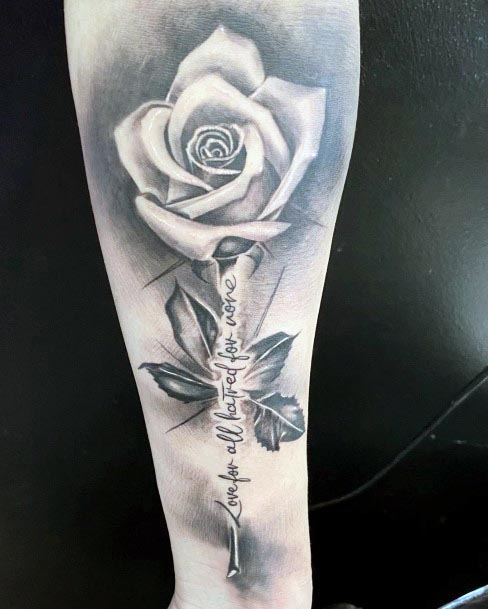 Rose tattoos can be used alongside great meaning. Here we the words "love for all hatred for none" that actually become the stem of the rose itself. This has great meaning in its symbolism. This rose design idea is full and bright and beautifully rendered with black tattoo ink.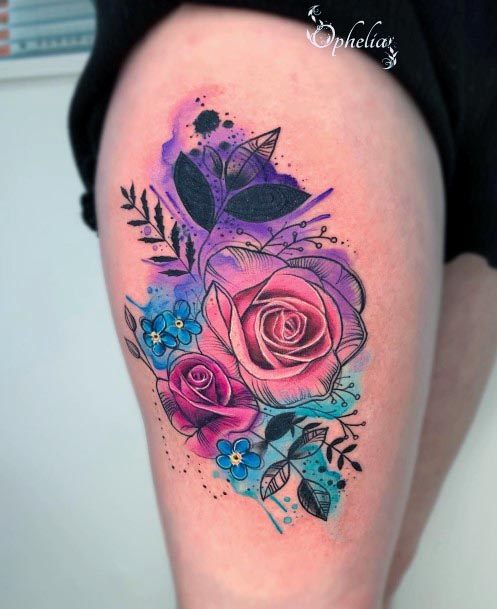 The upper leg is a nice choice to display a full bouquet of garden flowers. Using painterly colors in the background, the foreground is primarily a nice black line. White highlights are added to bring the focus of attention to the centers of the full roses and dainty flowers.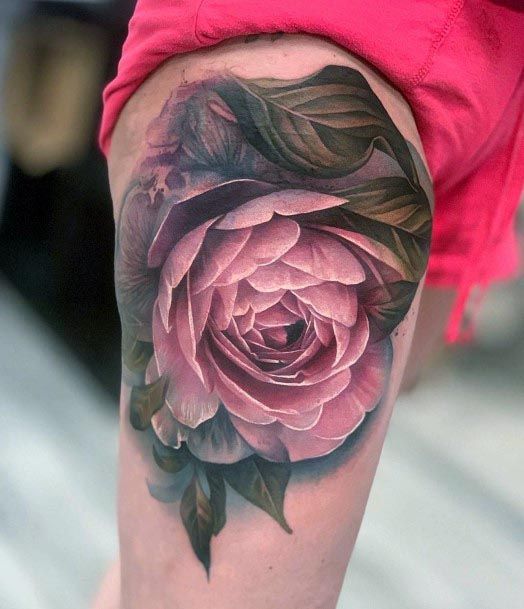 Pink roses in full bloom are a popular rose tattoo choice. Pink roses symbolize friendship and family instead of romantic love. So feel free to add a pink rose tattoo where it can be seen at any time. The white edging on the inner rose brings a lot of attention to this exquisite detail.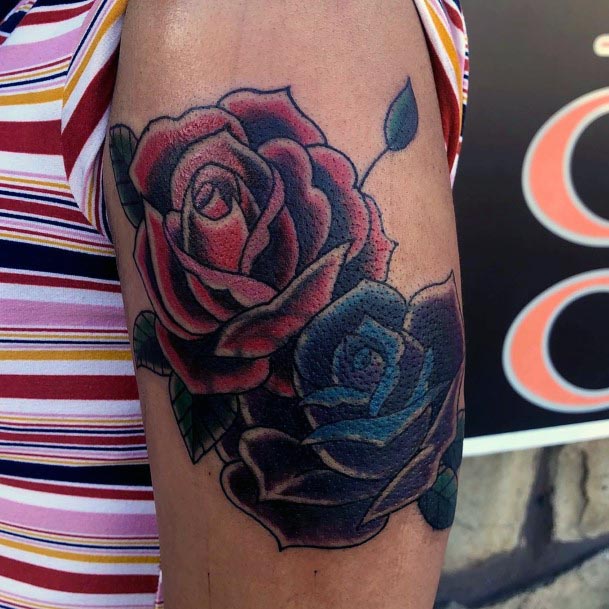 Red and blue roses in full bloom appear on this upper arm rose tattoo design. A bold line giving outlines to the rose petals is a nice addition to bring attention of detail. A tattoo design such as this goes beautifully anywhere on the body.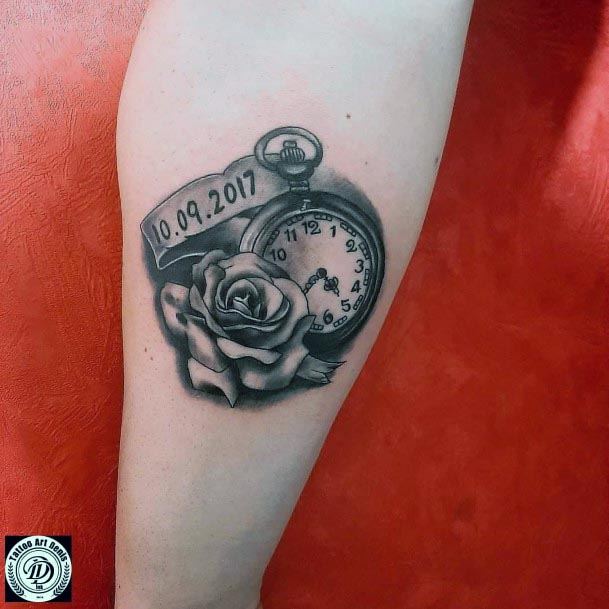 This tattoo design has a lot of meaning. Whether you want to remember the date and time your child was born or the date and time you got married, you can add all sorts of numbers and coded messages into your rose tattoo design. This looks like a back of the leg calf placement but can be placed anywhere you have room for another tattoo.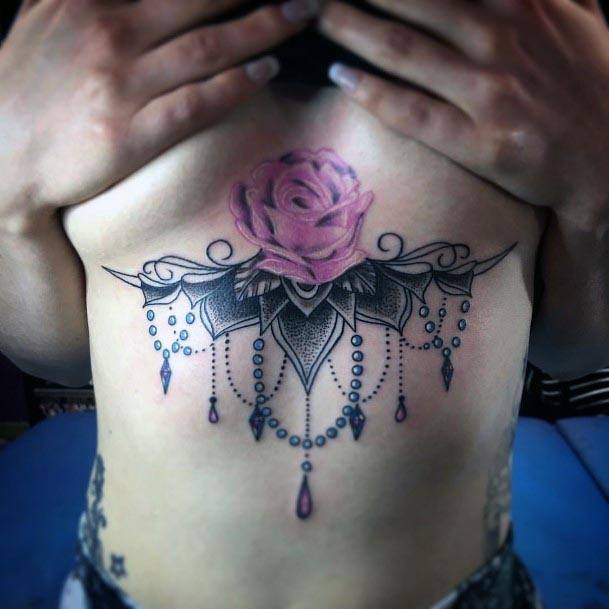 Pink and black are popular combinations of colors for rose tattoo designs. Here we see a lovely full rose nestled in between two breasts and framed out with intricate black line work and lace. Jewels drip from the design and the curves of the design fit nicely along the ribcage and contours of the woman's body.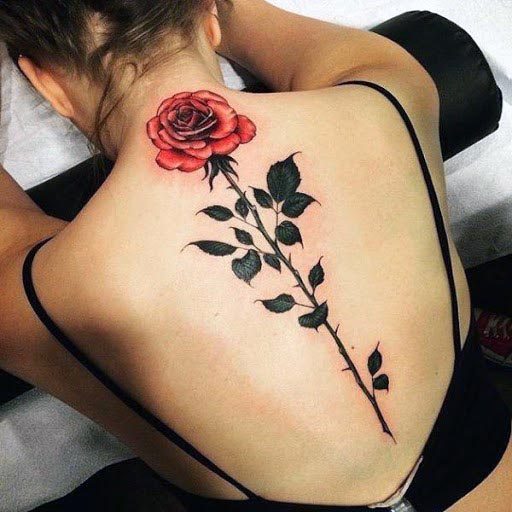 A beautiful long stem red rose is a wonderful image to wear on your center back along the spine. The thorns show strength and resilience in contrast to the rose's fragility of petals. Roses only bloom for a little while then rely on their thorns to keep creatures away. Choosing a rich red makes this rose stand for love.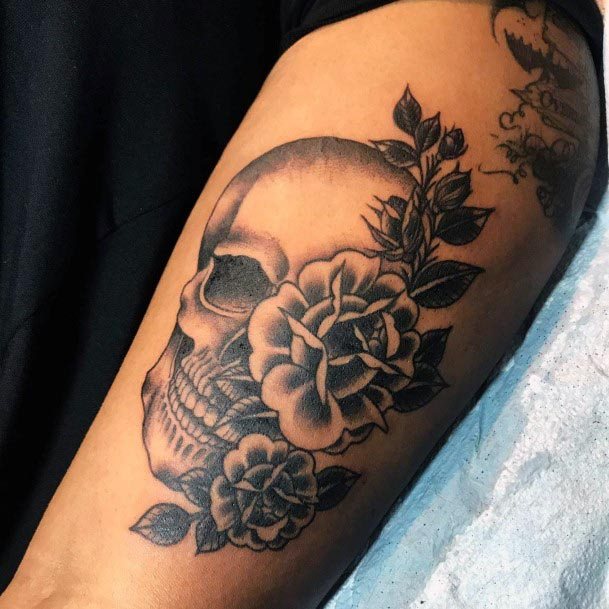 A black tattoo design of a skull with roses seems to symbolize death and transformation. The richness of the black tones create a depth to the illusion in this design. Placed on an upper arm, this tattoo will be there for all to see.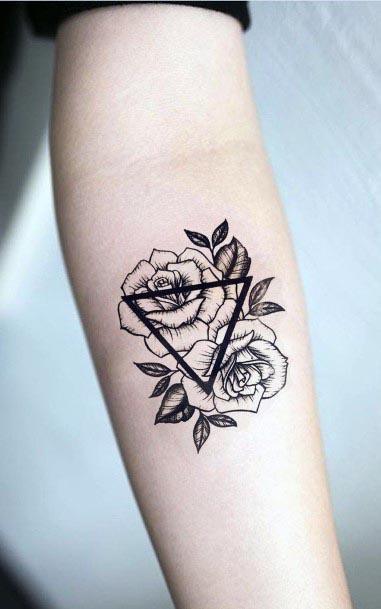 Here we see two soft full roses covered with a triangle. Triangles are used to symbolize strength. Perhaps the meaning behind this tattoo is strength in love? There are endless possibilities for your next rose tattoo design. Start doodling an image now.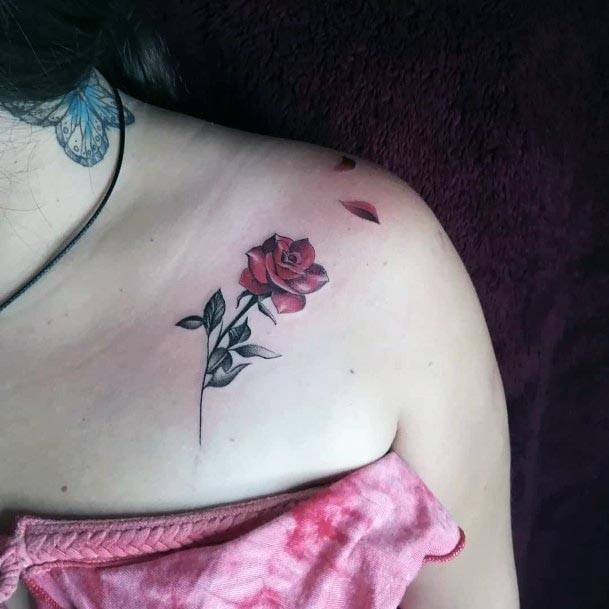 A tiny rose can be displayed on a shoulder. Here we see petals falling away from the red rose but this angle doesn't make sense that the petals are falling upward. Maybe this image is meant to be viewed while lying down, bringing a whole new sense to the potential meaning of this rose tattoo.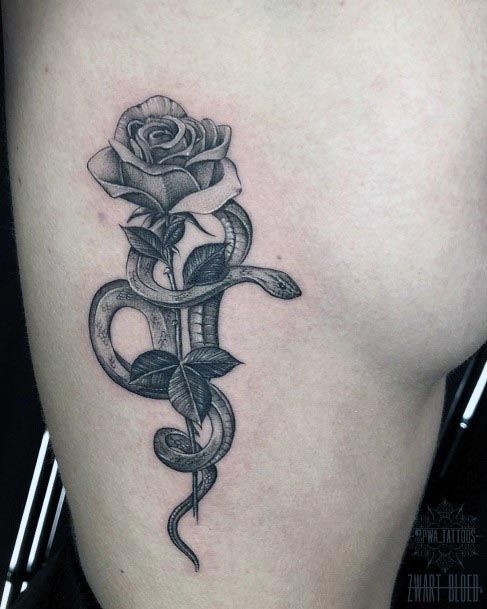 A venomous rattlesnake slithering around a long stem rose could be a fun design. Snakes have leathery skin and might not be so affected by the thorns on this rose. Using a rattlesnake gives new meaning to the thorns though. Watch out! This snake is helping protect the vulnerability of this rose.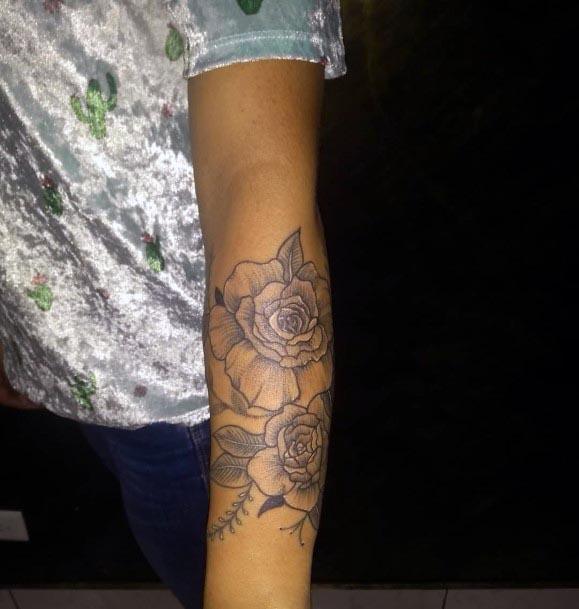 The forearm is a pretty place to encircle your body with rose tattoos. Here we see a simple line drawing of delicate roses. White is added as a finishing touch to highlight the edges of these flowers. The beauty in this tattoo is not only the imagery itself but also the placement on the forearm to be worn like a delicate treasure.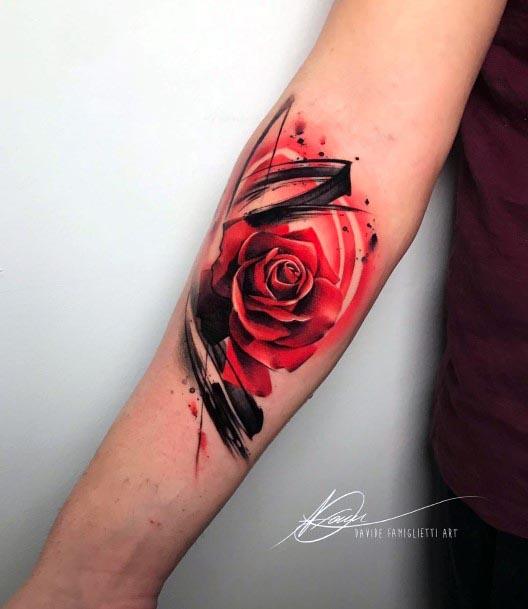 This red rose tattoo design has a lot of movement in the overall look. You can almost see the paintbrush lines that were used to create this, though we know it was actually a needle. This is a very modern looking design and the brushwork elements add to the beauty of the design.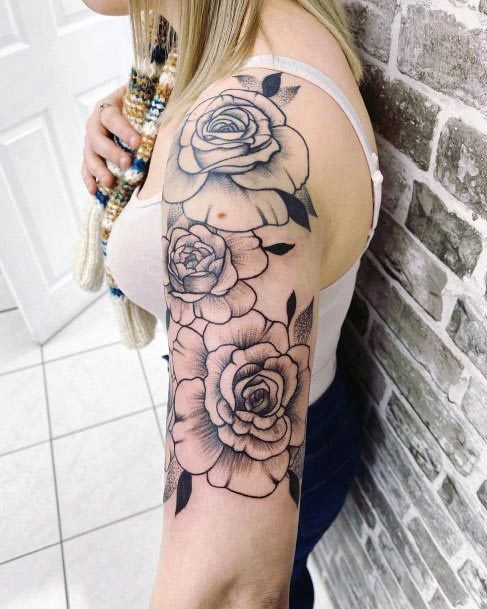 I love this woman's rose tattoo design for its openness and lack of color. The delicate line work lend themselves to overall beauty in this simple design. You don't need to add a lot of black or color to have a divine design such as this one.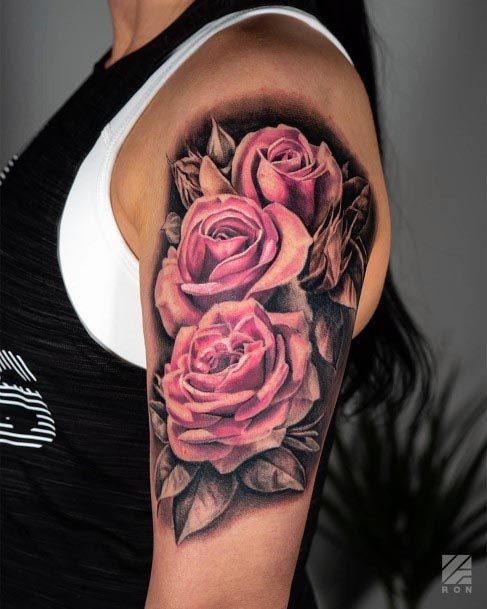 Ever popular amongst many girls is the delicate rose flower tattoo. We often see them displayed and worn on the upper arm and shoulder but they work well anywhere you want to add a tattoo. This is a gorgeous example of a full color rose tattoo that adds blacks in softness to shade for depth.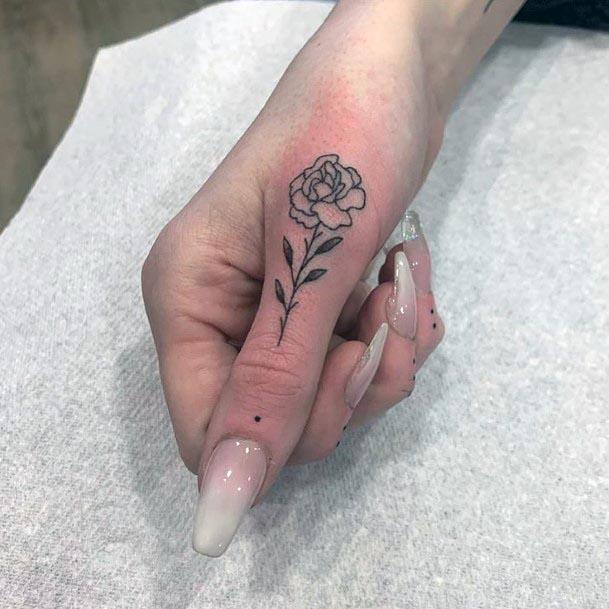 Looking for a cute, small rose tattoo design? Consider a simple finger tattoo. Using dotwork to complete the hand next to the rose, this dainty beauty will put a smile on your face every day since we look at our fingers often. Placed on the thumb, it almost appears like a tiny gift rose that you are handing out to someone.