The ruby stone is rare and precious and is a gorgeous addition to any piece of jewelry with it's brilliant luster.
Ruby is a favorite tattoo for women looking for exclusivity. A tattoo with ruby is an excellent choice if you want to emphasize unmatched beauty. Ruby is a symbol of love and passion. The gemstone was also associated with peace and joy.
The ruby tattoo is a favorite image for many women looking to show their exclusivity. Women also have a craving for expensive jewelry, and that is why they adorn the ruby tattoo. The stone has a lot of faces and is suitable for a versatile person. It is an excellent tattoo choice if you want to emphasize your unsurpassed beauty.
Other meanings of the ruby tattoo are desire to live a good life, pleasure and passion. Most ruby tattoos have a rose. In such a design, the ruby is inked in black paint while the rose is made in red color. An excellent place to have your ruby tattoo is on your arm just below the elbow.
Gems represent wealth, royalty, fame and glamour. Jewels are radiant and have unprecedented beauty. It is for this reason that tattoo art has adapted gems as their designs. You can share your stories, experiences and thoughts on your ruby tattoo.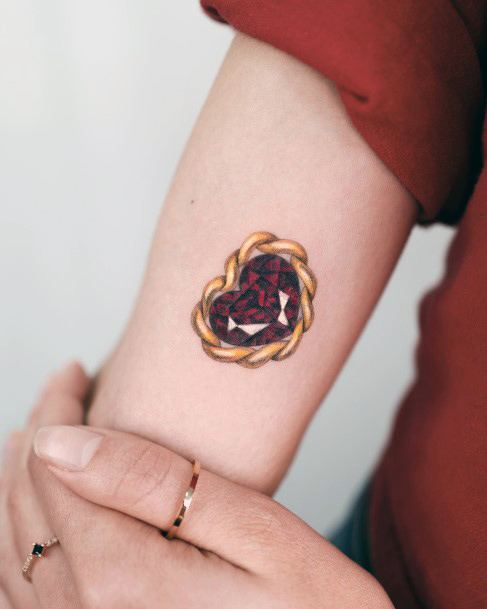 Placed on the inner arm, this beautiful jewelry themed tattoo features a woven gold braid and a heart-cut, polished ruby in the center. While this women's tattoo is small in size, the attention to detail is rather grandiose. The artist worked some fine magic to deliver a realistic, 3D appearance on the skin.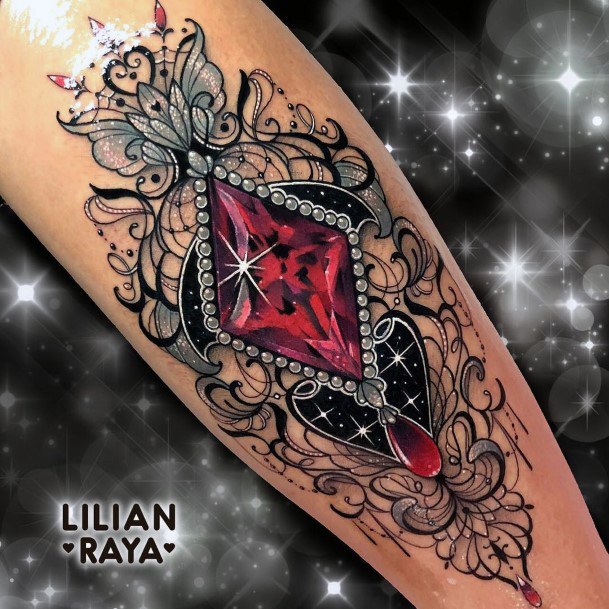 When choosing to tattoo a gemstone like a ruby, why not go all out with the other details in an ornate, decorative fashion? I love the wild black-ink scroll patterns, which make the eyes wander all over the place in pure delight. Silver and white details give this tattoo design plenty of feminine sparkle, while a massive polished, three-dimension ruby leaves you breathless. Placed on the forearm, this tattoo is exceptionally elegant, feminine and tastefully done. Note the heart found just below the ruby, alongside the two hearts in the silver flower petals at the top. The closer you look at this unique deisgn, the more things you find.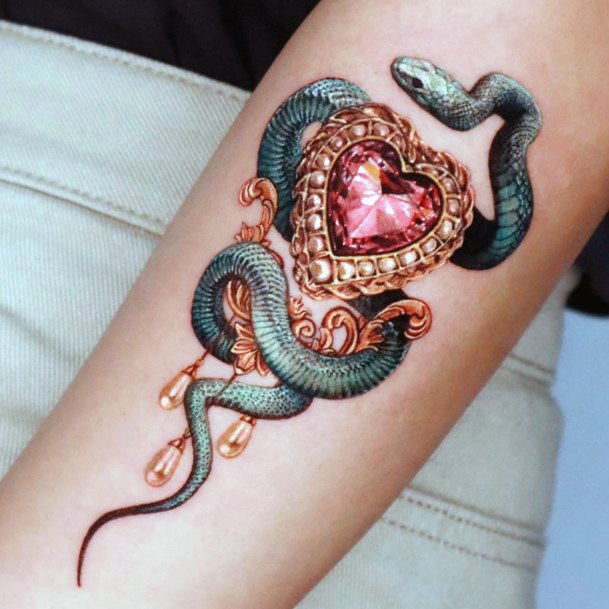 When it comes to jewelry, I personally think that 3D, realistic designs are simply the way to go. This outer forearm women's tattoo is a stunning example of just how great they can look. In this design, you'll find a coiled teal, green snake alongside a golden pendant encasing the center heart-shaped ruby stone. Look a bit further down and pearls can be seen hanging down in a chandelier-like fashion.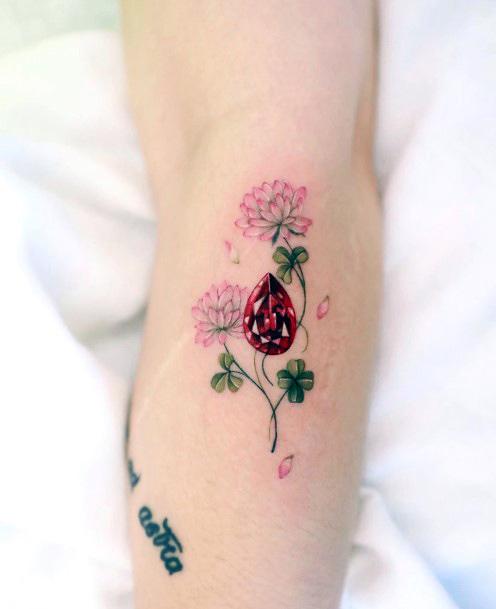 Some women just want the ruby gemstone by itself without all of the gold, silver or metallic additions. And honestly, there's nothing wrong with that. I love the 3D details found on the pear cut ruby gemstone, plus the four leaf clovers and pink flowers with falling petals. This female leg calf tattoo combines a lot of different meanings into quite a small space on the body.