In fact, short nails can provide more of an impact than long nails for certain looks, especially since they can express color in a subtle way.
Short nails don't have as much surface area as long nails, which makes short nails the perfect canvas to showcase different alternating colors. This trend is one way to wear more than one color at a time while also looking edgy and fashionable. You can either paint each nail a different color within a color family, or mix it up and choose complementary colors from the color wheel.
Playing with finishes and textures also is an option. Pair frost polishes with matte or glossy finishes for a unique look.
Another advantage of short nails is that they can better hold brilliant and shocking colors. Short nails are less likely to overpower an outfit, even if they are painted an acid green or hot pink.
Bright colors seem more playful and appropriate on shorter nails than longer nails, and there is less of a commitment to hugely bold looks. Nail art can also be a huge plus for short nails. Create delicate designs that fit perfectly within your nail, and watch how much attention and compliments you get.
Doing a statement standalone nail can make more of an impact with shorter nails since no one expects shorter nails to achieve such a feat. Short nails are actually a plus when it comes to nail trends, so don't shy away from anything!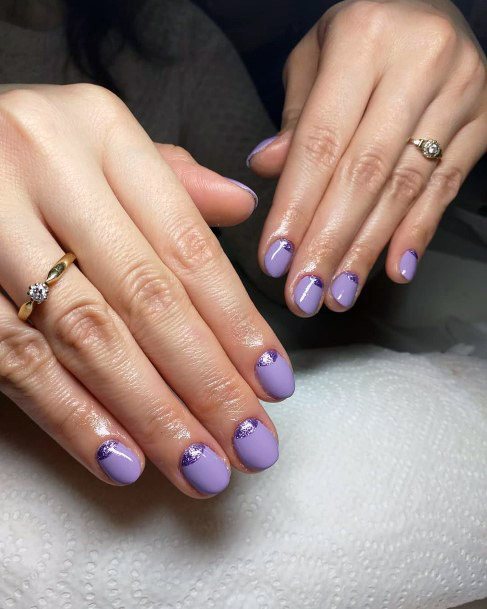 Do you want short amethyst nails that will get noticed quickly? Simply add some glitter at the base of the nail as seen above to give your nails a mysterious amethyst appeal.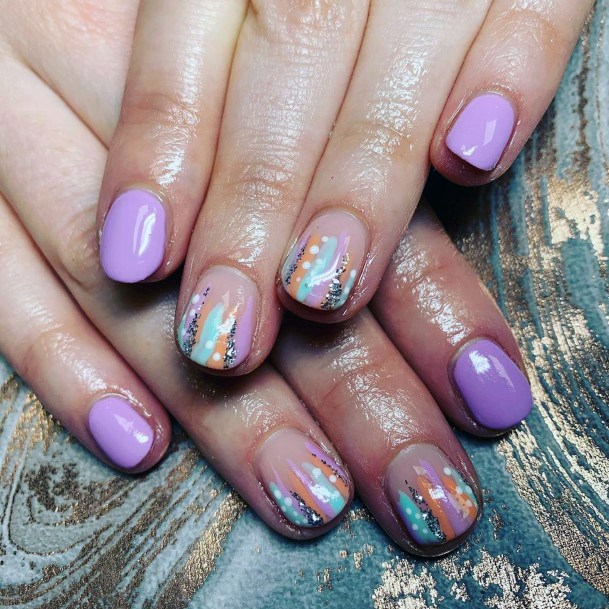 If you want a whimsical yet chic simple look, these light amethyst short nails are great for you. The intricate accent dotted nails add a pretty dash of color to your look.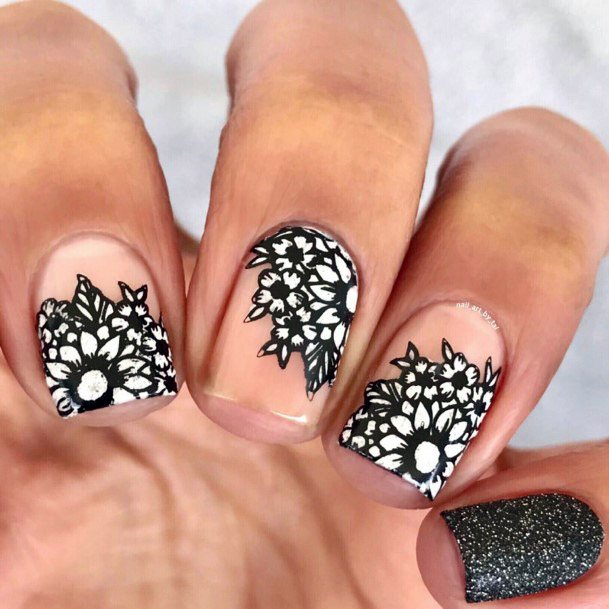 Another way to spice up your short nails is by adding a hint of floral print to create statement nails. You can also add an accent nail that will bring contrast to your look by painting it with glitter.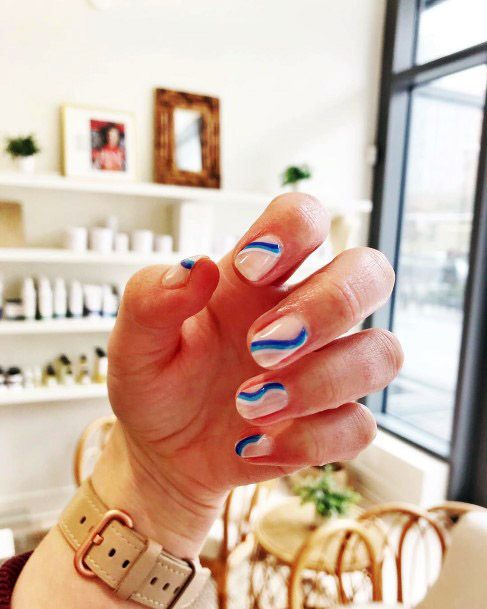 If you want short classy nails that will spark more interest about your personality during conversations, blue and white swirls on nude nails is the way to go. The blue swirls will definitely earn you some compliments.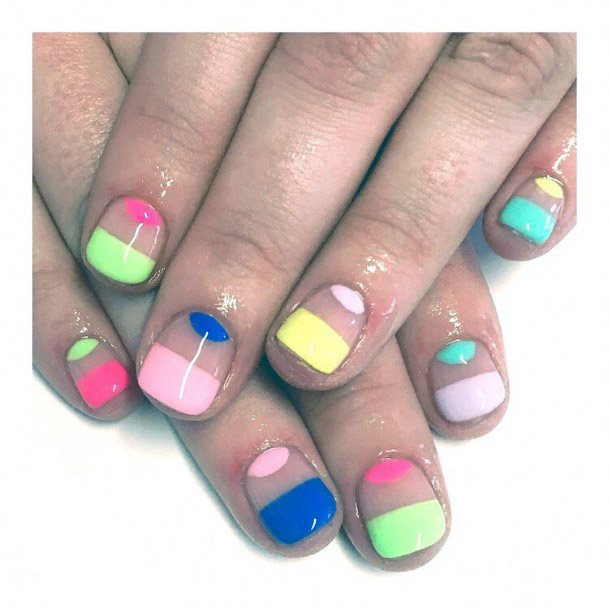 Want bright jazzy color block nails that will instantly attract attention from across the room? Try out these bold contrasting colors combined with a reverse French manicure to accentuate your cuticles.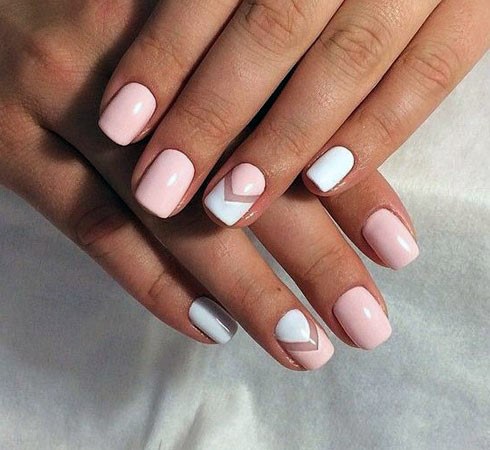 This is the perfect nail design if you prefer a simple two toned look for your hands. You can add a twist by creating a geometrical combo on an accent nail to draw more attention to your nails.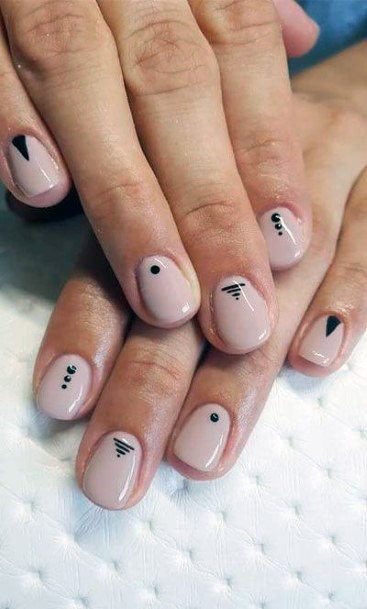 Want a minimalistic nail design that is elegant and smooth? This simplistic black nail design will look gorgeous on your short nails. Just get a nude base nail polish and a black one to mirror this look.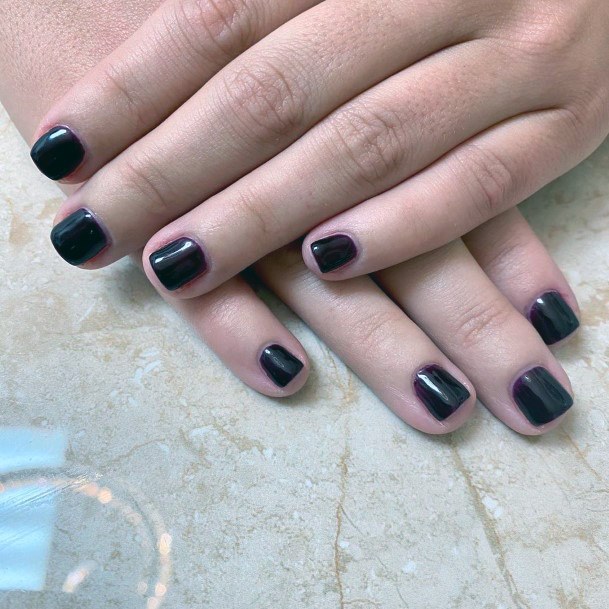 This deep black nail design is the perfect look for keeping your nails looking short, clean, and fresh. To create a bolder edgier look, complete the look by adding a shiny top coat on the black nails.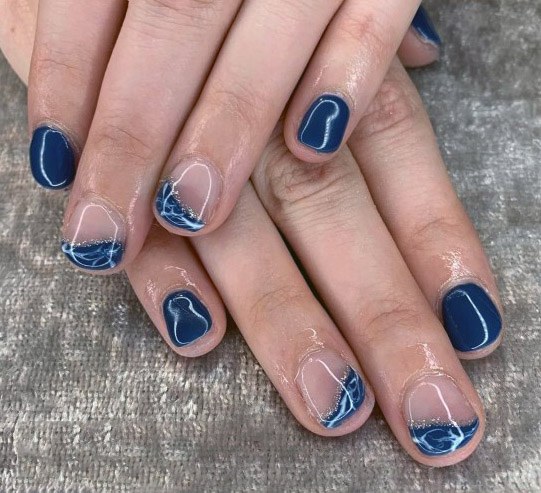 Forget the basic French mani and spice up your short nails with these slanted French tips. The subtle white markings deepen the blue hue giving your nails a stunning aqua appeal.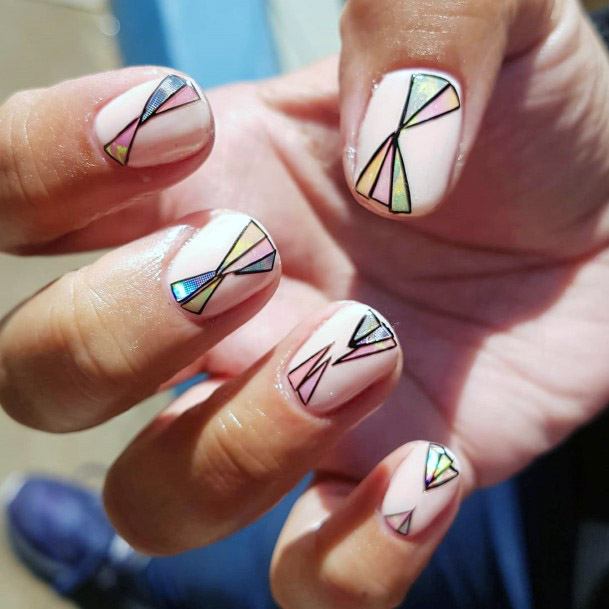 This diamond caricature nail design is for you if you are looking for a modern nail trend that will not go out of style. Try out this show-stopping nail trend and watch how your nails will get more attention than ever before.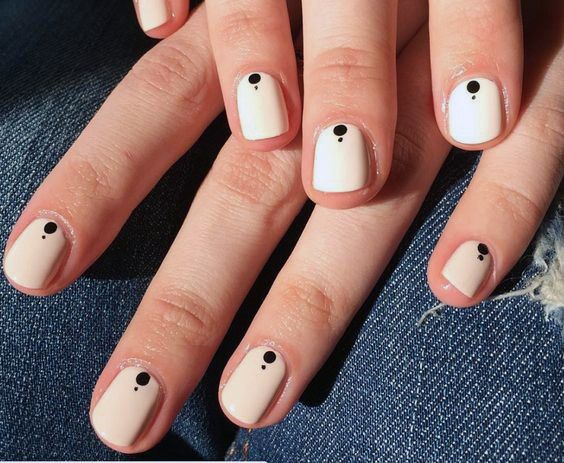 Want a simplistic nail design that still attracts attention to your nails? This elegant black minimalistic design with a nude base color will complement your skin tone and draw attention.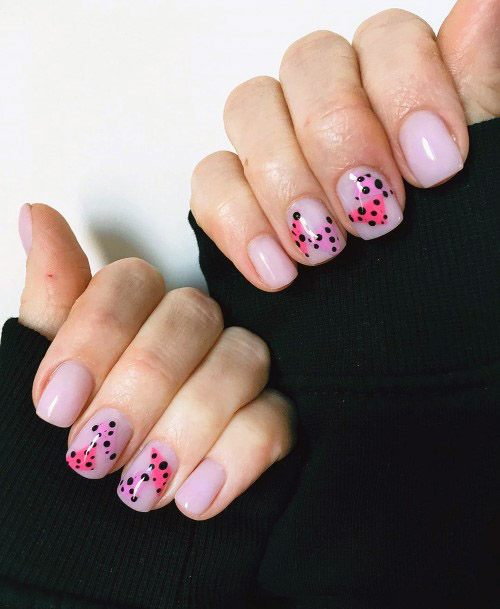 Play off your nude simple short nails with these dotted pink shaded prints. The pink dots add a technicolor twist to an otherwise simple mani, thereby making your nails more alluring.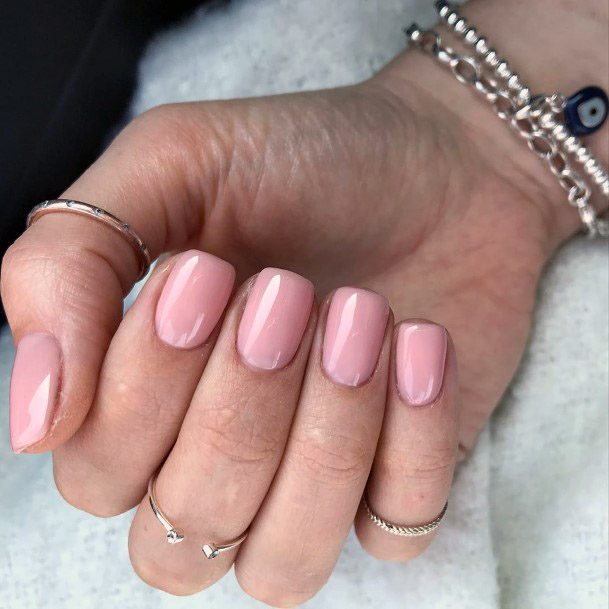 This delicate pink monochrome look will give your fingers a delicate soft look that will add a touch of elegance to your style. Dress up your fingers with rings to make your hands more appealing.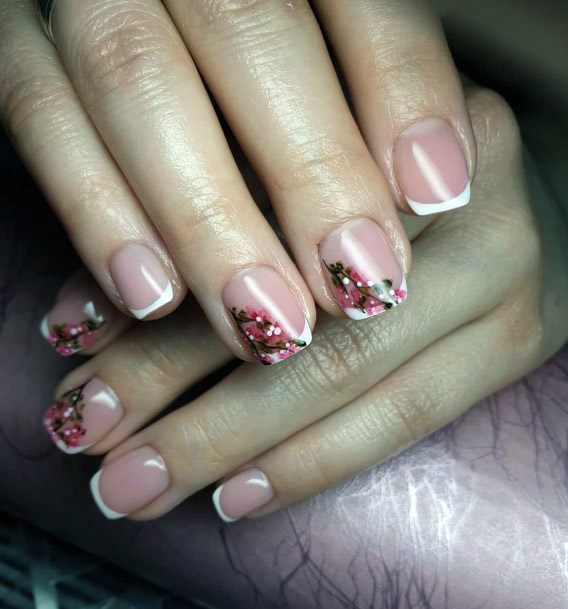 Want to add a creative twist to your French manicure? Floral nail design is the perfect way to make your nails more girly and trendy. The white French tips blend perfectly with the tiny blue flowers to give your hands an artsy look.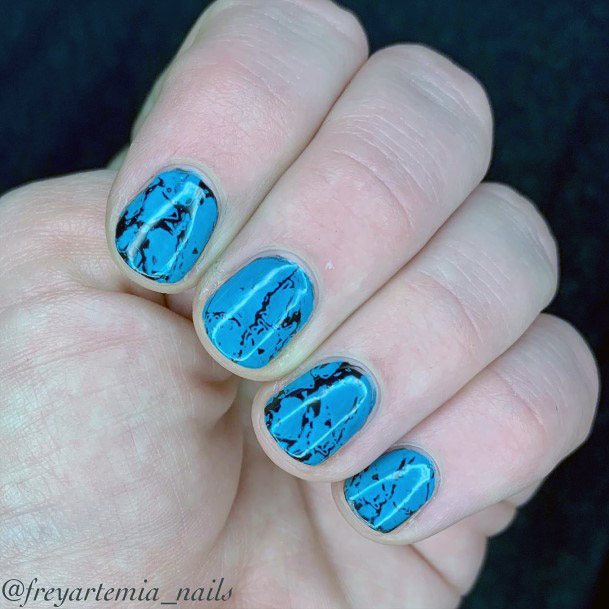 If blue is your favorite color, then this gleaming blue nail design with black patches is perfect for your nails. The black strokes add more contrast to the blue surface leaving you with stunning nails that will turn heads.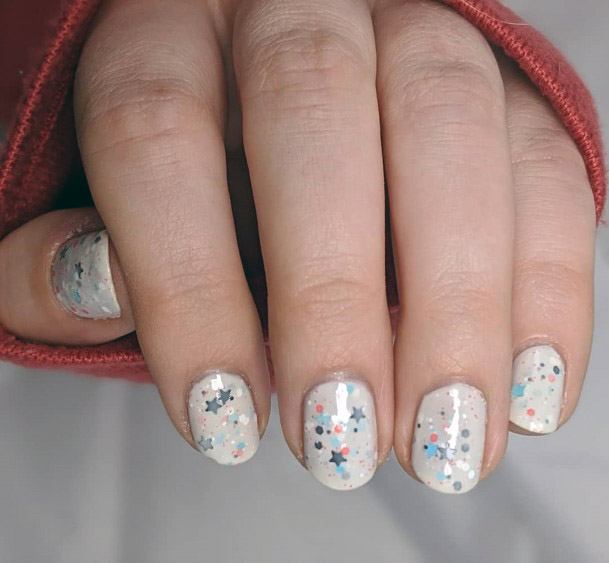 A great way to wear short white nails is by adding starry glittering details to the look. The multiple colored stars will brighten up your mani giving your nails a fancy look.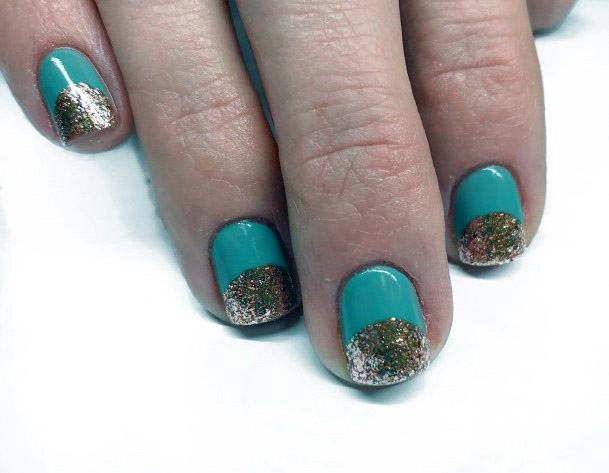 Tired of the traditional French manicure? Well, you can spice up your manicure by wearing these striking glittering thick golden French tips to make your nails more glamorous.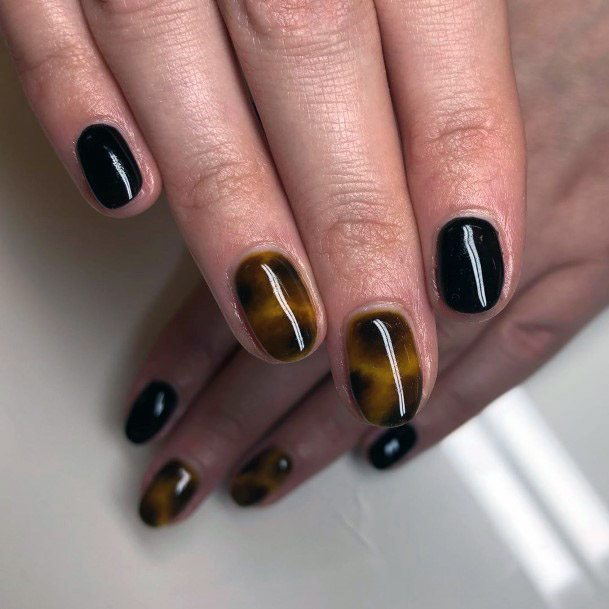 If you desire a marble nail design, then this glossy brown marble design will add a striking elegant allure to your look. Combining black and brown colors to achieve this look will definitely leave you with mesmerizing nails.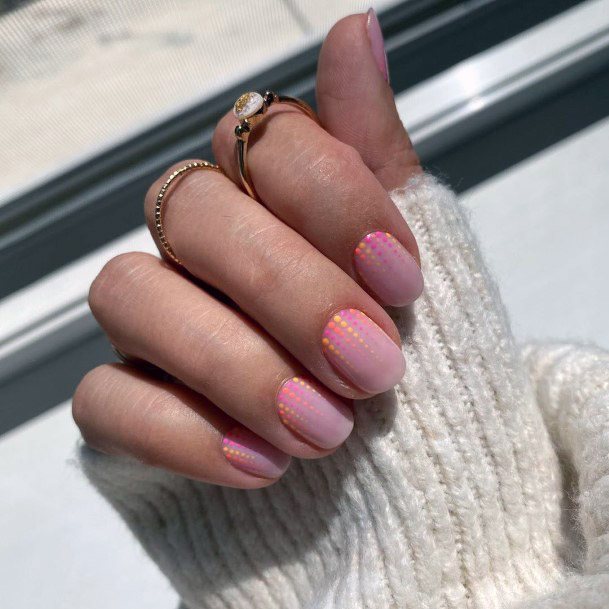 These tiny holographic dotted short pink nails will add a charming urban style to your look. If you want to have a more chic fashion style, these light summery shade nails will do the job.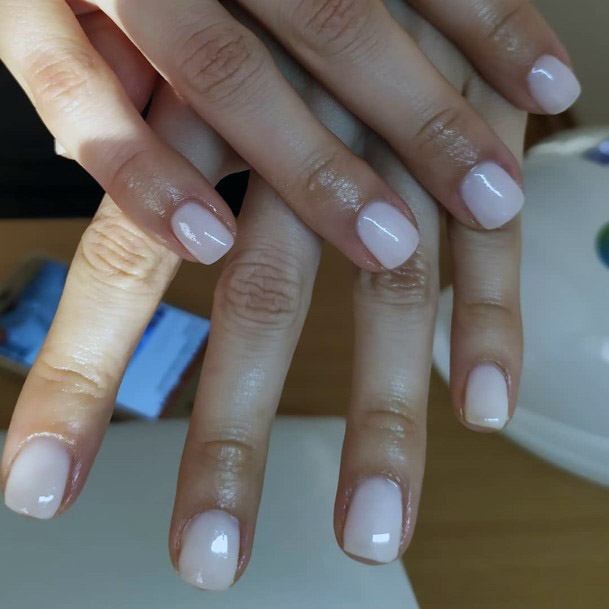 Want a simple yet classy nail design that you can wear to work or a formal event? This plain white mani is the perfect way to add softness and sophistication to your outfit.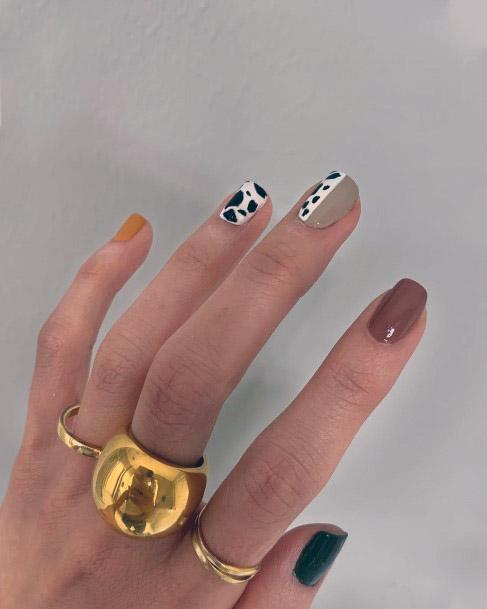 Add color and style to your fingers with this multiple toned nail design with leopard prints. The leopard prints add a unique striking appeal to the differently toned fingernails.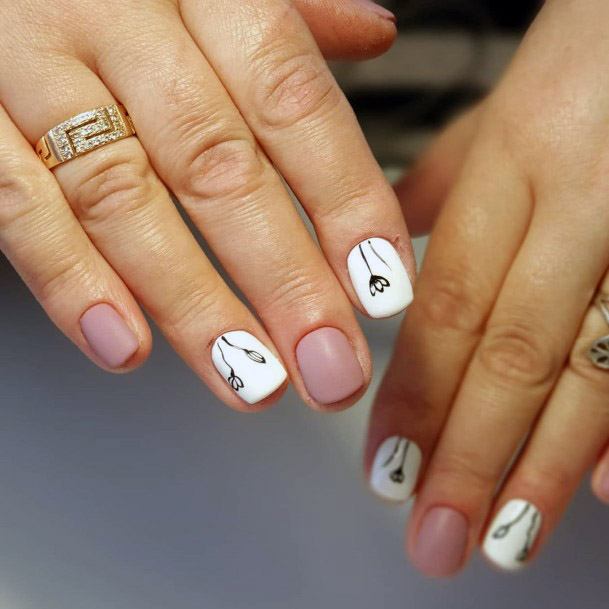 If you want a great way to spice up your light double chromatic nails, the minimalistic approach is the best way to style up your look. The beautiful single-lined flowers create a curious accent feature without looking too dramatic.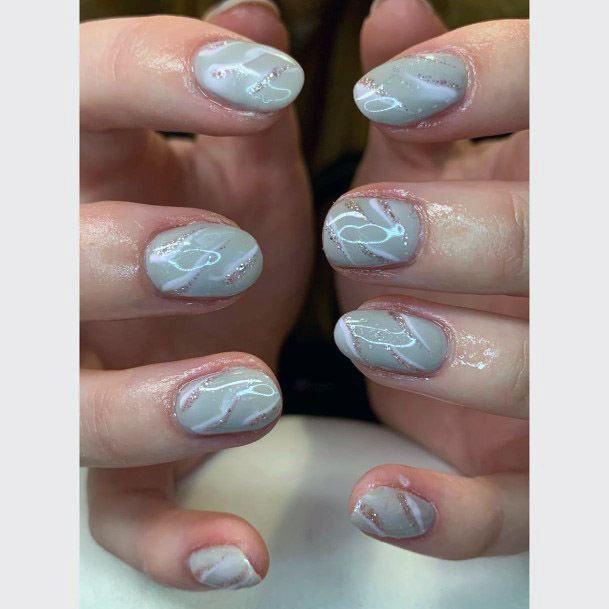 Thinking of how to make light grey nails more attractive and alluring? Well, white and silver curly lines will do the trick. Finish the look with a shiny top coat and you will have beautiful whimsical nails.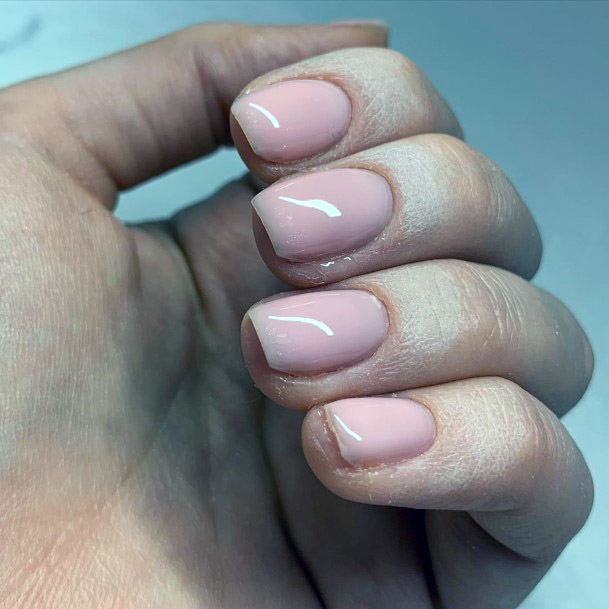 Sometimes all you need to add a dash of sophistication and charm to your appearance are short light pink nails. Pink nails are feminine and will always add an elegant allure to your look.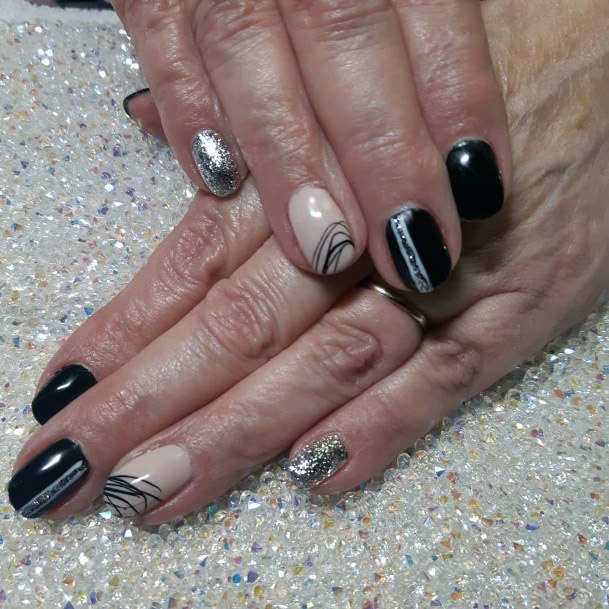 Want an elegant combination of black and silver short nails? The nude accent nail with black feathery lines helps to create the perfect contrast against the glitter and the bold black color.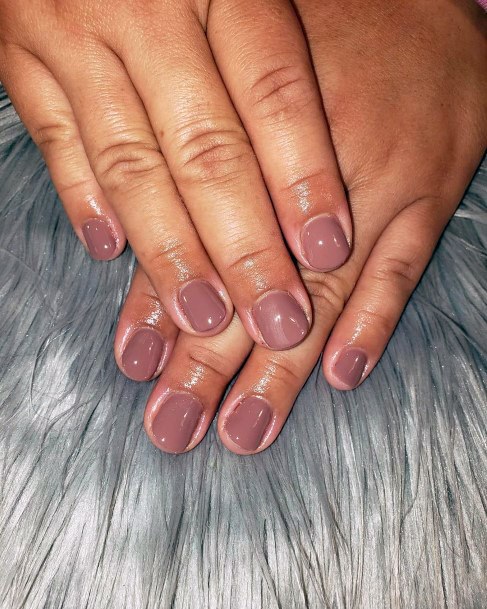 If you are looking for a lovely elegant simple nude nail design, then this is it. This nail design is perfect for you if you have short nails because the nude nail polish will elongate your fingernails and give you a classy look.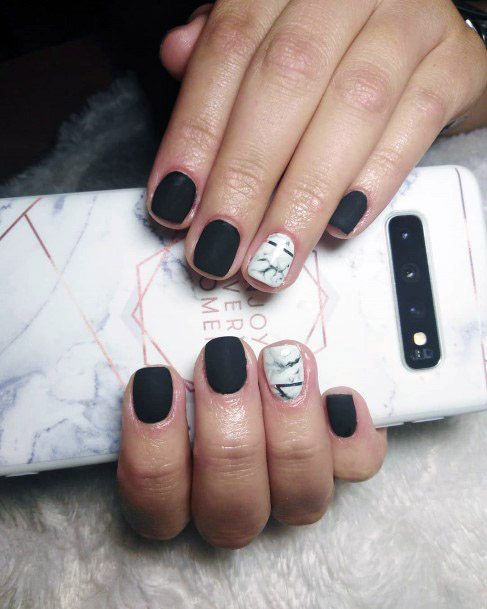 Want an edgier, bolder, and darker nail polish that will complement your personality? This combo of marble and matte black nails will add a mysterious allure to your look.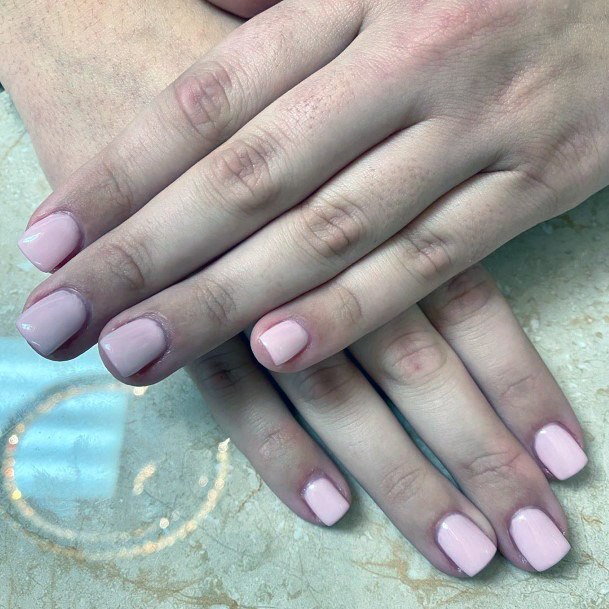 These milky pink short nails are the best way to add a tinge of elegance and class to your everyday look. This shade of pink will complement your skin tone and draw attention subtly to your delicate fingers.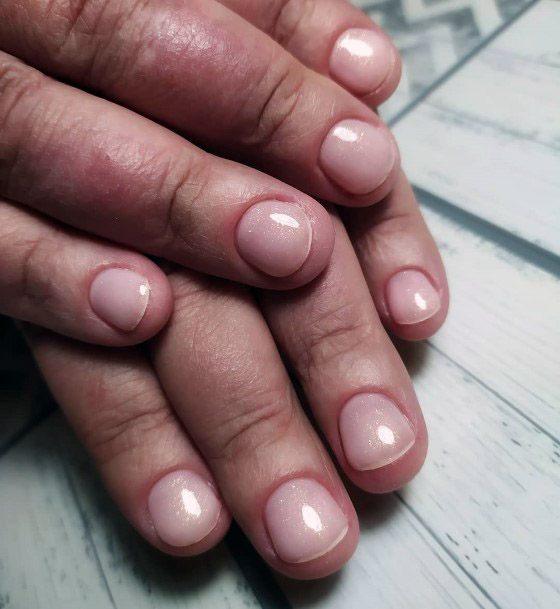 Do you desire neutral short nails that are easy to maintain and won't draw too much attention? This is the look for you. You can add a coat of glitter on the nails to deepen their hue and make them more stylish.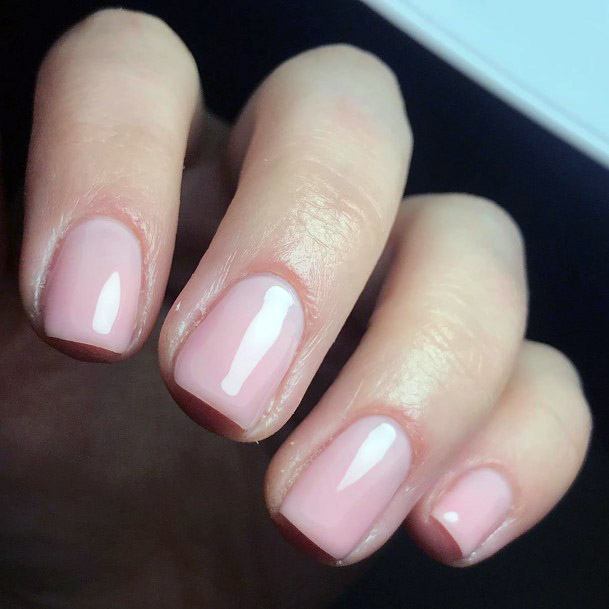 Want classy short nude nails with a pink tinge that give your hands a smooth elegant allure? This sheer nude look is perfect for you. This is the type of look that matches with every look whether everyday wear, evening wear, or work wear.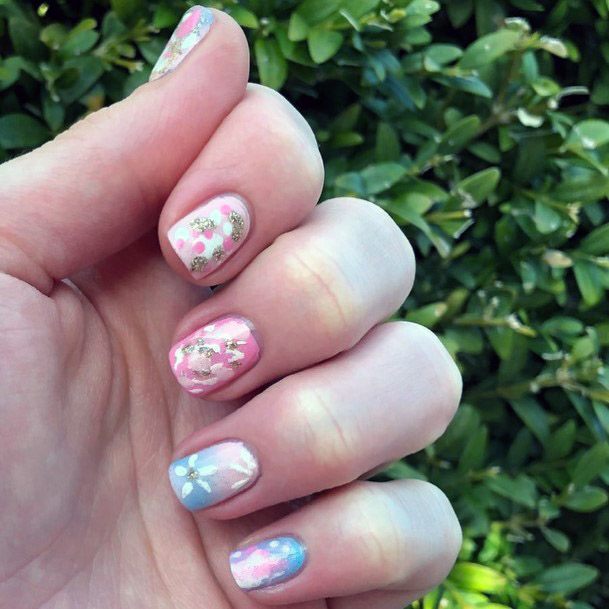 Style your short nails with this pastel floral design paired with pink and blue hues. If you want colorful nails that are edgy, bold, and not fussy, then these are the nails to try out.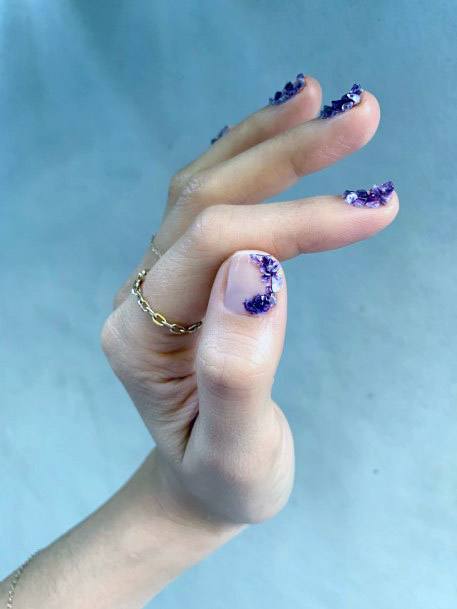 Add bling your short nails by dressing them up with these alluring tiny purple stones. This look allows you to have an adventurous nail design while keeping them neat and simple.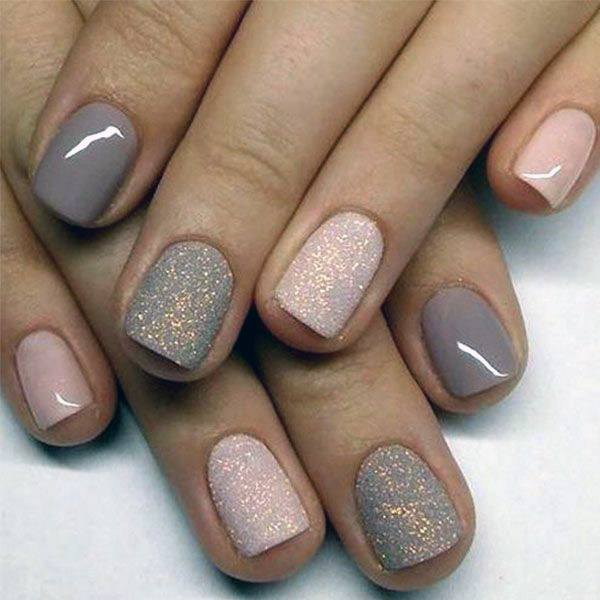 Want short nails that are unique and sophisticated? Try this beige and nude monochromatic look to create a chic appeal. Add a coat of sparkle on two fingers to give your nails a dash of glam.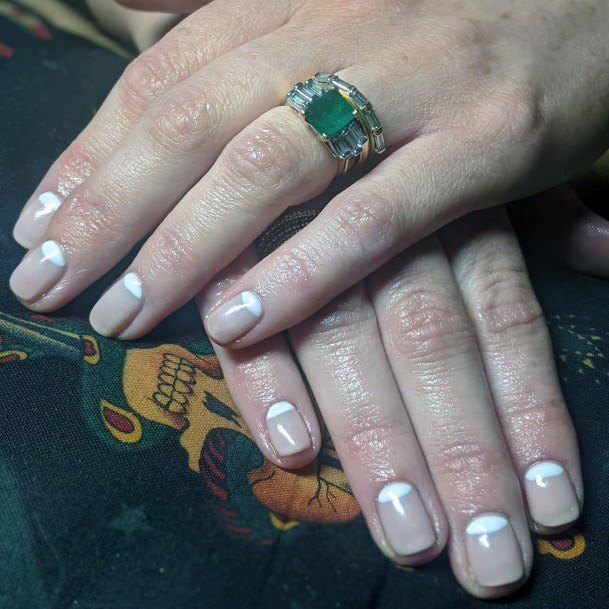 This reverse French mani is the best way to add style and elegance to your cuticles while maintaining a balanced sophisticated look. If you are looking for a simplistic nail design that will draw the right amount of attention, this is it.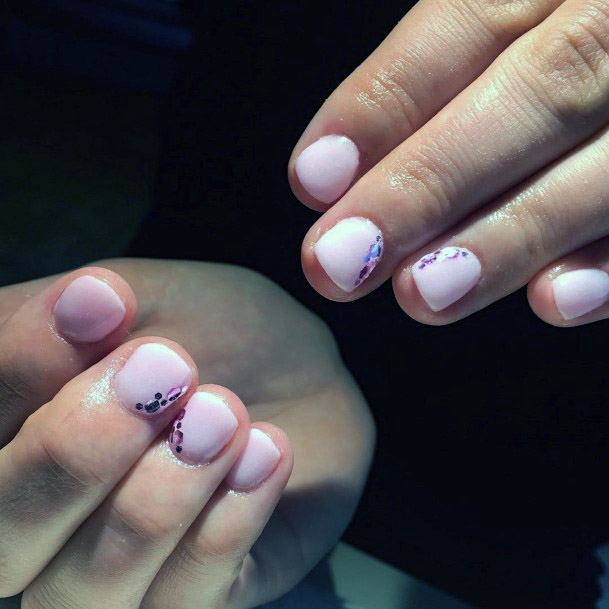 Dress up your short sequined pink nails by adding tiny rhinestones to the nails. The tiny sparkles will dress up your plain sequin nails and add a glamorous touch to the look.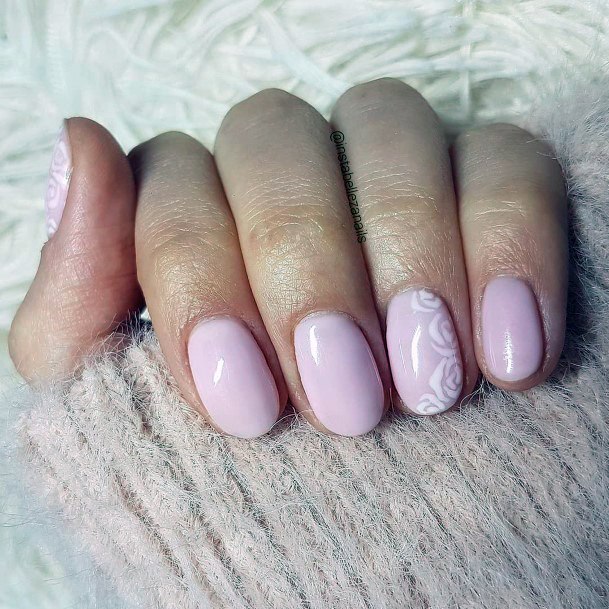 If you are aiming for a pretty calamine pink look, this nail design is what you need for your next mani. The accent daisies help to add more edge and style to your look. This nail palette is perfect for a night out.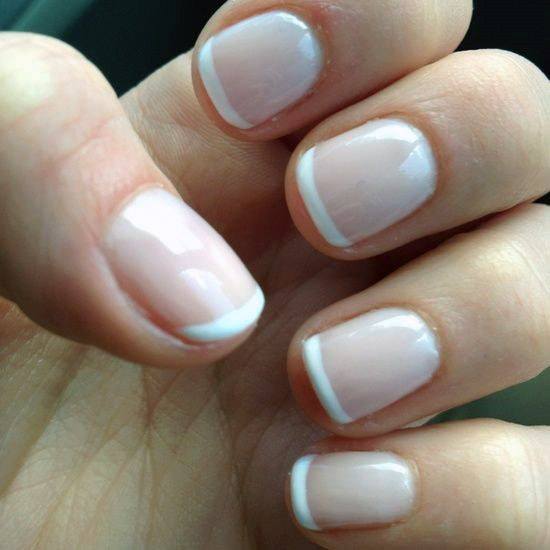 Are you obsessed with the traditional French manicure? If that sounds like you, then this classic French manicure will match your style. To add more glam to your look, you can match the nails with a white cat eye makeup.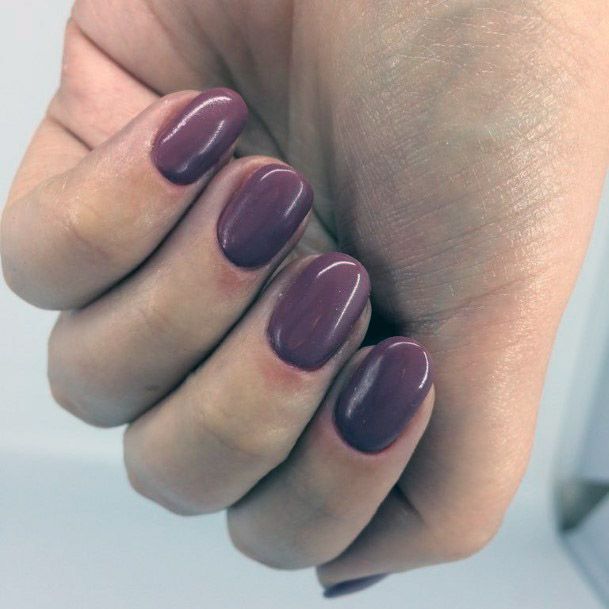 Another way to style your short almond-shaped nails is to go for this fascinating simple magenta look that speaks of pure class. If you are looking for a nail design that fits perfectly with your everyday wear, this is it.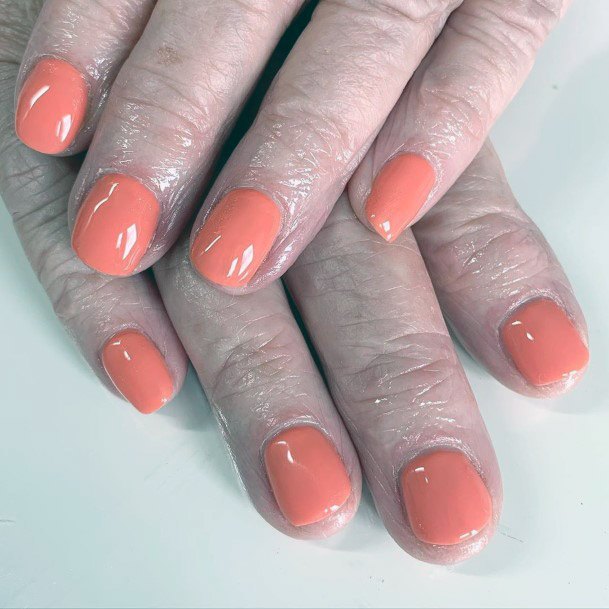 If you want a bright and loud nail that is still elegant and classy, then this look is excellent for you. These short bright nails are sure to be perfect showstoppers for your summer wear.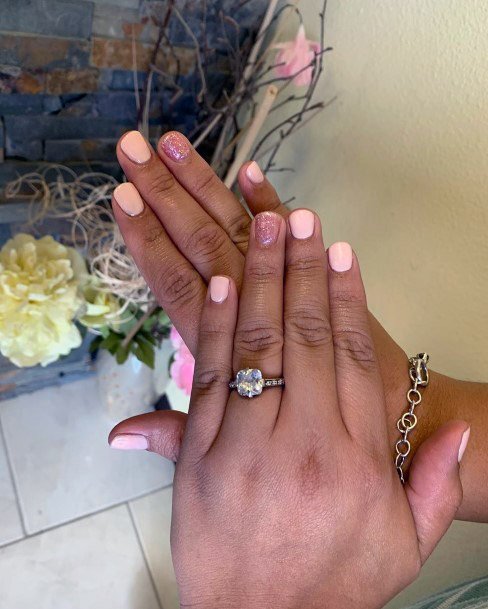 Want to rock beautiful pink nails? Add a touch of glitter to the nails and watch how they add more glamour to your look. Apply a coat of glitter on one of the nails to make it an accent feature.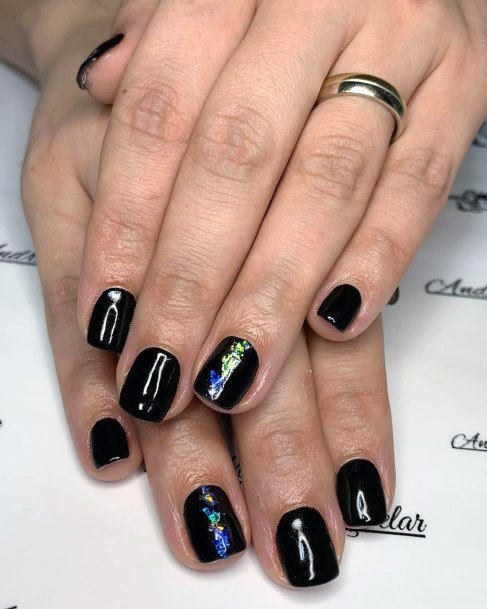 These fascinating black nails will help to elongate your fingers and add an elegant appeal to your hands. The mild touch of sparkle and glitter adds a futuristic twist to the nails giving you a classy look.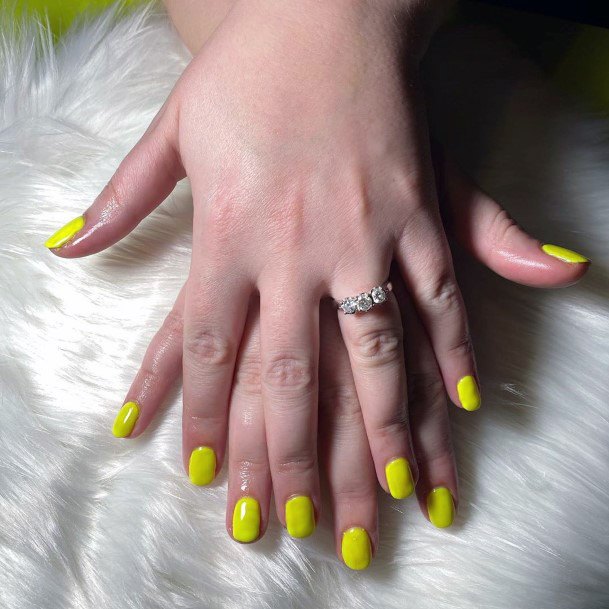 Want a playful nail color that will bring out your light-hearted personality? Adorn your nails with this bright sunflower yellow nails design to add more color and charm to your outfit.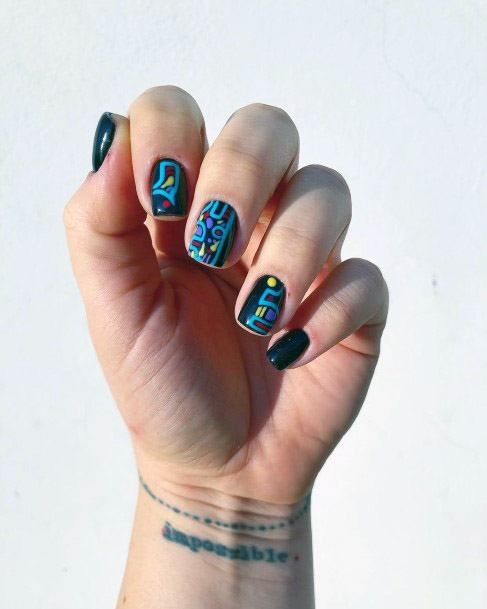 This tribal nail design is the most ideal way to transform your simple short nails into an art gallery. The artsy design gives your nails a sleek yet elegant appeal. If you want to show off your artistic personality, these are the perfect nails for you.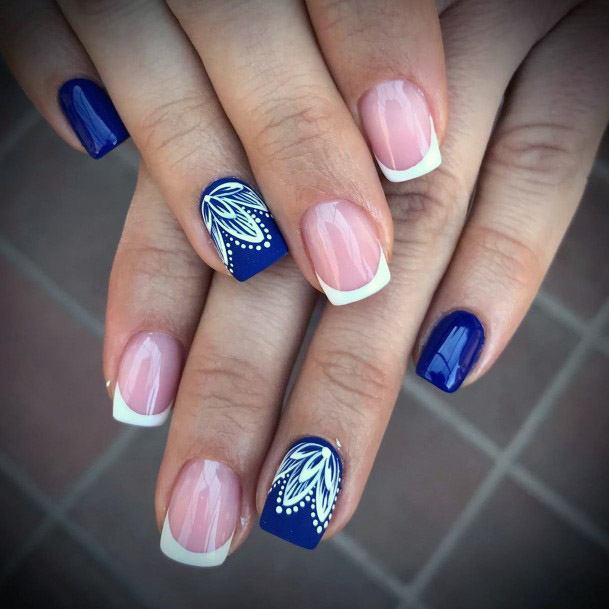 Want to have pretty blue and pink short nails with French tips? This unique nail design allows you to have it all. The ultra marine accent nail with floral print creates the perfect contrast against the pink mani with white French tips.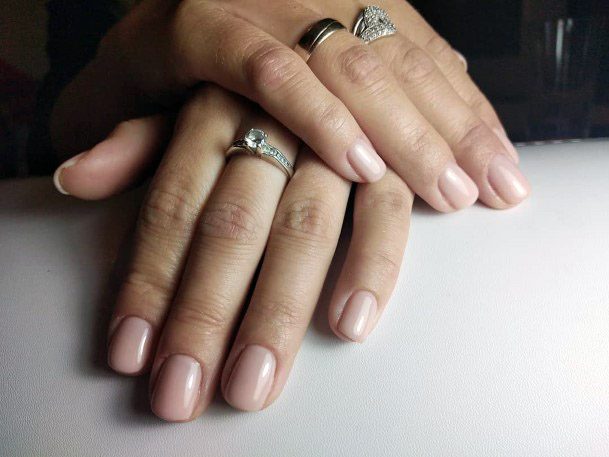 If you prefer a more natural look for your nails, this watery pale nude look will give your nails a chic elegant appeal. This is the best nail design to keep your nails short, simple, and feminine.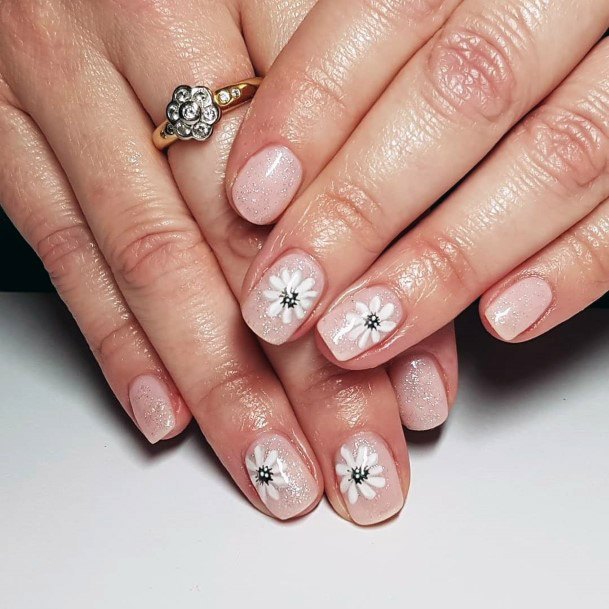 This sparkly neutral toned look with tiny white flowers is exactly what you need to upgrade your nails. The glitter adds a touch of sparkle giving you an alluring glamorous look.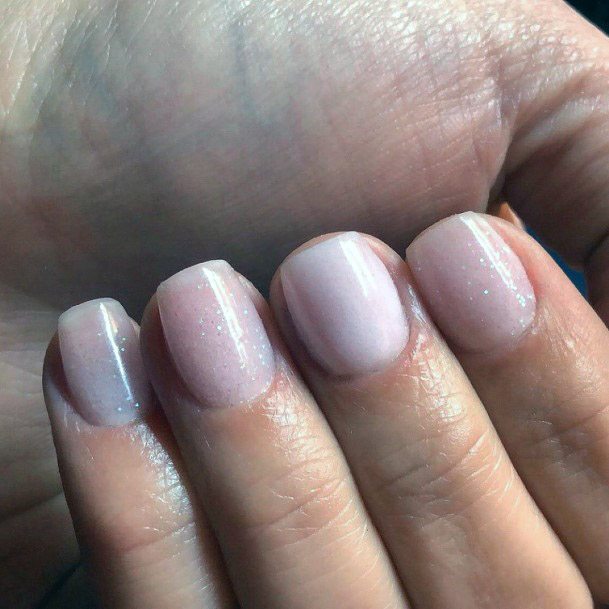 Want an easy way to make your short pink nails more charming? Add a coat of glitter over the pink nails to give them more depth and allure. Colorless glitter will fit perfectly with the pink hue.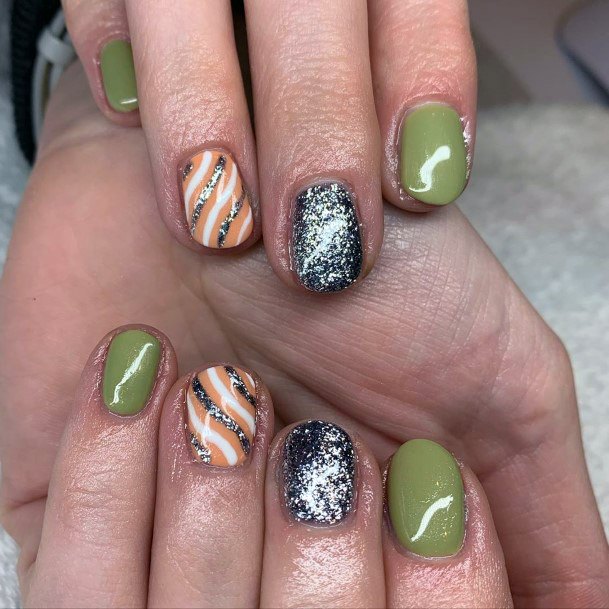 This whimsical green and silver mani may be just what your nails need to look pretty and unique. The accent nails with the silver, orange, and white curves give the entire look a unique striking appeal.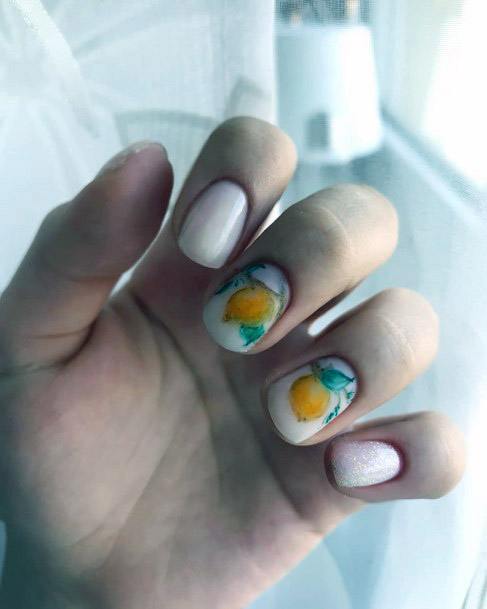 Want a manicure that will uplift your mood every time you look at your nails? This yellow floral art on a white base will do the trick. This is the perfect way to add a touch of summer and spring to your nails.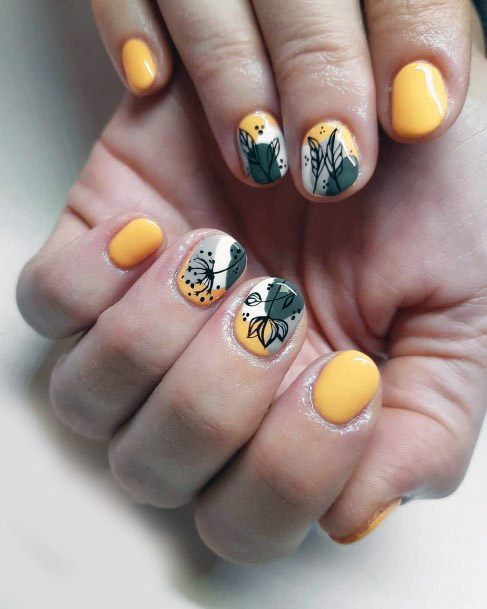 Want to brighten up your nails with a yellow design? Why not add floral accents to make your nails more eye-catching? The combination of floral accents and the bold yellow color will make your nails appear longer.