From skis, to bindings, poles, chairs, mountains, tracks and beyond, when it comes to skiing themed tattoos, there's a lot of different design options out there.
But rather than just focus on why one design is better than the other, stop for a moment and consider how the sport of skiing makes you feel. What are you favorite memories spent out on the slopes? Perhaps your favorite mountains or trails? Combine all those answers together and come up with a design that truly captures the beauty of skiing to you.
Personally, I find skiing to be exceptionally freeing and the experience to give off a sense of being limitless as your speed is only determined by how fast you want to go. As you glide across the snow, the feeling is as close to flying as it gets. I love the sensation of wind running across my bibs, goggles and fluffy hat. Of course, who could ever forget all of the beautiful moments we encounter while skiing. I'm talking about the natural mountain top scenery that just leaves you speechless.
Whatever you connection to the slopes, I've put together a collection of the best female skiing tattoos that I'm sure you'll love! And unlike your snow tracks that will eventually disappear, your meaningful tattoo will stick with you forever.
While we're on the topic of skiing, can you believe the prices of passes these days? Girl! It's getting out of control. But for snow sport lovers everywhere it's hard to say no.
Designs worth considering

The elements of a ski tattoo:

Skis: Skis are the most important piece of equipment for skiing, of course!

Boots: Ski boots are designed to provide support and stability while hitting the slopes.

Poles: Ski poles are used to help with balance and stability while skiing.

Bindings: Bindings keep everything connected.

Ski Clothing: Jackets, bibs, and all of the baselayers.

Goggles: Goggles are used to protect your eyes from the glaring sun, icy wind, snowy mist, and other elements while skiing.

Helmets: A helmet is an important piece of safety equipment for skiing, as no woman ever wants to come head to head with a tree.

Gloves: Gloves are essential to keeping those paws toasty warm!

Backpacks: A backpack is useful for carrying extra gear while skiing, such as snacks, water bottles, extra layers of clothing, etc. I mainly keep a water CamelBak in mine.

Avalanche Safety Gear: Avalanche safety gear is a lifesaver if you're into back country skiing and aren't so much a of a fan of groomed trails.

Abominable Snowman: Let's not forget this classic skiing icon from the game SkiFree!

Chairlifts: Up and down we go!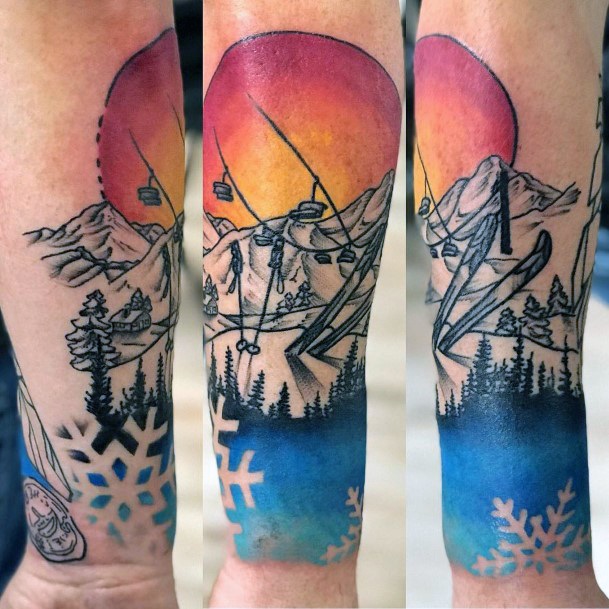 Here's a unique female forearm sleeve with a skiing theme that includes a rising sun, white mountains and a negative space snowflake pattern that wraps around. Look closely and you'll find a pair of skis, a set of poles and a chair lift all done in a shaded black and grey ink design.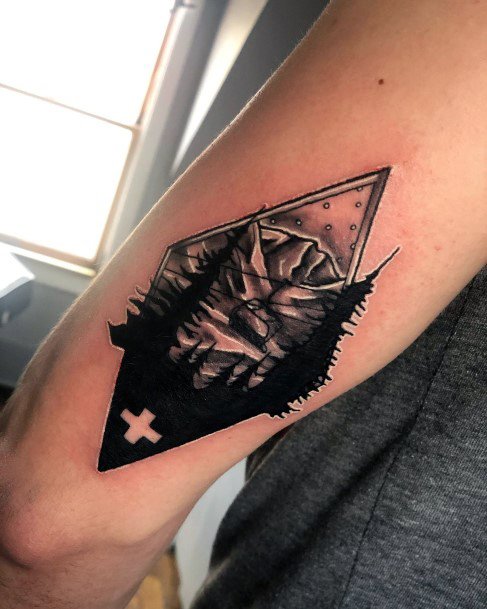 Have you ever worked at a ski resort as part of a rescue team? If so, thank you for your service! Here's an awesome female tricep skiing tattoo which features a negative space medic symbol plus a mountain landscape in a geometric shape boundary. A light snow drizzle detail has been done in white ink, while pine trees and the chair lift can be found in a black ink silhouette style.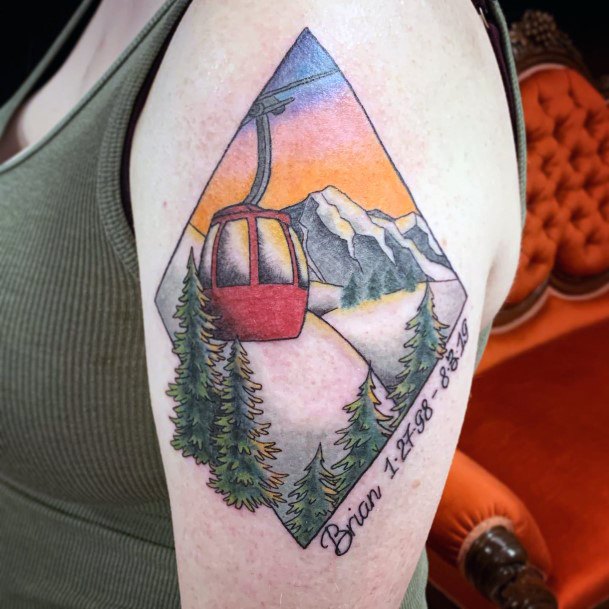 Who can ever forget the relaxing moments spent on the gondola lift just thinking and talking with friends? I love this rolling snow mountain landscape scene featuring a lift in front of a colorful sunset background. Note the memorial name and date found just below the geometric shape outline in black ink.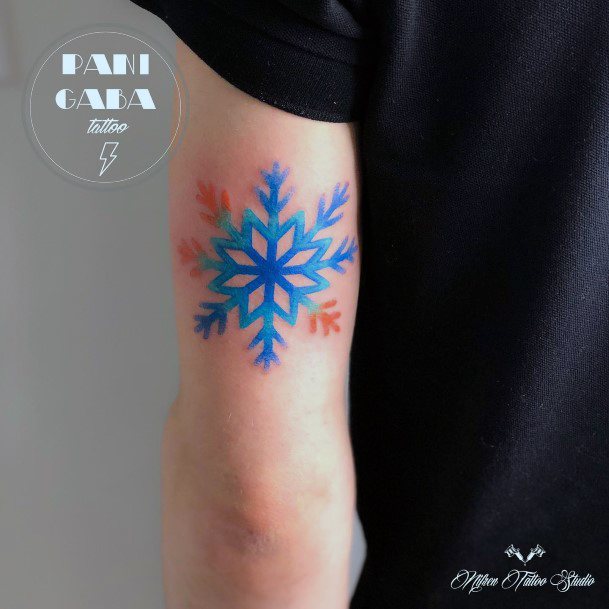 If you love skiing, but don't necessarily want a pair of skis inked on your body, then consider the next best option: A symbolic snowflake. Here's an awesome take on a classic snowflake design featuring a tricep tattoo with a gradient blue and orange effect.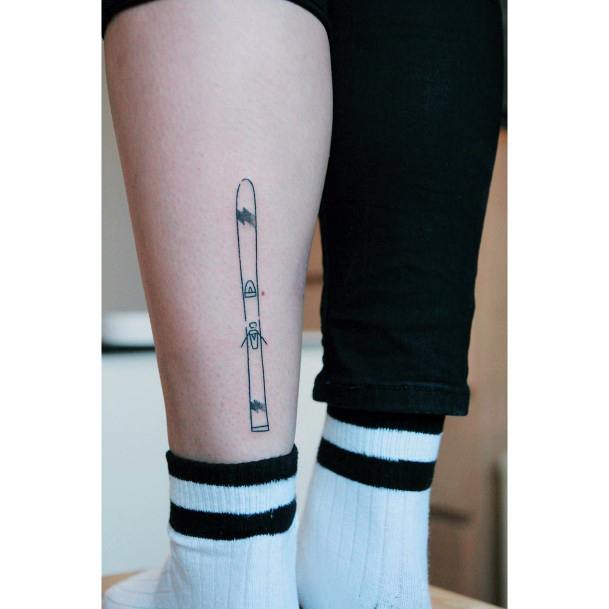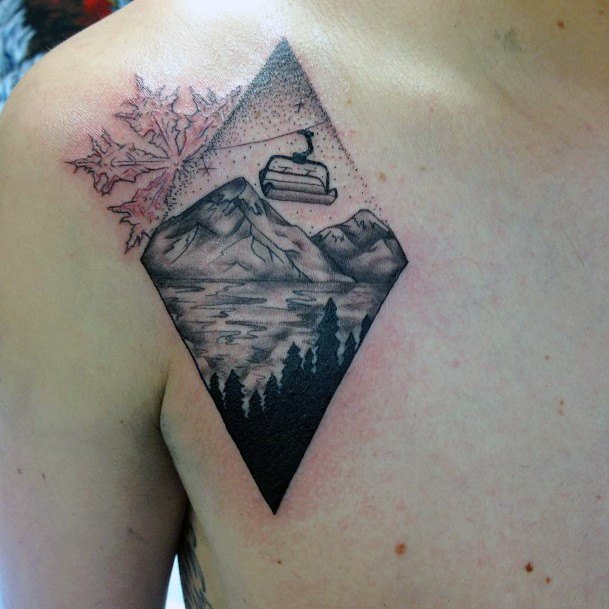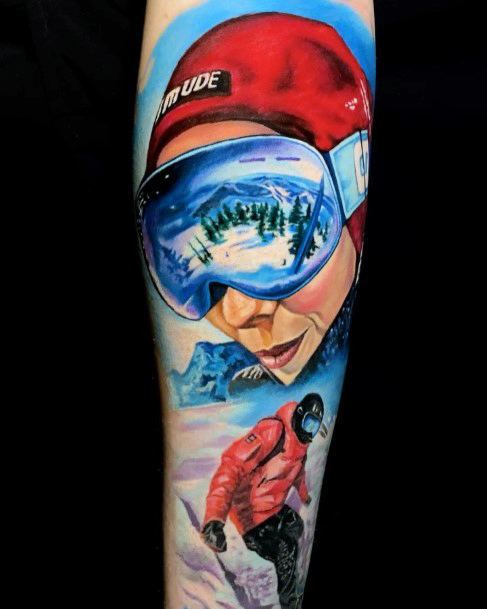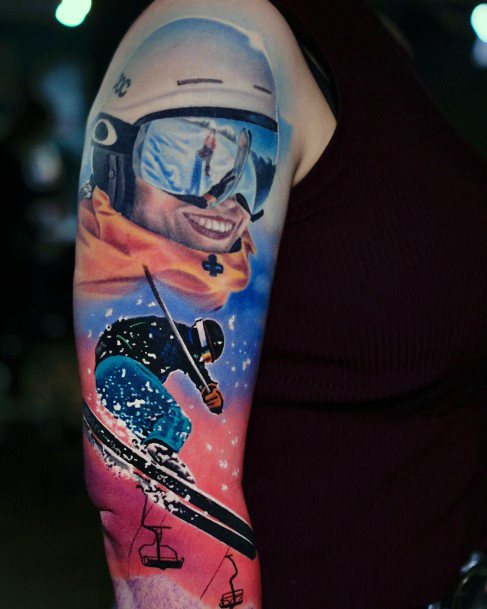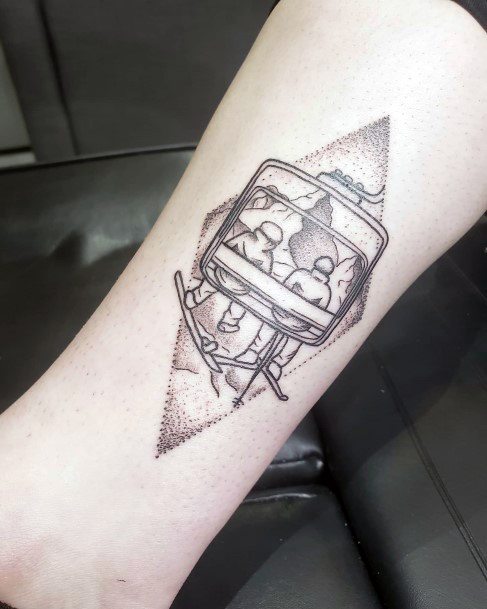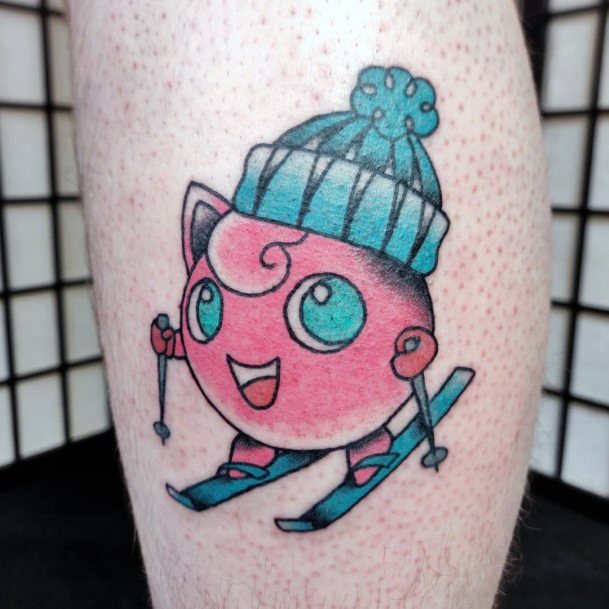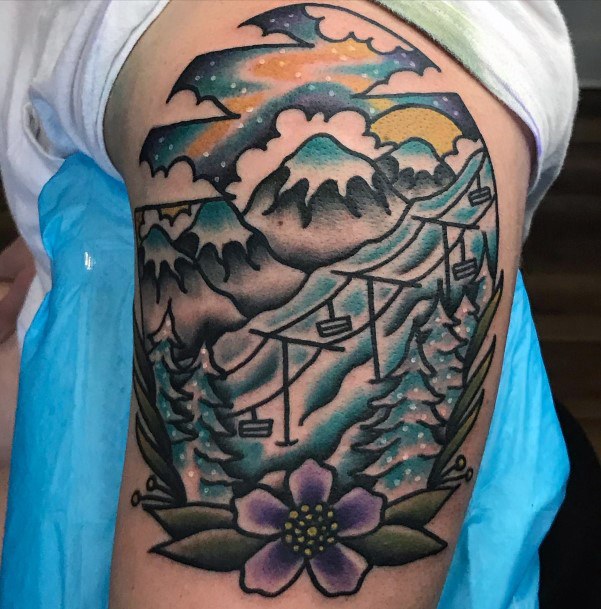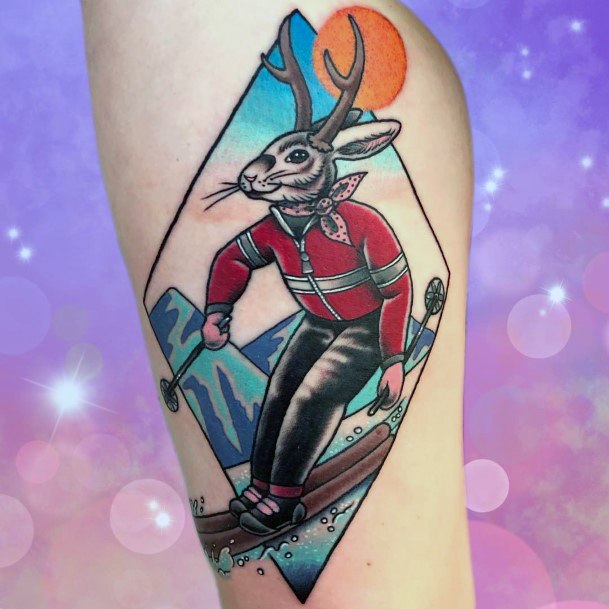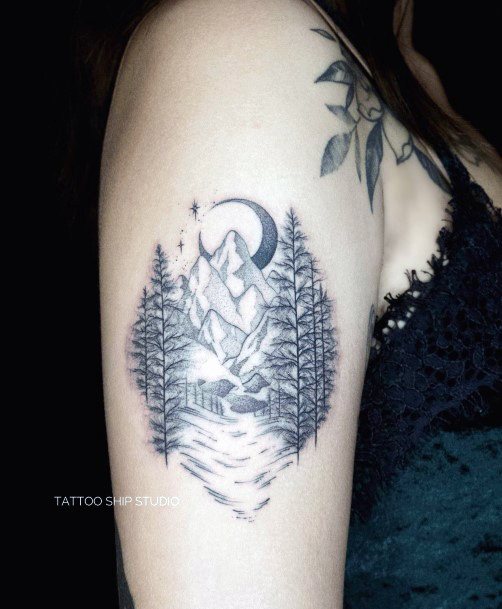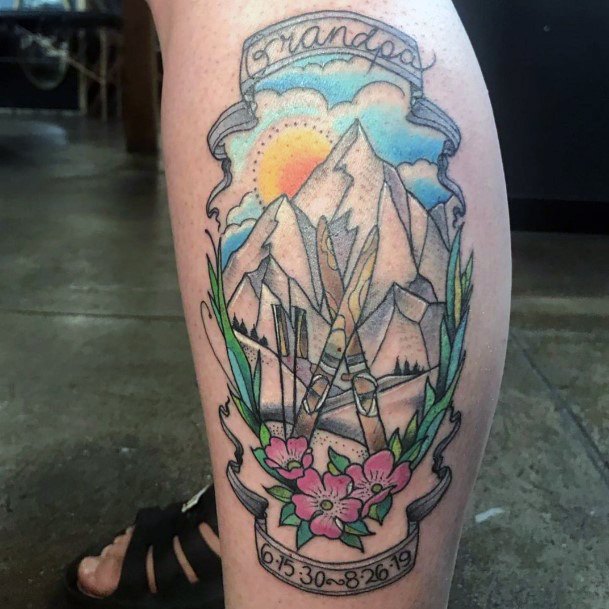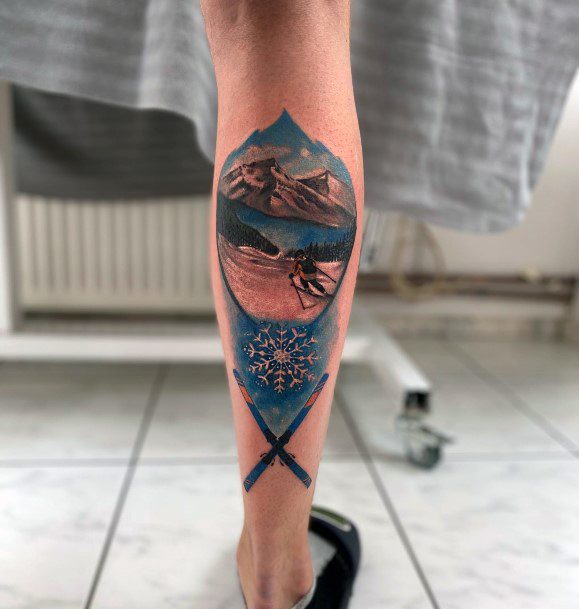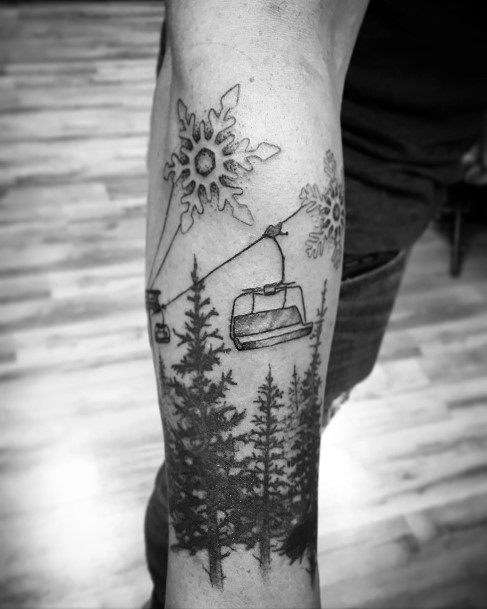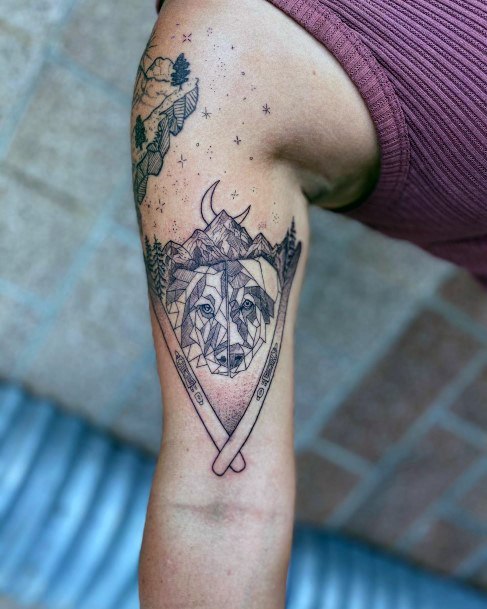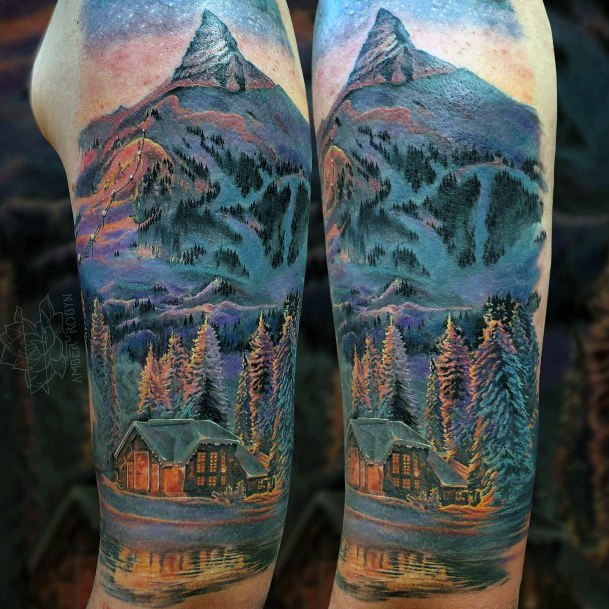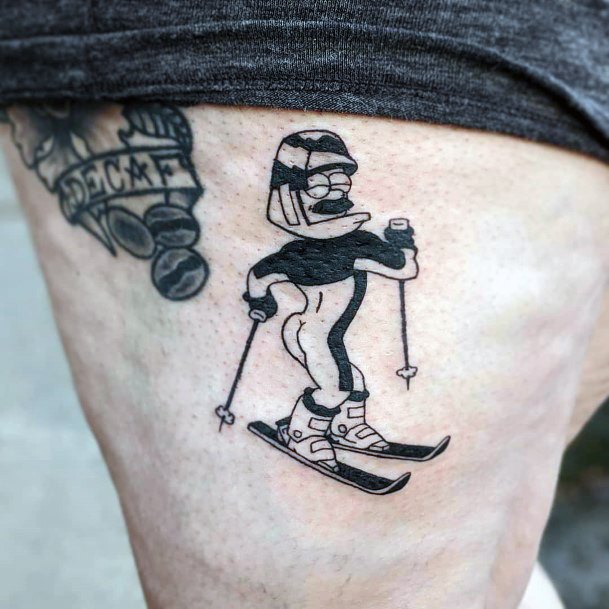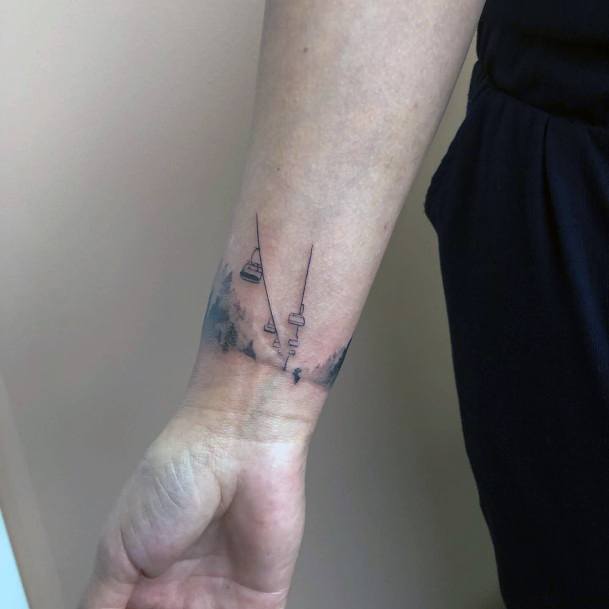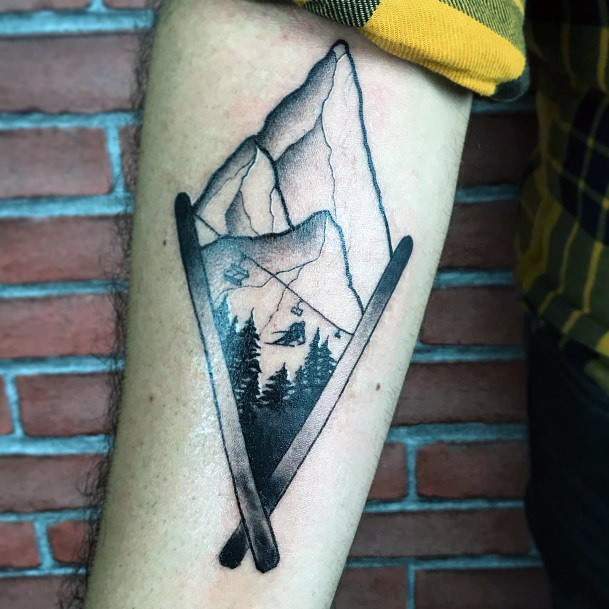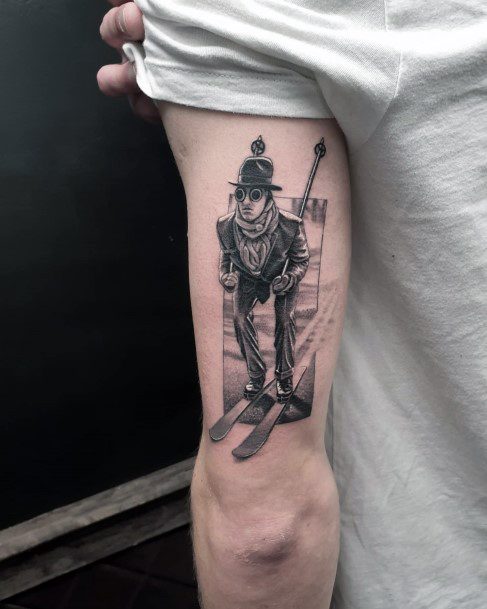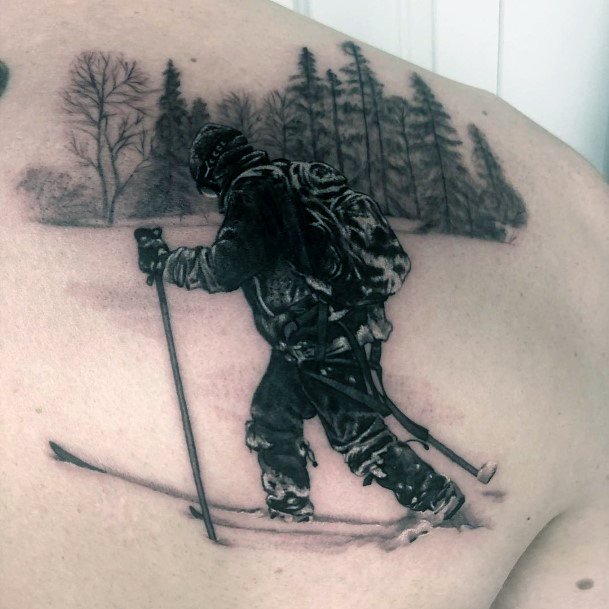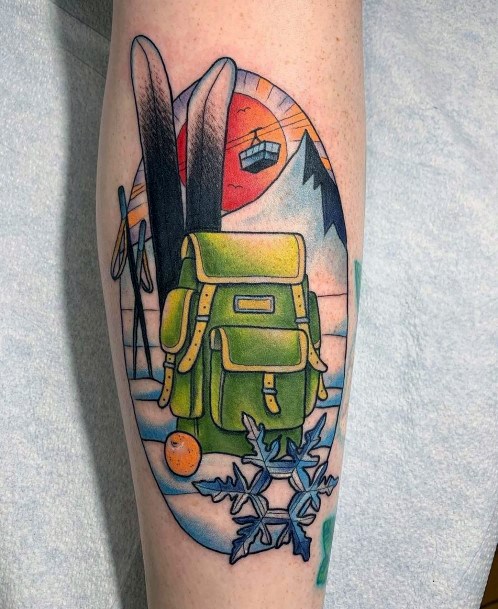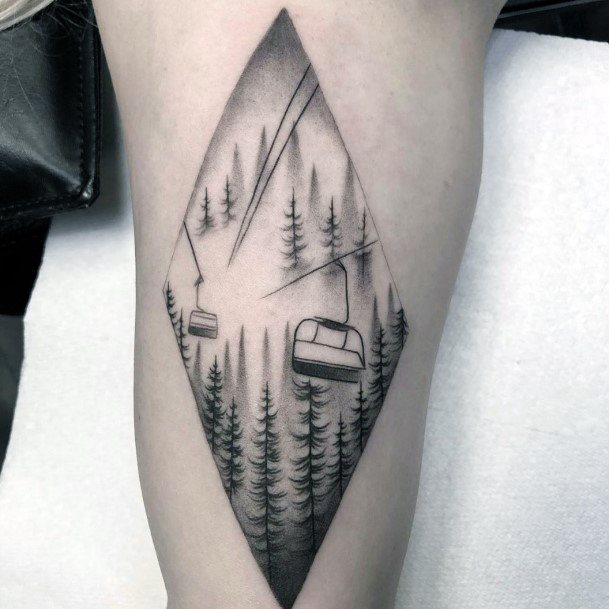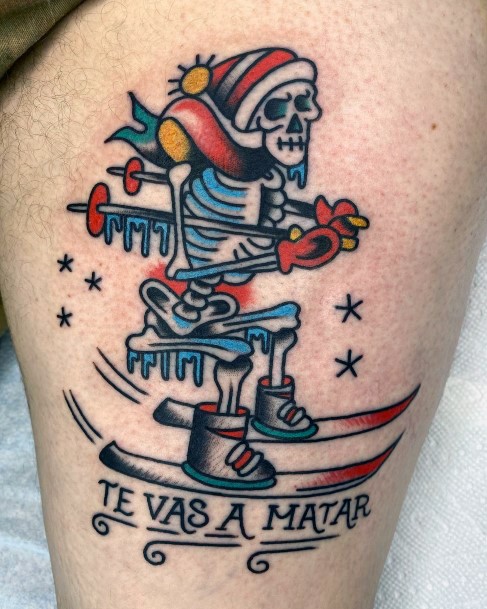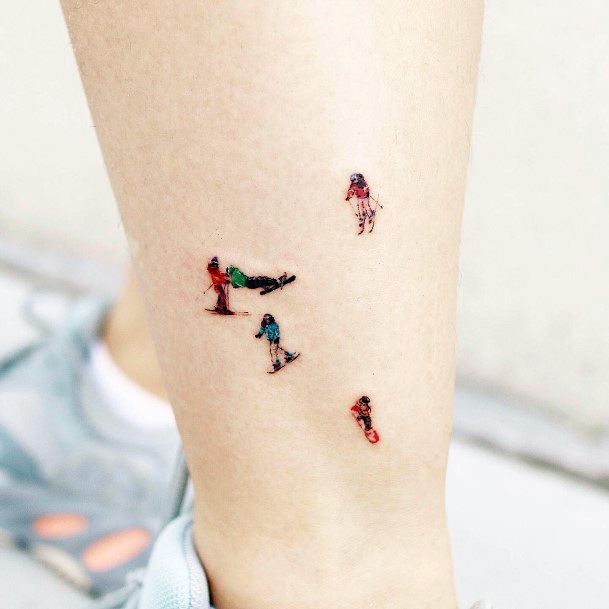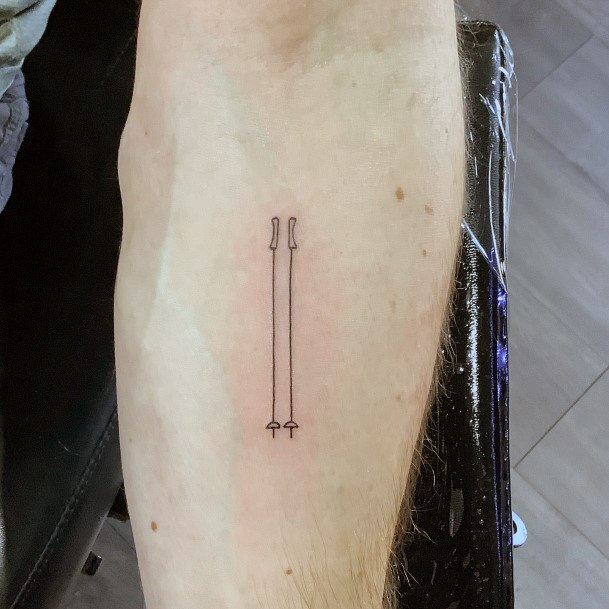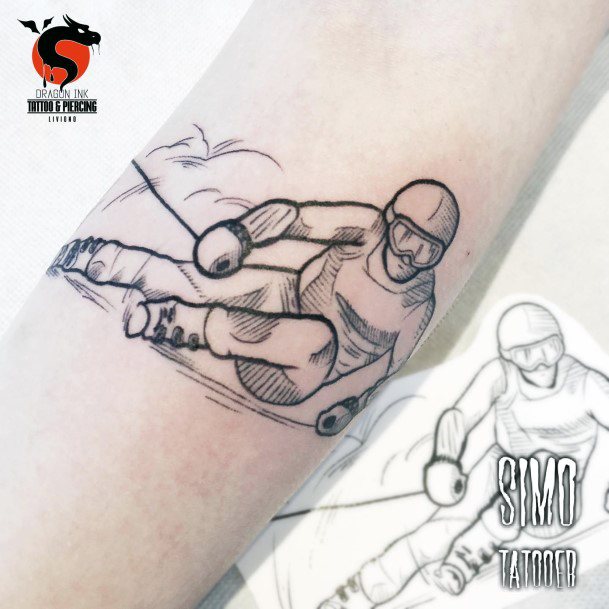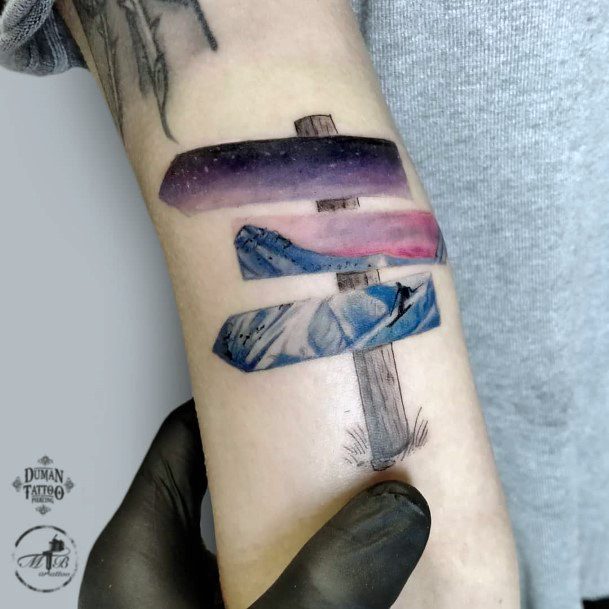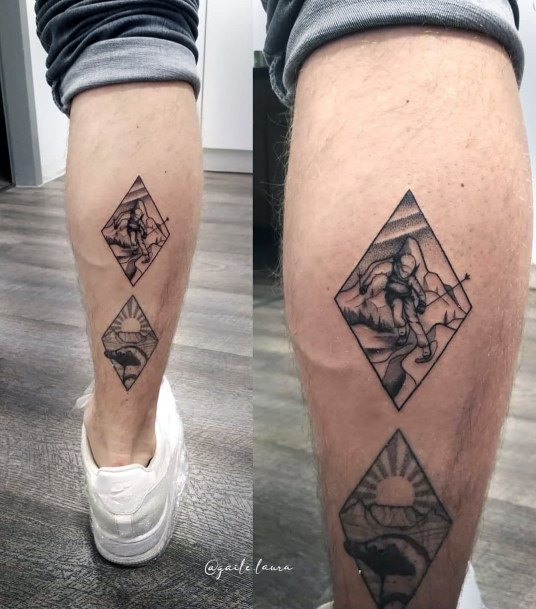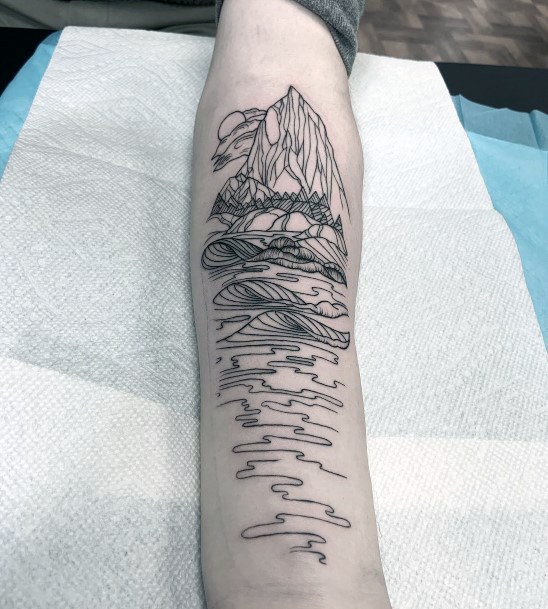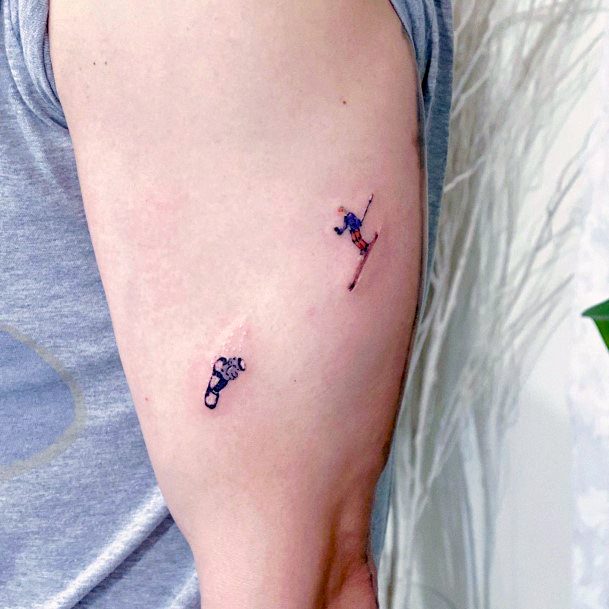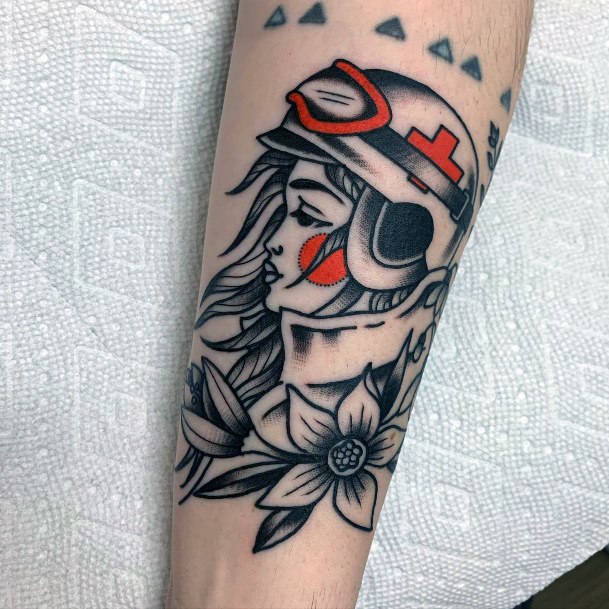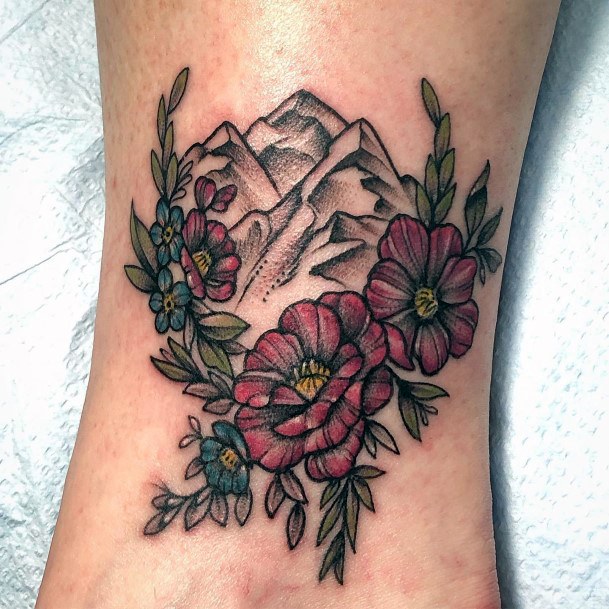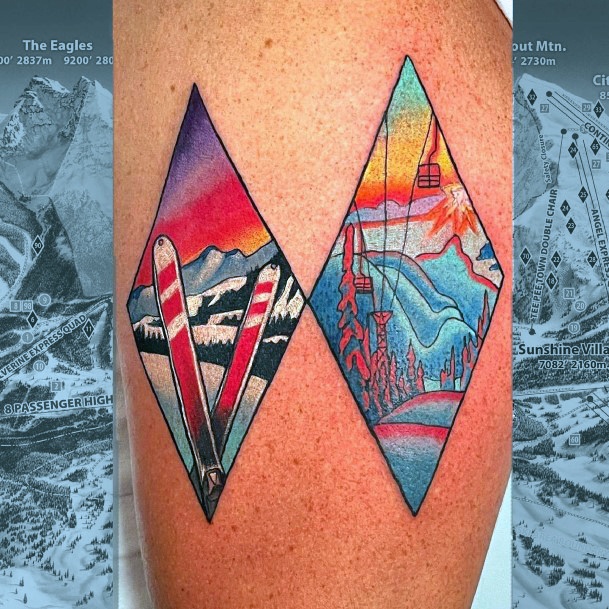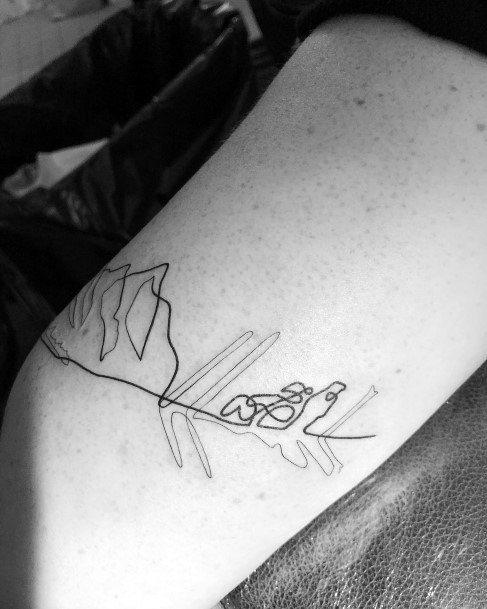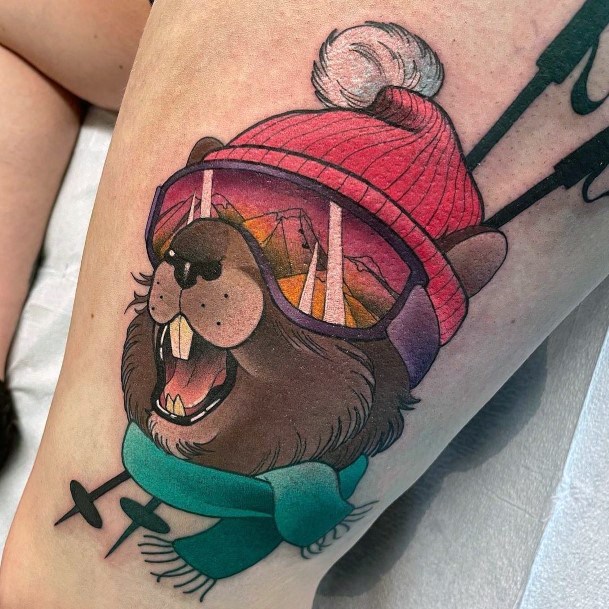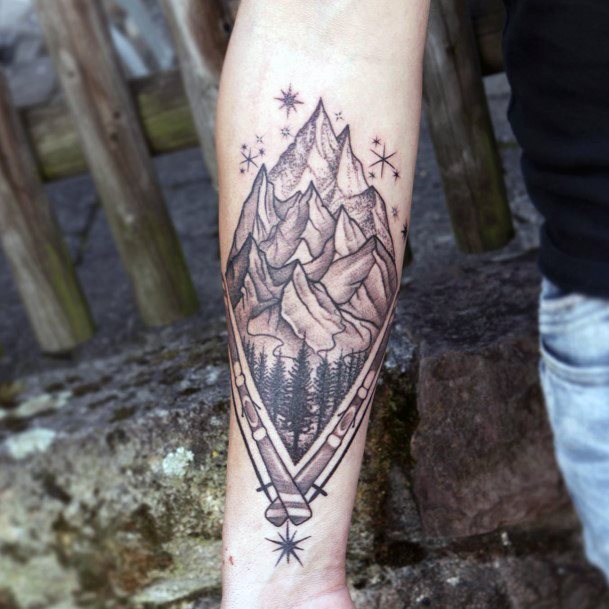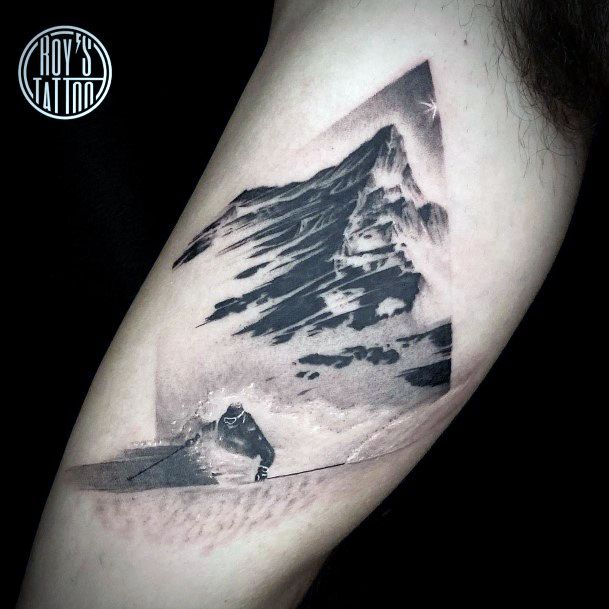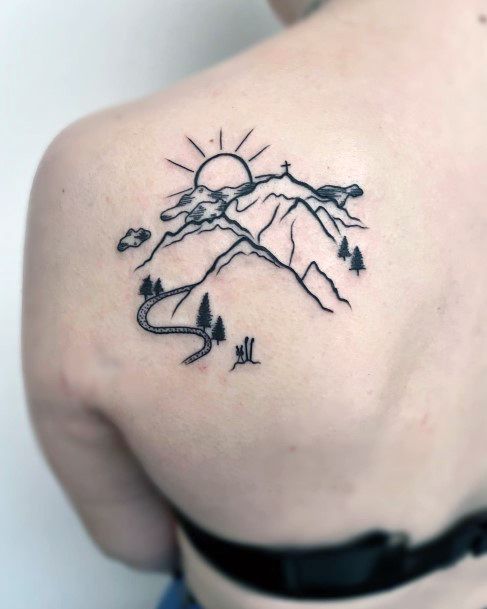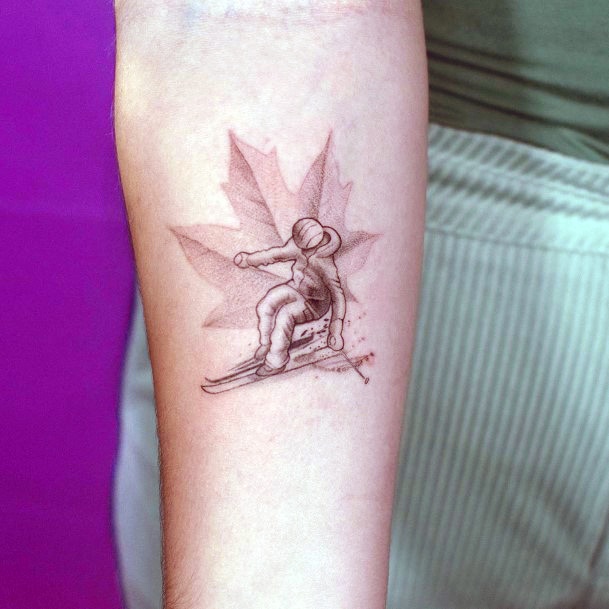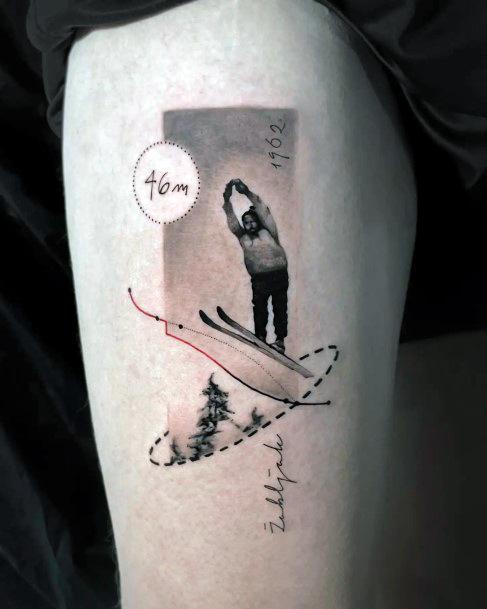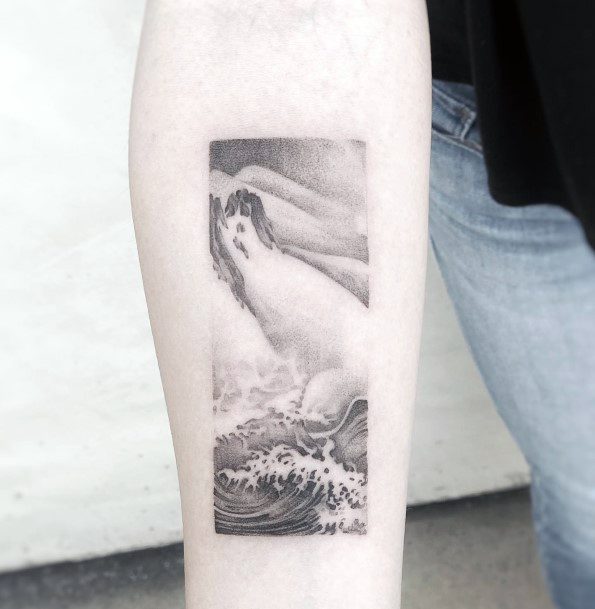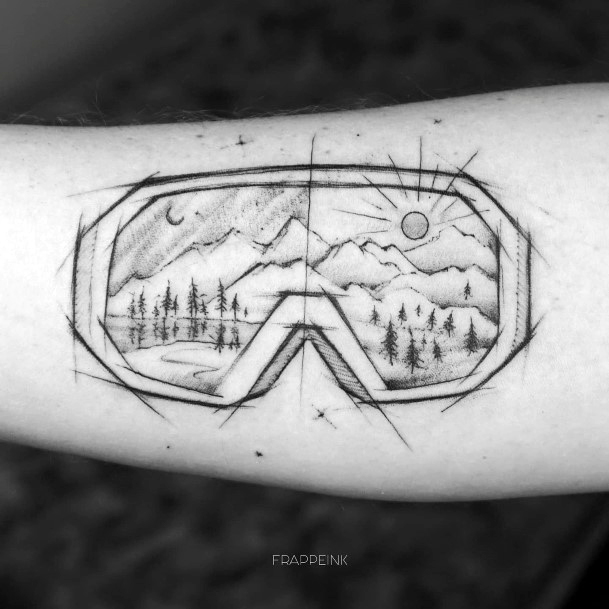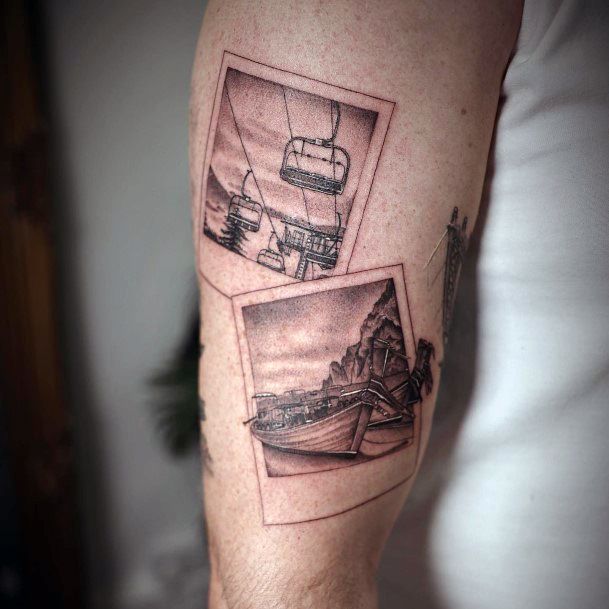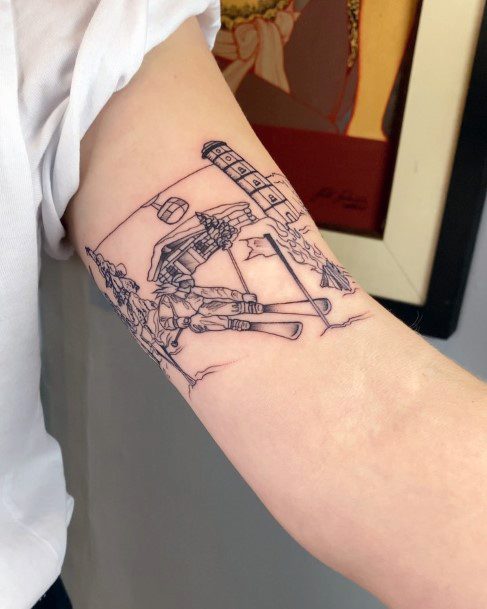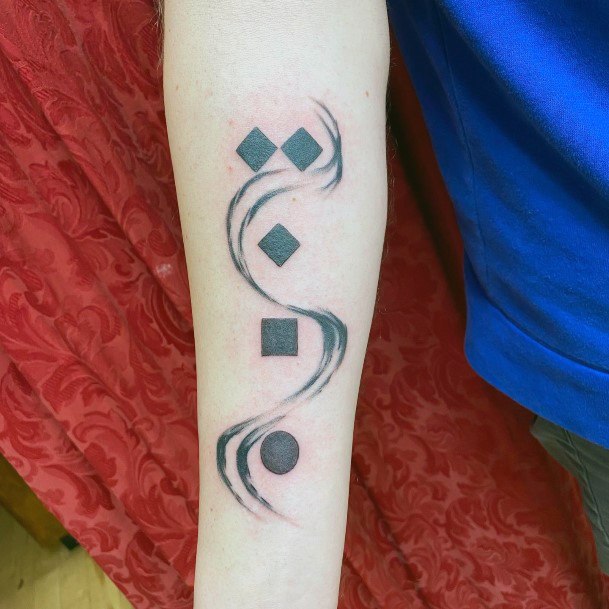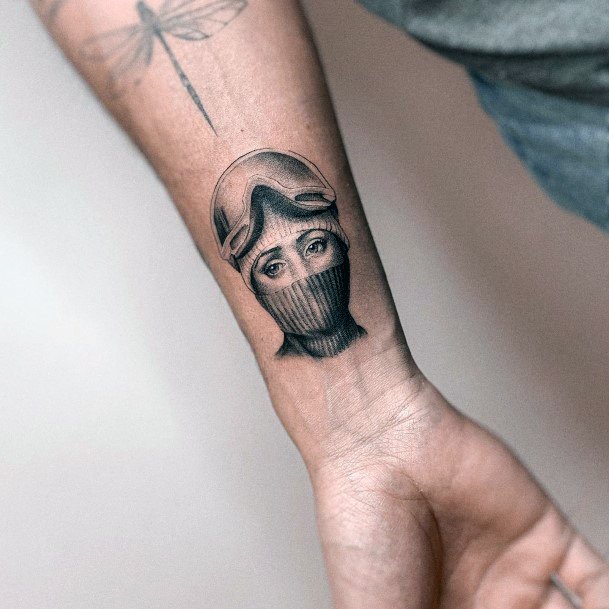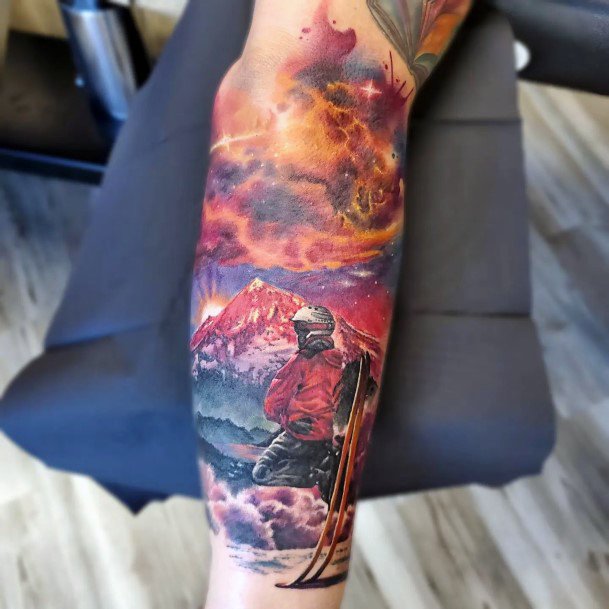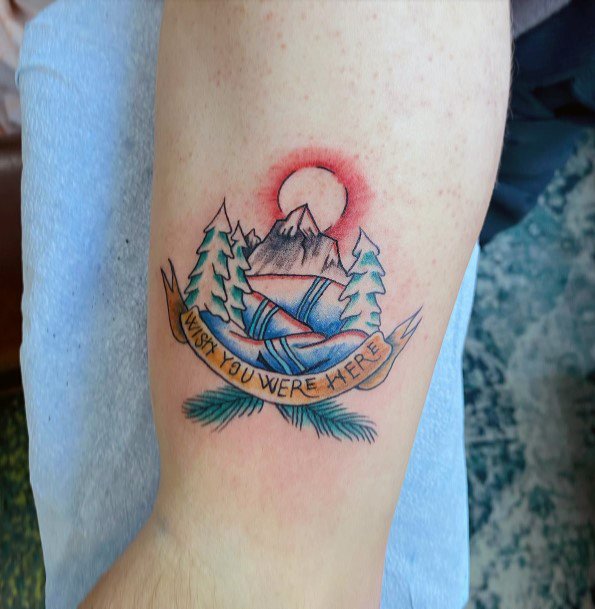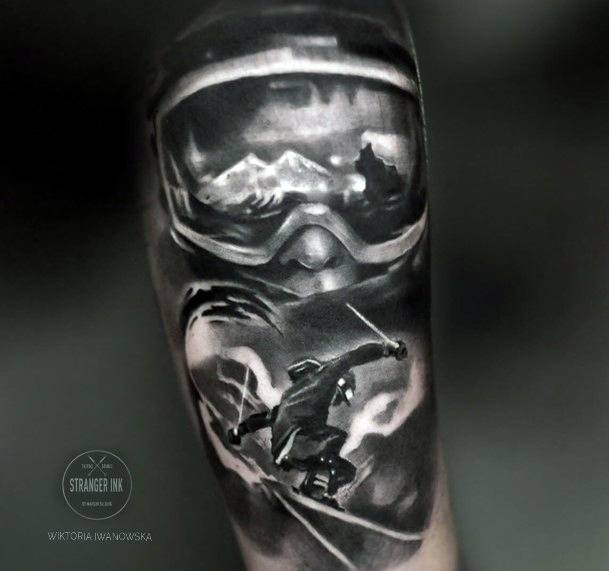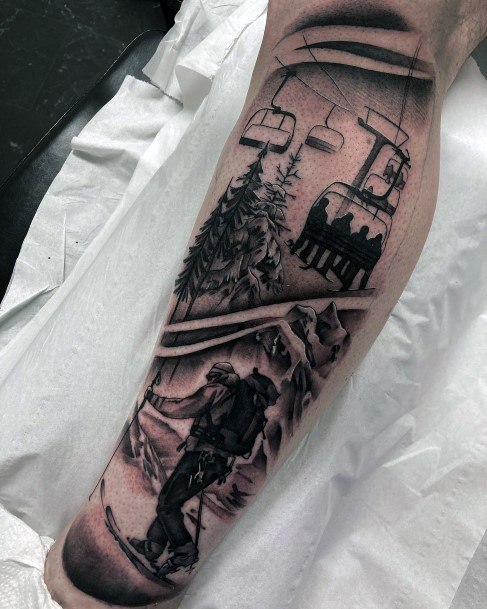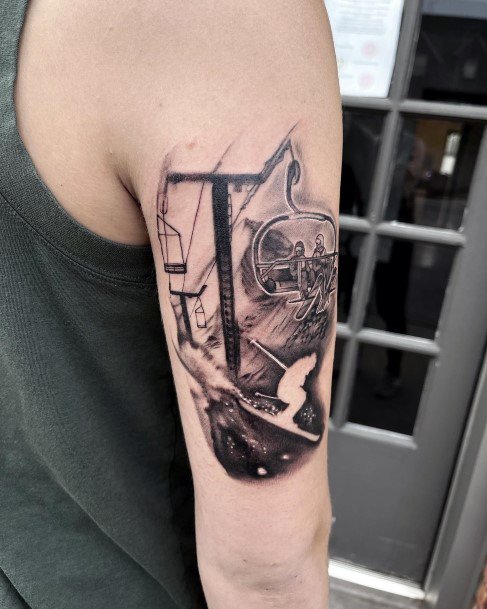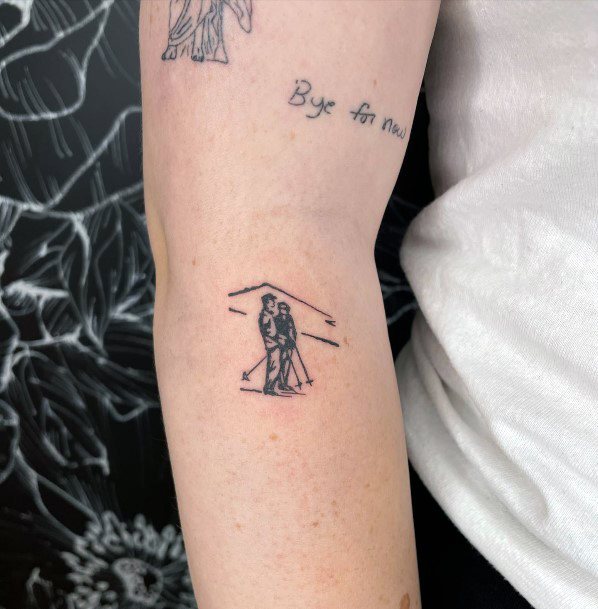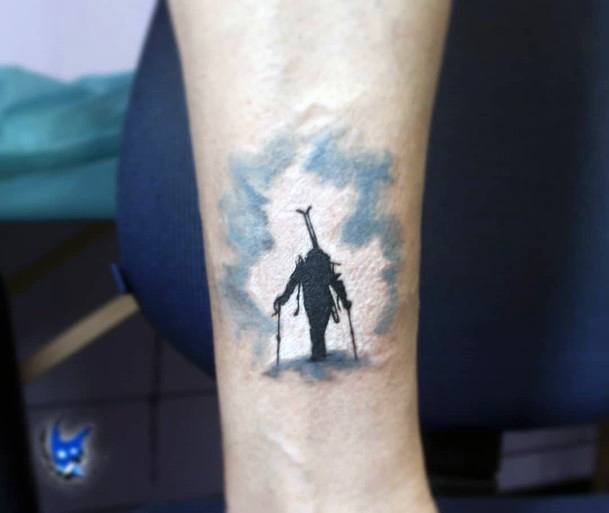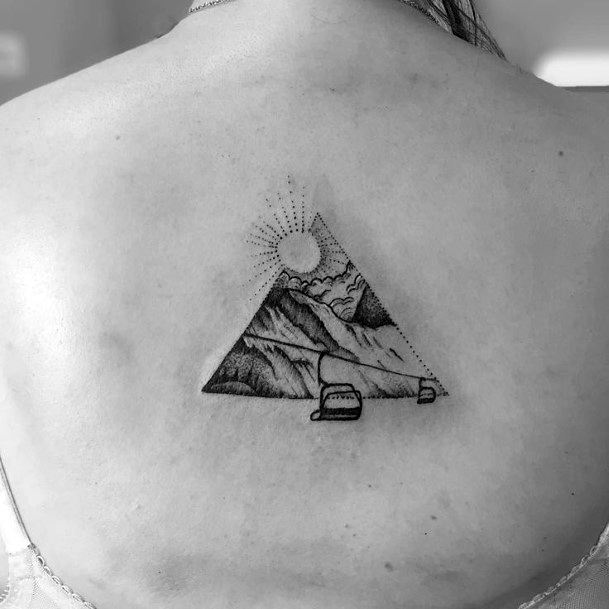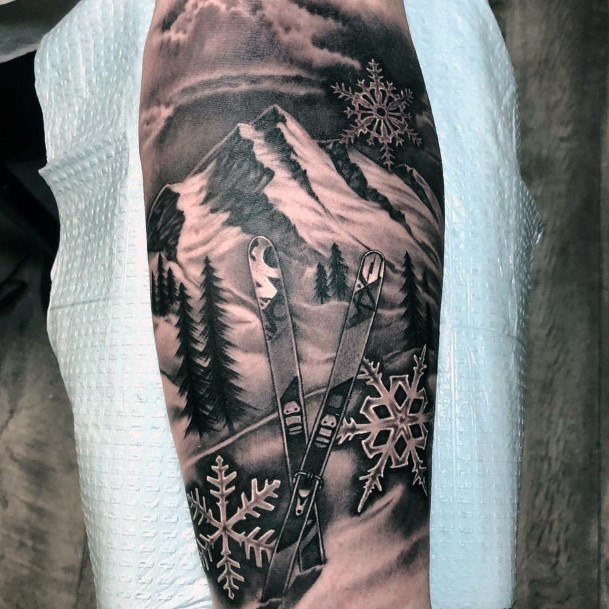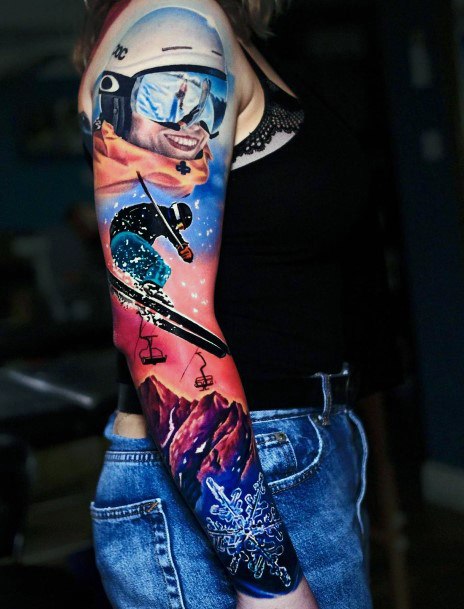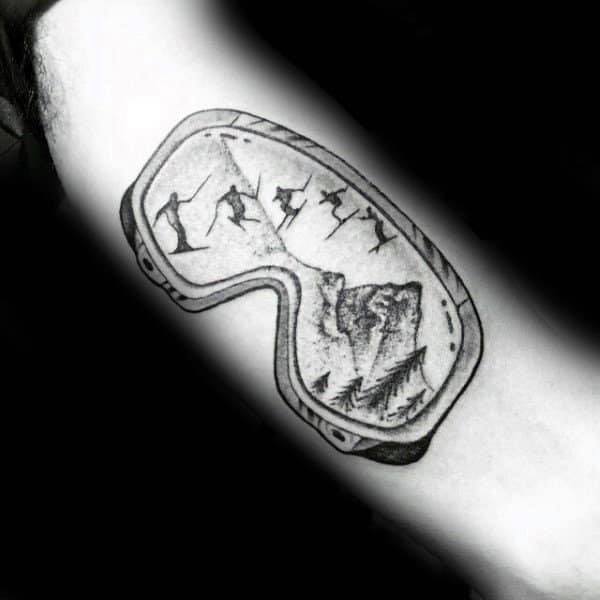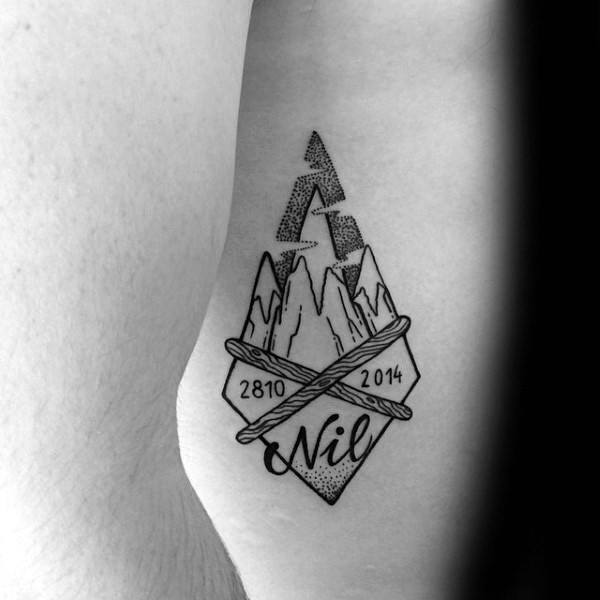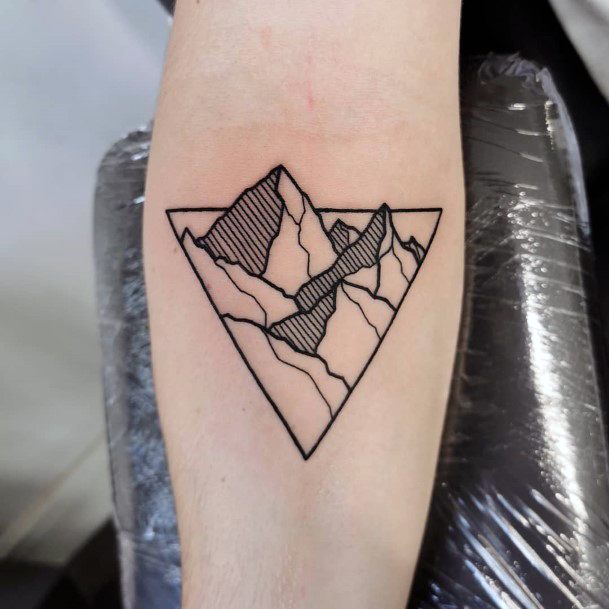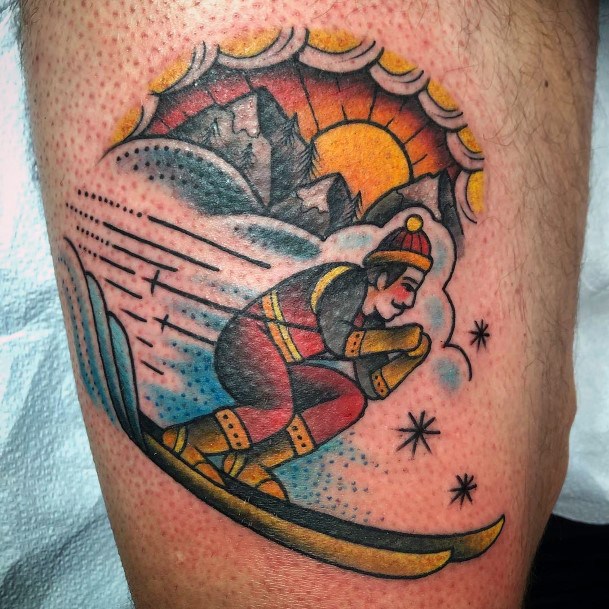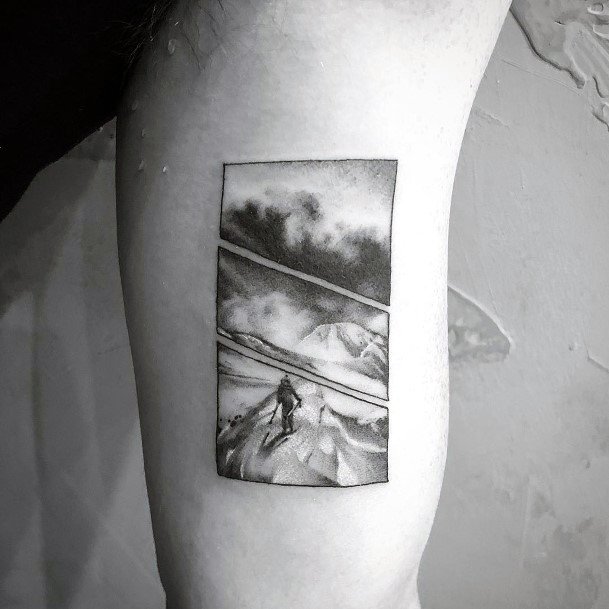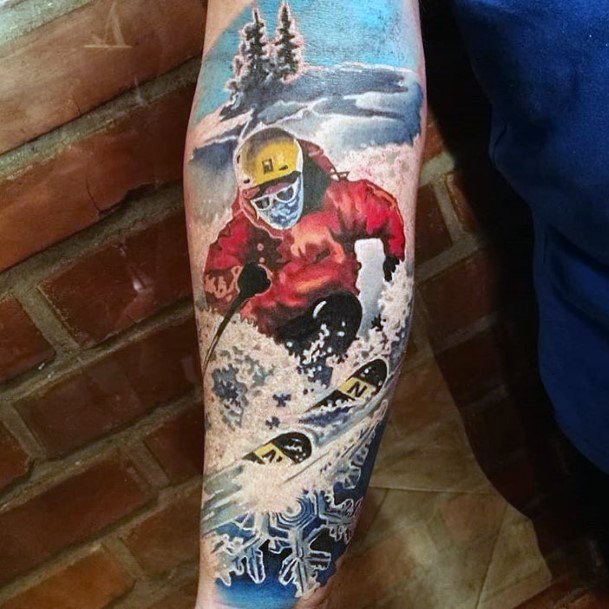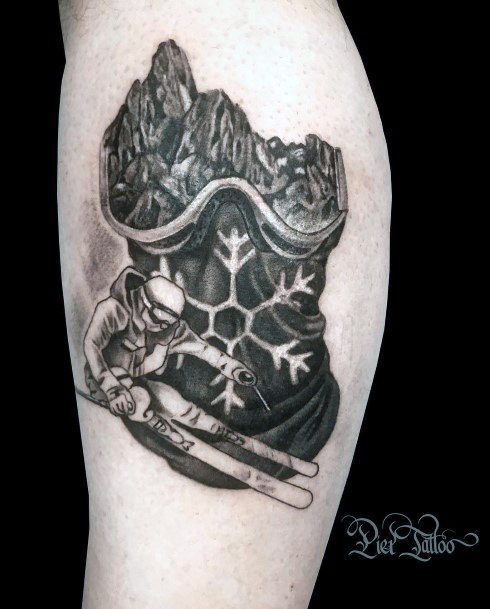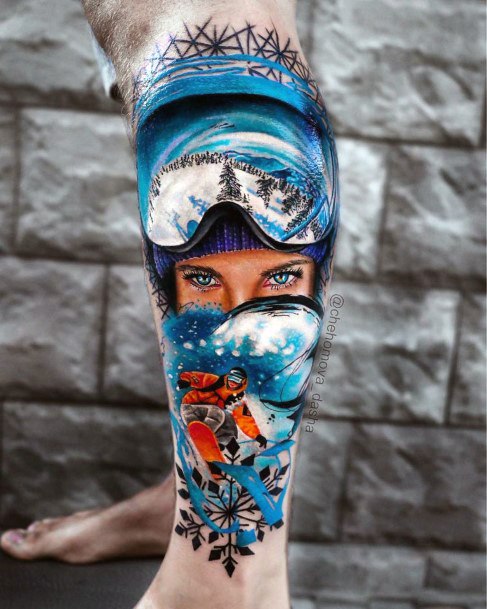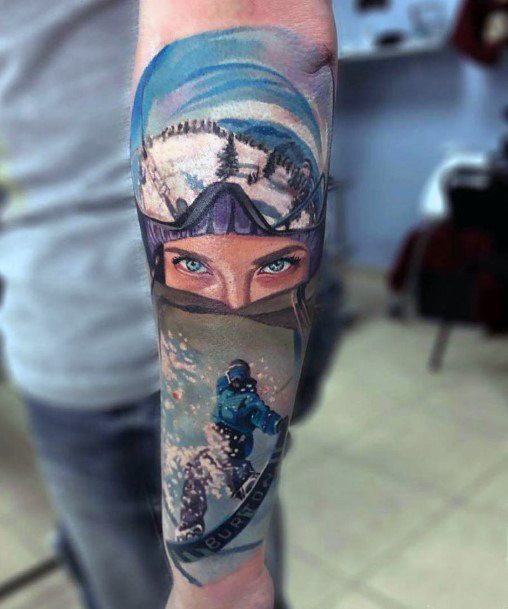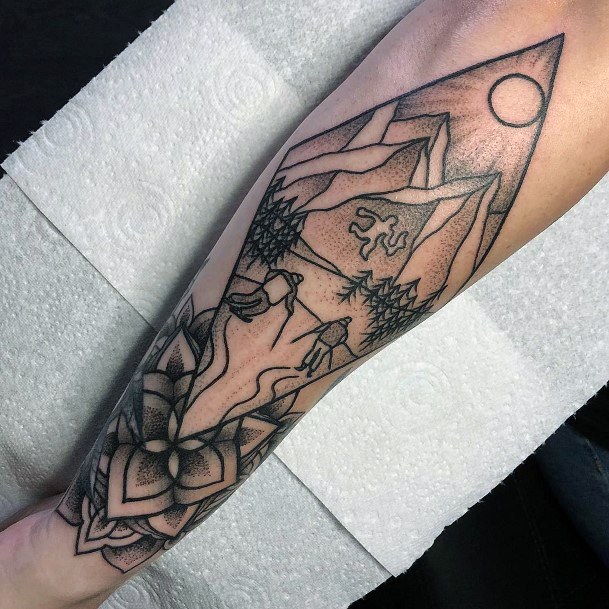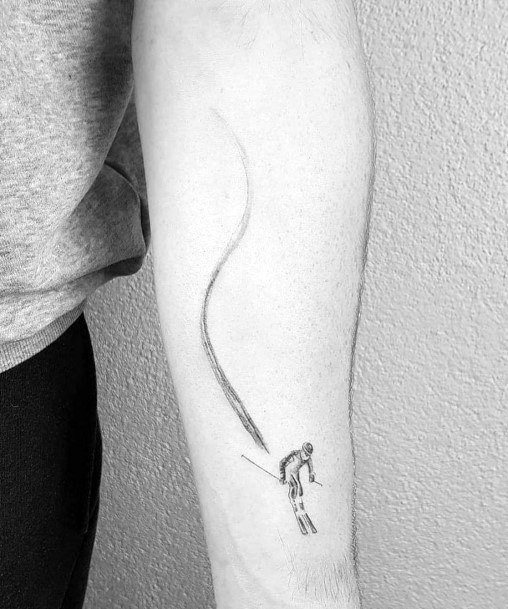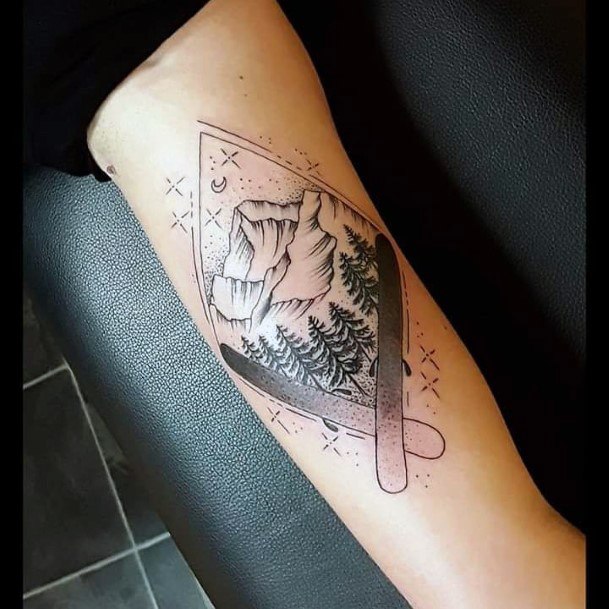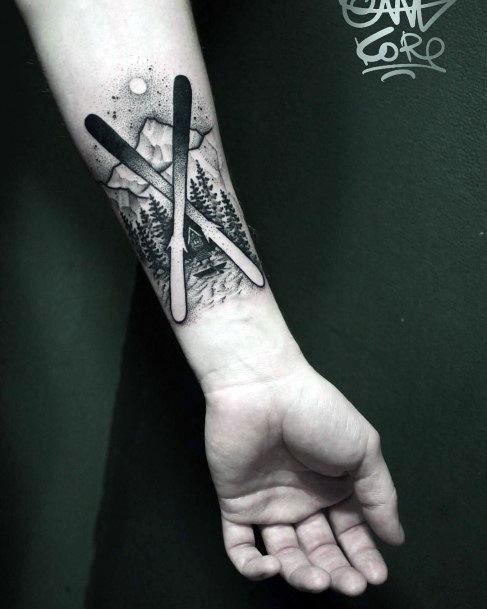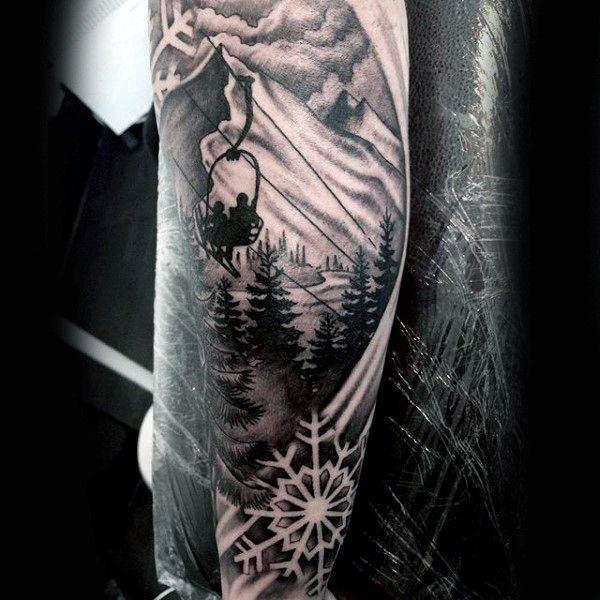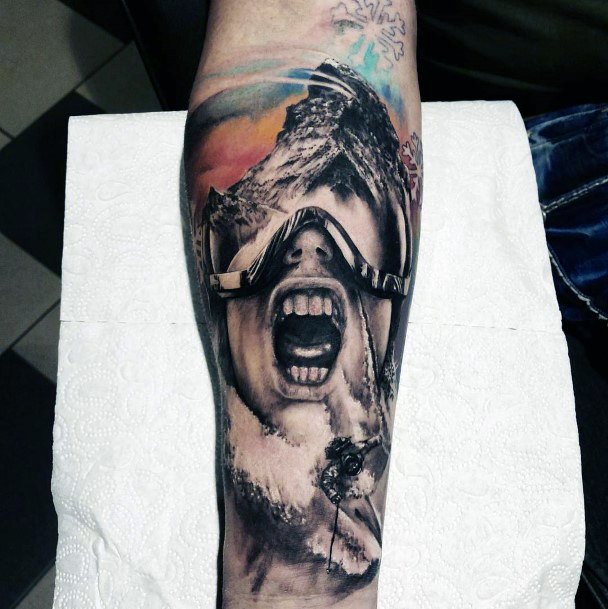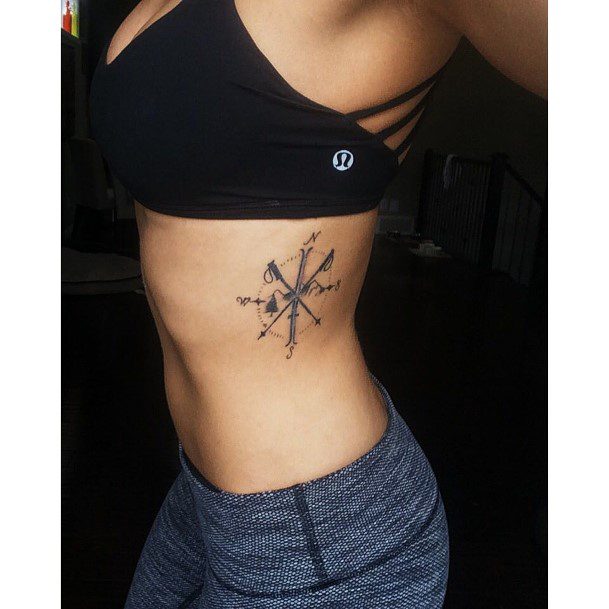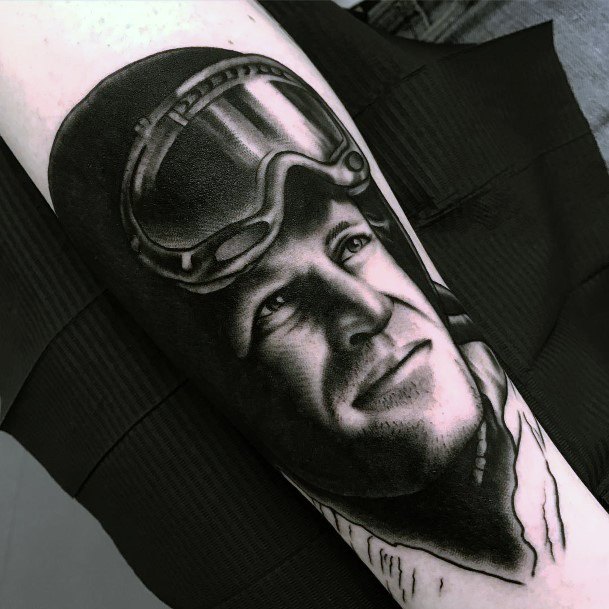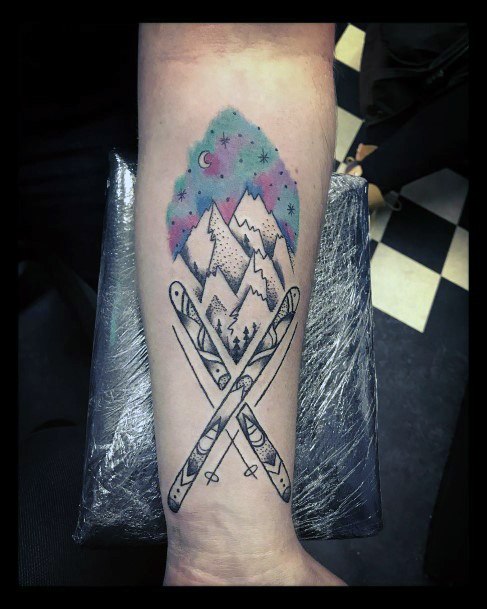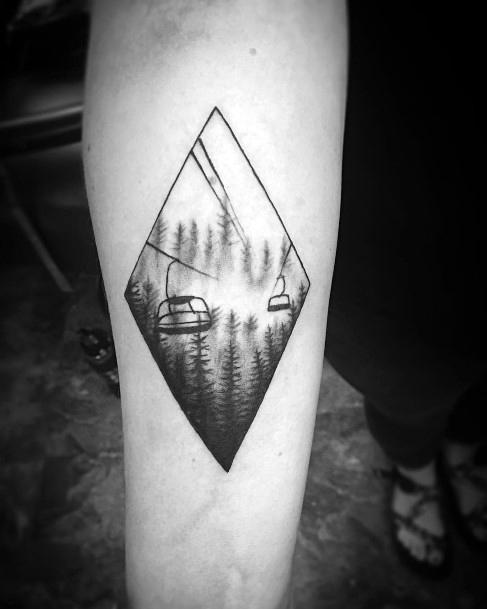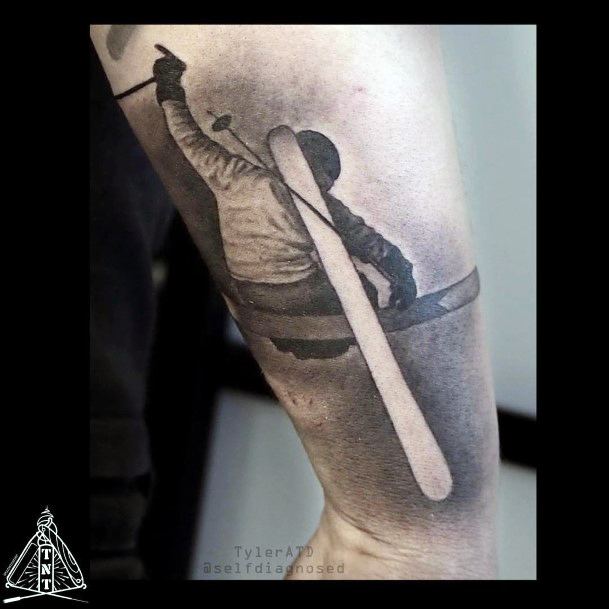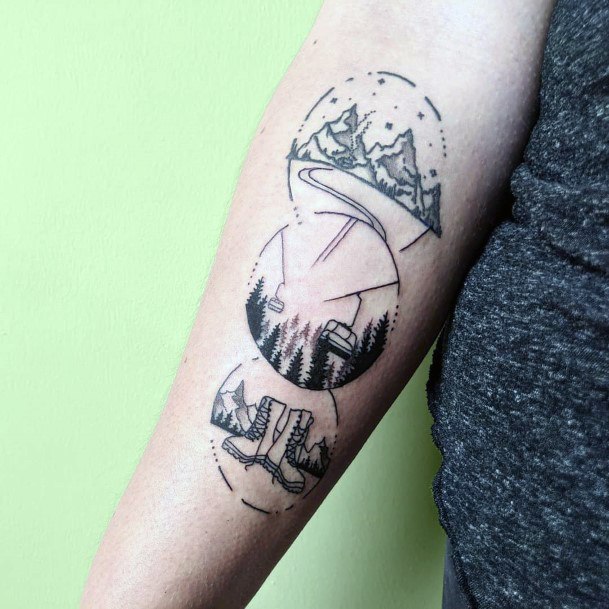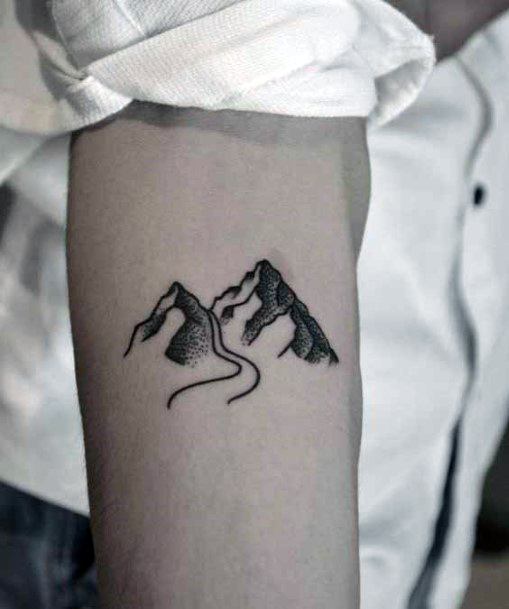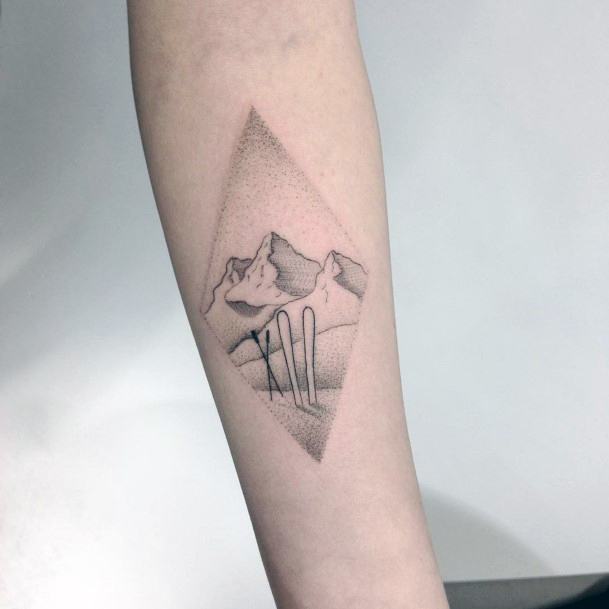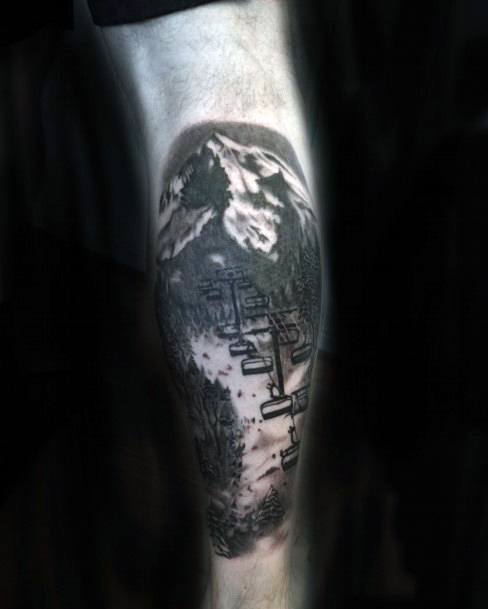 Leaf tattoo meanings and symbolism:

What do leaves mean and symbolize?:

Is there anything better than hitting the slopes with FRESH powder? Yes, please!

For most women, skiing is a symbol of adventure, freedom, and exploration. It is a way to escape the everyday grind and explore the beauty of nature. Skiing is also a way to challenge yourself and push your limits.

Some view skiing to have a meaning of adventure. It is an activity that requires courage and determination. Skiing can take you to places you have never been before and can be an exhilarating experience. Skiing can also be a way to explore the outdoors and discover new places. Skiing can take you to the top of a mountain or down a steep slope, giving you an opportunity to experience the beauty of nature in its purest form.

Freedom is another symbolic meaning behind the fun sport of skiing. It allows you to break away from the everyday routine and explore the world around you. Skiing gives you the chance to be in control of your own destiny and make your own decisions. You can choose where you want to go, how fast you want to go, and how far you want to go. Skiing gives you the freedom to explore and discover new places without any restrictions or limitations.

Skiing is also a symbol of exploration too. It allows you to explore new terrain and discover new places. Skiing can take you to places that are off the beaten path and give you an opportunity to experience something new and exciting. Skiing can also be a way to challenge yourself and push your limits. You can try different slopes, different techniques, and different tricks, all while pushing yourself to become better at skiing.

Finally, skiing tattoos can be wonderful symbols of community. Skiing is often done in groups or with girlfriends, which allows for social interaction and camaraderie. Skiing can be a great way to bond with friends or family members as well as meet new people who share your passion for skiing. Skiing can also be a great way to make new friends who share your love for the sport.