From skis, to bindings, poles, chairs, mountains, tracks and beyond, when it comes to skiing themed tattoos, there's a lot of different design options out there.
But rather than just focus on why one design is better than the other, stop for a moment and consider how the sport of skiing makes you feel. What are you favorite memories spent out on the slopes? Perhaps your favorite mountains or trails? Combine all those answers together and come up with a design that truly captures the beauty of skiing to you.
Personally, I find skiing to be exceptionally freeing and the experience to give off a sense of being limitless as your speed is only determined by how fast you want to go. As you glide across the snow, the feeling is as close to flying as it gets. I love the sensation of wind running across my bibs, goggles and fluffy hat. Of course, who could ever forget all of the beautiful moments we encounter while skiing. I'm talking about the natural mountain top scenery that just leaves you speechless.
Whatever you connection to the slopes, I've put together a collection of the best female skiing tattoos that I'm sure you'll love! And unlike your snow tracks that will eventually disappear, your meaningful tattoo will stick with you forever.
While we're on the topic of skiing, can you believe the prices of passes these days? Girl! It's getting out of control. But for snow sport lovers everywhere it's hard to say no.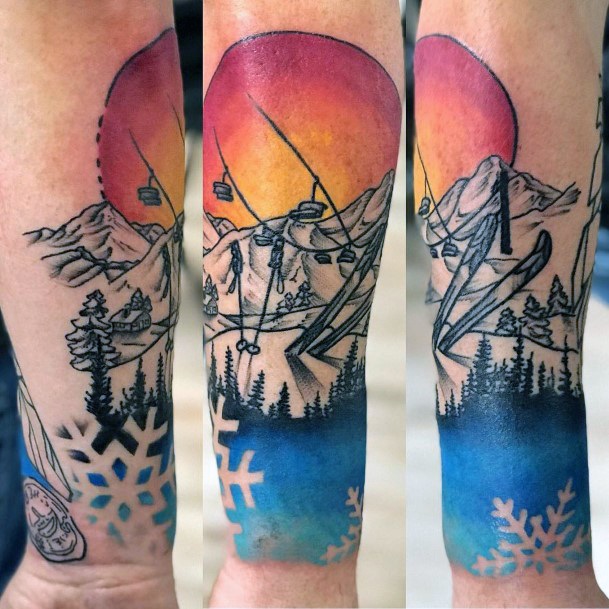 Here's a unique female forearm sleeve with a skiing theme that includes a rising sun, white mountains and a negative space snowflake pattern that wraps around. Look closely and you'll find a pair of skis, a set of poles and a chair lift all done in a shaded black and grey ink design.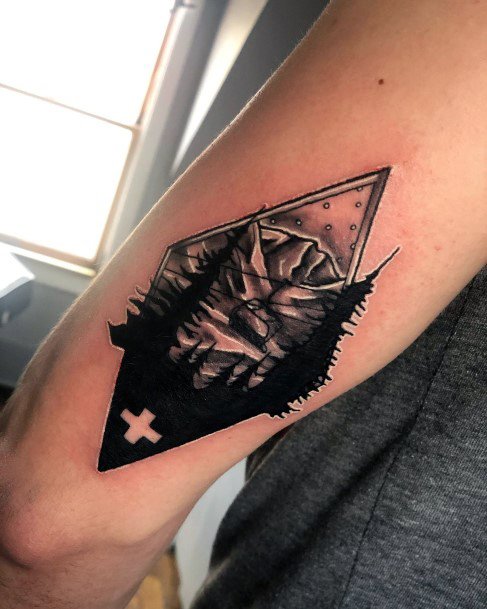 Have you ever worked at a ski resort as part of a rescue team? If so, thank you for your service! Here's an awesome female tricep skiing tattoo which features a negative space medic symbol plus a mountain landscape in a geometric shape boundary. A light snow drizzle detail has been done in white ink, while pine trees and the chair lift can be found in a black ink silhouette style.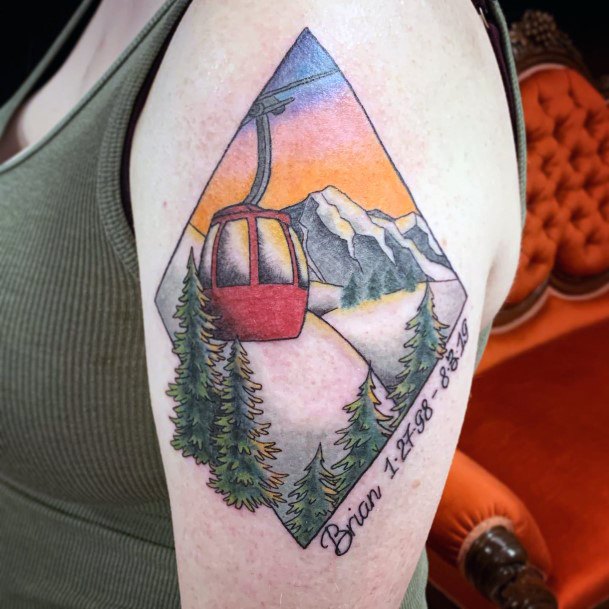 Who can ever forget the relaxing moments spent on the gondola lift just thinking and talking with friends? I love this rolling snow mountain landscape scene featuring a lift in front of a colorful sunset background. Note the memorial name and date found just below the geometric shape outline in black ink.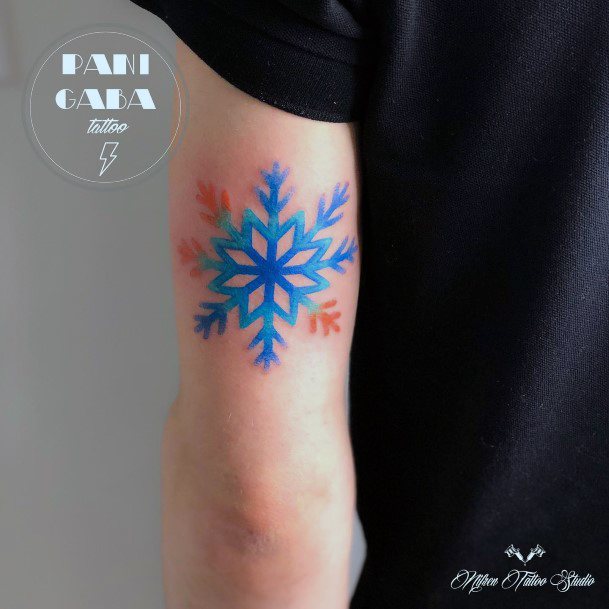 If you love skiing, but don't necessarily want a pair of skis inked on your body, then consider the next best option: A symbolic snowflake. Here's an awesome take on a classic snowflake design featuring a tricep tattoo with a gradient blue and orange effect.