Cartoon characters are a popular design for most tattoos these days, but a Spongebob design takes things to a new level.
Where are all my Jelly fish catching fans at?
Some people can have them for fun, and others because it is a representation of a vital part of their life. If you have a sponge bob tattoo, you have the ability to make people laugh.
Spongebob square pants is an iconic cartoon character loved by many. But don't forget his friends Gary, Patrick, and Squidward.
Sponge bob is the star of the story and lives in a cute pineapple. Technically he flips burgers for a living, but his adorable dedicate makes him super unique. You can have a tattoo of sponge bob with other words or even with his friends.
If you loved sponge bob as a kid, you probably miss it. What you can do is get a tattoo of sponge bob and his friends. You can have a tattoo of sponge bob and his friend Patrick, sponge bob catching jellyfish, or sponge bob having fun. You can have the tattoo in color or black and grey. Whatever sponge bob tattoo design you choose to go with, there is no doubt that it will be exceptional.
A Spongebob tattoo is an excellent way to hold on to your childish innocence. Spongebob tattoos will make you excited and nostalgic. You can also have a tattoo of Spongebob and his pet Gary. It is a great way to hold on to those childhood memories of the Spongebob Squarepants cartoon.
Spongebob design ideas to consider:

Popular characters from the animated cartoon:

– SpongeBob SquarePants
– Patrick Star
– Mr. Krabs
– Gary the Snail
– Patchy the Pirate
– Squidward Tentacles
– Plankton and Karen
– Sandy Cheeks
– Mrs. Puff
– Pearl Krabs
– Mermaid Man and Barnacle Boy
– The Flying Dutchman
– King Neptune
– Larry the Lobster
– Bubble Bass

Other inspiration:

– Jellyfish nets
– Pineapple house
– Bikini bottomites
– Jellyfish
– Blowing bubbles
– Crabby patty
– Spatula
– Four fingered balloon
– Pencil Bob
– Conch shell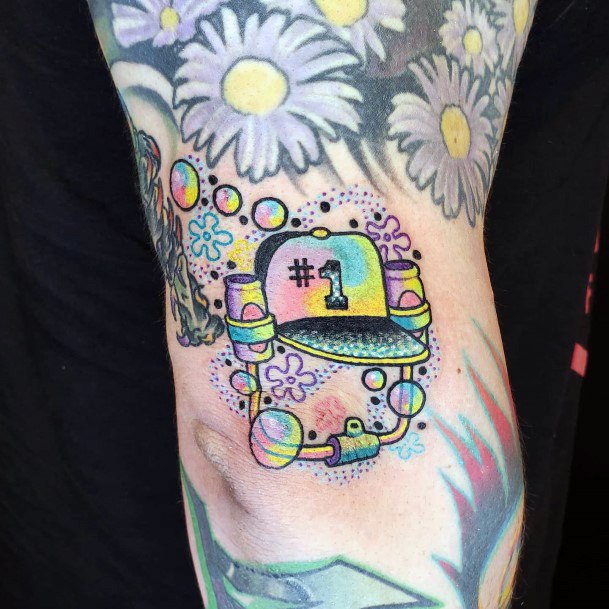 "But he was #1!" Who can ever forget the hilarious episode where Spongebob comes across the iconic #1 hat? Fun, small and cute, this women's arm tattoo does a fantastic job capturing the fascinating colors of bubbles.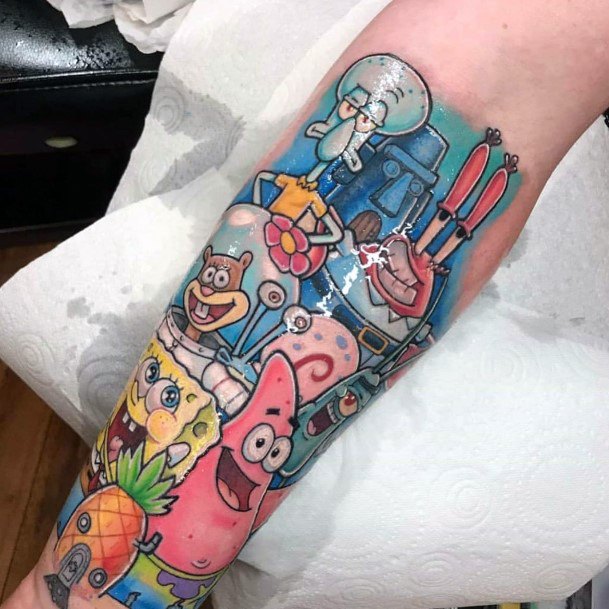 Love Spongebob Squarepants to death? Then consider this forearm sleeve tattoo featuring the entire group of characters including Squidward, Mr. Krabs, Gary, Sandy, and Plankton. I like how they've included Squidward's face-styled stone house and Spongbob's fun pineapple home. Note the background navy and teal blue watercolor effect which gives this design the illusion of being underwater.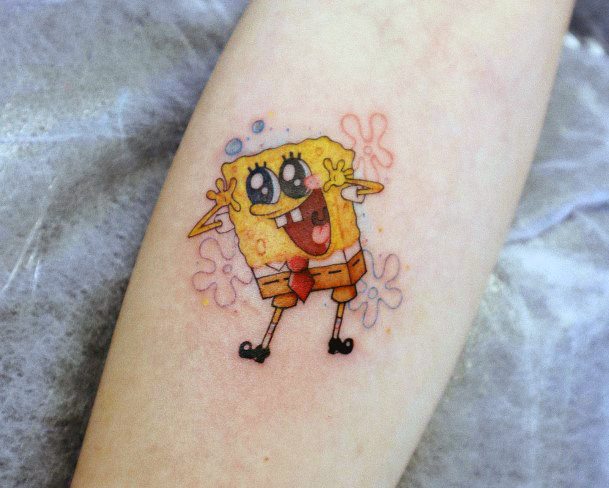 Pay tribute to Spongebob Squarepants without going over the top. Take a look at this small, detailed inner forearm tattoo which features a portrait design alongside outline sea flowers. Tiny bubbles above Spongebob alongside colorful dots in the background give this piece even more depth despite it's smaller size.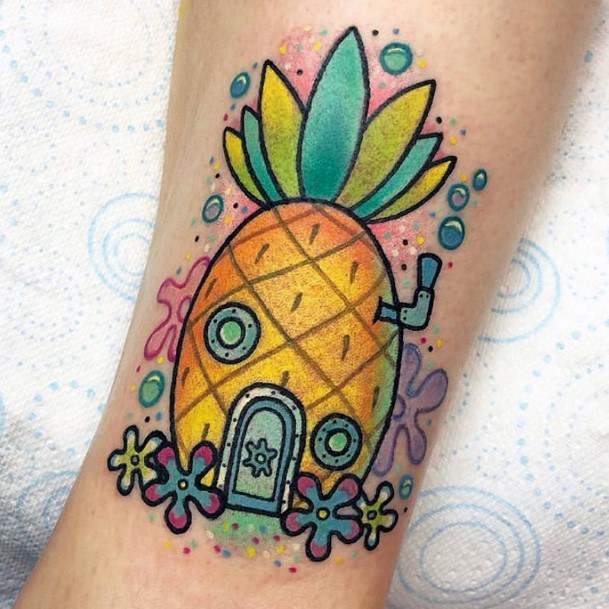 Here's a fun way to get a Spongebob themed tattoo with a retro, old-school design. This colorful lower leg tattoo features the iconic pineapple house alongside blue bubbles and sea flowers. Note the wonderful play on colors which gives this simple design a punch of awesome style!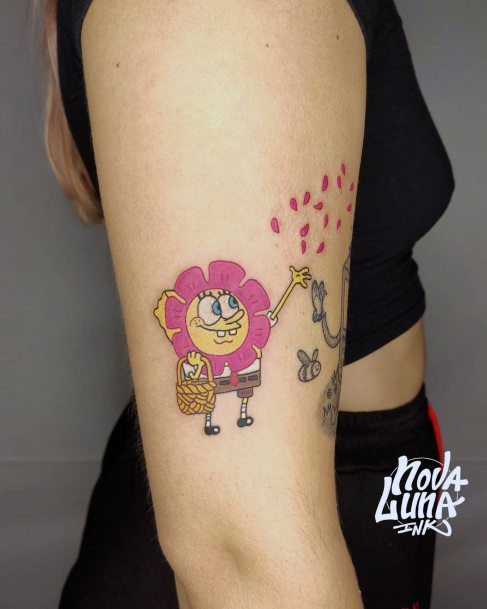 Capture the essence of Spongebob's passionate attitude with your favorite scene from the animated series. In this case, you'll find Spongebob wearing a cute pink flower costume while throwing flower petals from a wicker basket. Placed on the arm, I love how this design wraps around the arm and gives the illusion of the petals blowing away after being thrown into the air.