Now you may be thinking sugar nails are only white, but they can come in any color!
Sugar just means the texture of the nail is like that of sugar and looks very grainy. Relax and unwind and pamper yourself as you watch the little specks of sugar fall onto your nails and create a beautiful effect.
If you're wondering whether you can actually use sugar on your nails, the answer is yes! Before your base coat dries up, add some sugar to your nail and notice how the texture changes instantly. Then, add a matte finisher on top of the layer of sugar to lock it in so it doesn't go anywhere. Once you let it dry, you'll have beautiful sugar nail art!
If you're wondering what happens when you wash your hands, the answer is nothing! Since you add a finisher layer on top to lock the sugar in, you won't have an issue when your sugar nails come in contact with water. Another way to accomplish this sugar nail effect is to use holographic glitter.
Using holographic glitter will make it appear as though your nails have sugar on them and are sparkling away. Keep them under the UV lamp for some time and then get the excess glitter off and clean the edges.
You can use a brush to dust off any excess glitter and remember to always apply cuticle oil and massage it in.
This will be sure to get rid of any remaining specks of glitter that may have been on your nails. Glitter nails are beautiful and will surely make your nails stand out!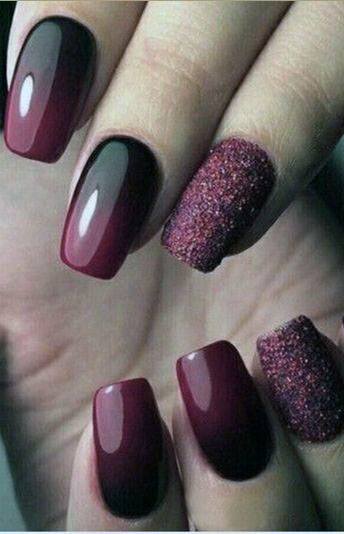 This design evokes the feeling of evening twilight and the sparkle of stars. Give your nails a smoky, dusky look with deep purple and black hues. Both sleek lines and sparkly sugar pop out from your fingertips!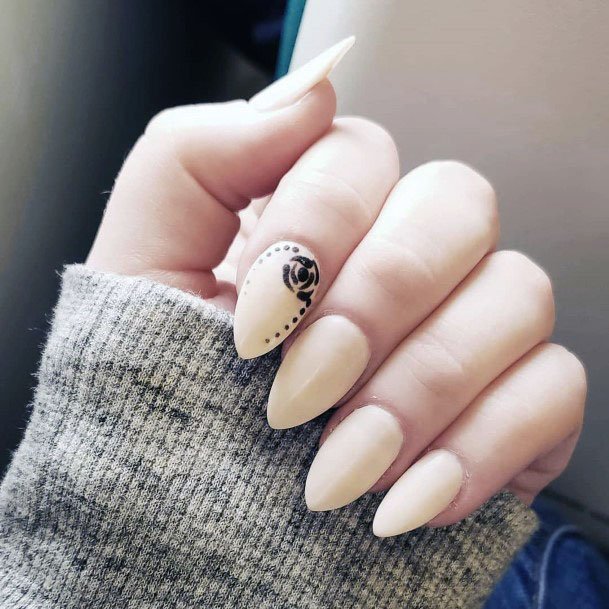 This design hearkens back to the ancient sailor's craft of scrimshaw, the practice of carving artwork into whale ivory with Indian ink. This design will give your nails a similar classy look, with a smooth ivory finish accented by deep black designs.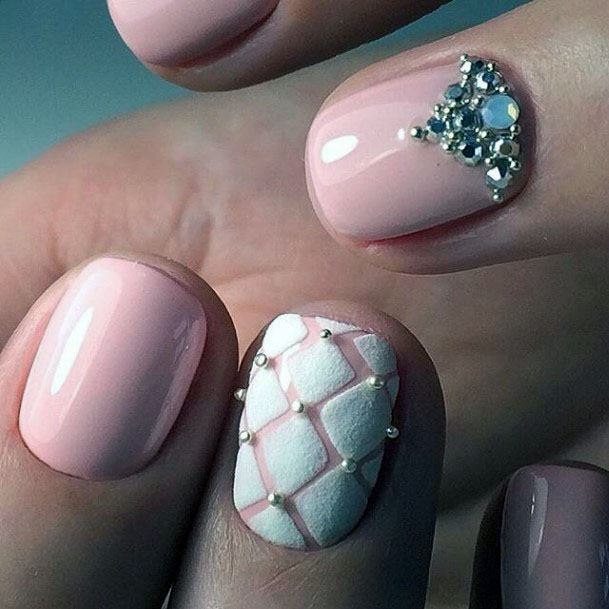 The princess pink and jeweled accents of this design are for royalty! Sugared designs with pearls and clean pink lines give an air of elegance, and designer royalty to this look. Youthful and girly, this design is for the one who is a princess at heart!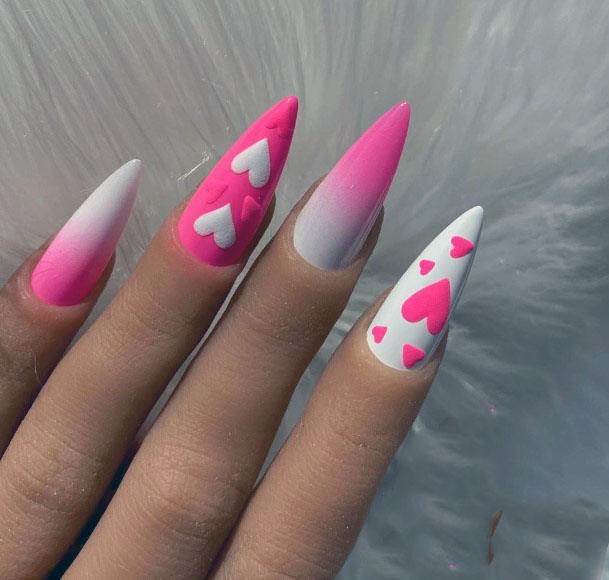 "Seriously sassy" is the best way to describe this design! Hot pink and white hearts will let everyone know you're fun but not to be messed with! Coming to a sleek, airbrushed point, it will remind others that even kittens have sharp claws!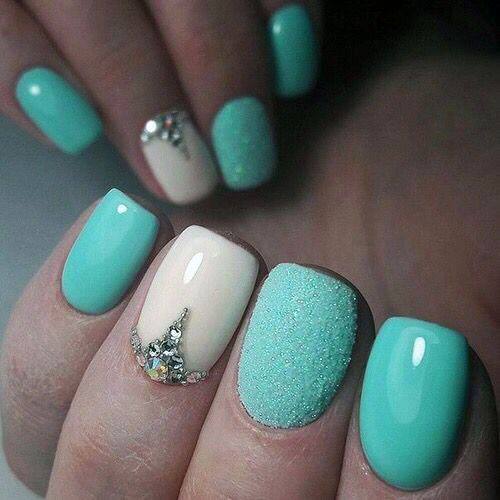 You can be the princess of the sea with this sea foam green design. When sugared green sparkles meet smooth white and jewels, the result is a feeling of sea breeze elegance.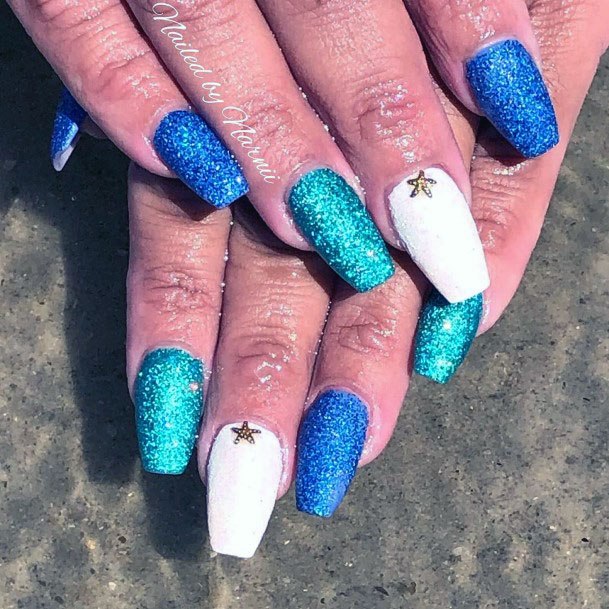 Nautical blues, sea foam greens, and sandy white with starfish all contribute to this ocean-themed design. Bright blue sugar sparkles offset the color nicely in the sunlight, making it perfect for any excursion to the seaside!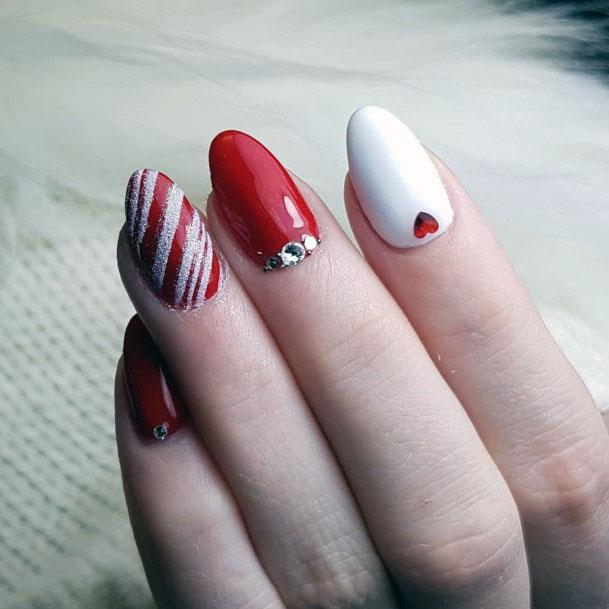 Are your nails ready for Valentine's Day? This design is perfect for the occasion! Red and silver sugared stripes, coupled with sleek white and red, offset with jewels and hearts, are just what you need to get in the mood.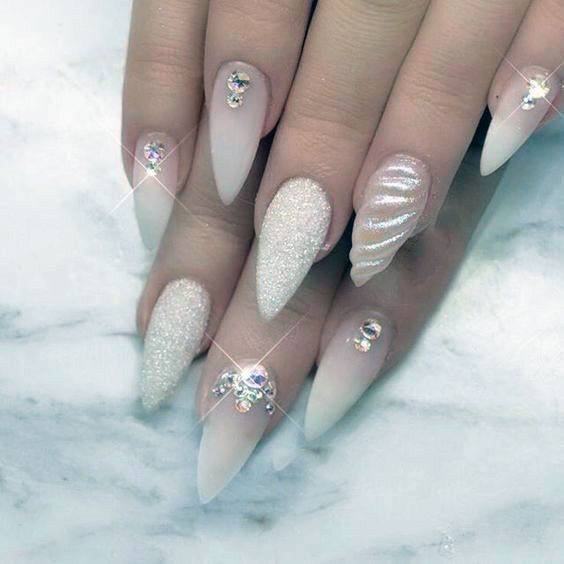 Did "she" who "sold sea shells by the sea shore" have nails like this? This nautical look is made up of soft pinks and shell designs. Silvery sugared nails go well with the smooth, soft pink jeweled points.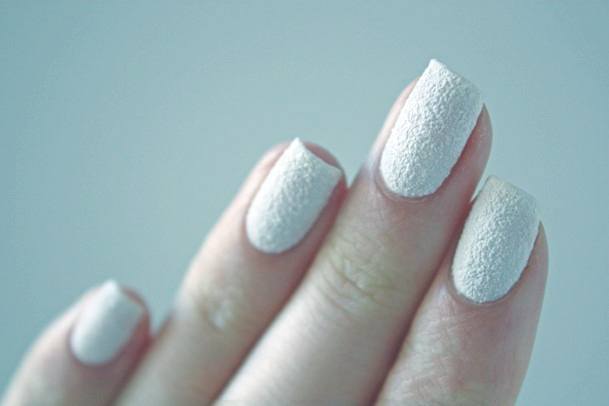 Sometimes simple is best, and if you need a wintry look with simple white sugared nails, look no further than this design. Reminiscent of snowfall, this white sparkled look will make you think of bright snow on a sunny winter day.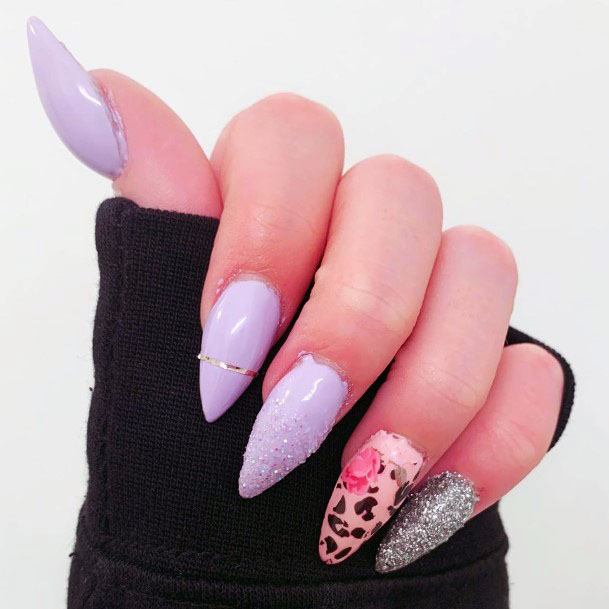 Pastel purples, glittery silver, and sparkly violets with some pink leopard print let the world know you are fun, unique, and ready to be yourself! These lavender points with a leopard print accent convey style and youthful exuberance.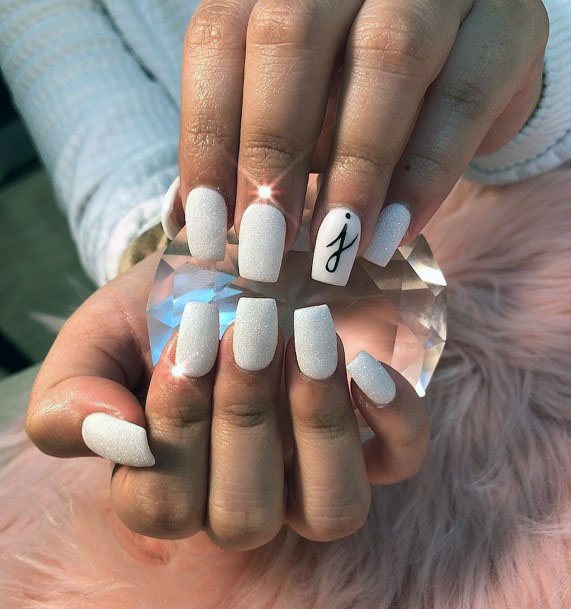 Let your nails glisten like new fallen snow with this sugary sparkle design! Pure white with diamond sparkles, accented with a scripted initial, all give this design a classy look!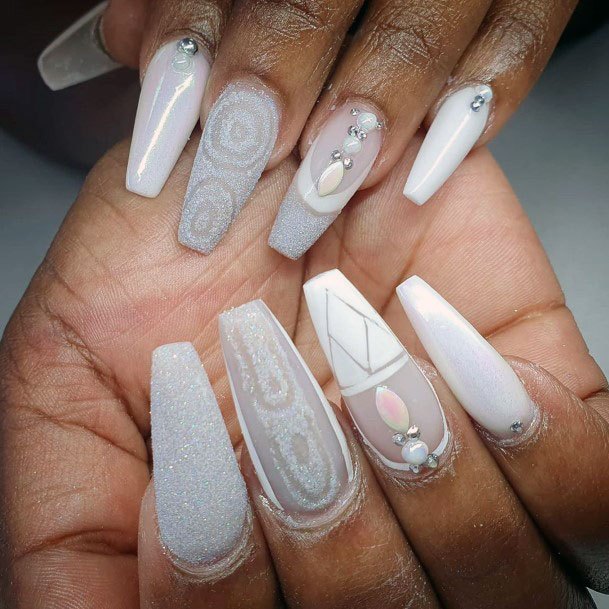 Elegance, class, and pearls feature in this antique design. Sugar spirals of various swirls mingle with sleek mother-of-pearl accents. Silver and pearl jewels grace this look with an air of wisdom and appeal.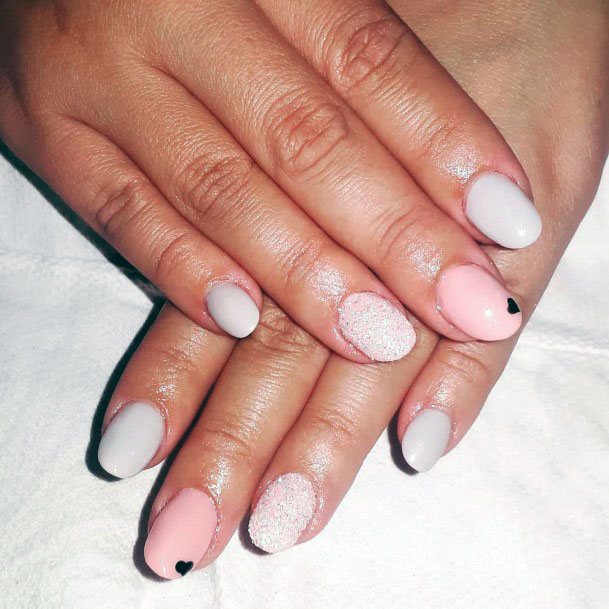 Sometimes the simplest solution is the best! Soft, sleek solid pink and white, accented by sparkling white diamonds and tiny stenciled hearts, all showcase a look that is both simple and unique.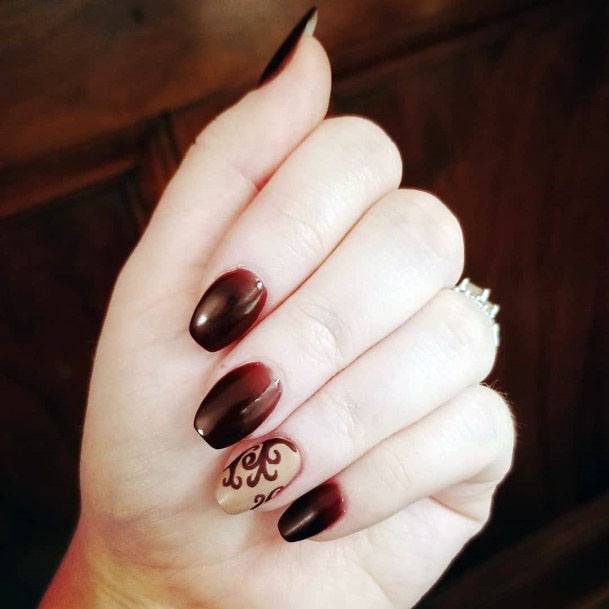 Give the classic deep red nail look some zest with this blood-red design, offset by a patterned accent nail. This style gives off an air of elegance and class, with just a hint of designer label.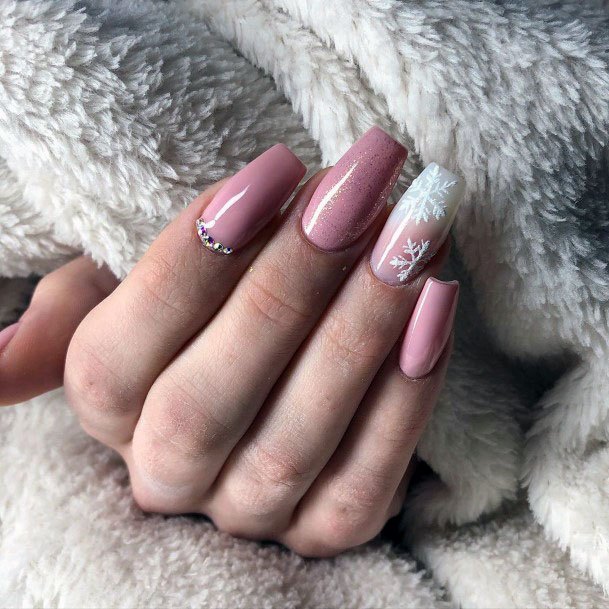 This retro pink is certainly not boring with its clear-white snowflake accent, alongside pink sparkles and jewels. While this pink might remind you of your first kid's makeup set, the glitter and jewels bring it firmly into the world of grownups!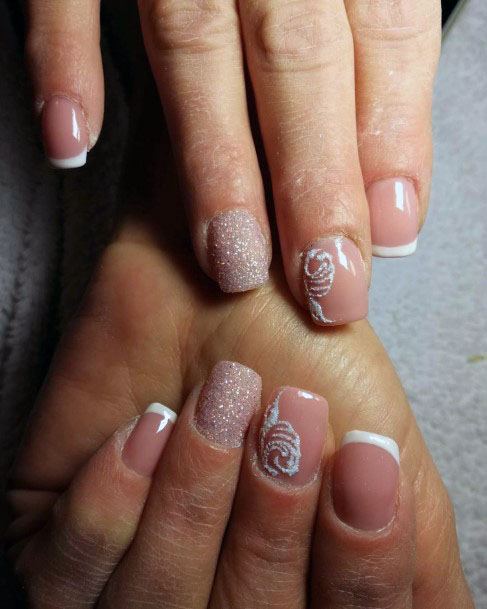 If you prefer the "natural" look, this design is the way to go, with deep-toned pinks and French manicure accents. Top it off with a sugar sparkle accent nail, and you have a classic but effective look!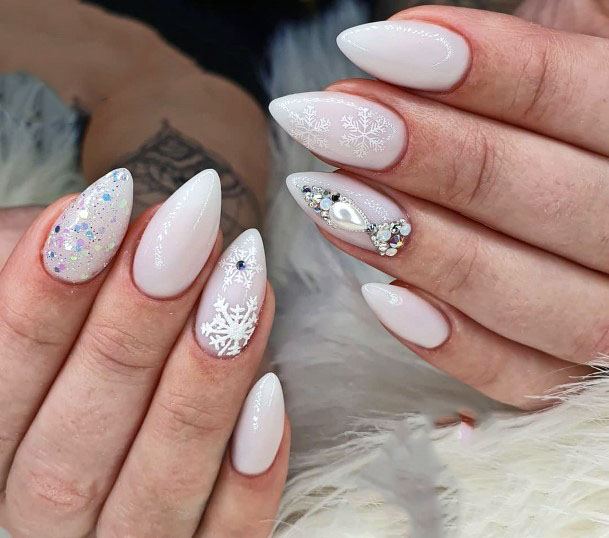 Winter sparkles, glitter, and jewels all make up this sweet look! The sugar finish gives the nails a pearly look, capped with snowflake etches and sparkles of glitter. Pearl and silver jewels shine on an accent nail for a beautiful style.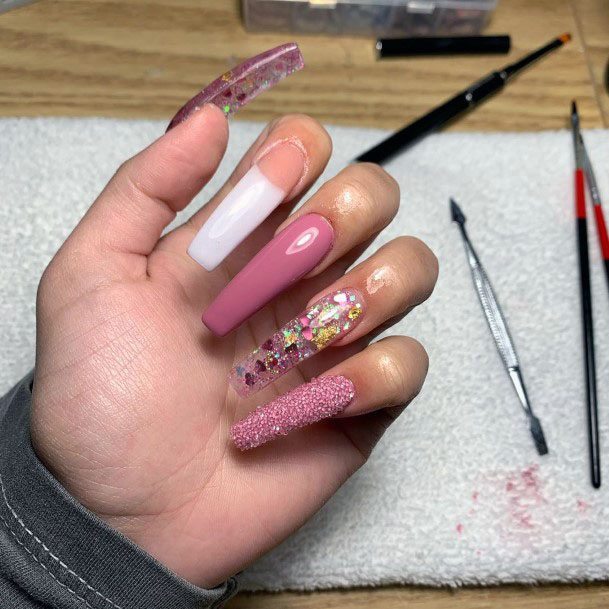 Longer nails clearly say "do not mess with me!" But they can be pretty and stylish too! Deep solid pinks, pink with glitter, sugar pink and a white accent nail all give this look a sassy flair.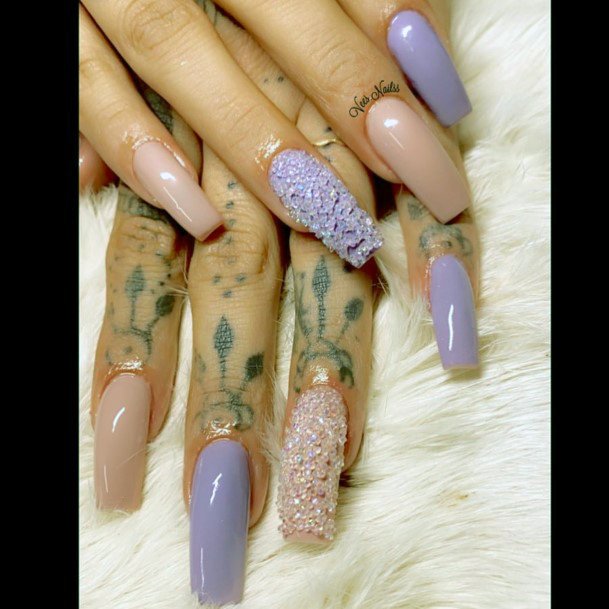 Lavender and pink are calm and soothing colors, but add some crystals and sparkle, and you also get style! This simple look is easy and feminine and goes well with nearly any look.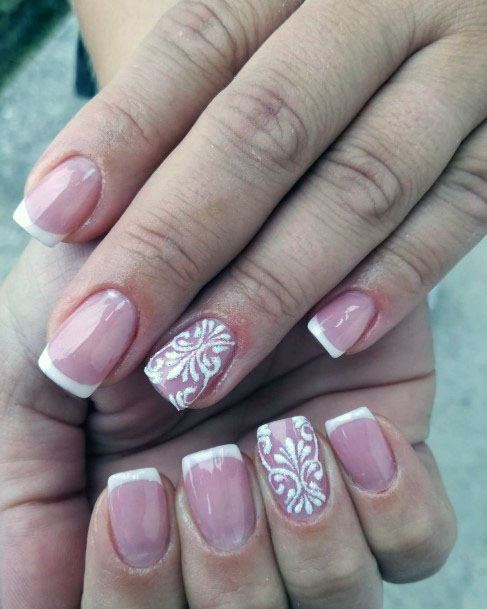 You can make a simple French manicure look cool by adding a textured accent nail with a design.Sleek pink and a clear finish with a single textured nail give this design some simplicity and elegance all in one.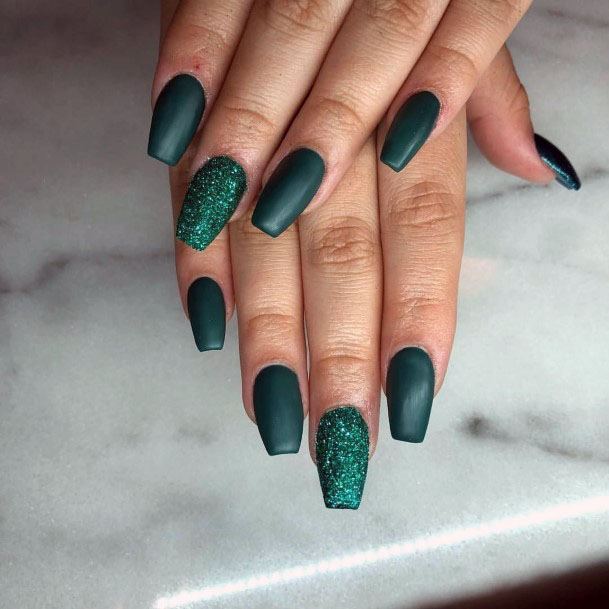 Deep forest green with a single green sparkle accent nail is a unique look for your nails, and goes with many fashion styles. The matte solid green finish is subtle, but the sugared glitter catches the eye right away for a holiday look.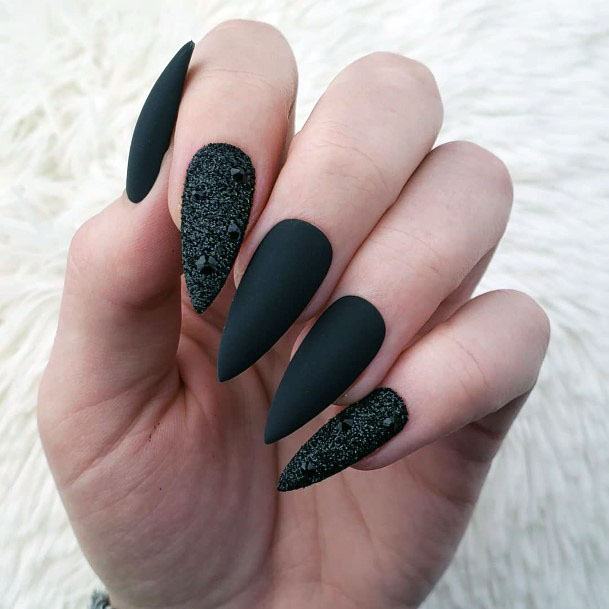 Is darkness an aspect of your soul? Long black matte finish points are offset in this design with glittery black sparkles, giving this design a Gothic appeal.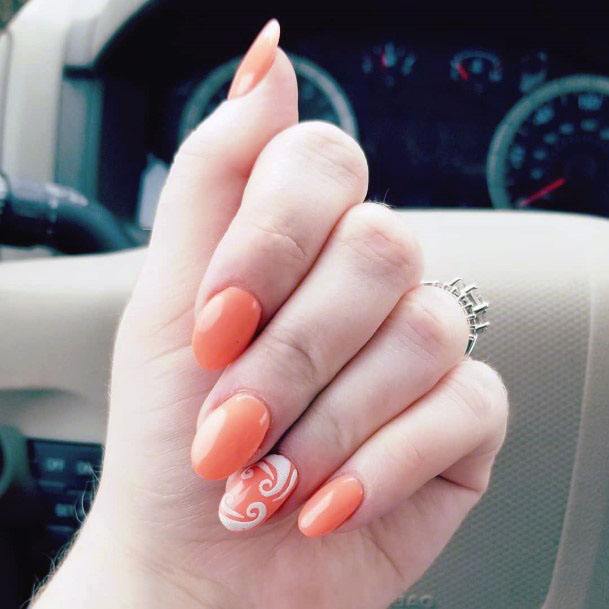 Orange creme is not just a soda, it's also a fun, youthful, and happy sugar nail style! Solid and shiny tangerine with a white sugar swirl accent nail is a design that lets everyone know you're ready for some fun in the sun!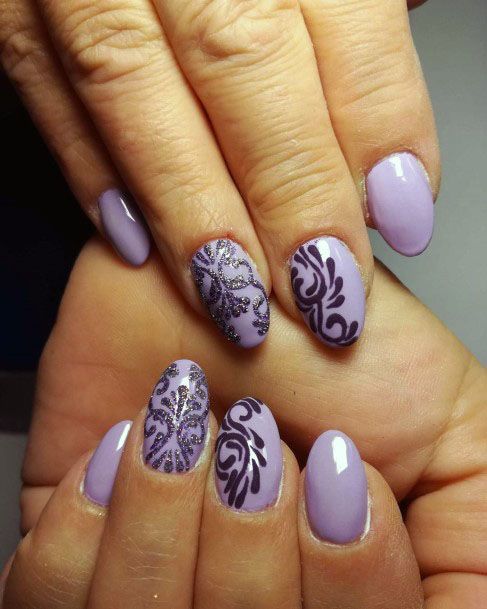 Lavender nails with dark swirling designs make a bold statement, alluding to a youthful but calm personality, with just a twist of fashion design. In this style, soft, solid lavender nails are paired with swirls and designs made of silver glitter.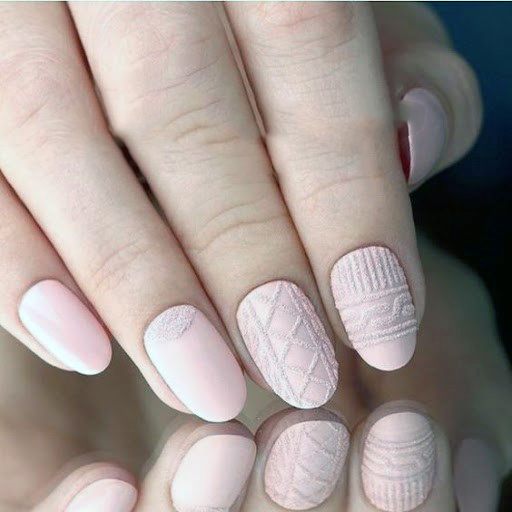 "Baby pink" is not just for young girls anymore! This subtle design for sugar nails alternates solid soft pink with nails harboring complex geometric designs, giving your hand an air of elegance and youthful sophistication.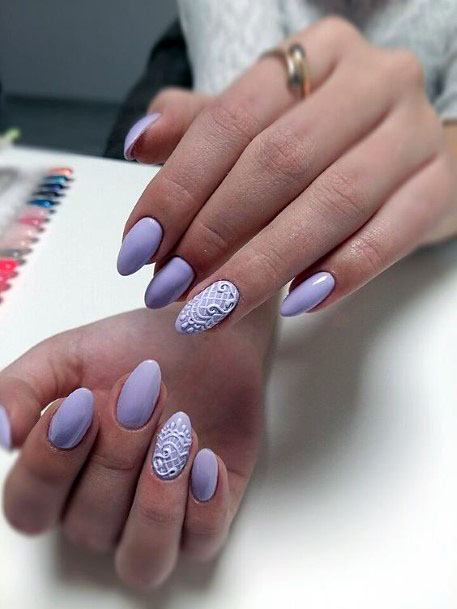 Candy purple pastel is a good look on anyone, but add a single artistic and complex white design on the accent nail, and suddenly you have hands that are also conversation starters!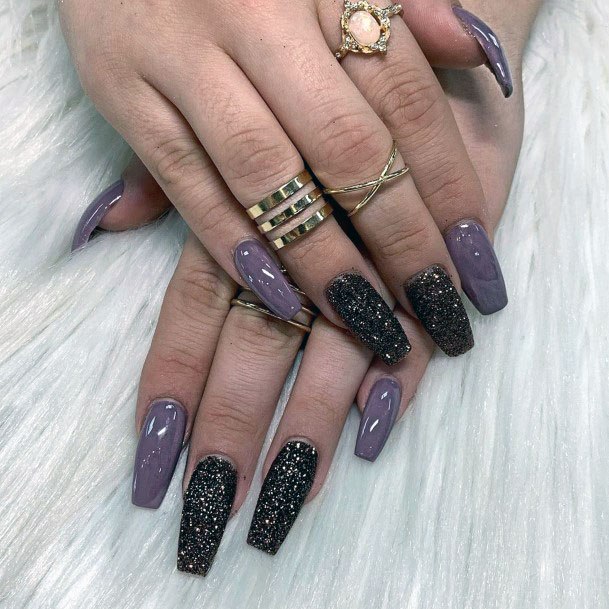 Deep solid purple indigo, alongside black sparkles, reminds you of the night sky at twilight. These elegant nails bring the nighttime and starlight with you.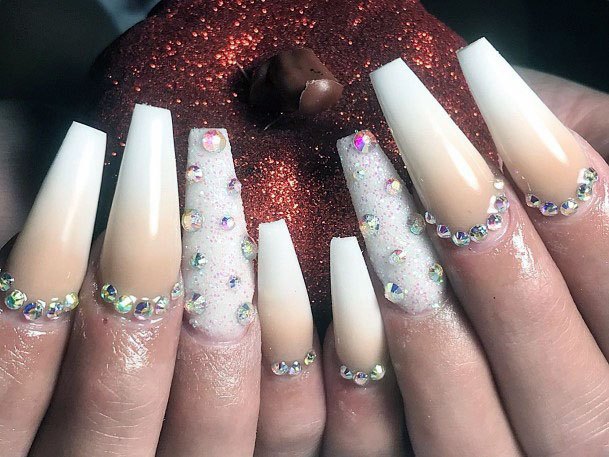 Who can resist ivory and diamonds? This design has a natural cream color, sugar glitter and sparkles, and tiny jewels that catch the light wherever you go.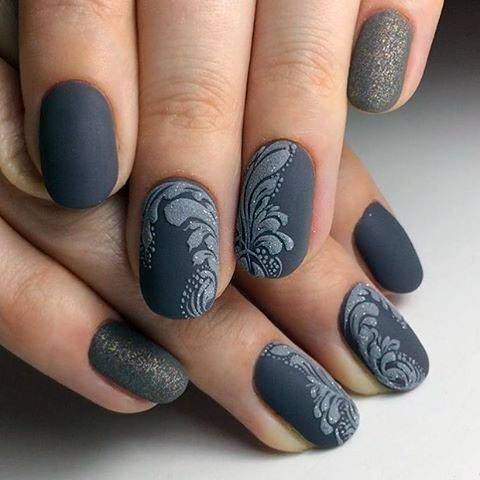 You won't often think of matte gray when coloring your nails, but this deep color works well with any skin tone. Solid greys with sugar swirls and designs, accented by a silver sparkle nail, are hard to miss.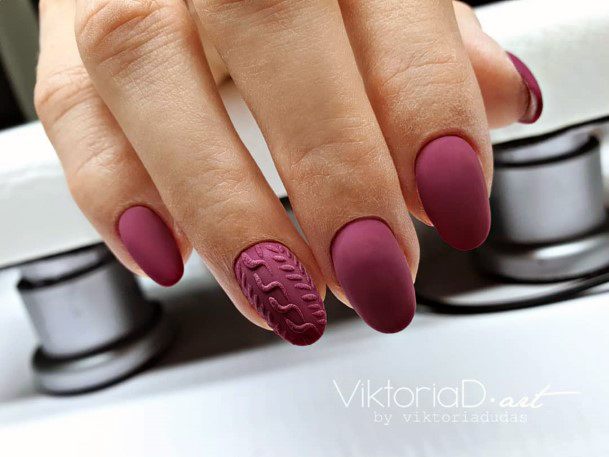 Burgundy was once the color of the Victorian upper class. Let your nail color transport you back to this time, with a deep burgundy finish and textured accent nail bringing this style into the modern era.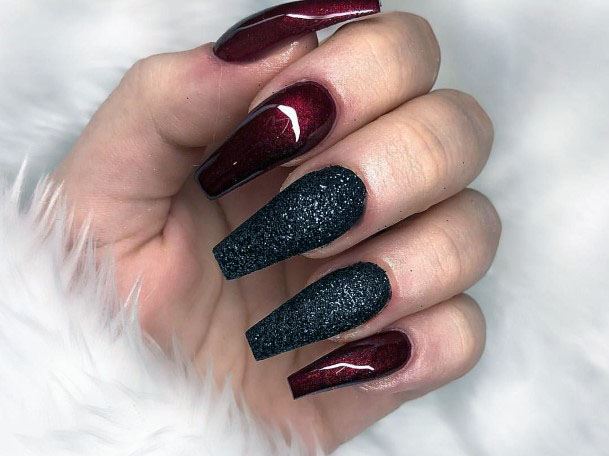 Creatures of the night are sure to love this blood-red glossy style with sparkling dark silver accents. With long points in the style of claws, even the vampires will be impressed!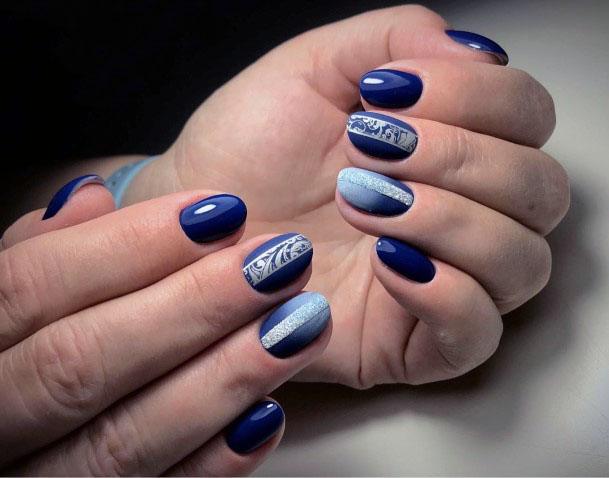 Dark navy blue offset with china-pattern swirls makes for a very unique look. Sugar stripes add some glitter to a dark blue background, like fine chinaware.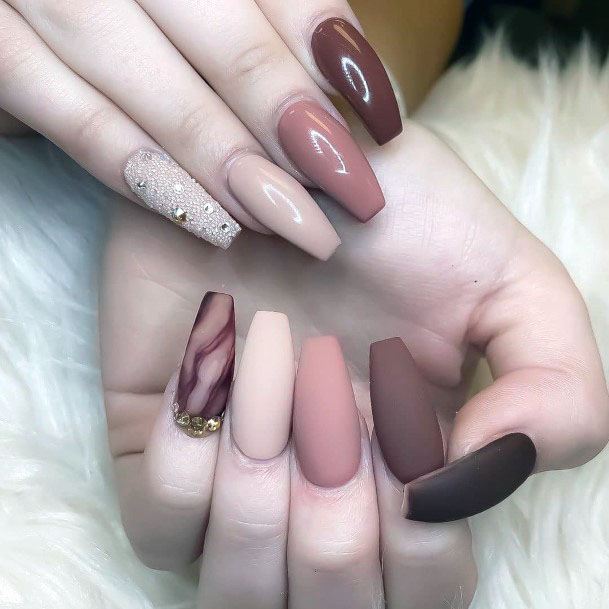 This fancy rose design makes use of various shades of rose and pink, accompanied by marbled swirls and glittering pink jewels on the accent nails. Each nail is a different shade of rose, but gives a designer look.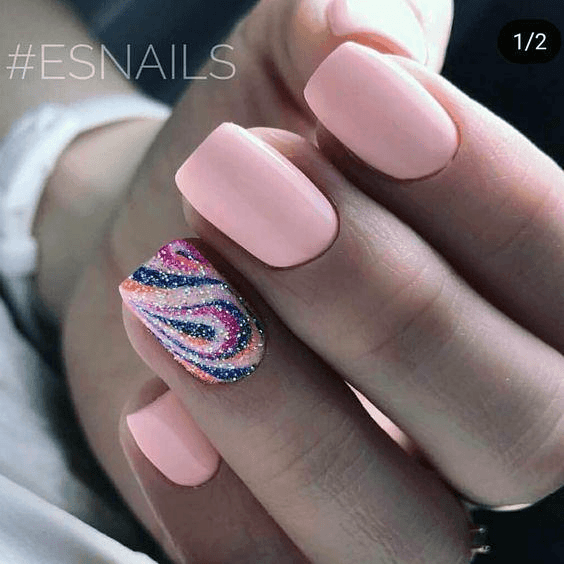 Pink is back, this time in a rather plastic tone, but the bold and sparkle swirls of color on the accent nail make this design quite the eye catcher!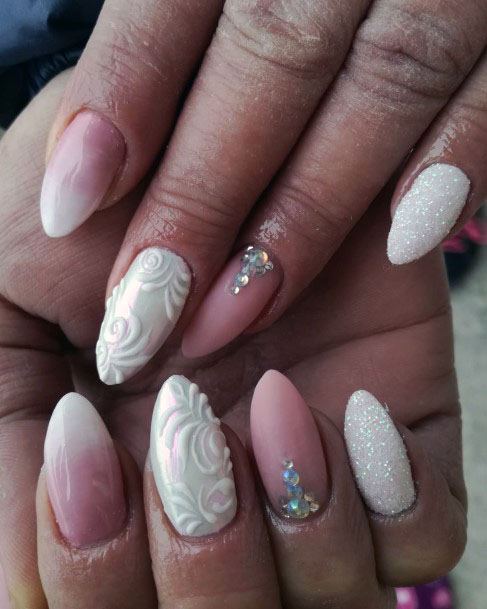 Rose and white always make for a gorgeous combination, with deep rose-petal shades accented with crystal jewels, and the pearly white nails enhanced with sparkling glitter and fancy swirls.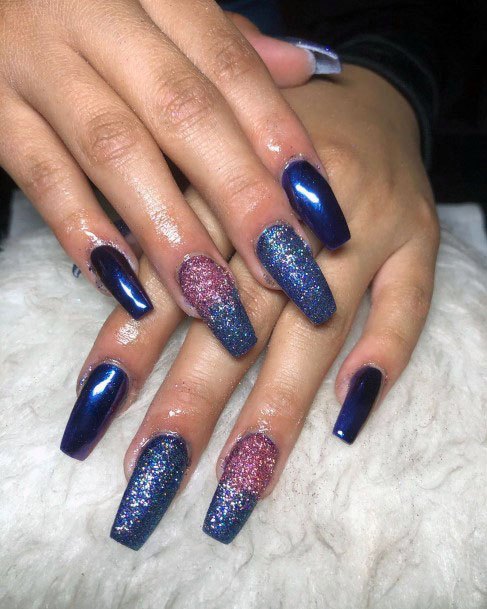 Midnight blue never fails to catch the eye. Deep and beautiful, solid blue nails nestle up alongside blue and burgundy sugar sparkles.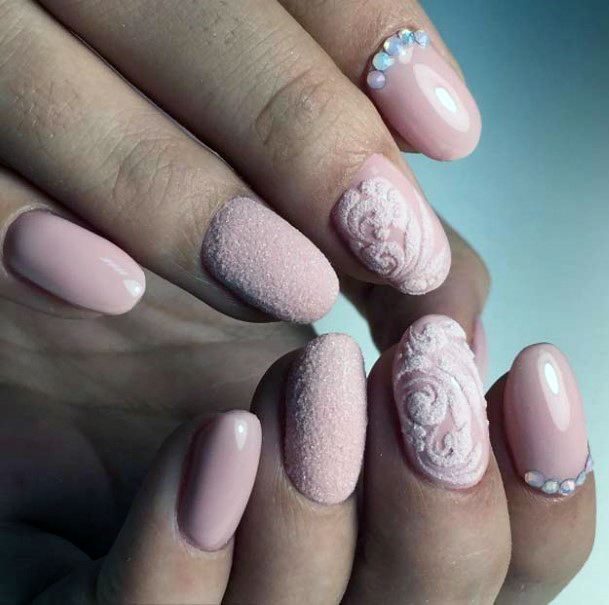 A soft, delicate rose is always an eye-catcher. Sleek solid nails in pink with sugar patterned accent nails add some sparkle to showcase this delicate design.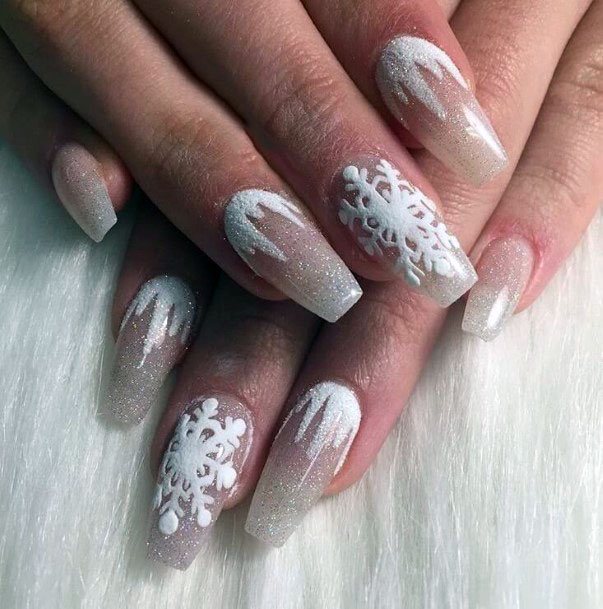 Do you love icicles in the winter? This design showcases white opaque nails with glitter like new snow, accented by snowflake and stylized hanging icicle patterns.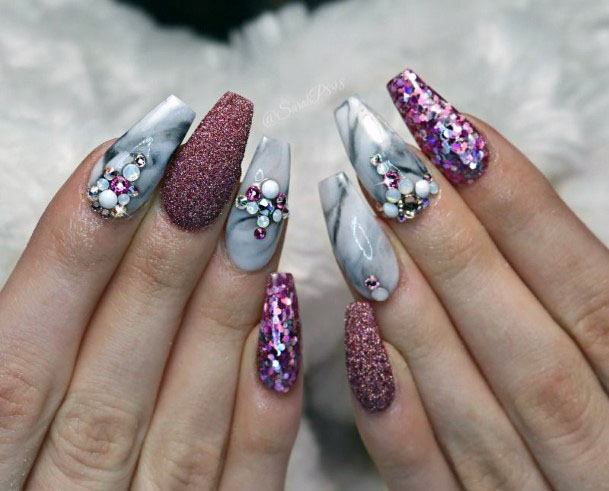 This one-of-a-kind style incorporates the look of marble stone against glitzy purple sparkles. Deep purple with a hint of burgundy, alongside sleek marble with jewels, is uncommon but stylish.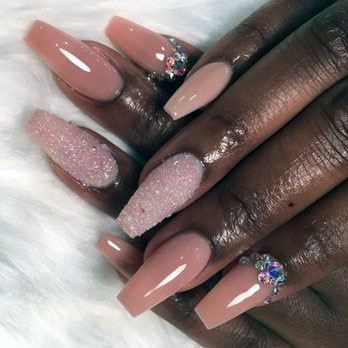 Sleek rose petal pink alongside dazzling sugared textures and accentuated with brilliant gems gives this nail design a vintage look.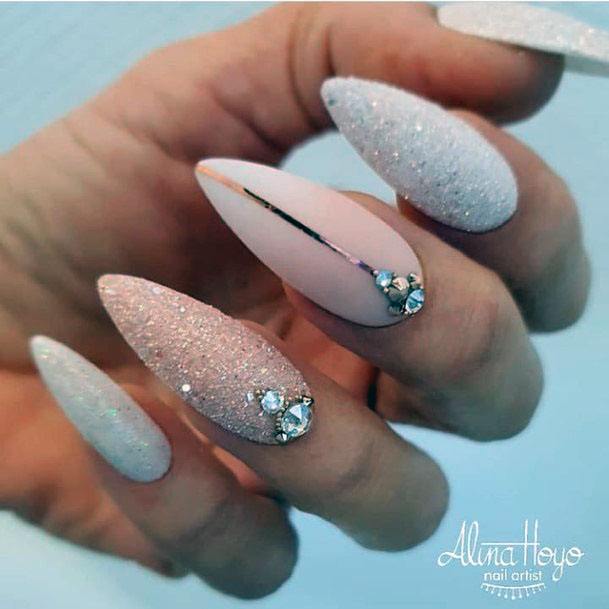 Strong and feminine, this sugar nail design incorporates both delicate carnation pink alongside bold white, textured with sugar shimmer, and set crystals, for a young but determined vibe.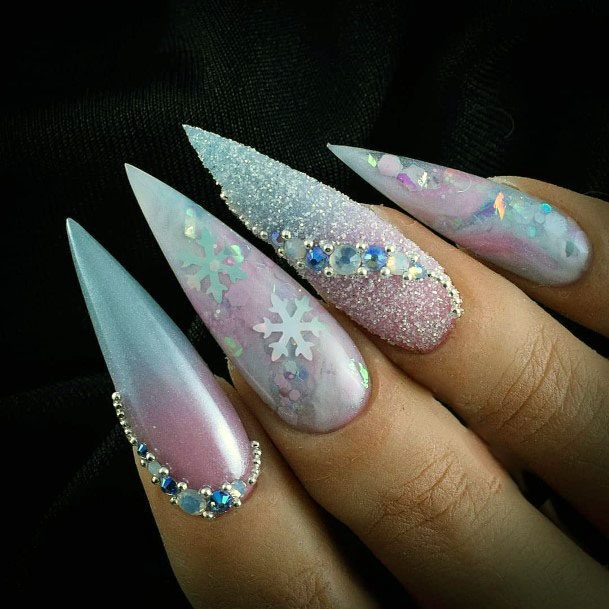 The glitz of these ice-themed nails could have graced the fingers of the princesses of Disney's "Frozen!" Opaque white points are rimmed with glimmering crystal jewels, and textured sparkle nails backdrop silver pearls. Snowflake designs on the accent nail make this look perfect for winter!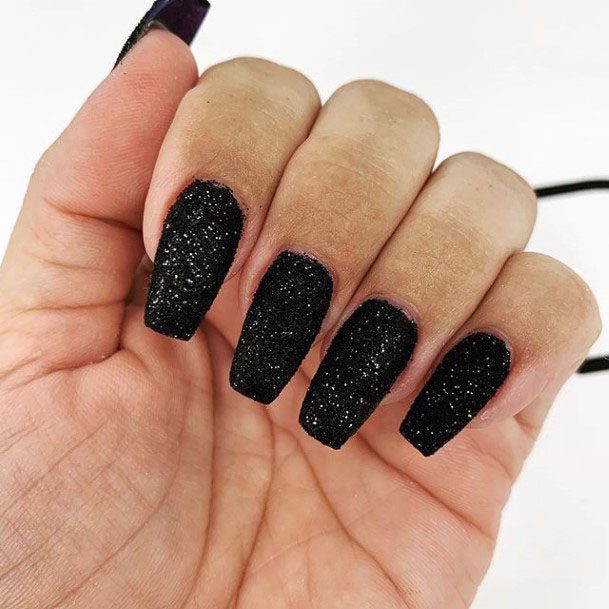 The universe is at your fingertips with this deep black and glimmering starlight design. The sugar texture against onyx gives a sense of the starlit night sky.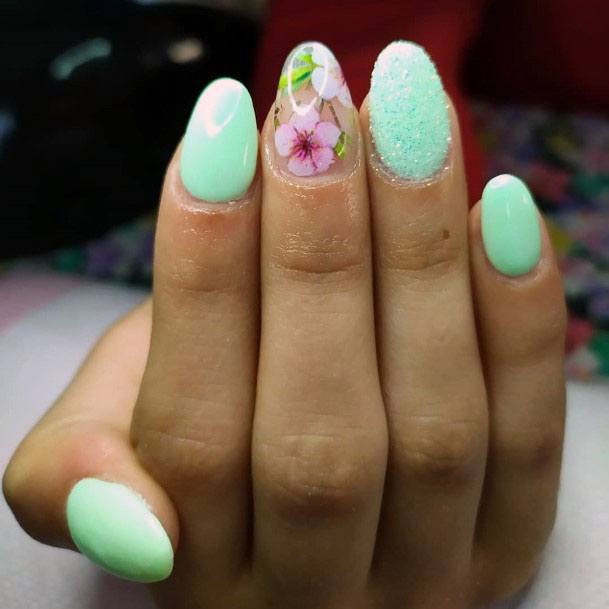 For those who love springtime gardens, this design of solid, glossy light greens with an accent of flowers is the design you need.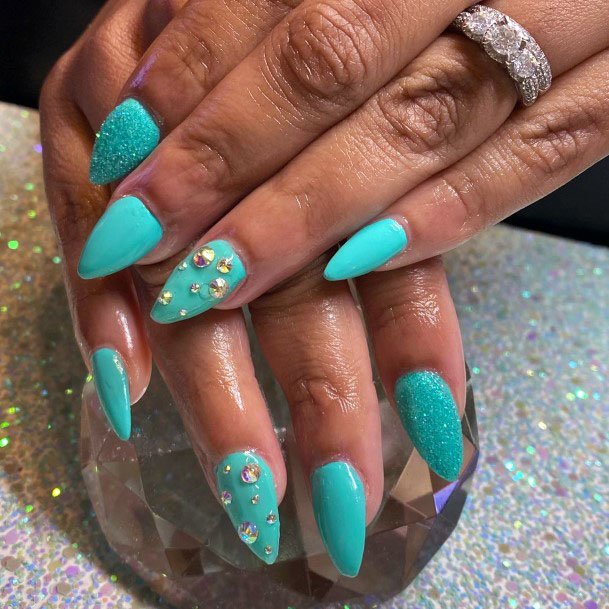 Cultivate a Native American style with this turquoise design. Smooth light blue nails alongside gleaming textured nails, accented with carefully placed gems, make this look truly southwestern.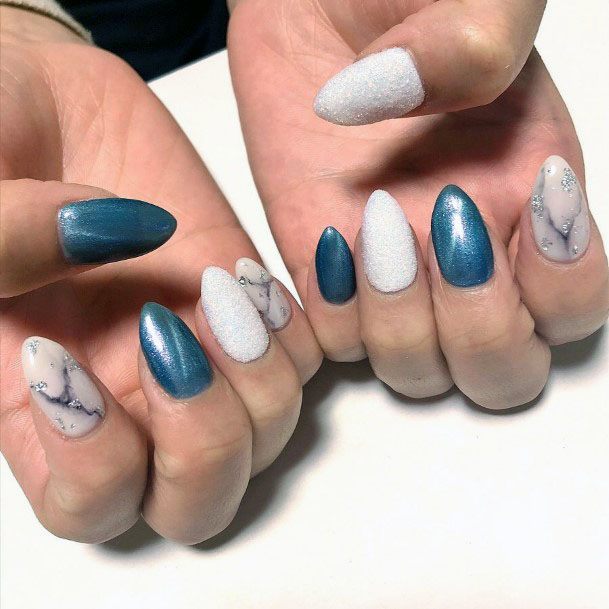 You can't go wrong with the contrast of marble and metallic blue! Twinkling sugar accent nails contrast nicely with these opposing colors for an overall look that works well together.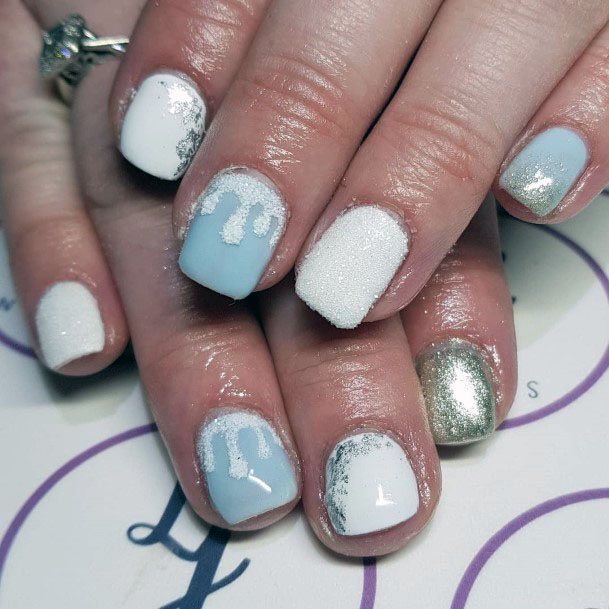 Winter blue and sparkling snow white make this look truly divine. With a vibrant silver accent nail to contrast the baby blue and white, this look evokes the sense of winter.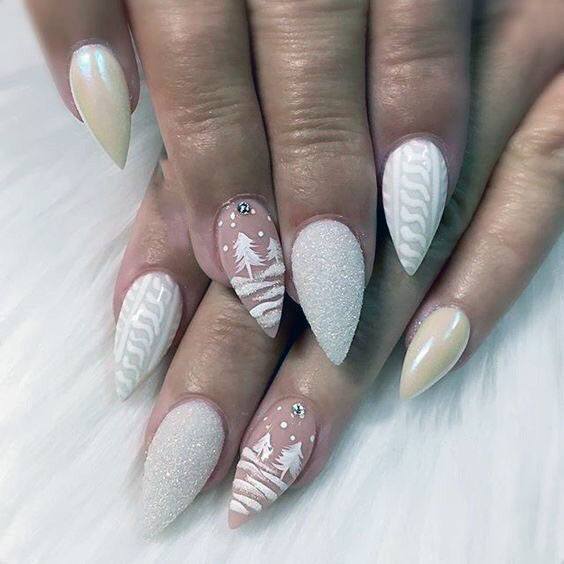 Showcase a winter wonderland at your fingertips with this design combination. With pearl white points covered in winter landscape images and accent nails with both swirls and sparkles as a contrast, this design is truly bold and beautiful.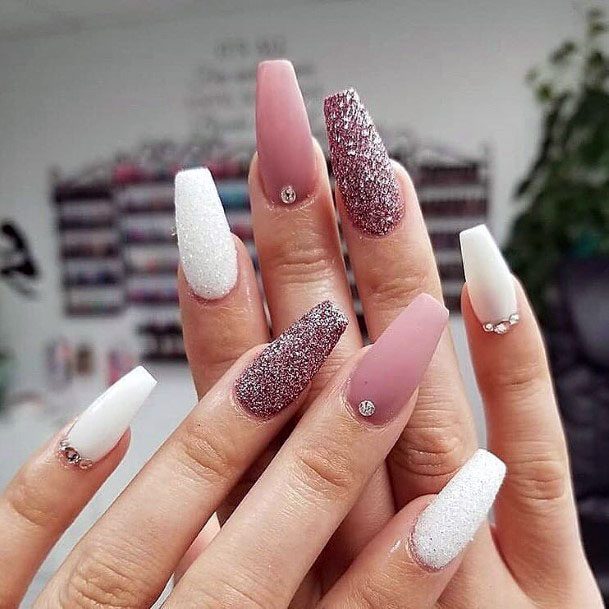 Deep rose with jewels, glittering Burgundy and white, and sleek pearl white with gems go well together for a distinctive designer look.