These soft, heart-warming bears are loved not only by kids, adults too.
I mean come on, who doesn't want a giant stuffed animal from the local festival!
It is also a good way to profess love to your partner.
Teddy bears are cute and are one of the tattoos you can have. There are plenty of design ideas you can choose for your teddy bear tattoo. Instead of just the teddy bear itself, you can add some details. The tattoo looks excellent on your forearm or arm. You can choose to have a large or small teddy bear tattoo. With a teddy bear tattoo, you can always have your first best friend with you.
You can have the teddy bear tattoo designed in different ways to mean something special.
The teddy bear symbolizes unconditional affection, calming influence, love and innocence. Unlike most people believe, it does not mean you have a childish personality when you choose a teddy bear tattoo. The teddy bear placement depends on whether you want a smaller or huge teddy bear. The best places to have the tattoo are on your back, shoulder, thigh, ankle, wrist, and ribcage.
Teddy bears have always had a special place for girls. It has been used as a symbol of love and friendship. The tattoos are adorable and still cute. A smiling teddy bear tattoo can cheer you when you are feeling down. Most women get their tattoos done on the neck, arm and wrist.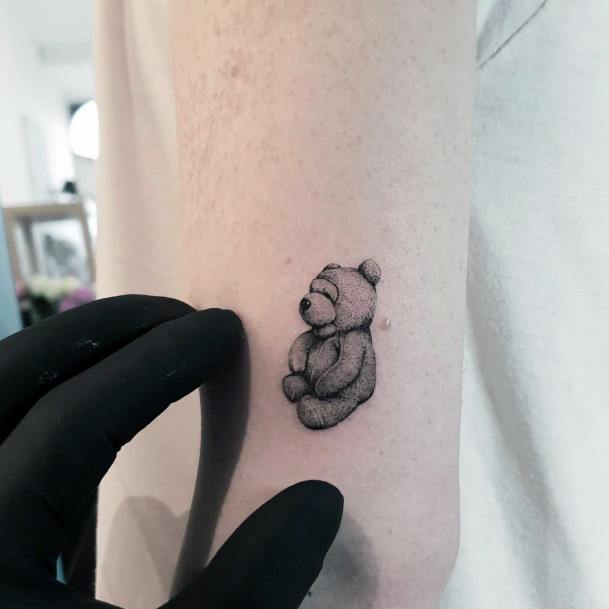 Check out this super cuddly stuffed teddy bear wearing an even cozier set of onesie pajamas. How in the world could this bear get any cuter? While small in size, the details of this women's tattoo are exceptional. The shaded black and grey dotwork design gives this piece of body art plenty of character and realism.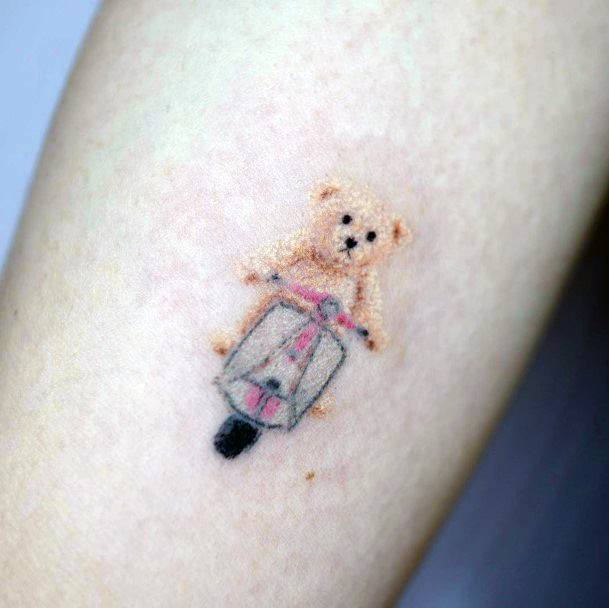 The artist has captured the essence of soft and cuddly to perfection in this small arm tattoo. The classic teddy bear features a very fuzzy coat, black eyes and nose, and a rather fun motor scooter below its hands and feet. Perhaps this has a meaning that involves parting ways or adventuring out into life to explore the unknown bravely.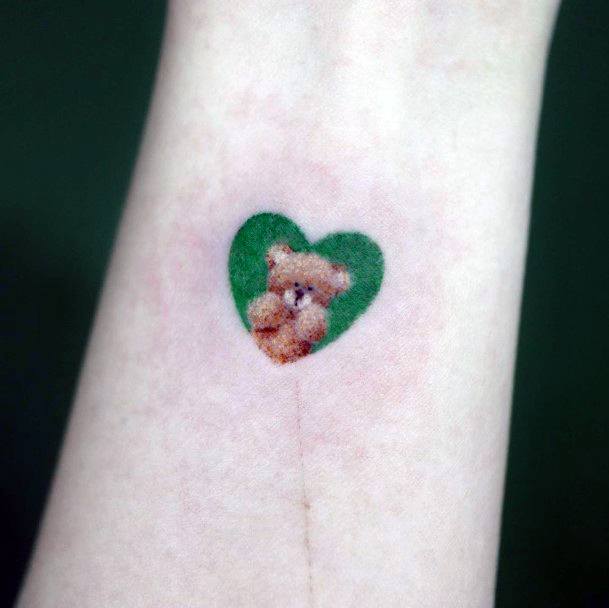 Inner forearm tattoos are super popular these days, but placement by the wrist area is an even larger trend. This female forearm tattoo is a brilliant example of how to do small, realism tattoos right. A tiny fuzzy teddy bear with arms folded in a "come here and hug me" expression gives off a warm, loving message. To further capture the message of love, a bold green heart surrounds the teddy bear in the background.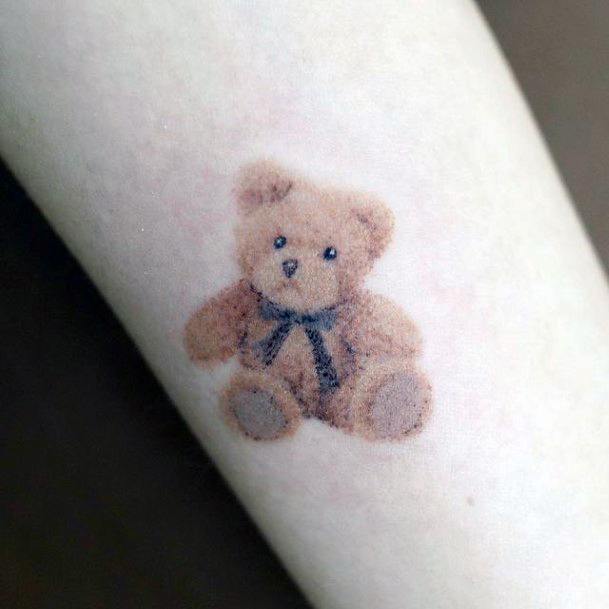 Sometimes a classic bear design is all that most women want. It's a simple souvenir of childhood with so much meaning behind it that any further artistic elements are truly unnecessary. In this case, I find this realistic teddy bear with a black neatly tied bow to be simply beautiful and a wonderful tribute to the past. Placed on the arm, this female tattoo is small in size but it expresses the story of owning a teddy bear to perfection.
Let's face it, other members of the family loved your teddy bear as much as you did. If you ever left a stuffed animal on the floor or within close reach of your pup's snout, then chances are it was a goner. Stuffed scattered across the floor is just a part of life when you have dogs. I love the small, but super realistic detail on this inner forearm tattoo which wonderfully captures a dog blissfully destroying a cute, but helpless teddy bear.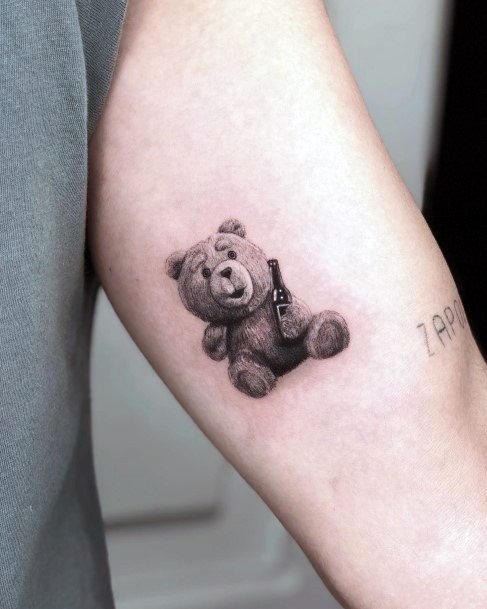 Beyond childhood bears, the bear from the movie Ted has become a super popular symbol for all things stuffed animal. Here's a fun, inner arm women's tattoo that features Ted the bear completed with a glass container and a curious look on his face. If you love the movie, or the character's fun spirit, then perhaps this is the perfect design for you.