When done right, tropically-themed nails can rise above being just an artsy scheme of colors that make your hands look pretty. They can become little works of art in their own right.
Perhaps the classic scheme involved in this area concerns some kind of palm tree — that quintessential signifier of all things laid back and breezy.
Drawing a palm tree on your nails in black — thus calling to mind its shade and tranquil atmosphere — and then contrasting that black against a colorful tropical background of yellow sun, pinkish sky and cool blue water, can neatly sum up what the tropical scene is all about and how that scene reflects on you.
What simpler and more neatly memorable way is there to show the world that you like to chill, that you love the warm glow of life and prefer to take things day by day? A lush tropical flower nail design is another superb way to cast out a warm and sultry demeanor.
This way, not only would you show yourself to be a woman at home in a sunny environment, but you can though subtle little hints of all things sweltering and sexy. In the end, there are as many possibilities open to you here as there are gains of sand on the beach.
Check out some of our tropical nail design selections if a deeper dive into the water is your thing.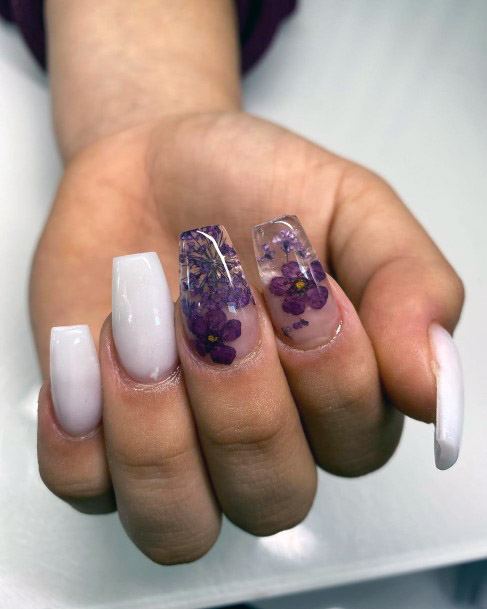 Pale lavender polish painted on three nails looks fashionable and chic. On the other two nails, stylish purple flowers on clear polish offer an added hint of flirtation you'll love!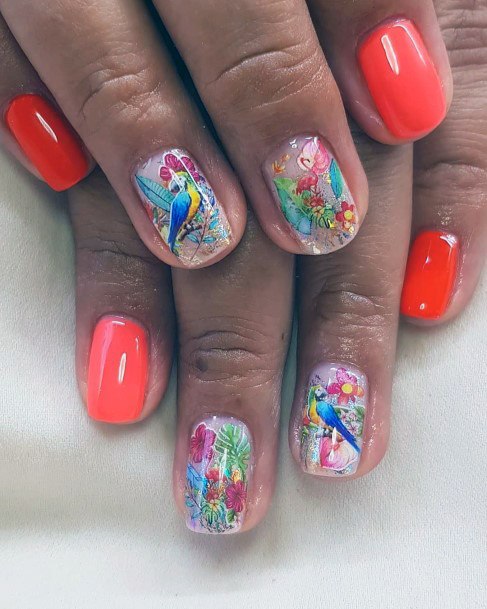 This playful look will make you feel like throwing a party! Candy-apple red nails, plus two nails painted with lush tropical foliage, flowers and peacocks, will make you want to dance.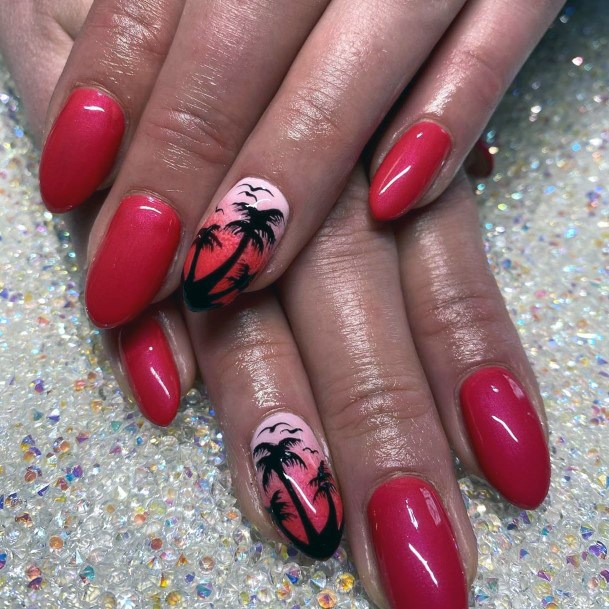 A single nail showcasing a palm tree at sunset and seagulls in flight lets everyone know you're set for an evening of pleasure. Pinkish-red nails are showy and enticing.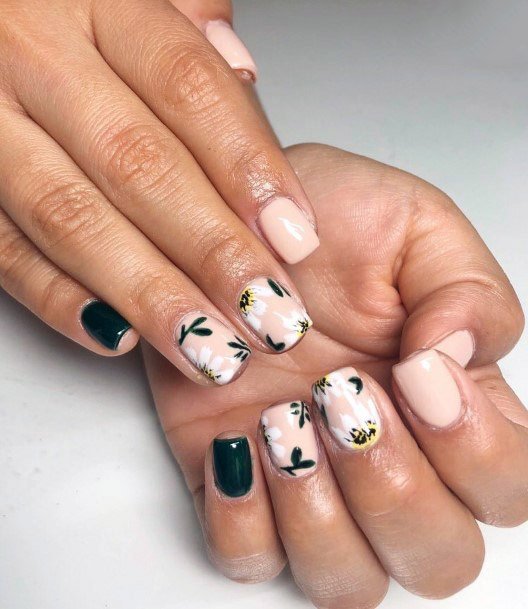 You'll feel feminine yet sophisticated with nails painted in pale pink and decorated with white flowers and black leaves. A single nail painted black adds an eye-catching pop to the look.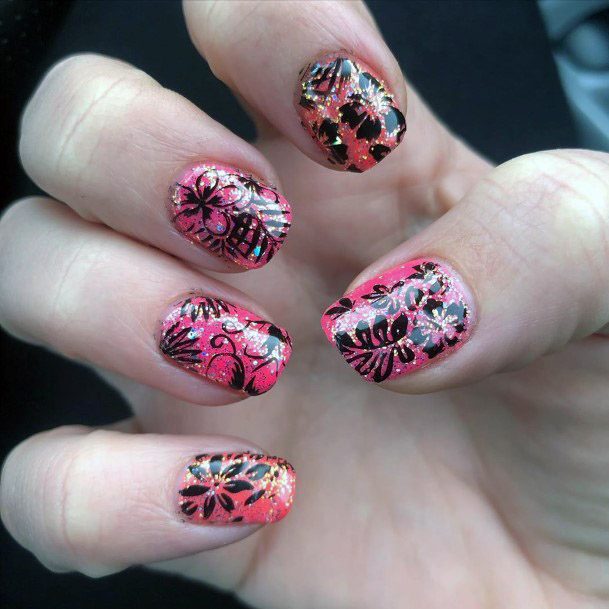 Coral nails topped with a black-colored tropical foliage design make you look like you're ready for adventure. A hint of gold glitter adds the right touch for a sultry evening of fun.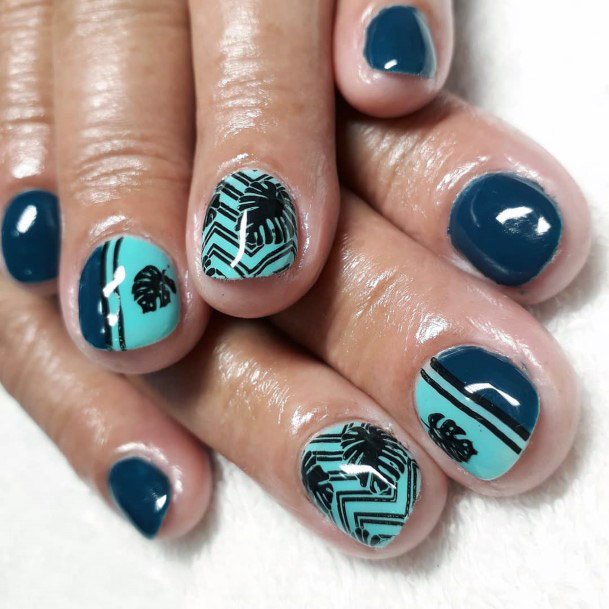 Stylish midnight blue polish with an added abstract design in black and aqua on two nails. This makes me think of an enjoyable evening vacationing at the seaside.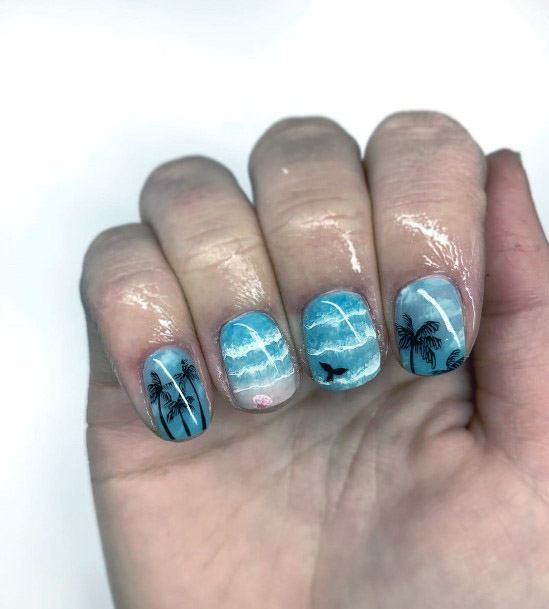 Can't you feel the ocean breeze and the sound of waves on the beach? Nails painted with blue seas and palm trees will make you feel like you're in the tropics.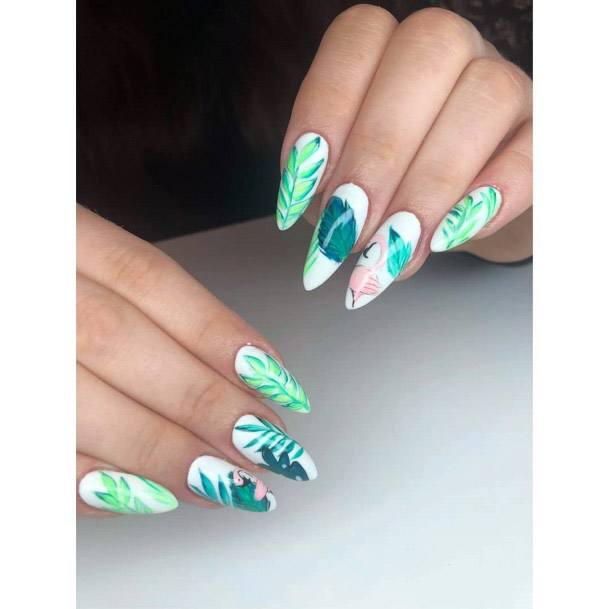 Show your personality with these long, tropically-themed nails. White nails topped with lush green foliage. Add a flamingo to a single fingernail for fun. You'll be the hit of the luau!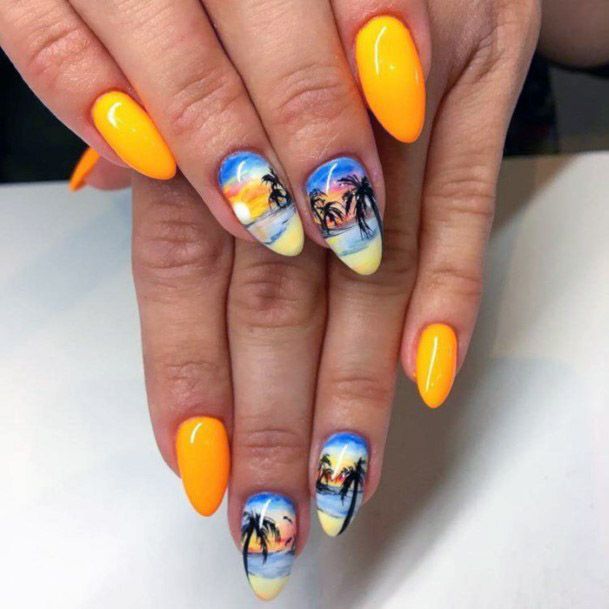 Get happy with bright, citrus-colored nails! Add a few colorful tropical designs, with a sunset, ocean and palm trees, to this sunshiny-yellow look. Your nails will dazzle and pop.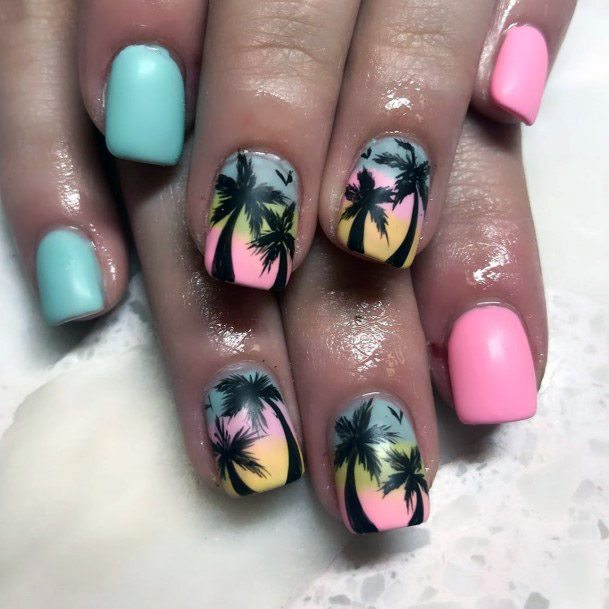 Go wild, pretty lady! Contrasting nails painted in pink and aqua, plus two colorful nails pop with a black palm tree design. Stand out from the crowd with this showy look.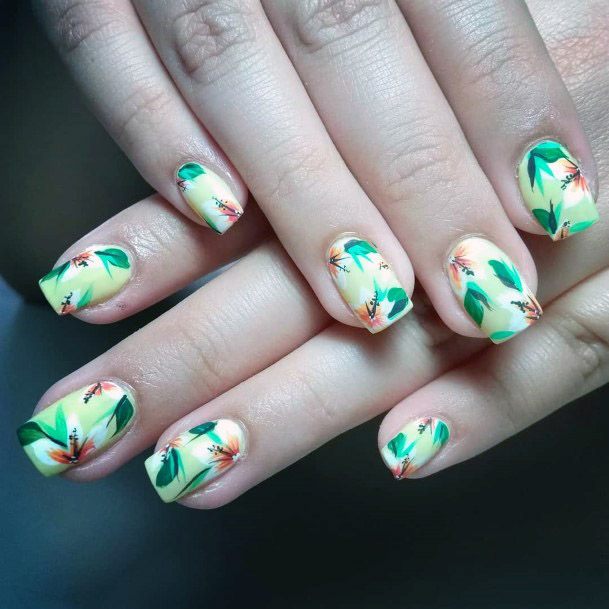 This is a classy style that will make you feel feminine and fashionable. The artistically-done tropical design features painted green foliage and coral flowers on pale peach nails. So pretty!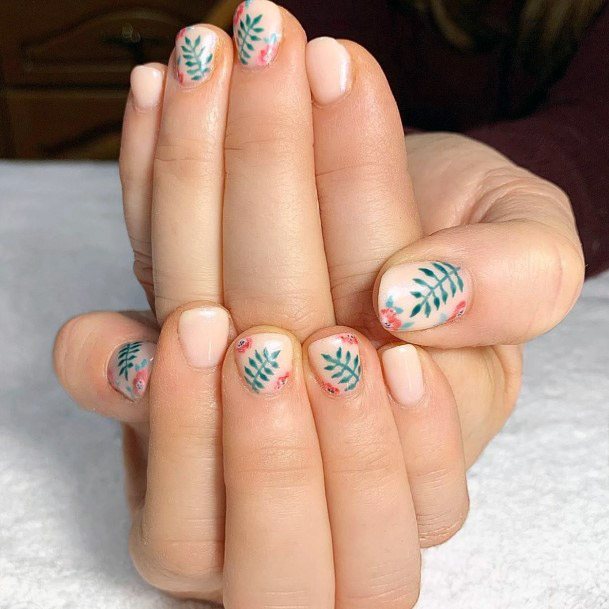 Look like a princess with these sweet nails painted in pale pink. Dress it up with a subtle design on three fingernails, including a green branch and pretty pink flower.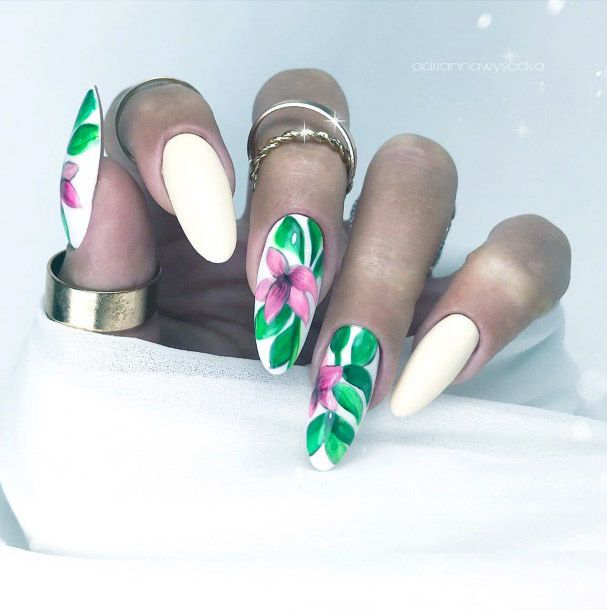 This sexy look tells everyone you're ready to party! Tropical pink blossoms and green leaves on a white background make your nails feel fun. Two plain white nails add sophistication.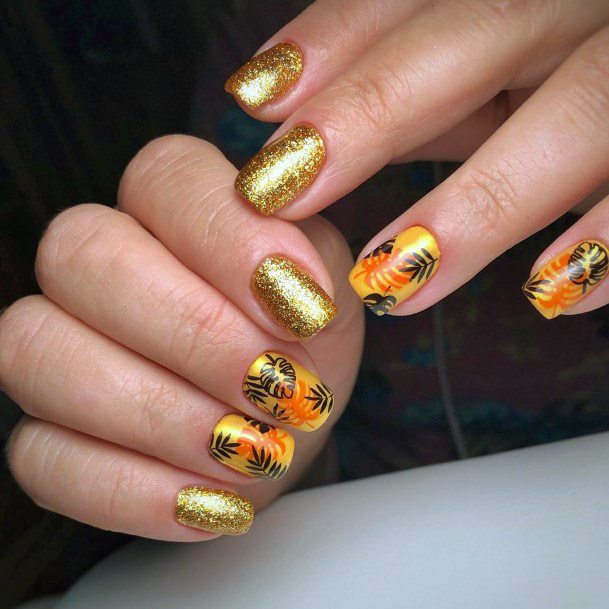 Glittery gold nails will make you feel like a superstar. Gold polish designed with a top layer of black and orange foliage adds a flashy tropical touch to your nails.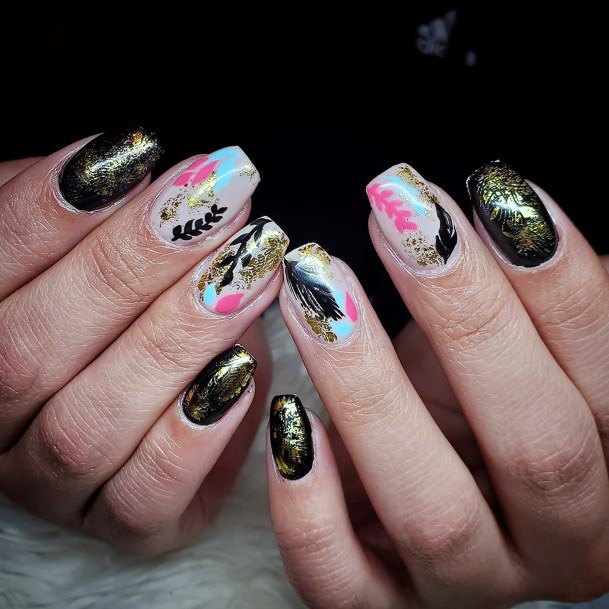 This sophisticated, sultry look is perfect for clubbing or an evening out. Tropical foliage, spots of color, and splashes of glittery gold add glamour to light and dark nails.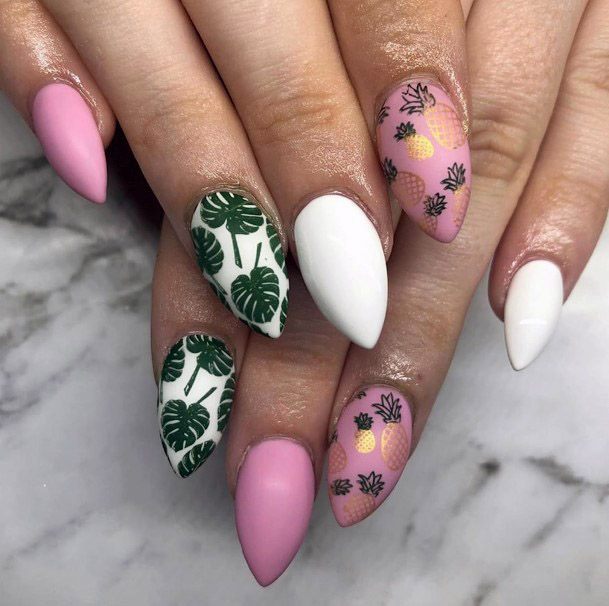 Mix it up and make it fun with bubblegum pink and sophisticated white nails. Exotic palm leaves decorate a nail. Glam it up with gold pineapples on another one.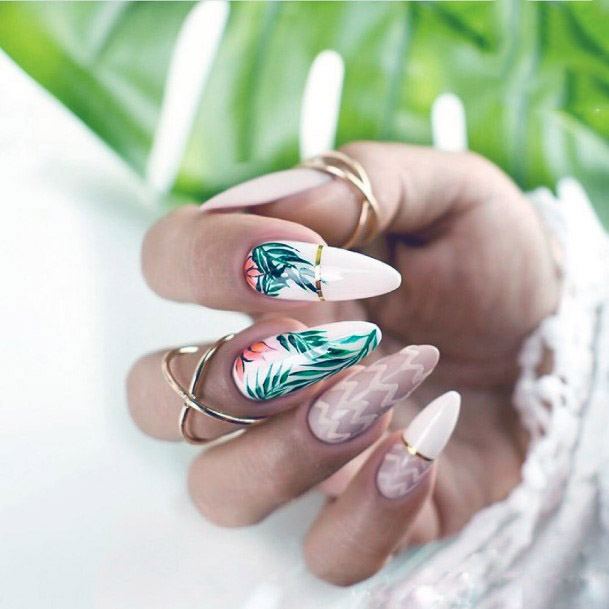 These long, stylish nails are so eye-catching. Tropical palm branches and flowers decorate two fingernails. Other nails feature a beige-hued zigzag pattern. Gold bands offer a lovely contrast.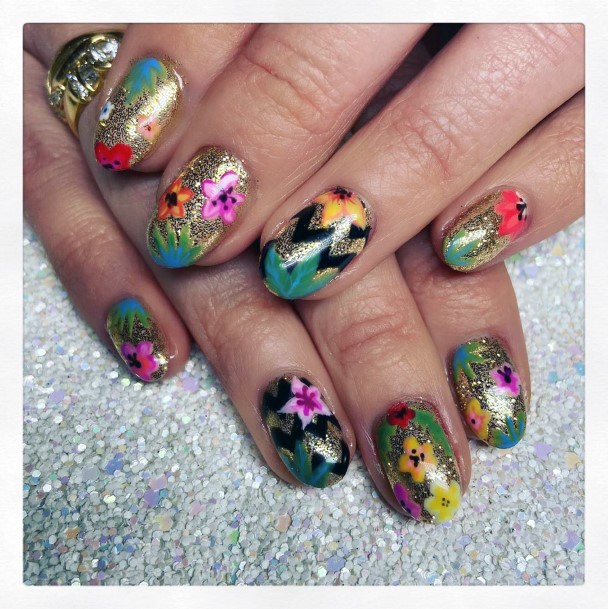 Go glamorous with colorful tropical nails that will make you feel ready for an enchanted night on the town. Flowers and glitter combine for a look that gets you noticed.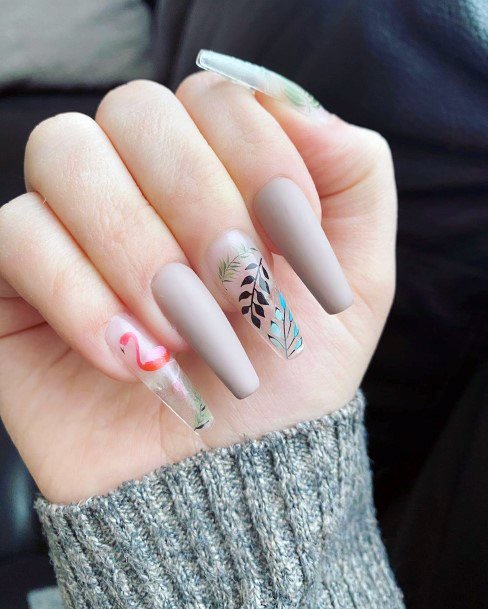 Don't you just love this sexy and sophisticated look? Long nails, pale pink polish, and lovely designs. A graceful flamingo and lush tropical branches enhance a trio of fingernails.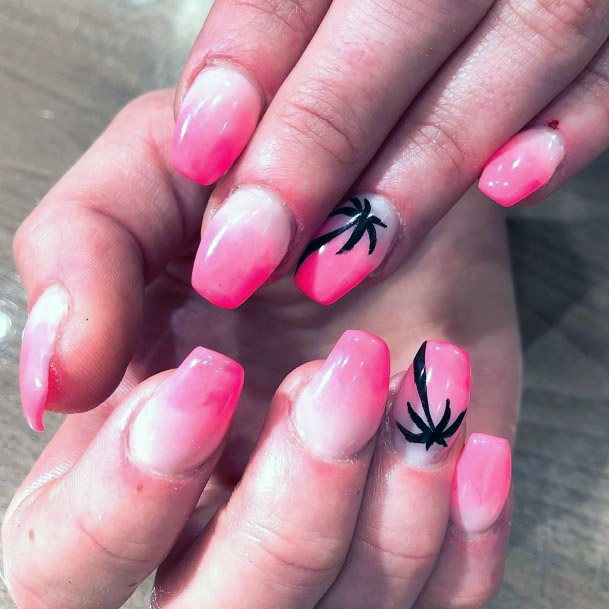 Bubblegum pink nails that fade into white. A single black palm tree enhances one contrasting nail. Put on a party dress and dance. You'll love the sultry, kissable look this gives you!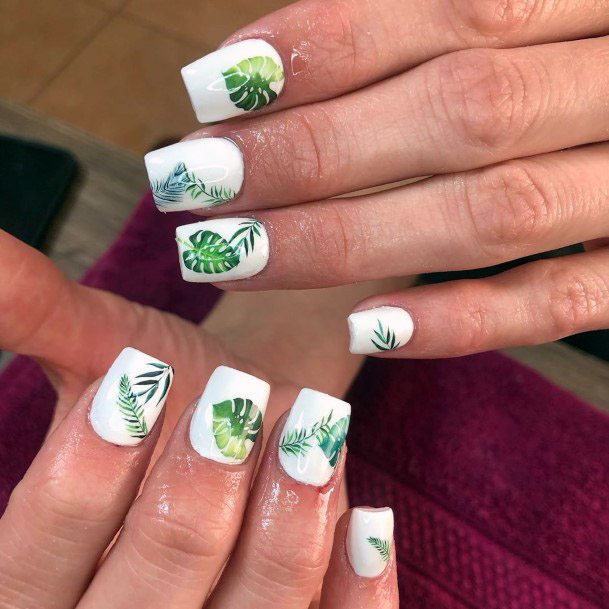 Bright white nails with contrasting green foliage will make you feel like a jungle princess! You'll feel like exploring the outdoors or dancing the night away with these nails.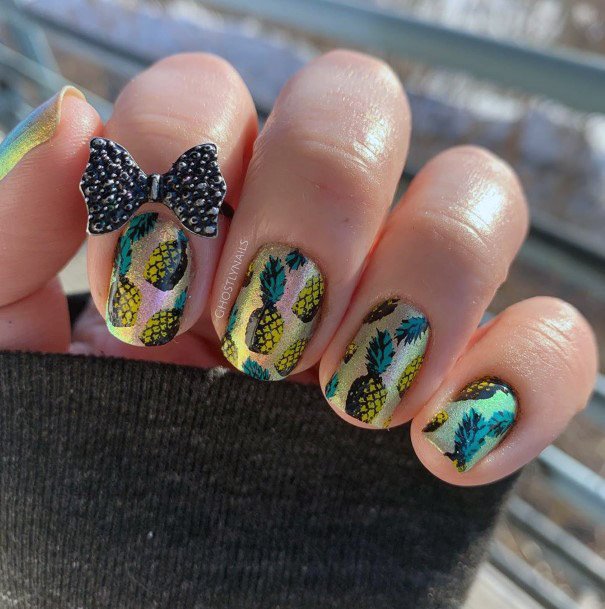 Glitter, glamour and lots of pineapples! Don't you simply adore this? Put on a Hawaiian-print dress and head for a summer soiree. You're sure to get noticed with these nails.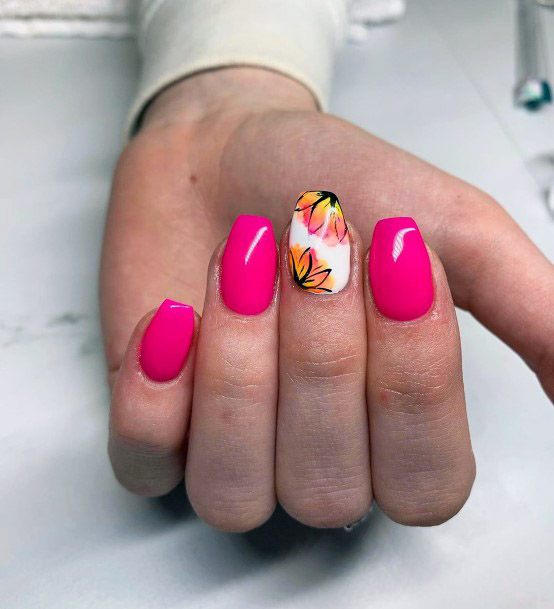 Glossy pink nails make for a cute, girly look that pops. I love the single contrasting fingernail painted white, with colorful flowers in orange and coral added on top.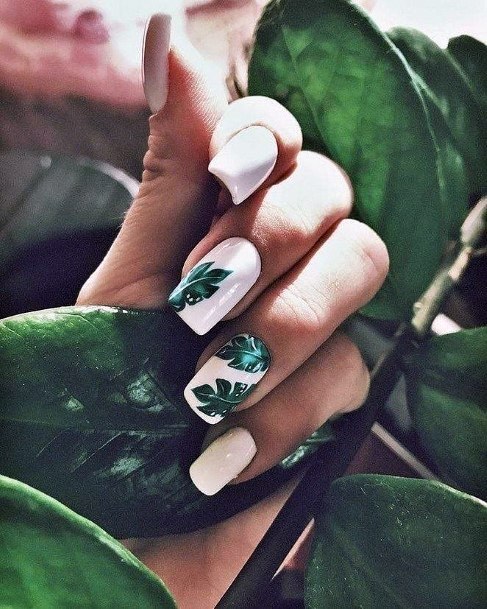 Classic white nails are such a simple yet elegant style that always works. The added contrast of dark green tropical leaves painted on two nails is eye-catching and chic.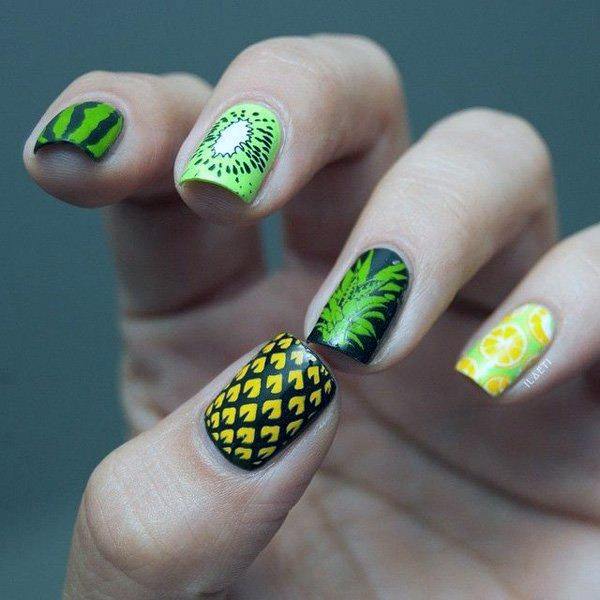 Go fruity! A design of pineapple, watermelon and lemon slices makes these nails playful and fun. Your nails will make you feel like indulging in a delicious fruit-filled drink!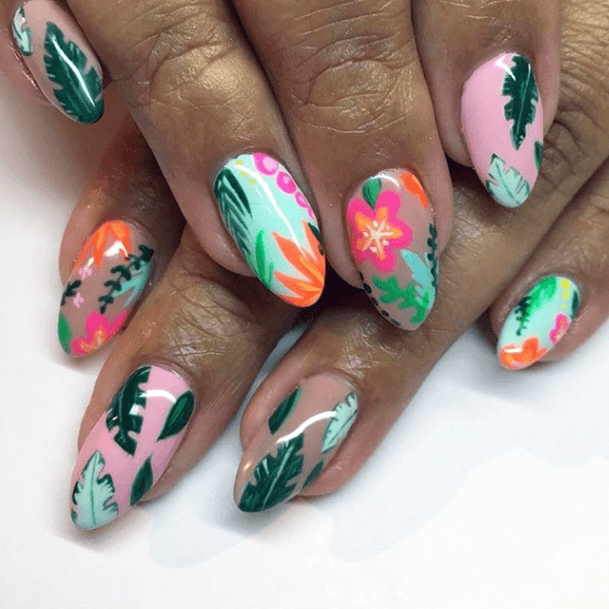 Mix it up with a variety of colors and designs on every nail. Tropical blossoms and palm leaves decorate nails painted in light aqua, pink and beige for a stylish look.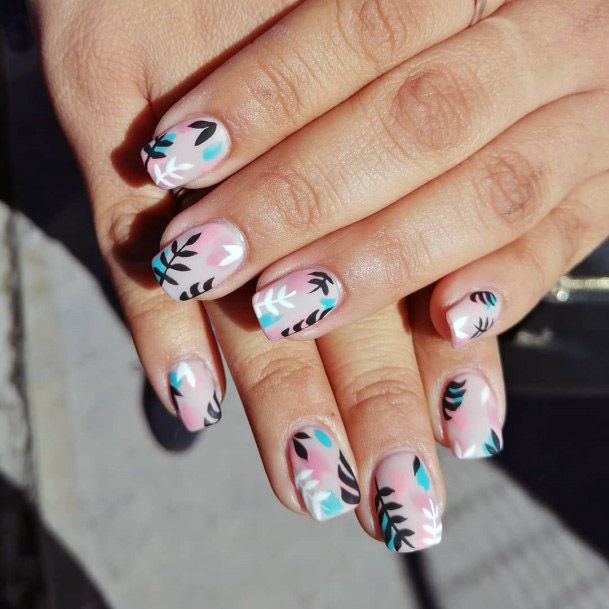 These matte finish, pale pink nails will get you compliments. I love the abstract design with black, white and blue foliage. These nails will go from casual to dressy in a flash.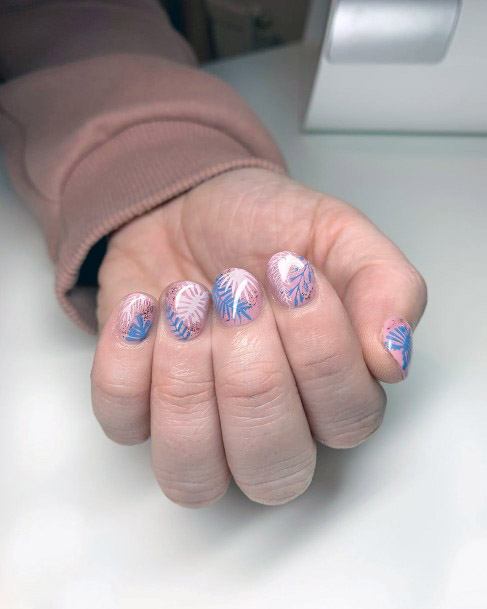 Sweet in pink and blue, these short and glossy nails are so feminine! A subtle tropical design is a nice added touch. This attractive look is both flattering and fashionable.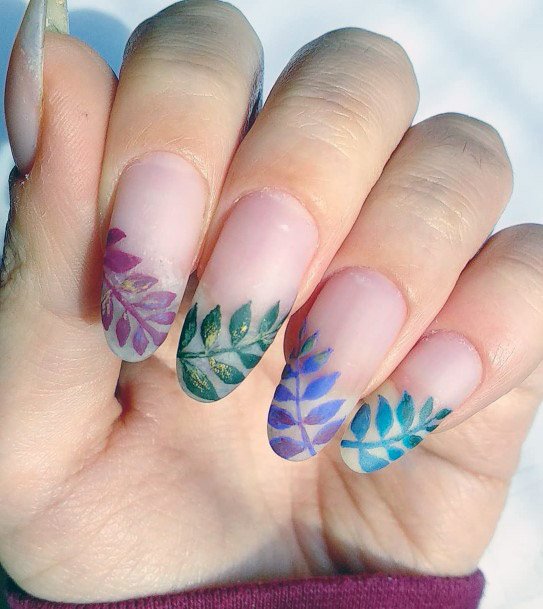 Check out this elegant look for simple matte nails. There are different colored tropical branches on the end of long fingernails, with a tiny hint of glitter on the design. Just perfect!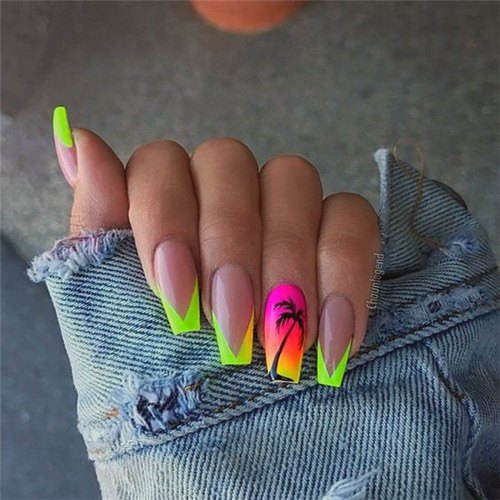 Neon-yellow nail ends look flashy and spectacular. The perfect addition to this steamy style is a single nail with a black palm tree painted on top of a bright sunset sky.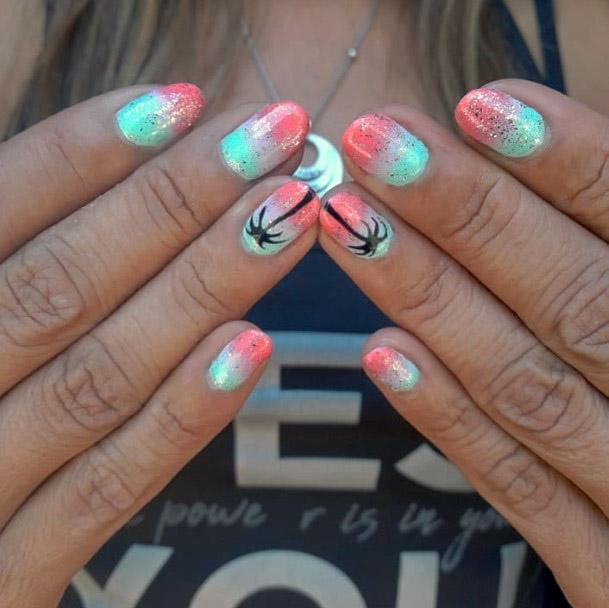 Ombre nails with glitter and a single fingernail with a black palm tree for contrast are stylish and alluring. You'll want to sport this look at a summer evening pool party.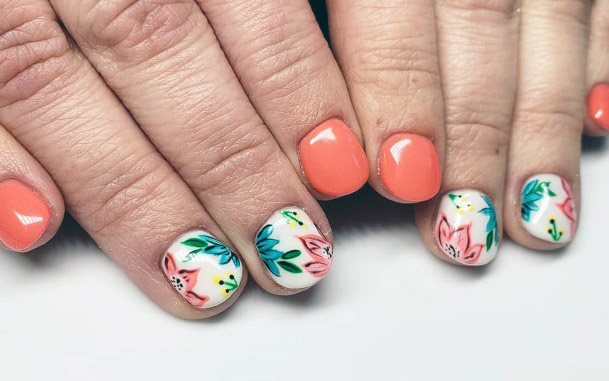 Short nails painted in pretty coral contrast with ladylike, colorful flowers on white nails. Like fingernail eye candy, this is such a flattering look. The stylishly-drawn flowers are a lovely touch.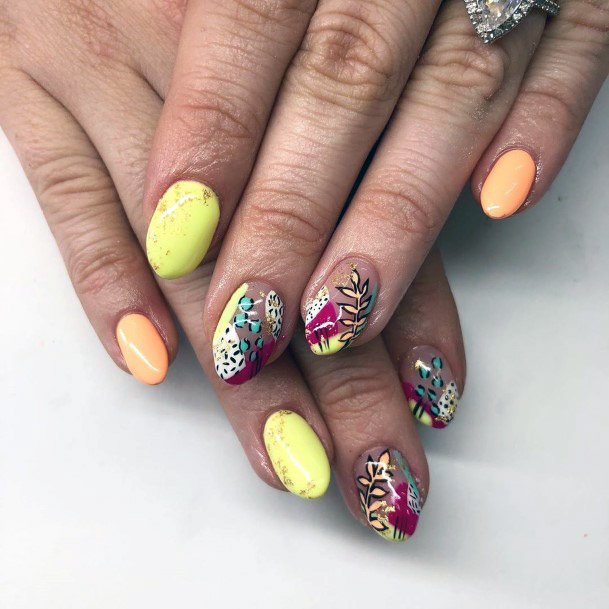 With a colorful abstract design in bright lemon and orange, these gorgeous nails remind me of Easter eggs. Splashes of aqua, magenta and white add an exotic style to the look.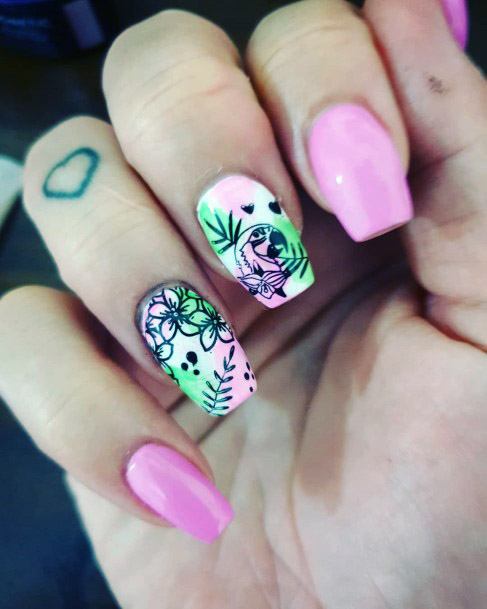 These flirtatious nails pop with bubblegum pink and green polish. Add a tropical design in black on two nails, then add a parrot and tiny hearts. An eye-catching style you can't miss.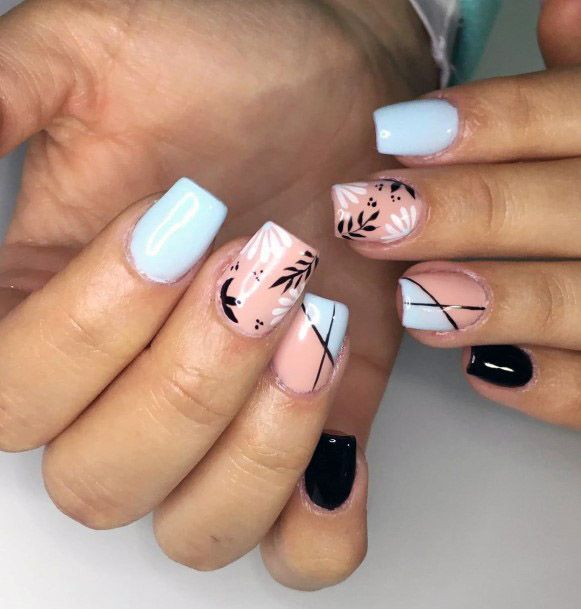 I love the combination of pale pink, baby blue and black nails. An abstract design in black and white, with a hint of the tropics, adds a pleasant contrast.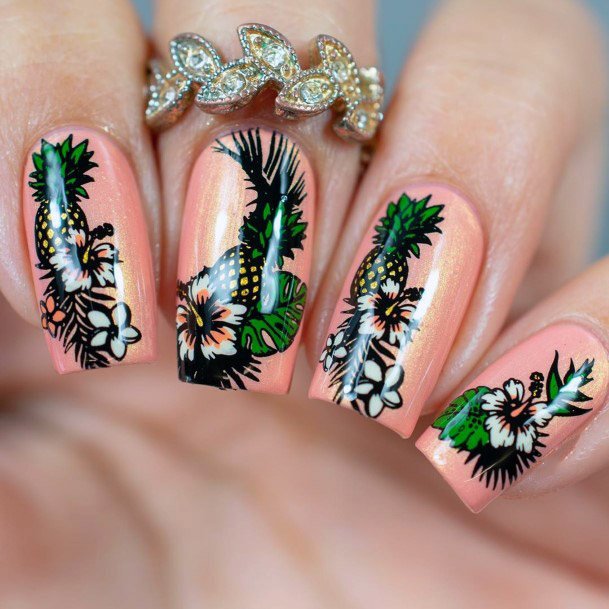 It's luau time! These luscious nails are painted in coral and decorated with pineapples and big tropical blossoms. They offer a perfect match to your most fashionable Hawaiian luau attire.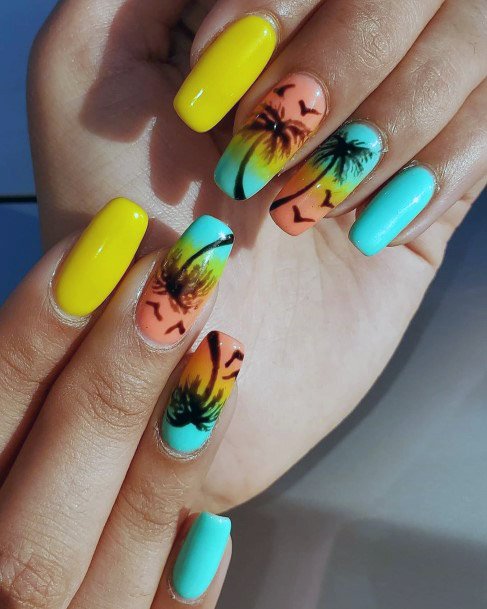 These lemon, baby blue and ombre nails will make you feel like dancing! A black palm tree and seagulls add a fun tropical party design to the colorful nails.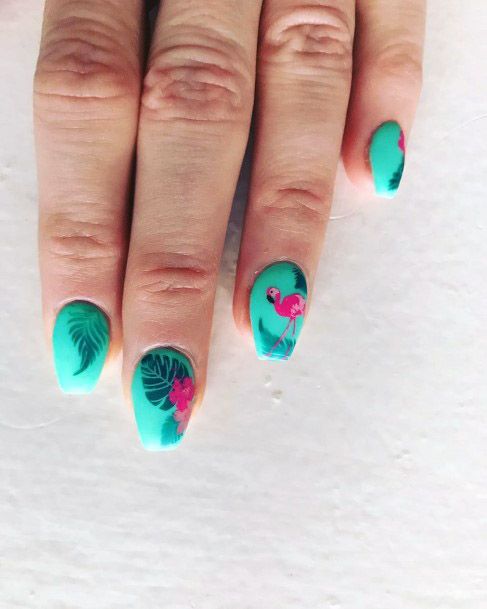 You'll feel the ocean breezes with these aqua-painted nails decorated with palm leaves, pink flowers and a flamingo. Makes you want to head to the beach for a swim!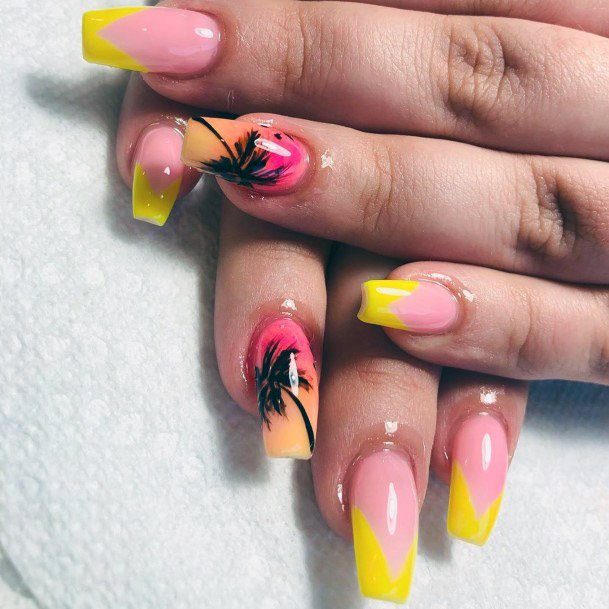 Check out this flashy style with pink nails and a pop of bright yellow at the ends. A single fingernail with a black palm tree adds a showy contrast.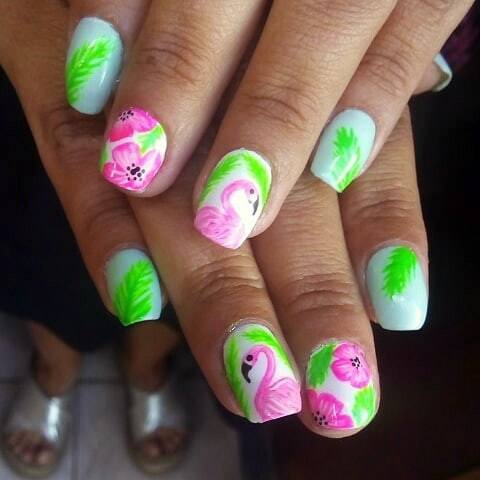 Girls just want to have fun! Add some pink flamingos, neon green palm leaves, and hot pink tropical blossoms on white painted nails. You're sure to be a hit.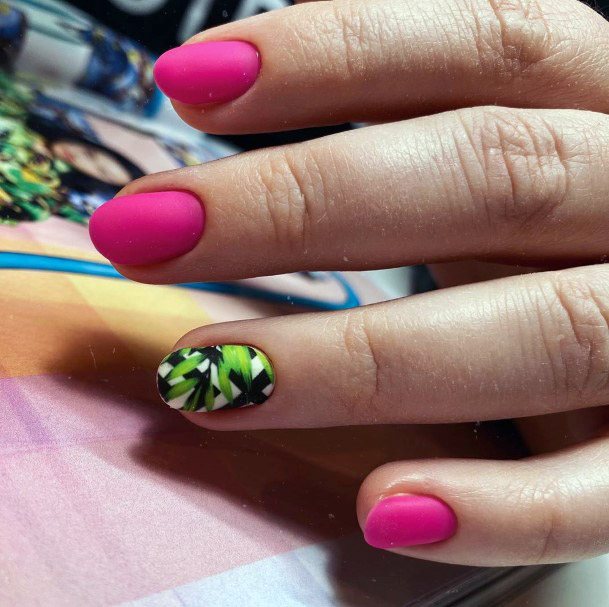 These gorgeous hot pink nails are simple and sophisticated. A crisscross pattern of lush green foliage decorates a single fingernail, adding an extra pop of color and pizazz.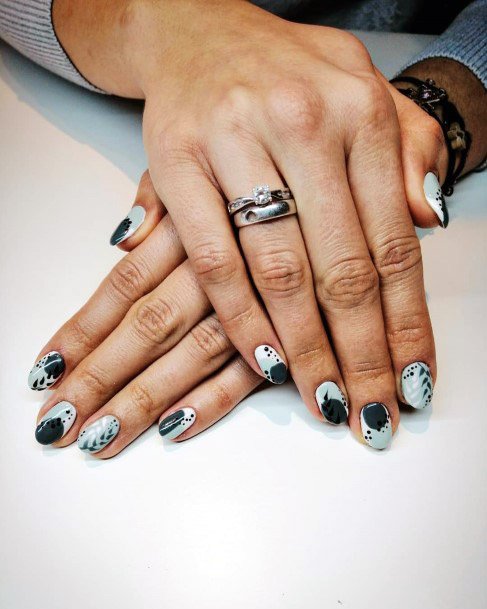 This classy nail design will go from daytime to evening. With black, white and subtle gray tones, your nails will give you a style that will match any look.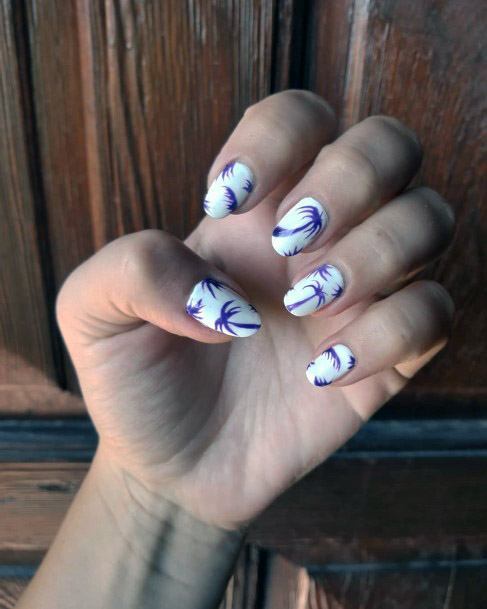 These white nails painted with purplish-blue palm trees are so cute and fashionable. They'll give you a cool, casual look that will feel just right for a day at the beach.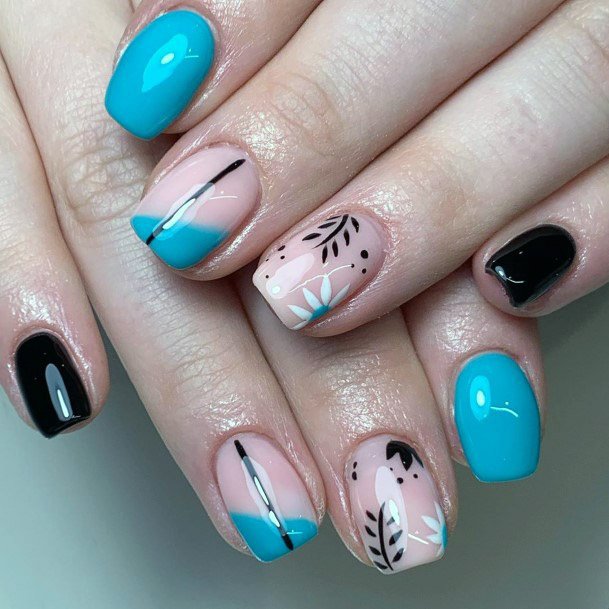 Check out these glossy nails offering an abstract design in soft pink, baby blue and bold black. A flower and stem give a hint of a relaxing tropical garden.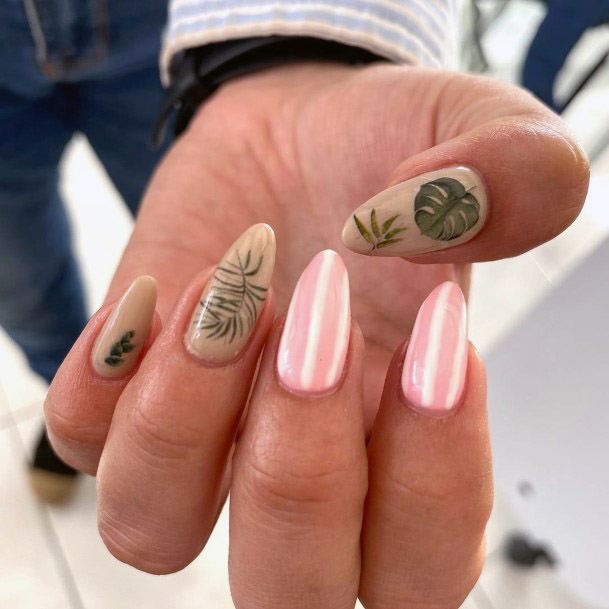 Attractive beige nails feature a sophisticated design with a hint of the tropics. Two baby pink nails offer a sultry surprise! These are beautiful, elegant long nails everyone will admire.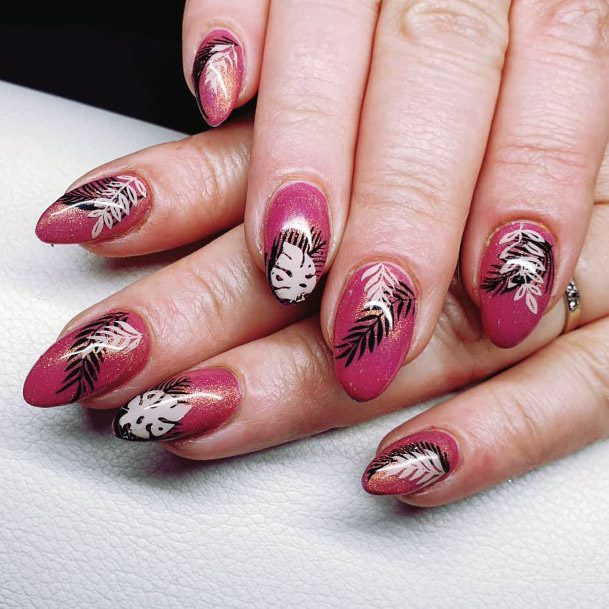 These pretty rose-pink nails offer a stylish, dressy look. I love the added design of black and white tropical foliage that makes these nails look extra attractive and fun.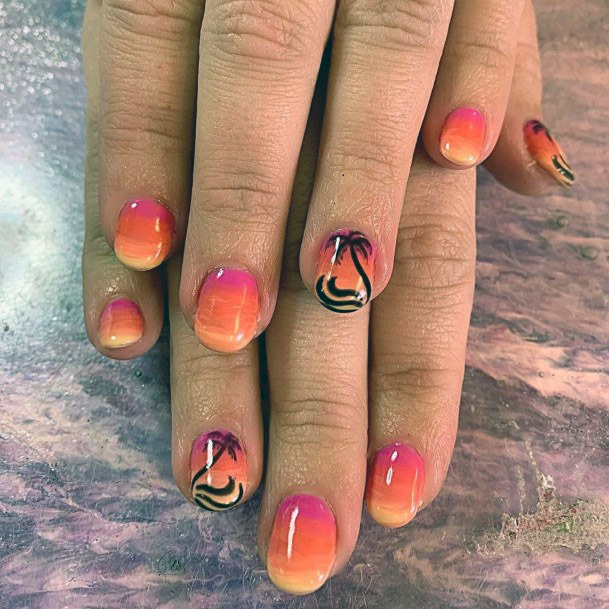 These ombre nails offer hues of pink, orange and yellow colors, giving a spicy look to the nails. The best part is a black palm tree and wave design that is so flirtatious!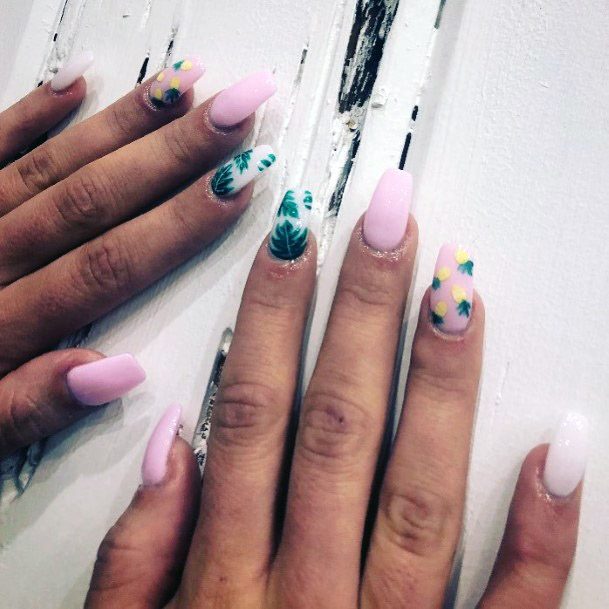 These long nails look very ladylike in matte pale pink. A pop of pineapples and a palm leaf adds a playful spark of fun to this swanky look.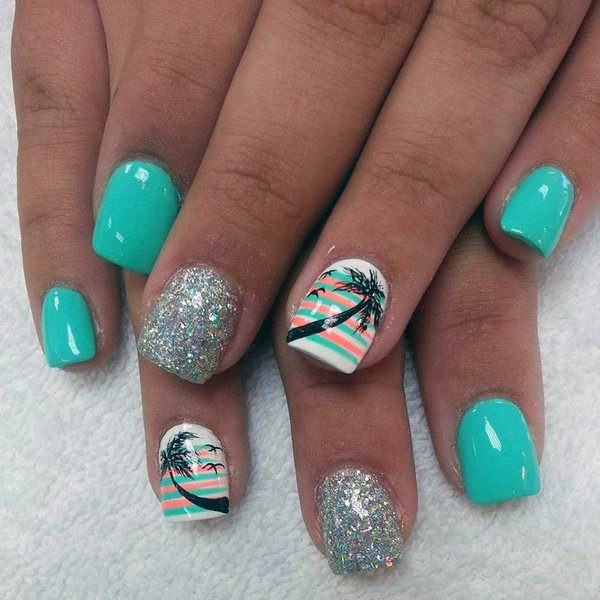 Glamour meets the tropics. I love the mix of turquoise nails and a single nail with a palm tree design. Add a silver glitter nail on each hand to go dressy!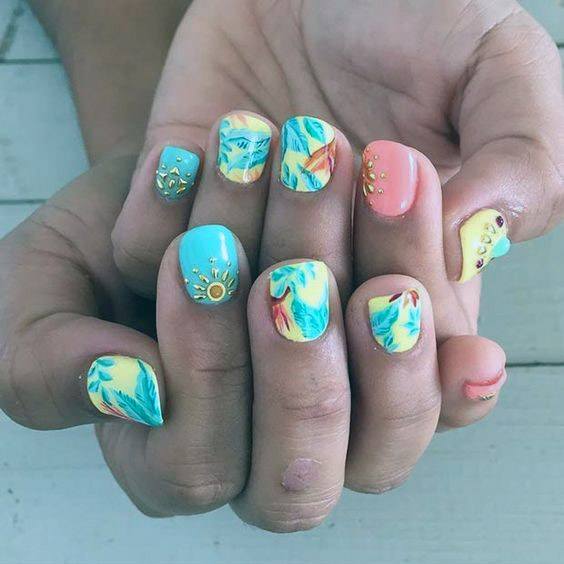 Short nails painted in pastel colors offer tropical designs in a rainbow of blue, yellow and gold hues. I love the contrasting single pink nail for that added ladylike touch!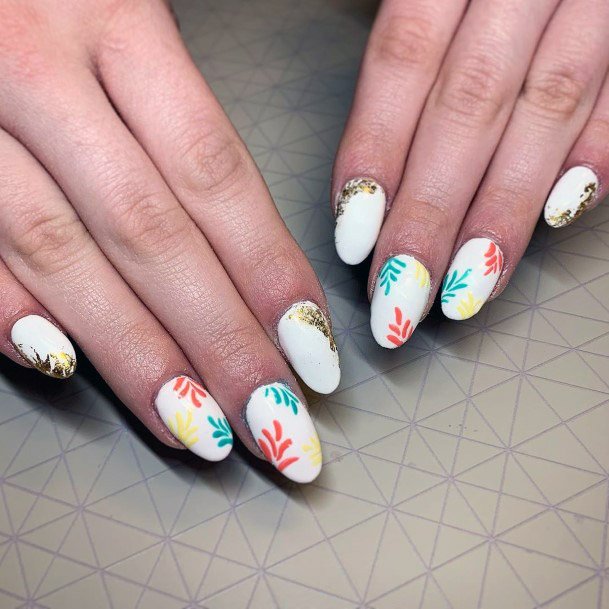 Classic white with a primary color design on the nails looks so chic. I love the splash of gold highlights on a few of the nails. It just makes them pop.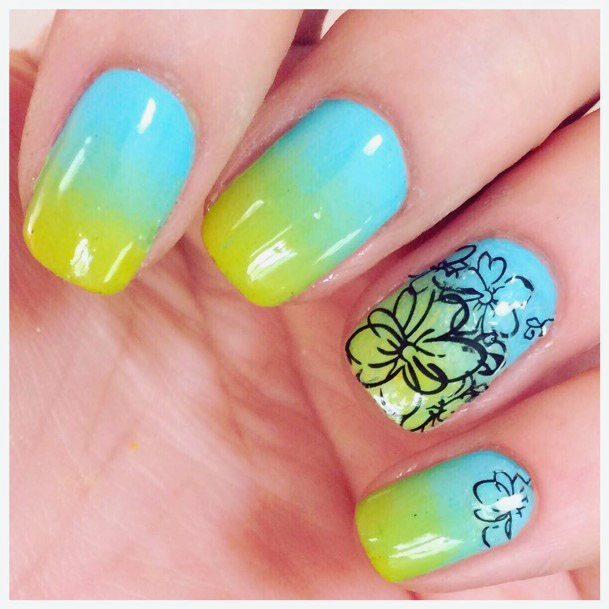 Ombre-painted nails in blue, green and yellow look colorful and fun. Black outlined flowers on two fingernails offer a hint of flirtation to this cute look of the tropics.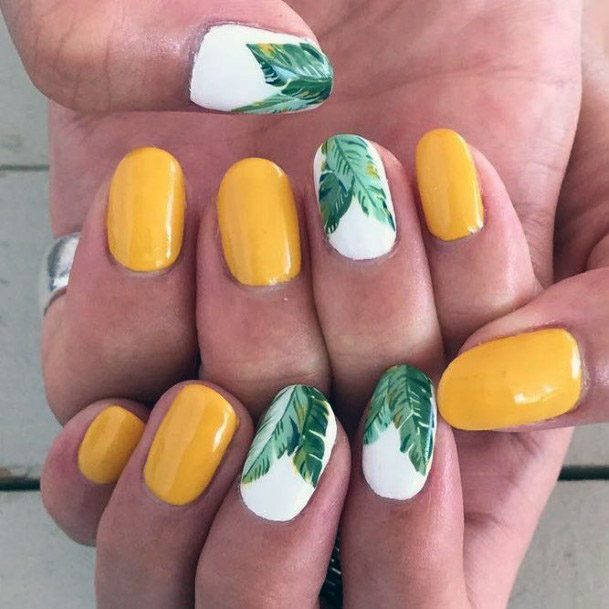 Get ready for hot summer nights with three nails in golden yellow and two nails designed with palm leaves. This lively look will leave you happy and ready to dance!