While white nails may appear to be lifeless, they are far from boring.
It's always what you do with the color that counts and with white nails, you can create some of the most elegant designs the mind can create.
A common way to create a white gel nail would simply be to apply it fully and have all white nails with gel polish. Gels are some of the hottest nail trends to come to the beauty scene.
When you think of white, you think of heaven and angels so what better to do than angel gel nails with beautiful wings. Angelic French tips are also an option and can be a classy fit for any occasion, be it a wedding, a formal, or just a Saturday brunch with friends. We all love associating white with winter and another really creative option could be to create snowfall or snowmen on your nails.
Using white gel to create a winter wonderland would be perfect for the holiday season and adding a touch of sparkle would be even better! Winter is a loved holiday by many and Christmas time wouldn't be the same without snow! Create snow on your nails and fit in with the holiday spirit! White nails are also a great canvas for floral designs of any sort.
With such a light layer of nail polish as a background, it is sure to highlight any intricately created design and make any color stand out. White gel nails are a versatile format of nail designs to do and can create anything from a winter wonderland to a classic French tip.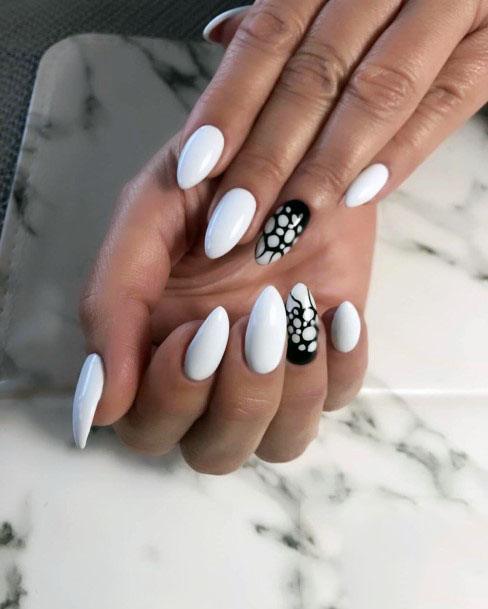 All white nails just do not always work. Make one a little more decorative than the rest so that your nails really stand out. Take for instance this black and white contrasting look with a lava style.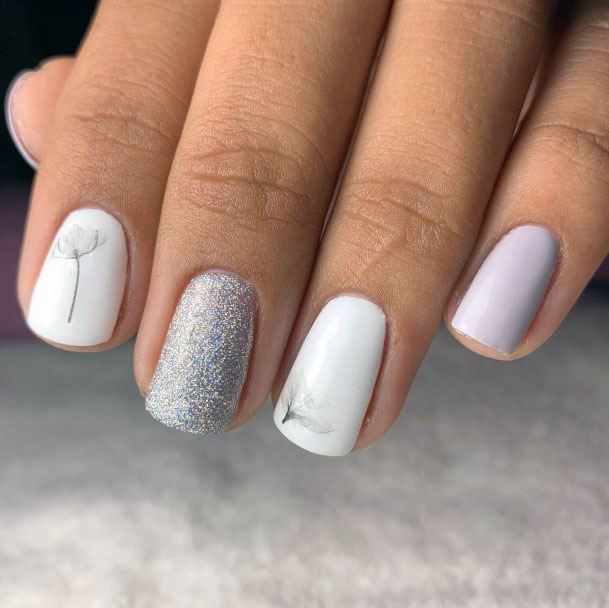 You can do anything you want to with your nails. Just try to keep them in the same tonal range for the best possible effect. Note the soft grey withe the white and pale grey end fingernails; a beautiful combination.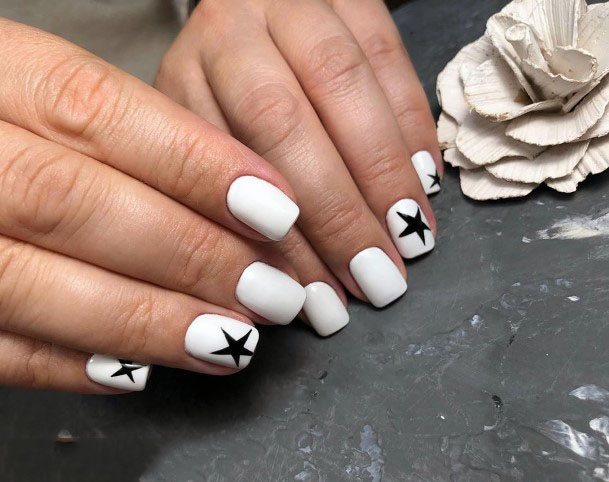 White nails make for a great background. However, try to make one a little different than the rest to stand out. The highly contrasting black star gives these otherwise simple nails some punch!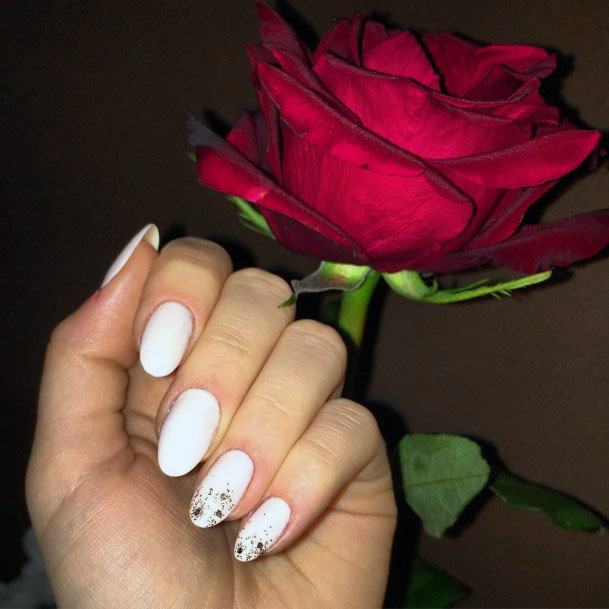 Our nails can really say something about you. Always have a little fun with them, and try to set your nails apart from the rest. I love these gold glitter nail ends; simple, beautiful and classy.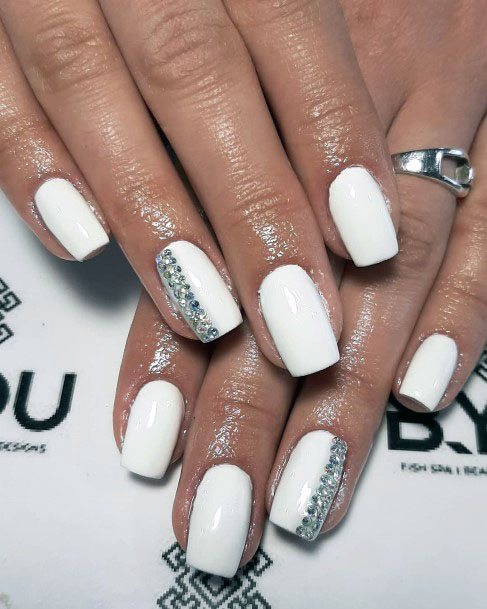 White nails do not mean plain nails. They can really help to make one different nail really shine, especially if that nail been garnished with rhinestones for a little extra bling.
You can have as much fun with your nails as you would like. One with a lot of work, another with a little work, and two plain nails can make a statement.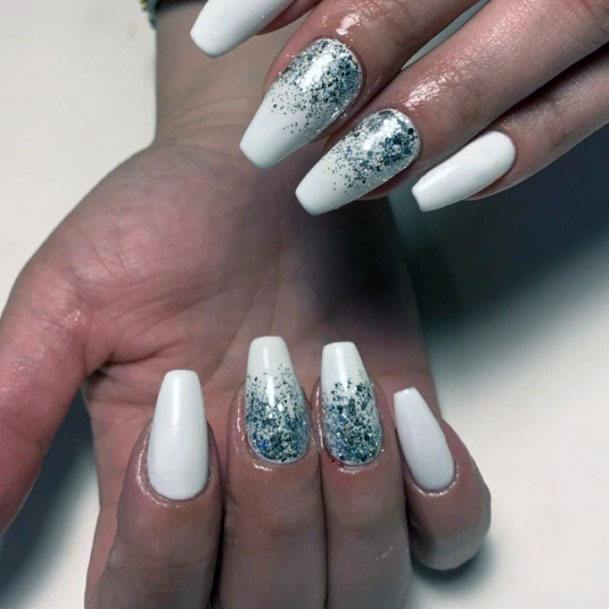 White nails can make a really nice bookend for two decorated nails. The nails should force everyone else to look at the ones in the middle. I love the silver gradient look which as some additional formal appeal to these fingernails.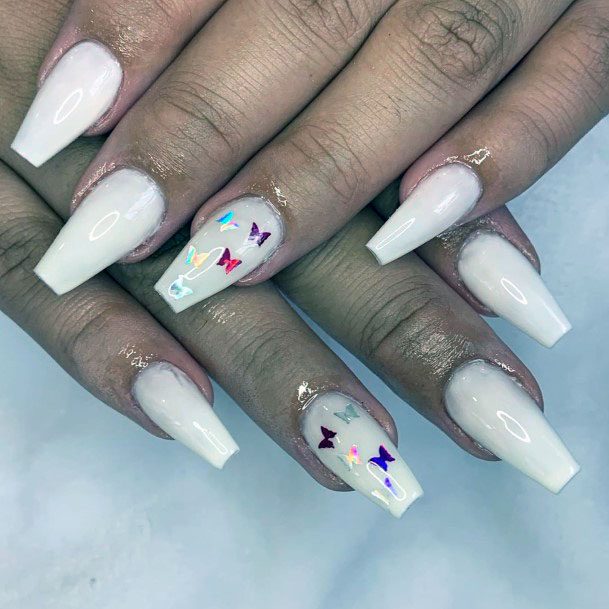 The little touches help you add a little whimsy to your nails. Whimsy can be a really great thing if your day has been a little rough, allowing your humor to shine through. Get creative, while in this case you'll find pretty butterflies, you can always opt for other symbols such as stars, geometric shapes, animals and all sorts of things.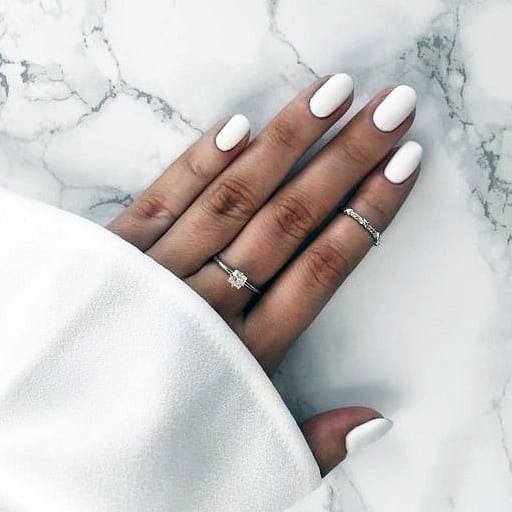 There is nothing wrong with a good white set of nails. For those looking for something clean but classic, white nails can show certain confidence that never goes away. Simple, pale in tone and easy to accomplish, this an effortless formal fingernail favorite.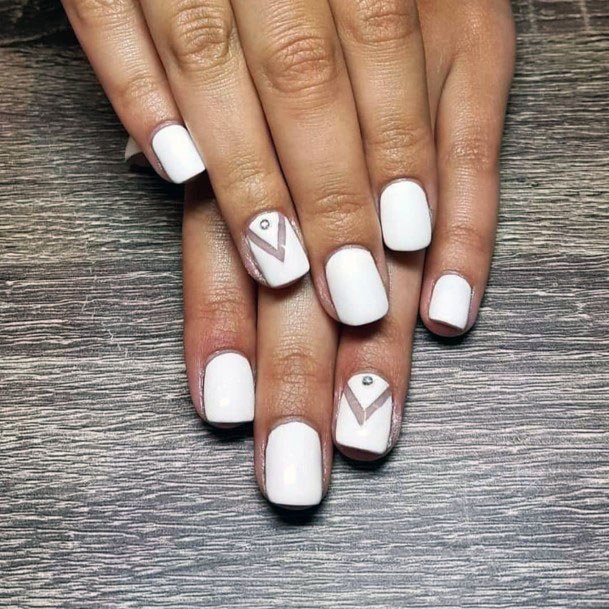 Your nails are your statement. A little flourish can help you show support for a friend, for a cause, or just let you add a touch of class to an already great set of nails. I love the negative space arrow geometric design paired with a single rhinestone crystal for that extra touch of class.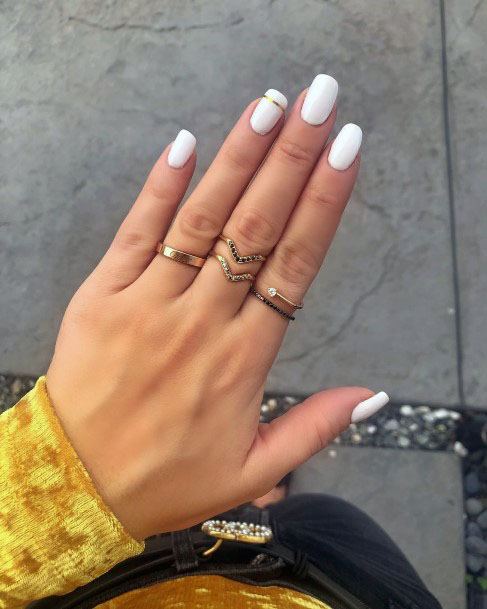 Your nails can parallel your jewelry. A little gold makes a fun yet classy statement for a married woman, showing that her marriage is as strong as her wedding day.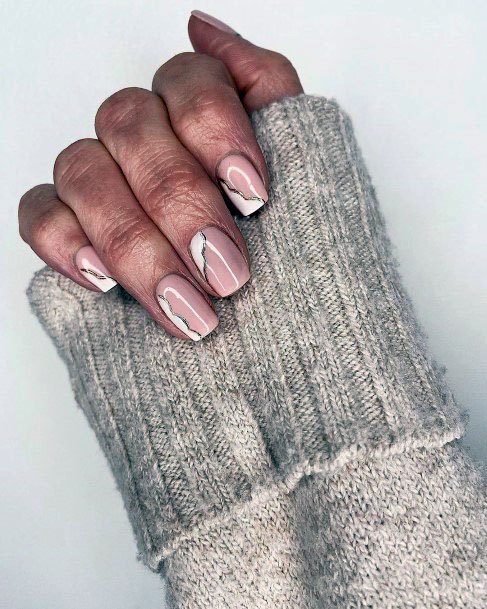 A beautiful pattern will always be a beautiful pattern. It also allows you to break up a set while at the same time emphasizing that set if you carry through. Note the wonderful nude base color that's separated by a thin wavy gold line and finished with a white end. I find this style to be fun, personable and creative.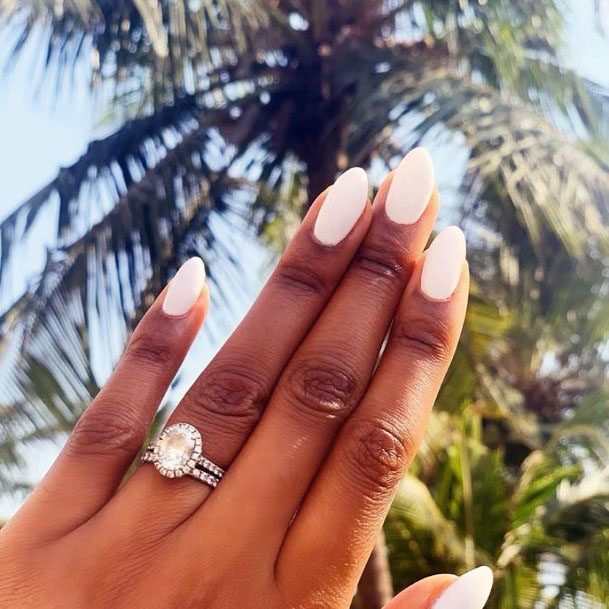 Who doesn't love a stunning set of crystal white gel nails? Almond shaped, these fingernails are perfect for formal occasions such as prom, weddings, date nights and so on.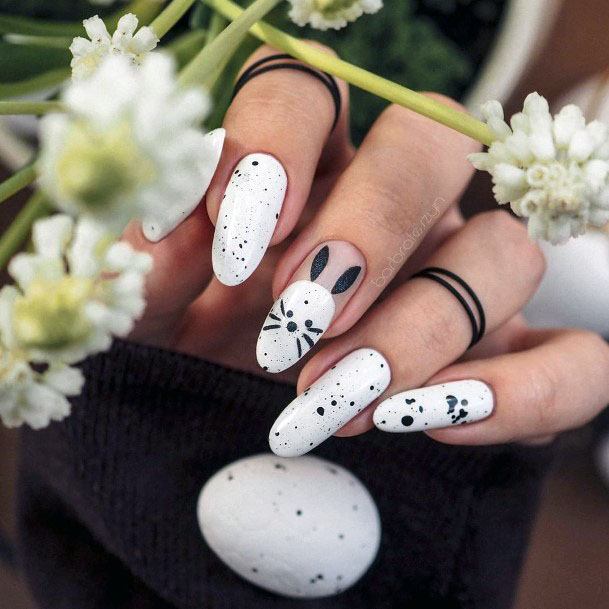 For those that need a little cheering up, a little whimsy is never a bad thing. Throwing a neat little surprise into the mix is always a nice thing, especially around the holidays. For Easter, these white fingernail ideas are sure to delight with their cute bunny rabbit face and egg print pattern,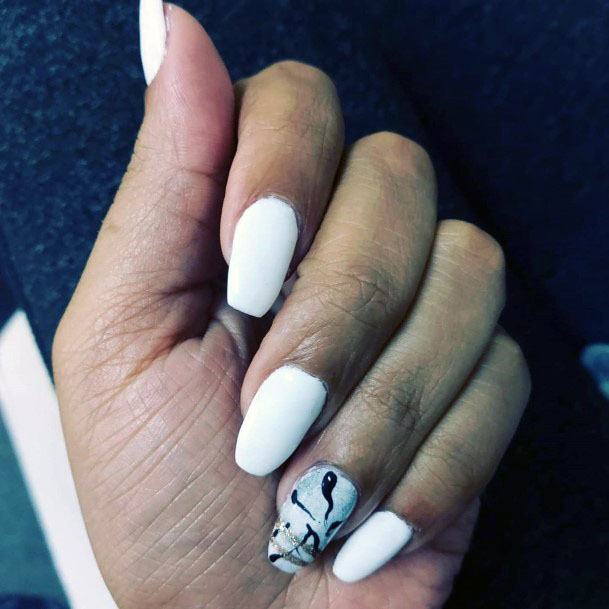 An artistic streak should never be suppressed. Your nails can always make a good statement and show where you are heading, such as an art gallery or just out on the town.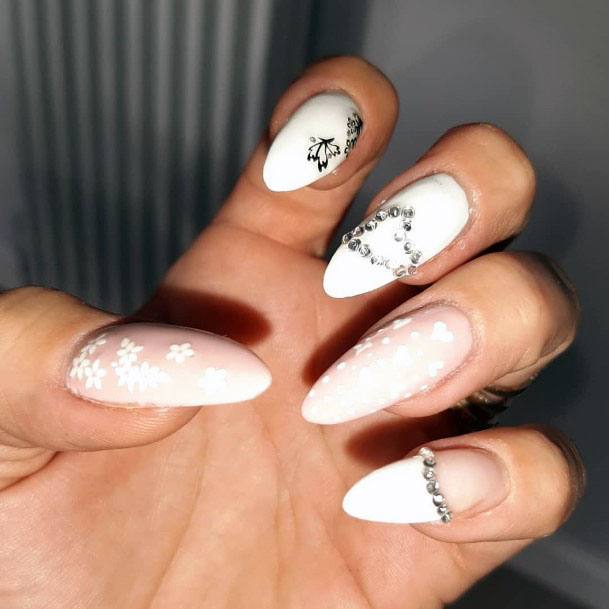 With the right nails, you do not need jewelry. Your nails can make a statement all by themselves, allowing you to put away the jewelry for a day or two if you really want to show some flash.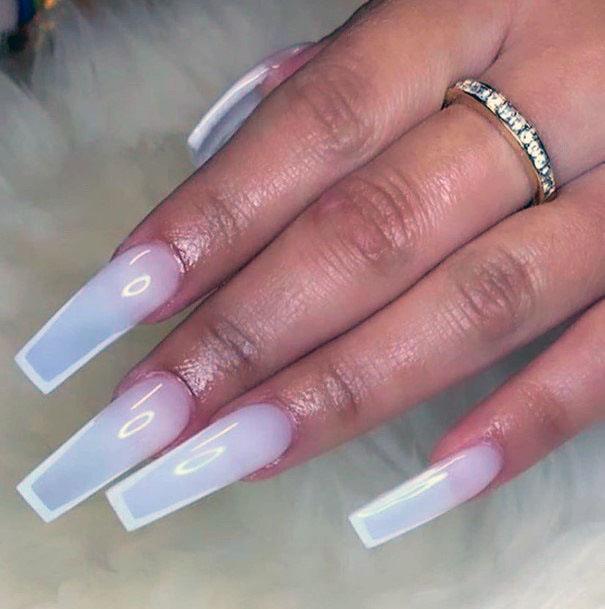 Simple but flashy is never a bad thing. The simplest statements are usually the best and the most effective. Your manicurist is always willing to show you a few new tricks.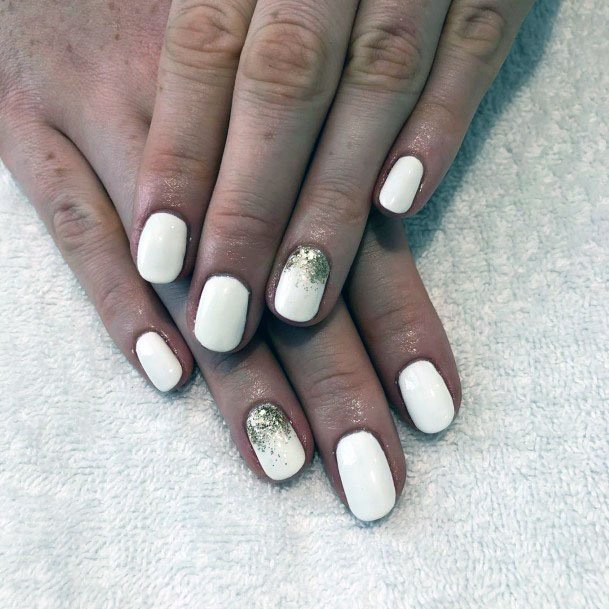 If you are going to use gold, always use as little as possible. You want to grab people's attention, but too much just turns them away. Too much gold can just be too much.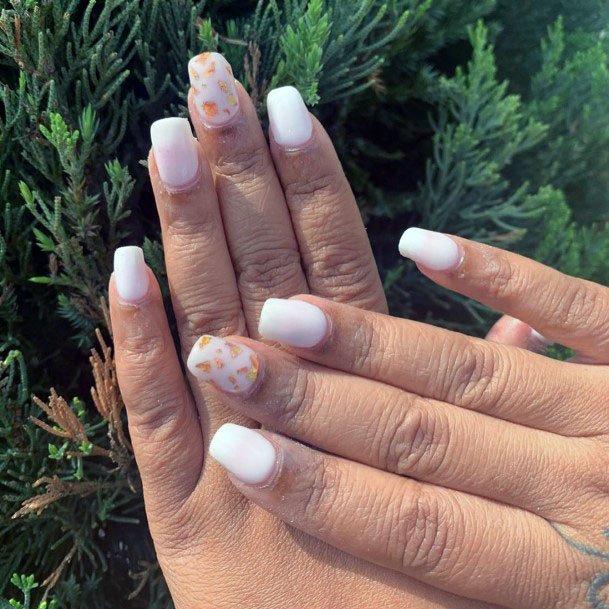 Sometimes just a little is the best touch. Find a pattern that you like and go for it. Again, sometimes simple is the best way to go, especially when you have nothing to prove to anyone else.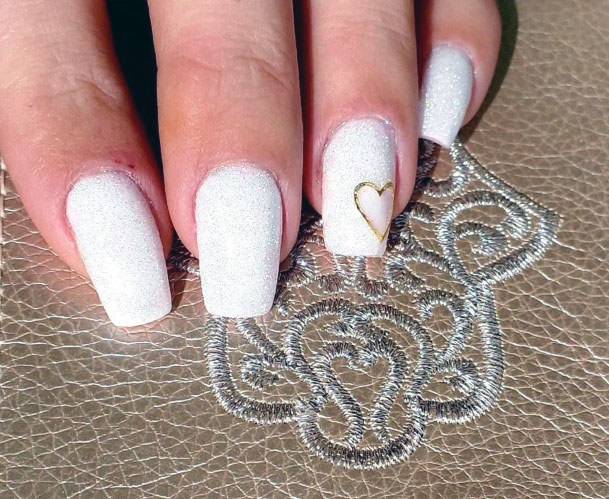 Some people wear their hearts on their sleeves; you wear yours on your nails. Never be afraid to show your passion to anyone else; some appreciate the warning.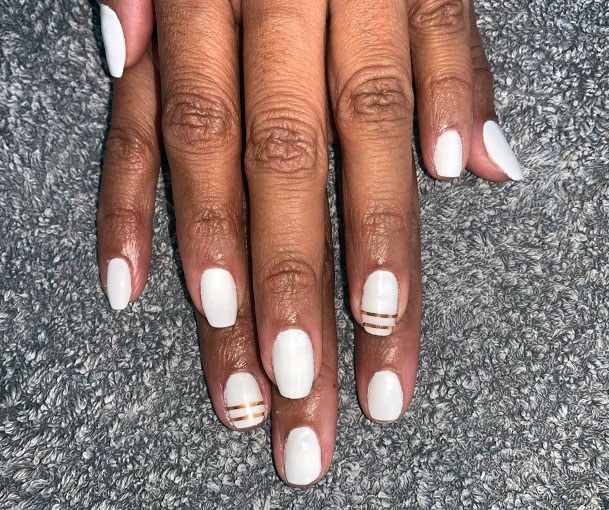 For those looking for just that little touch of class, adding what appears to be a ring to your nails can make a nice statement. This works especially for those looking to add a little romance to things.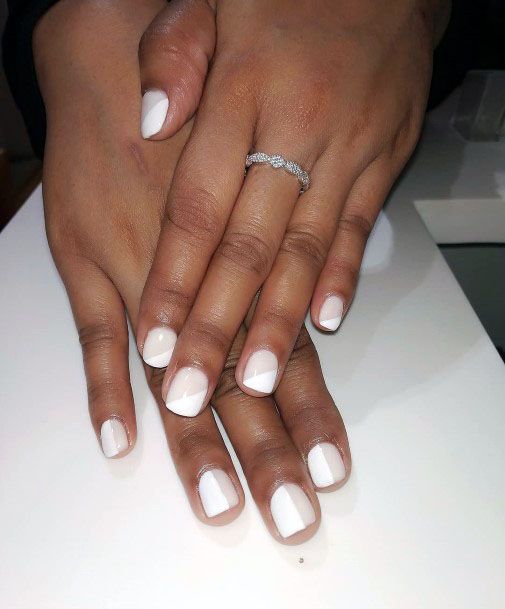 Sometimes the best touches are the most simple. Adding just a splash of color is sometimes the best possible thing you can do to add a little fun to your nails.
Your nails are one of your best features, and your tips should show them off. For those looking for something a little different, hiding the base is a great way to do it.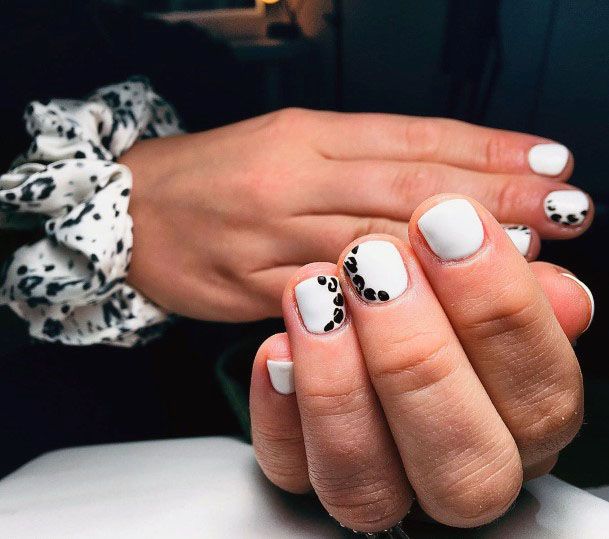 A little bit of animal print can help you unleash the animal inside. A little leopard helps keep you connected to that wild animal inside, making you the queen of the jungle.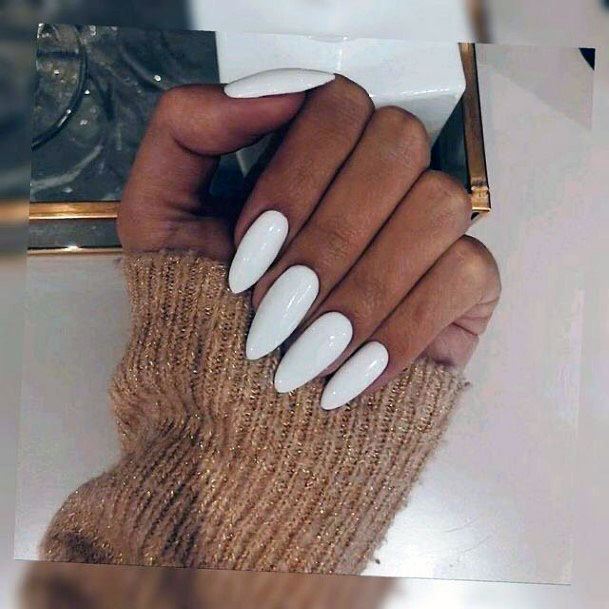 There is nothing wrong with a good basic set of white nails. For those expecting a laid-back day that involves a large cup of coffee, simple is often best.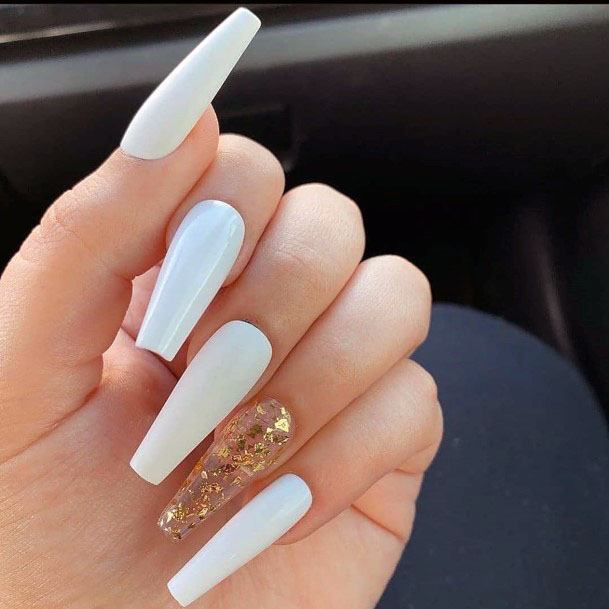 Your nails should give an insight into your character. Mostly white nails with a single flashy one show that you like it simple but that you might be the treasure they are looking for.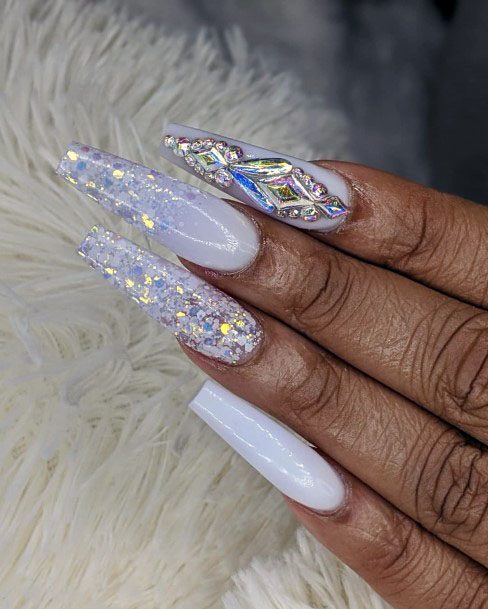 There are sometimes when you want to be flashy and show everyone you can shine with the best of them. Making your nails ornate is sometimes just what you needed.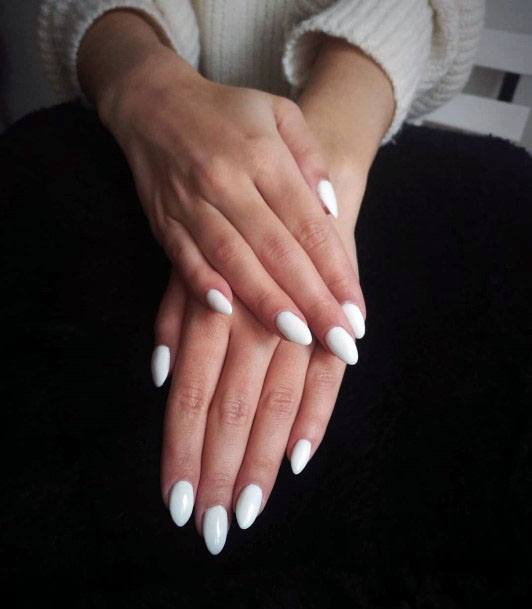 The demure look will always be a good look. Sometimes you just want to keep it casual; there is nothing wrong with just relaxing and keeping it simple.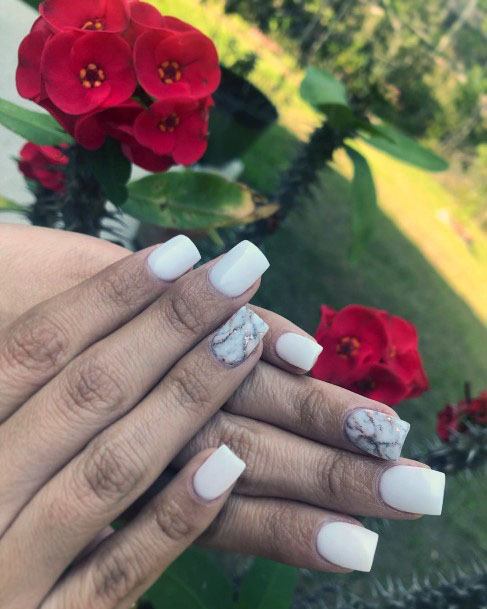 Adding the touch of marble can make a statement that you can be hard as a rock when you need to be. Sometimes you need that extra little bit of solidity and your nails should show it.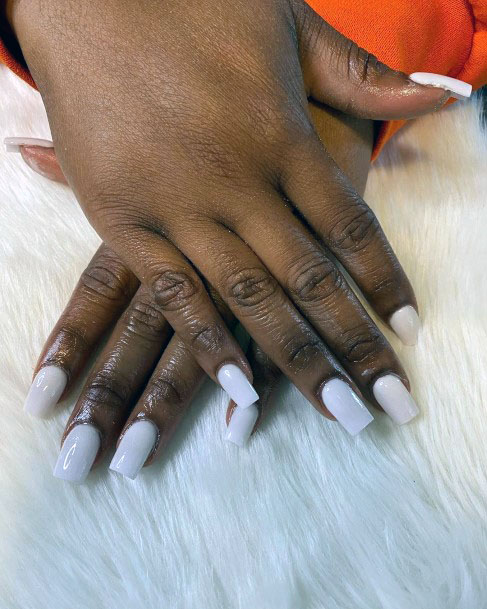 Short and simple can be a great look. Sometimes you need to get down to brass tacks and your nails can show that you are ready for work.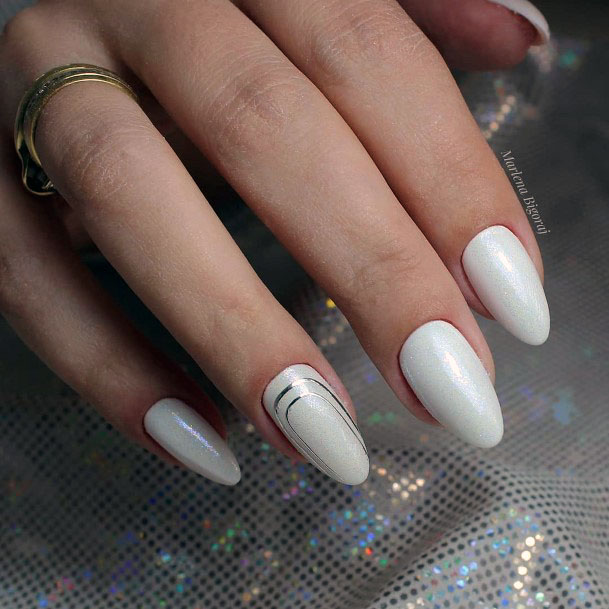 The simplest touches can sometimes be the most effective. A little something extra makes people look for it, but sometimes the search can be well worth it.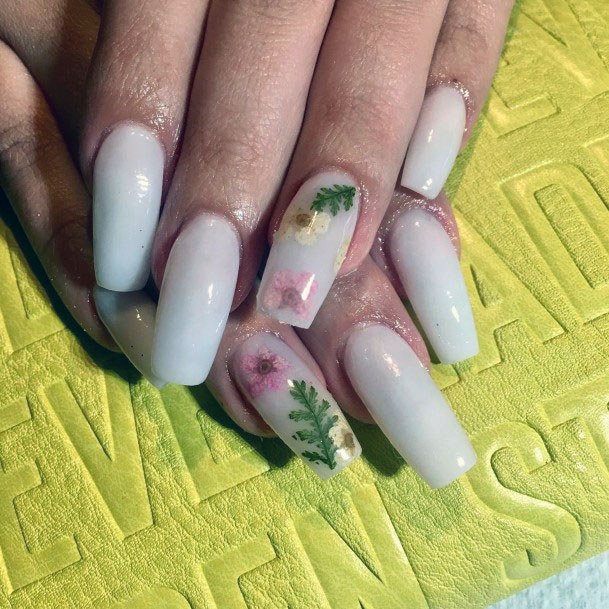 Everyone likes to show their attachment to nature, and a simple flower can show that. For those looking to show their attachment to their gardens, this is an excellent touch.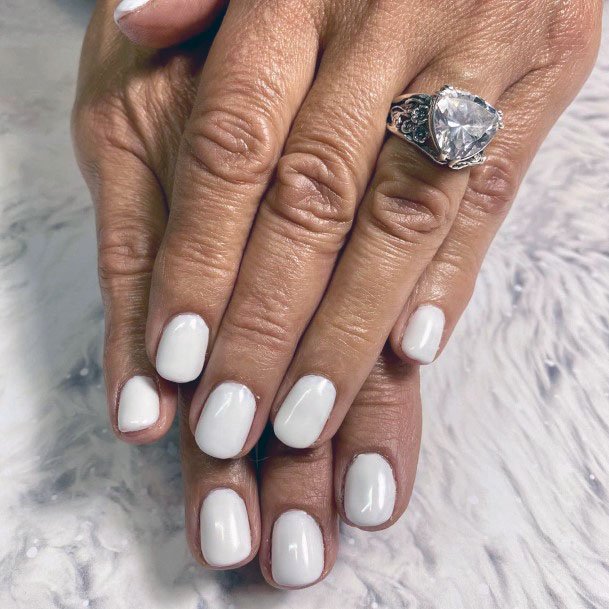 Sometimes you need to be more worried about doing business than looking pretty. However, sometimes a little pretty can add a little to your intimidation factor.
Adding a little beauty to your nails can help your feel your best. That one nail that has been glam-enhanced can help you remember that you are beautiful just when you need it.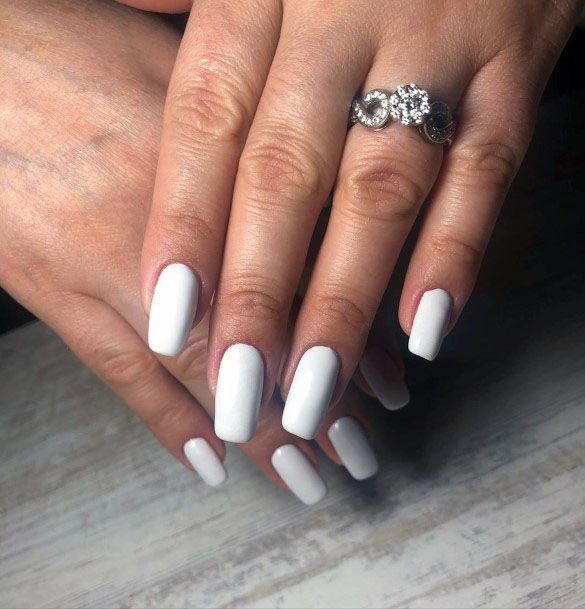 The right nail job can be worth its weight in gold. A simple nail job is never as simple as it looks, and the right jewelry can make for a rather nice statement.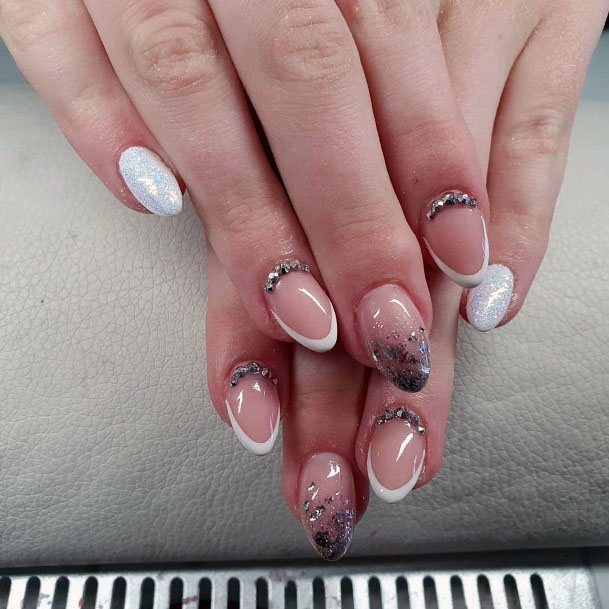 A natural color backed by the right amount of decoration can make for an incredible statement. When no one is sure where the nail ends and the decoration begins, the enigma adds to your mystery.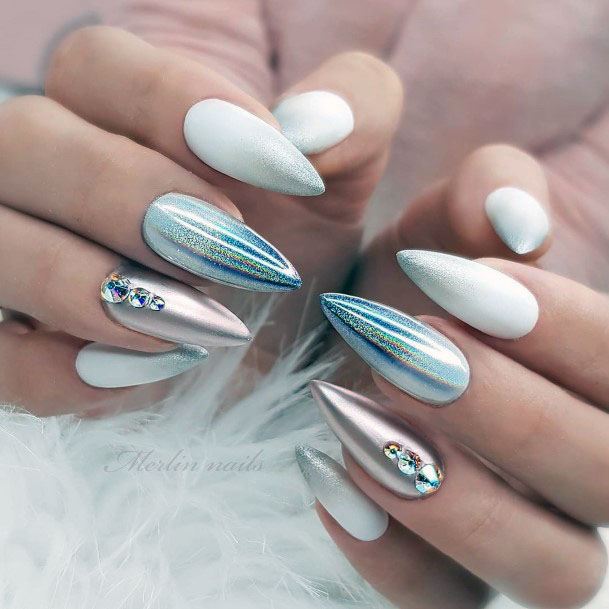 Sometimes you need to show the world that you mean business, and there is nothing wrong with using your nails to make that point. Warning others only makes life easier.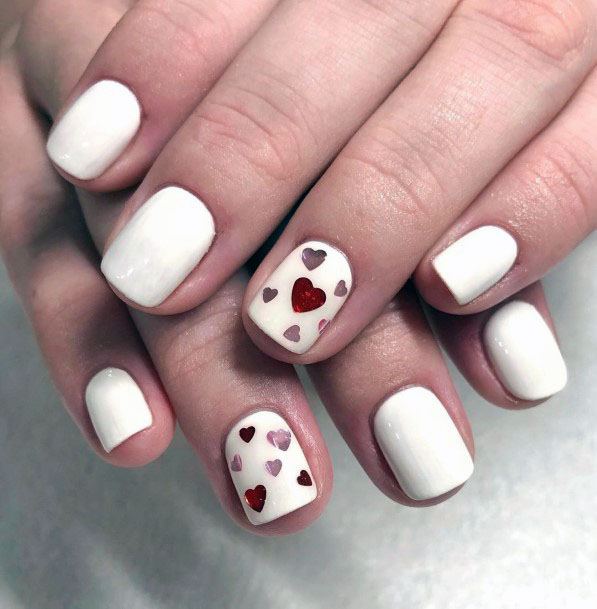 If you are feeling romantic, a little heart on your nails is the best way to show it. Show the world your passion, and let them enjoy it with you.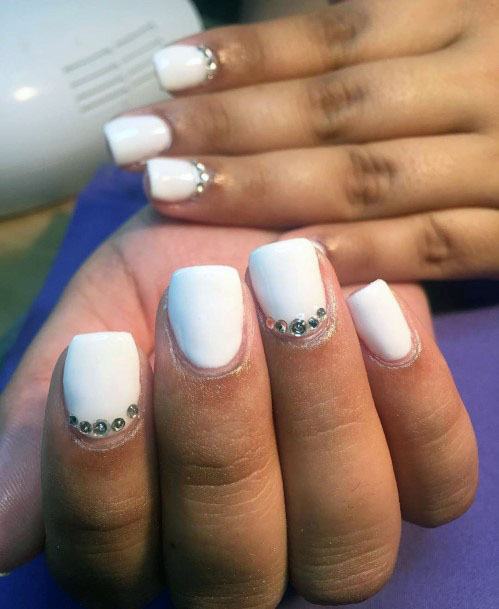 A few extra stones will always make you feel glamorous, and that should be encouraged. Always keep it classy, never too ostentatious, and you should do well.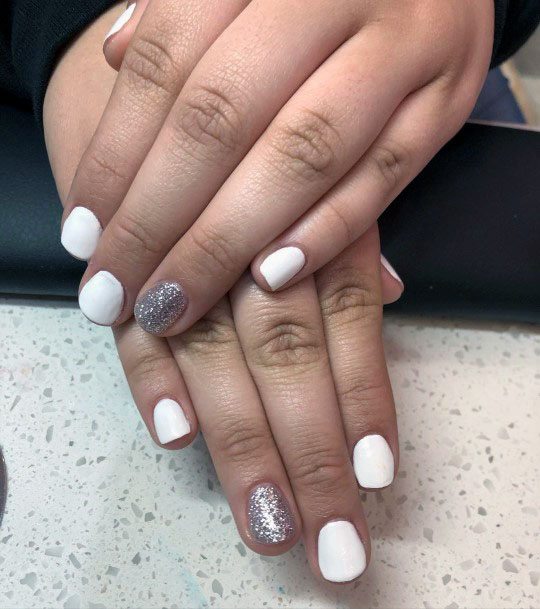 A little glitter will always make you feel a little mischievous, and there is nothing wrong with that. Sometimes you need that to get through the day, so do not deny it.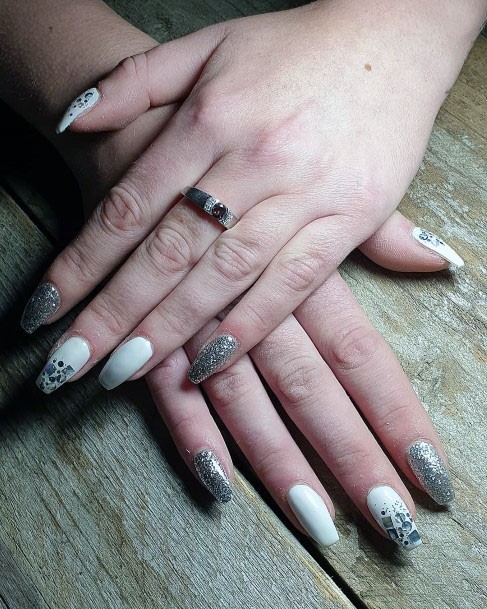 Going all out on your nails is never a bad thing. Adding a metallic tinge to your nails can only make them stand out and when they stand out, so do you.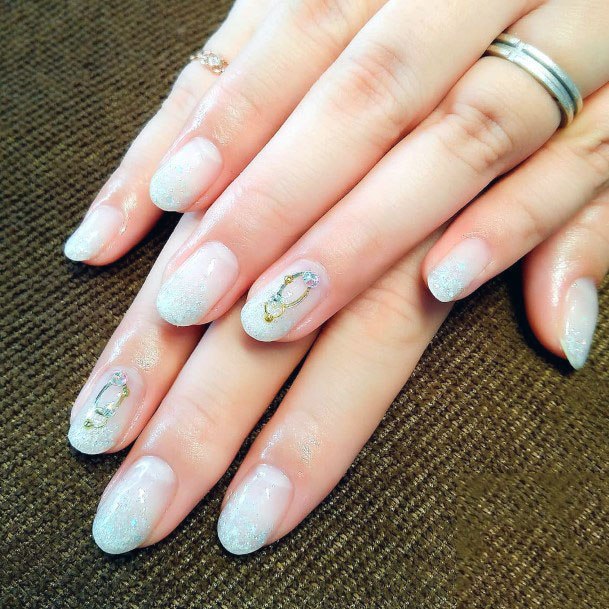 Adding just the shadow of something makes people curious. When they find out what you have done, even the simplest design can blow them away.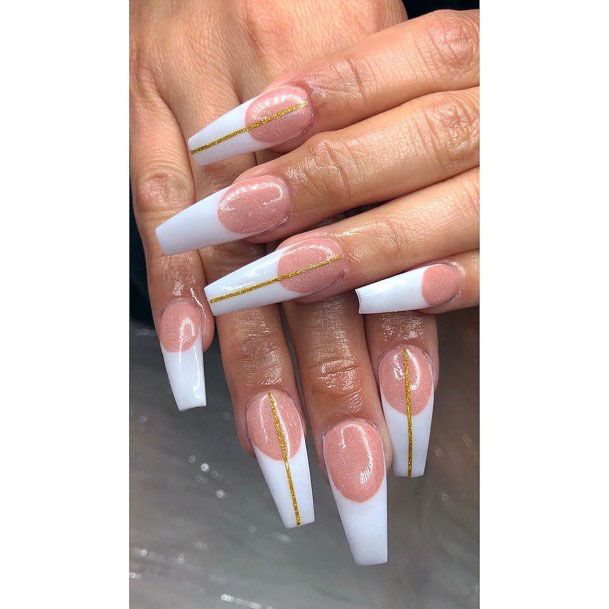 Sometimes you just want to have some fun with your nails, and that should only be encouraged. Some people may have forgotten you have a fun side and your nails can remind them.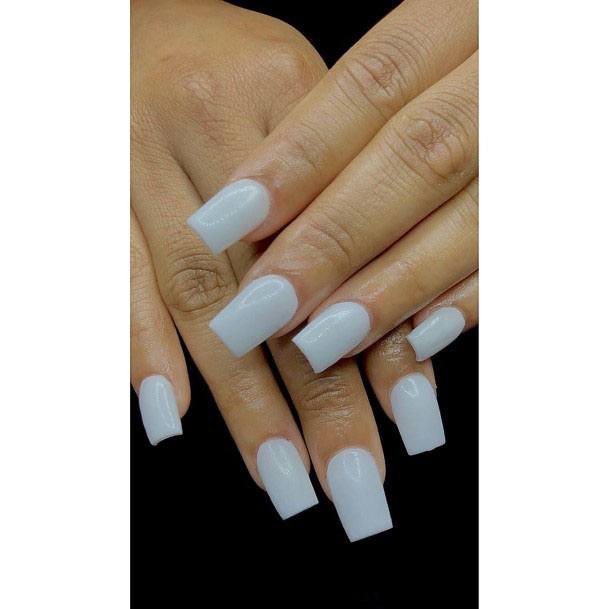 Sane and simple is great for those who work with their hands. You do not need to have the most ostentatious nails, only the best looking when you get ready to work.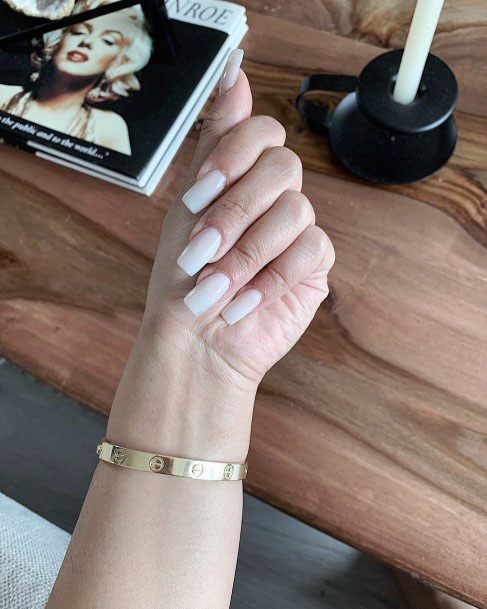 We all have those days when we just want to hang out but still look incredible. A simple nail job can do that for you, especially if you are just hanging with friends.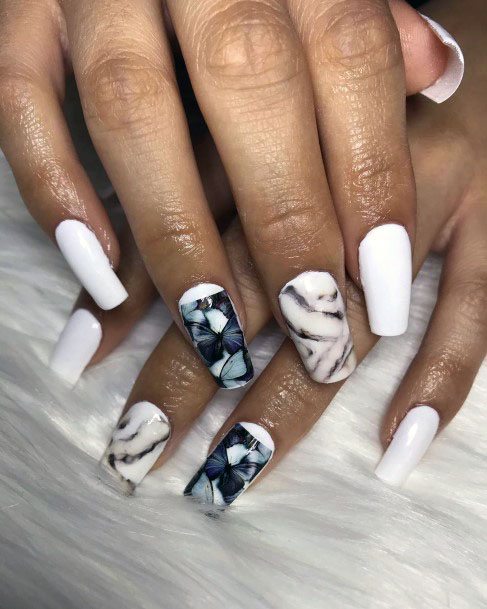 Going wild can be well worth it, especially if you are trying to make a point. Use the white nails to bookend the other patterns and they can look only better.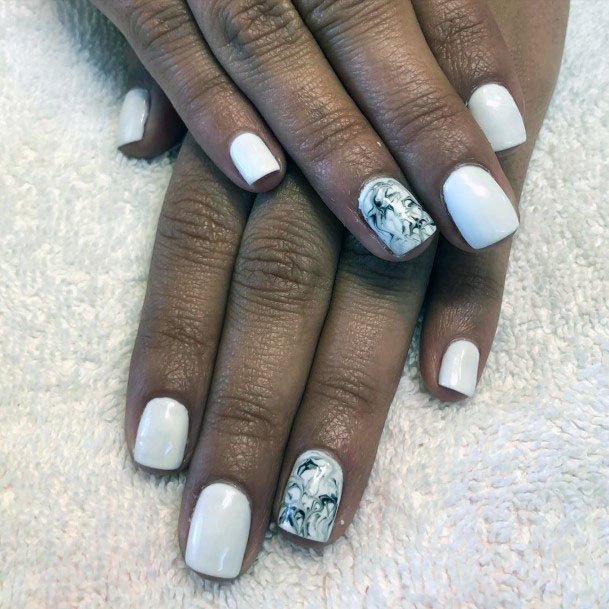 Nothing works better than a solid classic look backed by something that draws in interest. Having a single nail with a great design is the most effective way of doing that.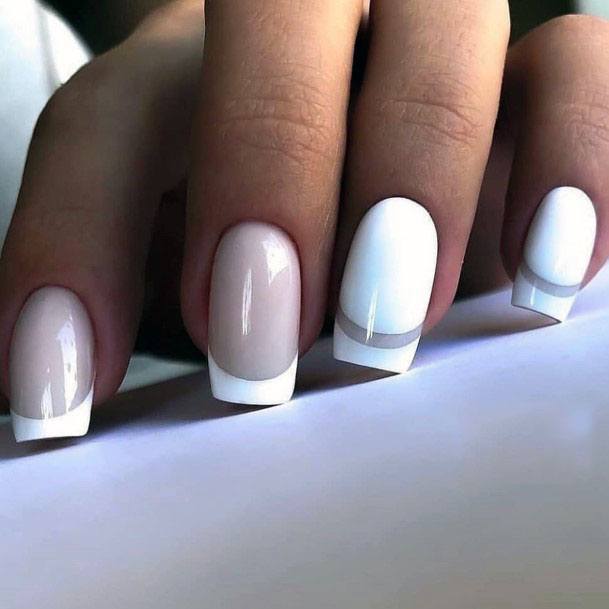 Changing things up when people least expect it is always worth it. Have a little fun with your nails and it will help you enjoy your day all the more.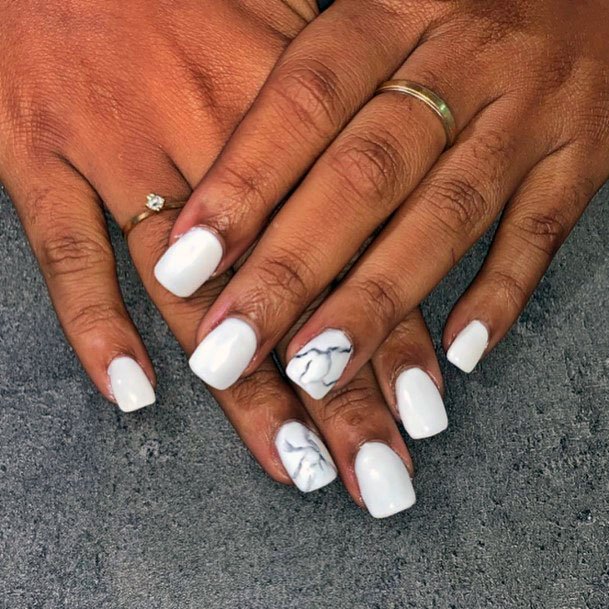 Adding something different to your nails only helps them look gorgeous. And when your nails look gorgeous, it only helps you feel like you are on top of the world.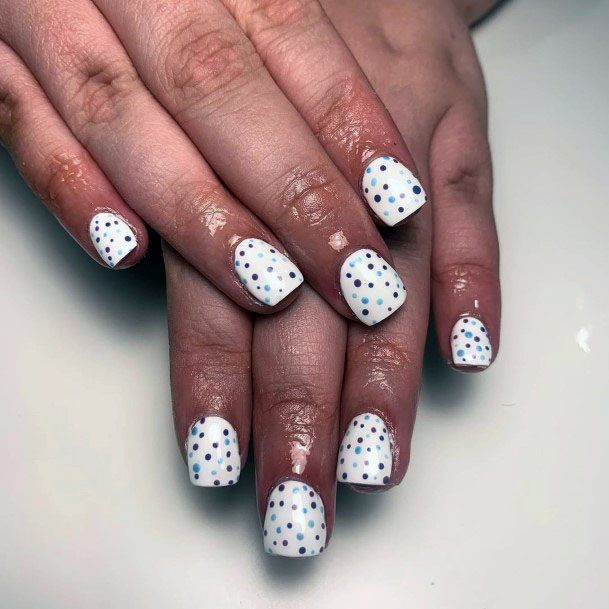 Polka dots are always fun and you need that fun in your life. Do not go too crazy with them, but you can almost never have too many polka dots in your life.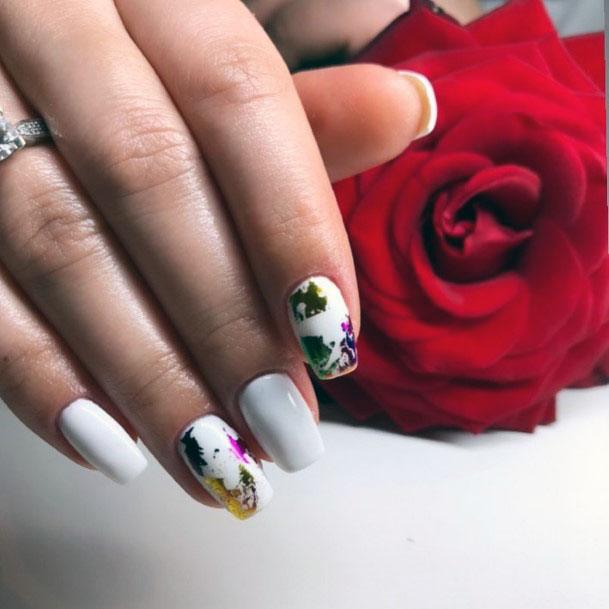 Nail designs can sometimes work well when they are at their most abstract. Gold and green are always a good combination, and in the abstract, they only look gorgeous.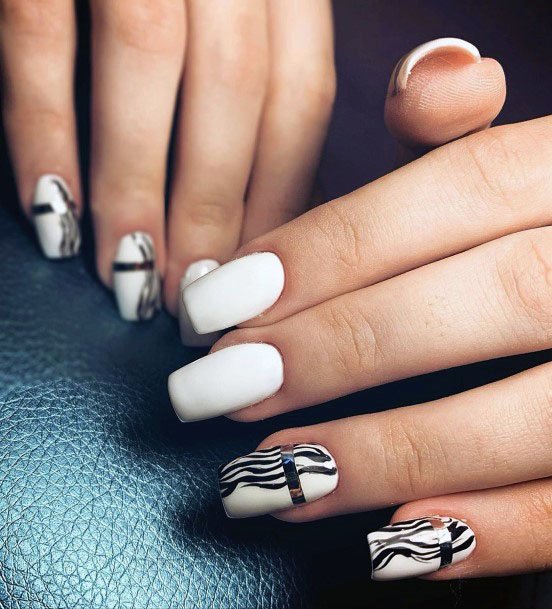 Your nails are one of the things people will only talk about. The more you can make them into works of art the better, especially when you need that little bonus.