A beautiful addition to any outfit, silver manicure styles add both elegance and chic aesthetics.
However, as with most beauty trends, they have their share of drawbacks and challenges. One of the biggest challenges is finding nails that suit your skin tone and accentuate your silver dress without looking too much like you're wearing fake nails on your hand.
If you want a more natural look and are interested in silver nails, one suggestion is to make your faux silver nails look more realistic. You can opt to have a few white accents on your nails. A white accent will help make it seem like you didn't just copy a picture of a model with silver nails and have someone else do it for you. It would help if you also had an accent that is not too large so that it doesn't overtake your hand when looking at it from the side.
The other problem is that typical silver and white nail polish colors can be challenging to find. Most nail polish brands come in various colors, and it's easy to find pink, red, and purple colors to match many outfits. However, the color choices are limited if you want a more natural look with silver nails. Many people will opt for items such as white or silver base colors that have a large amount of white added to them.
Those colors make it look like your nails are made of silver. While you may be making it seem like your nails are silver, you're not wearing a solid silver color, to begin with. It is always essential to use the proper nail polish color for your skin tone to look more realistic and less fake when it comes time to apply your nails.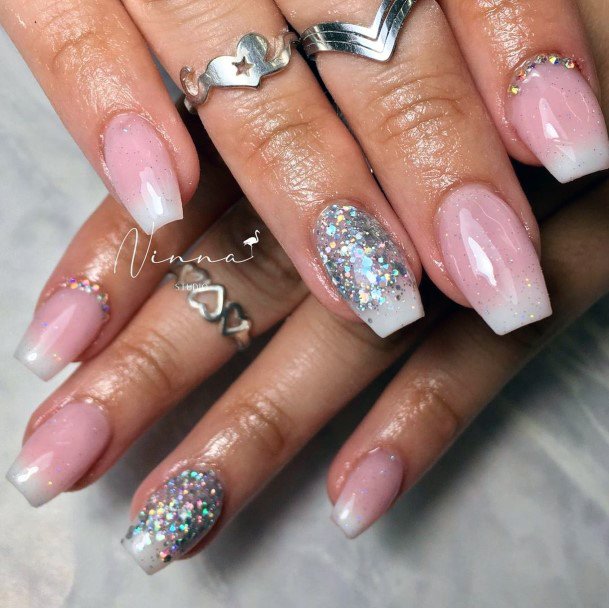 These nails are pure magic. Using a sheer, light base color to let some skin show through, these nails look more real. Confetti, silver and rose gold glitter plus the added jewels make these a real sweet look for that silver dress.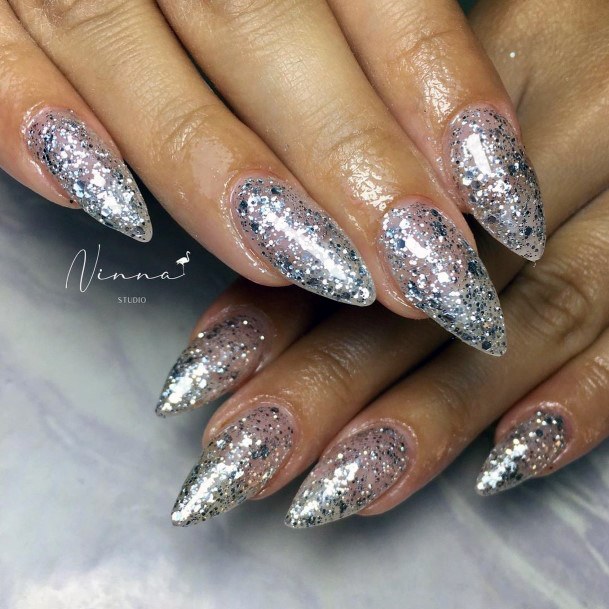 Using a high gloss topcoat over serious silver sparkle is a great way to let your skin tone show through the nail design. Finish off with a nice shape at the tips and these will look fantastic with a flashy silver dress.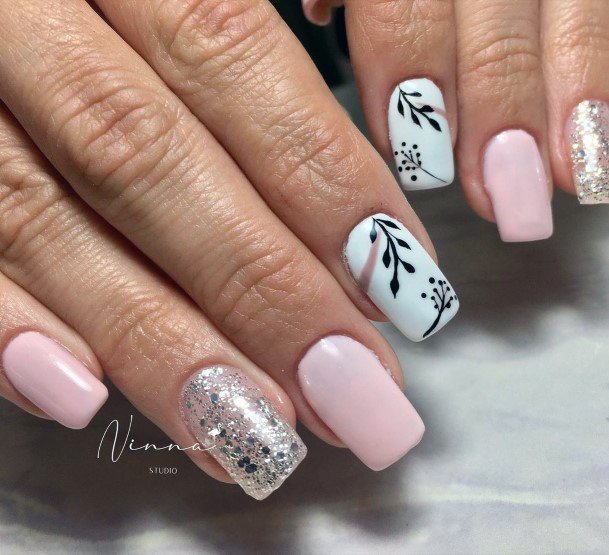 Pale pinks a nice combination for silver nails. The addition of white and black finish off the look with the floral patterns on a single nail. Let your artistry show with a little added floral detailing.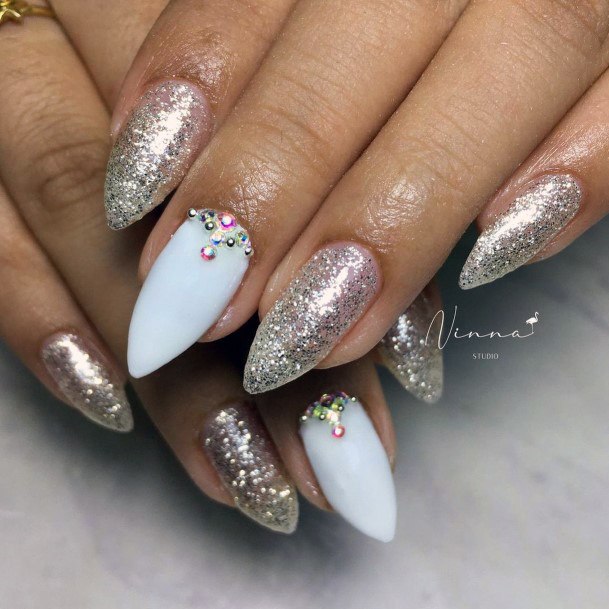 It is a sweet combination to add pure white solid nails with jewels set at the cuticle to frame them off. A sheer nail coated with silver let's your natural colors come through at the base. These will look great with a stunning silver number.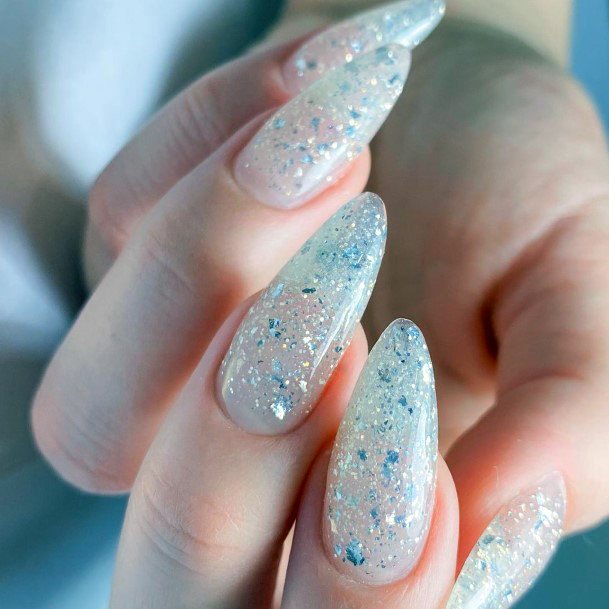 It is a popular style to let your own skin show through the nail designs. Here we see a combination of sheer with a hint of color and silver tones in their confetti coverage. A sweet way to finish off your nails if you are looking to outshine!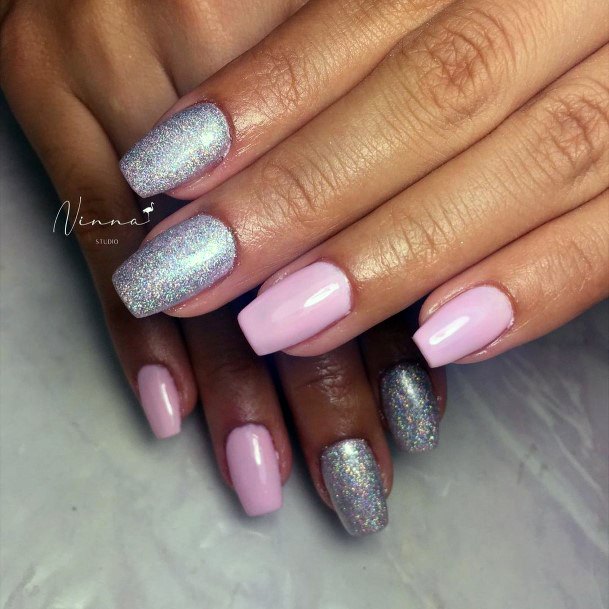 Pink and silver is always a winning and pretty mix for any women's silver dress. Using solid pink to add a little flair to the design sets well next to sheer with silver. These will look stunning with fuzzy sweaters or short skirts.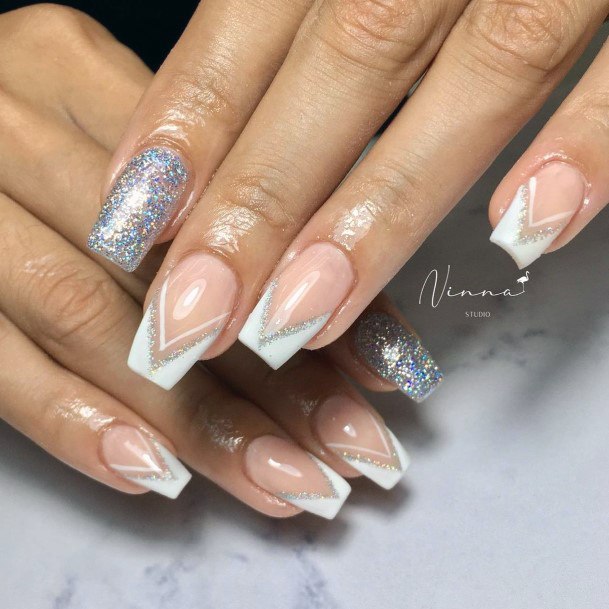 The details are in the tips. The geometric points at these tips really show off your nail design. Adding white to a sheer and silver mix makes for good fashion sense. Add a detail line of silver glitter to really accentuate the tips.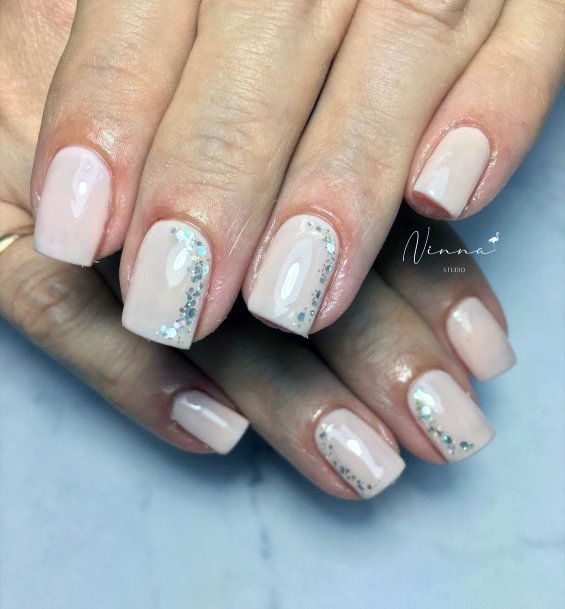 Using a color that matches your own skin tone plus complements your silver dress is a wise choice. These solid nails are classy but adding the additional silver confetti gives them a style that looks all your own. Instead of using a full cover of confetti, only add it to the edges to frame out your nail shape.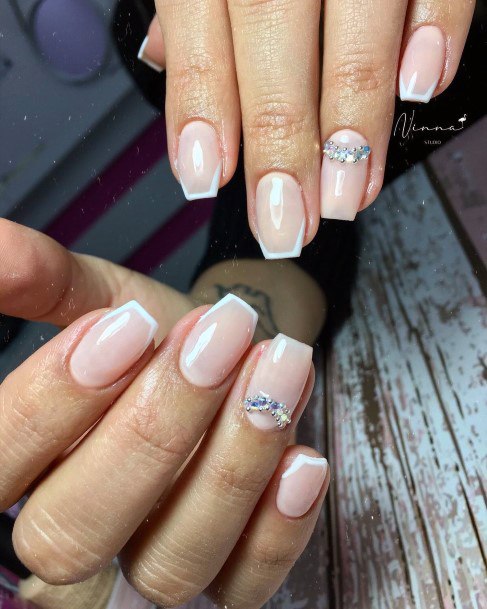 Geometric edge accentuation is a new modern twist to nail fashion. Adding a subtle line, in an unusual shape at the tips really make your nails stand out. This base color is a good match to the model's skin tone and the jewels bands at the cuticles make a nice statement.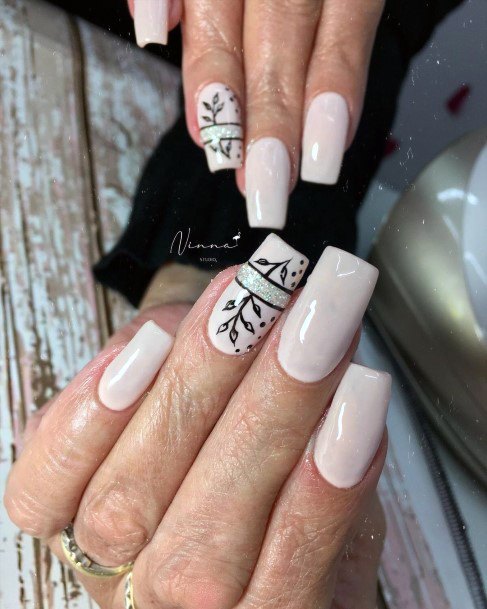 Looking to match your nails to a shiny, silver dress? Bring in just a hint of silver to your nail design to accentuate your look. A subtle band of silver glitter polish added to some line detail will look phenomenal.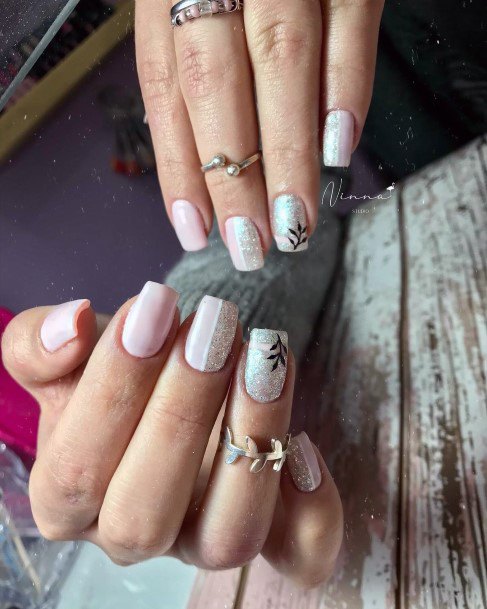 Using a play on line direction, horizontals and verticals, you can achieve a very sweet and unusual look that is all your own. Here we see a nice solid base of color with silver bands that change direction. The detail of black flora and fauna is a sweet addition.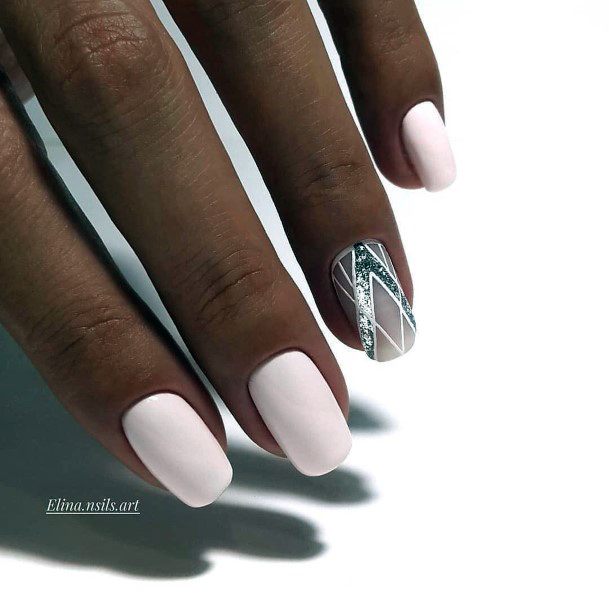 Using a lovely base color that is a contrast to your skin tone is a stunning choice. Here we see light nails with an accentuating single sheer geometric nail highlighted with a bright sheen of silver. A terrific choice if you are bringing out your new silver dress for the occasion.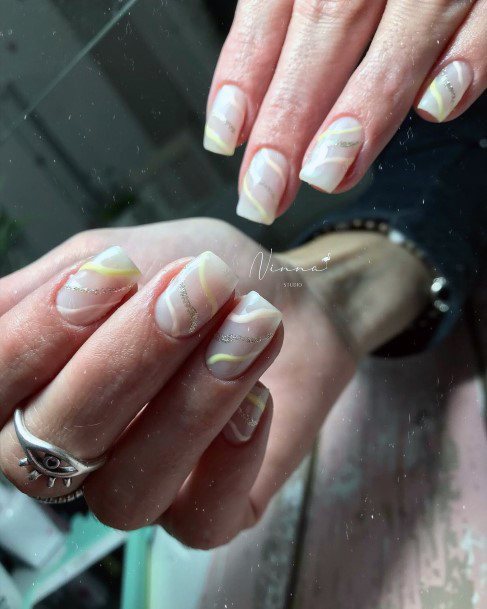 Matching your skin tone with your base foundation can be useful. Use your own artistic eye to create curving lines of slightly different colors. If you need a look for a silver dress, add a nice silver line of glitter to your newly embossed nails.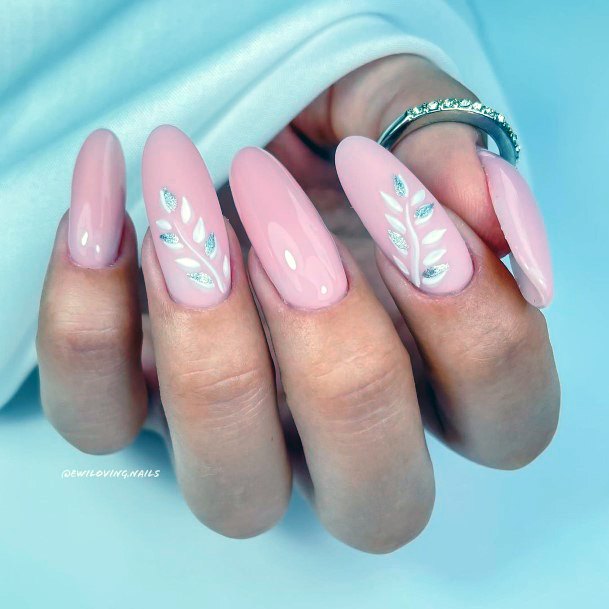 Creating your own style of nails is easy by adding little sweet touches here and there. A simple vine of white can be added with silver details of leaf patterns to create your own nail style. Pull out that silver dress and show off these beauties.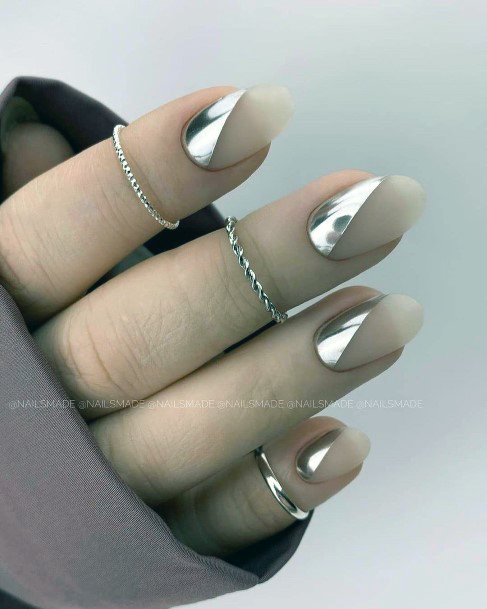 Pure shine next to sugary nails are an alluring combination. The hard line of shiny silver in these nails are almost like tiny mirrors. You might even be able to check your lipstick in this set of interesting nails!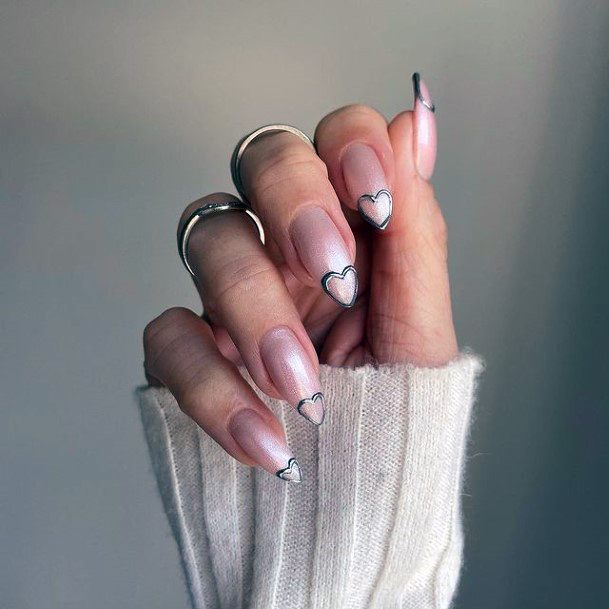 There are lots of unique ways to highlight your tips. Painting hearts on the ends adds a sweetheart charm. Create the hearts in silver polish and they will look fabulous with a silver dress and heels.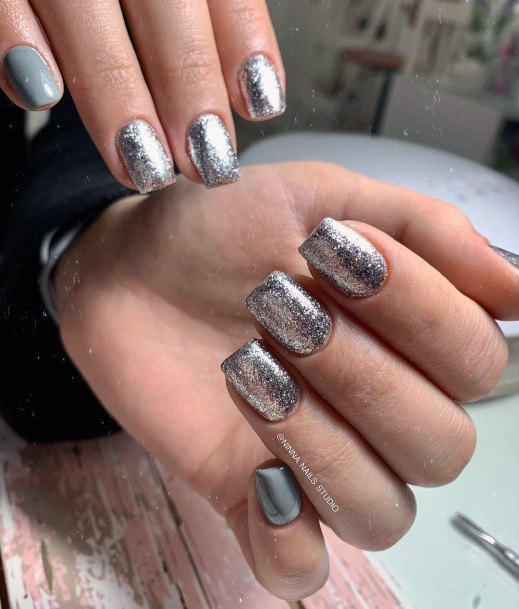 If you don't want every nail to shimmer, use a nice grey neutral for a couple of your nails. Then highlight the rest with a crusted shine of silver. This is a great way to bring a quick gleam to your look without having to do every nail.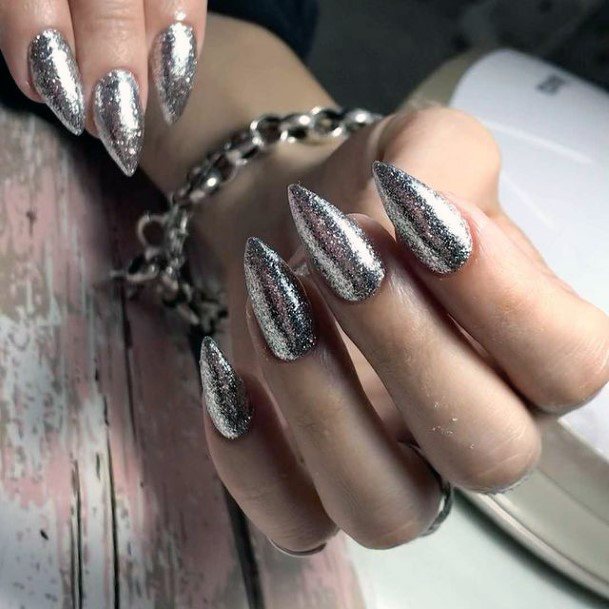 Finishing your tips off to an extreme point already says a lot. But the addition of a heavy shine of silver to your nails makes for a sexy look. These will really pop once you pull the silvers out of your closet for a night on the town.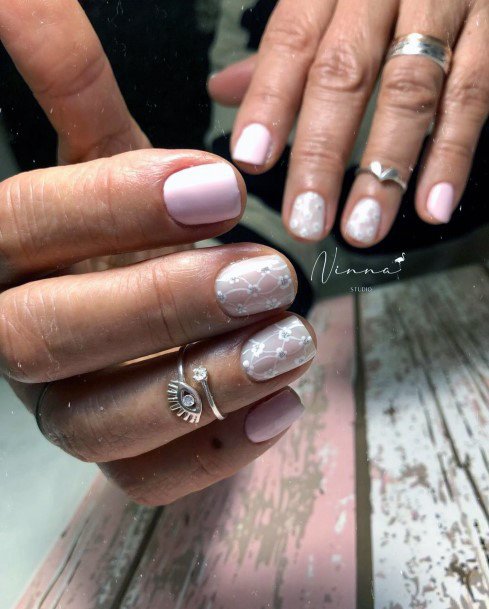 Running out of time? Use a perfect color to match your skin tones for all the nails, then add some sweet little details. Here we see delicate white daisies connected by a fine line. This makes for a very sweet look.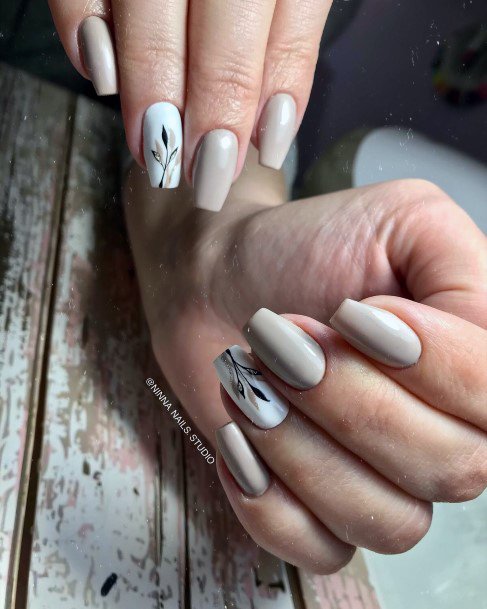 Tan beige foundational nails are lovely and classy. Add a pure white nail with some artistry of your own to complete your own look. Delicate tan and black lines add sweet details of fauna to this set of nails. Gorgeous for everyday nails.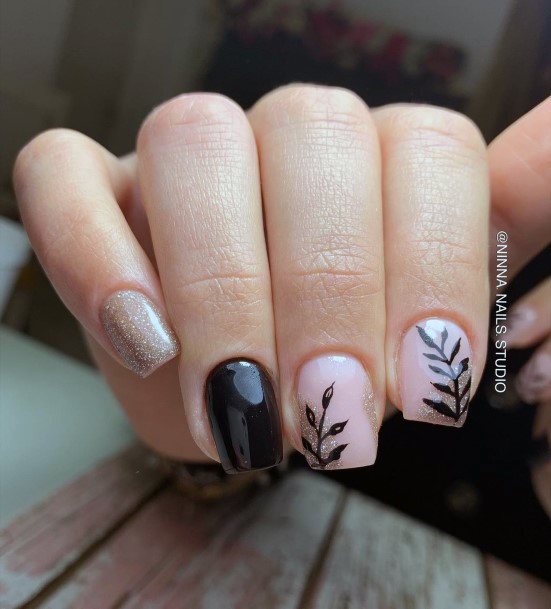 These nails are a nice mix of several styles. A sheer with silver glitter, a light pink, and a solid black. Add your own element of style and design with a nice black line of artistry to complete the look.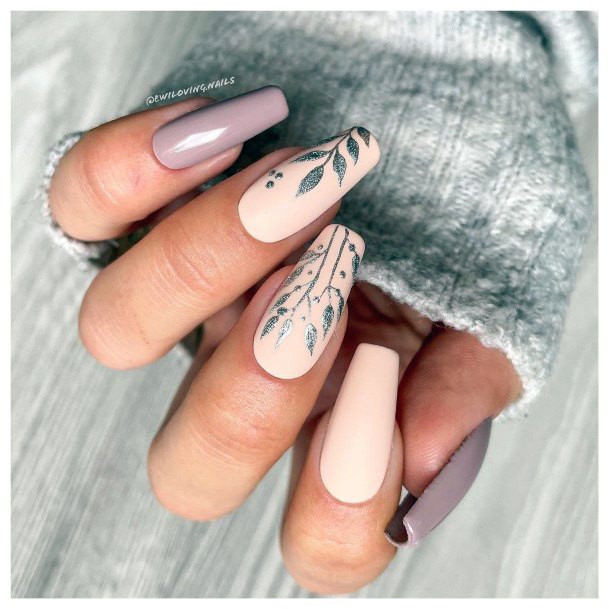 Sugared nails are always popular and to mix them with high gloss gives added flair. A lovely shade to reflect your own skin tones pairs nicely with a muted mauve/lavender. Adding a highlight of silver lines will match that sweet little silver dress you are dying to bring out again.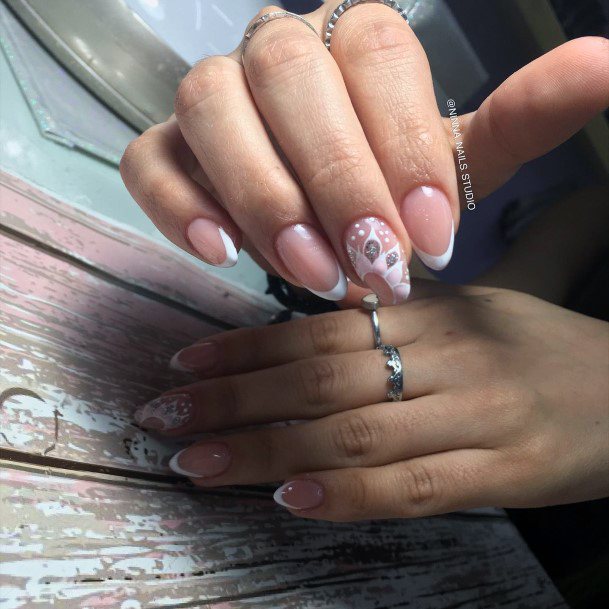 These nails have a really sweet look. They have a nice base foundational color with rounded white lines to enhance the tips. A lovely burst of sunshine and flowers on a single nail is great way to enhance this look. It will bring out the silver matched with a silvery dress.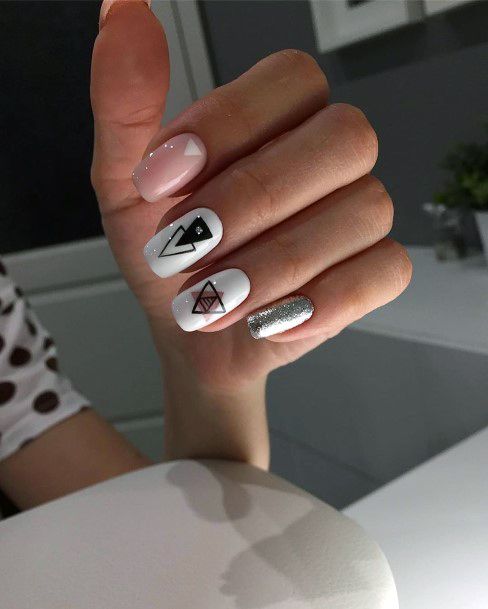 Use many colors to make your nails pop. Make sure the colors pair well with what you want to wear. These will look great with blacks, pinks, whites and silver. The geometric designs are a fun shape to highlight individual nails.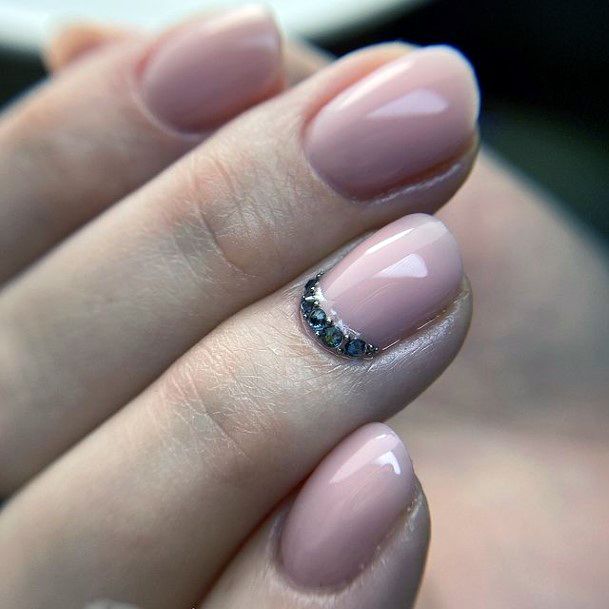 Do you prefer a simpler look for your nails? Simply adding a few tiny jewels along the cuticle line will make the most subtle of enhancements while not being too flashy. These will look great with a silver dress, too.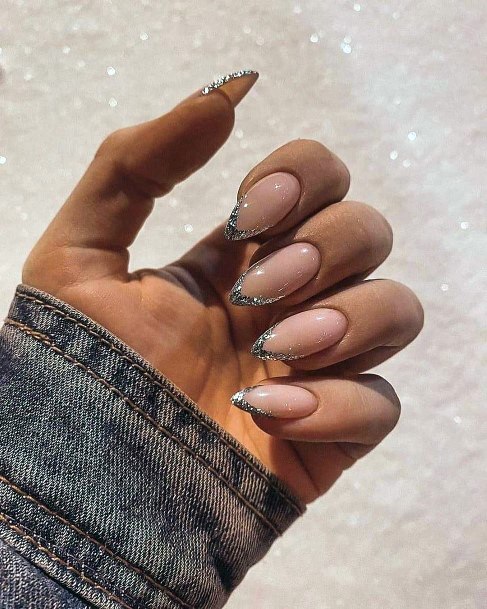 A perfect base color to match your own skin tone is important in nail fashion. They will also look great when you want to bring attention to the tips with some added shine and flair. Here we see a nice silver lined tip done at an angle to enhance the shape of the nails.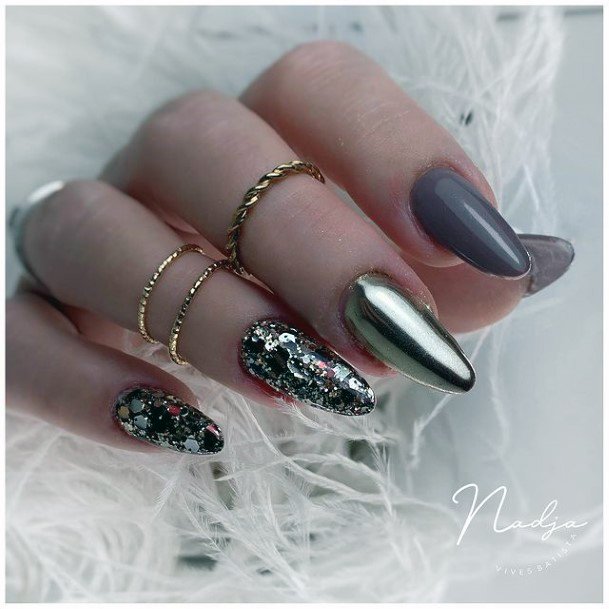 Neutrals look fantastic when going for a metallic look. Grey paired with metals and blacks will be a good choice to enhance that silver outfit. Flecks of metal color over a black nail and finished with a high gloss topcoat will keep your nails looking great for a while.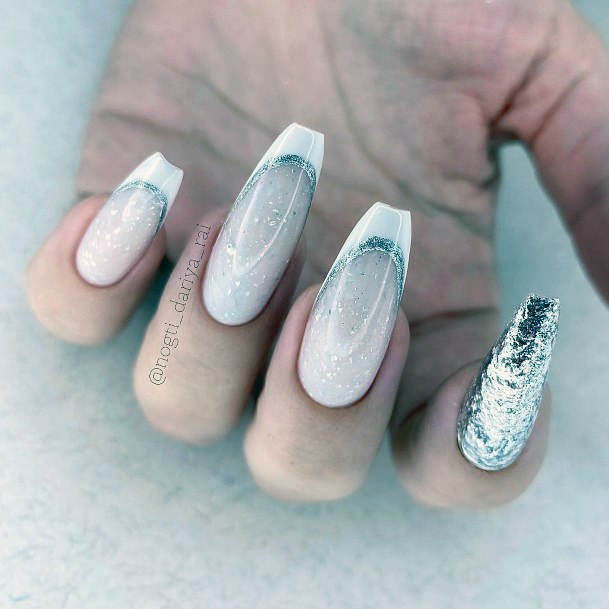 Mix up your nail look with multiple finishes. Sheers with confetti glitter and white tips are always popular. Throw in a sexy shiny all silver nail to enhance your look. These will wear well with whatever comes out of your closet.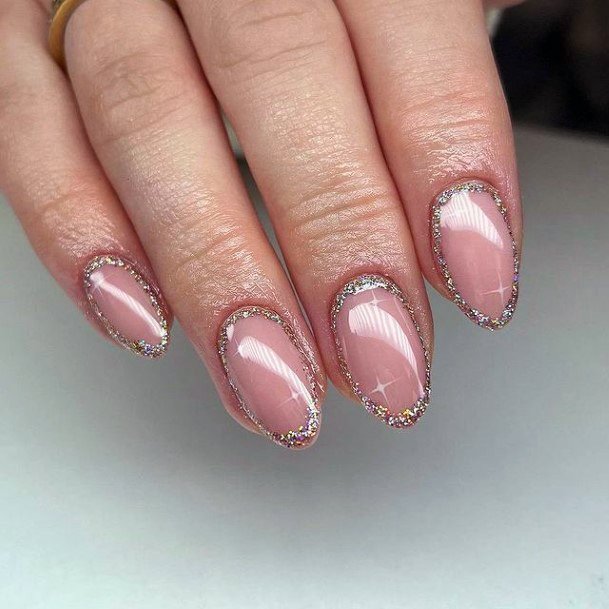 I like this play on enhancing tips and cuticles. The circle of confetti framing the entire nail is a sweet and girly look for your next fashion statement. Add a cute gleam drawn in another subtle lighter color to enhance the shine of your nails.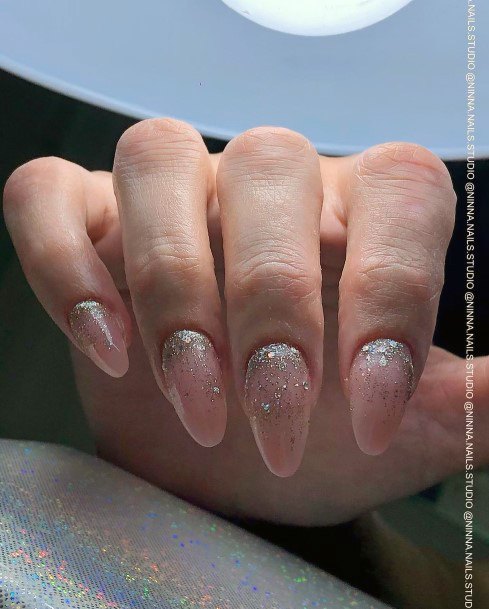 Ombre nails are fun to see and this is an interesting choice to use the glitter as the ombre effect instead of the color itself. A heavier concentration of glitter at the cuticle disappears towards the tips. A sweet choice for a silver dress combination.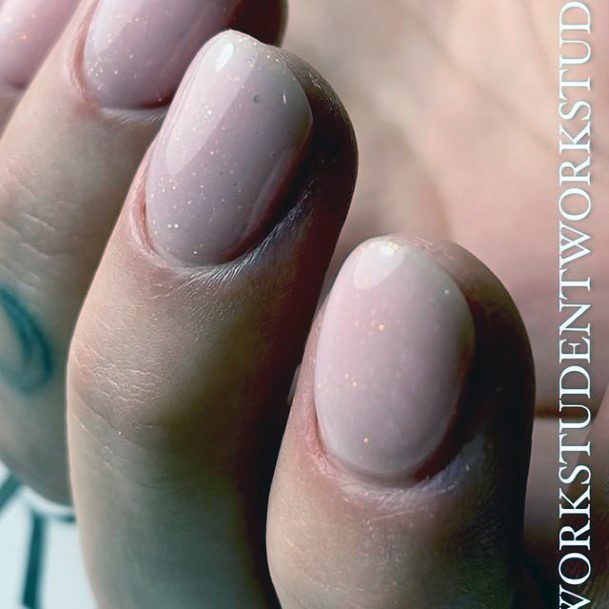 Choosing a simple foundational color to reflect the beauty in your own skin is a solid choice. Add a little extra metallic sparkle over the surface to enhance the look and add a little extra sweetness. These nails will look great with anything you own.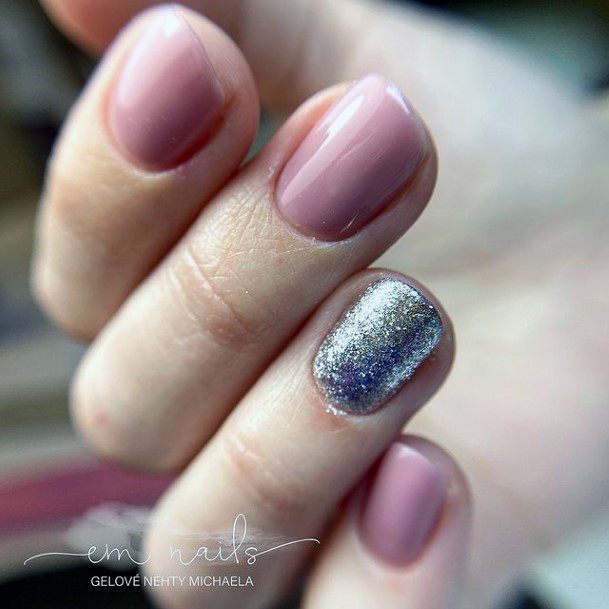 Going to a party and plan to wear a silver dress? Simply apply a thick layer of silver glitter to your already lovely set of nails. This will add the simple sparkle you want and show that you paid attention to all of the details!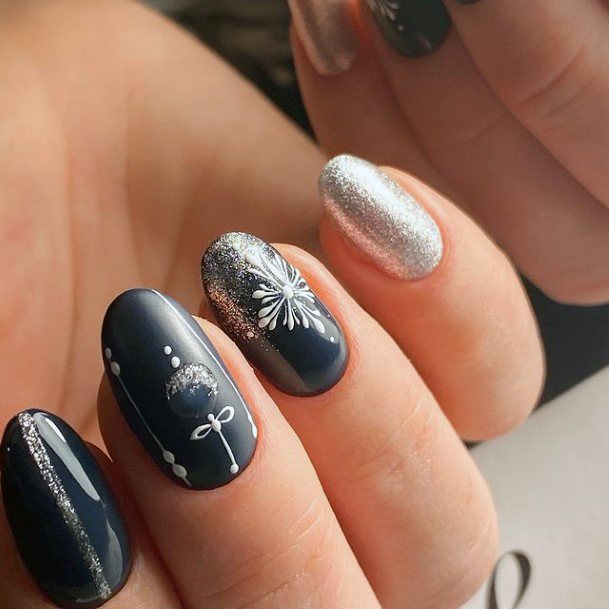 Sexy dark grey paired with silver makes for a lovely look. Snowflakes and ornaments can be added with white and silver. Adding extra lines and ombre affect to one or two of the tips will increase the dramatic look. These are really pretty for the holidays.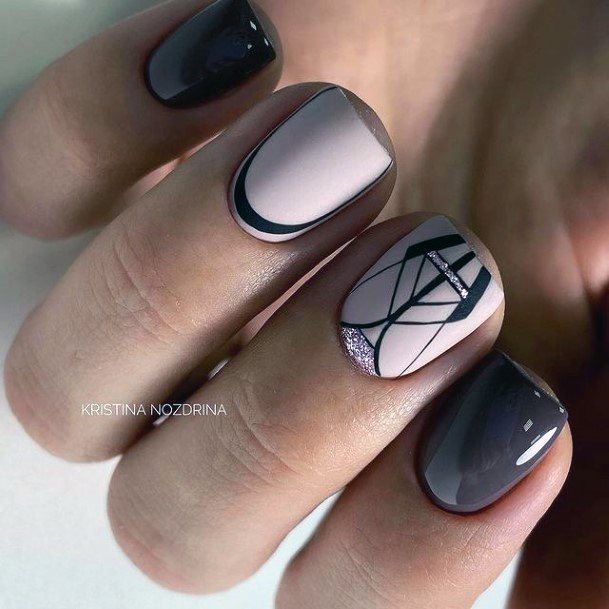 You can really let your own artistry show in your nail designs. This set of nails has a sleek modern look. Mixing up surface shine with sugar coats and heavy geometric shaping makes for a gorgeous look that anyone can wear. Pair these with that silver dress you are longing to wear.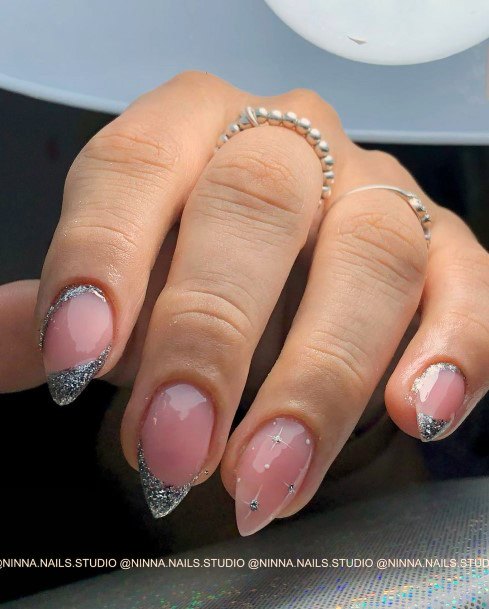 These nails look like they were designed for a party. Bring out that silver dress you have been waiting to wear. Added silver glitter framing and tiny sparkles can be enhanced by drawing white sparkle lines before applying jewels.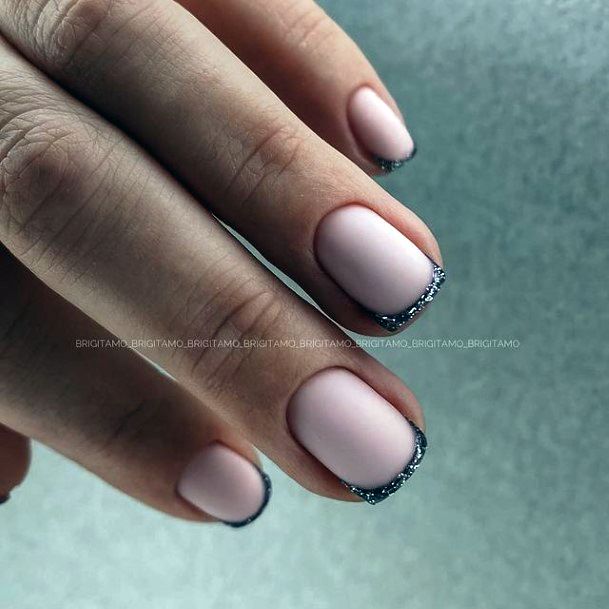 Sugared nails can be enhanced with a heavy gleam of silver at the tips. Use a nice foundational color to enhance your own skin tone first, then add silver. These will pair nicely with any mood or occasion.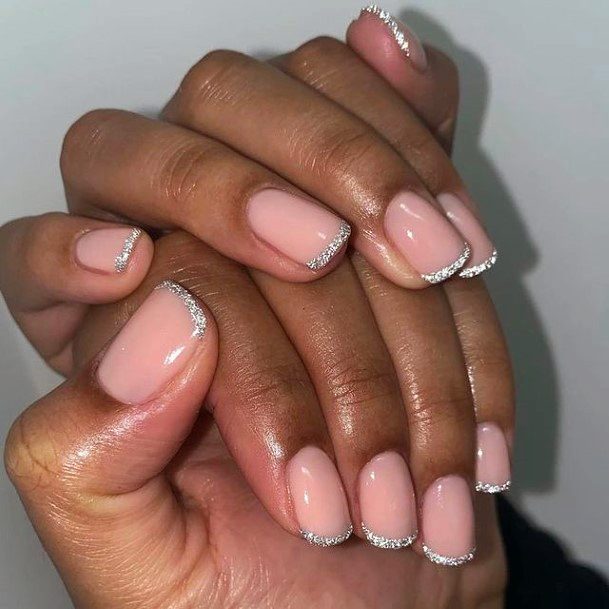 A pretty pink looks great on anyone. A sweet and feminine look can be achieved by simply painting a silver glitter line along the tips to enhance the shape of your nails. These will combine easily with any silver dress and look great with a sweatshirt the next day!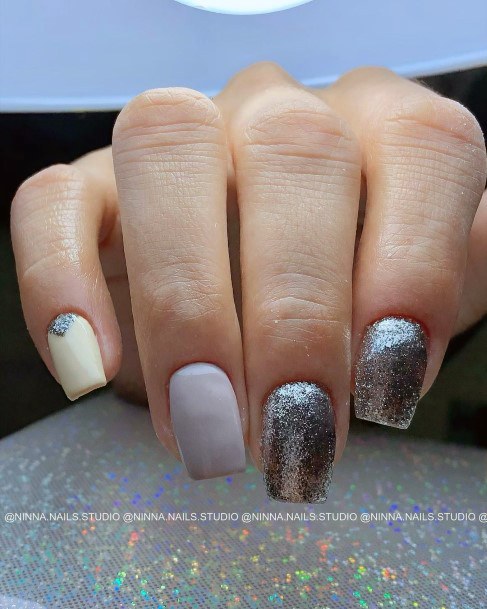 Playful color use along each nail is always a popular choice. Enhance one or two nails with a silver glitter, then add extra silver along the cuticle of another nail to get an enhanced and unique look that is all your own. The use of a creamy yellow, light grey, and silver glitter work well together.
Choose a nice foundational sheer that matches your skin tone for this great look. Then apply a silver glitter to the tips and you have nails that match all occasions! Time to pull off that silver dress look you have been waiting to show off.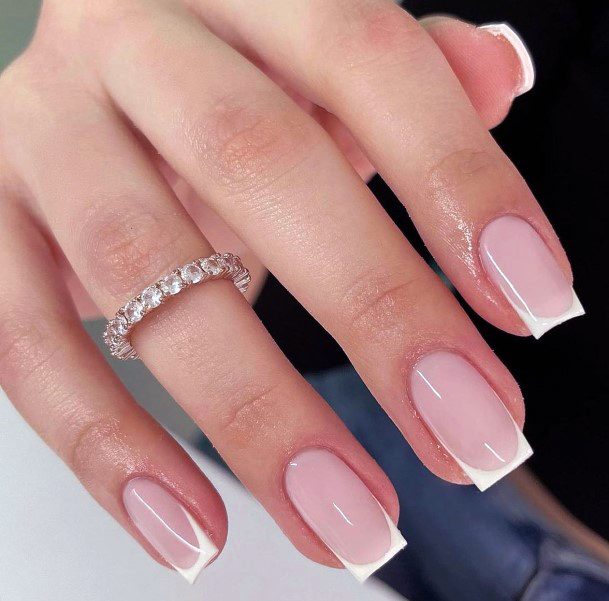 Sheer nail color paired with white French tips has been popular for a long time. To enhance the look and make it more unique, change the shape at the end. A simple curve enhances the sexy line of your nails and pairs well with any silver dress.